It was Golden Week in Japan. Golden Week is usually the last week in April with the first week in May and it consists of several holidays. Many Japanese people travel and the train stations for example are very crowded. Schools usually are closed for that week, and it is a time of year when the weather is still very pleasant.
I had a week off from my English classes so what better way to relax then to fly my favorite airplane, the nana nana nana (777 in Japanese). I decided to make a quick trip from NRT to LAX and back.
I've seen some other TR's with quick trips like LAX-SYD and IAD-KWI on UA so now I'm going to add mine. I am retired AA living in Japan as a missionary. Let me give you some background on my quick trips. I started making quick weekend and day trips when I went to work for AA, but I had never done an international trip. When I worked in International Aadvantage, we had some good weekend fares to Europe. I didn't think it was anything big, until I made a weekend trip with some co workers DFW-LGW. We left Thursday and returned Monday. To be honest, I found it took a lot more out of me than I thought and was pretty tired. I made a few quick trips to Europe, where I departed day 1, arrived day 2 and returned day 3. I was going to make such a trip DFW-ZRH for a weekend, when my credit card got jammed in an ATM. So I had no cash. And when they called me for seat assignment, there was only coach. I decided not to go. (I only had a carry on suitcase and I always travel that way, so I can be flexible.) The agent said he can give me a whole row to myself but I explained my CC got jammed in an ATM and I had no cash.
I was about to leave DFW and go home, when I remembered I took a couple extra days off work just for this. The DFW-LGW flight still had seats, and best of all it was a 777. Because I had no cash it meant I would have to fly over and come right back. But I decided to do it and got first class both ways. I stayed awake on the flight over but slept a good part of the return flight.
Since then I have made at least 14 trips like this, mostly for relaxation and to fly a 777. Most of my flights have been between DFW and Europe (LGW, FRA, ZRH), but I've also made a couple trips to Japan (KIX and NRT). Since I moved to Japan I've also done a few NRT to LAX or DFW. Most of my trips have been west to east where we arrive the next day (same day from Japan to US) and immediately return, arriving the same day (next day from US to Japan).
I've made a couple turn arounds from US to Japan and those are really tiring. I once flew DFW-KIX-DFW, slept most of the return flight and for 22 hours once I got home.
On a return ZRH-DFW flight it was the captain's last flight before he retired. I also made a quick trip DFW-ZRH to surprise my sister who was vacationing in Switzerland. We talked about spending an extra day in ZRH, but she wanted to return home, and her friend (a flight attendant) traded trips to work that flight. We got the last 2 seats in business class. The date of that flight was 10 September 2001.
I always try to get first class for these flights. No way I would want a middle seat in coach. I'm very thankful and blessed I can still fly as a non rev.
OK, to get to NRT I usually take the Keisei Skyliner from Ueno. I live in Soka, which is about 30 minutes from Ueno. The Keisei Skyliner only makes 3 stops, (Nippori, Funabashi and Narita) before arriving at NRT. It takes about 1 hour and the cost is 1920 yen (about 20USD).
I checked in at NRT and the lines were not long at all. I asked if I could use a self service check in machine, and they told me I could. I really like this feature as it eliminates having to wait in line. I was given a "priority verification" so I could pass through security. Normally when listed for first or business class, the boarding pass is given at the gate. If I am flying coach, and the flight is not full, I am given a boarding pass when checking in.
OK, here are some pics at NRT. AA moved to Terminal 2 in 2007, and the other One World Alliance flights fly out of this terminal, except BA. Naturally there is a lot of Japan Airlines.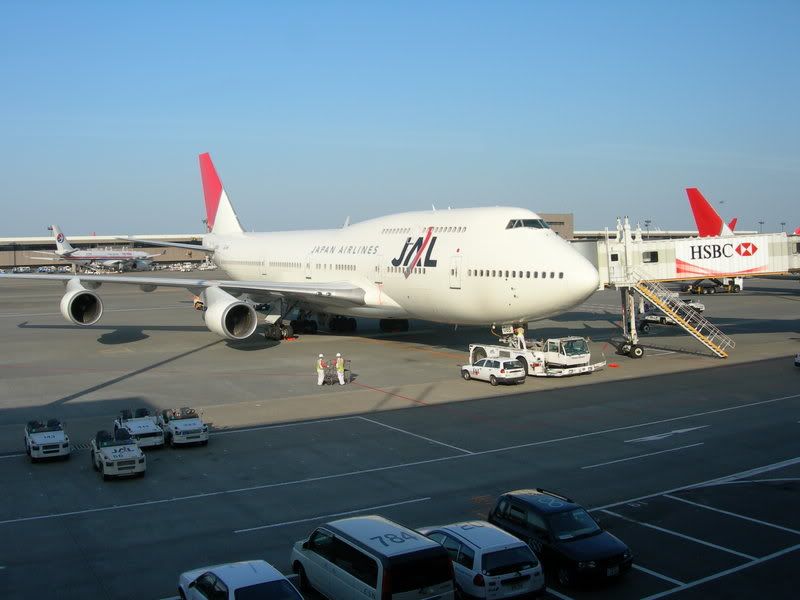 5 May 2008
AA 170 NRT-LAX
N777AN 7AH
Flying time 9:25
Seat 2D
Here is my nana nana nana to take me to LAX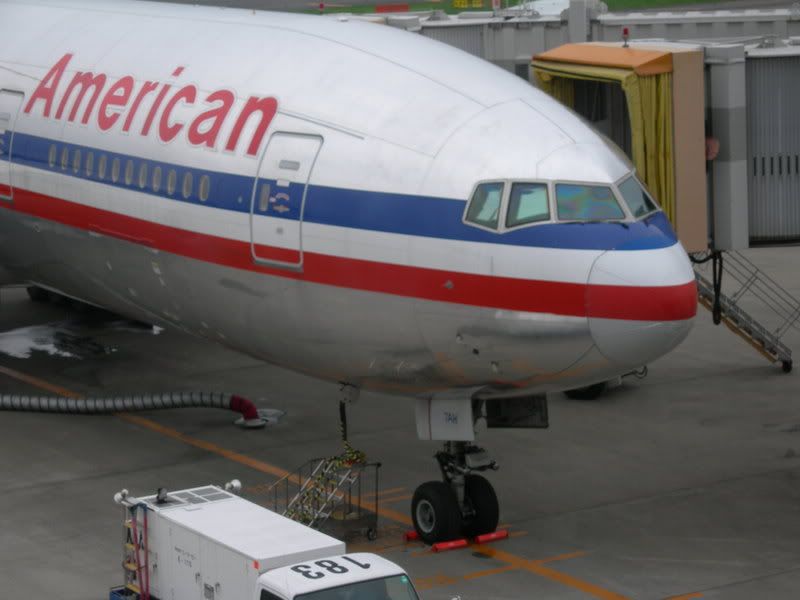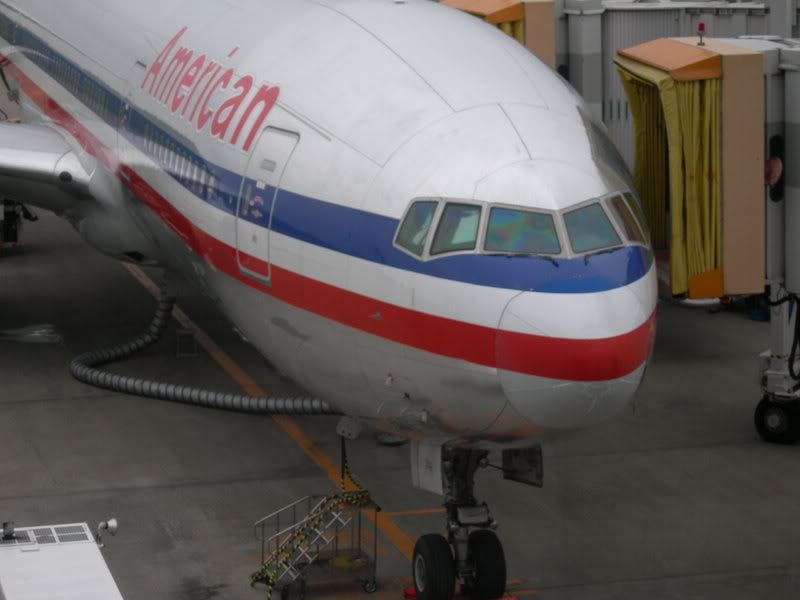 I wasn't assigned a window seat so I don't have any in flight pics to show you. But if you've crossed the Pacific before you know there is a little bit of water down there.
I've written TR's on other flights so I won't say much about these flights, except the inflight service was wonderful. I know I've heard lot of negative talk about in flight service on AA, but on most of my flights it is wonderful. I occasionally get a bad f/a, but 98% of the time it is wonderful.
At NRT, because we now use Terminal 2 and take off on 34L/16R we have to taxi for 15 minutes to get to the runway. We took off on 16R and about an hour after takeoff it began to get dark. The dinner service in first class is always wonderful, and I like the personalized attention I get.
The only thing I miss on the LAX flights is a midnight soba. AA has it on the NRT-JFK/ORD/DFW flights but not NRT-LAX. Breakfast was served about 2 hours before landing. We had a choice of an omelet or cereal and yogurt. I miss the time when you could have your eggs cooked to order in first class.
AA is in the process of reconfiguring all their 777's with the Flagship Suites in first class and Next Generation Business class seats in business class. Also, the 777's are being reconfigured with AVOD. My last trip they didn't work. This one they did. I also had my iPod Nano with me.
I stayed awake for the whole flight, didn't watch any movies; I just listened to some music I recently downloaded to my iPod. This flight was very bumpy for most of the flight. I did look out the window in the L1 door when flying over SFO. The picture did not come out good so I'm not including it.
I always enjoy the approach into LAX when coming in from a trans Pacific flight. We fly north of LAX, then we turn left so we are flying parallel with the airport and make a right turn to line up with the runway. We landed on 24R. Because I wasn't by a window and it was cloudy I don't have any pics.
At LAX, for wide bodies, they usually stop short of the gate and are towed into the gate. AA now has it's own customs facilities in Terminal 4 and they are very nice. I thanked the crew and got a picture of the nose of the plane, before a uniformed man yelled at me telling me cameras are not allowed. Gomennasai.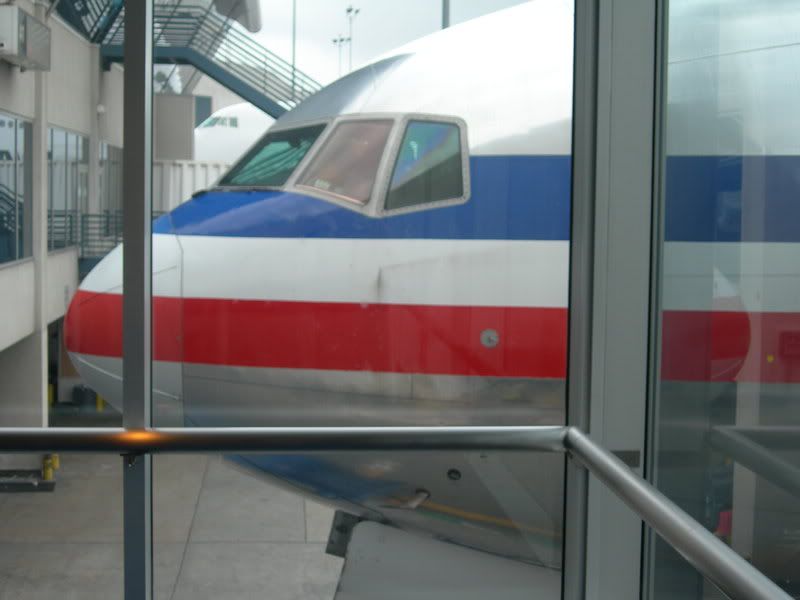 Also, QANTAS has some flights use Terminal 4, and after clearing customs and immigration and checking in for my return flight, I got a few pics of a QF 747-400 ER just in from SYD.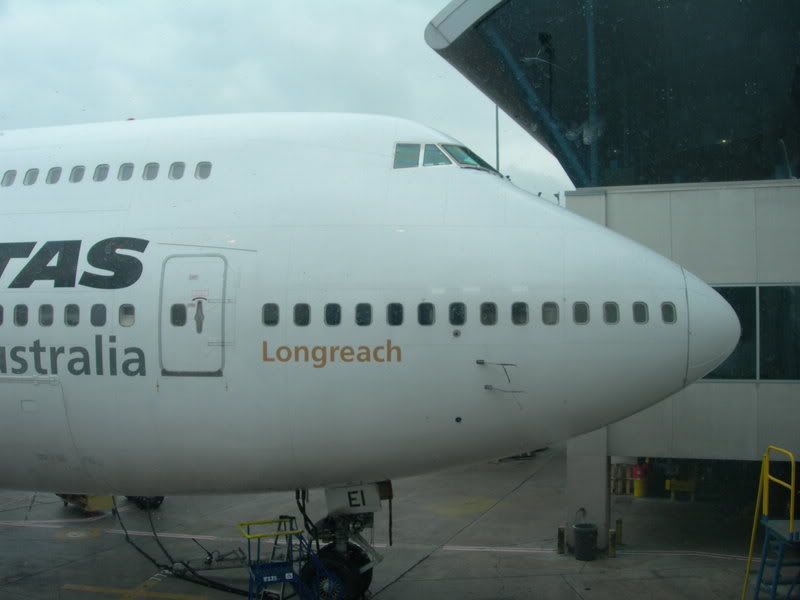 5 May 2008
AA 169 LAX-NRT
N777AN 7AH
Flying time 11:12
Seat 3A
I finished clearing customs and immigration and immediately went to check in for my flight. I used the self service check in at LAX to get on the list. Because the flight looked very full, I used one of my higher priority passes. I have had long lines for security at LAX, but on this day it moved pretty quickly. I checked the list, and it looked like I had a good chance at first class. If I wasn't able to get it, I would have asked to go the next day. Part of the reason I try to avoid checking in bags is so I can turn down a flight. If you have any checked bags for an international flight, you must be willing to accept any seat in any class.
While at LAX I was able to get some pics, mostly of a JL 747-400 also in from NRT. This flight would go into TBIT.
Notice it is being towed to the gate just like we were towed in. You can also see another QF 747-400 behind it at TBIT.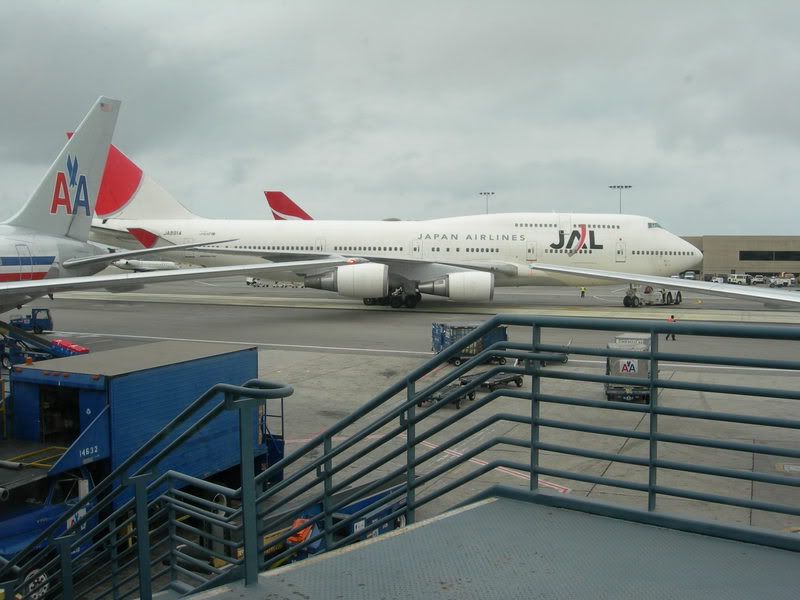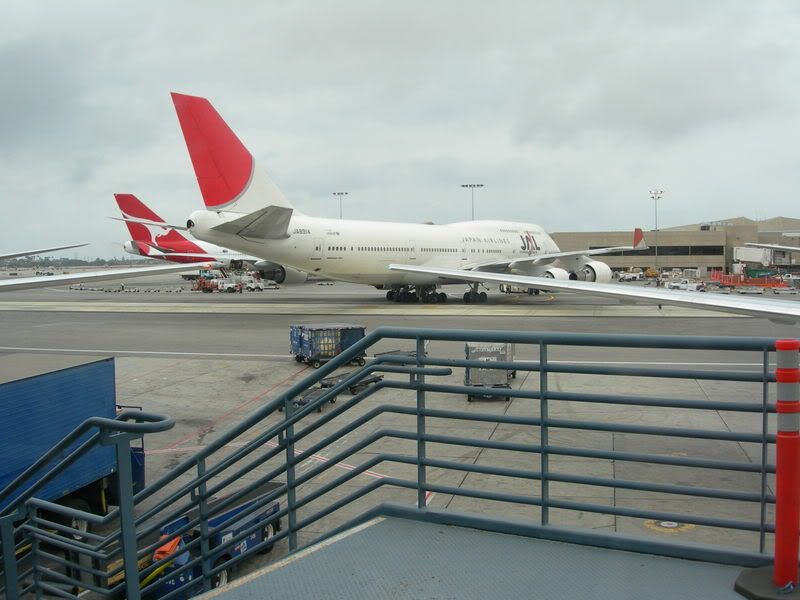 Here is my 777 at the gate at LAX.
My name was called at the gate and I got a seat in first class. Here are some pics of other AA planes as we pushed back and taxied out.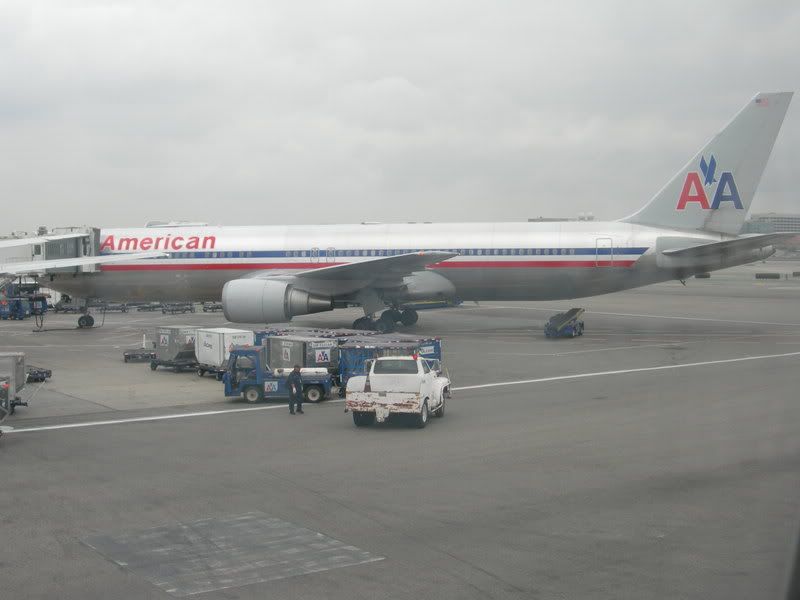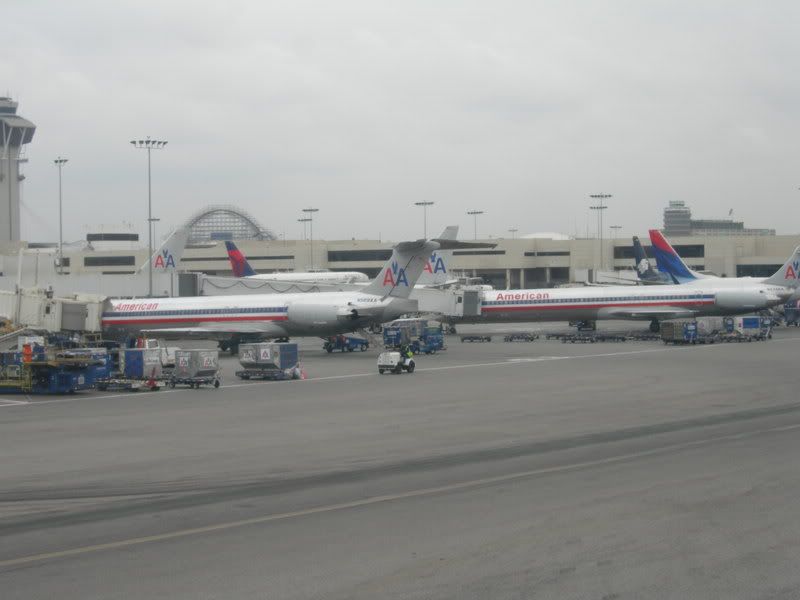 UA 747-400 and 777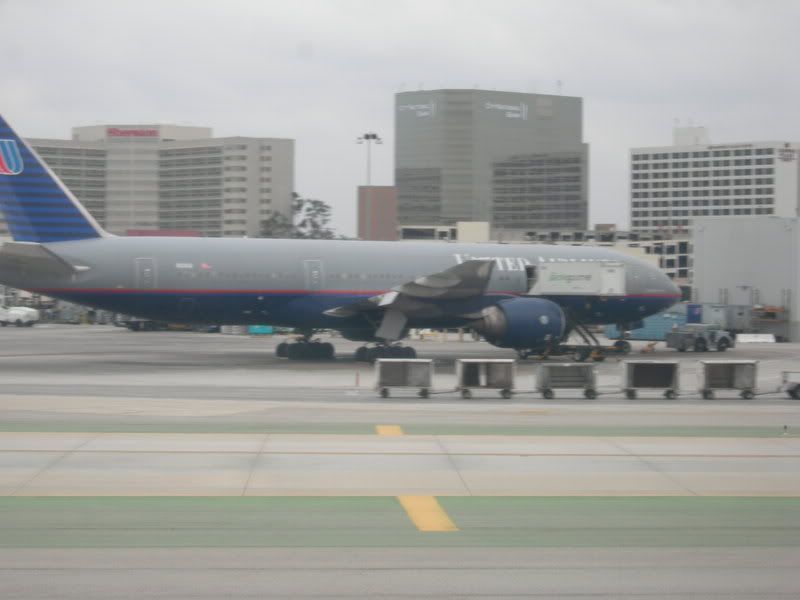 Famous LAX control tower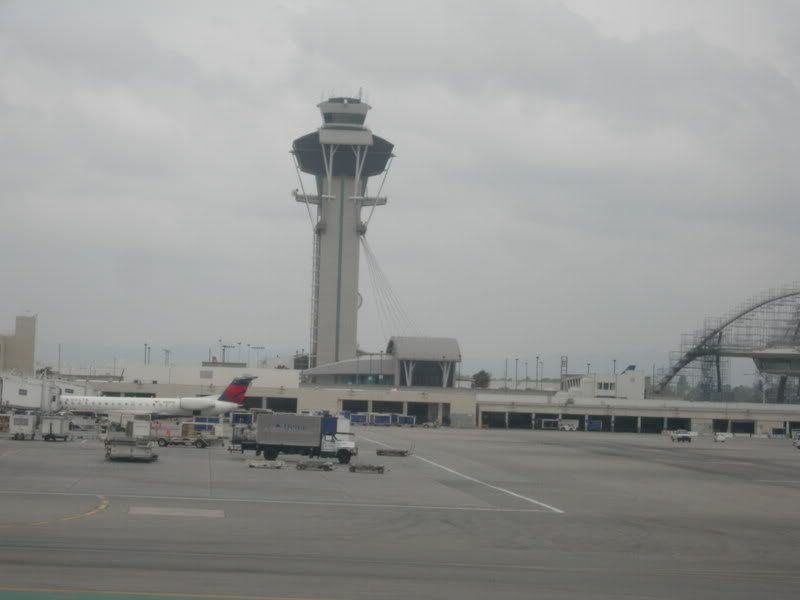 Virgin's domestic branch, Virgin America is also here.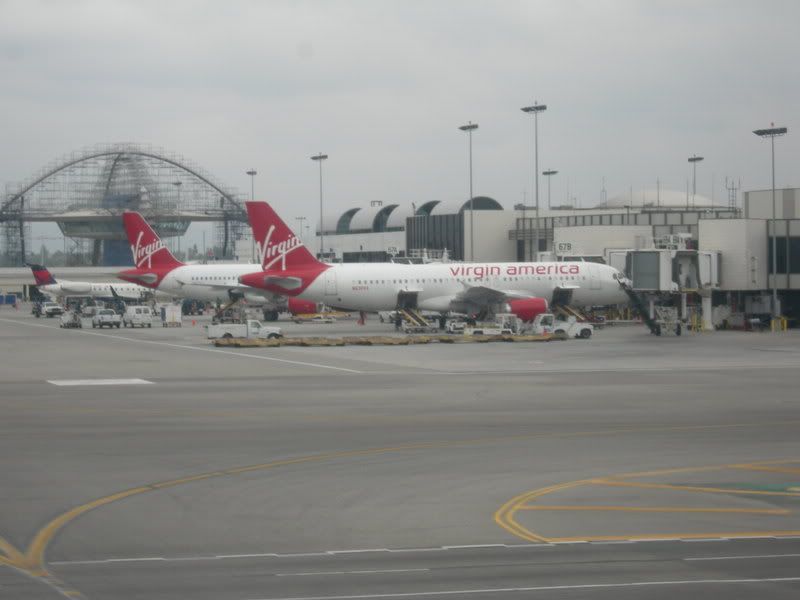 We took off on 25R. Here is a Korean Air 747-400F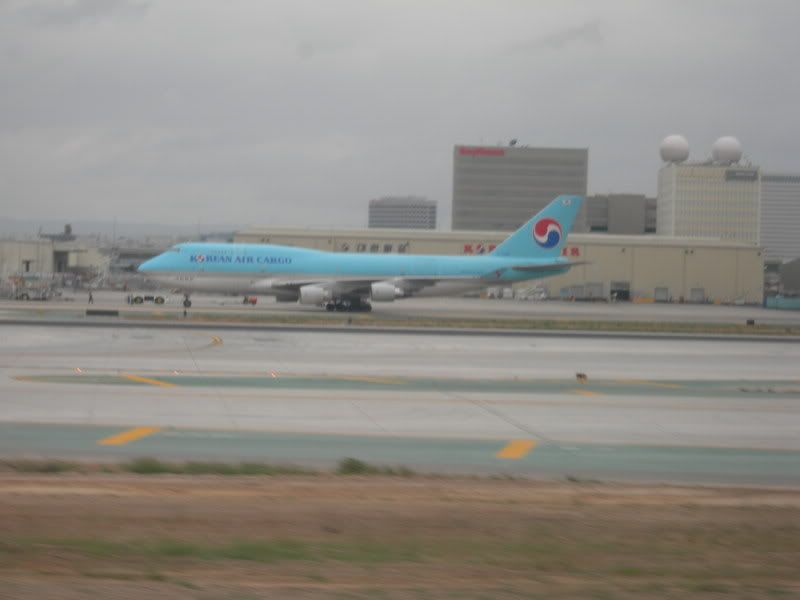 Here is the famous Joe Clutter park overlooking LAX, which gives you an excellent view of airplanes landing and taking off on Rwy 25
Pacific coastline. We'll be seeing lots of water for the next 11 hours.
Once again, the inflight service was wonderful. We had lunch after takeoff and a midflight soba. I slept for about 5 hours then requested soba. I listened to my iPod and watched a couple of movies. The return flight was much smoother than the outbound flight, although I remember tellling an f/a about it. About 5 minutes later it started to get bumpy.
We approached NRT landing to the south. Here is the Japan coastline after 11 hours over the Pacific.
When approaching NRT notice how green the countryside is. Also there were several golf courses and rice paddies near NRT.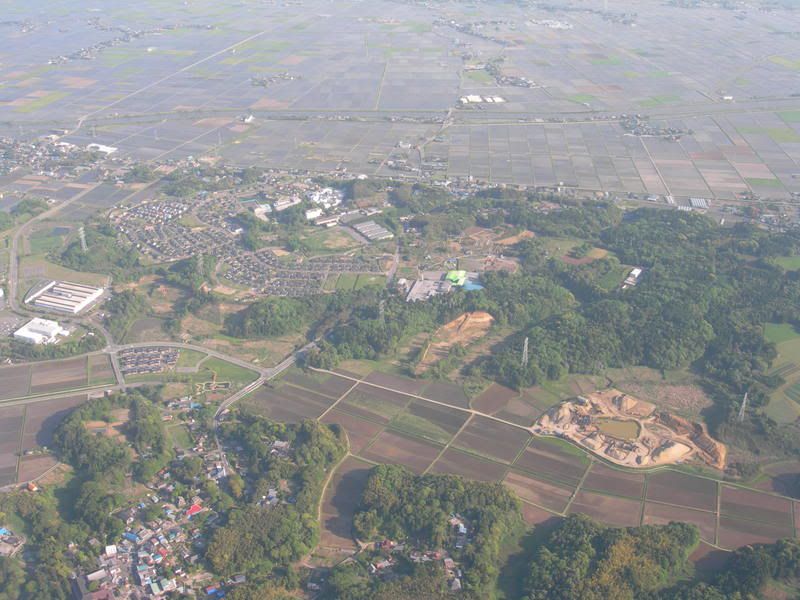 Because AA has to land on 16L/34R it was only a short taxi to the gate. I asked the purser if I could go back and look at the new business class seats after everyone deplanes. They looked pretty nice. Sorry I didn't take any pics. I have heard most passengers like them. When I worked at AA I remember several of our premium members telling me that until we get lie flat seats in business we're really not going to compete with the other airlines. I sat in one of the seats and it was pretty comfortable. The only complaint I've heard is that if you are in a window or middle, and the person on the aisle has his/her seat in sleep mode, it is impossible to get out.
Notice the JAL planes.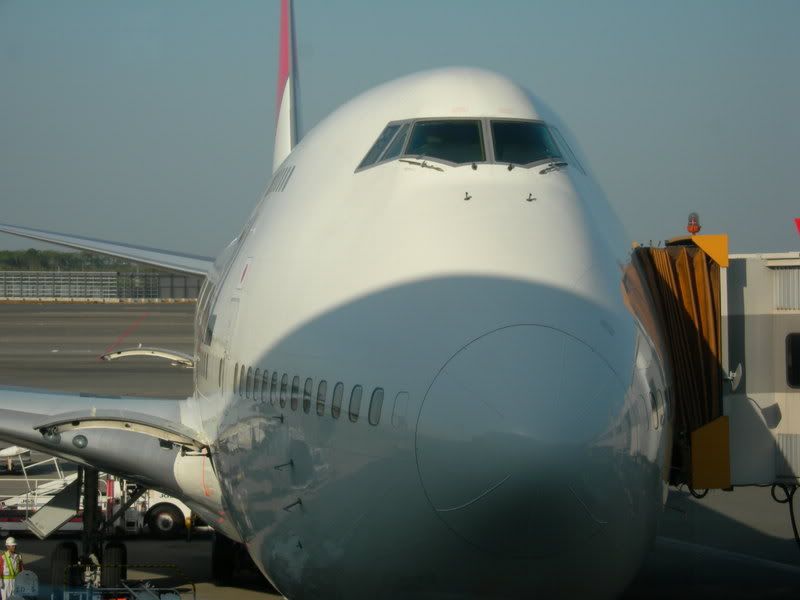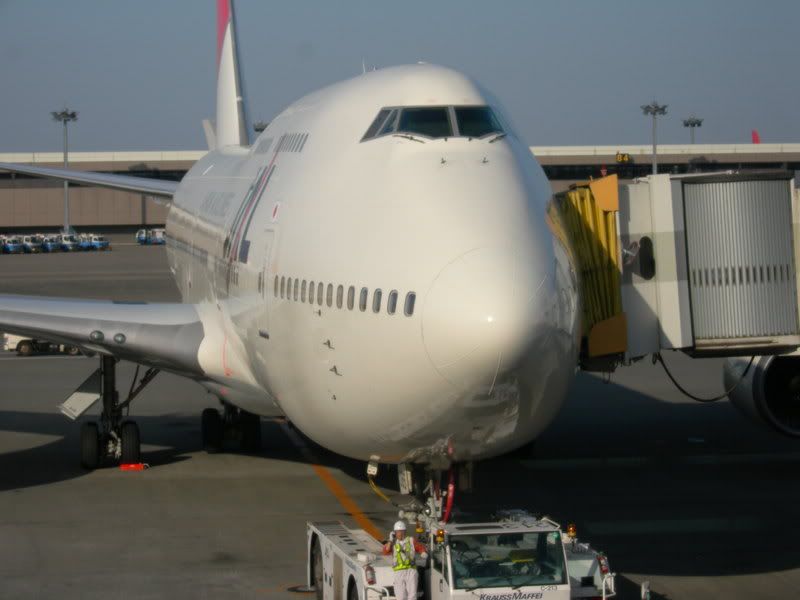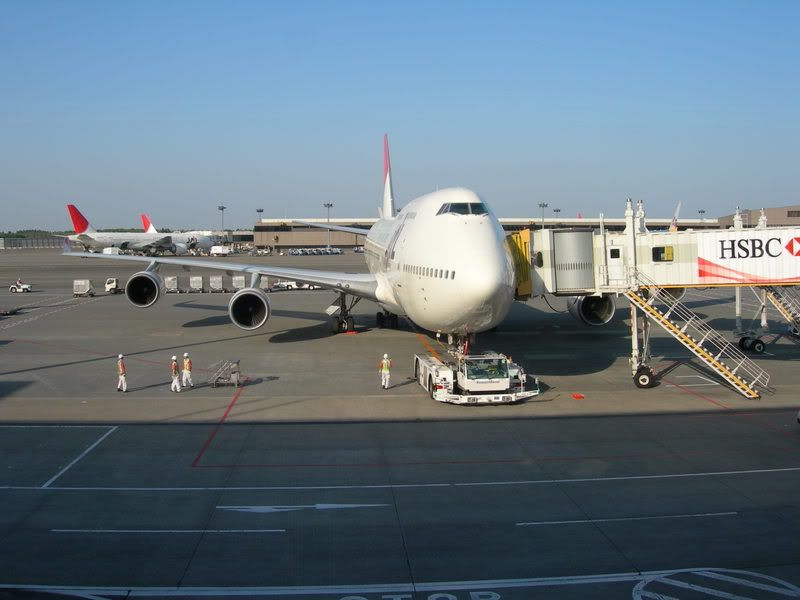 I took the Keisei Skyliner to Ueno, and the Tokyo Metro Hibiya Line and the Tobu Isesaki Line back to Yatsuka. I got to bed before 10PM and slept for 14 hours. The next night we had 10 earthquakes with aftershocks, the biggest earthquake registering 6.8 on the Richter scale. I didn't sleep through those!
Thank you for reading my TR. I always enjoy reading other TR's and I'm happy to add mine as well. Your comments are welcome.
Yoroshikoonegashimasu