10.05.08 BD121 A319-132 G-DBCD 23A
2nd Flight on this aircraft & 59th A319 Flight
SCH DEP 07:00 SCH ARR 08:15
ACT DEP 06:56 ACT ARR 08:18
View Large
View Medium


Photo © Tommy Desmet
Saturday morning and the alarm goes off at 04:45, a bit of flying ahead today, 3rd week in a row with flights - though I do hate getting up so early at times!
Heathrow's Terminal 1 was pretty quiet when I arrived, circa 05:45.
The first self service machine got stuck in a loop so I found another which worked.
Work is showing signs of progress
Boarding pass in hand I headed to the security checkpoint, through in moments, no queue or anything, fantastic! It seems BAA might be getting to grips with how to manage security, my shoe's stayed on and the laptops can be left in the bag these days!
I had planned for a coffee, but the only place open, Wetherspoon's had a big queue so picked up a paper and headed to the gate, number 79 this morning. Wetherspoons on this area was still in the process of opening for the day.
I'm not a fan of the 70-90 gate area, it's basically a narrow tube, get's hot & the signage is poor.
The gate for today's flight as I said was 79, however 79 to 81 are missing from the directional signs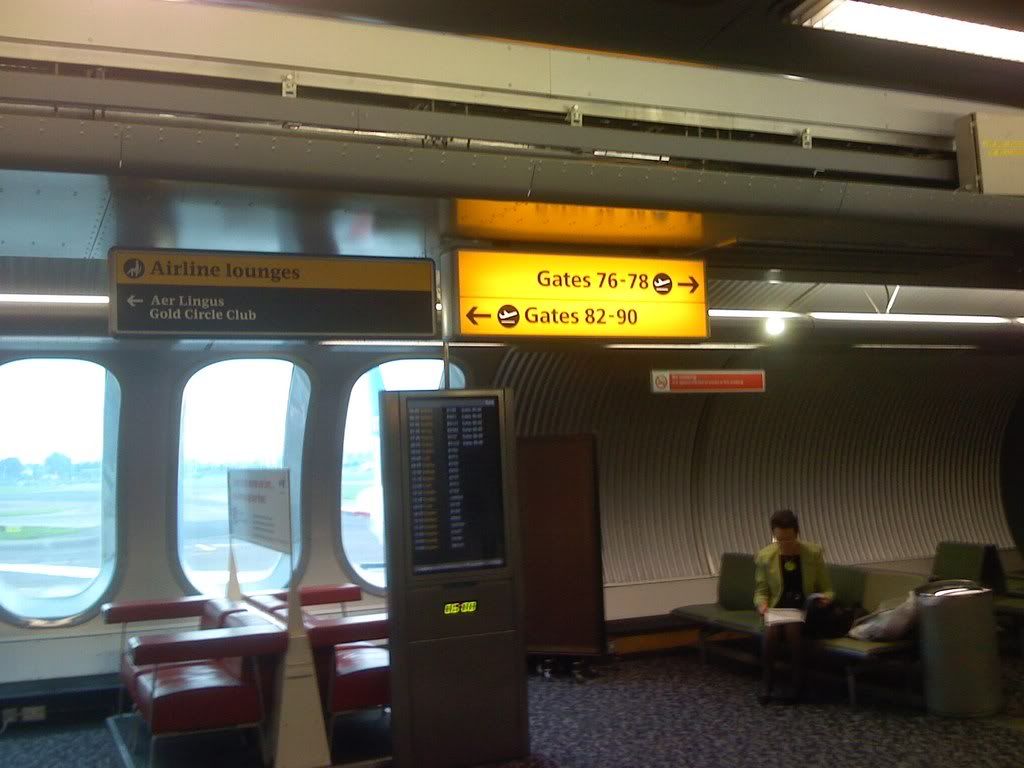 I'm sure the same gate we used today was numbered as 80 when I flew to Jersey the week before!
My plane this morning
Boarding started at 6:35, elite types and passengers with children etc first, however nobody came forward so general boarding by rows was announced.
I had chosen 23A today. Row 23 is the last row on BMI's 319 fleet & it's quite nice as the seating is in a 2-2 config. Despite a pretty full flight, the seat next to me remained open and did so for the chap sat in 23F.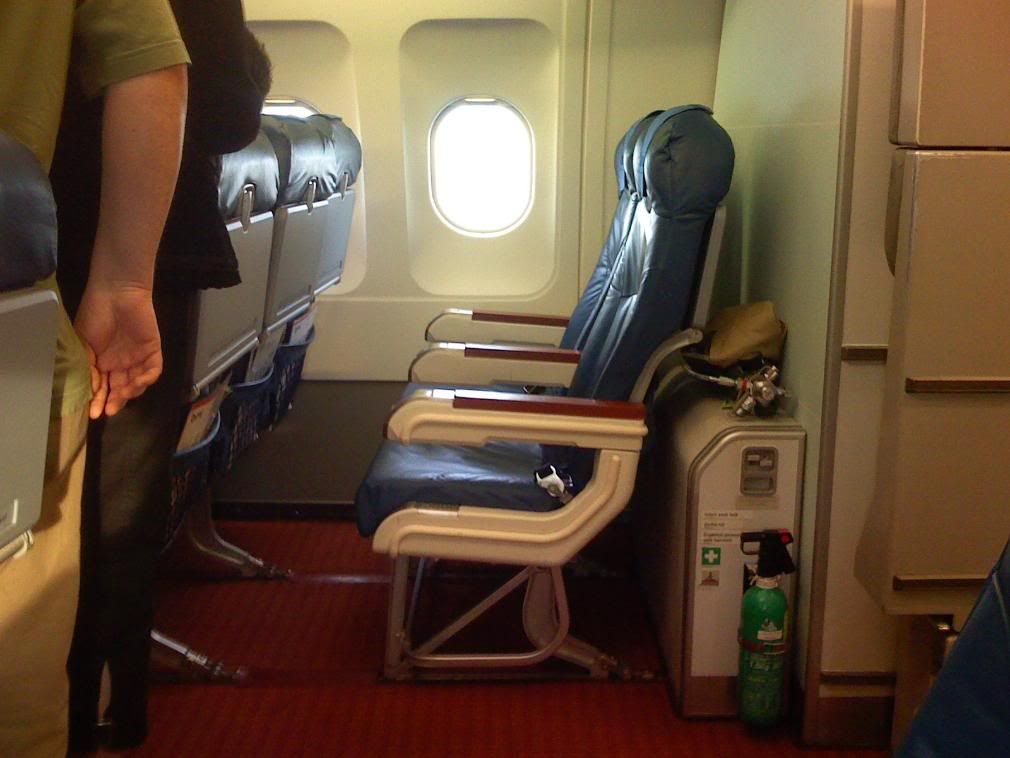 The only problem with these seats is the proximity to the FA seating. The 2 sat behind in the galley were pretty loud, I don't want to hear about their domestic problems etc etc.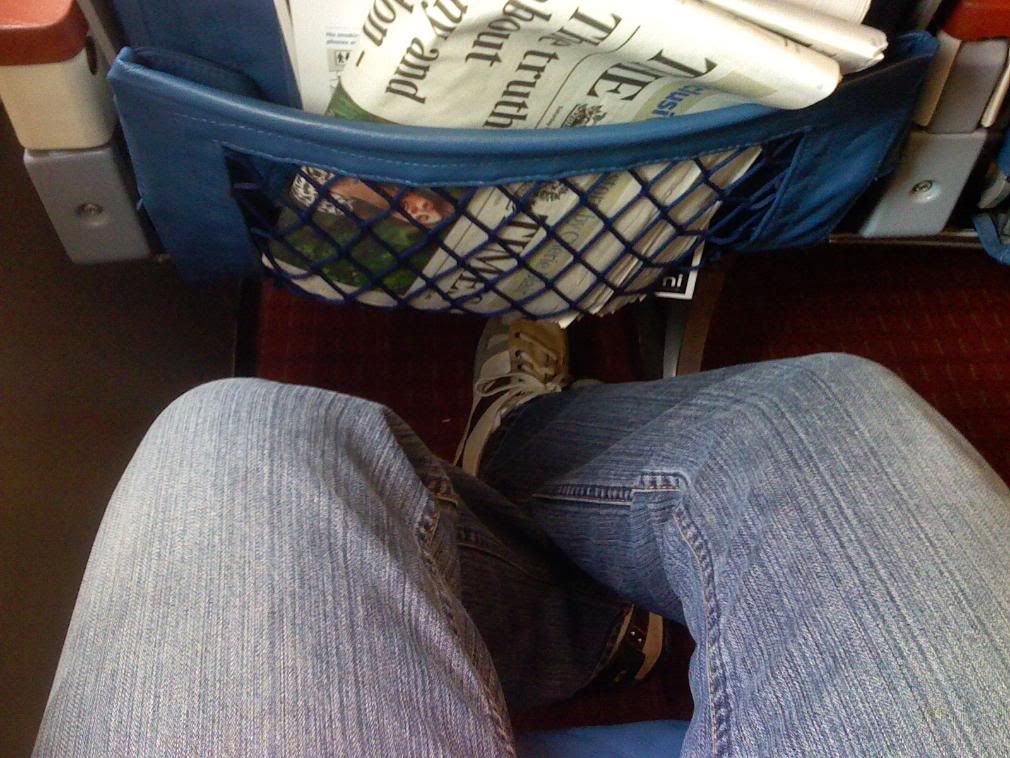 Pushback was slightly early, though the captain had advised we would be leaving the stand and heading to a remote stand, ATC had given us an airbourne time of 07:30. The plane headed down to the fuel farm, 1 engine was shut down and we sat for a while. The sky god's must have taken pity on us as the ATC slot moved up, we headed out to the active this morning, 27R. DBCD was number 2 for take-off following a Lufthansa 321 – wheels up at 07:25.
Tail removed from G-YMMM
Once released the crew went about the usual inflight sales, when they finally got to my row I had a coffee and a toasted cheese and tomato sandwich, as a BMI Blue Card holder showing the card get's you free food and drink, I guess that's a perk these days.
The rest of the flight was uneventful as usual though it was pretty bumpy, I can't actually recall the last time I had a bumpy flight, they don't worry me, it just makes drinking difficult at times.
Wheels touched down at a slightly foggy Dublin at 08:18. The plane pulled onto stand and the jetty attached, a decent enough flight, nothing special nothing bad.
10.05.08 BA8083 B737-528 G-GFFI 7F
1st Flight on this aircraft & 75th 737 Flight (8th –500 flight)
SCH DEP 12:40 SCH ARR 14:00
ACT DEP 12:37 ACT ARR 13:55
View Large
View Medium


Photo © Paul Markman
After a short visit for a few aircraft numbers it was time to head back, used the self service machine without issue and headed through security.
Somehow I managed to beep when passing through the machine, this despite having nothing different on me since I left Heathrow a few hours ago, so trainers were removed and back through for a second attempt, I beeped again, got a very quick rub down and was off to get my bag – seemed quite lax in some respects.
The airside shopping mall was pretty busy & just don't have the patience unless I need something so I headed to the lounge.
BA use a shared lounge which is fair enough since they only have a limited schedule into Dublin. The lounge looked pretty busy and the view's looked nothing special so I headed to the A gates where the flight would depart from, bought a drink and sat with a decent view of the apron to take in some spotting whilst finishing off the paper from earlier.
Boarding started at 12:20, after heading down to A12 I was one of the last to board, which today involved walking across the apron an up the aircraft start, don't get a chance to do that too often these days, at least I don't!
Load was light today, I had 7 D,E & F to myself.
Today's aircraft was G-GFFI, a –528 model, originally ordered by AF, however taken up by Luxair as LX-LGR.
View Large
View Medium


Photo © Luis Goncalves
It makes a change to fly on a BA plane which has a bit of history besides BA.
Evidence of pre-BA day's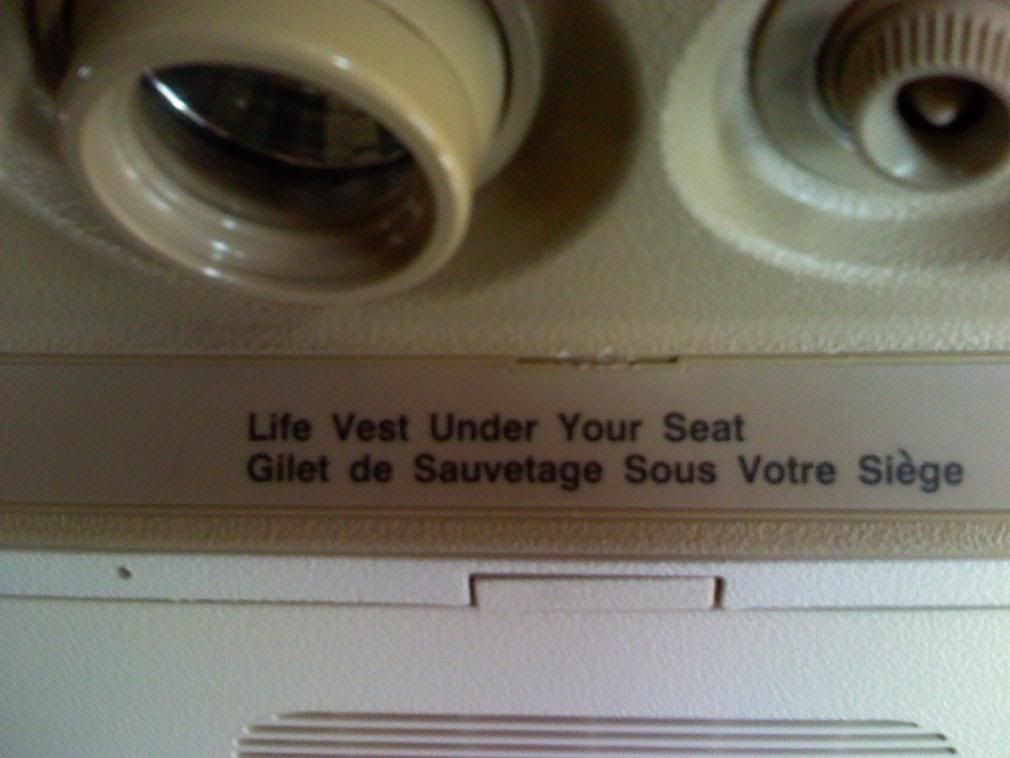 At first glance the plane looked clean and tidy, however look closer and the plane was showing signs of it's age, the lighting was all yellow from age, the side panels were scratched and chipped, bit's of the seats missing or loose, certainly not up to the usual Heathrow Airbus fleet standards.
Sagging head rest
Push was slightly early, though we had a bit of a hold to wait for alternating arrivals and departures, wheels finally lifting off Irish soil at 12:57.
During climb
The inflight service commenced one the crew were free to leave their seats. Club had a Chicken salad (I think), Euro Traveller would be served snacks and complementary drinks from the bar along with tea or coffee, they used the complementary word a few times during the announcement, it sticks in your mind when you compare to BMI etc offering to sell you drinks/snacks!
Pic of the snacks and my drink below, the Skybites were really nice, not had those before.
The flight was much smoother than this mornings flight out, quite a nice day to just sit back and enjoy flying, a book and a beer, nice.
Final approach brought us in over some spotters on the perimeter road
touching down at 13:55, 5 minutes early. Taxi too us to the furthest parking stand on the North Terminal, departing via the stairs to busses.
Once dropped off to get to arrivals it was quite a walk, however I made it with plenty of time to get the 14:35 National Express to Heathrow to get my car.
On the bus, they have camera's thse days!
Summary:-
BD:- Can't fault the flight really, did the job and was as expected.
BA:- Plane was tatty though clean, thought the inflight snacks were pretty decent and the staff were a tad more friendly and smiley that the BD crew this morning.
Thanks for reading, any comments are appreciated.
Regards
Mark
Confirmed flights on the horizon:-
BA LGW-PMI 735
BA PMI-LGW 735
BA LHR-JFW 744
CO EWR-HNL 764
AA HNL-LAX 752
BA LAX-LHR 744
Planned but not confirmed:-
BE LGW-IOM D84
XA IOM-JER DO3
GR JER-GCI TRI
XA GCI-JER J31
BE JER-LGW 195