Preface
This trip report will be slightly different than previous ones. Each post will be about each flight as there will be many pictures from each segment. Comments are definitely welcomed!
I also added a music component to go with this trip report. May I suggest "One Night in Bangkok" by Murray Head.
Enjoy!
Trip Report
So far, I've posted my reports on the following flights:
We last left off I had finally landed at HKG on CO 99 and were now enjoying a nice long taxi to Gate 21.
People did remain seated while we taxied to, I believe, Gate 21. Once the captain turned off the fasten seat belt sign, it was the typical mad rush to get up and out of the seats with bags removed from the overhead bins and out of the plane. The elder Filipino-Chinese couple sitting next to me ran to L2 so they could make their PR connection to MNL. I am not sure if they made it in time to check in and go through security. At the end of the jetway on the arrivals floor, HKIA staff directed passengers either to the Immigration Hall or to designated transfer check-in desks. These ladies held various signs for different flights. I saw one holding a sign for the EK flight to BKK and inquired where to go. I was surprised when she asked if I was Mr. C and if I would need an escort to the West Wing transit area.
She mentioned that there were two more passengers who were connecting onto KQ to BKK, but they had missed their flight and were put on the EK flight. I told her I wanted to go ahead and walk in the general direction to the West Wing. She nodded and off I went.
After leaving the arrival gate area, I utilized the various moving walkways to the West Wing transit area. It was definitely a long walk, and the HKIA agent did not have the luxury of having a golf cart to take us to the check in area.
Overall, I finished with my check in when I recognized one of the passengers on my CO HKG flight who was to have been on the KQ flight and now be on my EK flight.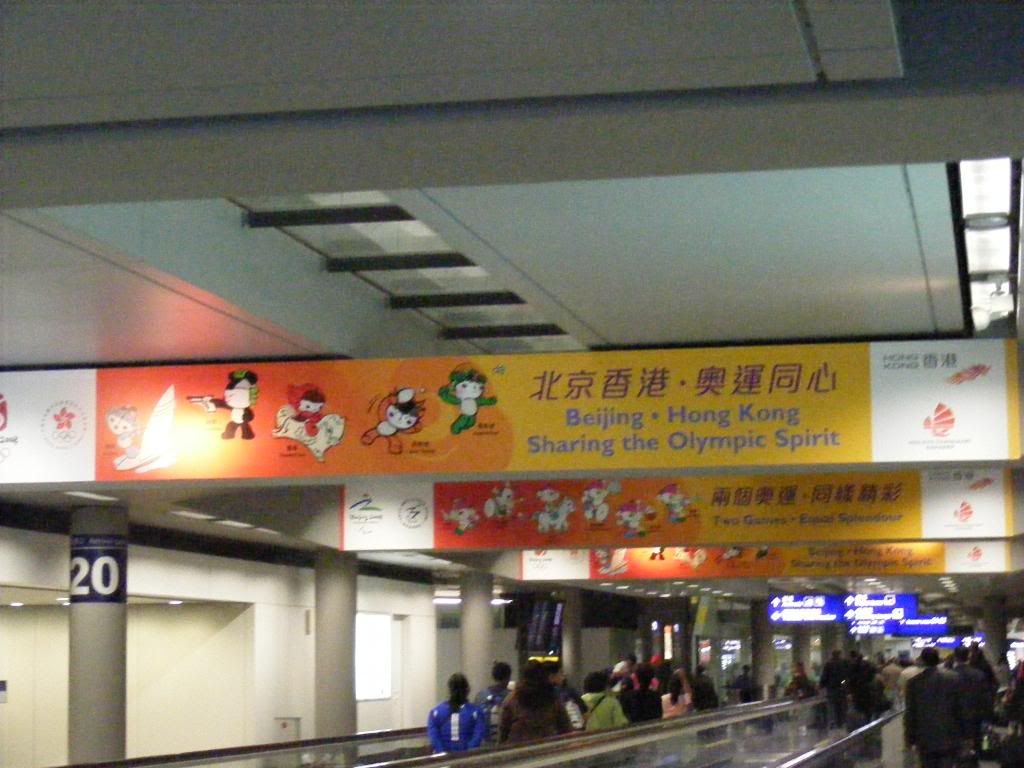 HKIA getting into the Olympic Spirit! Arrivals floor in the direction towards Hong Kong Immigration & Customs.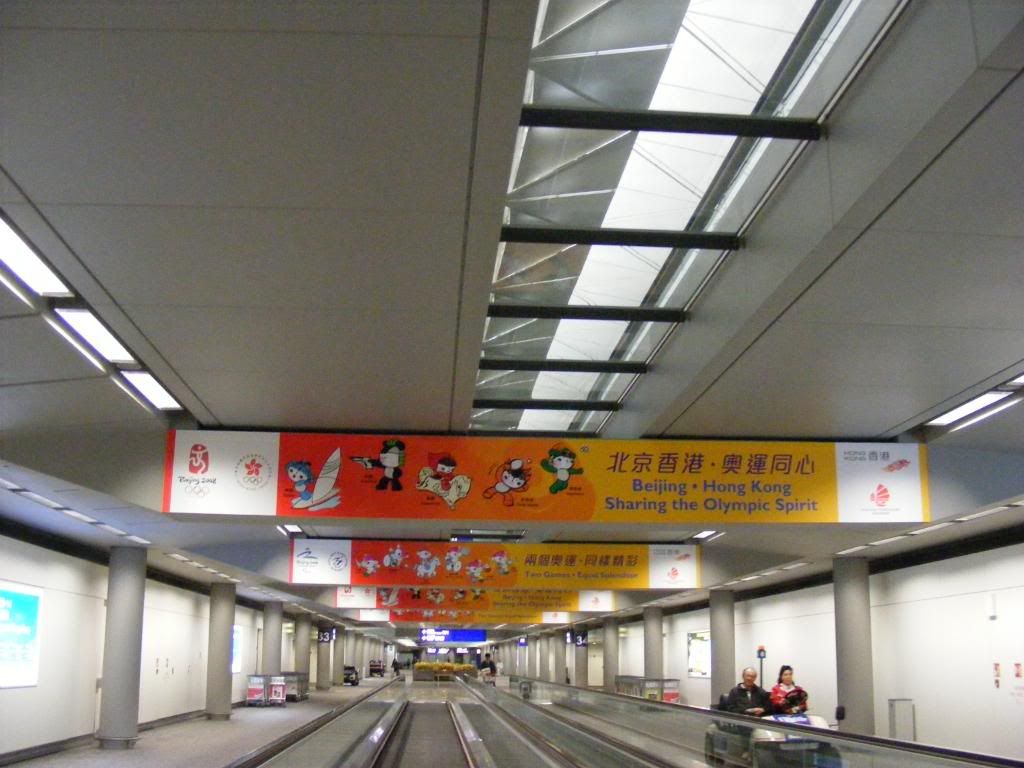 More Beijing 2008 signs going towards the West Wing Transfer Area.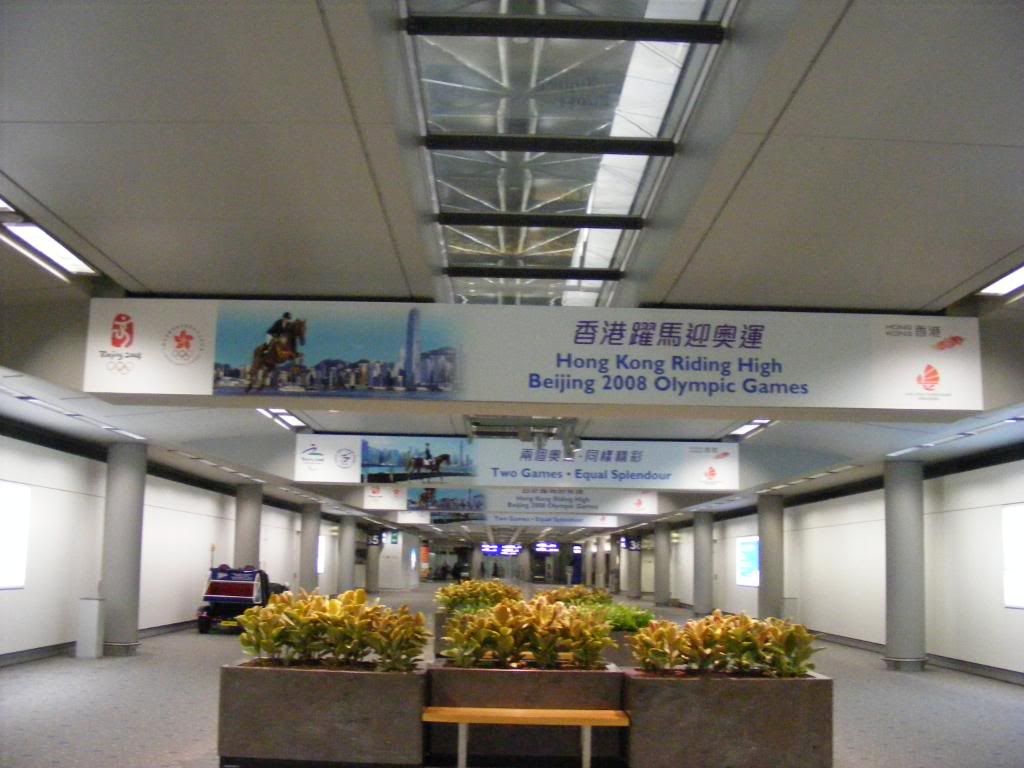 Promotion of Hong Kong as a venue city for the Beijing 2008 Summer Olympic Games.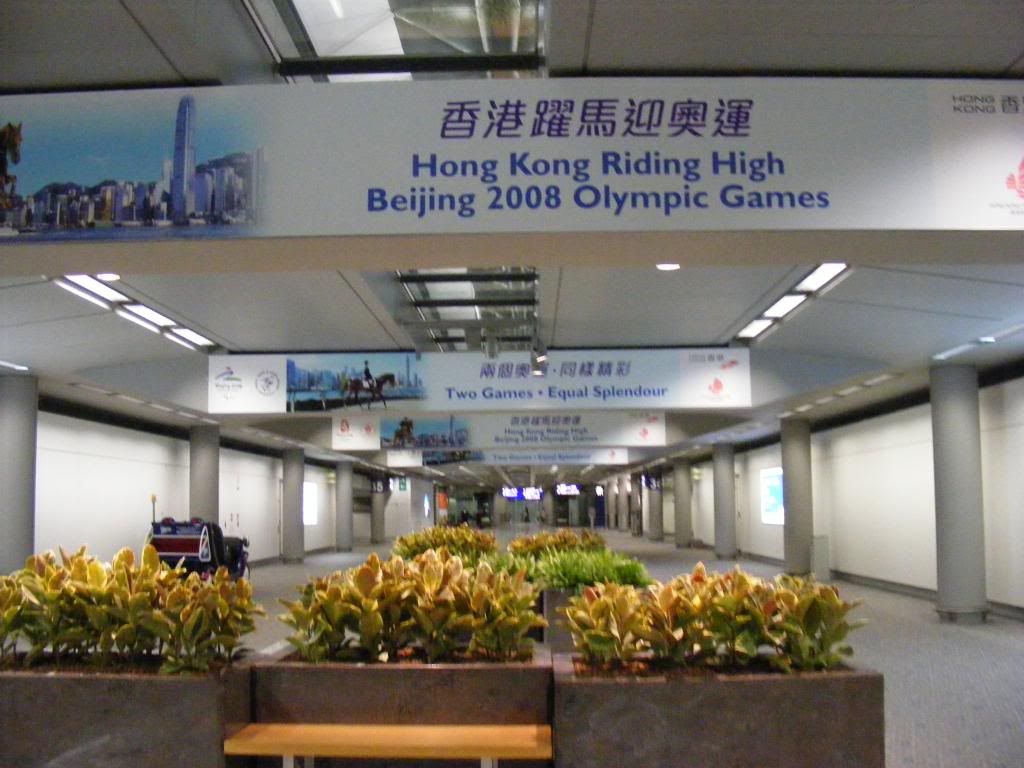 Hong Kong is riding high as the host city for the equestrian events for the Beijing 2008 Olympic Games.
I arrive at the transfer desk with under an 1.5hr layover, hopefully enough time to get a quick peek in the EK lounge. The check in counters in the West Wing were nicely arranged with agents wearing HKIA uniforms, except for those manning the CX counters. There were two agents working the EK counters, one for J (aka Miss J) and one for Y (aka Miss Y), and both working on paperwork or something before I arrived. When I approached the J counter, both agents stopped what they were doing and smiled as I handed over my printed EK itinerary, passport, and my CO ticket jacket that had my baggage tag number. Miss Y helped her counterpart and minimizing my wait time at the counter. From the previous report, I had checked in for EK 385 online and received an email with a PDF containing my confirmation that I was checked in. On that PDF file, it states that the confirmation does not represent an official EK boarding pass and I would need to check in with an EK agent at the airport. This was fine with me since I usually request trading in my home-printed boarding passes for the traditional cardstock versions, and a bonus if it comes with the shiny magnetic strip on the back. Miss Y wanted to confirm my window seat at 6A. I gave the affirmative with both agents replying "Yes, sir." As Miss J checked me in and proceeded to print out my boarding pass, Miss Y checked me off the online check-in manifest, and then proceeded to manually issue my EK Lounge Invitation. Miss J collected the invitation from her and then laid out everything in front of me in the following order : my passport, my CO ticket jacket, my EK itinerary, my blue EK J boarding pass, and my EK Lounge Invitation. She then went through the order with how she laid out my stuff. She said my passport information was verified with arrival documentation handed out on board my flight, my bags now linked to my EK itinerary and should make my flight to BKK, my EK itinerary, my boarding pass for my BKK flight with my CO OnePass number confirmed and sitting 6A, and concluded with my EK lounge invitation showing me how to get to the lounge after security.
I smiled with such attention to detail, customer service at its finest. Then, both agents stood up, smiled, and gave a little bow, something I truly was not expecting, especially from Hong Kong locals. I again smiled and said "Xie Xie", again getting bigger smiles from them.
I collected my bags and walked the few steps to the security area. At that time, the HKIA agent that met me at Gate 21 was now there, with two Americans huffing and puffing. I wonder if they would get the same treatment? For me, the whole process took under 5min.
After check-in, I encountered a slight delay at security because I had an epi pen with no prescription.
The HKIA Security Staff were nice about it, asked me how many, and needed my boarding pass to document. They did not seize nor request to see my epi pen. With documentation complete, I was handed back my boarding pass and wished a pleasant flight. After security, it's just an escalator ride up to departure level. I took a quick 2min peak around the shops that were close by. I did not want to see too much as I would be back about a week later to check out the offerings. Right now, I had an invite to the EK Lounge and I definitely wanted to check it out!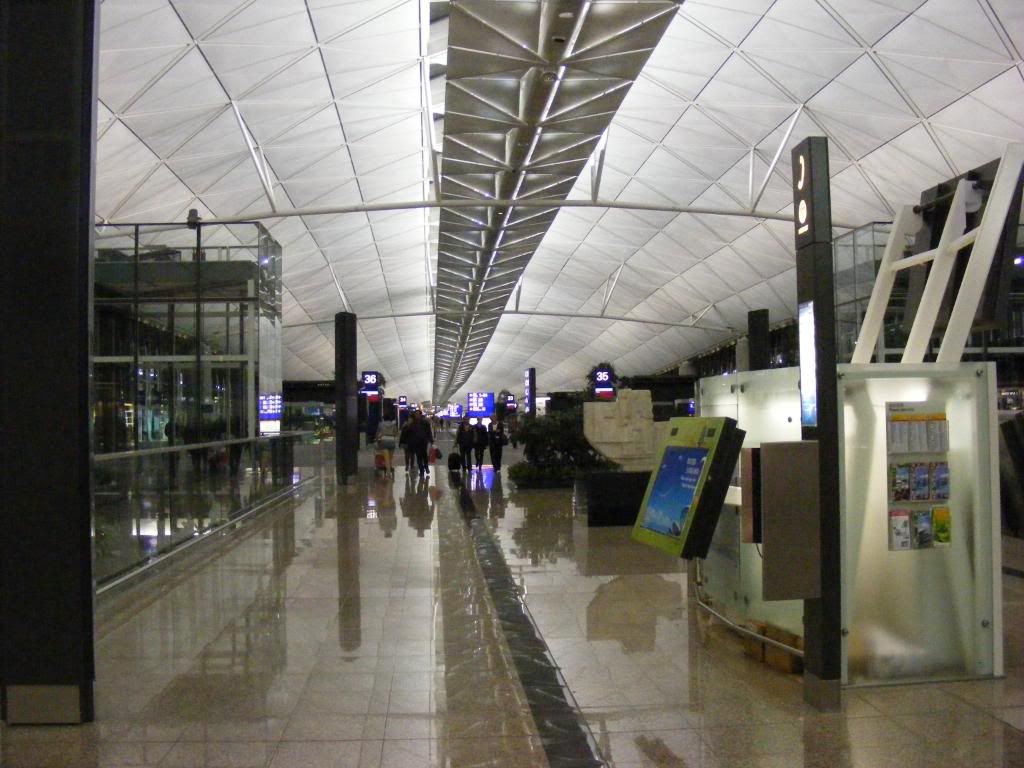 Ascending to departure level around Gate 35 after going through security next to the West Wing Transfer Area on the Arrivals floor.
The EK Lounge as well as other airline lounges at HKG are located a floor above departure level that can easily look down onto departure level. The EK lounge is located around Gate 60. I was greeted by two female EK agents and showed them my lounge invitation. I asked if I could keep it as a souvenir. They said it was OK but they would have to mark on it being used. With the words "USED" written on it, it was returned with a smile and welcomed as I wait for the flight to board. They informed me they would make an announcement for final boarding call for my flight to BKK.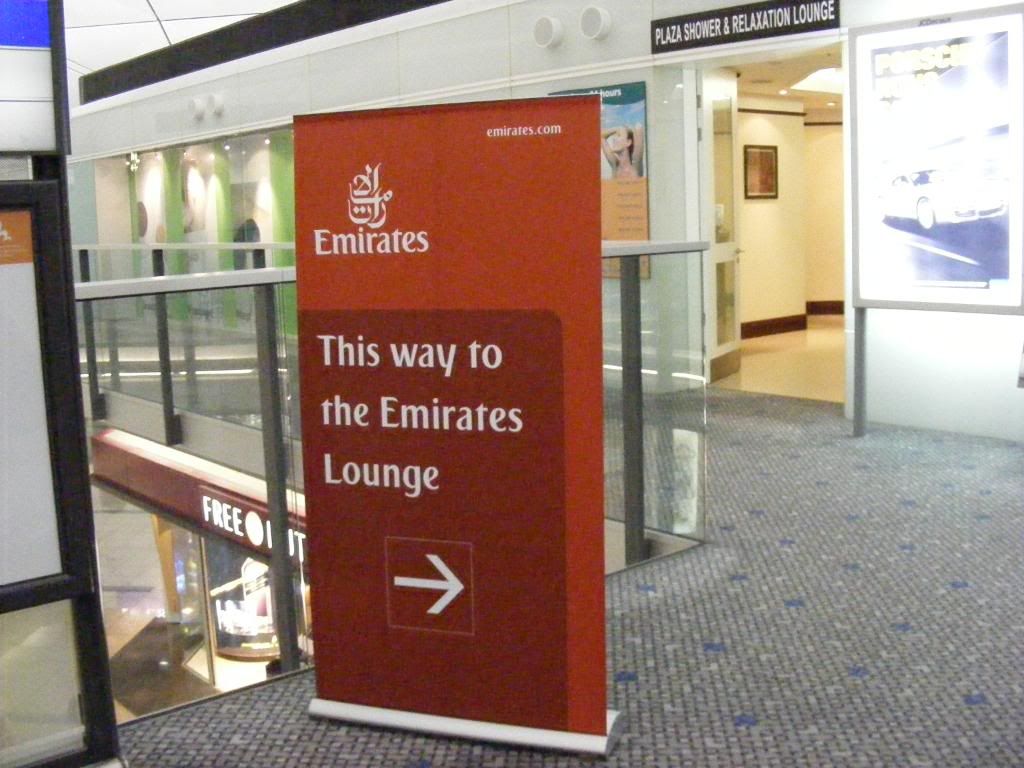 Sign directing passengers to the EK lounge on the floor above Departure level.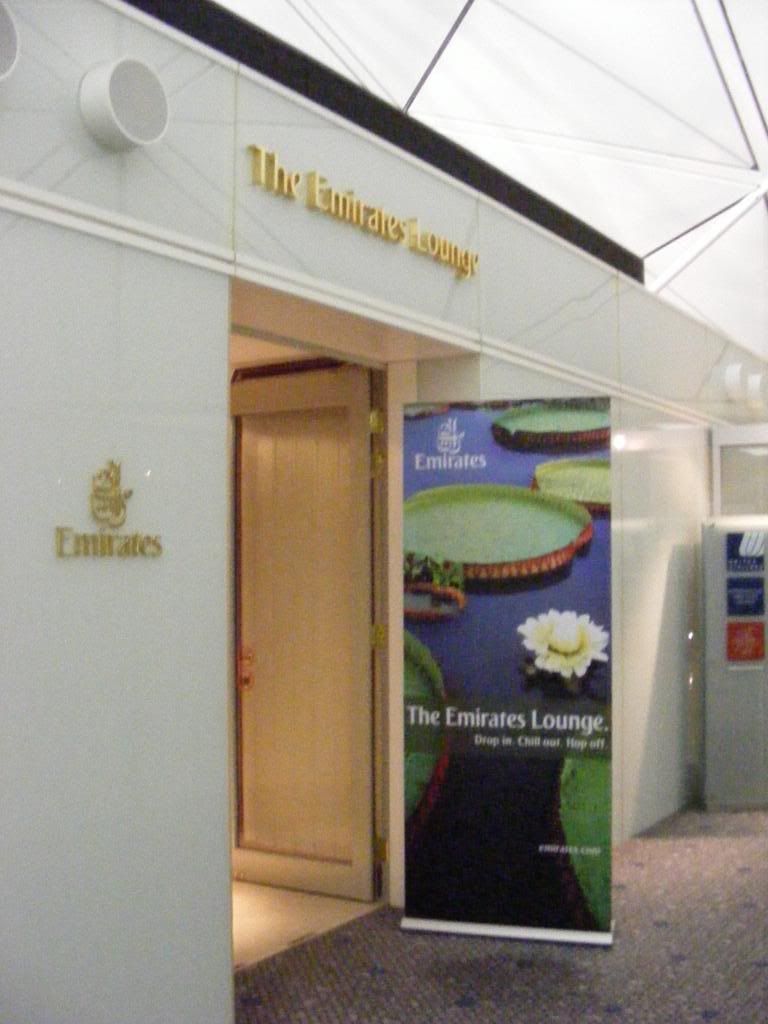 Entrance into the EK lounge at HKG above departure level.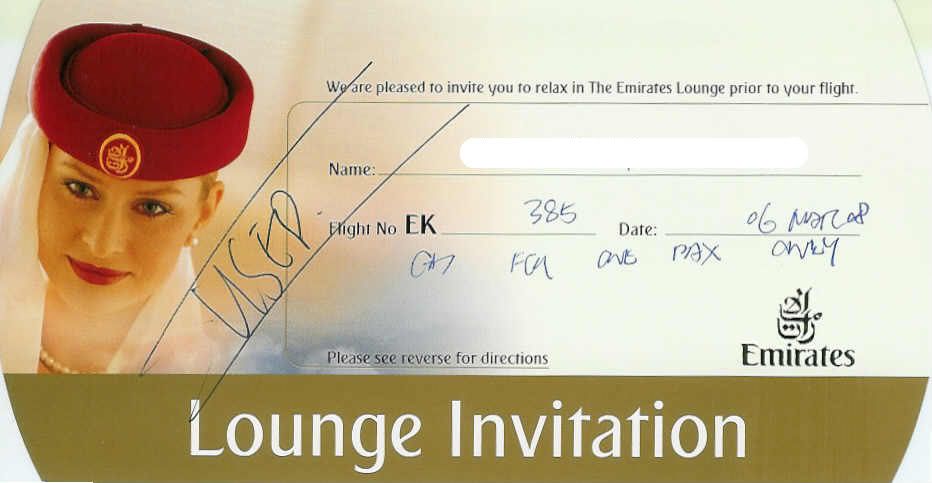 My "used" EK Lounge invitation for HKG.
My lounge invitation and directions how to get to the lounge on the back side.
After the welcome desk, you are immediately greeted by a nice food spread that could make one full. I decided to find a place to sit and put my stuff so I could check out the lounge offerings and get a few bits of nibble to enjoy before I board my flight. I found a nice sitting area with four chairs and two glass coffee tables to drop my stuff off. Over the ledge, I had a nice view of Gate 60 below. It was slowly filling up since there was my BKK-DXB flight as well as the DXB nonstop. With my bags secured, I went to check out the food offerings. I got a big excited when I saw them offering San Miguel Beer, a popular brand in the Philippines and one of my faves!
There was a nice dinner set up with a Chinese flair. While the ladies at the welcome desk were nice and friendly, the contracted male food staff acted like total
!!! I was a bit peeved when one gave me attitude because I could not find a bottle opener.
With a big sigh, he partially opened the door to the kitchen, reached the bottle opener, and then opened my San Mig.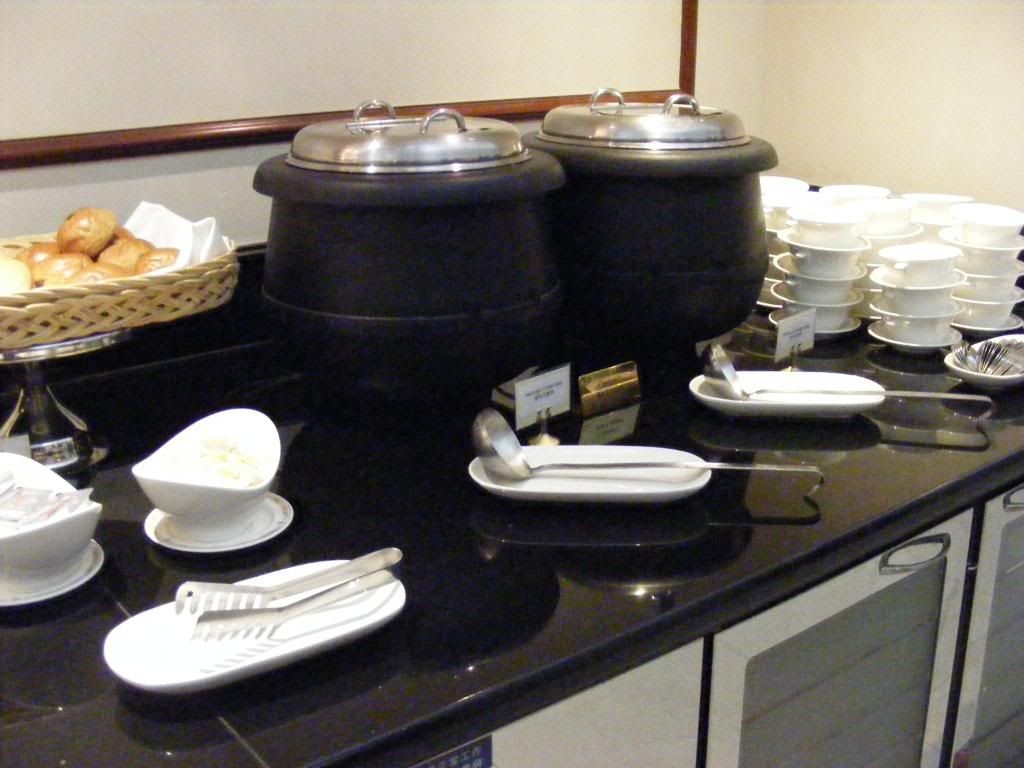 Soups available at the lounge, but I do not remember what was on offer since I was not in a soup mood.
The beverage fridge with a nice collection of sodas, waters, juices, and beers!
With food and my San Mig, I tried to relax knowing I would finally make it to BKK with a bit of a delay.
I had a few bites of the chicken satay as well as the sweet & sour chicken and fried rice, followed by a nice cold swill of my San Mig.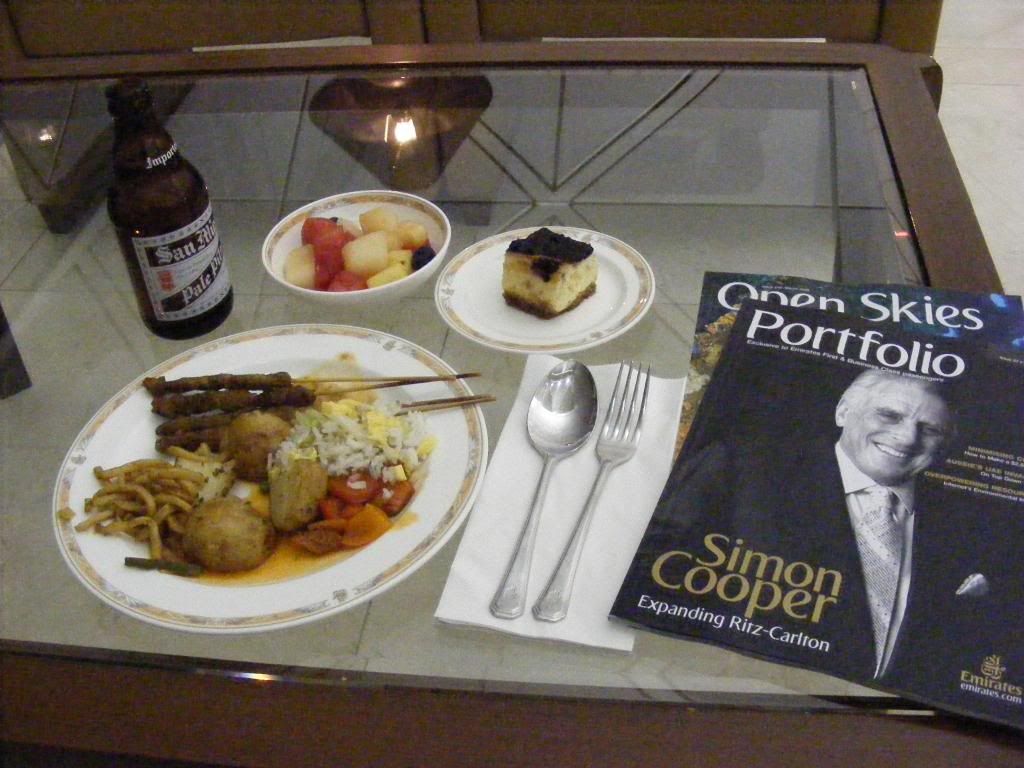 A nice collection of food at the EK lounge! I've got some chicken satay, noodles, sweet and sour chicken, fried rice, my San Miguel beer, some fruit, and a blueberry cheesecake! Also on offer two EK magazines
Open Skies
, which is the main inflight magazine, and
Portfolio
, an inflight magazine for F and J customers.
As I was enjoying my food and going through the magazine collection placed on the coffee table, the elder of the EK agents was walking around the lounge with a sign indicating EK 385 to BKK-DXB was now in the Final Boarding stage at Gate 66. She stopped by me and informed me "Mr. C, we are now boarding your flight to BKK."
I was amazed she remembered my name and my flight since I had last talked to them 30min after entering the lounge. I smiled and replied "Xie xie" as I took a few more bites and then downed the San Mig!
Beer drinkers know NEVER to waste their favorite beer!!!
06 March 2008
EK 385
B777-300
Gate Departure: 66
Departure Time (scheduled/actual): 22:15 / 22:45
Arrival Time (scheduled/actual): 23:59 / 00:10
Gate Arrival: BKK D03
Seat: 6A
Registration: n/a
I took a few magazines from the lounge and then reorganized my bags a bit with the new loot! At this point I had not touched any of my goodies and treats from Au Bon Pain. Those definitely came in handy once I landed ! After wishing the ladies a "Xie Xie", they wished me the same and to have a good flight! I ventured downstairs to Gate 66 where EK 285 was flashing FINAL CALL, and the gate area was very empty!
I thought I was a bit late! I stopped by the windows to see if I could check out the plane and possibly get a registration number, but it was too dark. I then realized that I would be boarding my very first 773 as well as my very first EK flight!!!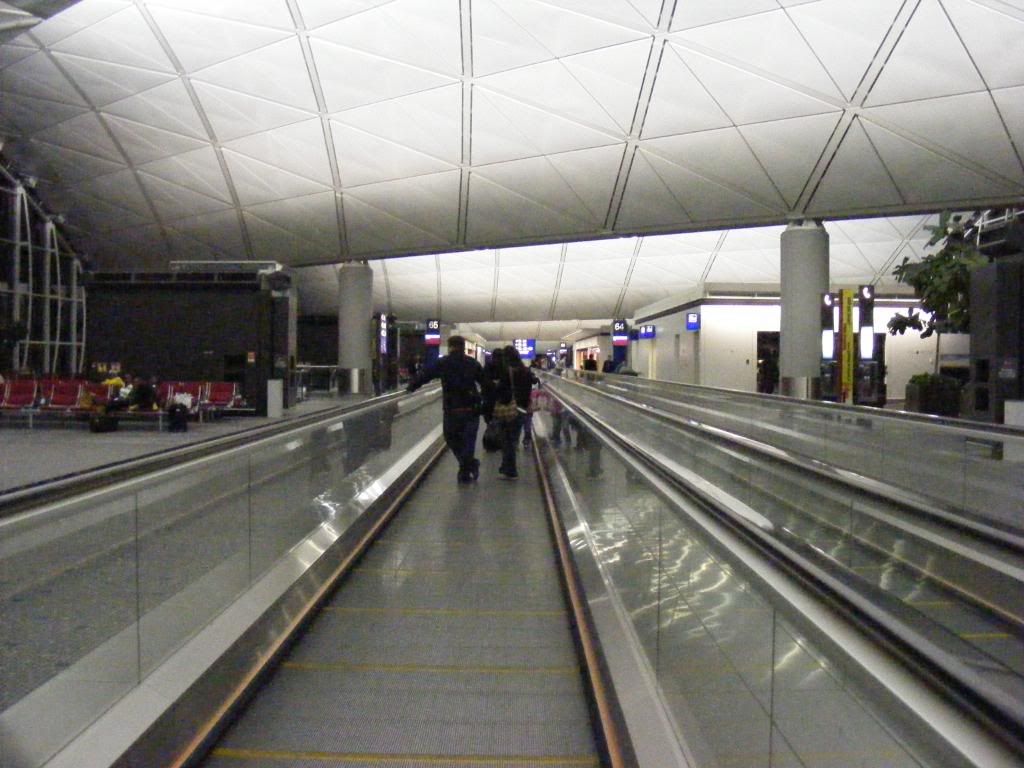 On the people mover heading towards Gate 66 and careful to mind my step!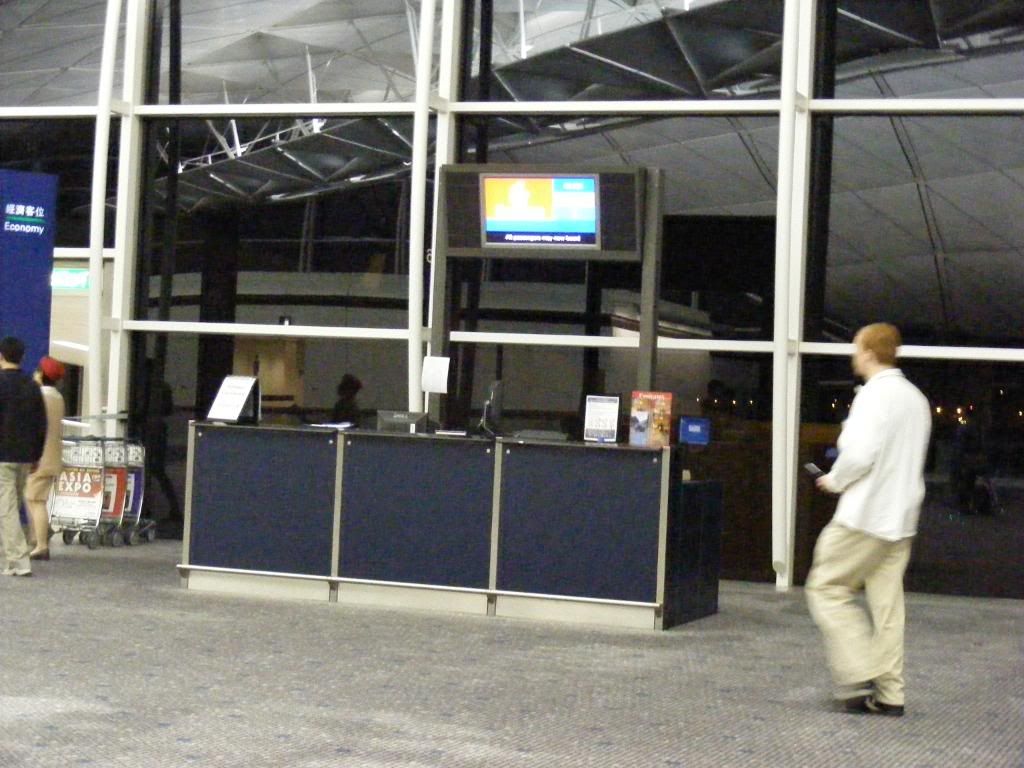 Gate podium for Gate 66 posting flight information for tonight's EK flight to BKK-DXB.
Where am I going to again?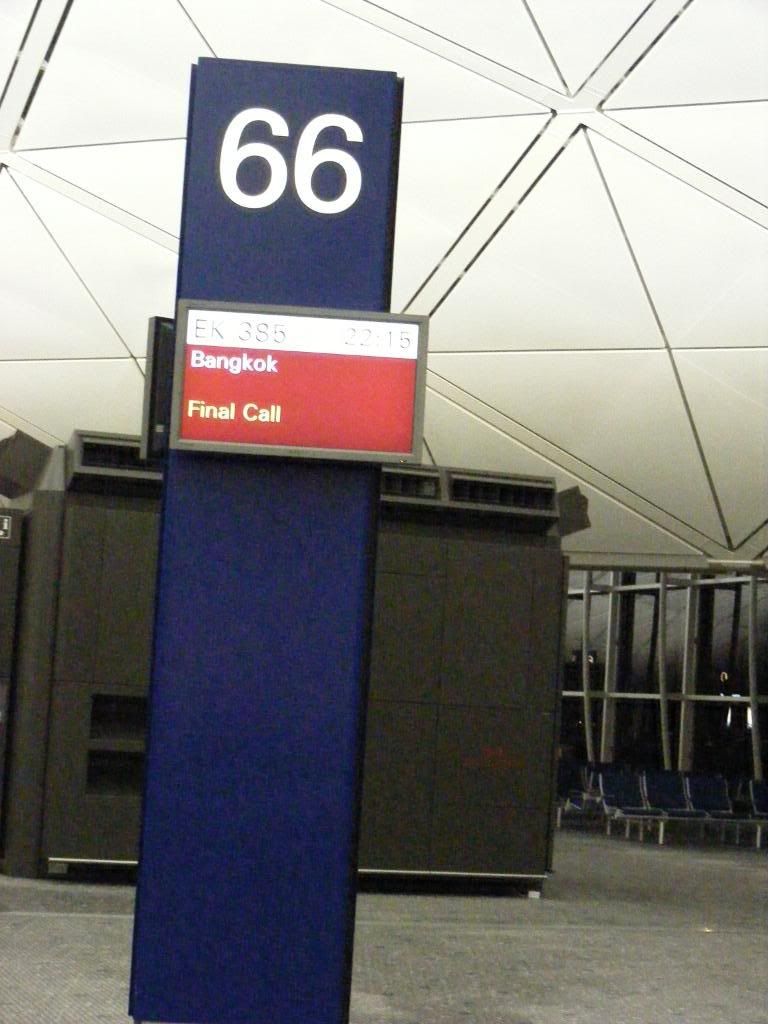 Ahh yes ... Bangkok!
WHAT? FINAL CALL???
After trying to take a few pictures in and around the gate area, I headed towards the entrance to the jetway. At HKG, they have a small set up where F, J, and Elite passengers can queue on the left side, while Y passengers queue on the right side. When I got to the gate, I noticed a small line of Y passengers waiting to board and no one in the F/J line. By 21:40, I handed the HKIA agent my boarding pass. She smiles, takes my boarding pass, tears off the main portion of the boarding pass and hands back the stub while wishing me a pleasant flight!
I responded with a "Xie Xie" as she inserted my boarding pass into the machine and noticed an "X" placed at 6A on the monitor.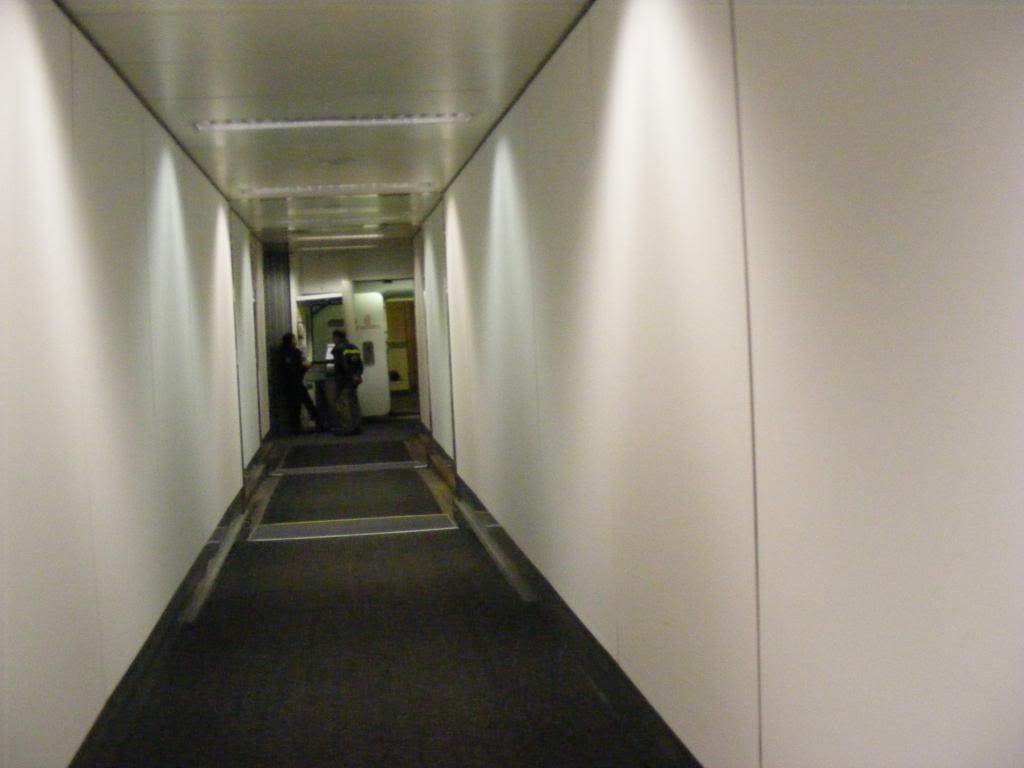 Jetway to L1 for F/J passengers where a male FA, Mr. Lebanon, greeted J passengers for this flight.
With that I headed down the extension before entering the F/J jetbridge docked at L1. As I approached the door, Mr. Lebanon welcomed me on board with what felt like a fake smile and said "Oh hi, the Y cabin is down that way."
I was a bit put off with him, so I showed him my blue J boarding pass with 6A on it and he replied "Oh, welcome aboard" and just pointed to where my seat was located.
Though it said final boarding and we were 20min away from actual departure, I was the first person to enter the J cabin.
Appearance wise, I was a bit impressed with the EK cabin on this 773. It was rather colorful, especially after spending at least 15hrs sitting in CO's gray and blue color scheme. I placed my stuff in the overhead bin and then proceeded to walk to the rear of the aircraft to check out the length of the 773 and EK's offerings in Y, especially in the 3-4-3 layout. The FAs in Y were busy helping a bunch of families put bags in the bins, playing with a few kids by showing them how to play games of the PTVs, as well as getting their pictures taken with babies. So far I was very impressed with the level of service by the FAs!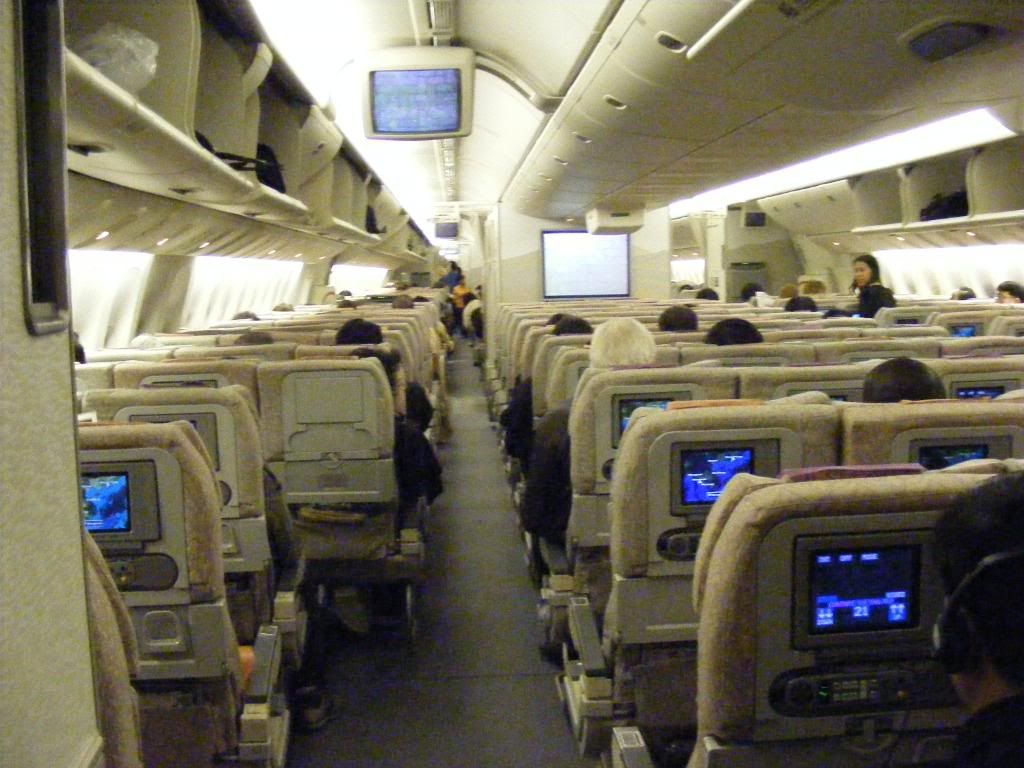 Rear Y cabin of EK's 773 taken from the rear galley. This flight to BKK had a sizable load tonight. I would assume just under 50% in Y while J had about 29% load factor.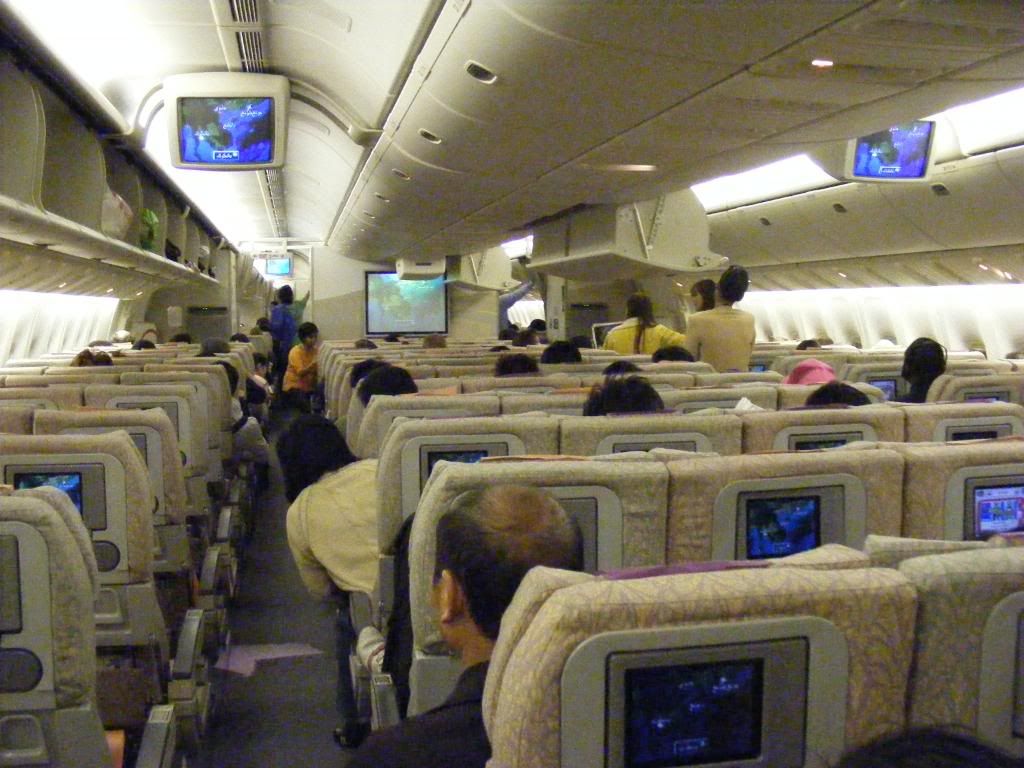 Mid Y cabin taken by L4. Seats look wide and comfortable, but the width of the aisles are too narrow!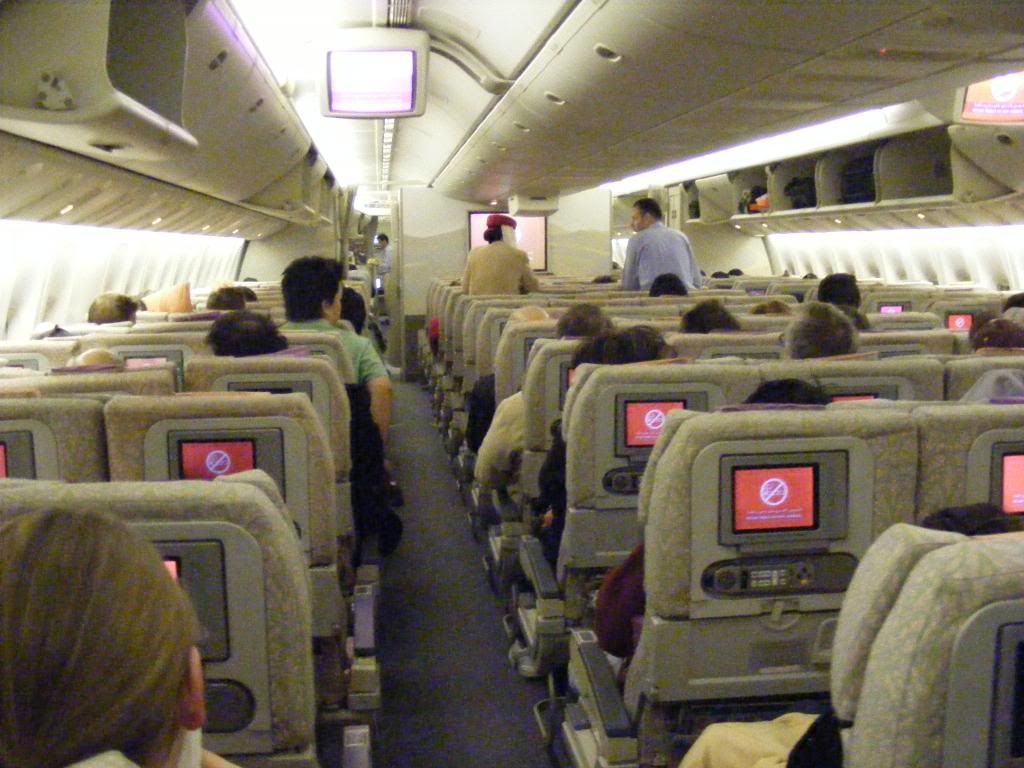 Front Y cabin taken by the lavatories next to L3.
After a few pictures, I ventured back to the J cabin and my seat noticing a number of other passengers in J. I returned to my seat waiting for any FA to acknowledge me either with a drink or to hang up my coat. I sat there waiting ... and waiting ... and waiting ...
. The female Arabic speaker, aka Miss UAE, kept herself busy by introducing herself and helping out passengers in the middle section and the right side of the aircraft. She went to each passenger on her side bringing drinks, socks, eye masks, and taking coats. There were about 10pax on her side, while Mr. Lebanon served the left side with only 7pax. However, Mr. Lebanon was not attending to anyone while sitting at L1. At first I thought it was my fault that I decided to venture around and checkout the plane while he was looking for me so he could bring me my socks, eye masks, while taking my drink order and hanging my coat. I made eye contact with him when I returned to my seat, but he still sat there doing absolutely NOTHING!
While sitting, he greeted this fabulous Hong Kong couple who stepped onto the plane, also going on holiday to Thailand, and sat in front of me in 5AB. Again, Mr. Lebanon just sat there doing absolutely NOTHING! If Mr. Lebanon was to man L1 while the door is still open, at least get someone else or especially the purser to welcome those on the left side and welcome them on board. Nope, nothing, and there were a number of FAs, mainly those working in the Y cabin who would go back and forth to get Lil Traveler kits for the kids. Someone could have said something, but NOPE! Oh well.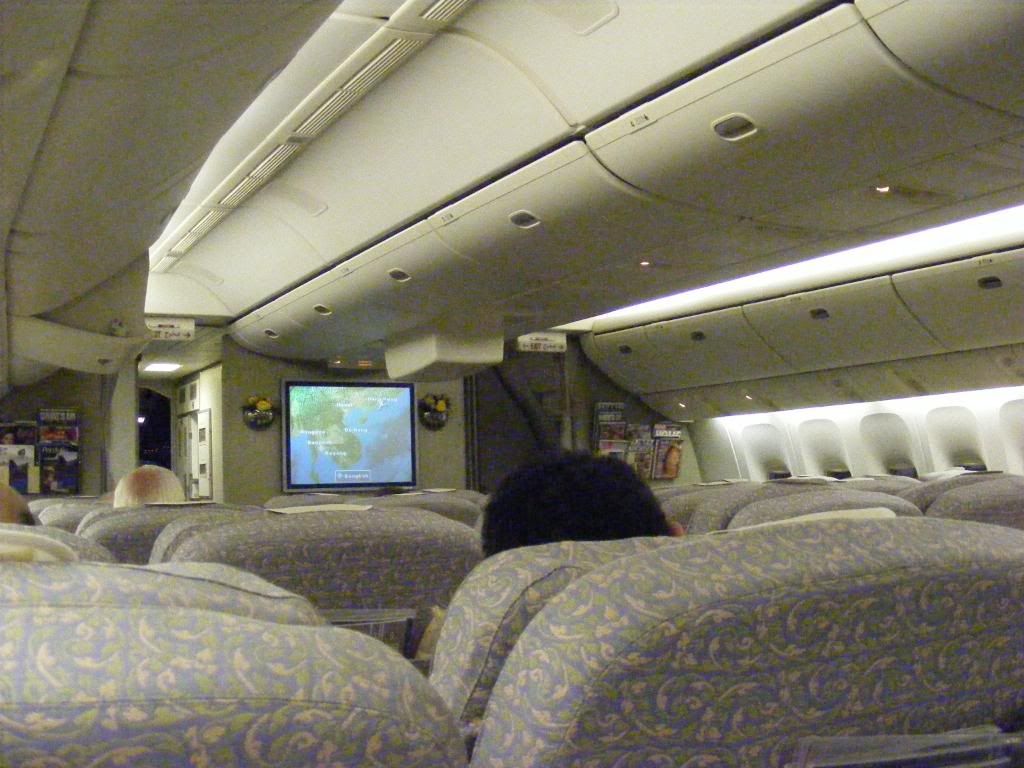 J cabin view from my seat. No mood lighting on this flight.
General board continued while HKIA staff confirmed that all J passengers had boarded. Dennis, our Indian purser, verified the information and he helped close L1 while Mr. Lebanon continued to sit by the door until he had to move.
By this time, Miss UAE started to hand out menus and wine lists to all J passengers. After accepting her offer for a wine list, I asked if I could get a glass of water and possibly get my coat hung. She said "certainly" with a smile, and then turned to look at Mr. Lebanon still sitting by L1 and gave him an evil look.
Mr. Lebanon casually walked over and asked if anything was wrong. Miss UAE told him something in Arabic to which he gave the impression that he could not care less through his body language.
He addressed me with "Yes?" in the way that comes across as "what the hell do you want?"
I asked if I could get a glass of water and if he could hang my coat. With a noticeable, but inaudible, sigh, he said "Yes sir."
I think of one of the lead FAs, Mr. Perth since I heard he was from Perth, saw his body language and immediately followed him to the front galley. After he was done with me, he gave off the similar attitude to the guys in front of me to give impression he did not want to work.
I guess I will comment about the EK FA uniforms. The standard EK uniform is khaki for both males and females; looks great on some and horrible on others mainly because of skintone. Many can identify the EK gal in "putty", in GAP khaki colors, the white blouse, the red hat and white scarf; the men wear an unflattering "putty" double-breasted suit that make them look like table waiters rather than professionals.
It's nice to know you can identify the purser for the flight since they wear a dark blue version of the uniform. On this flight, Dennis walked around in his dark blue double-breasted coat, standard blue button-down, and khaki slacks.
I've seen pictures of EK FAs who graduated a special class to wear the full dark blue uniform, so was surprised to see Dennis in khaki slacks while never taking off his dark blue double-breasted coat. Once in flight, female FAs take their hats off and put on their pre-school smocks, while the men go
au natural
, I mean sans smocks. People on a.net rant and rave with how the FAs present themselves while wearing their uniforms. Most comment how US flight attendants work flights looking disheveled, unkept, and unprofessional, while international ones have professional and polished appearances which adds to their customer appeal. I was expecting EK to be among the top, though while the colors are not flattering, those wearing the uniforms appear polished and professional; not on this flight.
As mentioned, Dennis is walking around in a mis-matched uniform. Then there is the difference between Miss UK, the FA who worked the J galley, and Miss UAE. Miss UAE had her blouse tucked into her pants, while Miss UK had hers untucked and unkept as she was sweating away over a hot oven.
The male FAs worked disrobed from their double-breasted khaki coats and all looked like they were waiters for Olive Garden giving off an uninspiring and unprofessional image. Many of the male FAs working in Y that would come to the J cabin looked presentable but can notice the back of their shirts creeping out untucked from behind.
Mr. Perth with his "healthy" body appeared to be the most presentable and professional looking one among the entire crew. The worst was Mr. Lebanon.
His uniform lacked a belt and his shirt kept on riding up untucked out of his pants. The worst part of his appearance was the presence of a big huge stain on the back of his shirt. When you would see him return to the galley, you would see this big crusty red blob, not sure if it was blood or food, with tiny droplets going from between his shoulder blades down to mid spine. Was he too lazy or did he have an extra shirt to change into?
I wonder if Dennis ever saw the stain or even addressed the situation to Mr. Lebanon and told him to change or something.
Enough about their uniforms, back to the boarding process. So after getting some attitude from Mr. Lebanon for a glass of water, he returned with a coaster and a sliced lemon sitting on the rim of the glass, placed it on the arm rest and gave me a fake smile.
A group of Y FAs started to congregate at the L2 galley with Mr. Perth as HKIA staff entered at L2 and explained that there were a few connecting passengers on their way since the earlier their flight to HKG was late in arriving. One of the FAs called for Dennis to L2 so he could be addressed with the situation. After talking with the HKIA staff, Dennis went to the cockpit and informed the flight crew of the slight delay. Once he finished talking with the flight crew, he made his way down the aisles to confirm each passenger
welcome them on board, and informed us to ask any of the crew anything they need for the flight. As Dennis finished his welcome with me, our Australian pilot welcomed most of the passengers on board EK 385 to BKK with continuing service to DXB. He discussed our delay due to late arrival of transferring passengers. Total flight time to BKK would be 2:45 with an arrival into Suvarnabhumi just after midnight. With that he told us he would talk to us again before our descent into BKK. This message was then repeated in Arabic by Miss UAE. A few minutes later, a group of 10 Southeast Asian passengers boarded the plane followed by the HKIA agent ready to close L2 for departure.
As the last of the Southeast Asian passengers boarded the plane, the FAs did a nice hot towel service in J while we were still on the ground. I am used to these being done once airborne before the meal; I guess not on this flight.
Miss UAE handed out hotel towel, while Mr. Lebanon picked up used ones. He did not stop by my seat, which was fine as I kept the towel as part of my souvenirs from EK.
Once the doors were closed, an automate announcement in Arabic and then New Zealand English was played for FA to arm doors. I saw NZ English because the accent reminds me of the guy that does the NZ's inflight safety demonstration found on
YouTube
. Dennis, and then Miss UAE, called for FAs to arm doors and standby.
After standby, Dennis addressed everyone again onto the PA system and welcomed everyone to EK 385. His short announcement made sure that all carry on luggage were stored either in the "hat lockers" or underneath the seat in front of you, all tray tables in the locked and upright position, and footrest and PTVs stored for take off.
The nice rustic menu cover in English for tonight's flight to BKK and DXB.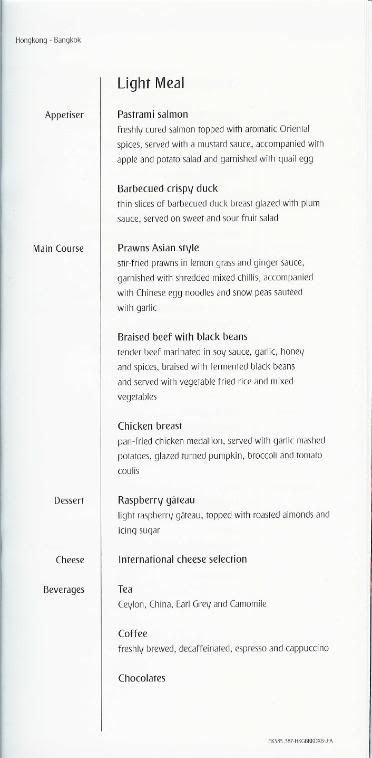 English menu for the HKG-BKK sector.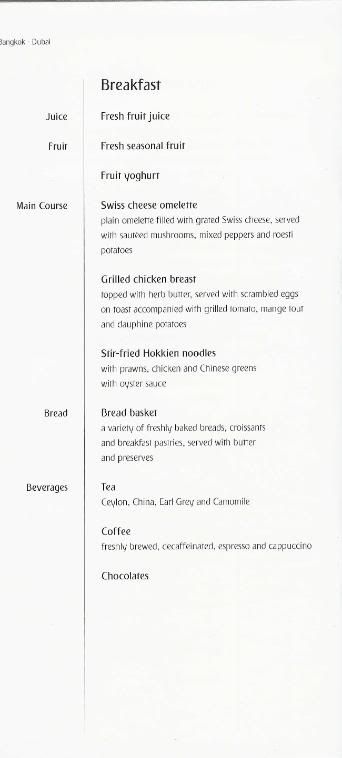 English menu for the BKK-DXB sector.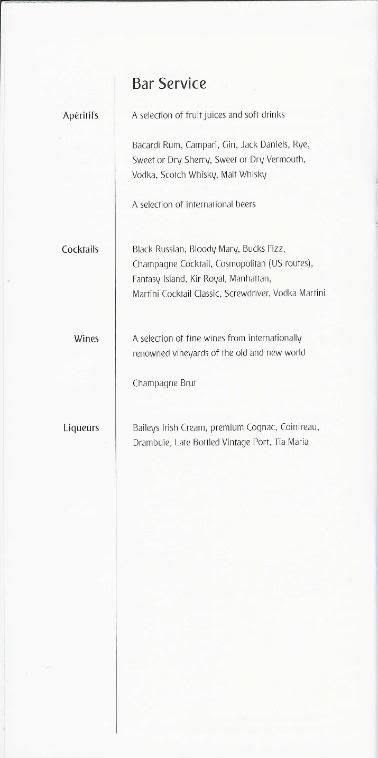 Any one care for a drink?
The Arabic version of the menu cover.
While Dennis made his announcements, all the FAs were running around the cabins and plane like chickens with their heads cut off as the plane was slowly being pushed back from the gate.
Dennis's speech preceded Miss UAE's speech in Arabic. At this time, Mr Lebanon started asking passengers on the left side of the cabin what they would like for dinner. He had started with me at the back of the J cabin and worked forward. I had requested the beef along with champagne to drink. After he said thank you, I had noticed that a recorded male voice speaking in Arabic over the PA system. I did not pay attention to this as the FAs kept on running around the cabins and galleys. I notice Miss UAE approach this Arab couple who confirmed that they would not eat on this flight.
After seeing her and the fact that we were slowly taxing, I realized I had not seen the inflight safety video, yet.
I then realized the recorded male Arabic voice was coming from the inflight safety video being project on the screen via the hanging RGB projector rather than from LCD screen. On this plane, there was only one screen and no monitors in the J cabin, while there are plenty of overhead monitors on COs 762s and 772s.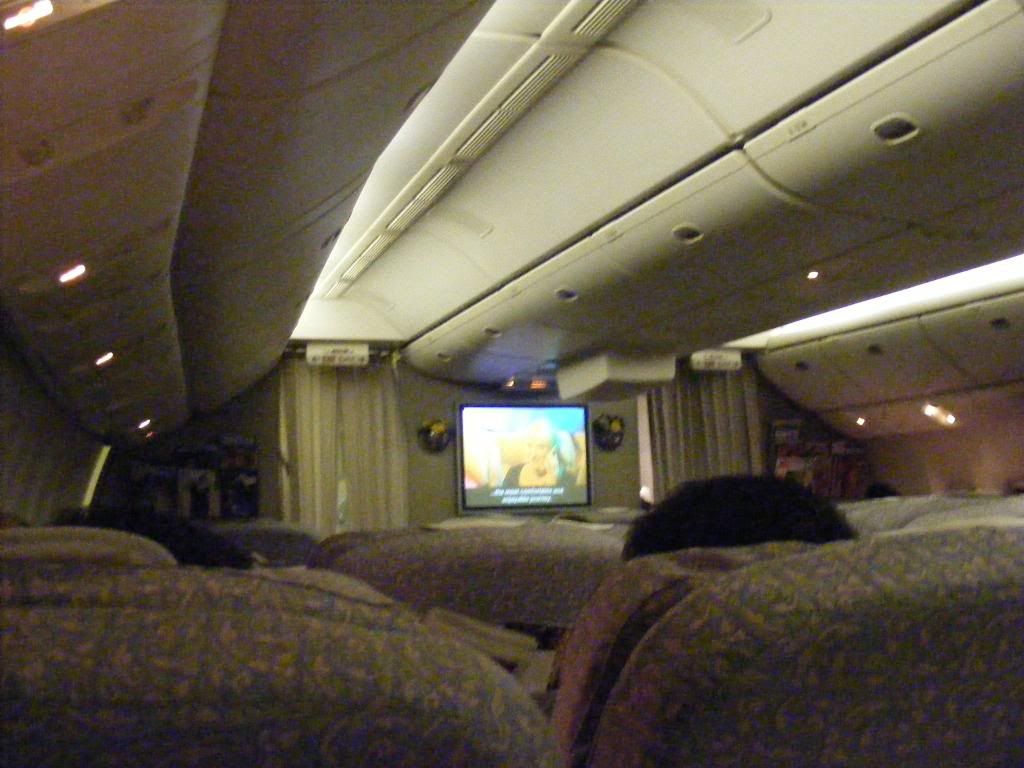 Safety demonstration in Arabic on the main screen projected from an RGB projector. Where are the FAs?
Finally, I received my cute EK glass with water and lemon.
After the Arabic version was completed, the British English version of the inflight safety video was immediately shown to all customers. Again, I love how they called the overhead bins "hot lockers".
As they continued showing the inflight safety video, we continued our slow taxiing to runway 19R for immediate departure while the FAs were doing who knows what. I figures Miss UK and Mr. Perth were busy fixing meals for J and the front Y cabin, respectively. There were no videos shown nor were the safety information relayed in Cantonese, Mandarin, and Thai.
Once the videos were done, the FAs were still running around and making a bunch of noise in both galleys.
As we were about to turn onto 19R for take off, the French FO called for FAs to take their seats. I think many ran to their seats and did up their safety harnesses. We sped down 19R and took off at 20:45.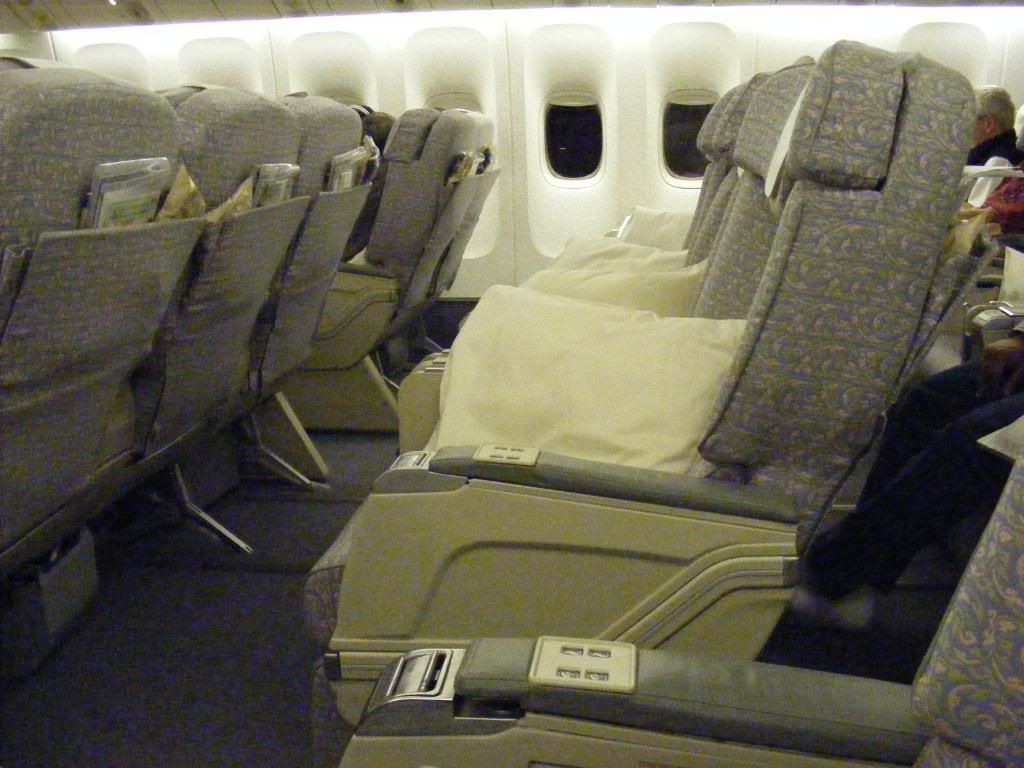 Empty J cabin to BKK. No one else in Row 6. J was probably ~29% full. Not sure in Y.
On this flight, I got to experience viewing nosecam during take off.
I found it less exciting for the fact it was rather late at night and you do not get to see much of the ground or the actual takeoff. Otherwise, watching a nosecam take off would have been rather interesting! I immediately reclined my seat to its full laid out position as we continued our ascent.
Dennis went onto the PA system by 20:47 and welcomed everyone on board this EK flight to BKK with continuing service onto DXB. He mentioned that he was joined on this flight with four lead FAs and a crew that spoke Arabic, Cantonese, Farsi, French, Hindi, Mandarin, and Portuguese; quite an interesting group of FAs! With that he welcomed us onboard Emirates.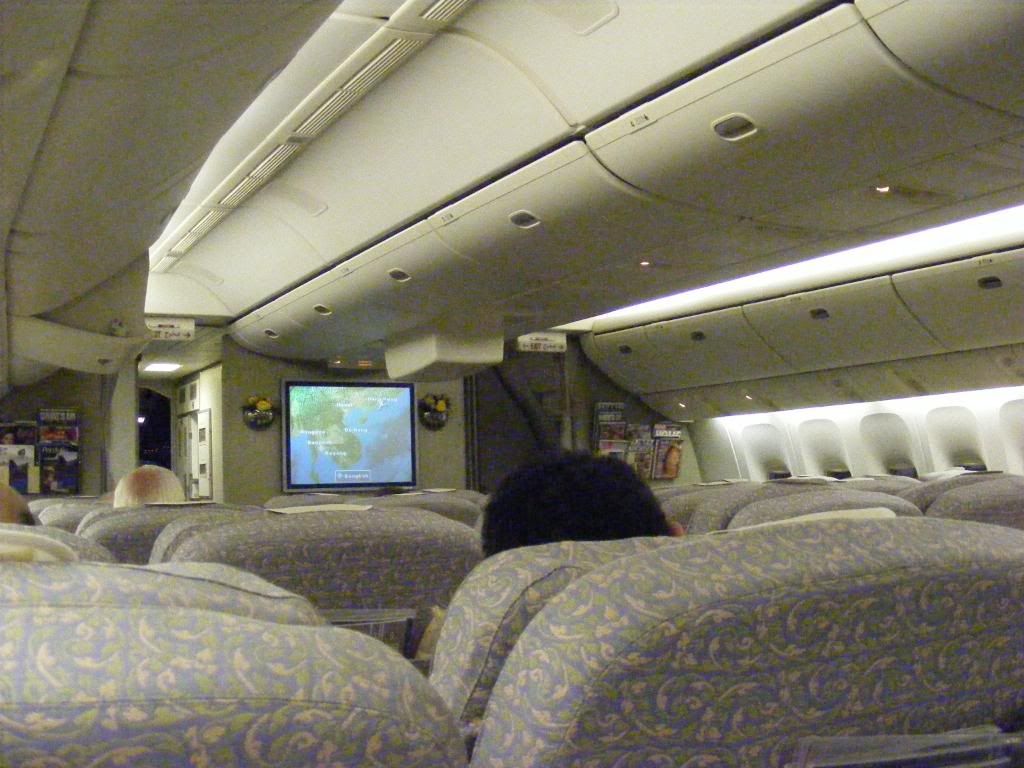 Another view of the cabin from my seat. Now showing on the main screen, the airshow map.
With our flight underway, I tried to relax in my seat, but I was getting anxious with my arrival into BKK as I was not quite sure if I would be able to find the place I was staying.
In the end, I survived my taxi ride despite wasting at least 30min trying to figure out where the driver would take me other than just at the Chong Nonsi BTS station.
While I tried to relax, I decided to check out the IFE offerings for the flight. When I was walking down the aisles during boarding, I noticed kids and older passengers checking out their PTVs in the Y cabin, especially many kids playing video games. I pulled my unit from the central armrest and the remote control to check out which movies were playing and which games were offered on tap. In the seat back pocket in front of me, there were sterilized 3-pronged noise-canceling headsets along with "Do Not Disturb"/"Wake Me Up For Duty Free" stickers. With headphone secured and plugged in, it surprised me that the system was not working. I even tried the unit on 6B, but it too was not functional.
I looked to see if others were using theirs, but no one else had their units out. I was growing underwhelmed with EK so far.
To remedy this, I returned everything back and took out my iPod. Of course I had to listen to "One Night in Bangkok" as well as a few songs. I then remembered I had been able to download this one Thai movie
Rak Haeng Siam
or
Love of Siam
. It was a very interesting movie, especially I do not speak Thai. However, you could get an understanding of the movie if you know the synopsis of the movie.
While I watched the movie on my iPod, on the main screen they were showing news snippets in text form from BBC mixed into the airshow cycle.
A provincial cover for the Wine List.
Yum ... champagne!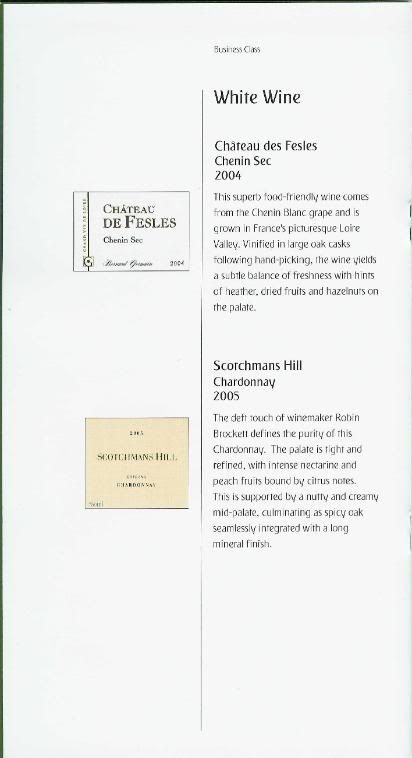 White wine list
Red wine list
As I was enjoying
Love of Siam
, Mr. Lebanon started dinner service. Miss UAE and he pushed small carts down the aisle starting again with the last row and working towards the front. Mr. Lebanon first asked what I would like to drink with dinner. When I saw champagne was available on the wine list, I requested a glass of champagne and a glass of water when he took my dinner order.
Again he gave that inaudible sigh and said he would have to return to the galley and open up a bottle since he did not have one.
I said OK, I will wait; however, that wait turned out to be once he was done serving starters for all passengers.
So as I waited for my champagne, he poured my water into the glass and asked what I would like for my starter plate. I chose the Barbecue Crispy Duck starter and he allowed me to choose two types of breads. He verified that my beef dinner would be hot and ready once I was done with my starter plate.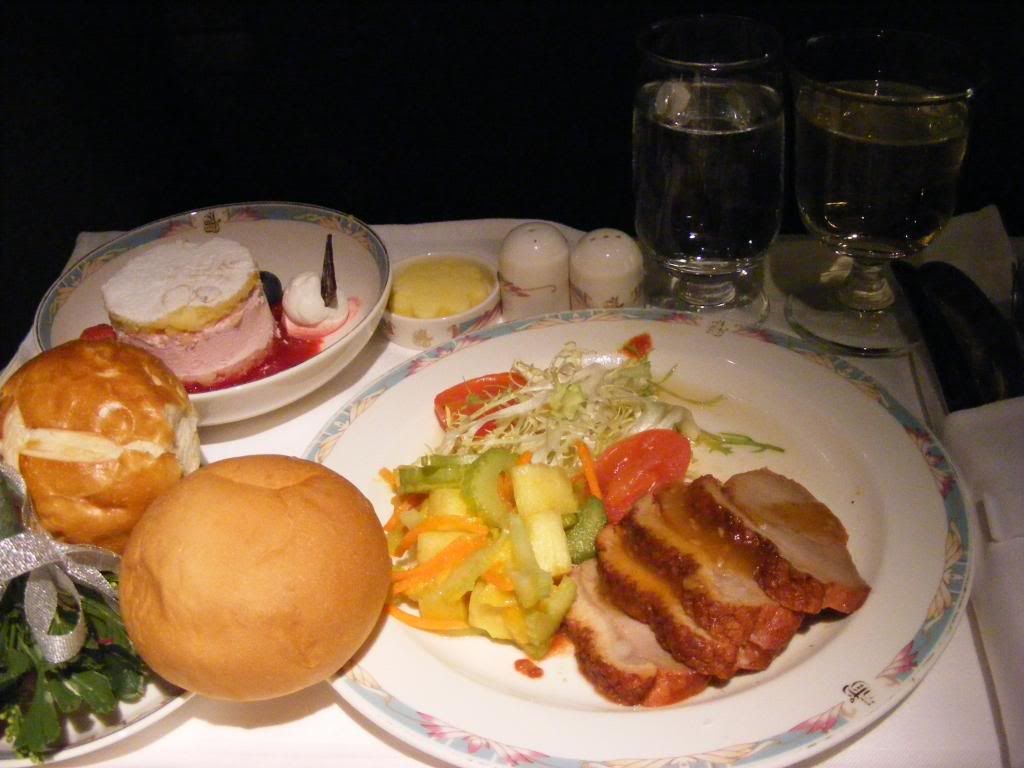 Dinner set up with my starter plate of barbecue crispy duck.
As I finished my starter plate, Mr Lebanon had not returned with my champagne.
I rarely do this, but I rang my call bell button and Mr. Perth came out of the Y-galley and kindly asked what I needed. From the distance, I could see Mr. Lebanon and Miss UAE watching from behind the galley curtains. Being oh so polite, I told him that Mr. Lebanon had not returned with my request for a glass of champagne and if I could get a refill with my water. Seeing as I had finished my starter, he asked if he could take my plate and that Mr. Lebanon should return with my dinner as well as my drinks. Mr. Perth returned to his galley to pick up a tray and took my starter plate, glasses and used utencils and headed towards the forward galley. As Mr Lebanon leisurely approached Mr. Perth, Aussie suggested that he immediately follow him, again!
When they disappeared behind the curtain, Dennis then approached me and asked how my dinner was. I told him that I was still waiting for Mr. Lebanon to bring my champagne and that I was ready for my main dinner. His immediate response was "Yes, sir" and zoomed off to the front galley.
A few seconds later, Miss UAE was carrying a tray with my dinner and Mr. Lebanon carrying another tray with my glasses of champagne and water. Miss UAE used an interesting set of tongs to place my meal on my tray and cautioned me that the plate was rather hot. With a smile she said "Enjoy" and I replied thank you. This was followed by Mr. Lebanon handing me, not placing, my champagne and water. With that there was no "Sorry for the delay, enjoy your dinner, sir" or anything; he was just gone.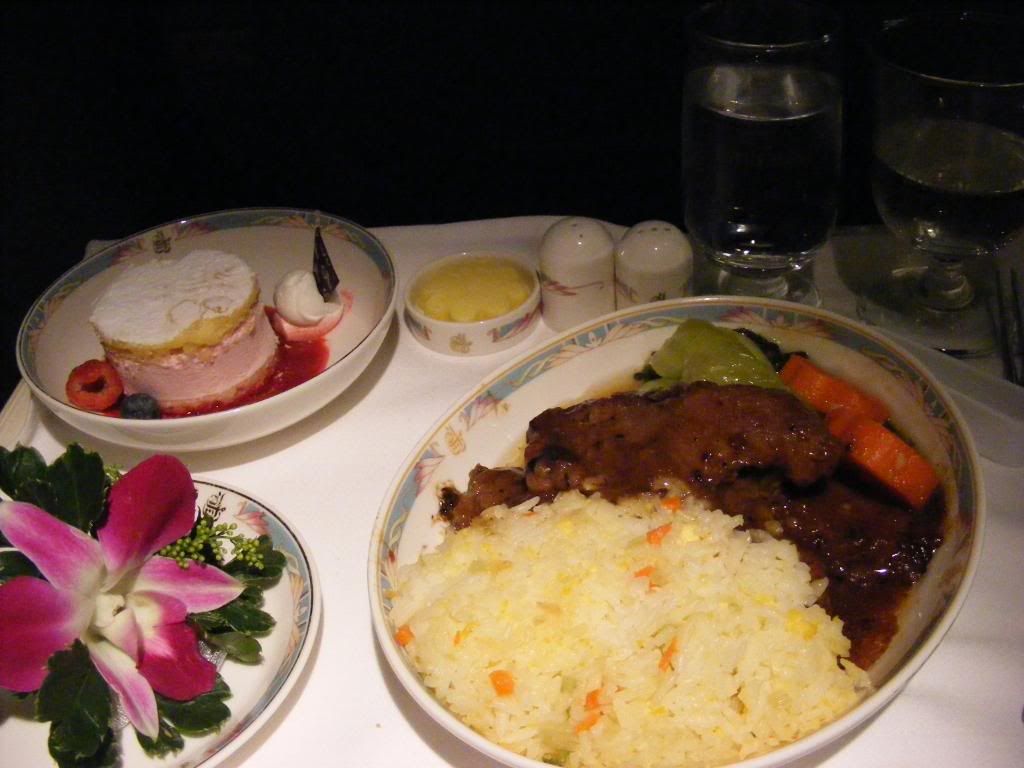 I chose the braised beef with black beans. Temperature wise, food was very hot. Taste wise, the meal was rather bland.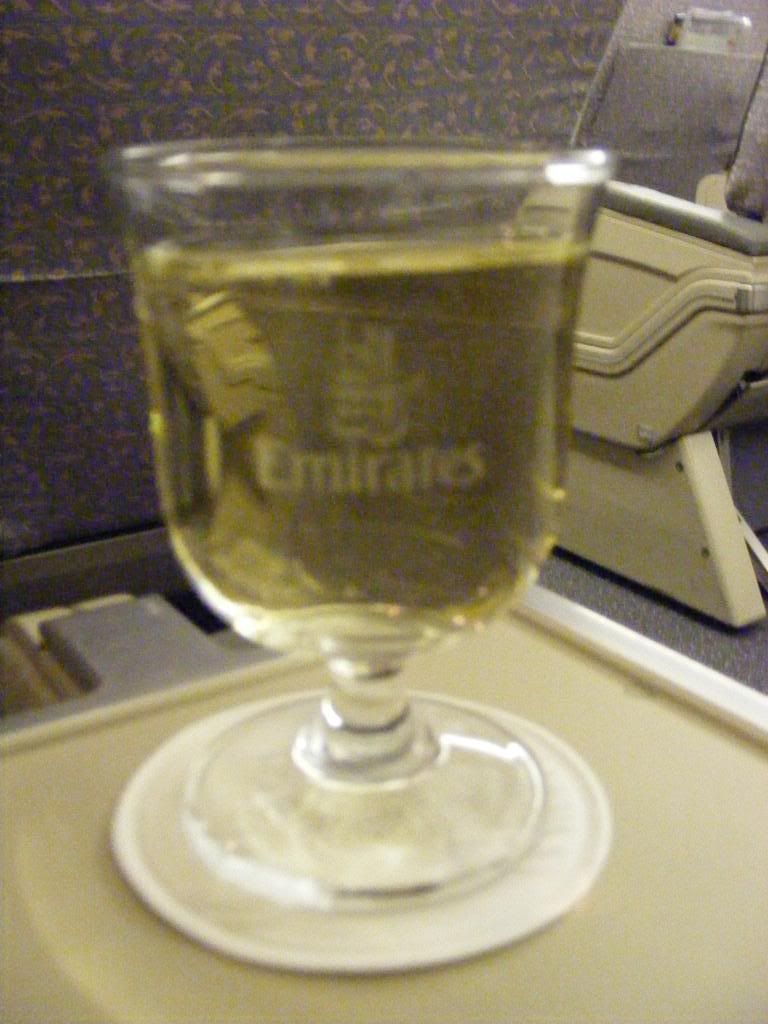 FINALLY! My glass of champagne!!!!!
Overall, dinner was OK, not spectacular as I had been expecting. The food offerings at the lounge tasted much better than on the flight.
I give them points for making the main meals nice and hot,
but the actual taste was rather bland, and I'm one of those who rarely adds salt or pepper once cooked; Tobasco or Siracha sauce, now that would make it good eats there! Just my preference, I wish my starter plate was just a bit warm, I guess I like the taste of duck warm along with warmed up mango sauce, that would have been real good, at least for me. I did not bother to eat the dessert since it appeared to have almonds due to a food allergy. While we were eating, Miss UAE and Miss UK were making the rounds for those who wanted more to drink, including my
!
After I took my last bite, Mr. Lebanon was by my seat less than a minute later. He impatiently asked if I was done with my meal and I politely smiled and said yes with a request for more champagne, to which he responded "Yes, sir." He returned with the actual bottle and filled it all the way to the top.
I tried to thank him, but he was already through the curtains. As I was sipping away at the champagne, the rolled out the carts again to pick up trays and other service items from the other passengers. They also offered coffee and tea as well as a choice from the Godiva box. Again I was the first passenger and I requested some hot tea with just milk and then got to pick one of my favorites, Godiva's chocolate heart.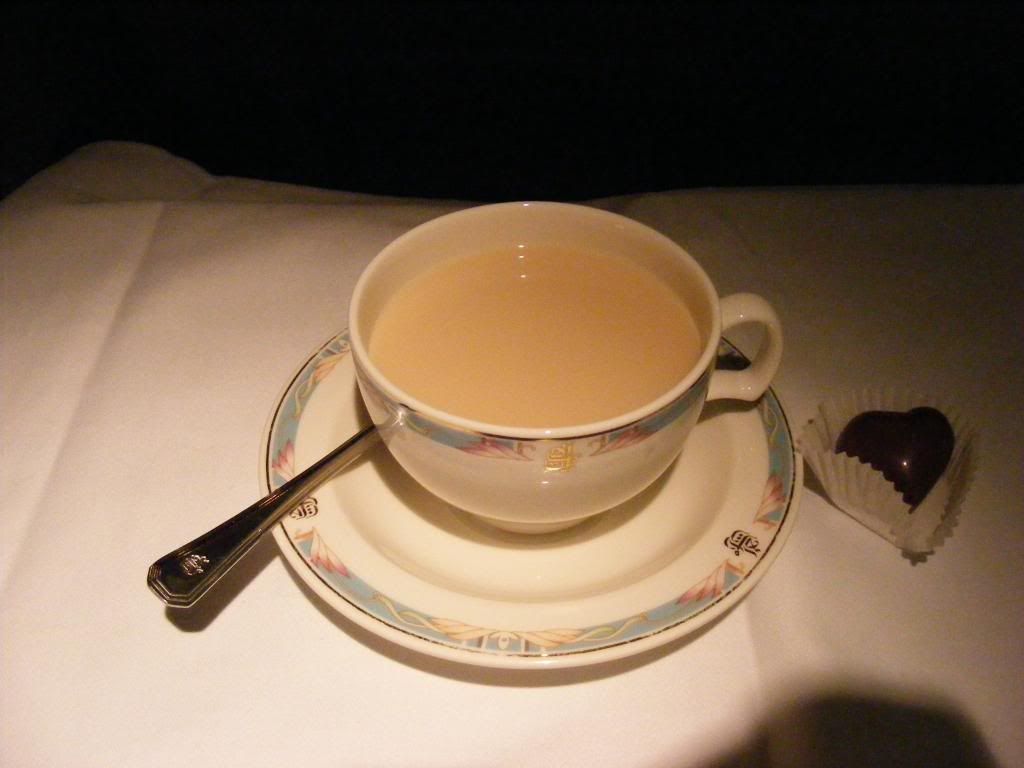 My hot tea with milk as well as the Godiva chocolate heart!
This was the highlight of the EK experience!
After I finished my tea, there was a little over an hour left in the flight and I was getting tired from the all-day flying.
I finished both the tea and the champagne, while Miss UK came around with trays of water to those who would like some. The combination of food and tiredness allowed me to enjoy a nice nap as we made our way to BKK along with the rest of the J passengers.
[Edited 2008-05-17 02:17:29]