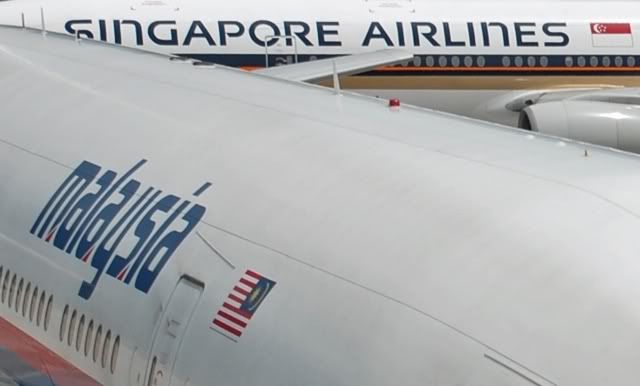 malaysian hospitality vs. singapore girl
A common heritage they may have had, and mere rival siblings – Siamese twins separated at 25 – they may be, but I should have known better than to tempt fate with this trip. Of course, the trip itself is far from risky, but writing this report is. Die-hard fans on both sides root for their teams with a blood-thirsty fervor seen only at a Saturday afternoon football match: flag waving, logic-defying drunk and fully certifiably mad. But I may be maddest of all to step onto the pitch with them.
To the
kiasu
fanatics in the south, their saronged girls who maneuver suggestively in a perpetual haze can do no wrong. The haloed Singapore-know-all arrogance, perfected at the Lee Kuan Yew School of brain washing, will ensure that you'll be bored out of your bloody mind hearing why it's always better on SQ. Never mind Changi had its ass kicked by Dubai, it still wins the airport-that-smells-most-like-a-hospital-canteen award. Meanwhile, Singapore Airlines is simply the best of the bestest in a world of plastic smiles, and it's heresy to suggest otherwise. So, don't
pray pray
okay... these guys are taught how to kill.
Their opponents are a sad bunch: they cling onto Skytrax awards like they were the last lifeboats on the Titanic. Always playing catch up, always almost but not quite there, experts at playing second fiddle, they pretend their airline is global but no global alliance wants them. They excuse the old planes by saying it's really inflight service, nay
malaysian hospitality
, passengers are after. And they like to relive past glories even when there are no past glories to relive. Caught between an ultra-efficient south and richly-cultured north, the best antidote they can administer is some lame, meaningless slogan for their airline code.
I can feel them already: eyes piercing ready for the kill, foaming at the mouth yobbos (oops, did I say yobbos, I mean… fans) waiting to tear me to bits at the first wrong word I type. And well, I fear that's pretty much every word so far…
malaysian hospitality
Kuala Lumpur – Perth
Malaysia Airlines flight MH 125
Business Class
Dep. 0950 Arr. 1502 (arrives on time)
B777-200ER 9M-MRN
30 April 2008
8.05 a.m. Check In
Morning before 9 a.m. at Kuala Lumpur International Airport (KLIA) must be a favorite time for MH supporters who like to play pretend. It's the only period of day when the airport gives you the illusion that it's a busy hub rather than the white elephant it actually is.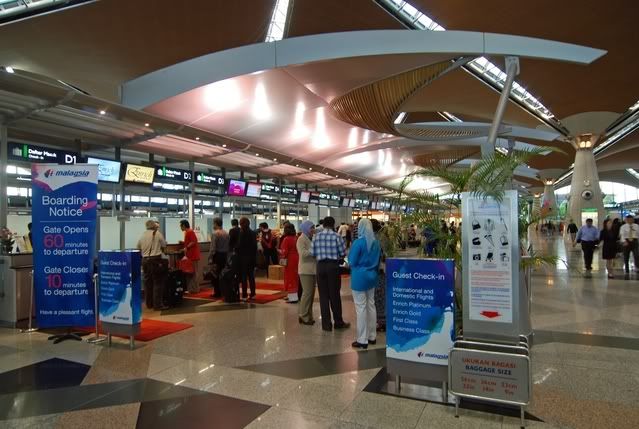 Premium check-in for First and Business Class on Malaysia Airlines is a decent cordoned-off area. Among the better airlines in the region (a club MH feels it is a member), it is unexceptional. Check-in staff are friendly these days and waiting time is short.
Malaysia Airlines' new tagline is everywhere, and even appears on its boarding passes. I like the new boarding pass designs but the slogan is just advertising hogwash. Surely "Malaysian Hospitality" is not anything to be proud of. Just ask any of the foreign workers we mistreat every day for the
real
meaning of Malaysian hospitality…. but oops, I best leave that discussion for another forum.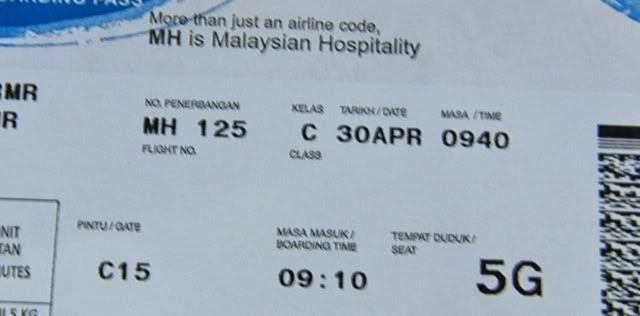 8.27 a.m. New Golden Lounge
Malaysia Airlines makes a long awaited investment in premium class comfort at KLIA. The new Golden Lounge, located at the international contact pier (the other is at the satellite), is easy to find and is arguably the easier option (i.e. less walking) for those passengers departing KLIA. Although called "Regional", it's open for all international MH flights, irrespective of destination.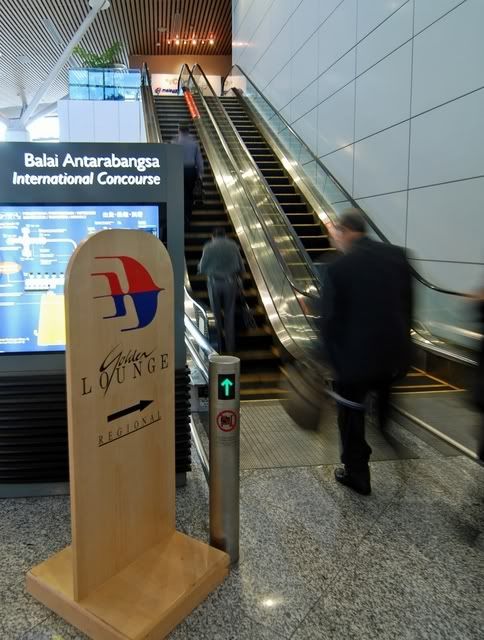 Unlike the satellite Golden Lounge, this one has no separate sections for First and Business Classes. I am sure all those displays at the glassy entrance must convey something artistically profound but a philistine sees only an interesting distraction.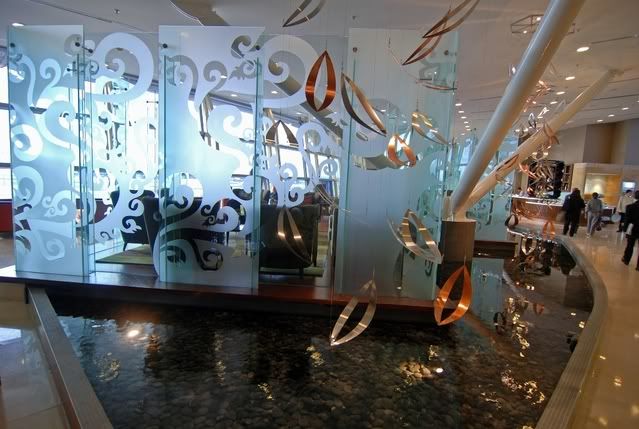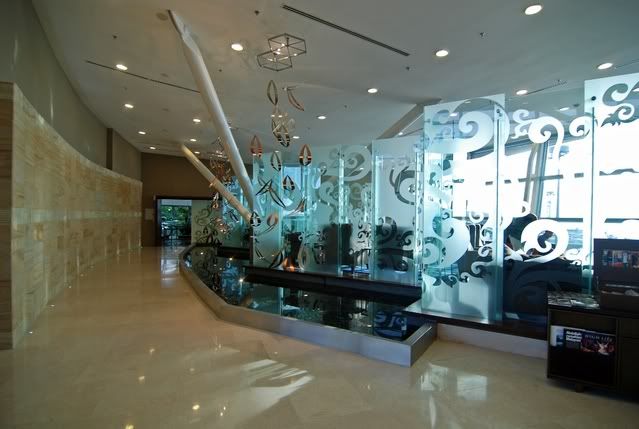 It's tough for a skeptic to utter something nice but I must say this is promising. Spacious, comfortable and chic, this naturally-lit lounge has the fresh feel of a modern luxury hotel. I hate to admit it – but I rather like this place.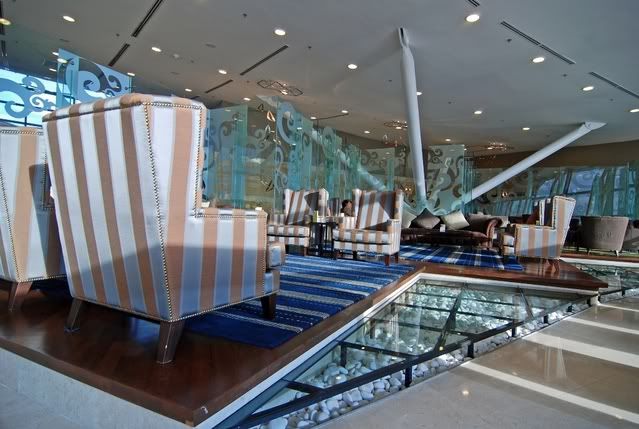 The regal seating area on the raised platform is strangely empty. Perhaps the glass floor got some passengers spooked or maybe it's subtly reserved for
Datuks
,
Tan Sris
and minor royalty?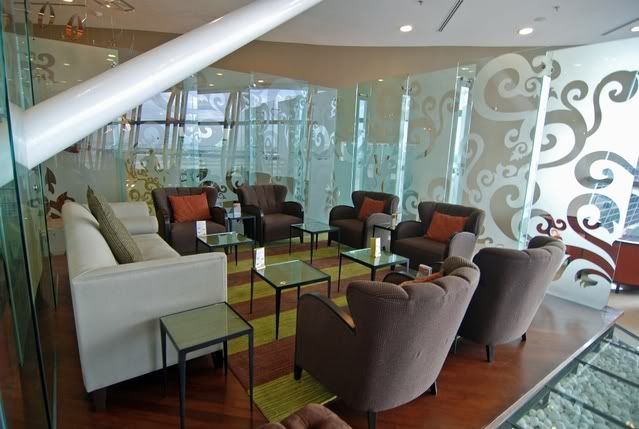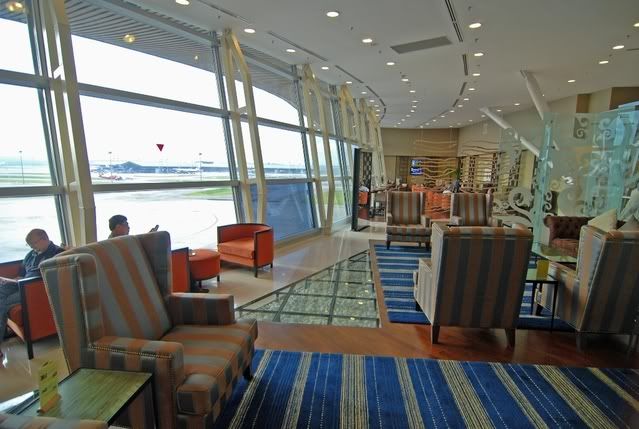 Whether or not you are a
Tengku
, this Golden Lounge provides an army of waiters to serve you – a very nice touch for Business Class. Never mind they sometimes get your order mixed up, it's the thought that counts.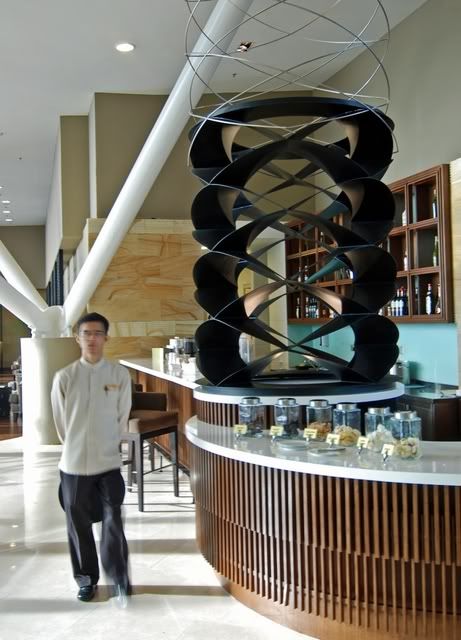 The sit-down dining/café area is sizable and offers a buffet spread and noodle bar. At this time of the morning, hot breakfast is on offer.
Here is the ultimate plane spotting grandstand seemingly designed with A.net members in mind. Alas, if only there were planes to spot!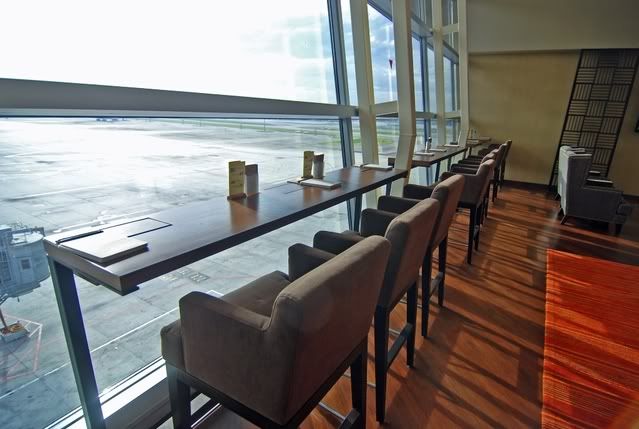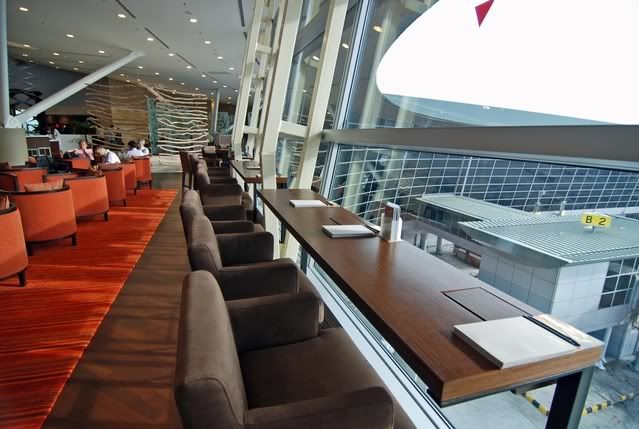 9.14 a.m. Boarding at gate C15
As with all other MH flights to Australia and New Zealand, Perth-bound MH 125 is code-shared with KLM and, on the days with connections from Rome, also with ailing Alitalia. MH's antipodean links will make it a useful addition to Skyteam; too bad the alliance's French godfather doesn't think so. It's a sad reality at KLIA that every flight (bar one) on this departure board is on MH metal, even if it doesn't look it.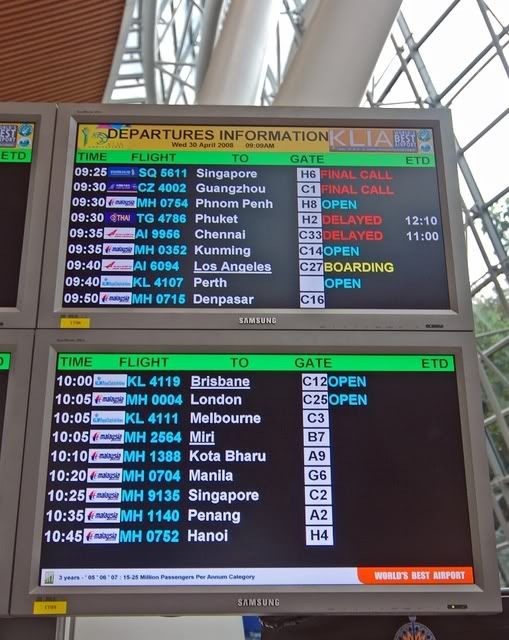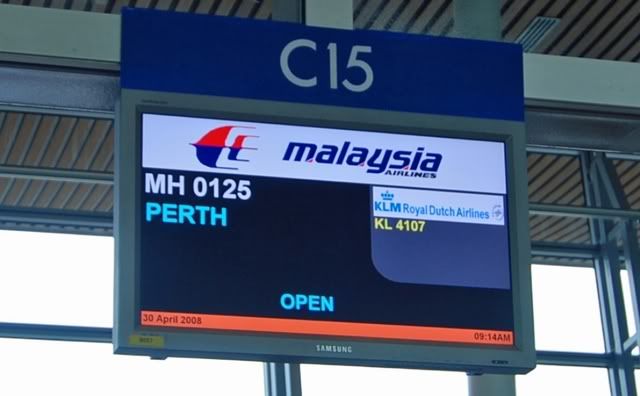 When I reach the gate, passengers are still queuing for security, so I go next door to snap a colorful Air India Express B738 bound for Chennai. No special reasons for this pic except for some good light, a window with a view and a little time on my hands.
I am one of the last to board 9M-MRN, among the later additions to the MH B772ER fleet. Inflight Executive Ooi standing just outside door 1L welcomes me aboard like an old friend, and then tells me he has re-seated me. What? I am now at row one, a much better seat says Mr. Ooi. I still have my aisle seat, only it's now two doors, two toilets, a galley and four seat rows ahead of my originally allocated 5G. I don't complain – Row 5 on the MH B772s is a strange single-row overhang from the main Business Class cabin and is today apparently accommodating MH staff.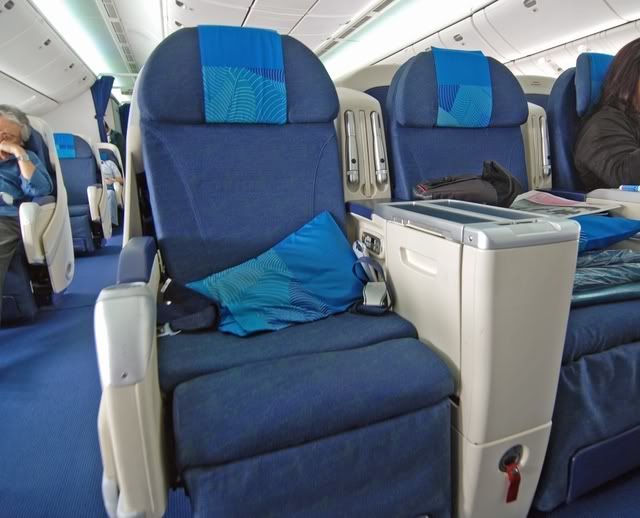 9.50 a.m. Pushback
Although I'm not a fan of bulkhead rows, my new seat 1G is not bad, especially in a cabin that's only one third full. Legroom on MH's B772 Business Class is especially generous. Originally fitted with five rows of seven seats across in the first cabin, a whole row of seats was removed when it was discovered to be too cramped. Now, the space available beats most airlines offering the angled flat bed-seat option.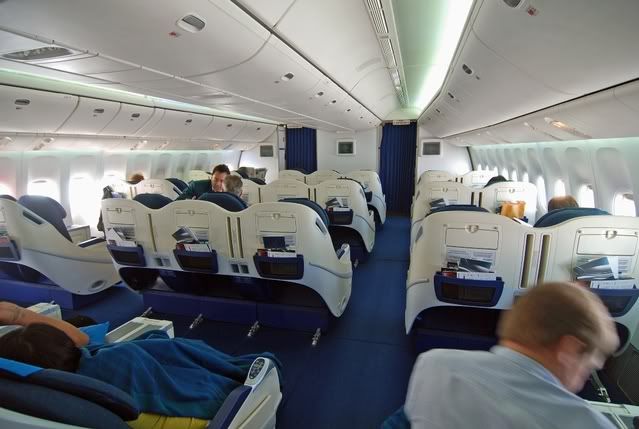 "Malaysian Hospitality" swings into action: three crew members dispense hot towels, juices, champagne, headsets (still not noise-canceling), and menus before take off, and take meal orders after. Service is friendly without being overly personalized, but it's perfectly adequate.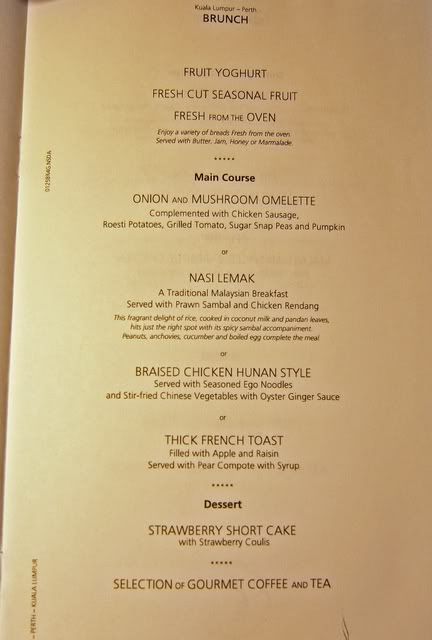 Amenity kits become a casualty of cost cutting. And so apparently has the concept of choice in the menu. Even as the fourth passenger to be asked, my choice for main course – nasi lemak – is no longer available. "Sorry, we only loaded two servings and they're both taken," is the apologetic reply. That's a very poor showing.
The menu covers haven't changed since MH launched its new Business Class some two years back. And still called Golden Club Class?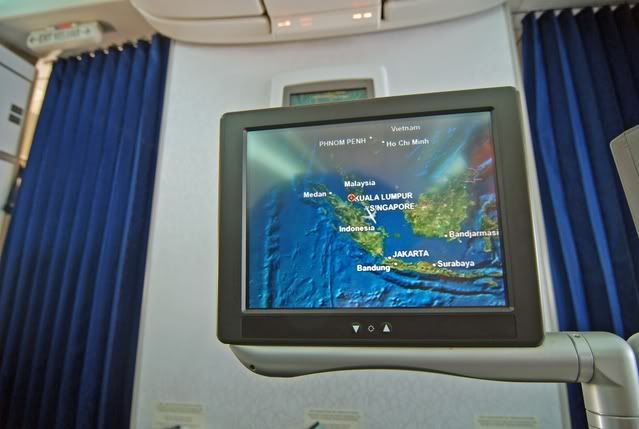 10.53 a.m. Brunch is served
I didn't eat anything at the Golden Lounge, saving my appetite for the flight – but that, I discover, is a mistake.
Appetizer: You can't do much with fruit but these few pieces look particularly sad.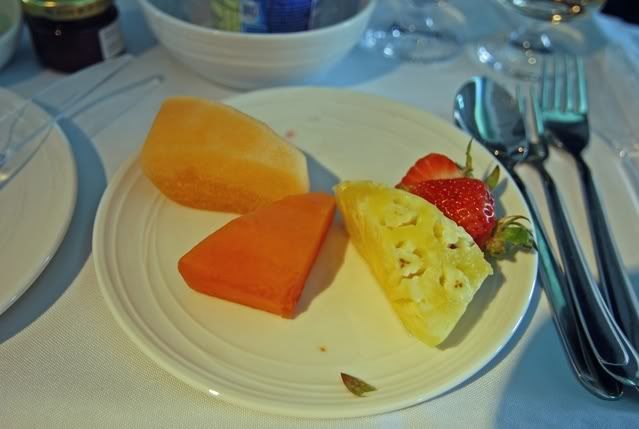 Morning coffee is served early into mugs that look like the ones I get at my
teh tarik
stall. Nice coffee, too bad it's lukewarm.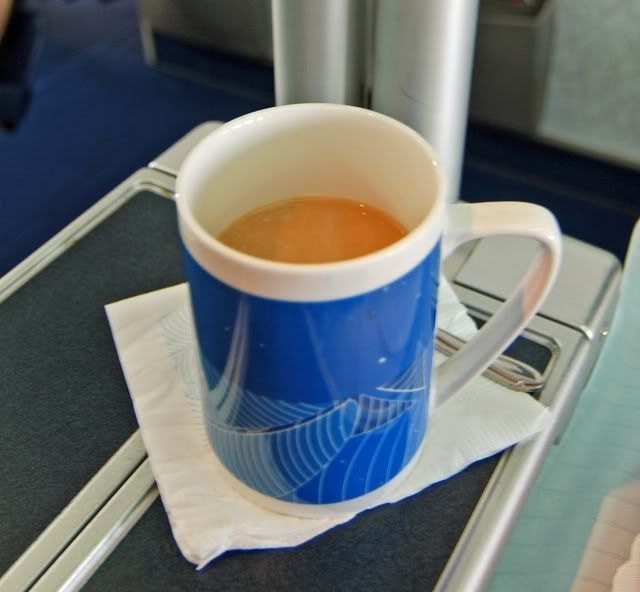 The main course of hunan chicken on noodles is in culinary terms rather questionable but it is edible, especially if one is hungry. I think enough said.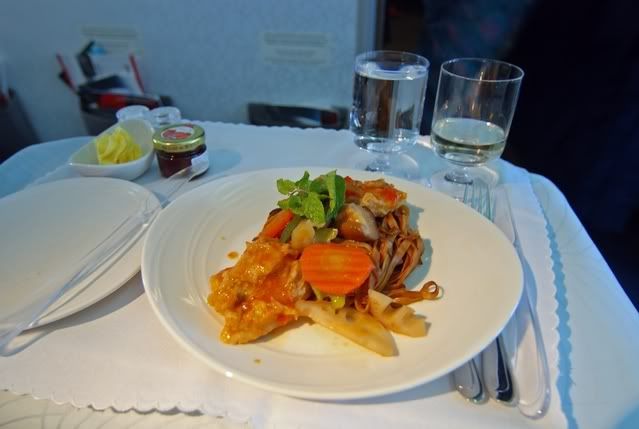 Dessert and coffee are served promptly and the entire brunch service is over before we get overhead Jakarta. Although the meal on MH seems fine, it lacks imagination. Even as an infrequent flyer, I already know what to expect from MH catering and it doesn't excite me.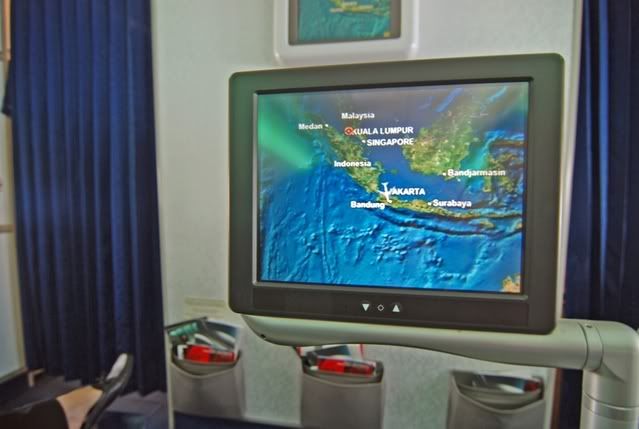 12.06 p.m. Snooze lighting
Fly most Asian airlines and they are always keen to get you fed quickly and then into bed with the shades down. MH is no exception: it may be midday but the lighting is already set for snooze mood. The turquoise hue is soothing enough to give me nearly an hour's worth of shut eye.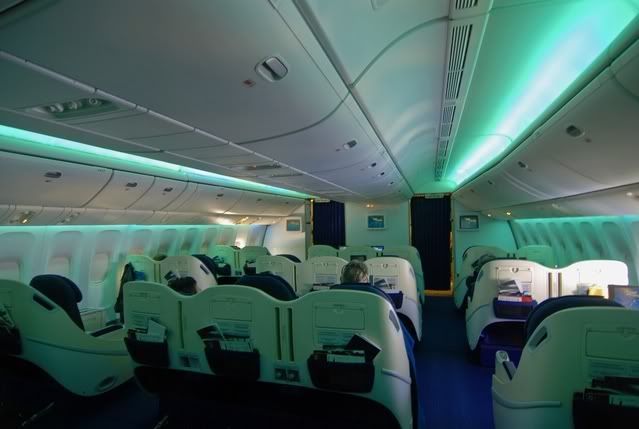 Apologies for the poor pic quality, but this is the best I could do with my seat in angled flat mode. It's not everyone's favorite way to sleep, which is why such seats have been a relatively short-lived idea. Progressive airlines have been quick to give them up for fully-flat beds in Business Class.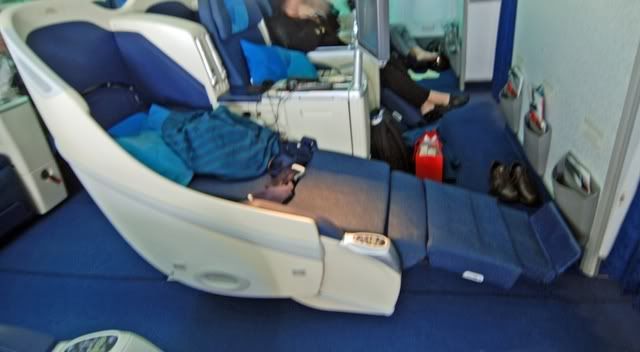 1.55p.m. Almost there
We make landfall in Western Australia, and land in Perth about an hour later, on schedule.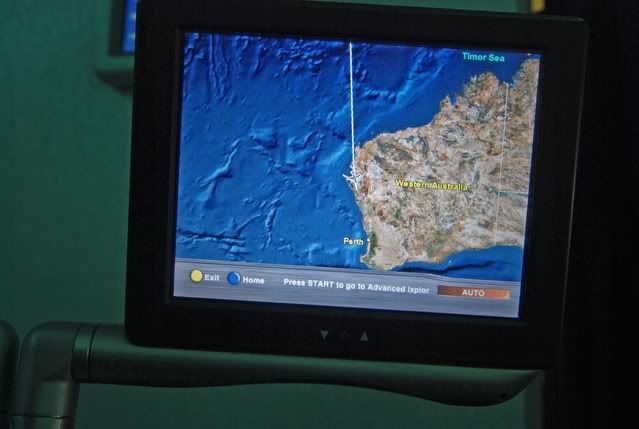 The MH experience is a pleasant one: its supporters will say the airline is greatly underrated. And perhaps it is. But how to turn the airline around is that 64,000 ringgit question no one has been able to answer so far. Some blame the Malaysian government for the airline's woes; others think MH wouldn't be around without their continued financial support.
Whatever it is, the airline will have to find its – so far elusive – niche. It can't say it's a five-star value carrier (whatever that means) and continue pretending it is some global airline. It can't continue flying unprofitable routes half way around the world without first being a credible competitor in its own backyard. It's an airline that could have had enormous potential if someone like its current CEO Idris Jala did 20 years ago what he is trying to do now. But could it be a case of too little, too late? Who knows.
The extensive map from the MH inflight magazine
Going Places
that combines the routes of over three dozen disparate airlines from Iran Air to Bangladesh Biman to United Airlines to TAM is especially telling – and laughable, in a sad sort of way. It seems like the route map of a fantasy airline which is in alliance with everybody; but isn't that really saying no one wants you in their club?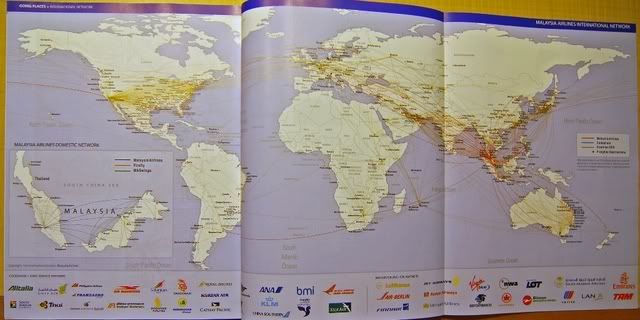 singapore girl
Perth – Singapore
Singapore Airlines flight SQ 216
Business Class
Dep. 0105 Arr. 0623 (arrives on time)
B777-200ER 9V-SRQ
3 May 2008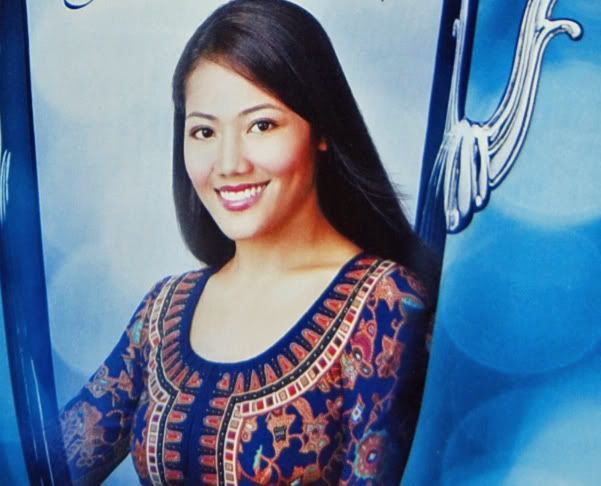 11.25 p.m. Check In
It is quiet this time of night at Perth's International Terminal with flights few and far between. I am attended to immediately at the Business Class counter, but can't help eavesdropping on the people next door. They are traveling to Seoul-Incheon and have to pay extra for carrying 8 kilos of excess baggage – 32 Aussie dollars per kilo, making it a hefty charge of A$256. I tell my check-in agent that A$32/kg is very expensive, and she responds by checking her "extras" list and remarking that at least it's not Europe: that'll cost A$65 per kg! And airlines enforce them strictly these days.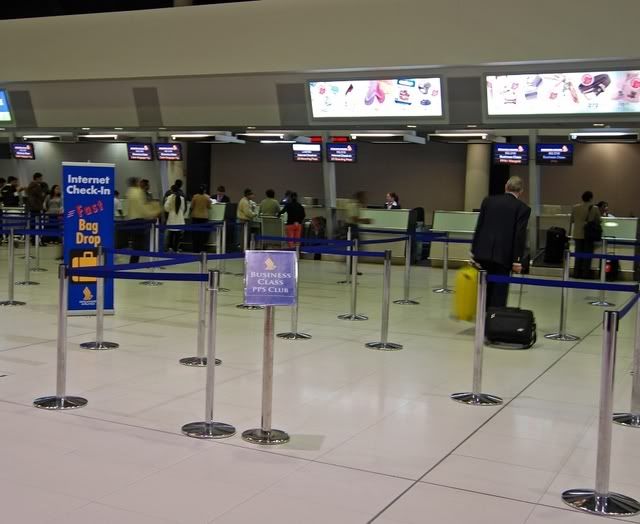 As with most SQ flights to and from Australia/New Zealand, this one is also code-shared with Lufthansa.
There's a major redevelopment due for Perth Airport. In the meantime, the 5-gate international terminal just about copes with the primarily Asia-bound traffic – as long as they are reasonably spaced out. The area around the SQ gate is already crowded when I get there at midnight. Notice how the airline has cleverly arranged two rows of seats to form a boarding "channel" to the plane.
The revenue generating duty free shop has increased in size since my last visit a year ago. With no expansion of the terminal, this means a sacrifice in passenger seating and waiting areas. Sorry the gate areas are so crappy, but hey look there's plenty of room here to spend your money.
12.02 a.m. Silver Kris Lounge
I wonder if the potted plants are intentionally positioned to obscure the lounge entrance from unsuspecting premium passengers. If that is indeed the reason, they have failed.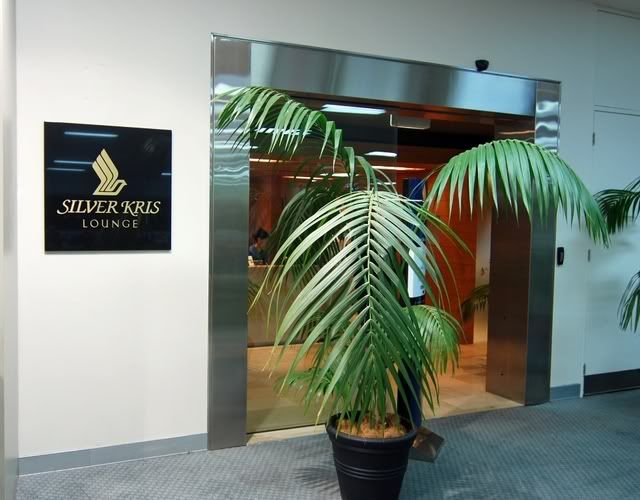 The small lounge feels uncomfortably crowded and has no spare seats available when I arrive. The food selections are rather poor too. As such there's nothing more for me to do than walk around the room – twice – and look for a good angle to position my camera. I take two shots and then guiltily leave the room like I shouldn't be there at all.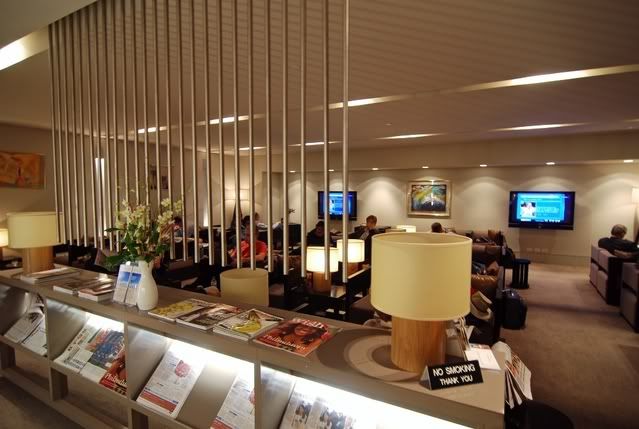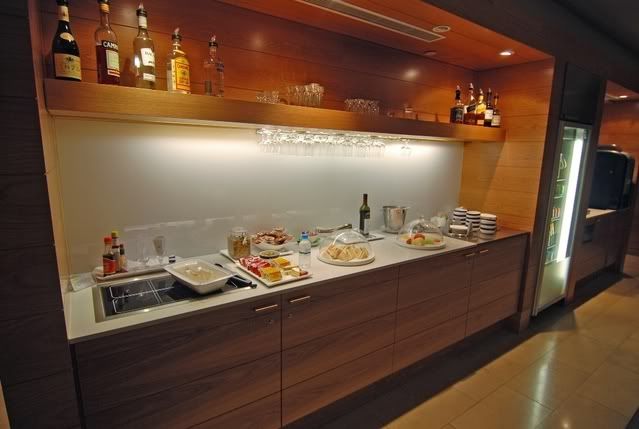 Far away from the Silver Kris Lounge and SQ gate, I find a much roomier place to stretch my legs. Maybe it's just that I am far happier in utilitarian surroundings. Here's the area just outside the Qantas and Emirates lounges. (Despite being a small international airport, Perth supports premium lounges from four airlines: SQ, QF, EK and MH.)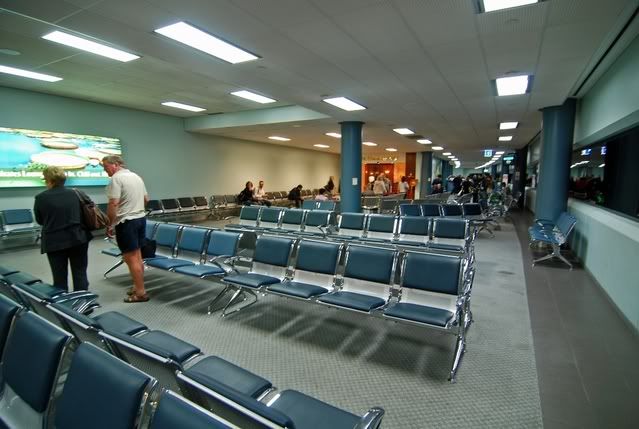 It's also here that I spot 9V-SRQ is at the gate and being readied for flight to Singapore after its scheduled 75 minute turnaround.
12.37 a.m. Boarding at gate 4
Despite a long queue of Economy Class passengers that extends well beyond the two rows of chairs, boarding is a relatively orderly affair. Business Class is given priority. But if you think the plane's right there outside the gate, think again… Perth Airport uniquely presents a flight of stairs for you to negotiate first!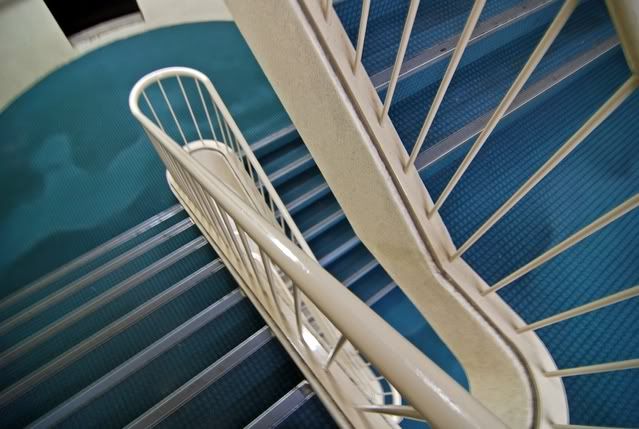 Service on short red-eye flights is especially tricky. To many people, a good overnight flight means uninterrupted sleep and minimal disturbance, and yet not without the keen eye and prompt response of an unobtrusive crew when service is needed. Enthusiastic and overly friendly cabin attendants are not necessarily welcome at 1 a.m. – and yet expectations naturally run high in Business Class, especially for an airline that sells itself on its inflight experience. With an almost full cabin, it's a difficult balancing act for the crew of SQ216 tonight.
(So is photography in a darkened cabin – apologies for this, among other, blurry pics.)
But SQ service does much better than my photography. Green-kebaya clad Brenda, who leads the team up front on this five-hour haul to Singapore, does an admirable job. Even this hardened skeptic was taken by her genuinely warm welcome and a hushed tone of voice that could easily soothe the airwaves of any late night radio station. You know what I mean… some voices are so soft-spokenly smooth and mellow they just make you melt and do anything they say… well, Brenda just had it.
For a more than a few moments, I was on the receiving end of a soft-lit SQ advert: sarong kebayas seemingly gliding in a darkened cabin serving "Tropical Fizz" the welcome drink of the month, distributing steaming hot towels, and generally pouring out all the goodies that Singapore girls do. I detect nothing mechanical or robotic about them – if one sat back with a glass of champagne in the half light of a hazy cabin, you could almost believe they were angels.
1.41 a.m. Breakfast anybody?
I am sure you want to sleep, Brenda guesses correctly. How about something later? I am given the option of dining now (which nobody in the cabin takes) or some two hours before landing, which gives me a little over 2 hours' sleep. My personal choice would have been to pass on the meal service altogether – aaah, but for the sake of the trip report, I select the "please wake me up at an ungodly hour to eat" option.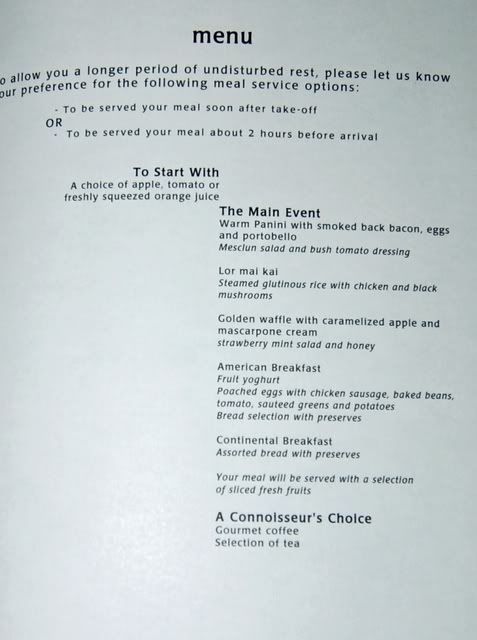 The SQ menu uses silly terms like
The Main Event
to describe the main course and
A Connoisseur's Choice
for coffee for goodness sake. More than a tad pretentious, I think, but then this is SQ, the airline of the corny taglines.
Noise canceling headphones are passed out, but like on MH, amenity kits are not. Although I would have preferred a flat bed (who wouldn't?), the seat was comfortable enough. Even so, many will consider the seat on this regionally configured SQ B772 to be inferior to the MH B772 on this sector – but it seems it's SQ which gets the loads. With arguably the best hard product among Far East airlines from Perth, MH
should
be the market leader among them. But is it?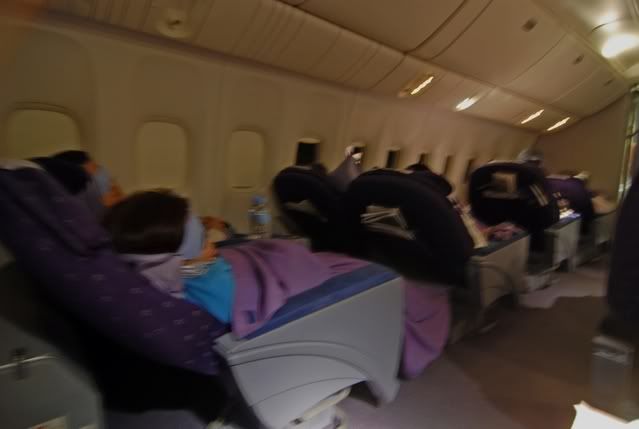 A champagne nightcap before "bed".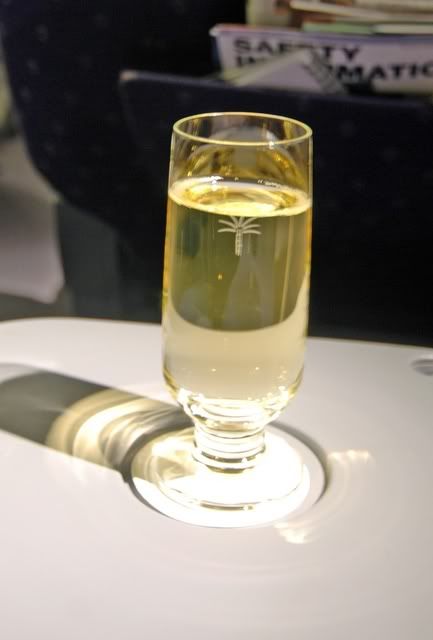 4.33 a.m. Breakfast
It's a single tray service and done with speed, although no less gracefully. I choose the Lor mai kai which is surprisingly tasty.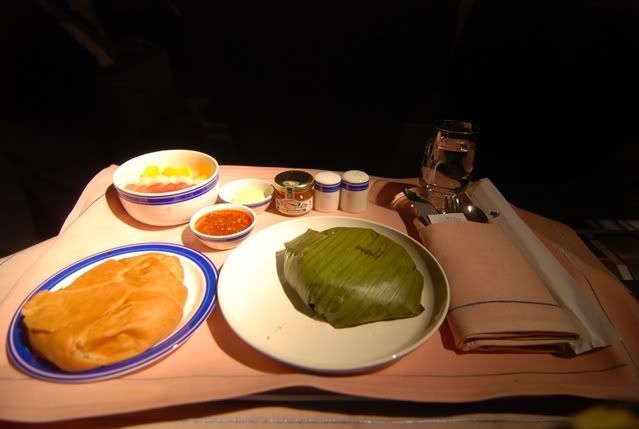 I know what you're thinking – yes, it does look like a large serving of hot steaming turd on banana leaf.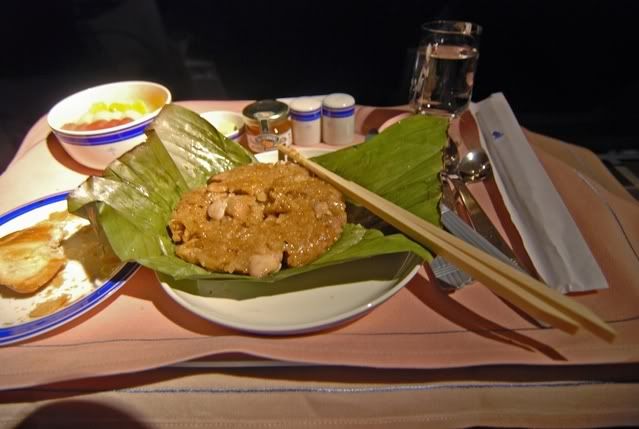 After breakfast, we're already over Jakarta but there's still another hour of rest left, if you can get back to sleep.
transit at changi
We land at Terminal 3, Changi's newest. It's generally still quiet except for passengers from some early arrivals like us, and early morning departures on UA, which is one of the few airlines to share this terminal with SQ.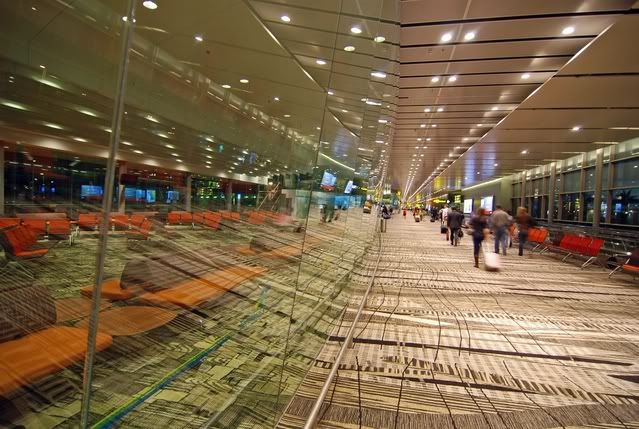 6.40 a.m. New Silver Kris Lounge at Terminal 3
This is a much anticipated lounge for SQ. Its other lounge at Changi in Terminal 2 pre-dated the new (and much nicer) offerings by regional rivals like CX and MH when their new hubs opened a decade ago. More recently, TG's luxurious lounges in Bangkok too take some beating. The opening of Terminal 3 this year was a chance for SQ to redress the balance, but does it?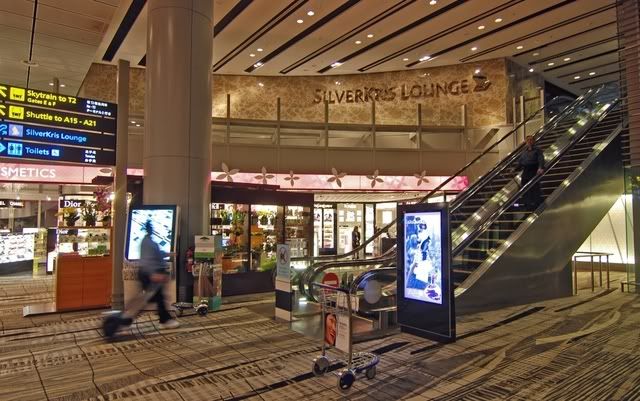 The best thing to be said about the lounge is that it's big. It's the sort of place you could get lost in. The décor is well, brown. The fittings are decent of course – lots of leather sofas and marble like tops with all the necessary bells and whistles but it is a very predictable SQ offering. It's less a new lounge than a bigger, updated one. SQ must concede that compared to its regional rivals, it scores just a B+ for lounge ambience.
The spacious dining and buffet area is one of the more interesting parts. The breakfast offering with a selection of Asian and Western choices is particularly good. Too bad I need sleep more than food at this moment.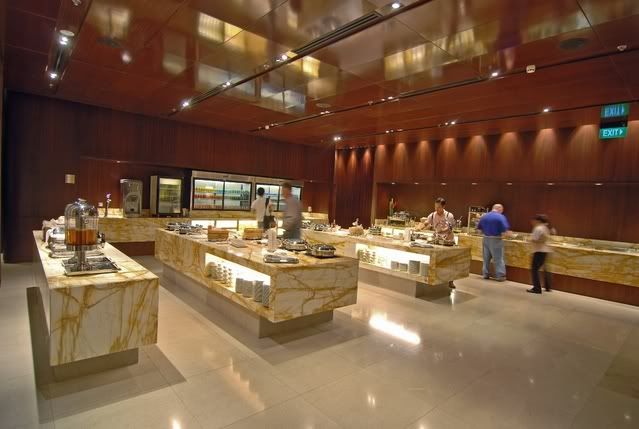 One of the weaknesses of the lounge is the lack of natural light. It was a complaint of the Silver Kris Lounge in Terminal 2 and remains an irritant at Terminal 3. I sit at the closest thing to a window here with a view of now bustling departures area below.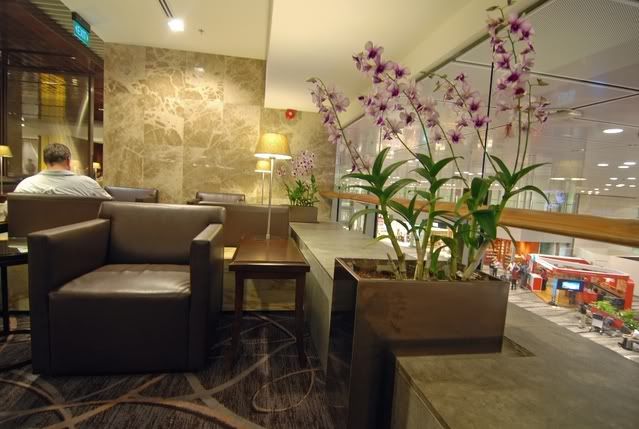 7.15 a.m. Heading to Terminal 2
My connecting flight to KLIA leaves from Terminal 2, which means catching one of the frequent "Skytrain" people movers around the airport car park.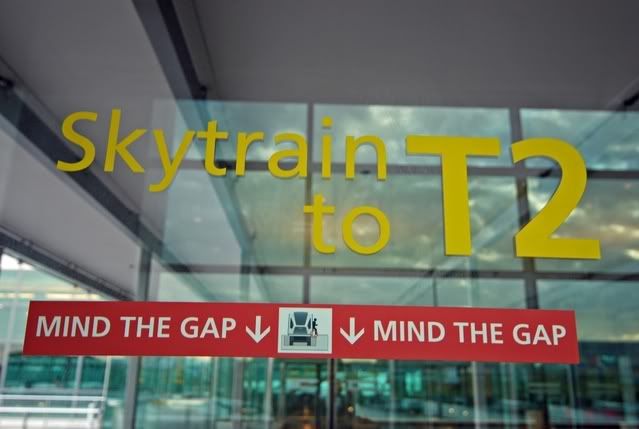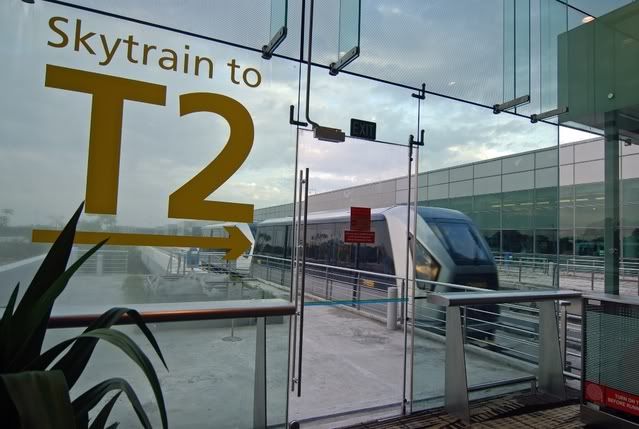 With the opening of Terminal 3, Terminal 2 now handles primarily SQ regional flights as well as that of subsidiary SilkAir. A handful of airlines like MH also operate out of this terminal – most other foreign airlines use Terminal 1 at Changi.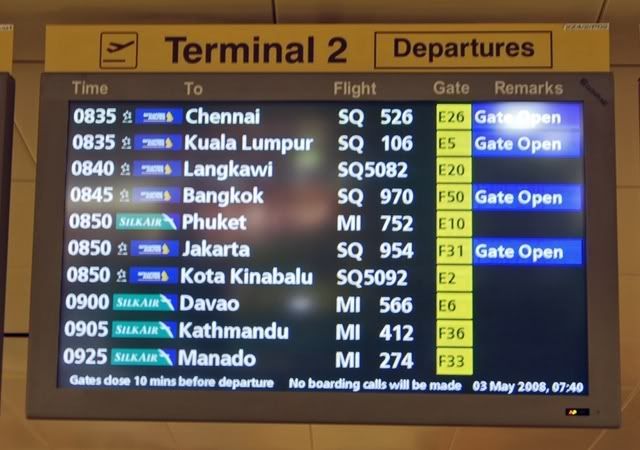 Singapore – Kuala Lumpur
Singapore Airlines flight SQ 106
Business Class
Dep. 0838 Arr. 0930 (arrives on time)
B777-200ER 9V-SRA
3 May 2008
The first SQ flight of the morning to Kuala Lumpur is full in Business Class. Until a few months ago when SQ and MH operated a duopoly on the route under the guise of a "Shuttle" service, the Business Class cabin was called First Class. Now, low cost carriers compete alongside the full service airlines.
The seats and fabrics on this older brother of SRQ are slightly different, although legroom is similar.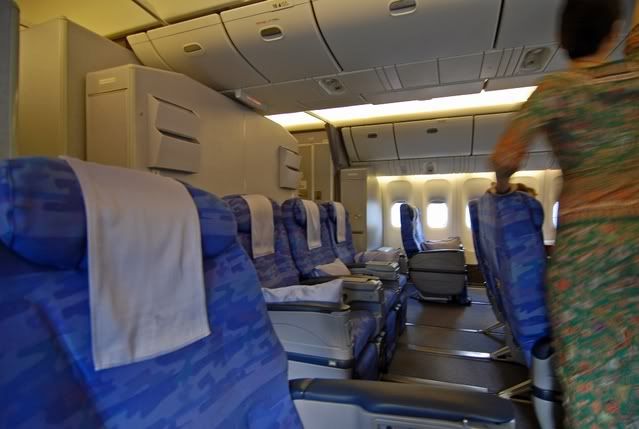 8.45 a.m. Lining up
No queues at this time of the morning, a short taxi to 20C and we're off.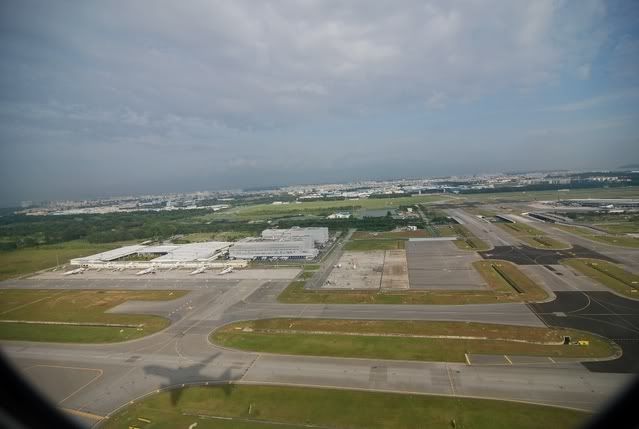 9.03 a.m. Another breakfast
I really didn't want another breakfast but a photo had to be taken. There's a choice of tuna croissant or muffin.
9.30 a.m. Arrival
We're at SQ's favorite KLIA gate C2 right on schedule. As I enter the terminal, I hear the last boarding call for MH 125 to Perth – that was the flight which caused the
evacuation and closure of Perth Airport
for almost 12 hours that night. We park adjacent to another colorful Air India Express B738 that just demands to be photographed.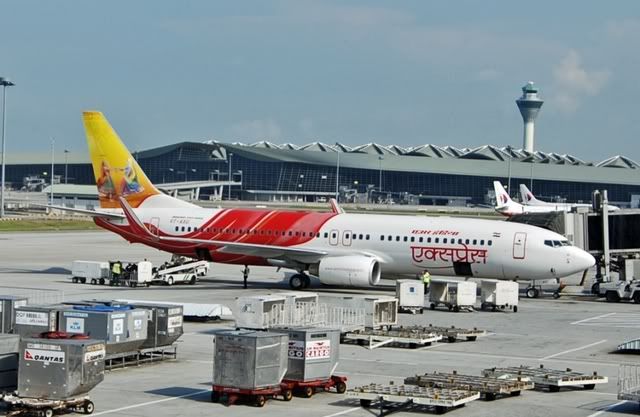 final words
Writing most of this report while on another trip (to the USA), I feel slightly guilty at having been so harsh on both MH and SQ. After experiencing flying in the world's richest country where passengers are subtly warned not to expect too much of their cabin attendants "they are primarily here for your safety" and planes break down with amazing regularity, I am thankful I live and work in a region where standards are still remarkably high. So high in fact that I struggle to find faults: my complaints here are nothing more than trivial weaknesses – icing on the cake, as it were. I dare not even attempt to compare these airlines with the ones I recently flew: they are really in a completely different league believe you me.
It's totally understandable to me now why MH and SQ have such loyal fans. May your fanaticism drive standards even higher.