A recent one day trip to DEL from BOM involved the following flights:
BOM - DEL IC 658 0900 1055 A321
DEL - BOM AI 307 1815 2030 B747-300 Combi
Technically both legs on Air India, but the BOM - DEL route was actually on Indian Airlines.
First Leg of the journey: Mumbai - New Delhi
Flight No. IC 658
Codeshare:AI 9658
Terminal Used: 1A (Domestic)
I reached the airport just a bit early and decided to relax at the airport which was under renovation. There was a separate entrance for Kingfisher airlines. And rather deserted check-in counters, whereas IC check-in counters were overflowing, especially after some early morning international arrivals. The check-in counters were organized in an efficient way, and passengers could actually check-in at any counter they could. But flight numbers to specific destinations were displayed.
Terminal view:
I really expect this terminal to shape up well and it falls in the A list category of airports. The airport was clean, especially the rest rooms. There was a sort of mini partition between the Kingfisher section and the Indian Airlines section. Last year when I traveled KF on the very same route the check - in counters were located horizontally and then the security checks next to them. Now they are vertically placed. After security, the terminal is yet the same, but with lots of construction going on even within the terminal.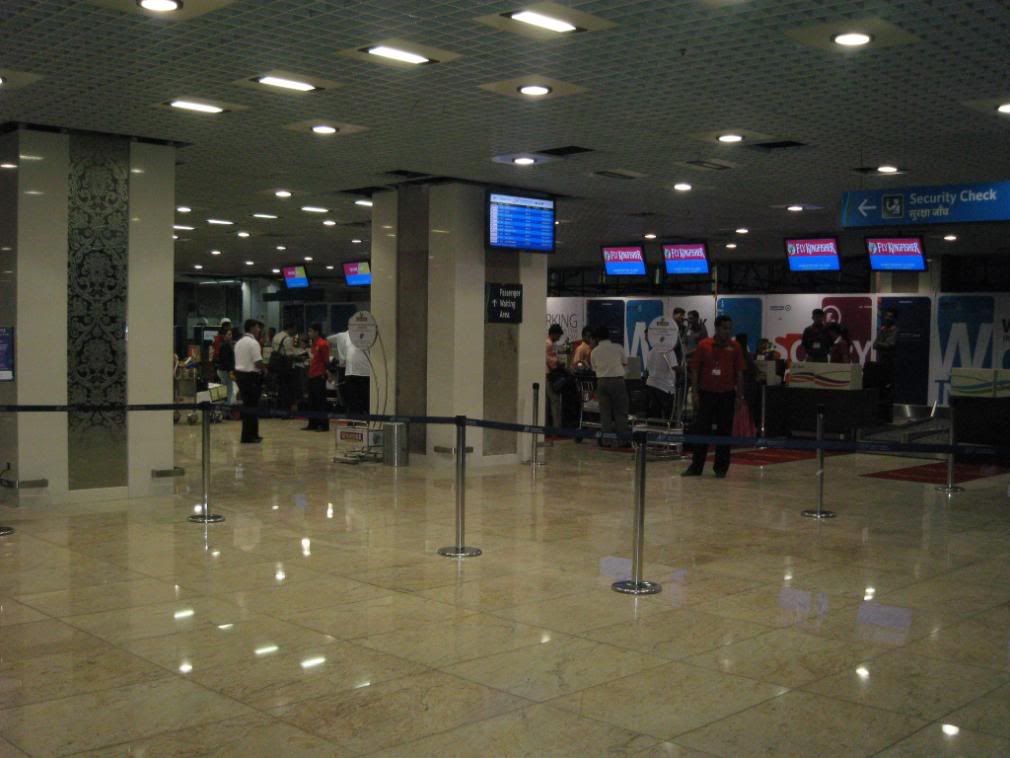 Deserted KF counters even during peak morning departure times.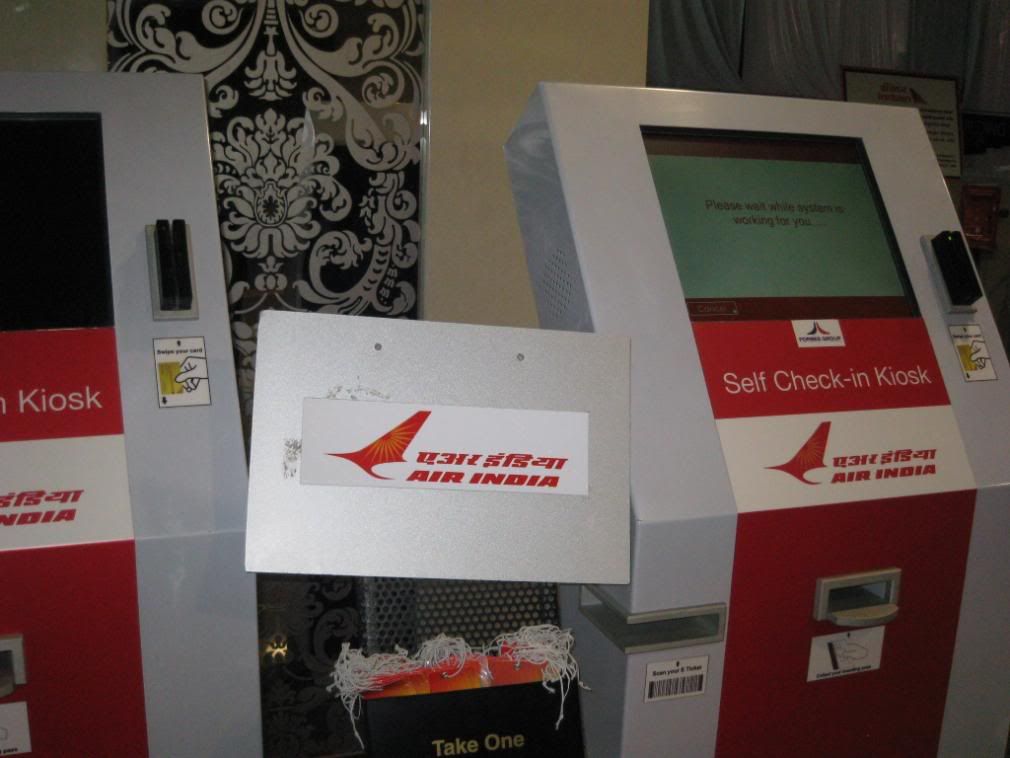 Check-in kiosks, none of them were working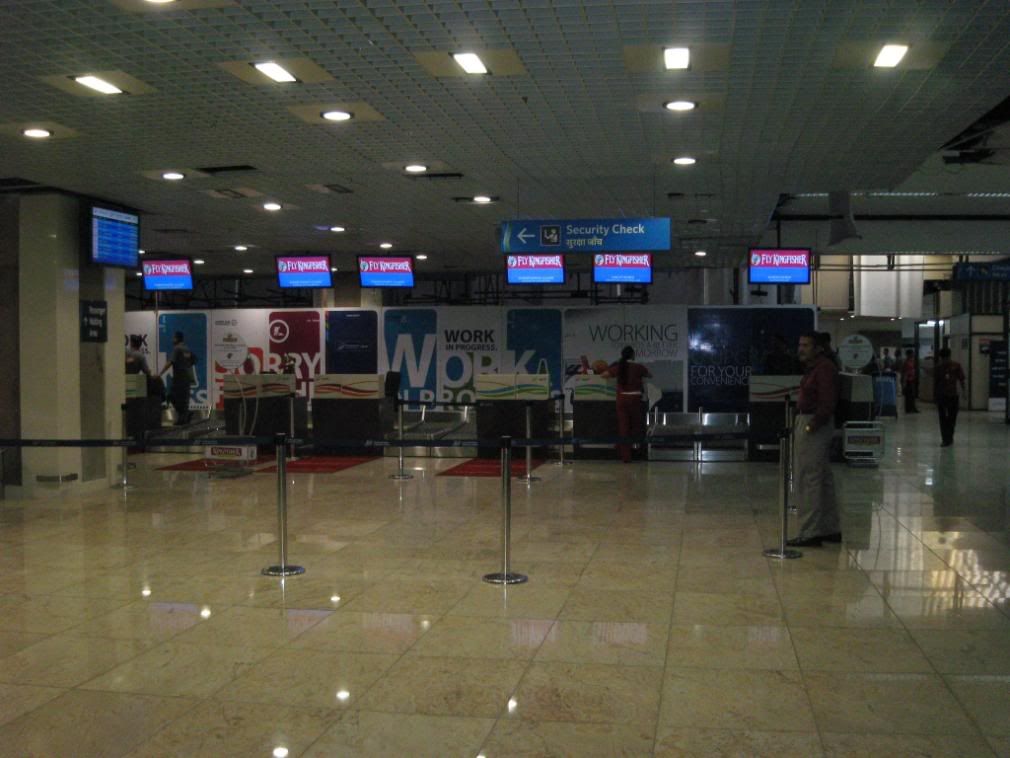 Another view of the deserted KF counters.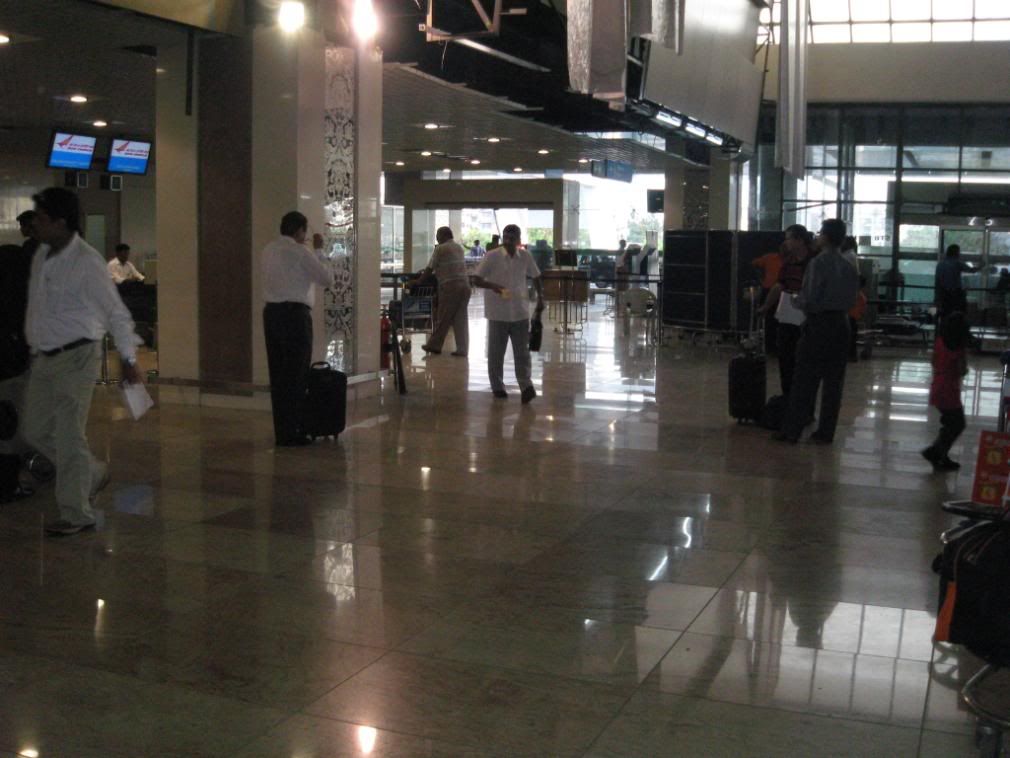 The view of the terminal at around 7am.
Check-in & Staff Interaction:
Having just one hand bag , I thought I might as well use the check-in kiosks. I was surprised to know IC had them. But my happiness lasted only for a few seconds to find out that they were not working, none of them rather. And I was rather discouraged to see the long queues and I thought let us wait for some time. Since a fellow member, Karan69, was also joining me , he asked to check whether I could block window seats. It was still 6am and I wanted to wait for him as I had his Ticket printout as well. I went to the Help desk, and was greeted by a lady.
IC Lady: Good morning Sir! How can I help you?
Me: Good morning. I have a booking on IC 658 to Delhi, Can I please make a seat request for the same flight?
IC Lady: I'll try ....... I'm sorry sir, the flight has opened, hence I cannot to the same. You can try checking-in and
ask for your desired seats. You should get them as the flight is quite empty.
Me: Ok, no problem , thank you for your help. .
And just as I walk away from the counter she yells
IC lady: Excuse me Sir! I think I managed to do block your desired seats, how does 13A, 14A sound?
Me: That should be fantastic! Thanks a million Ma'am
IC lady : you are welcome ... ( with a nice smile)
Around 6.45am ish I went to the check-in counter where the queue had reduced significantly. I showed the agent my E-ticket and my photo identitity.Within seconds she issued me a boarding pass. I asked her if I could check-in for my friend and she replied " I have blocked the seats for him as well " he can collect his boarding pass when he comes. I as like " Ok fine.. thank you". At 8am we passed through security check and went towards the floor below us where all the gates were situated.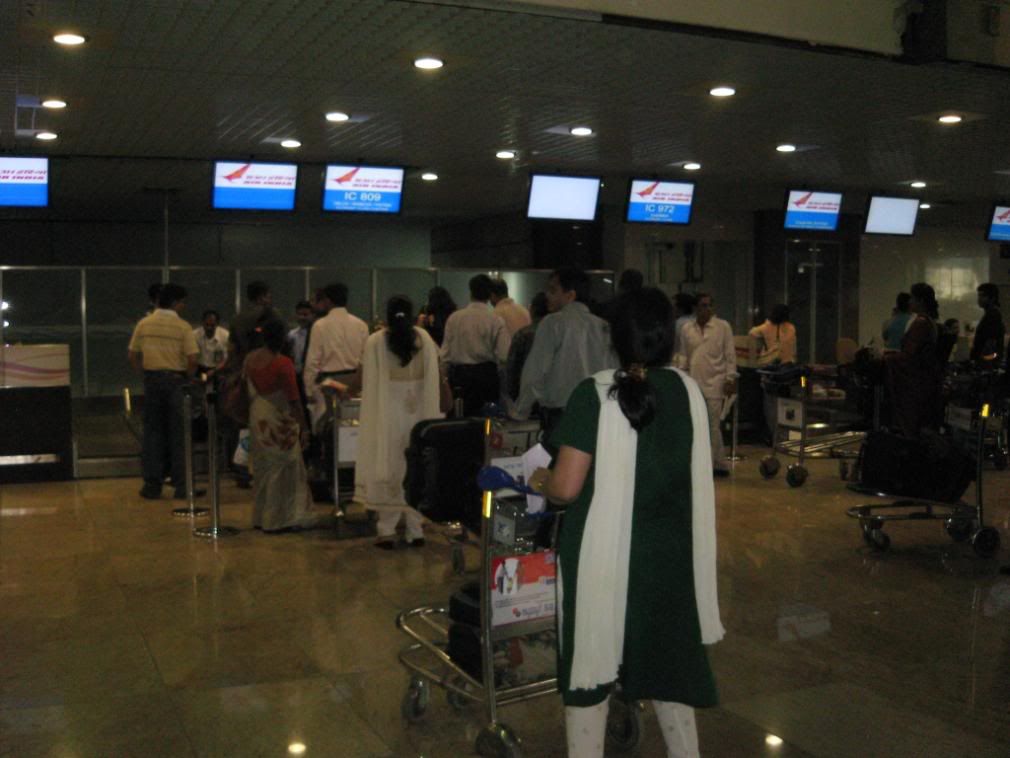 Passengers checking-in for Ranchi and Patna.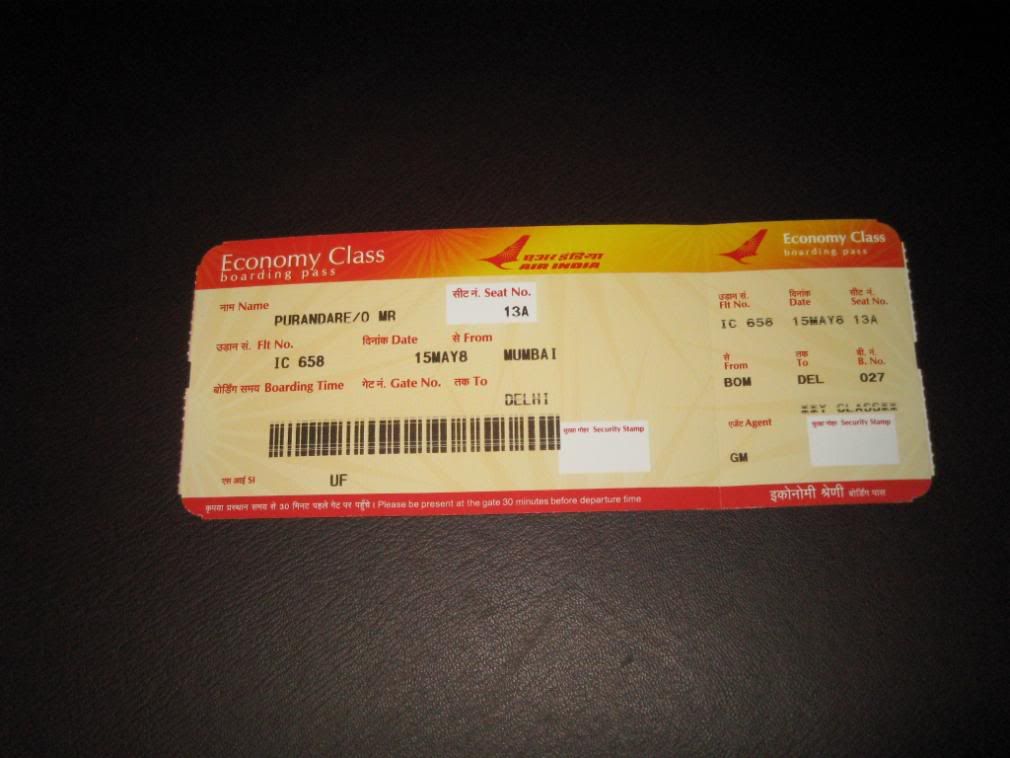 Boarding & Details of flights:-
Flight No. IC 658
Aircraft : A321-211
Registration: VT-PPE
Gate No. 5
Seat No. 13A
Loads: 70% approximately
Departure times:-
Boarding time: 0845 Hrs
Scheduled: 0900 hrs
Actual: 0910 hrs
Airborne: 0922 hrs
Once at the gate, the approximate loads of the flights were visible. The incoming aircraft had arrived at around 0825 hrs. There was just another KF flight (IT 103) to next to our gate and besides that an IC flight (IC 109) both of them to BLR. Boarding was announced, and we could board the aircraft through the aerobridges. Boarding took place smoothly, the FA's were nice, and once seated, I could recollect my trip last year to DEL on an KF A321, and the comparisons all began. My trip on Indian airlines was roughly after a gap of 13 years, and yes it did change. It seems IC got anglicized and forgot to greet the passengers with a "namaskaar", which the govt. run airline are supposed to do. I personally was very disappointed by this. The "namaskar" gave a more ethnic touche altogether. The FA's were ok, nothing significant to mention. I found my seat 13A and was elated to learn that the 2 seats besides me were empty. Announcements were made and it said " Welcome aboard Air India flight IC 658 to Delhi ....", it seems the merger effects were now noticeable, which was a positive sign. The legroom was just too good on the A321, very very comfortable. The aircraft was spotlessly clean, almost brand new. Doors were shut, and we pushed back, Me and Karan were praying all this time that let us take off from RWY 14. Of all the air trips to BOM ever since I was born (LOL) , we had used the same old Runway 27. But then by the time our prayers could be acknowledged, the pilot was absolutely rushing on the taxiway as though he had got clearance to take off from from there itself. And since there was absolutely no queue or any landing due, within 12 minutes from push back we were airborne. The take off was smooth on Runway 27, and the view below was equally nice. The construction on the Bandra - Worli Sea link was clearly visible. We soon took a sharp right turn and were on our way to Delhi.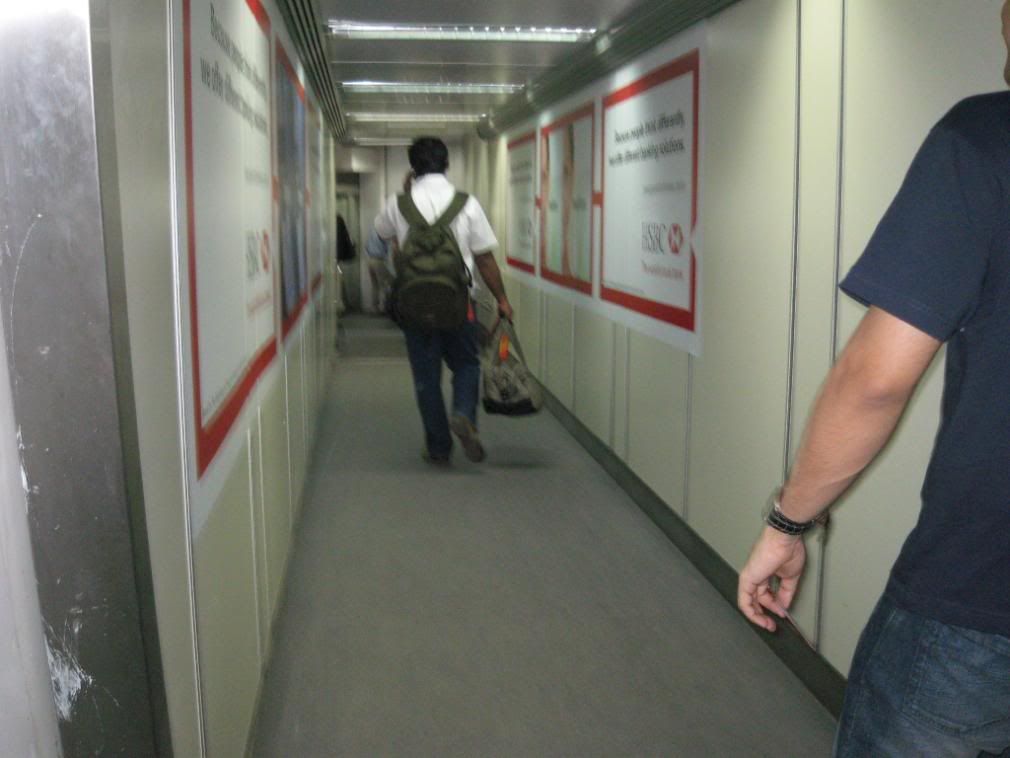 Boarding through the aerobridge.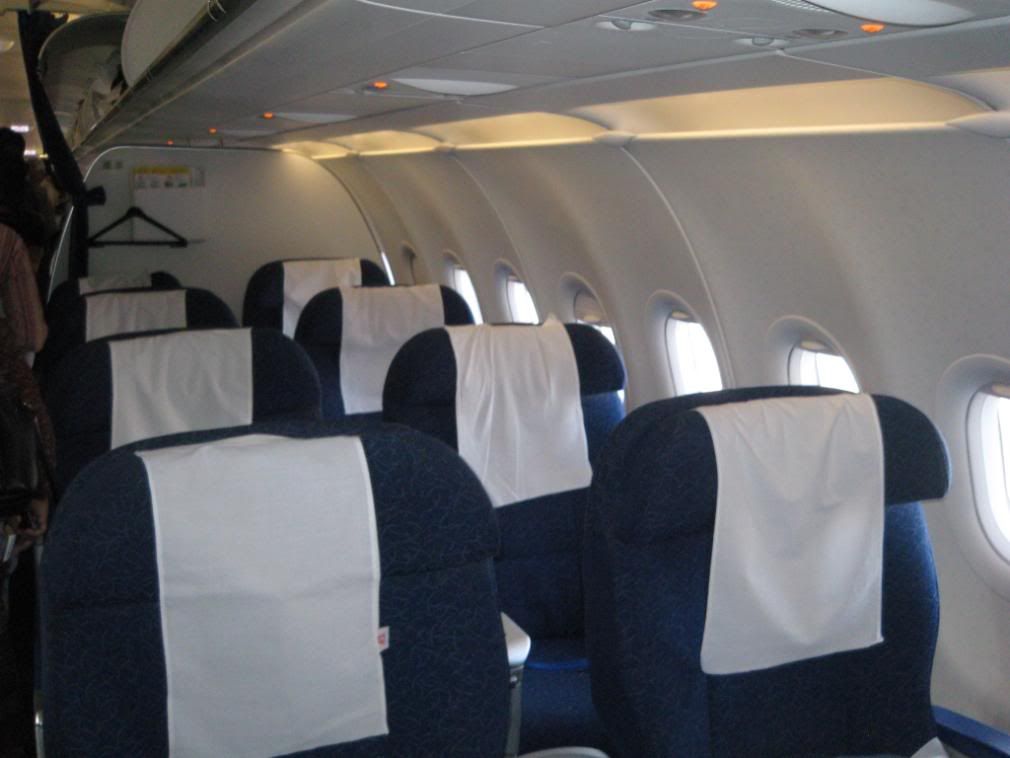 J class cabin in a 2-2 layout.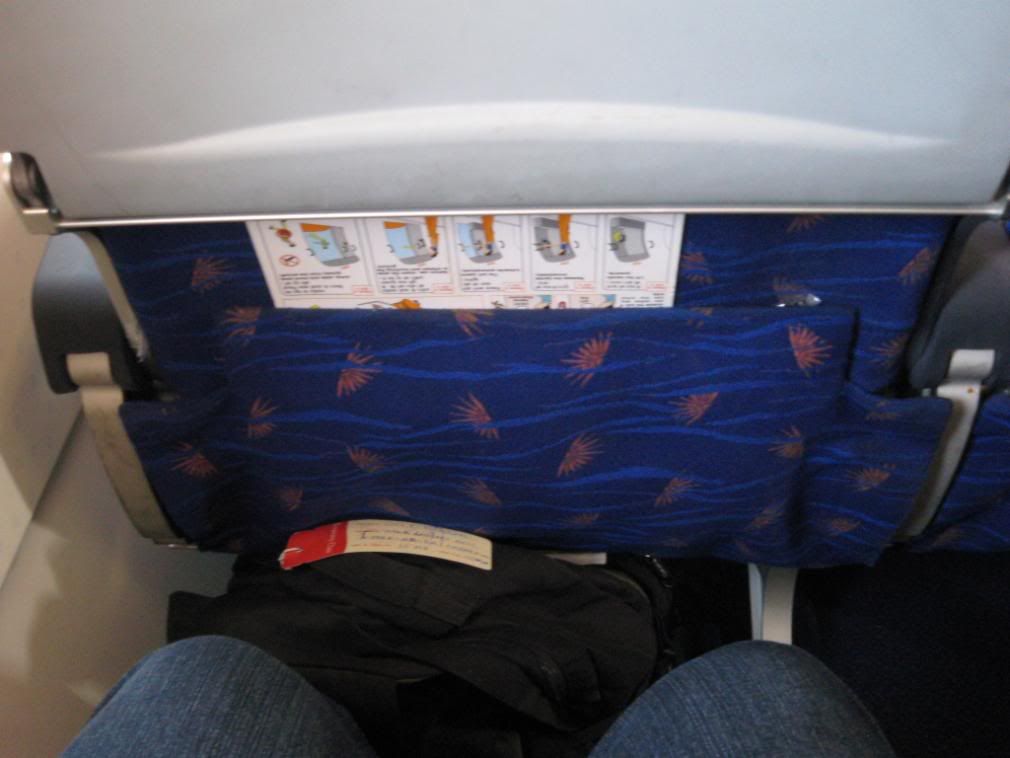 After being seated, nice legroom.
Cabin view, and the lady standing is the FA.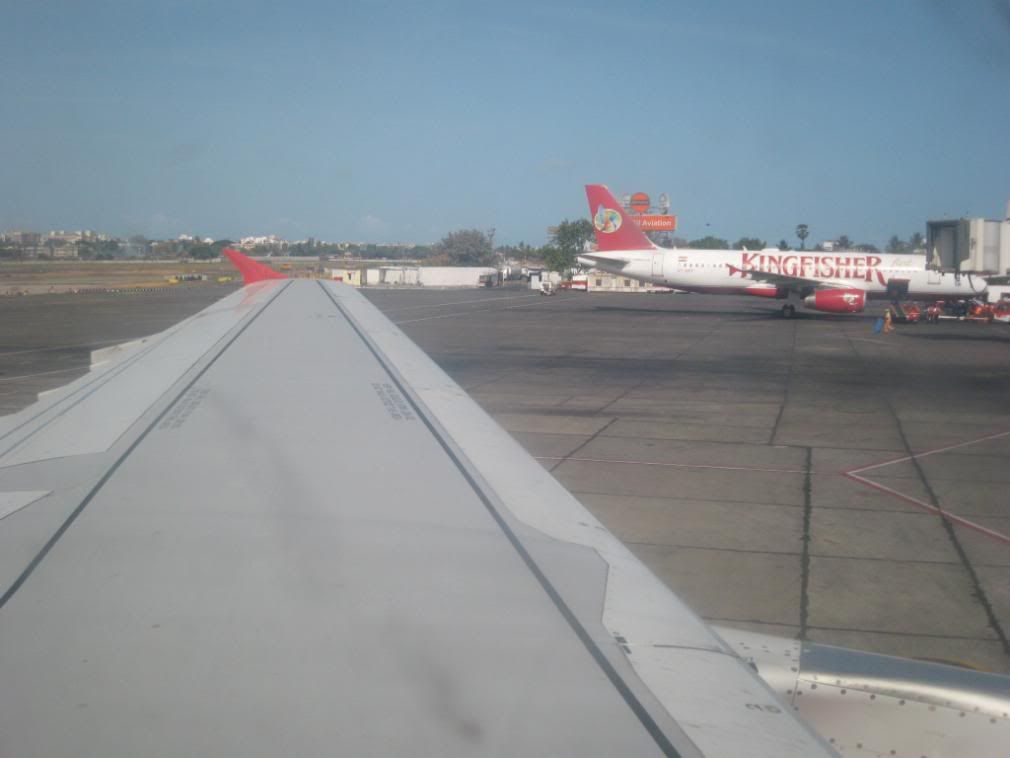 While push back , that is the KF flight to BLR.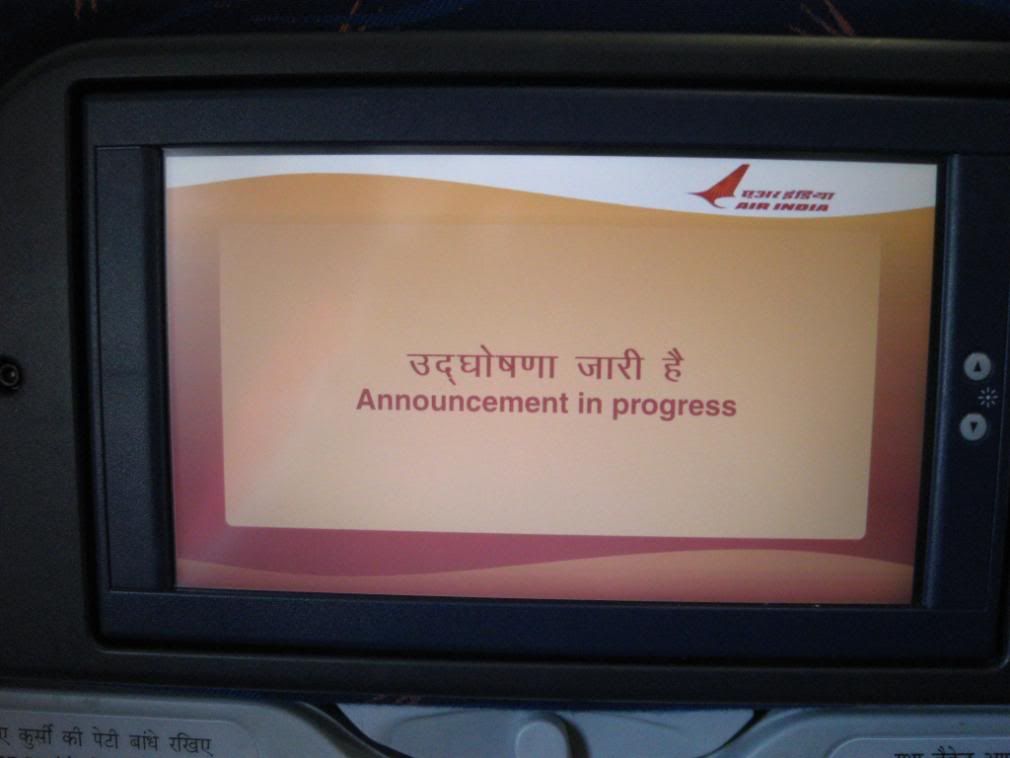 Announcement in progress.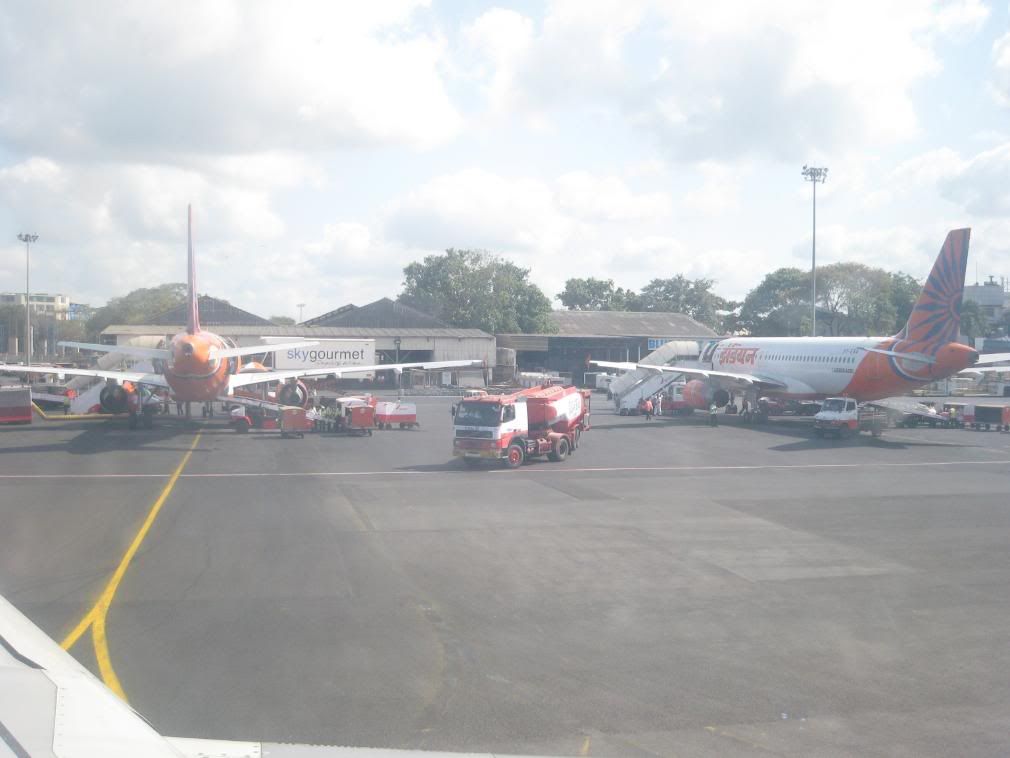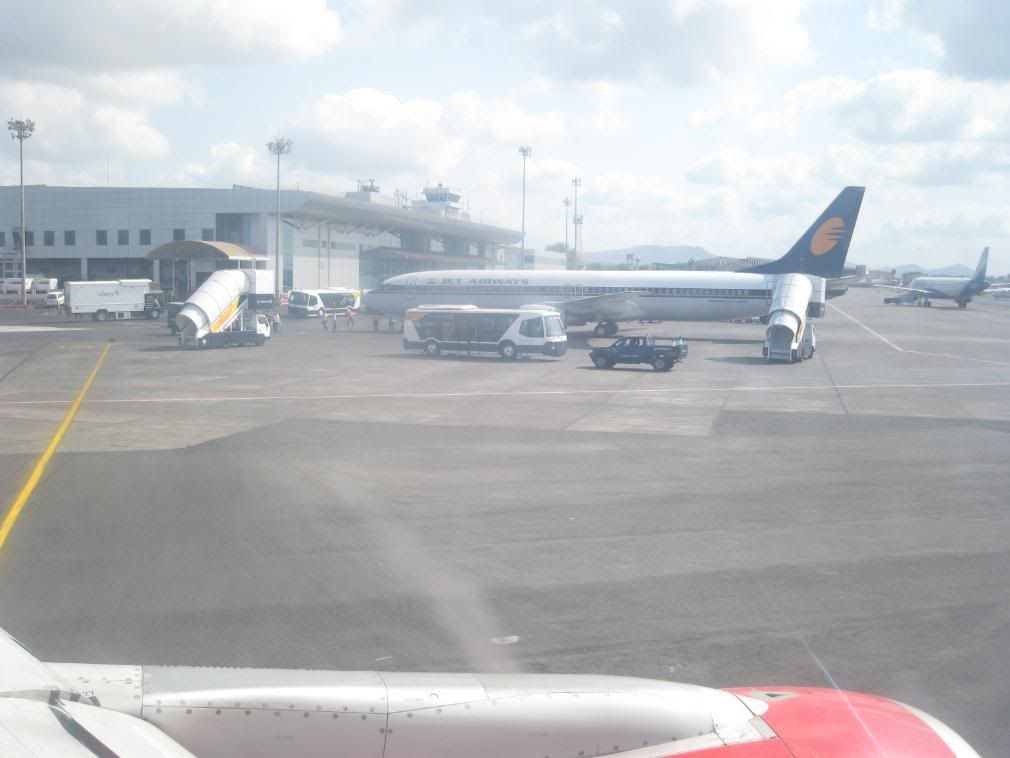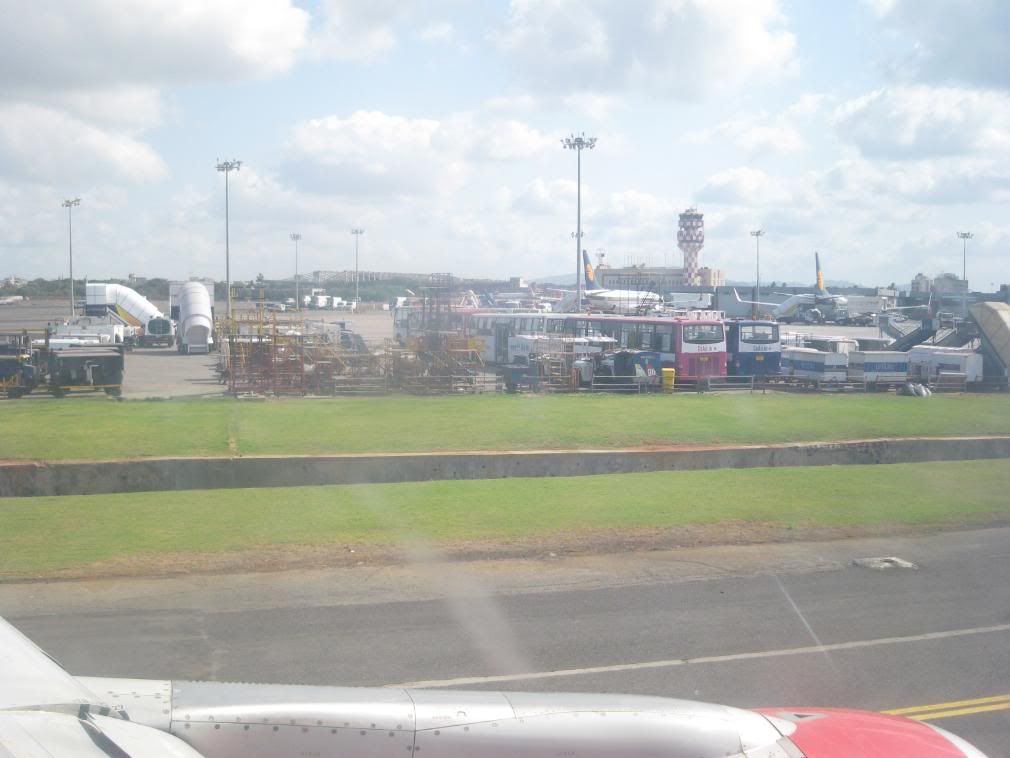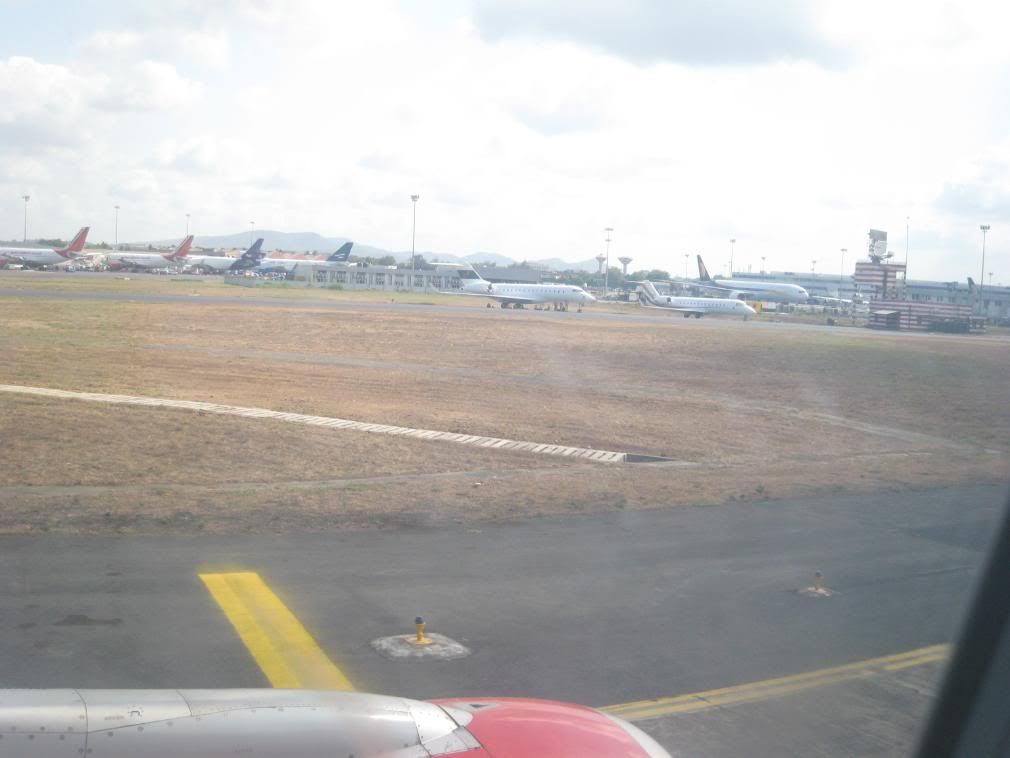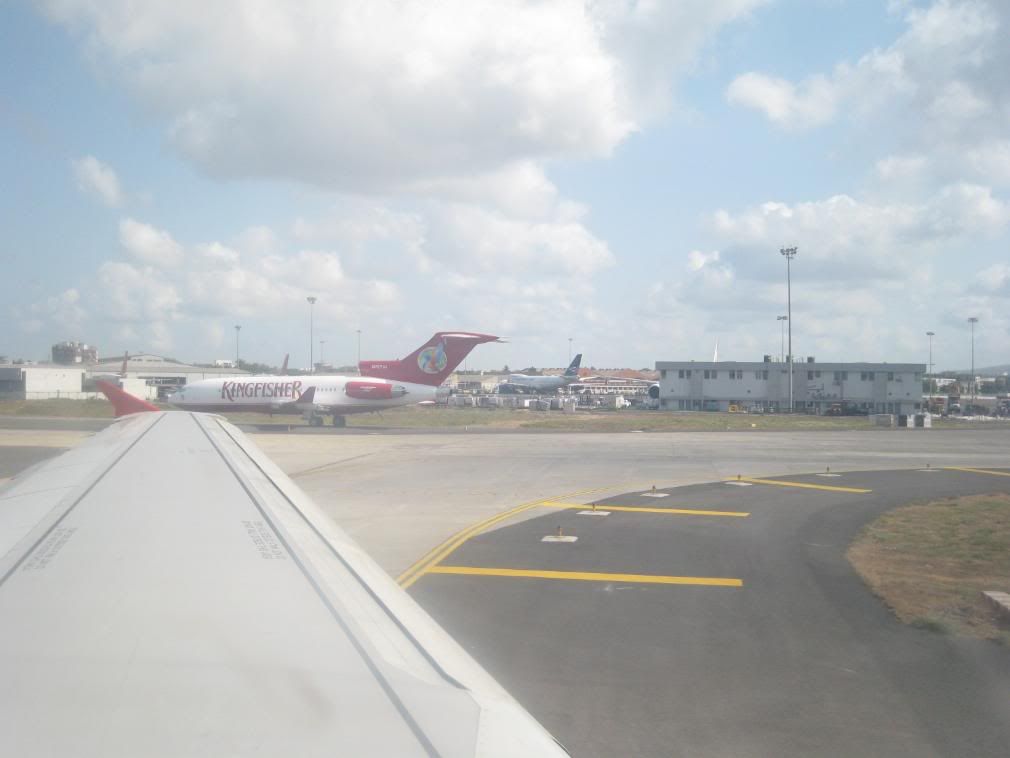 That is Vijay Mallya's Private plane
In the background SV B747-300 to RUH and the nose of an AI B777.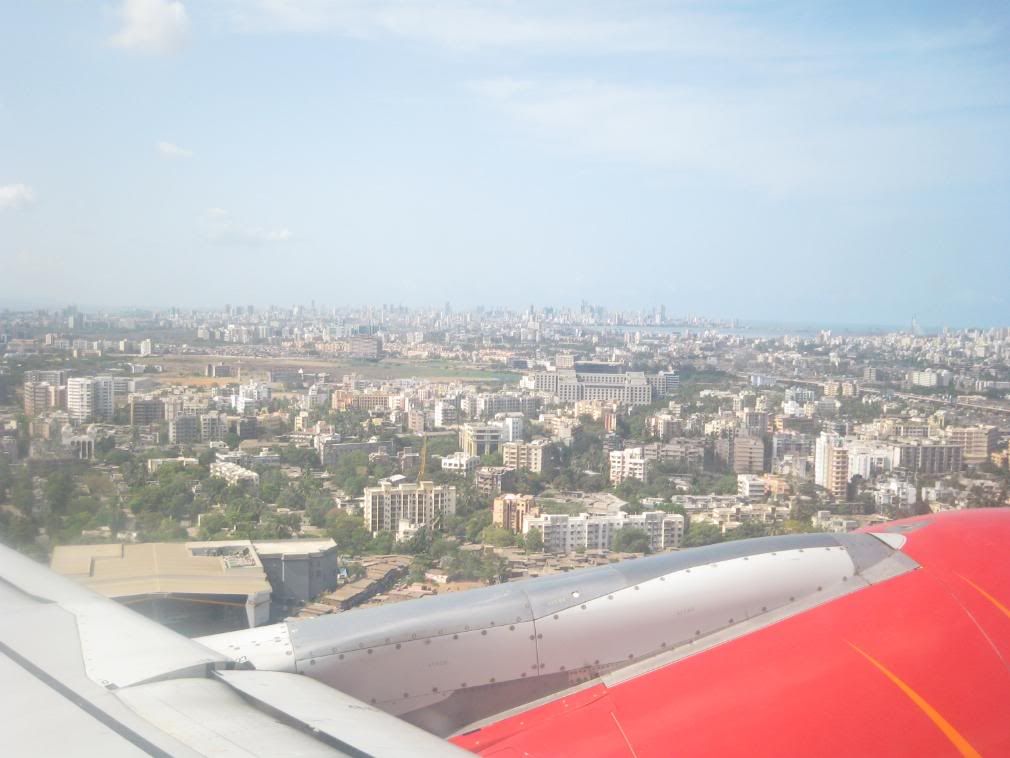 Take off from Runway 27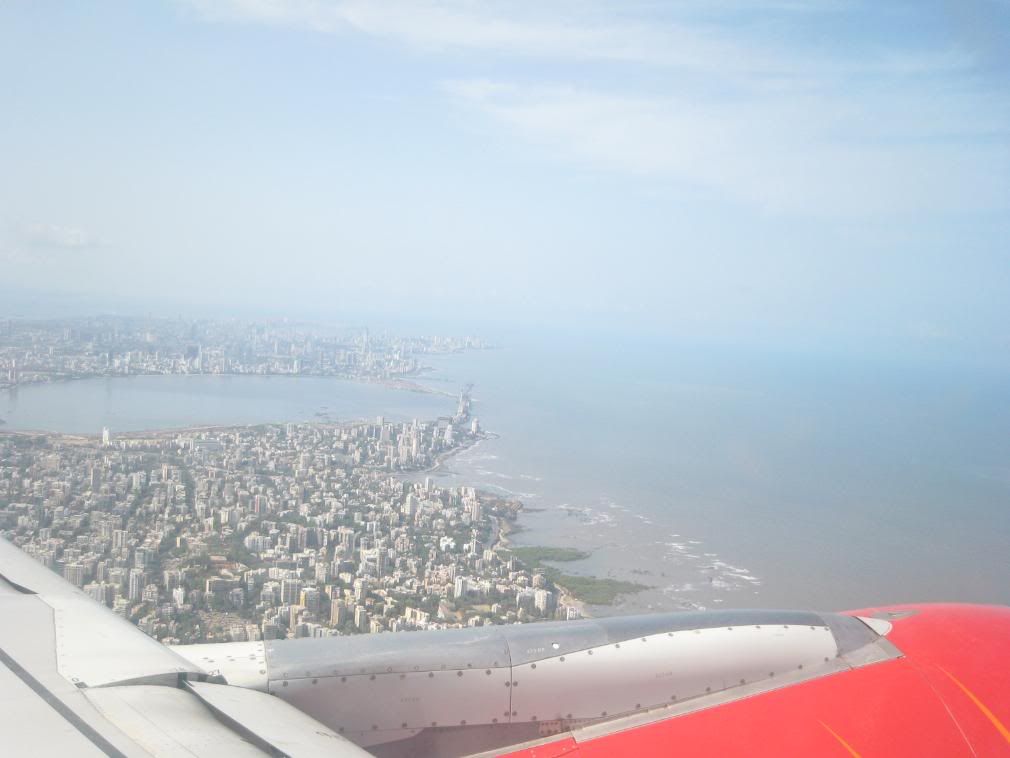 The Meal:-
A breakfast meal was served to us, which consisted of a mushroom omlette spinach stuffed tomato, Bowl of fresh fruit slices, croissant, mango juice accompanied by a sachet of a horrible tasting ketchup. The omlette was nice, fruit slices were fresh. The complaint was that , I had heard IC was generous in their meal servings , but in this flight it was rather economized. Even Jet Airways, KF serve more in quantity. And as understood unlike 9W no fresh lime or orange juice was served once we boarded. Not a positive aspect as some people think IC is good in catering. A tea/coffee service followed, and that was it from the catering point of view. Good but disappointing. My sister traveled IC last June and she raved about the food that IC served, but that was in the PNQ - SIN sector.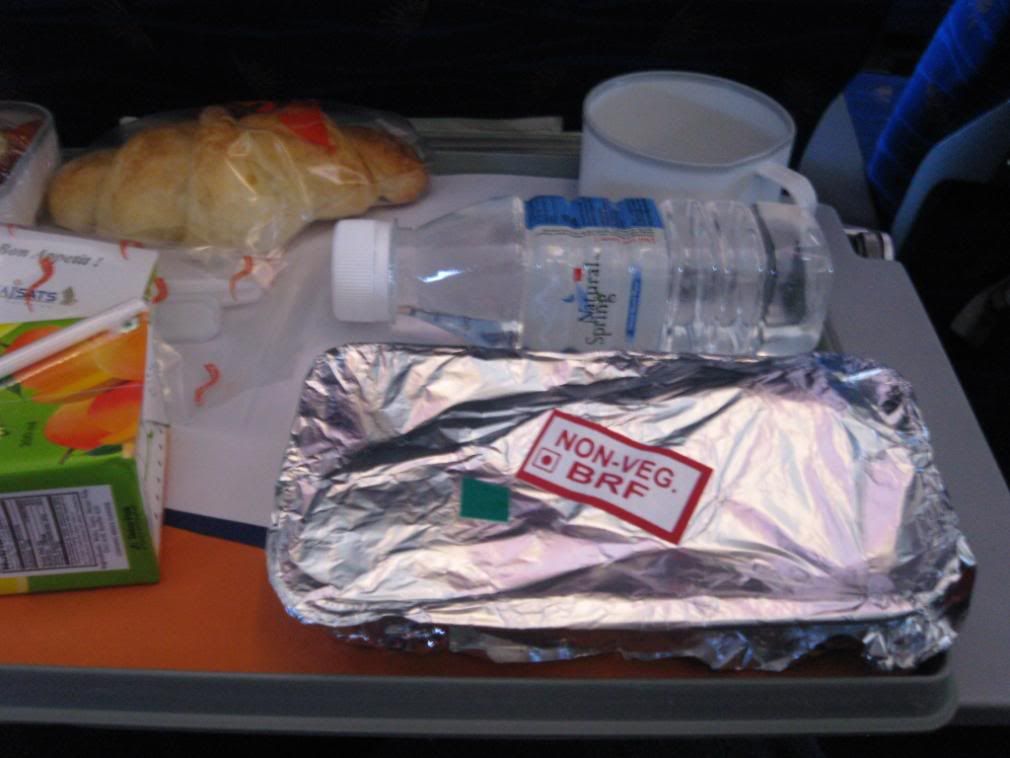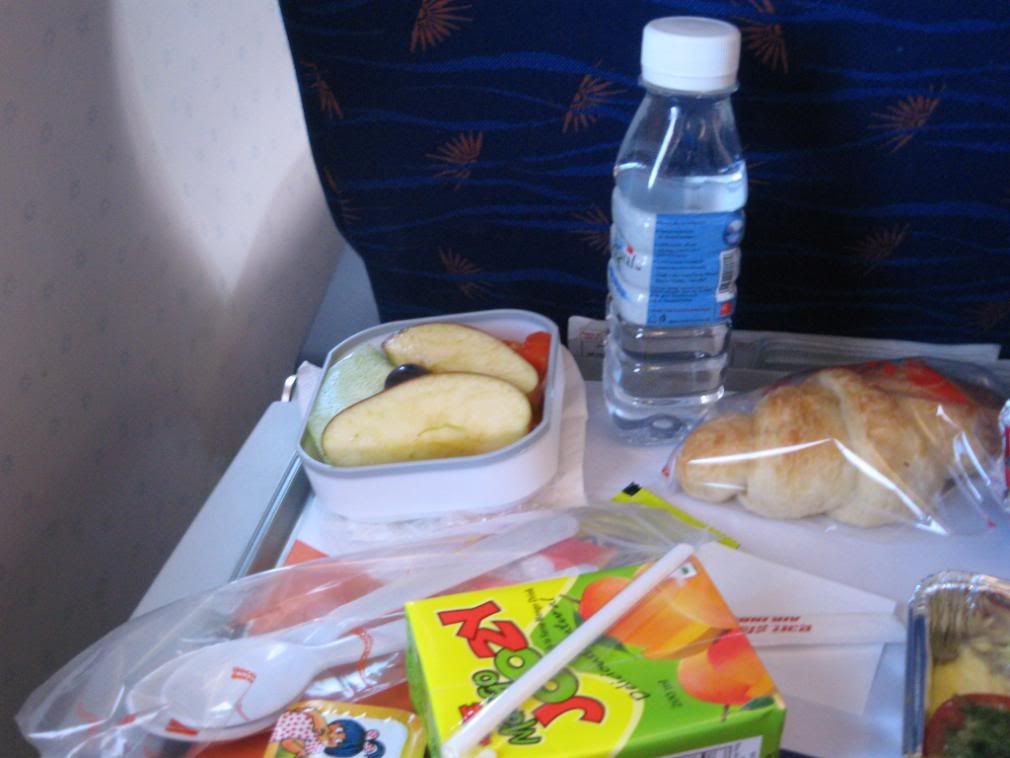 The IFE:-
The IFE had 12 channels, and were having a variety of 6 different programmes running which included a movie, a
sitcom, Chat shows, in both Hindi and English. The screen was nice not too small.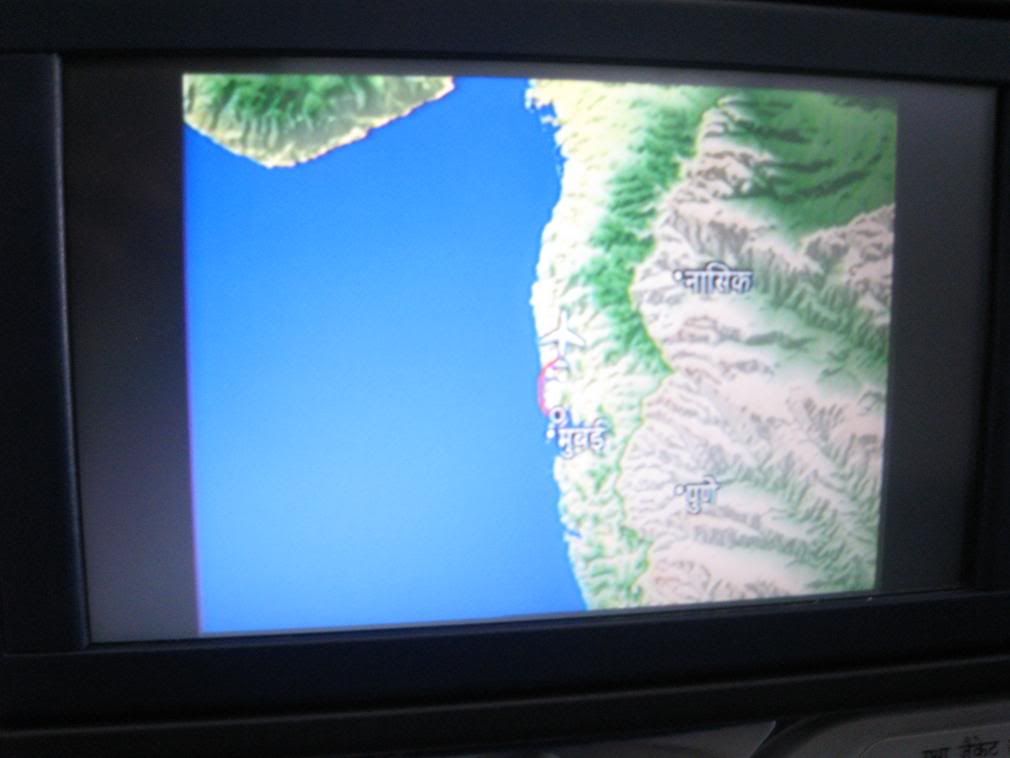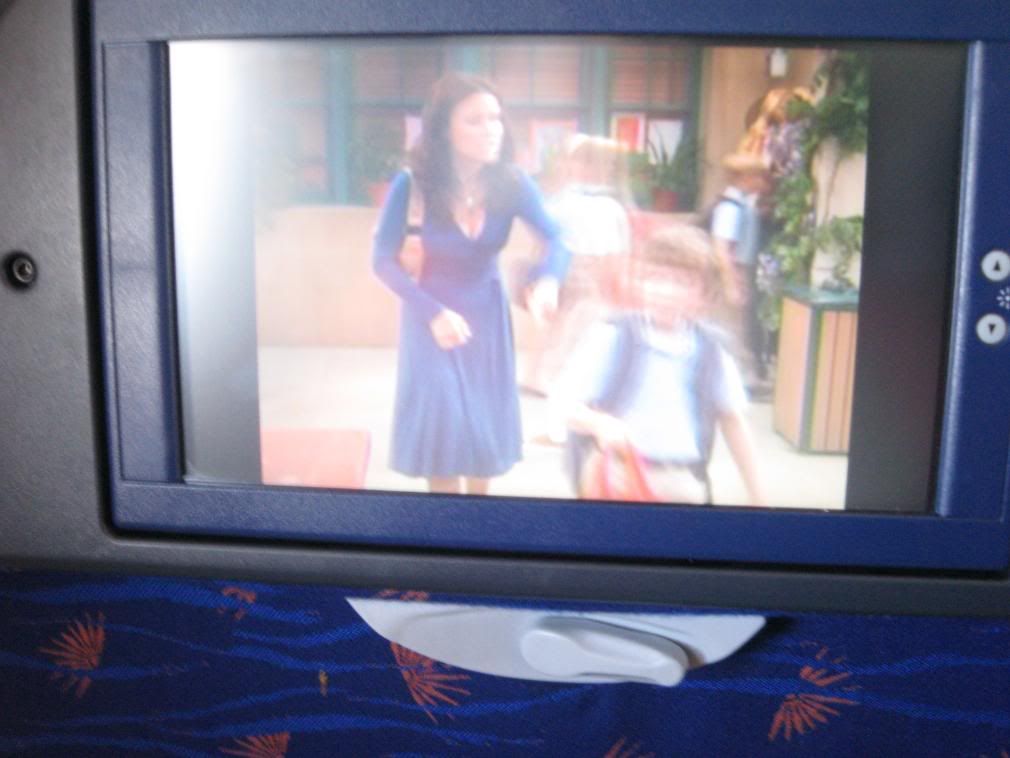 Arrival times:
Scheduled: 1055 hrs.
Touchdown: 1103 hrs.
Docking Time: 1120 hrs.
Terminal Used: 1 (Domestic Arrivals)
After approximately an hour and 20 minutes we began our descend into Delhi and Landed smoothly on RWY 27 (Oh lord even in DEL the same RWY!!!). A quick exit to the left and we were taxiing towards this parking bay, it looked like a BIG car park at some major Hypermarkets in Doha. With possibly all domestic airlines in various colour schemes and aircrafts were visible. We finally halted at 1120 hrs, people did not start getting up foolishly upon touchdown but remained seated till the aircraft came at a complete halt. And my third A321 journey ended here, first two being QR and IT. Upon arrival, however the announcement was done like " ... Thank you for choosing Indian Airlines". I think the merger is putting them into a lot of confusion and maybe many of them find it hard to accept the fact that it is Air India and not Indian Airlines. We were bussed to the arrival terminal, which was reasonably upgraded. Since we had no checked- in bags, we were out of the airport within no time.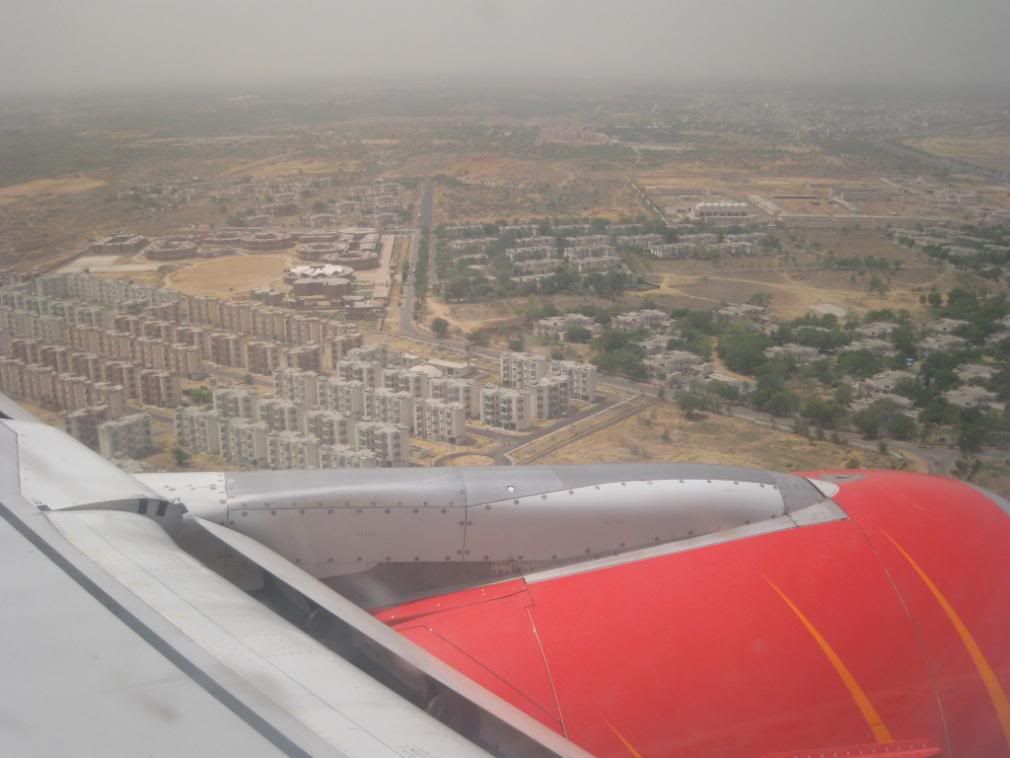 Landing on Runway 27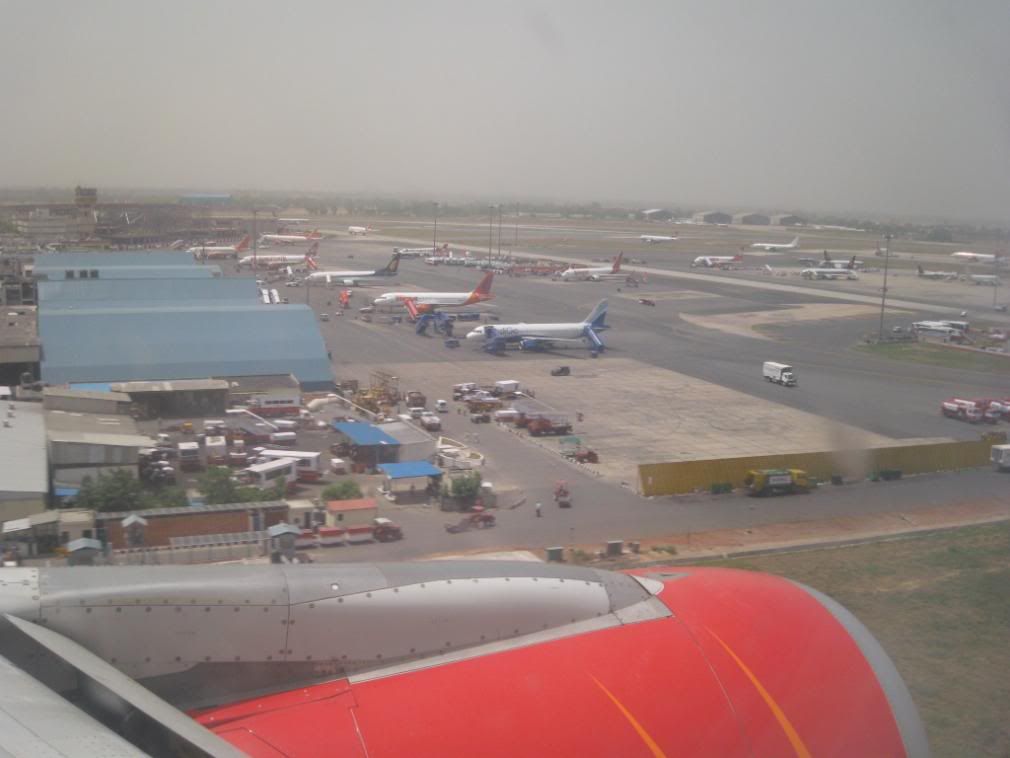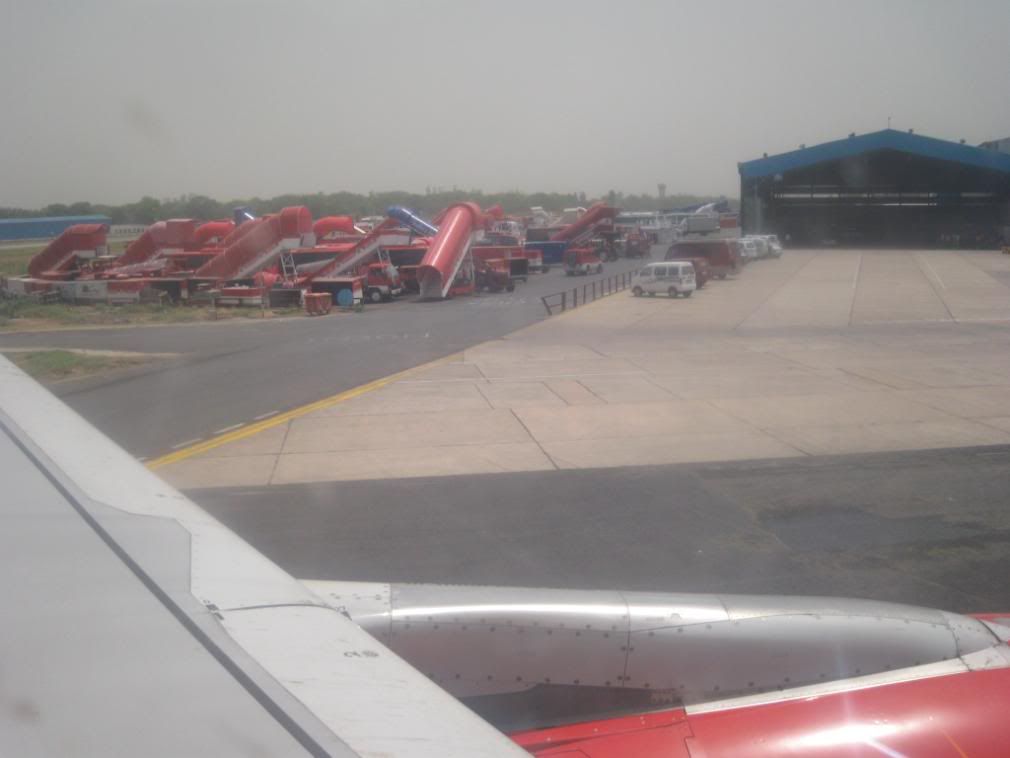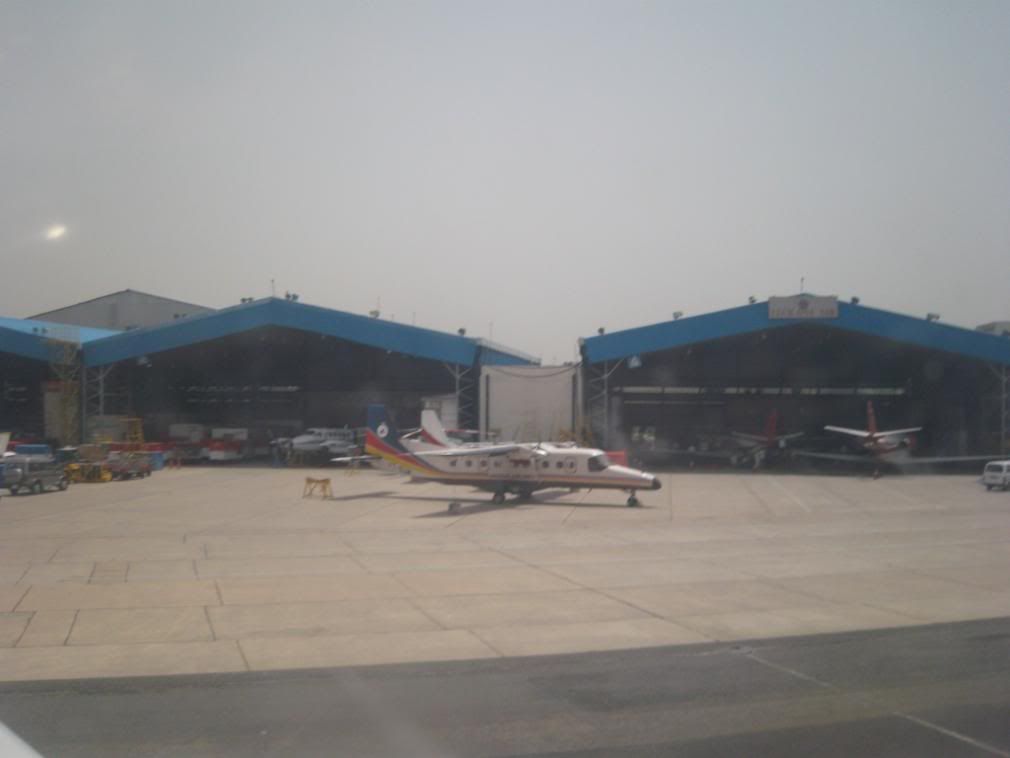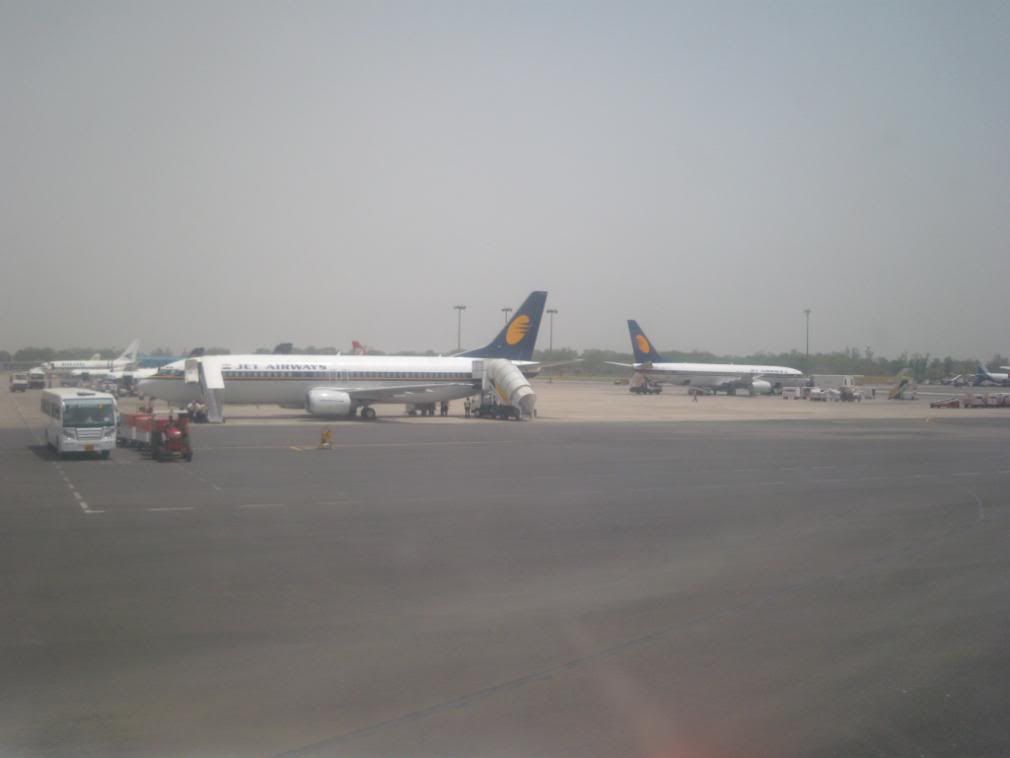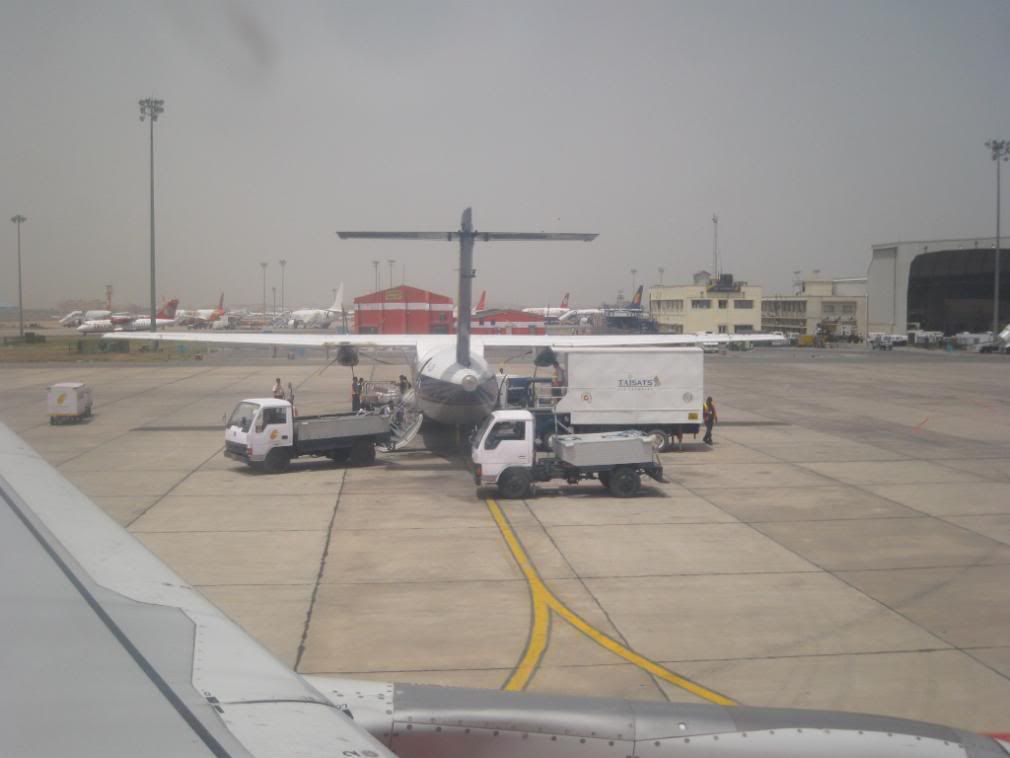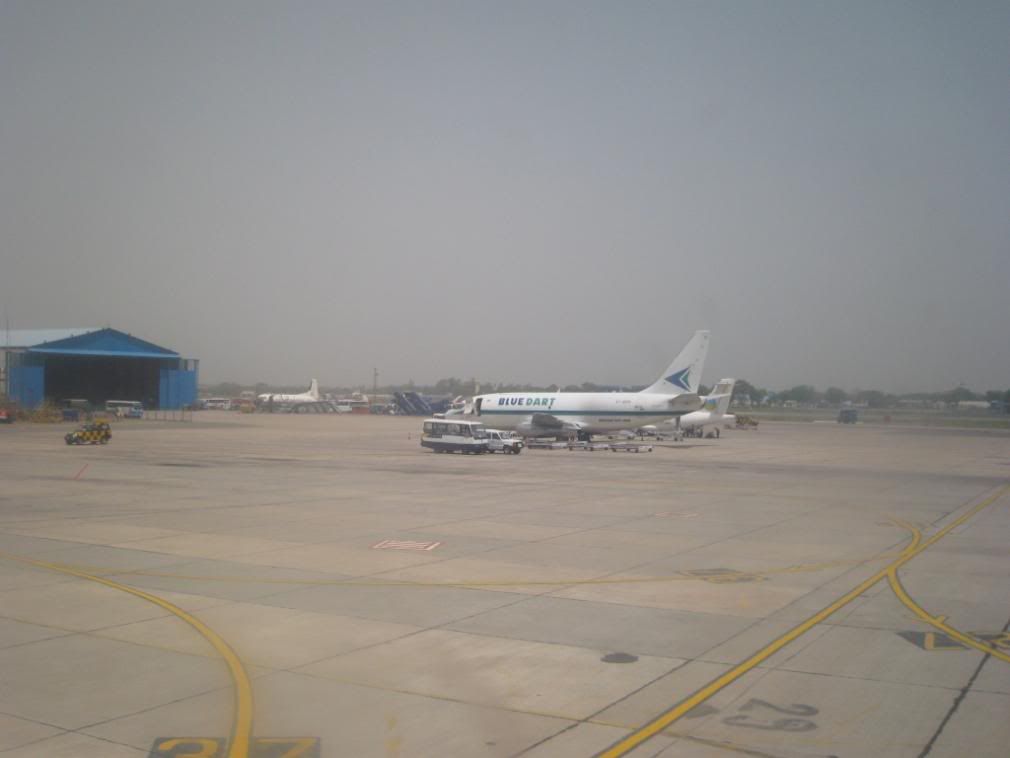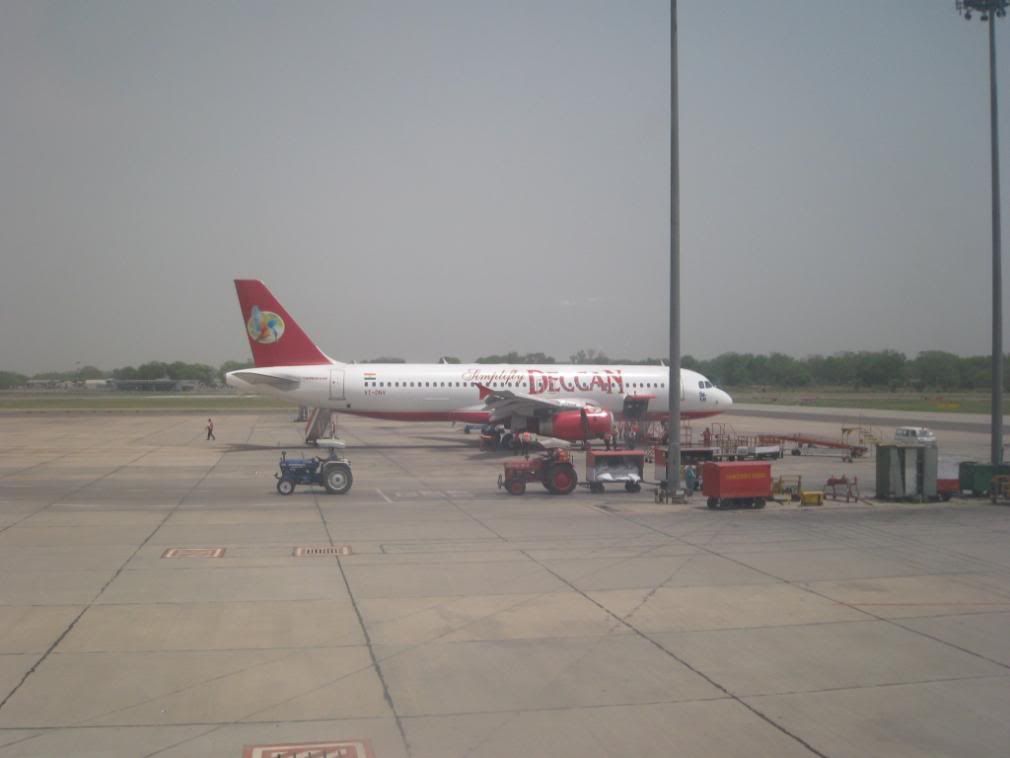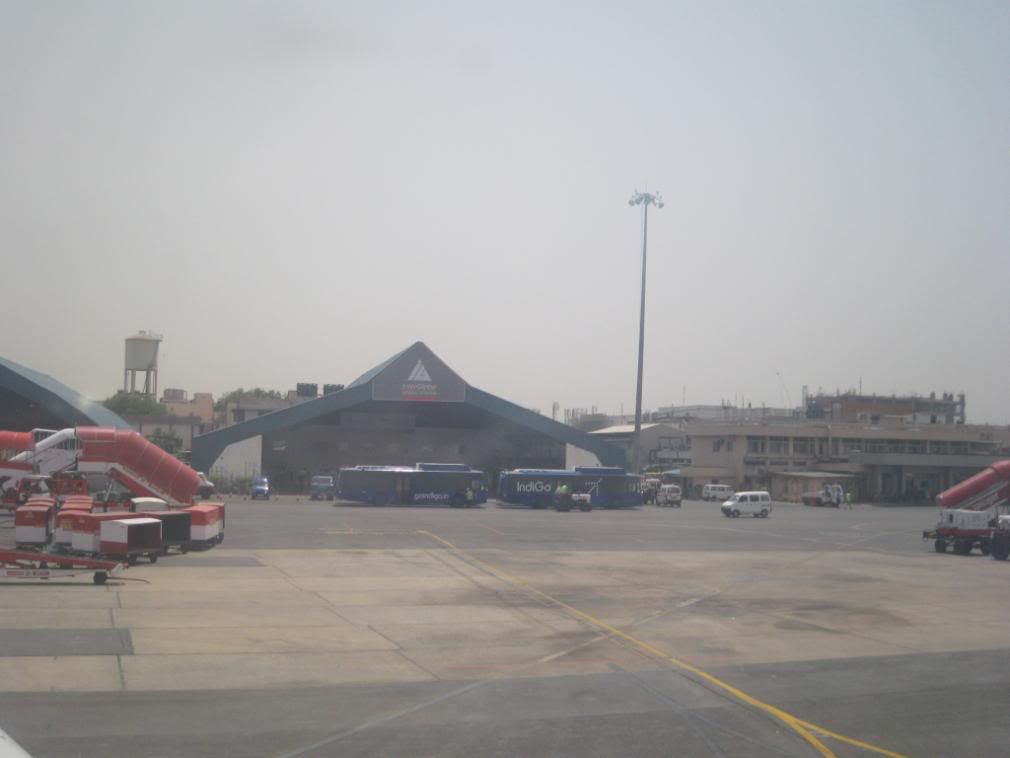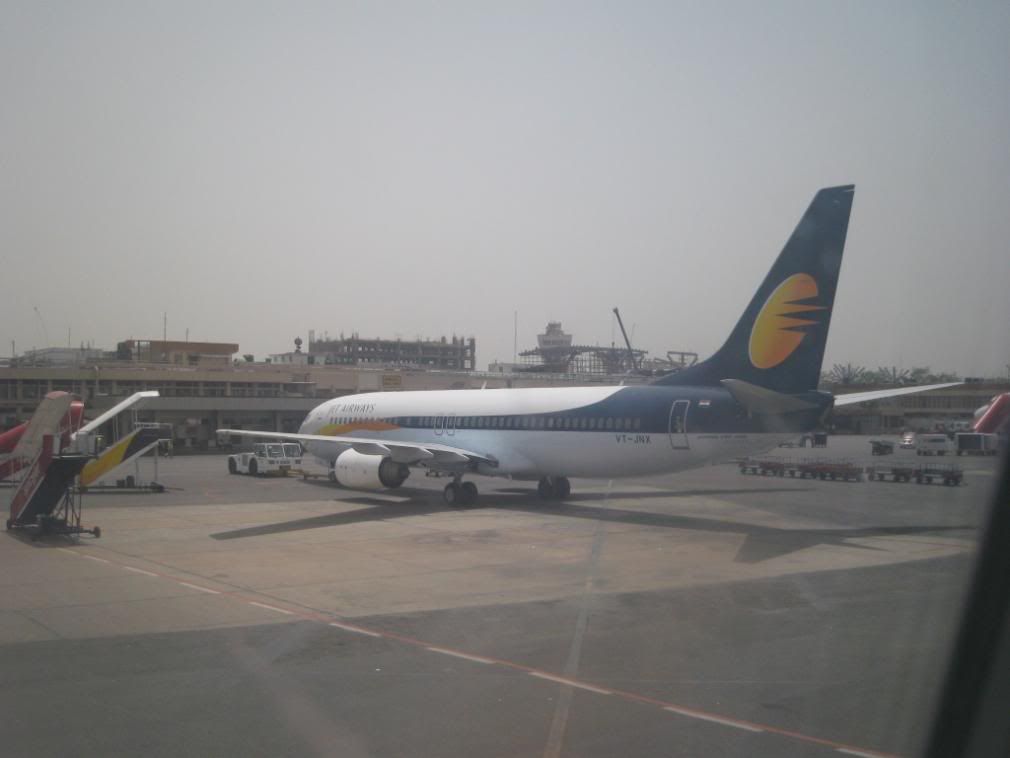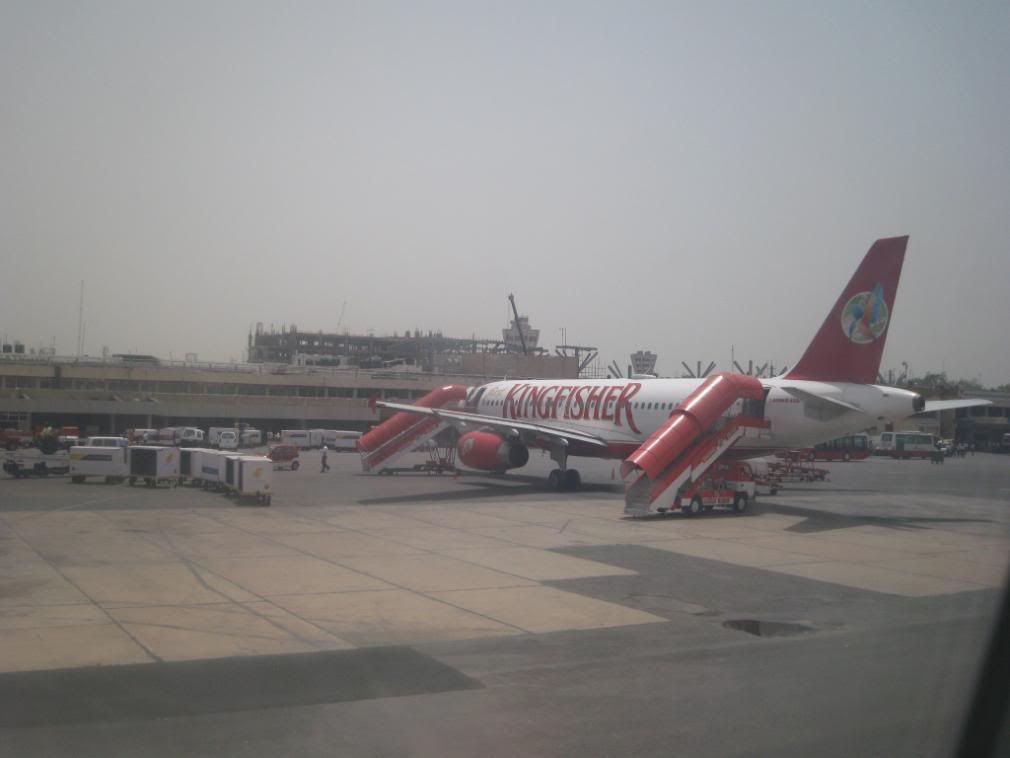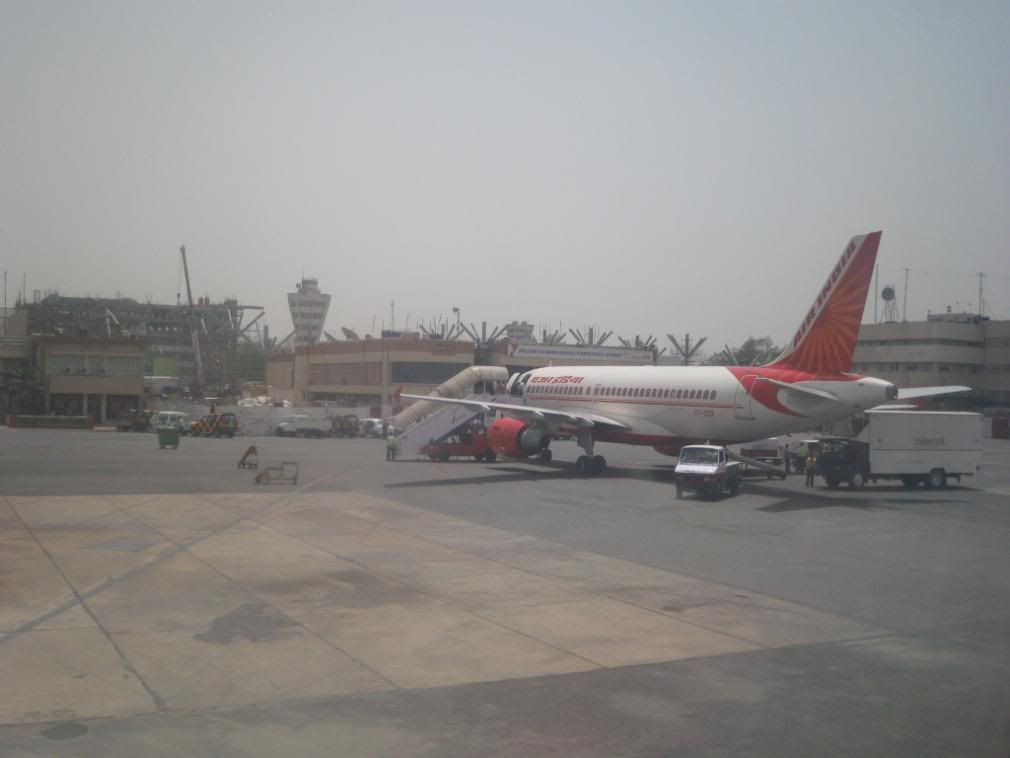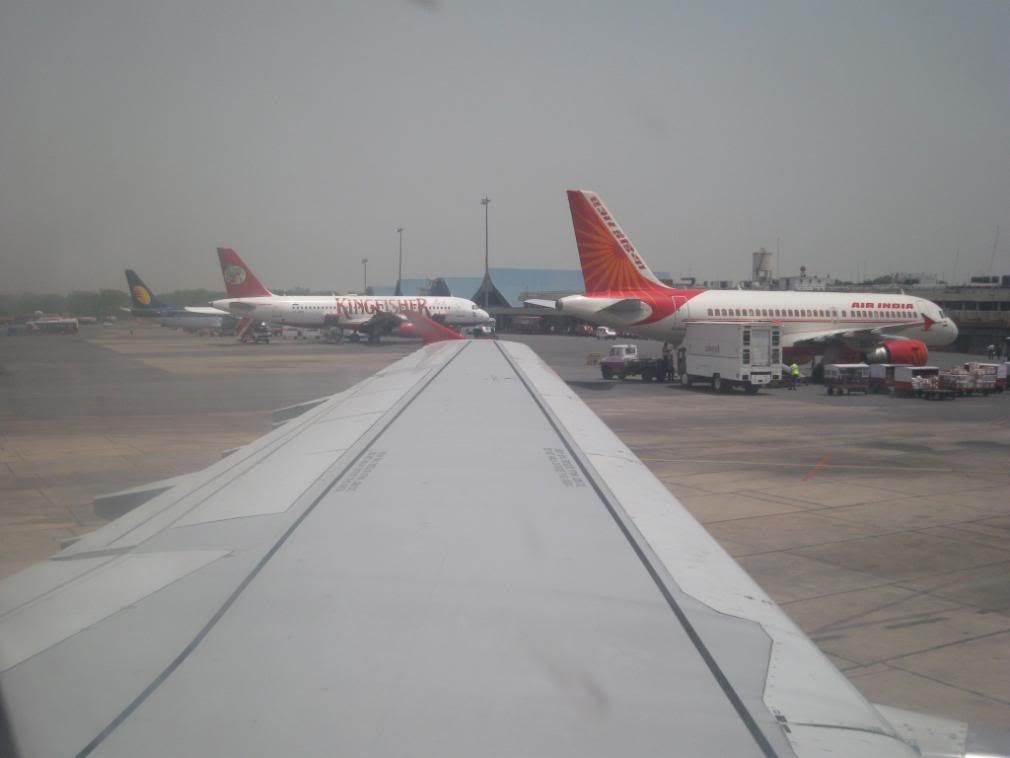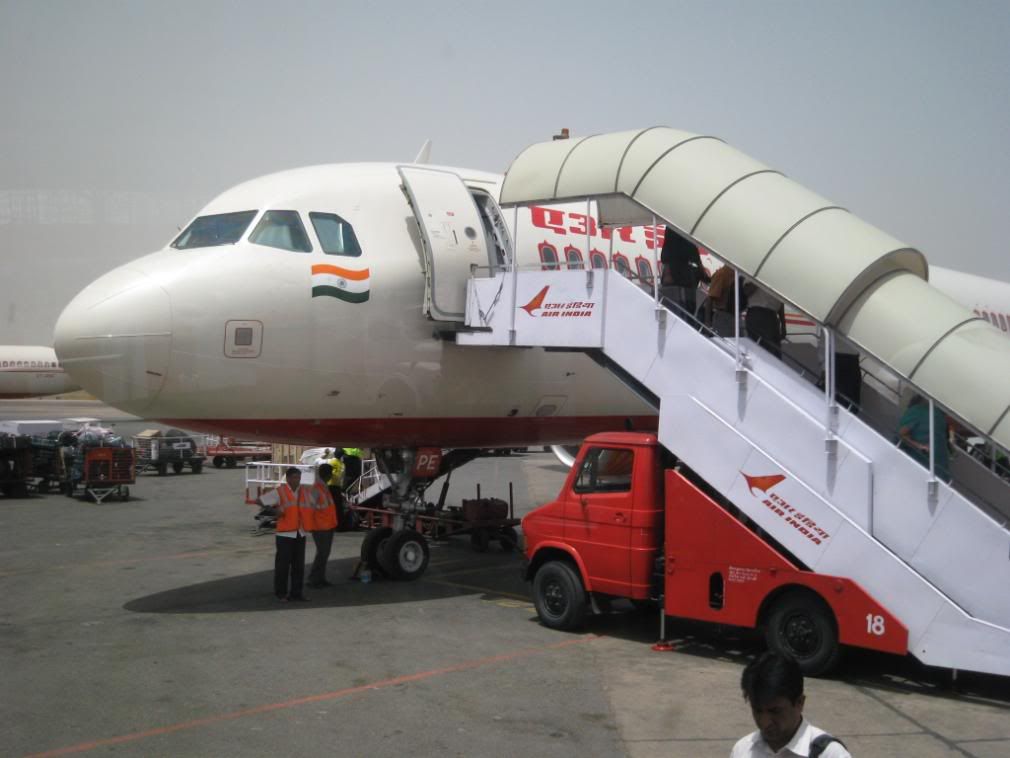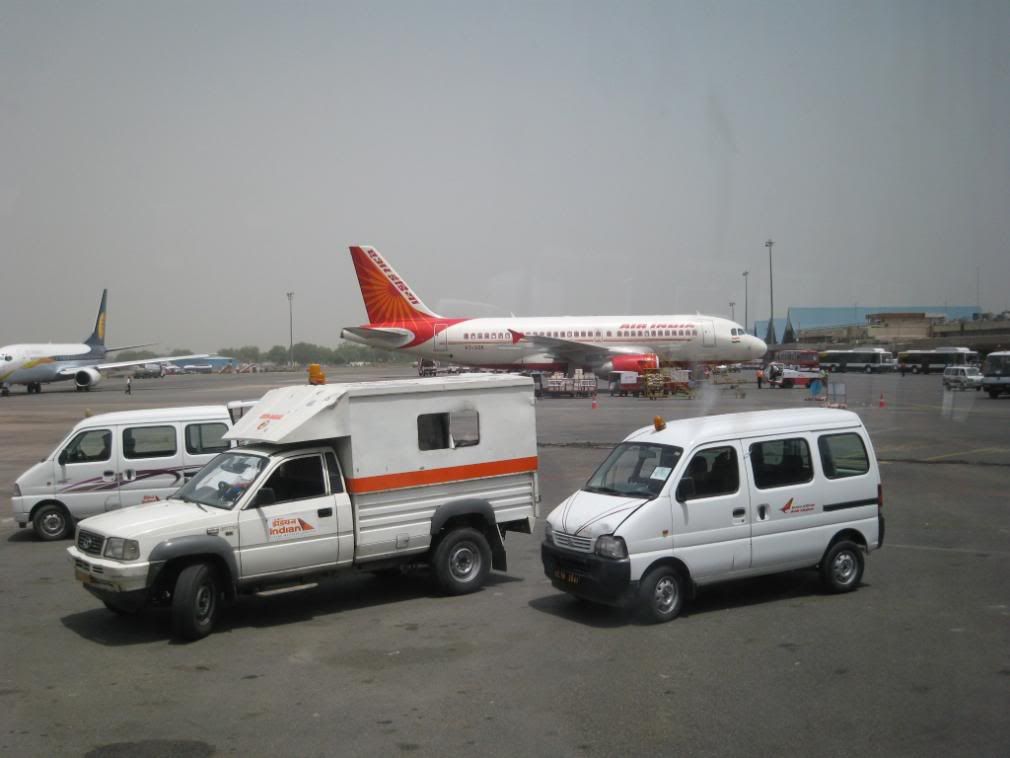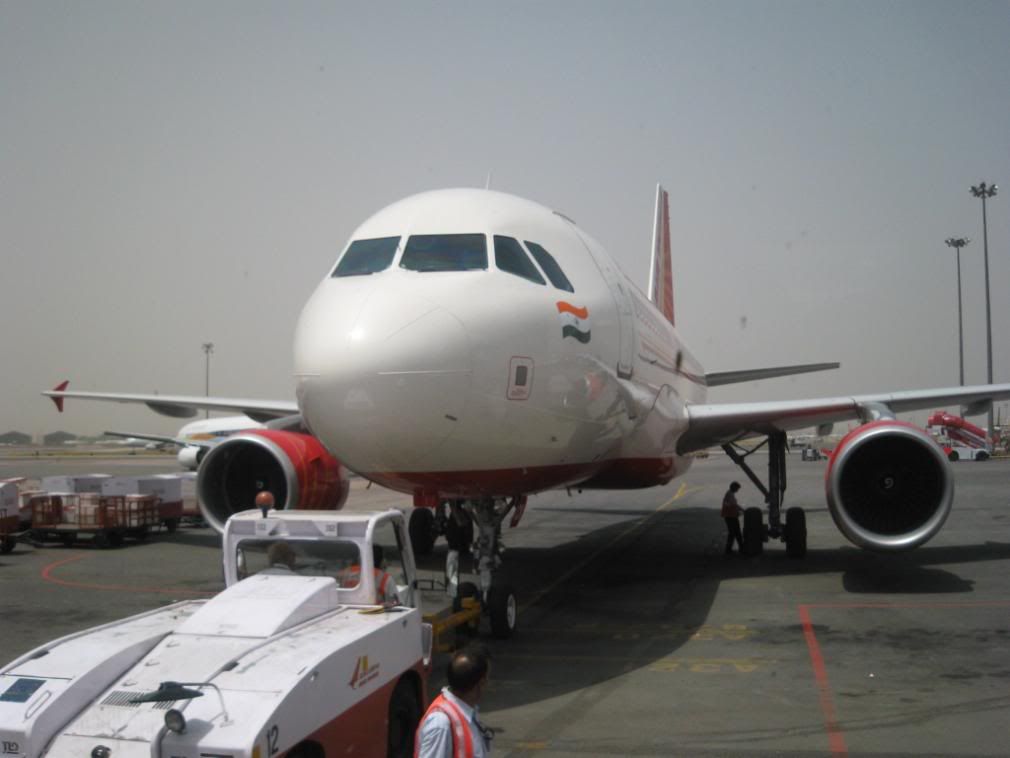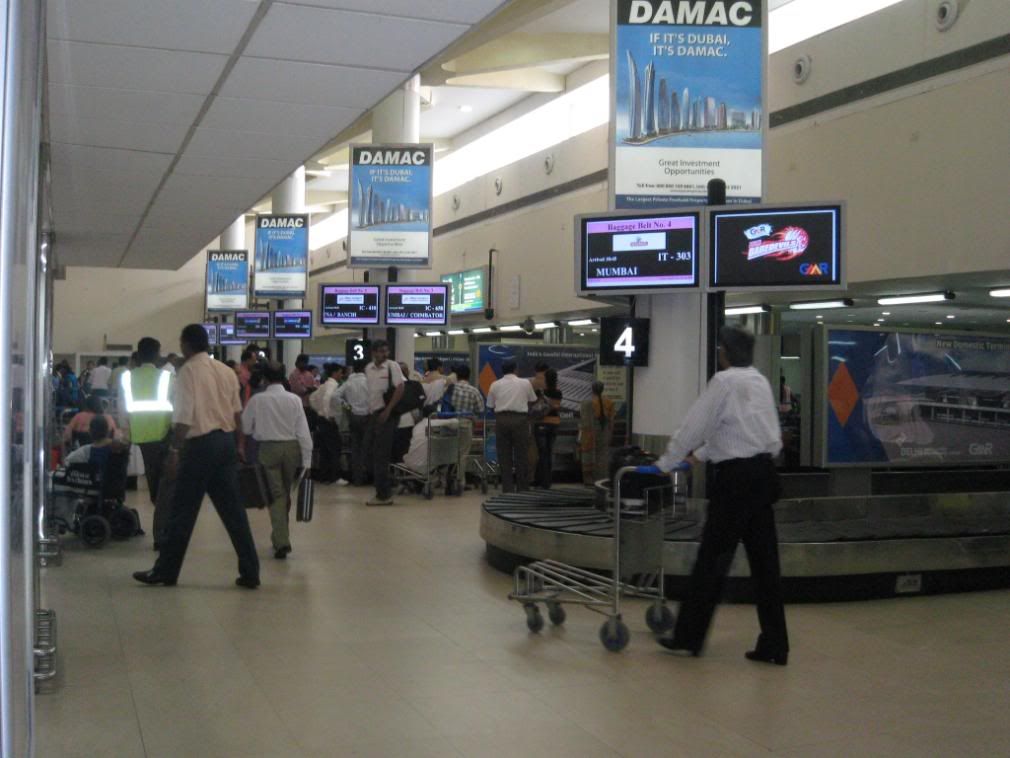 Check out the new screens above the carousel.
Ratings:
A/C : 9/10
Crew: 6.5/10
Food: 7.5/10
Boarding& ground Formalities: 9/10
Overall: 8.5/10
Verdict:-
The new AI/IC aircrafts will surely ensure a decent service without any major disappointment. However, for all those of you who want to do the IC A321, it is a great idea. I personally would stick to KF on domestic routes as they add miles to my QR FF program. The service of IC was decent, value for money, nothing exceptional for me to use them again in a situation of a choice.
----------------------------------------------------------------------------------------------------------------------------
Second Leg of the journey: New Delhi - Mumbai
Flight No. AI 307
Terminal Used: 2 (International)
We reached the airport at around 1615 hrs ish, and were in for a very very pleasant surprise. There were loads of upgrade works going on. The check-in counters had been multiplied IMO, as this was my first time from IGI airport. There were 4 major entrance gates and a list of airlines for each gate, however we randomly entered through gate 1 after showing the security personnel our E tickets.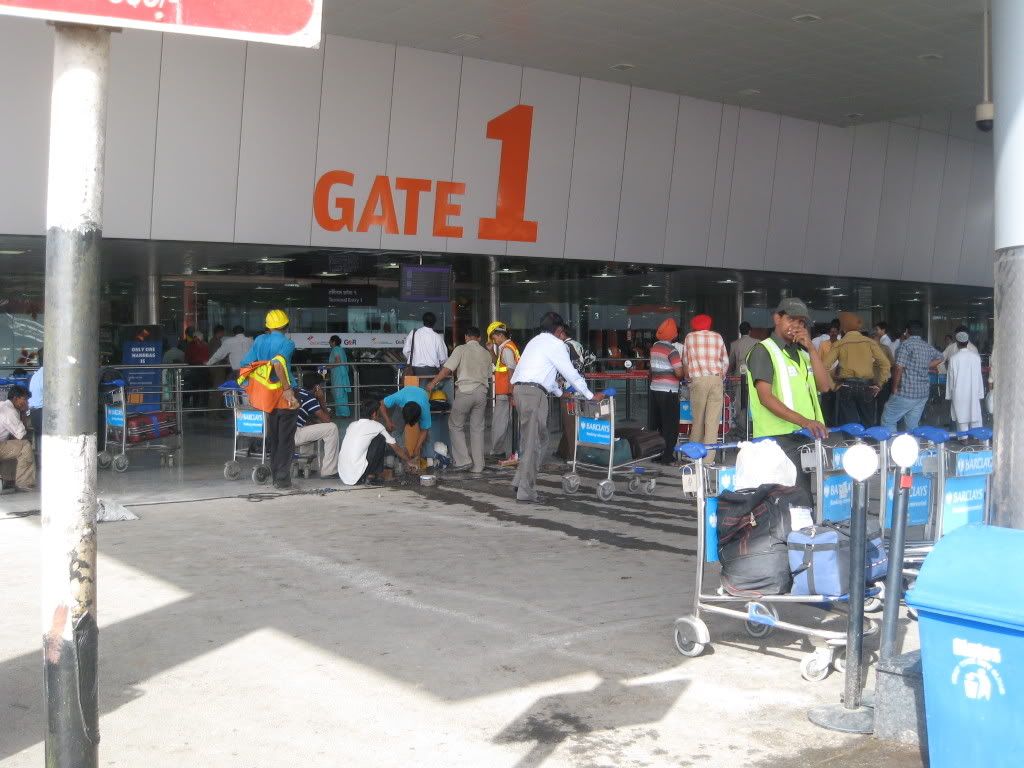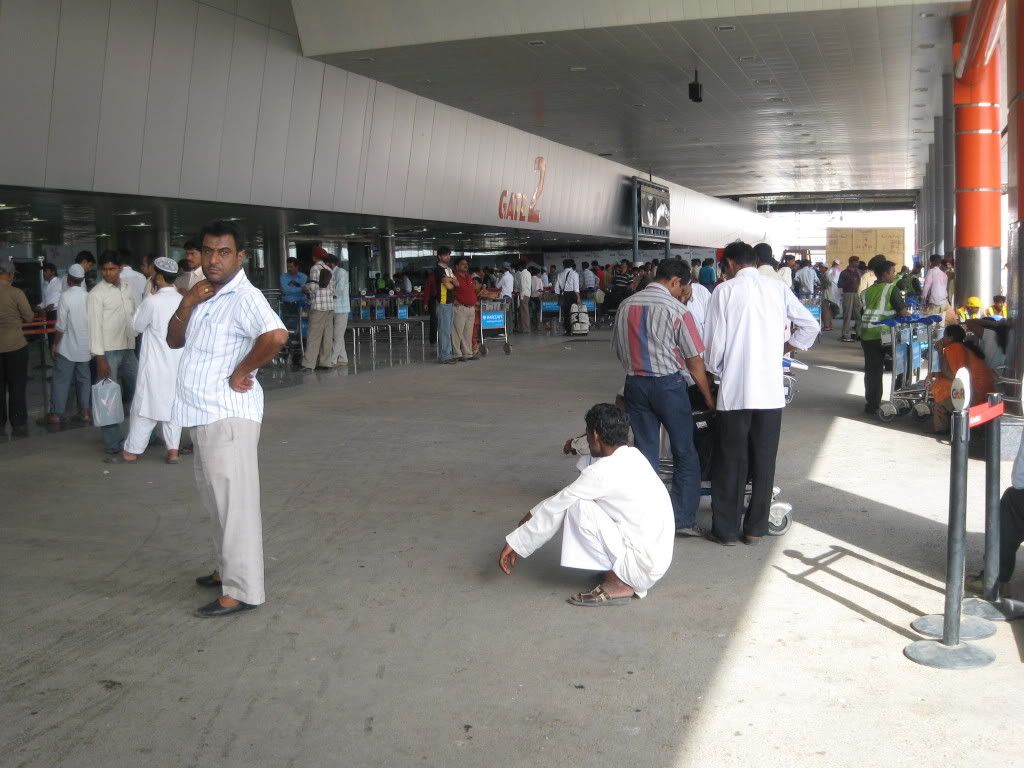 Terminal view:
The view of the terminal was mesmerizing, the airport was just too beautiful , and I'm sure it will turn out to be one world class airport, and in future all our A.net folks, would look DEL as a good transit point for domestic as well as international travel. And I'm sure for those who love criticizing Indian airports, you will be in for a very pleasant surprise. In few years time one can expect an even better reviews from this airport. I really think the pictures should be more vocal than my words.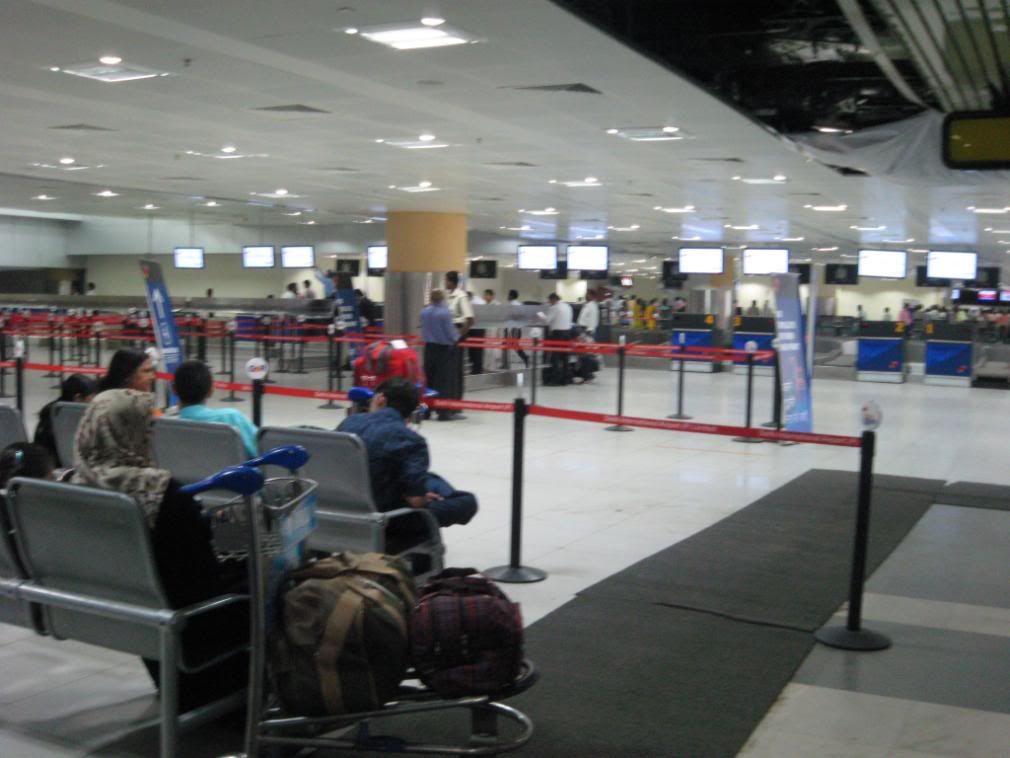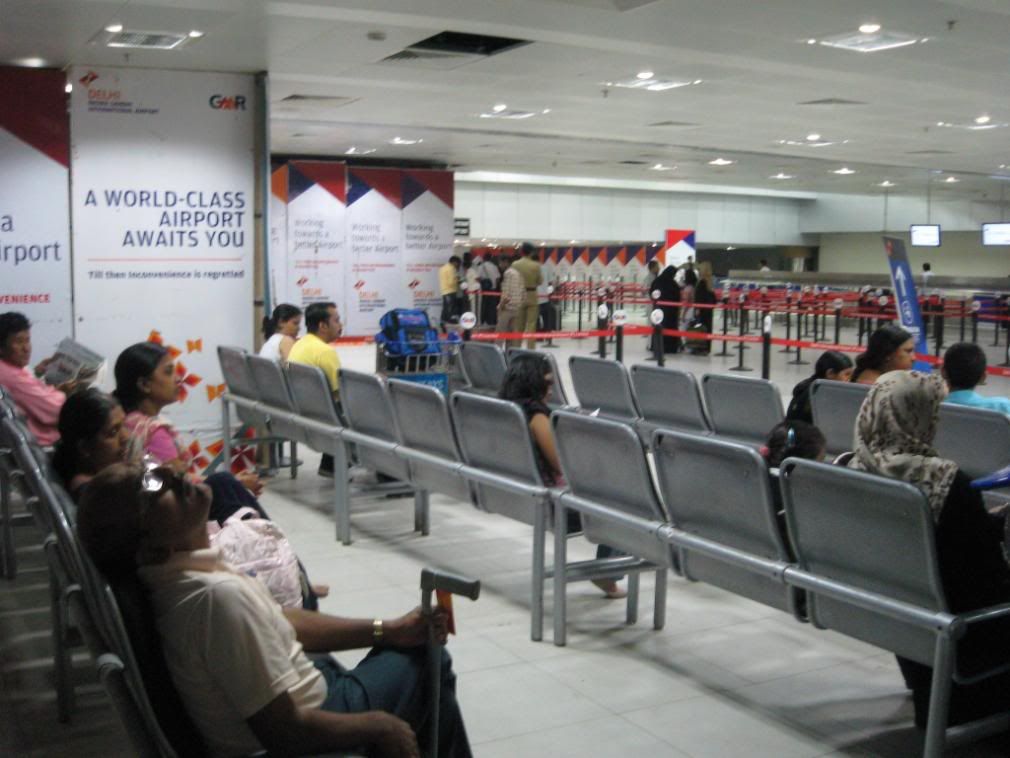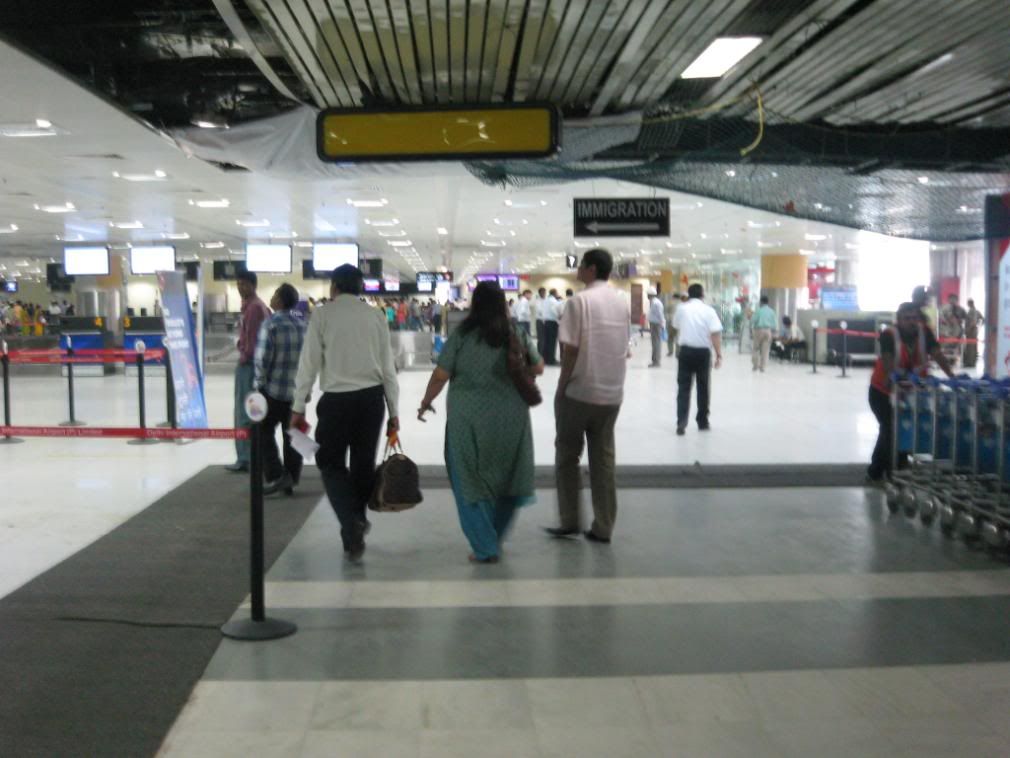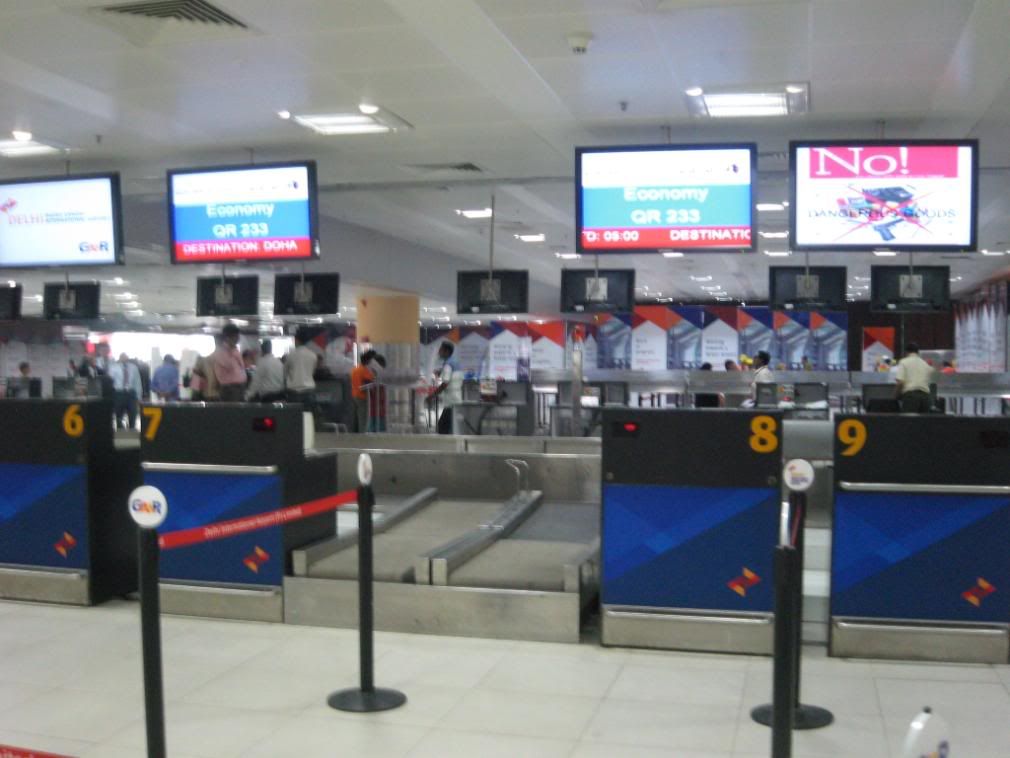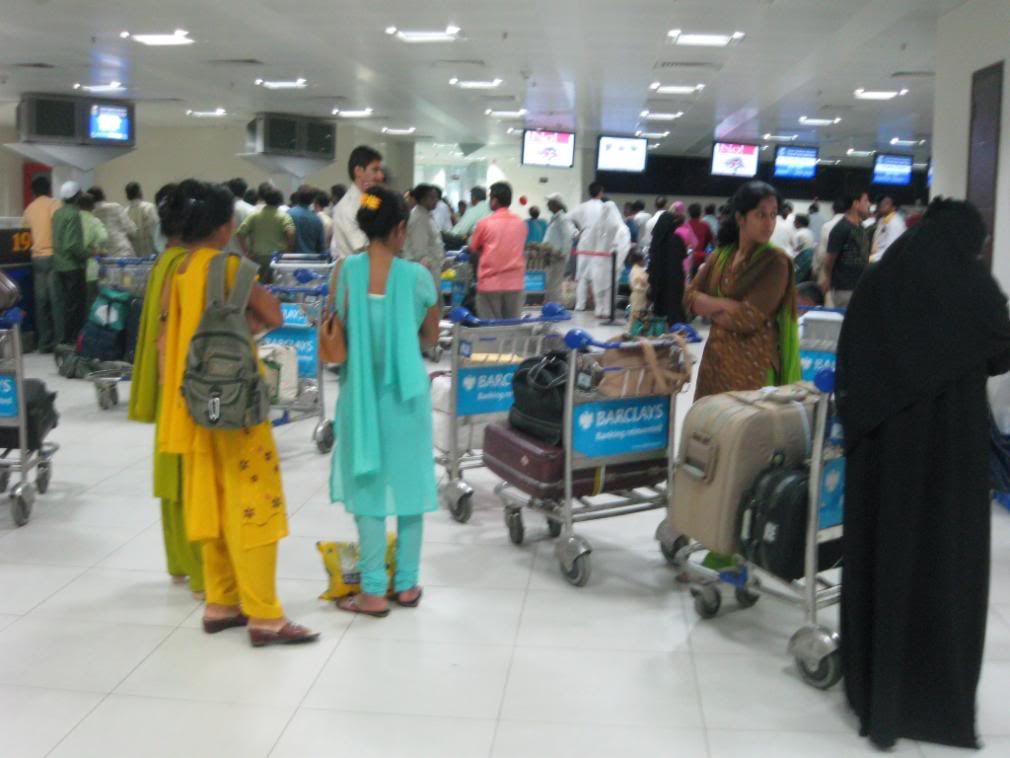 Check-in & Staff Interaction:
After being lost in the beauty of the airport we regained senses and went towards the other end of the check-in area to the AI counters. AI 307/AI 826 were boarding from the same place as both these flights were headed for BOM. AI 307 was inbound from NRT, a B743 combi
D) and AI 826 inbound from RUH, a B744. Besides ours was the check-in of an overcrowded SV B761 to JED, probably running on 100% loads. Within approximately 5 minutes, we checked-in took a domestic passengers declaration form which one is supposed to fill when traveling on a domestic leg from the international terminal. We were assigned seats 2A,2B. Now we were all armed to take the pictures of the new terminal. After clicking some pictures, we quenched our thirsts by some lemon tea and Diet Pepsi. There was a subway counter as well before the check-in.We then decided to proceed through security, there was a separate line for domestic passengers who had to bypass immigration. There were a good number of immigration counters, which could handle the enormous international traffic at night. Immediately after immigrations there was the security check and then we were in the departure area. There was a duty free shop "Alfa", got some chocolates from there. There were various food counters like " Subway" once again, Narula's, and some other assorted ones. At gate number 9 we could see AI's aircraft " Gujarat", a B77L which had arrived from JFK a couple of hours ago. While killing our time we saw few arrivals like the JAL B772, Sri Lankan A320, and the aircraft we waited for , the B747-300 Combi arriving from NRT. It docked at Gate 8, and me and Karan got all the more excited and could not wait to board the aircraft. We could also notice an Etihad airways tail, but could not figure out which aircraft it was, but it was either the A330 or the A340.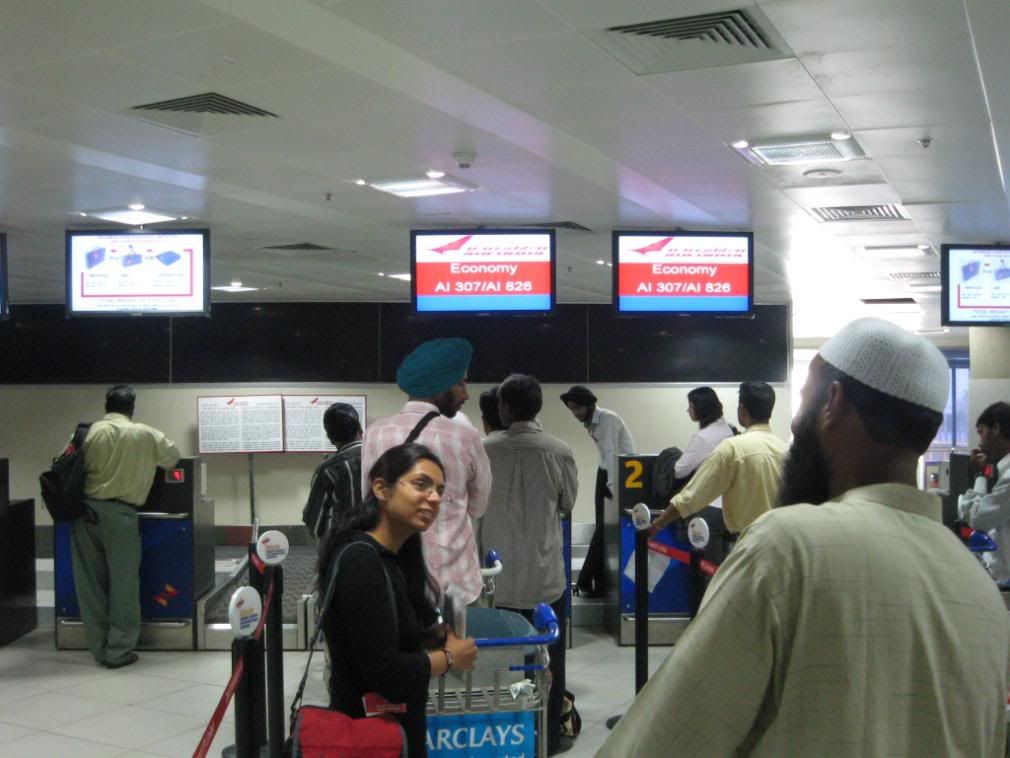 Both AI 307/826 were flights to BOM.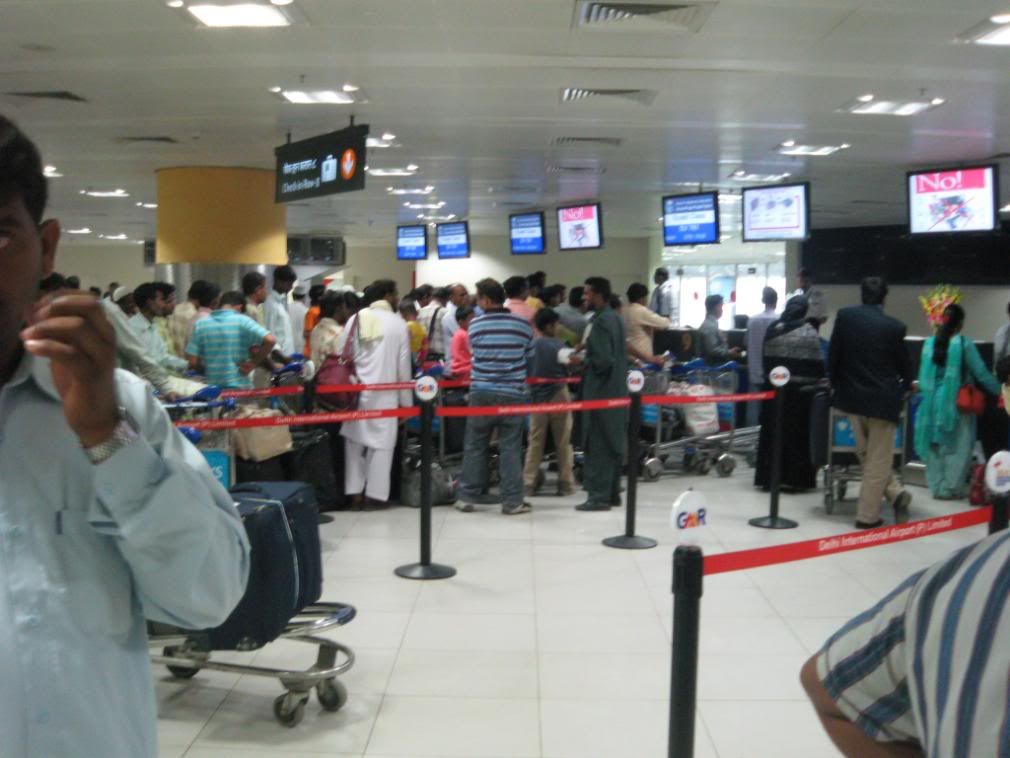 A crowded flight of SV 761 to JED.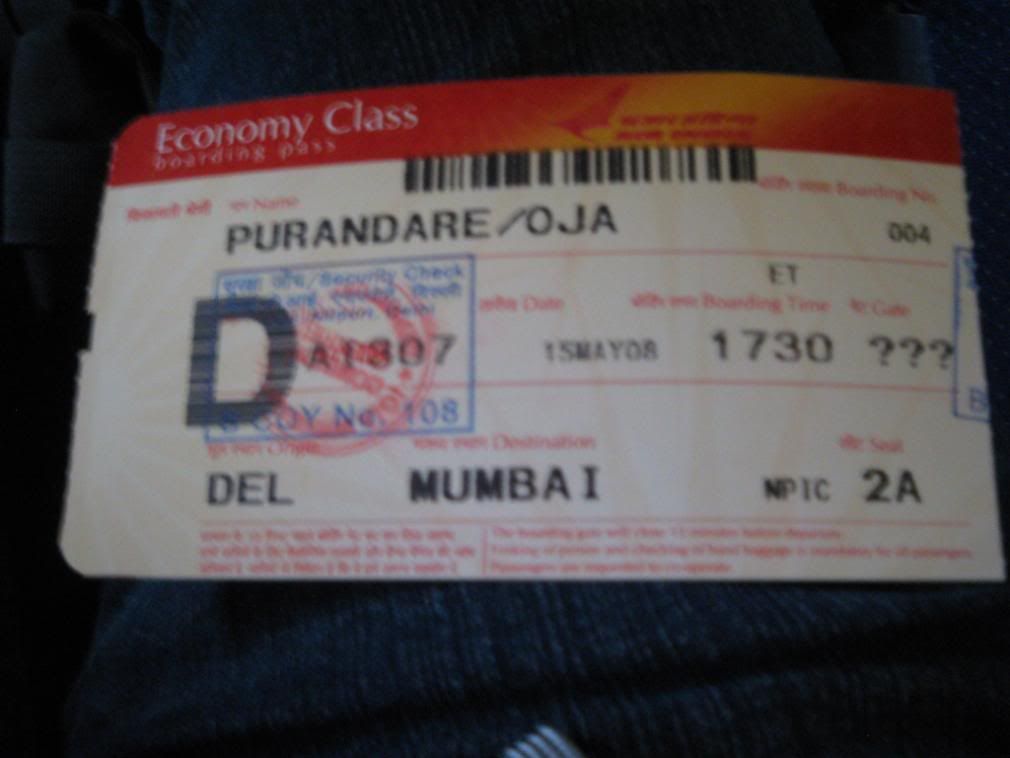 The big D indicates that we are domestic passengers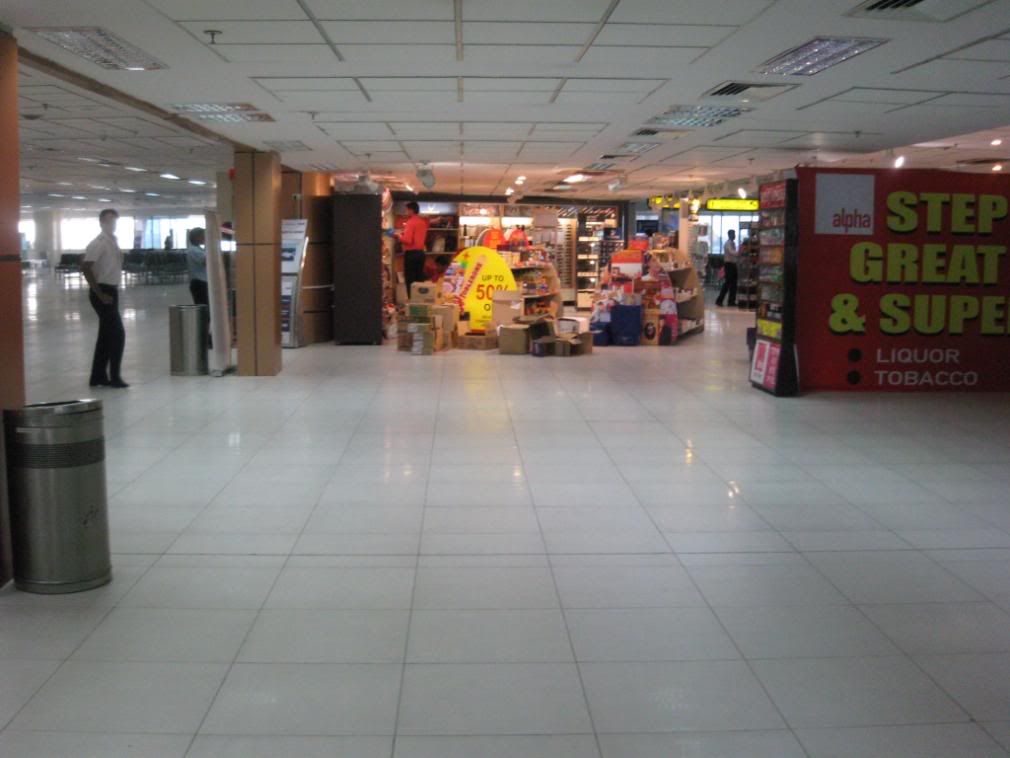 After security check
Brand new terminal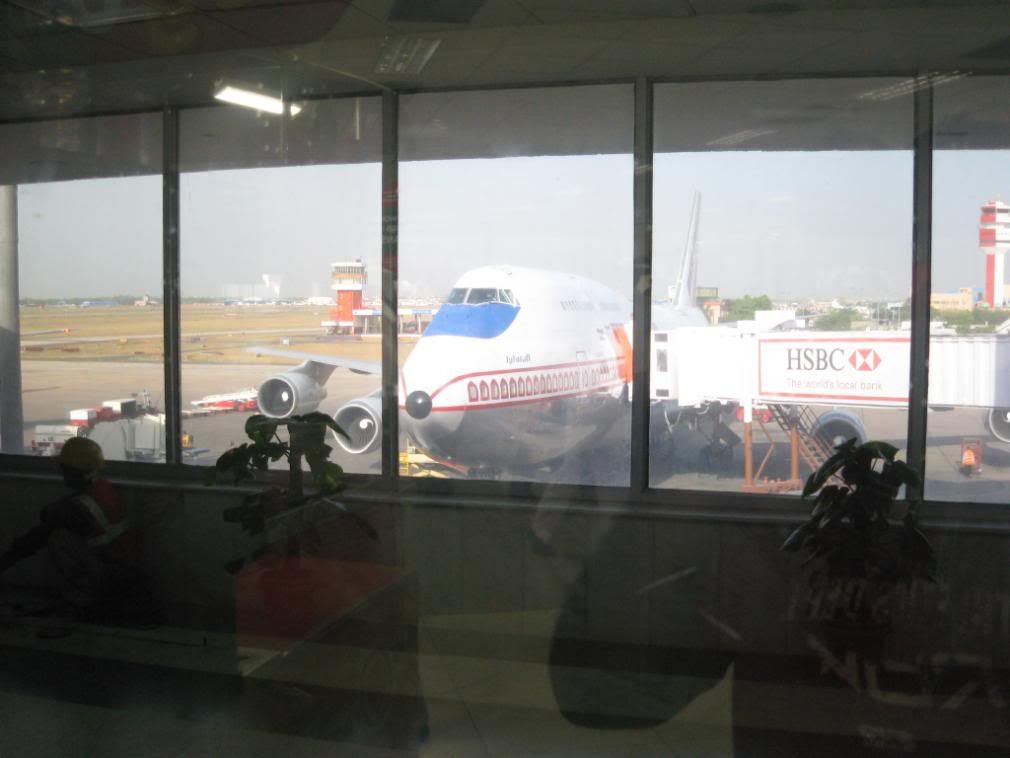 That is our aircraft to BOM
AI 826 arriving from RUH waiting for the AI B77L to vacate the gate.
Boarding & Details of flights:-
Flight No. AI 307
Aircraft : B747-337 Combi
Registration: VT-EPW named "Shivaji"
Gate No. 8
Seat No. 2B
Loads: not even 10%, hardly 25 passengers on board.
Departure times:-
Boarding time: 1800 Hrs
Scheduled: 1815 hrs
Actual: 1845 hrs
Airborne: 1905 hrs
There were just around 7 people who were to board the aircraft. which was done in a jiffy. At this time we saw the inbound AI 826 , " Konark" from RUH. Through the aerobridges we entered this beautiful AI 743. We felt as though we were back in time say 20 years ago., LOL. We were greeted by this lovely FA, with a nice " Namaskar", and I was like, yes, this is Air India. FYI, the B747-300 Combi is a 2 class aircraft in which the upper deck is J class, and lower is all economy. We had specifically asked for nose section seats, which was as good as a private Jet. The legroom was almost equivalent to what one would find in a Y+ cabin and just a little bit shorter than EK's J cabin. After some moments in the aircrafts, the captain announced there will be a slight delay due to transfer of cargo from AI 826 to our aircraft. Our aircraft was literally empty, so even though after being assigned seat 2B, I shifted to seat number 4A. The nose section consisted of few Japanese passengers, and 4-5 Indian passengers ,that is all. We decided to have our photo session, the crew had an east Indian FA who could speak Japanese, for the convenience of our Japanese passengers. The Capt then asked us " Ahoy, clicking pictures ... eh ??" and he smiled and said in Hindi " kheecho , koi baat nahi" meaning " no problem, go ahead and click". Well with the permission of the Captain to click, no one could stop us. Later I had a brief chat wiht him , and he mentioned about the glorious days of the aircraft, which may now retire as early as July 15. The senior FA's are one of the finest set of AI crews. Capable of holding conversations, very well spoken. However there was new one a young FA, who was a typical FA that one would find in any airline. After the cargo transfer was done, Captain made the departure announcement. After push back we found out that the Etihad aircraft was the A340-300. We were served apple juices in the mean time. Since I was thirsty , I asked for another one, which the FA gladly agreed to. Having noted the registration of the SV aircraft, it was the B747-100. Just behind us, the AI B744 i.e AI 826 pushed back for the departure for BOM. We took off from RWY 28, it was a nice smooth take off.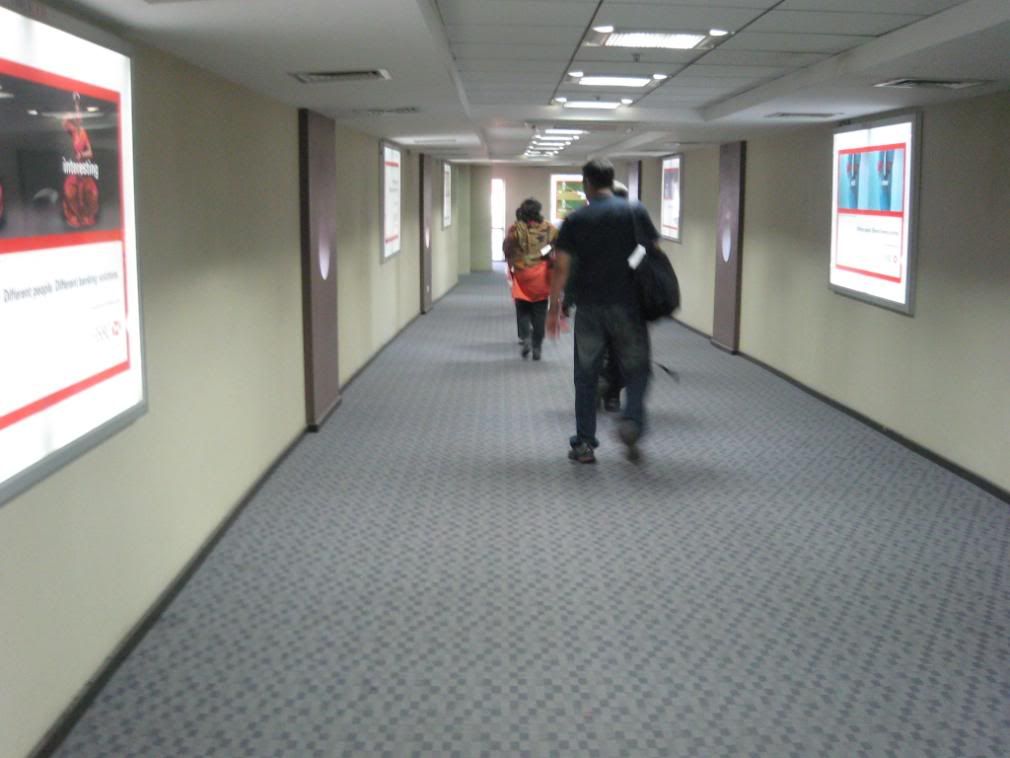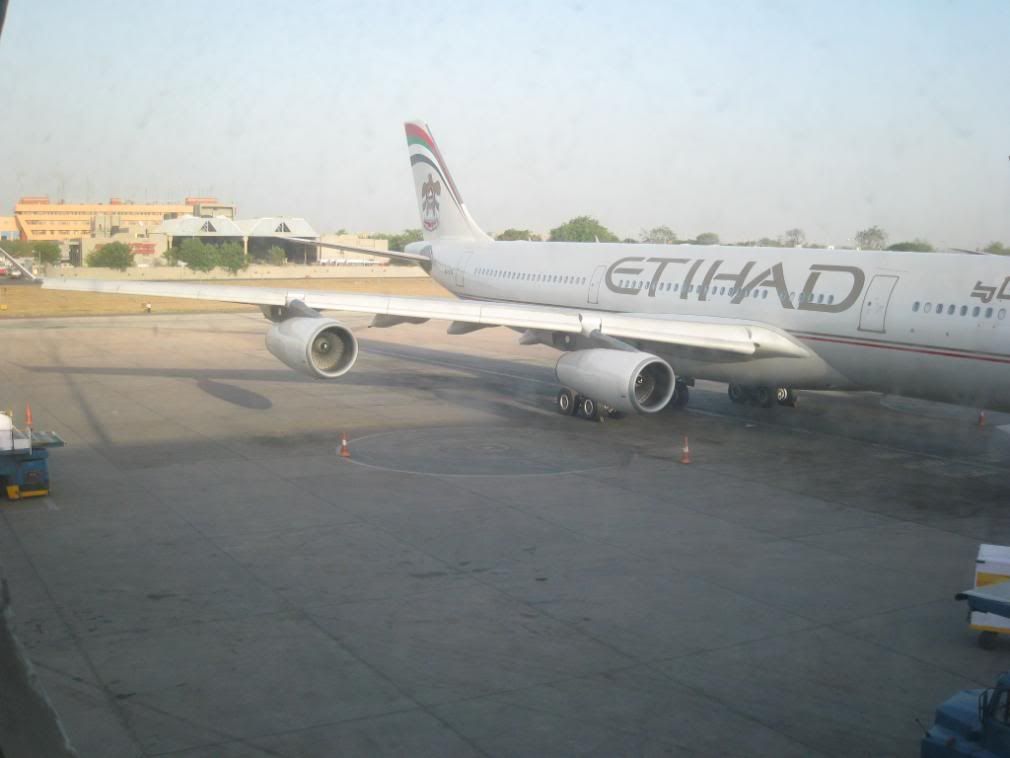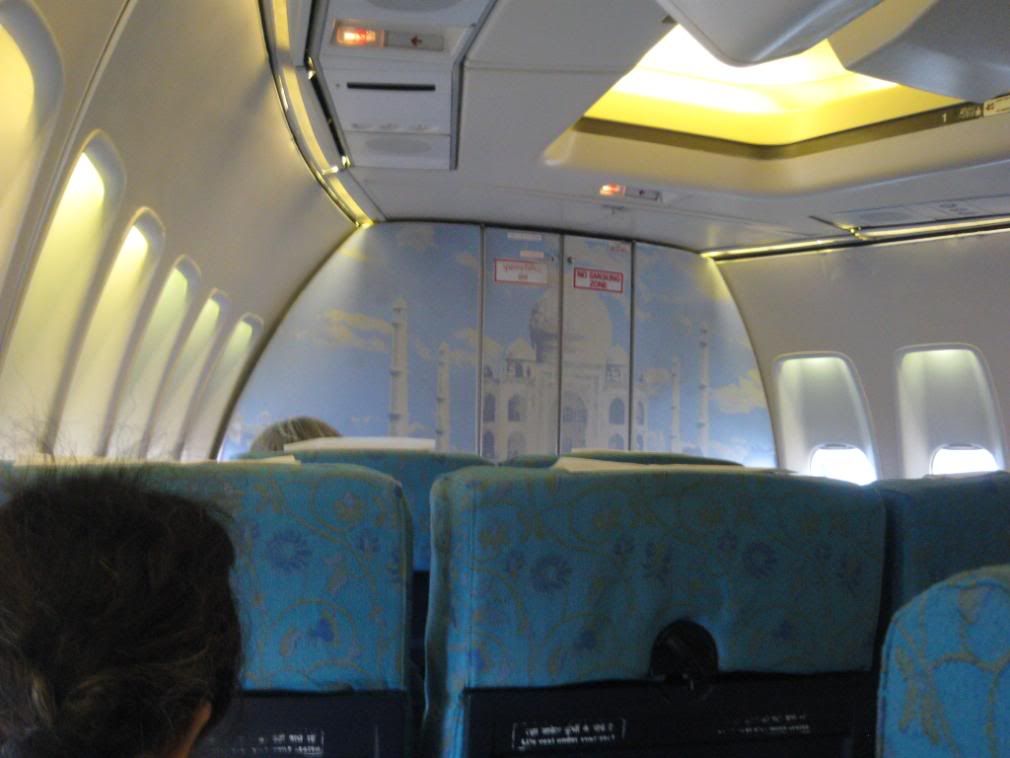 Classic interiors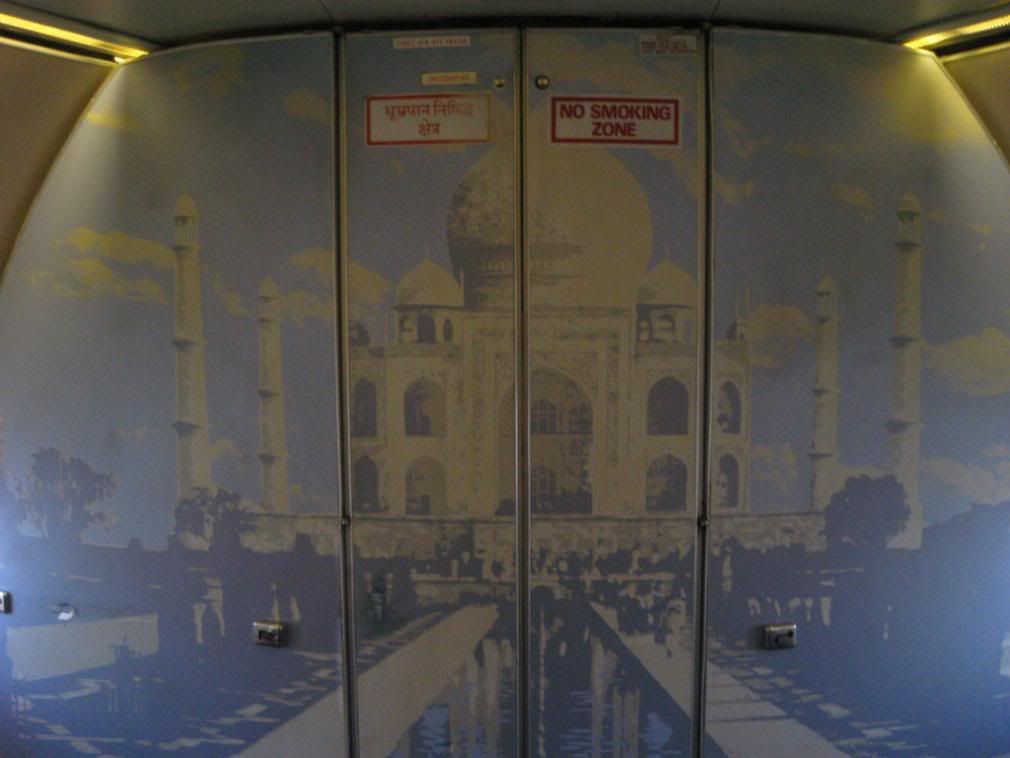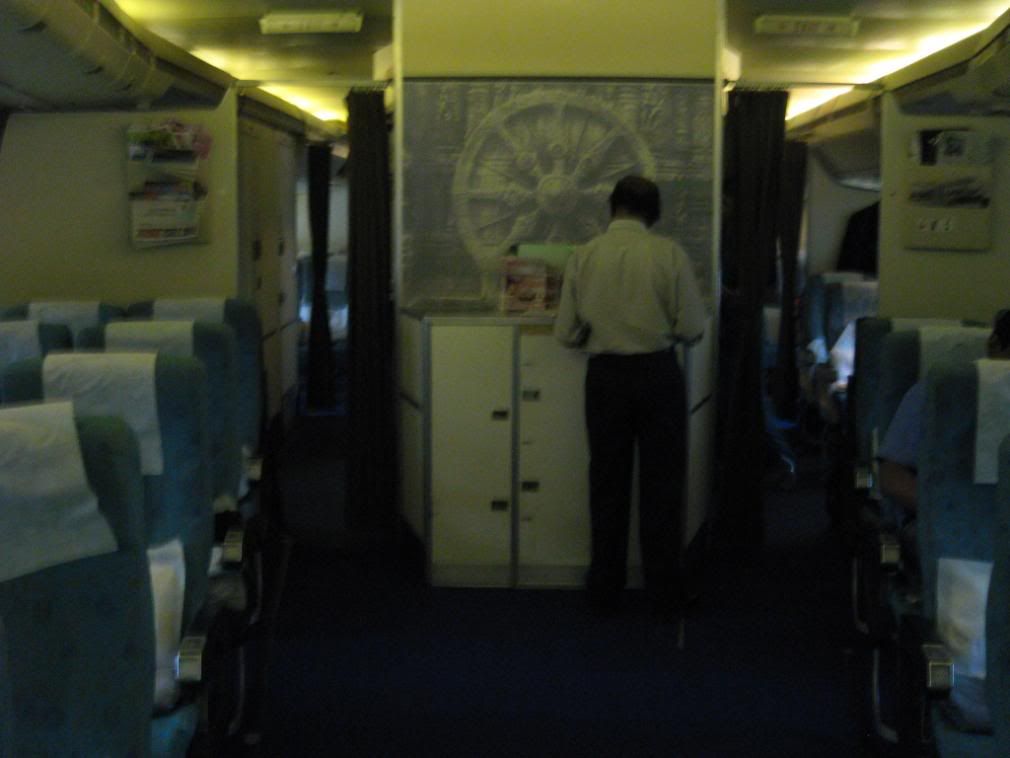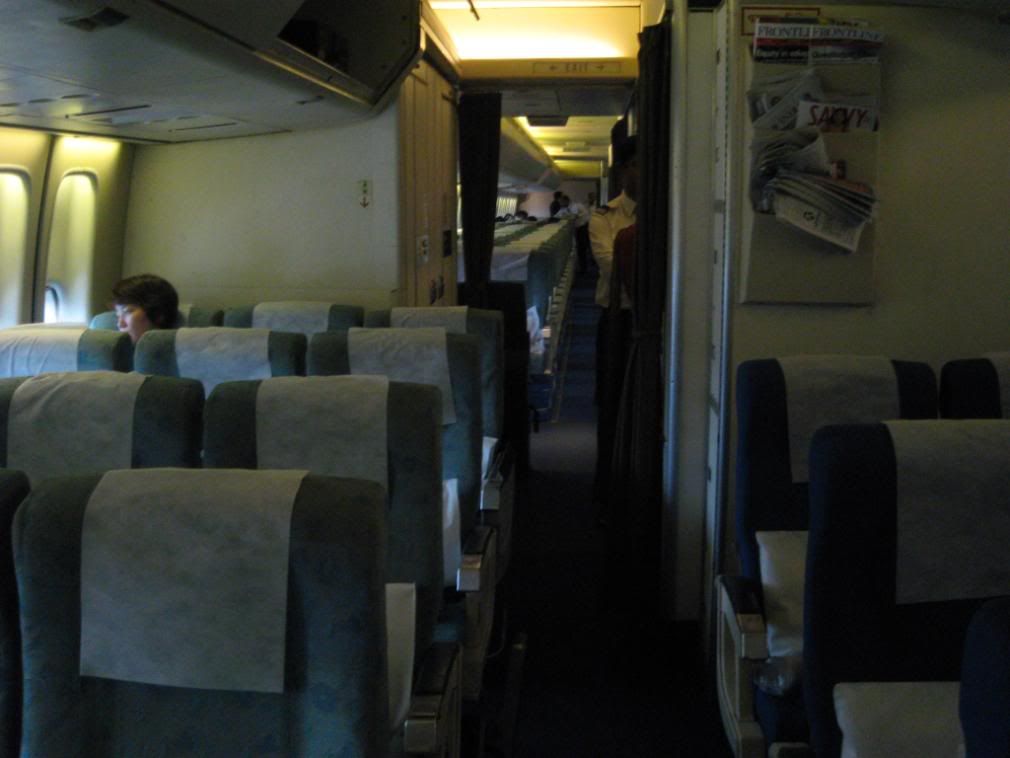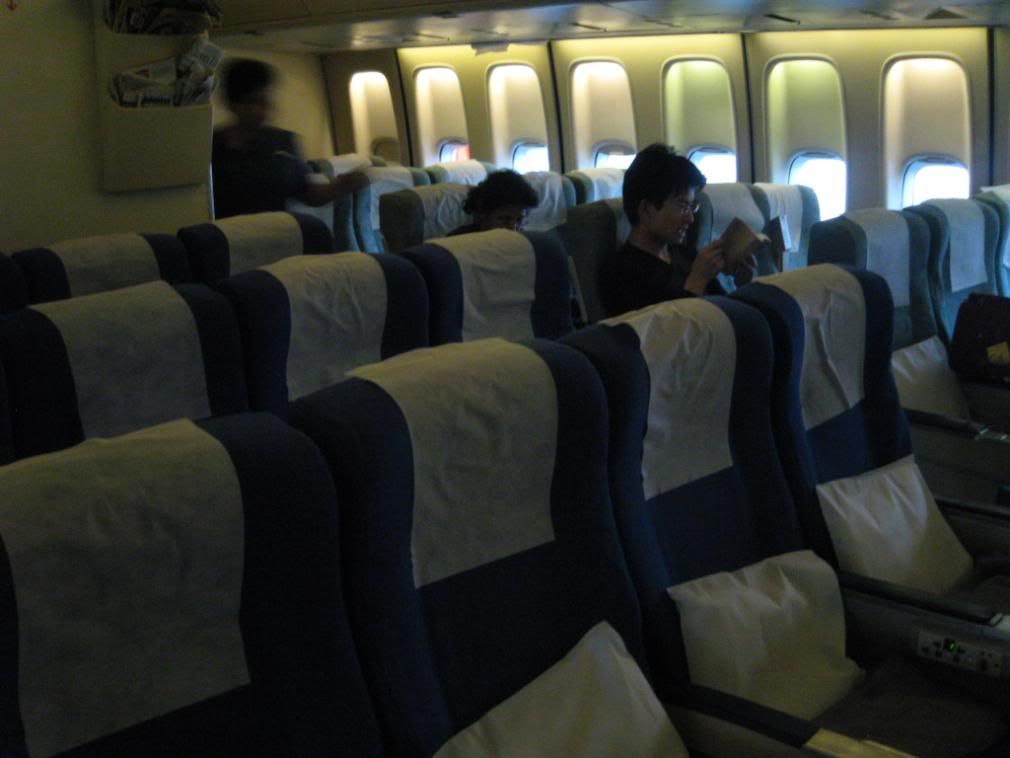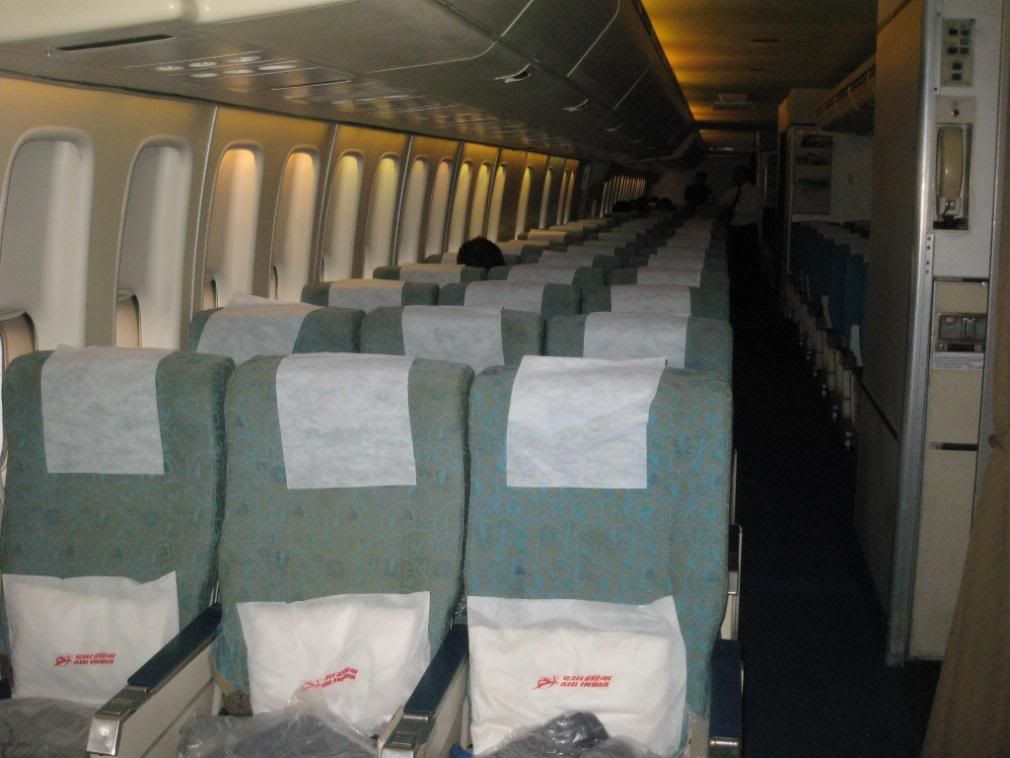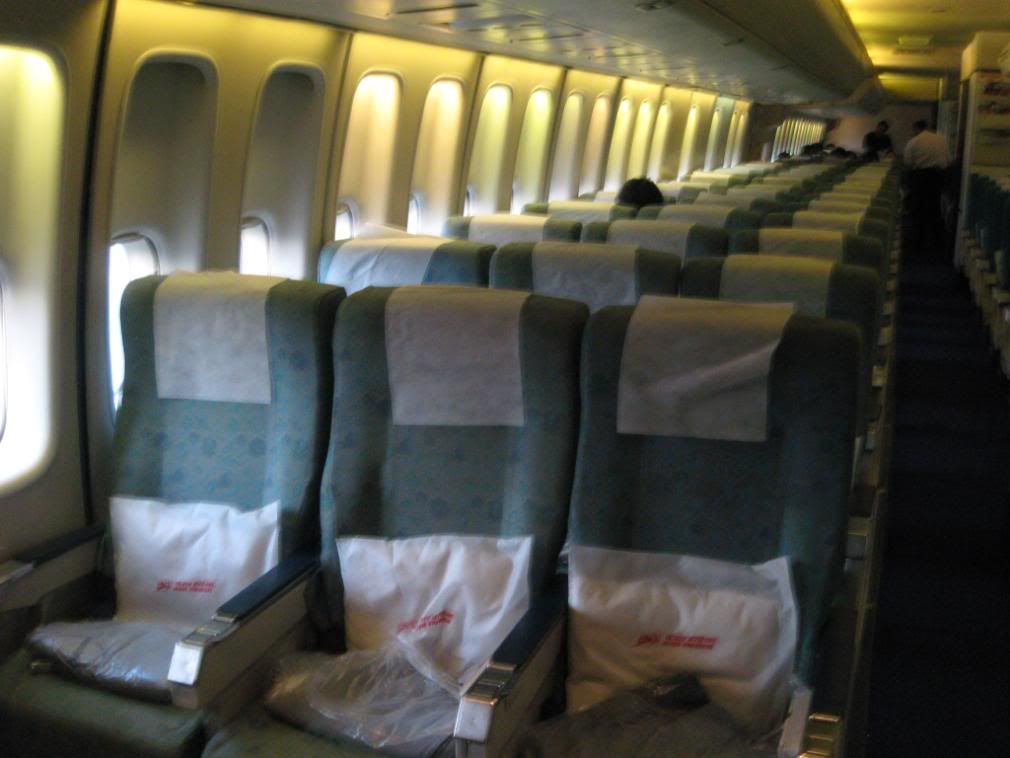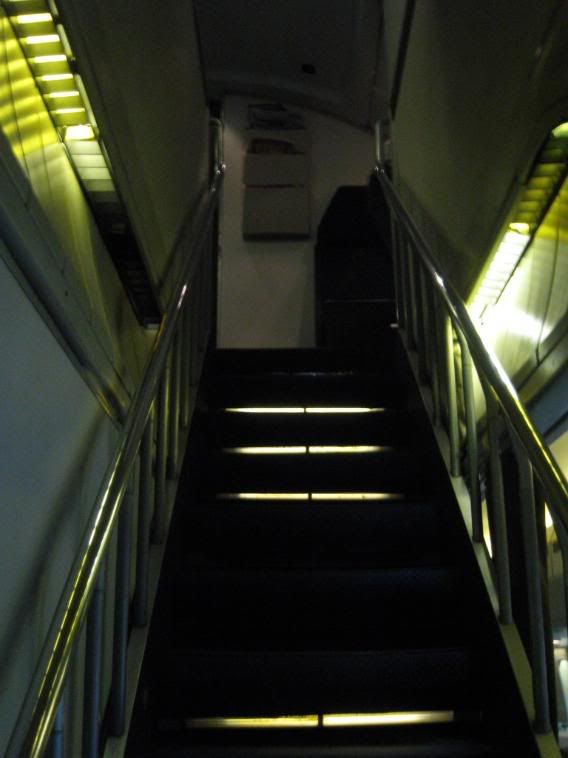 Wow would love to be seated there, that is where we entered the aircraft from.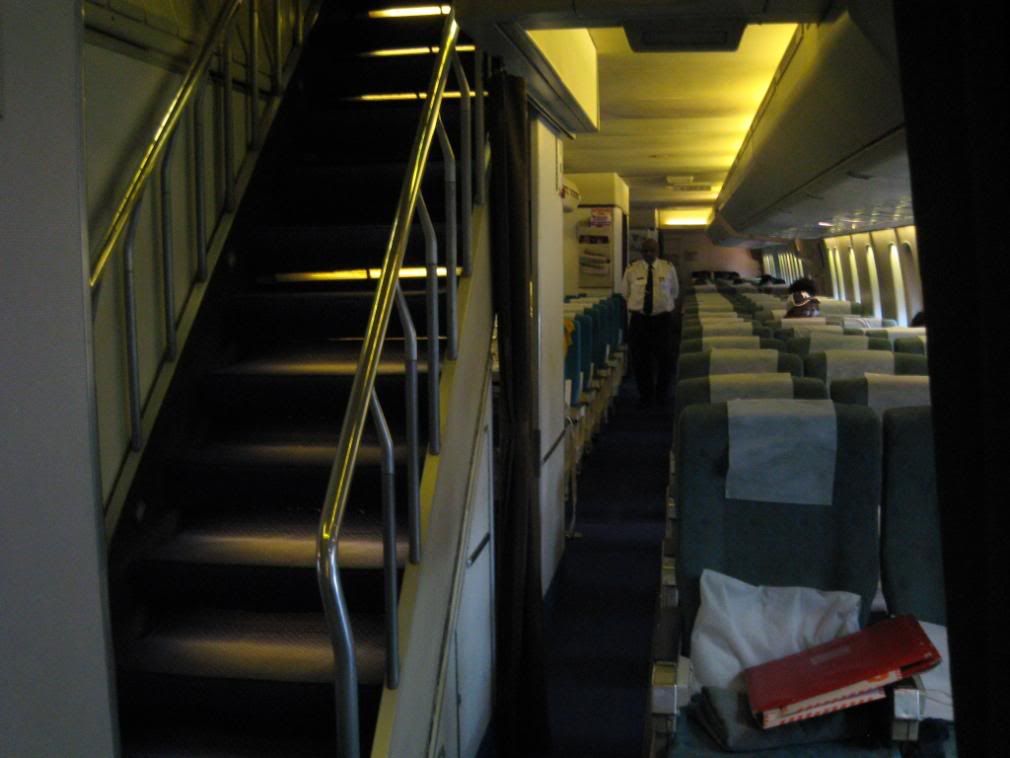 Way to upper deck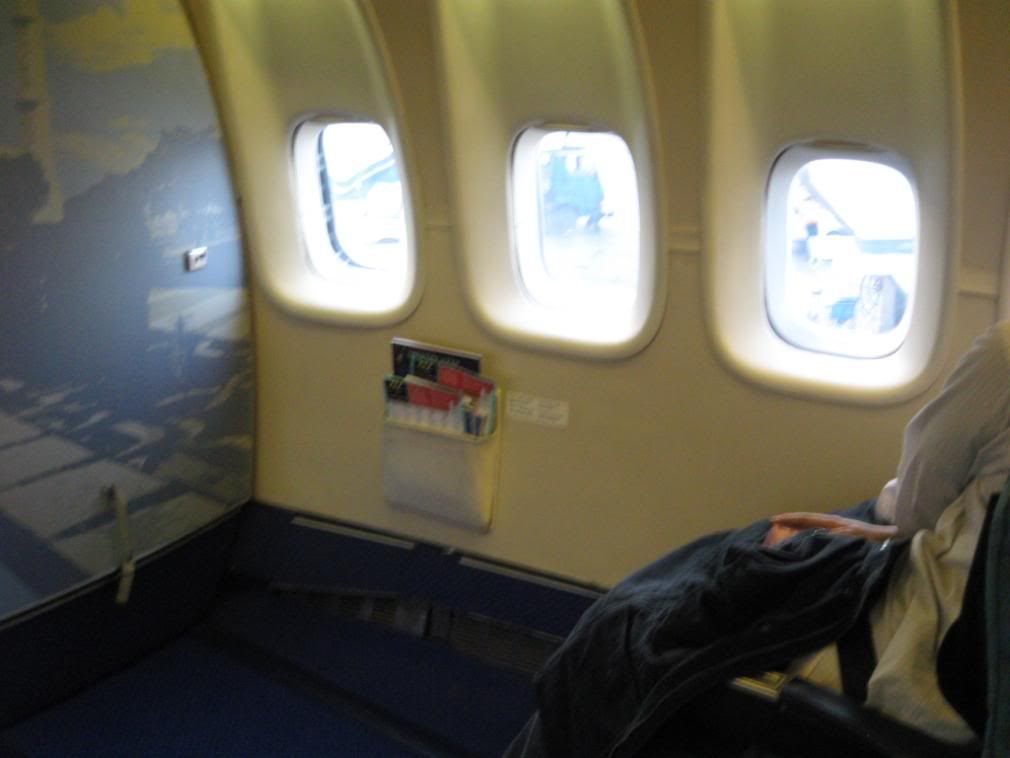 What a legroom!!!!
Great leaders don't tell you what to do ... they show you how it's done!