Penang International (PEN) to Seeb International (MCT) via Kuala Lumpur International (KUL) and Dubai International (DXB)
Part II
Hello and welcome to my detailed trip report about my rather complicated journey from Penang, Malaysia to Muscat, Oman. Three flights in 24 hours, with two airlines in two classes; this trip report reviews each part of this journey in a distinct format. Each flight will be divided into 'General Flight Overview', 'Departure Airport', 'Aircraft', 'Flight', 'Arrival Airport' and 'Overall impression' sections and a final score will be given at the end. More than 100 pictures should also help to convey the things I describe more vividly than my words ever could. So please, grab a cup of coffee and indulge.
This is Part II of this report, featuring the flight from KUL to DXB with Emirates. The first part of the trip report was from PEN to KUL and it can be found
here
.
Introduction
I currently live in Penang and I wanted to fly to Muscat to see some good friends of mine for a short holiday. As the map below shows, this is more easily said than done. A non-stop flight between PEN and MCT would be a little more than 3000 miles and would probably take about five hours. However, no such flight exists, so the only solution is to fly through hubs in order to reach the destination. I decided that KUL and DXB are probably the most sensible hubs to fly through, as they are closest to my departure and arrival cities respectively.
I also had to select which airlines to fly. To be honest, I am not a big fan of Air Asia and their LCCT in Kuala Lumpur. It is far away from the main airport terminals and the price is often only marginally below Malaysia Airlines. In addition the LCCT feels like a temporary thin aluminum construction site shack and not a terminal building. Since it is only a short hop from PEN to KUL, I decided to fly Malaysia Airlines Economy Class between the two cities. For the remainder of the journey my airline choice was clear, because I prefer Emirates over Malaysia Airlines between KUL and DXB, especially in Business Class. For the final leg between DXB and MCT, I also chose Emirates Business Class so that I could get lounge access during my four and a half hour layover in DXB. Overall, the journey I planned would be more than 3800 miles long.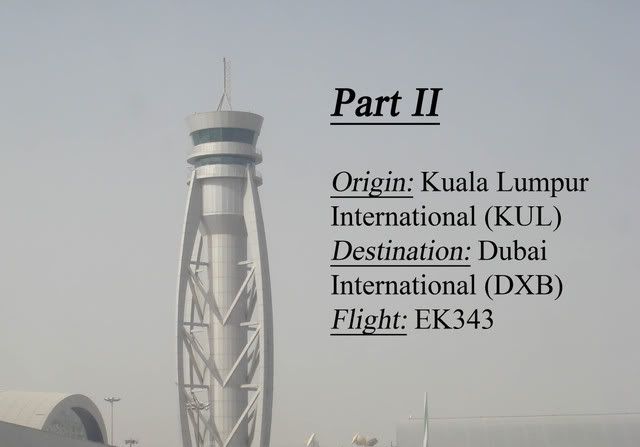 Preface: Kuala Lumpur Day Trip
Having arrived at KUL almost 12 hours before my Emirates flight to DXB, it was time to head into town. Personally, I prefer the KLIA Express train for travelling between KUL and the city center. It is fast, comfortable, reliable and relatively cheap at about US$22 for the return trip. After having left my luggage at the lost baggage counter, I headed back through the massive arrivals hall and down to the KLIA Express station. A friendly agent sold me my return ticket and wished me a pleasant holiday. (Little did she know that I was only staying for 10 hours.)
My return KLIA Express Ticket which would take me into town and back.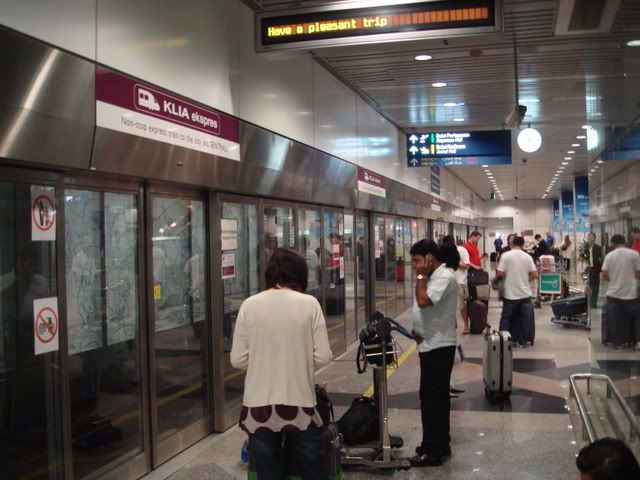 The modern and clean train station under the arrivals hall at KUL.
As usual, the train arrived at the station on time. The load was light today and there were many spare seats available. Every time I am amazed at how quiet and smooth the journey of the KLIA Express actually is. In exactly 28 minutes, just as advertised, the train had completed the 50km journey.
The futuristic design of the KLIA Express interior.
Runway 04/22 at Simpang Air Force Base near Kuala Lumpur.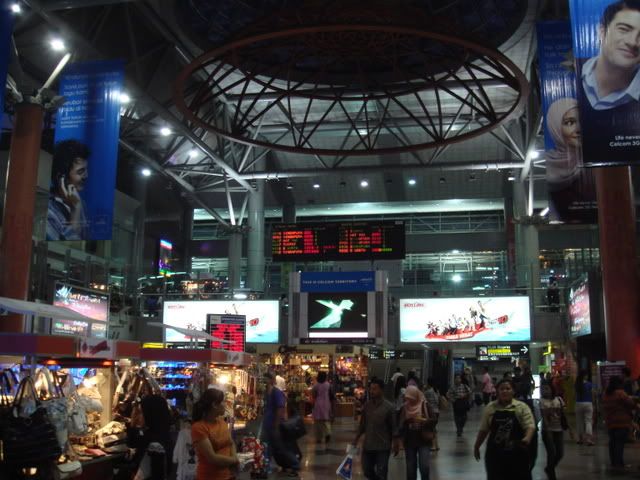 Kuala Lumpur Central Train station where the KLIA Express arrived from the airport.
My main aim in the city was to do some shopping and I used the Kuala Lumpur monorail to travel around. I visited two shopping havens: The Pavilion, probably one of the craziest malls ever, and Suria KLCC, which is located beside the Petronas Twin Towers.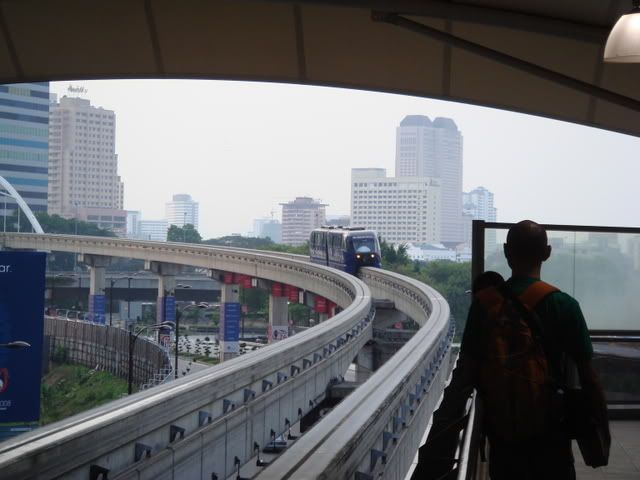 My transportation in Kuala Lumpur: the KL Monorail.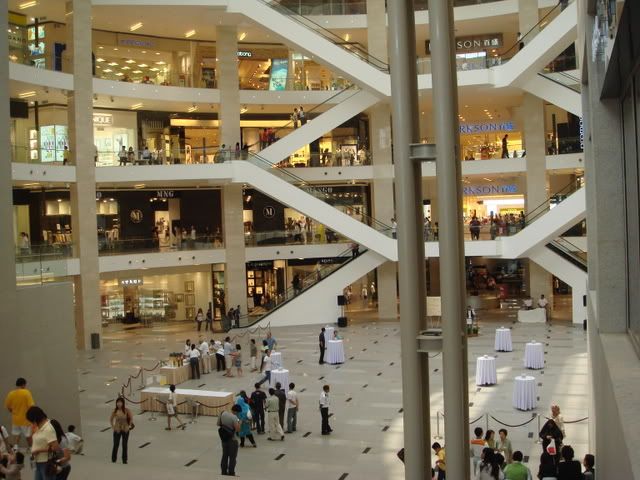 The massive atrium of the Pavilion Mall at Bukit Bintang.
The Kuala Lumpur Tower between skyscrapers.
Suria KLCC with the Petronas Twin Towers behind.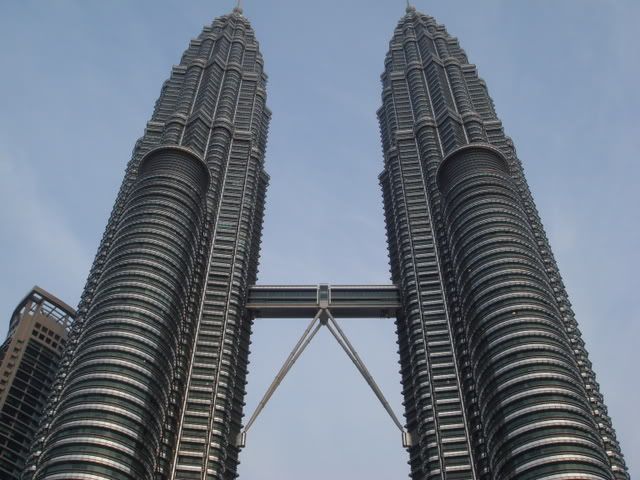 The Petronas Twin Towers. A stunning piece of architecture.
By 20:00 I was totally exhausted and I could not take any more retail therapy. Even though my flight from KUL was only in about five hours, I decided to start making my way back to the airport. I took the monorail to the Kuala Lumpur Central Station and then the 28 minute KLIA Express back to KUL. By 21:00 I had arrived at the airport and I was ready to begin my journey to DXB.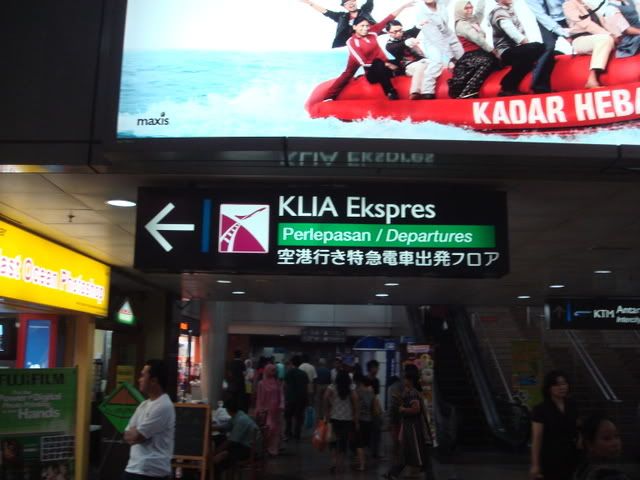 Heading to the departure platform of the KLIA Express.
I was fortunate that the train was boarding just as I arrived.
Now, back to the aviation.
General Flight Overview
Airline:
Emirates Airlines (EK)
Flight number:
EK 343
Origin:
Kuala Lumpur International Airport (KUL)
Destination:
Dubai International Airport (DXB)
Distance:
3448 miles
Scheduled departure time:
00:55
Scheduled flight time:
6 hours 55 minutes
Class of Travel:
Business Class
Seat:
1K
Aircraft:
777-31H/ER
Registration:
A6-EBX
Departure Airport
When I arrived at the Kuala Lumpur International Airport at 21:00 I collected my luggage at the lost baggage counter and decided to take a stroll around the departures hall as it was too early for check-in. It never ceases to amaze me how massive the terminal at KUL is and how small I feel inside the building - especially the smooth, curving wooden panels on the roof are a sight to behold.
The vast expanse of the departures hall at KUL.
The numerous check-in counters at KUL.
Sadly, the terminal often feels cold and empty, because it is just too big for the number of people travelling through it. The day of my flight was no exception: there were entire rows of deserted check-in counters and very few passengers in sight. I guess the airport's 'white elephant' nickname is justified, but it is sad nonetheless.
One of the many lifeless scenes in the KUL Departures Hall.
By 21:30, I had managed to explore the entire departures hall and I decided to head for the Emirates check-in desks located at concourse M. There was no line for Business Class passengers, so I went to counter one.
Concourse M houses the check-in counters for Emirates.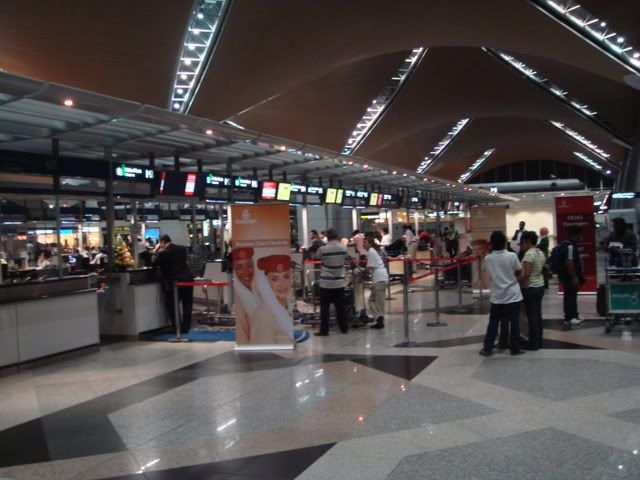 The Emirates check-in area. There was no queue for Business Class today.
A male Emirates agent dressed in a green jacket was very friendly and smiled at me while welcoming me to the counter. He asked for my passport and credit card for verification as I had purchased my tickets online. I feel that the booking system at Emirates.com is efficient and very easy to use. It is probably my favorite online service out of all the airlines and I have yet to find any faults with it. The agent reconfirmed my seats all the way to MCT, as I had selected them online, and he kindly asked if I wanted to check my luggage through to MCT.
I was surprised by his professionalism, efficiency and friendliness, especially because I had heard so many negative things about the check-in agents at KUL. In less than five minutes, he had written my lounge invitations, checked-in my luggage and issued my boarding pass while never forgetting to smile. I was impressed. He thanked me for flying Emirates and wished me a pleasant and safe journey. I expressed my gratitude for his kindness and headed for the international departures hall.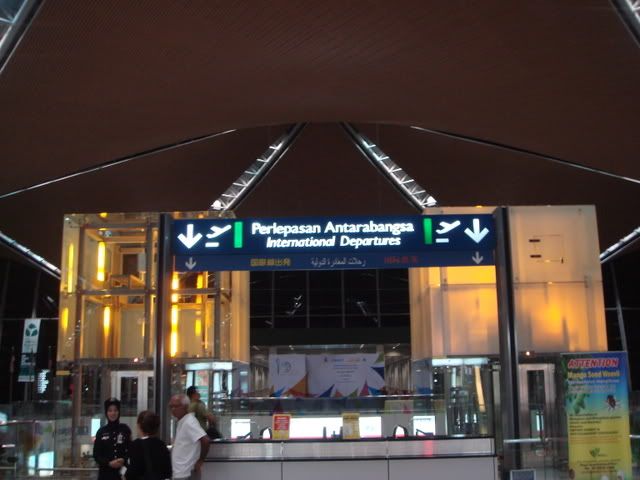 The International Departures area was one floor below the main Departures hall.
Having traveled through KUL many times, and since it was difficult to do any decent spotting at night, I decided to head straight for the Emirates Lounge at the Satellite terminal A. A three minute Aero-train journey was needed to get from the main terminal building to the Satellite terminal and then another five minute walk to the Emirates Lounge located on the second floor.
The view from the Aero-train as it left the main terminal building.
The departures out of KUL tonight.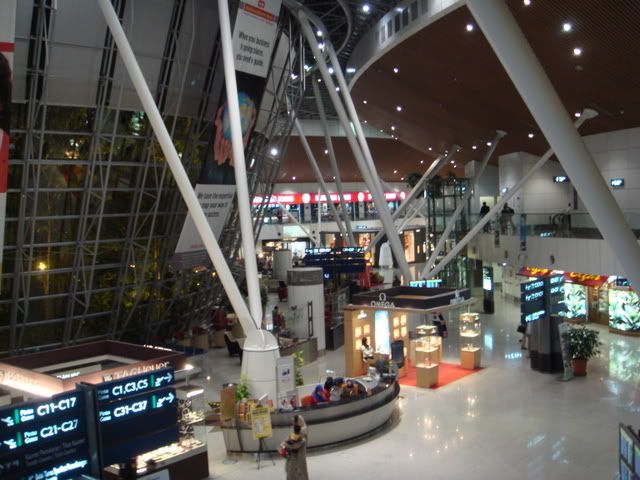 The view of a section of the satellite terminal from the second floor.
I finally arrived at the lounge at 22:20 and my expectations were low after hearing a great deal of negative press and comments about Emirates and how they are growing too fast. Little did I know what was in store for me inside.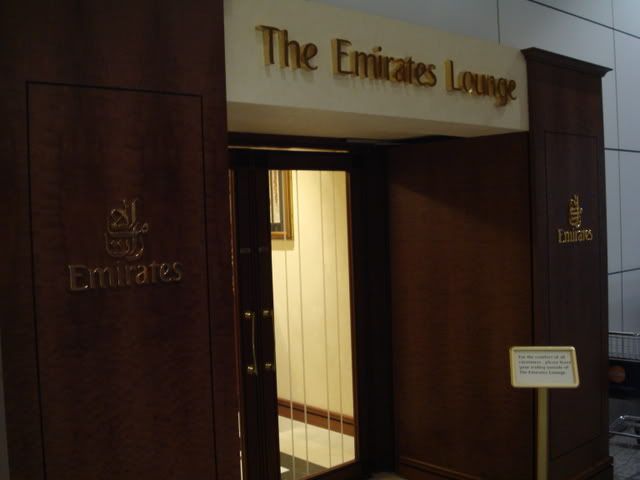 The entrance to the Emirates Lounge at KUL.
My lounge invitation at KUL.
As I entered, I was warmly welcomed by a female Emirates agent. The lounge seemed very new and grand with a wood and marble finish; I was impressed even before I had really stepped inside. I handed my lounge invitation over to the agent and asked if I could keep it as a souvenir. She smiled, but said that she needed to keep it as a record. I reluctantly gave it to her and moved on into the lounge.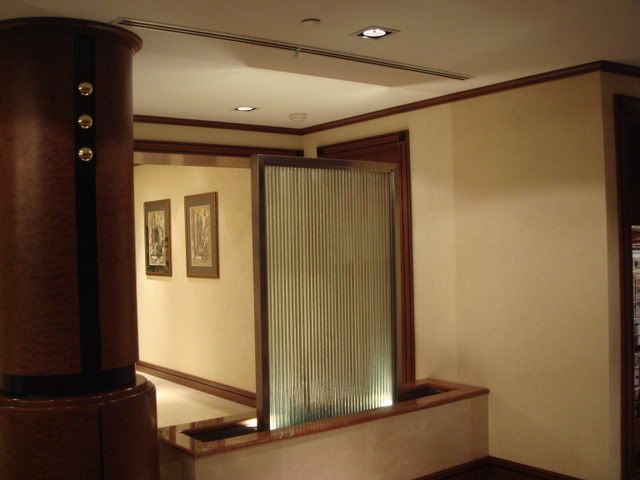 A water feature at the entrance of the Emirates Lounge.
As the remainder of the lounge came into view I was pleasantly surprised. The seats were made out of soft brown leather, everything was shining as if it were brand new and one of the waiters walked up to me and asked if he could take my trolley while I took some pictures. Was I in a five star hotel or in an Airport lounge? To be honest, I wasn't really sure anymore. The kind lady from the front desk even came back to me and gave me another lounge invitation which I could keep. She had written out a new one for me; that is what I call customer service! The lounge also featured free wireless internet and eight new computers in the Business Center. There were large windows with a good view of the tarmac and a wide variety of magazines. I was up on cloud nine.
A view of the Emirates lounge from where I sat.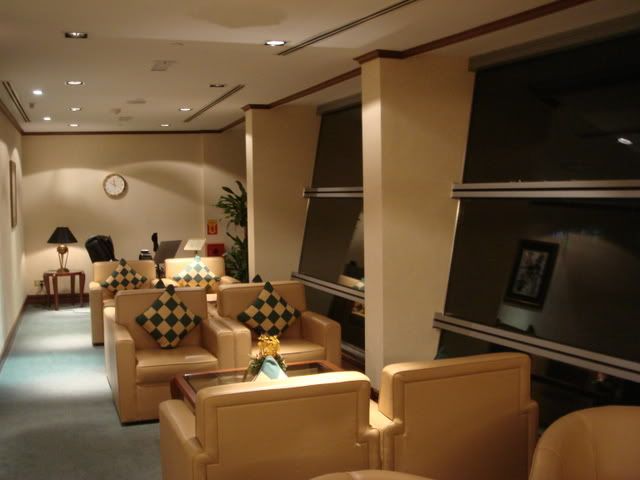 Large windows lined the side of the lounge, giving a great view of the tarmac.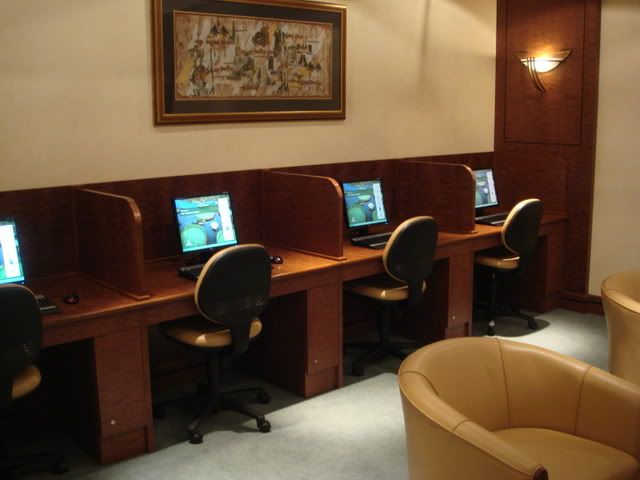 The new computers in the Business Center.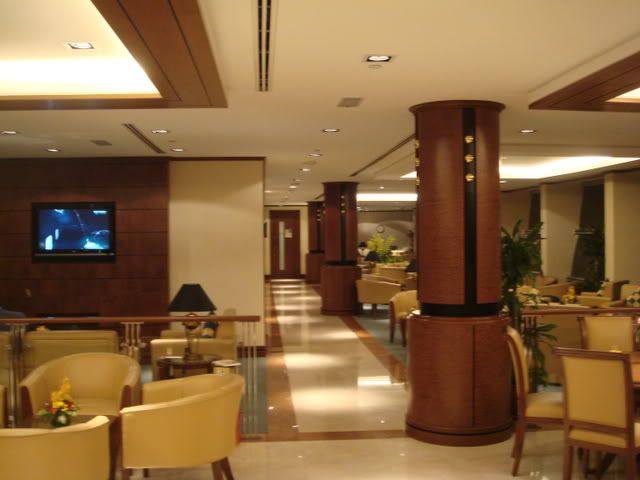 The view across the length of the Emirates lounge in KUL.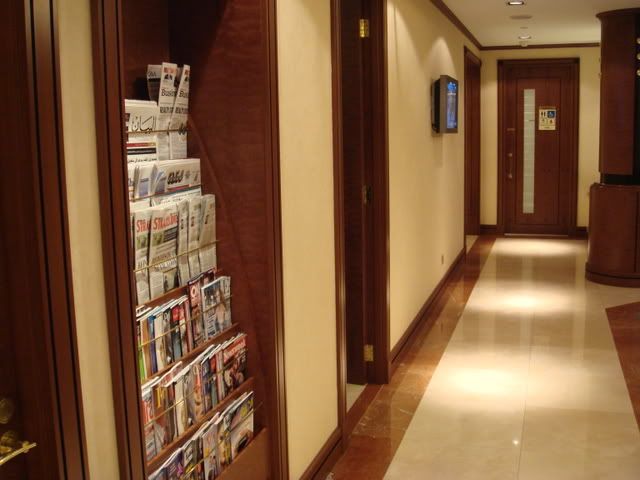 There were plenty of magazines. Showers were also available.
However, I have not even reached the best part yet: the Food. I have been to First class lounges in Europe and many Business Class lounges in South East Asia, yet never was the food as good as in the Emirates lounge in KUL. I loved the smoked salmon with caviar and all the other little snacks that were available.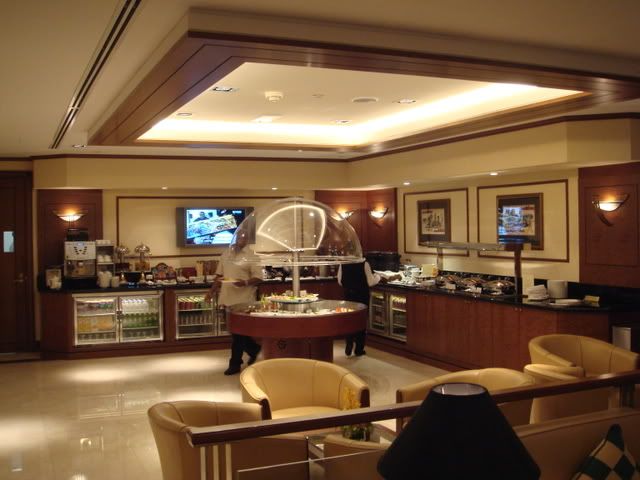 The food and beverage section of the Emirates lounge.
There were numerous cold snacks available.
The lounge also featured six delicious warm dishes.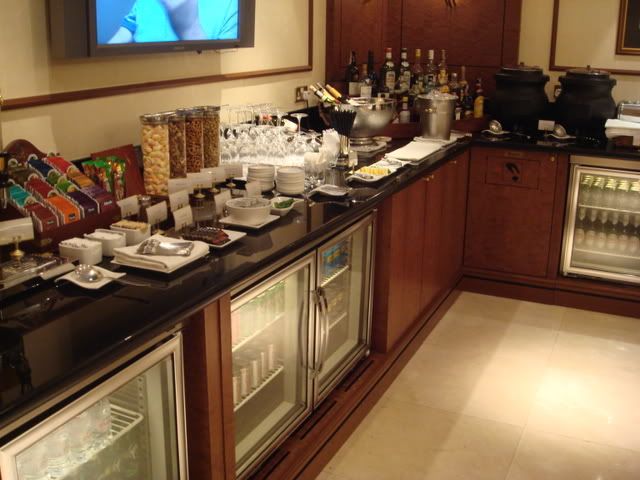 The beverage section also had something for everyones taste.
There were six main hot dishes and plenty of cheese, as well as many peanuts and nibbles. To top it all off, there was every variety of hard liquor one could ever imagine, not to mention some very nice wines and Champagne. I really wished I could have stayed longer. It was great!
One of my several servings of food.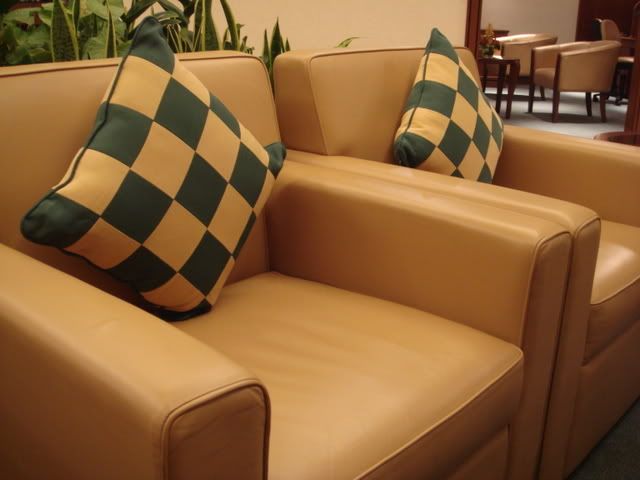 The rather comfortable brown leather seats in the lounge.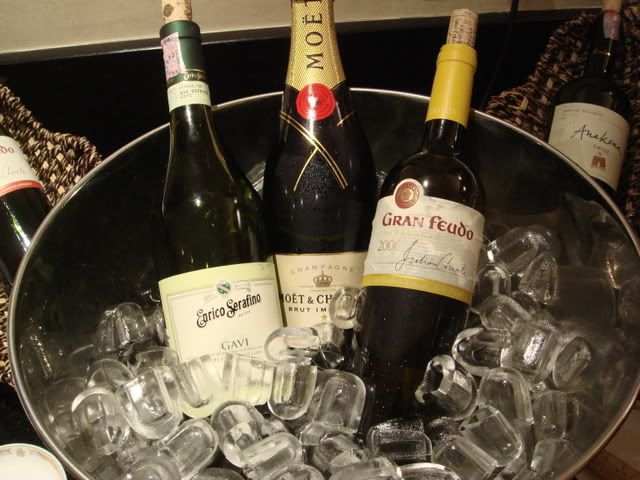 Champagne anyone? The white wine was also superb.
As my boarding time approached I was sad to leave the lounge behind. It really was a very nice place to be, but I had a flight to catch. I left feeling rather stuffed with food and walked towards gate C35 where the Emirates 777-300ER stood shining in the moonlight.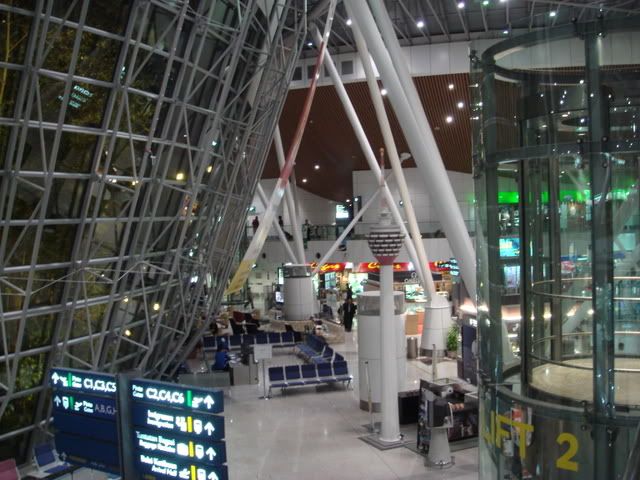 The view of the satellite terminal from outside the Emirates lounge.
Gate C35, the departure gate for EK343 today.
The secondary security check was completed in less than three minutes and most of the passengers had already boarded the aircraft before I arrived. The waiting hall was deserted.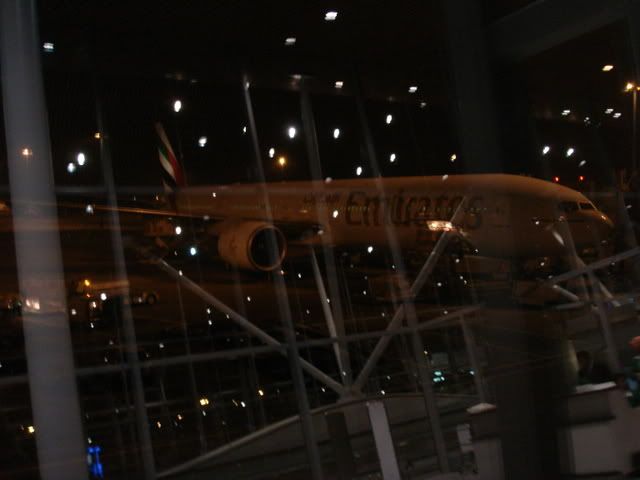 My first view of A6-EBX as she was being prepared for departure.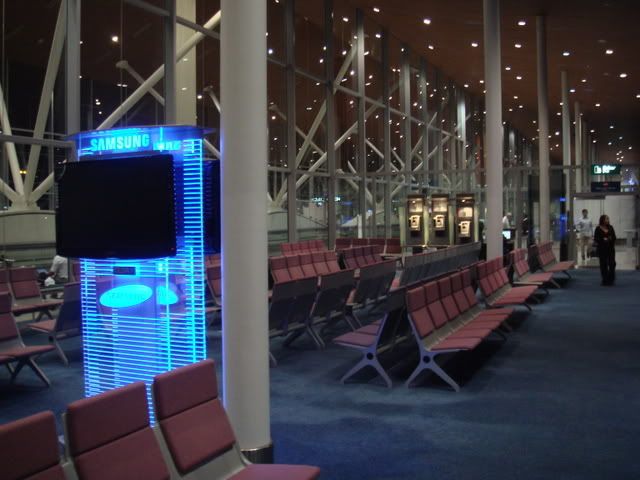 The empty waiting hall of Gate C35 when I arrived.
I had left the lounge at 00:15 and it did not take me long to reach the gate. As I went for boarding, another female Emirates agent checked my ticket and guided me to Jetway A. I was onboard EK343 at 00:25, 30 minutes before departure.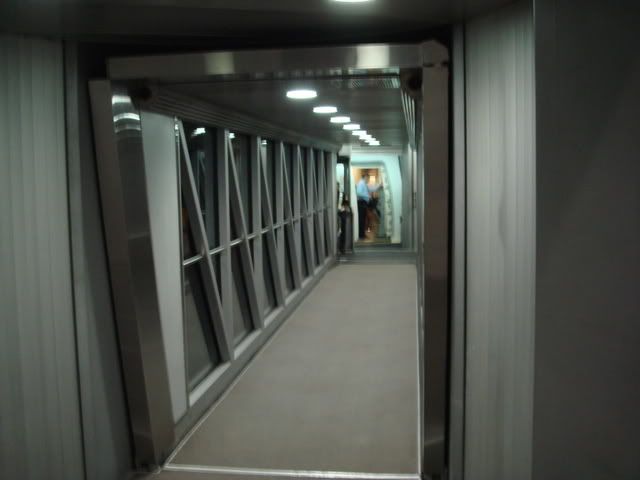 The view down Jetway A leading to EK343.
Aircraft
Emirates has one of the largest 777 fleets amongst all airlines. The 777-300ER makes up most of the 777 fleet with 34 aircraft. As Tim Clark said himself, the 777-300ER is the most important aircraft in the medium-long haul Emirates fleet and they serve many destinations around the world in many different configurations. The 777-300ERs that serve Malaysia have a two class high density configuration that can carry up to 427 passengers.
Therefore, my aircraft today, A6-EBX, only had Business and Economy Class. The on first inspection, cabin seemed very nice and it was clean. Sadly however, A6-EBX has the older regional Business Class seats which are not flat beds. While the 60 inch pitch is average in Business Class, it was a pity that the seat recline left much to be desired. Thankfully the ICE IFE system made up for the relatively poor seats, bit it too was let down by the fact that the screen in my seat was small.
A6-EBX:
This 777-31H/ER had its first flight in February 2007. The aircraft is owned by ILFC who are leasing it to Emirates. The first flight with the airline was in March 2007, so the aircraft is only a little more than one year old.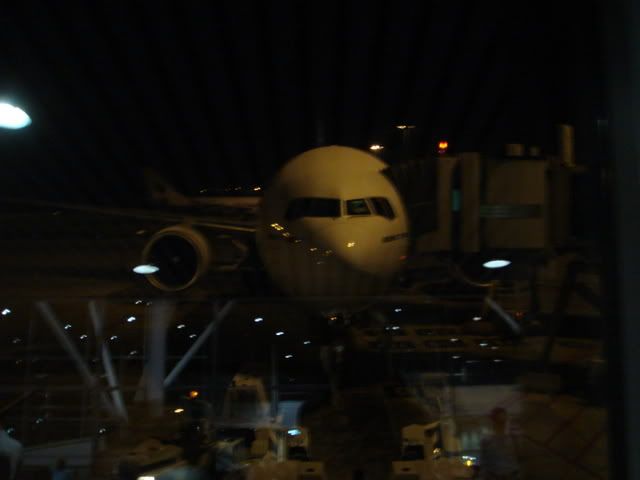 Frontal view of A6-EBX as she was prepared for departure.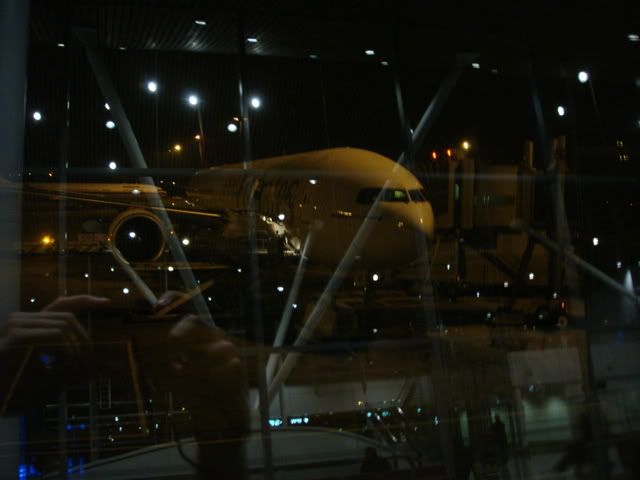 Side view of A6-EBX as she was prepared for departure.
Flight
My ticket for EK343 from KUL to DXB.
As I arrived at the door, it seems I had caught the Arabic lead steward off guard, as he was just putting a laptop away. Nonetheless, he quickly put it to the side and smiled at me while asking for my boarding pass. I gave it to him and he proceeded to pronounce my last name wrong (a normal occurrence). I kindly corrected him and he patted me on the back as we both laughed about his mispronunciation. I thought the pat was a nice gesture as it made me feel much more welcome onboard. He subsequently took me to the seat that I would be in for the next seven hours, 1K.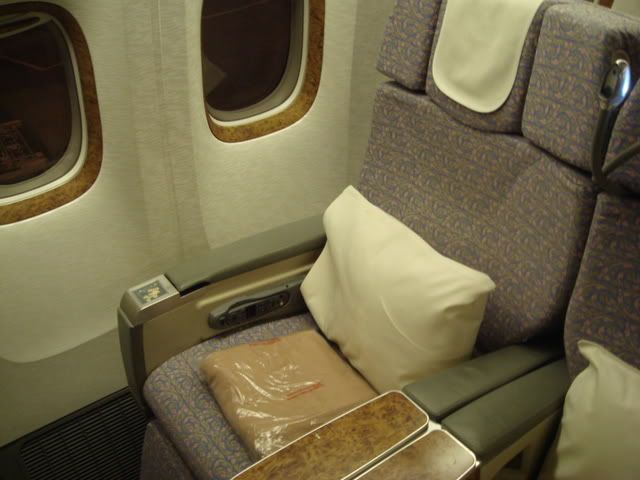 My seat on EK343 from KUL to DXB: 1K.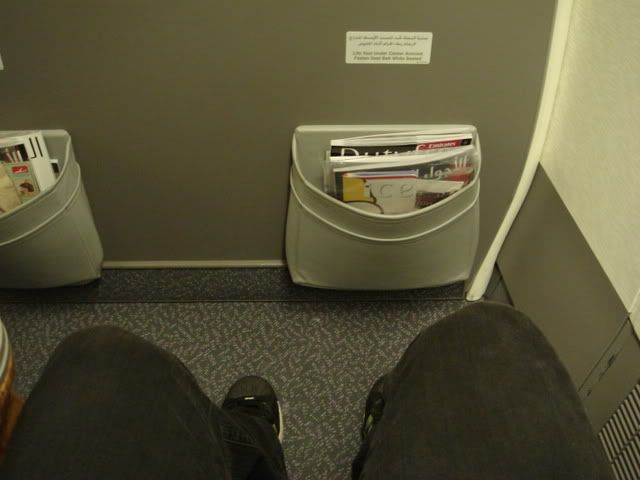 The legroom at seat 1K was generous, because the bulkhead was in front of me.
A view across the Business Class cabin during boarding.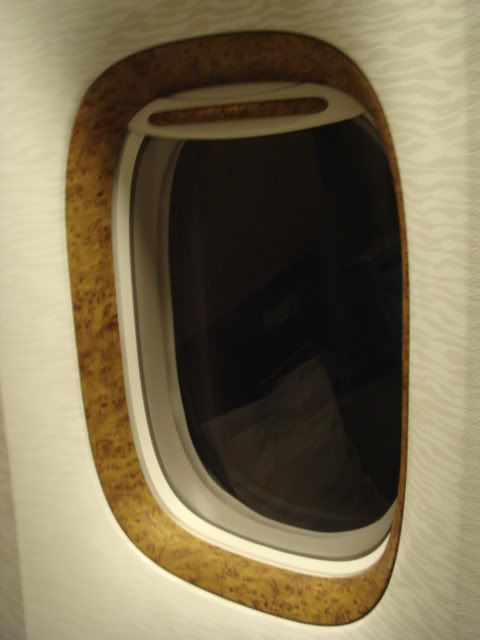 I am not really sure whether I liked all of these fake wooden panels in Business Class.
My initial impressions of the cabin were positive, even though the seats were outdated. The legroom at seat 1K was impressive and I could easily get out from my window seat to the isle without disturbing the person sitting next to me. Most of the other Business Class passengers boarded very late and all of the flight attendants were nowhere to be found, since they were busily preparing for departure. This gave me a good chance to investigate my surroundings. About 10 minutes later, hot towels and welcome drinks were served. I went for the champagne.
My welcome drink: Moët & Chandon, Brut Impérial.
While I was waiting for pushback, I decided to play around with the ICE IFE system. As usual, there was an absolutely massive collection of movies and television shows, far too many for this six and a half hour flight. However, the small screen left much to be desired. It was small and bulky, the picture quality was just average and it was awkwardly stowed behind two panels in the armrest between the seats. It just made me wonder: what is the point of having a superb entertainment system if the screen you watch it on is junk?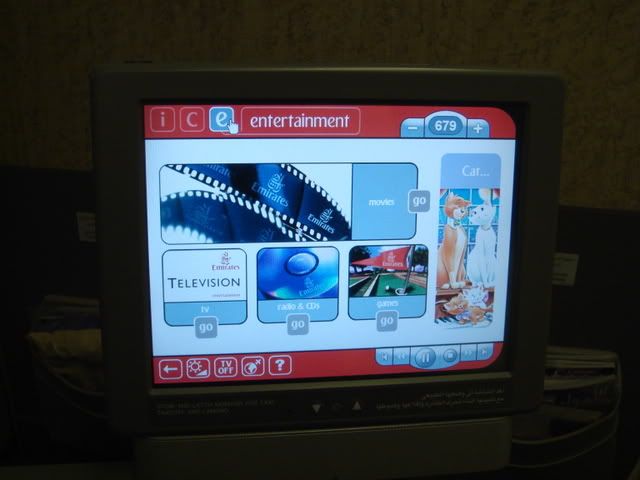 The ICE IFE system and the crappy Business Class screen.
So many movies and so little time to watch them all.
By 00:50, 5 minutes before scheduled departure, the doors were closed and we began to pushback. The 777-300ER then slowly taxi to runway 14R, the same runway I had landed on 12 hours before. The safety video was shown in English and Arabic and in seven minutes, we were ready for takeoff.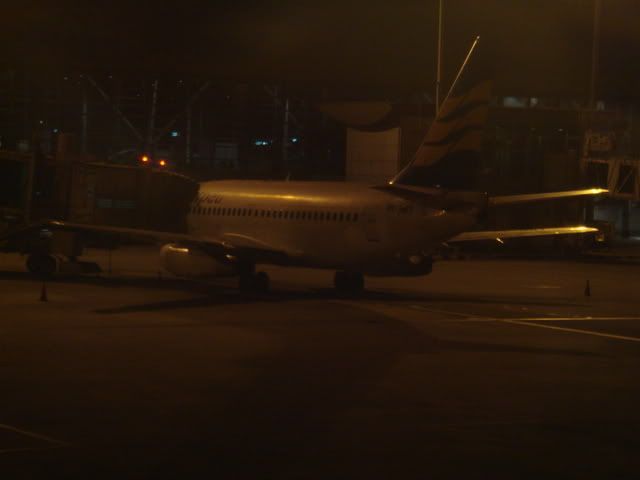 A rare sight these days: A Boeing 737-200 operated by Merpati Nusantara Airlines from Indonesia.
At 00:58, three minutes past scheduled departure, the Boeing 777-300ER began its roll down runway 14R. The massive GE90 engines made for a powerful takeoff, but all I could hear was a gentle still buzz in the background. The aircraft was amazingly quiet in Business Class - almost too quiet for comfort. I like to be reminded that the engines are still running every now and again, but I couldn't even here them on this flight.
The view of KUL at night as we departed and made a 180° turn.
After takeoff, a video showing the features of the Emirates 777-300ER was screened; it seemed to be never-ending and it was repeated in both English and Arabic. About 10 minutes after takeoff, post-departure drinks and nuts were served. I had the Champagne cocktail and it was not a disappointment.
My post departure drink: Champagne cocktail.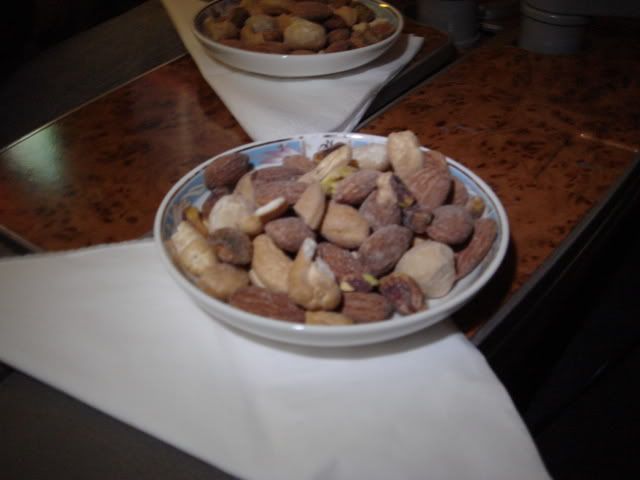 The assortment of nuts that came along with the post-departure drink.
The flight attendants then began to hand out amenity kits, socks, eye shades and menus. While these were being distributed, one of the stewardesses tripped over and fell somewhere around row 5. All I heard was a loud thud as she dropped her tray and hit the floor. To my surprise, no one even made an effort to help her or to see if she was hurt. Talk about a severe deficiency of good manners amongst my fellow passengers seated around row 5! The stewardess slowly stood back on her feet and turned bright red as the other flight attendants came to her aid. I later went to ask her if she had hurt herself; she smiled back and said that she was fine. She was probably just surprised that someone had actually noticed and cared.
The Menu: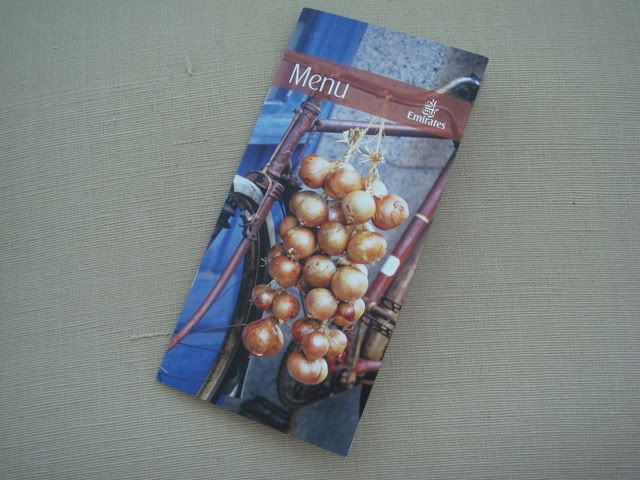 The front cover of the menu on EK343.
The second and third page of the menu on EK343.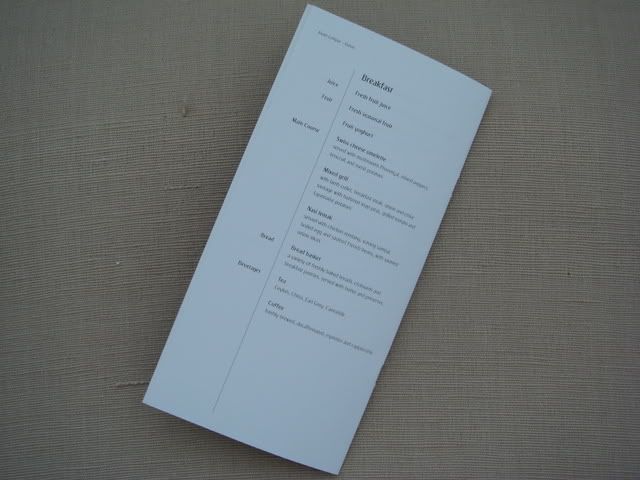 The final page of the menu on EK343.
The Wine List:
The front cover of the wine list on EK343.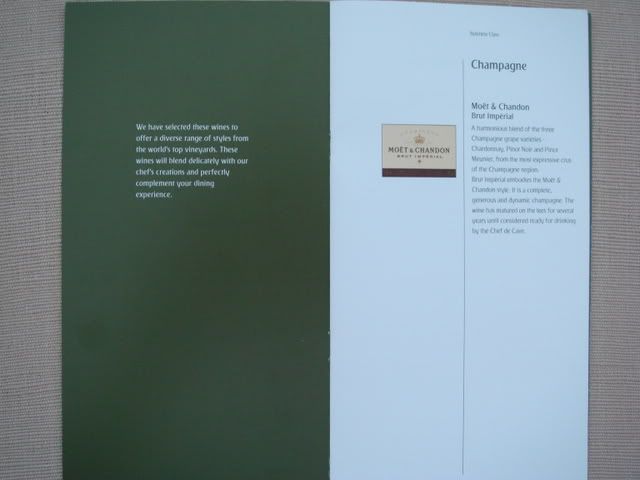 The page of the wine list on EK343 showing the Champagne.
The red and white wine that was available on EK343.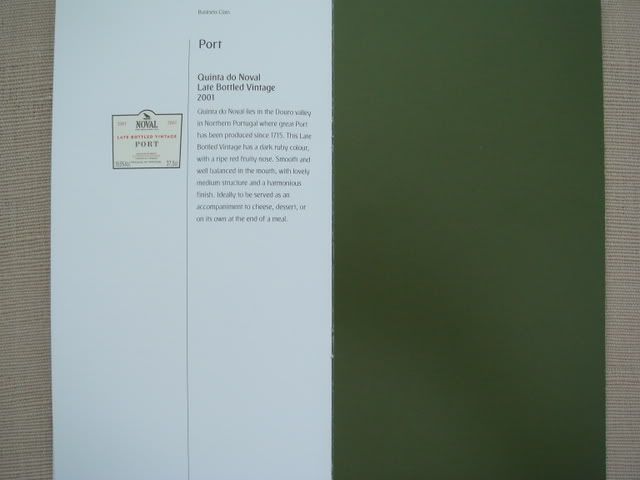 The final page of the wine list on EK343.
As the flight from KUL to DXB departed after midnight and arrived in the early hours of the morning, the food service was not an easy task for the crew. In addition, serving two meals on a six and a half hour flight was no small feat either and there was little time for the flight attendants to rest. Some passengers did not eat anything at all; others only had the midnight snack. Nevertheless, when I was asked if I wanted to be woken up at some godforsaken hour for breakfast I did not refuse. Most of my fellow passengers on the other hand, wisely chose to sleep through breakfast.
The Amenity kit, like the lounge at KUL, came as a pleasant surprise. It contained, amongst other things, some very expensive Bvlgari perfume and an excellent shaver. In general, the content was of a high quality and there were even different kits for men and women. I was also impressed by the nice pouch it came in, which was a massive improvement to other amenity kit pouches I have seen from other airlines. Its elegant brown fabric and leather finish was a very welcomed touch.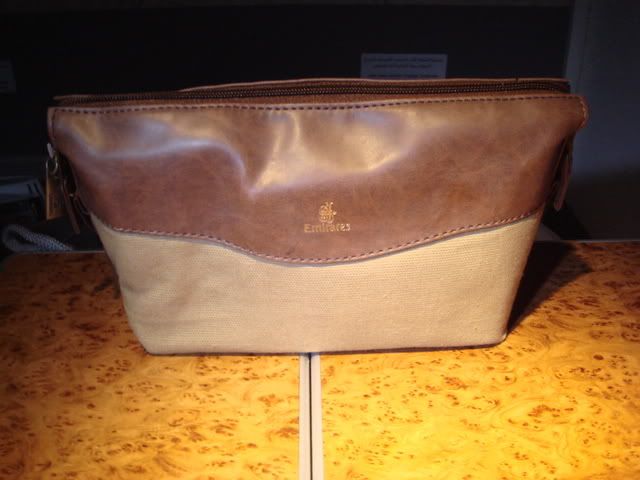 The very simple, yet elegant Amenity Kit pouch.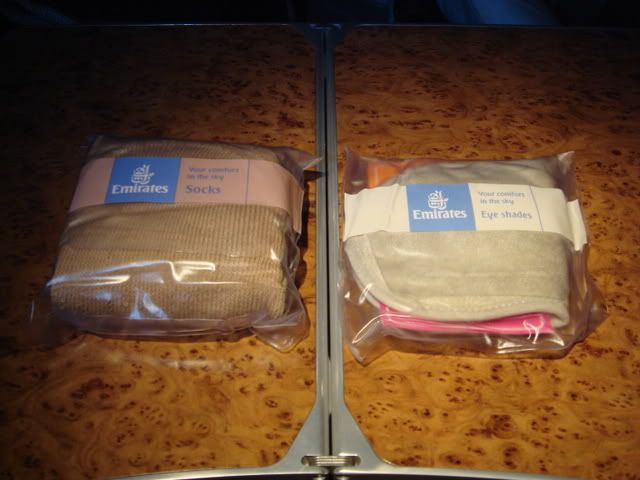 The Emirates socks and eye shades for Business Class.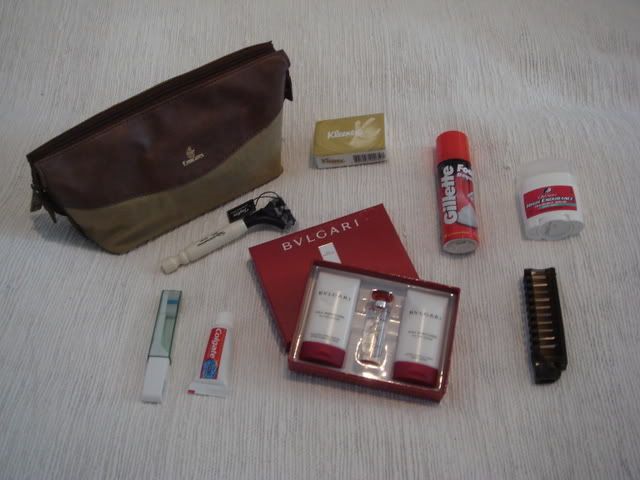 The contents of the Amenity kit on EK343.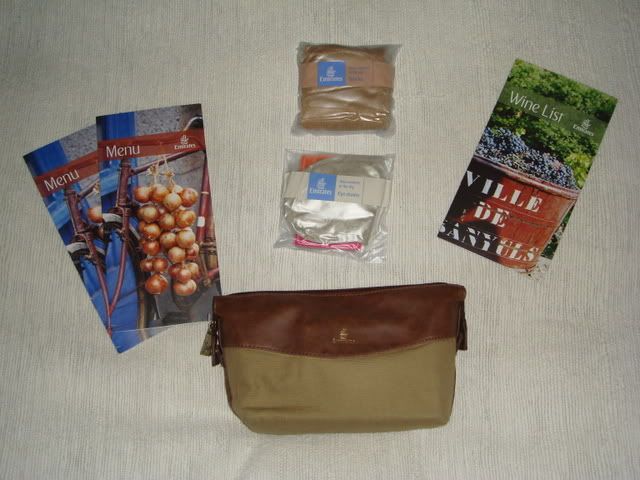 All of the goodies I took from my Emirates flights to DXB and MCT.
About 45 minutes after departure, the savory midnight snack was served. After my wonderful experience in the lounge at KUL, my expectations were now much higher than before and I was looking forward to taking part in some more eating. The flight attendants used a large decorated trolley to serve all of the little snacks and passengers could just pick and chose what they wanted to eat. I thought that this was a very nice idea, because I could actually see what looked best before I ordered it. I chose the smoked salmon with horseradish cream sandwich, the roast chicken breast sandwich and a fruit tart.
My savory midnight snack on the nice Emirates china.
The savory snacks themselves also did not disappoint, but they could not compete with the food I was able to enjoy at Emirates lounge at the Kuala Lumpur Airport. I also ordered some Coke light with my food, which was unexpectedly refilled later without me having to ask for more; another pleasant surprise.
My Coke light, nuts and savory snack.
Meanwhile, I also managed to obtain some pictures of the midnight snack in Economy Class for comparison. The food and its presentation was a far cry from that in Business Class.
The economy class midnight snack on EK343.
After I finished my food, I took a little stroll through the aircraft. The load for Business Class was 90% today, but it was only about 40% for Economy Class. Almost everyone had their own row of seats at the back. I thought that the night mood lighting with the 'stars' (little lights) in the ceiling of the 777-300ER was a beautiful sight and it had a really calming effect. By now it was almost 3:00am in the morning and I was extremely exhausted, so I went back to my seat and decided to get some rest.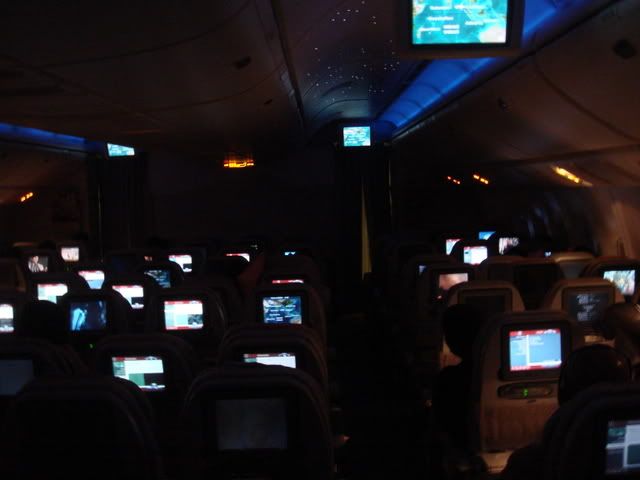 A view of the forward section of the Economy Class on EK343.
The beautiful mood lighting and 'stars' on the ceiling.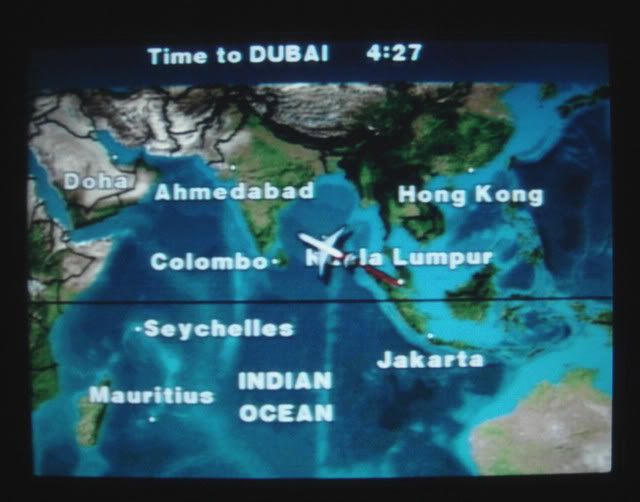 The position of EK343 just before I fell asleep.
Even though the old Business Class seats were comfortable to sit in, they were less than ideal for sleeping. While the seat pitch and width were average, when the seat was fully reclined it was far from resembling a flat bed. It reminded me of the Singapore Airlines regional Business Class seats, which is a pity considering that this was a six and a half hour flight.
Seat 1K and its rather poor recline.
I can only hope that Emirates will upgrade these outdated seats in the near future. From the small IFE screens, to the average pitch, to the terrible recline, there really was much room for improvement as far as the seats were concerned. I was not impressed, but at 3:00am in the morning, none of these things mattered to me anymore. I was out like a light.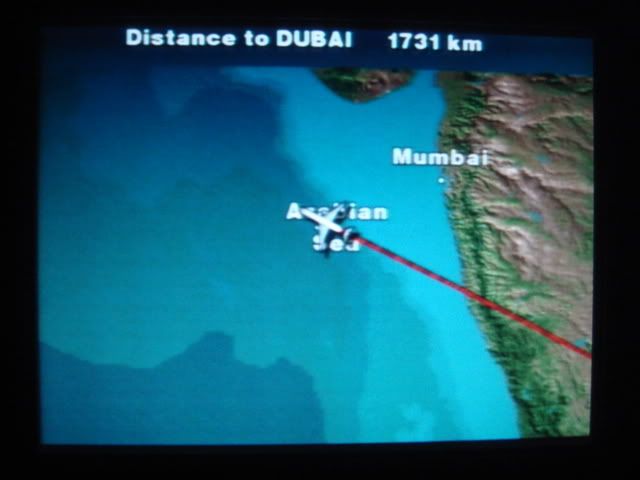 The position of EK343 when I was woken up about two hours later.
We were at 38000 feet with a little more than two hours to go until touchdown in Dubai, when an Australian stewardess gently woke me up for breakfast. Hot towels were then handed out and the passengers were asked what they wanted to eat; I ordered the Swiss Cheese Omelette.
Soon after I was served a tray with some pastry, fruits, yogurt and orange juice [thank god no more guava (see Part I of the trip report)]. I was surprised that Emirates was using trays in Business Class, because it seemed rather cheap and oversimplified. I guess this is far easier for the crew, but I very much prefer when the food is served on separate plates.
My breakfast tray with some pastry, yogurt, fruit, orange juice and water.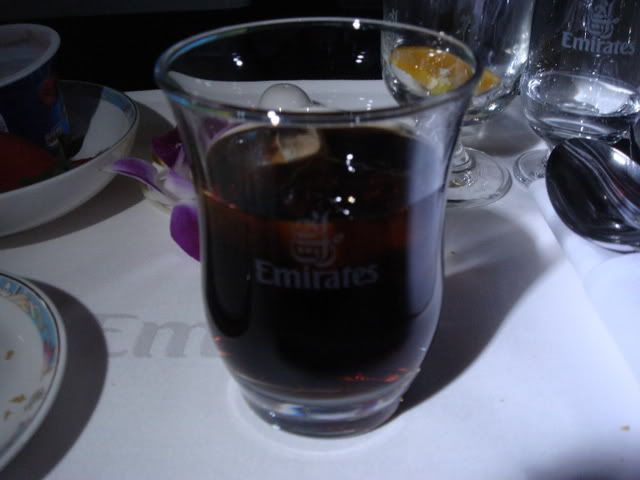 My vain attempt to keep myself away: more Coke Light.
It was not long before my Swiss Cheese Omelette was served. The Omelette itself tasted rather good, but Roesti potatoes reminded me of wet sandpaper and the vegetables were too cold. However, by now I was so full from the lounge and the savory snack that it did not really matter to me anymore. Overall, the breakfast was very forgettable and rather poor, especially when compared to some of the other food I had had before.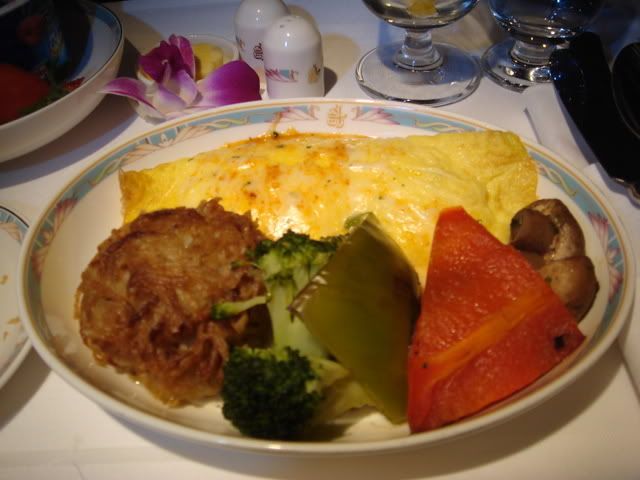 My Swiss cheese Omelette main course.
Once again, I also have a picture of the Economy Class breakfast for comparison. It turns out they also had the Swiss cheese Omelette. It was just not presented as nicely.
The breakfast in Economy Class on EK343.
After breakfast, I went to the bathroom and I was upset that it did not have a view. I guess you have to fly on an A340-500 for that. I then had a lengthy conversation with some of the crew in the galley as I was passing though. Overall, the crew on EK343 was far from unmotivated and unfriendly as I have read in so many other reports. They were very open, welcoming, professional and always smiling. Only the lead steward seemed a little distant and he was constantly walking around with some laptop in his hand, but the other flight attendants were unexpectedly first-rate.
I asked the stewardesses if they were happy with their jobs and what they wanted to do in the future. They actually considered Dubai their home and were happy with the many opportunities that Emirates offered. However, they were dreading the massive A380 and its enormous capacity. I think that they enjoyed the little 42 seat Business Class cabin on the 777-300ER far more. The crew was also very interested in my future and I think I spent about half an hour chatting with them about various issues. With about an hour to go, I returned to my seat and tried to rest a little more before arrival in Dubai.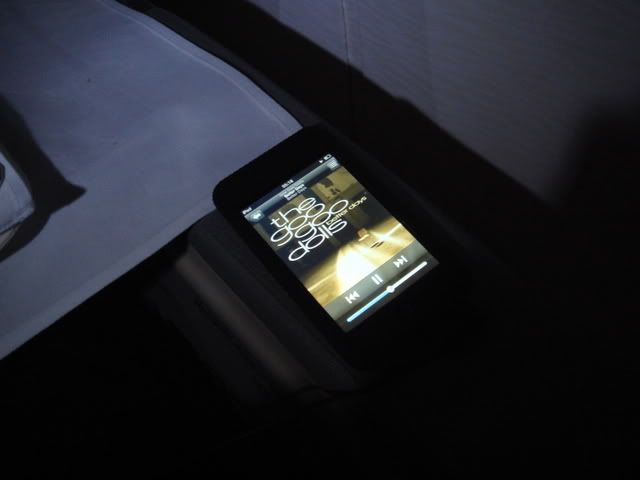 My constant travel companion: the iPod.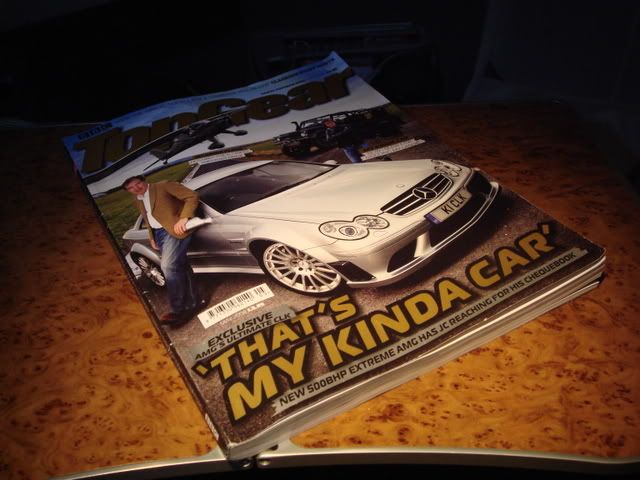 There were numerous magazines available onboard. I could not resist the latest edition of Top Gear.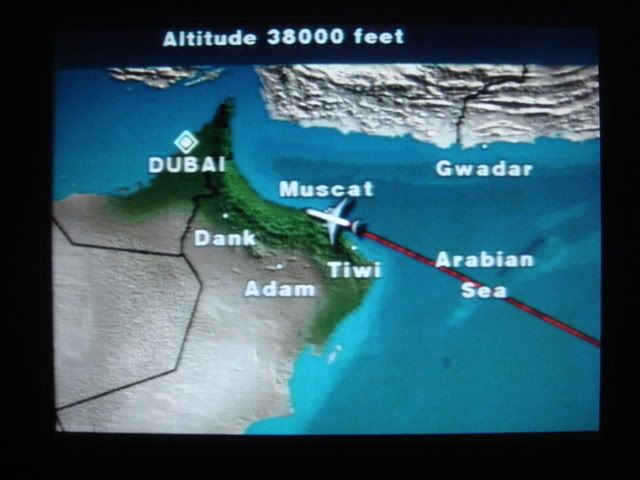 Errr… has anyone got some parachutes for me and my luggage...?? I wonder as I flew directly over my final destination.
With about 20 minutes to go until Dubai, we started our descent. It was obviously still dark outside and this made picture taking very difficult.
A view of the Business Class cabin as we started our descent.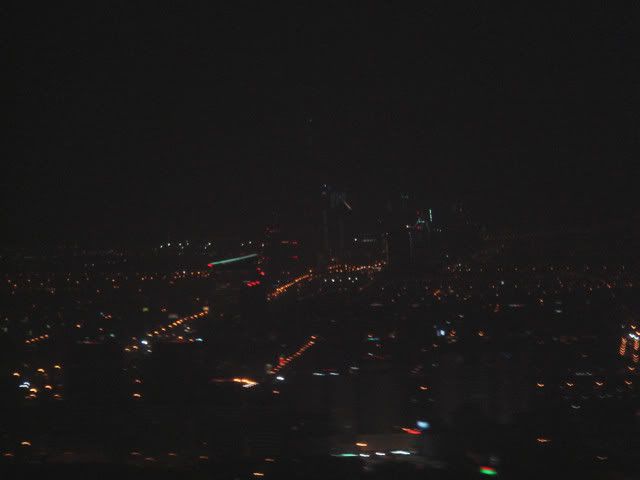 A view of the Dubai skyline in the distance as we descended into DXB.
At 03:25 Dubai time, 25 minutes before scheduled arrival, EK343 made a very soft landing on runway 12L at DXB. Astonishingly, we then proceeded to taxi to a Jetway and not a remote stand! This has never happened to me in DXB before and I was shocked that there was a place for us, even though the new Terminal 3 was not open yet.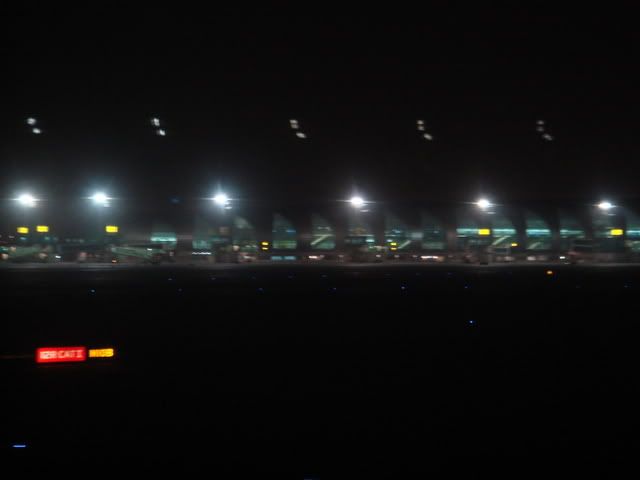 The massive DXB terminal as we rolled off runway 12L.
Another Emirates 777-300ER with a Malaysian Airlines A330-300 which was also from KUL.
Disembarkation occurred very quickly due to the Jetway and I was in the terminal building at 03:32, still 18 minutes early. As I left the aircraft, I thanked the crew for their excellent service and they wished me all the best for the future. I guess I was very lucky with the flight attendants I had on EK343: they really did a fantastic job in general.
Arrival Airport
With about five hours to burn, I decided to go and explore the lounges and terminal at DXB, but more of this, as well as my final flight from DXB to MCT, will be covered in Part III of this report.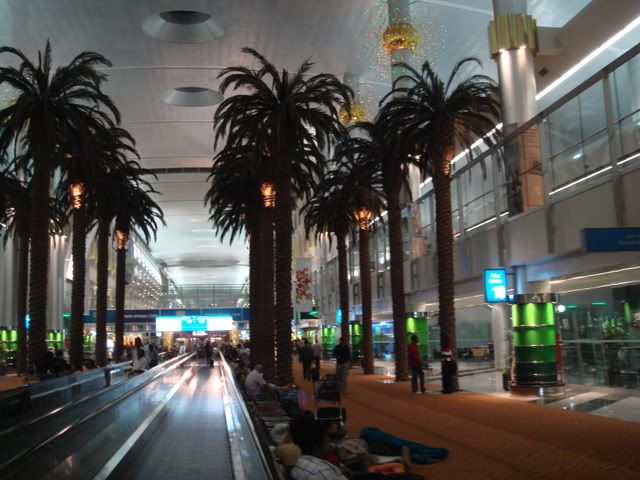 The endless moving walkways at DXB.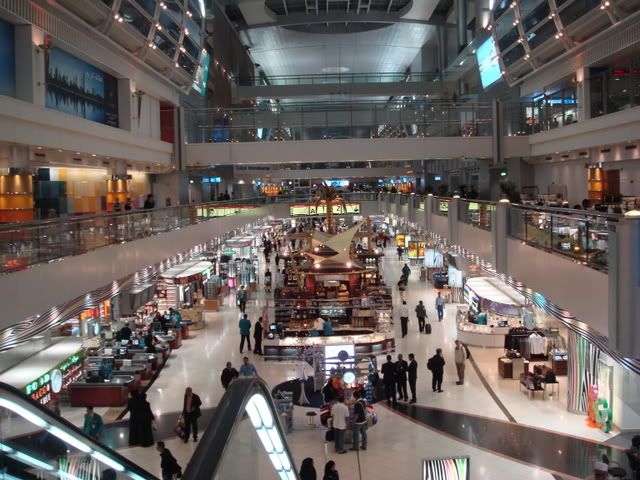 Shopping anyone? The big duty-free area at Dubai Airport.
Overall Impression
The service that Emirates provided on EK343 was a mixed bag. While the lounge in Kuala Lumpur and the amenity kit blew my socks off, the poor seats and small IFE screen were a disappointment. I am happy to say that the crew I had on the flight made my experience all the better and I want to congratulate them on their excellent service. I guess you never know what kind of crew you get with Emirates these days, but the crew I had really made me feel like I was travelling on a world class airline in Business Class. Would I fly Emirates on this route again? Based on this trip on EK343: definitely. I only wish that they would update their cabins to the new Business Class, because this would greatly improve their product as a whole. Nonetheless, I can honestly say that I enjoyed my flight between KUL and DXB with Emirates far more than I ever expected I would.
(2.0) Booking: 9.0
(1.0) Check-in: 8.0
(1.0) Airline Airport Facilities: 10.0
(0.5) Boarding: 7.5
(2.0) Seat: 4.0
(1.0) Entertainment System: 8.0
(2.0) Crew: 9.0
(2.0) Food and Drink: 6.5
(0.5) Amenity kits and other freebies: 9.0
(0.5) Arrival: 9.0
(1.0) On-time performance: 10.0
Overall weighted score: 7.83
Thank you for taking the time to read this second part of the report and I hope you have enjoyed the trip from KUL to DXB. As always, any comments and opinions are welcome and much appreciated. Part III, from DXB to MCT, will follow within the next few days.
Best regards,
Globetraveller