The Dornier 228 is a type of aircraft that was still missing in my log. But as I found it an interesting aircraft to fly on and there are three daily flights from my home airport Stuttgart (STR) to Dortmund (DTM) operated by the regional airline LGW (Luftfahrtgesellschaft Walter) with Dornier 228 aircraft, I decided to book a day-trip in order to finally log this bird.
LGW with home-base at Dortmund operates a fleet consisting of six Do 228-aircraft. In 2007 the company was taken over by Air Berlin, and since then all LGW-flights are sold via Air Berlin, but still with LGW flight number. If you visit the web-page
www.lgw.de
, you are re-directed to the Air Berlin site. So I visited the Air Berlin web page and booked a day-trip STR-DTM-STR for 22 May. I booked the morning flight out of STR, leaving at 8:05, and the return flight from DTM at 16:40. But as 22 May was a public holiday in most parts of Germany ("Fronleichnam", The Feast of Corpus Christi), LGW /Air Berlin reduced the flights on this date from three to two in each direction. So one month before my trip I received an E-Mail from Air Berlin saying that my flight times had changed. The outbound flight would operate three hours later while the time of the return flight would stay the same. So my time at DTM was reduced from 7.5 hours to 4.5 hours. No big deal for me, as the flight was the most important reason for this trip for me, but maybe not the best solution for someone who had really intended to spend the day in Dortmund.
Thursday, 22 May 2008
Stuttgart (STR) – Dortmund (DTM)
Airline: LGW Luftfahrtgesellschaft Walter
Flight number: LGW-Luftfahrtgesellschaft Walter (Germany)">HE 6101
Scheduled departure time: 11:00
Scheduled arrival time: 12:05
Type of aircraft: Dornier 228-200
Registration: D-ILWS
This aircraft is the second ever built Dornier 228, construction number 8002. It was built in 1982 and delivered to Malaysia Air Charter as 9M-AXB. In 1989, Malaysia Air Charter ceased operations and the aircraft was stored for six years. In 1994 it was bought back by Dornier and delivered to APS Vinther Aircraft Sales in Denmark with the registration OY-CHJ. Only one year later, in 1995, it was returned to Dornier and sold to LGW with the registration D-ILWS. Since then the aircraft is flying on the domestic network of LGW.
I arrived at Stuttgart Airport by train. Check-in for Air Berlin is done in Terminal 3: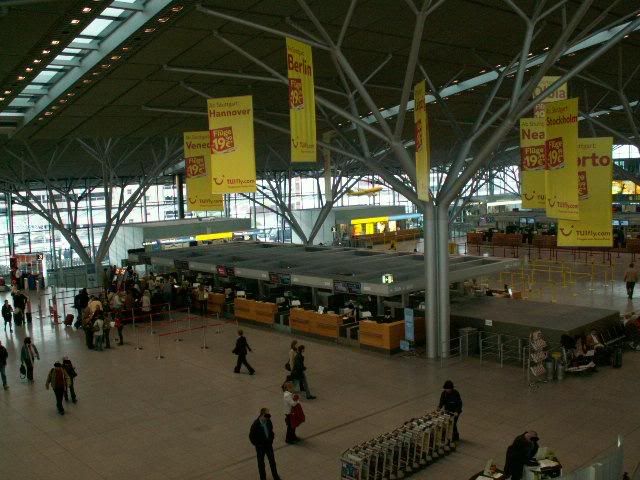 Air Berlin offers a separate check-in counter for "hand luggage only" at STR. There was no waiting time at all; no passengers in front of me, so I decided to check in at the counter rather than use a check-in machine. A friendly male agent from our local handling company Stuttgart Ground Service checked me in. He asked me if I would like to check in for the return flight as well, and I said yes. Then he asked me if I had any seating preferences. I replied that I always prefer window seats but as there are only window seats on the Do 228, I didn't care. So I got seat number 7A for STR-DTM and seat number 3A for the return flight: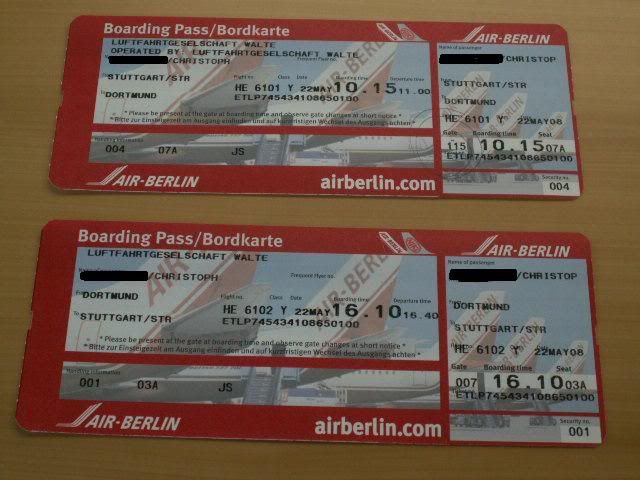 The boarding time printed on the boarding pass was 10:15 which was 45 minutes before departure, but the agent told me that boarding would start a bit later. 45 minutes seem to be Air Berlin standard at STR, but for a Do 228 it is definitely not necessary.
After spending some time on the viewing gallery, I passed security control and proceeded to gate number 115, a bus gate in Terminal 1. 20 minutes before departure time I watched the LGW aircraft landing; it arrived from DTM. Boarding started only 10 minutes later and a bus took all passengers to the aircraft. As it was a holiday, passengers weren't business travellers who are probably typical for that route, but rather leisure travellers. Some of them were really surprised about the small aircraft – most people probably don't expect that when booking Air Berlin.
The first officer was standing at the door, greeting the passengers and loading heavy hand luggage into the luggage compartment, as there are no flight attendants on these flights: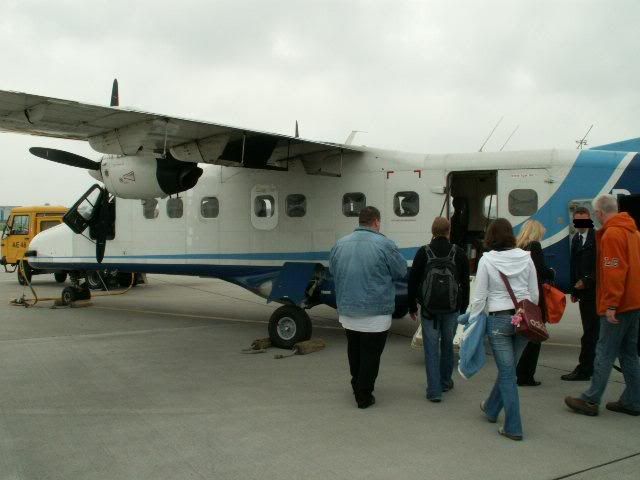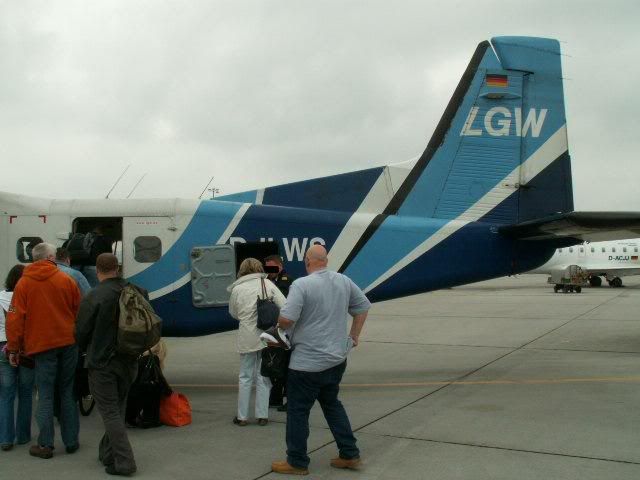 The cabin is quite comfortable for such a small plane, equipped with grey leather seats and direct view into the cockpit (picture was taken at DTM later that day):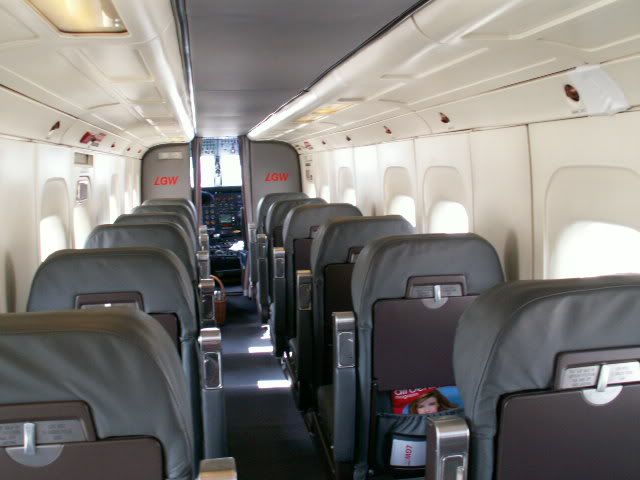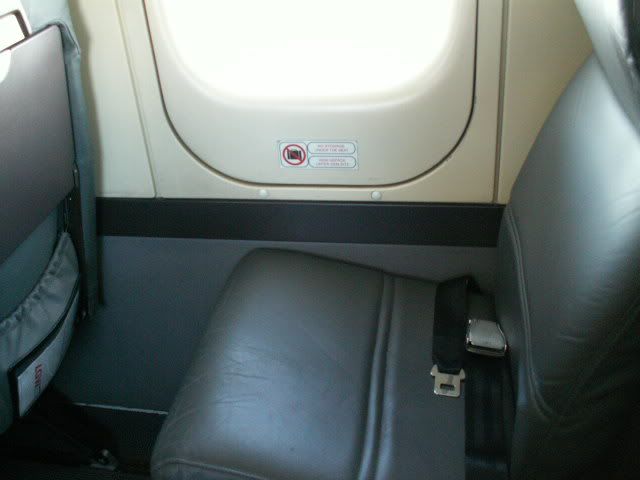 Bags with bread rolls and two baskets with coffee and water were placed near the door for self-service catering: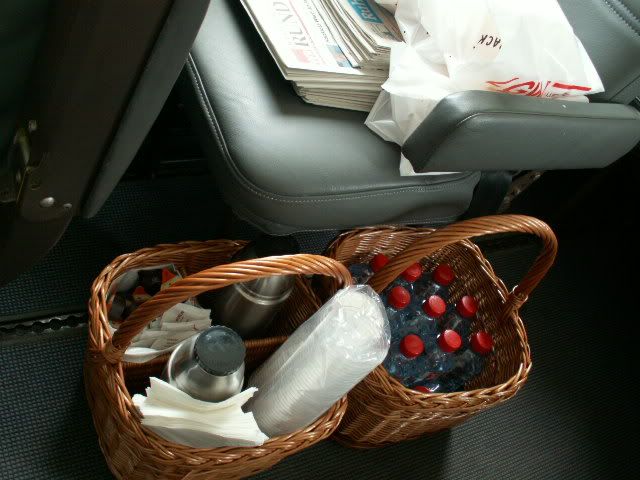 Besides, two different newspapers were available, the "Westfälische Rundschau" and the "Ruhr Nachrichten". Both are local newspapers from Dortmund, so LGW still has kept some local patriotism, despite the take-over by Air Berlin.
There were 9 passengers on board of this flight which was a load factor of 47%. The captain made a short welcome announcement (in German language only). There was no safety demonstration, which is probably not needed on these small aircraft. As the Do 228 doesn't have a pressurised cabin, there are no oxygen masks. Live vests were available under every seat, but they are definitely not needed on that route, so no need to demonstrate their use.
At around 11:00 we were ready to depart. However, the captain put his head into the cabin, saying "Wir kommen hier nicht vom Hof, der Anlasser fehlt. Tut und leid" (translation: We can't get off here as the ramp agent is still missing. Sorry for that). 11:00 am is a busy time at STR, so I guess the ramp agents have several flights to handle at the same time. About five minutes later, the ramp agent arrived and we were able to leave. We taxied to runway 07. After a Delta B 767 to Atlanta it was our turn to take off in eastern direction.
Condor B 757-300: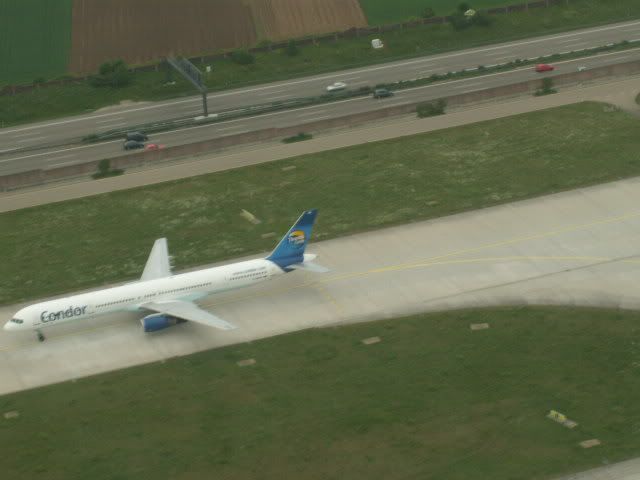 End of the taxiways leading to the runway: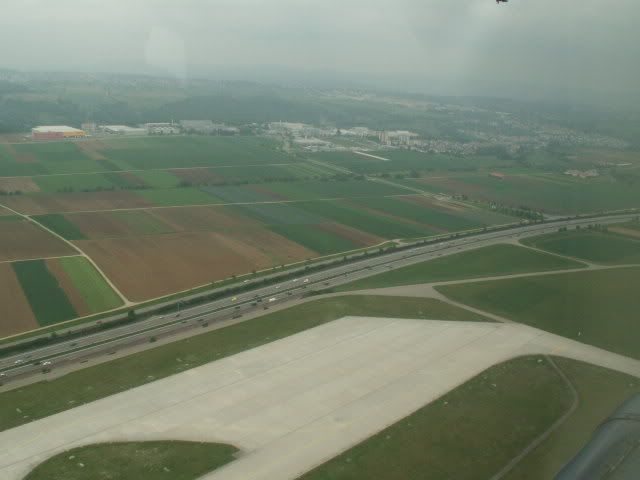 The town of Ostfildern: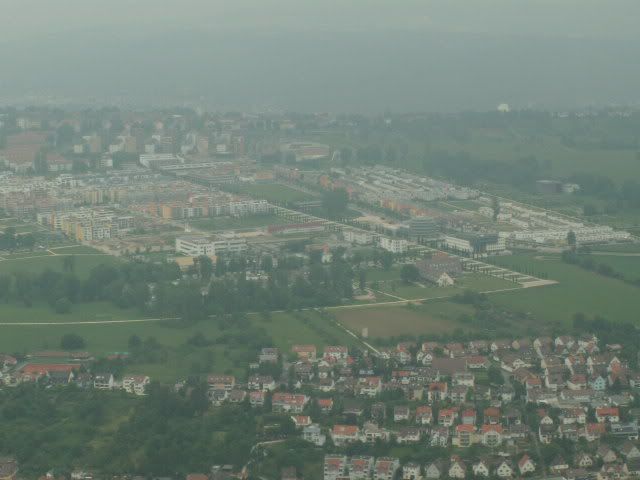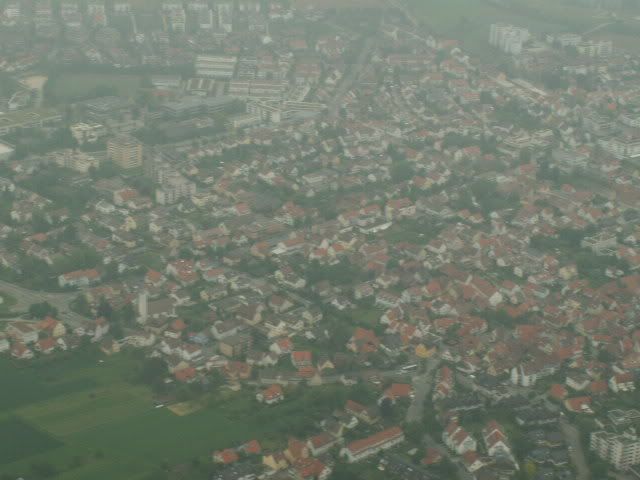 Unfortunately, it was clouded in Southern Germany on that day, so although the Do 228 can't go higher than 9,000 feet (3,000 metres) due to the missing pressurised cabin, as the captain explained, there wasn't much to see outside. So I decided to eat my lunch consisting of two bagels, one with cheese, and one with cold meats: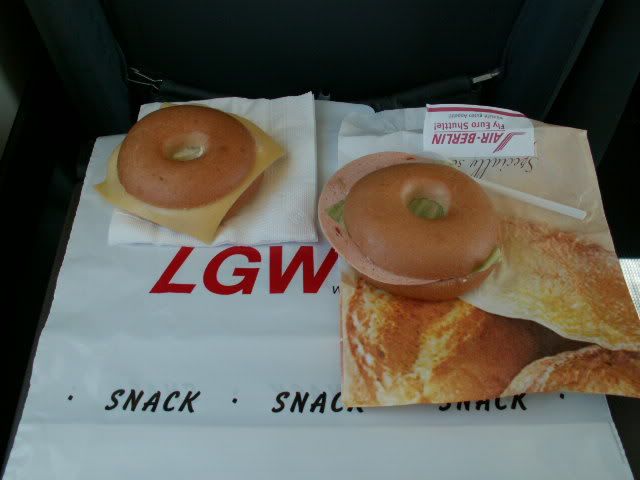 Catering was quite good for such a short flight, nothing to complain about. An in-flight cabin picture: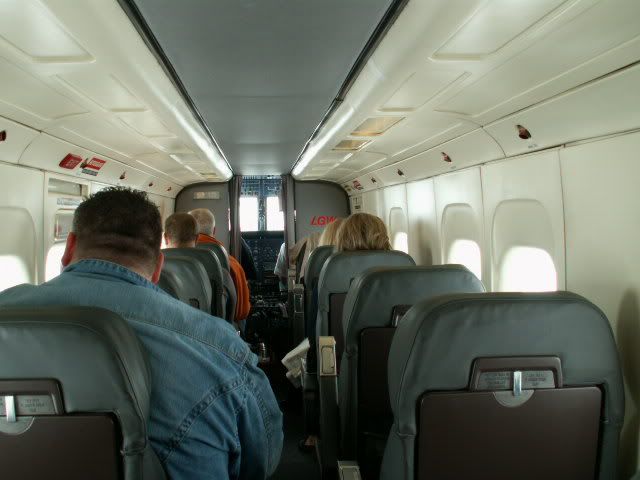 Luckily the clouds disappeared when we came further north, so looking out of the large windows and watching the landscape below passing by was quite enjoyable: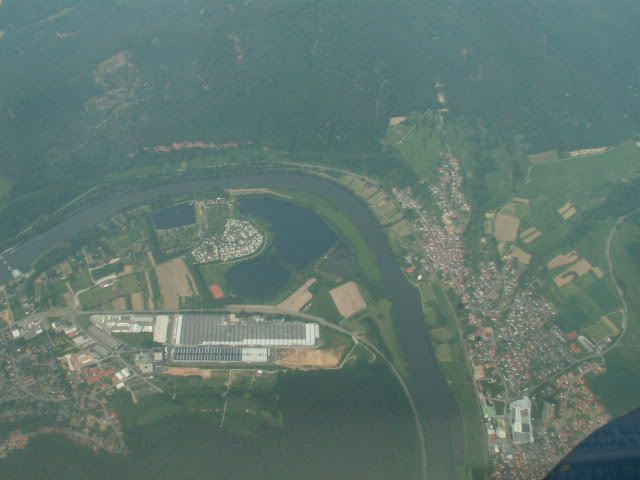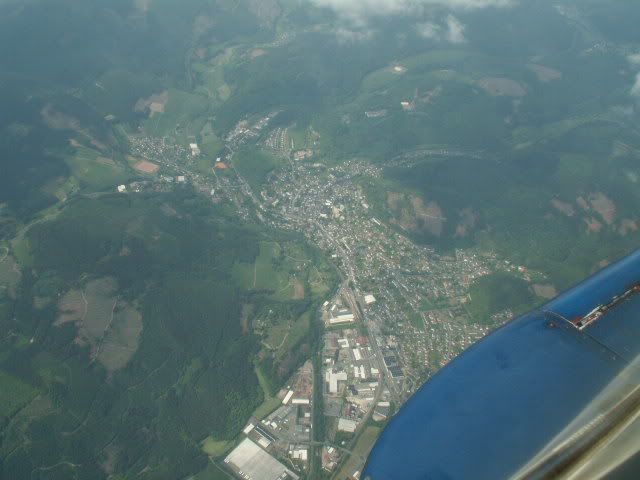 A water reservoir: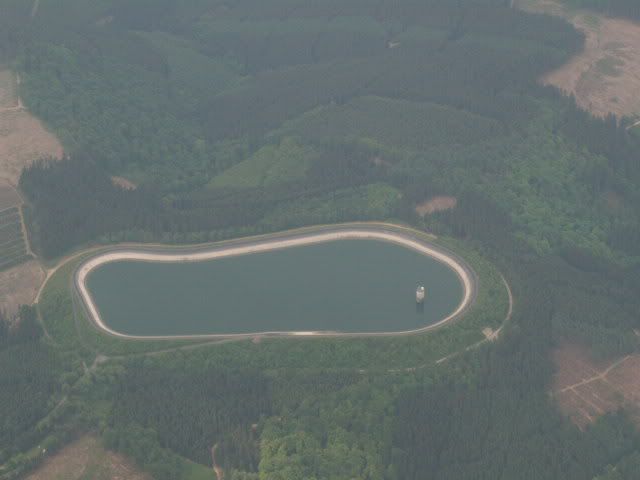 A small airfield: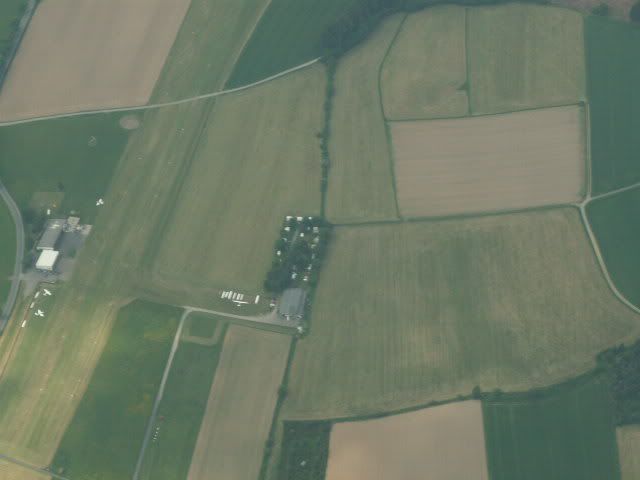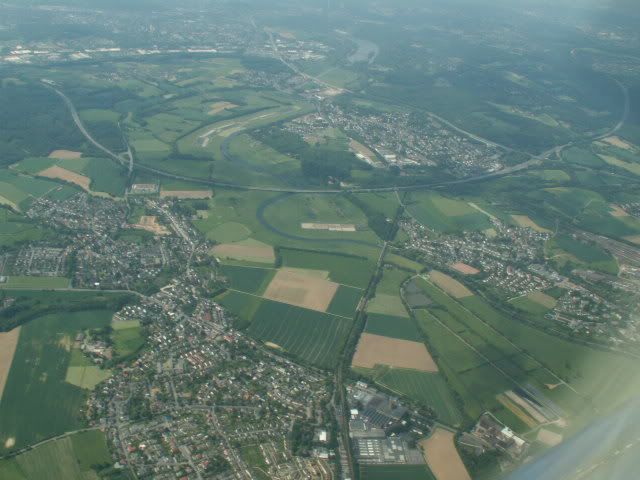 A cargo train station: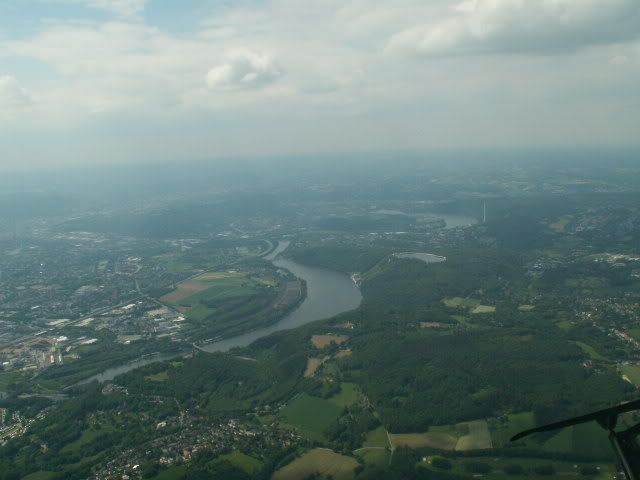 After a flight time of about one hour, we were reaching Dortmund.
"Signal Iduna Park", the stadium of the local soccer team "Borussia Dortmund":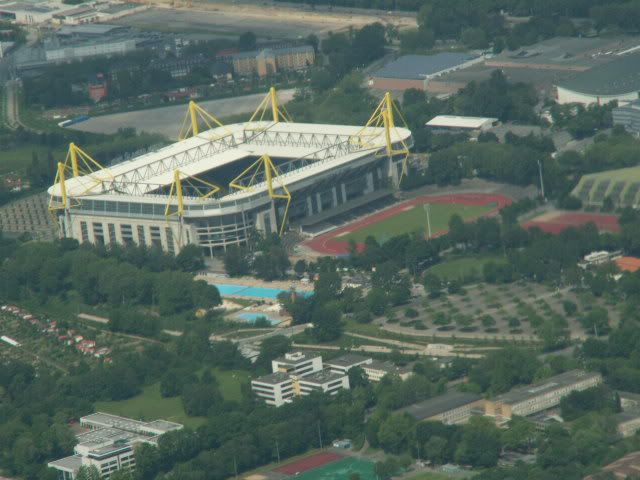 An old mine: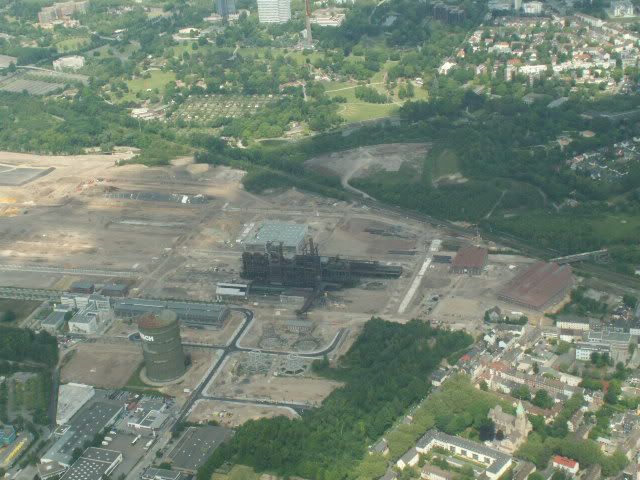 Approaching DTM: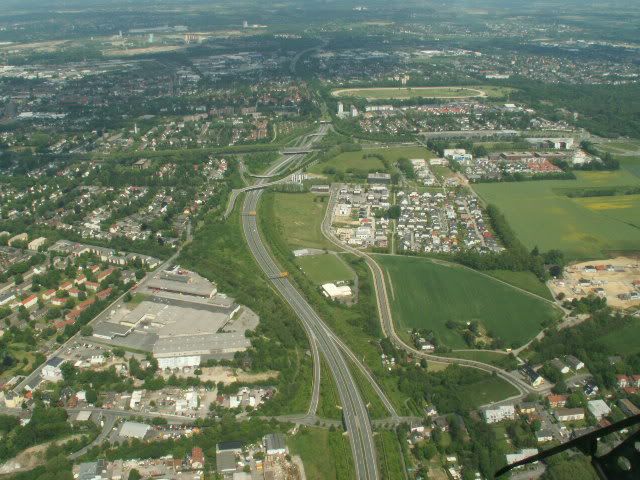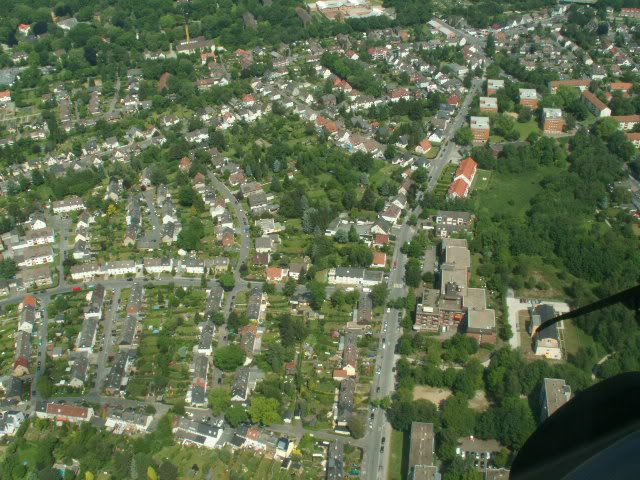 We touched down on runway 06 and taxied to a parking position in front of the terminal. We were on-block at 12:25 which was 20 minutes behind schedule. This resulted from our late departure from STR due to the missing ramp agent and from the fact that the flight time was a bit longer due to the weather. The first officer walked through the cabin to the back and opened the door, and then the passengers were able to leave the aircraft as well and collect their hand luggage: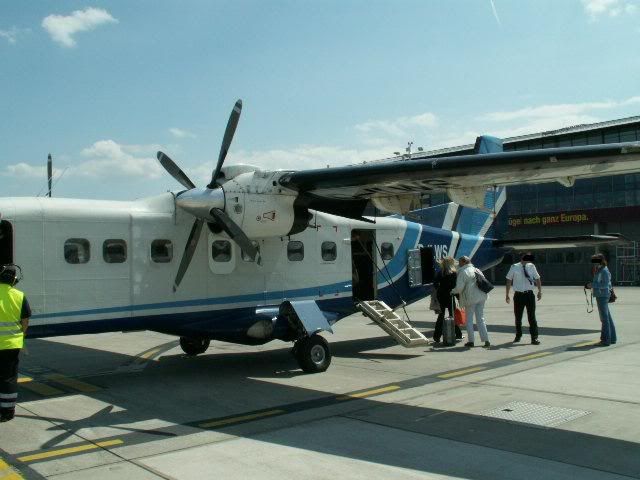 When all passengers had left, the first officer was doing a propeller check: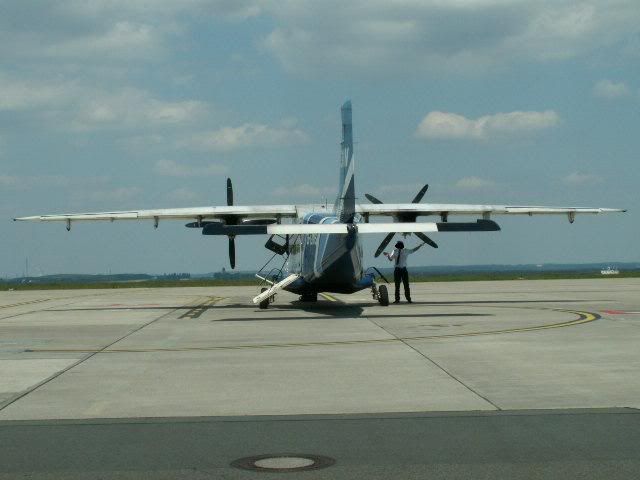 Passengers walked the short distance to the terminal building. Our aircraft soon drove off to the LGW hangar as its next flight would be the flight to Stuttgart in the afternoon.
The weather at Dortmund was nice. I decided to spend the time until the departure of my return flight at and around the airport, for example on the nice viewing gallery.
Dortmund Airport: the departure area: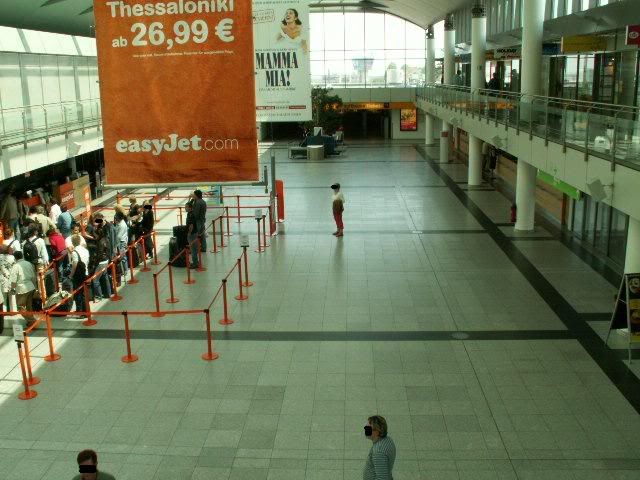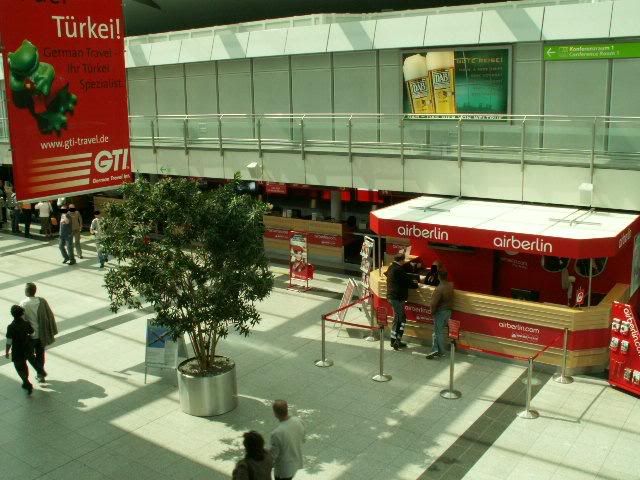 Thursday, 22 May 2008
Dortmund (DTM) – Stuttgart (STR)
Airline: LGW Luftfahrtgesellschaft Walter
Flight number: LGW-Luftfahrtgesellschaft Walter (Germany)">HE 6102
Scheduled departure time: 16:40
Scheduled arrival time: 17:45
Type of aircraft: Dornier 228-200
Registration: D-ILWS
About one hour before my return flight I passed security control and entered the gate area. The different sectors are painted in the colours of the airlines that are handled there. Guess who is using this area: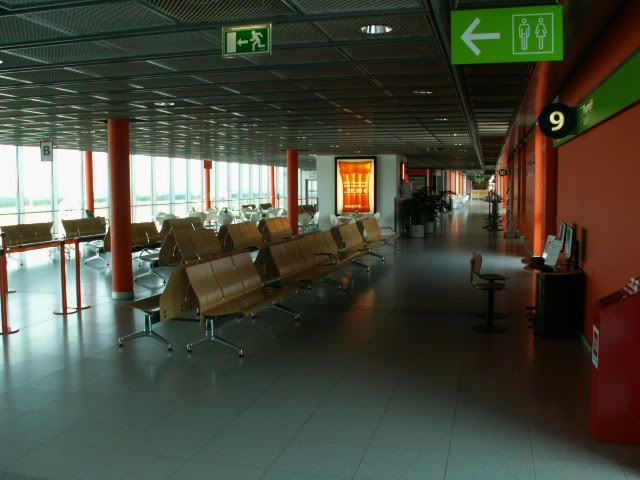 As there isn't an "LGW-area", the flight to STR departed from the "Germanwings-area", gate number 7. At DTM, all aircraft are parked with their back facing the terminal building, that's why the pushback-trucks are used to push the aircraft into the parking positions instead of out: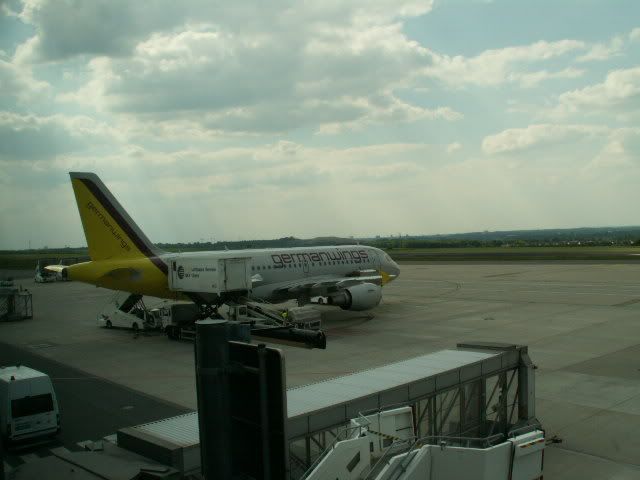 About 20 minutes before scheduled departure time, our Do 228 was pulled by a truck to a parking position in front of the terminal building. It was the same aircraft as on STR-DTM in the morning: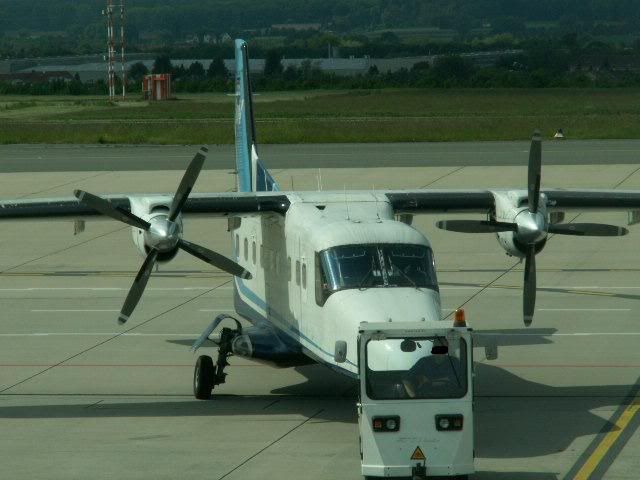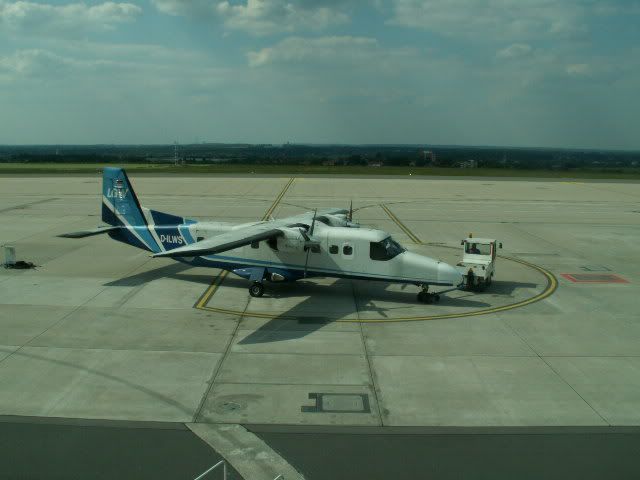 Boarding started shortly after, and passengers walked the short distance to the aircraft. Boarding D-ILWS again: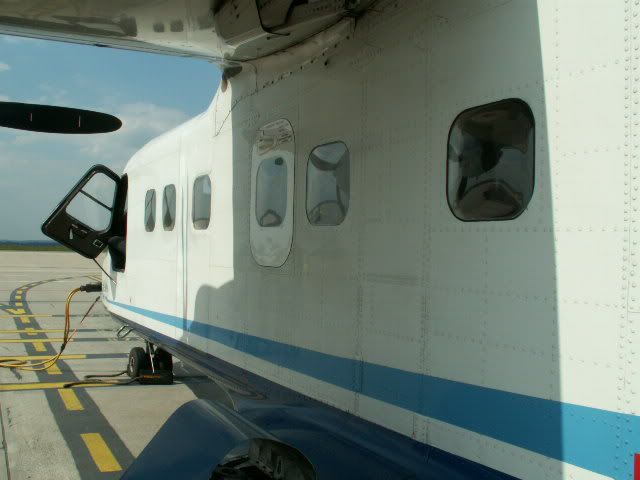 The same flight crew as on the outbound flight in the morning greeted us. This time I was sitting further in the front, on seat number 3A, with a good view to the cockpit. Catering was the same as in the morning. This time there were 7 passengers on board which was a load factor of 37%.
Only five minutes after boarding we were off-block, taxied to runway 06 and took off without any waiting time: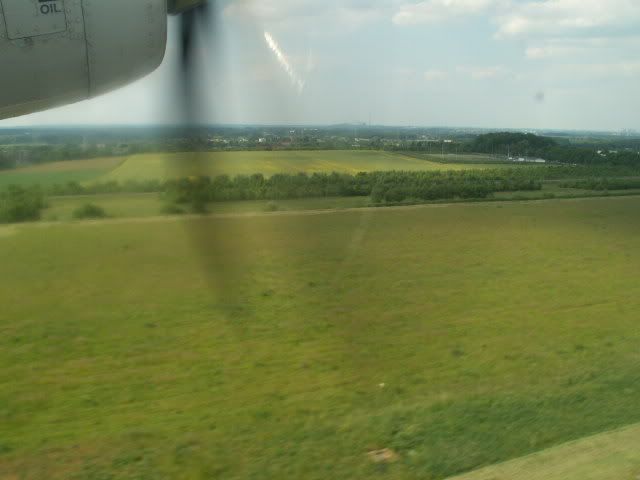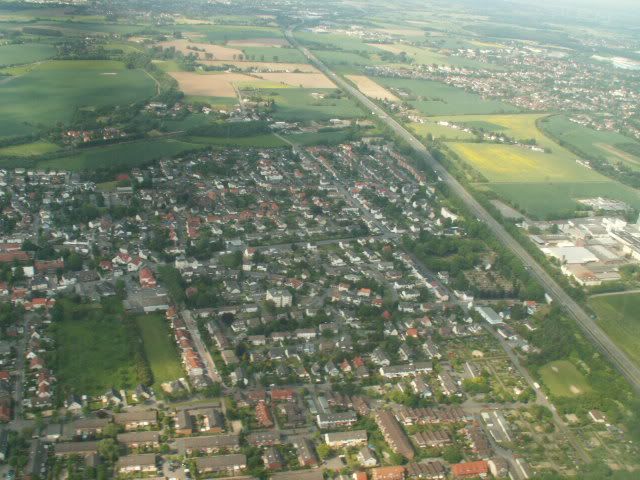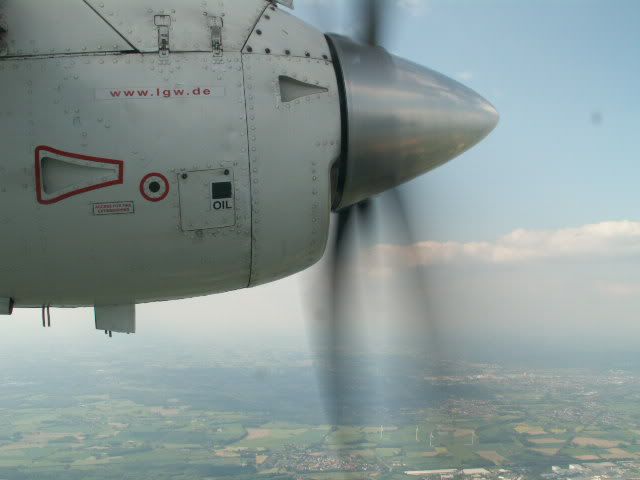 A Watergate:
Cockpit view: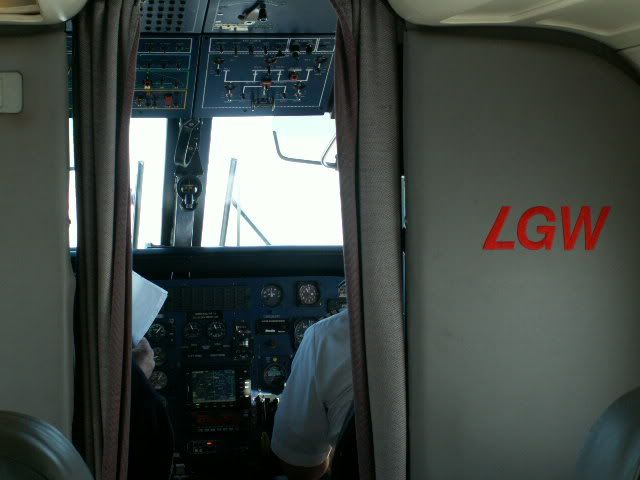 Some impressions from the flight route: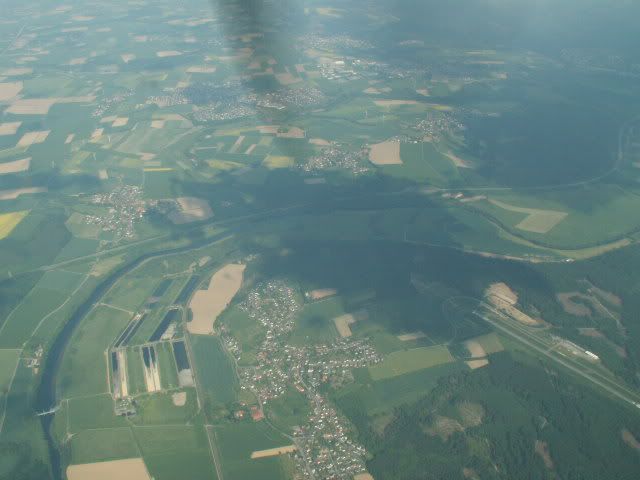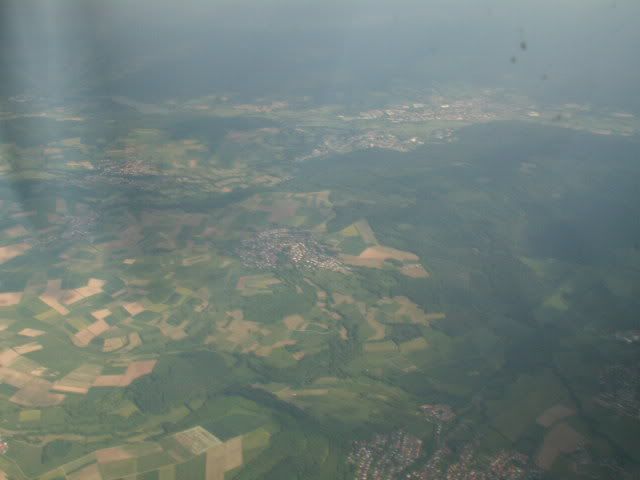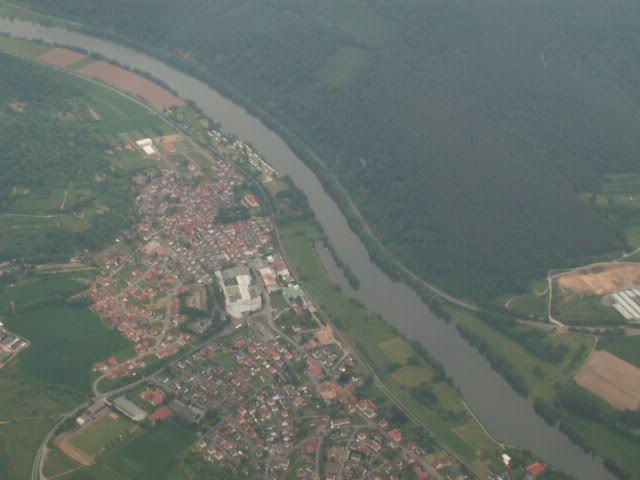 During flight, the captain turned around into the cabin and asked passengers to pass the coffee basket to the cockpit. It was handed through the cabin from the back to the front.
A stone pit: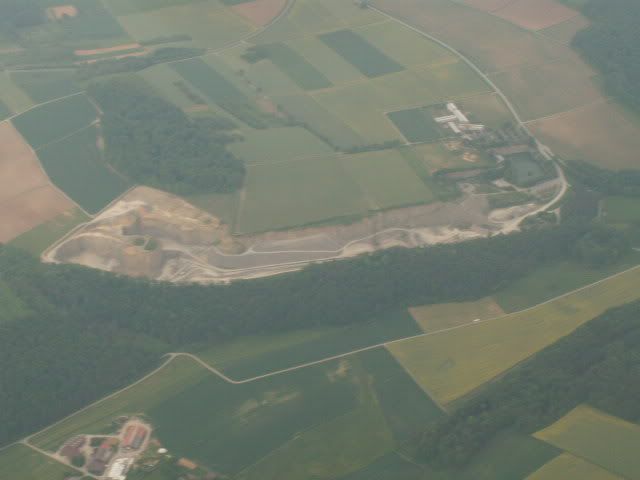 Back in the Southwest of Germany: the town of Leonberg near Stuttgart: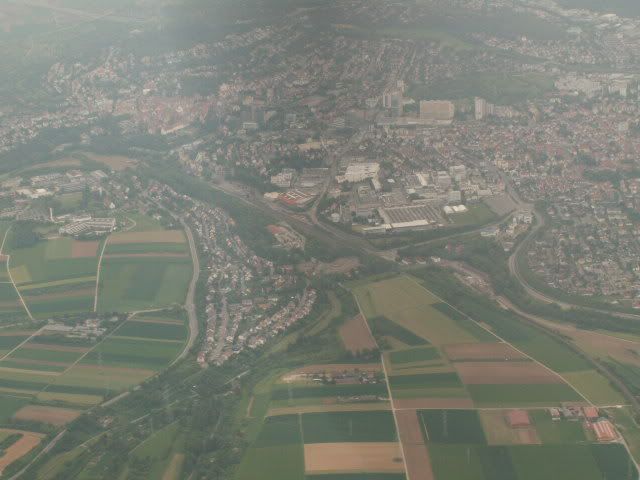 Motorway service area "Sindelfinger Wald":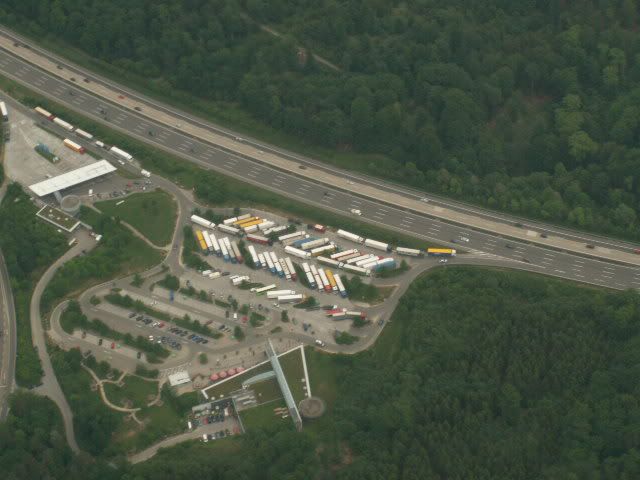 As the Dornier 228 is much slower than other aircraft, we didn't use the usual routing into STR. Instead, we entered the normal approach route as late as possible in order to avoid slowing down other traffic. So the views were a bit different from other flights. I enjoyed the slow approach that offered various options for photographs.
Stuttgart-Vaihingen:
The "Seven Mills Village" ("Siebenmühlental"):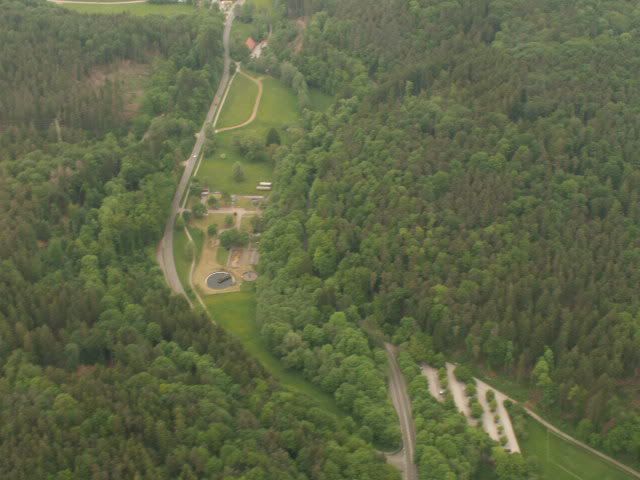 "Waidacher Hoehe":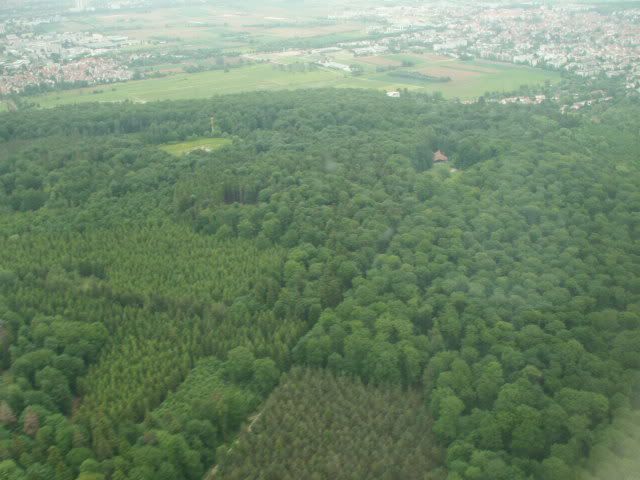 The town of Echterdingen: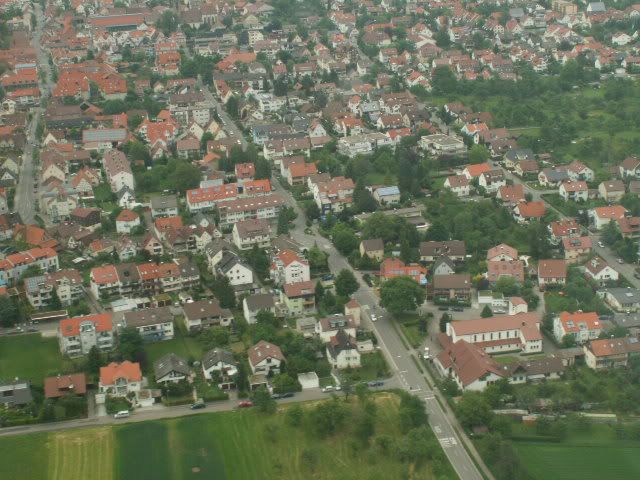 Reaching Stuttgart Airport again, with the exhibition centre: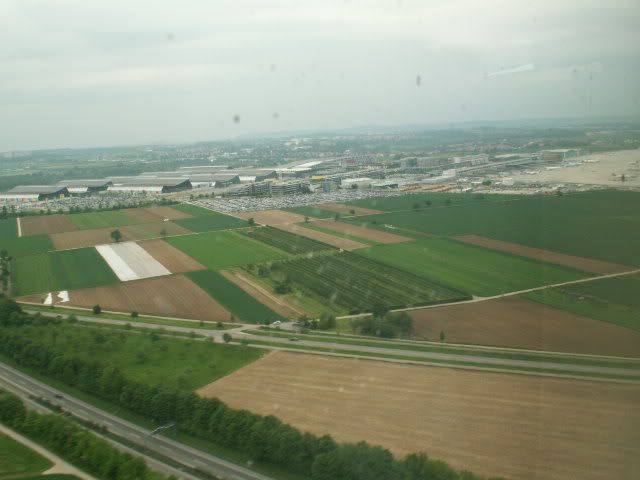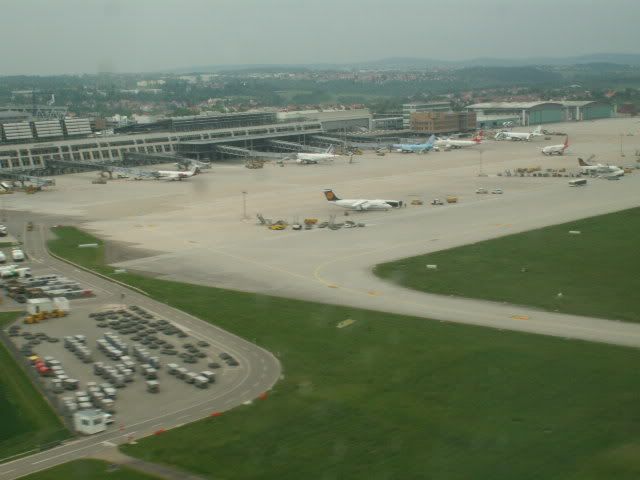 We touched down on runway 07 and taxied to a parking position on the apron. The first officer opened the door and all passengers left the aircraft: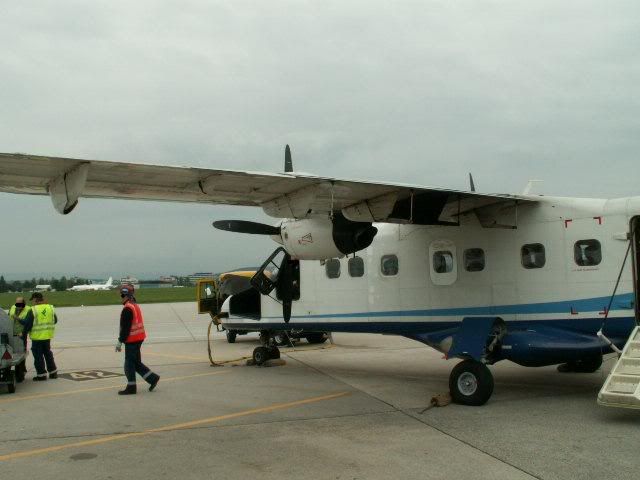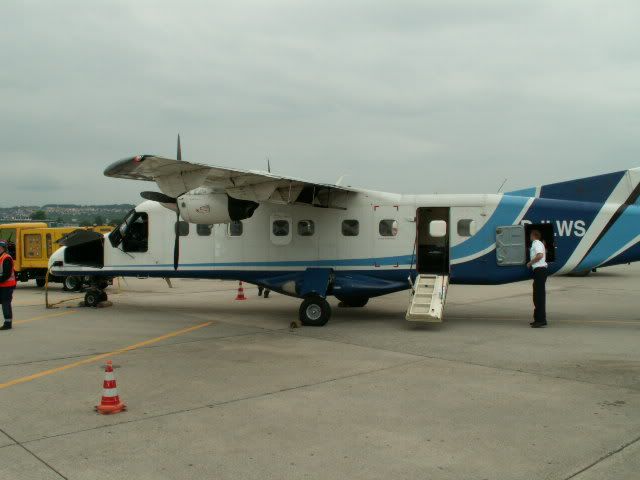 A bus took everybody to the arrivals facilities of Terminal 3. I climbed up to the viewing deck where I could watch D-ILWS being prepared for its flight back to DTM: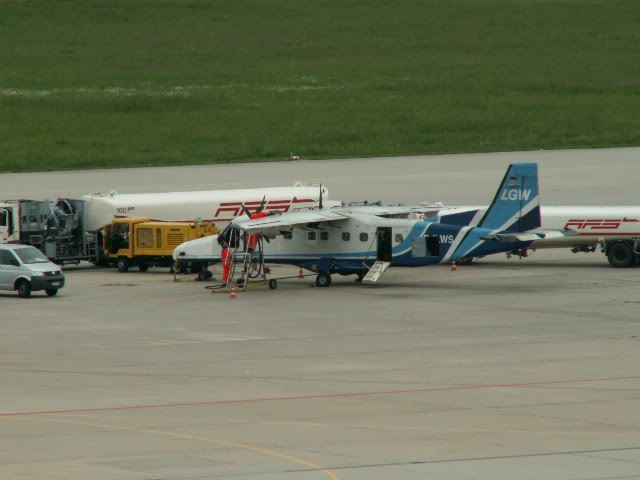 Only 15 minutes after arrival, the Do 228 was on its way to the runway again: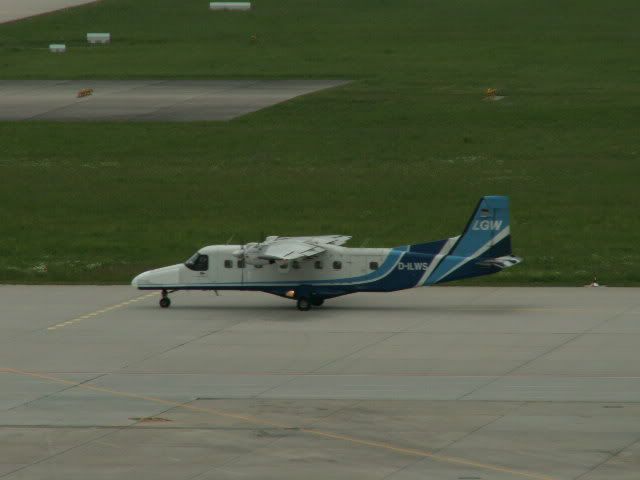 I guess only Ryanair can perform better turn-around times
Conclusion:
Flying the Dornier 228 was a really pleasant experience and much different from travelling on a Boeing or Airbus aircraft. It is still much more "real flying", with direct views to the cockpit and the slow travelling in low altitudes. The atmosphere on these small planes is relaxed. For me it was really something special.
Thanks for reading this report. Questions and comments are always appreciated.
Regards
Christoph