Penang International (PEN) to Seeb International (MCT) via Kuala Lumpur International (KUL) and Dubai International (DXB)
Part III
Hello and welcome to my detailed trip report about my rather complicated journey from Penang, Malaysia to Muscat, Oman. Three flights in 24 hours, with two airlines in two classes; this trip report reviews each part of this journey in a distinct format. Each flight will be divided into 'General Flight Overview', 'Departure Airport', 'Aircraft', 'Flight', 'Arrival Airport' and 'Overall impression' sections and a final score will be given at the end. More than 100 pictures should also help to convey the things I describe more vividly than my words ever could. So please, grab a cup of coffee and indulge.
This is the final part of this report, Part III, featuring the flight from DXB to MCT with Emirates. The first part of the trip report was from PEN to KUL and it can be found
here
. The second part of the trip report, from KUL to DXB, can be viewed
here
.
Introduction
I currently live in Penang and I wanted to fly to Muscat to see some good friends of mine for a short holiday. As the map below shows, this is more easily said than done. A non-stop flight between PEN and MCT would be a little more than 3000 miles and would probably take about five hours. However, no such flight exists, so the only solution is to fly through hubs in order to reach the destination. I decided that KUL and DXB are probably the most sensible hubs to fly through, as they are closest to my departure and arrival cities respectively.
I also had to select which airlines to fly. To be honest, I am not a big fan of Air Asia and their LCCT in Kuala Lumpur. It is far away from the main airport terminals and the price is often only marginally below Malaysia Airlines. In addition the LCCT feels like a temporary thin aluminum construction site shack and not a terminal building. Since it is only a short hop from PEN to KUL, I decided to fly Malaysia Airlines Economy Class between the two cities. For the remainder of the journey my airline choice was clear, because I prefer Emirates over Malaysia Airlines between KUL and DXB, especially in Business Class. For the final leg between DXB and MCT, I also chose Emirates Business Class so that I could get lounge access during my four and a half hour layover in DXB. Overall, the journey I planned would be more than 3800 miles long.
General Flight Overview
Airline:
Emirates Airlines (EK)
Flight number:
EK 862
Origin:
Dubai International Airport (DXB)
Destination:
Seeb International Airport (MCT)
Distance:
217 miles
Scheduled departure time:
08:25
Scheduled flight time:
1 hour 00 minutes
Class of Travel:
Business Class
Seat:
6K
Aircraft:
A330-243
Registration:
A6-EAM
Departure Airport
Dubai International Airport (DXB) is one of the fastest growing airports, in terms of passenger numbers, in the world today. Its Terminal 1 building is bursting at the seams and it can barely cope with the rapid expansion of Emirates and Dubai. Terminal 3 was meant to be completed by the time I transited through the airport, but its opening was sadly delayed until August 2008. I was looking forward to the new Emirates Business Class lounges, but upon reflection, as I explored the airport I was not disappointed by the old lounges either.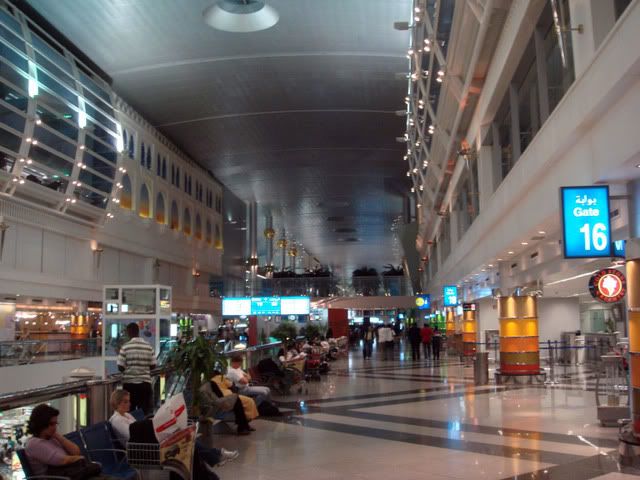 The colossal Terminal 1 at DXB with its high ceilings and extremely long walking distances.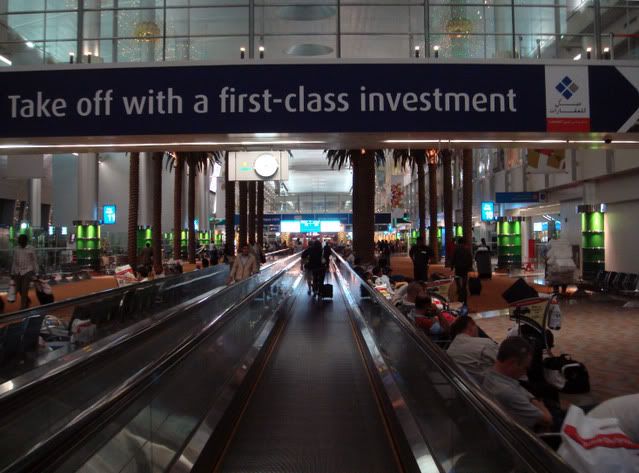 One of the many moving walkways at DXB.
The large duty free area is open and busy even at four in the morning.
After arriving on EK343 from KUL at 03:32, I had five hours to investigate what Terminal 1 had to offer. I ended up walking for many miles and visited three lounges, all of which were very different from each other.
The Marhaba Lounge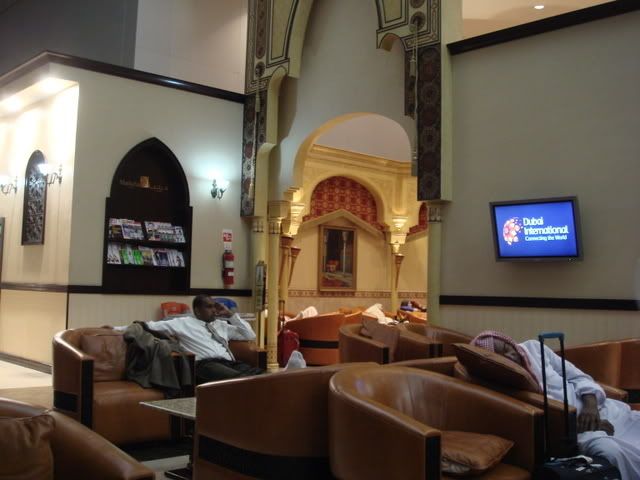 A view towards the entrance of the Marhaba lounge at DXB.
The Marhaba lounge is owned by Dnata, which is part of the Emirates Group. It can be accessed by passengers on any class of travel, no matter what airline they are using, for a fee of US$23. However, it is free for anyone holding a Platinum American Express credit card which has been issued in the Middle East. Some other credit cards also offer this service, as long as they are from the Middle East.
As I arrived at the entrance of the lounge, I showed my boarding pass, credit card and passport to the female Arabic agent at the front desk. She looked at me in a confused manner, because she did not understand why I had come to this lounge even though I was flying Emirates Business Class. She was also surprised that my credit card was issued in the Middle East, because it I am of German origin and I do not live in the Gulf either. It took the agent a while to toil through the necessary paperwork, but when she had finished she smiled at me and led me inside.
The seating area in the Marhaba lounge with large windows facing the tarmac.
I liked the Arabian influence in the design and layout of the lounge, as well as the rather comfortable brown leather seats. However, it did not feel very warm, exclusive or welcoming. The marble floor felt cold and the 10 meter high metal ceiling created an awkward open air atmosphere.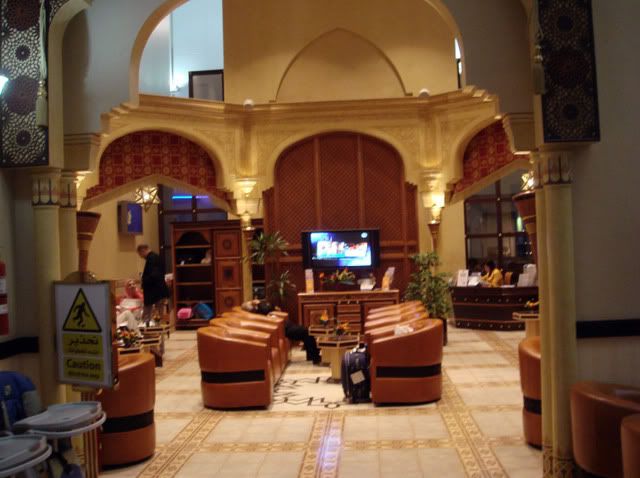 The Arabian influence can be seen in the design of the forward section of the lounge.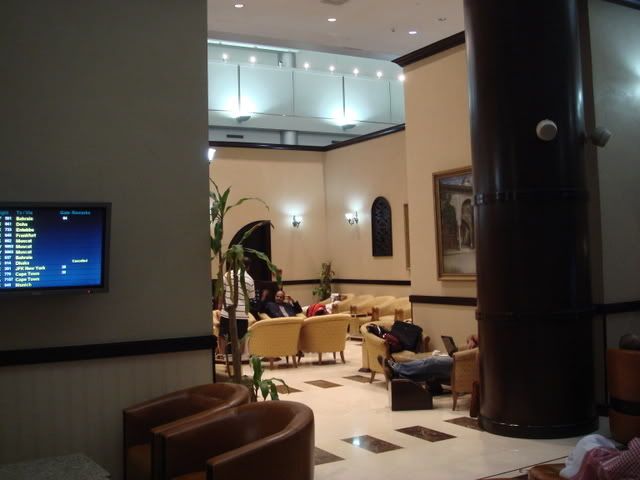 A more quiet section of the Marhaba lounge at DXB.
Internet and business services were also available, but I did not use these facilities. I liked the massive windows which faced an area where a large amount of aircraft movements took place and where many planes often touched down. They were very good for spotting.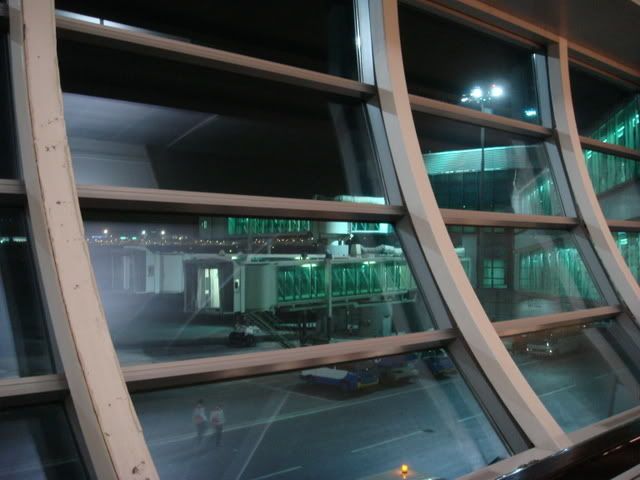 The view of an 'A380-ready' gate from the Marhaba lounge.
The food and beverage section of the Marhaba lounge.
The beverage section was well stocked with soft drinks and hard liquor, but the wine was rather poor quality and there was no champagne available. Similarly, the food section had several cold and warm dishes, but it was nothing to write home about. I did however like the spicy chicken, which was very tender and had a uniquely delicious taste.
Overall, the Marhaba Lounge was above average when compared to many Business Class lounges in Europe and America, but it could not compete with most of the lounges in South East Asia [such as the Emirates lounge in KUL (see
Part II
of trip report)]. Nonetheless, I think it is a worthwhile purchase for passengers who have very long transits.
The main Emirates Business Class Lounge
My Business Class lounge invitation for EK862 from DXB to MCT.
There are two Emirates Business Class lounges at DXB. The main lounge is an enormous two story complex near Gate 22, whereas the other lounge seems to be more of a temporary structure in order to provide additional capacity before Terminal 3 is opened in August 2008.
The entrance to the main Emirates Business Class lounge at DXB.
I decided to explore the main Emirates Business Class lounge first, as I had heard that this was by far the better of the two lounges. After seeing them both, I could not agree more. At the front desk, an Arabic Emirates agent asked for my boarding pass and lounge invitation. He was rather rude and when I asked if I could keep the invitation, he looked at me as if I had just committed some sort of crime. He told me in a somewhat sharp manner that it was for his records and told me to proceed inside. He really was not a pleasant individual – I was not impressed.
I had often heard that the Emirates Business Class lounges at DXB were overcrowded and uncomfortable, so I was expecting an old, crammed lounge - I could not have been more wrong. The absolutely massive lounge was completely deserted when I arrived, with maybe only about ten passengers relaxing inside.
A view across the empty first floor of the main Emirates Business Class lounge at DXB.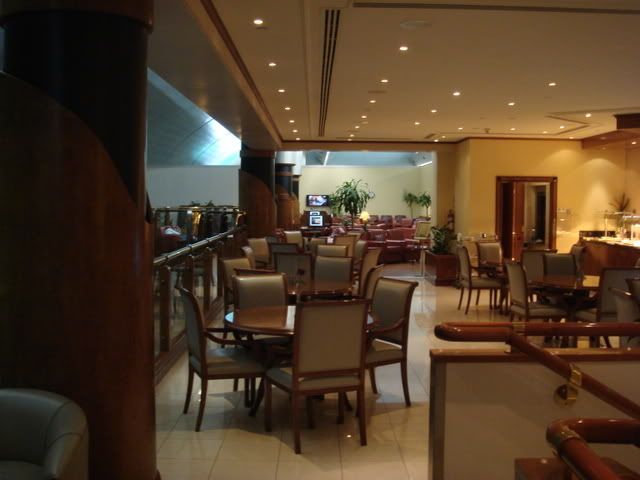 The deserted dining area on the second floor of the lounge.
Unlike the Marhaba lounge, the main Emirates Business Class lounge was very quiet and secluded. It felt much more welcoming and far more comfortable, even though the ceiling was just as high as in the Marhaba lounge. I also liked the two floor layout, because it felt very grand and unusual. It was almost like an executive terminal by itself, creating a private and serene atmosphere. The peaceful ambiance of the lounge was definitely a pleasant relief from the bustling Dubai Airport terminal.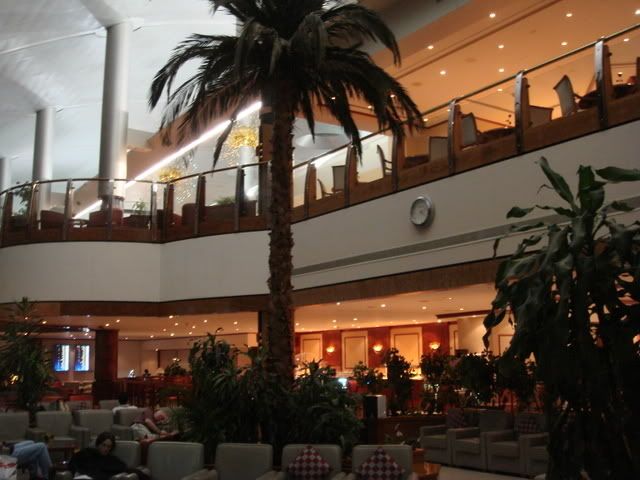 The two floors of the main Emirates Business Class lounge.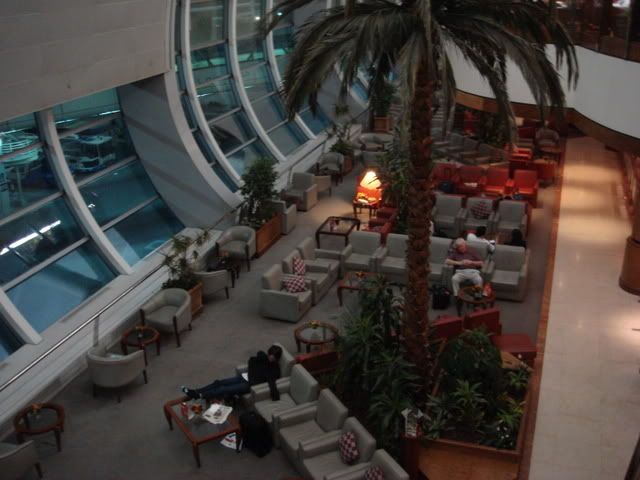 The view from the second floor of the lounge to the main seating area below.
After my six and a half hour flight from KUL, I wanted to freshen up a little before I had something to eat. Thankfully, all of the shower rooms were empty, so I could enjoy a nice warm shower at my own leisure. Sadly however, the shower rooms were quite small and showing some signs of age. Some of the tiles were damaged and much of the silicon lining was black and beginning to peal. Overall, I was happy that there were plenty of showers available, but I wish they had been looked after a little better – even if Emirates are soon moving to Terminal 3.
One of the rather small shower rooms in the Business Class lounge.
The shower: showing some signs of its constant use.
After my shower, I decided to investigate what food and beverage was on offer. There were two areas where food was being served: one massive section on the first floor and smaller one on the second floor. The beverages being offered reminded me of the Emirates lounge in KUL and everything from Perrier mineral water to Brut Impérial Champagne was available. Furthermore, the lounge also featured numerous computers and free wireless internet throughout.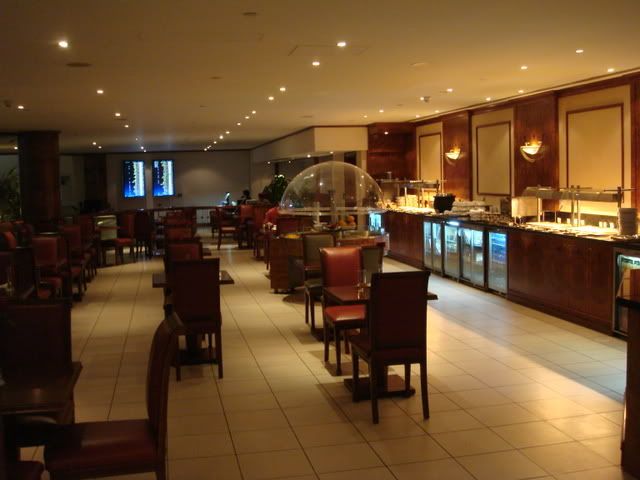 The main dining area in the Business Class lounge.
The food was also better than the Marhaba lounge, but nowhere near as good as in the Emirates lounge in Kuala Lumpur. I just find it strange that a relatively minor Emirates destination like Kuala Lumpur has better food than the home airport. I had piece of club sandwich, some chicken in Arabic bread, a fruit tart, a piece of chocolate and a glass of champagne.
My food and beverage in the main Emirates Business Class lounge.
I also liked the many huge windows which provided a great view of the tarmac; it was just a pity that they faced a very quiet part of the airport. I guess this just enhances the tranquility of the lounge.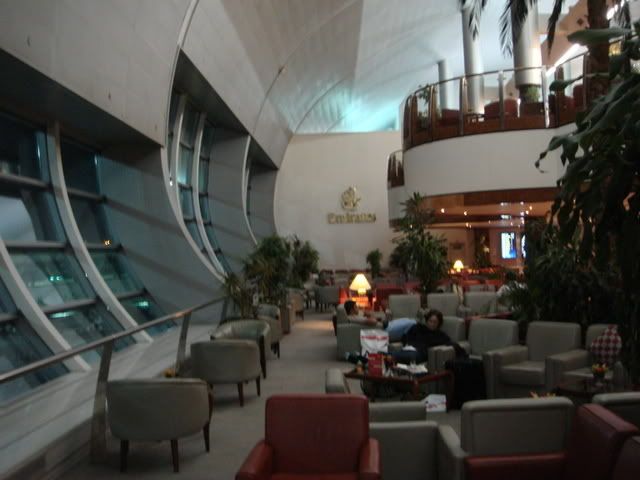 The colossal windows that faced the tarmac in the main Emirates Business Class lounge.
An Emirates A340-300 viewed from the lounge as it is being prepared for departure.
A view across the length of the main Emirates Business Class lounge at DXB.
While the seats were the same type as in the KUL lounge, I did not like the red and grey leather color combination Emirates used. It looked far less luxurious than the soft brown leather color used in Kuala Lumpur, especially because the grey seats were showing some wear and tear.
Altogether, the main Emirates Business Class lounge was better than I had expected. While the staff was rude, the lounge was very spacious and peaceful – probably because I was there at 4:30am. I cannot wait to see the new Emirates lounge in Terminal 3 when it is finally completed, and I am sure it will be something breathtaking.
The secondary Emirates Business Class Lounge
The secondary Emirates Business Class lounge can easily be summed up in one word:
crap
. Nevertheless, I will describe it in a little more detail to justify this criticism. Sadly, I do not have as many details about this lounge since I left almost as soon as I came – it was really not a nice place to be.
Even though the food and beverage on offer was similar to the main lounge, everything else was just not up to standards. The lounge was rather crowded and the staff was just as rude as in the other Emirates Business Class lounge. I really do not understand why all these passengers chose to go here and not to the deserted main lounge. They probably just did not know that there was another one.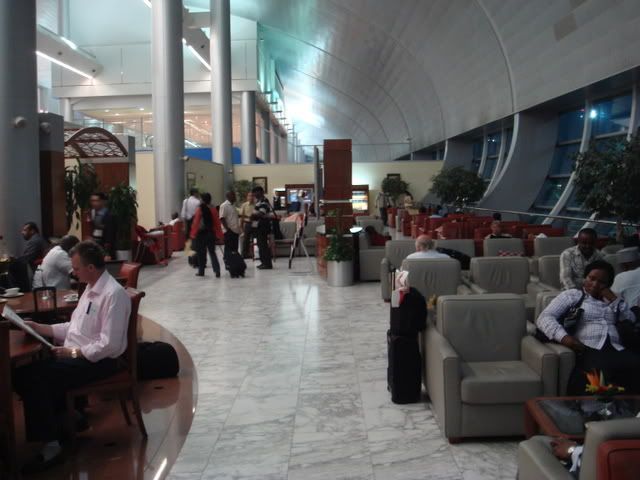 A view across the secondary Emirates Business Class lounge.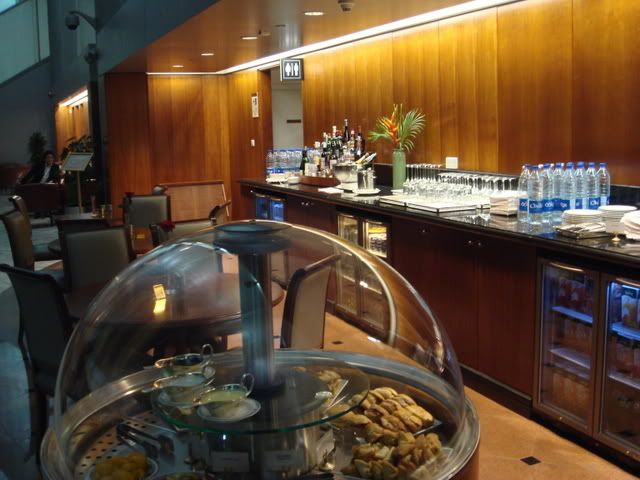 One of the small food and beverage sections in the lounge.
The entire lounge seemed to be a temporary afterthought. It was very noisy and open, because the walls separating the lounge from the rest of the Terminal seemed quite thin and fragile. The only reason why I would ever stay there would be to do some spotting, but then again the Marhaba lounge was good for this too.
Overall, I cannot recommend the secondary Business Class lounge. It was far below average and reminded me of some of the poor Business Class lounges I have been to in Europe. Therefore, if you want to relax, go to the main Emirates Business Class lounge, and only go to the secondary lounge if you want to do some spotting - it just does not compare in the other aspects.
After my lounge excursions I had about an hour and a half left until departure, so I decided to do a little spotting before I went to my gate. Dubai Airport really is Emirates territory and almost every aircraft I saw was in Emirates livery – it was widebody heaven.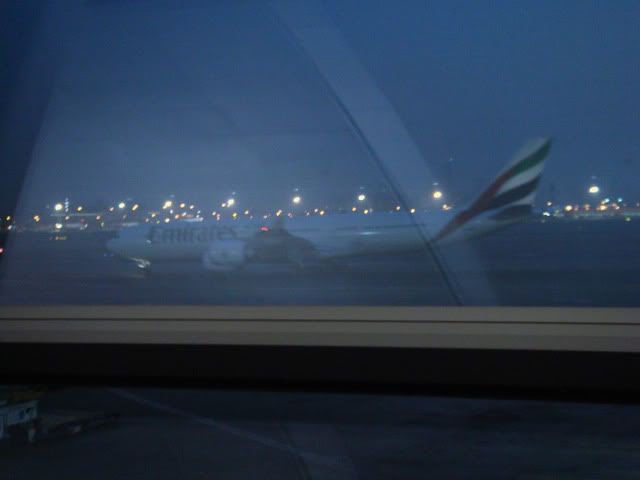 An Emirates A340-500 taxiing past Terminal 1.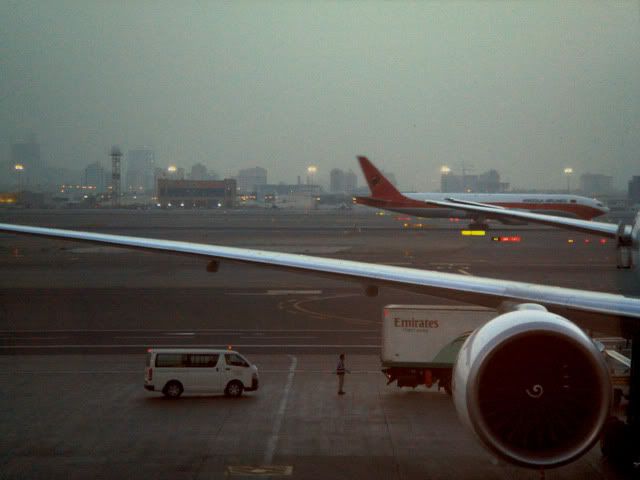 One of the massive GE90 engines of an Emirates 777-300ER with a TAAG Angola Airlines 777-200ER taxiing behind.
As I slowly strolled around the terminal, I noticed that the information screen showed that EK862 was already on
'final call'
, even though there was still almost an hour until departure. I think this was probably because the aircraft was parked at a remote gate and a long bus journey was necessary to reach it.
Another Emirates 777-300ER with all of its doors open.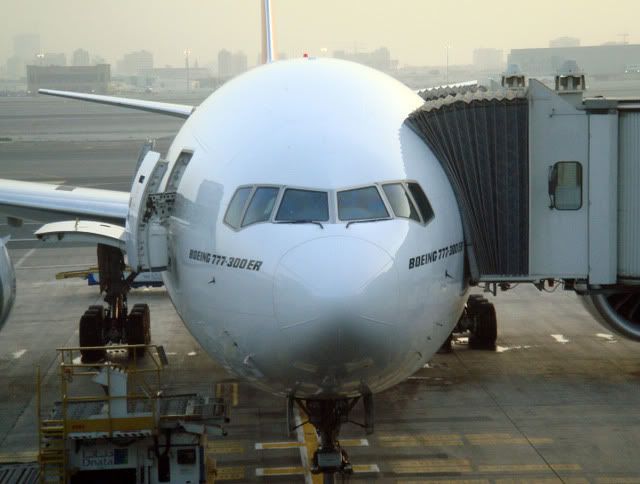 A frontal view of the same Emirates 777-300ER at Gate 23.
As I walked towards my Gate, Gate 49, I noticed that all of the signs were already prepared for Terminal 3. If you look closely, you can see the new numbers hidden with only the outlines showing.
One of the new signs at DXB. The line under '12 – 50' will soon say '201 - 360'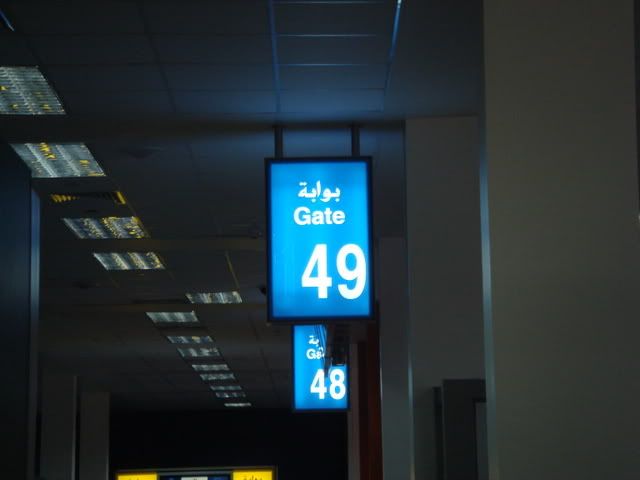 My Gate: Number 49 – soon to be Gate 149 when Terminal 3 is completed.
The walk to Gate 49 seemed never ending. It appeared that gates 40 to 50 were built as a provisional addition to the main Terminal building, which is why the area was overcrowded and cramped. Furthermore, the floor under the carpets almost felt wooden and I had to walk down a long ramp which took me to the gate one floor below the main terminal building. All this seemed rather rushed and temporary, but I think this will change when Terminal 3 is complete.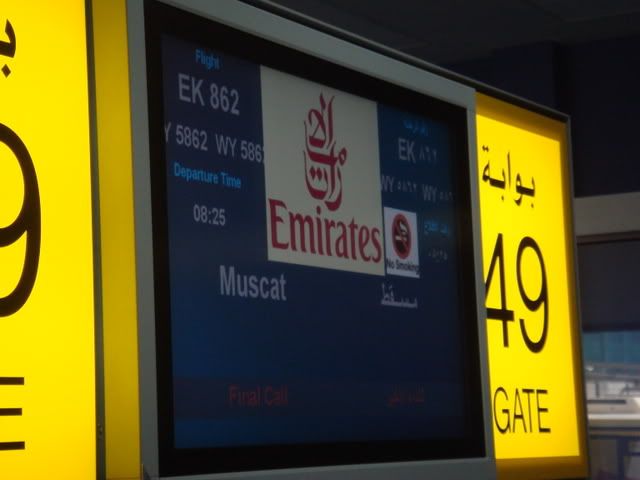 The display for EK862 showing 'final call' before boarding even started.
When I finally arrived at the Gate, the friendly agent checked my ticket and told me that boarding would be in about 10 minutes. 'Final call' huh?? What a joke! I proceeded to the fairly empty waiting hall and listened to my iPod until boarding was called. The load for the flight would be about 80% in Business Class and 65% in Economy, so most of the passengers had yet to arrive.
The small, but empty waiting hall for Gate 49.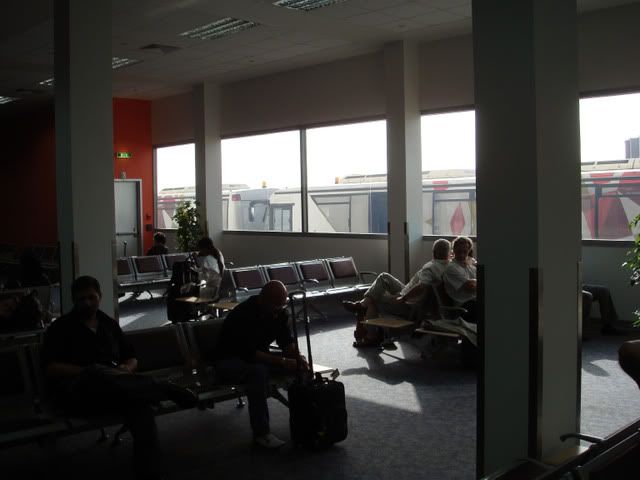 Outside, the buses stood waiting to take us to our aircraft.
Soon enough, boarding was called for Business Class passengers and Skywards Gold members and I walked onto the waiting bus. And now, the biggest disappointment of my entire trip: the bus drive to the remote stand. By 8am, Dubai Airport was filled with widebodies and everywhere you turned there was something interesting to see on the tarmac. It was like aircraft dreamland, but there was one problem. It turns out that the stupid bus had Airport advertisements all around it, including its massive windows. This made photography near to impossible and all I could do was watch as countless superb picture taking opportunities passed by. It was like being driven through paradise in a barred prison bus. The journey seemed never-ending as we passed every widebody you could possibly imagine. It was absolute torture.
One of my futile attempts to take a decent picture. Notice the black dots all over the bus window.
Finally, after about 15 minutes, we reached our aircraft to MCT. It was parked at the far side of the airport next to many other Emirates A330-200s. As I walked out of the air-conditioned bus, the intense Middle Eastern heat hit me hard, even though it was only eight in the morning. I was onboard at 08:05, 20 minutes before scheduled departure.
A view under the wing of my aircraft today, A6-EAM.
Aircraft
Emirates currently has 29 Airbus A330-200 in service and it is the smallest aircraft in its passenger fleet. The aircraft is the backbone of the Emirates's short haul equipment, but it also serves several medium haul destinations in Europe, Asia and Africa. The A330-200s that serve Oman can have, depending on demand, a two class or a three class configuration. EK862 was meant to be in a two class configuration, but due to some important customers flying on the return flight from MCT to DXB, there was an equipment change and a three class A330-200 was used.
My aircraft today, A6-EAM, could seat 237 passengers in its three class configuration. On first inspection, the cabin stilled seemed very nice and it was clean. Row 6 was almost like its own little cabin, with the bulkhead in front and the galley behind. It felt very exclusive and private. The IFE was not ICE, but since this was such a short flight, I was not really bothered.
A6-EAM:
This Airbus A330-243 had its maiden flight in August 2002. The aircraft is owned by Emirates and has been since it was produced. The first flight with the airline was September 2002, so the aircraft is almost five years old.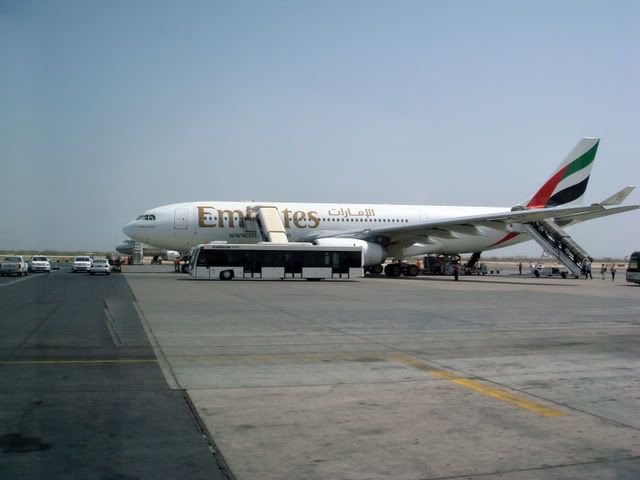 Side view of A6-EAM as she arrived at MCT.
Flight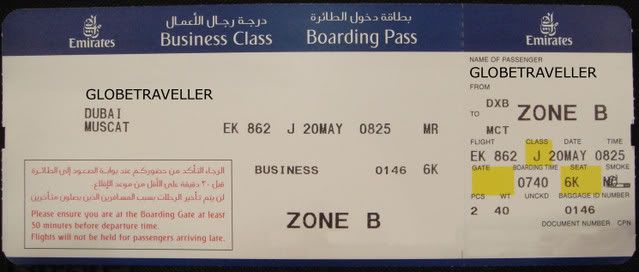 My ticket for EK862 from DXB to MCT.
As I walked into the cabin from the stairway, I was welcomed by both a male and female Emirates flight attendant. I showed them my boarding pass and they gestured the direction of my seat in a friendly manner. I was very puzzled by the layout of the cabin initially, because all I saw was first class in the front cabin. When I selected my seats online, first class was not available, so this was a surprise to me. Another flight attendant saw my confusion and she took me to my seat in person. As it turned out, row 6 was a miniature cabin between first class and the galley; this is why I overlooked it at first.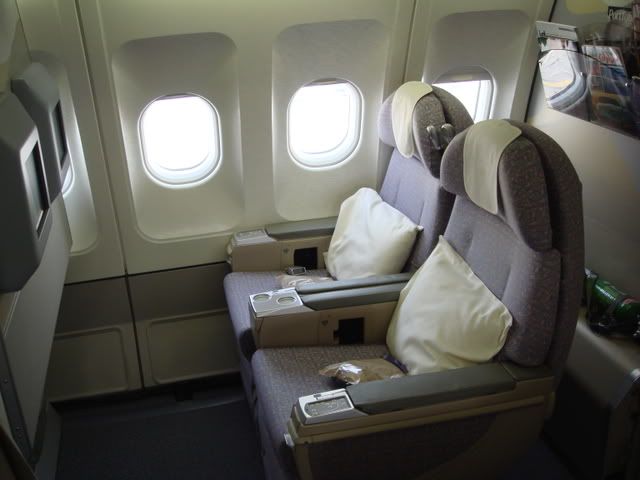 My seat on EK862 from DXB to MCT: 6K.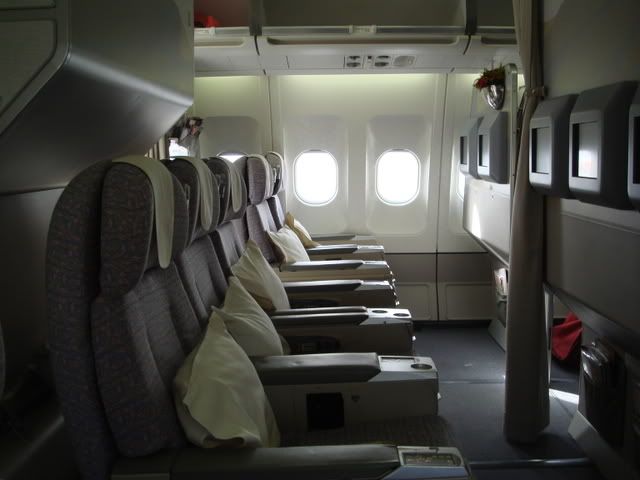 Row 6 in Business Class was its own little secluded cabin.
I really liked the cabin layout and the way row 6 was a little section by itself. It felt very exclusive and peaceful as there was very little activity in this area of the aircraft. In addition, the legroom was also generous and my seat was far above average for a one hour flight, especially when compared to European and American carriers. However, I can imagine that it would be rather poor for a medium haul flight to Europe. Overall, my seat was a very nice place to be and I could have definitely sat there for a slightly longer flight.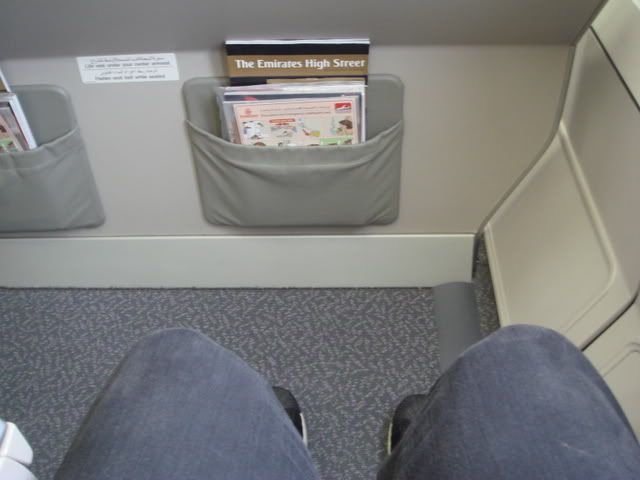 My legroom in front of seat 6K on EK862.
The seat's full recline was more than sufficient for a one hour flight.
As I was the first passenger to sit in row 6 during boarding, one of the First Class stewardesses began talking to me. She informed me that there had been a last minute equipment change and that she had been pulled of a flight to Doha to fly to Muscat instead. I found her to be very eloquent, friendly and professional as she talked to me about her experiences in First Class while working for Emirates. Before I knew it, boarding was completed and I needed to sit down because we were ready to pushback. As First Class was empty for the flight to Muscat she welcomed me to take some pictures before I sat down.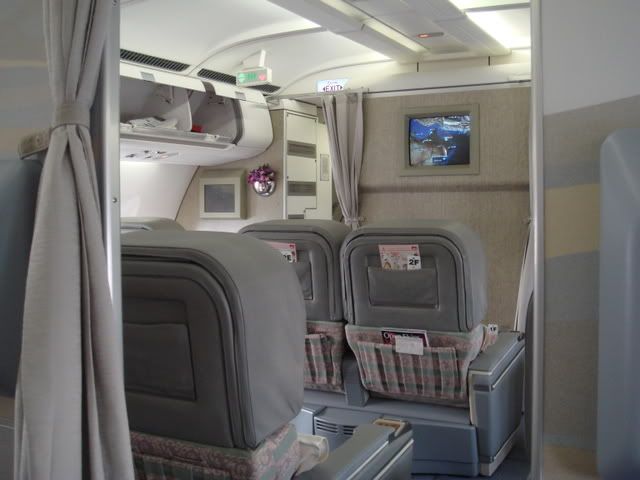 A view of the First Class cabin from my seat.
The old First Class seats on this Emirates A330-200.
As I went back to my seat, I found that the crew had left a glass of champagne for me. As I had walked into first class during my conversation with the flight attendant, a steward then came to give me a hot towel – I was absent when they were initially given out. Once again, I was impressed with the crew – just as I had been on my flight before with EK343.
The pre-departure champagne which had been left in my seat by the kind crew.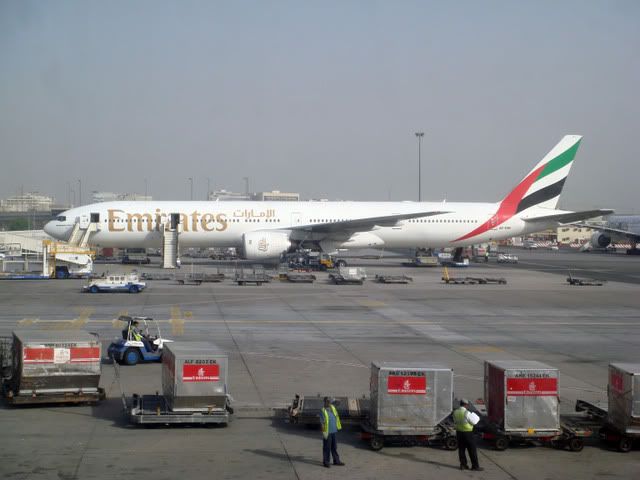 An Emirates 777-300 parked two stands away from A6-EAM.
Boarding had taken a little longer than expected due to the aircrafts position at the distant remote stand, but by 08:35, 10 minutes later than the scheduled departure, we were being pushed back. I was now on a mission to make up for the photography that I had so brutally been denied during the bus journey to the remote stand.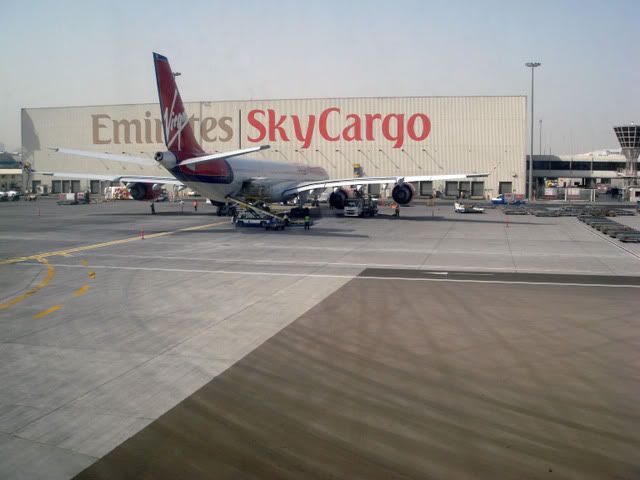 A Virgin Atlantic A340-600 in front of the large Emirates cargo building.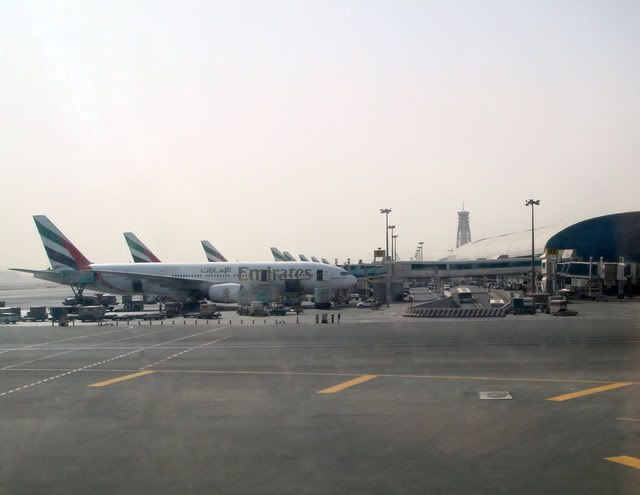 Dubai Airport is Emirates Territory.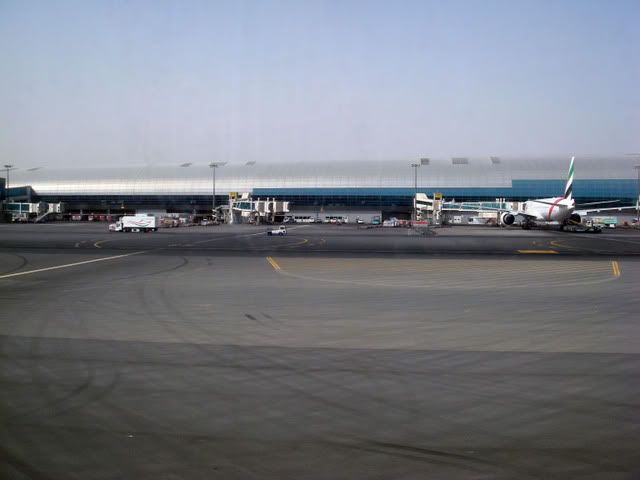 Terminal 1 at DXB with an Emirates 777-300ER at Gate 10.
Yet another Emirates 777-300ER.
As we taxied, the safety video was shown in both English and Arabic. The aircraft had to pass both Terminal 1 and 3 in order to get to the end of runway 30R - hence we took more than 10 minutes to reach the short queue of aircraft waiting for takeoff clearance.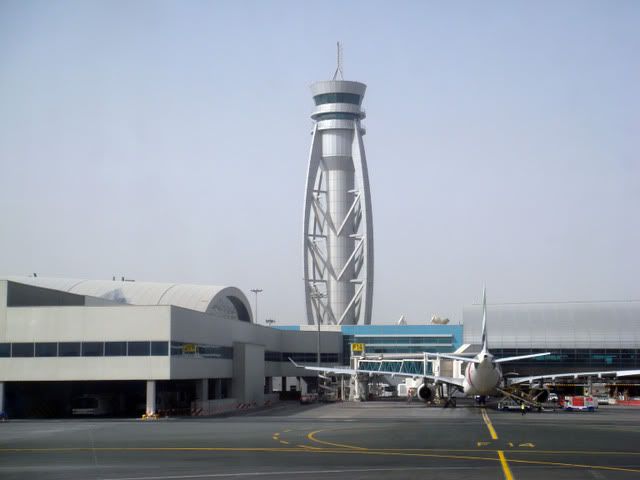 The Dubai Airport tower as it shines in the Arabian morning sun.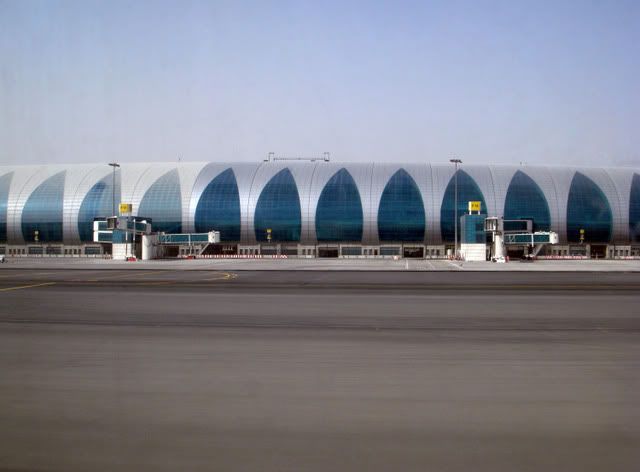 A section of the gigantic Terminal 3 that is due to open in August 2008.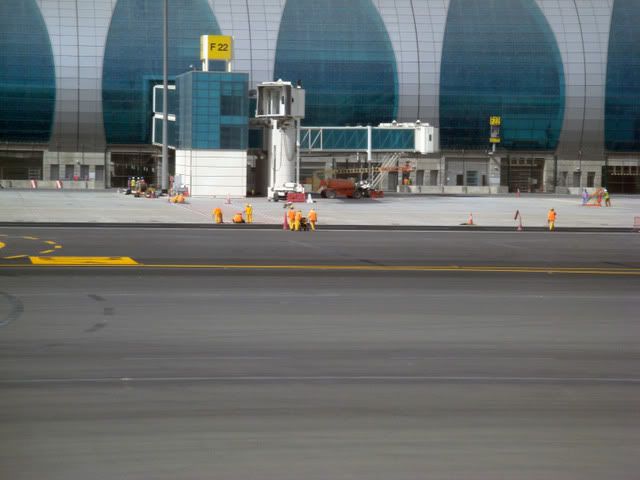 Final work being completed on the markings in front of Terminal 3.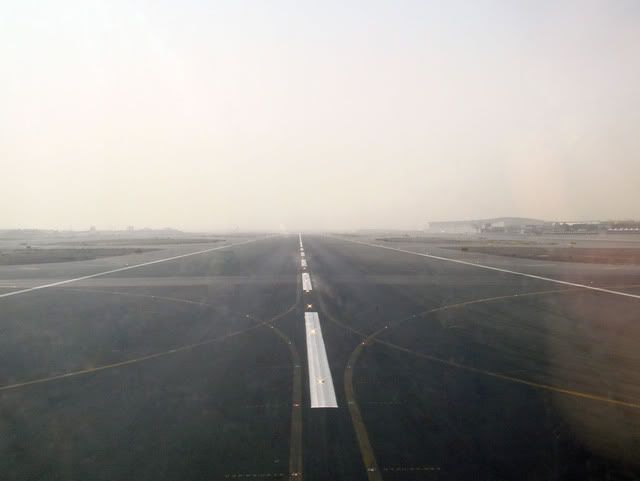 A shot down runway 12R/30L.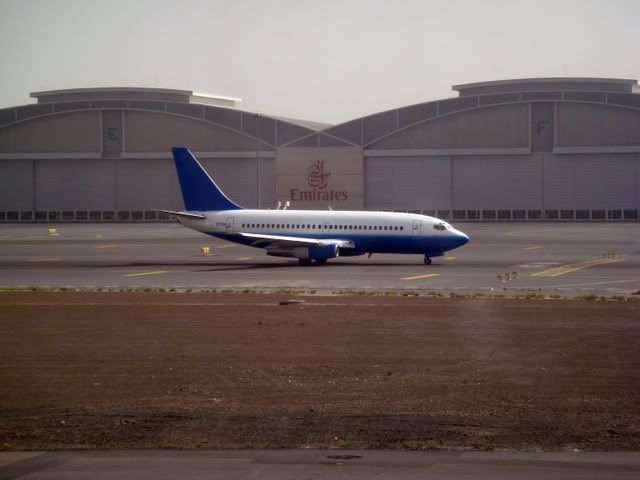 A surprisingly new looking Boeing 737-200 with the registration EY-534.
At 08:50, 25 minutes after scheduled departure, EK862 finally rolled onto runway 30R. As the Rolls Royce Trent 700 engines roared to life, I was pushed back into my seat as we quickly accelerated down the runway. I was on my way to my final destination at last.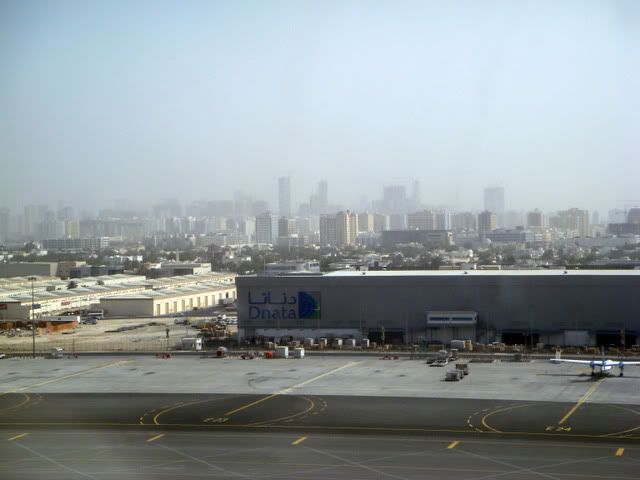 One of the many areas of high-rise buildings in Dubai as EK862 took off.
Some green areas in an otherwise sand covered land.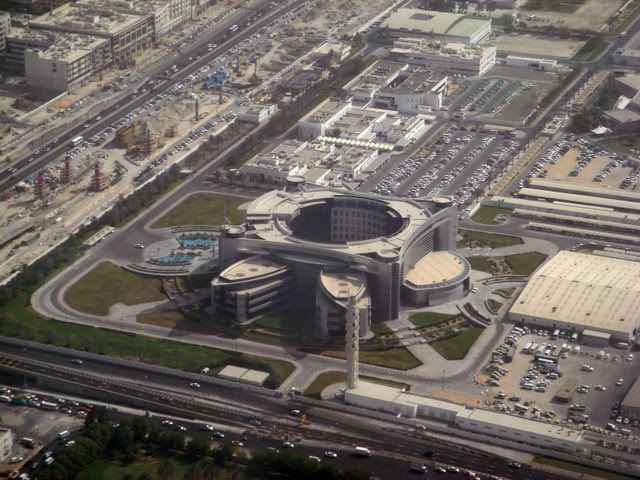 Some sights in Dubai as EK862 took off from runway 30R.
Soon after takeoff we made a sharp left turn and headed back over Dubai. Sadly the air was filled with dust and sand, but I still managed to get some nice pictures.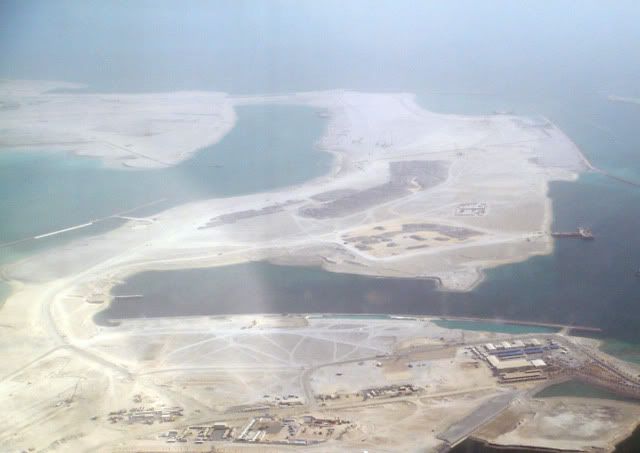 The large land reclamation just off the shore of Dubai.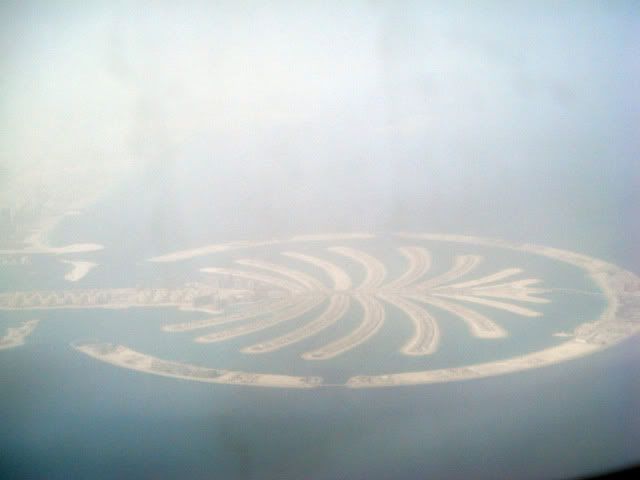 The Palm Jumeirah as we headed back over Dubai.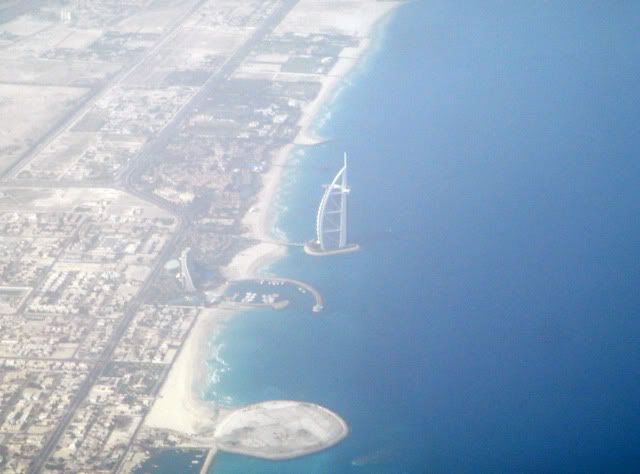 The world renowned Burj Al Arab Hotel.
As soon as we leveled out, menus were disturbed. The crew was quick and efficient, because there was very little time to serve a full meal in the short flight. Therefore, it did not take long before the breakfast tray was served. Once again, I wished that separate plates had been used instead, because I find the trays a little cheap. Nonetheless, I guess they help to make the service as fast as it was.
The Menu: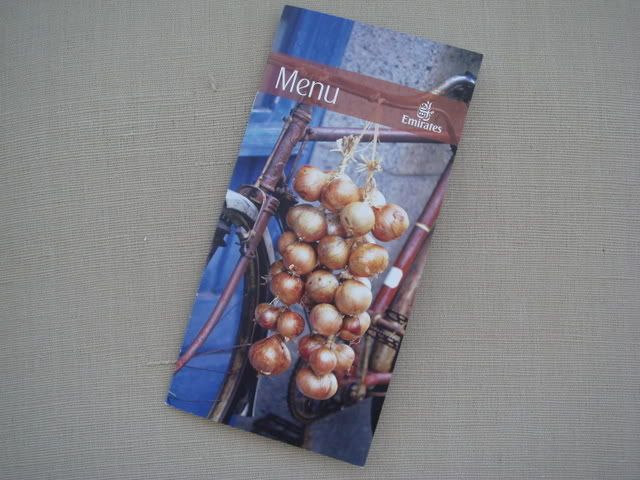 The front cover of the menu on EK862.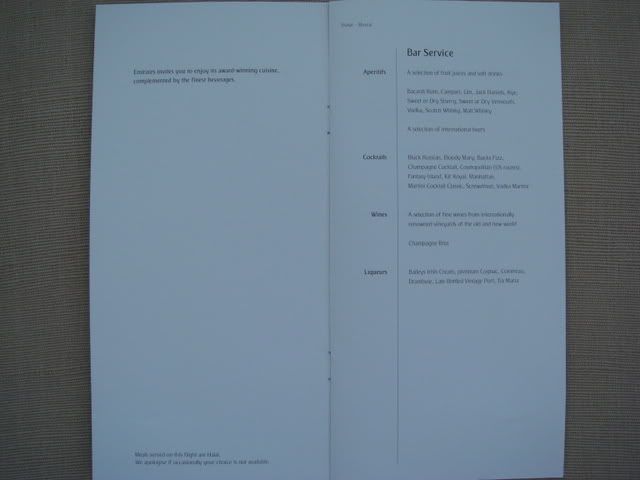 The section of the menu showing the bar service available on EK862.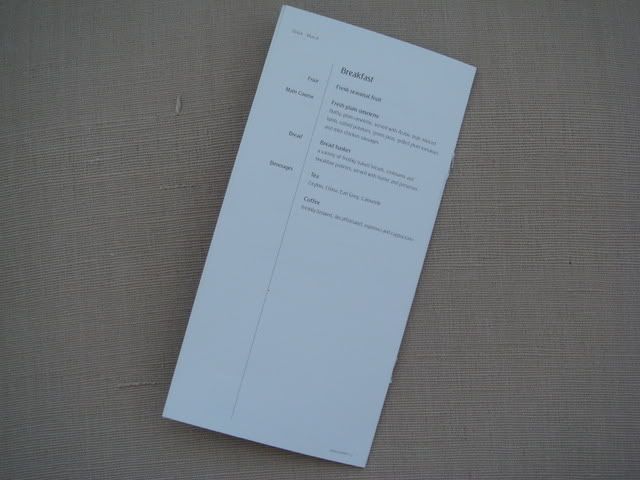 The final page of the menu on EK862.
The breakfast tray contained some fruits and a hot entree. The fruits were surprisingly fresh for airline food, but I did not like the plain Omelette and the mini chicken sausages. They were already a little cold and tasted very artificial – a pity for Business Class food. However, the minced lamb with green peas saved the meal; they were absolutely delicious. I just wished there had been less Omelette and more minced lamb. Half way through the breakfast service, a warm fresh croissant was also served.
My breakfast tray on EK862.
The rather delicious and warm croissant.
Overall, the food service was average and forgettable. It seemed that Emirates had better food in the lounges than onboard both my flights, which is surprising because I have usually found this to be the other way around. However, the views out of my window at the time were far from average as we crossed the spectacular mountains between the United Arab Emirates and the Sultanate of Oman.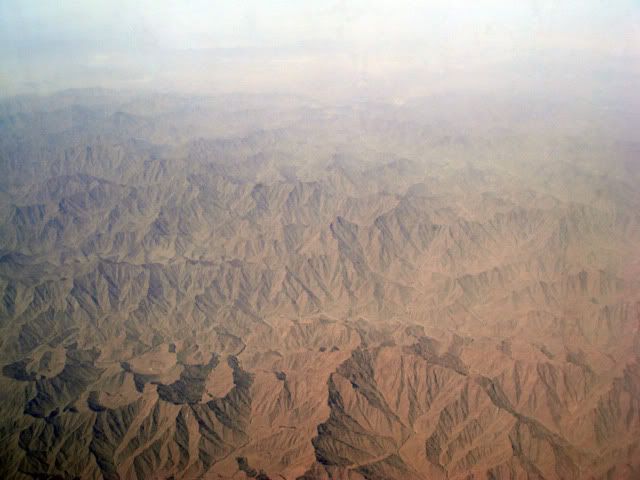 A beautiful view of the mountains between the United Arab Emirates and Oman.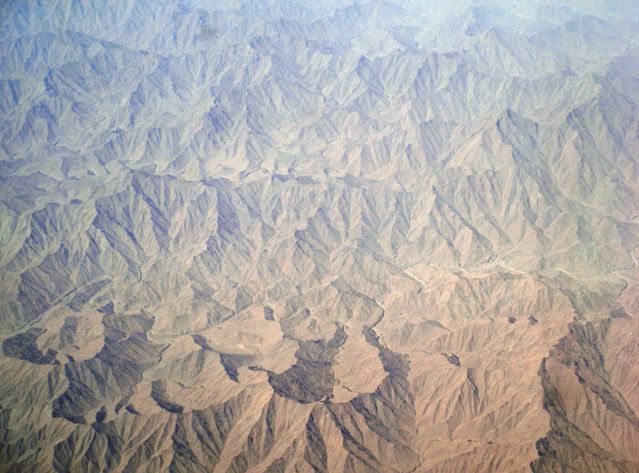 Another stunning view of the mountains.
As soon as we had finished breakfast, EK862 started descending from 19000 feet into Seeb International Airport. The crew quickly collected our trays and the cabin was prepared for landing. The captain informed us that we had to go past the airport first and then come back on ourselves to land on runway 26. This was good news as it would provide me with some great views of Muscat.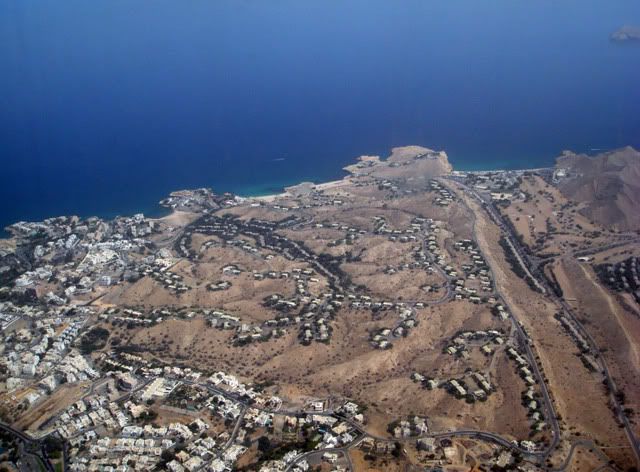 A view of the Petroleum Development Oman site as EK862 lined up with runway 26.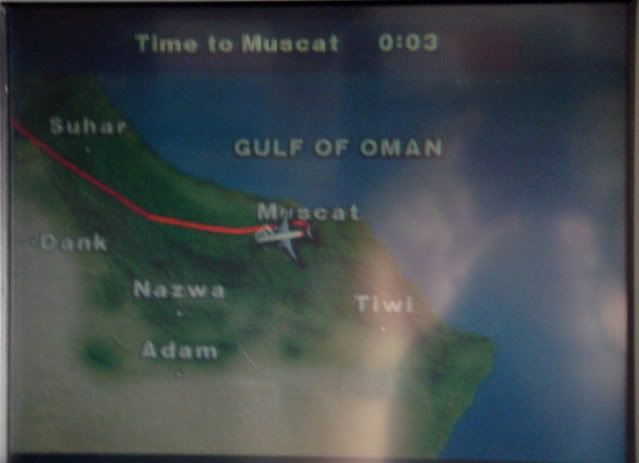 The in-flight map showing our flight past the airport and back to land.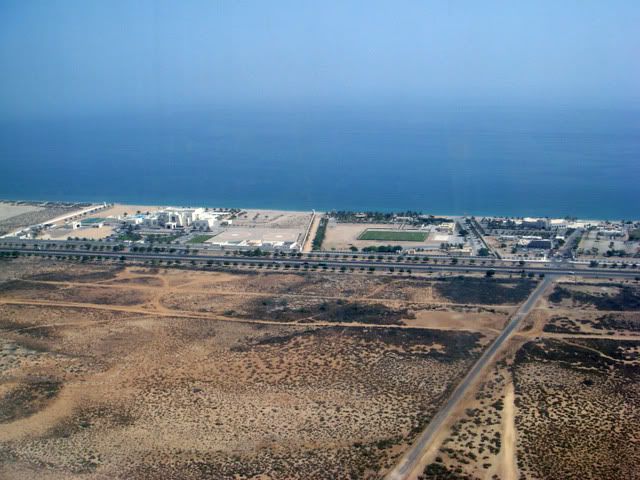 The Muscat coastline seconds before touchdown at MCT.
At 9:50, 5 minutes after the scheduled arrival, EK862 made a soft landing on runway 26 at Seeb International Airport. As the airport is rather small, especially when compared to DXB, taxiing took less than five minutes and we were soon at the remote stand. Sadly, MCT does not have any aerobridges yet, but a new area of the Terminal is being constructed that will have 32 new aerobridges.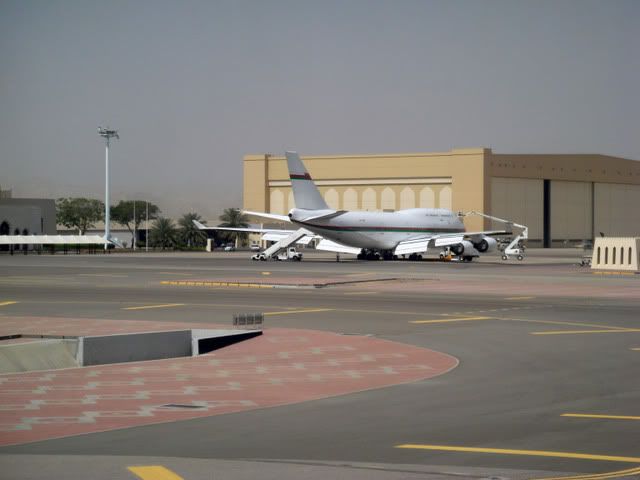 The Sultan's Boeing 747-400 parked at MCT. What a nice private jet!
The only other scheduled airliner at MCT: An Etihad A319 from Abu Dhabi.
As I collected all of my belongings, I thanked the crew for their excellent service and walked out into the hot Omani morning. I guess I was lucky with my Emirates crew once again, because they were one of the friendliest and most professional crews I have ever had. Once again, my congratulations go to the crew.
Arrival Airport
Seeb International Airport is a little shack when compared to many of the other large hubs in the region. About 4.5 million passengers use the airport every year, but the terminal building itself seems to only be built for about half that number. The airport is in desperate need of modernization and I was happy to see this was finally happening as I arrived from Dubai.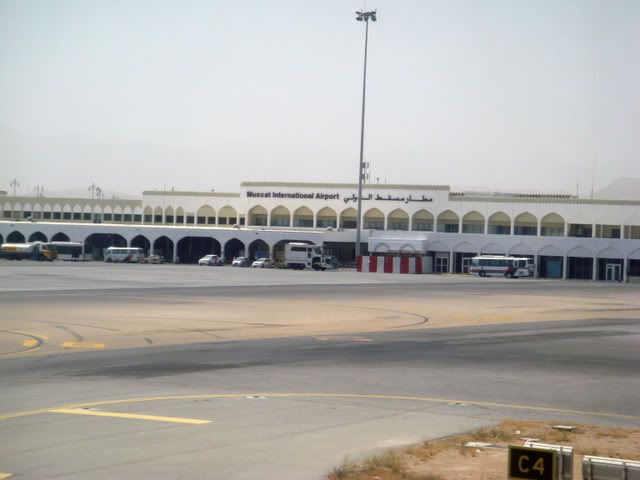 The outdated main Terminal building at MCT.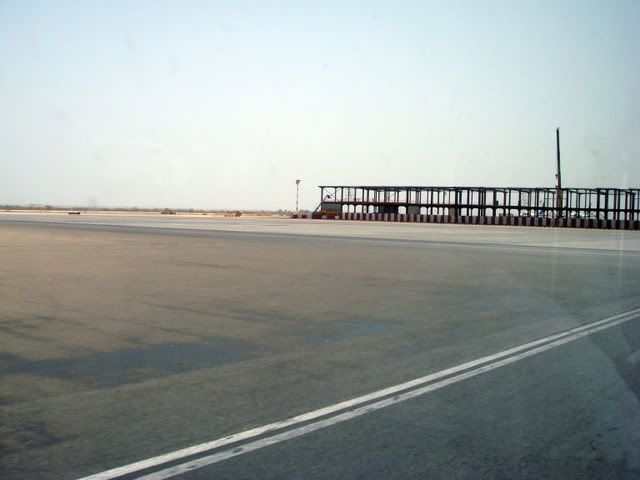 The site of the much needed Terminal expansion at MCT.
After disembarkation, I walked down the stairway into a nice, cold Cobus 3000, which quickly took me to the Terminal building. As we drove away, I managed to get some nice final shots of the aircraft that had brought me here, A6-EAM.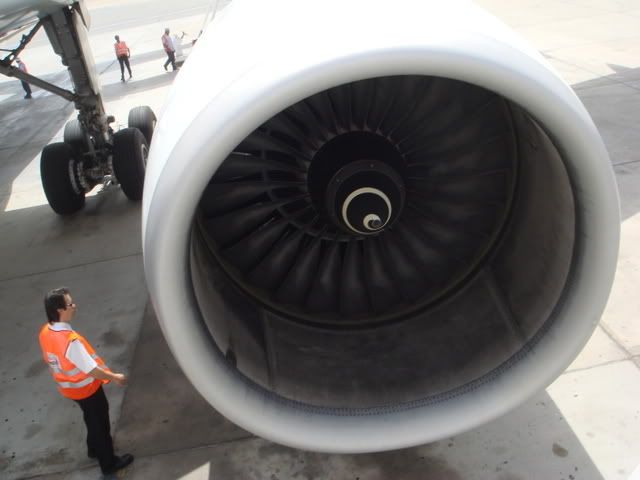 The intake of the Rolls Royce Trent 700 engine up close and personal.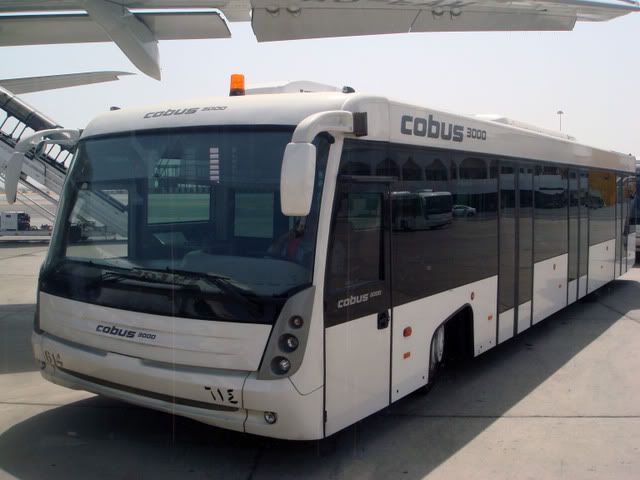 Another Cobus 3000 was waiting behind mine for more passengers to disembark.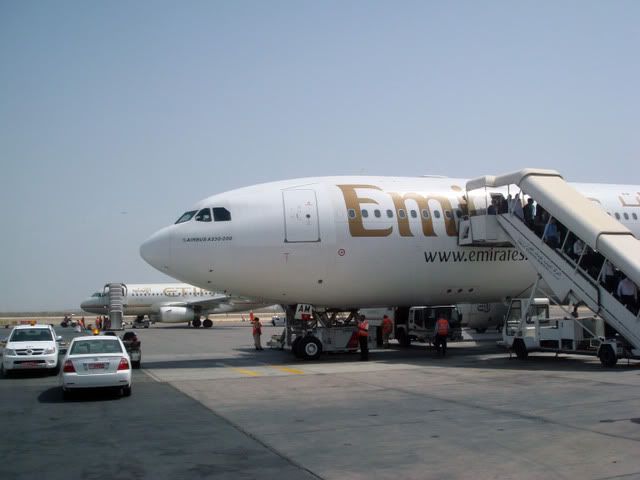 The A330-200 looked rather large when compared to the Etihad A319 behind.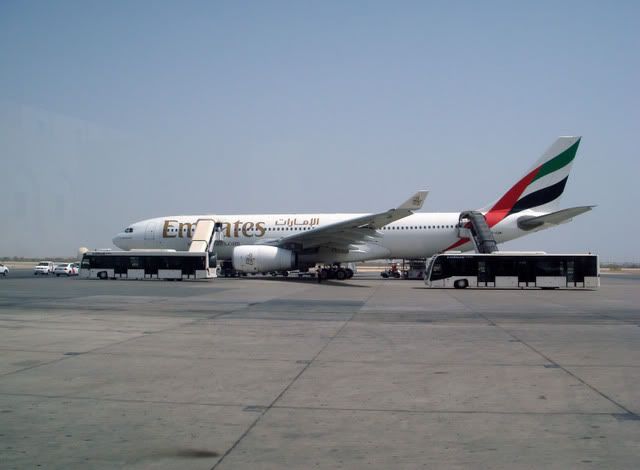 A6-EAM being offloaded and prepared for its short flight back to DXB.
By 10:00 I was in the arrivals hall and was waiting in the immigration line. I was thankful that Business Class passengers were allowed to disembark first, because lines always form quickly at immigration in MCT. Soon after, I quickly collected my luggage, which had already arrived, and walked outside the old terminal building.
My long journey had come finally to an end.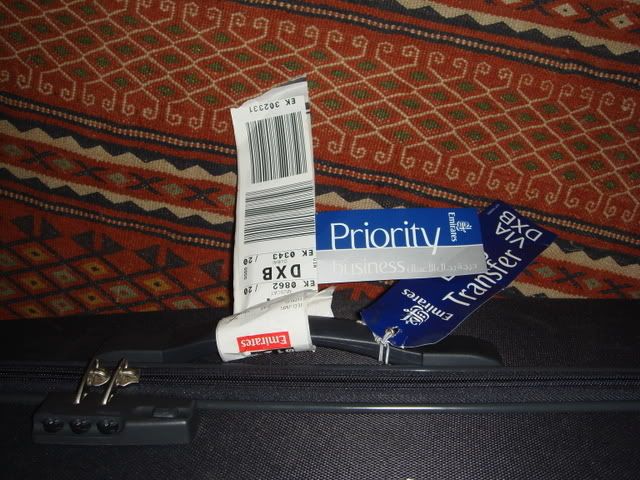 My luggage had arrived in one piece as well.
Overall Impression
Emirates had shown yet another solid performance on my flight from DXB to MCT. I am beginning to get a little skeptical of all this talk of the airline growing too quickly and becoming too big. The cabin crew in particular was a delight to fly with and they made up for any short comings in the food and the boarding procedure. I often had to remind myself that this was a very short haul flight, because the large aircraft was very impressive for such a quick hop. To conclude, I would always fly Emirates between DXB and MCT, and I can recommend them highly to anyone who wishes to venture on this route. I can honestly say that I was pleasantly surprised with Emirates and their service had exceeded my expectations once more.
(2.0) Booking: 9.0
(1.0) Check-in: 8.0
(1.0) Airline Airport Facilities: 7.5
(0.5) Boarding: 6.0
(2.0) Seat: 8.5
(1.0) Entertainment System: 6.0
(2.0) Crew: 9.0
(2.0) Food and Drink: 5.5
(0.5) Amenity kits and other freebies: n/a
(0.5) Arrival: 7.5
(1.0) On-time performance: 7.0
Overall weighted score: 7.63
Thank you for taking the time to read this final part of the report and I hope you have enjoyed the entire series of journeys from PEN to MCT via KUL and DXB. As always, any comments and opinions are welcome and much appreciated. Until my next trip report, safe journeys.
Best regards,
Globetraveller