It's been about a year since I last posted a trip report – I've done plenty of traveling since then, but it's mostly been on mundane domestic segments like Chicago-Pittsburgh and Chicago-Raleigh/Durham, as well as a few mid-cons out to the west coast from ORD. This trip, however, merits a report … my first trip to Asia, a tour of Vietnam, Cambodia and Thailand with a few friends from college.
We began planning the trip shortly after Christmas, and booked our tickets in early January. Since I'm a dyed-in-the-wool AA flier and my friends are UA junkies, it took some time to rustle up itineraries that would work for both of us. Our original hope had been to visit Thailand, Singapore and Cambodia. As we started playing with dates and itineraries, however, it became clear that Singapore would have to go – the tickets simply cost too much, and it would take us two hours south of the rest of our destinations. Since we only had about 13 days to work with, we decided to substitute Vietnam – a great idea, since open-jaw tickets into Ho Chi Minh City and out of Bangkok were reasonably priced on both airlines. I wound up with the following itinerary:
ORD-NRT on American
NRT-SGN on Japan Airlines
SGN-HAN and HAN-REP (Siem Reap, Cambodia) on Vietnam Airlines
REP-BKK on Bangkok Airways
BKK-HKG-LAX on Cathay Pacific
LAX-ORD on American
With our air travel lined up, we began working on hotels and lining up tour operators for our various stops. Three very long months later, it was finally time to head out!
**********************************************************************************************************************************
Friday, April 25, 2008
Chicago O'Hare International Airport
I took a cab with my friends to ORD and got out with them at United's Terminal 1. Our original plan had been to check them in, then walk over to Terminal 3 to drop off my bags before clearing security and parting company airside. We hit a bit of traffic on the Kennedy Expressway (surprise surprise) and ultimately decided to check in separately. I said my goodbyes at Terminal 1 – we'd see each other about 22 hours later in Ho Chi Minh City – and headed over to T3 to check in.
I had put in a systemwide upgrade for the ORD-NRT flight – it would be the longest flight I'd ever taken, and I figured having the extra space would come in handy. As the day of the flight got closer and the upgrade didn't clear, though, I started to lose hope. I was therefore happily surprised to learn when I checked in that my upgrade to Business Class had cleared. It was a middle seat (the last one left), but I took it nonetheless – on a flight that long, I was willing to sacrifice a view for some comfort.
Once through security I headed for the Admirals Club to get a drink and relax before boarding. Along the way I snapped a picture of my 777 to Narita parked at Gate K18:
Inside the Admirals Club, I was pleased to see some renovation work underway - it's a comfortable facility, but starting to look a bit tired, especially considering how busy it can get during peak times. The club has a great view over the Concourse H/K ramp, including my 777 once again: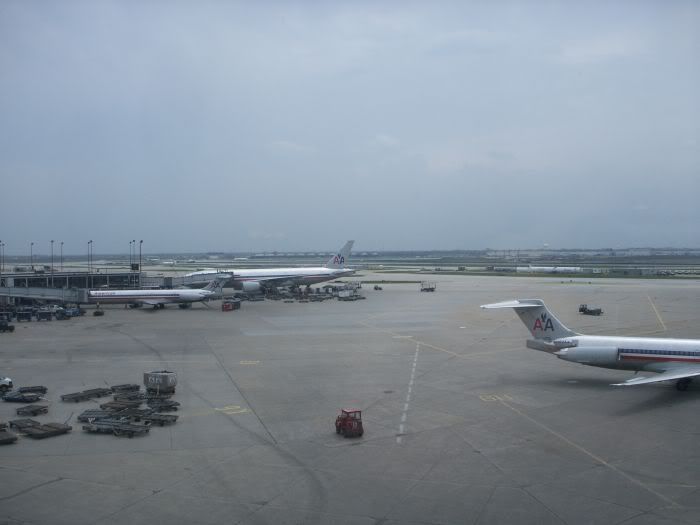 I headed for the gate when the flight was called over the PA at the Admirals Club (they call all overseas flights – a nice touch), and headed down the jetbridge to my aircraft.
**************************************************************************************************************************************
American Airlines Flight 153
Chicago O'Hare (ORD) – Tokyo Narita (NRT)
Departs ORD 12:50pm, arrives NRT 3:35pm
Flying time: 12 hours, 40 minutes
Boeing 777-200ER, seat 11E (Business Class)
I wasn't sure prior to the trip if my 777 would be outfitted with the new business class seats introduced a few years ago; when I stepped into the C cabin I was happy to see that it was. Unfortunately, since my upgrade had cleared at the last minute, I would be spending the next thirteen hours in a middle seat (11E). As much as importance as I normally put on being at a window, for a flight this long I was happy to have a seat in Business, regardless of where it might be.
The load in C was completely full; I later found out that my seat had opened up only because a non-rev passenger was moved up to F. While the Y passengers boarded, we were offered champagne and given menus for the flight. The crew in the Business cabin were the usual senior bunch you encounter on AA longhaul flights – fairly attentive but very impersonal. The one exception was the Japanese-language flight attendant, who greeted each passenger by name and continued to do so throughout the flight. Of the full load in C, I'd guess about 60 percent of the passengers were Japanese.
Again, since I was in a middle seat I wasn't able to get any photos until later in the flight (more on that later.) We pushed back about five minutes behind schedule and made a very long taxi around the ORD terminal complex, up across the maintenance area on the New Scenic taxiway, and around to the threshold of runway 14L. By craning my neck, I could see paving work underway on the new northern parallel runway, which should be opening up this fall.
Takeoff was the usual bumpy 777 affair – since I didn't have a window to look out of, it was especially interesting to see the overhead bins and cabin fixtures shaking as we accelerated. Our 777 made a 180-degree turn over the northwest side of Chicago and began its long northwest track toward Japan.
This was my second flight in American's new business class seat (the first was on a JFK-ZRH flight back in November) and I continue to have mixed emotions about it. I don't have much experience with business class seats, but AA's seems a bit on the narrow side – the seat feels only slightly wider than a coach side, and definitely not wide as the F class seats on the 757 or MD80. In terms of functionality, it does recline into a fully flat bed, although it's an angled seat. What's worse, when you move the seat to the sleep position, it extends completely into the space under the seat in front of you – which means you either need to move your hand baggage to an overhead bin or put it on the footrest alongside your feet. This being a daylight flight, I didn't plan on doing much sleeping, but it was definitely challenge on my earlier flight to Zurich.
A view of the seats during boarding: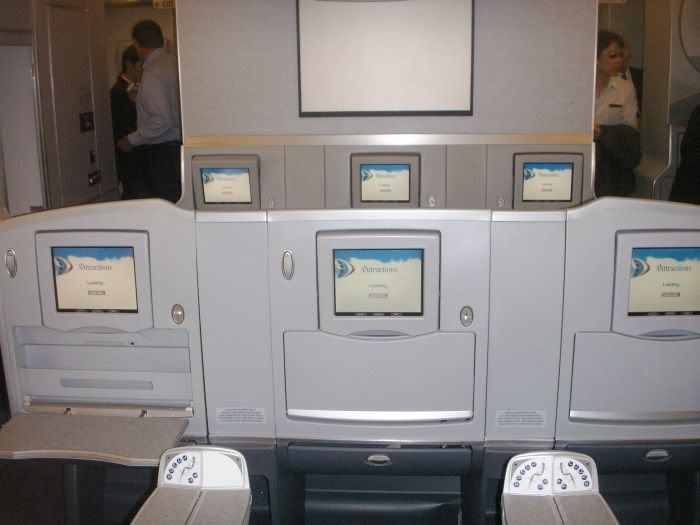 There are a few good points – the duvet they give you is fantastic, and the "relax" position (with the footrest extended and the seat slightly reclined) is definitely comfortable for a long flight. There's also a nice extra compartment in the seatback ahead of you which holds the
American Way
and
Celebrated Living
magazines, along with any books you bring on board. C class customers also get a kit with Temple Spa products, toothpaste, socks and an eyeshade (although again, I wasn't planning to use many of them on this flight.)
Our route took us northwest from Chicago, over the southwest corner of Wisconsin and directly over the Minneapolis/St. Paul area. Here we are nearing the Minnesota-Canada border: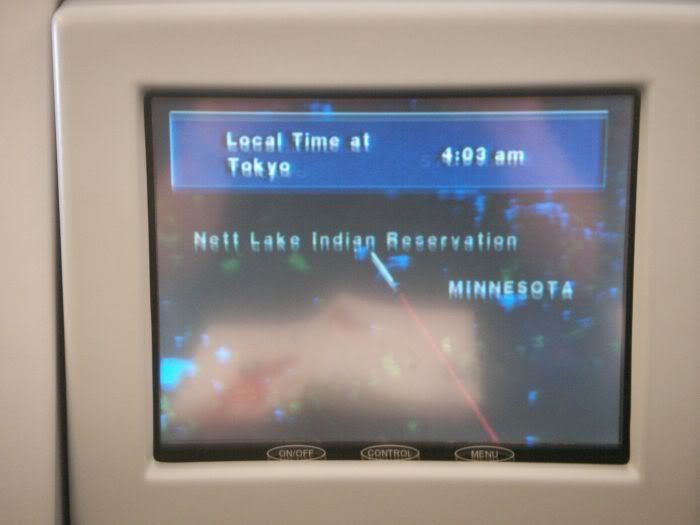 As we headed into Canada the cabin crew began the first meal service. I won't go to the trouble of typing up the whole menu, but I'll give a quick rundown of what was offered. Drinks had been served and orders taken shortly after we left Chicago, and now they came through again to refill drinks and serve lunch. First up was the usual American bowl of warmed mixed nuts: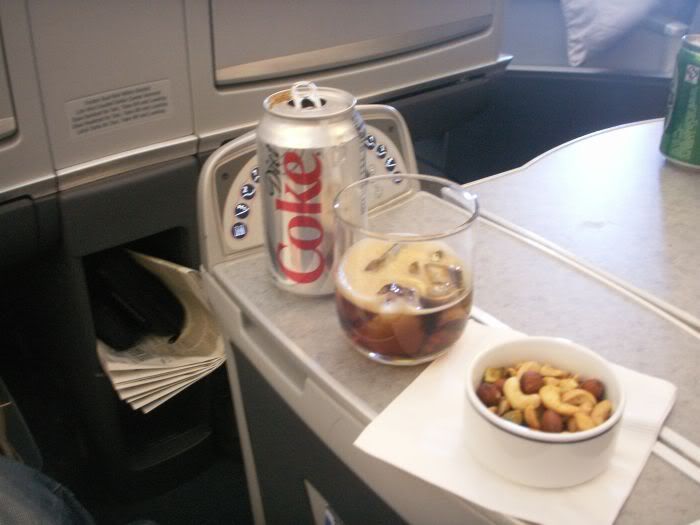 The next course was a cold plate of rice noodles with shrimp, served with a mixed-green salad and sour cream-herb dressing. The crew also offered the bread basket with this course (I took a slice of sourdough.) The salad was just fine, but I left the shrimp alone since I'm not much of a seafood fan:
For the main course we had a choice of a beef fillet with ratatouille sauce, grilled salmon with shiso-flavored rice, or four cheese ravioli. I opted for the fillet, which I've had a few times previously in American's business class. The steak wasn't that big, but the meat was well cooked and the sauce was pretty tasty too. My only complaint was the side – a cauliflower gratin instead of the usual potatoes. What good is a steak without potatoes?
There was also an extensive Japanese lunch menu – a beef sirloin
Kobachi
dish, a
hassun
with mackerel, shrimp ceviche and salmon roe, a braised duck breast, or a simmered eel served on a tofu steak. I like Japanese food, but I was hungry, so I went for the familiar option. Most of the Japanese passengers took the Japanese option and seemed to be pretty happy with it.
After the meal came the customary AA ice cream sundae and a few bars of Ghirardelli chocolate: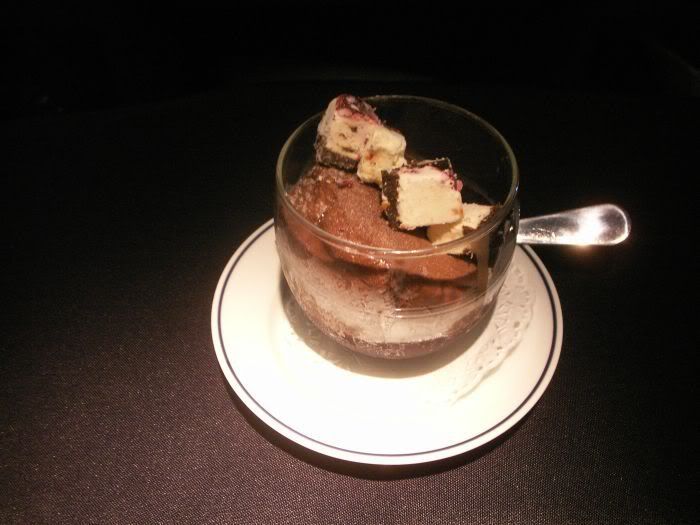 When the meal service was over the crew refilled drinks, then left us alone to our own devices for a few hours. Most of the passengers closed their window shades, which made it feel like we were flying at night (it was a very odd feeling nine hours later when they opened their shades and we were still flying in daylight.) I watched the moving map and was very frustrated that I wasn't able to see any of the scenery – our route took us on a very long track across Saskatchewan, then up over the Northwest Territory and Yukon before re-entering US airspace in Alaska. We crossed Alaska on a northerly route, passing between Fairbanks and Barrow through the middle of the controversial Alaska National Wildlife Refuge. From there we headed across the Bering Strait and down along the Kamchatka Peninsula before reaching the Japanese coastline at Hokkaido.
I hate to beat a dead horse here, but the difference between the US cabin crew and their Japanese counterparts was pretty noticeable on this flight. The American crew retreated to the galleys shortly after the meal was served and began taking their 'crew rest.' If the Japanese crew members were allocated rest, they took it pretty discreetly – they were in the aisles for much of the flight, refilling drinks, assisting passengers with their seats and just generally showing a high degree of attentiveness and professionalism. I've done quite a few longhaul flights with American, and I've come to expect very little from crews on their transatlantic services… with the exception of the Japanese crew, their transpacific offering doesn't seem to be much different.
My 777 had also been retrofitted with an on-demand IFE system, and I have to tip my hat to American on this one – it's finally on par with what their competitors have offered for years (I flew Cathay Pacific on my return trip, and American's system was definitely in line with their "StudioCX" programming.) The interface was easy to figure out and had more than enough films, television shows, documentary programming and news to keep me busy over the next few hours.
Although about half the passengers were sleeping, the crew reappeared about six hours after we left Chicago to serve the mid-flight snack. We were given the option of Japanese soba noodles or a turkey and cheese wrap – I decided to be a bit more adventurous and go with the Japanese dish: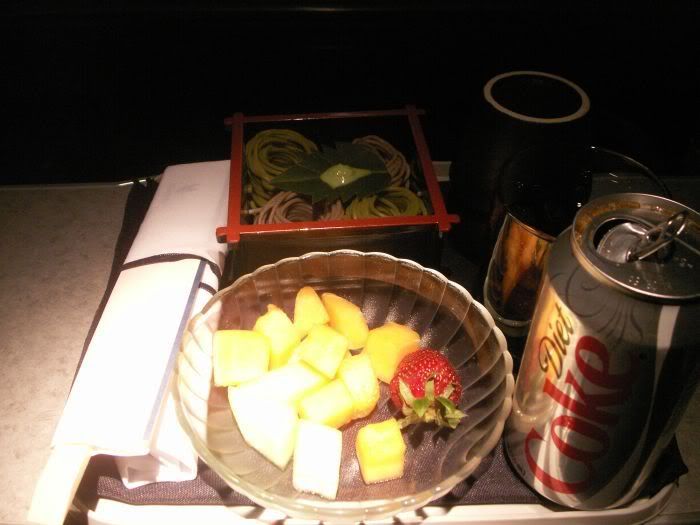 The presentation was very nice and the noodles were very good – they came with soy sauce for dipping and a selection of fruit. I was definitely full and happy when the dish was cleared away! Throughout the flight there was also a snack station set up in the C class galley, with candy bars, chips, granola and other treats on hand.
I watched a few more movies – "No Country for Old Men" and "Juno" – to kill time over the next few hours, but as we got closer to Japan I pulled one of the cabin crew aside and asked if it might be possible to move to an open first class seat for the last 30 minutes of the flight. She was a bit skeptical – I reassured her that I just wanted a window to look out of during the landing at Narita – but promised to ask the purser if it was OK.
With about 90 minutes left in the flight the cabin crew began the third meal service – a choice of a personal pizza or grilled scallops. It was a no brainer for me… I took the pizza, which came with a small side salad and peach pastry dessert: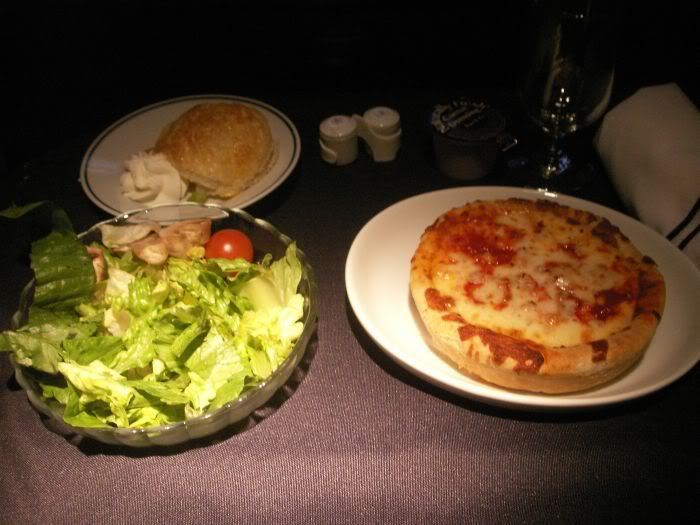 After the meal was cleared the crew asked the passengers to raise their shades, distributed Japanese landing cards and showed a short video on arrival procedures at Narita Airport. One of the Japanese crew came to my seat and said the purser was happy to offer me an open seat in F class – I gathered up my belongings and moved up to seat 3A in the first class cabin.
I'd never been in American's Flagship Suite product before so I was interested to play around with the seat in the short amount of time left in the flight. We'd already been asked to keep our seats in the upright position, so I mostly just experimented with various angles and looked around the space. It's definitely a lot of space, but the upholstery seemed to be a bit worn and the seats didn't seem as comfortable as the newer seats back in C class. There's a lot of space, however – so much that I had to lean against the side console to see out the window. We had just started our descent into Narita and were still out over the open ocean.
We continued our descent, and before long the coastline of Japan appeared: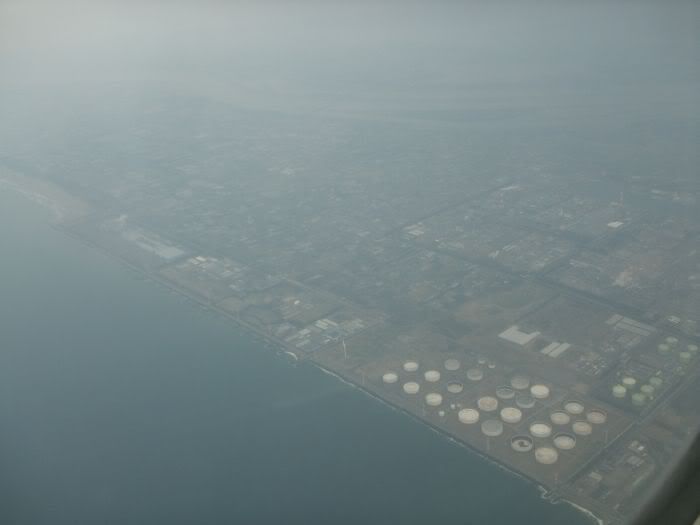 We crossed the coast and headed southwest across the countryside of Chiba prefecture – Narita is located so far from Tokyo that you don't really see much of the city on arrival:
Our 777 made a long left turn over farmland, passing over a few small towns and rivers:
On short final to runway 16L:
I shot a video of the landing that came out pretty nicely, but unfortunately it's so large (159MB) that I'm not able to upload it anywhere. We touched down on 16L about ten minutes behind schedule, rolling out with lots of reverse thrust due to the runway's short length. The weather was less than ideal – low clouds and a general murk hung over Narita, although it did appear to be dry (the captain had warned us to prepare for rain earlier in the flight.)
Turning onto the Terminal 2 apron with plenty of heavies visible: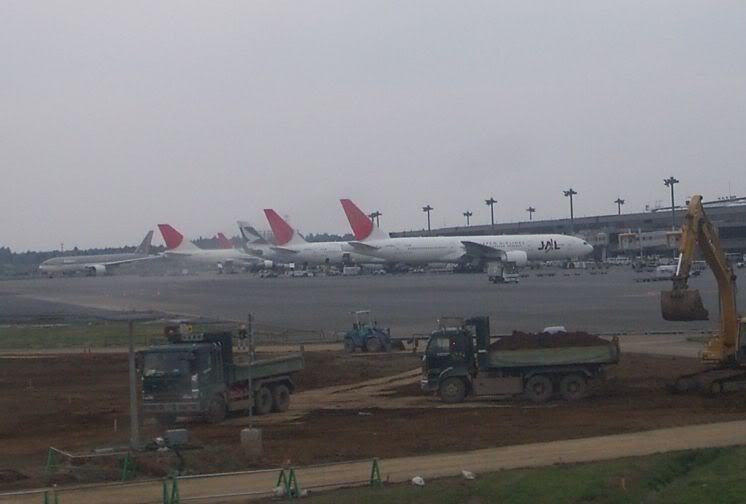 Passing a China Airlines 747-400 and China Southern 777: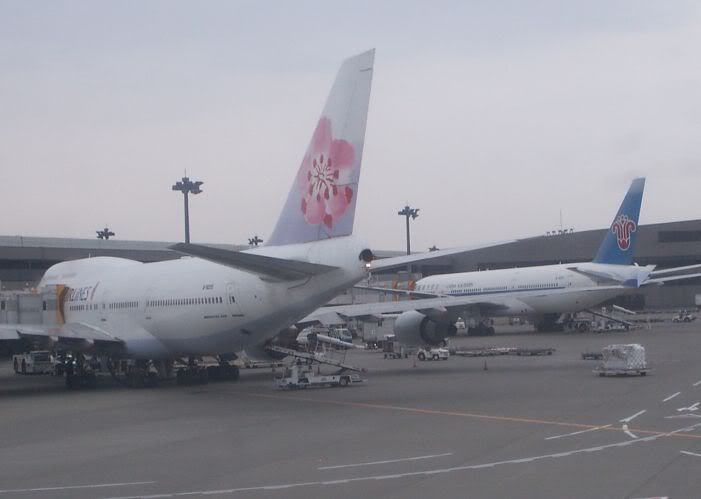 Pulling into our stand alongside a company 777 from Dallas/Fort Worth:
*********************************************************************************************************************************
Saturday, April 26
Tokyo Narita Airport
Connection
I had never been to Japan (or anywhere in Asia, for that matter) so I was eager to have a look around Narita. NRT's Terminal 2 opened in 1992 and has been the main base for Japan Airlines ever since. It's starting to show its age architecturally, but as expected, it was immaculately clean, starting from the moment we deplaned onto the arrivals concourse: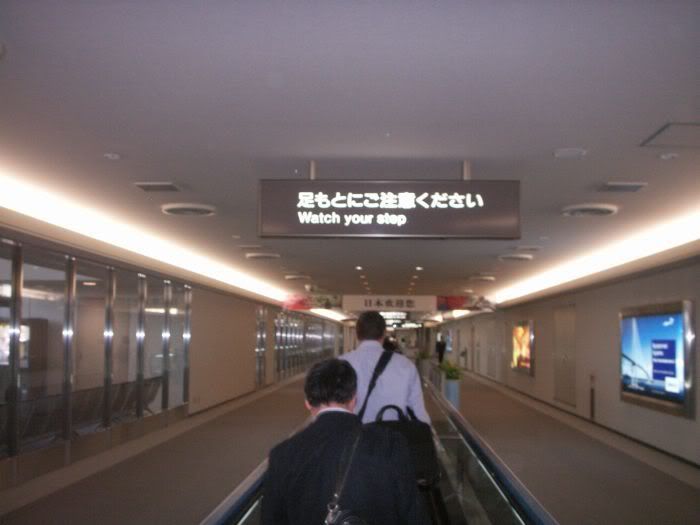 A look back at my aircraft after deplaning: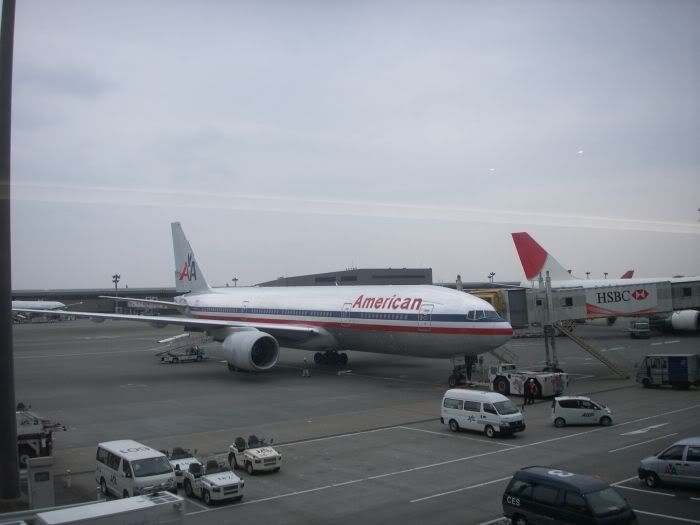 With about three hours until my flight to Ho Chi Minh City, I decided to go through immigration and get a Japan stamp in my passport. I'd heard the immigration queues at Narita could be quite lengthy, but since I'd gotten off the plane first, I beat most of the crowd to passport control and was able to get through in just a few minutes. The immigration officer printed up a peel-and-stick stamp for my passport (something I'd never seen before) and waved me through – and I was officially in Japan: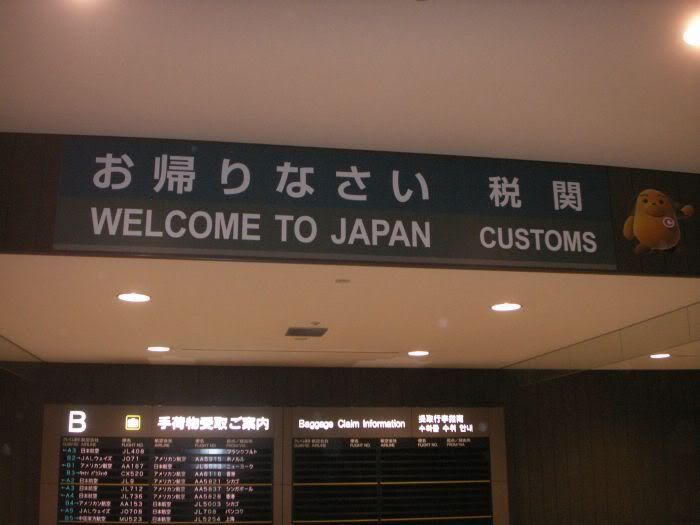 After a quick stop at customs – where I had to explain my layover to a bored-looking officer who wondered why I hadn't collected any baggage – I went through the sliding doors and into the arrivals lobby: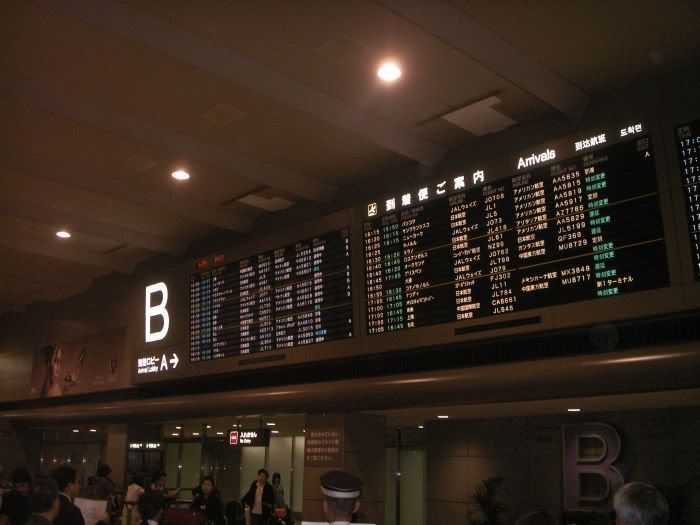 The arrivals area was very crowded and full of tour operators waving signs, families awaiting relatives and snappily-dressed limo drivers waiting on customers. There were also banks of very swoopy-looking vending machines selling all sorts of drinks and snacks (one selling sushi!) and even a few merchants selling fresh fruits and fish on the landing between the first and second floors. I began to wish maybe I'd brought some yen with me!
Upstairs I found myself in Terminal 2's enormous ticket lobby, which was recently remodeled to include new ticketing islands that match those in the rebuilt Terminal 1: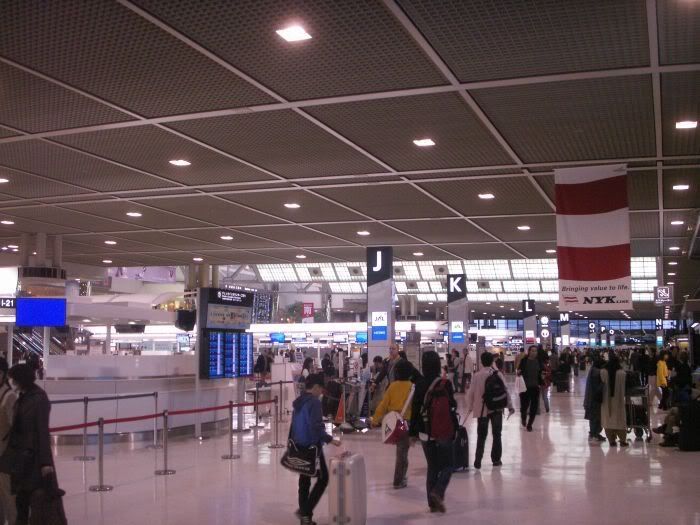 I wandered from desk to desk in search of airline timetables, but wasn't able to find anything apart from the ubiquitous Japan Airlines. I stepped outside for a moment (to say I've officially been outdoors in Japan) and got a picture of the control towers: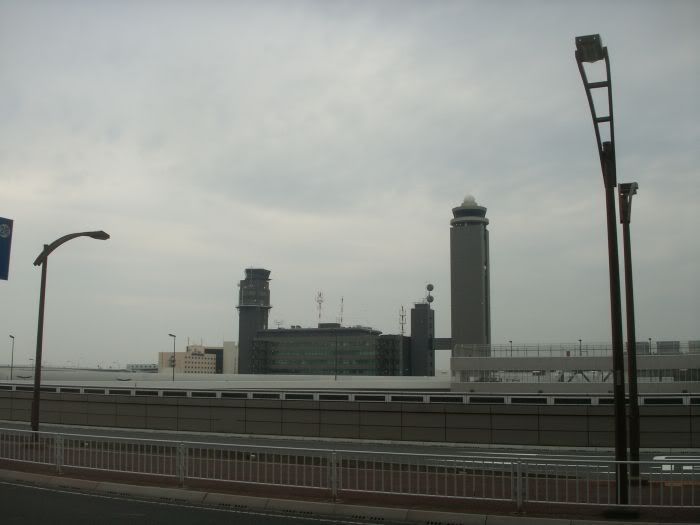 I considered hopping the shuttle bus over to Terminal 1 to have a look around, but I was trying to keep an eye on the time and make sure I got through security with plenty of time for my next trip. With about 90 minutes left, I headed back toward the gates: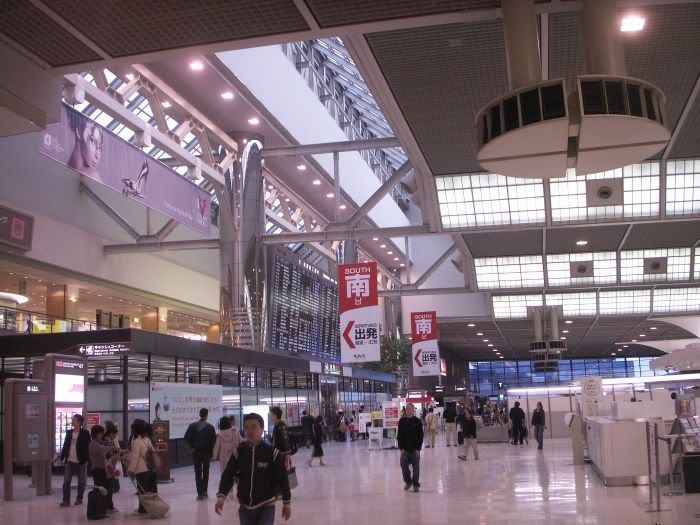 After a quick run through security (yep, that's one more country where it's faster and more efficient than it is in the US) and a stop at passport control, I found myself in the massive Terminal 2 departure lounge and shopping area: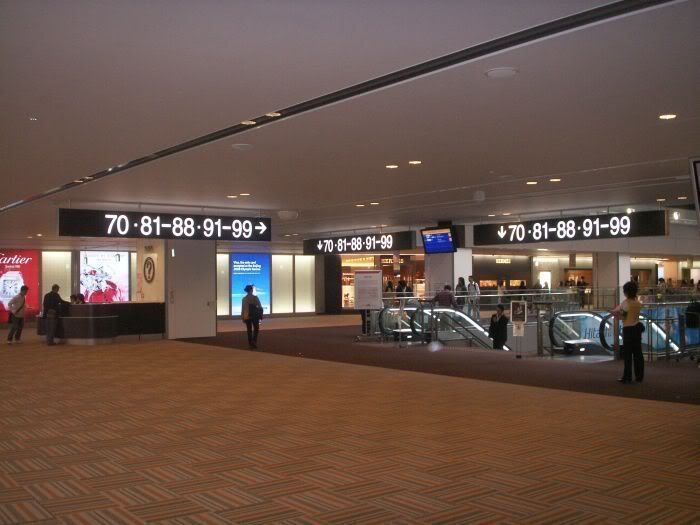 A look down at the tram station leading to the Terminal 2 satellite: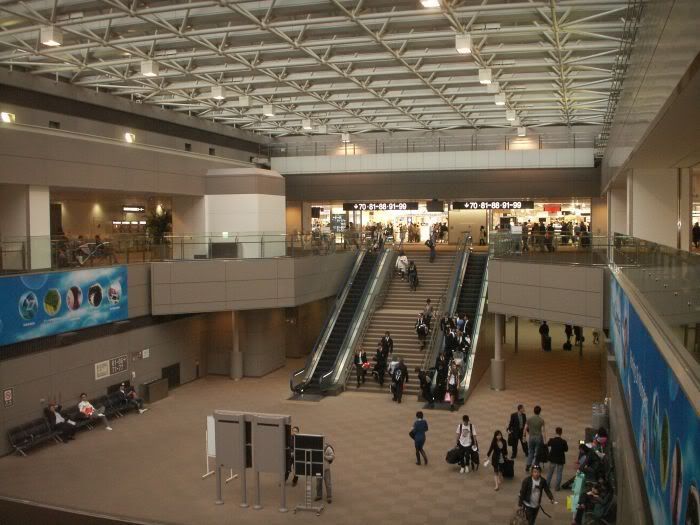 Much of the departures area was given over, Heathrow-style, to shops, but unlike in London the authorities decided to leave a few windows open for people interested in seeing aircraft. Here's a look at my plane from Chicago, along with a 'native' 747: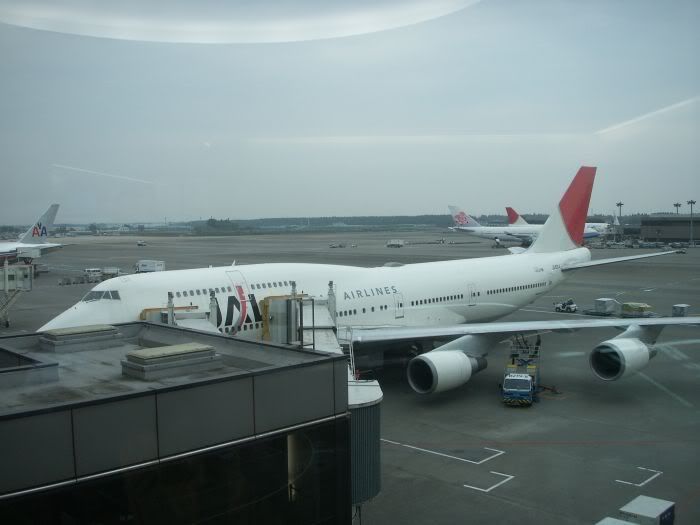 Across the concourse was a children's play area with a nice wraparound view of the southern T2 apron. Lots and lots of Japan Airlines heavies were on hand…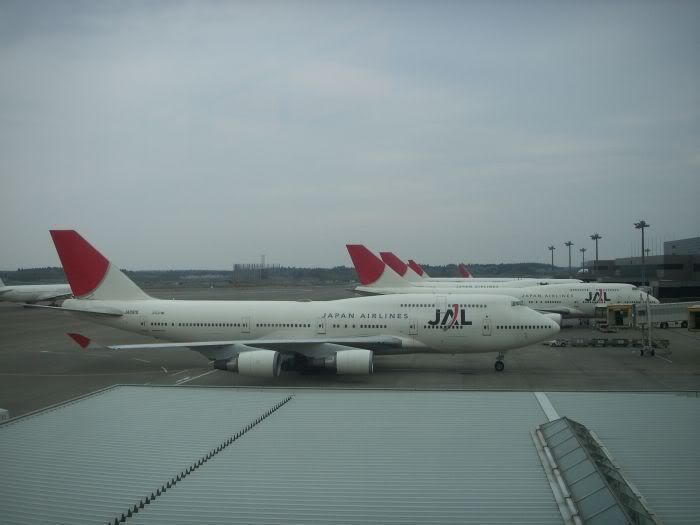 … plus a nice welcome from Hello Kitty.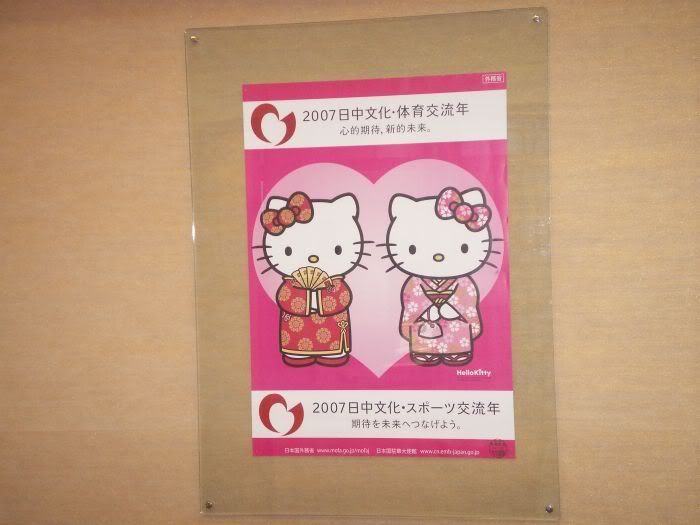 After strolling through the shopping area (most of the shops were much too fancy for me), I went down the escalator to visit Narita's new Admirals Club. The club opened last year when American moved over from Terminal 1, and is one of the nicer ones I've visited in the system. Like most overseas Admirals Clubs, there's a nice selection of complimentary snacks and alcohol (something you won't find in any of the US clubs) as well as plenty of showers and places to sit: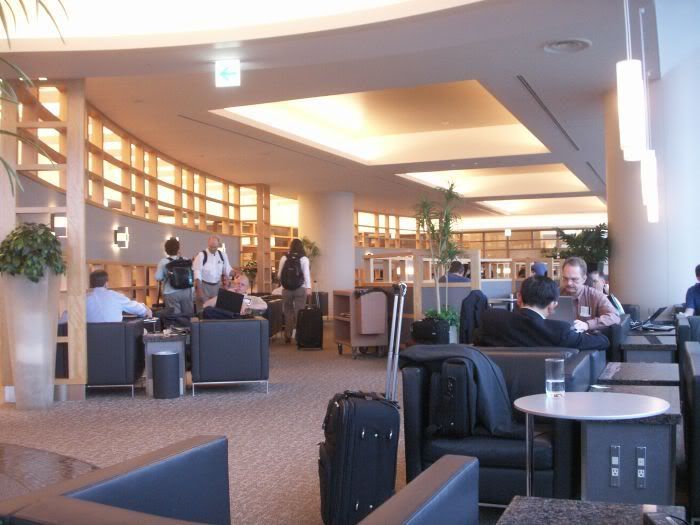 Japanese TV in the Admirals Club: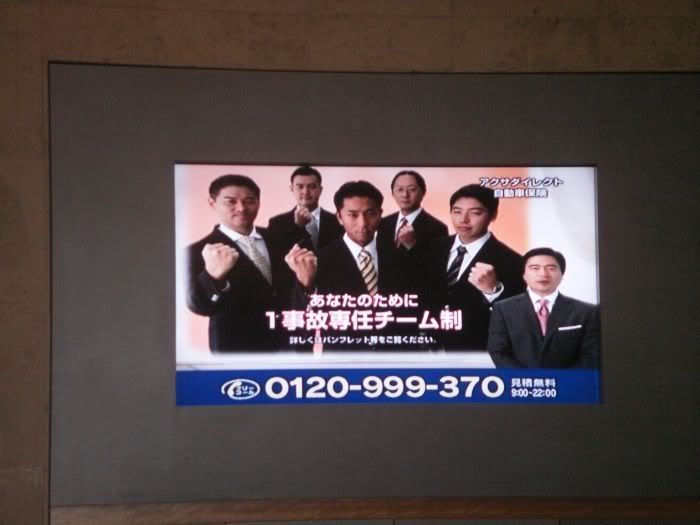 After a quick shower (very refreshing, given that I was approaching 24 hours being awake) I found a quiet seat by the windows to check out the action on the apron: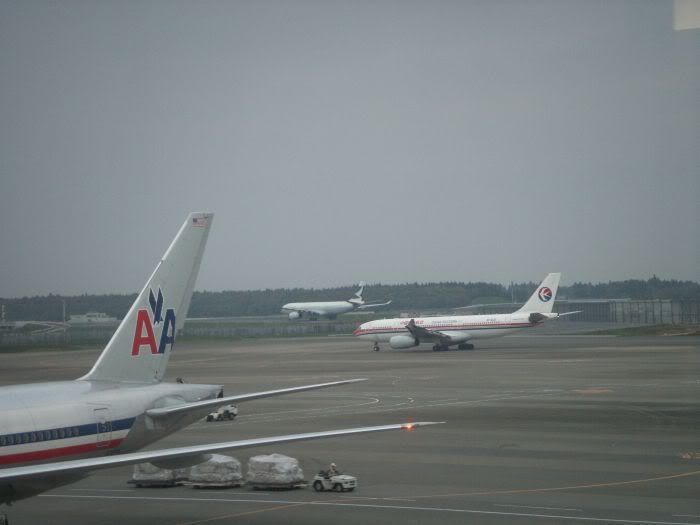 A China Eastern A330 arriving from Shanghai: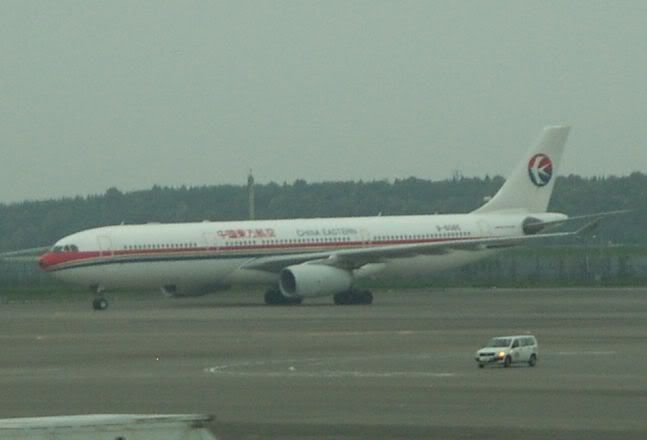 The China Airlines 747-400 I'd seen earlier pushing back for Taipei: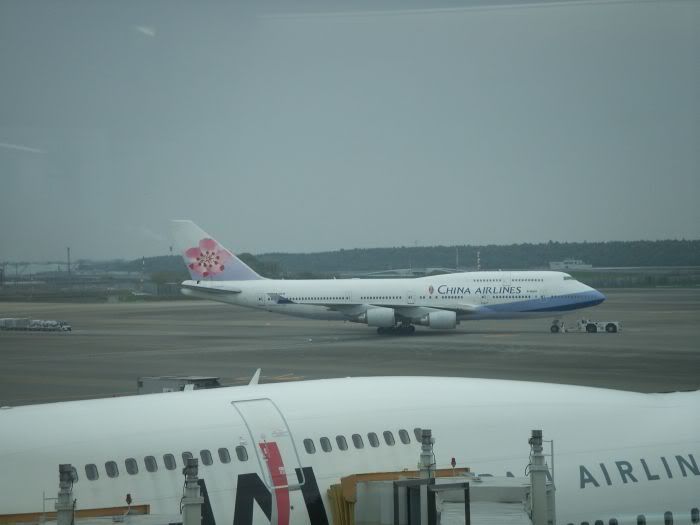 Here's something a little different – an ANA Q400 and IBEX Airlines CRJ, probably two of the smallest aircraft to use Narita:
Another American 777 turning off the runway: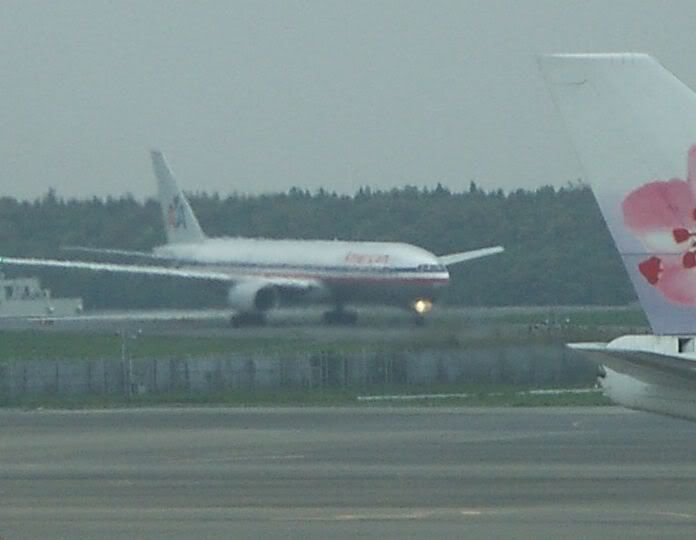 Here's something I don't see much at home – an Air Pacific 767-300 newly arrived from Nadi in Fiji: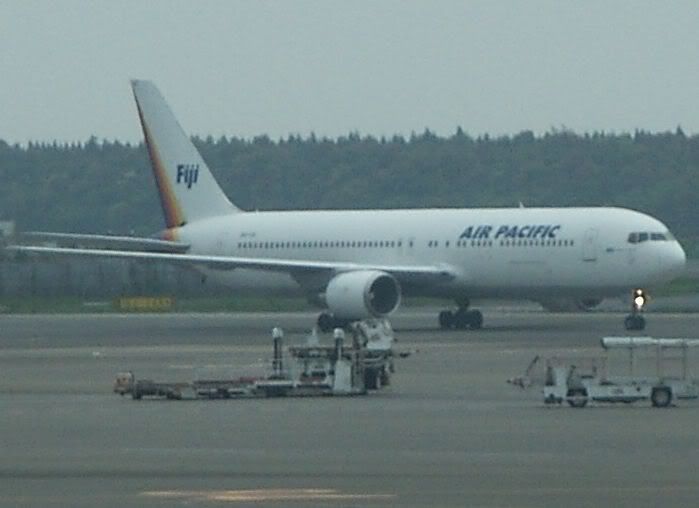 With about twenty minutes until boarding, I headed back down the concourse toward my next flight. My SGN flight would be leaving from Gate 76, all the way at the end of the north concourse attached to the main terminal. It was a surprisingly long walk, although from the second-level concourse I had a nice view of aircraft parked at the gates:
Here's my 767-300 to Ho Chi Minh City, parked at its gate. I've never seen jetbridges with windows in them before – they seem to be pretty standard at NRT:
Finally I arrived at my gate, which was an escalator ride down from the main concourse:
******************************************************************************************************************************
Japan Airlines Flight 759
Tokyo Narita (NRT) – Ho Chi Minh City Tan Son Nhat (SGN)
Departs NRT 6:05pm, arrives SGN 10:15pm
Boeing 767-300, seat 57K
Flying time: 5 hours, 40 minutes
Boarding started right on schedule – there were four agents checking passes (two for business class and two for economy) so the process moved nice and quick. I was greeted at the door by two smiling JAL flight attendants, who checked my boarding pass and directed me to the second aisle. Flight attendants were standing at positions down the length of the aircraft, checking boarding passes and helping passengers with luggage.
The load on tonight's flight was pretty light – only about half full. I took my assigned seat (58K) but moved up a row once boarding was complete, to a 57K where the window was better aligned with the seat. The aircraft itself was immaculately clean, had PTVs at every seat, and the cabin had the newer 777-style interior introduced on 767s in the late 1990s: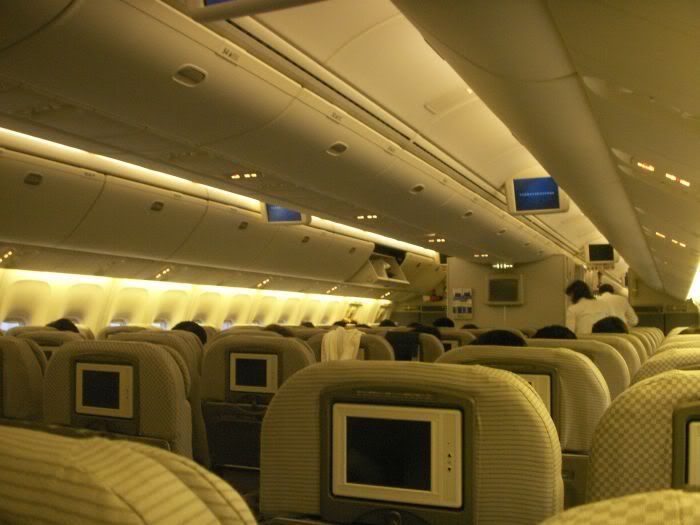 A view out the window while we were still on stand at the terminal. The American 777 next door was preparing to depart for New York:
Once everyone was settled the captain came over the PA to announce a short delay, as we were waiting for a few transfer passengers who were coming through the gate. When they had boarded, the crew screened the safety video on the overhead monitors and on our PTVs:
Interestingly, at the end of the video, the purser came on to introduce herself, then introduced the rest of the cabin crew by name. As each attendant's name was called, she stood at her respective post and bowed to the passengers. A nice touch, I thought!
We finally pushed back about 15 minutes late, passing an ANA 737 as we left our stand:
A Qantas A330 arriving – this was my first time seeing the type in their colors:
The engines were started up and we taxied away from the terminal. Being on a 767, I figured we'd be departing on the shorter runway 16L-34R, but instead we made the longer taxi around the terminal area to Narita's original runway, 16R-34L. Along the way we passed plenty of tantalizing photo subjects, but the sun was going down quickly, and my camera doesn't do so well taking pictures in low light (I had disabled the flash to avoid disturbing the other passengers.) First up was a company 767 (complete with the Yokoso! Japan message) parked at one of the gates:
Here's a Japan Airlines 747-400 and Air China 757 parked at the Terminal 2 satellite:
A massive Japan Airlines 777-300 preparing for departure. It definitely made our 767 feel small – I was booked on a 773 for my return trip, with Cathay Pacific on the Bangkok-Hong Kong sector: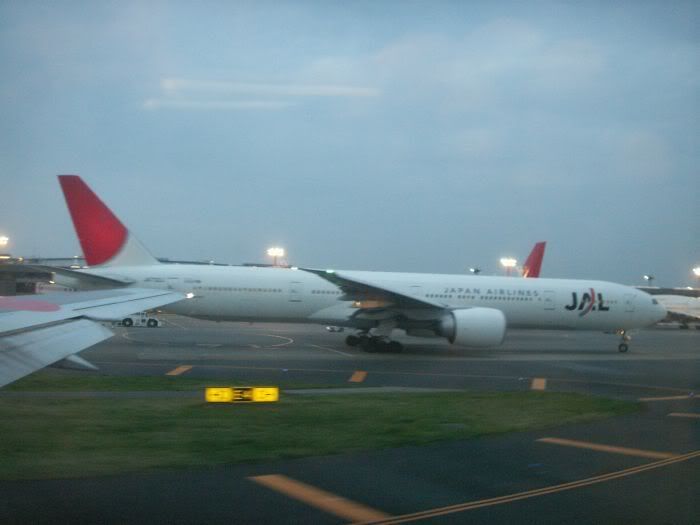 China Airlines seems to have a lot of flights from Narita, having moved its operations from Haneda (where for years it was the only international carrier) a few years back. Here's one of their A330s heading for Terminal 2: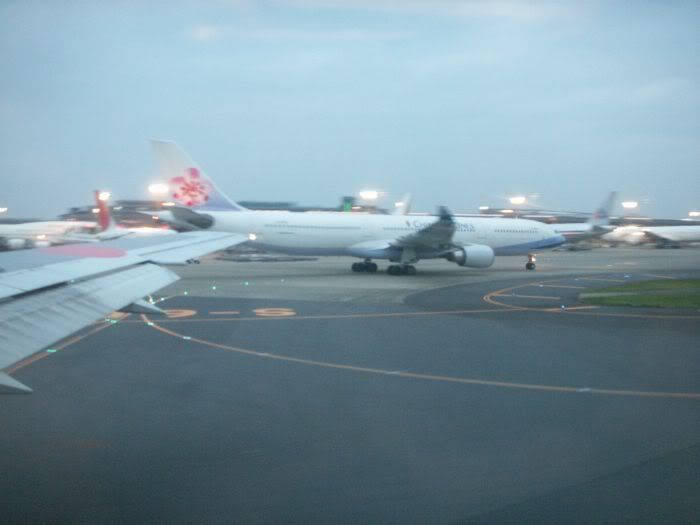 Lots of heavy metal parked at Terminal 2 – sorry for the blurriness, but by now it had gotten much darker outside:
Since I'd spent all my time at Terminal 2, I barely saw any ANA aircraft during my time at Narita. Here's one of their 777-200s pushing back from a stand at Terminal 1:
And finally a view of Terminal 1 itself … this is the newly rebuilt South Wing, home to ANA and its Star Alliance partners:
As we continued taxiing past Terminal 1 I spotted two United 777s at the gates, and a shocking 12 (twelve!) Northwest aircraft parked at the two satellites attached to the North Wing. There were four 747-400s, six A330s and two 757s… it was like a little slice of Minneapolis, right there in Japan. Sadly, none of my pictures came out.
Finally we reached the threshold of 16R, where we held briefly while a Malaysia Airlines 777 came in to land. When it had cleared the runway, we turned on and made a smooth takeoff to the southeast, climbing out over plenty of lights. During landing, the area north of NRT seemed to be pretty rural, but the area to the south seemed much more built up. The pilots turned on the belly camera for takeoff (something I'd never seen before – I've only seen nose cameras) – so even the passengers in the center section could watch the scenery below.
As we climbed into the clouds, the purser came overhead again to announce some details about the flight and call our attention to the duty free service. I thumbed through the seat pocket and took a look through
Skyward
, JAL's inflight magazine. It had a few interesting articles, and great route maps showing JAL's international network, as well its very dense domestic system (the result of the merger with Japan Air System a few years ago.)
Reaching cruising altitude – the sun is just about gone: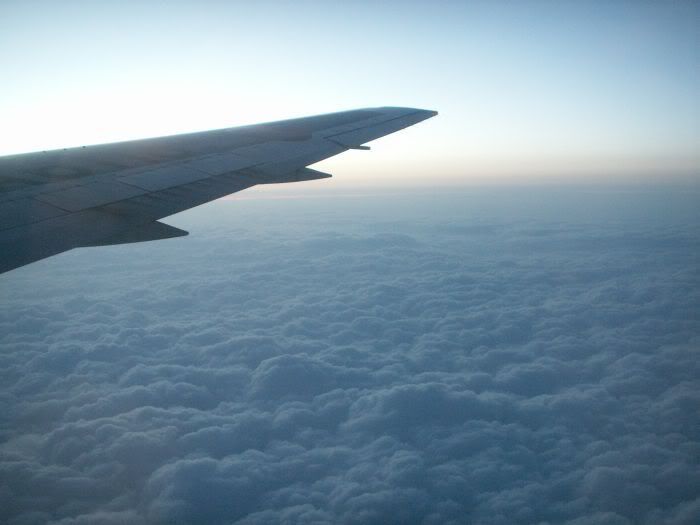 My seat was equipped with a PTV – and a pretty comprehensive guide to JEN, the Japan Airlines Entertatinment Network, as JAL has dubbed its IFE. My aircraft was equipped with the latest version of JEN, which featured a whole mess of movies and short-subject programming, as well as a moving map. By this point I was starting to get very tired, so my plan was to stay awake long enough for dinner, then get some much-needed sleep before the landing at SGN.
The crew came down the aisles with a beverage service – alcohol was complimentary, although at this point a drink probably would have put me into a coma – and I opted for a soft drink. There was only one choice for dinner… a beef noodle dish mixed with a scrambled egg and vegetables, served with a small salad, vanilla custard, dinner roll and cold shrimp appetizer. It wasn't bad at all, although the beef was a little undercooked for my taste: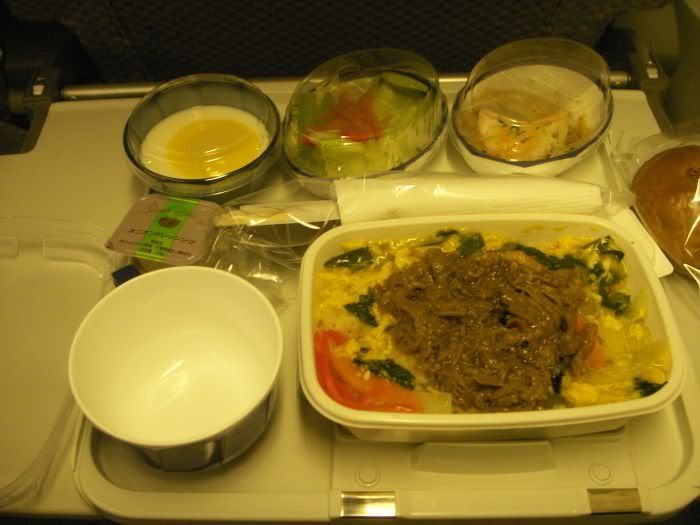 As I ate, I caught brief glimpses of Japanese cities through the clouds – we followed the coastline down to the Kansai region (the massive urban conglomeration that includes Osaka, Kyoto and Kobe, among other cities) where I was able to see KIX illuminated down below. From there we crossed the southern tip of Kyushu, then flew down the Ryukyu island chain into the open ocean.
I dozed off shortly after the dinner trays were cleared and woke up to some pretty severe turbulence. By now the moving map showed us just off the southern coast of Taiwan, about halfway done with the flight. I was able to fall back asleep (amazing how easy it is to sleep when you've been awake for 32 hours!) and when I next woke up, we were over the South China Sea, coming up on Vietnam: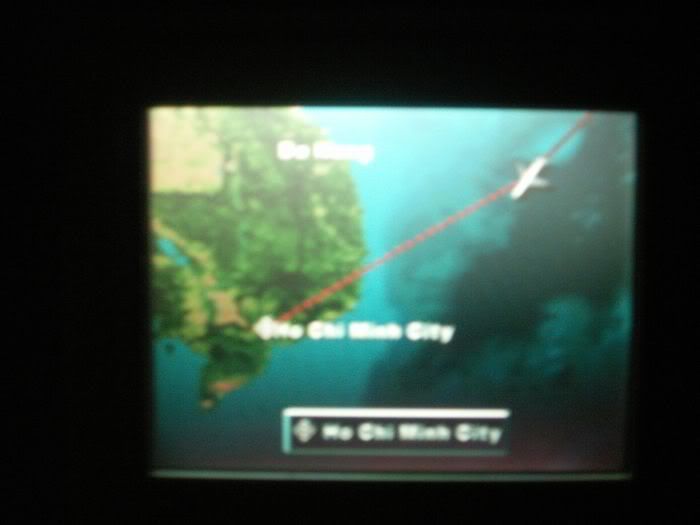 Vietnamese customs forms were distributed and we started our descent into Ho Chi Minh City. I could see some faint lights through the window, but we were still over the ocean so I assumed they were coming from large ships. As we crossed the coast into Vietnam, we hit some moderate turbulence, and clouds rolled in once again. The crew were asked to take their seats early – according to the captain, it was raining pretty hard at SGN and we would probably hit some bumps en route.
When we dropped below the clouds we were over the huge conglomeration of lights that is Ho Chi Minh City – lots of irregular patterns of light stretching as far as the eye could see. Every street was a river of fast-moving lights (motorcycles, I would later find out!) and the nose camera showed raindrops flying fast and furious against the aircraft. We winged lower and lower, over packed streets, brightly illuminated advertisements and lots of very crowded-looking neighborhoods. Finally, when it seemed like the wingtips were going to scrape the apartment buildings below (Tan Son Nhat Airport is literally in the middle of town), our 767 skimmed the perimeter fence and landed heavily on SGN's runway 25R, kicking up lots of spray as we slowed to a taxi.
It was raining very hard outside – within about 30 seconds of landing, raindrops had completely obscured the view outside my window. During our taxi back to the terminal I could see a few aircraft parked at SGN's new international terminal – a Malaysia Airlines 737, United's 747-400 from Hong Kong (which my friends had just arrived on) and two Vietnam Airlines A320s. At least we shuddered to a stop at our gate, and the first leg of my trip was over at last.
Saturday, April 26
Ho Chi Minh City Tan Son Nhat Intl. Airport
As luck would have it, our gate was directly in front of the entrance to the the immigration area, so I wasn't able to see much of SGN's gleaming new international terminal after I deplaned. Almost all of the immigration desks were manned (are you taking notes, TSA?) and I was through to baggage claim in almost no time. My friends were waiting at the foot of the escalator – the United flight from HKG had arrived about 10 minutes ahead of schedule – and we headed to the carousel to pick up my bag:
*******************************************************************************************************************************
That's it for part one. The verdict on my flights? American's business class was quite comfortable, and having some extra space was definitely appreciated on an almost 13-hour flight. The food was good and the service was adequate, although as I was about to learn, not even close to what I would get on Asian carriers like Vietnam Airlines and Cathay Pacific. The JAL flight from Tokyo was extremely comfortable, although I was too much of a zombie to take advantage of a lot of the amenities.
I'll have a more detailed photo tour of SGN in my next report, which will cover our domestic 777 flight from Ho Chi Minh City up to Hanoi the following day. Stay tuned until then!