It is that time of the year again, where I go visit the old country and spend some time with family. I plan it that I get to spend the Mother's Day with my mom. Also it is nice to visit my dad down in Marmaris area, where he spends 7 months of the year away from Istanbul.
The trip starts in JFK usually but it was just another uneventful DL nonstop to Istanbul so, no need to do a trip report here. Next time I do a JFK-IST report hopefully will be in TK's first class or DL's lie-flat seats, see when that happens.
Back to the TR at hand;
The day started at 7:30 am where the temperature was still around 60 degrees F. After a big breakfast I hurried and got an hour of light windsurfing before getting ready for the flight.
From Marmaris it is nice to take the Havas bus to Dalaman airport. It is the only choice other than taking a cab, which can be expensive. The bus costs 23YTL ($18) and takes about 75 minutes to get to Dalaman airport. The busses are nice, air-conditioned and if you ask for it they give you bottled water, which is included in the fare.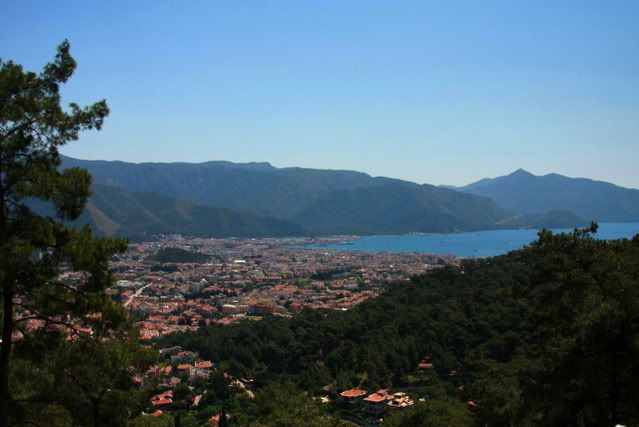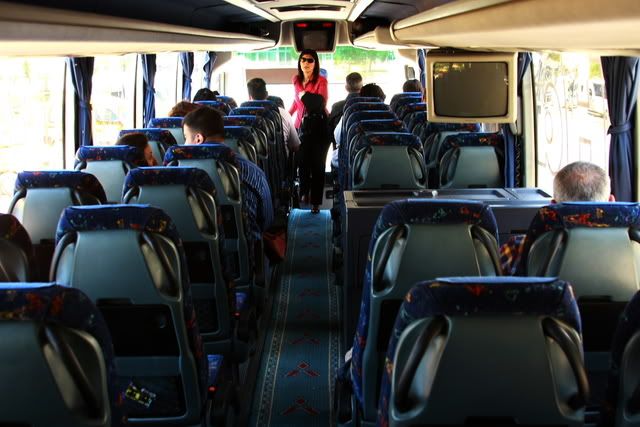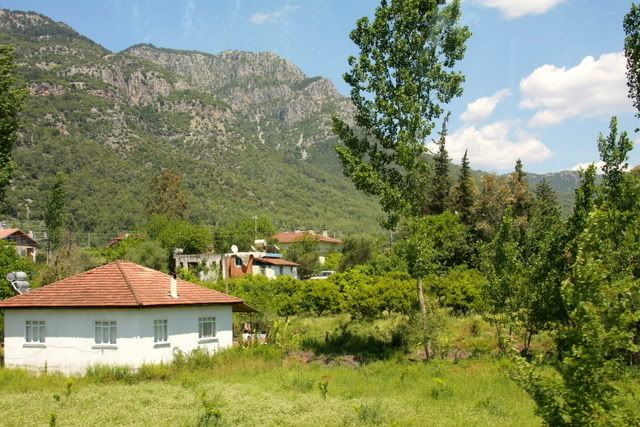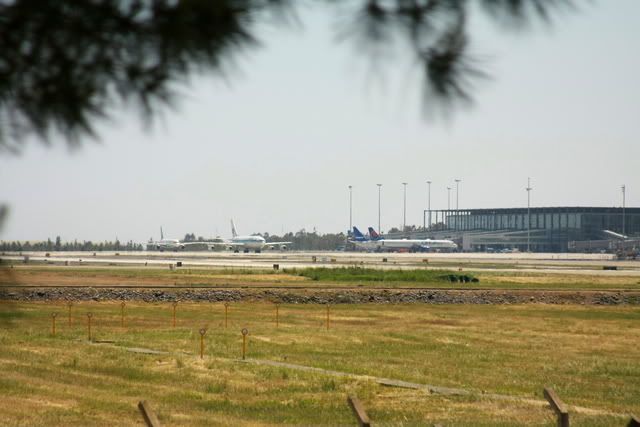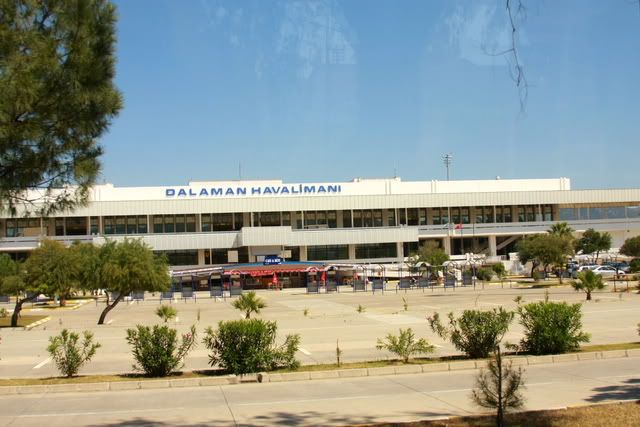 When we arrive I am the first one out of the bus and first to go through security at the terminal door, and onto the self-checkin counter of TK. I called TK two days in advance to get a window seat, but I was told that only business class can get seat assignments. I could get Y seat assignments only 24 hour prior and only online. I haven't heard that one before.
Even though TK has the self-check in kiosks, an employee is there to help me. I imagine since they are new, and pax need help to use the touch screen menus. I just swipe my UA mileage card and there it is, my reservation. I put in my mileage number to get my first Star miles through TK, but since then I haven't received anything, maybe it has to be at least 500 miles.
Being a two-week advance fare, this flight only cost me 84YTL ($65). The price jumps to 240YTL during the weekends, which is outrageous. But I am happy to take this flight since it goes to SAW; the second airport in Istanbul, which is located on the Asian side and closer to where I stay. Also this will be my first daytime flight into SAW, so I get to see the surroundings, take some pics. TK started this afternoon flight between these two airports just recently and later in summer there is a late night flight also which I really like having the option. TK is the main player between Istanbul and DLM, and usually has 3x daily during winter. In May it goes up to 5x, one of them from SAW. On weekends during summer it sometimes goes up to 10x, some being redeyes.
DLM domestic terminal is the old DLM international terminal. There are 4 gates but I have never seen more than one flight at a time. During summers I am sure they all get used. The architecture always bothered me, it is somewhere between a hospital and a government office look; lots of concrete, bad lighting, just weird. I have a feeling I am stuck with this for at least another 10 years or so, until there is a demand for a bigger facility.
After choosing my seat, all the way back and a window, I go inside the terminal. It is deserted since mine is the only flight leaving this afternoon.
Looking at the international terminal I see a Thomas Cook 757, a Pegasus 738, a Ukranian 737, and a KrasAir IL-96.
It was pretty boring spotting afterall, nothing to do, and we all know about how expensive the Turkish airport food is so I made my way to my gate, Number 1.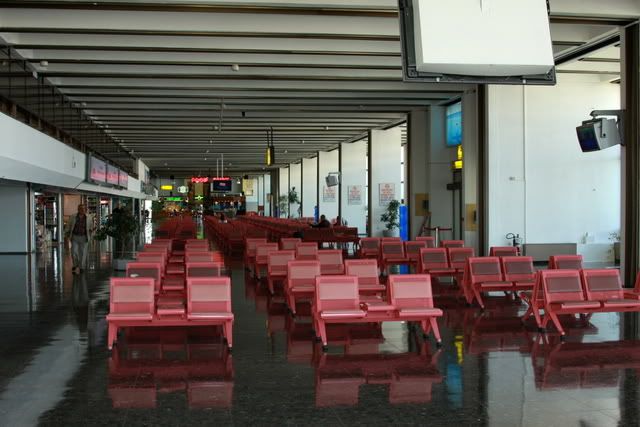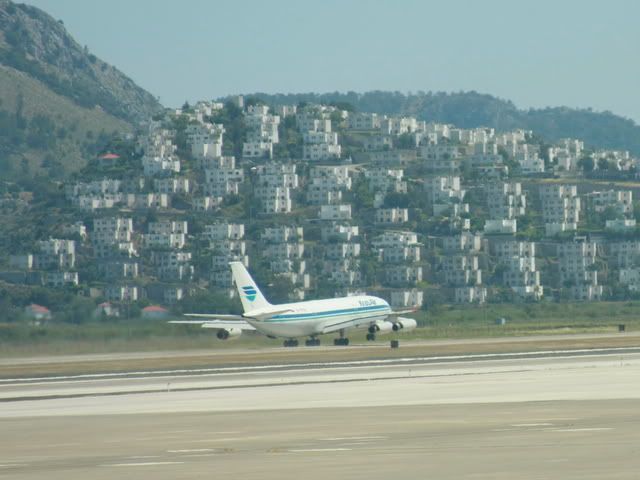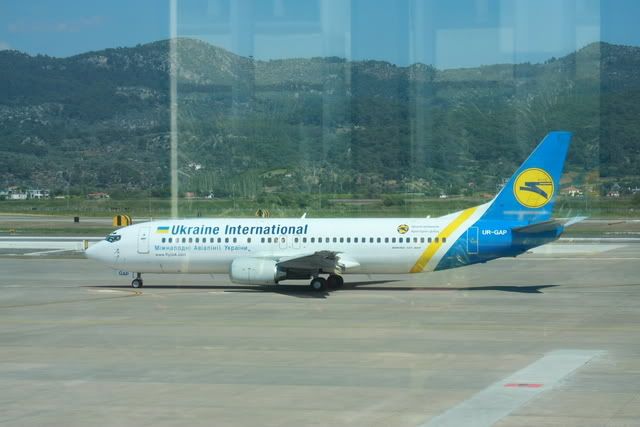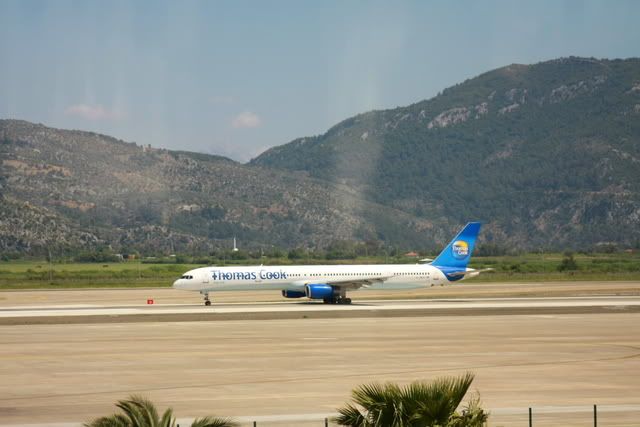 While at the gate I just realized that no one has checked my ID to that point, which kind of worried me.
Soon afterwards my 320 arrived and we started boarding. Eventually at the gate, the FA checked my ID. She barely looked at my NYC driver's license as if she sees one everyday.
I was greeted to the plane by one of the four women FA's, nice to see them smile.
I took my seat at 28A.
TK895 DLM-SAW @16:15 Friday May 9th, 2008
Load was around 60%, much higher than I expected.
A320 TC-JLJ "Sirnak" first flight 2003, entered service with TK through SALE in 2005
Announcements were made both in Turkish and English, no flip down screens since this TK 320 is one of the leased ones, but will stay in the fleet till 2015.
We took off on time from 19L toward the sea, and made a sharp left hand turn to go up North toward Istanbul.
The flight duration is 60 min, and our cruising altitude was 32,000 feet.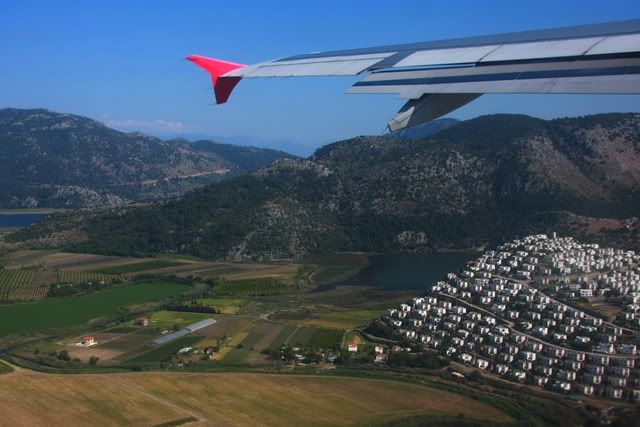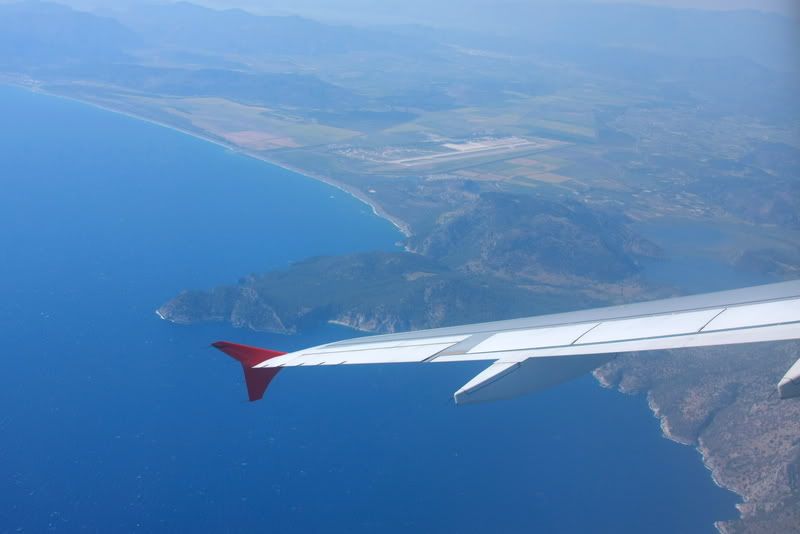 When we reached our flight level, the food and beverage service started from both ends of the aircraft, and the captain came on and made an announcement about our flight details, starting:
"Ladies and gentlemen, this is speaking captain…"
You can imagine the rest of his speech, very hard to understand.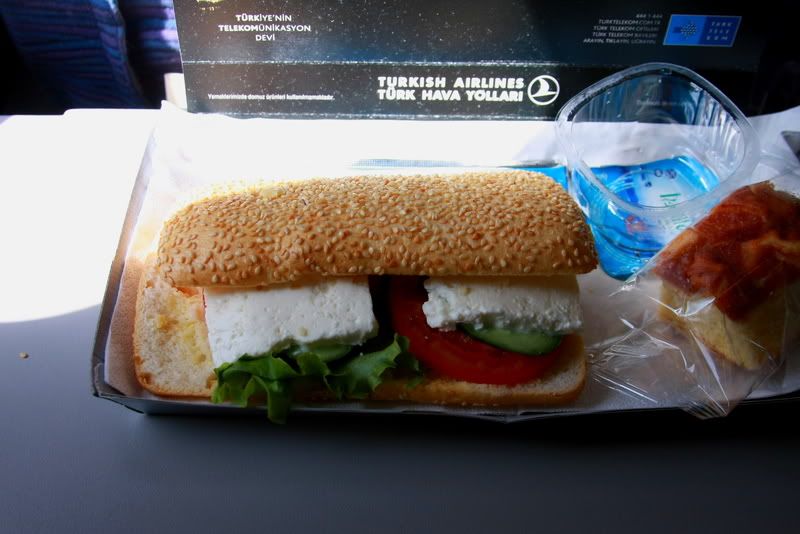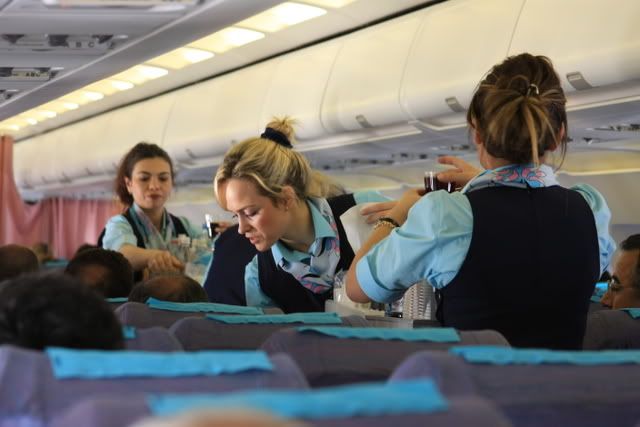 I had a choice between a salad and a sandwich. I know for a 60 min. flight Turkish pax are spoiled. I chose the sandwich and it was a very tasty bun filled with feta and tomatoes/cucumbers and lettuce.
I was disappointed when I asked for a beer and was told that TK doesn't serve alcoholic beverages on its domestic flights. What a shame? Only reason comes to mind is; flights are too short to serve a full 737/320 size jet and time it takes to handle the cash.
30 minutes into the flight we started our descend. Most of the flight there were clouds to look at and nothing else. When there was a break in the clouds for the first time in my life I got to see Uludag, from above. Uludag is in Bursa, and it is one of the main ski destinations for Turks, 3 hours from Istanbul.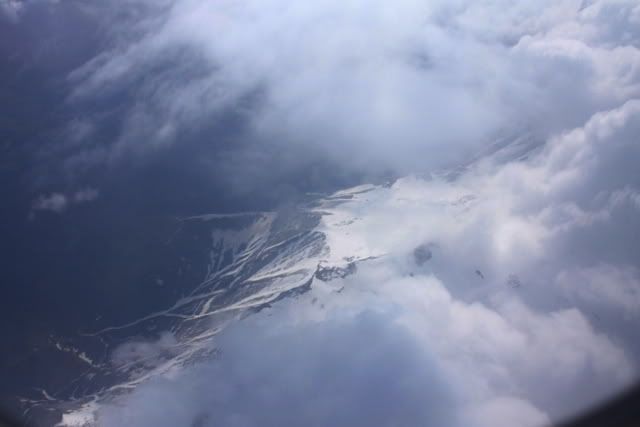 Our final approach took us over the Princess Islands and over Kartal area. The islands are car-free, so all you see is horse carriages, bicycles and such, very quiet. On the other side Kartal area is very crowded, noisy and terrible traffic.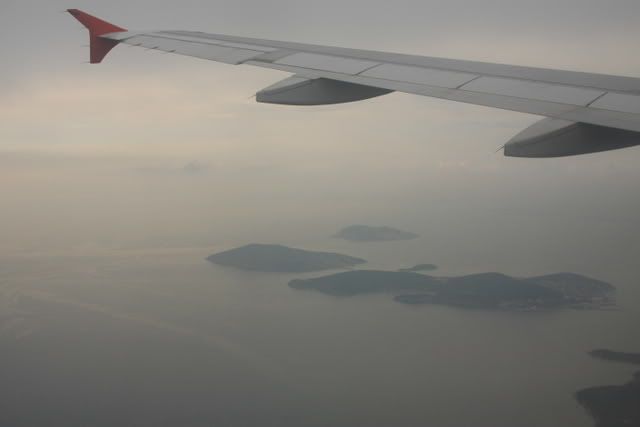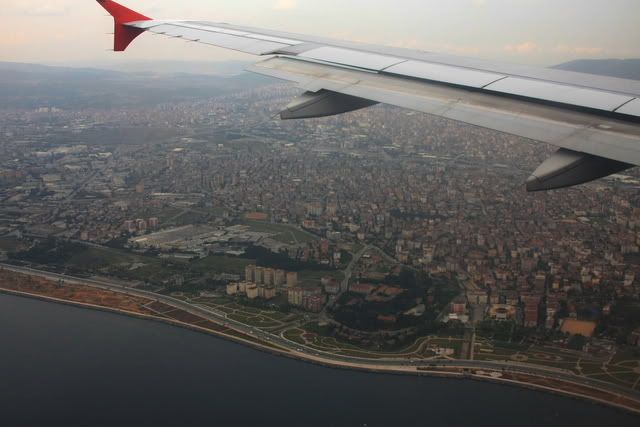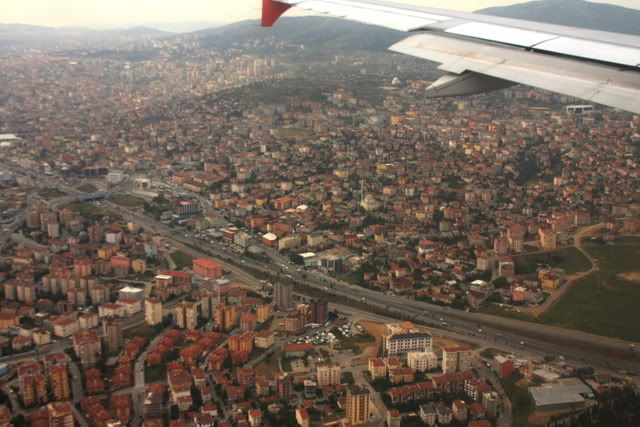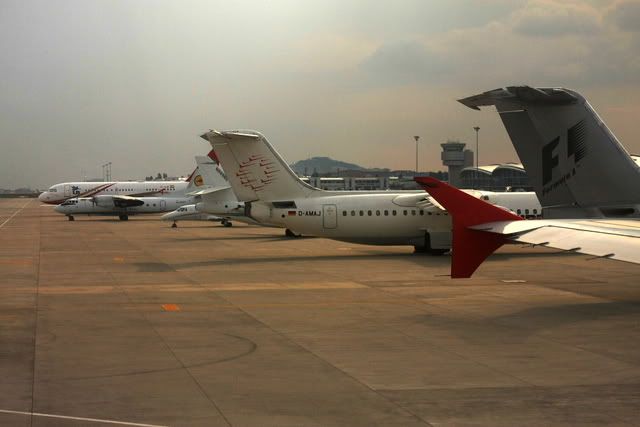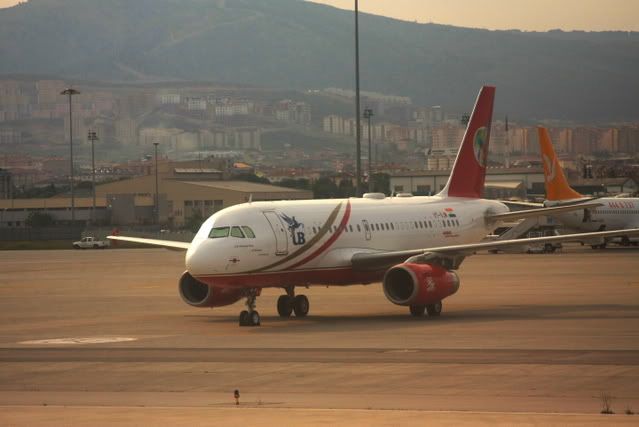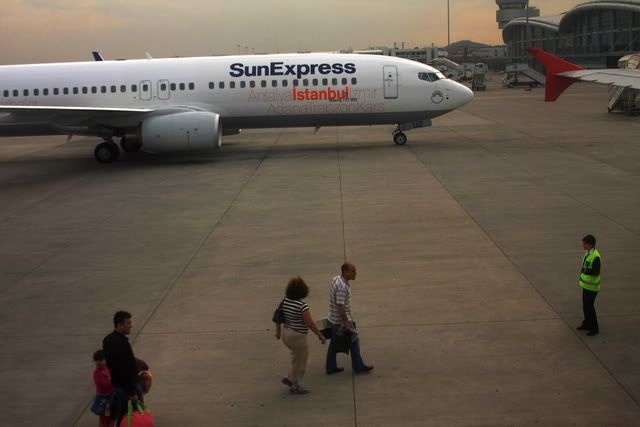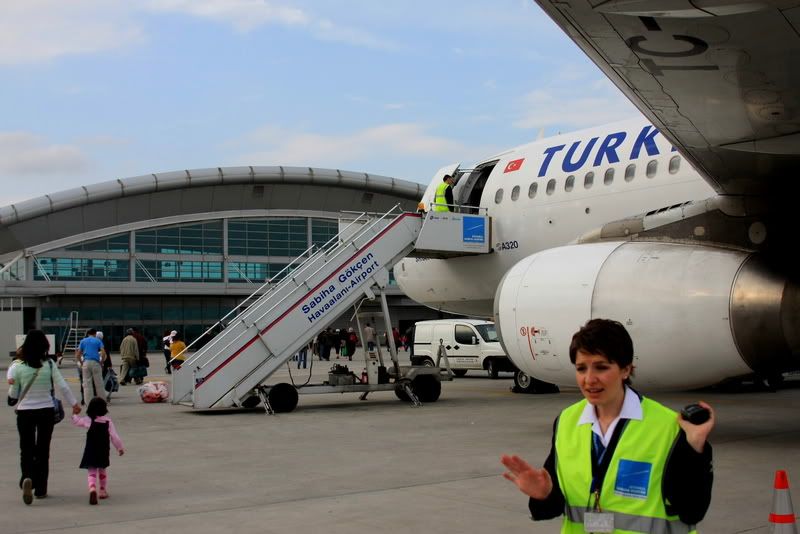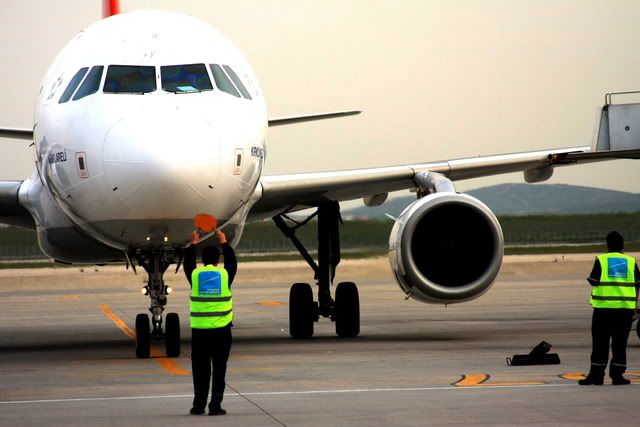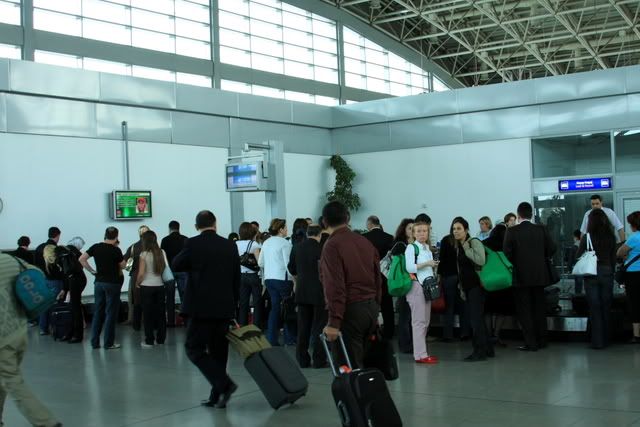 The landing was smooth just like the whole flight. The apron was crowded with F1 visitor jets, since this was the first day of the races. SAW used to be dominated by Pegasus airlines, it was different to see TK and Sunekspress besides Pegasus.
Outside the terminal Havas buses again ready to take pax to different parts of Istanbul. While waiting I witness something I haven't seen for a while. The taxi drivers pushing their cars to the head of the line, trying to save some gas. If it goes on like this, we might see this happening on tarmacs one day.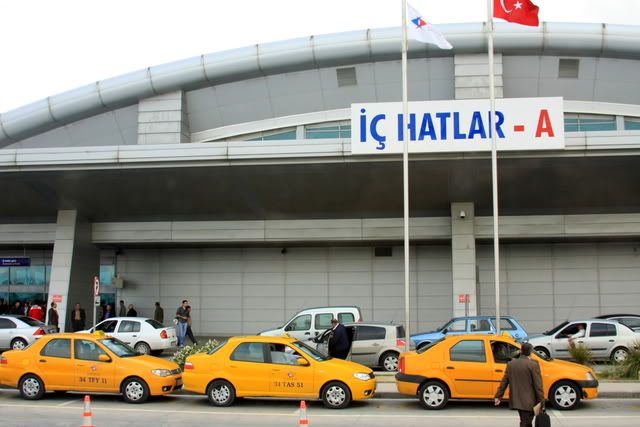 Out of the airport we start seeing signs for Istanbul Park, where F1 race take place. SAW is very close to the race area.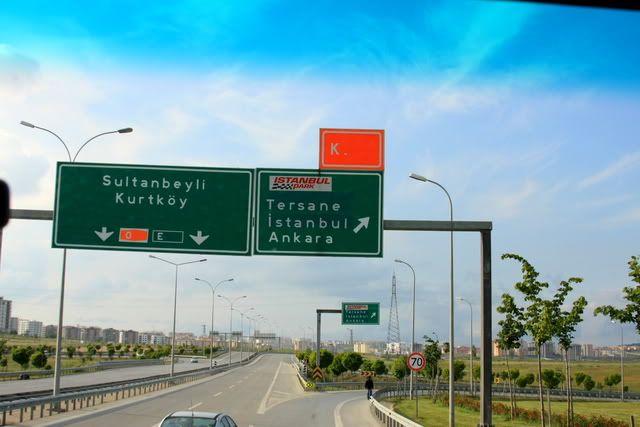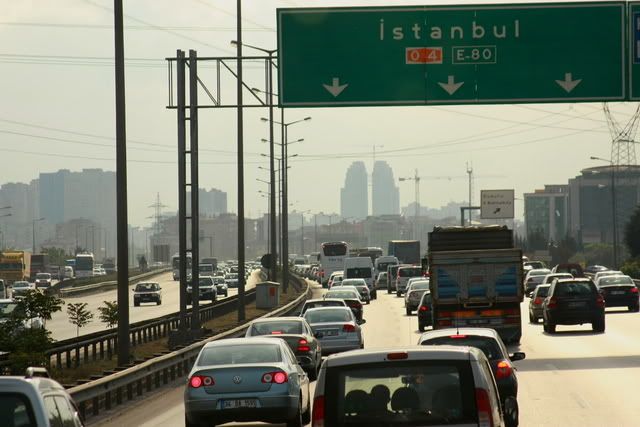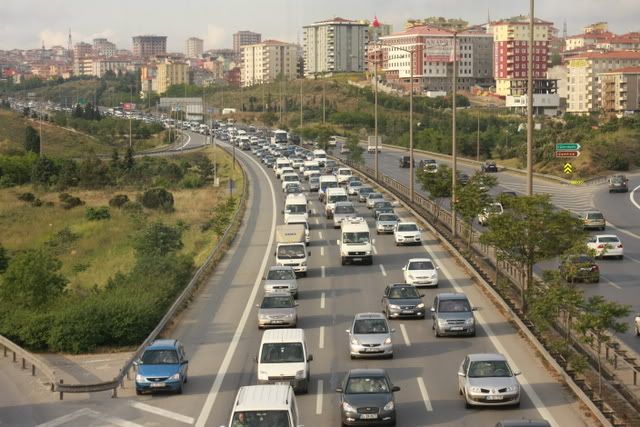 Here is the bonus part; the first leg of this trip, the bus I took down to Marmaris;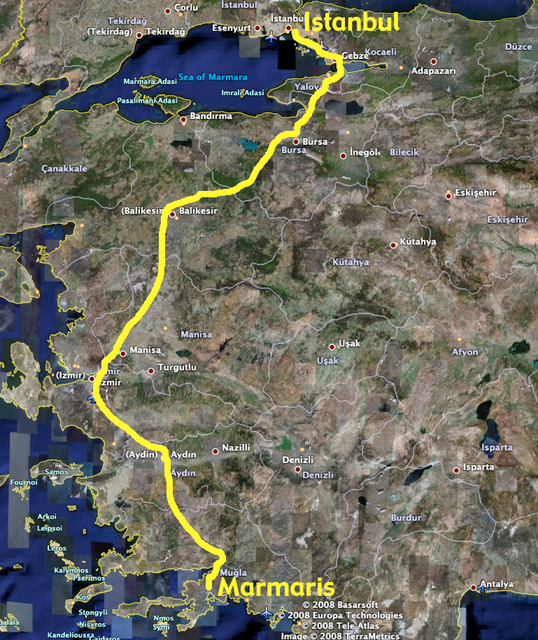 After many years of flying down to DLM and back, this time I had to take the bus. I was too cheap to pay the extra fee to take a bicycle on a IST-DLM flight since I already paid $150 for it on the JFK-IST portion of the trip. So this bicycle started to cost me more than what I paid for it in NYC.
Freight companies weren't cheap either, and couldn't guarantee a timely delivery when I needed the bike, so I made a decision to take the slow boat, I mean the 13-hour bus ride to Marmaris.
Nice thing about the bus companies in Turkey that they have smaller busses that do pickups from main points in the city to their main terminal. Mine still had the plastic covers on the seats, wow..
After a 15-minute ride I was at their facility at the outskirts of the city. The waiting lounge was comparable to an airport gate, with coffee/tea, baked goods, and few gift items.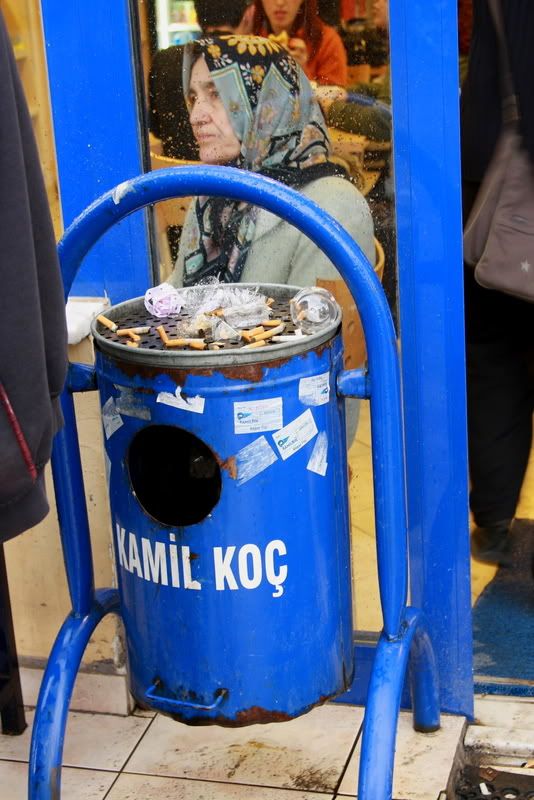 After sometime my bus arrived. It was nice that they didn't charge anything extra for the bicycle.
I took my seat and realized that it was a full bus. The name of the bus company is Kamil Koc, and it is one of the cheaper ones. To give you an idea they had 4 busses going to Marmaris from Istanbul. That means with the other bus companies combined there must be at least 15 departures to choose from.
My bus left at 7pm from Istanbul. The seat pitch if fine, maybe 33 inches or so. The bus felt quiet, the air adequate. There was only one steward for the whole bus, and served us some cookies and soft drinks right off the bat. In about 45 minutes we arrived at a ferry terminal to cross the Sea of Marmara.
This is a nice break since everyone gets out and gets some fresh air during the 45 min ferry ride. On the ferry there is also a snack bar with all kinds of beverages and fast food items.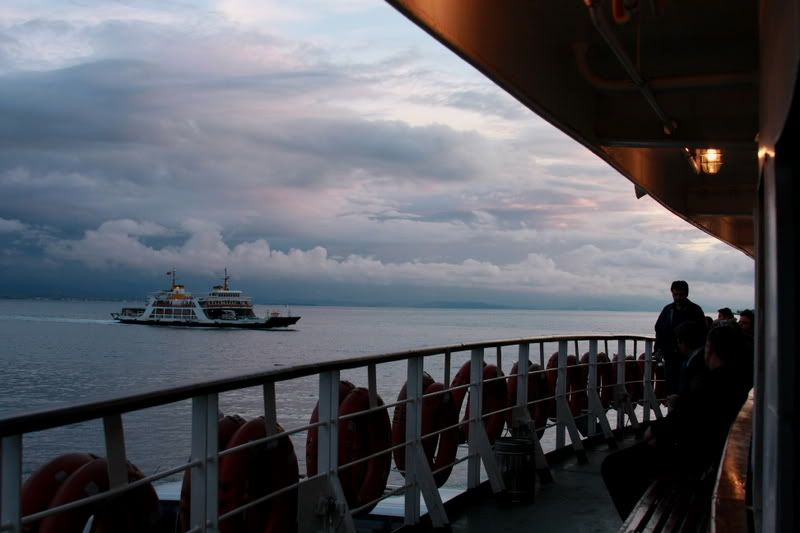 After the ferry ride our first stop is Bursa, where we had a half hour stop. This is a good place to get some dinner and dessert. I had some kebap wrap and also some candied chestnuts, a local delicacy.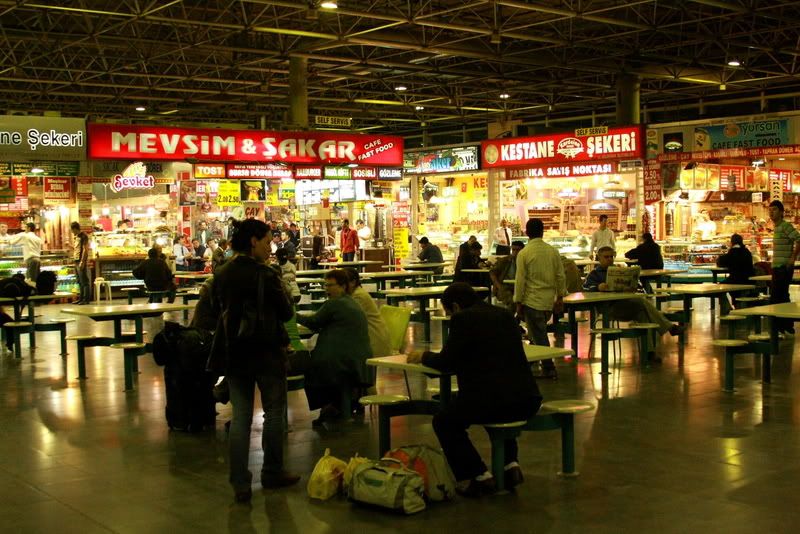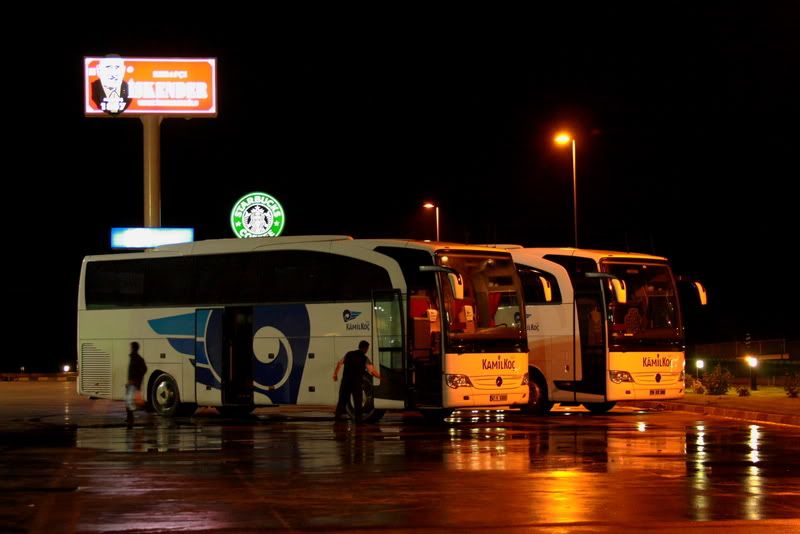 After Bursa we traveled another 2.5 hours, during which a movie was shown on board on two LCD screens. I didn't pay attention and listened to my ipod. We stopped at a big busstop in Susurluk in the middle of the night. Many busy companies use this place. It was a quiet night, and I was surprised to see a Starbucks in it. It was closed but the food court had some incredible items, from home cooked meals, to various desserst. I opted for fresh squeezed OJ, and wandered around the gift shop.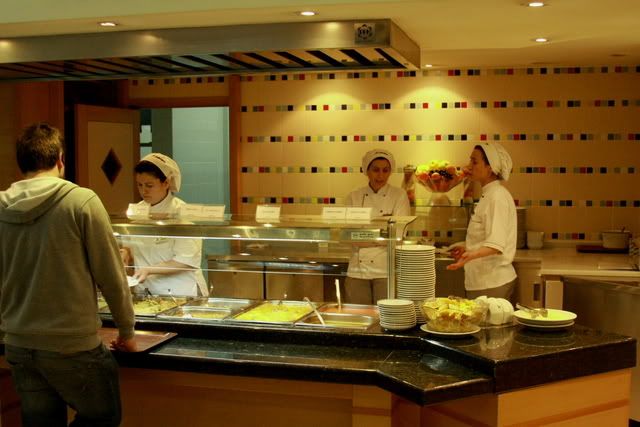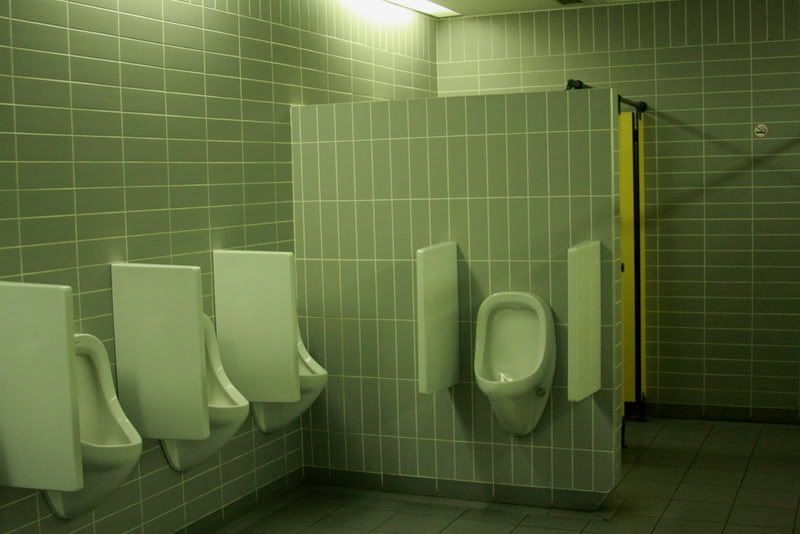 At this point most people in the bus were sleeping and some opted not to step out at the stops.
Our next stop was past Izmir, again in a big bus stop near Selcuk, very close to Ephesus. Again it was a 1/2-hour stop where the driver got some rest, people stretched out their legs, some had full meals. I decided this was a good point to have some early breakfast.
There was a lonely coin-op claw machine the kind you see in county fairs to pickup stuffed animals, and a massage chair. There were some college kids going down to Mugla University, they put the machine to good use, it must have been 5am.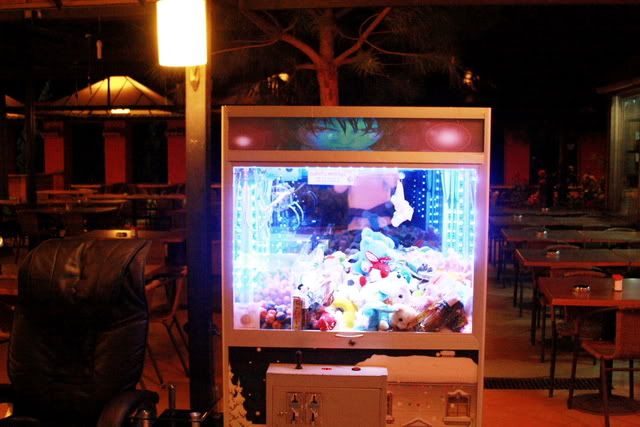 These stops are also good for people to text message their loved ones about the trip, since cell phones are not allowed on board.
I thought, seeing the sun rise, being able to push the button and ask for some water were as nice as being on a plane. I really enjoyed looking out the window and taking in the country side life after it got light. By the way, I forgot to tell you all this is for 60YTL ($46) one way.
Finally we see the Mediterranean by Gokova, from there only another hour to get to Marmaris.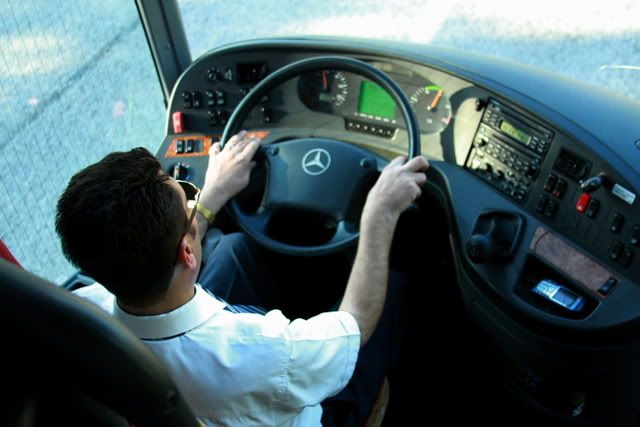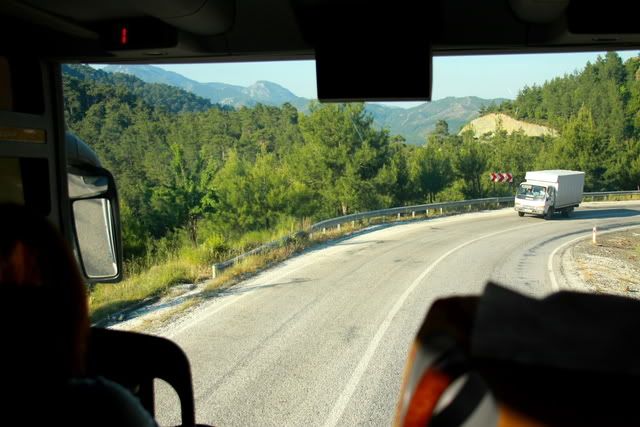 I found a certain charm in the bus travel, and if I had a friend the time would have passed easier. It reminded me of my early college years when I used to take bus trips to the South every summer. I would definitely give bus trips another chance in the future, even though it takes longer.
Hope you enjoyed the TR. Here are few Istanbul toursity shots, and some food shots: