Next up is part two of my trip to Asia… the first part, covering my flight from Chicago to Tokyo and onward to Ho Chi Minh City, can be found
here.
Part two covers our much-anticipated domestic flight on Vietnam Airlines' 777-200.
After a few crazy hours sightseeing in Ho Chi Minh City (we woke up at about 5am – the sun comes up so early in Asia!) we headed back to our hotel to pack up and grab a taxi to Tan Son Nhat Airport. The cab ride back to SGN cost only a fraction of what it had cost us the night before when we arrived – at that point, we'd been in such a jetlagged fog that we paid about $25 USD for the twenty-minute ride. The return trip cost us only about $5.
I was only in Saigon for about 14 hours, but we managed to cover a lot of ground during our five hours of sightseeing… it's definitely a crash course in Vietnamese culture, with crowded streets, tons of shops and restaurants, and lots of exotic sounds and smells. At the same time, however, it seems to be modernizing at an incredible pace, so I'd recommend visiting quickly if you want to catch a whiff of the "old" Vietnam.
Here's an HCMC street scene seen from our cab, en route to SGN. I've never seen so many motorbikes in my life as I saw in Vietnam: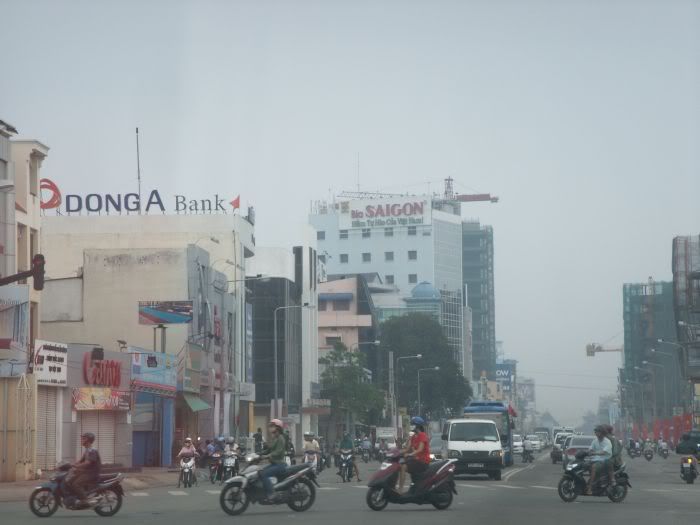 About halfway to the airport, the road crosses the main railway line connecting HCMC to Hanoi. The trains literally go right across the highway. Also, note the Vietnam Airlines booking office just beyond the tracks: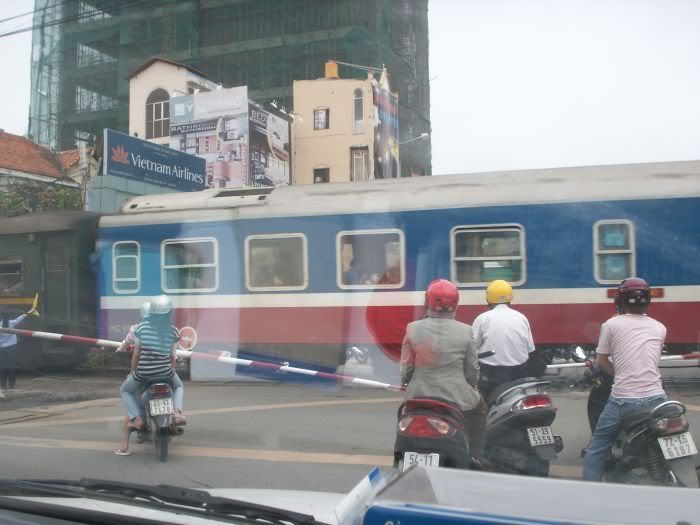 Pretty soon we had arrived at the airport entrance and were dodging more motorbikes to make our left turn:
************************************************************************************************
Tan Son Nhat International Airport
April 27, 2008
Tan Son Nhat is surrounded on all four sides by the sprawl of Ho Chi Minh City; it definitely looks and feels like an "inner-city" airport. Aircraft on approach come in very low over the surrounding neighborhoods… despite two very long runways (left over from its days as a US military base during the war) noise pollution has become a serious problem.
To remedy the situation, the Vietnamese government is planning a new airport at Long Thanh, about 30 miles northeast of town. I'm not sure if construction has started or not – the ever-reliable Wikipedia says the first phase is due to open in 2010 – but any way you slice it, Tan Son Nhat's days as a major international gateway are numbered. The plan is for international flights to move to Long Thanh when it opens, at which point SGN will take over as the city's main domestic airport.
On the way into the airport we passed the multimillion-dollar new Terminal 2, which opened in September 2007 and serves most international flights. I'd flown into it the night before on my Japan Airlines flight from Narita. Once the new airport is completed, this building will take over as the main domestic terminal:
Our destination this morning was the much older Terminal 1, which has been re-dedicated to domestic flights by the country's three domestic airlines – Vietnam Airlines, VASCO (Vietnam Air Service Company), and Pacific Airlines (which has been rebranded as Jetstar Pacific). I've read that Terminal 1 will become a budget terminal when the new airport opens: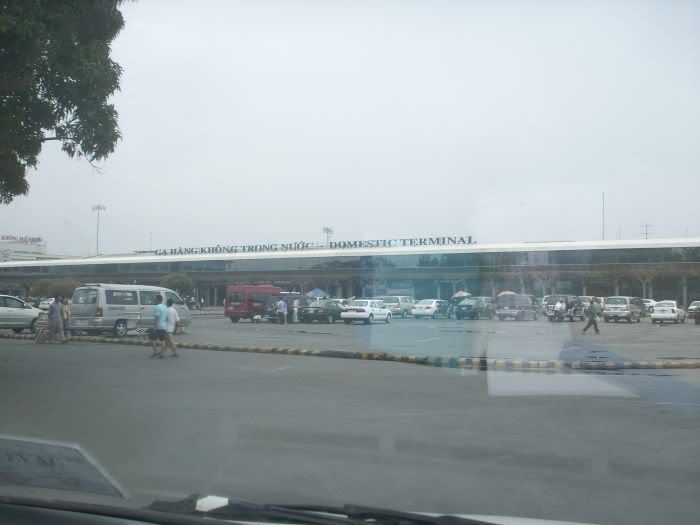 The building definitely shows its age (especially compared to its shiny new neighbor) but it's clean and reasonably modern, especially along the curbfront: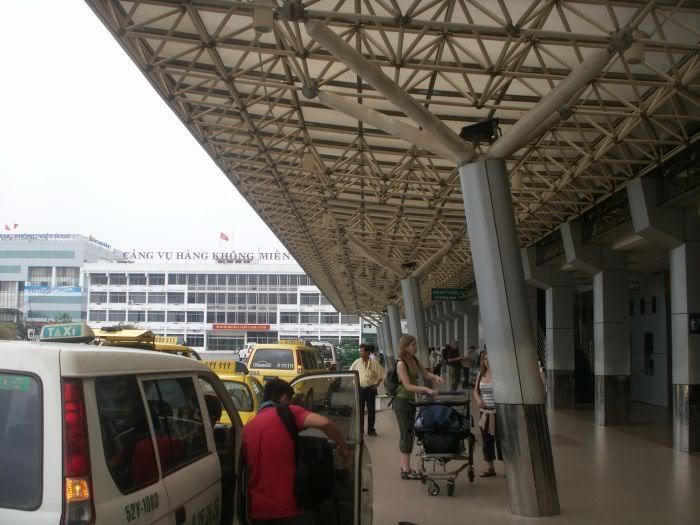 Interestingly, most of the airlines' ticket offices were located outside the terminal, on the open-air concourse fronting the building. We passed the VN office on our way inside – I'm still kicking myself for not stopping inside to grab a timetable. Once inside, we passed the former international check-in area, which was abandoned when the new terminal opened last year:
Vietnam Airlines has a double bank of check-in desks located at the back corner of the terminal. Our flight to Hanoi was checking in one side, while a flight to Da Nang and another to Frankfurt (why wasn't the FRA flight using the new terminal, I wonder?) were checking in on the other. The queues looked pretty formidable, but actually moved quite quickly:
I dropped off my luggage and we secured three seats, a window, middle and aisle. I asked for a seat behind the wing, but we were assigned 32A, B and C, which wound up being right on top of the port wing. Oh well.
With boarding passes in hand we headed back to the escalators upstairs:
Once upstairs we cleared security in no time at all (the TSA loses against another country!) and made our way onto the airside concourse. Upstairs, Terminal 1 has low ceilings, inadequate air conditioning and lots of columns cluttering things up, but there's a nice selection of shops and, with the international flights gone, there are plenty of seats for everyone: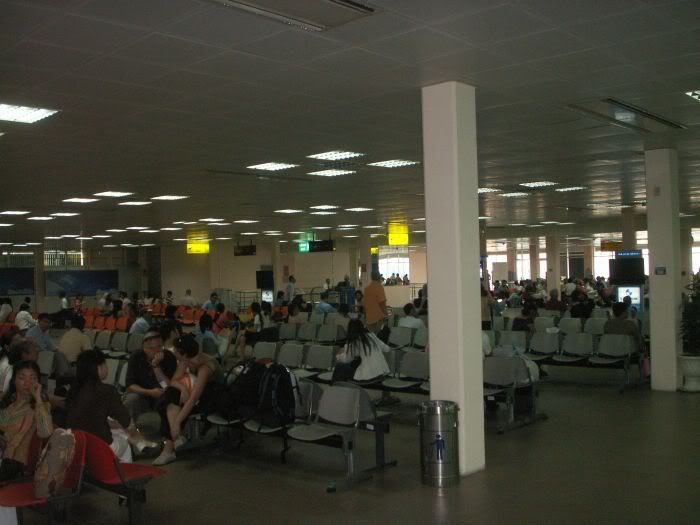 Here's a shot of the old-style departure board (we were glad to be on the 1130am departure to Hanoi and not the 1030, which was delayed almost three hours!) The number of domestic routes in Vietnam was really a surprise – more than half of VN's fleet is dedicated to domestic runs. Already, VN runs an hourly shuttle between SGN and HAN, and most of the flights are flown with B777s or A330s. The 777 was recently introduced on the SGN-Da Nang route as well. With the population rapidly approaching 100 million, the country becoming more and more affluent, and rough terrain making air travel the best option for most journeys, I wouldn't be surprised if Vietnam's domestic market starts looking more and more like Japan's or China's in the next 10-15 years:
Another look at the domestic departures concourse: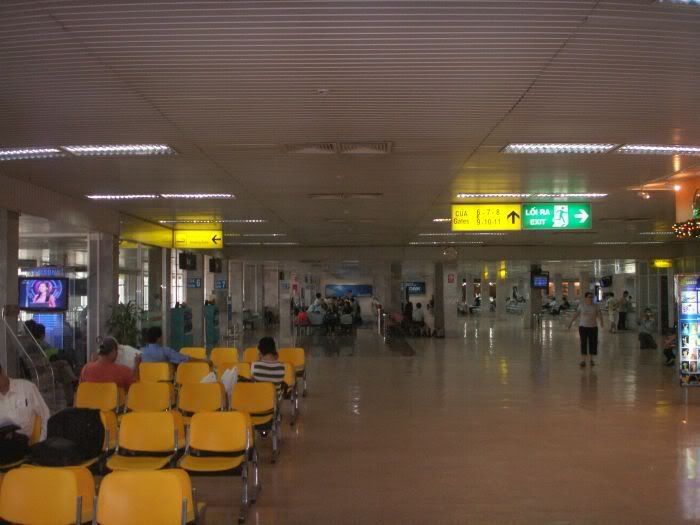 I was hoping to wander over to Terminal 2 and have a look around, but the two terminals don't appear to be connected airside. I may have missed a turn or something, but I wandered around and didn't find any indication that you can get from one building to the other.
Taking photos from the terminal was a bit tough, since the old sterile corridor (another relic from the days that the building handled overseas flights) runs along the airside of the building. That means pictures have to be taken through two layers of glass. This Vietnam Airlines A320 was bound for Vinh in northern Vietnam: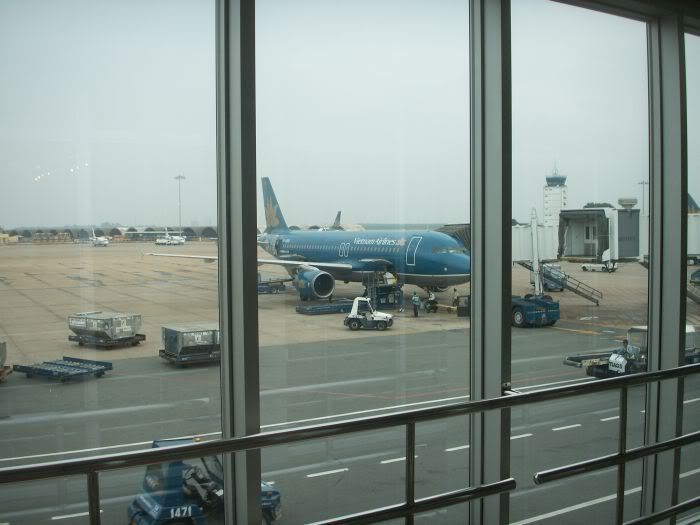 I'm not sure what this China Airlines A330 was doing over at the domestic terminal – does anyone know?
And finally, here's our 777, resting before the flight to Hanoi. The domestic terminal has four jetbridges that handle most widebody and some narrowbody flights, while the ATR and some A320 flights use bus gates downstairs: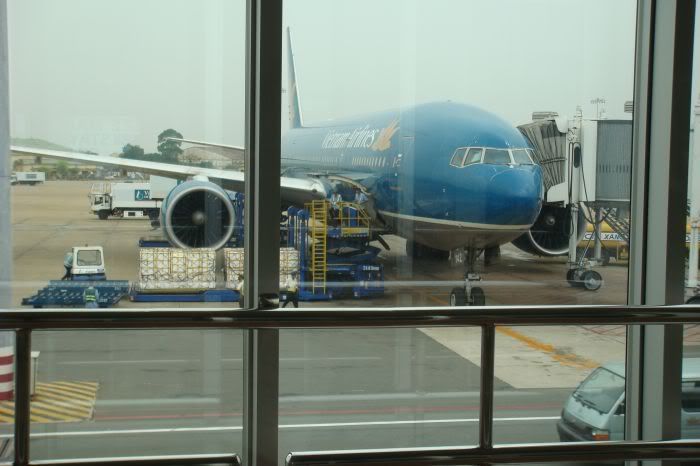 ***************************************************************************************************
Vietnam Airlines Flight VN218
Ho Chi Minh City Tan Son Nhat (SGN) – Hanoi Noi Bai (HAN)
Departs SGN 11:30am, arrives HAN 1:30pm
Boeing 777-200, seat 32A
Flying time: 2 hours
Boarding was called at about 11:10am and all the passengers crushed forward in a mob (some things are the same no matter where you fly, I guess.) There were two agents scanning passes, so the line moved quickly and soon we were at the aircraft door. Boarding was done through the 2L door, so I didn't get a good look at the first class cabin.
VN uses its 777 fleet on both international and domestic runs – most of the 777s shuttle back and forth between HAN and SGN, which serve as dual overseas hubs for the airline. As a result, seat pitch in Y class was very generous and there were PTVs and footrests at every seat. The cabin interior was done up in a curious combination of blues and browns. Here's a look at the cabin before we pushed back:
This was my first time on a 777 operated by someone other than American Airlines, and I have to say I like the 3-3-3 configuration better than AA's 2-5-2. Although it's nice, as a window seat junkie, to be just one seat away from the aisle, the 3-3-3 configuration helped make the cabin seem a little smaller. The flight was almost completely full – if I had to guess, it was about 70 percent Vietnamese passengers and 30 percent foreigners.
Unfortunately, our seat was pretty much right on top of the wing, so the view was pretty obstructed. Here I am still looking tired after my 22-hour journey the day before: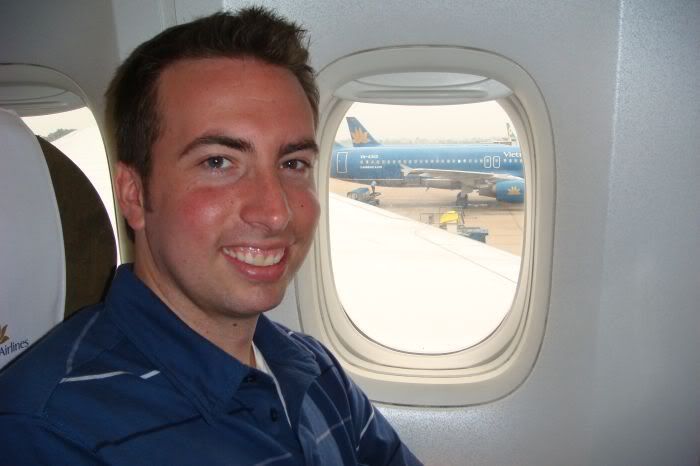 The view from my seat prior to pushback – that's the A320 flight to Vinh at the next gate, with Terminal 2 in the background: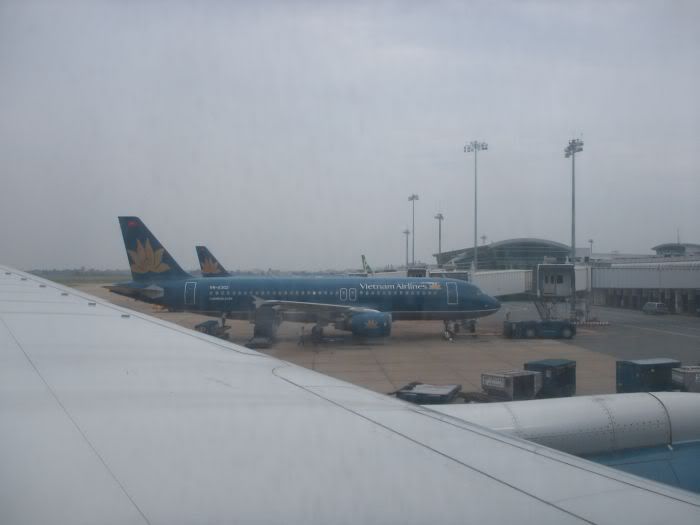 Once all the passengers were on board, the cabin attendants came through the aisles with baskets of "refreshing tissues." I don't want to gush over a napkin drenched in chemicals, but it was the best-smelling 'refreshing tissue' I've ever seen. On our next flight (from Hanoi to Siem Reap) I made sure to take a whole bunch of them.
The safety video played on the PTVs and overhead monitors as we pushed back – the announcer alternated between Vietnamese and English. Pushing back: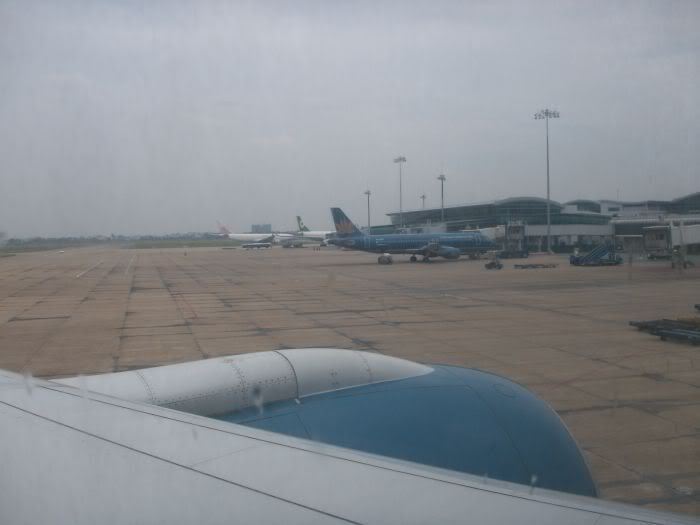 The China Airlines A330 that had been at the next gate taxied out just ahead of us: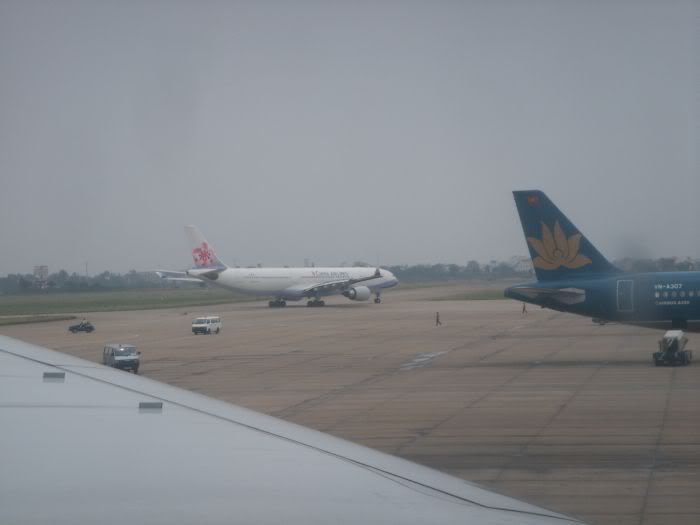 Here's a very fuzzy shot of a Lion Air 737 wearing a special scheme based on Boeing's house colors, arriving just as we pushed back:
The engines started up and we began a very slow taxi away from the domestic apron. Along the way we passed a China Airlines Cargo 747 (there was no escaping China Airlines for me on this trip – except for Siem Reap, I got a photo of one of their planes in every city I flew through!)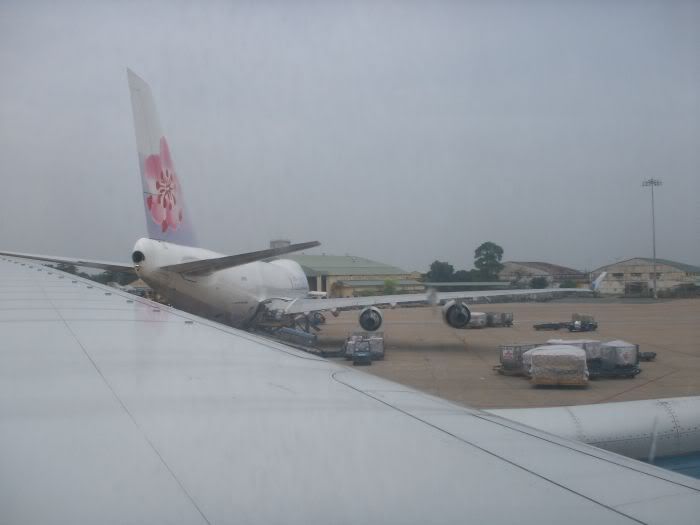 Side-by-side ATRs belonging to VASCO (on the left) and Vietnam Airlines (on the right). VASCO is a second-tier commuter carrier that was spun off from VN a few years ago, although it still operates codeshare services for the larger airline. VASCO's ATRs fly commuter and tourist services to places like Tuy Hoa, Qui Nhon, Ca Mau and the Con Dao islands. The structures in the background are aircraft bunkers built during the Vietnam War:
A VN A320 parked alongside SGN's rather worn-looking control tower:
It began to spit rain as we made our way out to the threshold of runway 25R – unfortunately, I was the wrong side of the aircraft to get good shots of aircraft parked at Terminal 2. Here we are turning onto the runway:
As we turned around I was finally able to get a shot of Terminal 2 – there's a Thai A300 pushing back for Bangkok, and a Pacific Airlines 737 following us onto the runway: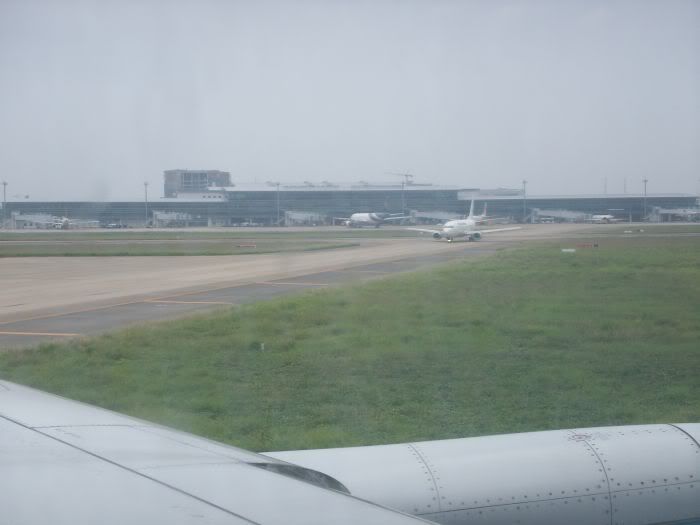 Further down the flightline you can see an EVA Air A330, the aforementioned Lion Air 737 and a Cathay Pacific A340 making for the runway: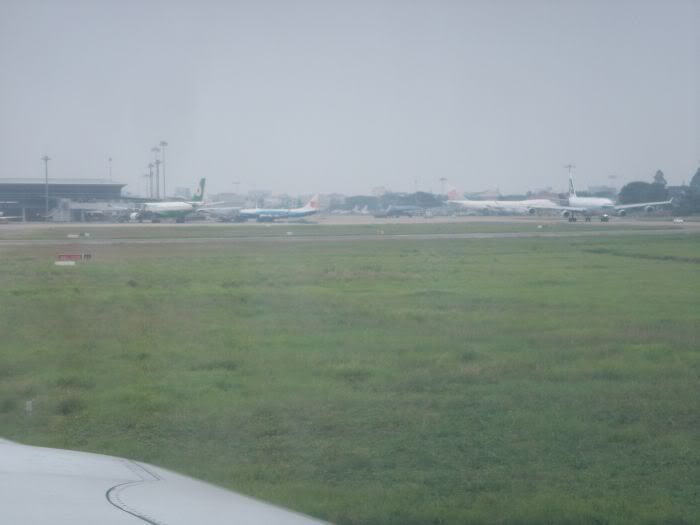 I shot a quick video of our departure from SGN – I didn't realize I had left the lens partially zoomed in from my last photo, so the quality isn't the best:
We lifted off into the hazy sky over Ho Chi Minh City and began our climbout over the endless city sprawl: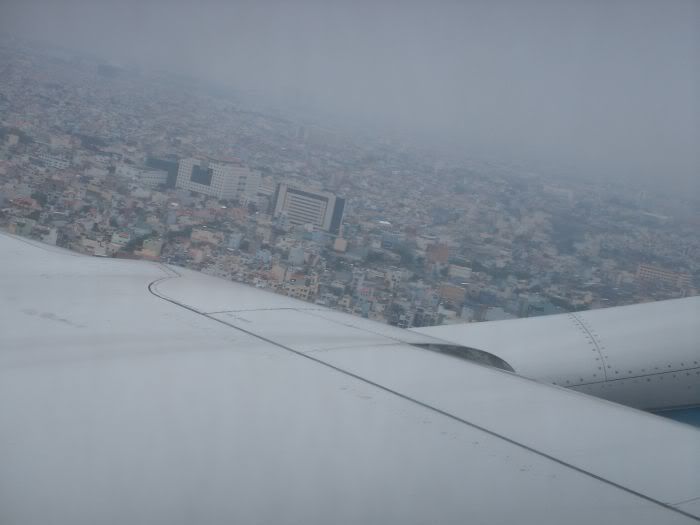 Heading up:
Turning off the runway heading and about to get swallowed up by the gloom:
For the next several minutes our 777 speared in and out of the clouds, bumping along through the hot, wet air. I had been hoping to see some of Vietnam during the flight, but it's so hot and muggy in Indochina that the ground was almost never visible on any of the flights we took. Instead I leafed through
Heritage
, VN's inflight magazine, as well as a newsletter put out by the country's airport authority. It was entirely in Vietnamese (which is written in Roman characters but is still just as befuddling to an English speaker as any other Asian language), but it did have some nice photos of the new terminal at SGN.
Eventually we reached our cruising altitude and leveled off. The captain came overhead to welcome us on board (in broken but still impressive English) and the crew started up the IFE system. I kept my PTV tuned to the moving map for most of the flight, but my friends both started watching "3:10 to Yuma," although the flight was too short to view the whole film.
Almost up to cruising altitude: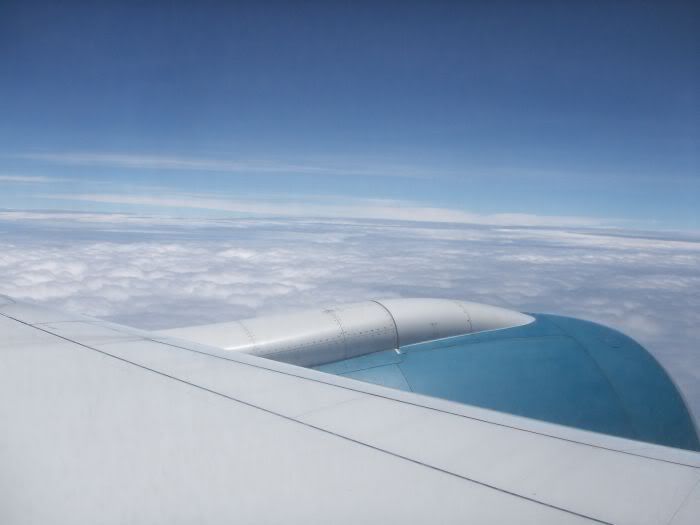 The crew sprang into action shortly after we cleared the cloud layer, coming down the aisles for a drink service, followed by a full hot lunch. I took a Tiger beer (I was hoping for something a little more local, but I didn't see any Vietnamese beers on the cart) and peeled back the foil on my lunch to reveal the following:
After reading a horror story on airlinemeals.net from someone who claimed they were fed horse meat on their SGN-HAN flight, I have to say I was very happy with my lunch. It was beef in a sweet-and-spicy sauce served with rice and a mix of cucumber, carrot and lotus root… a first for me and very tasty. There was also a nice little fruit sampler with pineapple, watermelon and papaya. Nicely done VN!
The rest of the flight passed pretty uneventfully. I had expected our flight to fly directly north from HCMC, passing over the corner of Cambodia and up the middle of Laos, but instead we flew northeast and then north, taking great care to stay inside Vietnamese airspace (which probably explains the two-hour flight time.) After passing Da Nang we flew out over the Gulf of Tonkin for a little while before beginning our descent into Hanoi.
Dodging thunderheads over central Vietnam, near Hue: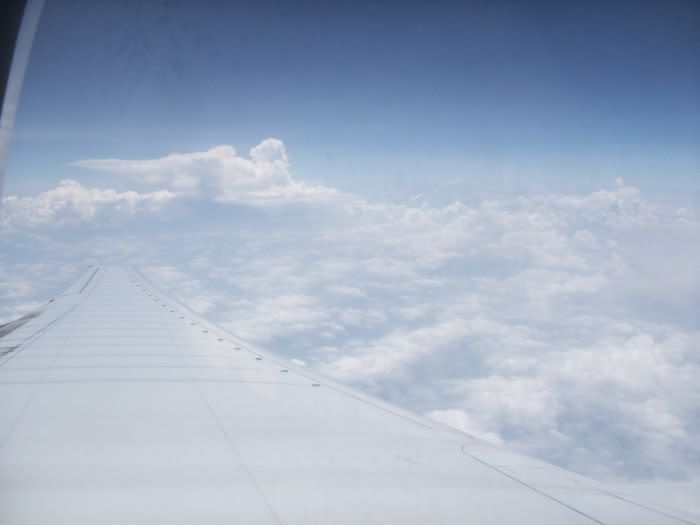 A cabin view, taken mid-flight: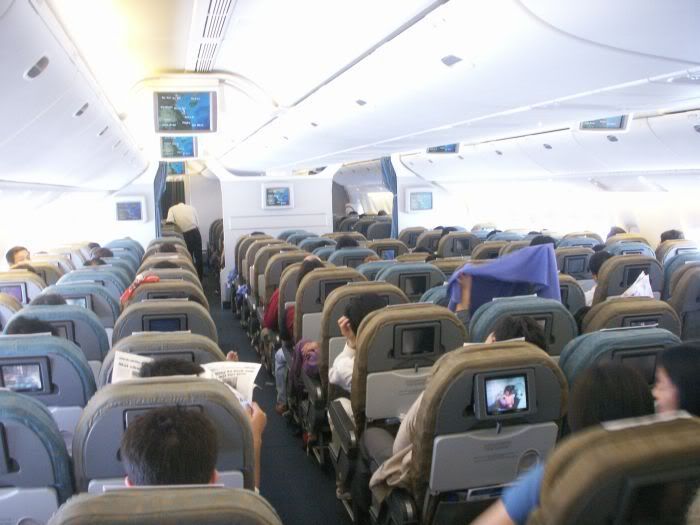 The crew came through after the meal to offer tea and coffee, and after another 45 minutes or so the engines throttled back and we headed down towards Hanoi. The clouds were pretty dense, so there was almost nothing to see as we descended – just the odd rice field through breaks in the mist. A recorded announcement played a pre-landing briefing (the usual bit about raising your seatbacks, opening your window shades, etc.), followed by the rather alarming message "all passengers please prepare for an emergency landing." No further instructions came from the crew, so we didn't get too worked up – we later heard this is apparently a fairly frequent occurrence on VN domestic flights.
I shot a video of our landing, but it's too large to post, and between the wing and the mist outside there wasn't much to see. We finally dropped out of the clouds and skimmed over a never-ending landscape of rice fields and small villages before landing firmly on runway 11R at Noi Bai Airport.
As we turned off the runway it was clear that HAN is located out in the sticks, especially compared to SGN – there was nothing beyond the perimeter fence except banana trees and rice fields. We taxied back toward the terminal, passing the rather large Vietnam Airlines maintenance base on the way: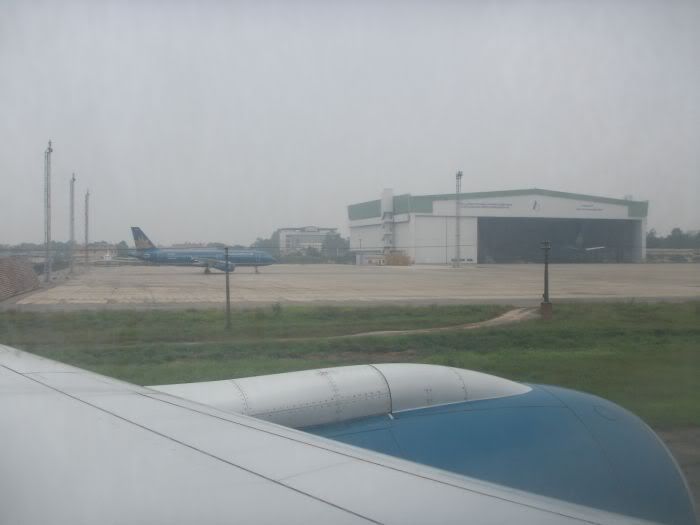 Getting closer to the terminal… here's a fellow 777-200 from Singapore Airlines pushing back with the control tower behind: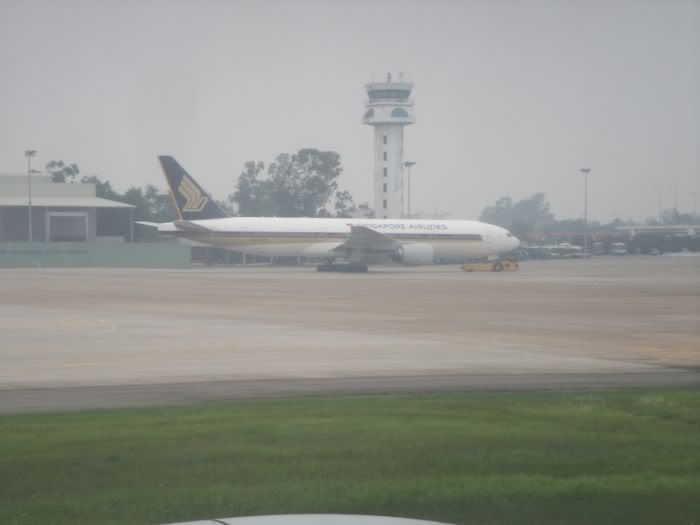 And finally the terminal itself – HAN has a rather large and modern terminal with plenty of jetbridges, including this one attached to one of VN's new A330s: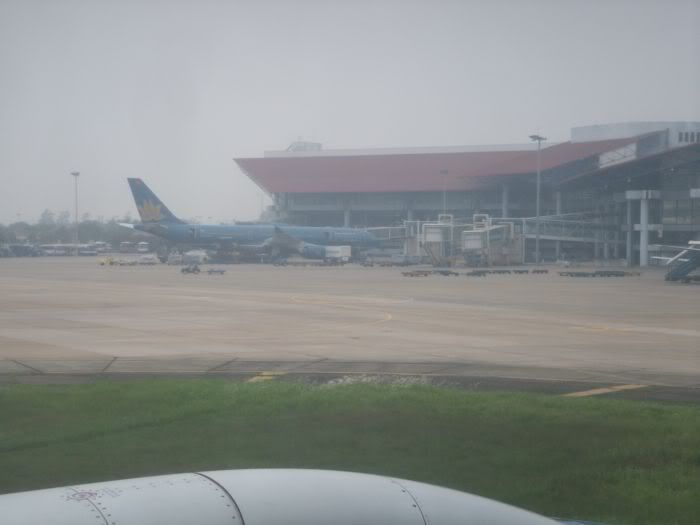 Next door was a Malaysia Airlines 737 resting before its flight to Kuala Lumpur:
This Air Asia 737 shows just how large the terminal building really is: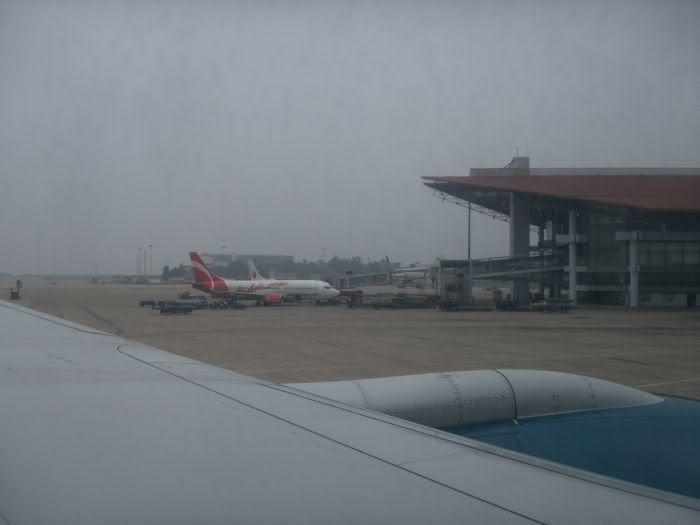 We pulled to a stop at a jetway and the passengers sprung from their seats, literally pushing each other to get their hand baggage and head for the exits. We deplaned at a more leisurely pace – I stopped in the jetbridge to get a shot of a company A320 that arrived just behind us from Hue: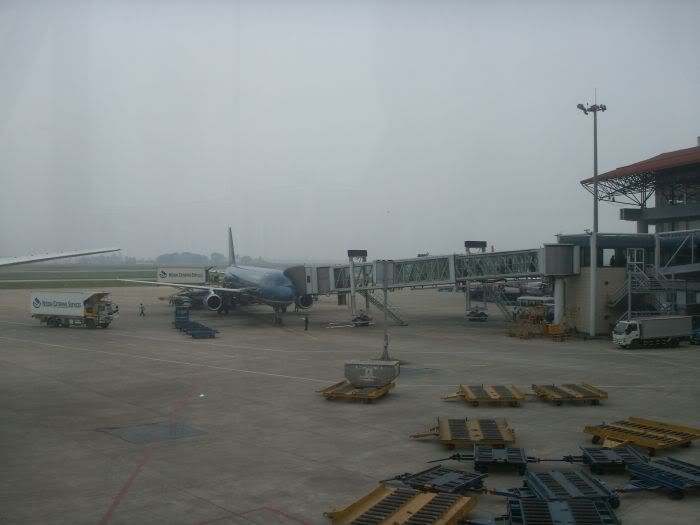 A last look at our 777:
*************************************************************************************************
Noi Bai International Airport
Arrival
We were funneled down a ramp and into a long hallway leading to HAN's domestic arrivals hall, which was clearly not designed to handle widebody domestic flights – between our full flight and the A320 from Hue, the place was jammed full of passengers. I took this shot before the pax from Hue came pouring in, although you can see them upstairs in the sterile corridor:
From the window in the arrivals hall I got a shot of another A320 arriving – fortunately, it taxied to one of the international gates. I don't think the domestic area could have handled another flight:
Eventually our bags came trundling out on the carousel and we headed out to the arrivals curbfront, where we met the driver who would take us to our hotel in central Hanoi:
Here's a last shot from our drive into Hanoi on the Vietnamese version of an expressway – basically, a four-lane divided highway that's really a free-for-all, with trucks, cars and tons of motorbikes jockeying for space in the narrow lanes. That's an Asiana Airlines billboard in the background, showing a plane in their new colors: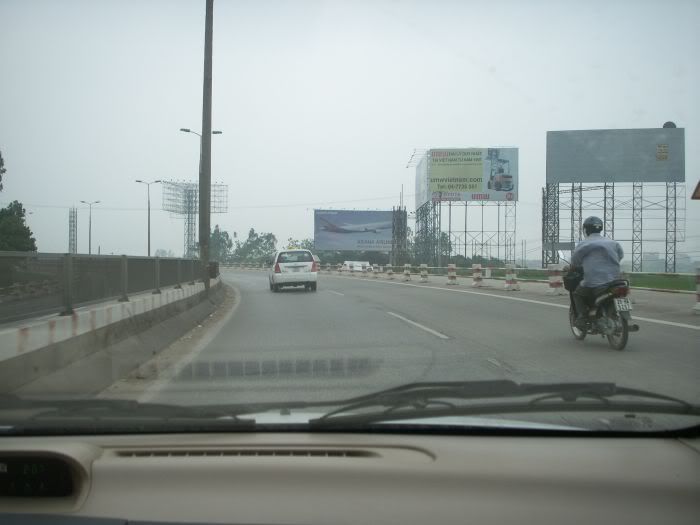 ************************************************************************************************
That's it for part two. VN provide a great deal for the money (our one way tickets were about $110 each, purchased through a travel agent in Vietnam) – free drinks, good food and lots of space on a very nice widebody. Not a bad way to spend two hours!
Part three will be up next… another Vietnam Airlines flight, this one from Hanoi down to Siem Reap in Cambodia. Stay tuned until then!