Here's part three of my trip report to Asia, covering our flight from Hanoi to Siem Reap (in Cambodia) on Vietnam Airlines. You can read about
my trip from Chicago to Ho Chi Minh City
or my 777 flight
from Ho Chi Minh City to Hanoi
if you'd like to see how I made it this far…
We spent two days sightseeing in Hanoi, followed by three days on a boat in Ha Long Bay, about three hours east of Hanoi. Ha Long Bay is really a beautiful place and well worth a visit, although we were disappointed at how dirty the water was. There are so many tourist boats now that the whole place seems to be getting very polluted.
When our boat returned to the dock, we boarded a hired van for the ride back to Noi Bai Airport. We had about four and a half hours before we needed to catch our flight, but the scene at the dock was a madhouse – all of the tours return to the dock at the same time, so the road leading into town was completely gridlocked with cars and buses. It took almost half an hour for our driver to reach us, and then we had to walk about half a mile down the road to load our bags. Needless to say, by the time we reached open road, the driver really needed to put pedal to metal!
A few hours later, we had reached the town of Bac Ninh, where we were able to intercept one of Vietnam's growing network of motorways to get to the airport. Here's a look at some of the billboards along the way:
The expressway from Bac Ninh to Noi Bai was still under construction – only one side of the road was open to traffic, so there was still only one lane in either direction. Despite being relatively new, the road surface was in pretty bad shape… the last half hour was pretty jarring. We were relieved to spot the revolving radar dish in the distance as we got closer to HAN.
A few minutes later the airport terminal was in view: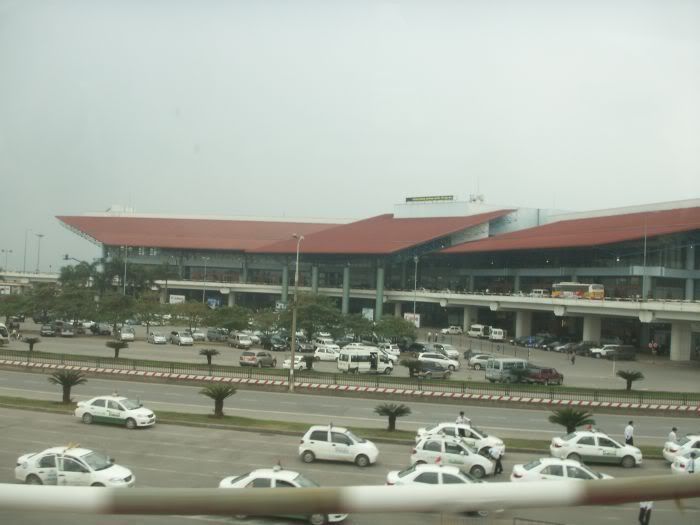 *****************************************************************************************************
Noi Bai International Airport
April 30, 2008
The driver let us out at the upper level of Noi Bai's terminal, a massive, modern complex opened in 2001. The building looks like a 1980s American shopping mall – lots of steel space frames, glass and colored paneling. The spaces inside are enormous –cavernous, echoing lobbies, soaring ceilings and tile floors. Here's a shot of the central atrium (between the two ticket lobbies):
Although there appears to plenty of capacity in the existing building, the government is moving full steam ahead with plans for a new $400 million international terminal, which will be located to the west of the current building. Ground is scheduled to be broken this October and the facility will open in late 2010. At that point the current building will be given over completely to domestic flights.
We made our way to the Vietnam Airlines check-in desks, which are located on the west side of the building. All the other airlines at HAN use the east ticket lobby: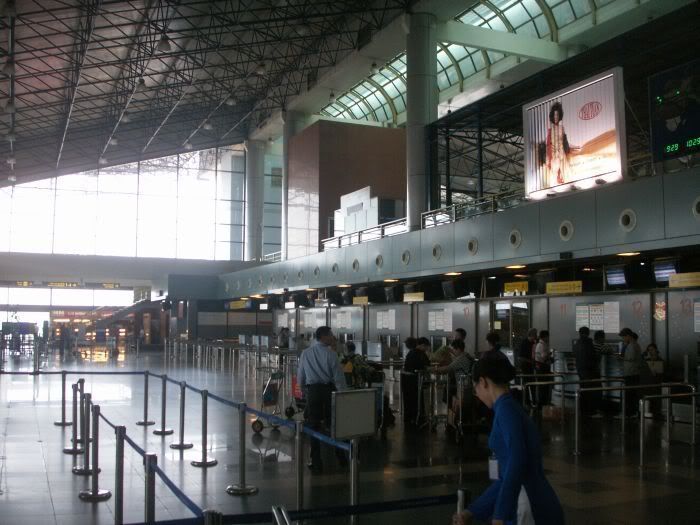 Sadly, one of my favorite airlines – Aeroflot – doesn't serve Noi Bai on a daily basis, so their ticket counter was empty today: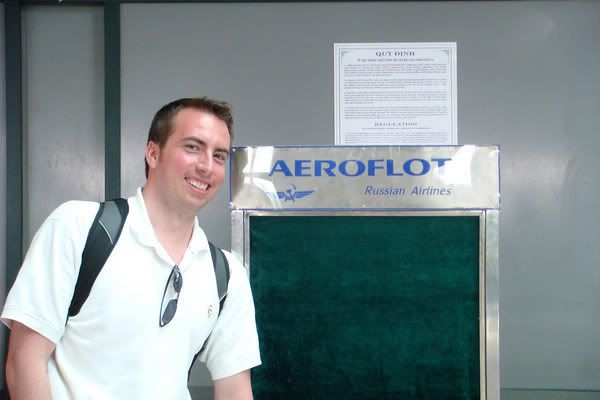 After dropping our bags and getting boarding passes, we headed through passport control and security (easy enough) and wandered onto HAN's spacious departure concourse. There are plenty of shops and tons of seats – the whole place felt a little empty, but that may have been the time of day. To pass the time we headed up the escalator to the mezzanine level, where there were views to be had (most of the main level's windows are covered by shops.)
On the way up my friend snapped a picture of this unintentionally funny donation box: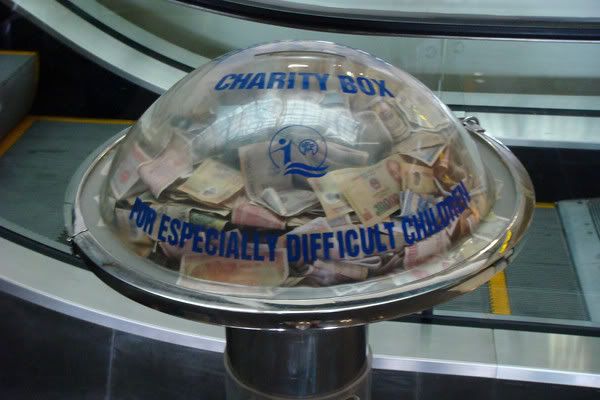 The mezzanine was even more desolate than the main concourse… apart from the restaurant and business class lounge, it was just a broad expanse of shiny tile and banks of empty chairs. There were tons of windows, however, so I was able to wander around and get pictures of just about all the traffic – starting with this Vietnam Airlines A321 arriving from Hong Kong: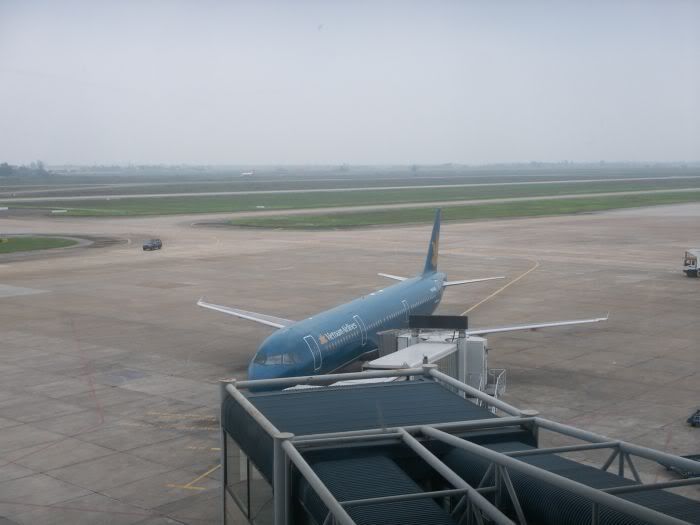 Another view of the A321, with a company F70 parked on a remote stand. That's our A320 to Siem Reap being towed to the gate in the background: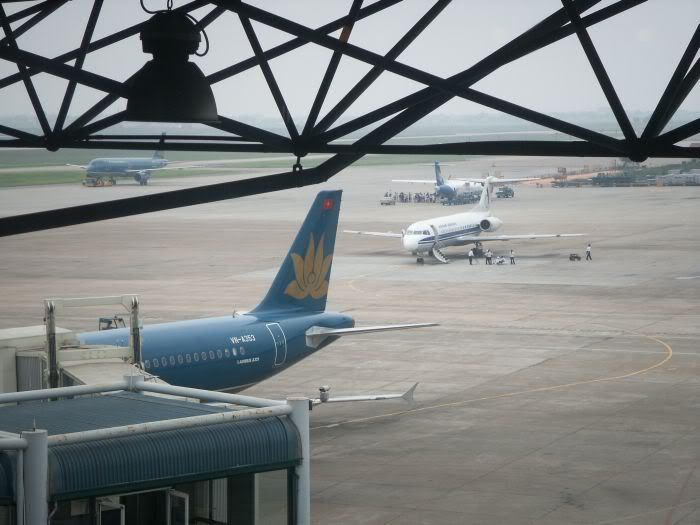 A few gates down a VN A320 was resting between flights:
A wider view of the ramp, looking east toward Vietnam Airlines' hangar (and a 777 on the apron in front of it):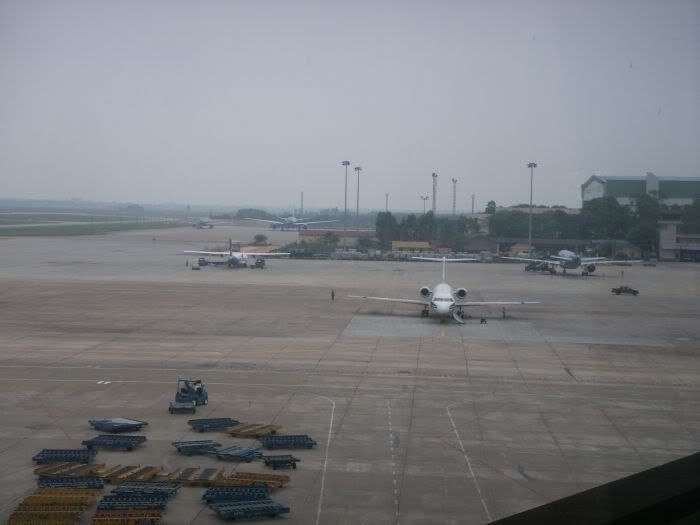 The biggest aircraft parked at the terminal was this Air France A340 – Hanoi was the capital of the colony of French Indochina, so links between Vietnam and Paris are still strong: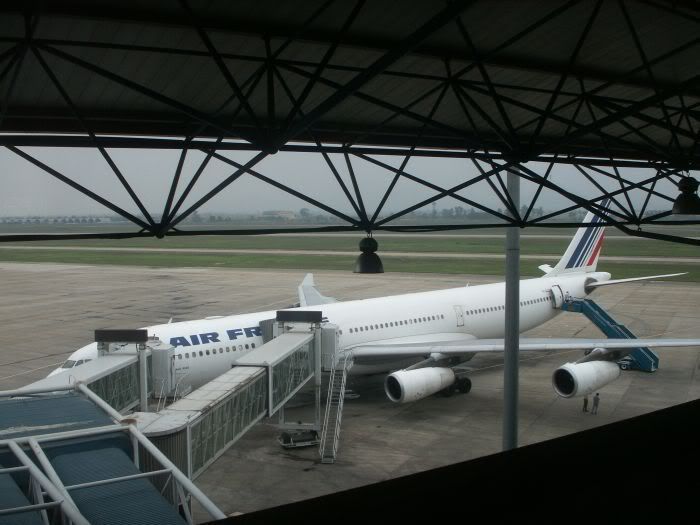 A Lao Airlines ATR-42 taxies out to the runway: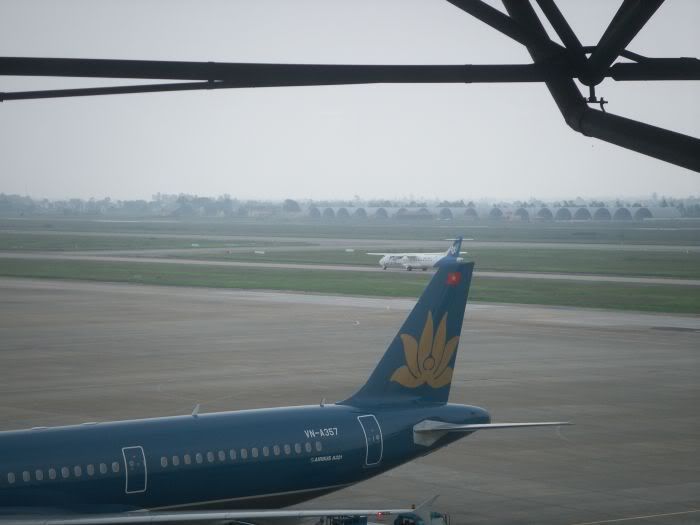 A 737 belonging to Pacific Airlines, a low-cost carrier owned by the Vietnamese government. Shortly after our visit, the airline was rebranded as Jetstar Pacific, the latest outpost in Jetstar's rapidly growing Asian empire:
My friends took this rather artistic shot of me watching our A320 pull into the gate: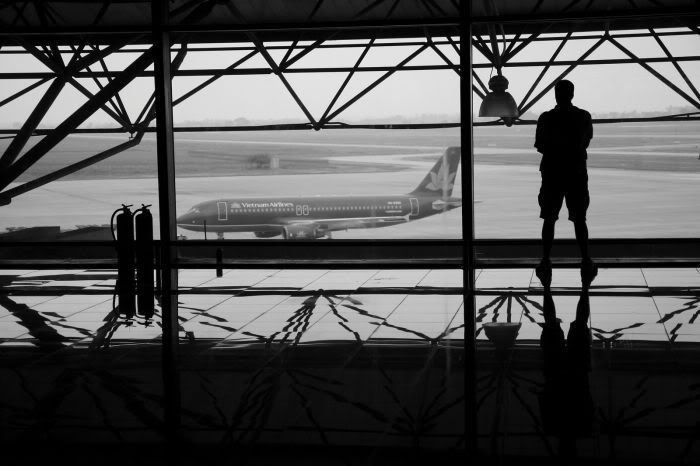 Not surprisingly, Vietnam Airlines dominates the domestic gates at the west end of the terminal: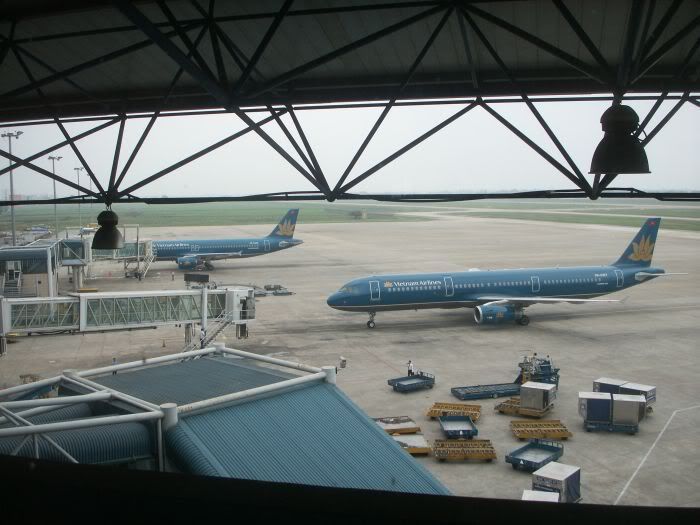 When we came back downstairs the area in front of our gate had gotten a bit more crowded: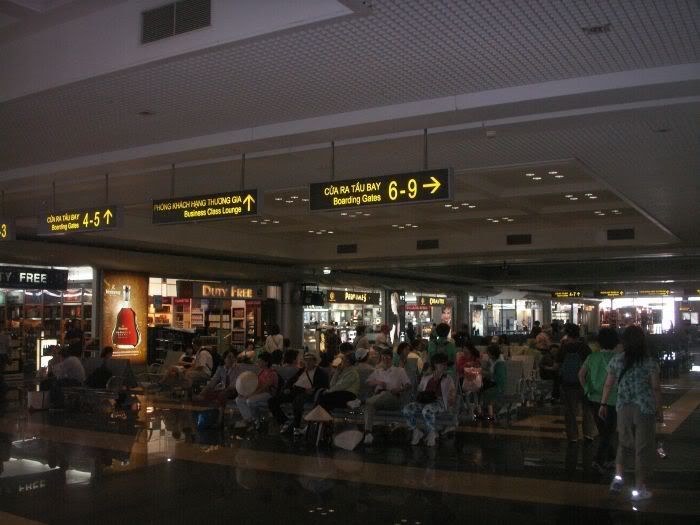 ***********************************************************************************************
Vietnam Airlines Flight VN845
Hanoi Noi Bai (HAN) – Siem Reap/Angkor International (REP)
Departs HAN 4:55pm, arrives REP 6:50pm
Airbus A320, seat 3A
Flying time: 1 hour, 50 minutes
Our A320 was parked at one of the domestic/international swing gates, so we had to descend a long ramp and head down a sterile corridor to reach our aircraft. All of the jetbridges are HAN have glass walls (I sure wish at least one airport in the US would invest in glass jetways!) so I was able to grab another shot of the Air France A340 as we boarded:
Once on board we settled into our seats – I was originally assigned seat 9F, but once boarding was completed we moved up to the front of the plane where the view was less obstructed by the engines. The flight was only about 60 percent full – the majority of the passengers were Koreans traveling on an organized tour of Indochina. Like the 777 we'd flown earlier, the seats were decorated in cool blues and browns and there was plenty of legroom. Vietnam Airlines also doesn't have a first class cabin on its A320s, which explains why were able to move up the front of the aircraft.
Before I moved seats, I took a quick picture of yet another VN A321 parked on the neighboring remote stand:
The main door was closed, and the cabin crew – a male purser and three female attendants – came down the aisles distributing refreshing tissues and Cambodian arrival cards. The safety demo was done over the PA (no drop-down screens on this A320) and we pushed back from the gate right on time.
Noi Bai Airport is located in the countryside north of Hanoi, pretty much surrounded by rice fields and banana orchards. While taxiing out we passed a number of farmers (if you look closely, you can spot their conical hats) working in the fields. The steel structures in the background are billboards, sans advertisements. These fields are the site of the proposed new international terminal: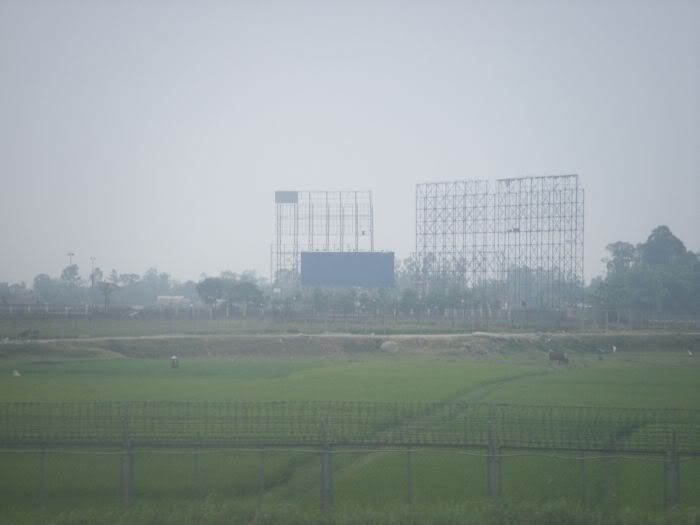 Turning onto runway 11R, which was completed in 2005. There's an older parallel runway (11L-29R) to the north that mostly serves military traffic:
We held at the end of the runway while a Vietnam Airlines ATR-42 touched down from Dien Bien Phu, then made a smooth and quick takeoff to the east: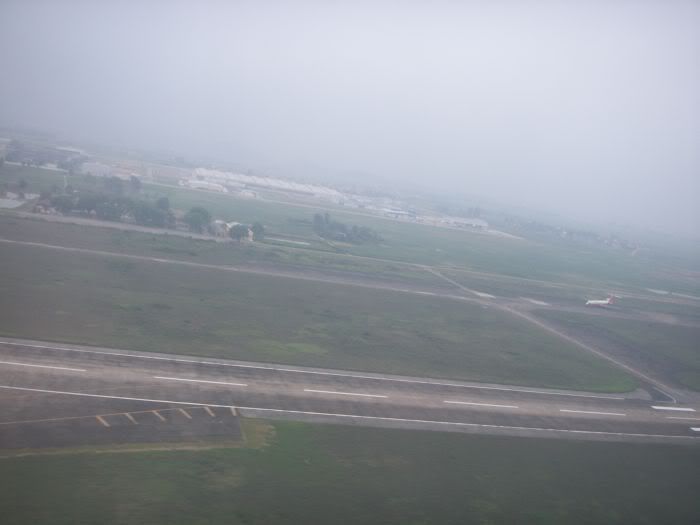 Climbing out over more rice fields and small villages: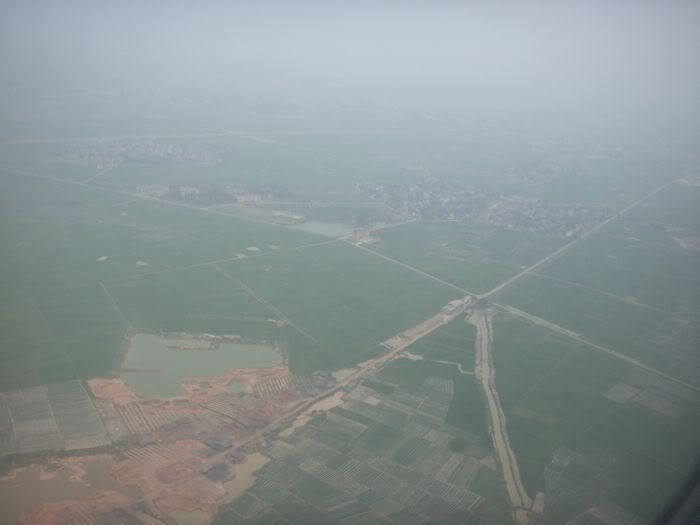 Before we were swallowed up by the clouds, we passed over the Noi Bai-Bac Ninh expressway, which our driver had taken to get us to HAN. As I mentioned, one of the carriageways is still under construction: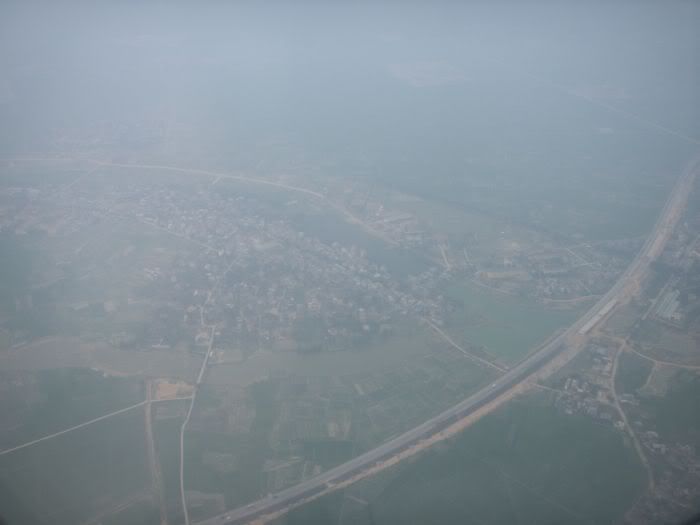 As with our previous flight a few days earlier, the heat haze and clouds meant there wasn't much to see out the window for most of the flight. We spent a few minutes filling out our Cambodian arrival cards – we were getting visas on arrival, so we had extra forms to complete – and then settled back to enjoy the flight.
When we reached cruising altitude, the crew came down the aisles with a beverage service, then distributed a dinner snack. It wasn't a hot meal this time around – we got a 'meat plate' of sorts, with a sausage link, some salami and a mysterious hunk of soft meat that tasted fine, although none of us knew exactly what it was. Along with the meat, there was a dinner roll, a small salad made of corn, carrots, peas and mayonnaise, and a slice of chocolate mousse: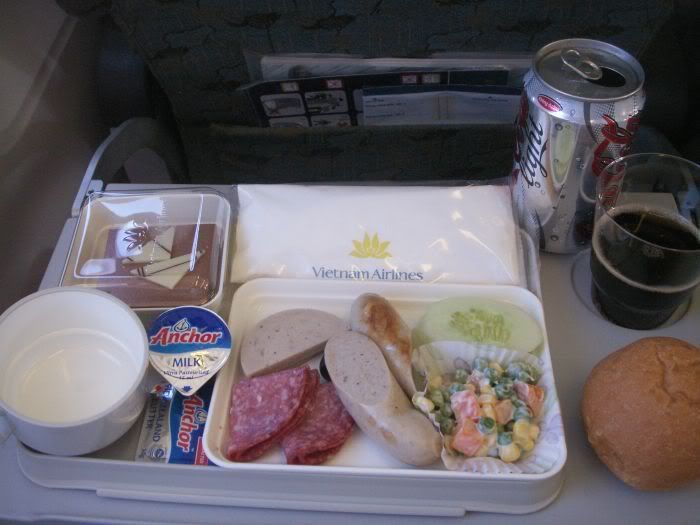 The rest of the flight was pretty uneventful, although one of the Korean passengers across the aisle from me knocked his meal to the floor shortly after it was served. One of the crew assisted him in cleaning it up, then brought him a new one (lucky thing there were some extras!)
We didn't have a moving map to follow, but for the first half hour I could see water through the clouds, so I guessed we were out over the Gulf of Tonkin following the coast of Vietnam – not exactly the most direct route. Our flight from Ho Chi Minh City to Hanoi had taken a bit of a circuitous route to avoid Laotian airspace, so I assume we did the same thing on this flight. Eventually we veered to the southwest, and between breaks in the clouds I could see mountains down below: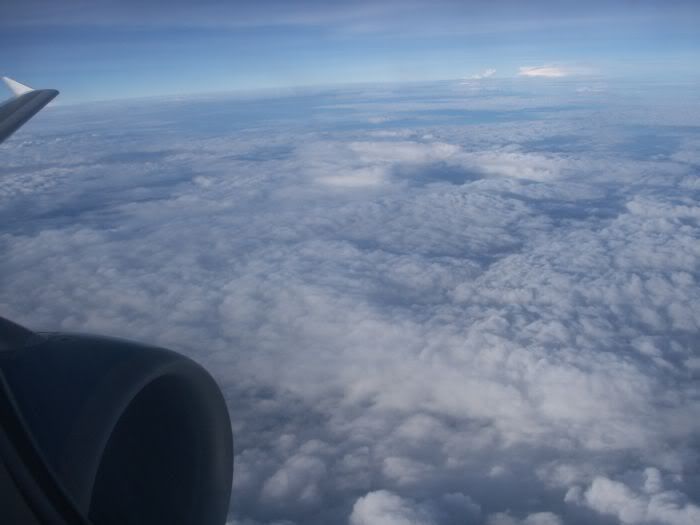 My friends enjoying the flight, somewhere near the Vietnam-Cambodia border:
As dusk began to fall, the engines eased back and we began our approach into Siem Reap. For several minutes we descended bumpily through various cloud layers, then eventually dropped down out of the murk over rural Cambodia. There was almost nothing to be seen down below – no lights, no roads, just lots of dense forests. We made a few sharp turns, and as the flaps came down I could see the huge Tonle Sap lake, which is just south of Siem Reap and irrigates most of Cambodia's rice crop: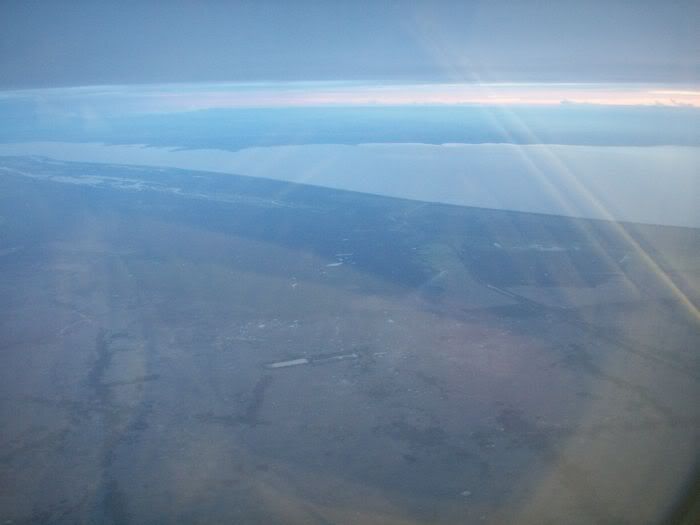 Continuing our turn onto final, leaving the lake behind and heading back to the northeast:
A few signs of life appeared as we got lower – some small villages and plenty of half-flooded rice paddies. From the looks of things, it had been raining fairly hard before we arrived (when we left a few days later, the rice fields were completely dry.) Finally we skimmed over some roads and handful of houses and landed firmly on REP's runway 5. I made a video of the landing, but it's too big to post anywhere, and as it was almost dark there wasn't much to see.
After a pretty fierce blast of reverse thrust (the runway at REP isn't especially long) we taxied to the end and turned around using the holding pad at the 23 end of the runway. When our A320 turned off the runway the REP terminal area came into view – a cluster of small traditional-style buildings for international flights, and a simple red-roofed structure for domestic flights to Phnom Penh and Battambang. A Silk Air A320 from Singapore and a Vietnam Airlines ATR from Ho Chi Minh City were parked in front of the international building: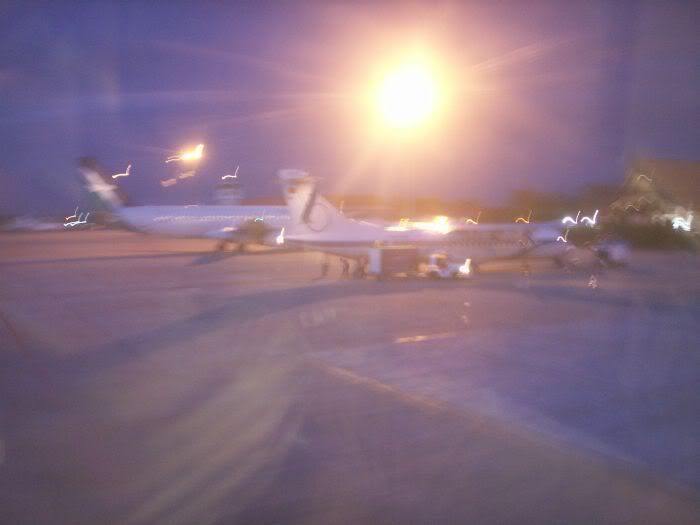 Airstairs were wheeled up to the front and back of the aircraft, and we stepped off into the near-suffocating Cambodian heat. The humidity was incredible, especially after several days in the relatively cooler climate of northern Vietnam. We were first off the plane, where we were met by an orange-jacketed customs official who led us to the terminal building. Along the way, I took a last picture of our A320 framed against the sunset – the picture didn't come out, however. It would have been a great shot if it had!
I'll have a more detailed tour and photos of REP's international terminal in the next installment of my report, but suffice to say it was very modern and functional – full of Cambodian art and finished smartly in local teak wood and exposed concrete. There was a large lobby just inside customs with several counters set up to process visas-on-arrival. We handed over our applications, money and a wallet-size photo, and about five minutes later our passports were returned to us with visas pasted inside. Very efficient!
From there we cleared immigration and headed into the baggage claim area: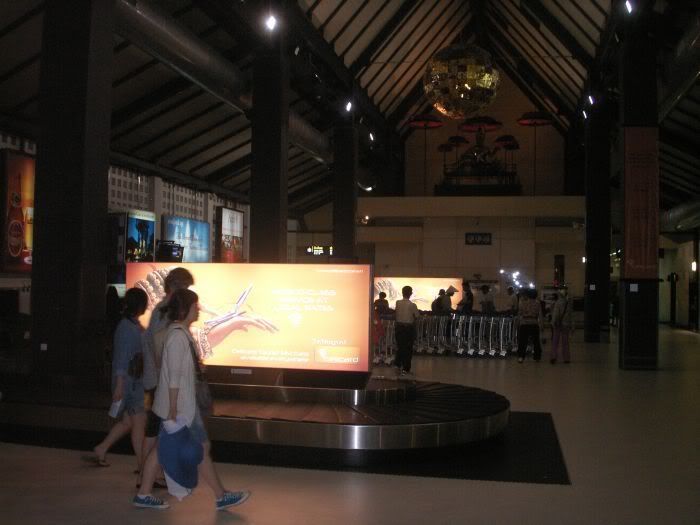 **************************************************************************************************
That's it for part three. We spent three days in Siem Reap touring the vast and amazing Angkor complex (we saw most of the most big sights, but there's enough there to keep you busy for a week!) Part four of the report will cover our quick hop over to Bangkok on a Bangkok Airways 717 – stay tuned until then!