So, my self-enforced sabbatical from the world of work continues, and it was time for another trip. I had done a four day trip to Paris in April, where I flew LCY-ORY-LCY with AF (Cityjet) and had taken a ton of pictures and videos with the intention of writing a trip report, but the enthusiasm just wasn't there for me as I have been to Paris too many times, so we jump forward to my May trip instead.
I had received an open invitation from an old and very good friend to go and visit him and his new family in their new home on the Isle of Man…sounded like a good basis for a trip to me! Of course, being in possession of a nasty little wanderlust bug, a single destination wasn't enough for me, so I started looking at where else I could go as part of the trip.
I did of course know that I could fly straight to the Isle of Man from London, but also knew that I could get there very easily from both Manchester and Liverpool. I had never visited either of those cities before (strange how one never explores one's own doorstep as much as one should! Did I just say "one"…thrice???!), so looked at how I could factor those into my trip. I was intrigued by what Manchester Airport had to offer in the aviation stakes, so wanted to have a quick shufty! Also, having spent my formative years being addicted to 'Brookside'; a now defunct UK soap set in Liverpool; and a longing for a trip on the "Ferry 'cross the Mersey", those particular venues became an intriguing addition to my travels.
I was also very aware of how close Ireland is to the Isle of Man. I've visited Dublin a fair number of times, and have also spent time on Ireland's stunning west coast, but I had never visited Northern Ireland before. Somewhere I had always been curious about was the Giant's Causeway, situated on the north coast of Country Antrim. My itinerary was starting to take an exciting shape! Visiting Northern Ireland would also mean that I would have finally visited all "provinces" of the UK.
So the important matter of looking for flights ensued.
As we all know, an important factor when booking a trip is adding as many new airlines and aircraft types to the itinerary as possible. My chosen routing left things wide open on the "first" stakes, and my imagination and excitement level ran wild!
Flying from LHR to MAN would give me the chance to experience the sparkly-new Terminal 5 for the first time, so that was my first port of call on the flight stakes. BA offered a rather nice fare on the 15:30 flight, so my first flight was booked. I didn't intend to spend any time in Manchester city, - all I wanted to do was spend some time at the airport, then head over to Liverpool for a bit of an old explore, so my next flight needed to be from Liverpool's John Lennon airport to the Isle of Man. EuroManx ended up being my airline of choice on that particular route, so flight number two was duly booked.
The Isle of Man's "second" airline, Manx2, flies the route from the Isle of Man's Ronaldsway airport to Belfast City airport, so I nipped into their website and secured a very reasonable fare on that route, I also knew that flying with them would mean a chance to experience either a Let, or a Metroliner for the first time…are you feeling my excitement yet?!?!
The final flight I needed was from Belfast back to London. Flybe flies the BHD-LGW route using the E195, once again a first for me. The flight was dirt cheap, so was booked quick smart!
All flights booked, my list of firsts for this trip now looked like this:
First flight from LHR T5
First visit to MAN
First visit to Liverpool
First flight from LPL
First flight on EuroManx
First visit to IOM
First flight on Manx2
First flight on a Let/Metro
First flight to BHD
First visit to Northern Ireland
First flight on an E195
All in all, I was pretty excited by the whole itinerary, and couldn't wait for May 8th to come around!
Now, it seems that whenever I intend to write a trip report, the flight gods feel the need to get involved in my travel plans. This trip was certainly no exception….I think they like the free publicity! More of that later, but let's just say that the god involved in this trip will now be known as "Bang Krupsy"!!
Any road up, May 8th arrived, a beautifully sunny and warm day, and I dragged my suitcase along my usual route to the X26 bus stop with the intention of catching the 12:12 bus to Heathrow Central. It was a few minutes late arriving, but we arrived at LHR at around 13:20. I had checked in online the previous afternoon and had secured seat 22A on the scheduled A321, so was quite relaxed about arriving at the airport two hours before departure, after all, I had a new terminal to explore. I made my way down to the station at Heathrow Central to catch a free HEx train to Terminal 5, which had me arriving at T5 at 13:45.
On arriving at T5, the signage indicated that the quickest route to Departures was to use the lift (elevator, should you be that way inclined!), but I stupidly chose to ignore the signs and followed the crowds like a retarded sheep up the many escalators. It turns out that having ascended a couple of floors, I still had to use a lift to finally get to Departures…I had no idea that T5 would have so many floors!
Finally I entered the large, bright and airy departure hall, and I have to say that I was very, very impressed! Signs indicated which check-in areas I should head to for bag drop…luckily I chose to pay heed to the signs this time, and within a couple of minutes at an empty bag drop desk my bag had commenced its journey along the great rubber highway and I was in possession of a proper boarding pass to replace the one I had printed online (like many have said, I prefer a "real" boarding pass to a sheet of A4!).
It was now time for a bit of an explore of my home airport's newest terminal. Here are some of the snaps that I took as I wandered around:
The zone where I chose to drop my bag:
Some general shots of the terminal and surrounding area: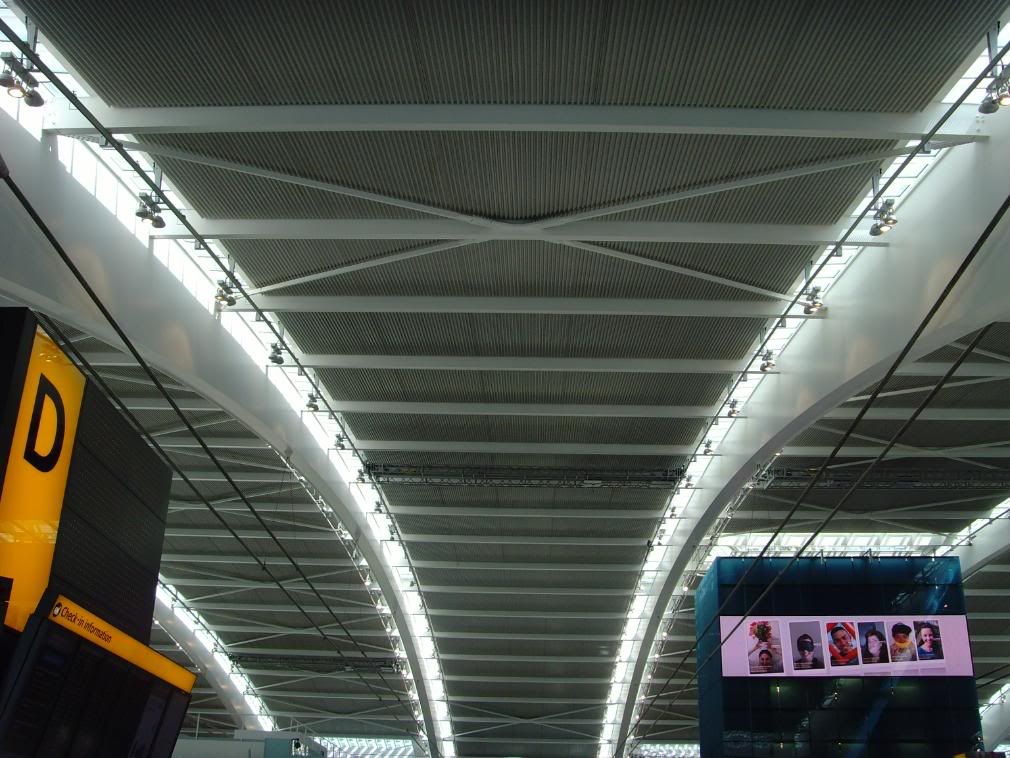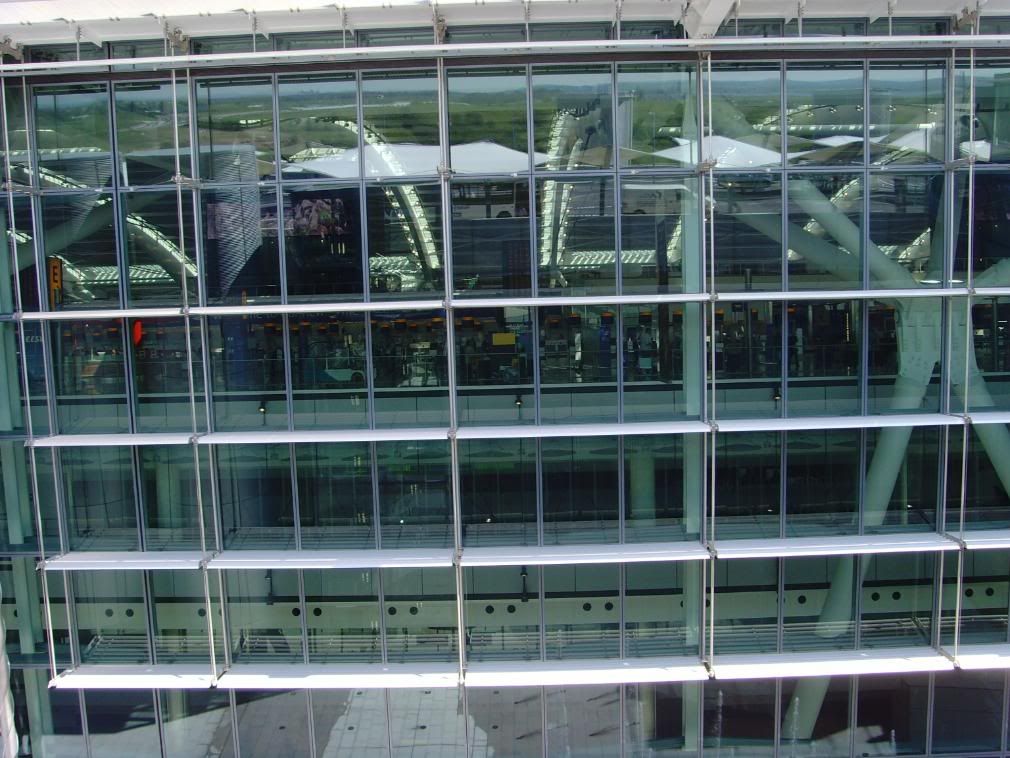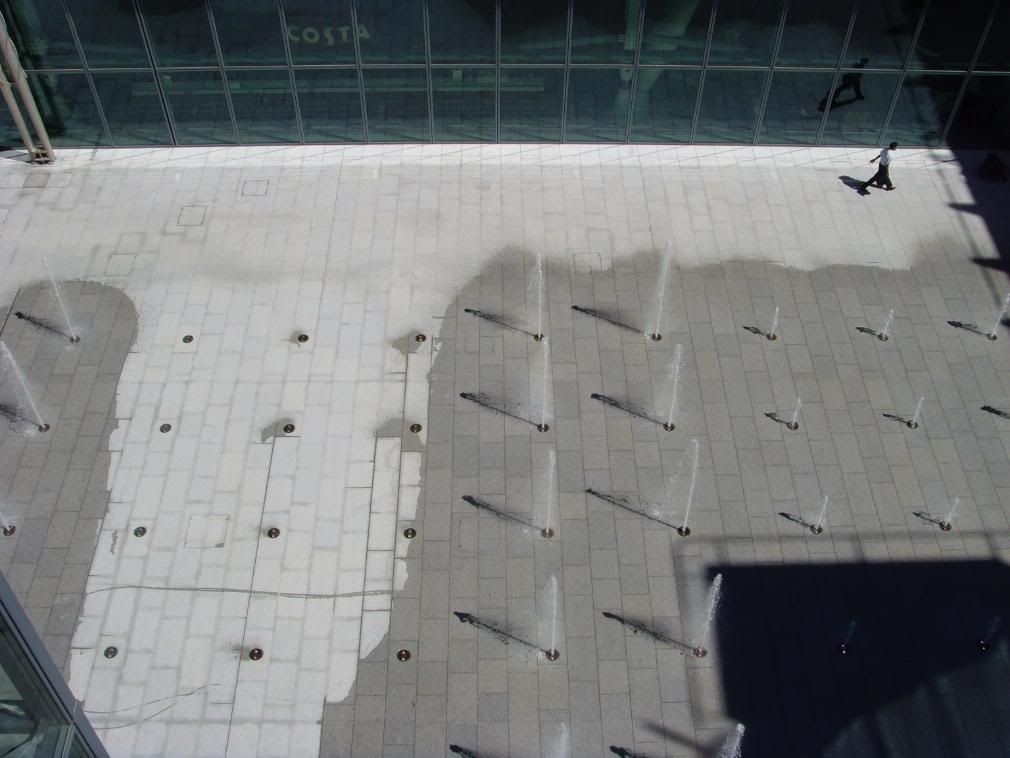 Lovely day for flying!: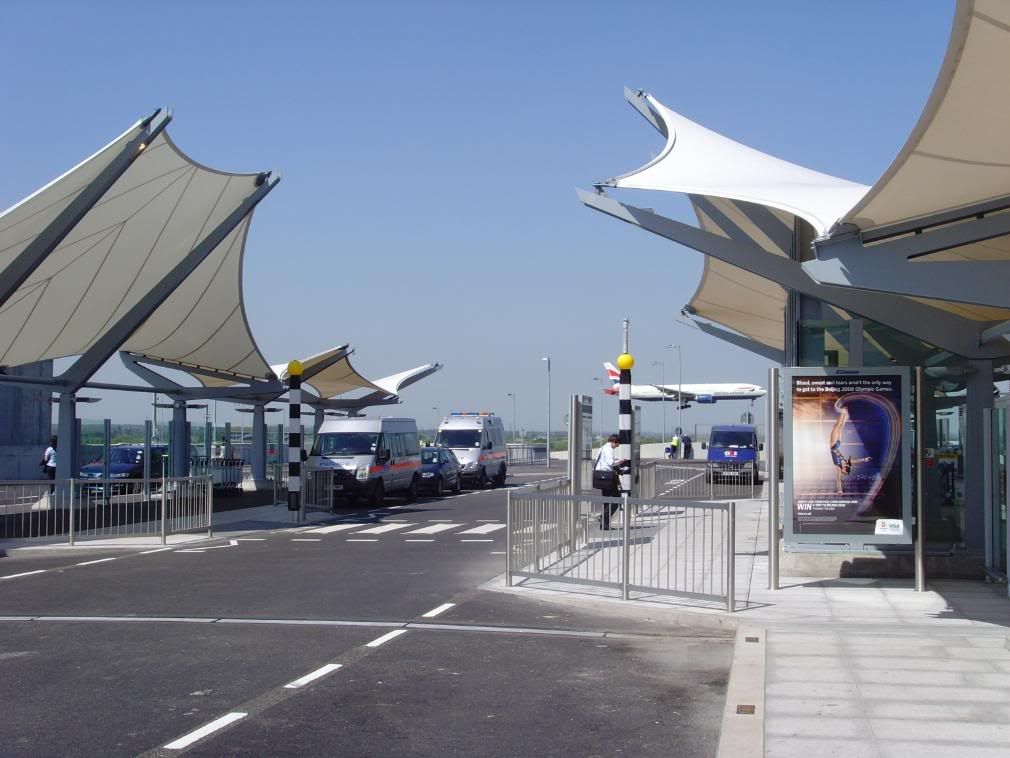 Satisfied that I had seen as much as I needed to see for the time being, I headed off to security. First I had to have my photo taken (as per the norm for domestic flights) and was told by the guy taking the photo that it would appear in next month's GQ magazine…the smooth talker, he even had the cheek to wink at me!! Everything metal was, as usual, stowed away in my cabin baggage, but still I caused the scanner to beep. The female officer monitoring the scanner announced to her male colleague that I was a "random search", so he sprung into action. No hand-held electronic scanner was used in the process that followed, instead I was subjected to what I'll describe as a free massage! I even asked the guy if he was a trained masseur…he laughed appropriately, thankfully!
Anyway, shoes back on, and feeling slightly less tense thanks to the free rub down, I decided to head off for a voddy in one of the bars. Vodka successfully downed, I very stupidly headed into the nearby Sony Store, where I handed over 60 quid for my third pair of noise-cancelling headphones…DAMN that vodka!! They are very good though, if only I had six ears so that I could use all three pairs at once!!
Outside the Sony Store, 60 quid worse off!: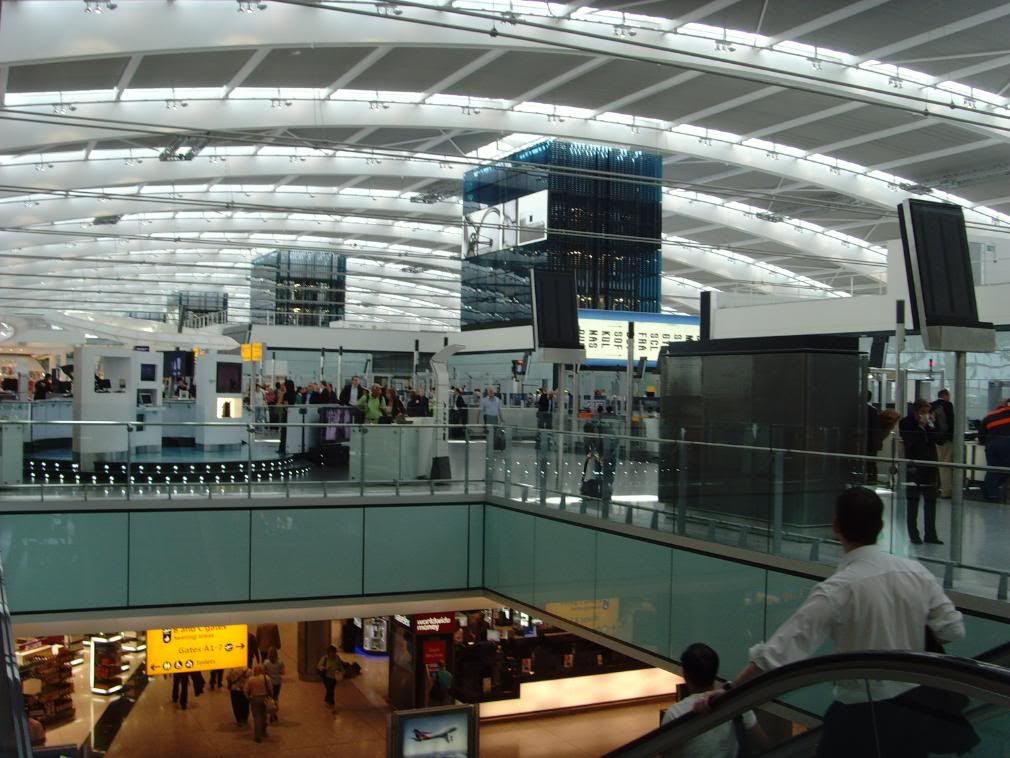 Just before heading to the gate:
I then headed off to the published gate, where I only waited about five minutes (enough time to put a battery in my new headphones and to fire up those bad boys!) before boarding was called.
Gotta love codeshares…and odd ceiling decorations!:
May 8th
LHR-MAN
Flight: BA1396
Aircraft: Airbus 321
STD: 15:30
STA: 16:30
ATD: 16:09
ATA: 16:41
Registration: Couldn't see, sorry!
Being a domestic flight, boarding was of the "general" variety, and pretty soon I was heading to seat 22A (the row behind the exit row, with no seat in 21A) to settle in.
Heading to the Airbus: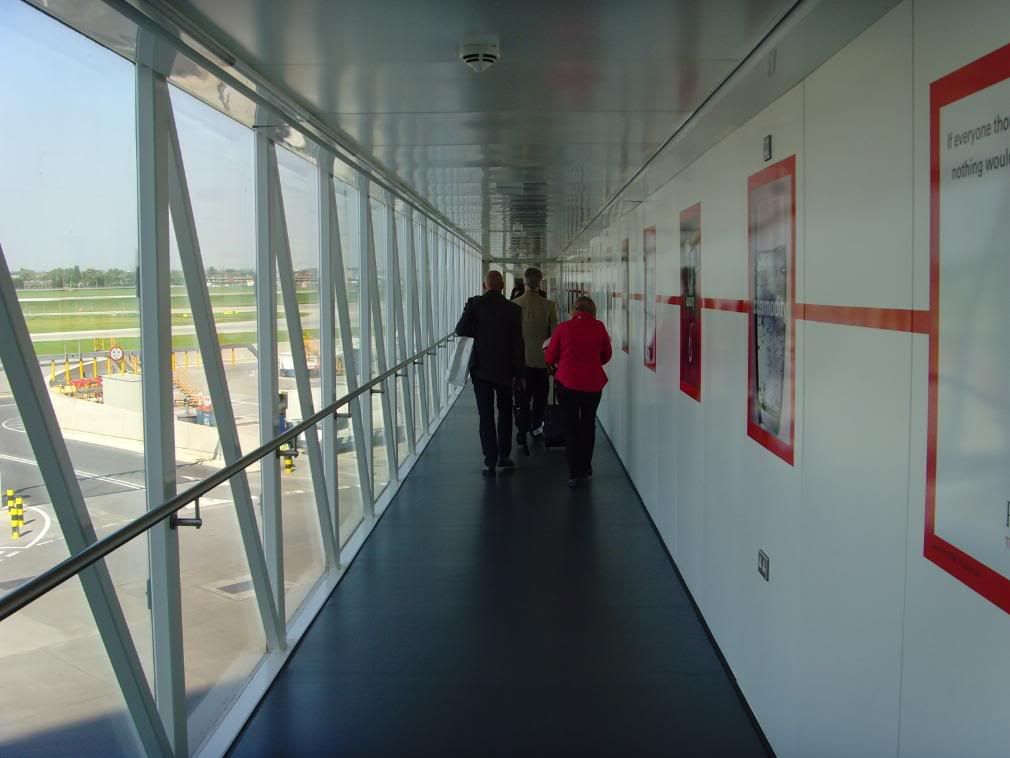 Settling in to 22A: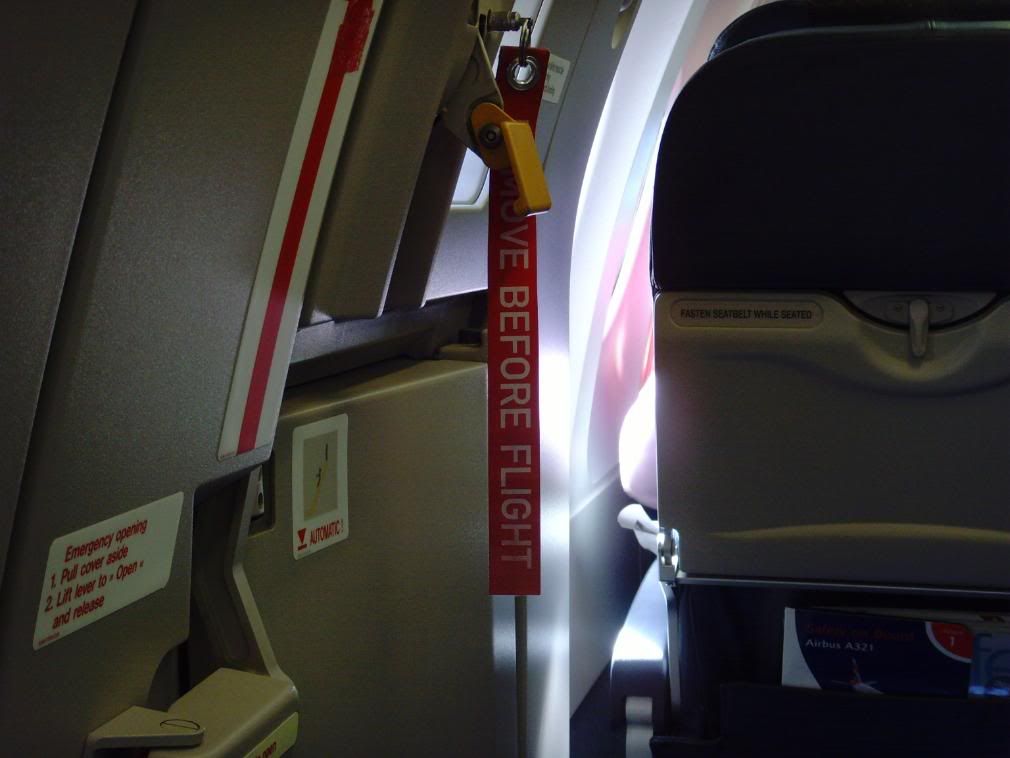 I wonder if this one's known as 'George'!!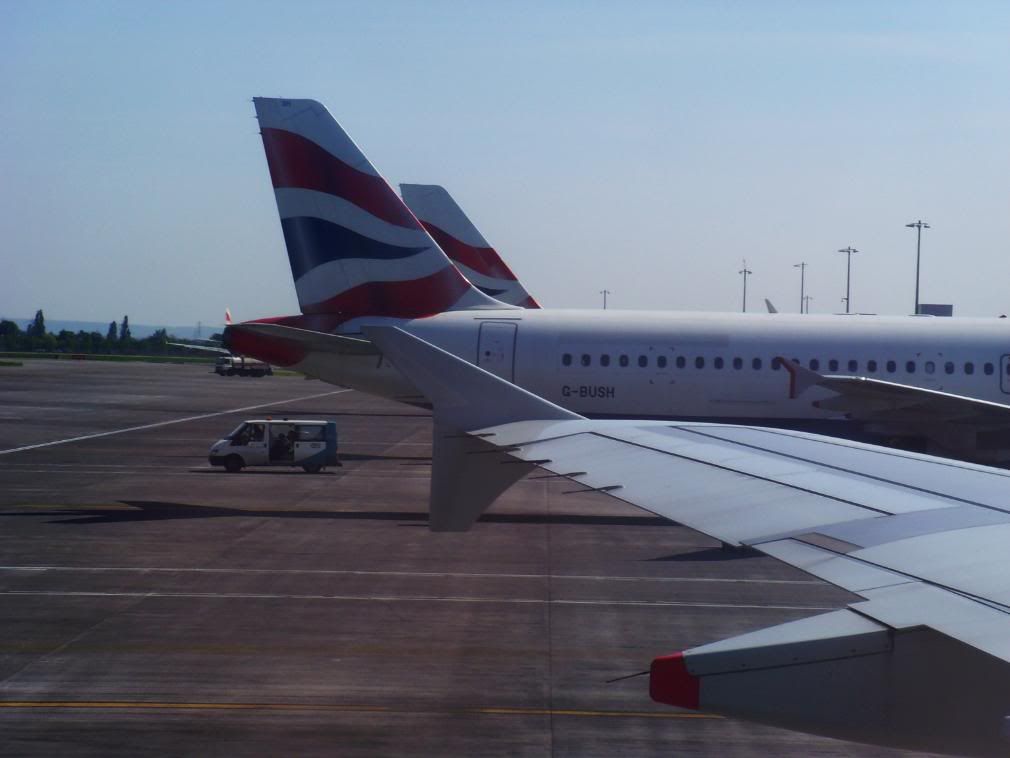 A heavy at T5B: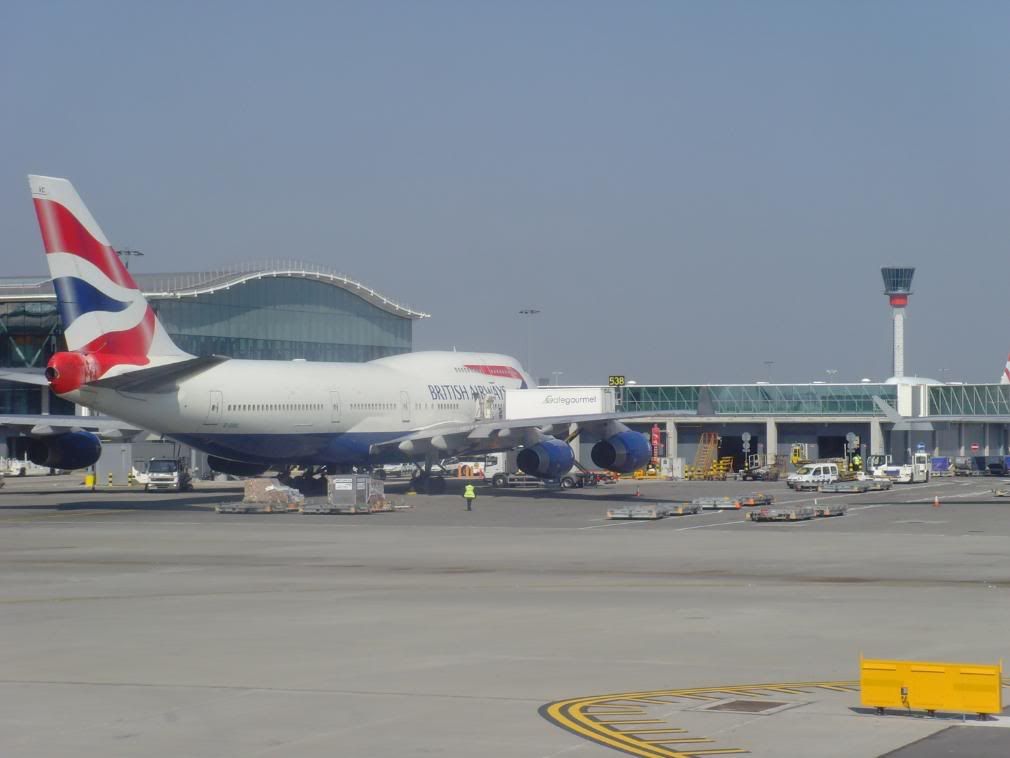 Nice heat haze!: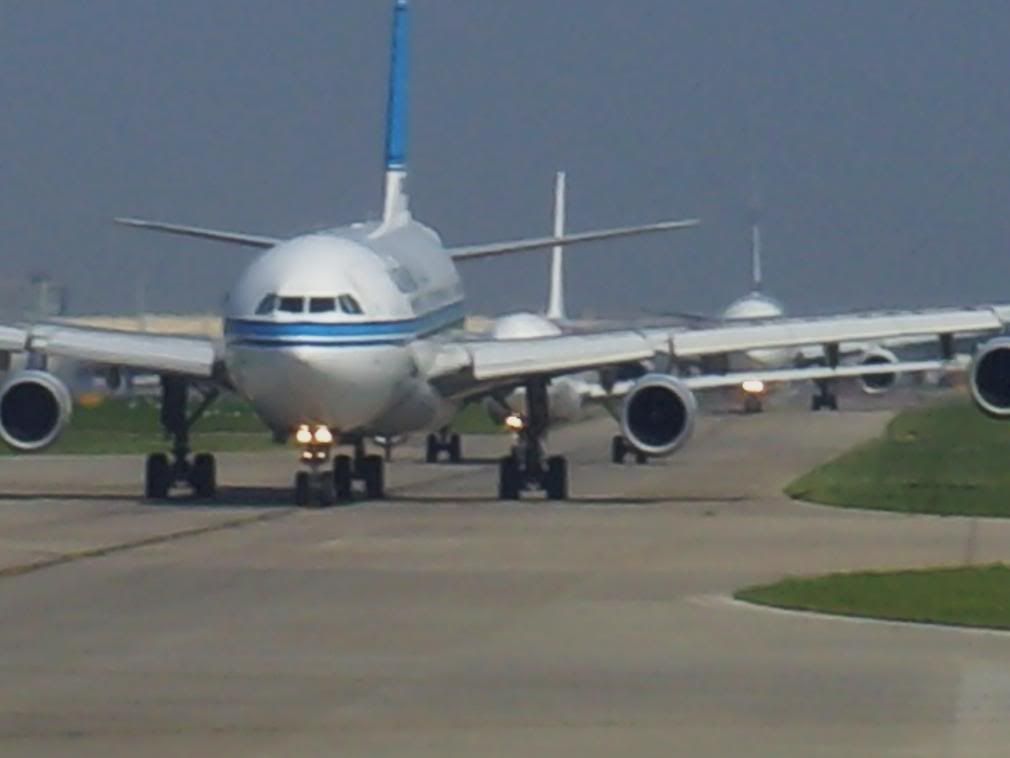 A sparkly T5!: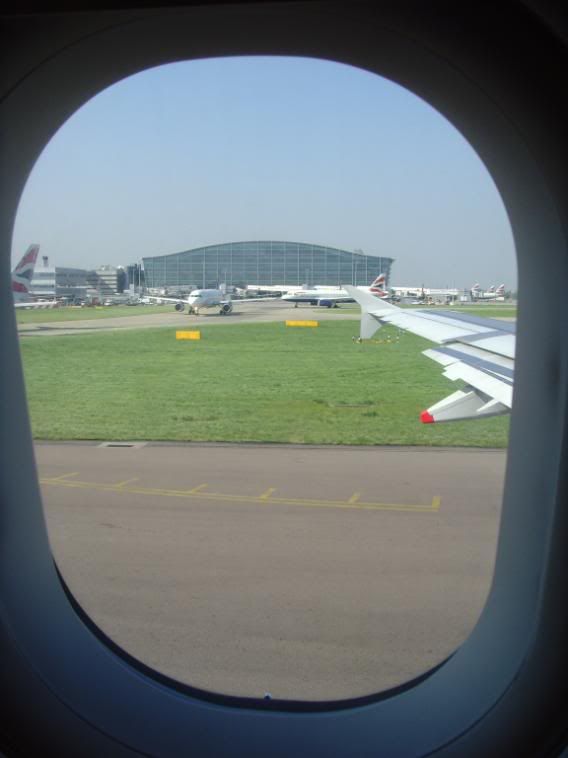 It was announced that seven flight attendants would be serving us on the 32 minute flight to MAN, and after a reasonable queue for runway 9R, we headed up into the air and pointed ourselves to the north:
Off we go: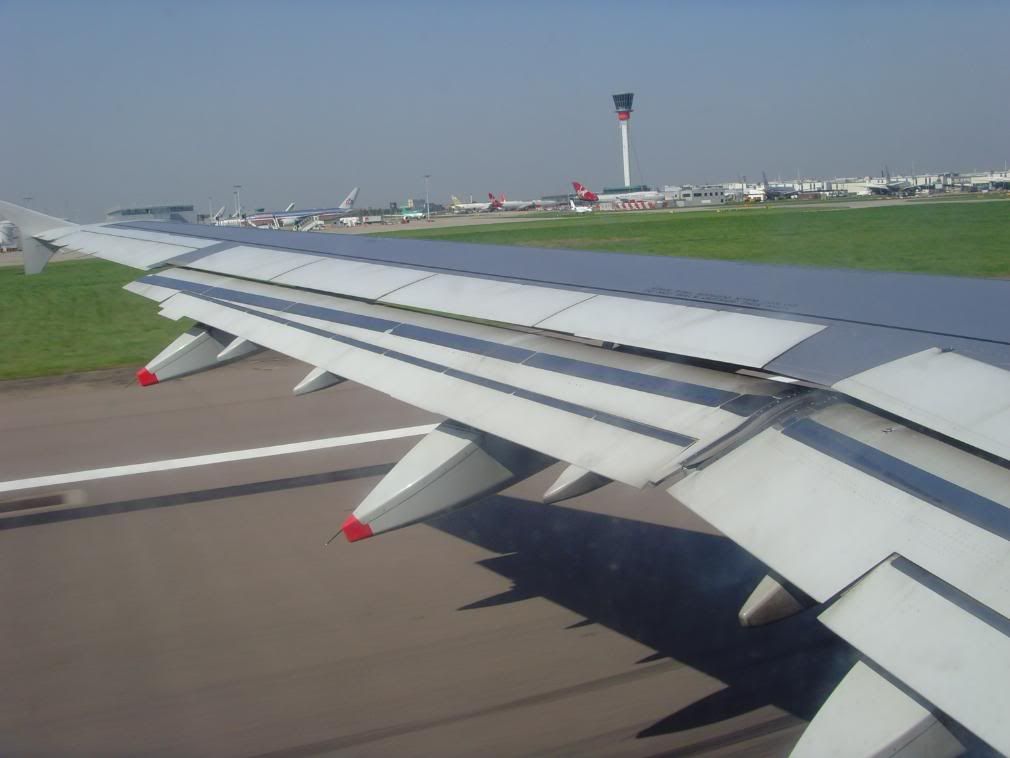 It's no wonder LHR is a mess!: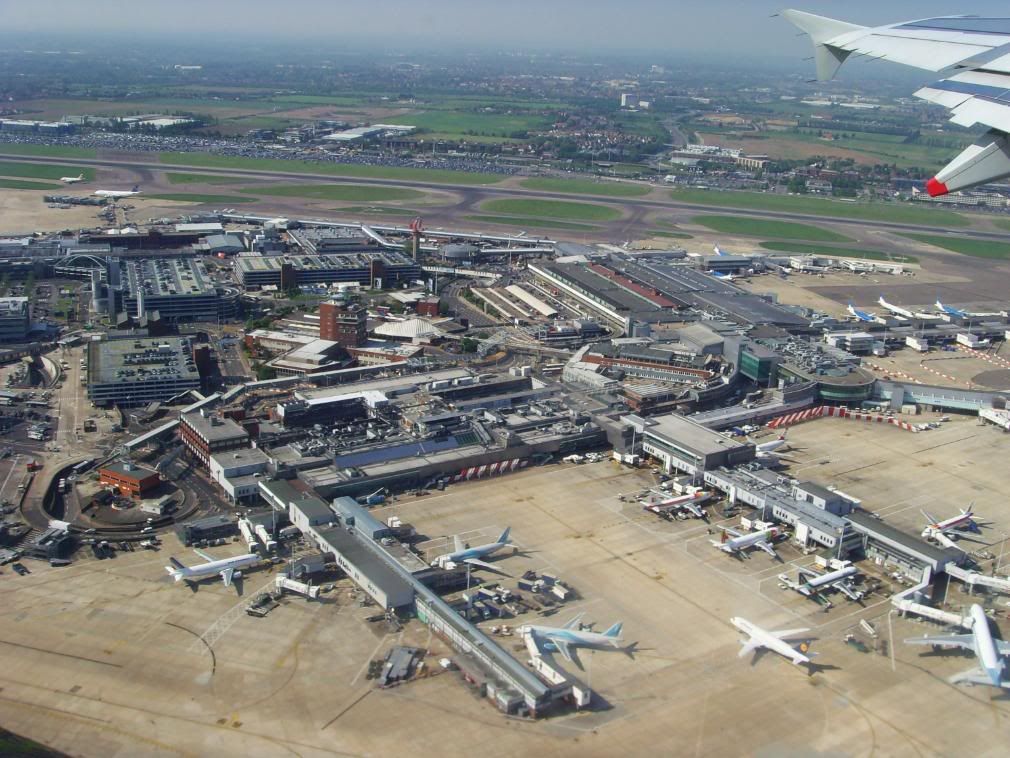 Spot the Concorde: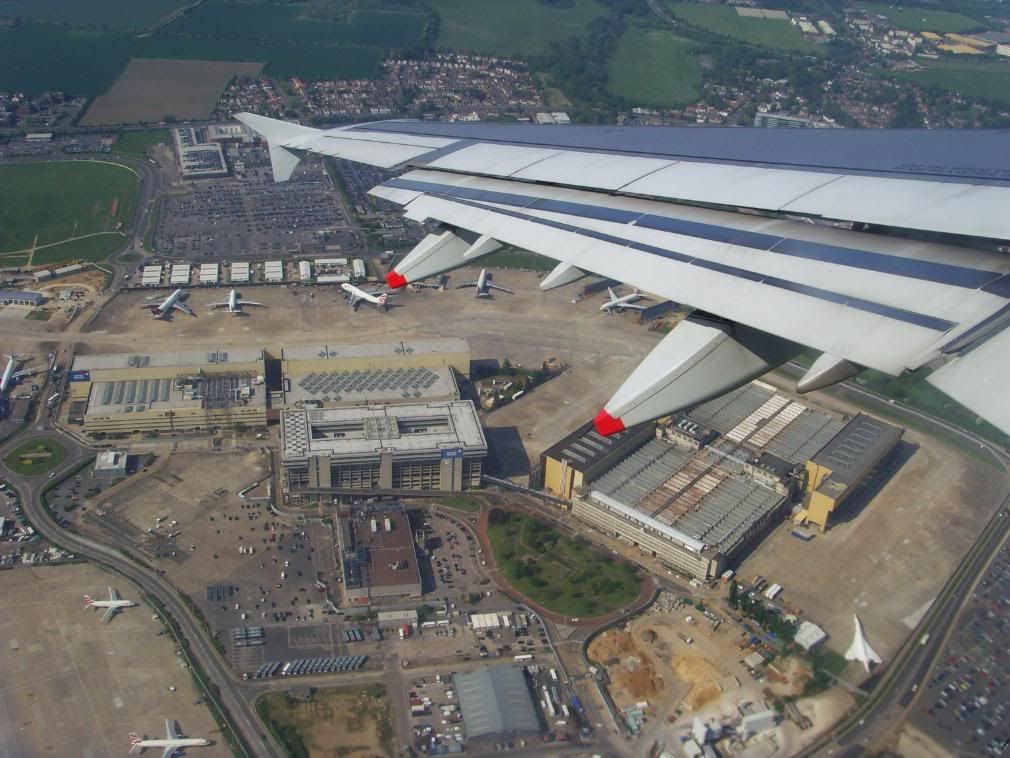 I really think
this
should be called the 'London Eye'!: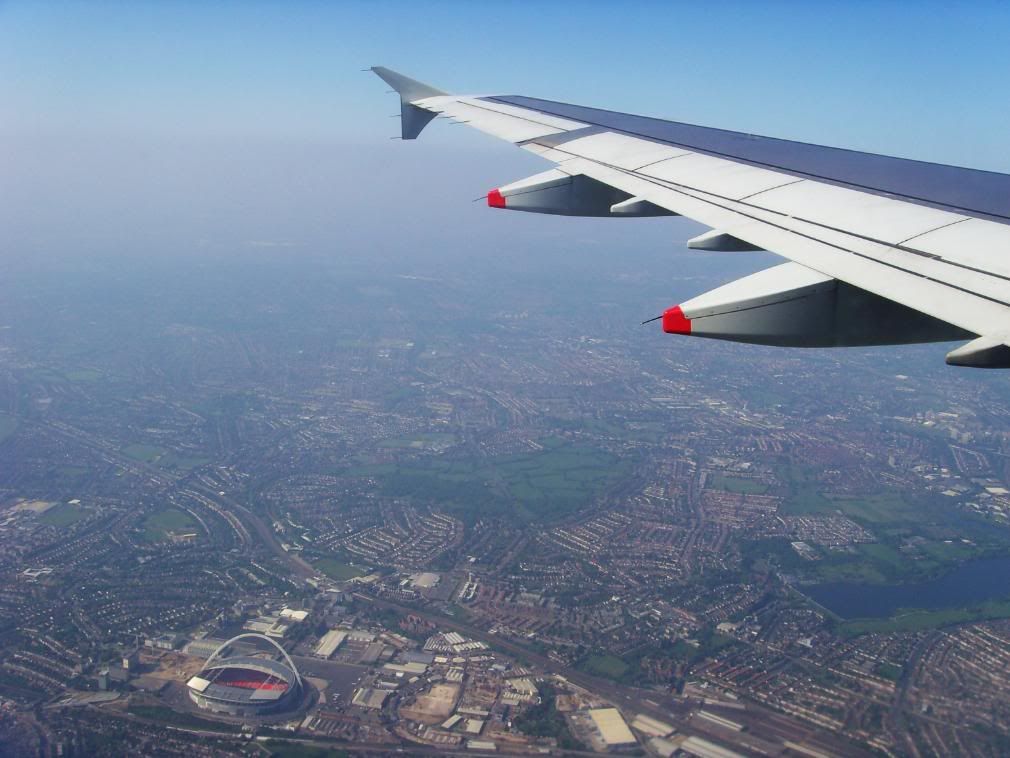 As far as I could see, this was a fairly heavily loaded flight.
A sandwich was served, along with a free drink, of either the soft or hard variety…guess which I chose! Service was usual "BA"…nicely friendly and accommodating, even if the male F/A that handed me my sandwich let go of it before I had hold of it, so it fell on the floor! My fellow seatmate in 22C (22B remained empty) picked it up for me, accompanied by profuse apologies from the F/A.
My sandwich, fresh from the floor! I also think this was the first time I'd had a 'Breakaway' since I was about 10 years old...I didn't even know they still made them!!:
And the beverage: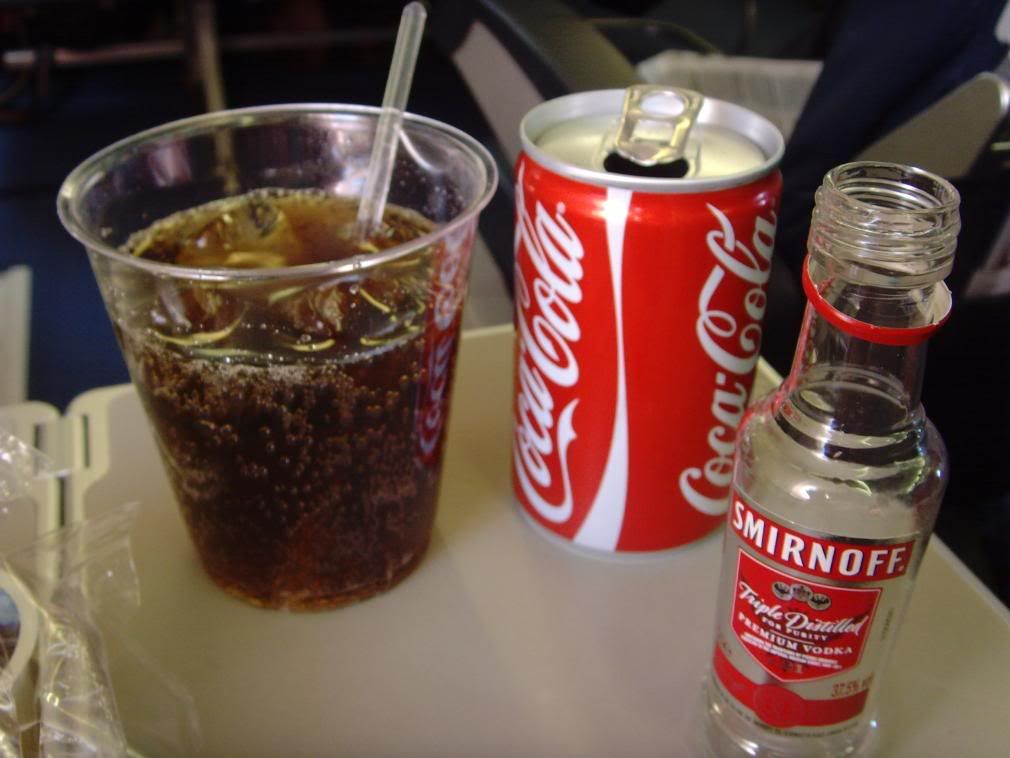 The flight was generally smooth and very short - within no time at all, we were descending into MAN: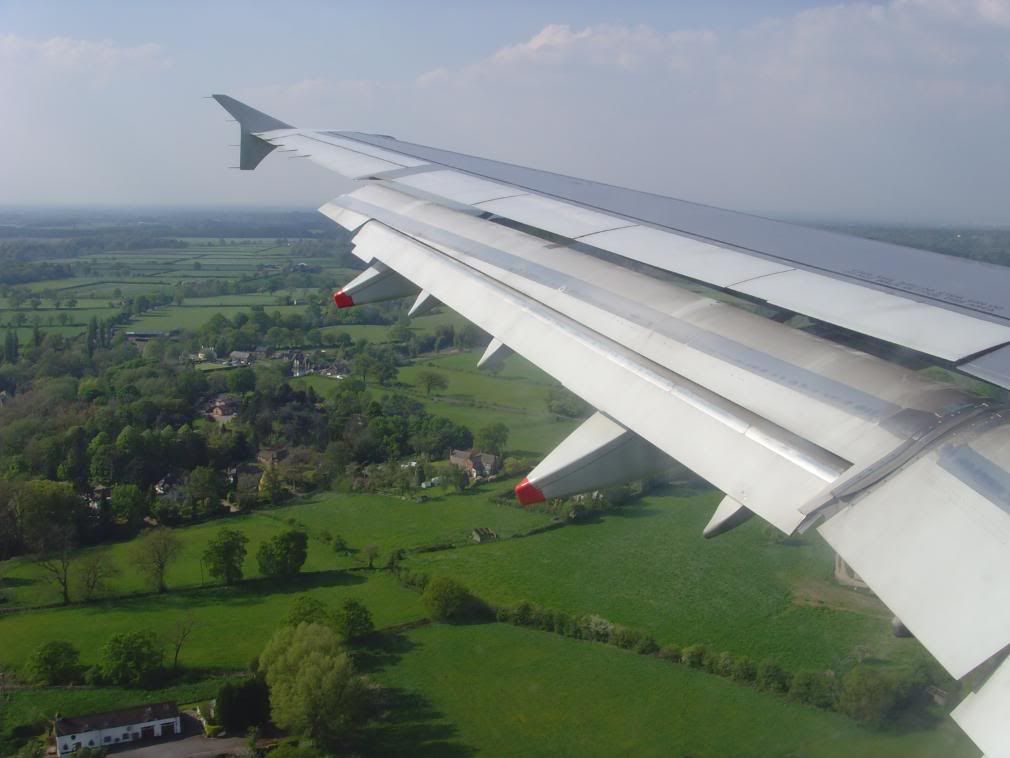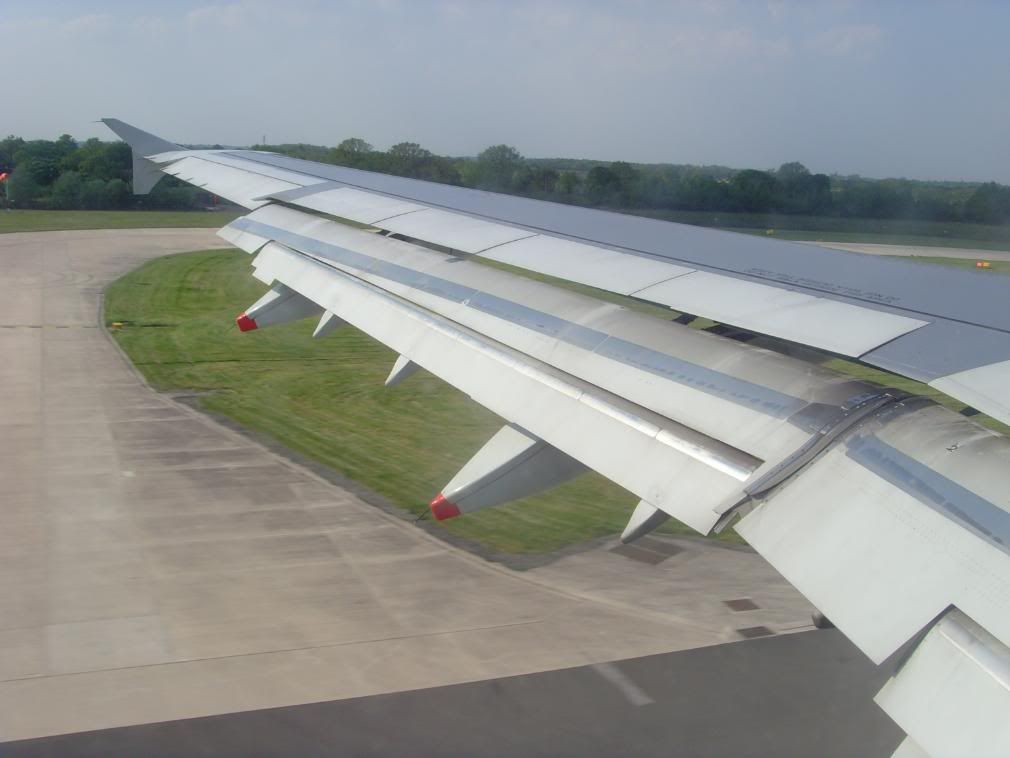 Spot the
other
Concorde!:
Arriving at T3:
We docked at Terminal 3 (which I understand is the domestic terminal) and headed off onto Manchester soil.
It was now time for a bit of a look around.
The sandwich that we had on the flight was the first that I had eaten all day, so was feeling more than a little peckish. The Costa Coffee that I found in Terminal 3 didn't have the kind of offerings that I had in mind, so I jumped on a free shuttle bus to terminals 1 and 2 to seek out something more substantial. I got off the bus at the little terminal-type-thing where buses and trains leave from, and which also has bridge connections to terminals 1 and 2. The Café Ritazza there was closed…at 5pm?!?! To quote a famous SQ trip report, I was unimpressed!
I did like these tubes that linked the terminals though, even if it was 1000C inside on this "warmer than average" day!: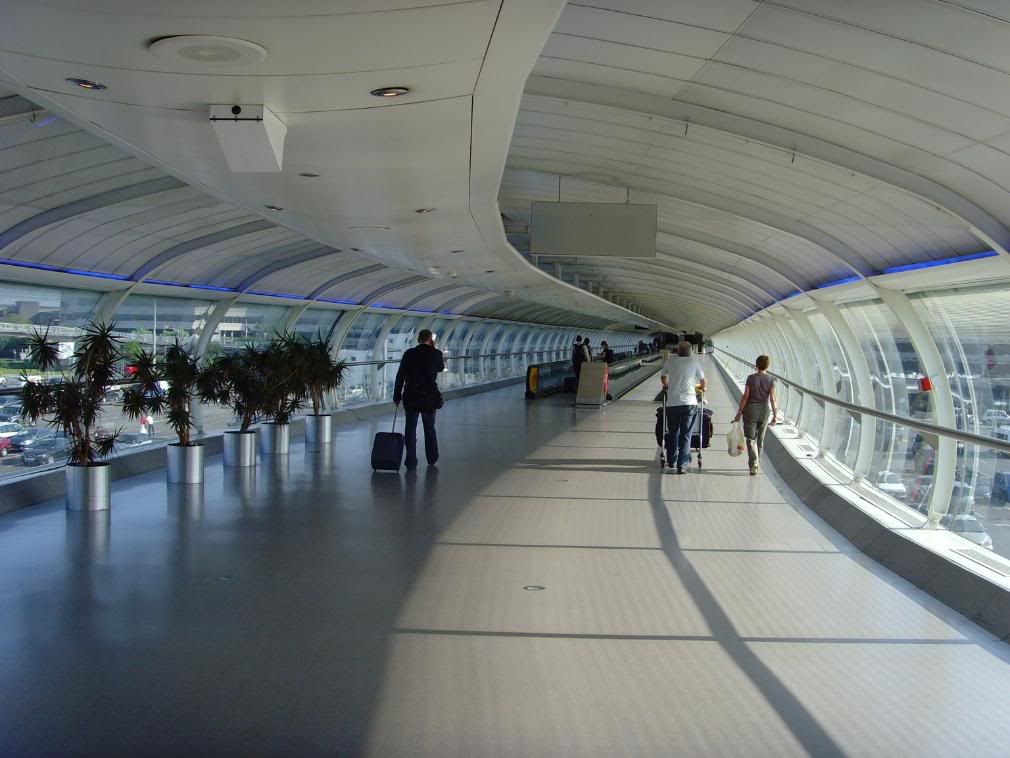 I can't remember which terminal I went into first, but I
think
it was T1. There wasn't a lot going on, and certainly no eatery that I could see, so I headed into the next terminal. This appeared to be the terminal that PIA uses, and I was greeted by crowds of folks that were checking in for the flight to ISB, along with their vast amounts of baggage! Having seen such flights leaving LHR, I'm always amazed at the amount of baggage that people are allowed to check in, and I also have to ask myself
why
?!?! After a bit of wandering, I found somewhere that relieved me of a tenner for an all day brunch, a slice of cake and a drink…and there was me thinking that things were supposed to be cheaper up north!
OK, so I have to say that I was a bit disappointed with MAN. Granted I no doubt hit it at the wrong time of day (maybe that's why eateries were closed), but I found it lacking in atmosphere and general excitement. Feeling a bit deflated, and a little tired, I decided to go and catch the next train to Liverpool's Lime Street station so that I could go and check in to my hotel for the next two nights. I used a ticket machine to buy my ticket, where I found that for an extra few quid I could travel first class, so I splashed out.
A little while later, a Northern train pulled in to the platform heading for Liverpool. I boarded the two-carriage offering wondering where the first class compartment might be, and also whether I had actually boarded a lorry on rails! Finding nothing, I sat myself down amongst the sea of McDonalds wrappers and discarded copies of the Manchester Evening News with a feeling of having been ripped off!! The ticket collector came round shortly after we left the airport, so I asked him rhetorically where the first class carriage was. His response was, "This is as good as it gets on Northern Trains I'm afraid sir"! I then had to ask why I was able to buy a first class ticket for a train with non-existent first class facilities. He informed me that I would have to change at Manchester Piccadilly for that, but that the train I was on was a direct service to Lime Street. So I switched the iPod on and wrote off the three quid that I had needlessly spent (OK, so it wasn't exactly a fortune)!
A little over an hour later we arrived at Liverpool Lime Street. I was finally in a city that I had wanted to visit for years! A cab ride later and I was in my comfortable hotel in Sefton Park.
After a good night's sleep I got up and made myself ready for a day's sightseeing. First stop was a hearty fry-up in the hotel's restaurant.
At about this time, the flight god, "Bang Krupsy", that I referred to earlier, climbed out of his cosy pit, yawned, stretched and decided get a little frisky before his morning ablutions. Just as I was picking at a slice of black pudding (I'm really not a fan!), my phone rang. It was my mate John, calling from the Isle of Man. His news was that they had just received a corporate email informing them that EuroManx, the airline I was to fly LPL-IOM with the next morning, had declared bankruptcy earlier that morning, all flights having ceased with immediate effect.
Bugger!!
The email had stated that flybe and Manx2 had said that they would be honouring EuroManx flights, so John suggested that I called them ASAP. I said I'd call him back after breakfast to let him know the situation.
I got on the phone to EuroManx, where I spoke to a very cheery young lady, given the circumstance. She gave me the number for flybe and told me to give them a call to get rebooked. After about half an hour of constant redialling, I managed to get through to flybe, who gave me the choice of either an 8:10am or a 3:45pm departure. My original EuroManx flight was scheduled for a 10:50 departure from LPL, with an 11:25 arrival into IOM. I thought that the 8:10 BE flight was probably a tad early, not only from a departure perspective, but also from a "expecting John to get up and to the airport to pick me up" perspective, so I opted for the 3:45pm. I was disappointed as this cut down my time on the island quite considerably, but I called John back to give him the news. This is when he told me about the Steam Packet ferry service that went from Liverpool to the Isle of Man, that got in to Douglas at 1:45pm. A quick look at their website and a check on the shipping forecast later (the crossing to the Isle of Man can get VERY rough!!), I was booked on the Seacat service to Douglas instead, for a grand total of £20, including a reserved seat in the 'Niarbyl' lounge. I tried to call BE to let them know that I wouldn't be on the flight after all, but after numerous attempts to get through I gave up and resigned myself to being a no-show.
I spent the rest of the day exploring the amazingly friendly city of Liverpool, including catching the Mersey ferry as well as jumping on the train to visit New Brighton (I have to say that I prefer "old" Brighton!).
A few pics of Liverpool:
Albert Dock:
The banks of the River Mersey: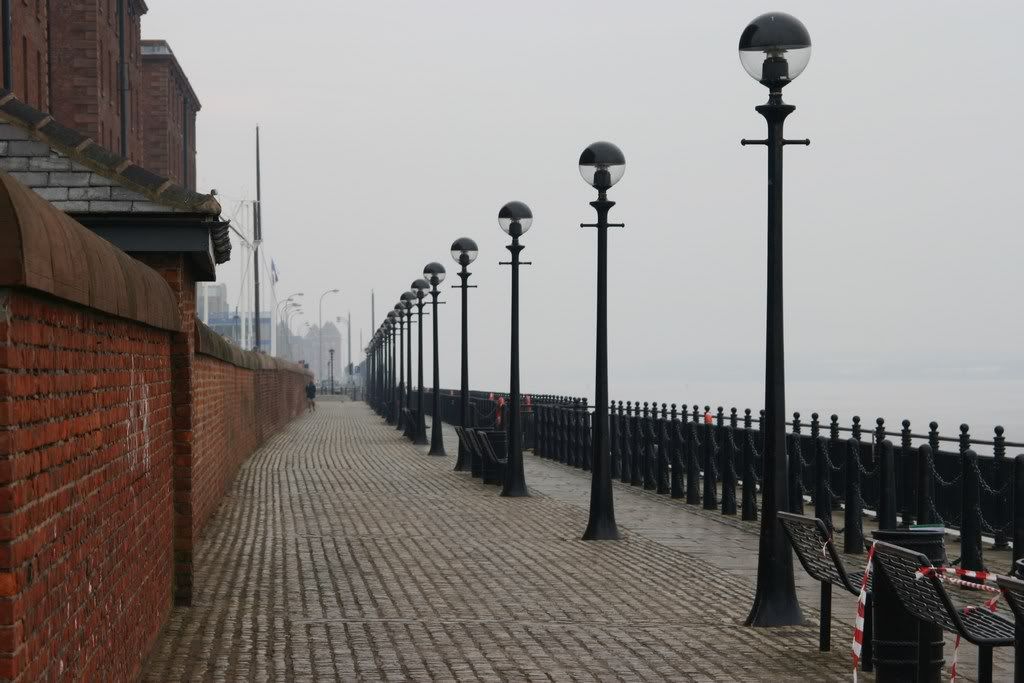 Mersey Ferry: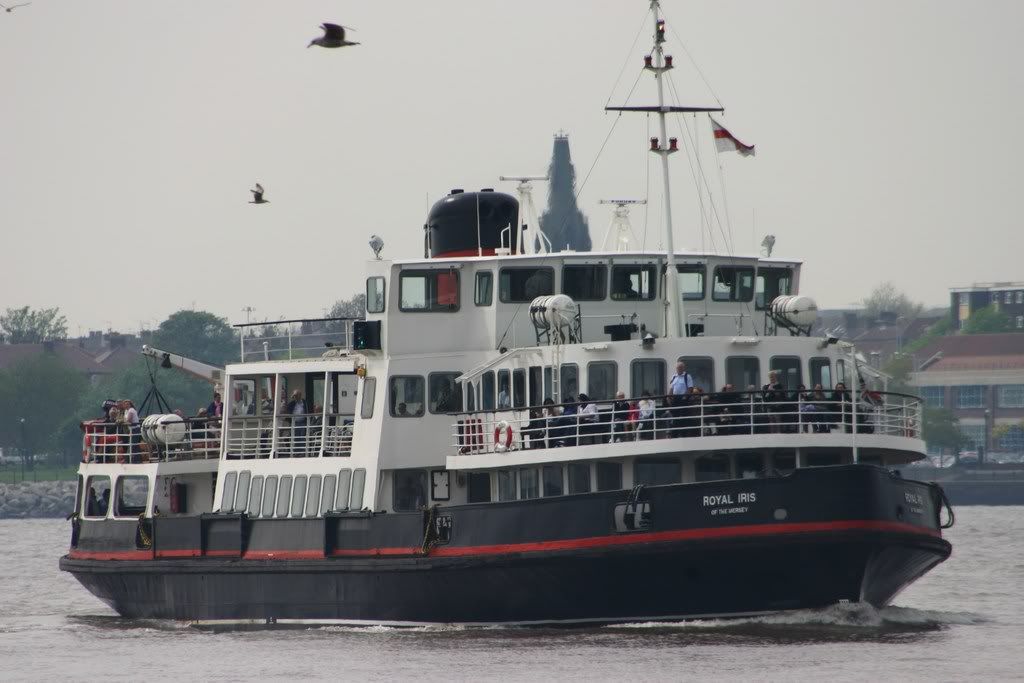 The only pic you'll get to see of me…on the Mersey Ferry reflected in the new terminal building!:
The Liver Building:
Not the original, but the replica Cavern Club…fake birthplace of the Beatles!:
The next morning I was on the 11:15 Seacat to Douglas, the capital of the Isle of Man. The crossing was great…the sea was as flat as a pancake, and my seat was more comfortable and had way more legroom than I've ever experienced on a plane!! There was even entertainment shown on wide screen TV's around the various cabins. It turns out that not only airlines around the world are fans of Mr. Bean, but so is the Isle of Man Steam Packet Company!!
I didn't take this, but found this pic on the net of my ferry in Douglas Harbour: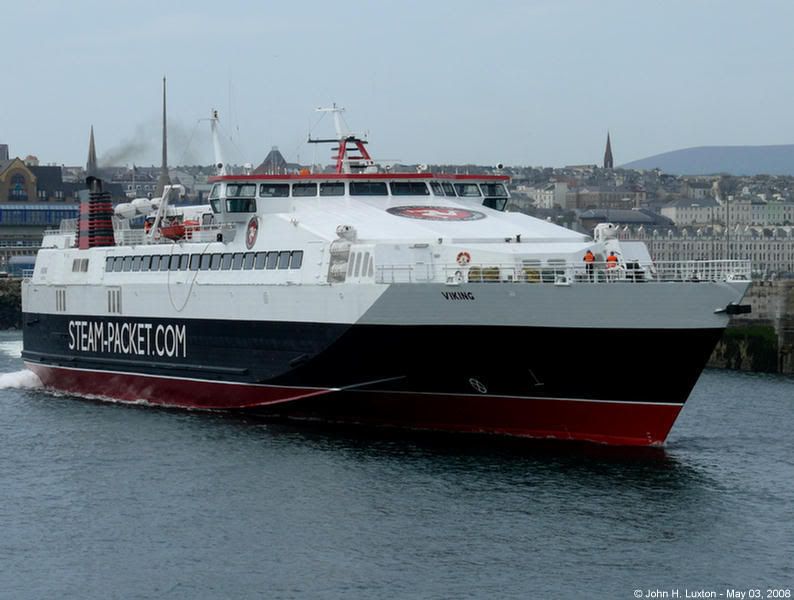 We pulled in to Douglas harbour at 1:30pm, and by the time checked bags appeared on the luggage belt it was 1:45 - our published arrival time. Five minutes later my mate arrived to pick me up, and off we headed for his home in the pretty harbour town of Peel (having done a quick tour of the TT circuit), and two very drunken days on the lovely Isle of Man!!
A few random Isle of Man photos:
The Laxey Wheel:
Laxey:
Douglas:
Castletown:
Port Erin: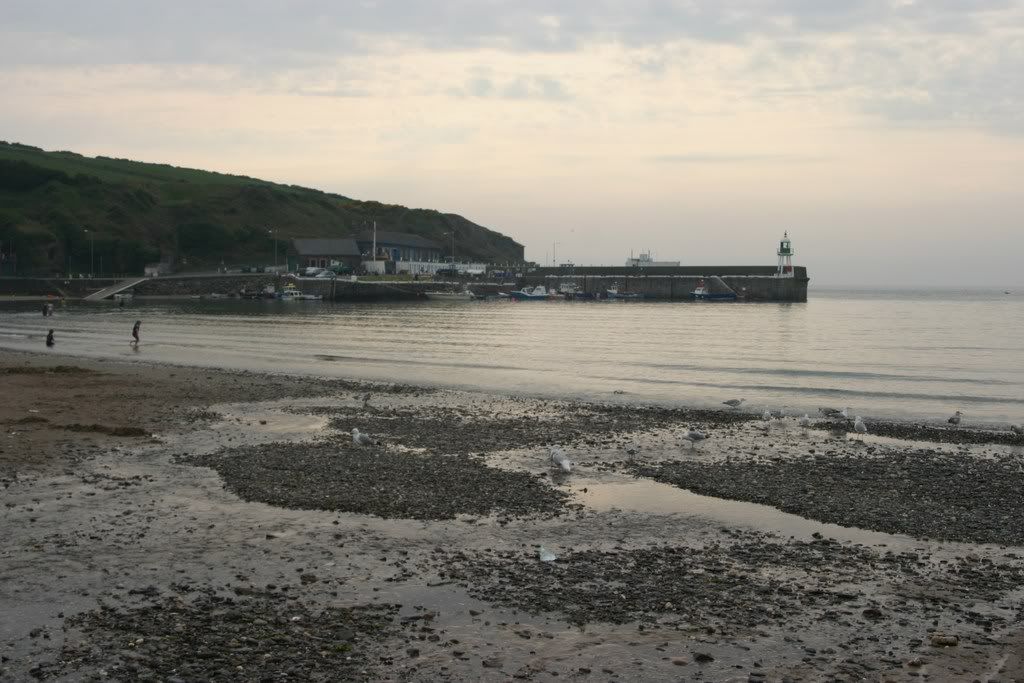 I couldn't resist giving my mate John's son Alfie his moment in the spotlight!:
Two days later it was time for me to head to Belfast, from where I was to collect a hire car to drive up to the North Antrim coast. John's girlfriend dropped me off outside the small terminal of Ronaldsway airport at 9:20am, to catch my 10:15 Manx2 flight to BHD. On entering the terminal I was directed towards the single Manx2 check-in desk, where two elderly ladies were already checking in. Two minutes later it was my turn, and within about a minute I was checked in for the free-seating flight, having first paid a £2 checked-baggage fee (it was a good excuse to get rid of another Manx £10 note!). I was also in possession of a boarding pass printed on BA stock…no Manx2 boarding pass for me! Before I left the desk I asked what aircraft type would be used on my flight today. The lady behind the desk thought it would be the Let, which she said would be fine given the great weather!! I wondered if she might advise people not to indulge in a pre-flight snack in the cafeteria if the weather is bad!
I headed upstairs to the departure area, did a quick tour of the shop and gulped down a drink in the cafeteria before heading off through security to the published gate for my flight, gate 4.
A guy was checking boarding passes before security, and was instructing people to remove their shoes before heading through the scanner. I did as I was told, and placed my shoes and my bag in containers for the x-ray machine before heading off to make the scanner beep. As at LHR T5 a few days earlier, I was again given a free massage! I was asked to remove my belt and head back through the scanner again, but all the time this was happening I was vaguely aware of voices saying, "Excuse me, is this your bag?". It turns out that they were talking to me, as I had failed to remove my laptop, so I removed it from the bag and put it through the x-ray along with my belt, which had been the cause of the beeping. Finally I was given the all-clear, and headed to gate 4.
May 12th
IOM-BHD
Flight: Manx2 NM902
Aircraft: Metro 23
STD: 10:15
STA: 10:55
ATD: 10:25
ATA: 10:45
Registration: D-CNAG
Out of the window I could see the skinny fuselage of a Metro sitting on the tarmac, and guessed this would be our plane, rather than the Let that I had been lead to believe I would be flying on. Oh well, I had never flown on a Metro either!
A couple of minutes later, boarding for the flight was announced and I headed down the stairs behind a group of four Philipinos and out onto the tarmac. A guy was stood at the bottom of the aircraft steps checking boarding passes, and up I went into the tiny aircraft. I had to bend double to walk up the aisle, where I found the Phillipinos trying to find seats based on their check-in sequence numbers - obviously no one had told them that it was a free-seating flight! I took an exit seat on the right hand side. As there is only one seat either side of the aisle, every seat is both window and aisle. Even though headroom was non-existent, legroom was great. The Phillipinos busied themselves by taking photos of each other on what was probably an unusual aircraft for them!
The aircraft filled up to 100% capacity (I would imagine that we had a few ex EuroManx passengers on board too), and the guy who had been at the door checking boarding passes climbed inside and closed the door behind him. He then crouched down at the front of the cabin and proceeded to perform the safety demonstration…but not before he had introduced himself as being Nils, the pilot!! He also introduced the First Officer by first name, who turned and gave us a nice little wave from the doorless cockpit. All in all, the atmosphere on the plane was very friendly and informal. Flight time to BHD was announced as being only 20 minutes, and once Nils had finished informing us of safety onboard the "Metroliner", he climbed into the left hand seat and made preparations for departure. I sat and surveyed the emergency exit next to me, and wondered how on earth I would squeeze myself through it, should the need arise. I decided that the forward exit would be my exit of choice today!
A Blue Islands flight headed for Guernsey and Jersey departed just as our engines were started up, and beat us to the runway. We followed shortly after, where we both had to wait for an arriving flybe Dash-8 to land. Once the Dash had cleared the runway, Blue Islands did a right turn onto the runway, taxied to the end, did a 180 spin and headed off to the Channel Islands. Minutes later we did the same (but heading to Northern Ireland rather than the Channel Islands of course!)…but I'll let the video do the talking for now. Sorry that the lighting's not great…trust me to choose to sit on the wrong side of the plane!! Plus, the windows were a tad grubby…:
So we arrived at BHD, having been treated to excellent views of "Samson and Delilah" (the two large cranes) at the H&W shipyards, and parked at a stand at the far end of the terminal. The First Officer thanked us for flying with Manx2 and I stood up, taking care not to bang my head on the cabin ceiling and remembering to keep my upper half parallel to the cabin floor! Nils also wished us a pleasant day as we headed to the exit, and I returned his sentiments and thanked him for a nice flight from my rather undignified angle!
We headed across the tarmac, where I asked an airport employee at the gate if it was OK to take a picture of the aircraft. Her response was that it was absolutely fine to take one from inside the terminal, but wouldn't have been allowed from the tarmac. Obviously a plate glass window makes all the difference!
The flying pencil at BHD: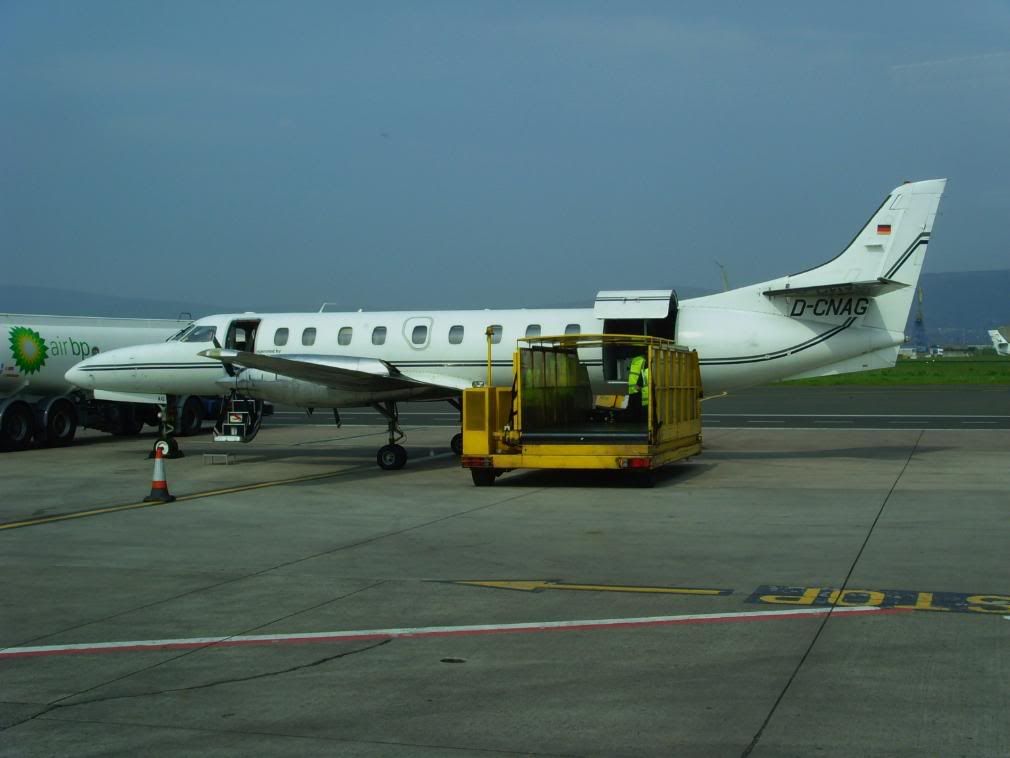 We headed along the corridor that separates the gates from the departure lounge, passing a number of aircraft, including a BD A320 that was just about to depart for LHR: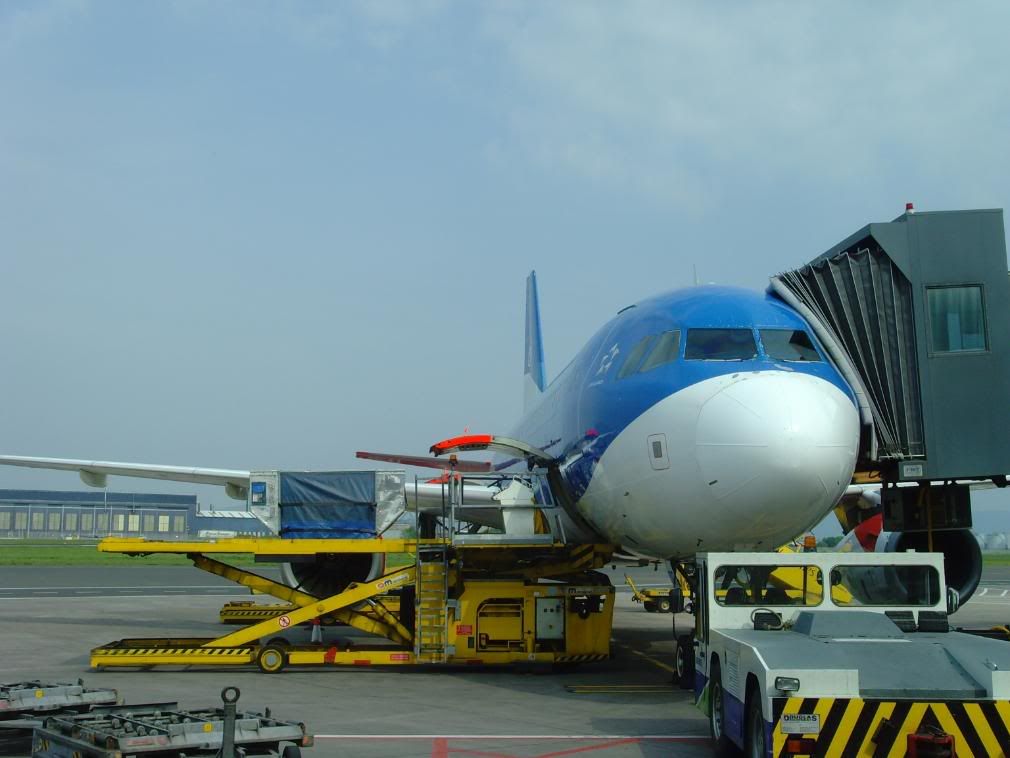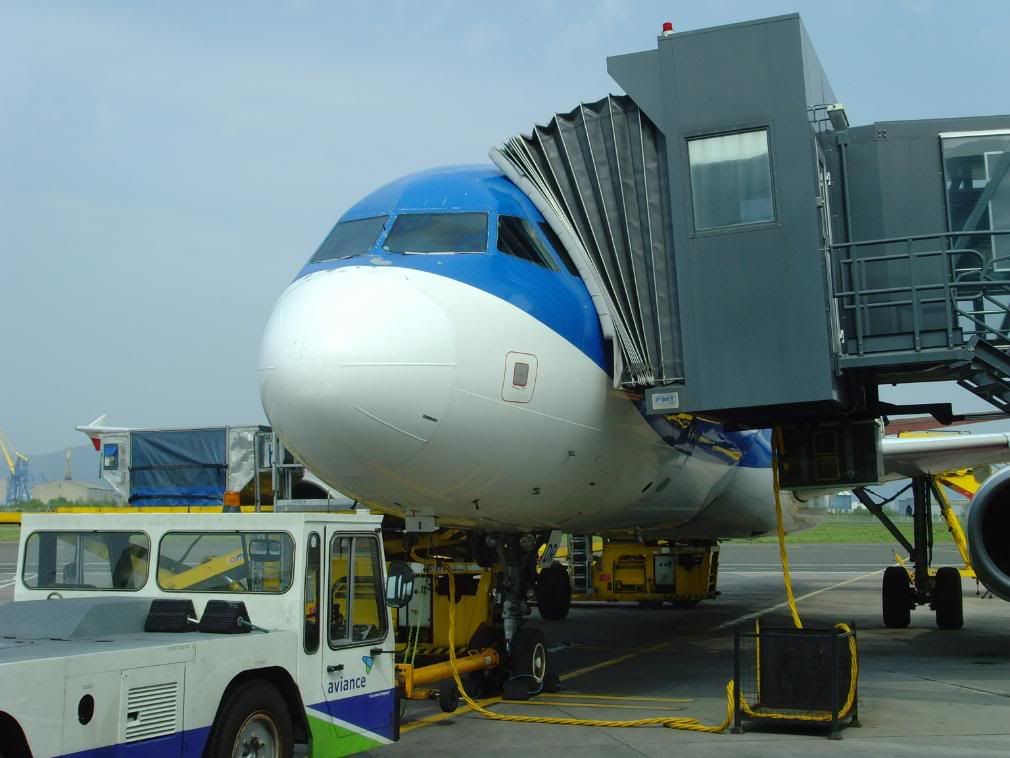 And a BE E195 heading for who knows where:
Eventually I entered the baggage claim hall, where a sign above belt 1 indicated that if your flight wasn't indicated on the screen, you should head to neighbouring belt 2. Off to belt 2 I went, where several minutes later my bag appeared.
By the time I entered the main terminal, I realised that I was starving hungry. John's girlfriend hadn't had time to sort out breakfast that morning (bless her), so I headed to the upper level and got myself an Ulster Fry to keep me going. The restaurant gave great views over the gates and the runway, so I tucked into my breakfast as I watched the BD flight head to LHR, an FR flight from Liverpool arrive and empty itself of a bunch of Scousers and my Metro take off on it's return journey to IOM. This was my kind of restaurant!
I had booked a hire car online with the intention of driving up to the North Antrim coast, so once breakfast was over I headed to the Budget desk and completed the formalities for the rental of my Nissan Note. A little while later I was heading up the A2, the "Causeway Coast" road, on the way to my destination. And maaaan, what a stunning drive that is!! I stopped the car numerous times just to enjoy the small towns, fishing harbours and stunning views. Some four hours later I arrived at the 'Sea View' B&B that I had also booked online.
I have to say that the North Antrim coast is absolutely amazing. Rocky coves, ruined castles perched on cliff top headlands and the most beautiful sandy beaches. Here are a few of the sights, including the Giant's Causeway, the main reason for my trip: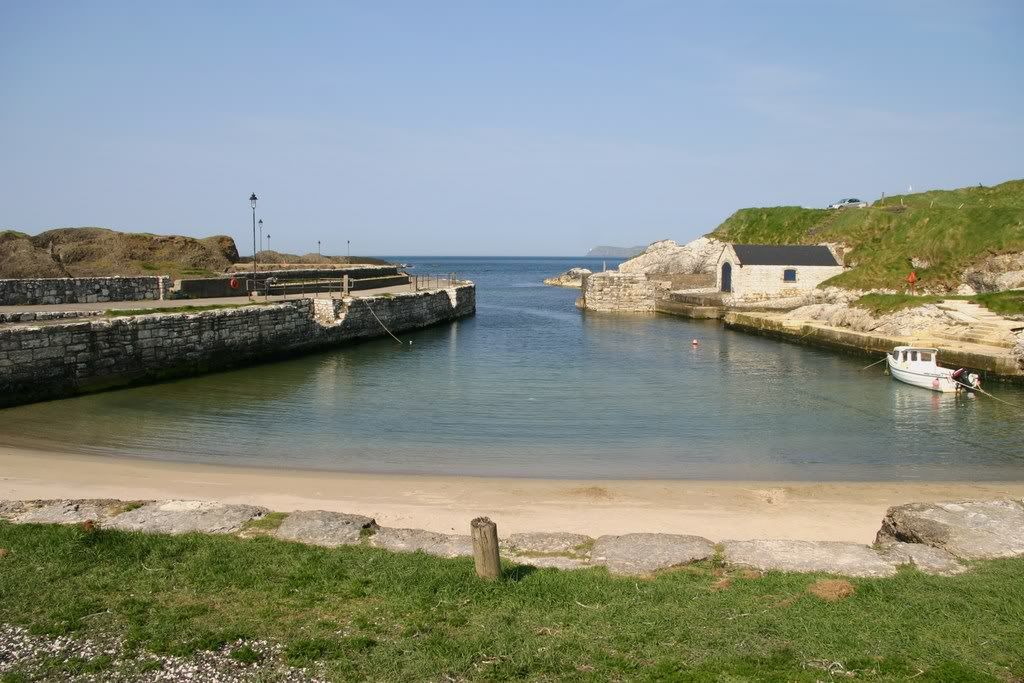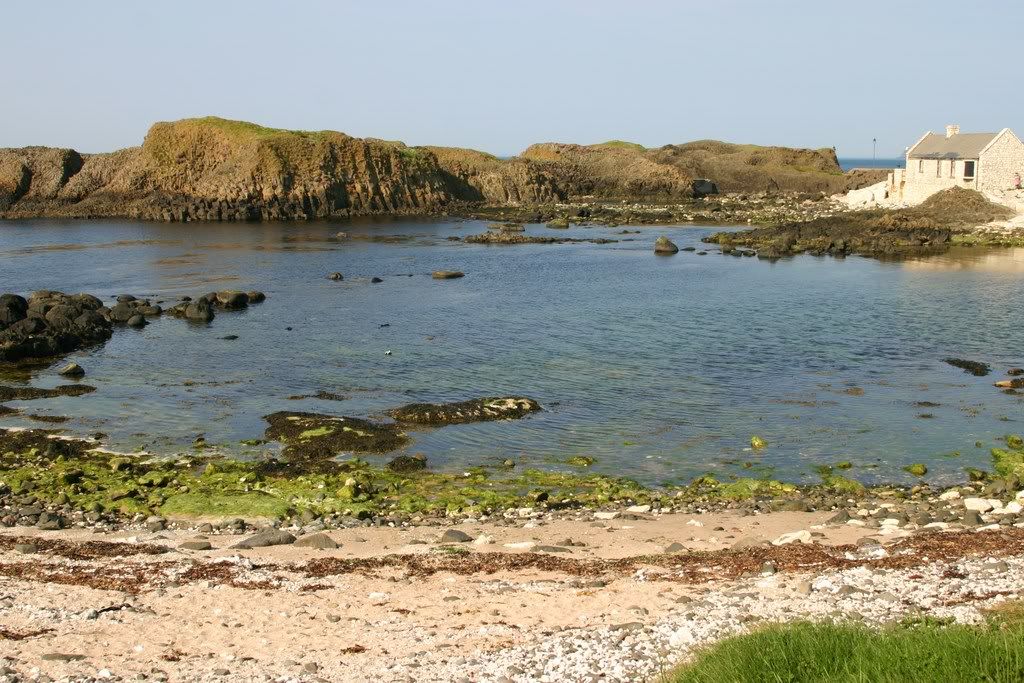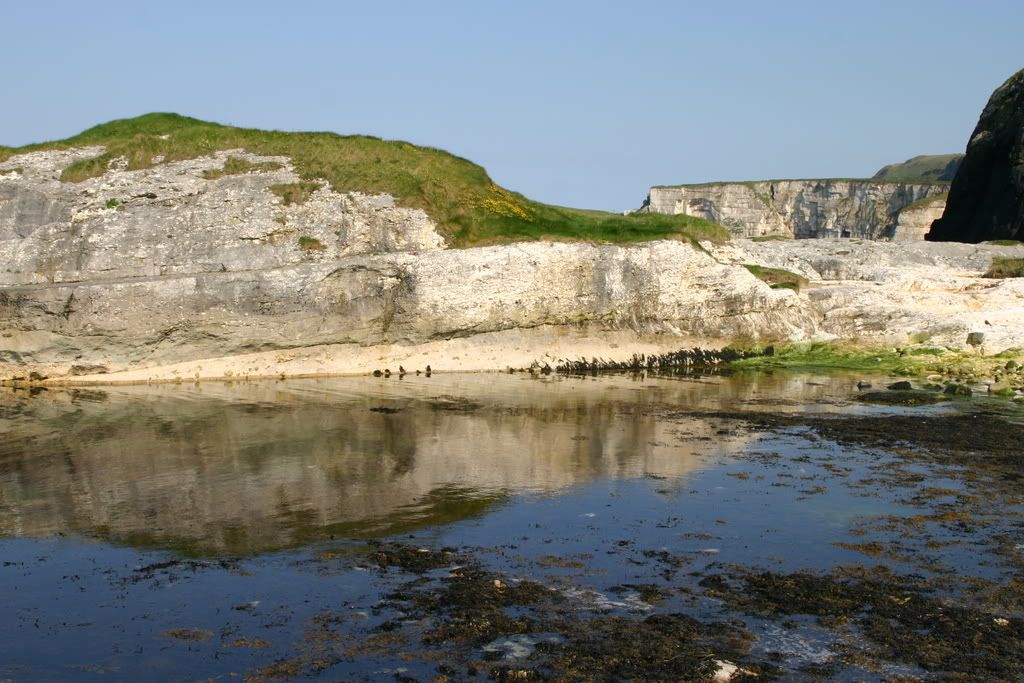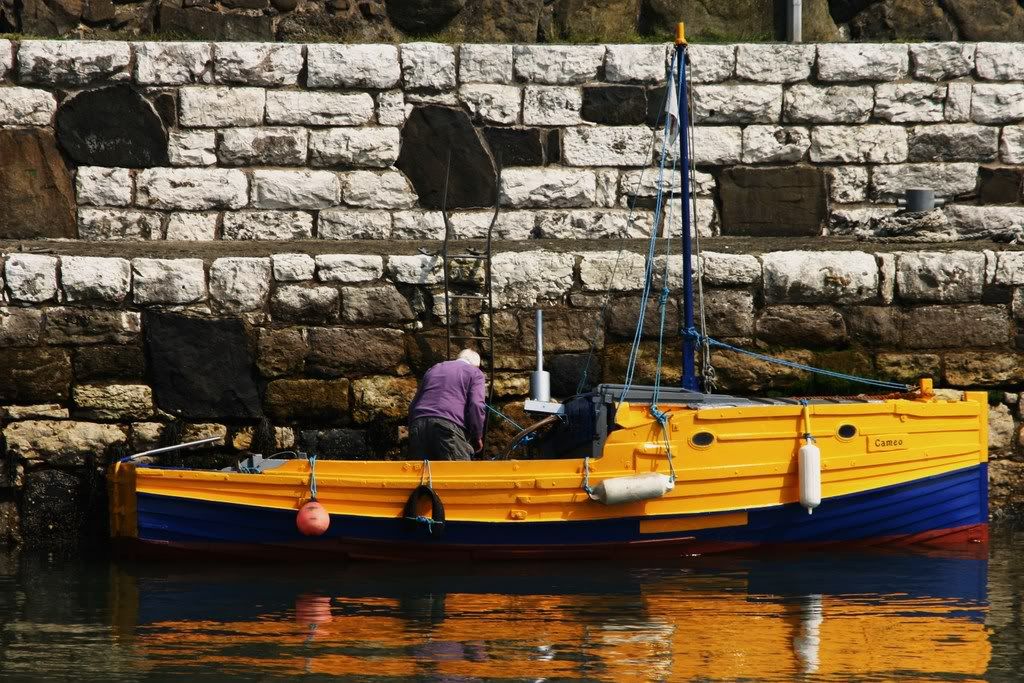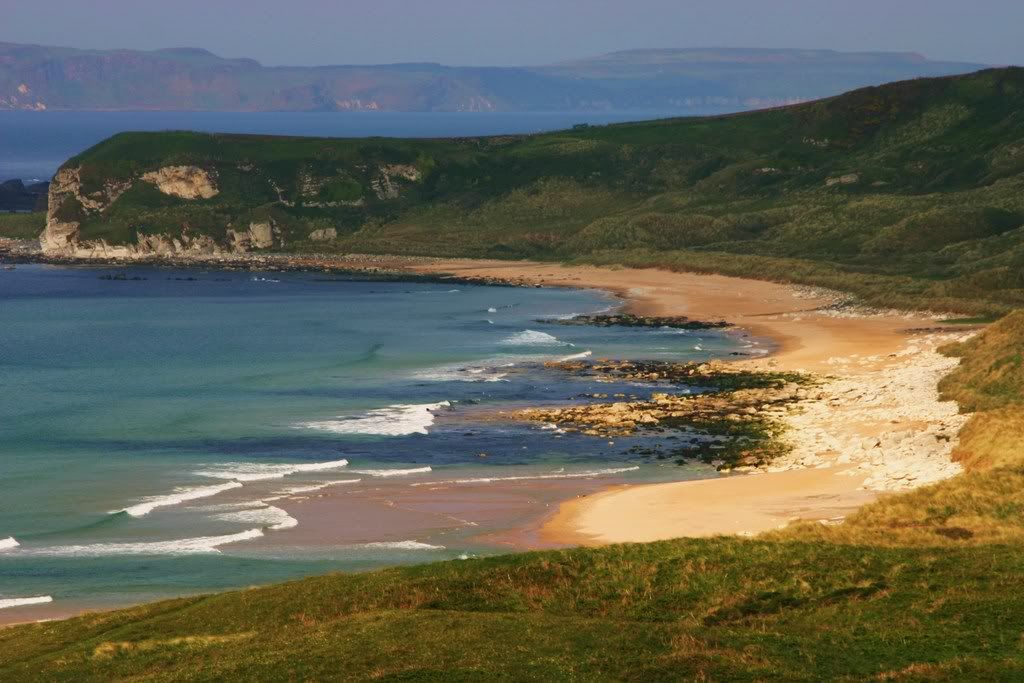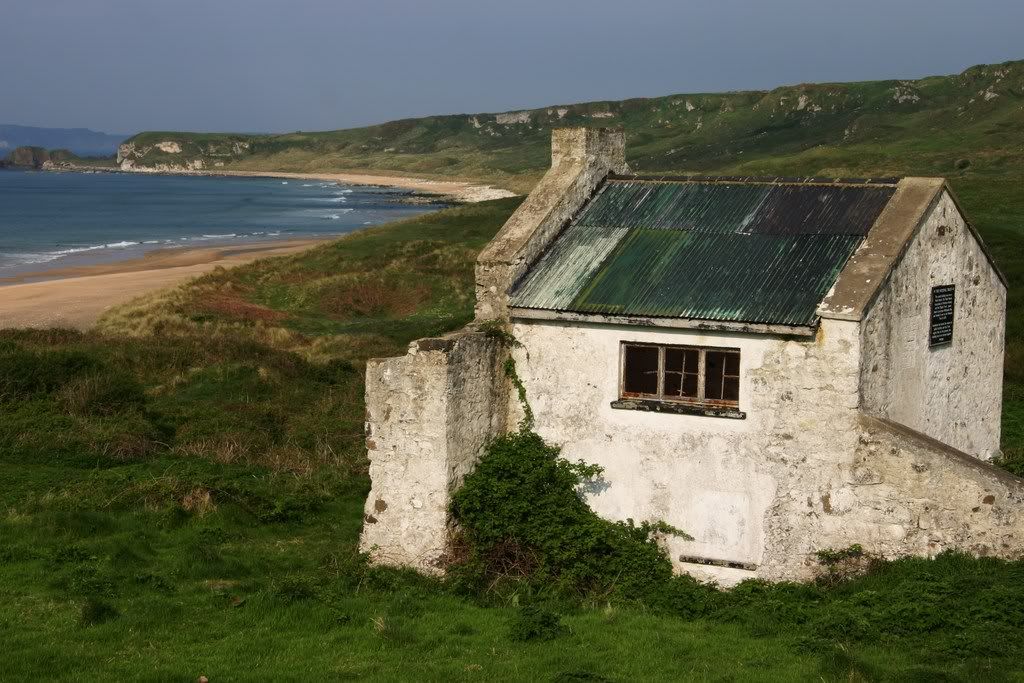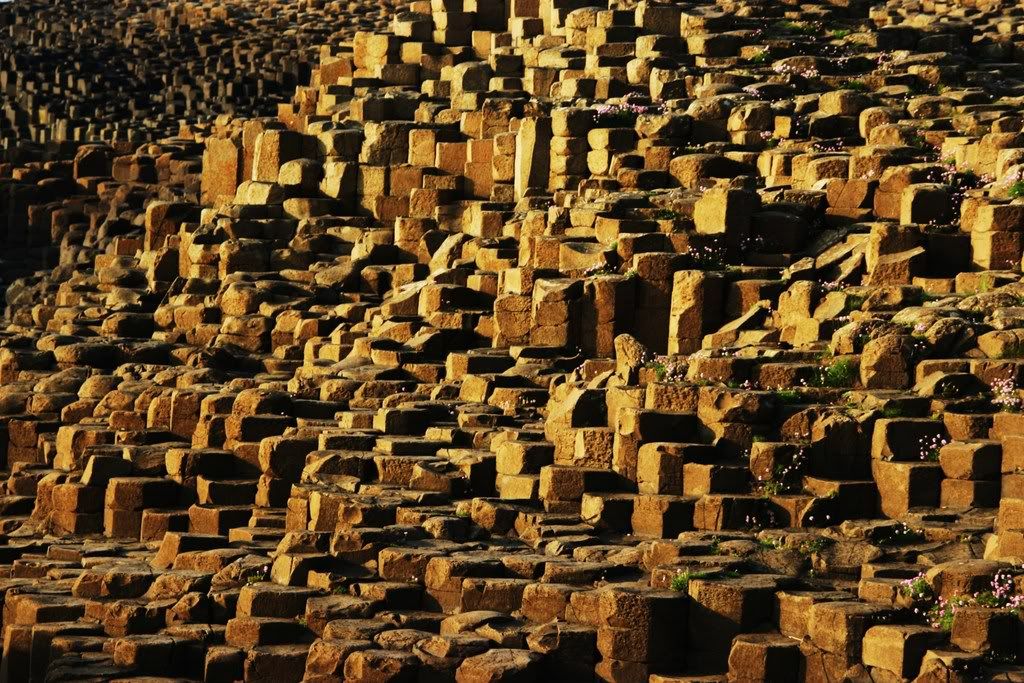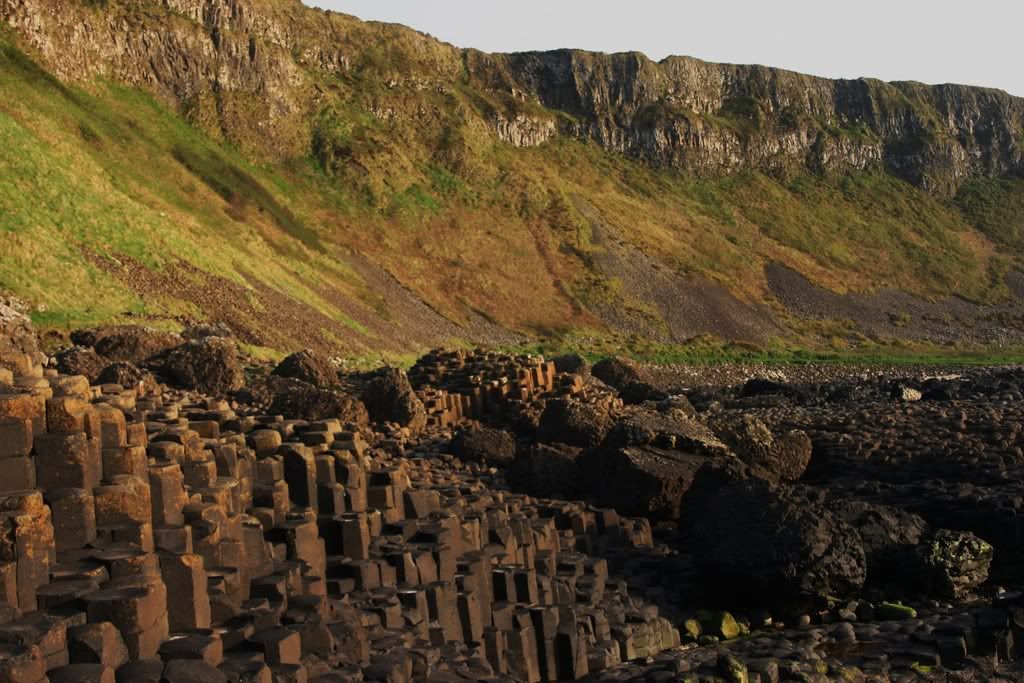 Two days later I had to head back to Belfast to catch my flybe flight to LGW. I drove a more direct inland route this time, and by early afternoon I was in Belfast city centre searching for a car park so that I could spend two or three hours exploring the city before heading to BHD to catch my flight. Following are some sights of Belfast, a city that I was very surprised by. Hopefully one day it will become the tourist destination it deserves to be, but I think for now the Ulster "troubles" are too fresh in peoples' minds, especially in the UK anyway: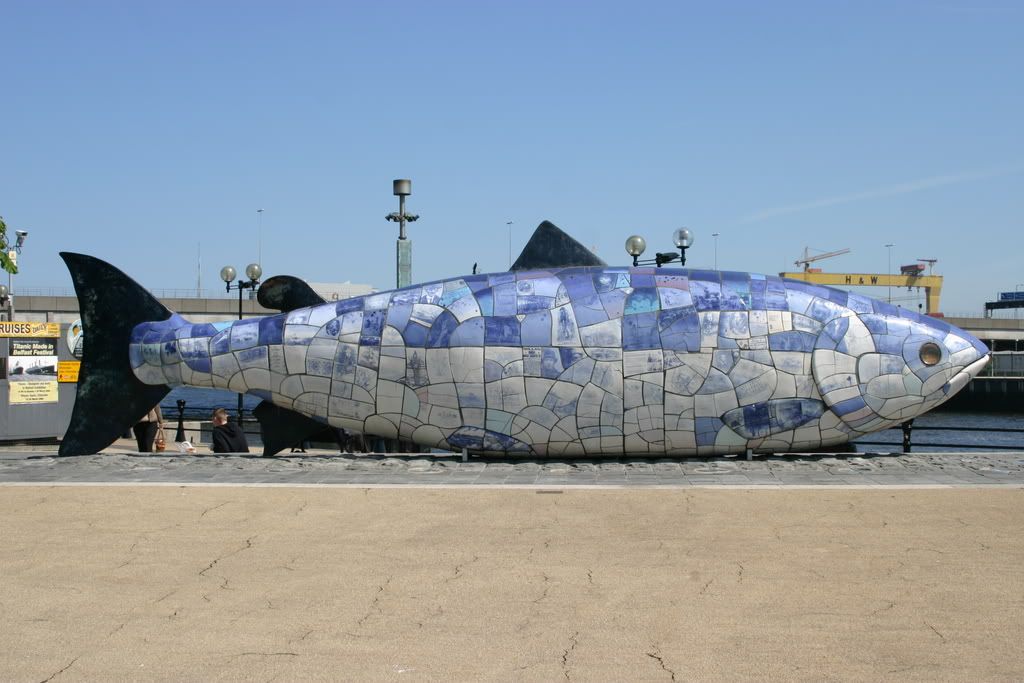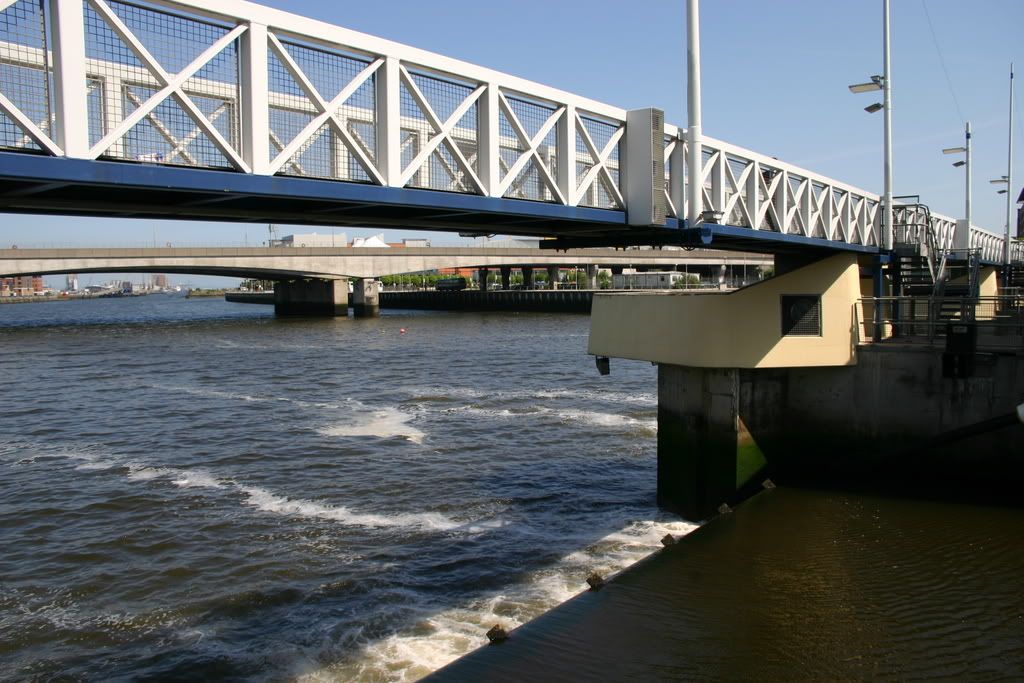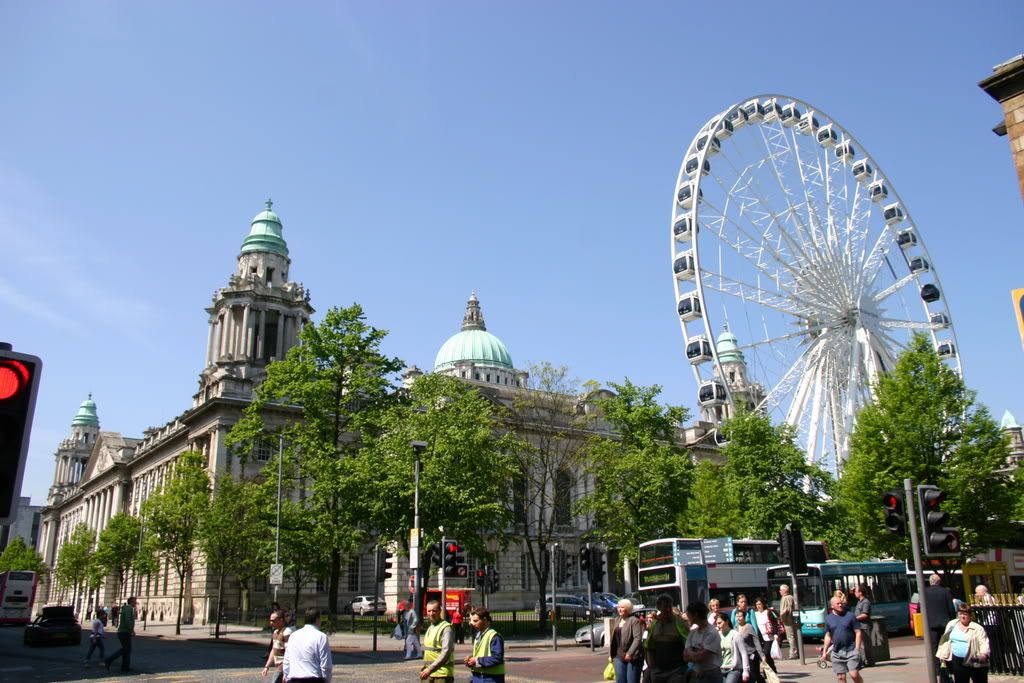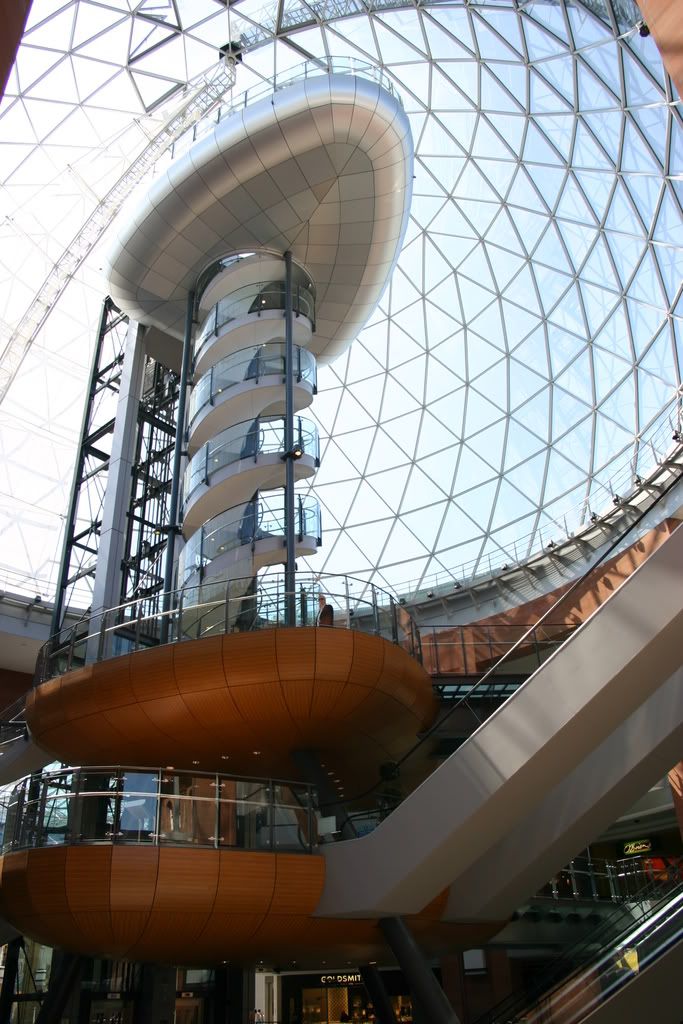 After a good explore, I was back in the car and attempting to find the airport. I initially took a wrong turn, and found myself heading up the Falls Road (not necessarily a great place to be!), but after turning the car around I was back on the right track, and ten minutes later I was unloading the car at 'George Best', Belfast's city centre airport.
I headed to the flybe check-in desks and was greeted by a fairly lengthy queue. The self check-in machines all had notices on them saying that they weren't working, but just as I joined the end of the queue, a flybe employee came along and removed all of the 'out of order' signs. I asked her if they were now working and she said that they were, so I left the queue and went and checked myself in. I had been allocated seat 17C, an aisle seat - this was soon changed to 19A, I need my window seat! A flimsy paper boarding pass was spat out, but at least I was checked in and ready to hand my case over at the empty bag drop desk.
By this time it was about 16:00, and my flight wasn't due to depart until 17:40, so I headed outside to catch a few rays (it was STILL beautifully sunny and warm, as it had been for the majority of my trip!) before heading through to the departure lounge. At 16:40 I decided that I should probably do the security thing, so I left an unseasonably warm Belfast spring day and headed to the formalities.
My shoes stayed on this time, but the laptop came out, and as usual, all metal objects were placed in my bag. Once again I caused the scanner to beep, and once again I was subjected to a free massage! What is it with that?!?! Is there some sort of new security measure in place that means that hand held scanners can't be used any more and you have to be squeezed, poked and prodded beyond dignity??!!
Anyway, I was given the all clear, and headed to the departure lounge, which contained a couple of cafeterias/bars and a shop. I bought a handful of souvenirs for the folks back home and treated myself to a large vodka and Coke (for a change!) as I waited for my flight to be called.
Numerous calls were made for a BD flight to LHR, during which time I spotted a BE E195 arrive. I guessed that this would be my ride back to LGW, and a while later we were asked to board that aircraft at Gate 7, via door D. This was to be my first flight on an Embraer, so I was pretty excited and keen to get on board!
My boarding card and ID were checked, and I was specifically asked to board via the rear stairs.
My Brazilian chariot: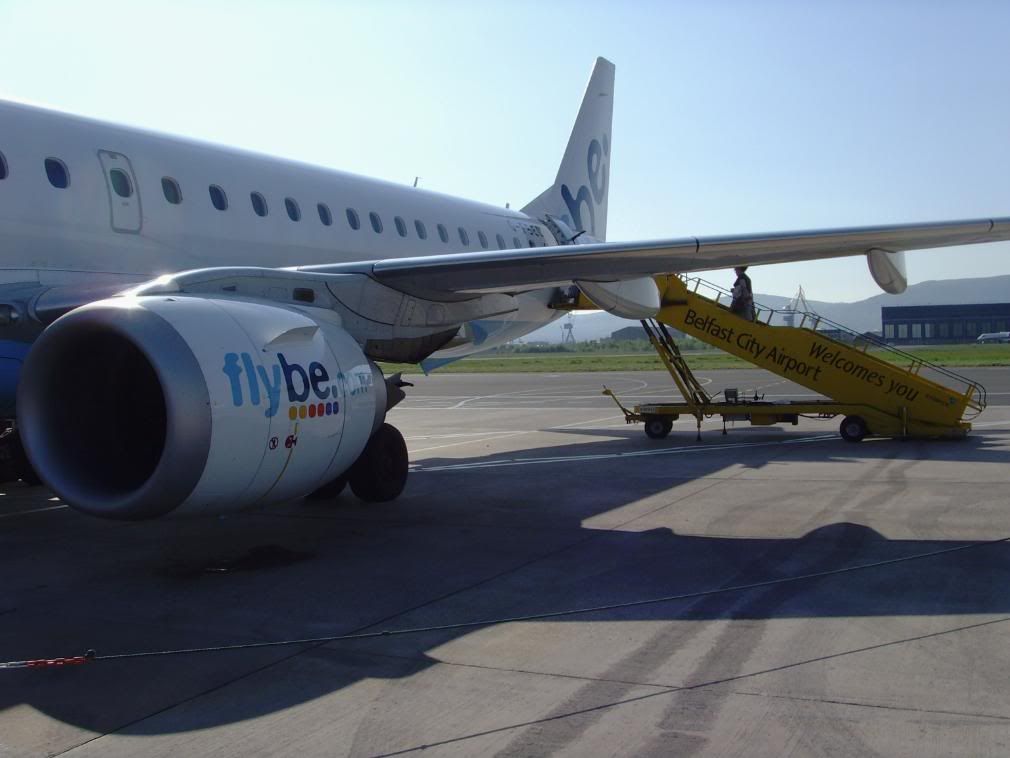 May 14th
BHD-LGW
Flight: BE973
Aircraft: Embraer E195
STD: 17:40
STA: 19:10
ATD: 17:45
ATA: 18:45
Registration: G-FBEC
I was greeted at the rear door by a smiley female F/A, one of three F/A's on board this evening, two female and one male. I was immediately struck by the cleanliness and brightness of the cabin as I made my way up to seat 19A. Seat 19B was already occupied by a young lady that was busy sending text messages, who apologised for not paying attention when I pointed out that I was to be sat in the window seat! I took my seat and was very impressed by the legroom, especially when compared to flybe's BAe146 aircraft that I'm used to flying down to Guernsey. I sat back and reviewed the contents of the seatback pocket in front, and waited for boarding to complete.
Someone in the office at the front informed us that our flight time to LGW would be one hour, and that our routing would have us flying over the Isle of Man and Liverpool before heading to the south coast near Brighton before descending into Gatwick. I was feeling a distinct case of déjà vu, but was looking forward to getting some good photos of the Isle of Man from the air.
Once everyone was on board and settled, we pushed back from the gate a few minutes late, but at least the flight time would still have us arriving early at LGW. We headed to the eastern end of the runway for a departure to the west into the clear blue skies.
Taxi: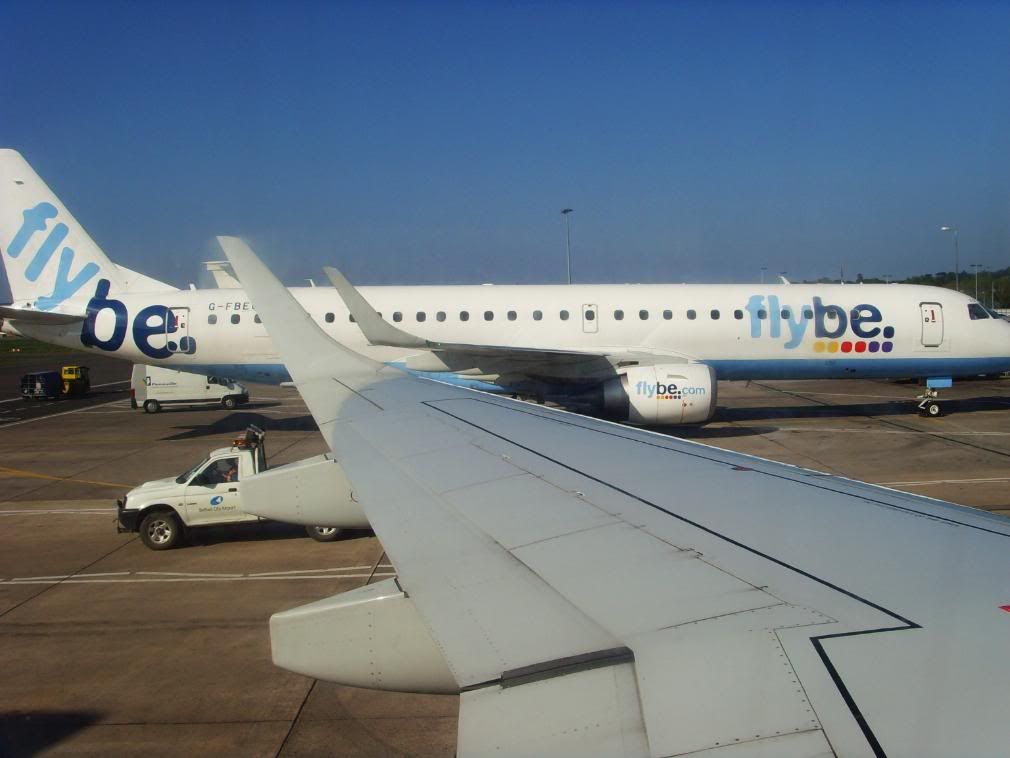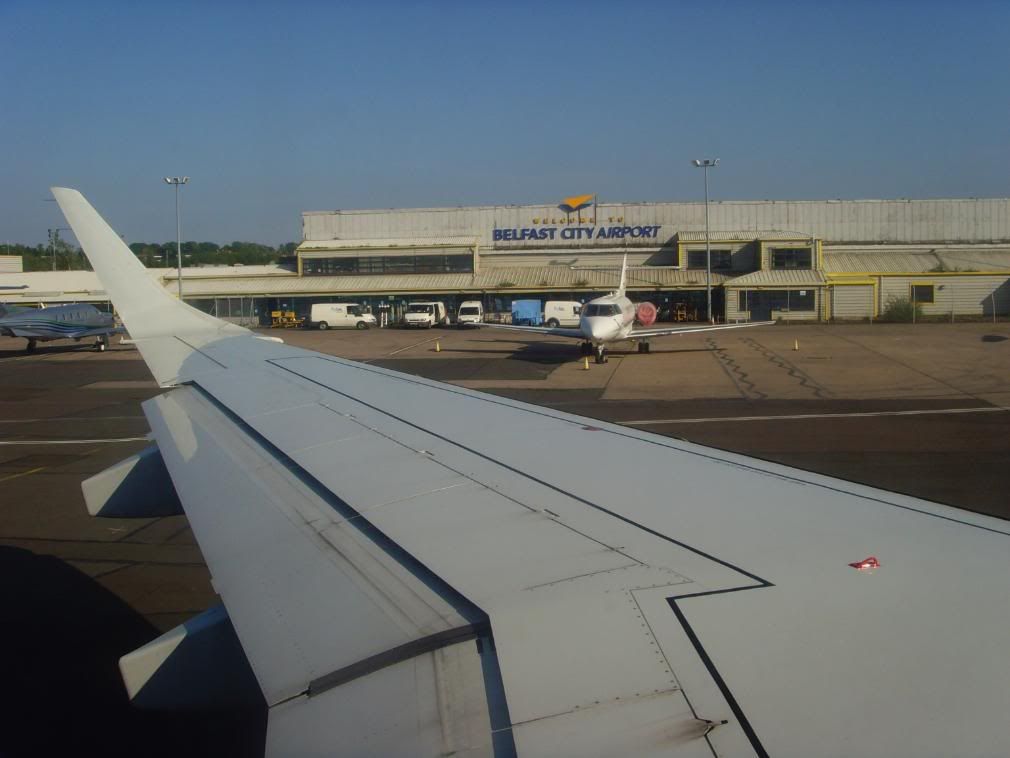 Takeoff:
Flying over the Isle of Man:
The town on the left is Peel, where I had been staying two days previously.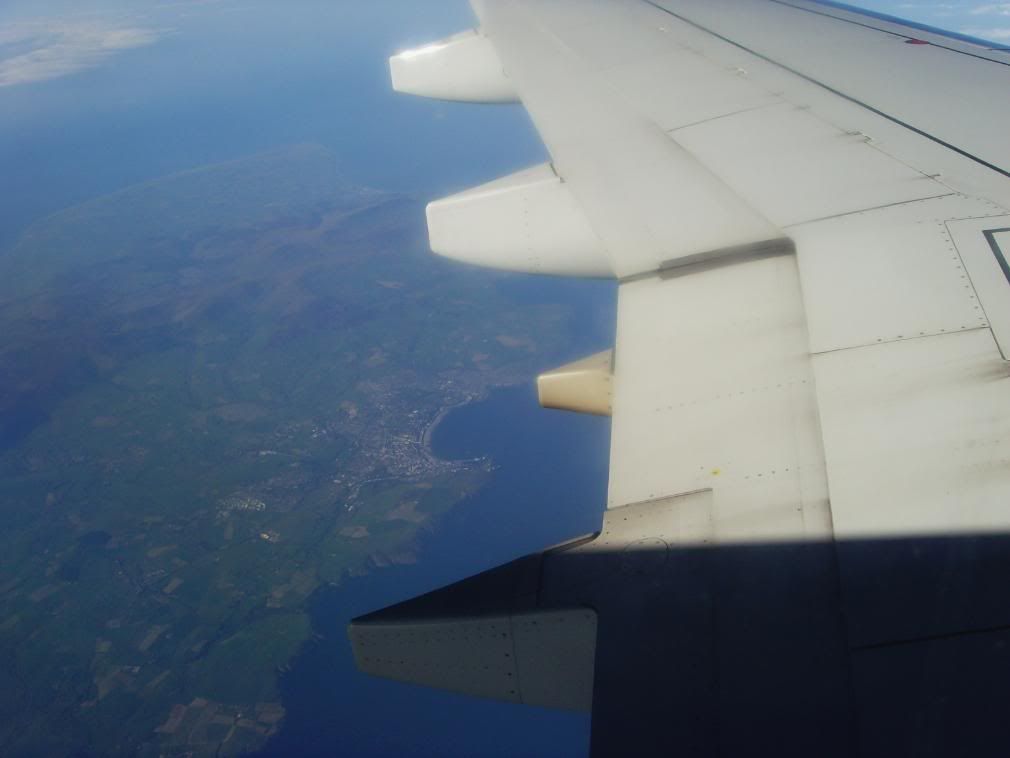 The BOB service began, and I ordered a BLT and a vodka and Coke (*sigh*!), which set me back just over £8 - a tad steep, but it was served with a cheery smile by the Northern Irish F/As. All in all, the flight was very pleasant - friendly crew, and the E195 was great - I can't wait till I get to fly on one again!
In-flight service and cabin shot: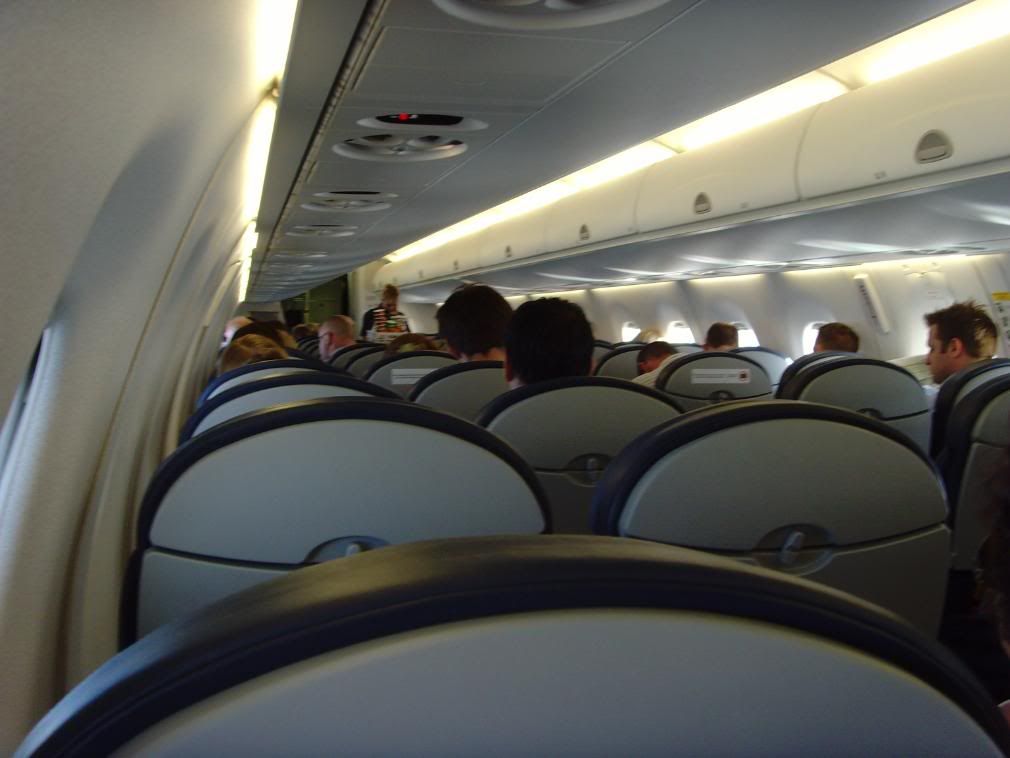 A video of takeoff from BHD, approach, landing and taxi at LGW. This was taken with my pocket camera rather than my camcorder, so apologies for the quality and for the weird lighting effects caused by the sun!:
We left the aircraft, had our photos taken at the gate and headed towards the lone domestic arrivals area where our photos were verified before entry was allowed. After about 10 minutes, a number of bags turned up on the belt, but then things dried up, with quite a few of us still awaiting our luggage. After about five minutes, the belt started up again, and the remainder of the bags arrived, including mine.
After a great trip, it was time to head home using the train to East Croydon and a cab from there. I'd had an amazing time. Sadly I hadn't been able to experience EuroManx, or Liverpool's John Lennon airport, which was unfortunate, but everything turned out alright in the end, and I managed to get to where I needed to be. I hope that everything works out OK for the EuroManx employees and that they manage to secure future employment.
Thanks a lot for reading, I hope you enjoyed. Any comments gratefully received!
Cheers.
Andy.