Everything was VERY fast.
I got in a very short notice of the retirement of LAN's last Boeing 737-200. So I decided it was a good time to build up a trip and visit some friends while I was in Santiago de Chile doing my stuff.
I booked my ticket through a very quirky but quick process at AR's website, aerolineas.com. The fare was the second cheapest from the 4 carriers that operate the EZE-SCL route, these are GOL (G3), LAN (LA, 4M, LP, XL), Aerolíneas Argentinas (AR), and Air Canada (AC), being this last one the cheapest with almost 50 US bucks for a difference.
But
what really made the cut in favor
of Aerolineas, was the programming of an Airbus A340
-300
for a route that's usually operated with a Boeing 737-500.
So the flights were set, from Saturday May 24th till Tuesday May 27th.
Everything started VERY early that morning. Having done my web check-in the day before, I was assigned a good seat, 24A. I made sure I was behind the wing to feel the full strength of what I jokingly call - the 4 hair dryers.
Having mentioned that I made my web check-in, I was only required to be at the counters 60 minutes before my flight. Having experienced some real close calls with AR, I made my mind of being at least 90 minutes before departure. However, everything went smooth. I lined up at the Web Check In counter to check my luggage (only 1 piece), and in 5 minutes I was out and with my boarding pass.
Here's a view of the shaggy, but I still think nice, AR "B" Terminal.
[size=4]Photograph:
Edgardo Gimenez Mazó
[/size]
It's 1950's-dated architecture makes it look really out of date, but the terminal, at least on the ground levels is pretty functional. The boarding levels, are not. Their capacity are rather small, there are on going and unfinished construction works, that always seem to screw up ones experience at the airport.
Flight:
AR1284
Departure Airport:
Aeropuerto Ministro Pistarini de Ezeiza (EZE/SAEZ)
Destination Airport:
Aeropuerto Arturo Merino Benitez de Pudahuel (SCL/SCEL)
Departure Time:
08.45am LT
on-time
Arrival Time:
09.30am LT
on-time
Gate:
13
Aircraft:
Airbus A340-200 / LV-ZPO
Clearing customs and passport control was no issue - everything was quick and done in no more than 10 minutes, total. And I still had around 40 minutes for departure. So I approached my gate's waiting room.
And I confirmed that I was not flying on a A340-300 to my dislike, as I had never flown on them - the latest leases by AR, LV-BMT and LV-BIT. However, I was flying an airplane I was an "expert" on (flown many times in it) -
LV-ZPO
.
After the dissapointment of seeing "Zippo" standing at Gate 13 waiting for us to board, I figured out that I'd still be flying an Airbus A340 to Santiago de Chile.
The airplane was in a pretty 'shaggy' condition. Interiors were not bad, however plastics were either 'yellowish', even though the aircraft was really clean. I don't care about IFE, really. AR in its current state has suspended all In-Flight Entertainment as it costs around
USD 23,000/month
.
After watching the security instructions' video, the crew prepared the cabin for takeoff. Push back was done on time, as scheduled.
We taxied out to RWY 11, Flaps in position
2
.
Here's a little video I filmed during takeoff.
Constructional
criticism accepted!
Shortly after takeoff, the plane climbed to it's cruising altitude of 40,000ft or FL400. Breakfast was served around 40 minutes into the flight. It was an only choice of a "Sacramento" (big croissant), with a latte, grapefruit juice, and a fruit "platter". I didn't take any pictures of it as I was really hungry.
The flight was quite bumpy but nothing out of the ordinary, however, reaching the Andes mountains it got a bit worse - it didn't last long, though.
Here's a pic I got while crossing the Andes into SCL, in the UMKAL8 STAR. Yeah, I'm THAT freak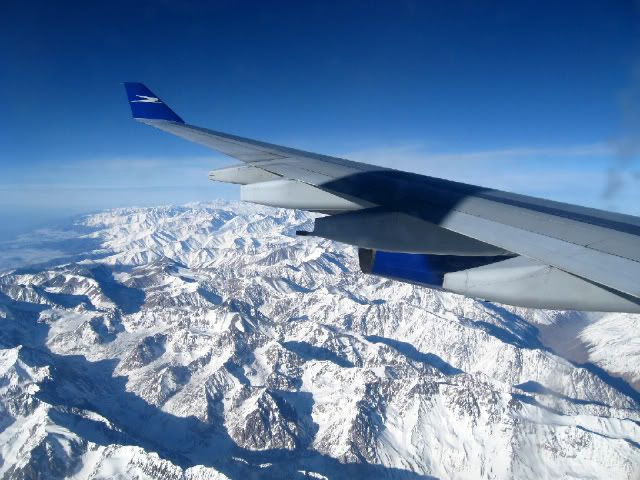 The flight arrived on time, the crew was very polite and friendly, except with this one moronic passenger that unbuckled his seat belt and stood up before getting the aircraft fully stopped. He was called out LOUD. Practically the whole AFT section of the aircraft turned around to watch. Kudos to AR for an excellent flight, in a great airplane!
Here's some pictures from LAN's 737-200 retirment: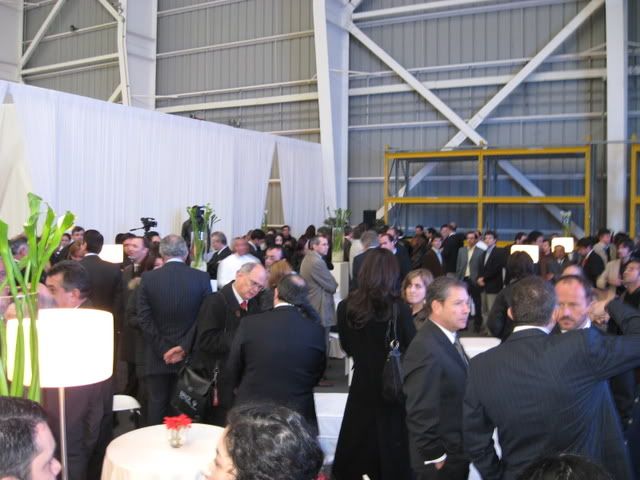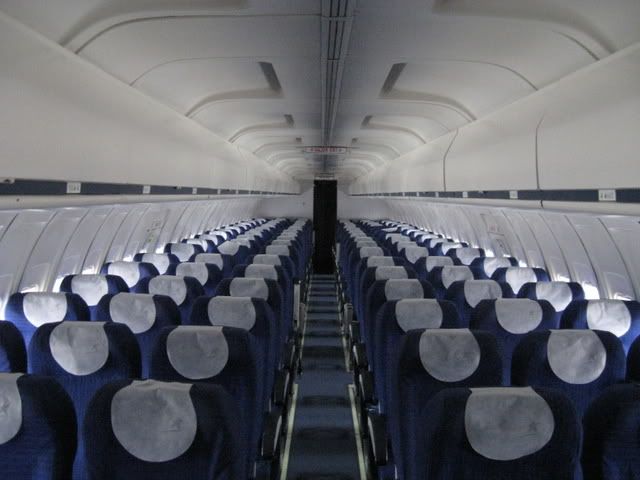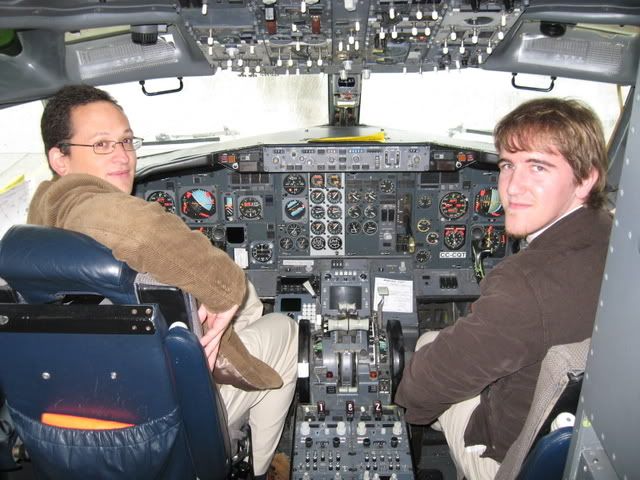 Yours truly (Right), and
RJ_Delta
(left)
I'll put up more pics in the report - but I forgot my pendrive at work (didn't upload them all).
Hope you enjoy it!
MD11junkie