This is a brief trip report on ra ecent travel on China Southern Airlines from Singapore to China.
Flight 1
SIN-CAN
A321
Dep 0800 Arr 1150 (Landed 20 min late)
Flight left on time. Hot meal was served on board but I declined as I was still full with breakfast. There was limited inflight entertainment with only a Chinese clip screened on drop down LCD panels.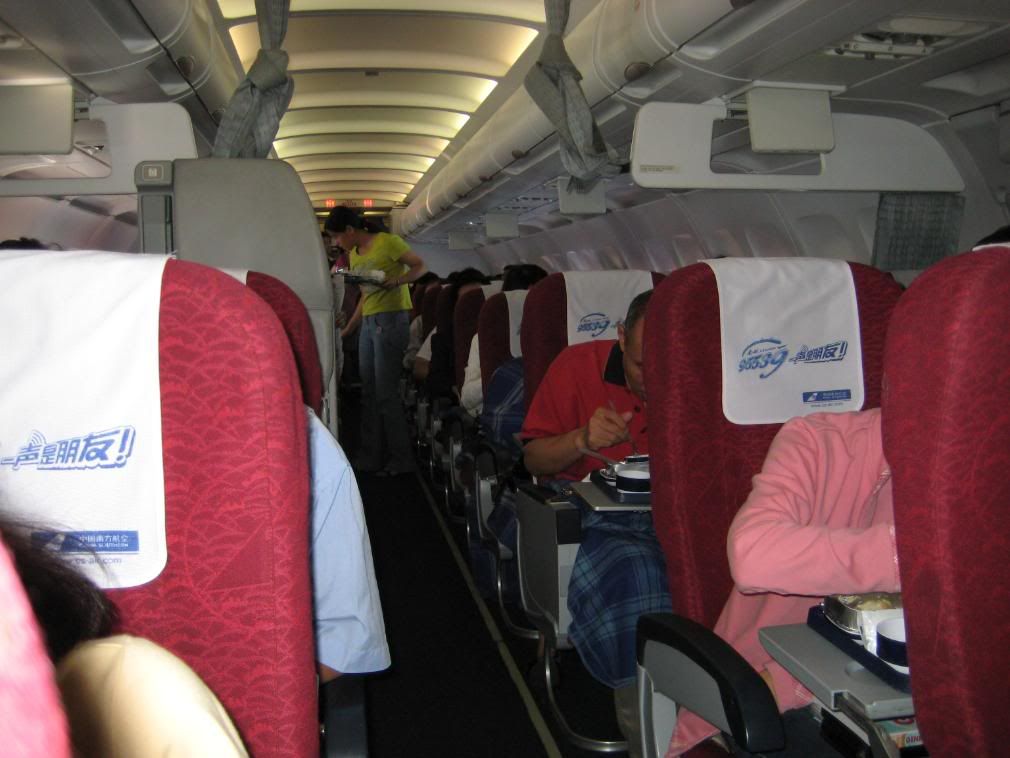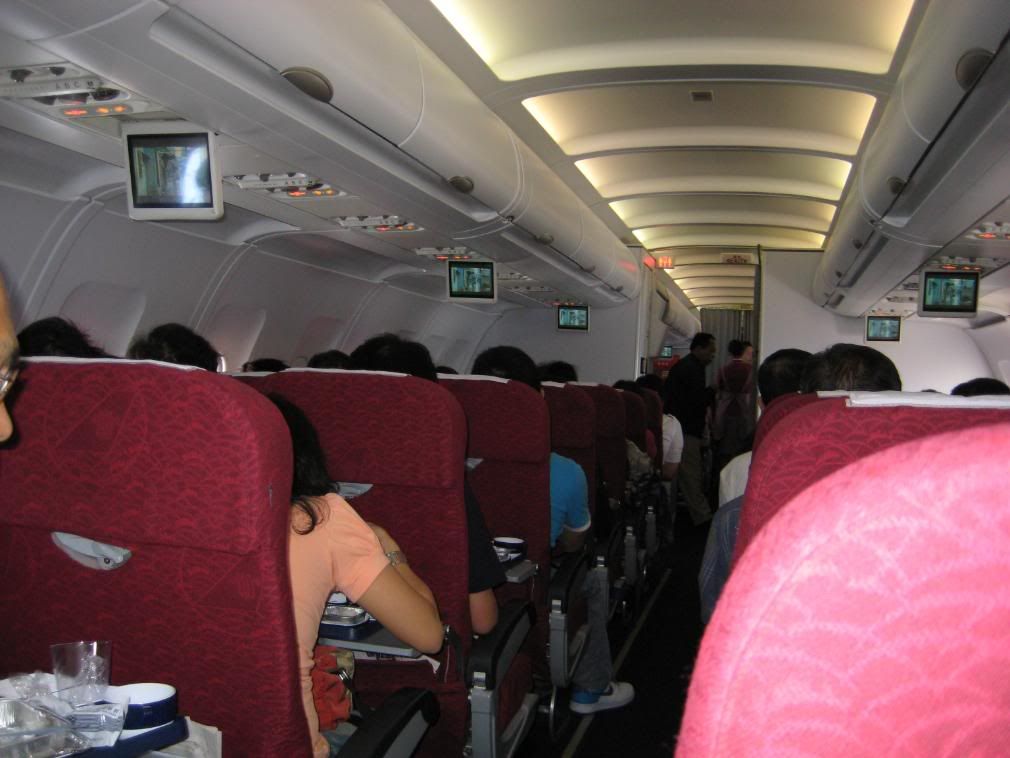 Some cabin shots
Touched down slightly late at Guangzhou airport.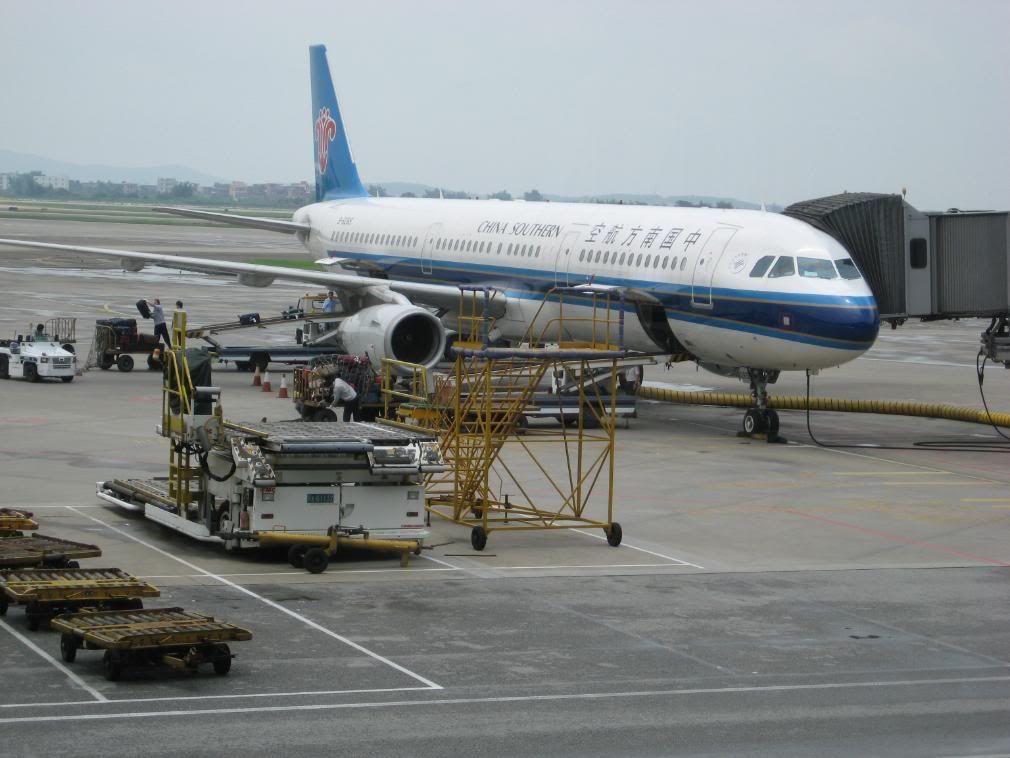 Photo of plane taken after disembarkation at Guangzhou.
Our baggage was tagged all the way to our domestic destination but we had to pick it up and clear customs before rechecking them onto the domestic flight at the transfer counter just after custom checks.
Flight 2
CAN-KWE
MD 90
Dep 1450 Arr 1615
Guangzhou airport departure hall, airside
Cabin view taken during boarding
Flight left and landed on time. Only nuts and drinks were served.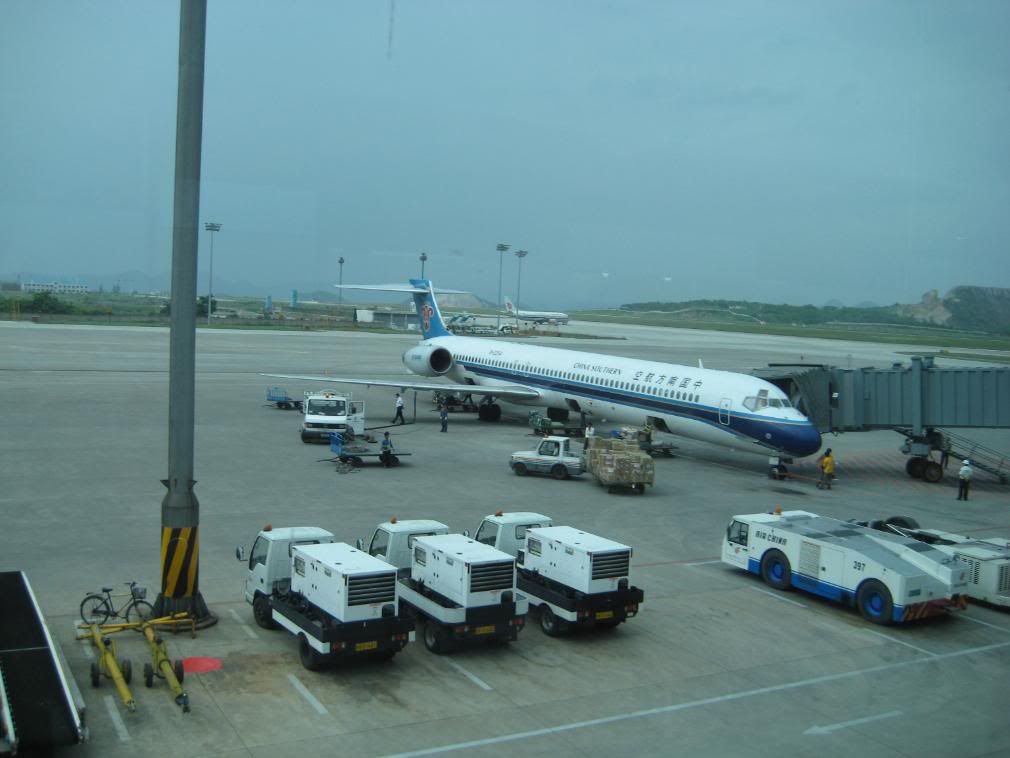 Taken after arrival at Guiyang airport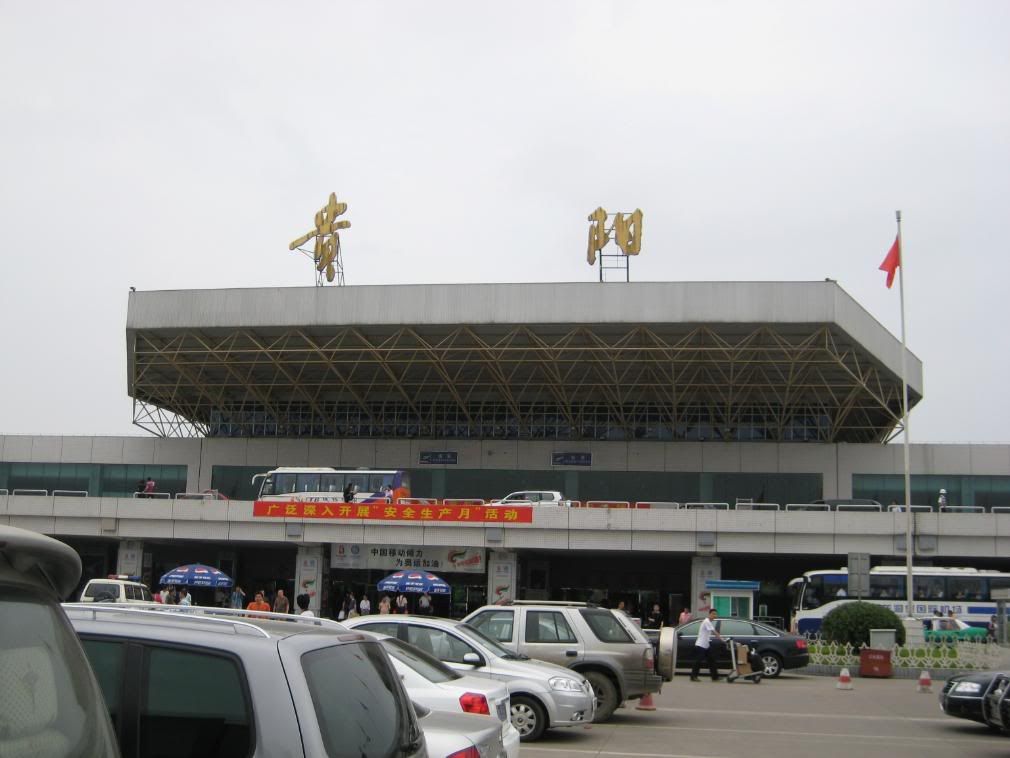 The two characters are Gui Yang in Chinese
Flight 3
KWE-CAN
A319
Dep 1425 Arr 1550 (Delayed to Dep 1555 Arr 1720)
View of Gui Yang airport departure hall, airside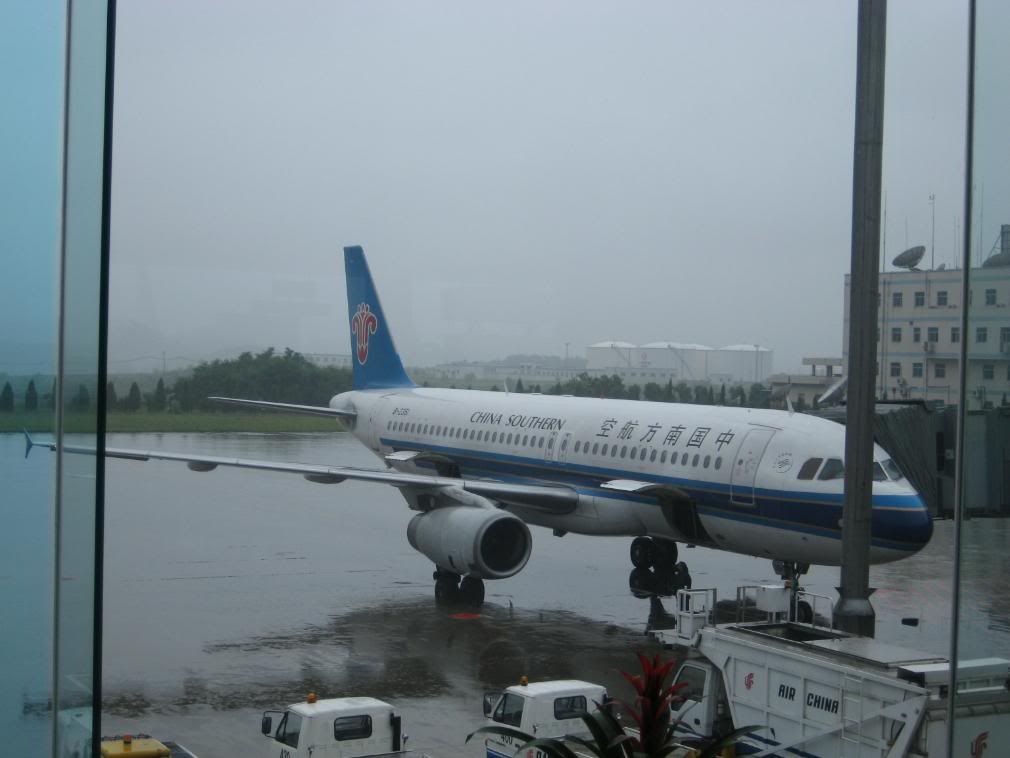 Our plane landed late from Guangzhou and being readied to fly us back to Guangzhou
Boarding began about 25 minutes after scheduled departure time. Doors were closed shortly. However, an announcement soon came to say that we could not take off due to bad weather at Guangzhou airport. Refreshments were served while we were all seated inside the plane.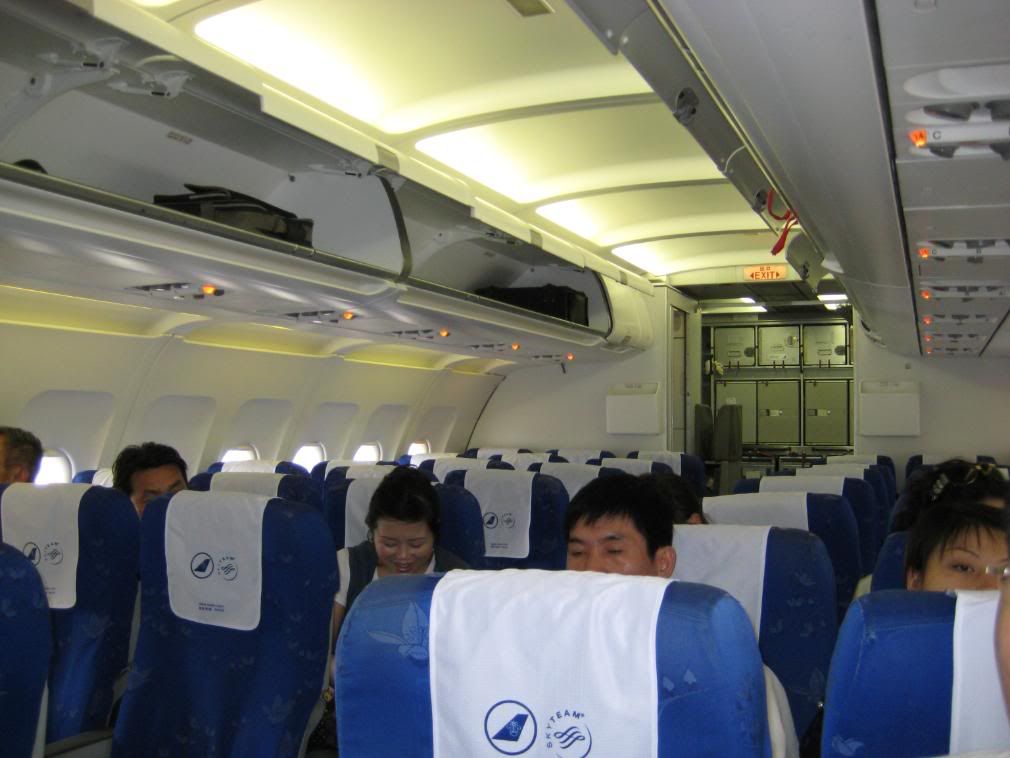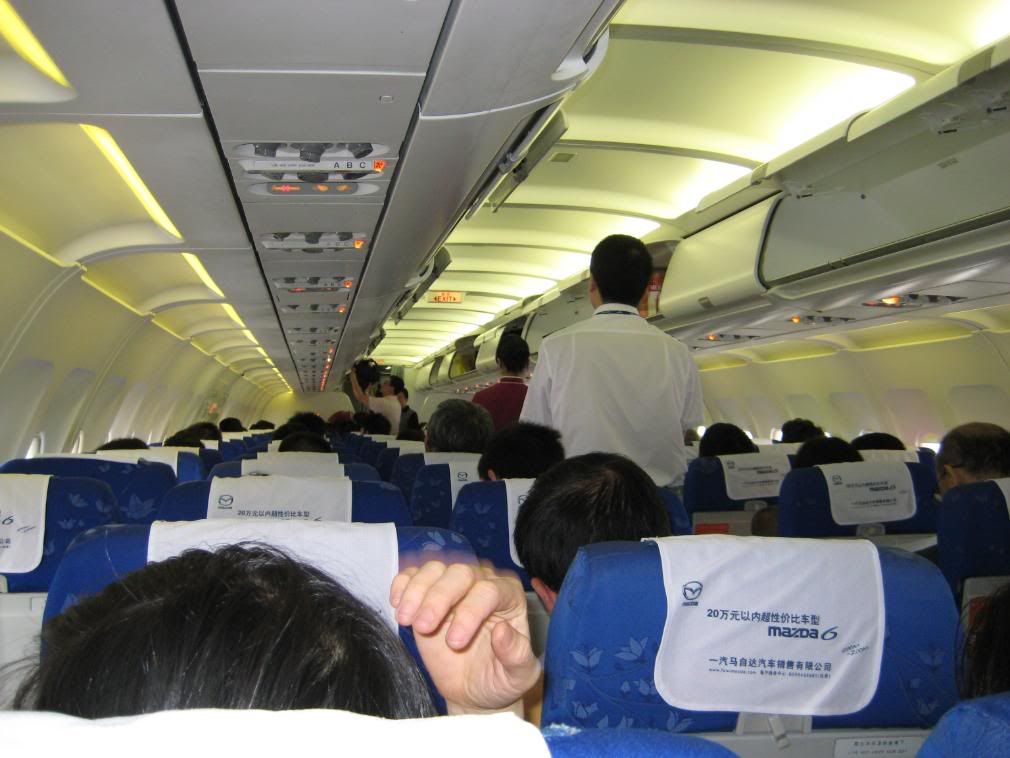 Some cabin shots
We landed at Guangzhou airport uneventfully about 1 hr 30 mins after our scheduled arrival time. We needed to pick up our bags before checking them in again for our final international flight.
Flight 4
CAN-SIN
A321
Dep 1910 Arr 2305 (Delayed to Dep 1940 Arr 2320)
We reached the check-in counters about 1 hr 15 mins before departure. Flight was full and could not seat all of us together. We did not have much time to shop inside the airport. As we approached the gate, we heard loud noises as the roof of the airport was hit hard by very heavy rain.
We boarded the aircraft. Doors were closed just before scheduled departure time. Again, an announcement came to say that we could not depart due to bad weather. A while later, the crew decided to serve dinner and refreshments while waiting for traffic clearance to take-off.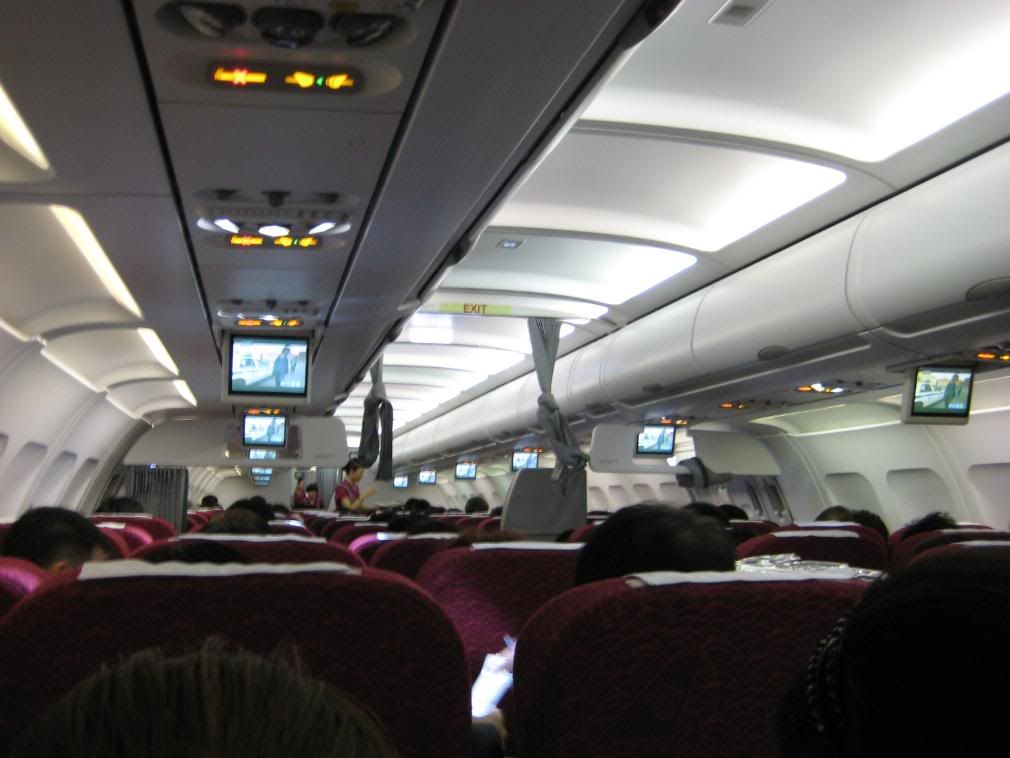 Cabin shot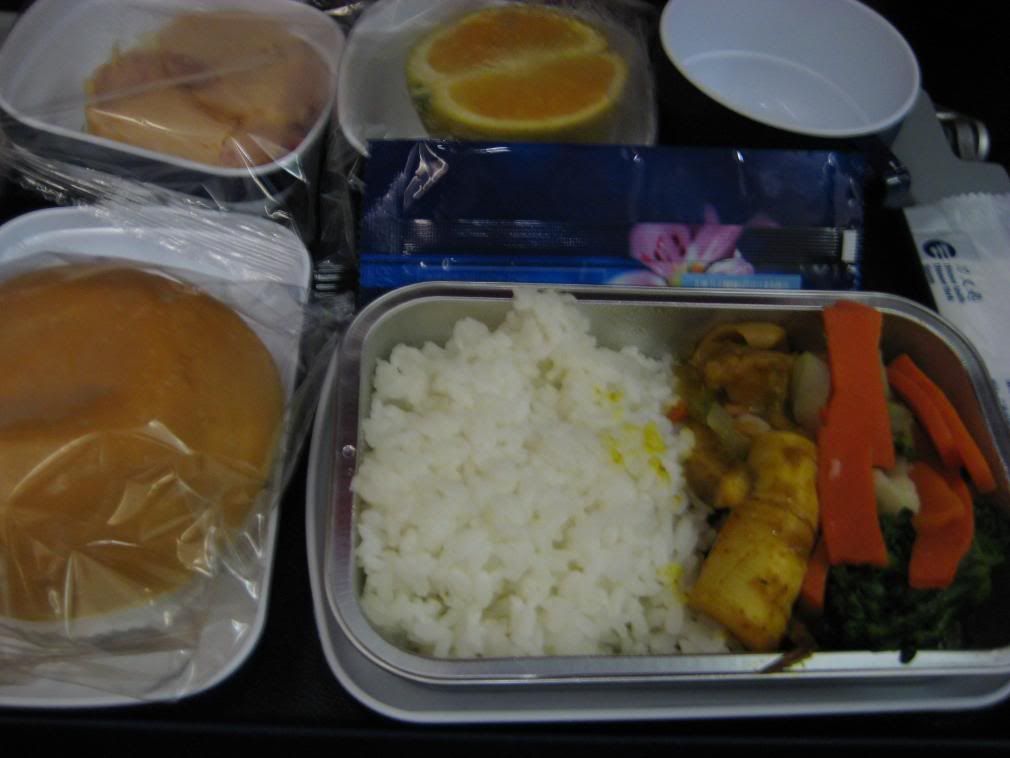 Seafood meal
As the passengers were being served dinner, the aircraft started its push-back. I suppose the crew did not expect that to happen. They quickly continued with the meal service and then asked passengers to return the trays to them quickly. Many people just gobbled down the food I suppose. I also rushed through the meal.
As the aircraft reached the runway, the crew was still collecting the trays. Somehow, they managed to stow away everything. The aircraft started to accelerate and one of them ran back to her seat before belting up.
After take-off, drink service began. The crew was generous with the drinks and were nice and polite. I suppose they felt bad about the rushed dinner service.
During the flight, they came round once or twice with a drink service.
We landed in Singapore about 15 minutes behind schedule despite the initial 30-minute delay.
This was my first time travelling with CZ. They are not too bad for the relatively short flight time. The international flights offered more seat pitch than the domestic ones. The A321's are also quite new and nice to fly in. In terms of service, I would say that they are alright. I would fly with them again the next time.
Thanks for reading.