I felt like another Saturday day trip. I like to fly on Saturdays as on business routes it is usually the quietest day of the week, and I can leave from London City before the airport closes at Saturday lunchtime.
I booked my ticket at relatively short notice as I was at work and realised that I had no plans for the weekend. I often take a combination of Swiss and Lufthansa on these jaunts.
My criteria for these trips are:
1. Leave on Saturday morning from LCY
2. Try to use a routing with connecting flights
3. Visit an airport with good spotting potential
4. Fly back into Heathrow the same evening
I ended up choosing a routing LCY- DUS- FRA- LHR with Lufthansa.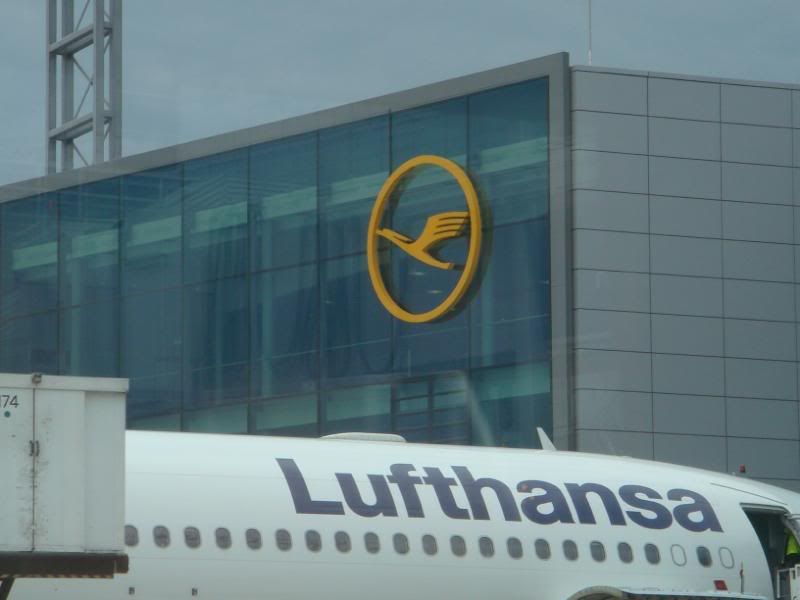 LH4827 LCY- DUS ATR42 (Lufthansa Regional, operated by Contact Air)

LH809 DUS- FRA B737-500 (Equipment change to A319)

LH4740 FRA- LHR B737-300
Saturday came, and instead of my usual lie in, I woke up early to get the underground and DLR from my home in Central London to the airport. The usual mix of weekend travellers got off the train at the City Airport stop- most seemed to be Europeans going home for the weekend.
I had already selected my seats when I made the booking, so I went to the self service machine and inserted my Miles and More card to print my boarding cards for the 3 sectors that I would be flying today.
I find that the Lufthansa and Swiss self-service terminals are by far the easiest to use and I never have a problem with them. On the other hand, I always seem to have problems with the BA self service machines, and I always end up having to go to a check in desk.
Although I had my boarding cards, I still went over to the Business Class check in desk. As there is no lounge at LCY, a refreshment voucher is available to Senator level passengers, so I decided to make use of it. Strangely, this does not extend to business class passengers without status, whereas Swiss offers this to all business class passengers.
It was a breeze through Security; LCY is never busy on a Saturday morning. I got a coffee and the newspaper and sat down to watch the ramp activity, Saturday morning departures from LCY are familiar to me after so many of these trips: VLM to Rotterdam and Manchester; KLM to Amsterdam; AF Cityjet to Strasbourg; Swiss to Basel, Geneva and Zurich; Lufthansa to Dusseldorf and Frankfurt.
This morning there were many announcements for passengers that had gone walkabout. It seemed that every flight was being held up by passengers who were checked in but had subsequently disappeared. I at a loss to how this can happen at London City, as it is a relatively small airport.
The flight wasn't announced, but after a while I noticed that the flight was boarding at Gate 4 so I made my way to the gate. Today I counted at total of 16 passengers, of which 3 would be in business class.
LH4827 LCY-DUS
ATR42 Lufthansa Regional, operated by Contact Air
Dep LCY: 08.50
Arr DUS: 11.25
I am not such a fan of the ATR. I have flown so many of them in many places both in Europe and the Americas, and I have quite bad memories of them. In fact, probably the worst flight that I ever took was on an American Eagle ATR from Barbados to San Juan- a flight time of well over 2 hours- not a pleasant experience.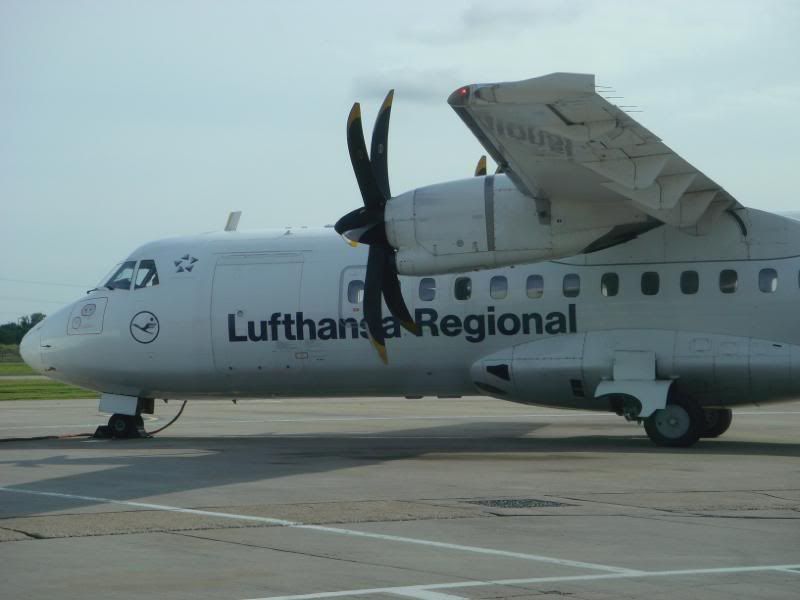 Today would be different. I board the aircraft and was immediately impressed with the immaculate condition of the cabin. It was absolutely spotless and elegantly appointed with grey leather seats and dark grey bulkhead.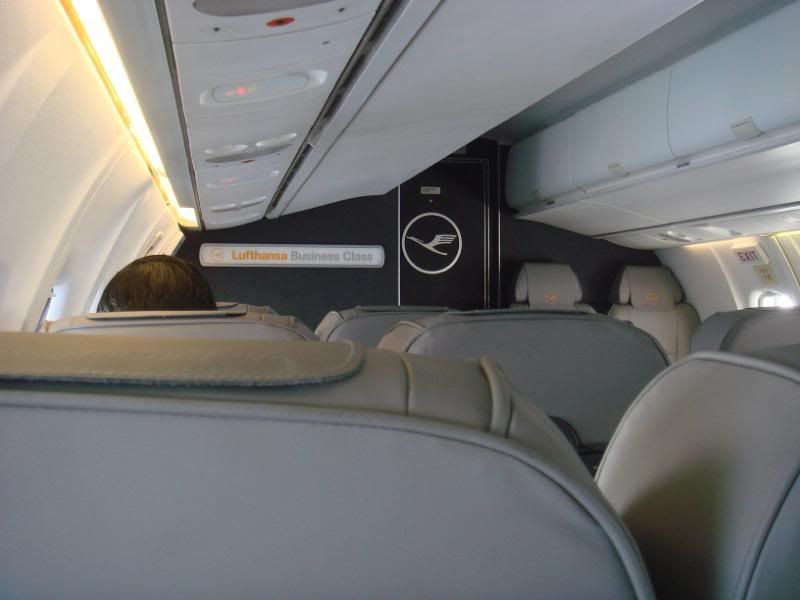 Some ATR's have business class at the rear to allow for priority disembarkation. Contact Air have their business class at the front. On Lufthansa, the middle seat is left vacant. On the ATR they only sell 1 seat out of every 2, so that there is always an empty seat next to you.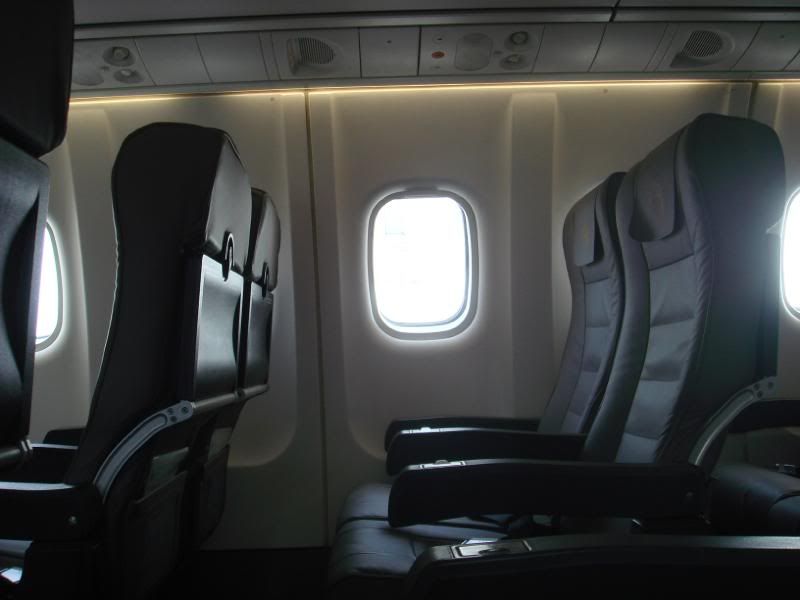 Business class went back as far as row 8, and I was in 5A.
Seat pitch was fine- I am 1.80m tall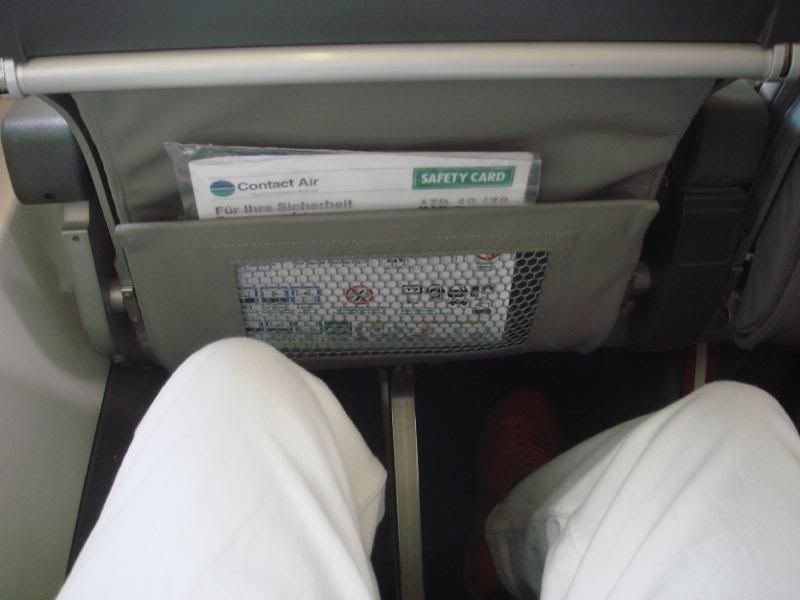 There were 2 female flight attendants. Both seemed friendly, although it was sometimes difficult to hear them over the noise of the engines. On boarding all passengers were offered newspapers. Then business class passengers were offered a selection of English and German magazines.
We pushed back on time. Immediately I noticed that the window was smudged- not good for photography.
We backtracked down the runway for takeoff towards Canary Wharf and the City. The light load made for a fast and powerful rotation into sunny skies.
I got some nice shots of Tower Bridge and the City.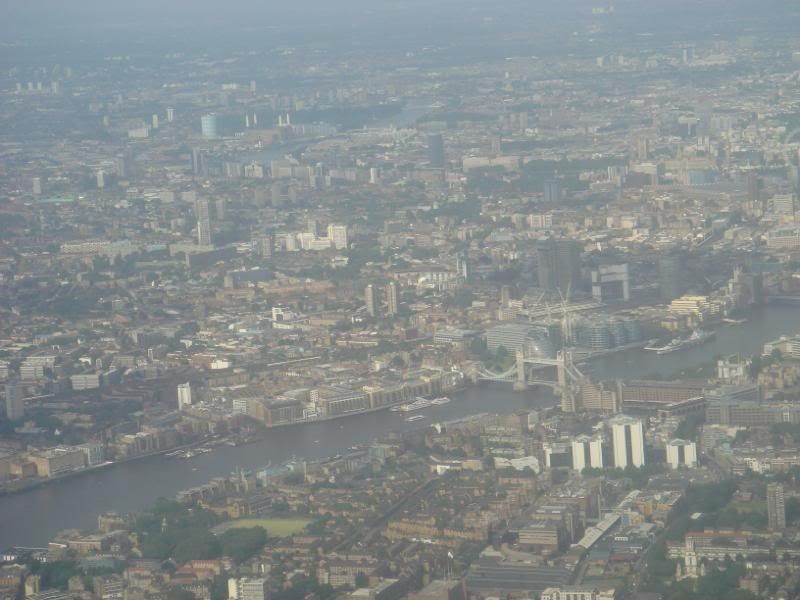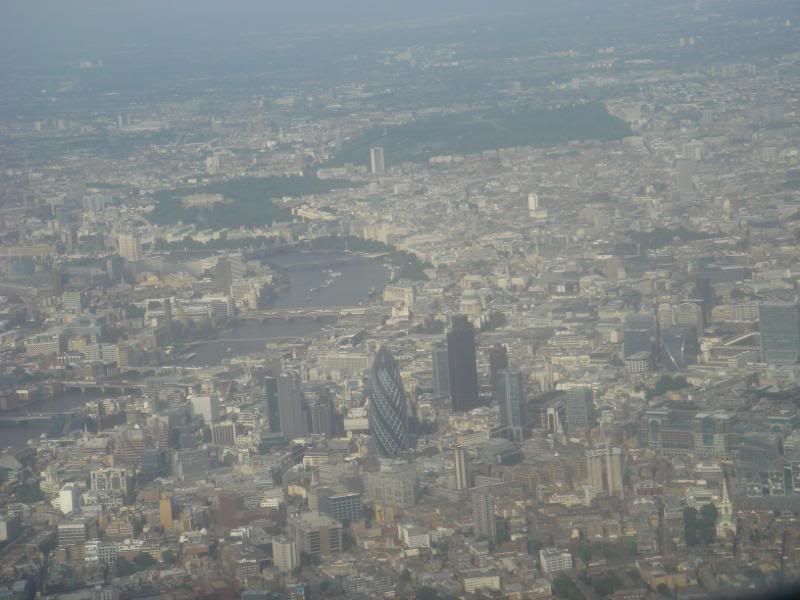 We made a slow turn to the east, passing over Redbridge and Gants Hill, following the A12. The last time I flew an ATR from LCY was with the now defunct Air Wales to CWL. Usually I fly the Swiss RJ's, and it immediately struck me how slow the ATR's are in comparison. It seemed that it took forever for us to cross the M25.
We headed northeast over Essex and as I lived in north Essex once, I enjoyed spotting familiar places.
In this photo you can see Colchester, with Essex University and the port of Wivenhoe (where I lived once!) clearly visible.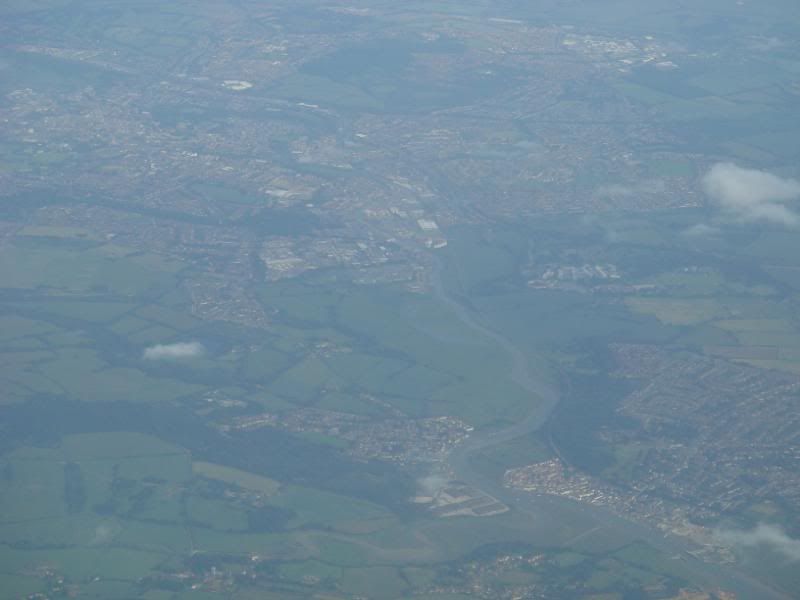 We headed out over the North Sea, overflying the ports of Harwich and Felixstowe.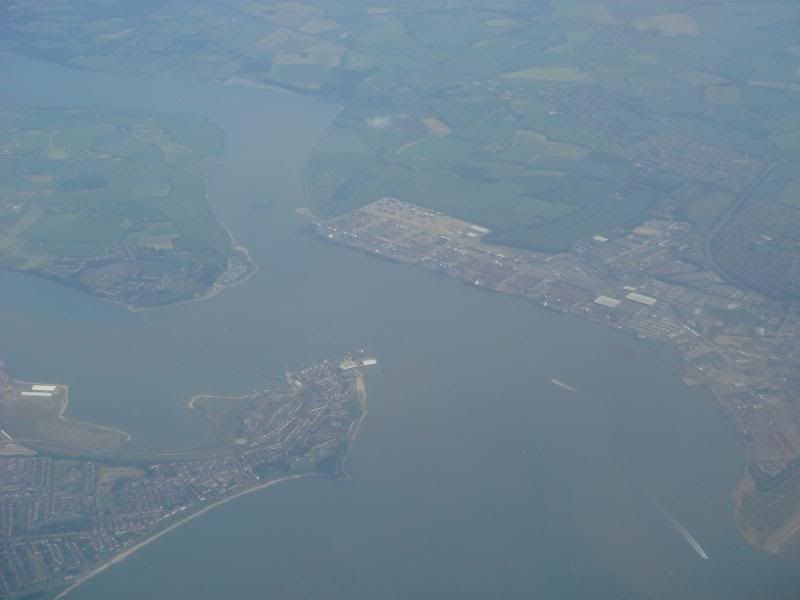 By now service had commenced. Although the ATR is small, separate drinks and food carts were used.
We were offered a drinks service before breakfast.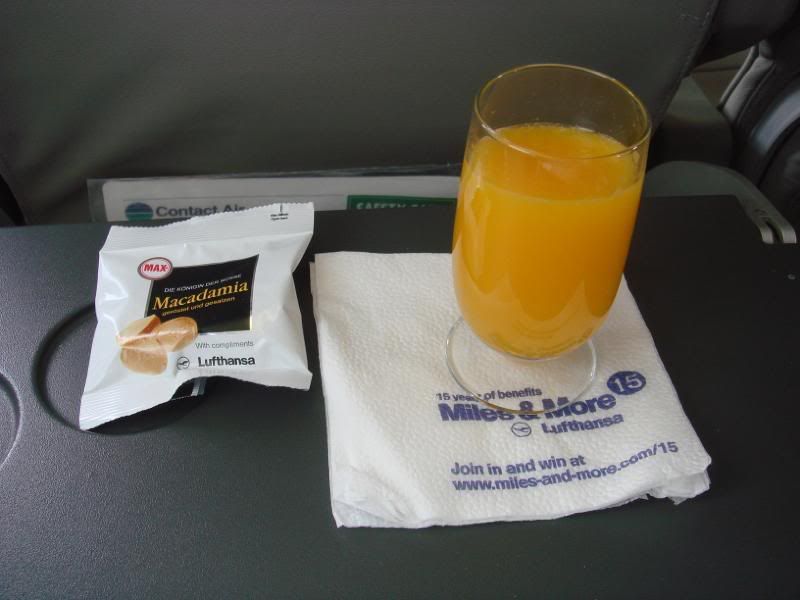 Then a breakfast of prawns, salad and cheese and yoghurt with berries was offered.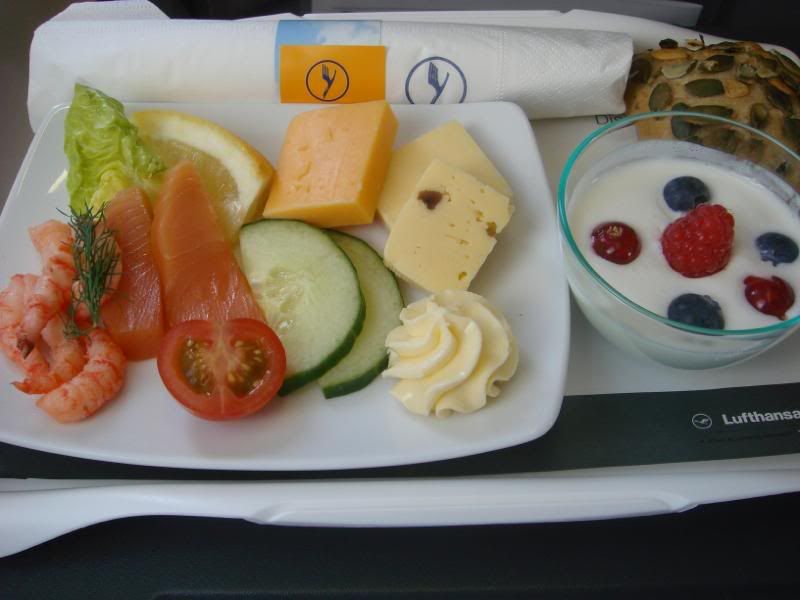 It was all excellent- fresh and tasty, and well-presented.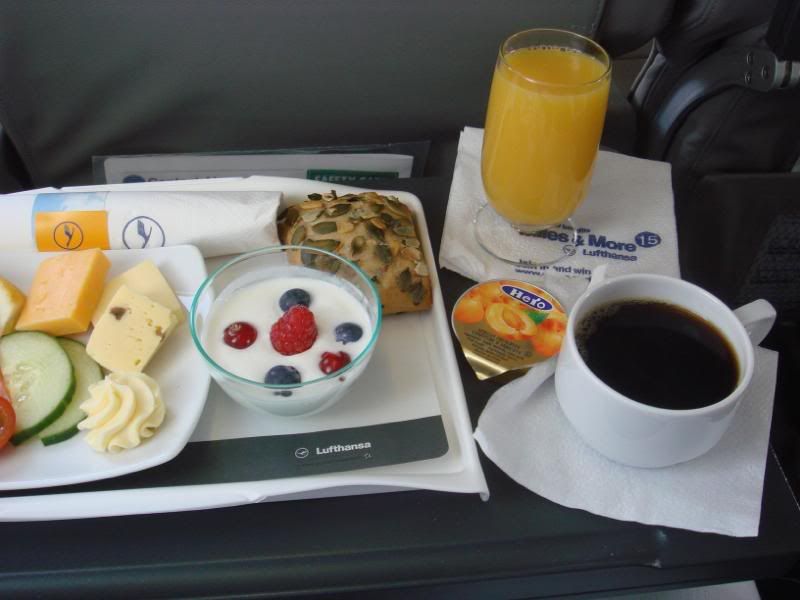 Regular refills of bread and coffee were offered. My only criticism was that the coffee was tepid.
The First Officer gave us some information about the weather. A wave of thunderstorms had just passed over DUS, and the weather was improving. By now our progress was obscured by cloud and we didn't get any information about our routing.
After breakfast was cleared, we began our descent, and business class passengers were given some excellent chocolates- with a Euro 2008 theme.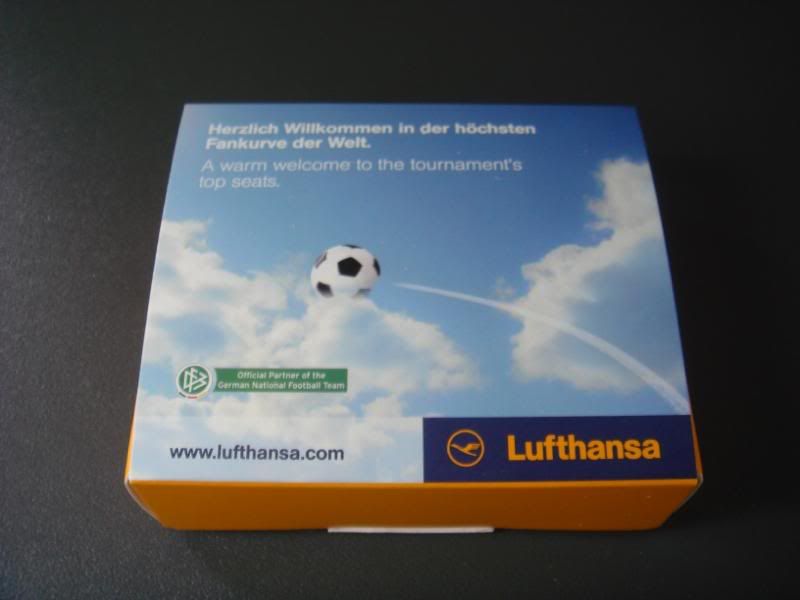 As we made our descent through thick cloud, there was a fair amount of turbulence- all good fun!
Final approach to DUS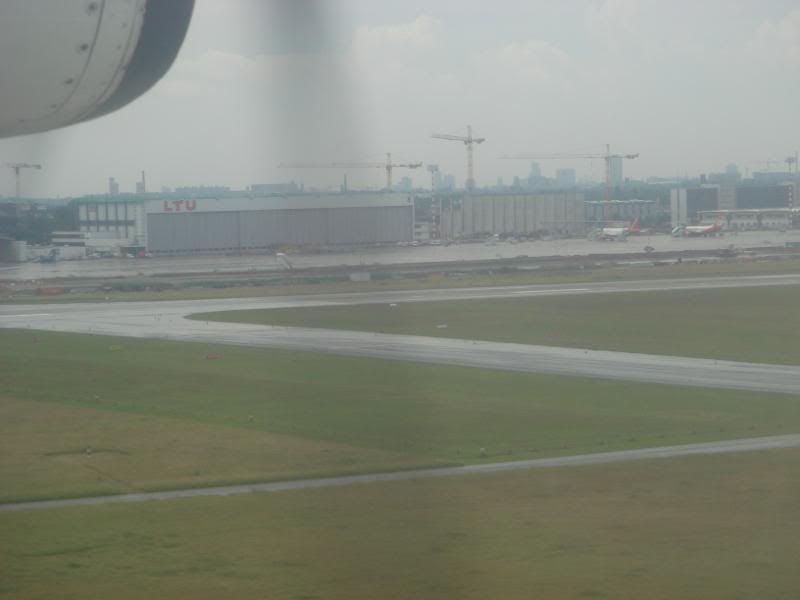 It was clear that there had been a lot of rain in Dusseldorf that morning. I could see 2 A343's of Lufthansa at their gates- now providing a long haul service from DUS. As we cleared the runway a KM A320 took off for MLA. Then a Northwest A330 arrived.
The ramp was fairly quiet with a few AB aircraft and a TK738. We had a long taxi to the regional apron where there was an Finnair E170 and a Brit Air CRJ parked.
We all fitted onto the 1 bus and had a long drive to the bus gate, allowing us good views of movements and the ramp activity. I got very close to this LH A340-300. Perhaps bound for JFK, ORD or LAX?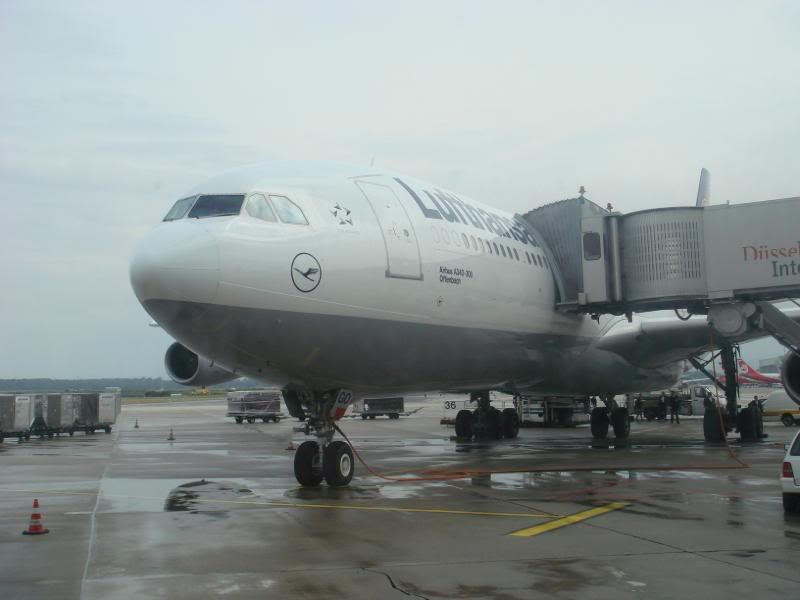 The bus gate was very close to my onward departure gate. I had a connection time of 35 minutes. I toyed with the idea of going to the Lufthansa lounge, but decided to hang around the gate.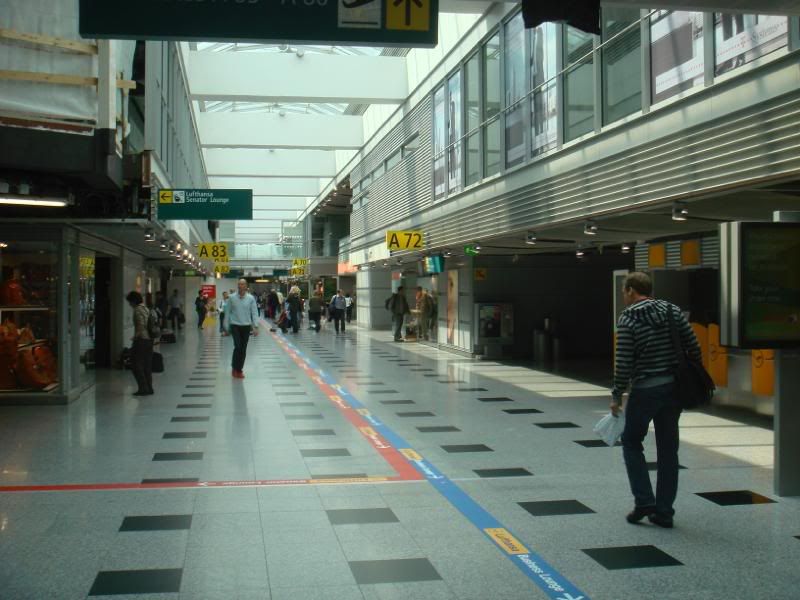 What are my impressions of the terminal at DUS? Rather dingy and depressing to be honest- the kind of 80's architecture that simply does not wear well. Having said that, they seem to be refurbishing it at the moment, so who knows.
My onward flight would leave from Gate A70- just a short walk away. The flight did not seem to be too full, judging by the numbers at the gate. A large number of passengers seemed to be deadheading LH crew.
LH809 DUS- FRA
Dep DUS: 12.00
Arr FRA: 12.55
Airbus A319-100
The flight was scheduled as a 737-500. I was glad to see that there had been a change to an A319 today. Boarding commenced on time, by row number. I was in 8A again. This was 1 row ahead of the exit row, and today business class extended as far back as row 12, although it was only about 40% full in business, and more crowded in economy.
Boarding was very quick and efficient.
Seat pitch on the A319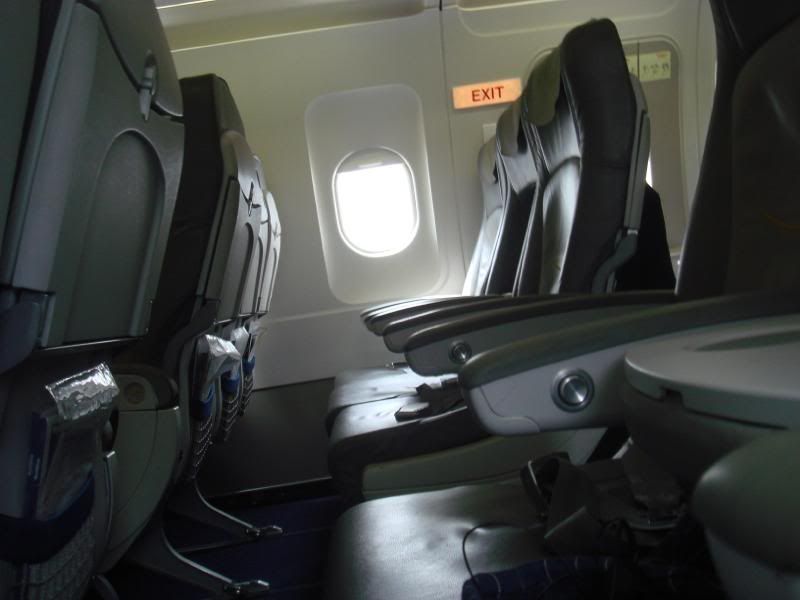 Middle seats are left empty. Again we were offered a selection of German and International magazines. We were also offered some more Euro 2008 chocolates before take off.
The Captain told us that we would leave on time with a journey time of 35 minutes to Frankfurt today.
As we pushed back (on time, of course!) a heavy rain shower passed over. I like taking off in the rain. We followed a Lufthansa A343, bound for a far-flung destination.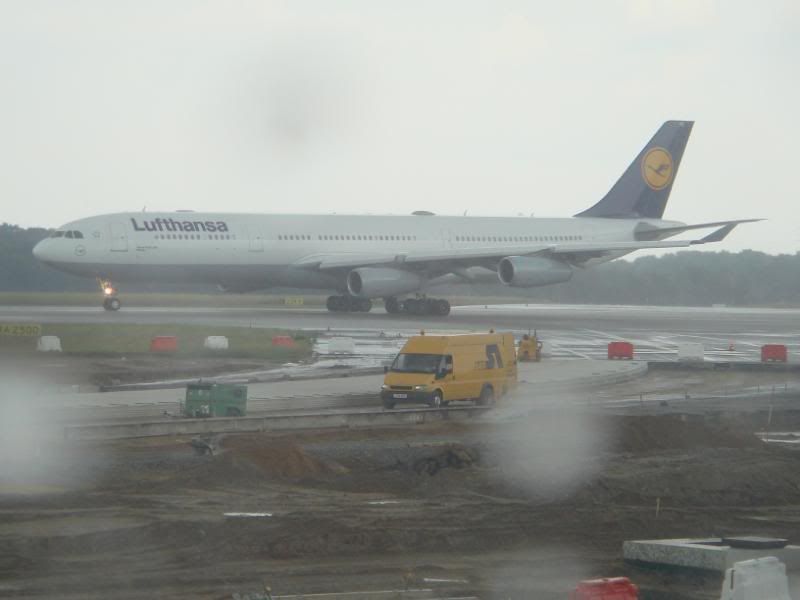 Dusseldorf must be a very romantic city? ☺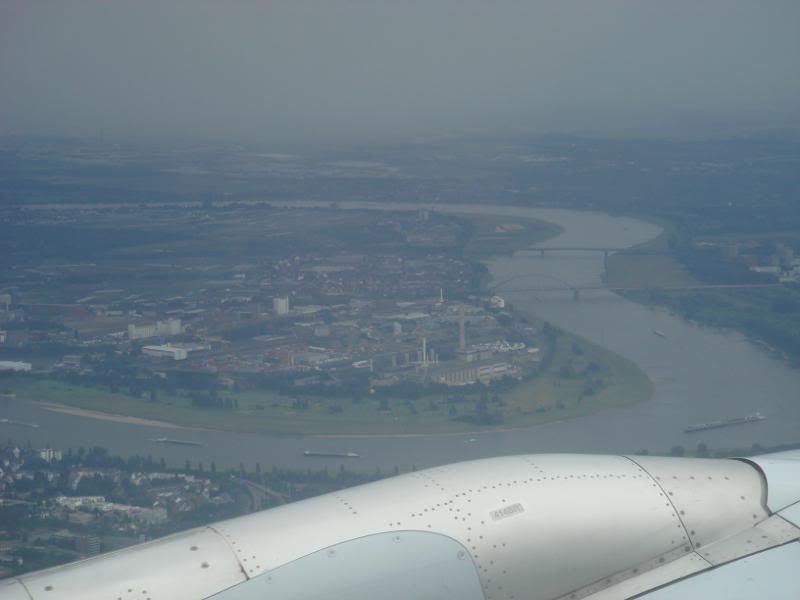 On each flight that I took today, I was the sole occupant of the entire row. Perhaps I need to change my aftershave?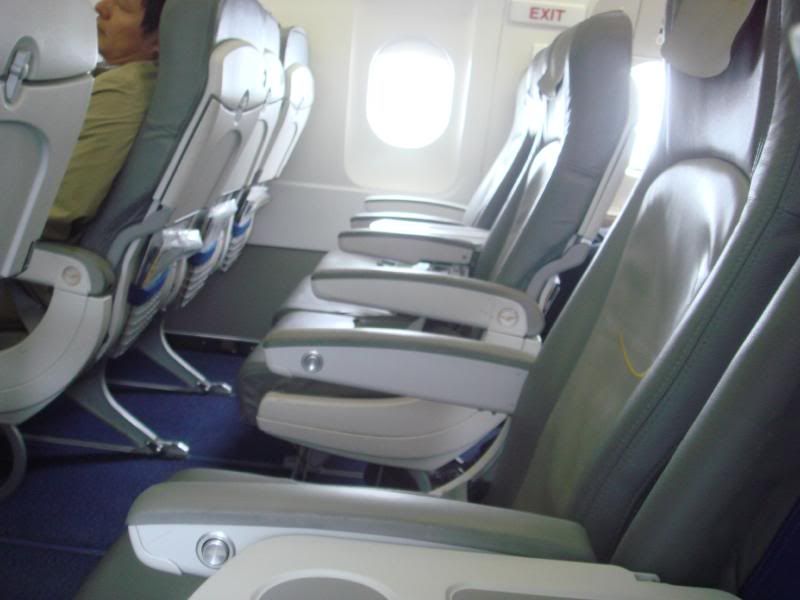 I wasn't sure what kind of of service to expect on a 35 minute flight, but Lufthansa did not disappoint. We were served a selection of sandwiches (1 contained salmon, the other, parma ham) and a fruit jelly. There was also a bar service, followed by tea and coffee. The sandwiches were delicious and very fresh.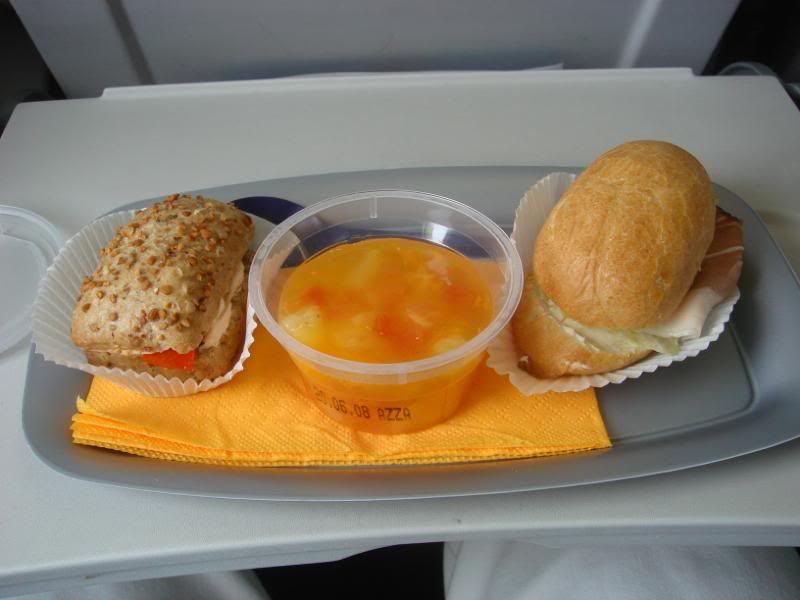 Service was efficient and polite. Like all my Lufthansa flights, I would describe the service as efficient and helpful, but not over-friendly. At some point in the flight the Captain informed us that, due to congestion at Frankfurt, we would enter a holding pattern for 20 minutes or so, but we would still arrive on time (thanks to padding the schedule…).
We made several circuits of Frankfurt before making our approach.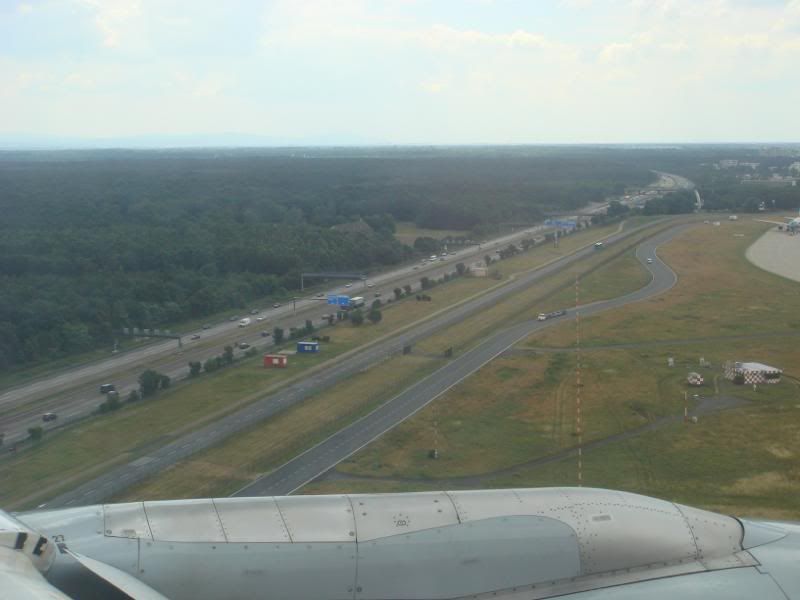 Then we touched down at what must be one of Europe's spotting meccas. We had a long taxi to a remote stand, and I was already hyperventilating at the variety of carriers and aircraft types on a busy Saturday.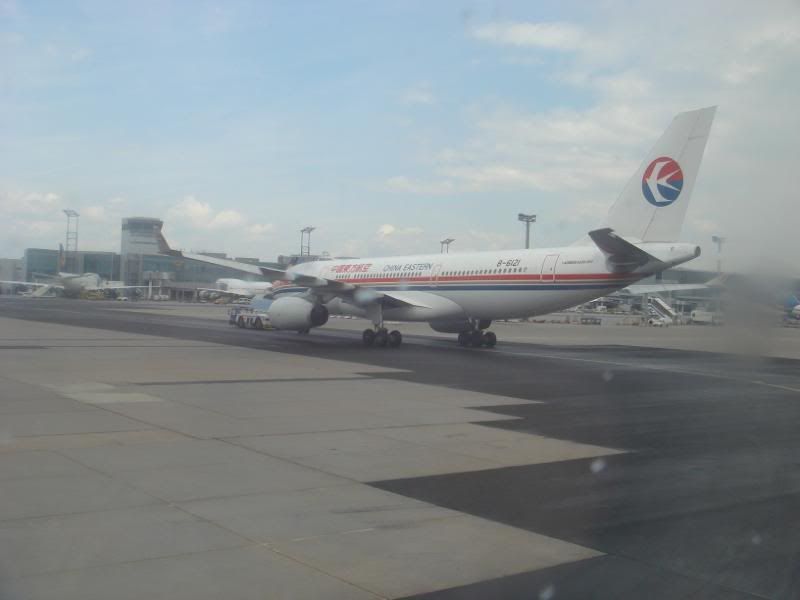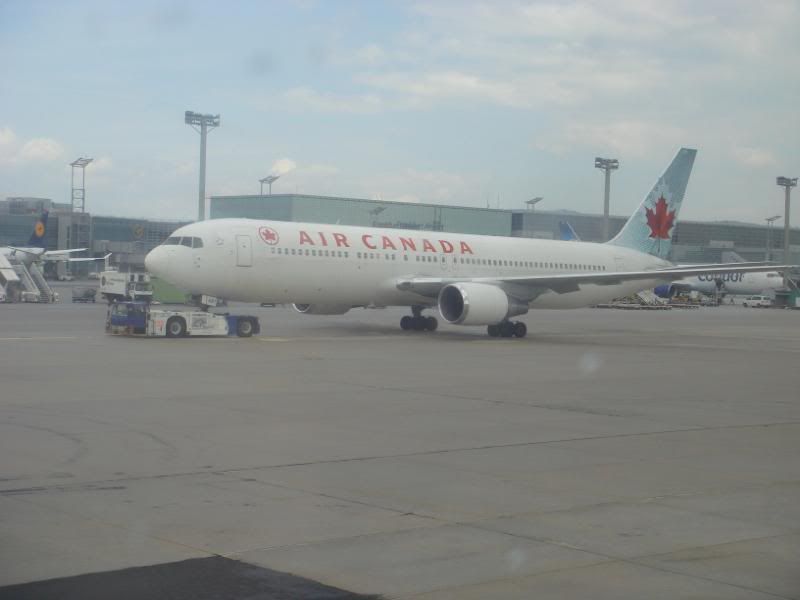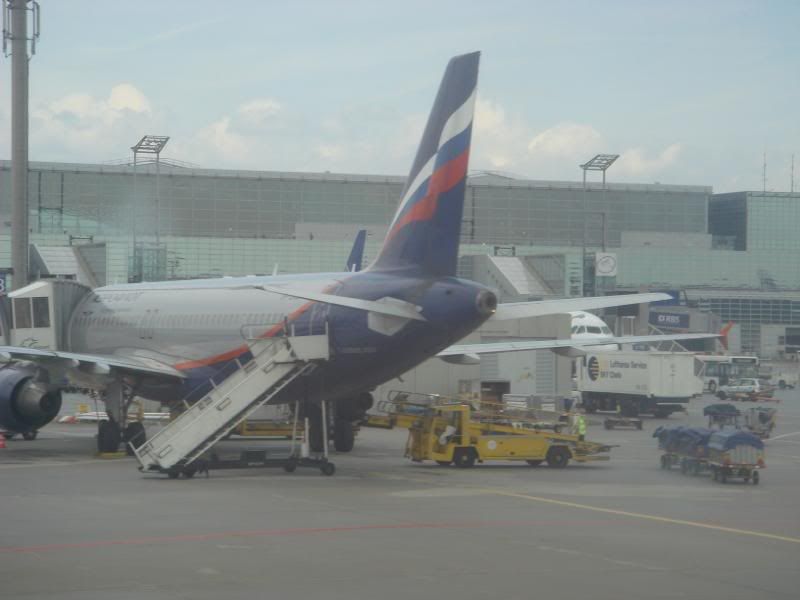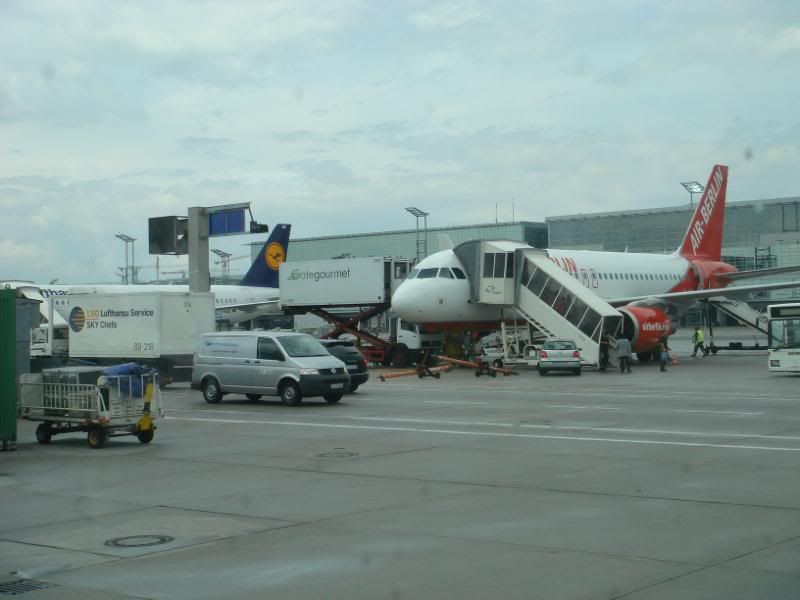 Disembarking at FRA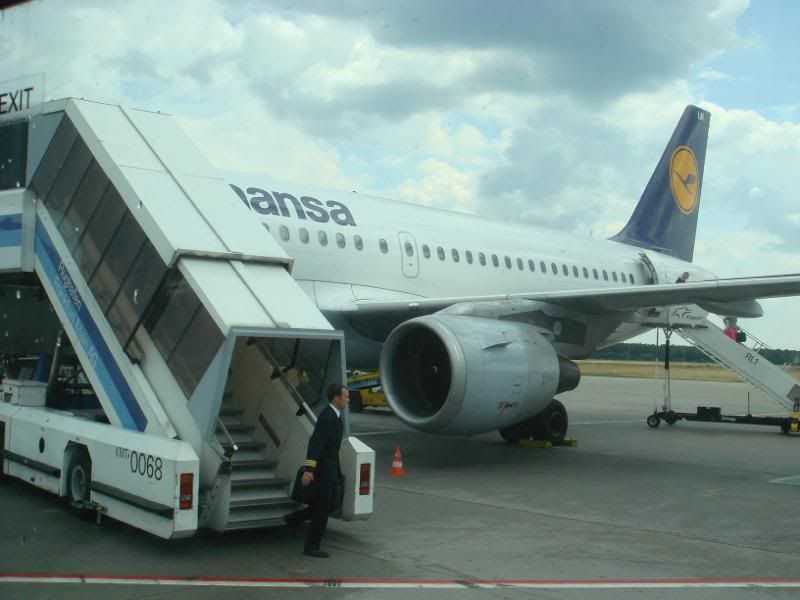 The bus ride to the gate took us even closer to an ever more exotic selection of aircraft.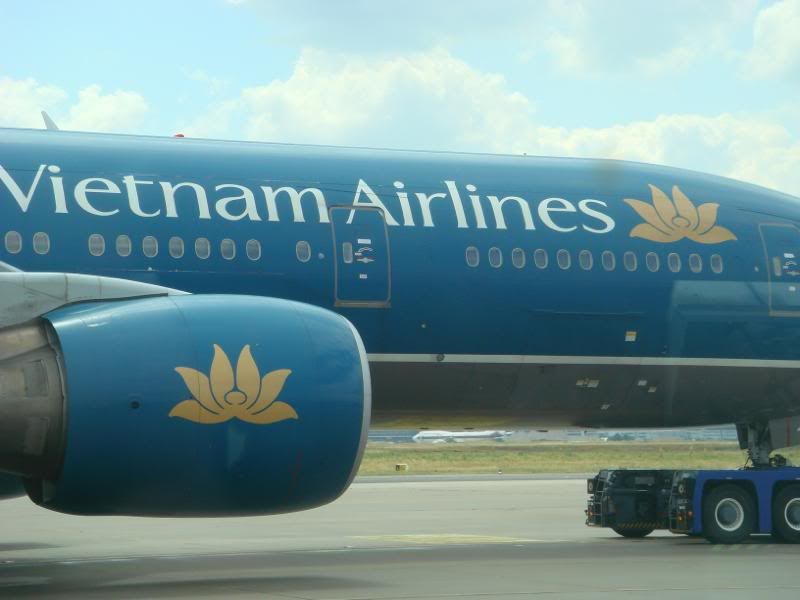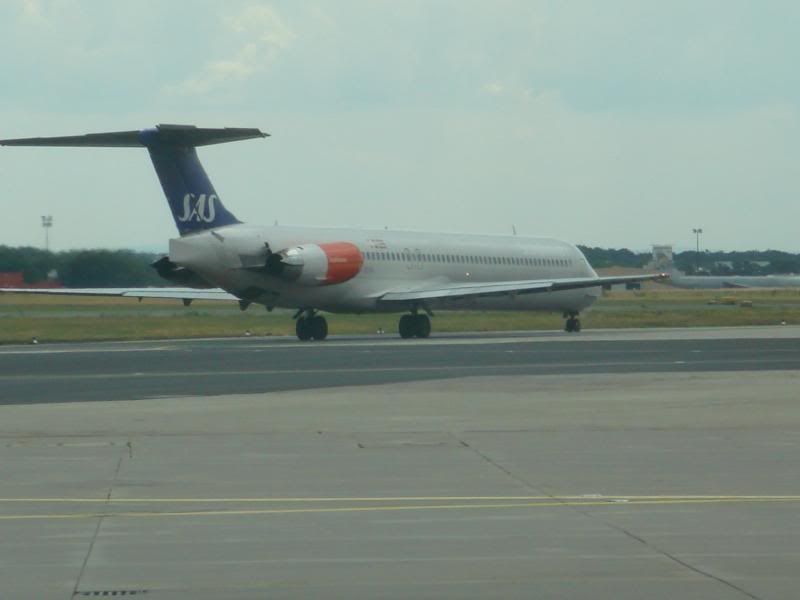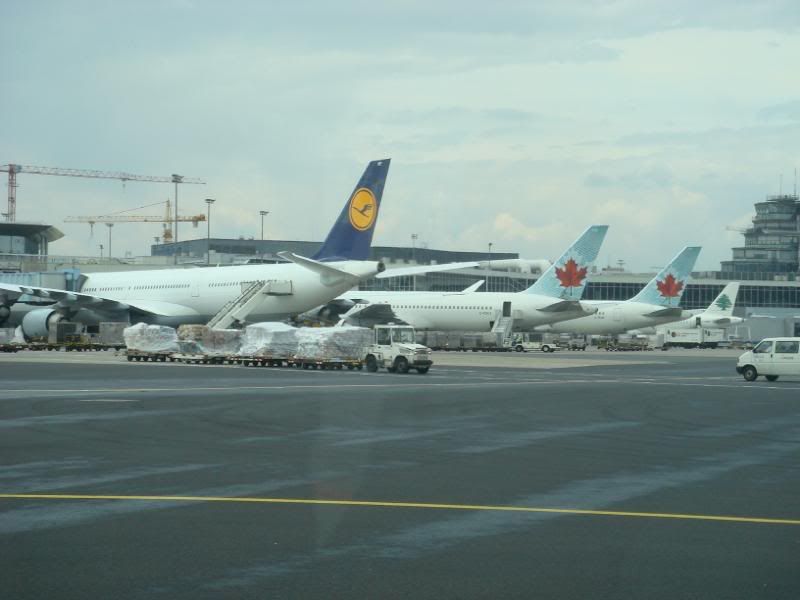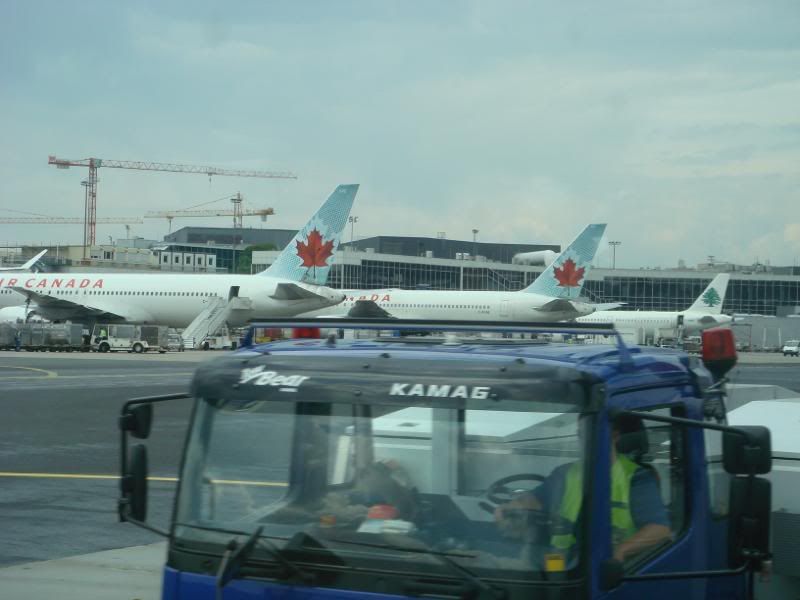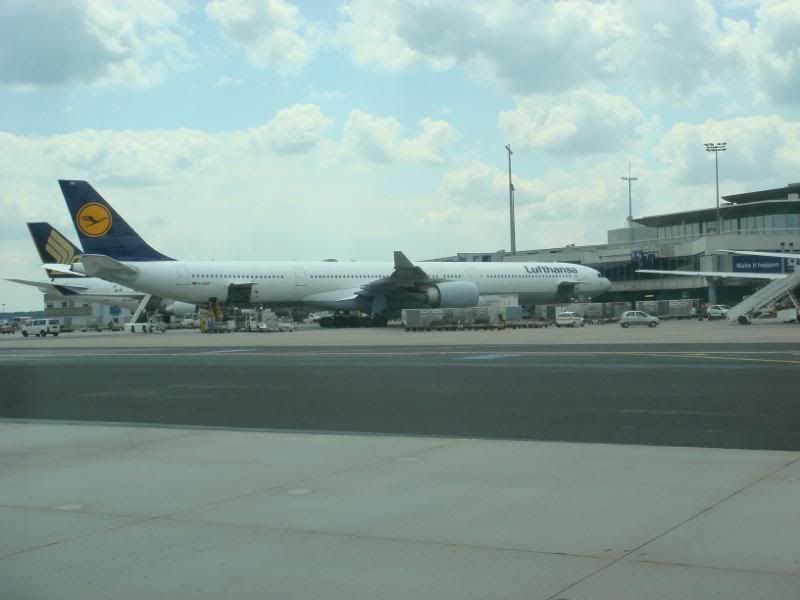 Then a US767 pulled out right in front of the bus.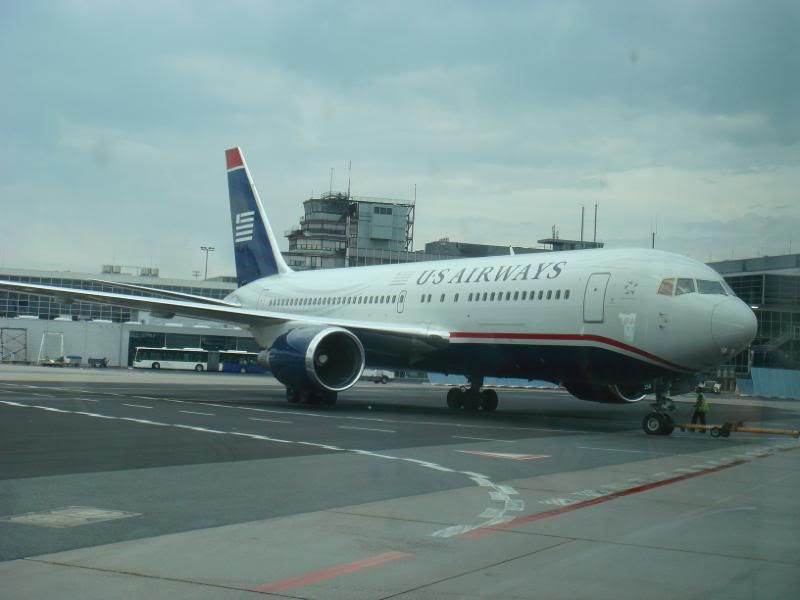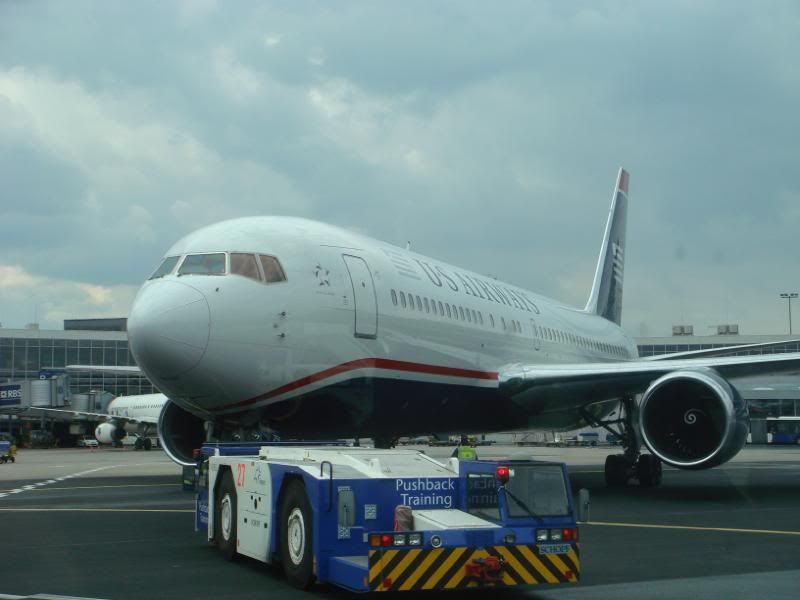 As I had already cleared passport control at Dusseldorf, I arrived at the domestic area of Terminal 1. It took me a while to get my bearings as I did not find the airport map too helpful. I had several hours at Frankfurt before my flight back to London and I wanted to visit the airport forum, the observation terrace at Terminal 2, hopefully go on a ramp tour, have some time for shopping, and spend some time in the Lounge before my 18.15 departure to London.
I love the departure board at Frankfurt. For me it really sums up the romance of flying and the sheer variety of destinations is very impressive.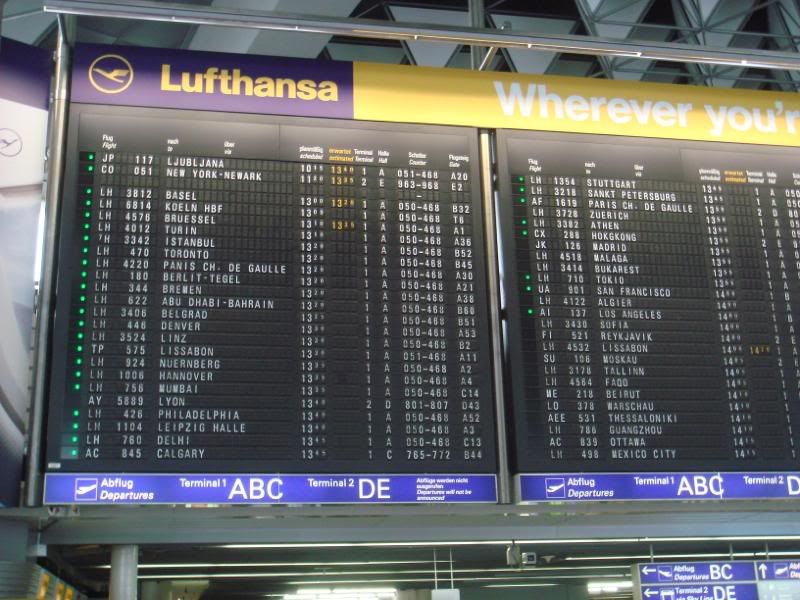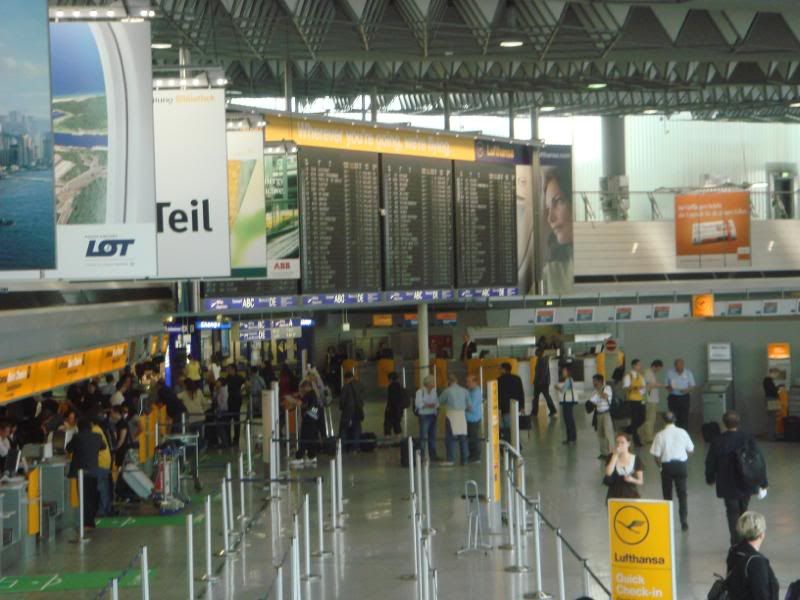 I then headed for the airport forum, which is an exhibition area, providing information about Frankfurt airport. By now I also needed a sit down in the funky swing chairs that they have there.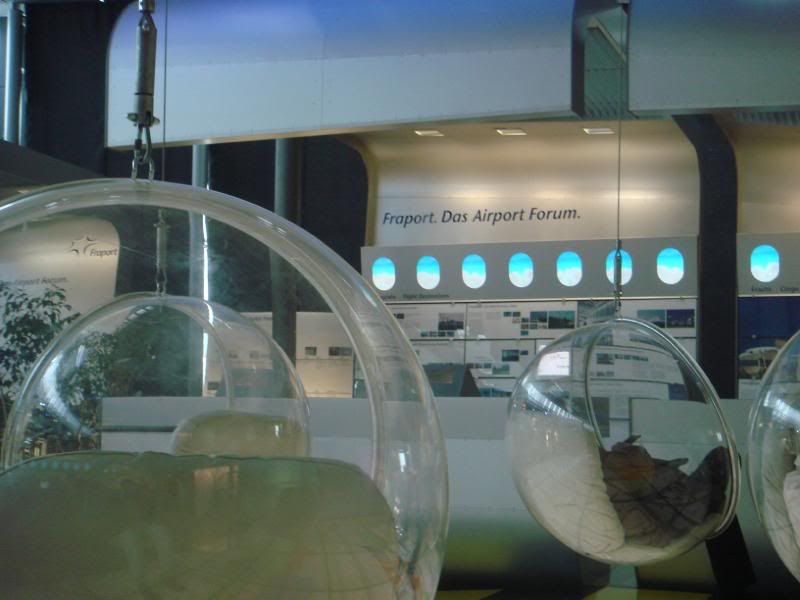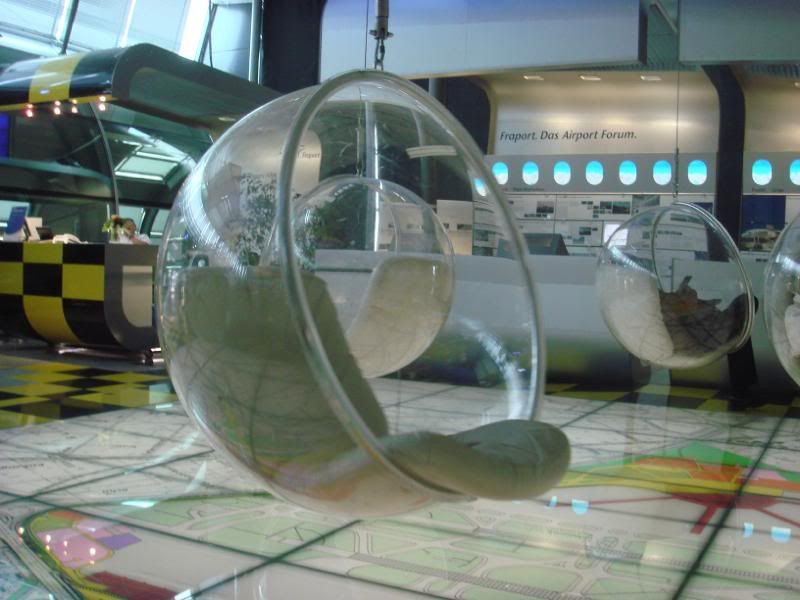 "Flying" over FRA once more…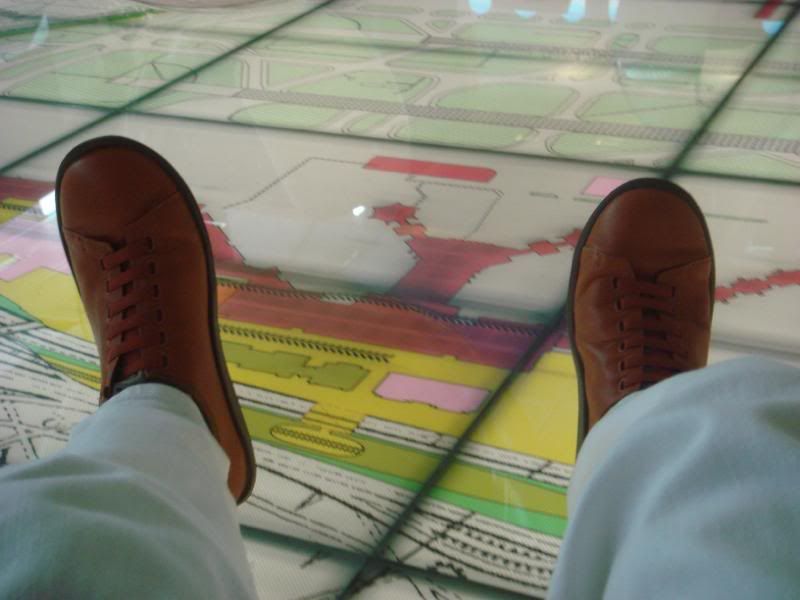 I was having a great time swinging around like a 5 year old, until I noticed a sign asking visitors NOT to swing around in the chairs. Ooops…
Next I took the free shuttle bus to Terminal 2 to visit the observation lounge. T2 also has an exotic variety of airlines and destinations. I didn't have to wait long for a bus and it got me to Terminal 2 in about 5 minutes.
Departure board at Terminal 2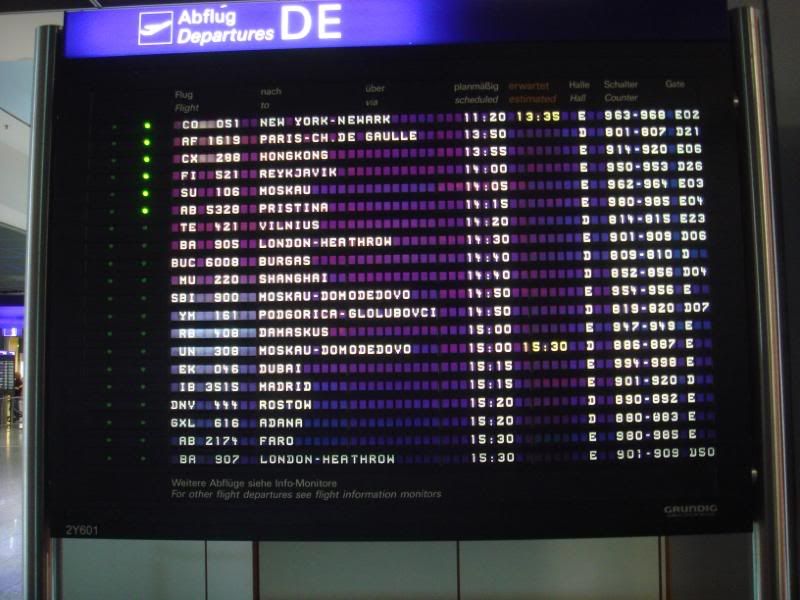 I made my way up to the observation terrace, paid my €4 entry fee, and went through security. There were lots of families here today, but not many people on the terrace, as there are good views to be had (for free) from the Food Court.
Why don't more airports (and UK airports in particular!) have observation terraces?!
I went into a frenzy of taking photos.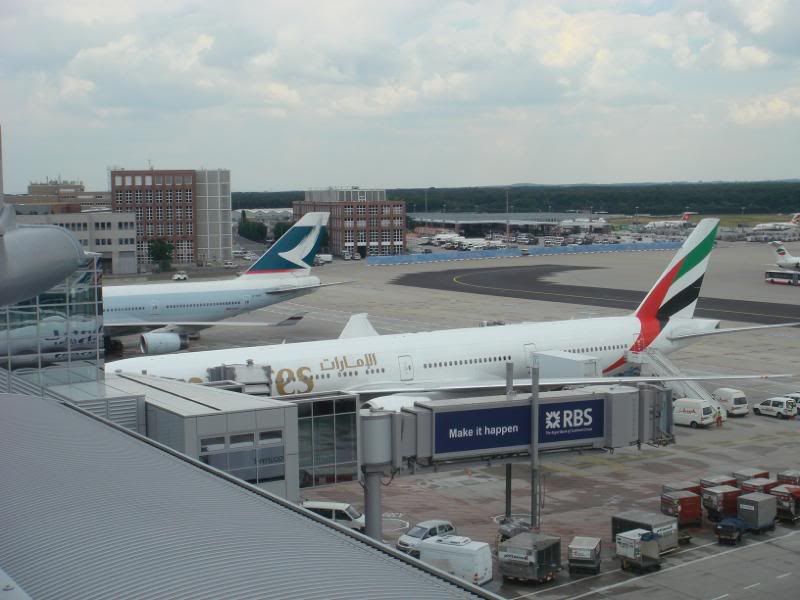 I never thought that I would get bored of seeing LH346's but this is possible at FRA!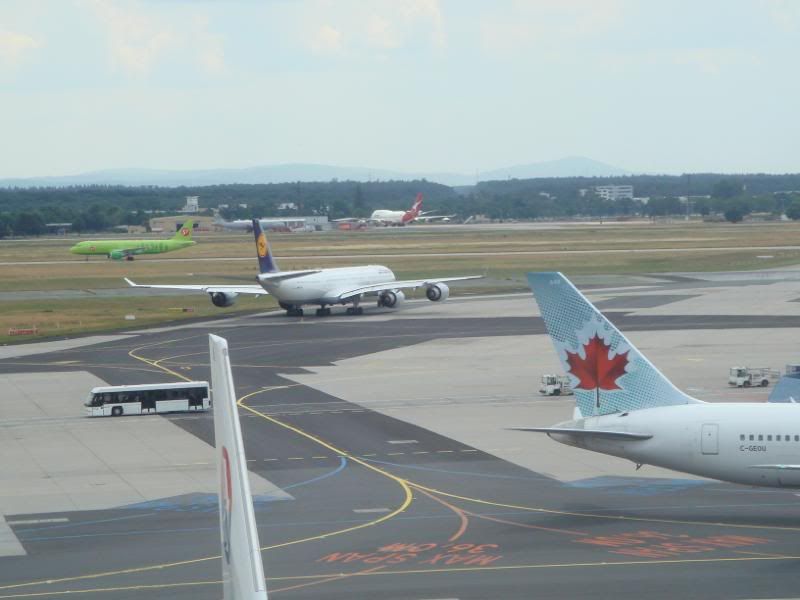 Spot the odd one out…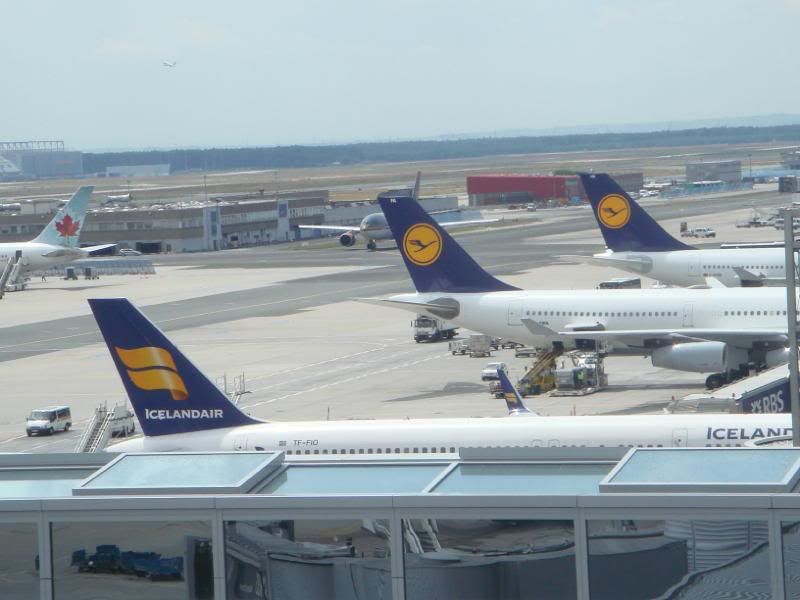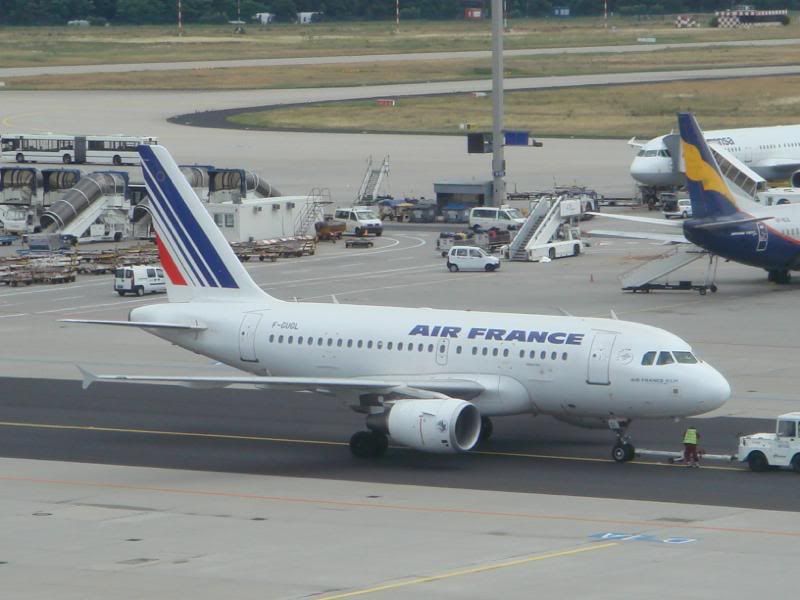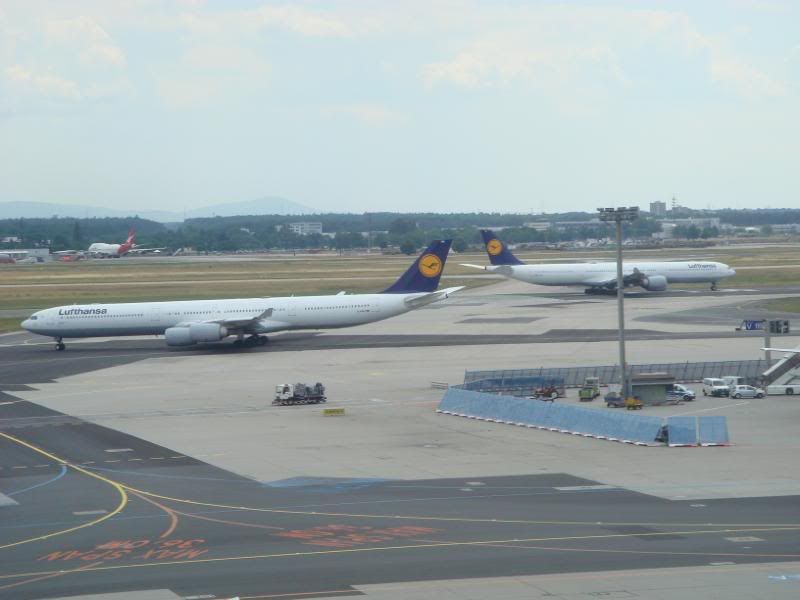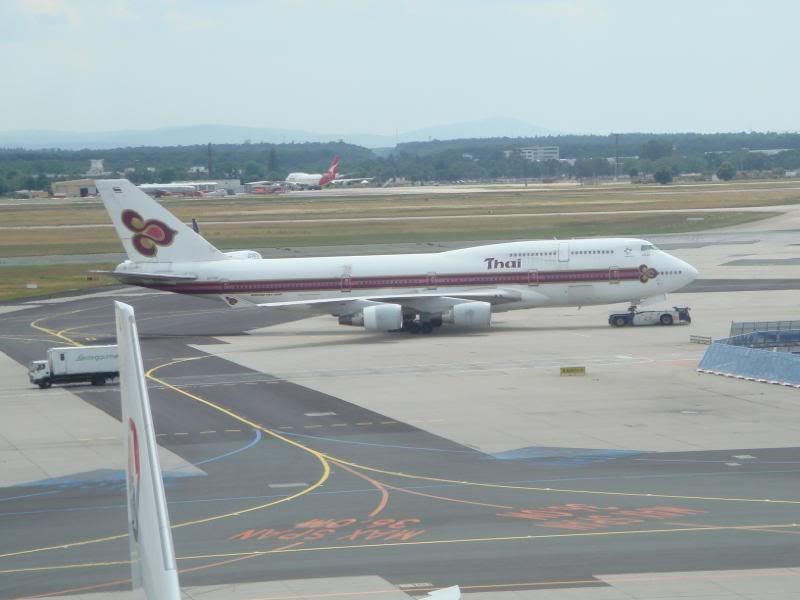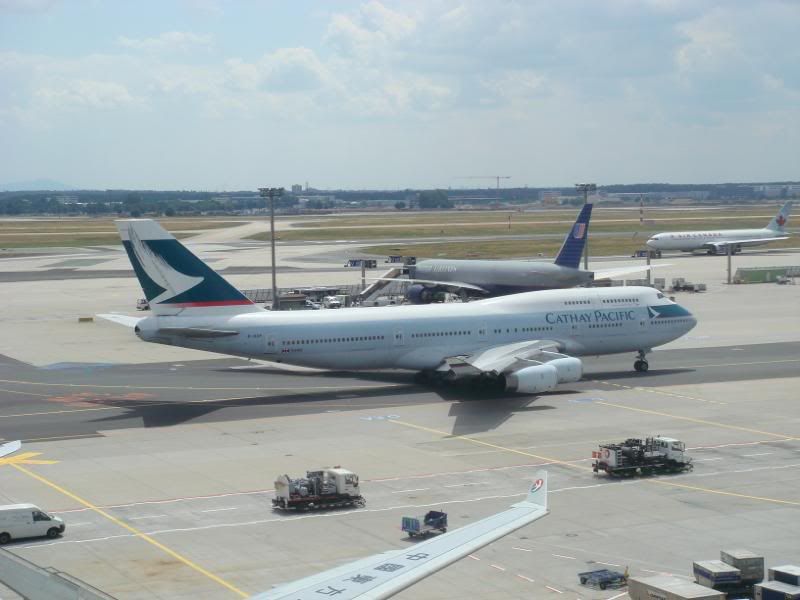 Delayed 11.20 CO departure to Newark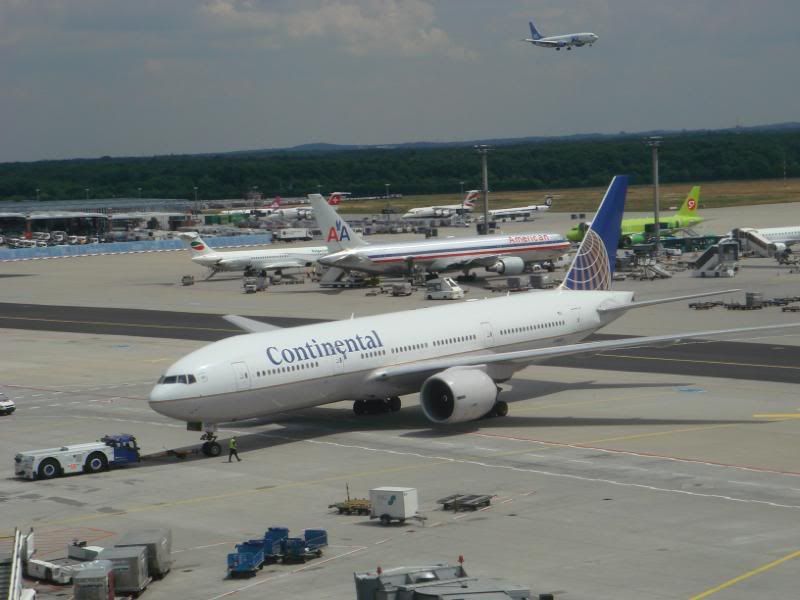 MD11's are a rare sight at most European airports these days.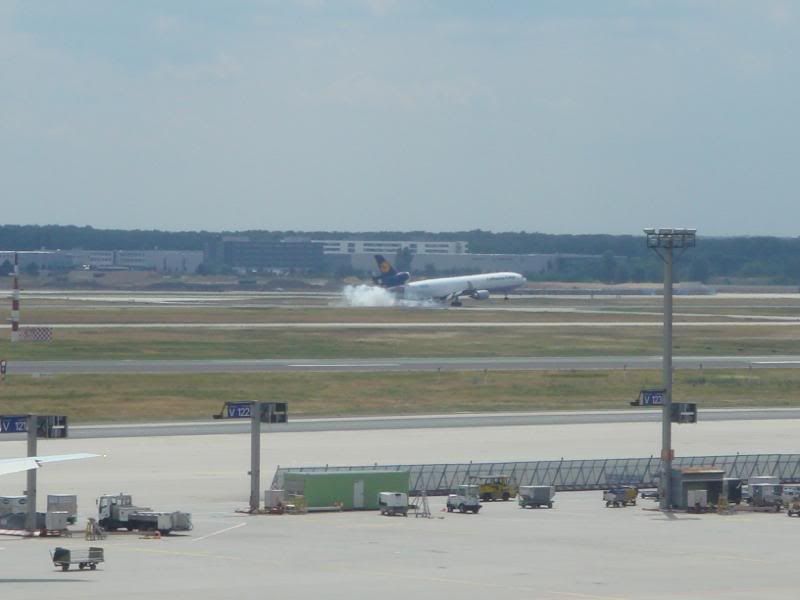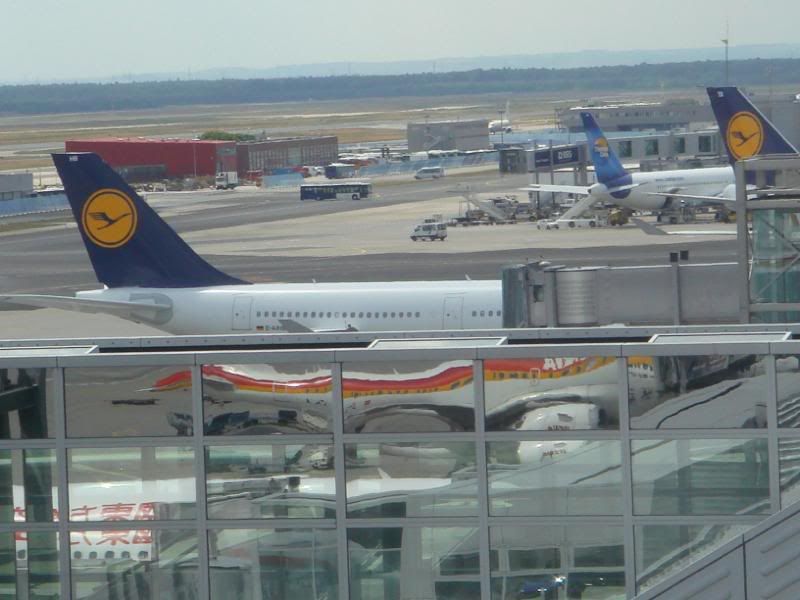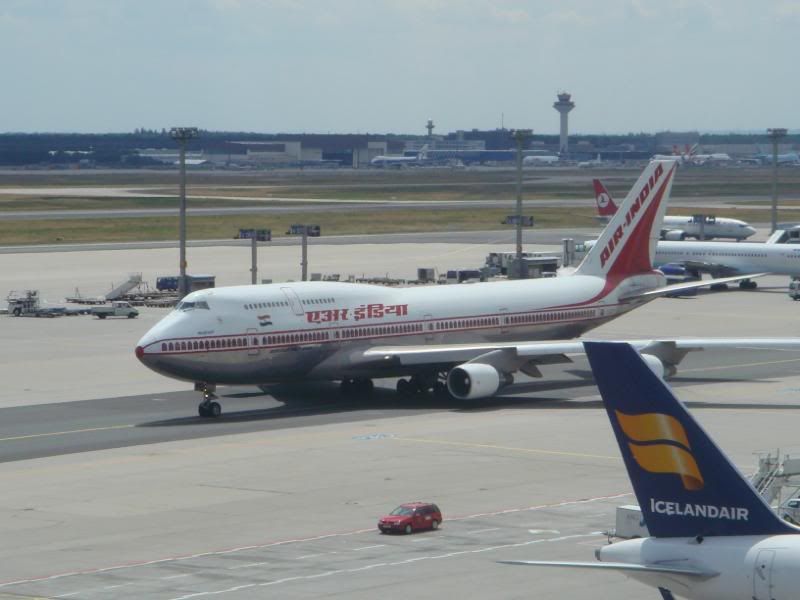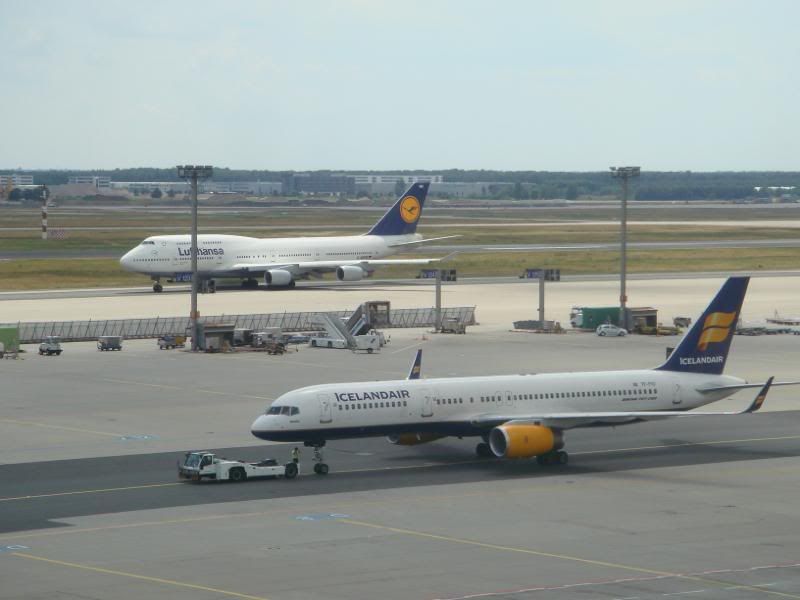 Interesting to compare the 757 and A321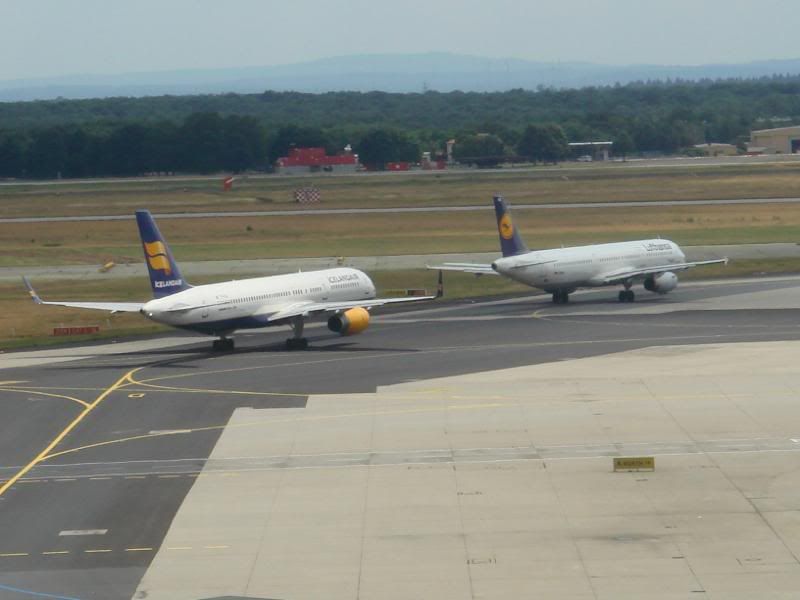 The 2 faces of United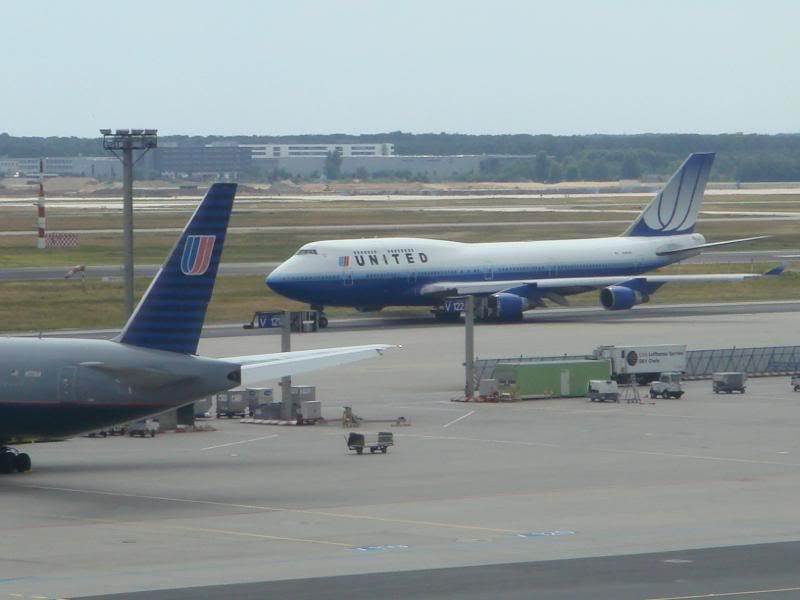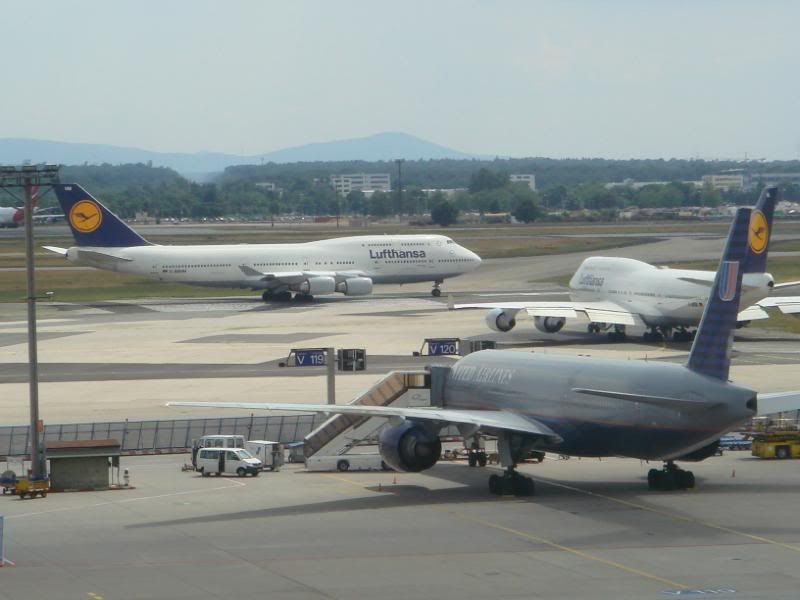 By now it was 14.30 and I wanted to take the ramp tour that left from Terminal 1 at 15.00 so I took the Skyline train back to Terminal 1 and made my way to the tour desk.
On my way there I took this photo for my fellow OA fans…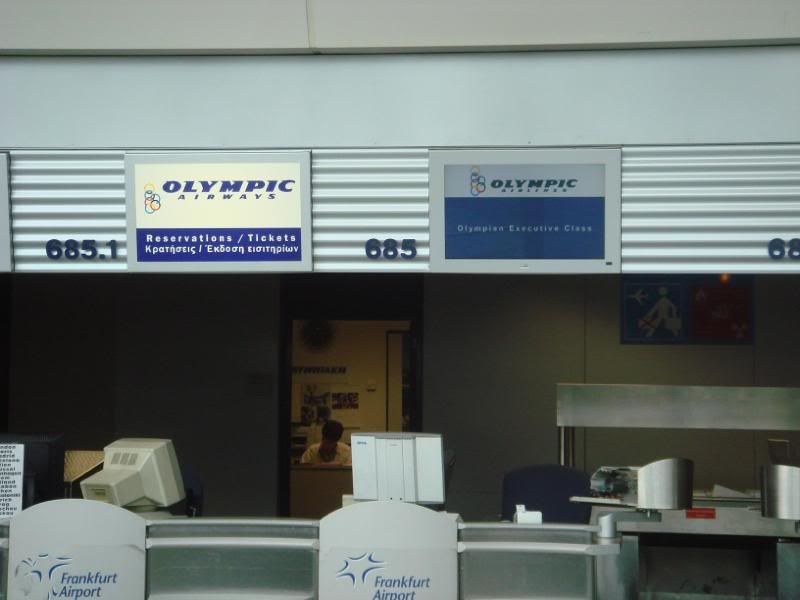 When I got to the ticket desk for the tour, there were lots of families congregated there. The display screen showed that there were 5 places left on the tour departing at 15.00 and I think that I was the last person to buy a ticket.
We were then herded on to 2 coaches and driven to a security screening area. We all got off the bus and left our bags in a secure area, then we were screened with a hand wand and got back on the bus again. It did not take very long. The commentary was entirely in German of course, and my German is not great, but I did manage to understand quite a lot of the facts and figures about Frankfurt airport. We were encouraged to bring cameras, but we could not bring liquids on board the coach. We were also told that we were not allowed to photograph any El Al planes that may be on the ramp, and this was repeated as we neared an El Al 757.
We drove on to the ramp and it was truly thrilling to be so close to the planes, and in the midst of such activity. I took lots of photos from the coach- of variable quality, as they were taken from the window of a moving bus!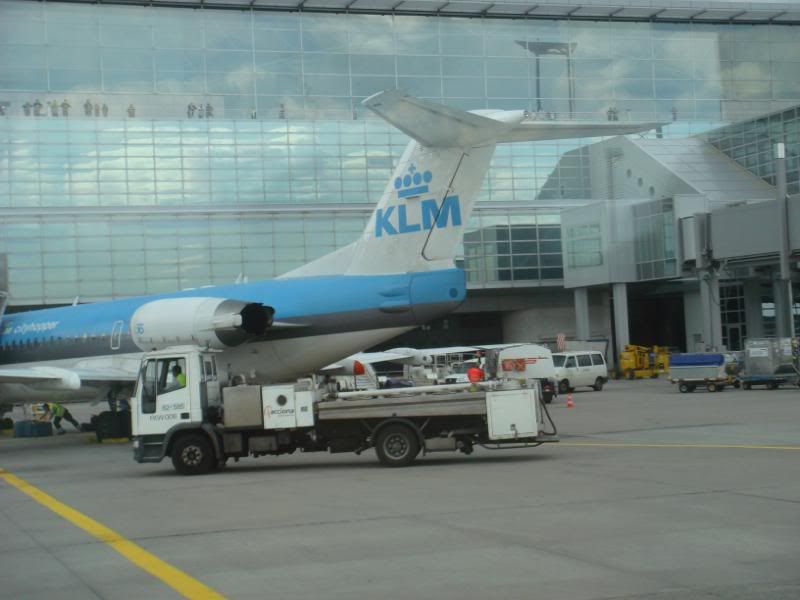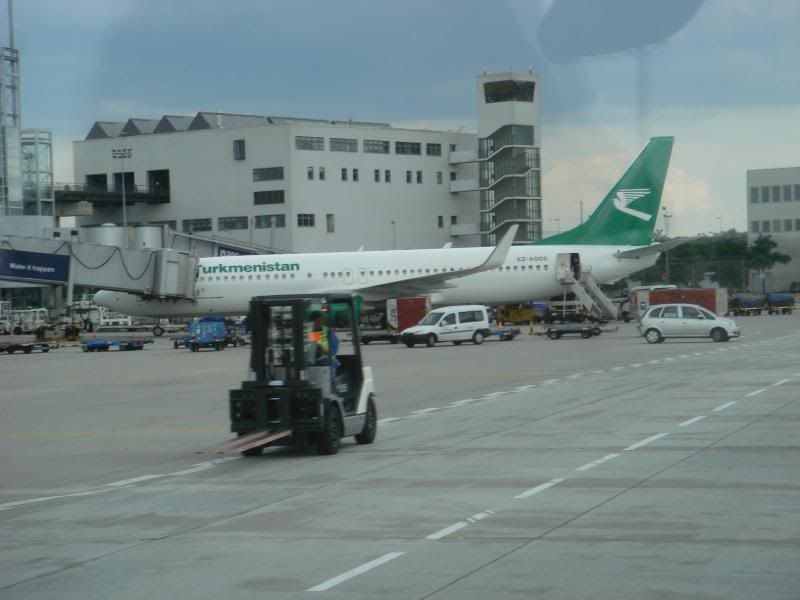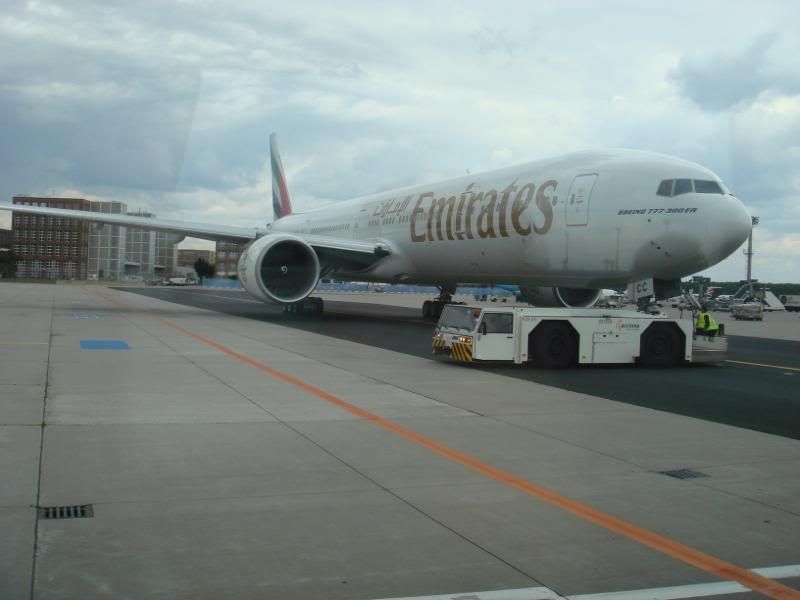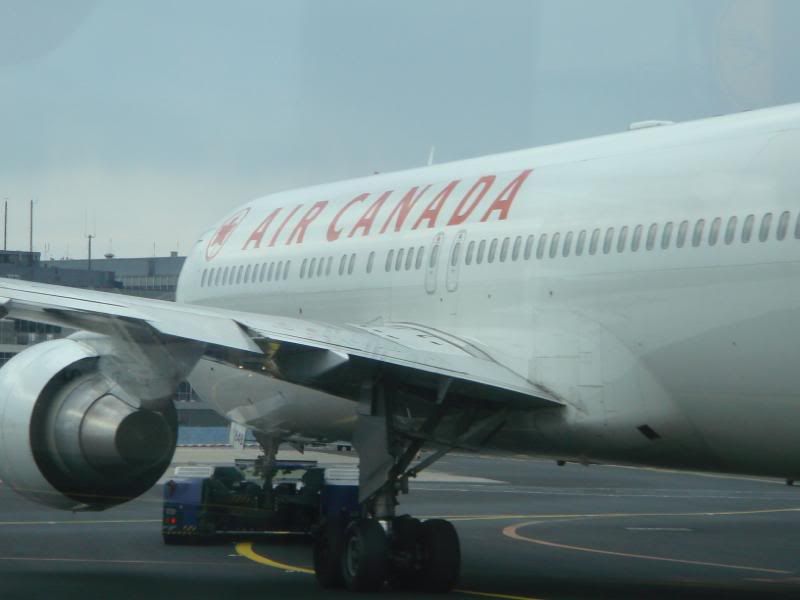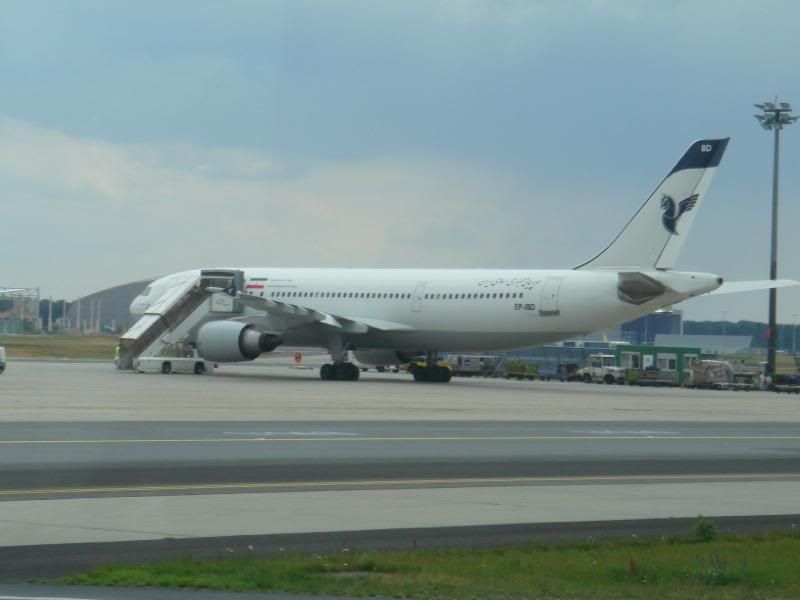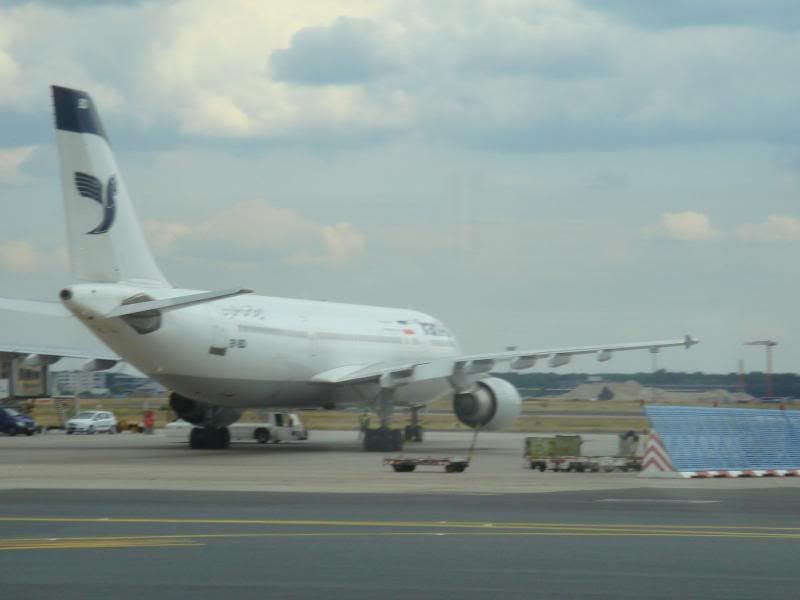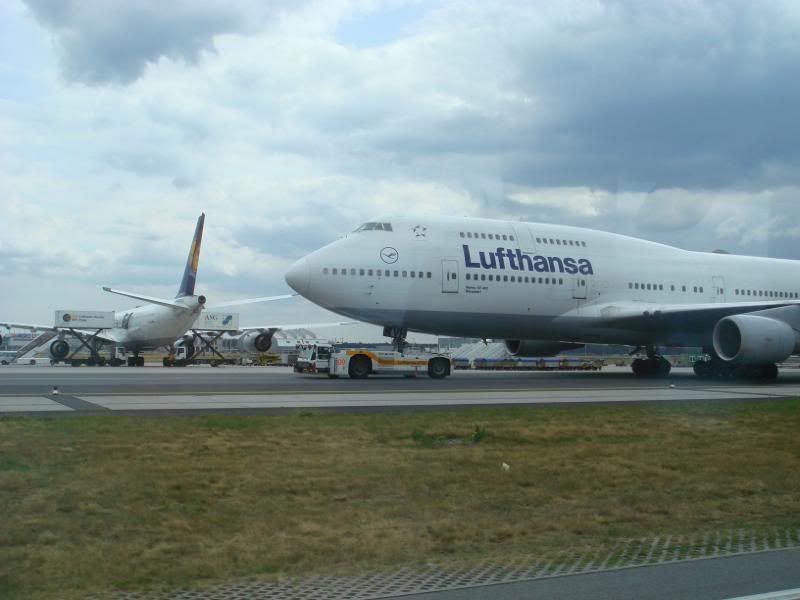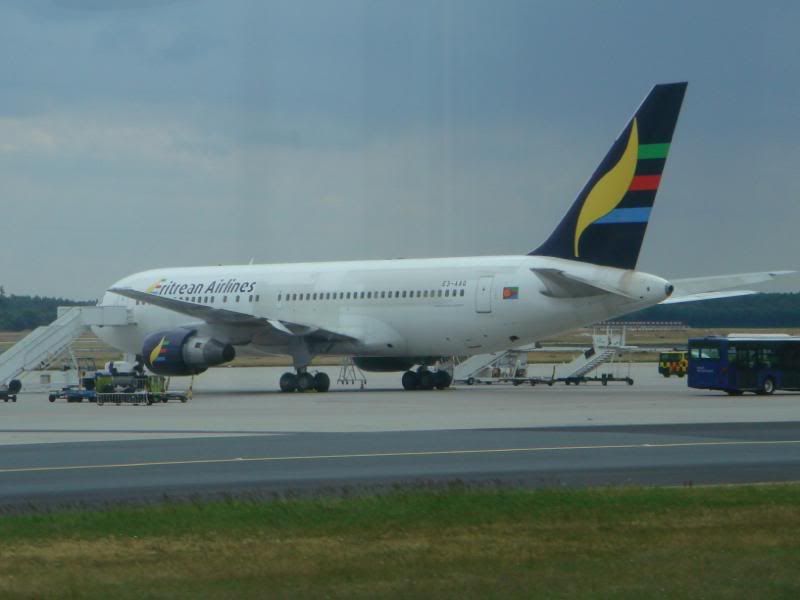 Cargo Area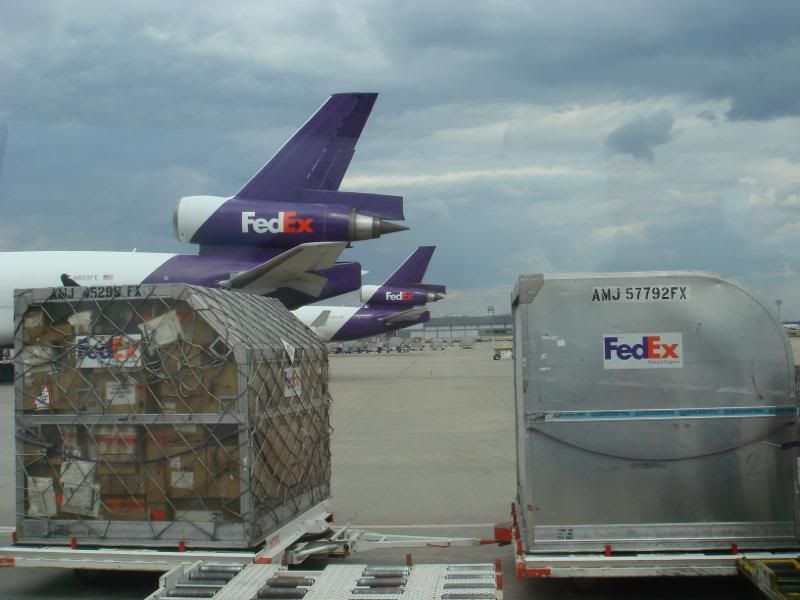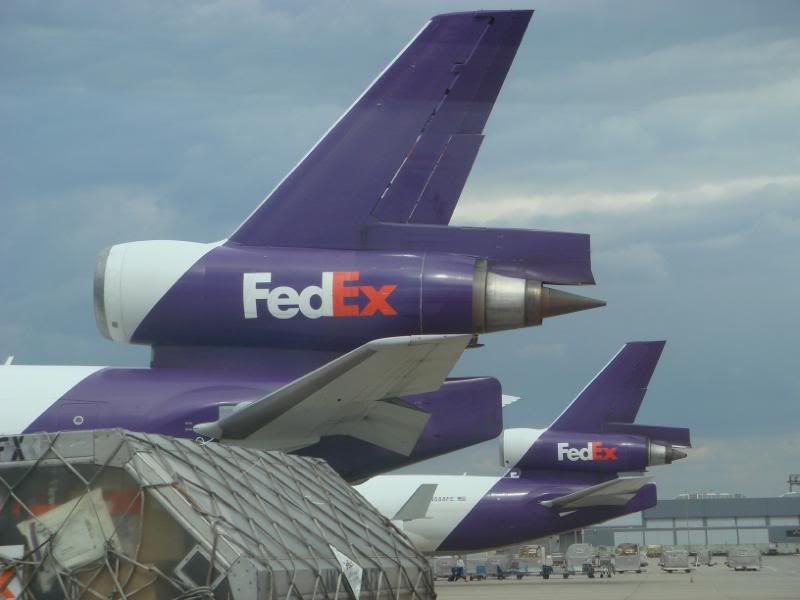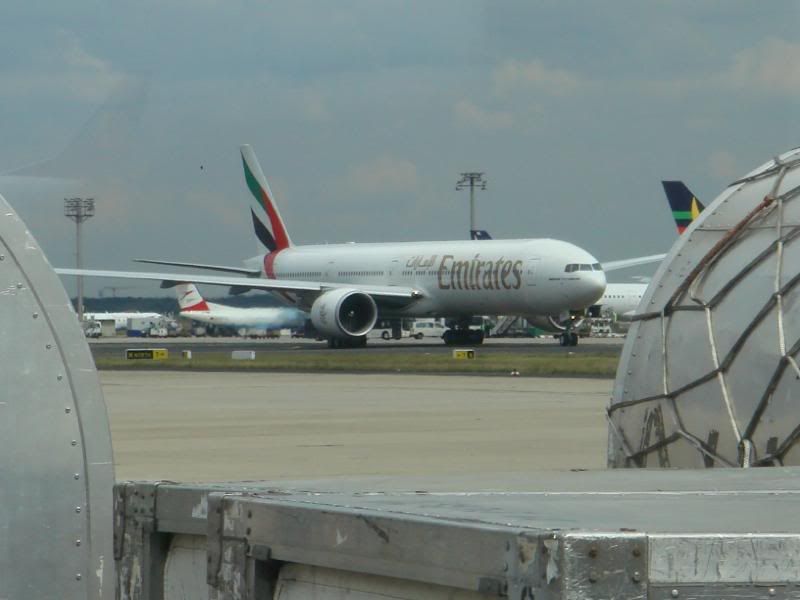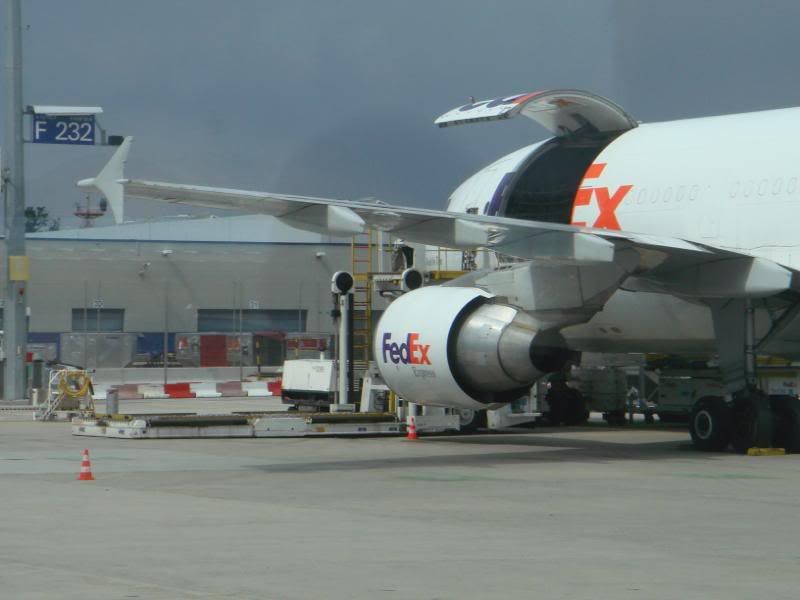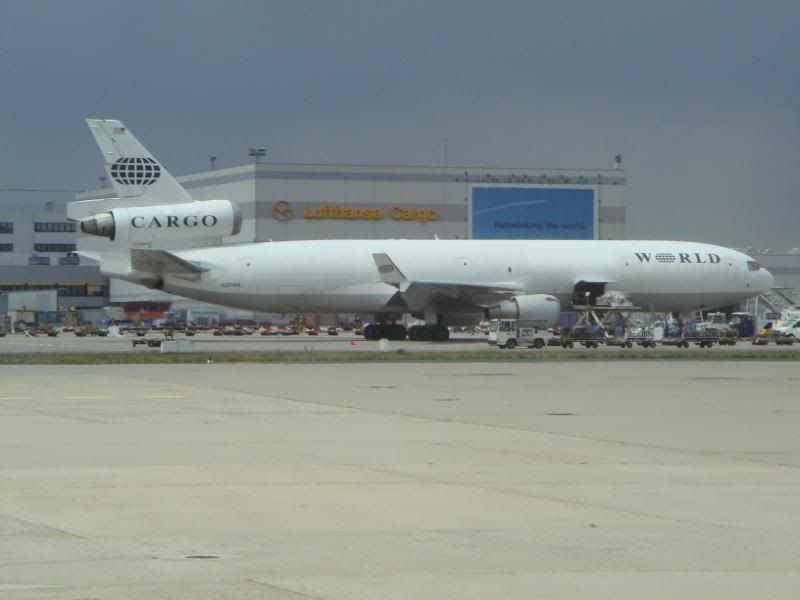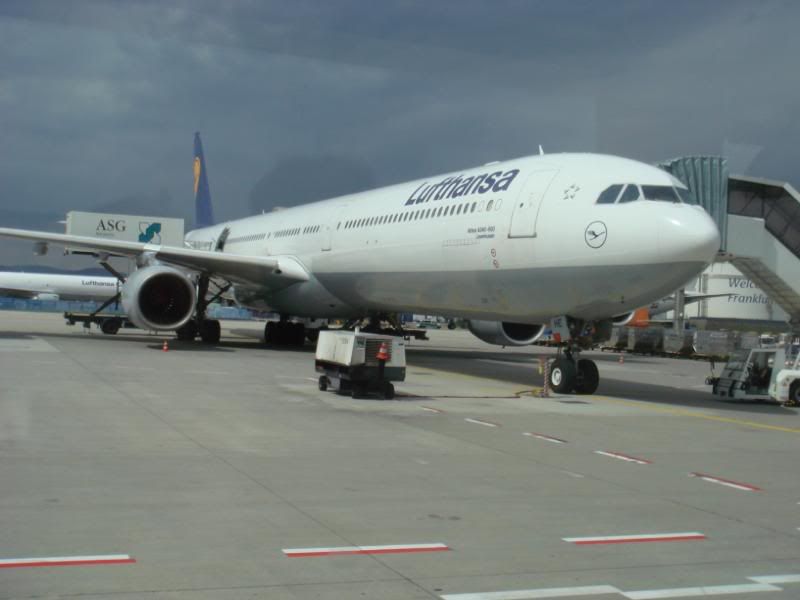 I can really recommend the tour to anyone who has time to kill at Frankfurt at the weekend. It lasts for about an hour and you get so close to the aircraft and get to see the variety of ramp activity at this busy airport.
When I arrived back at Terminal 1, I decided to check out the Lufthansa Worldshop, which is landside. The also have outlets at Munich and Tegel, and Hamburg, I think? I bought a model LHA343 and some other LH goodies.
I then went through security and did some shopping. Security was a pain at FRA. I had to remove my belt and even my watch. I then had to undergo a further security check to access the departure gate for the flight to London.
The Senator lounge was conveniently located for my gate but I decided to walk on to the business lounge to see if it had improved since I last used it. Unfortunately, it hasn't. It is large and spacious, but very functional and does not really have a good ambience.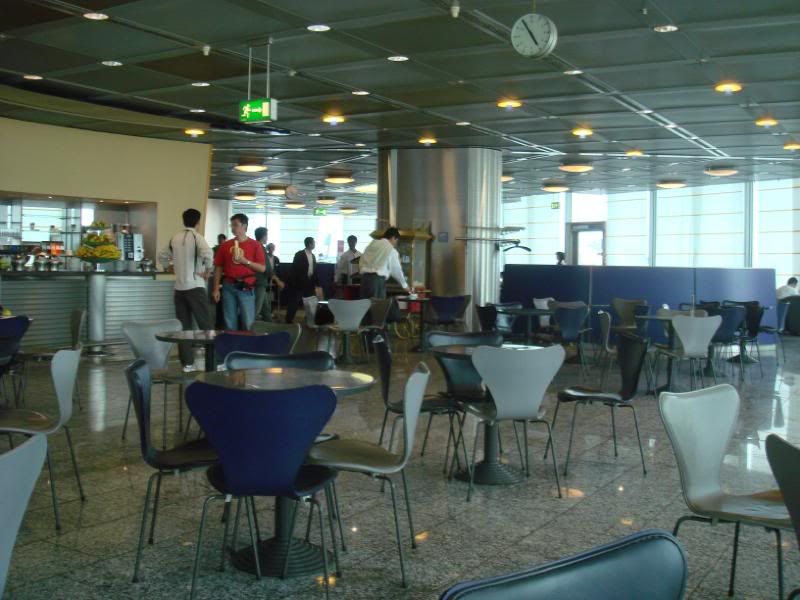 I could not imagine spending a long time in this lounge, but it does offer good views of the apron and aircraft movements.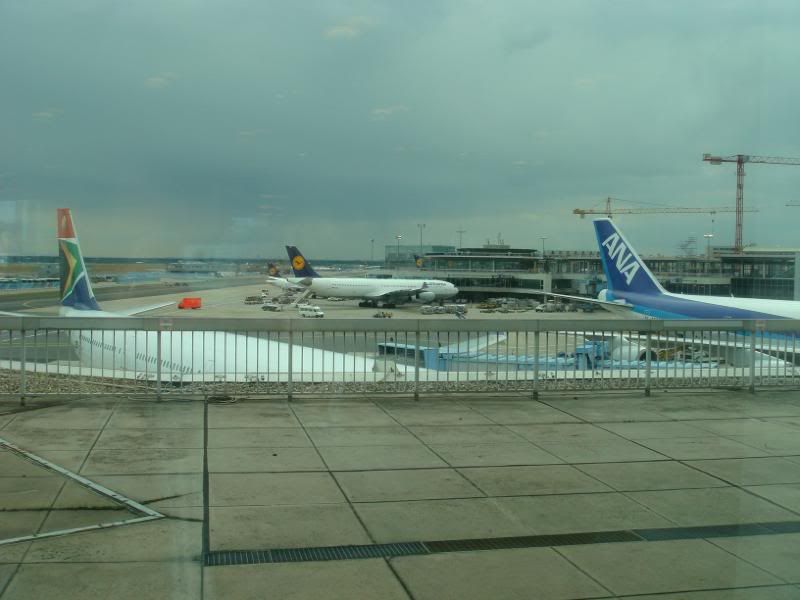 There is an ok selection of food and they have the usual range of drinks, including Becks on draught (self-service!) and German sparkling wine.
My flight would depart from B31. Flights are not called from the lounge, so I made my way to the gate, undergoing yet another security check. This was a bus gate.
LH4740 FRA- LHR
Dep FRA: 18.15
Arr LHR: 18.50
Boeing 737-500
Another LH343, seen from the bus. Yawn…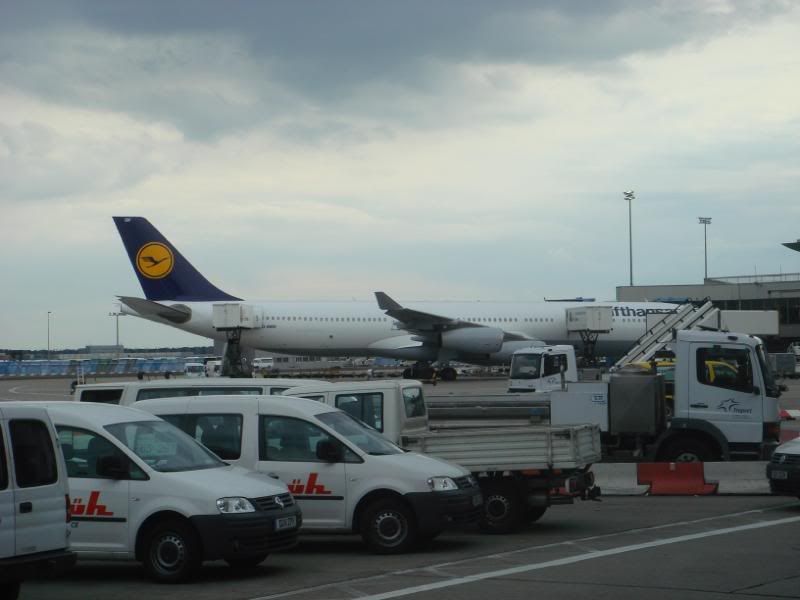 I had hoped that maybe this flight would be operated by an A300- a slim hope on a Saturday evening, I know, but it was to be a boring 737. In fact, I only saw 1 LH A300 during my whole time at Frankfurt, and come to think of it, I only saw 1 LH A330 as well.
Although we were bussed to the aircraft, it was parked at a gate at Terminal 1. We boarded by rear stairs. There would be a light load this evening. Business class went as far back as row 12, and there were only 4 passengers in Business this evening. Our boarding cards were not checked as we entered the aircraft. I had selected 8A originally. As I expected that we would be landing over London, I had gone to a self service kiosk at FRA and changed this to 8F. As 8F offered a panoramic view of the wing, I decided to move forward a few rows. Again this aircraft was in immaculate condition, but the cabin did feel rather dingy.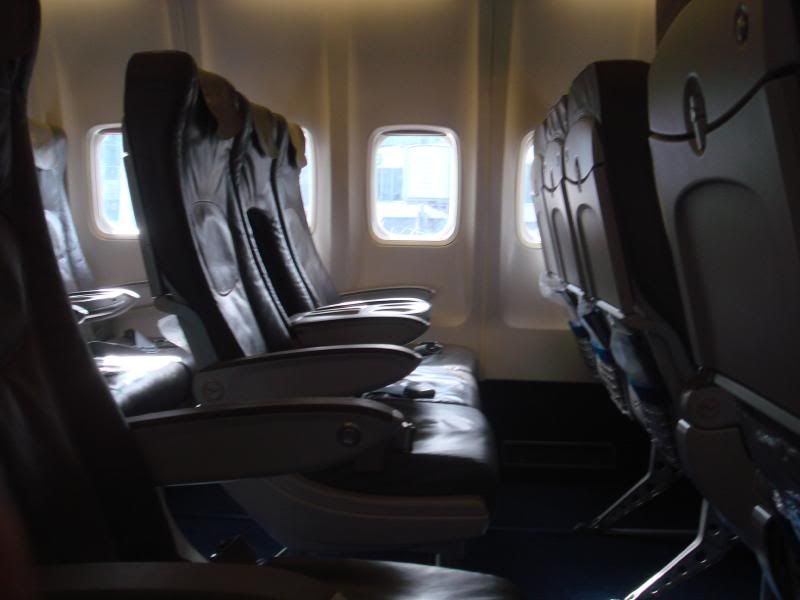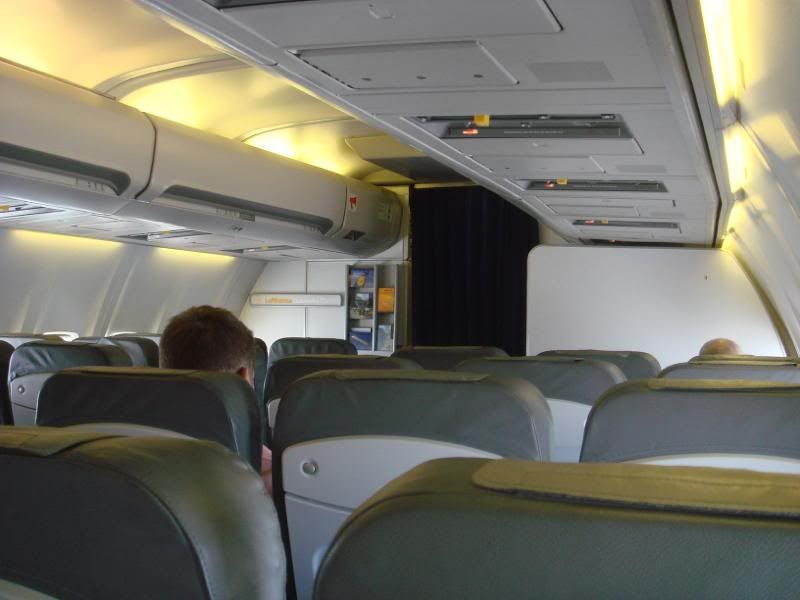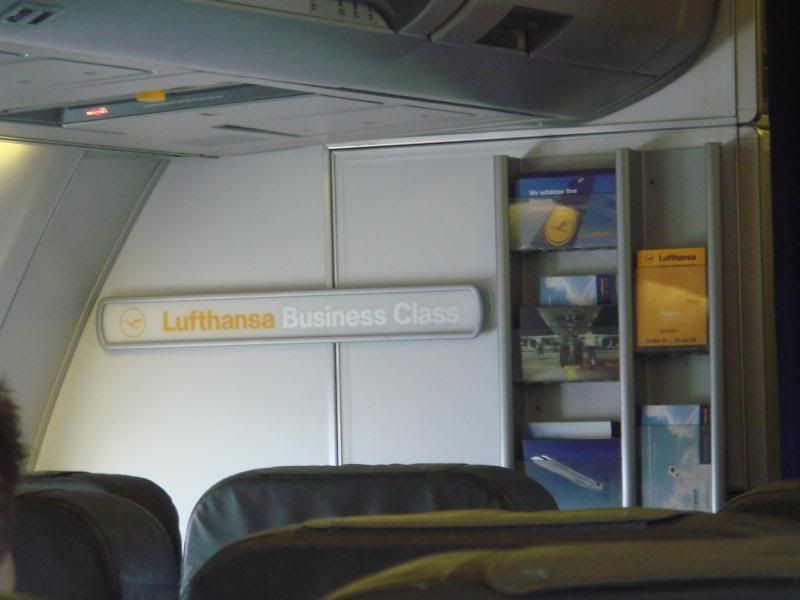 Once again we were offered magazines and newspapers. We pushed back slightly behind schedule and had a long taxi to the take off point.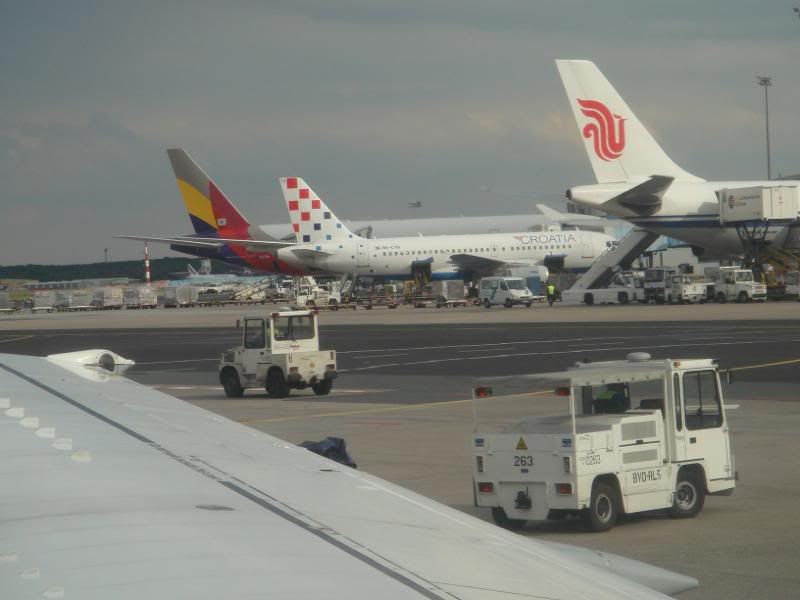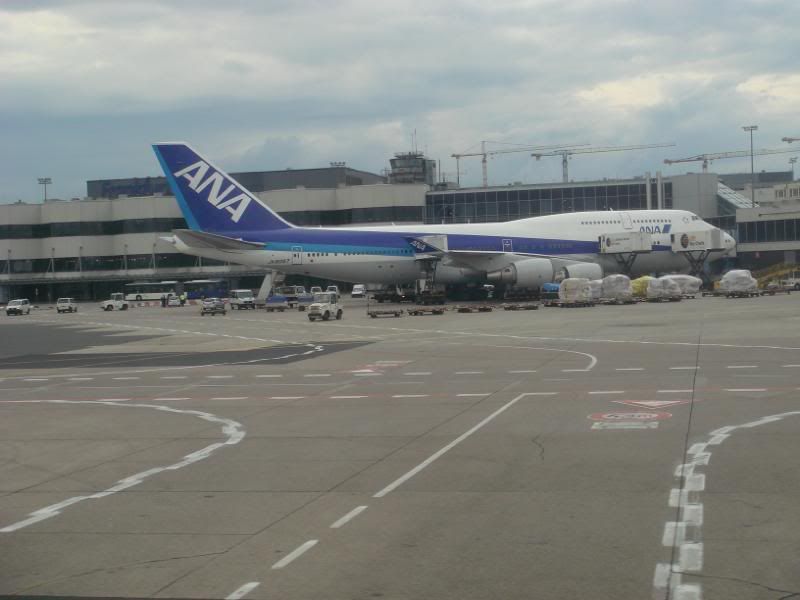 Our reflection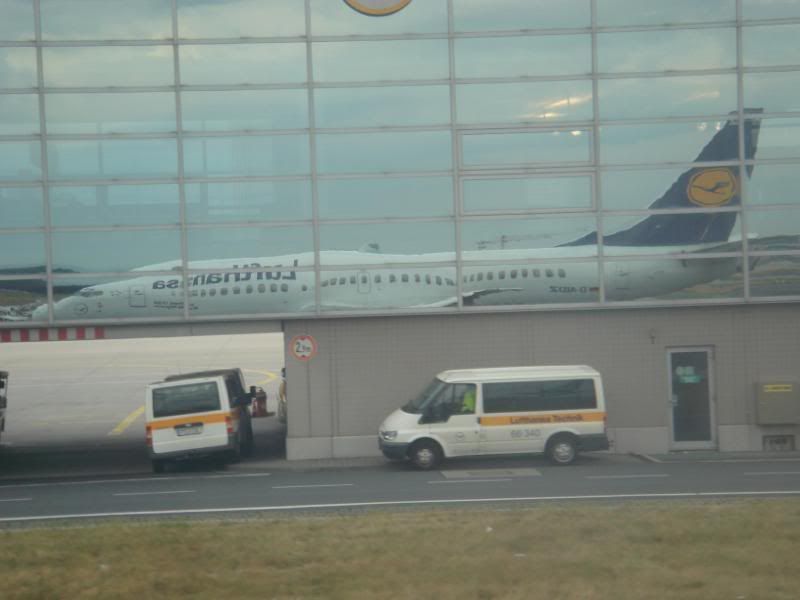 Naughty!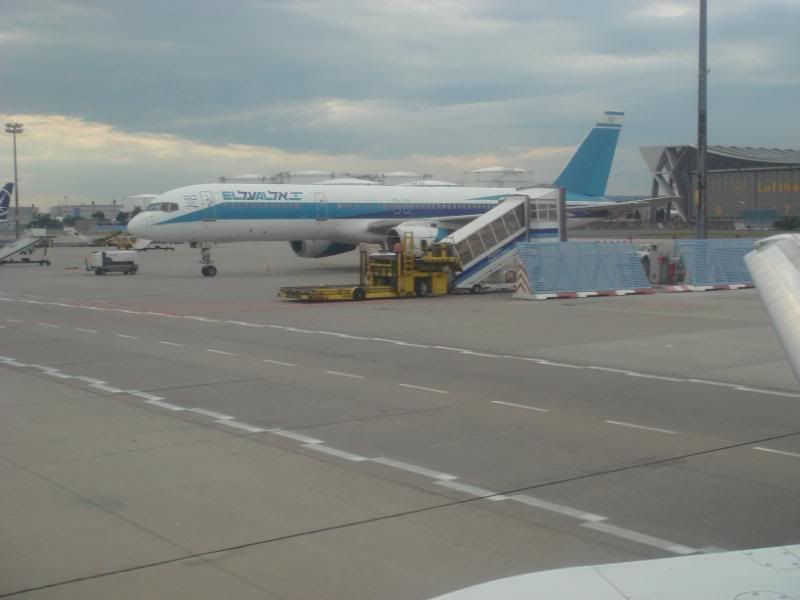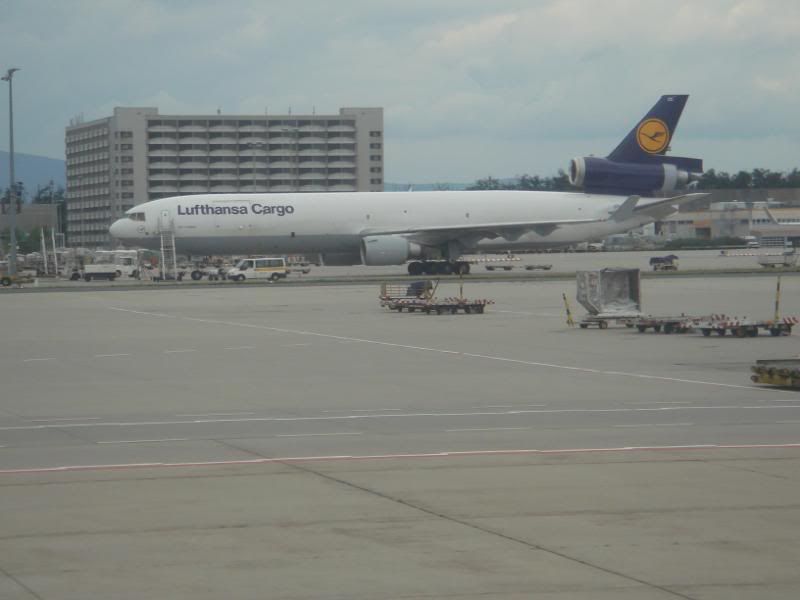 Climbing out of FRA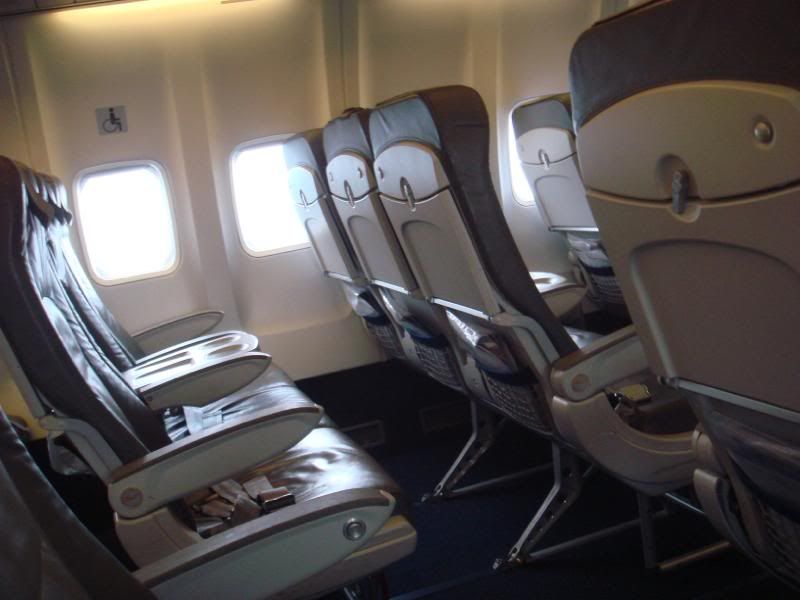 The River Rhine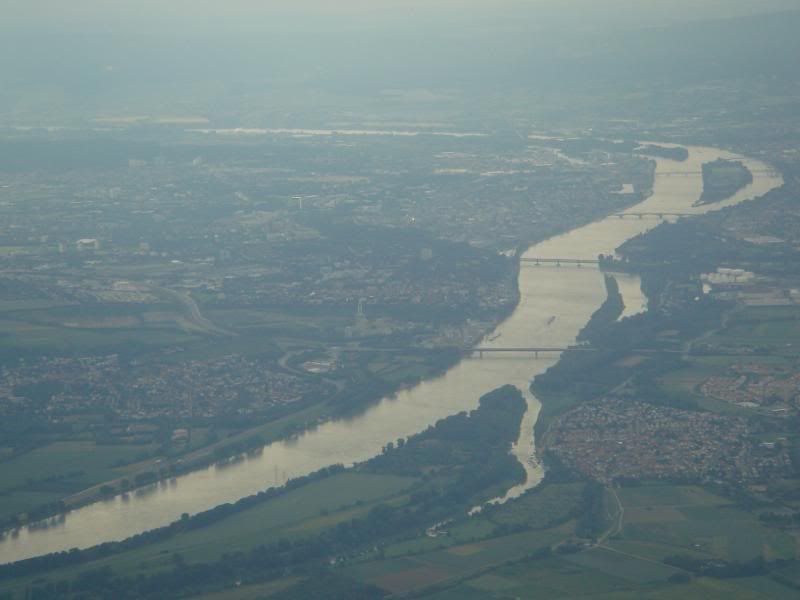 Flight time would be 1.15 this evening. We did not receive any information about our routing on any of today's flights. Service was efficient and friendly, but not overly so. We had 2 female flight attendants looking after 4 passengers in business class. We were served individually without using carts and I had a G&T before the meal service.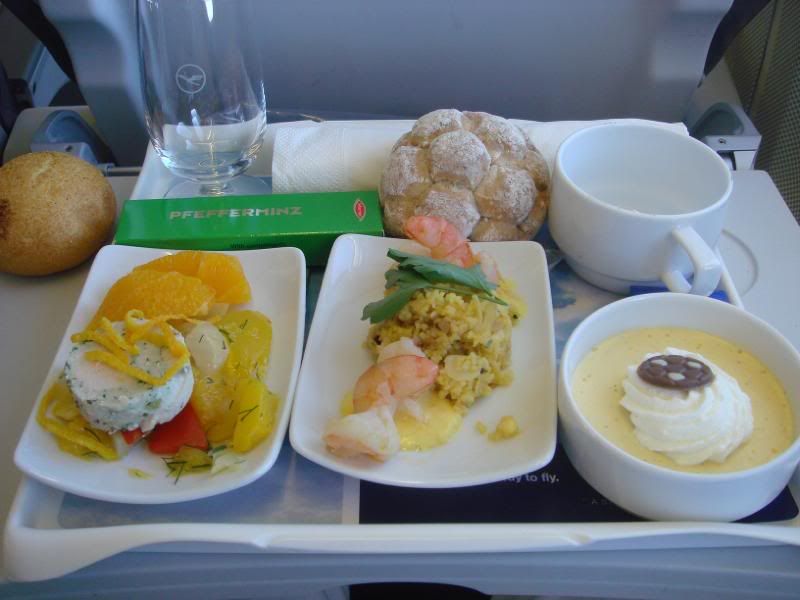 The meal comprised a fish terrine and citrus salad; prawns with cous cous; a vanilla custard and a peppermint cream bar. Note the football-shaped bread roll! A nice touch. Tea and coffee followed. By now we were over the Hook of Holland.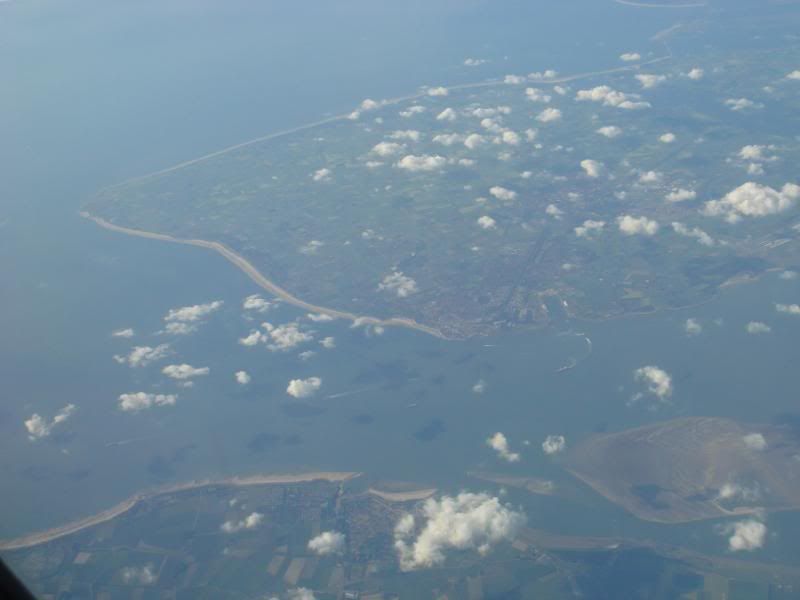 We made our descent over the Thames Estuary and then underwent the customary 20 minute circling over Biggin Hill before making our final approach over the City.
Canary Wharf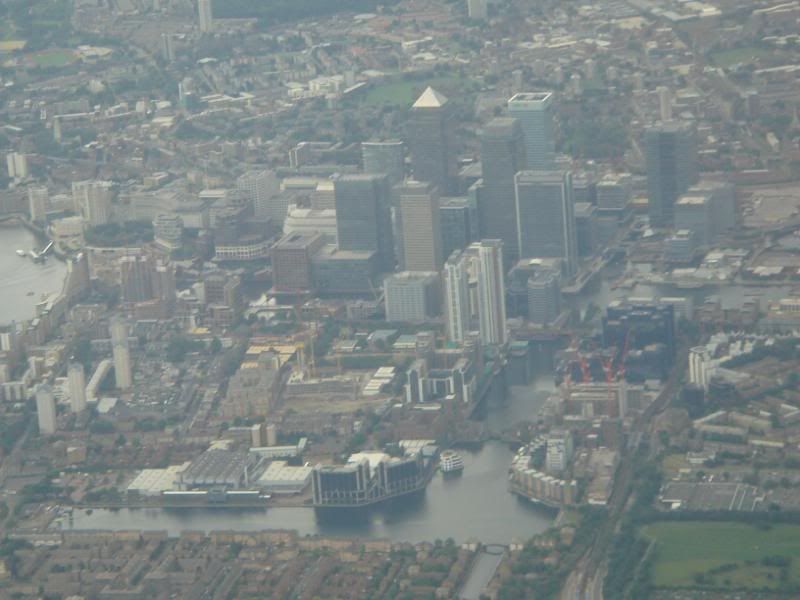 The City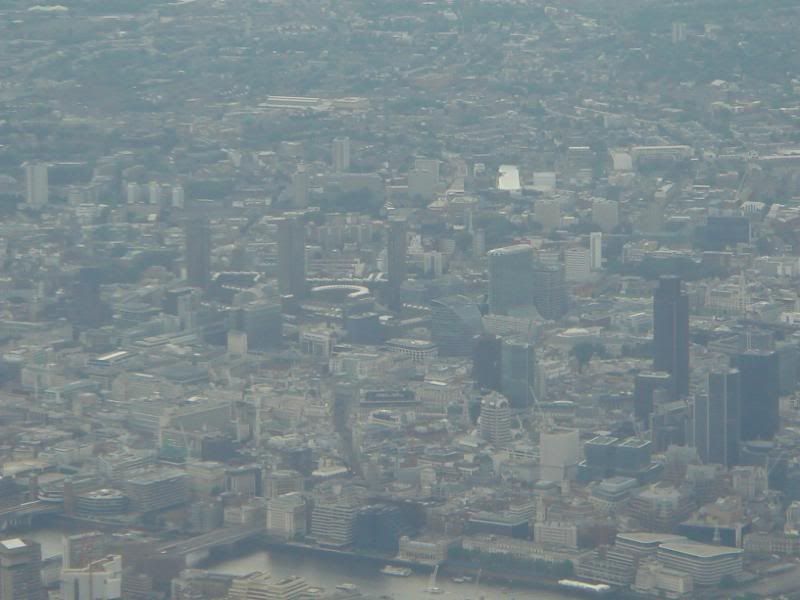 Westminster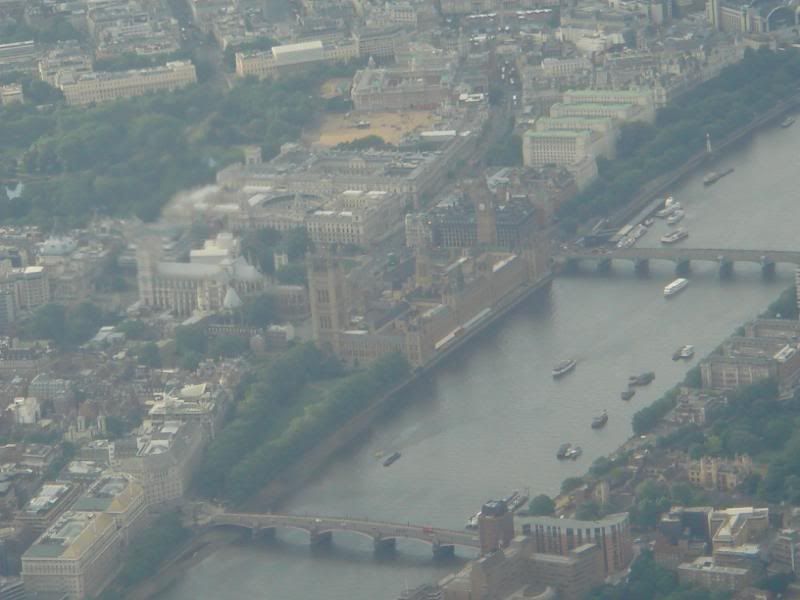 Green Park
My house is in this photo, but it is not Buckingham Palace! ☺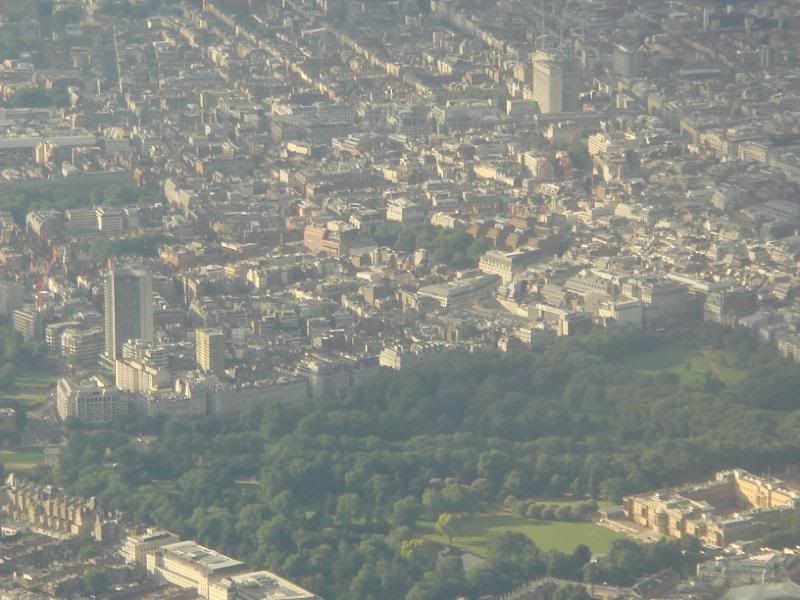 Concorde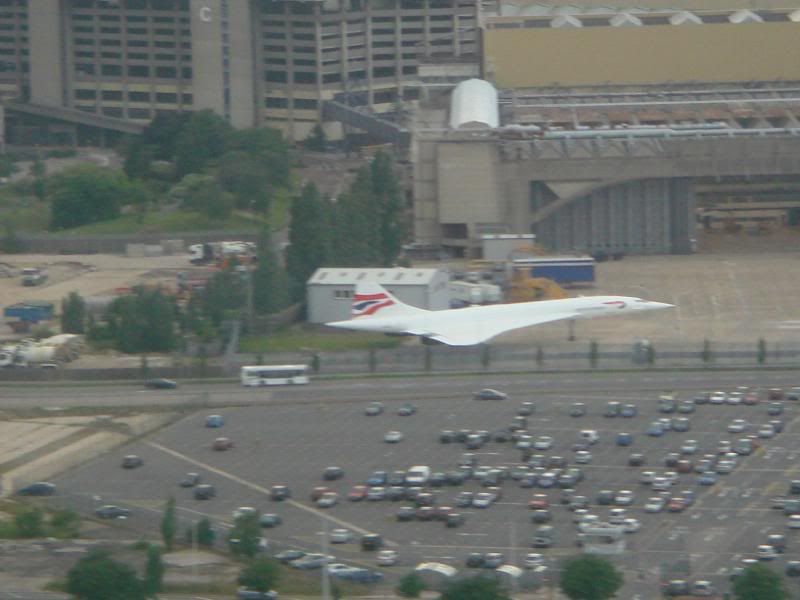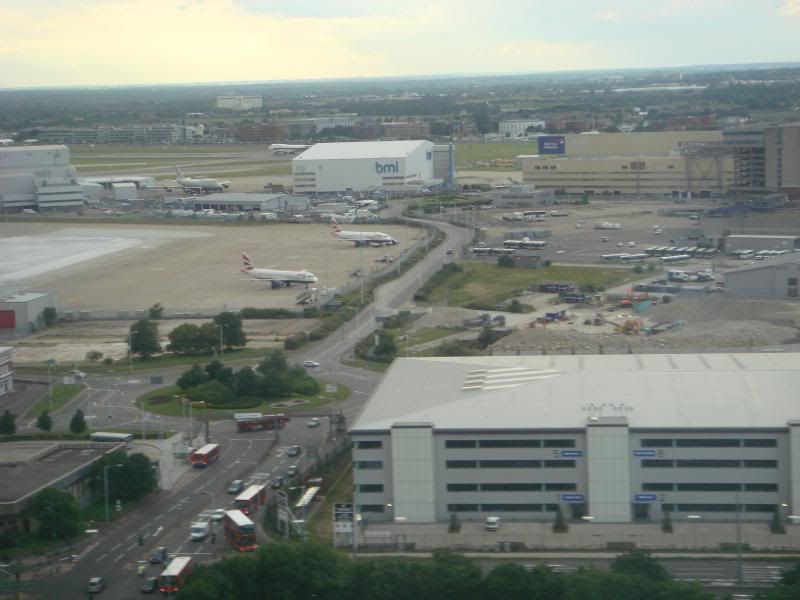 Ouch!
Another reminder of Euro 2008- Austrian special livery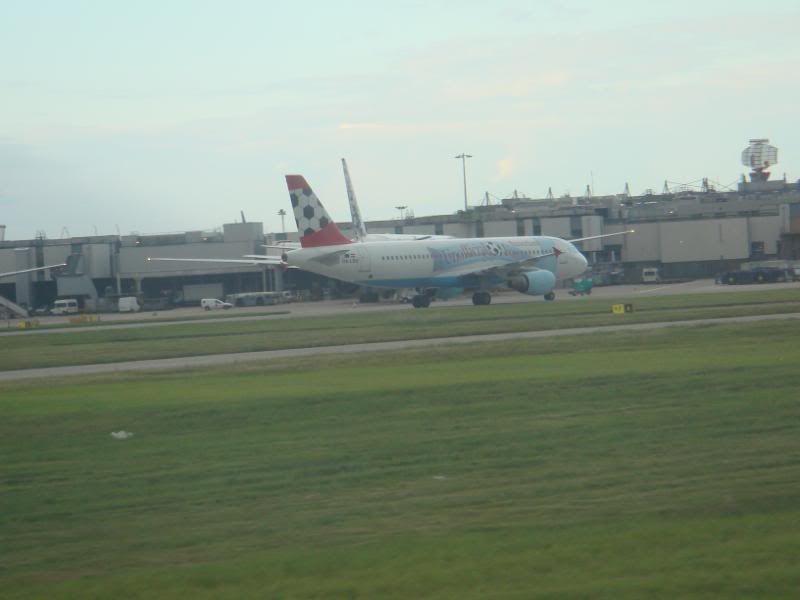 Still strange to see Continental at Heathrow!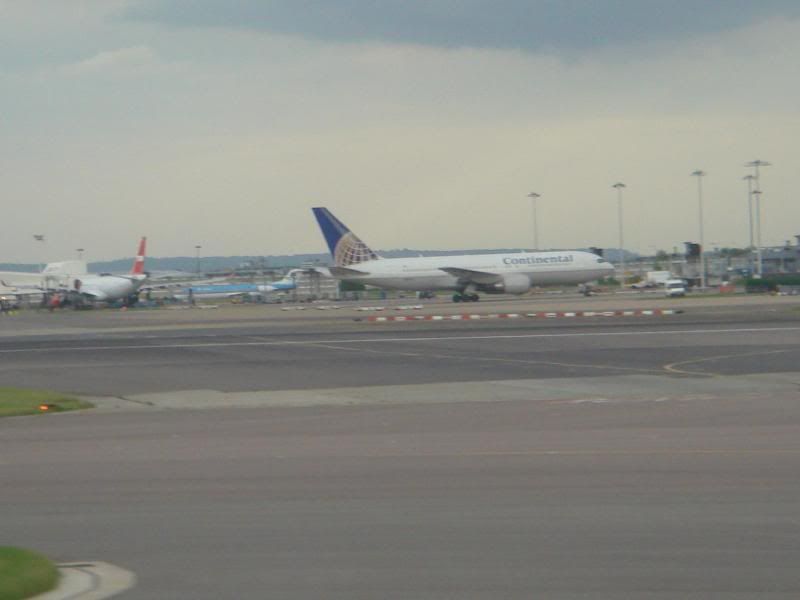 Typical T2 scene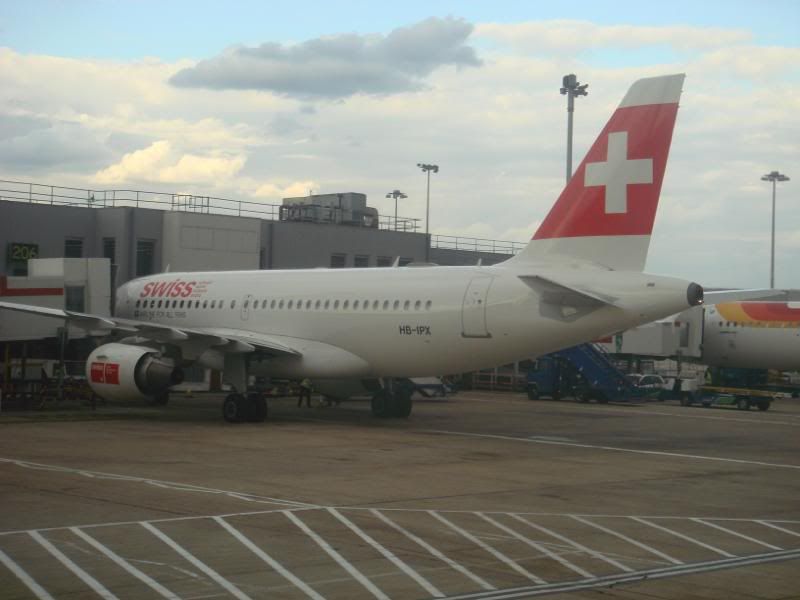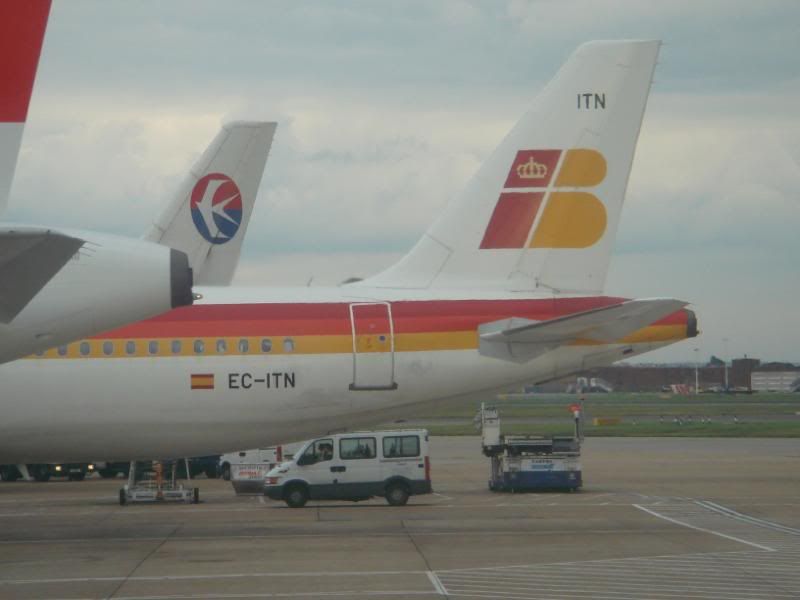 And it was back into the dinginess of Heathrow Terminal 2. Another fun day of flying was over. How would I rate LH? All flights were on time, the cabins in business class were comfortable and well appointed. In fact, probably the most pleasant flight of the day was the Contact Air ATR. Service is efficient, but I would say that service levels on Swiss are slightly better, and the food is also marginally better, not that I had any complaints about LH food. LX cabin crew seem to inject more warmth and personality into their interaction with customers, but as I always fly Star Alliance where possible, I am happy to stick with LX/LH/OS when I fly in Europe.
Thanks for reading this long report. I know that some of the photos are repetitive and sub standard, but I got rather carried away by the embarras de richesses that Frankfurt offers the average spotter!