Hi Folks,
Plans were building up to visit Hyderabad for a day trip and therefore myself, along with fellow Airliners.net members vivekman2006 and Karan69 decided to make the trip. Our Itinerary was as follows:
IT 161 BOM - HYD 21 June 0630 0745 A319
IT 166 HYD - BOM 21 June 2120 2305 A319
First Leg of the journey: Mumbai - Hyderabad ( Shamshabad )
Flight no.: IT 161
Terminal Used: 1A (Domestic)
Terminal View:-
Being an early morning flight out of Mumbai, I had to leave Pune the previous day. Myself and Vivek started for the airport at approx. 0450 hrs and reached the airport at about 0515 hrs. As soon as we reached airport we entered through the Kingfisher Airlines entrance. Nothing much had changed in the interiors from my last trip out of BOM to DEL. The terminal view was the same, deserted counters at KF as well as IC. Not all that crowded. Renovation work going on, the same like how it was the last time we had traveled.
Check-in & Staff Interaction:-
There was absolutely no queue and even before we could reach the counters a Kingfisher agent checked me in using her mobile boarding pass printer, as I had no bags to be checked-in. This idea is good during crowded times. Vivek being a Kingfisher gold card holder , had access to the Kingfisher lounge and could take one person along with him. So he very kindly agreed to take me in. The lounge was silent, had just 3 more people in along with us. They had cup cakes and shrewsberry biscuits and tea/coffee for their guests in the lounge. Though the options were limited I doubt anyone would bother to eat much at that time of the day, at 0545 hrs. Me and Vivek had some though and it was surely tasty. As we were munching our cakes, Karan called us informing that he had checked-in and was waiting outside the security check area. Also it was 0545 hrs by that time so we immediately left the lounge and together all of us cleared the security check.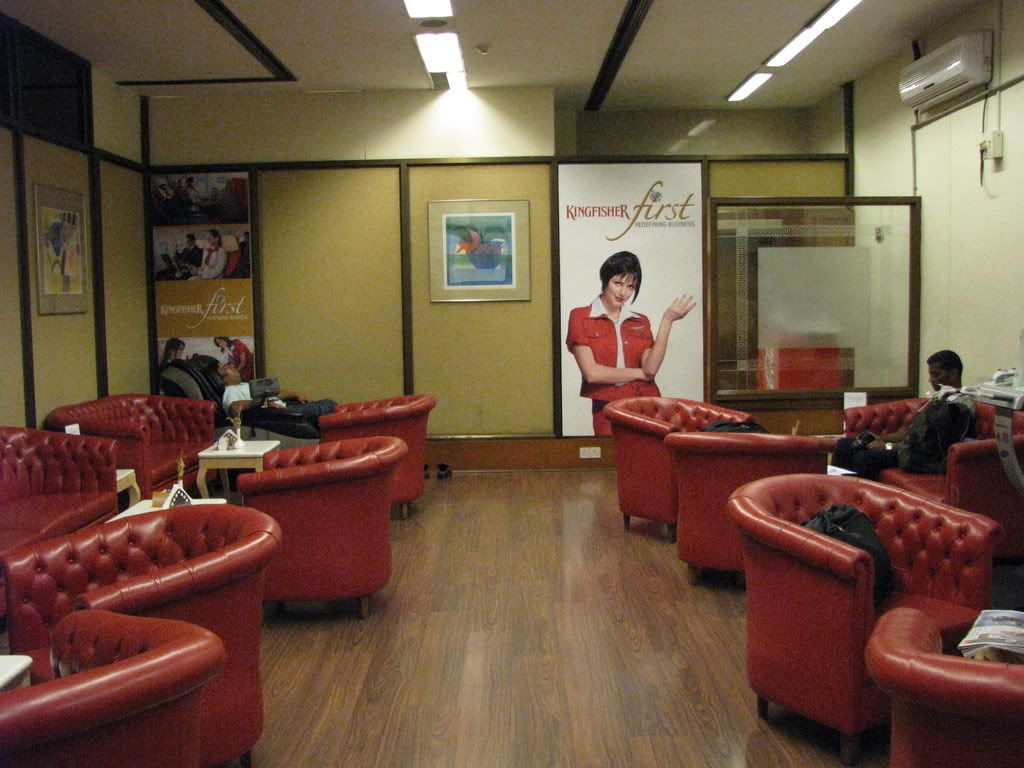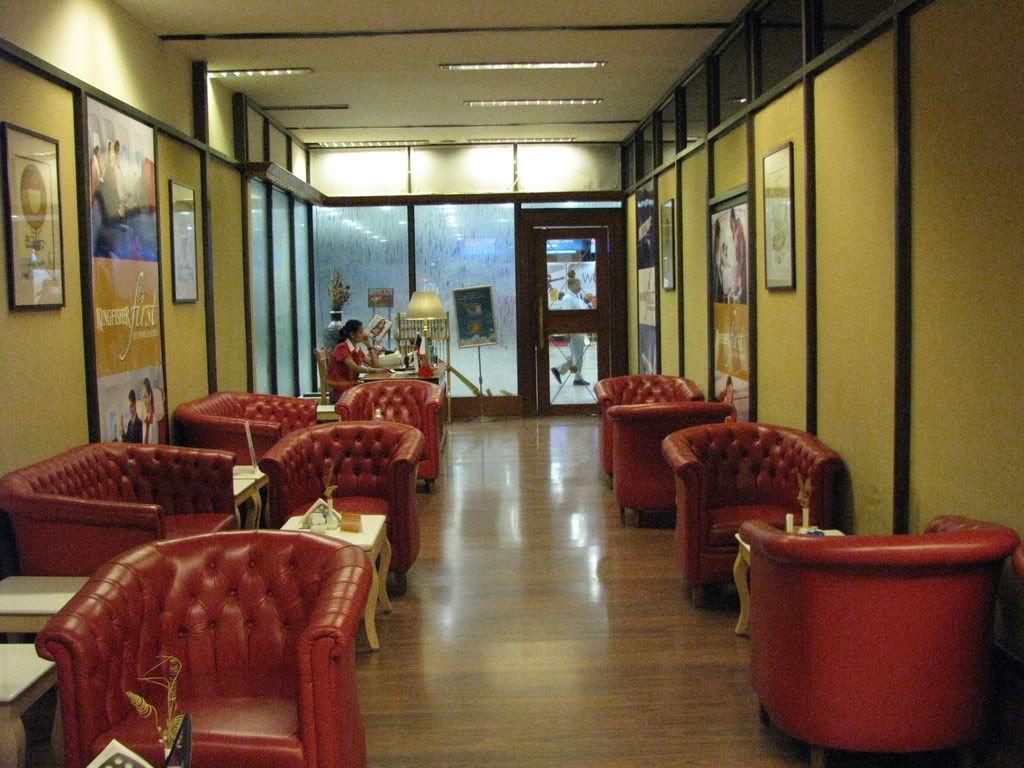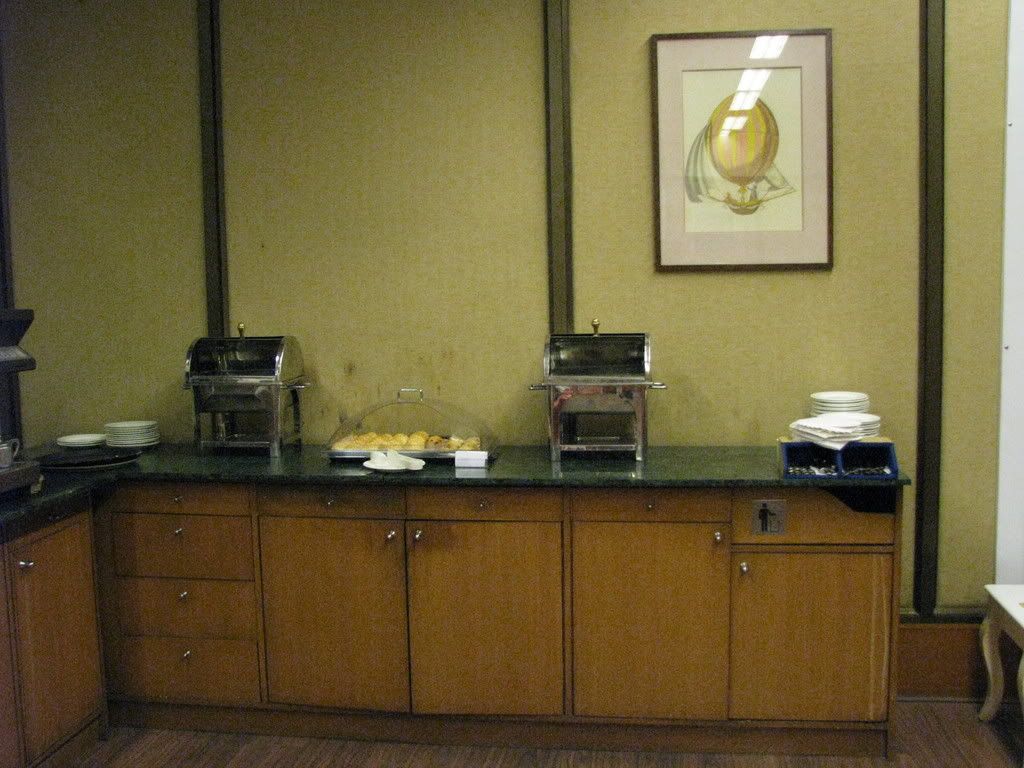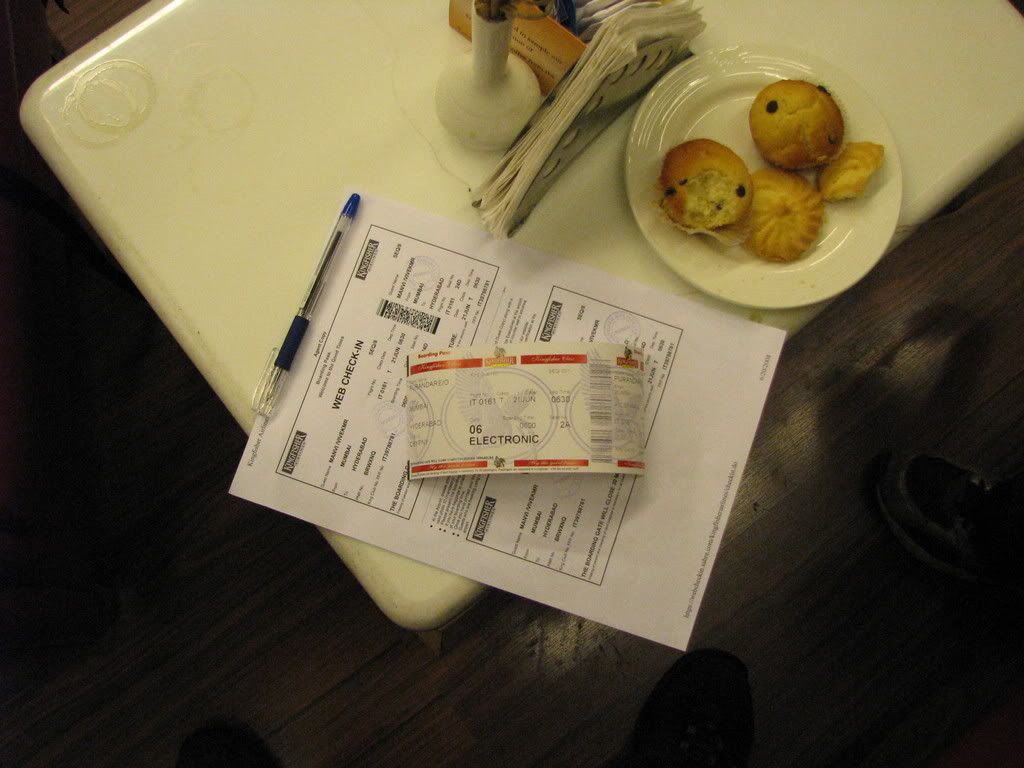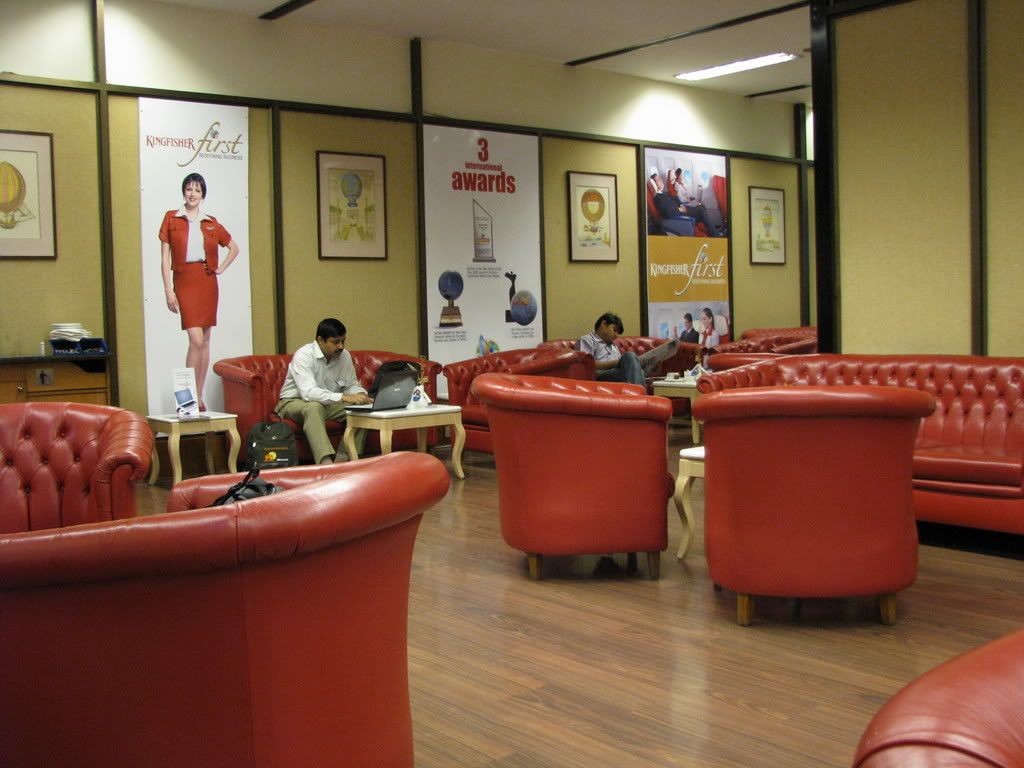 Boarding & Details of the flight:-
Flight No. IT 161
Aircraft : A319-132
Registration: VT-KFJ
Gate No. 6
Seat No. 2A
Loads: 66/144 i.e 46% approx.
Departure times:-
Boarding time: 0605 Hrs
Scheduled: 0630 hrs
Actual: 0626 hrs
Airborne: 0639 hrs
After walking towards the gate we could see our aircraft docked at the gate. However, once we were in the departure hall we had to wait for sometime till the boarding announcement was made. At about 0605 hrs boarding began, and we boarded the flight when the boarding process was almost over. Upon boarding we were greeted by the KF FA's. I think with the losses airlines are facing, the sadness of that fact was even visible on the face of their FA's, with their absent smile and half hearted greetings. I settled down on my seat, and the seat next to me was empty with some companion at the aisle. Karan was seated right in front of me and thus we were able to chit chat about the happenings in the flight.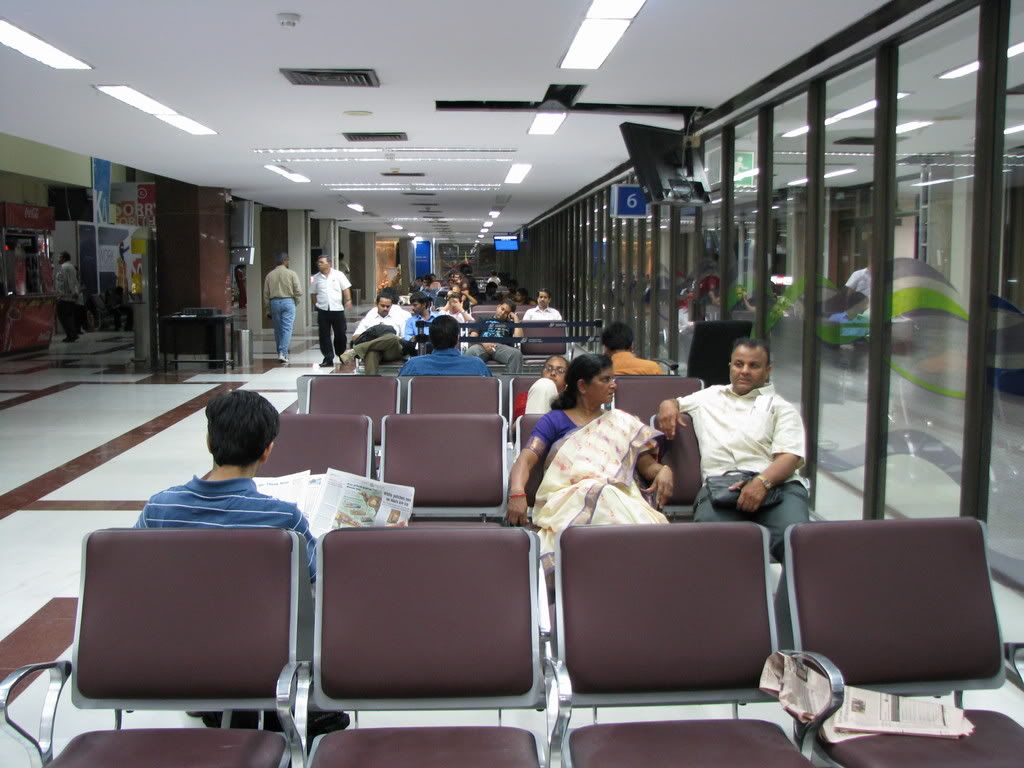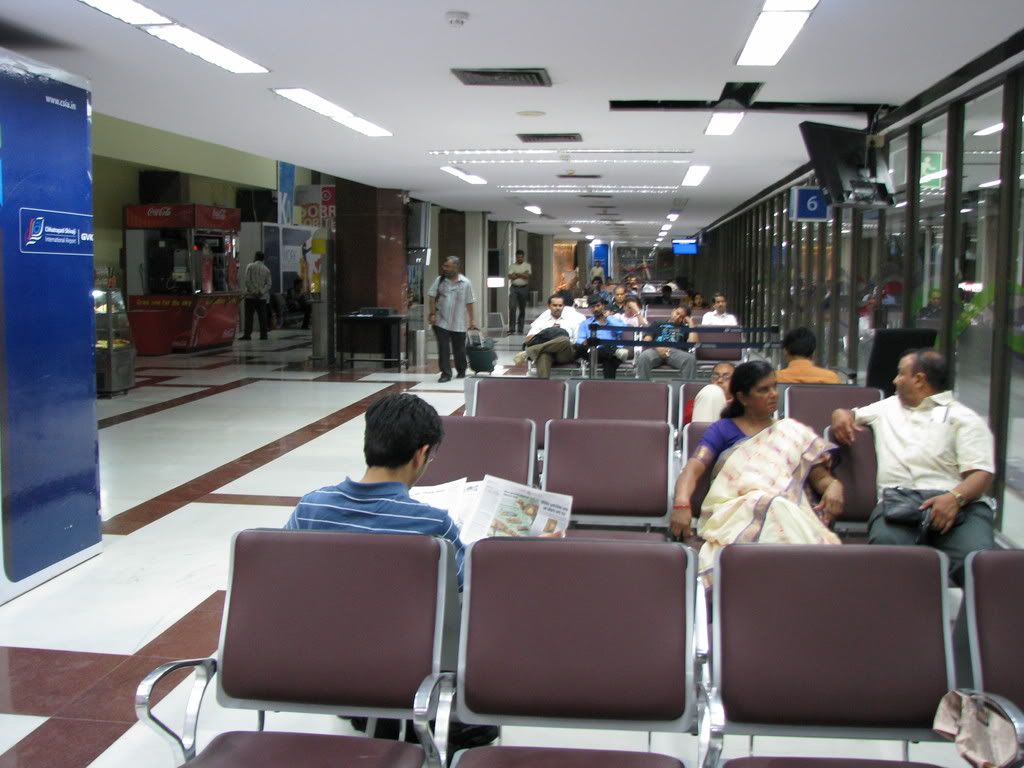 Inflight:-
Being an all Economy class flight it was easy for us to get the flight deck view. After boarding was over crew distributed some fresh lime (which in my previous domestic trip IC did not serve even on the premium BOM - DEL route!). After that the Kingfisher amenity kit which has downsized a LOT! Earlier a pack filled with goodies along with menu, mint, pen, chocolates, earphones, fresh towel etc. Now it was just headphones , pen and menu and that too a cardboard pack that is it. The second instance of cost cutting. Soon we pushed back and yet again me and Karan were praying that we should take off from Runway 14 but alas yet again before the transmission of prayers we were already running towards the taxiway and we would now depart from RWY 27. Here are some pictures while taxiing. The aircraft window was pretty dirty so hence the pictures were ruined.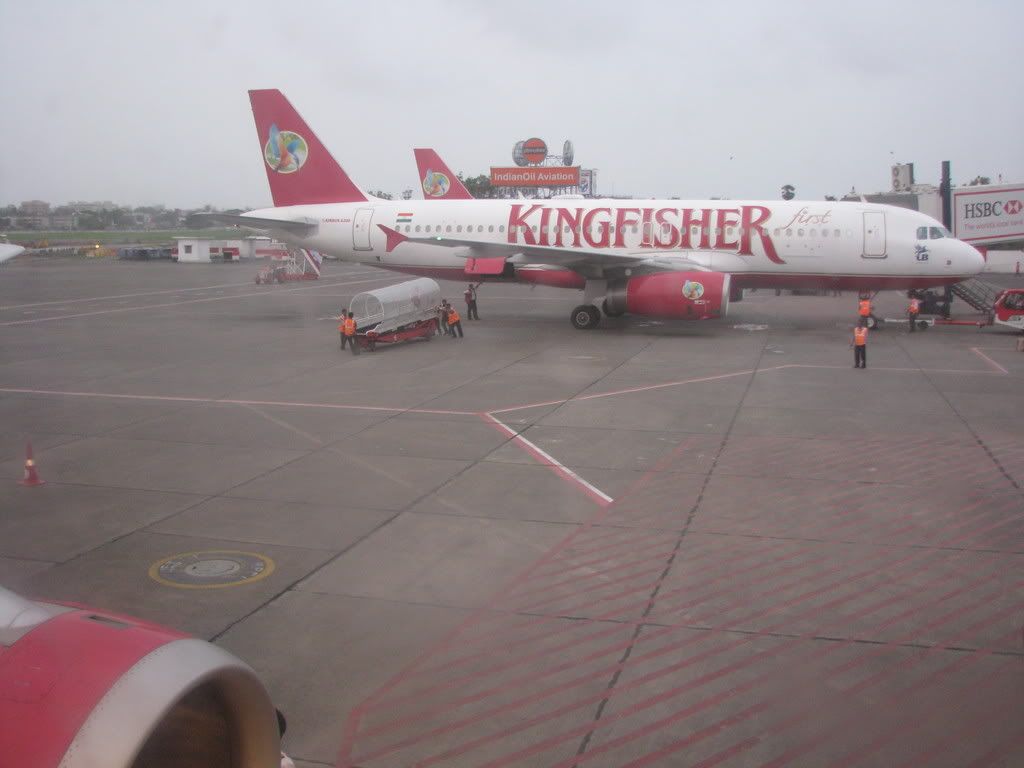 Decent leg room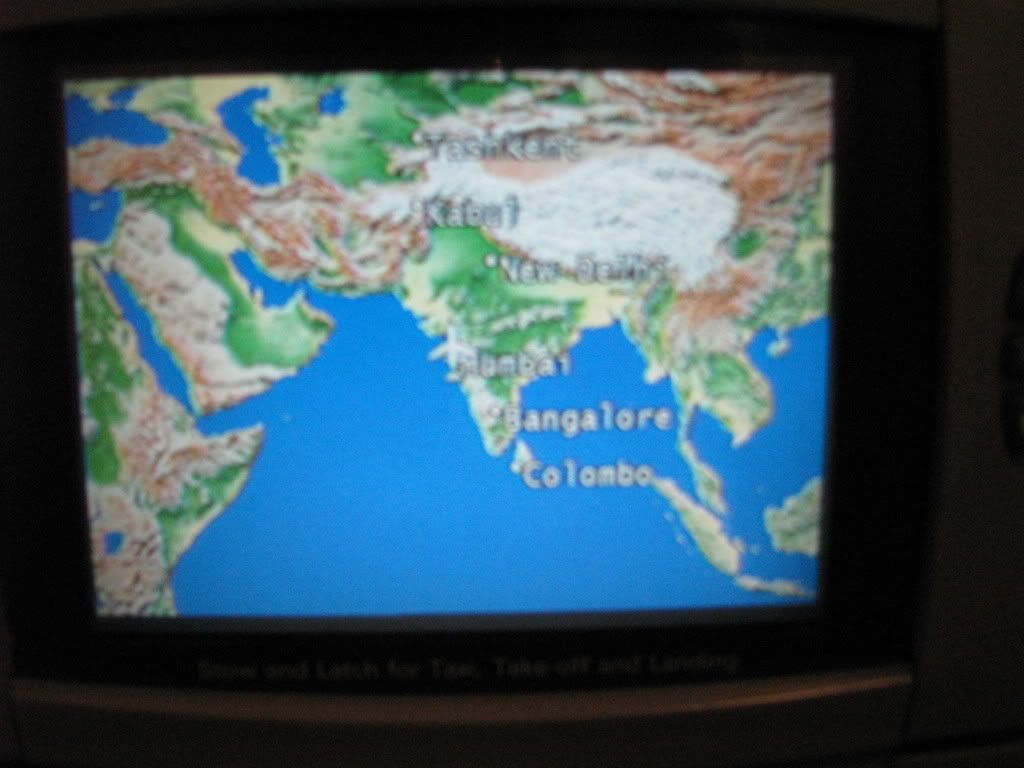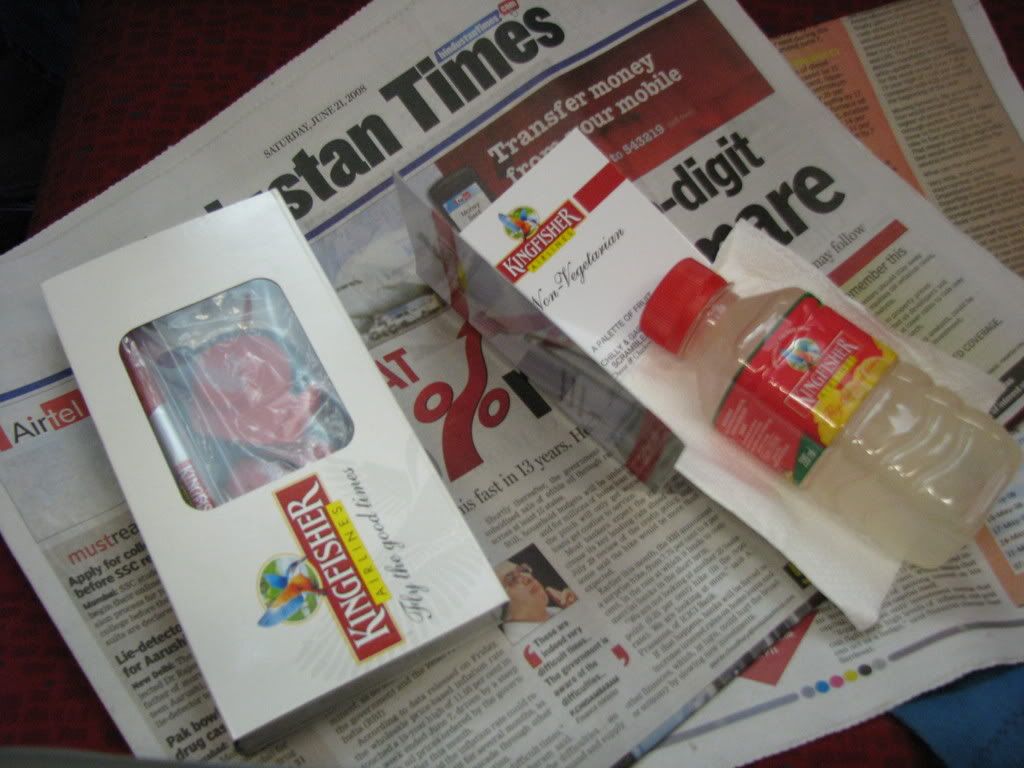 The downsized amenity kit.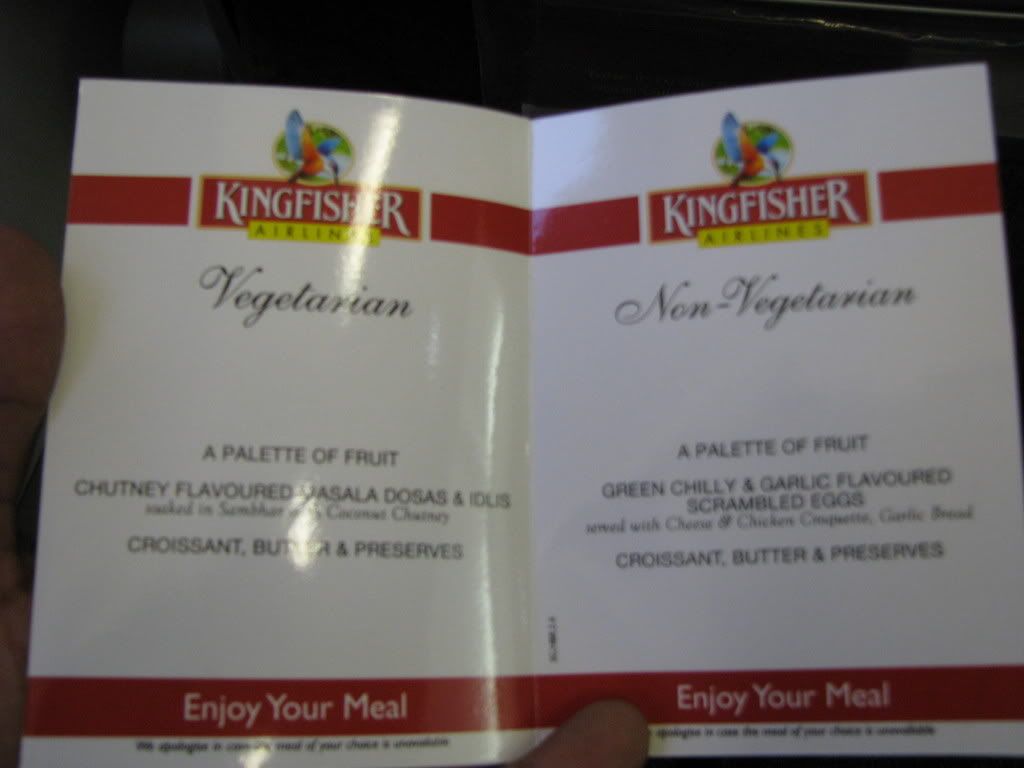 The menu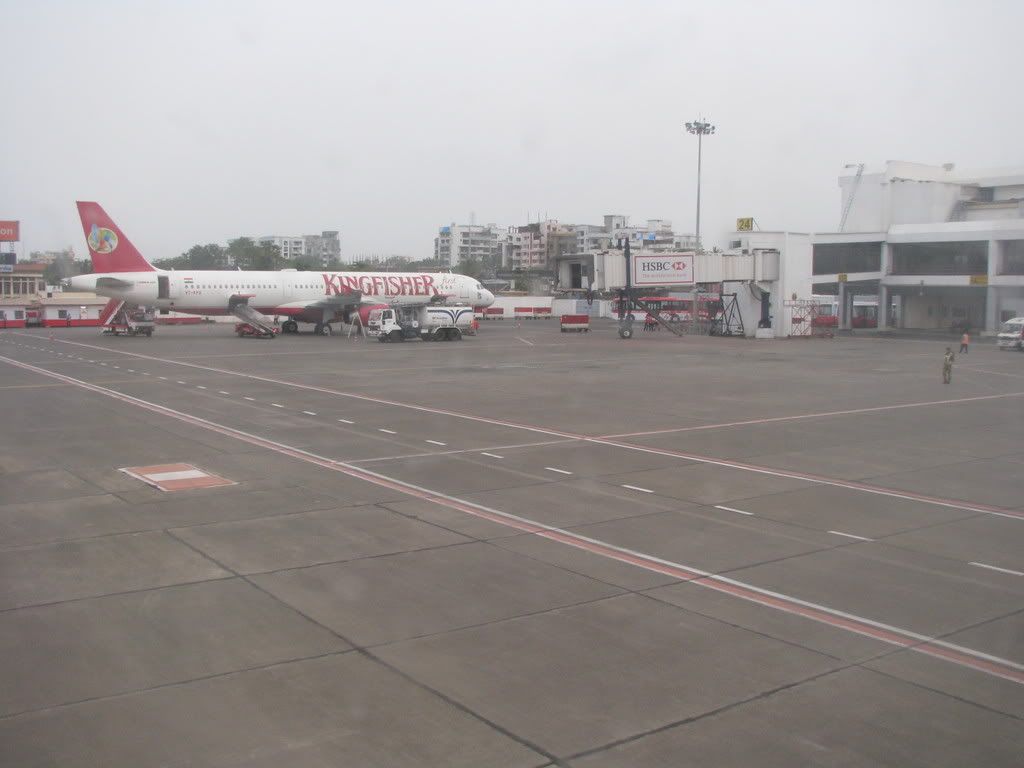 From the Aircraft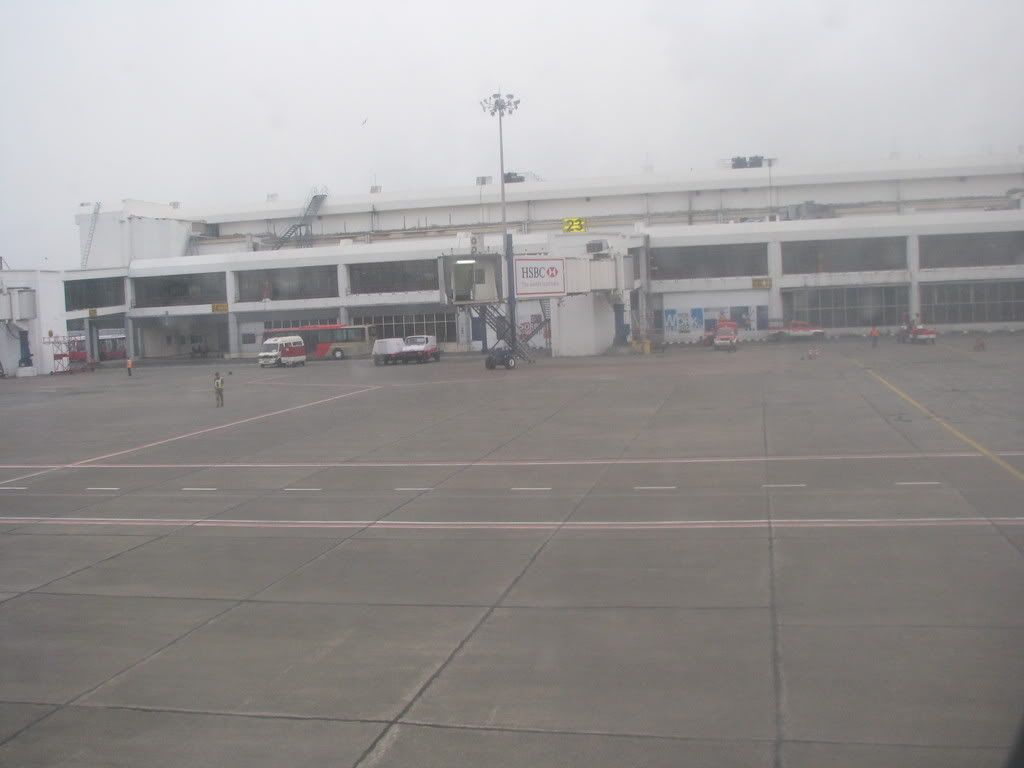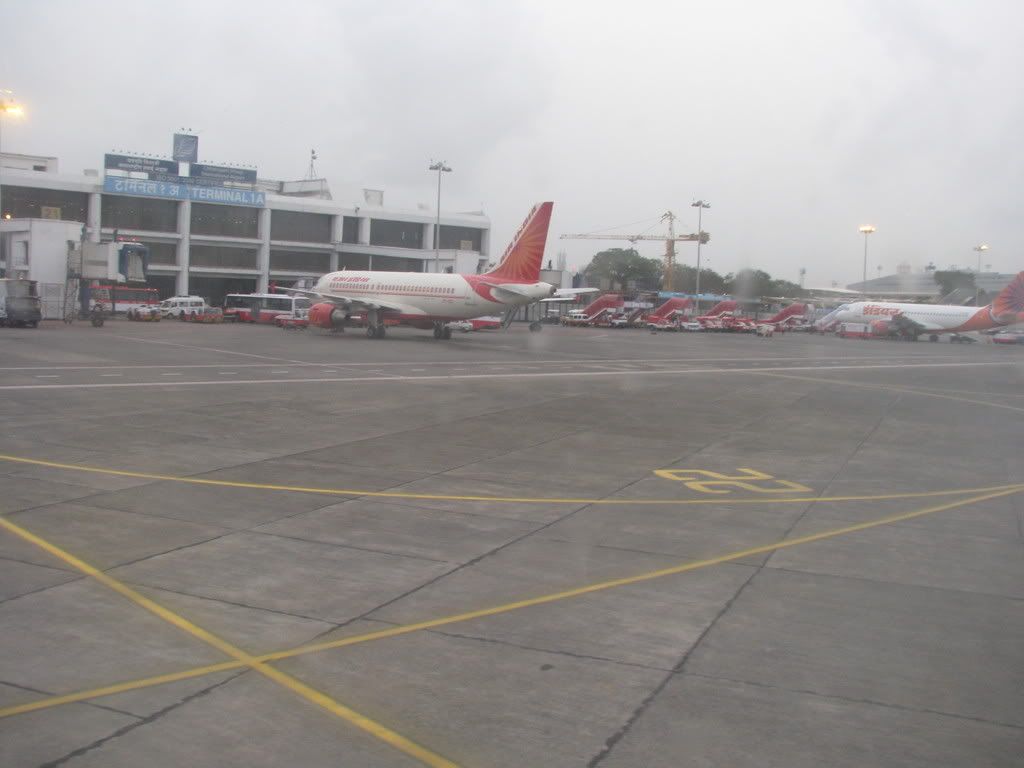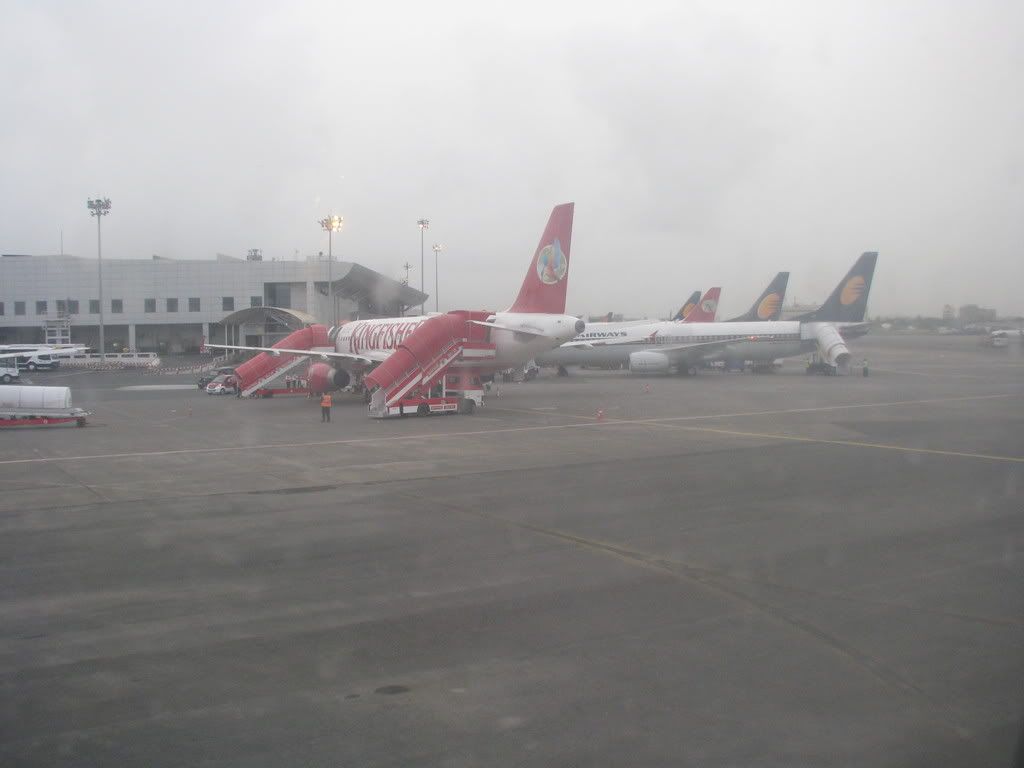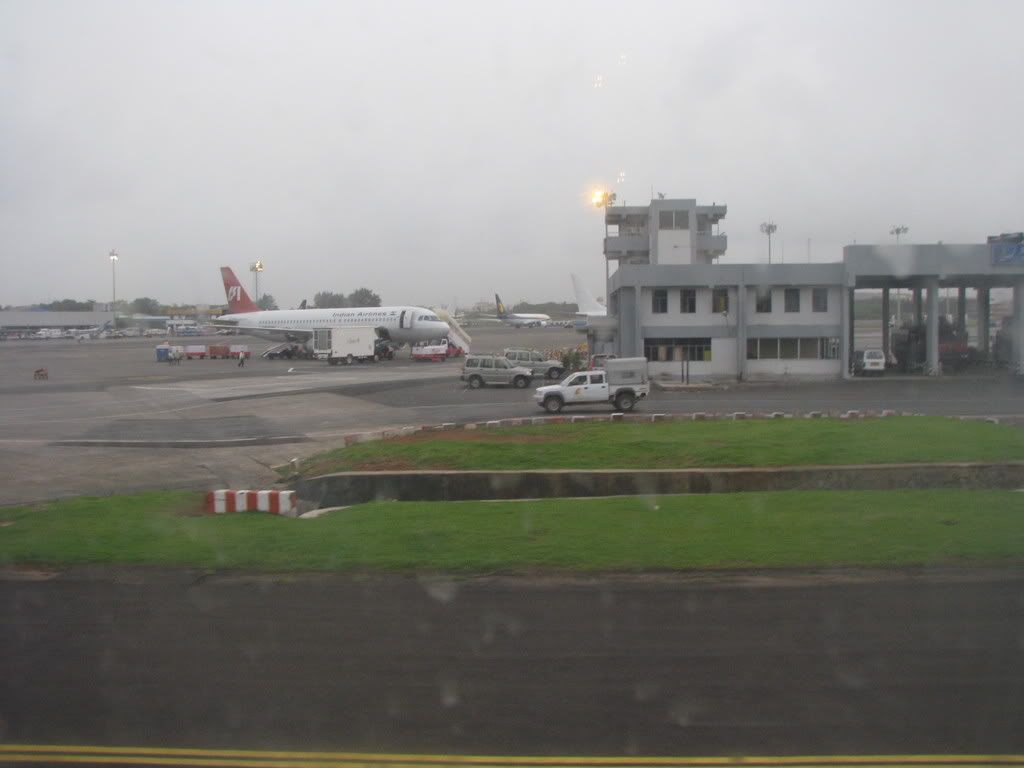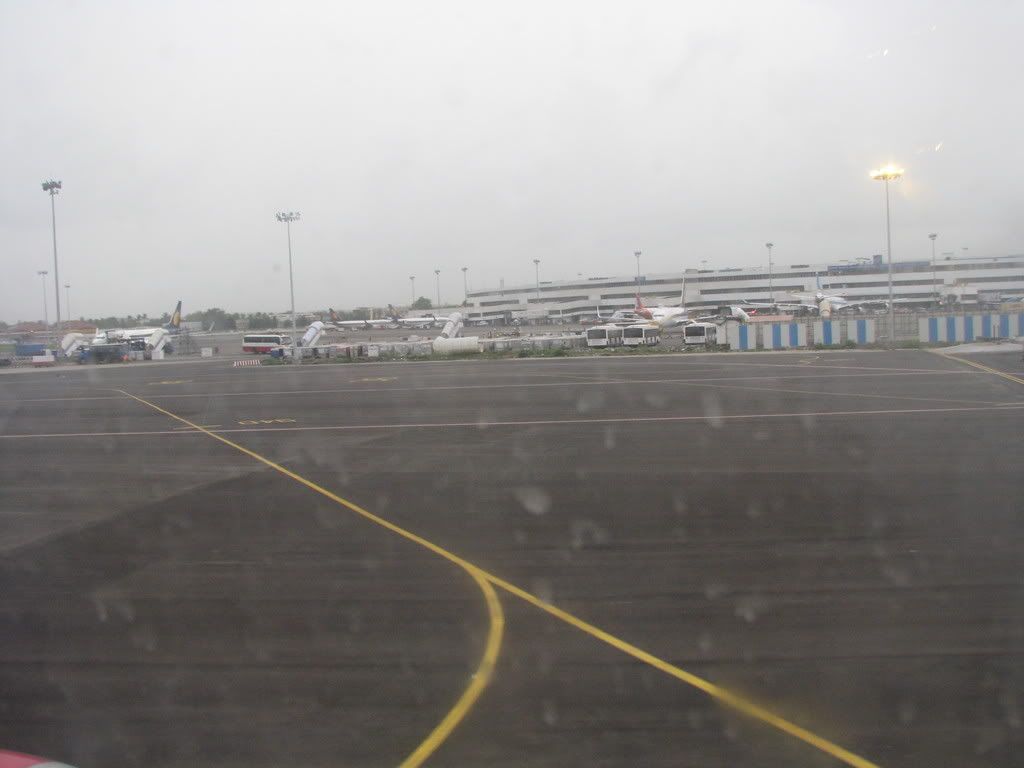 Check out the GF A330 in the new F1 livery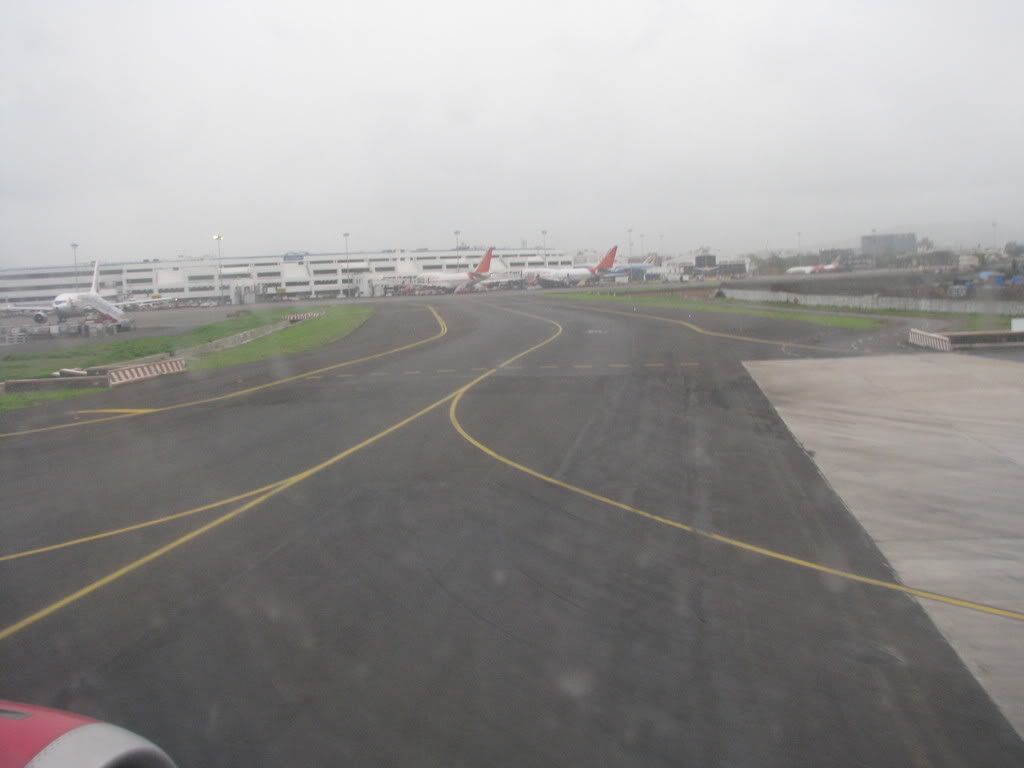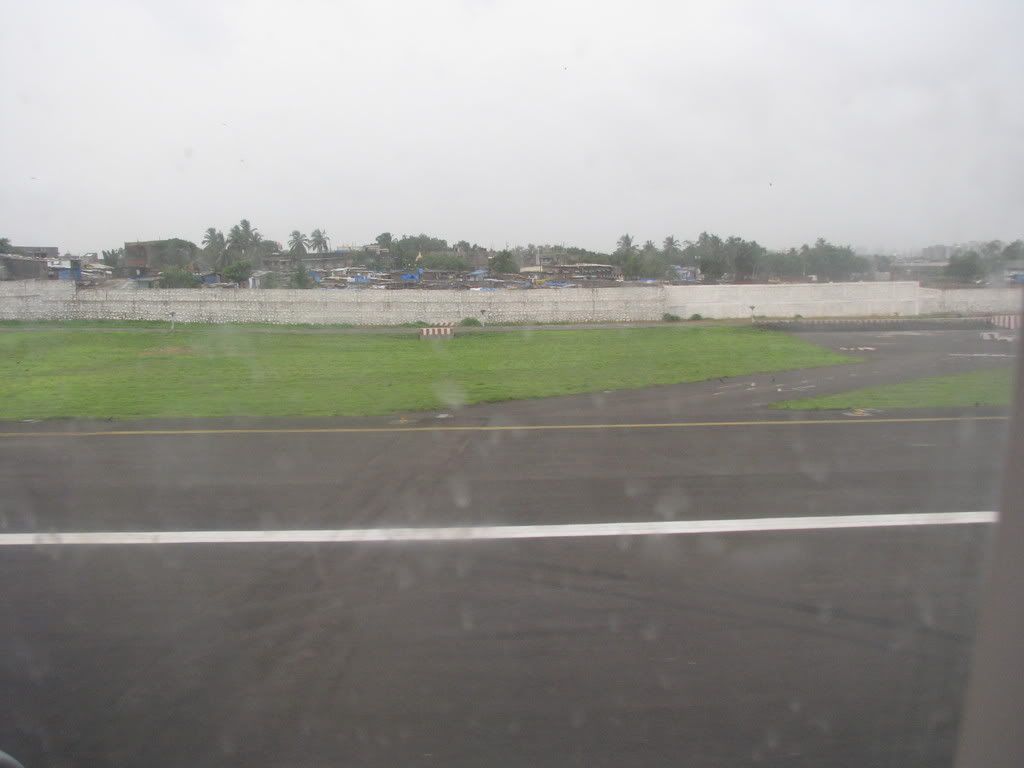 moving over A4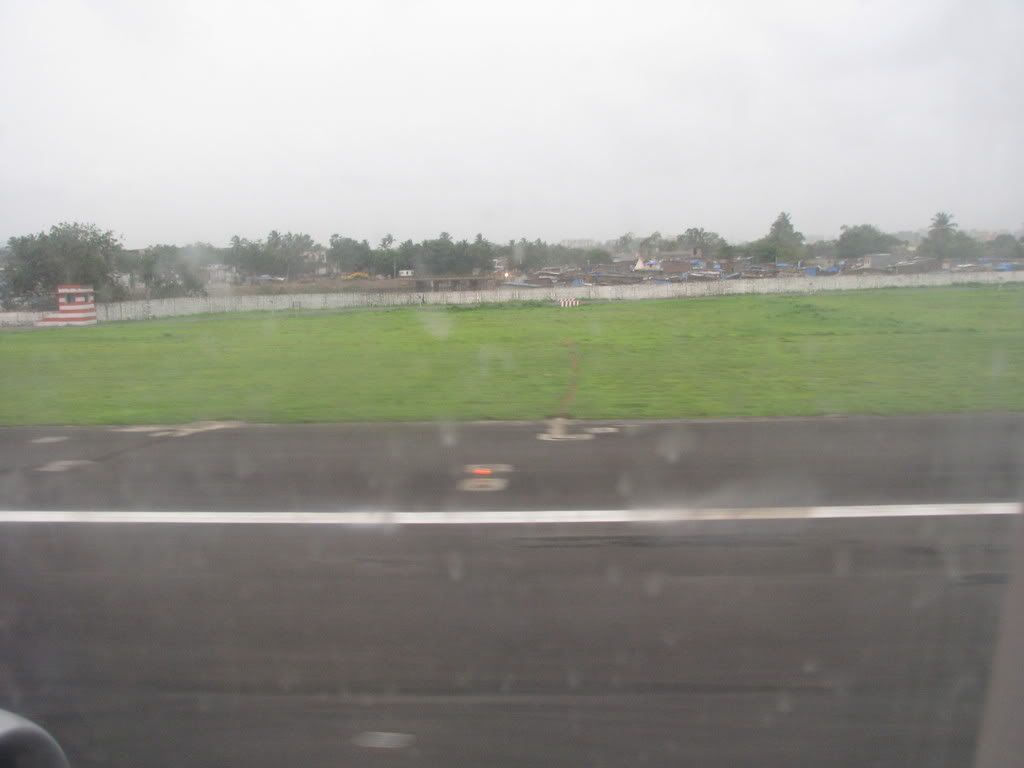 On RWY 27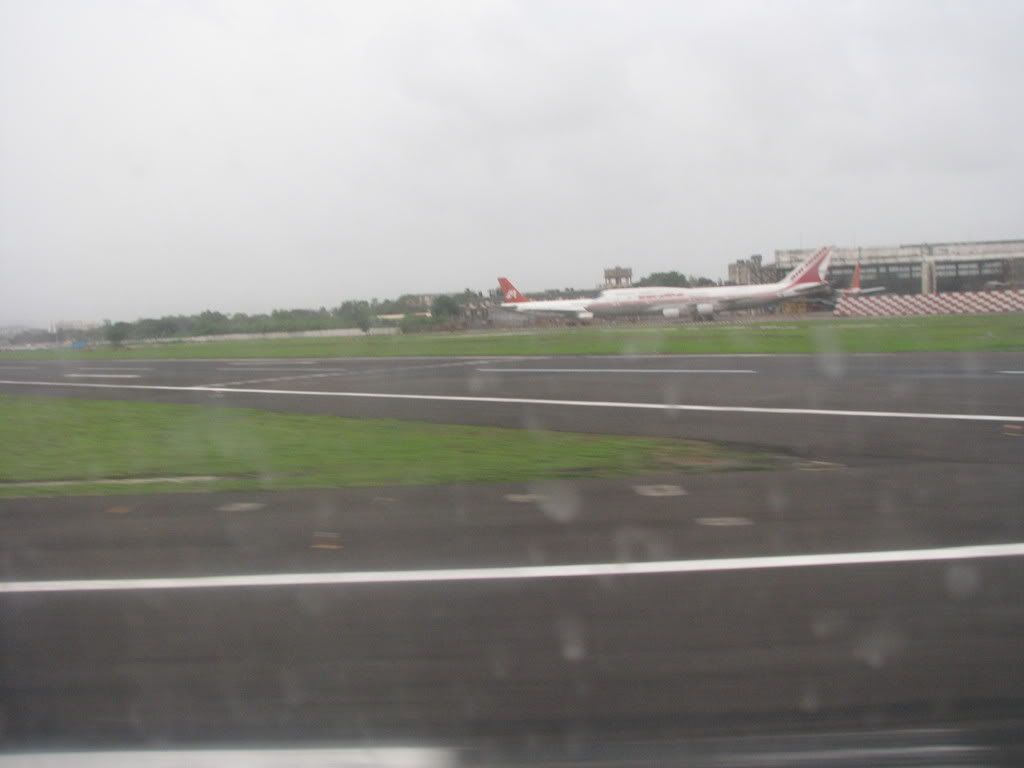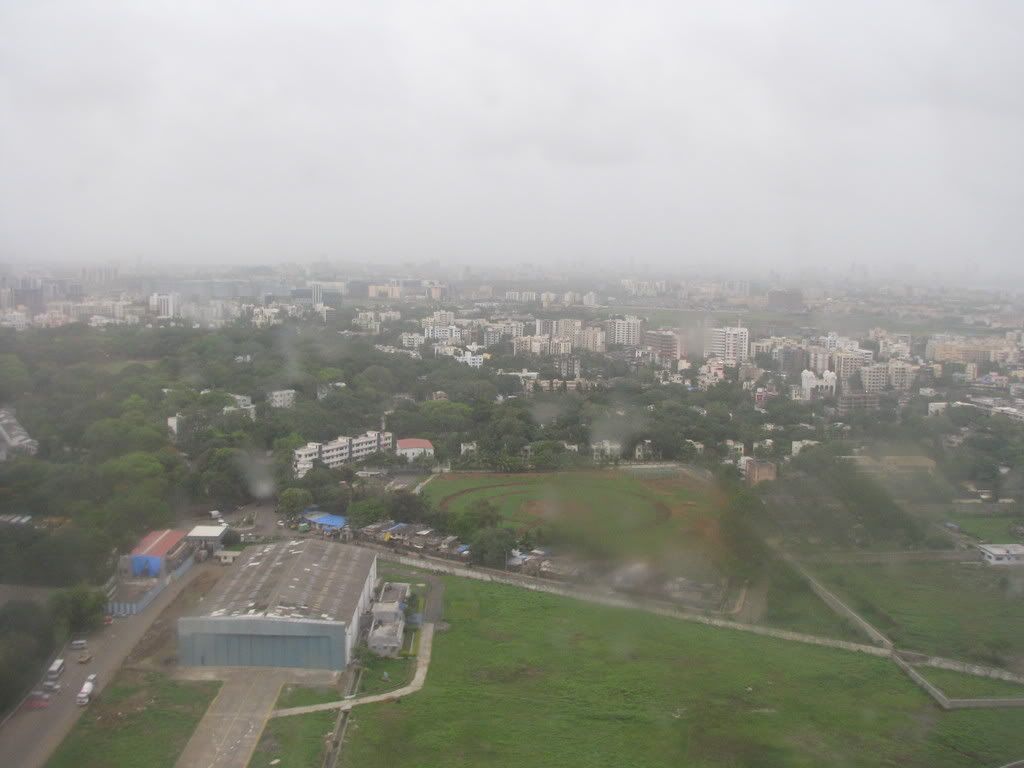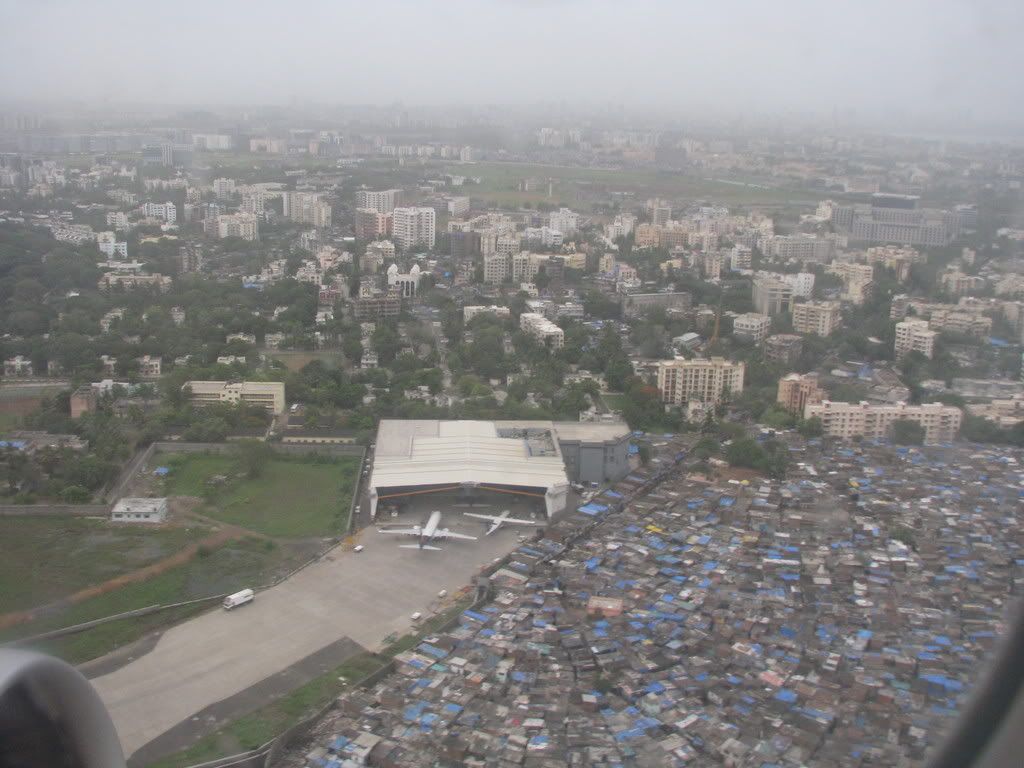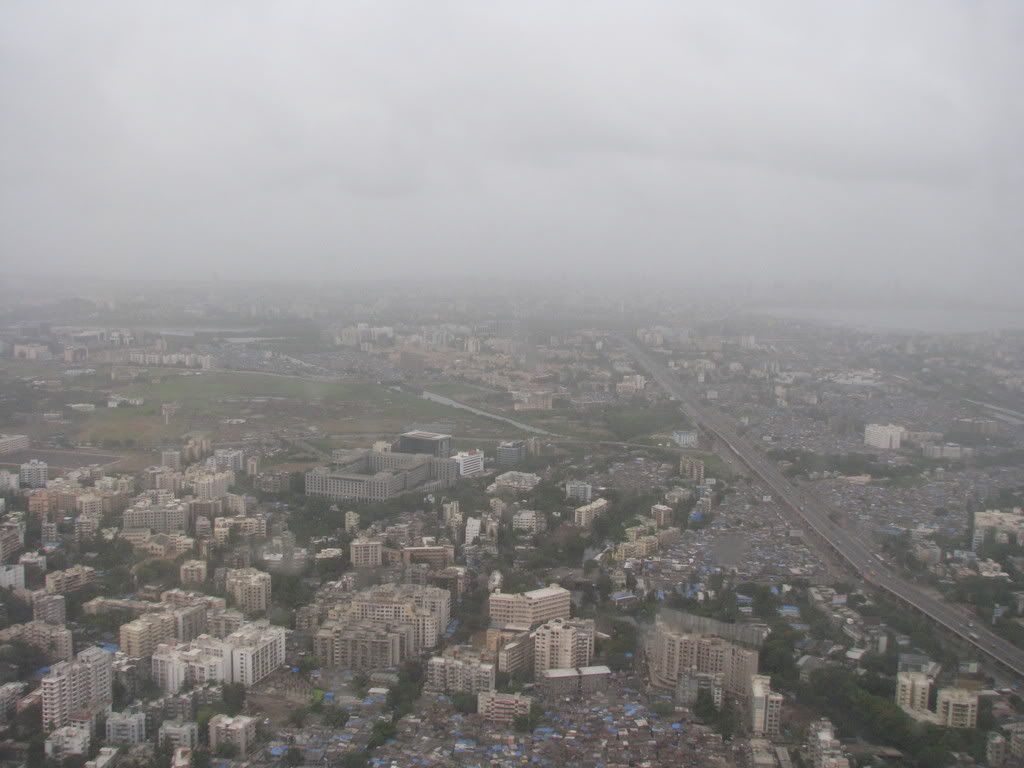 No congestion whatsoever and within 15 minutes of pushback we were airborne by 0643 hrs. We took a sharp turn to the left and were headed towards HYD. Seat belt signs were off and within no time the breakfast service began. It was a nice hot breakfast (sorry could not take pictures) as what was described in the menu. The food was not all that great, pretty ok. A round of tea/coffee was done. The IFE was exceptionally good though, Dish TV live. This was one of the best things of the entire trip. Though not much needed for a barely one hour flight, the IFE was very good. The FA's did their regular drill, in that pretext nothing all that eventful occurred. The weather was going to be fine throughout the flight as told by the FO, and we did have a smooth ride till HYD.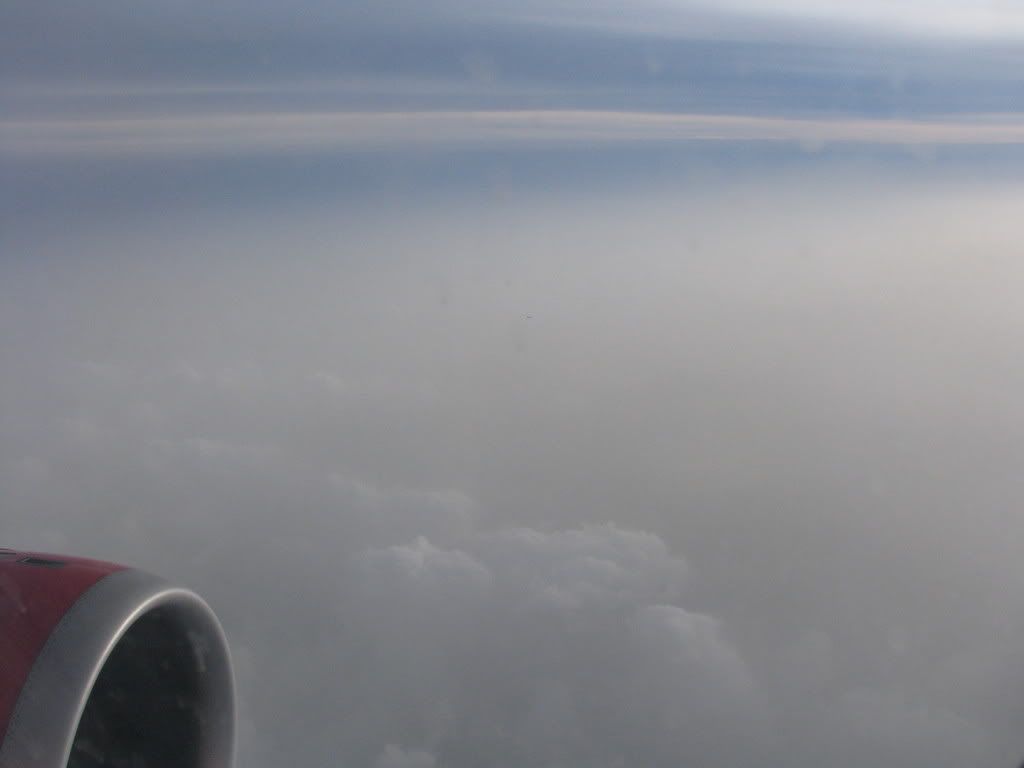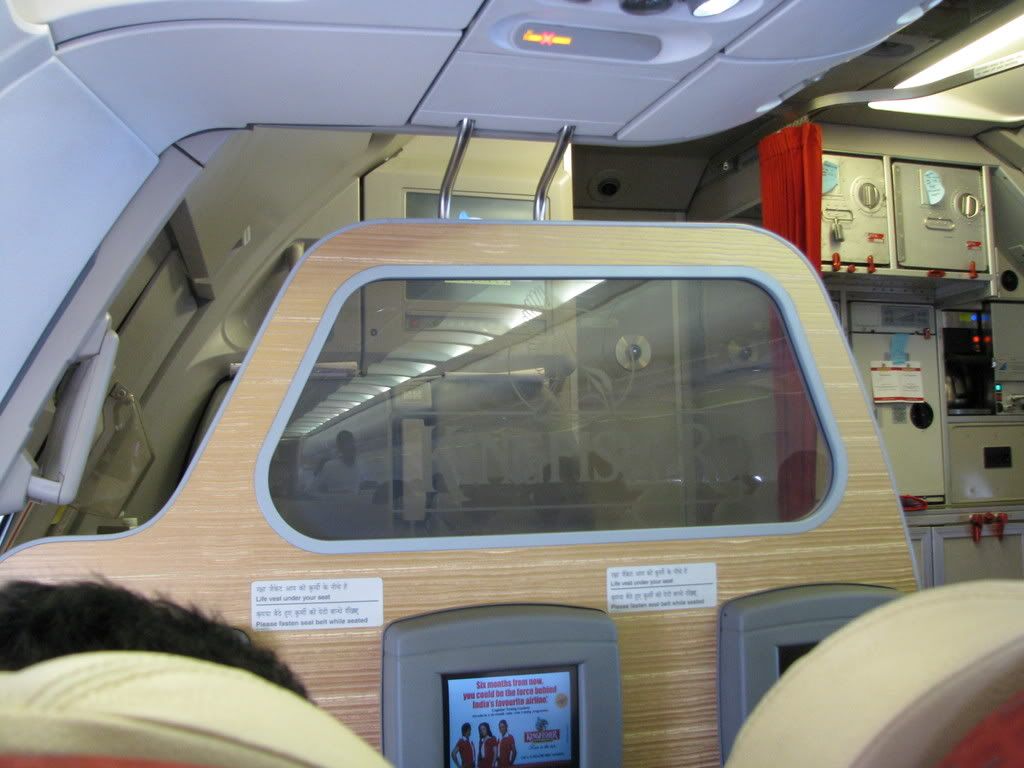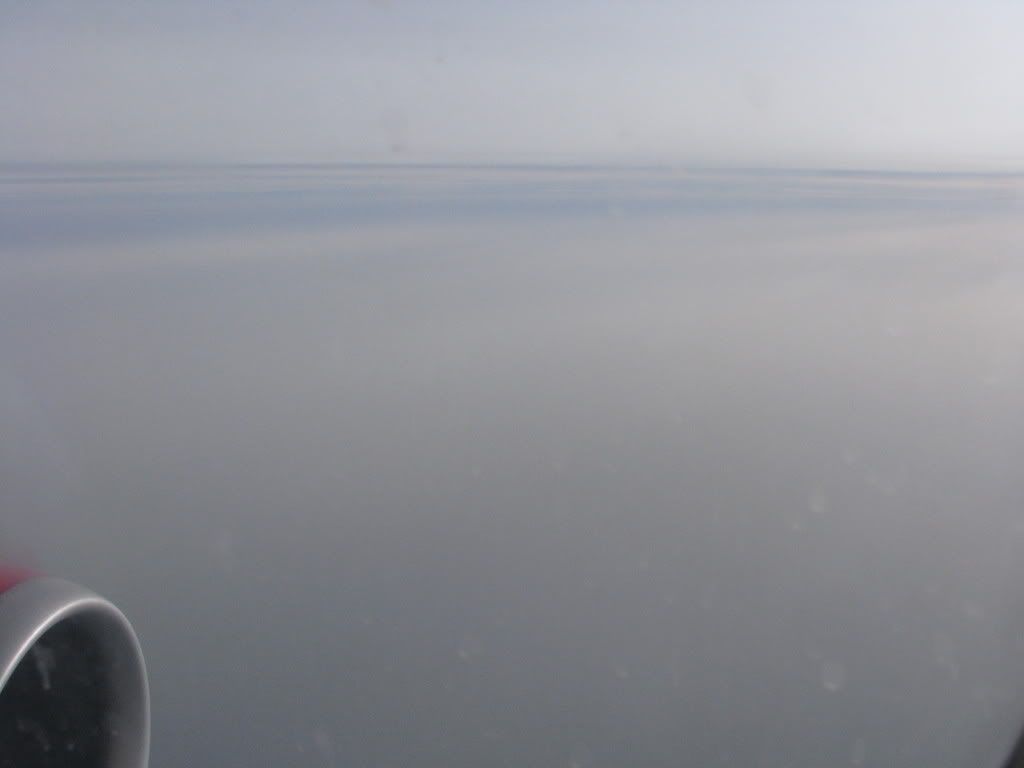 Arrival times:-
Scheduled: 0745 hrs.
Touchdown: 0737 hrs.
Docking Time: 0744 hrs.
Soon the announcement of descend was made and we were going to arrive in HYD shortly. We approached from the barren land towards RWY 27 and touched down at the new Hyderabad International airport. We docked at the aerobridge and disembarked almost at the end. This aircraft was headed towards DEL albeit with a different flight number. Vivek was seated at the rear end of the aircraft so we had to wait for a couple of minutes after we alighted the aircraft. Here are some photos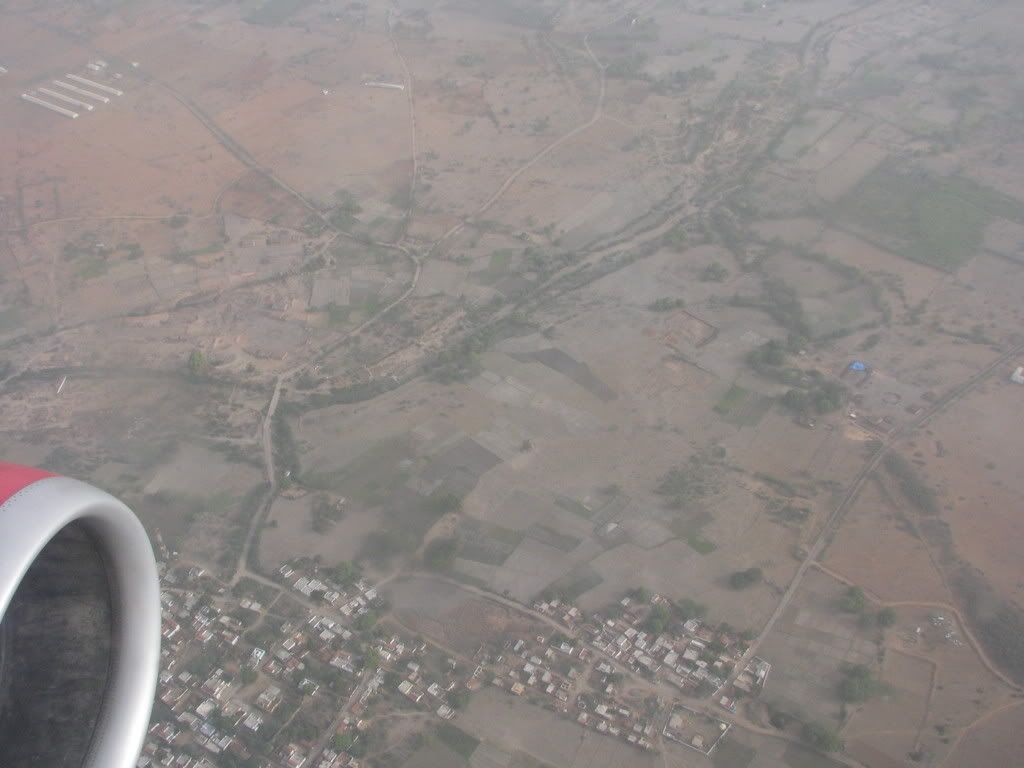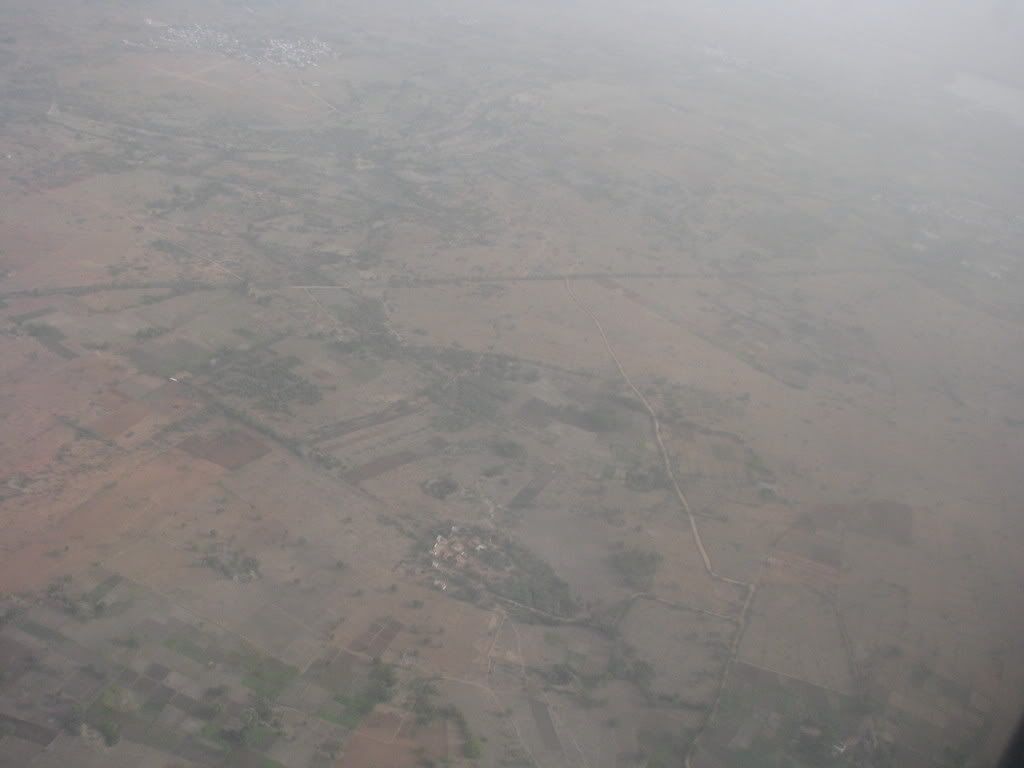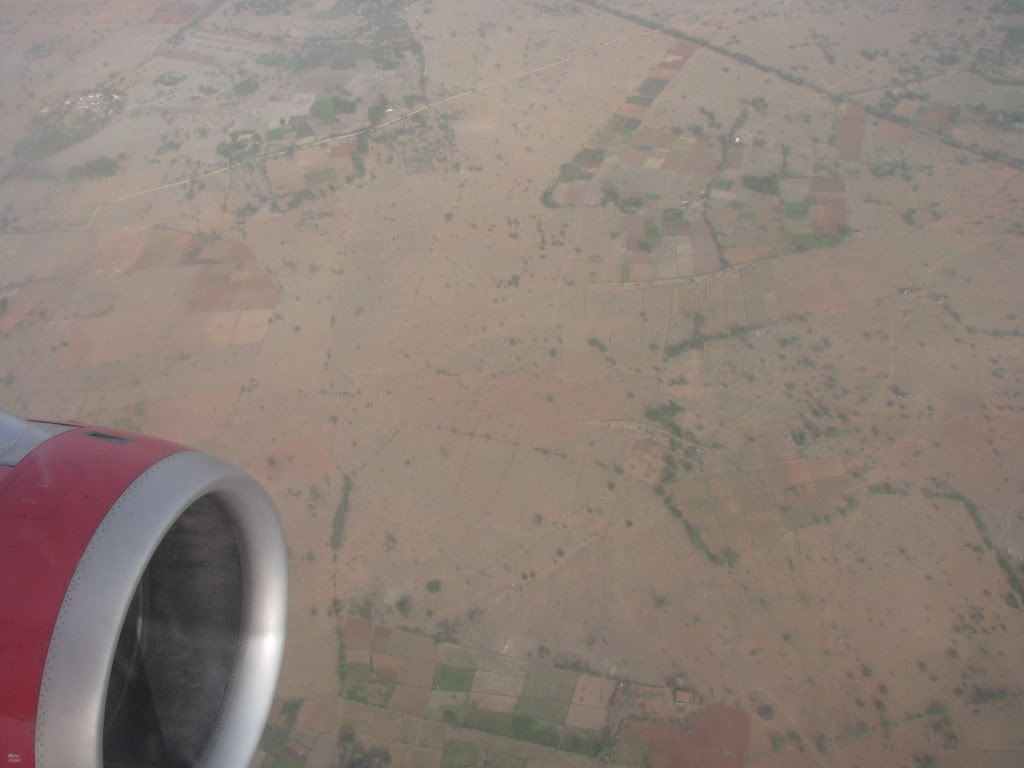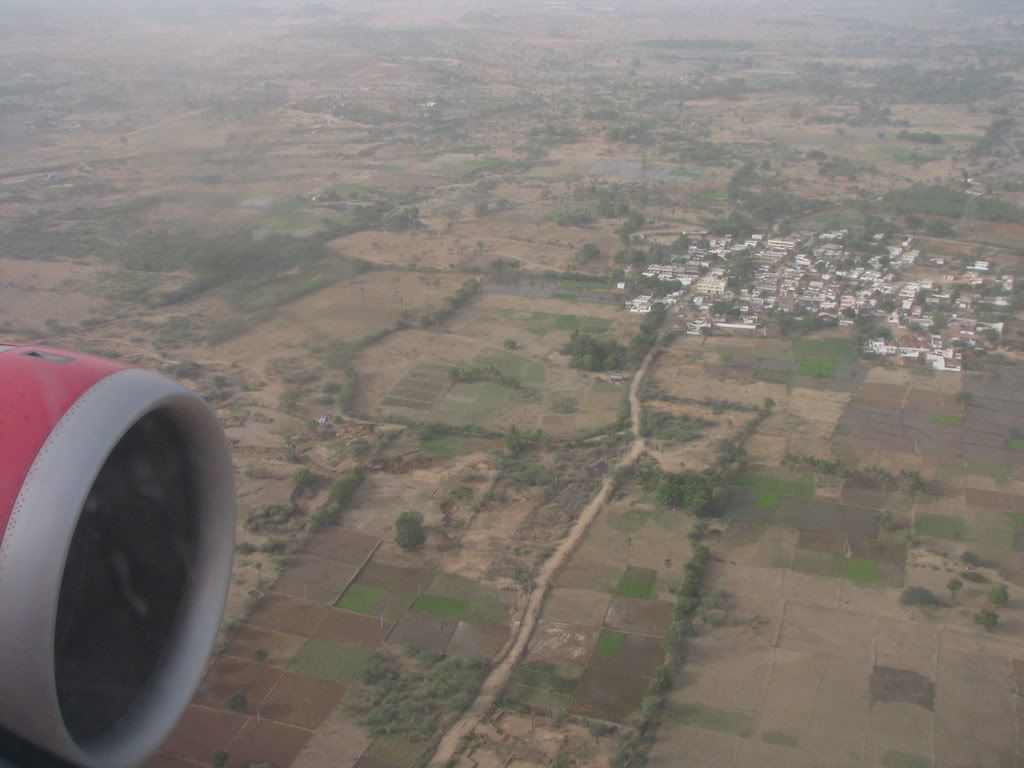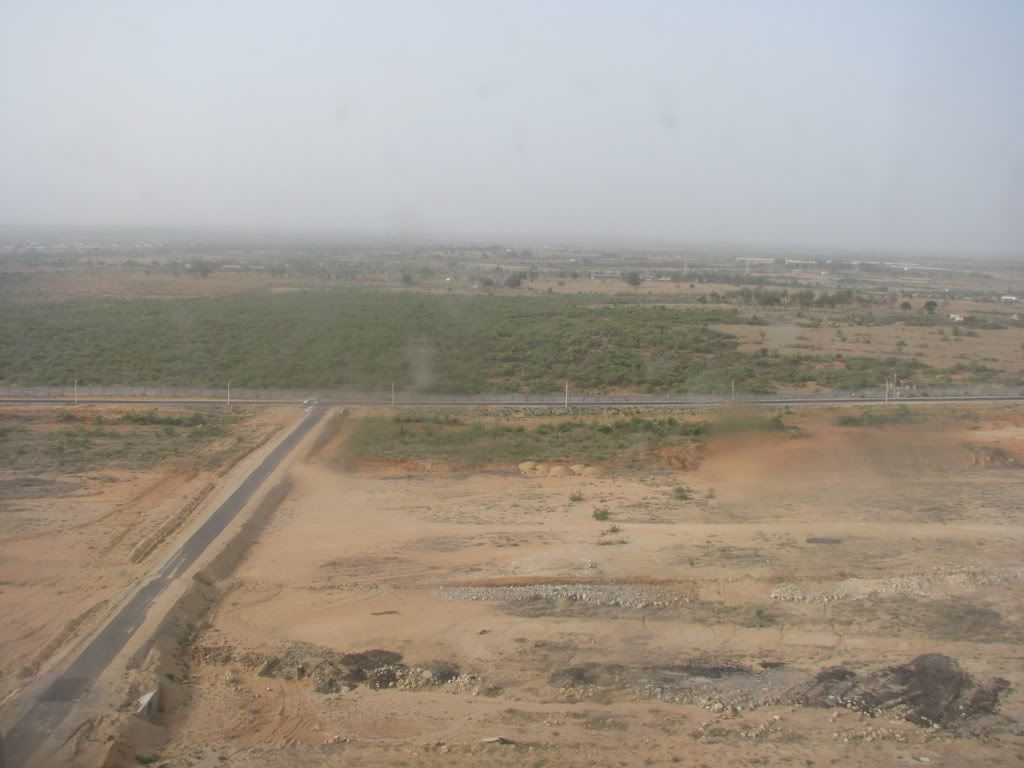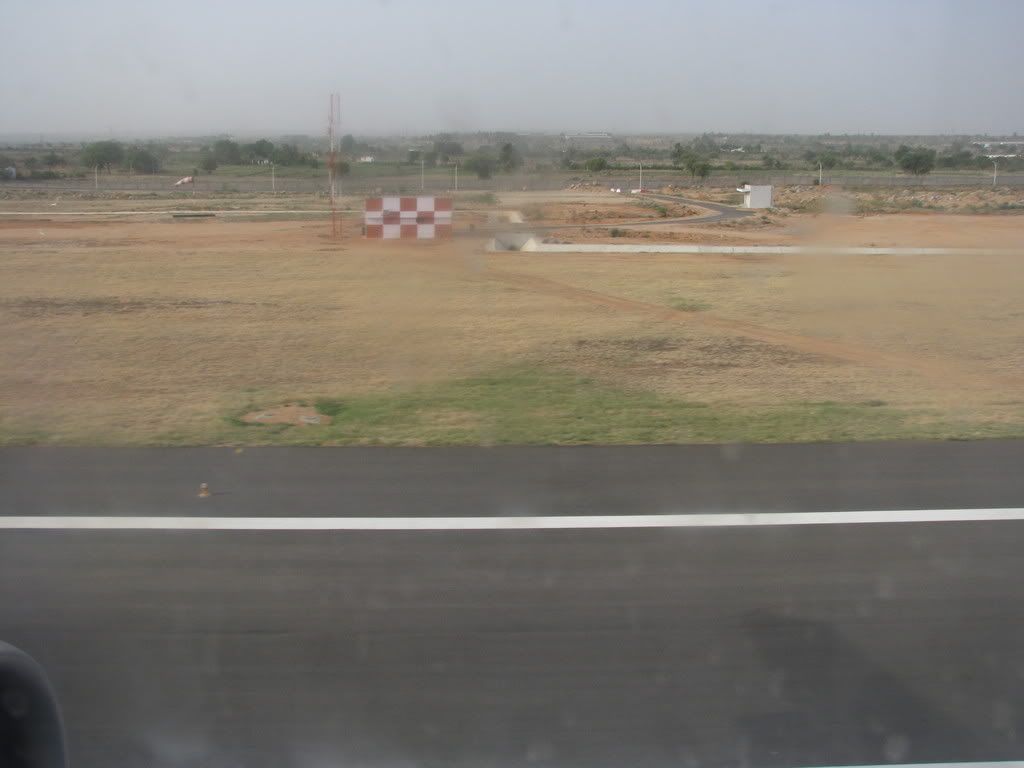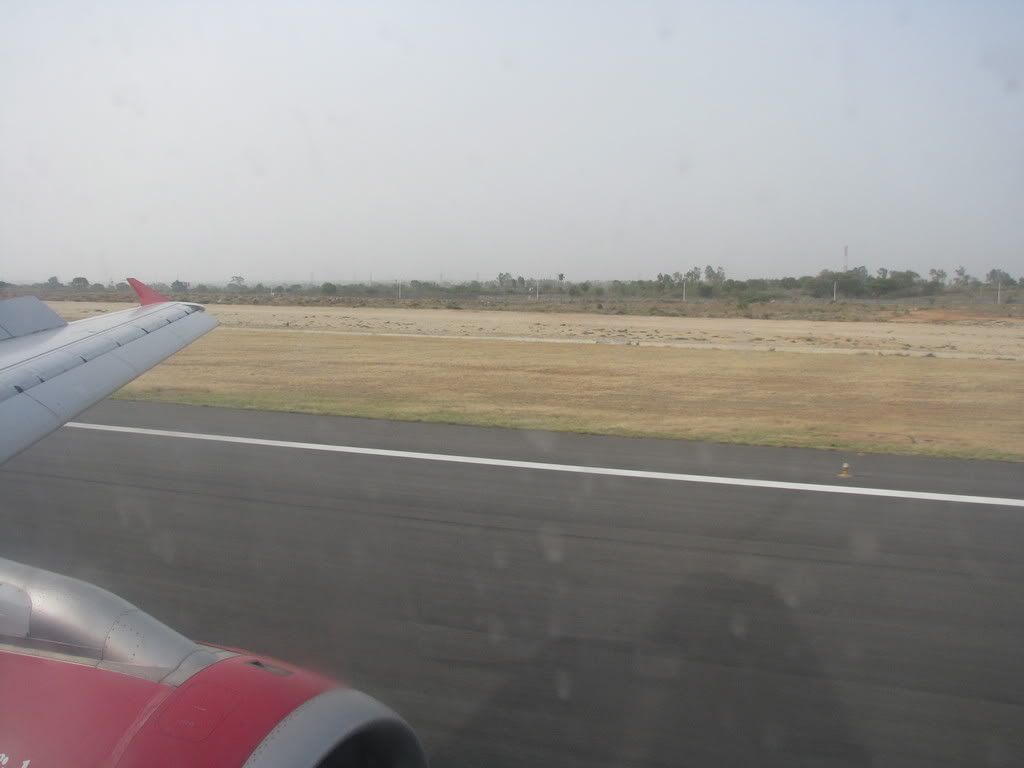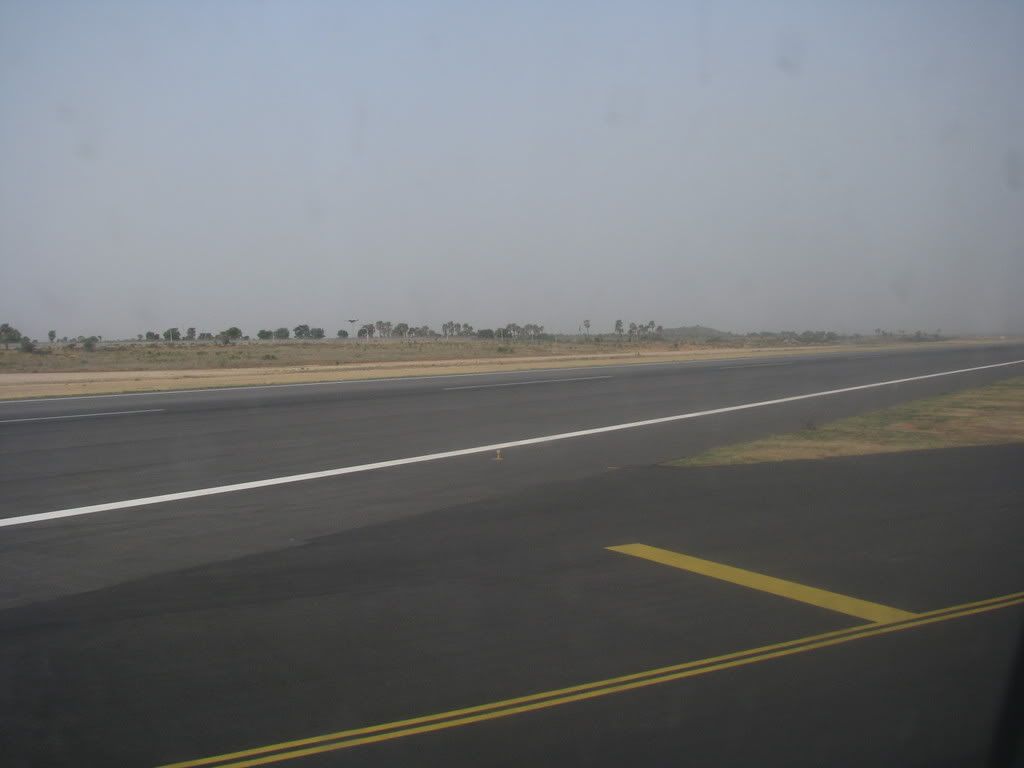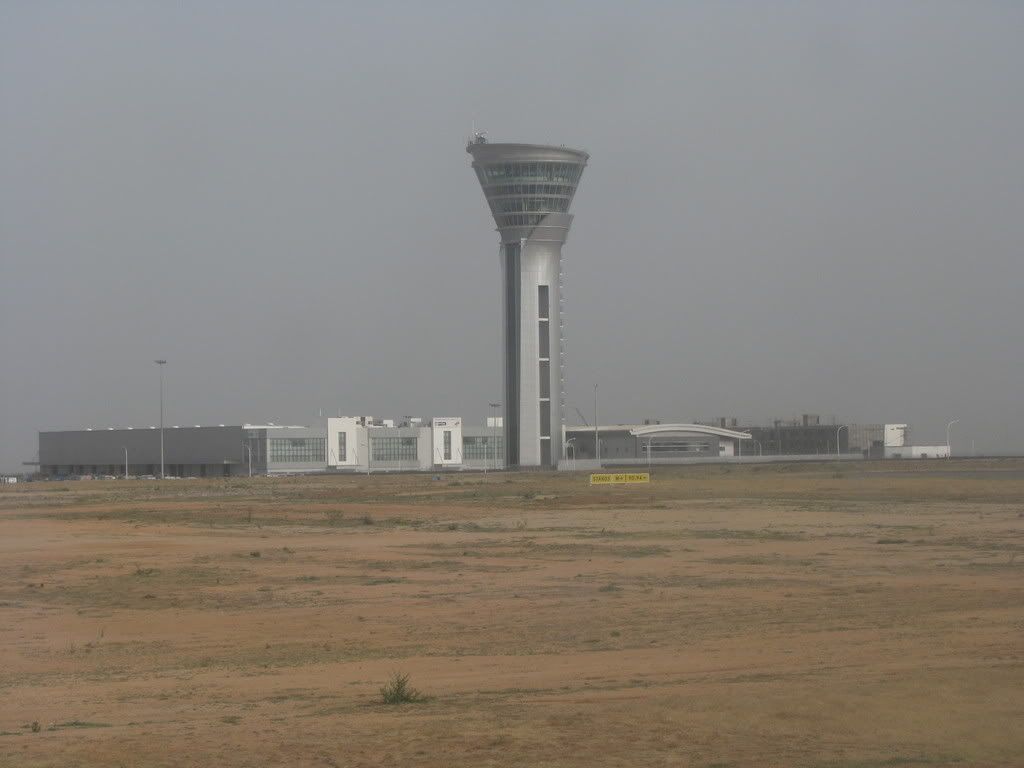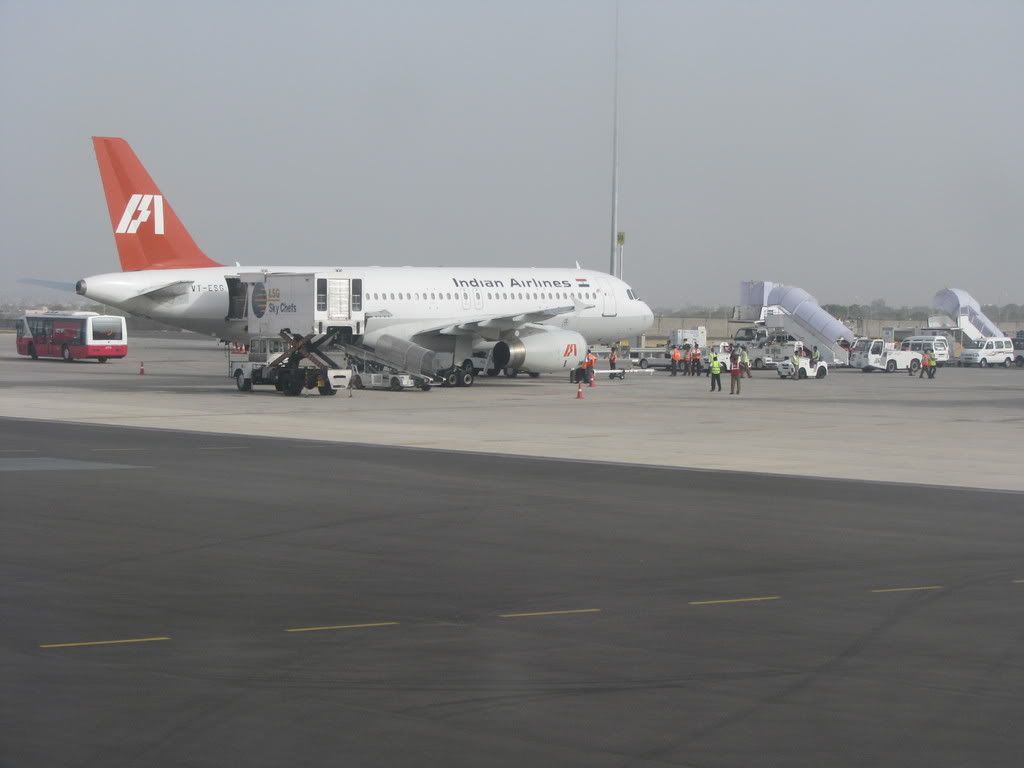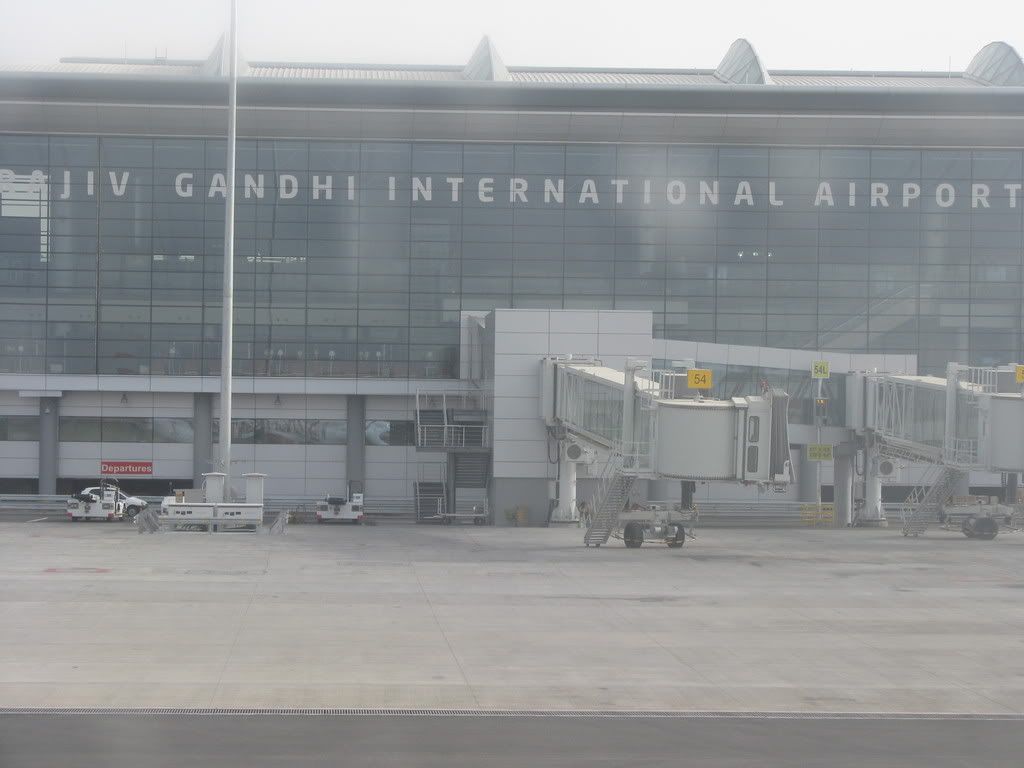 Rajiv Gandhi International Airport.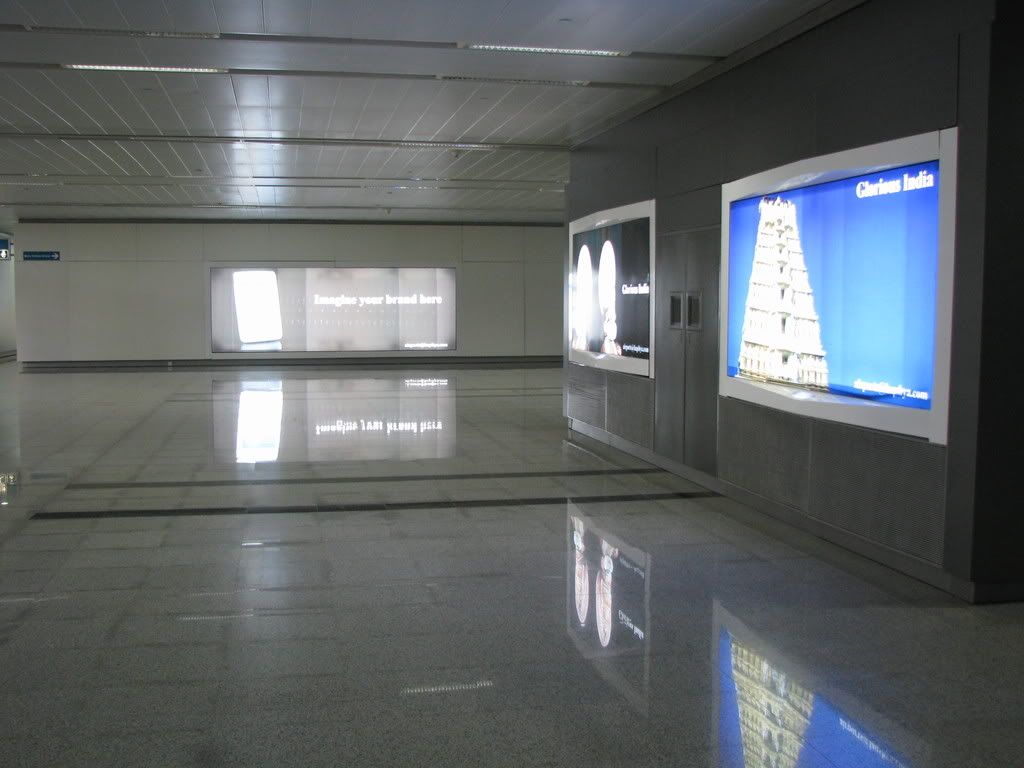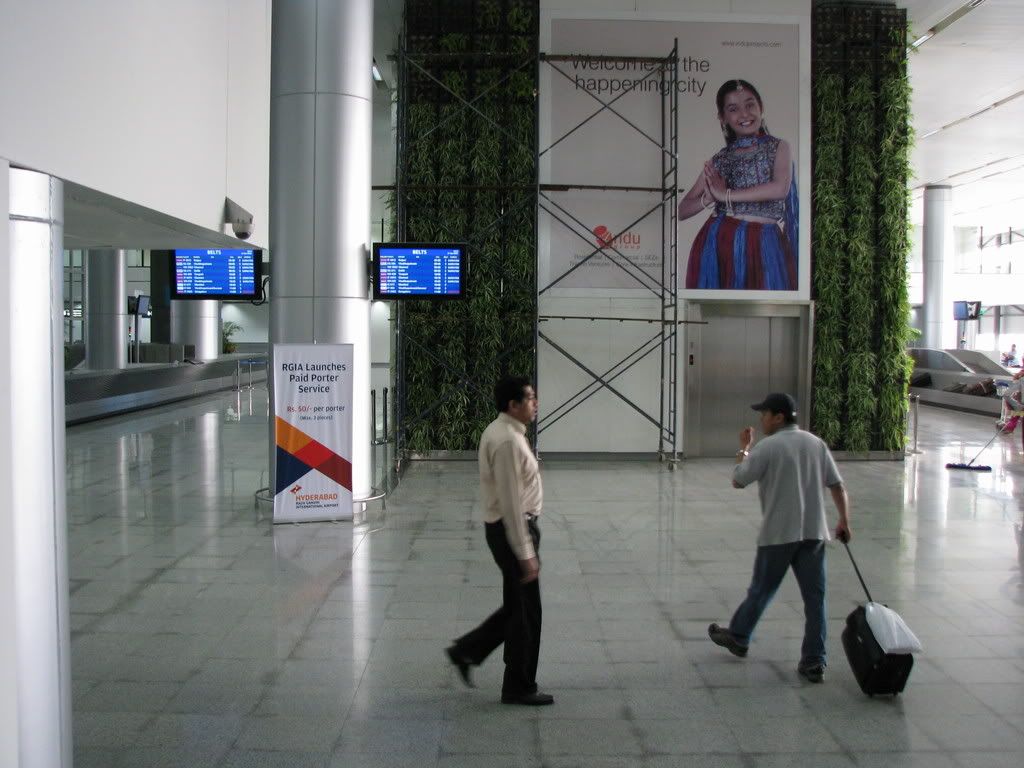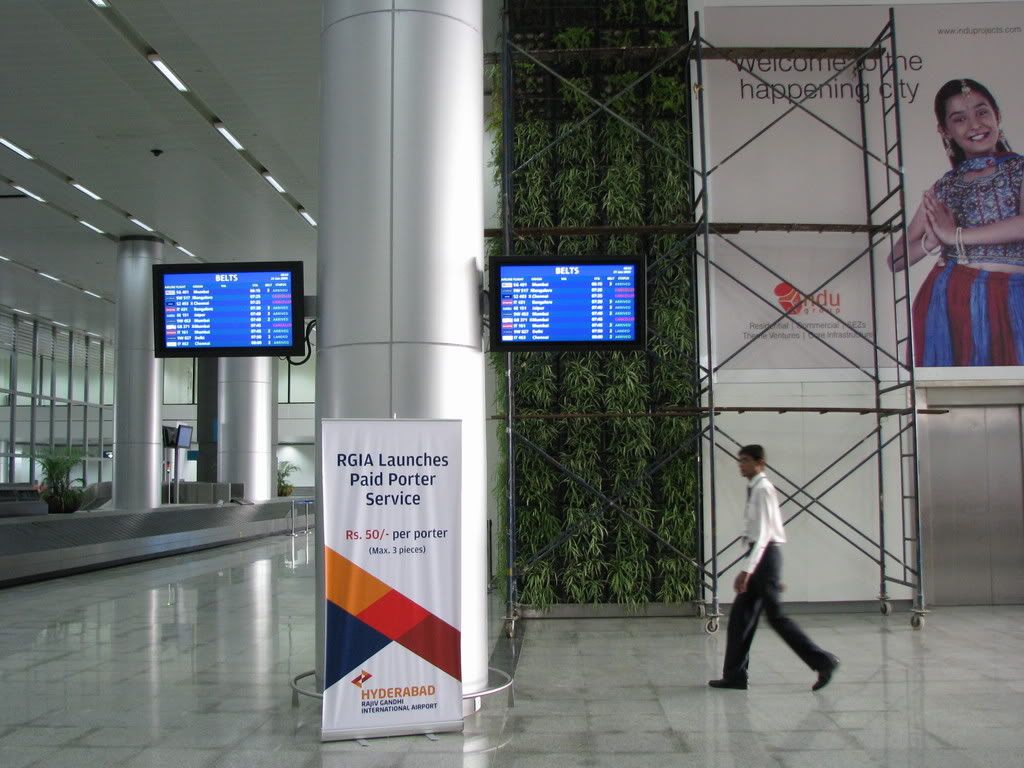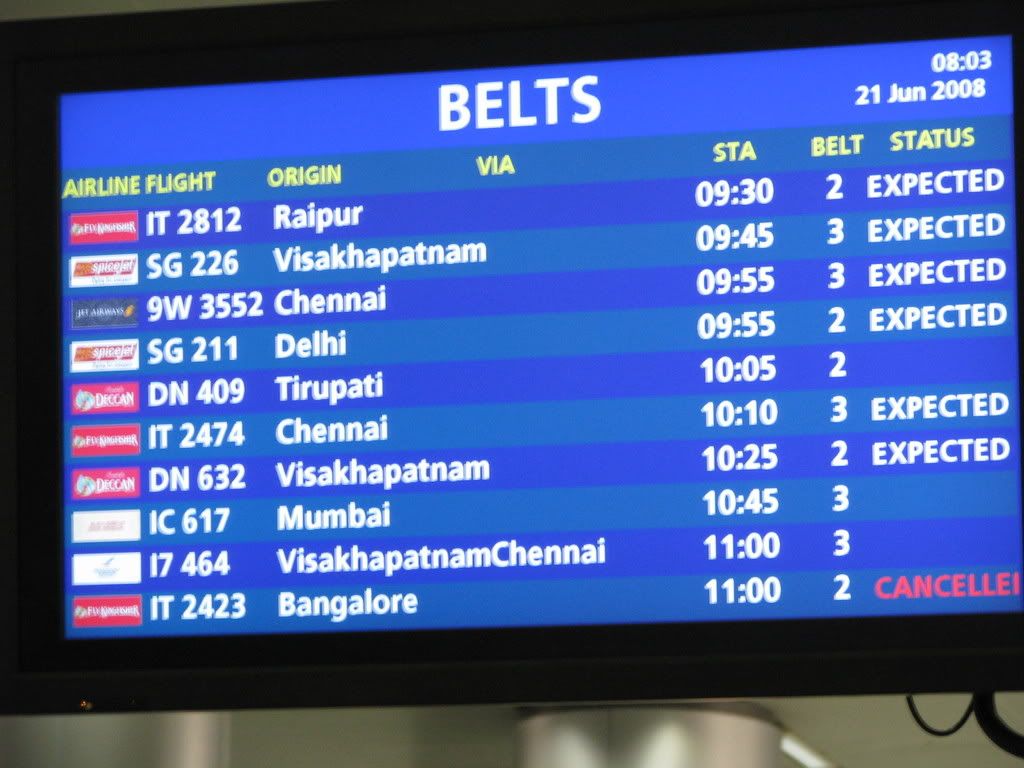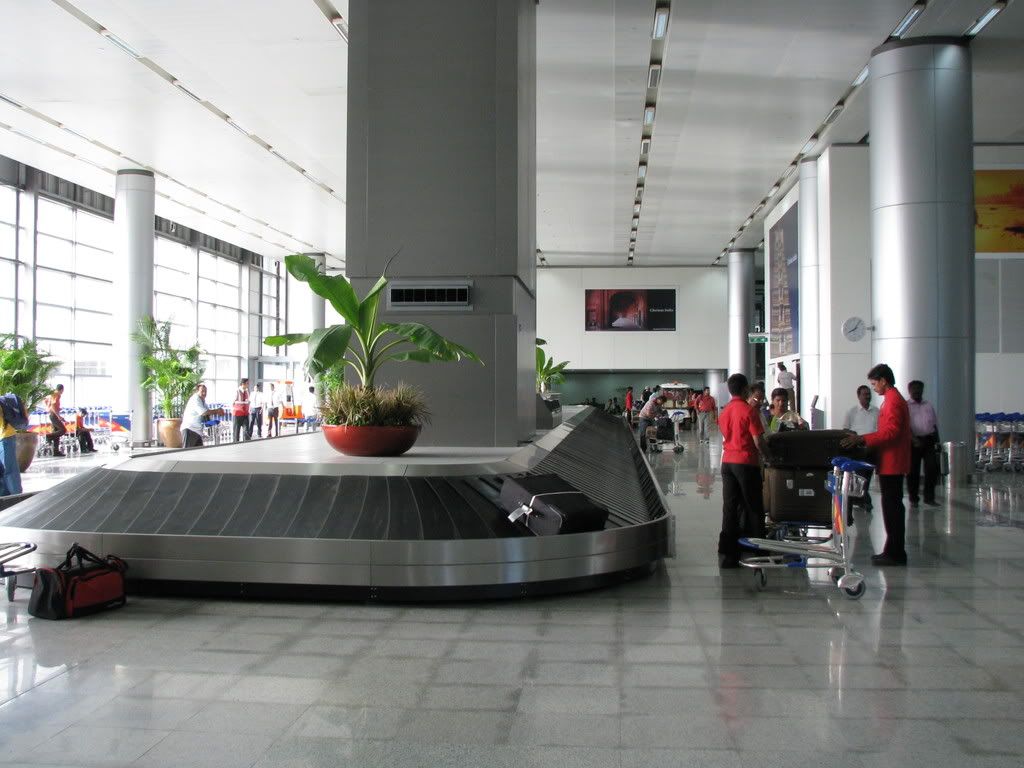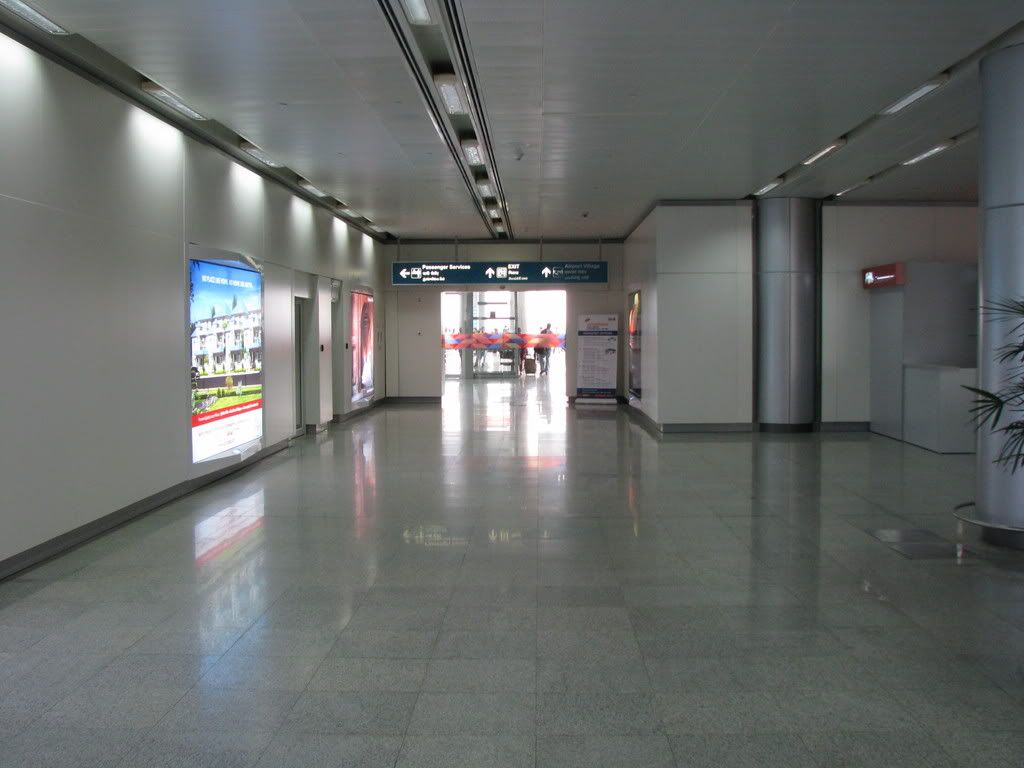 Towards the exit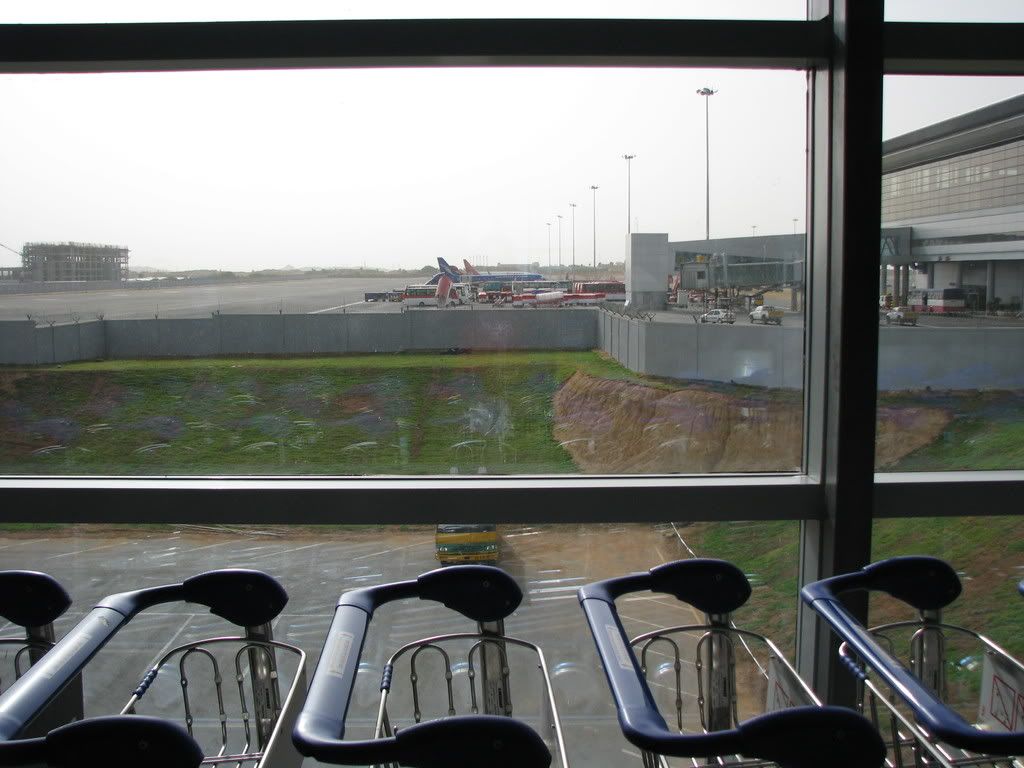 The right hand side view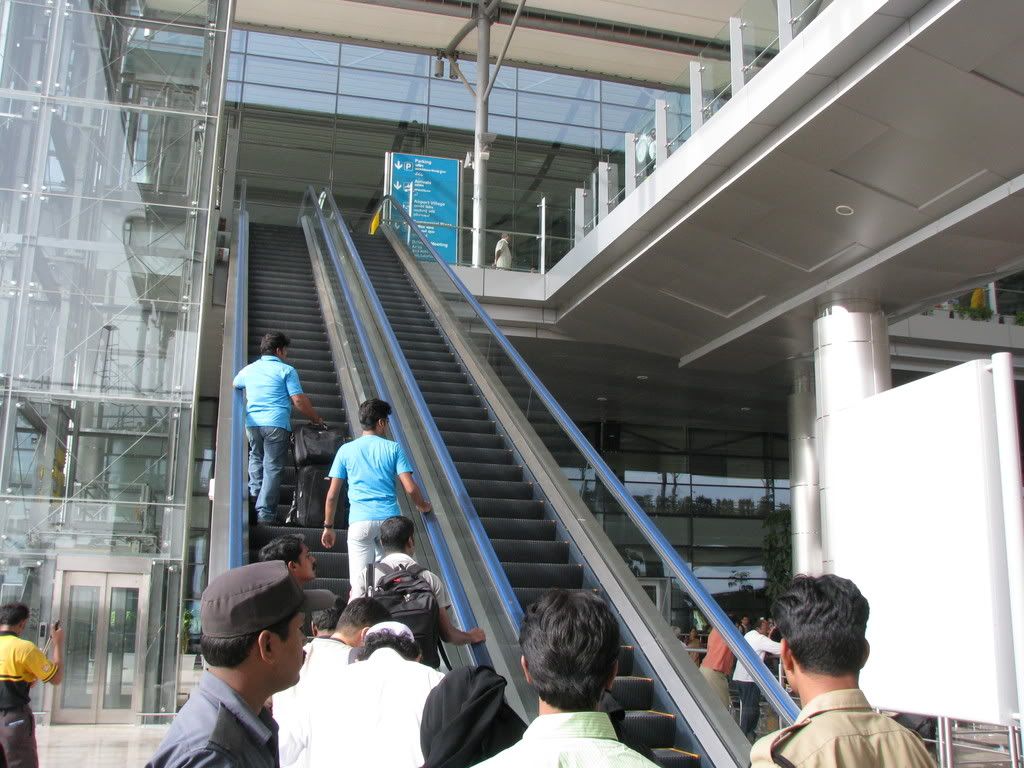 This escalator takes you to the departure levels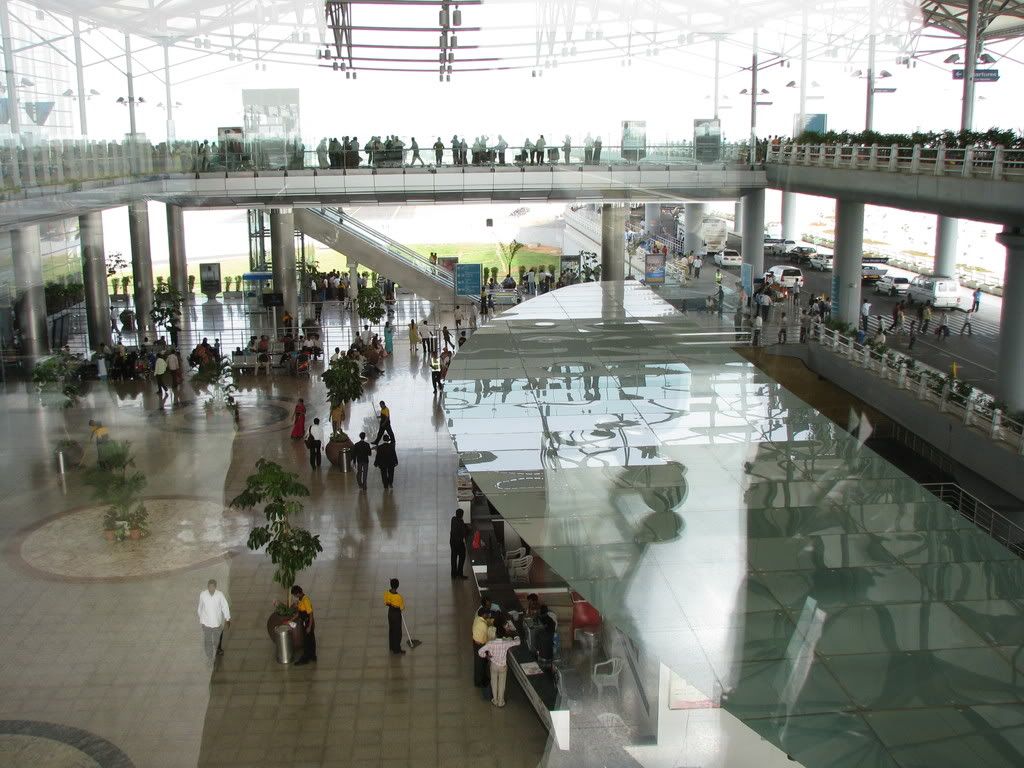 The only thing we could say was WOW, the new HYD airport has surely lived up to the expectations, well designed airport. the interiors were really beautiful. By far probably the best Indian airport I have been to. However I may not be able to compare it with Devanhalli (BLR) as I have not traveled there.
Ratings:-
A/C : 9/10
Crew: 7/10
Food: 8/10
Lounge: 7/10
Boarding & ground Formalities: 9/10
Overall: 8/10
Here are a couple of airport pictures from outside.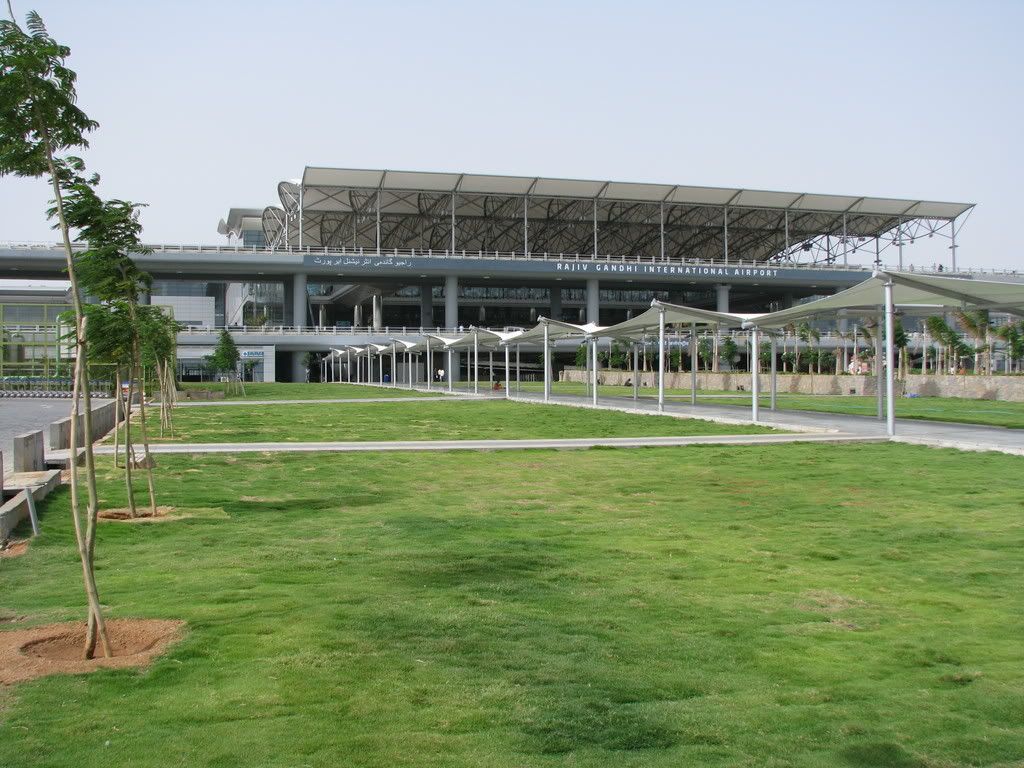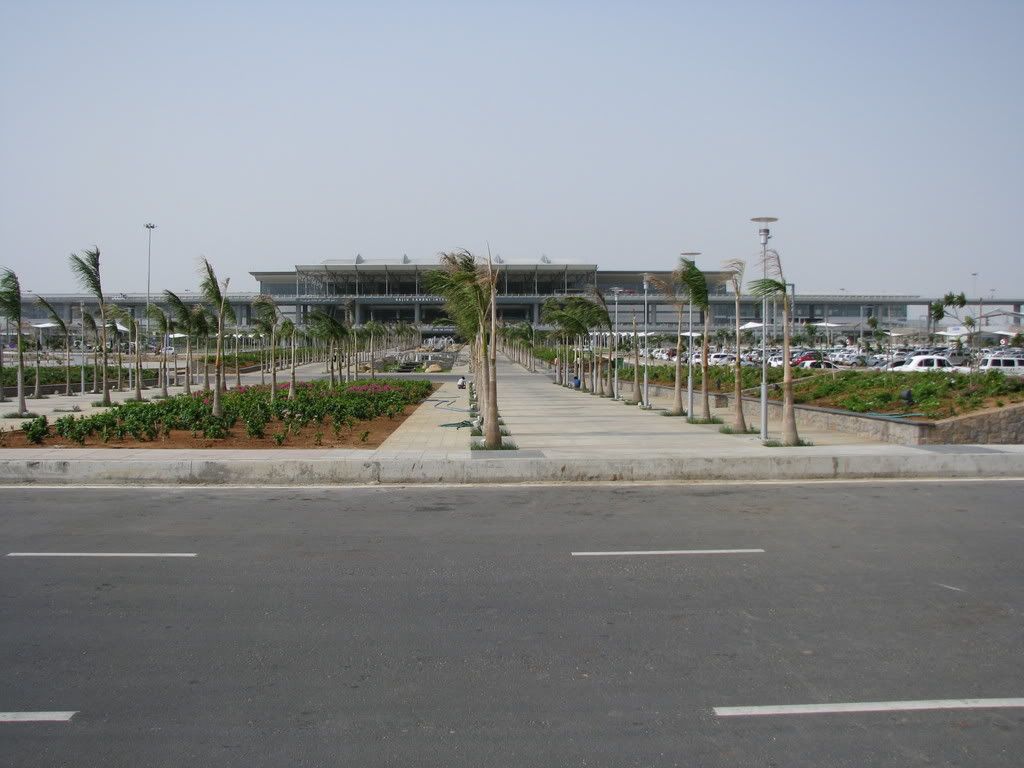 Second Leg of the journey: Hyderabad ( Shamshabad ) - Mumbai
Flight no.: IT 166
Terminal View:-
The new HYD airport has 2 entrances, the gate on the extreme left is for domestic and the gate at the extreme right is for international passengers. For the HYD traffic the airport size is pretty sufficient, although there is the second phase coming up. There are almost 8 rows of check-in counters, and it seemed that the last three are used for the international passengers, and at the point when we entered the airport around 1800 hrs, there were 3 international flights departing ; 2 IC flights HYD - DXB , and HYD - BLR - SHJ and one Srilankan airlines departure HYD - CMB. The new HYD airport however does not require pre screening of bags, something till now I have observed in SIN and HYD so far. Being a non peak hour it was very pleasant though I would say even during peak hours it can handle all the traffic very well, especially when there are LH, KL wide bodies leaving at the same time.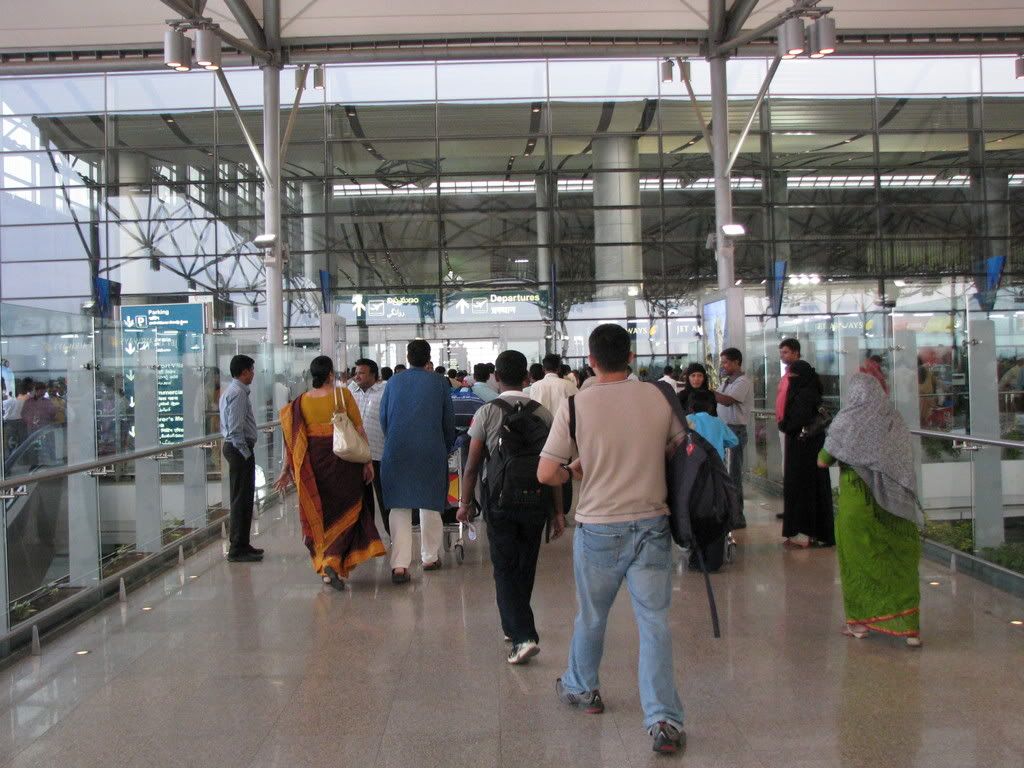 This is the extreme right entrance.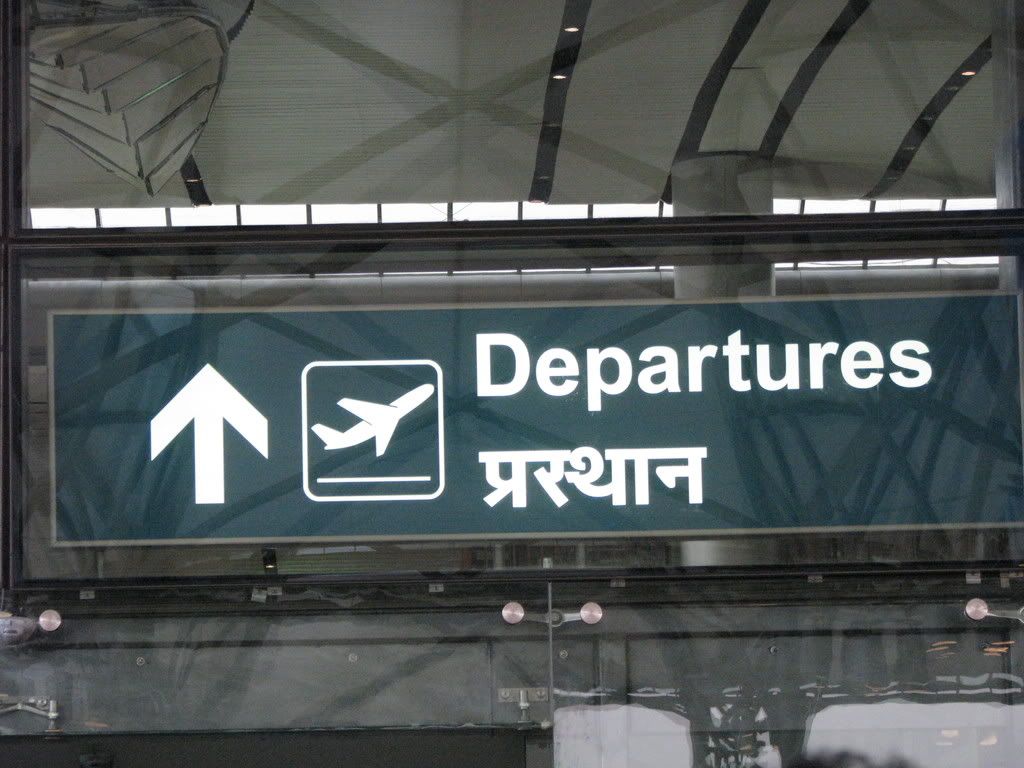 IMG]http://i291.photobucket.com/albums/ll311/ojaspurandare/Trip246-1.jpg[/IMG]
The KF check-in counters at the left.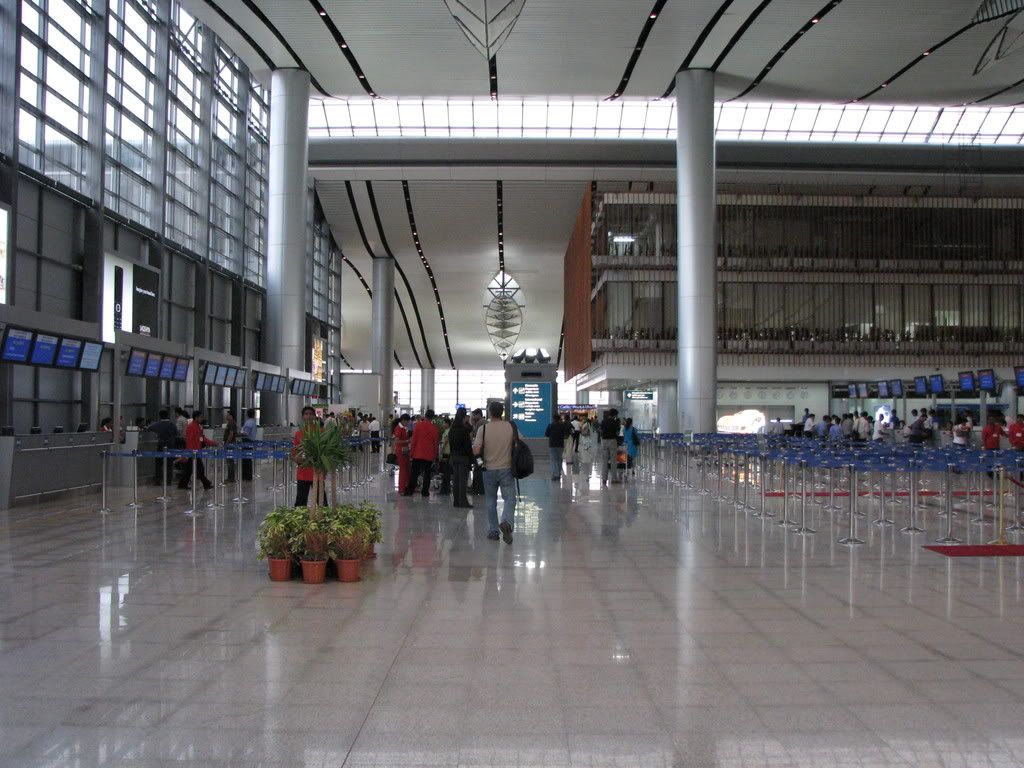 Straight ahead is the security check.
To give you an insight, the extreme left gate from where we enter for domestic flights, you walk straight and you can see the security check counters. To the left there is one row of check-in counters mainly KF, and to the right another row of check-in counters mostly used by AI/IC followed by few more parallel check-in counters. Analogously, if you enter the extreme right gate there will be one check-in row to your right and many parallel check-in counters. Now , from the international gate when you walk straight there are nearly some 10-12 immigration counters followed by security check. After this the domestic and international passengers are separated and the aerobridges to the extreme right have international flights docked on to.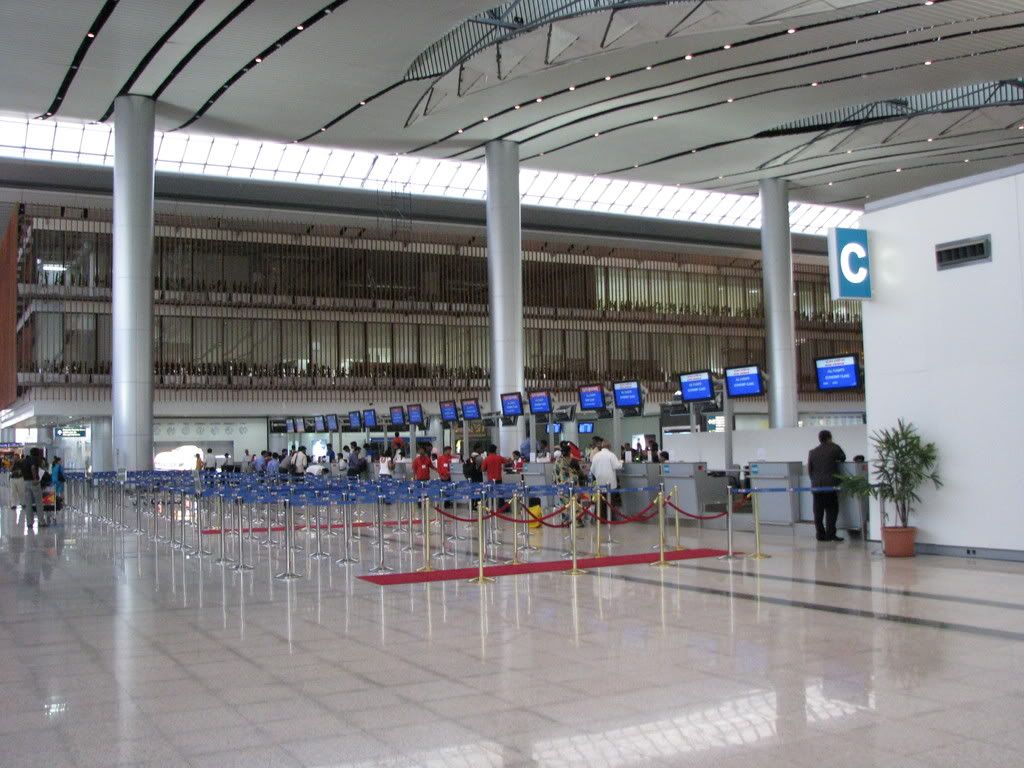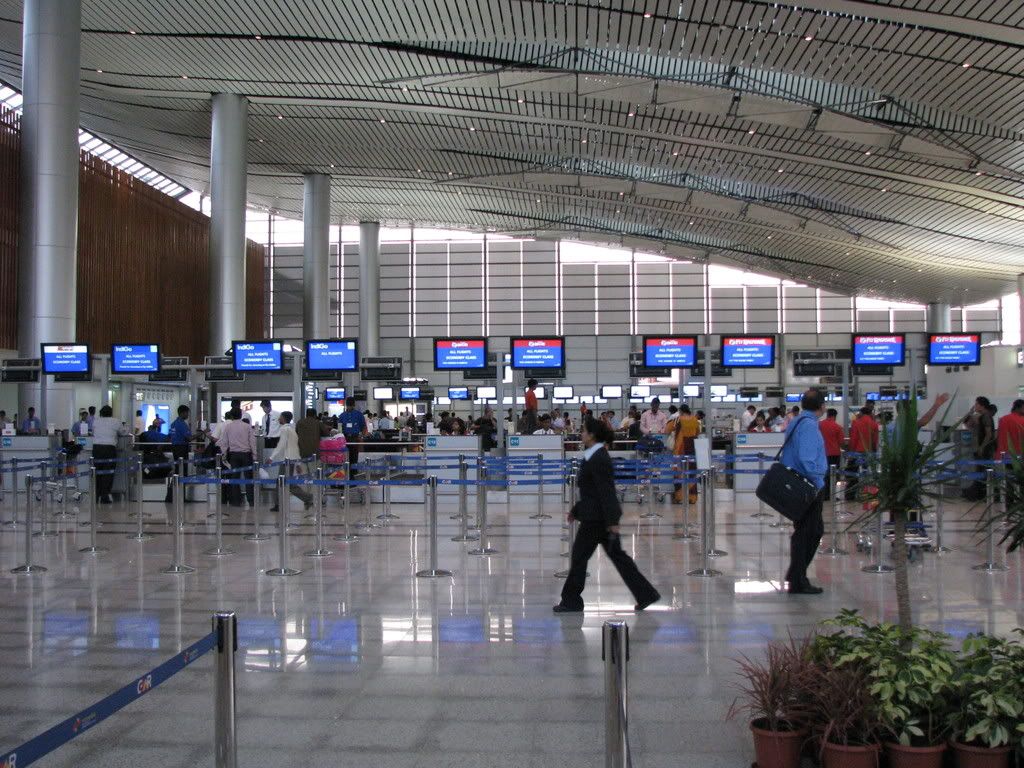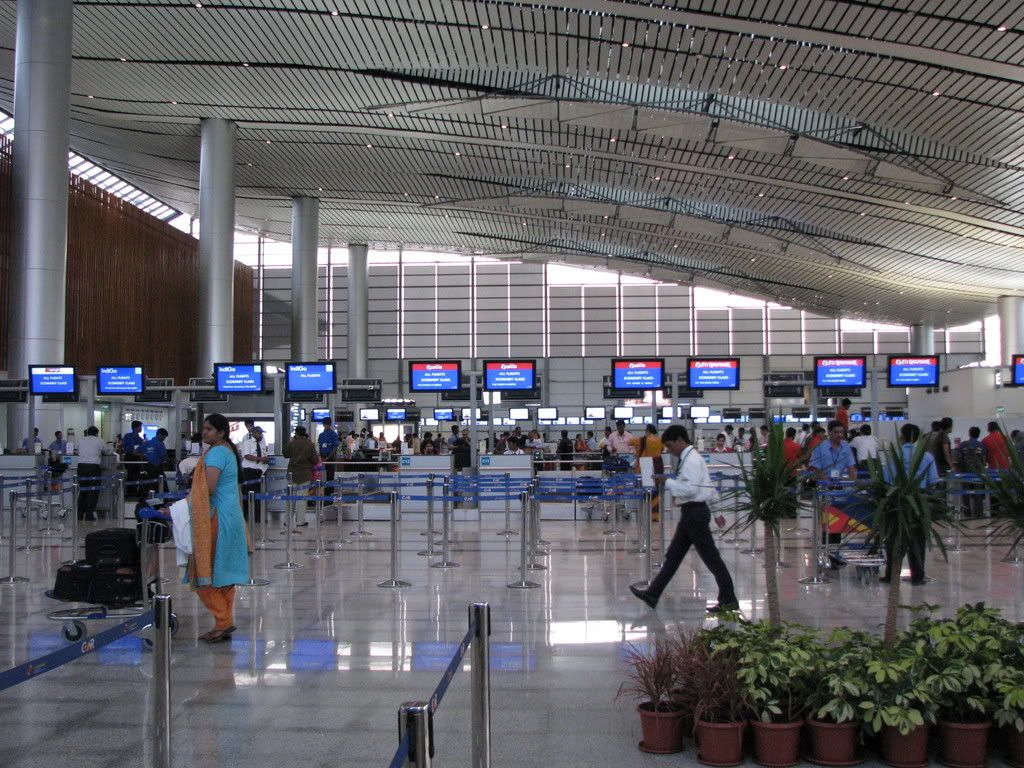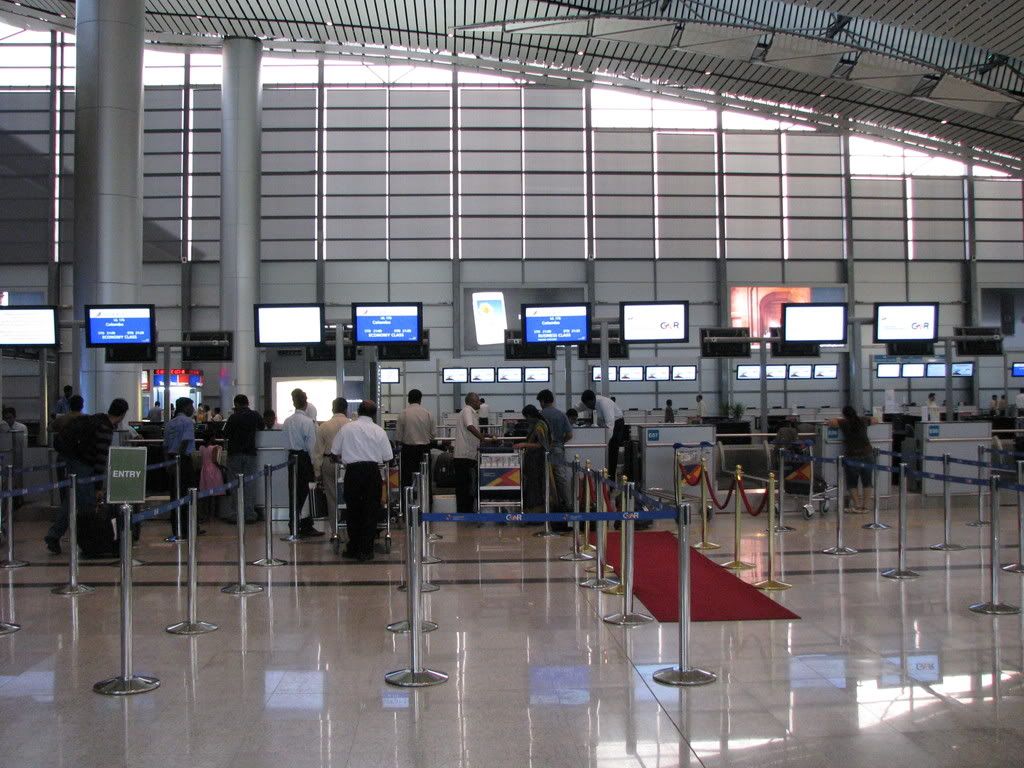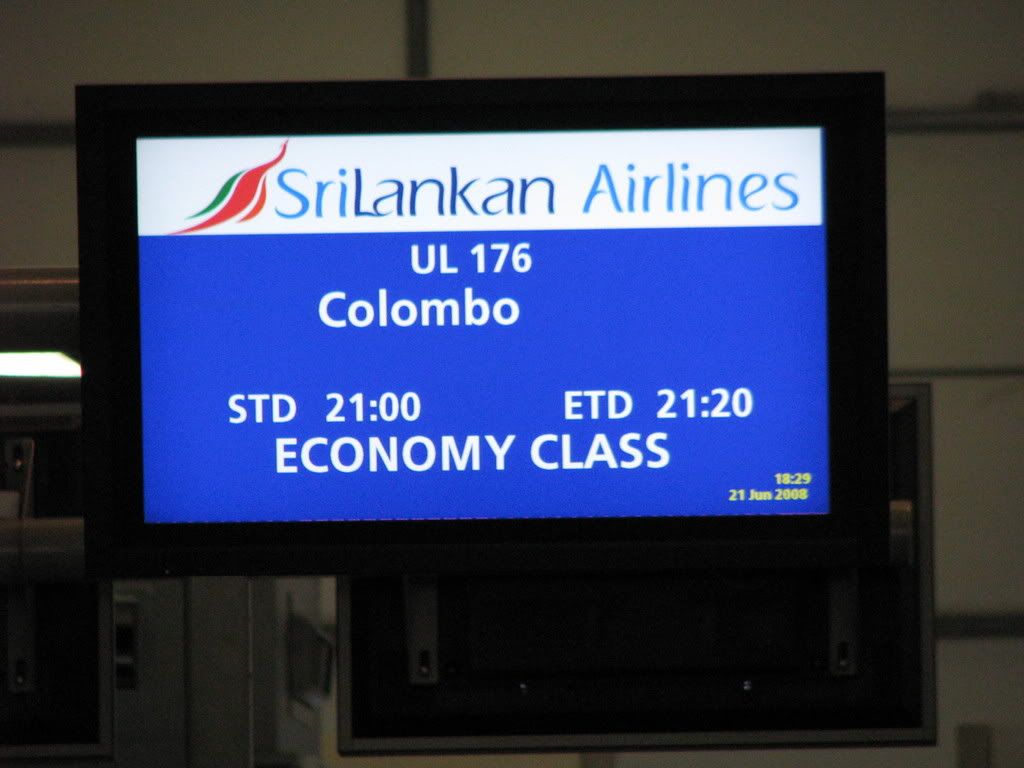 The only foreign carrier around at that time.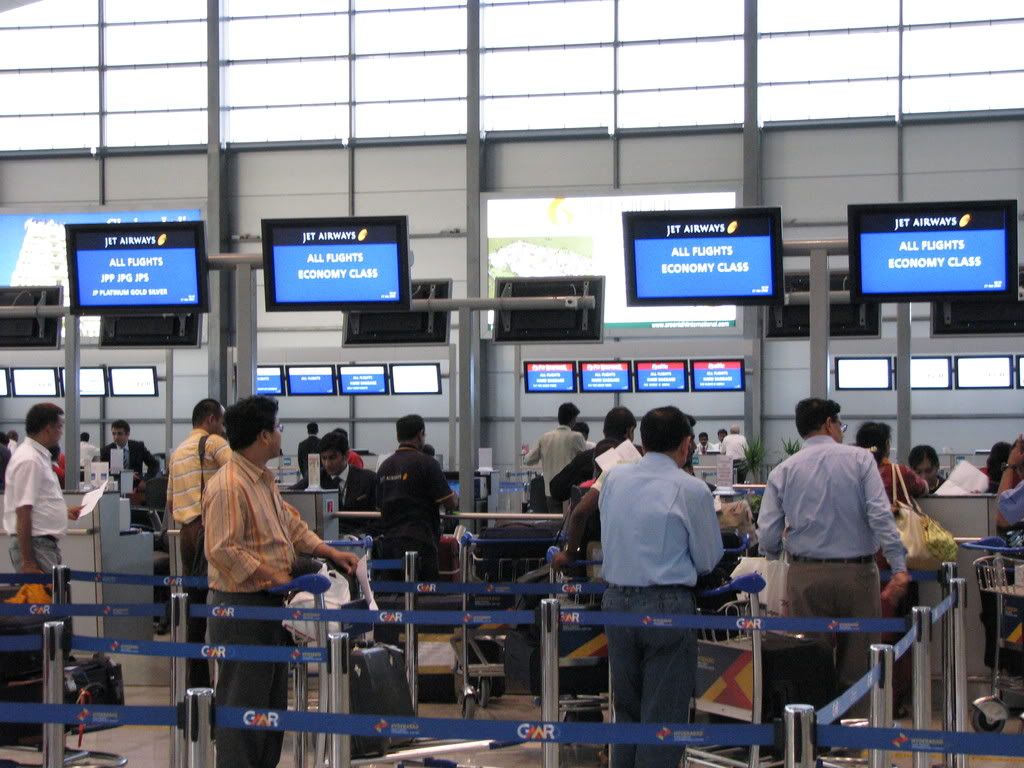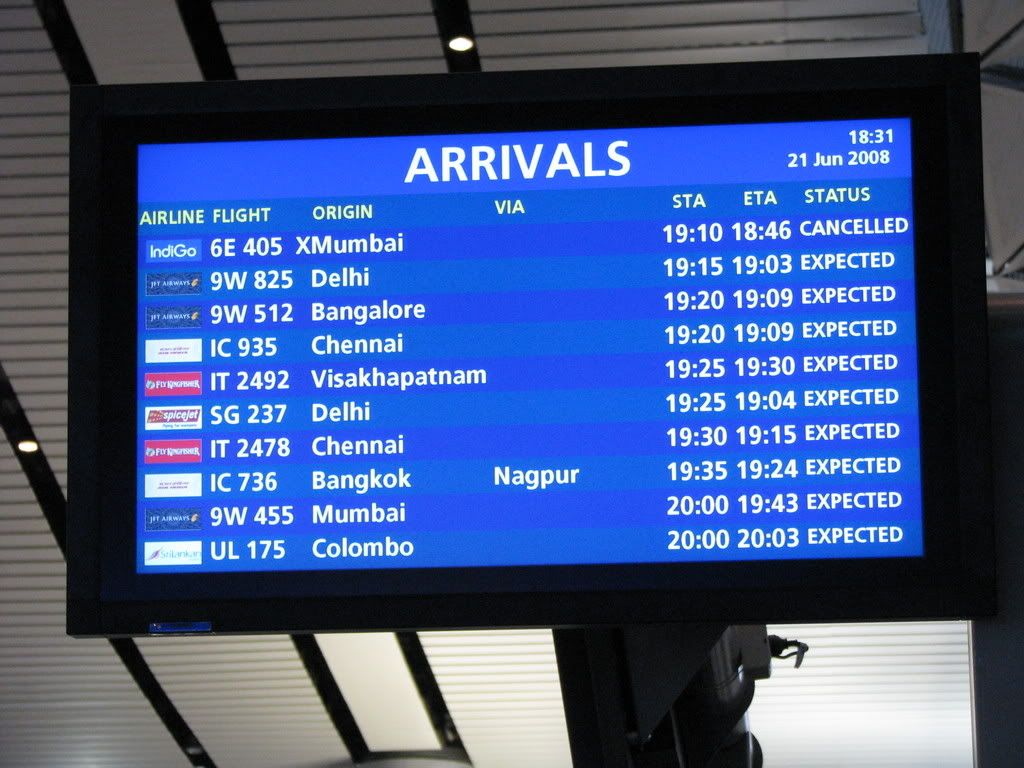 The security check(for domestic) is at the left end of the terminal and the immigration desks as seen in the picture is at the extreme right of the terminal.
Check-in & Staff Interaction
We checked-in at the KF counters at the extreme left, a very lazy and ignorant staff I must say, they were unsure about the whereabouts of the KF lounge!!!.
Vivek had web checked-in in Mumbai itself, so it was me and Karan who were to receive our boarding passes. Boarding passes were issued immediately and then again having no checked-in luggage we immediately proceeded through security and we turned left just to see a host of food counters. We settled at the IIFA lounge and just grabbed few snacks over there, starting with a coffee which was required after a loooong day of spotting and city tour.
We relaxed for nearly 2 hours chatting all the way about our day. Some pictures of the lounge and departure hall.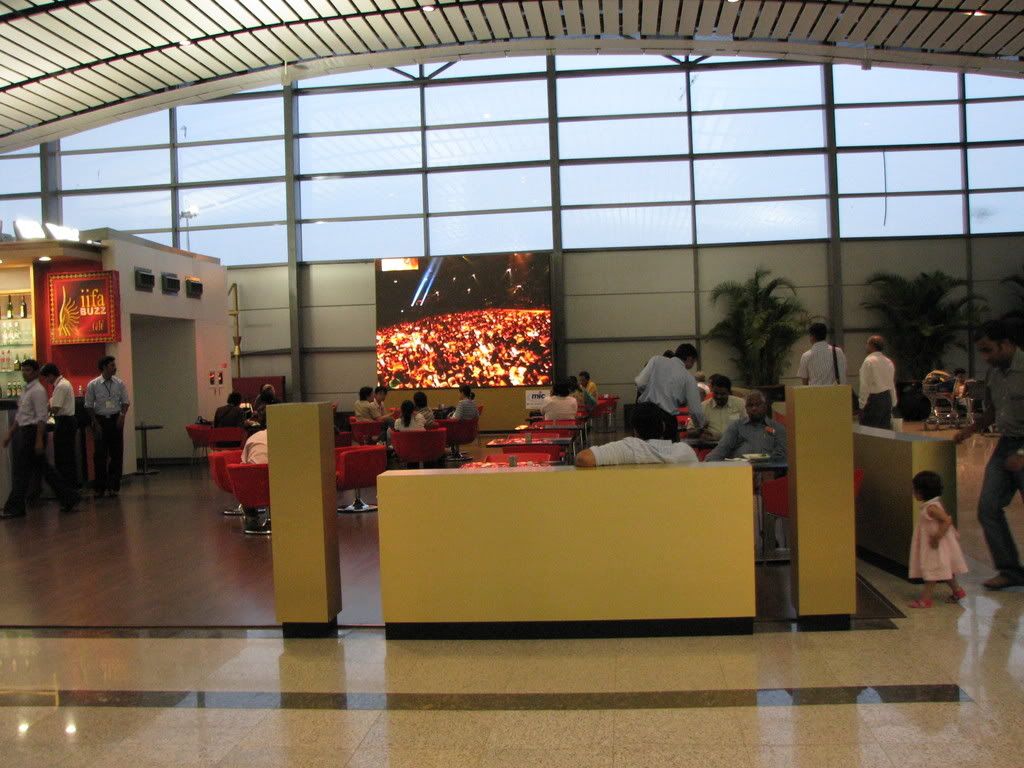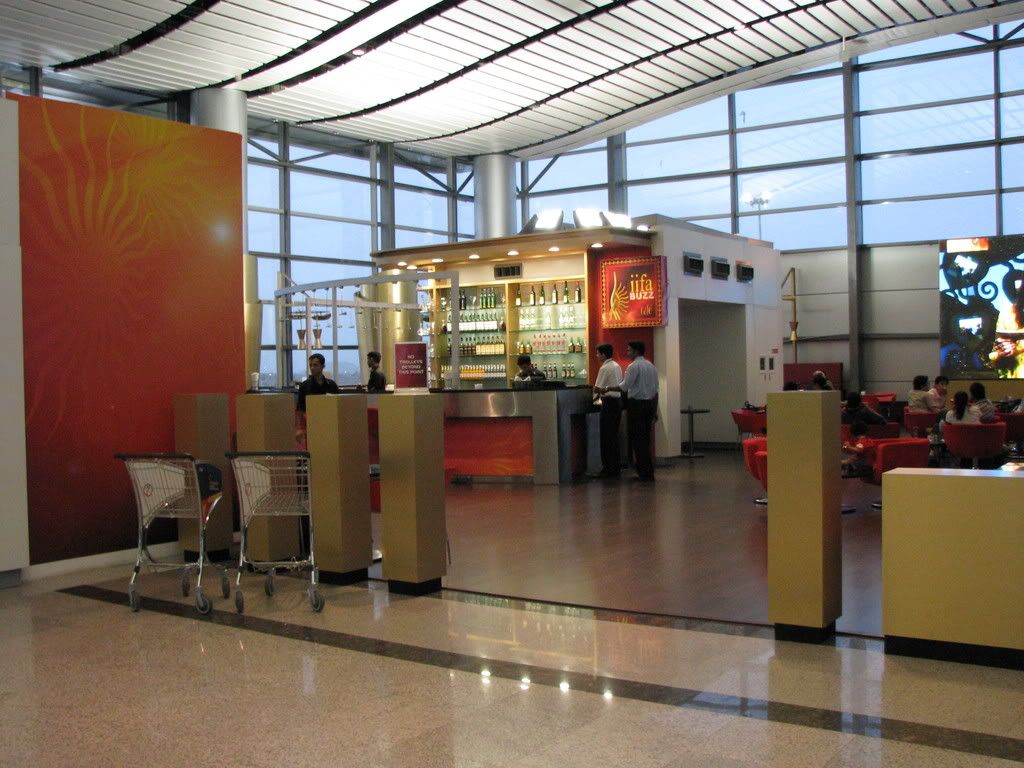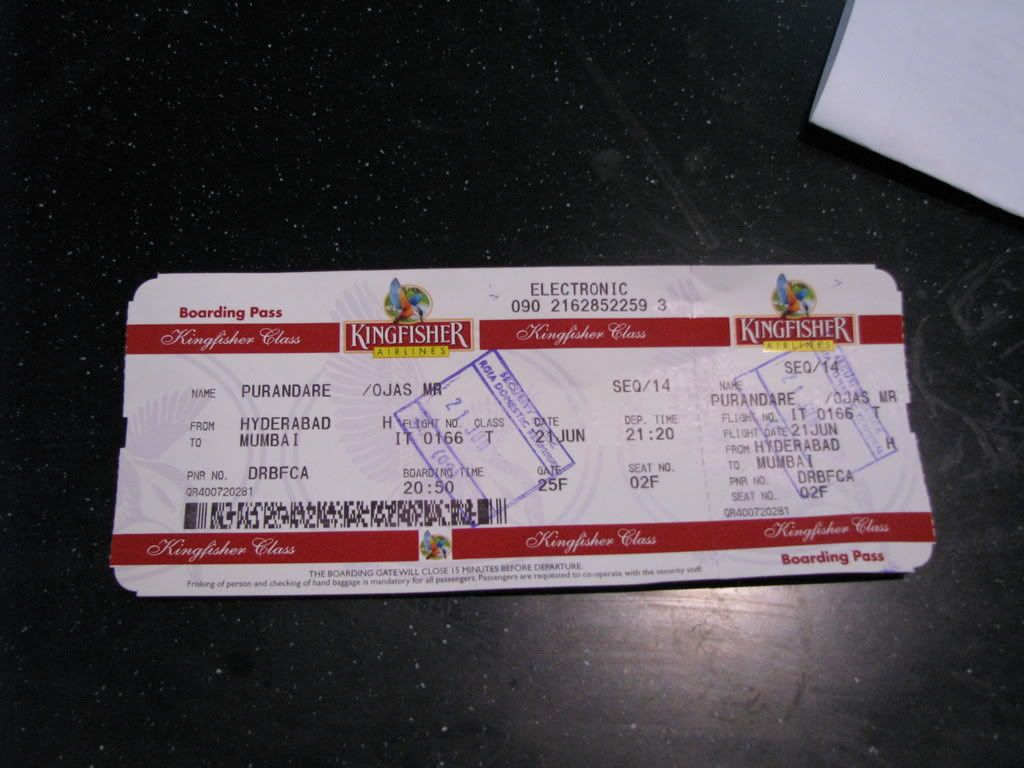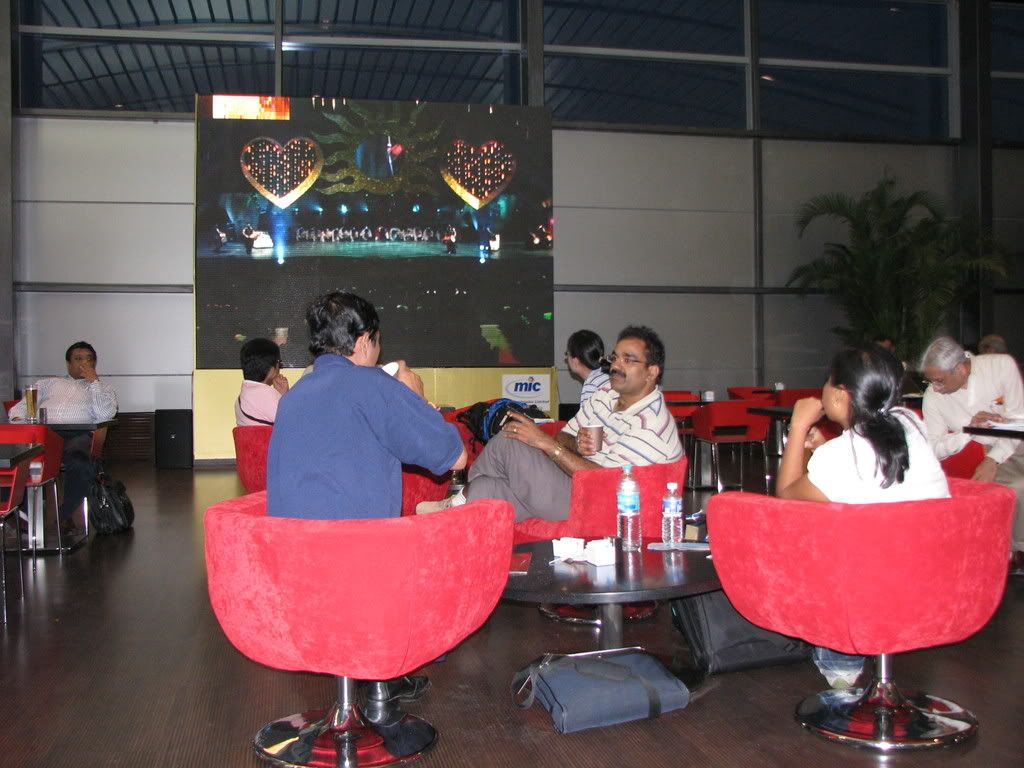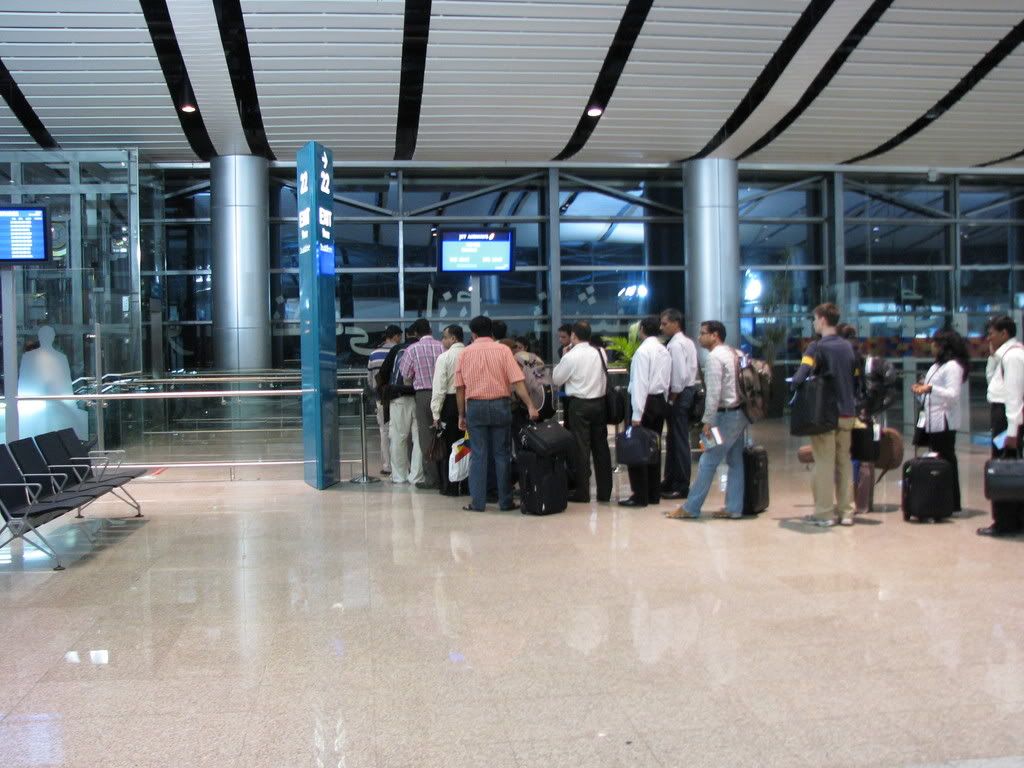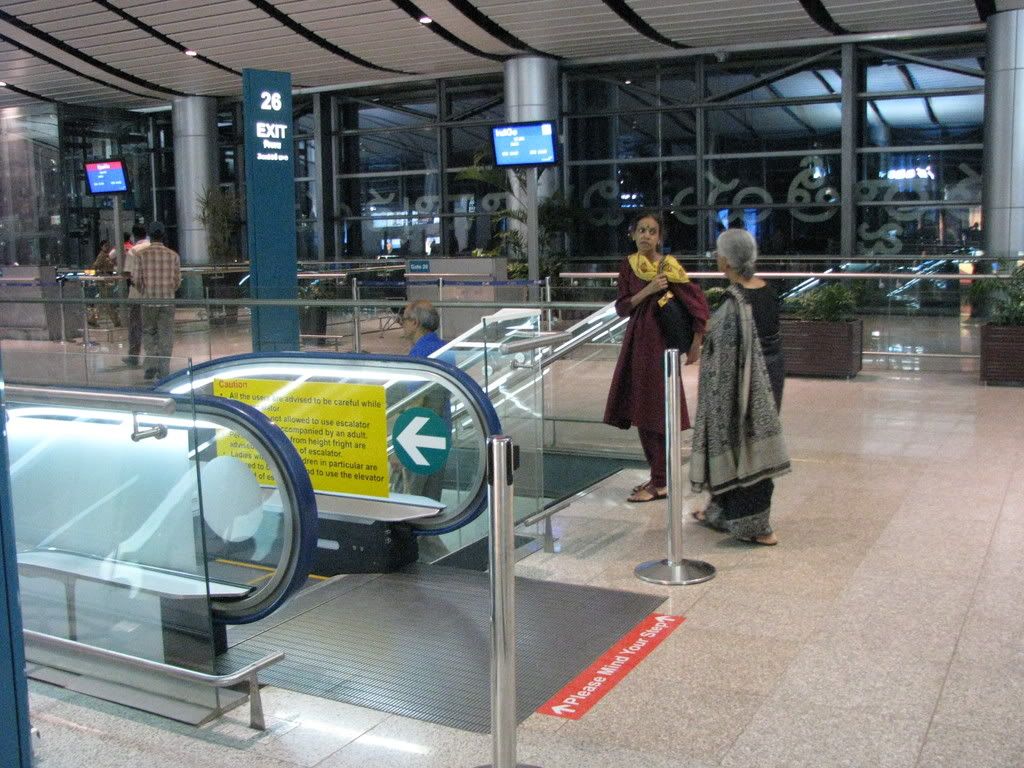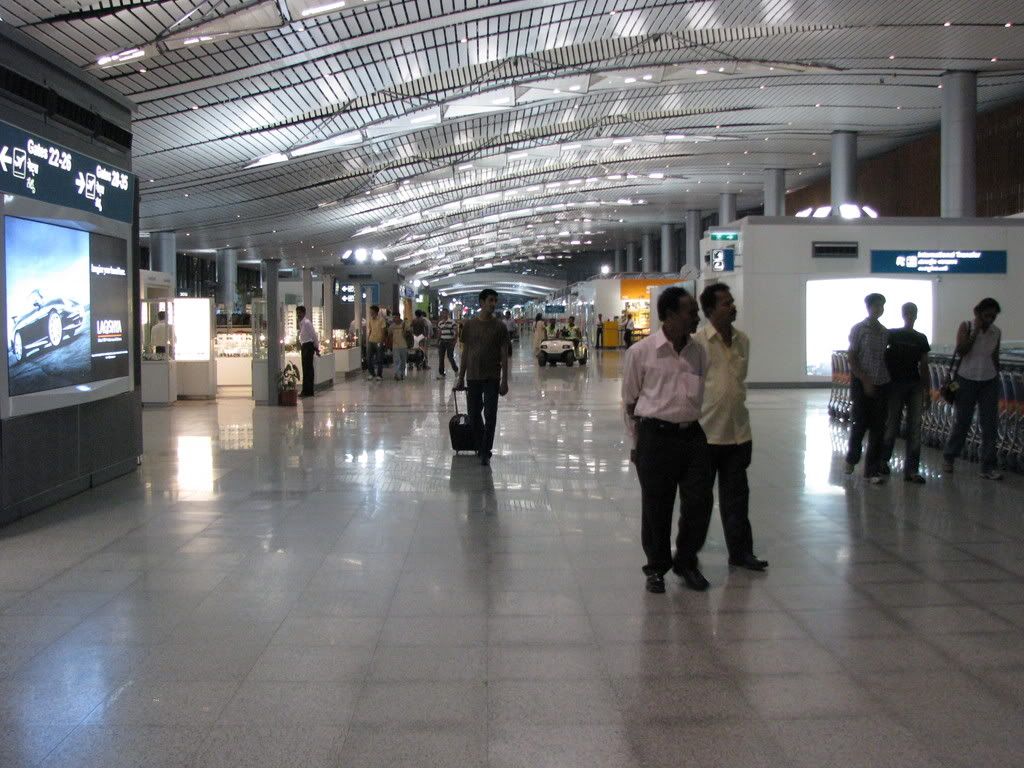 Boarding & Details of the flight:-
Flight No. IT 166
Aircraft : A319-131
Registration: VT-KFH
Gate No. 25F
Seat No. 2F
Loads: 53/144 i.e 37% approx.
Departure times:-
Boarding time: 2053 Hrs
Scheduled: 2120 hrs
Actual: 2116 hrs
Airborne: 2126 hrs
We voluntarily proceeded to the departure get which was at the lower level. It meant we were going to bussed to the aircraft unlike on our arrival we used the aerobridge. We went and sat at the gate holding area. The loads of this flight were even poorer, with just 37% loads. And the funny part was KF was doing sequential boarding (LOL) , 80% of us filled in the first bus and the remaining in the second. AS we approached the aircraft we saw the registration it was VT-KFH. I was happy that now I would have traveled all the 3 A319's of KF.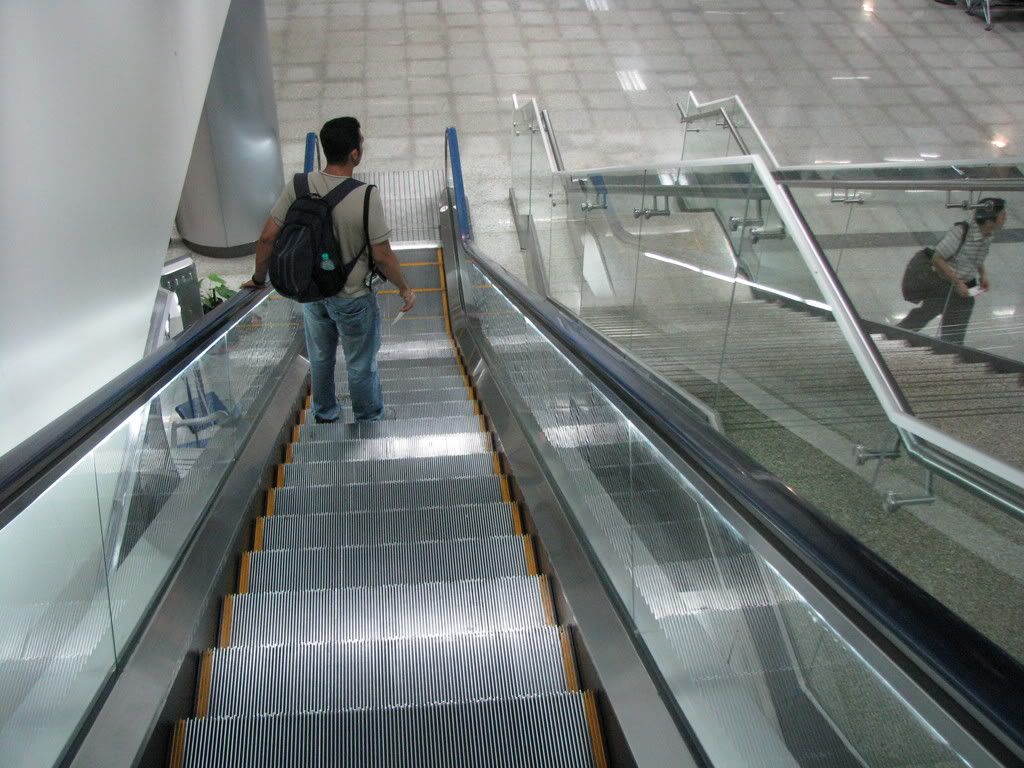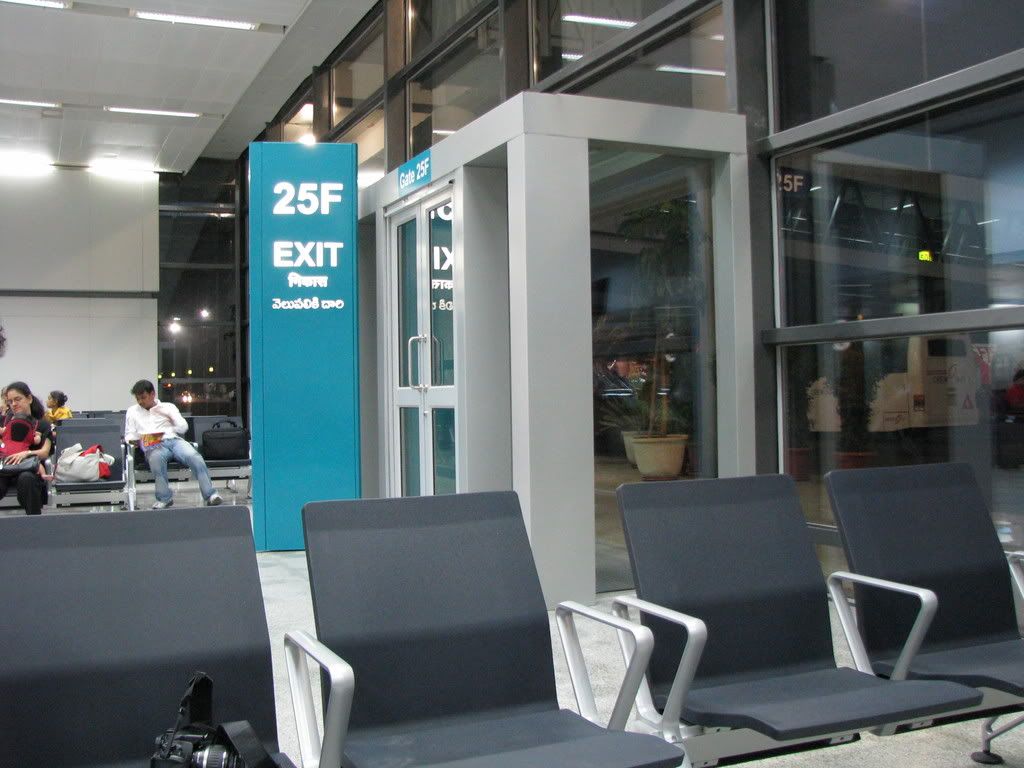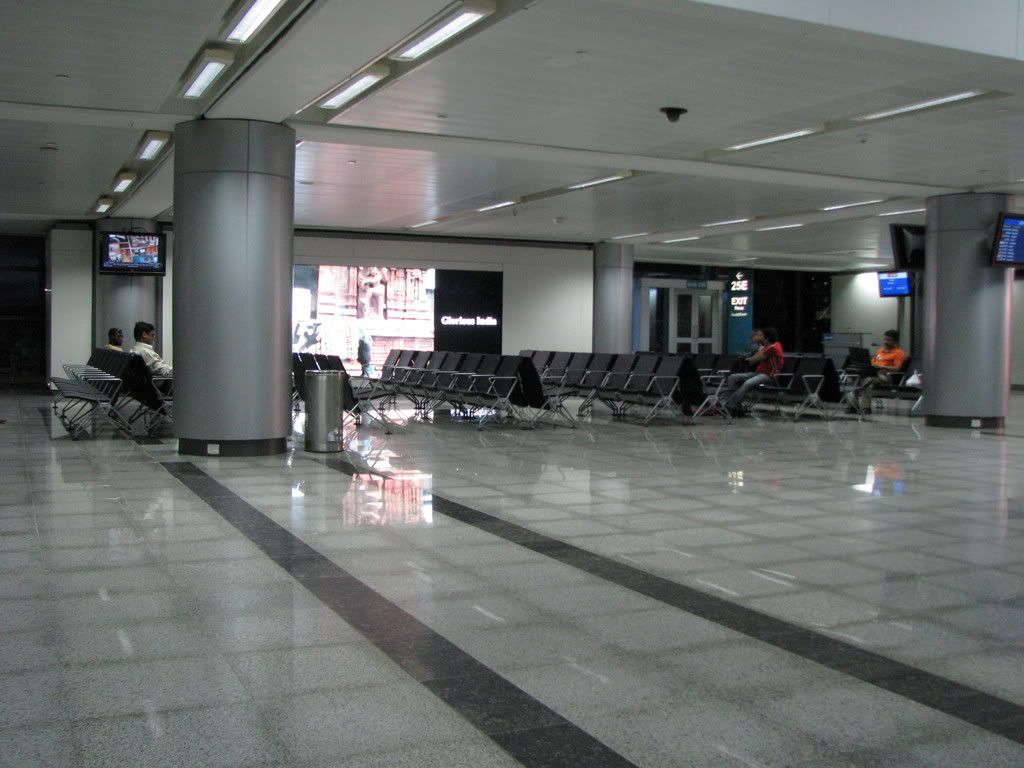 Upon boarding we were greeted by a relatively good set of crew , and there were 2 actually standing at the entrance. Myself and Karan were again seated in the similar fashion me and 2F and Karan at 1F.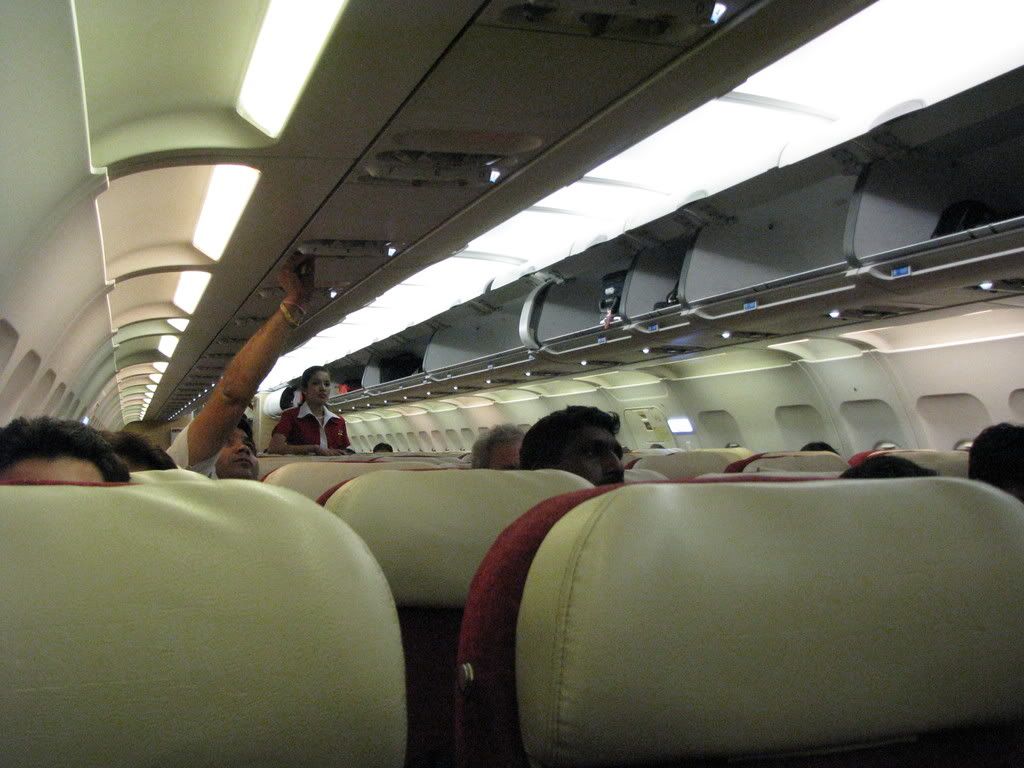 Inflight:-
This time I was luckier had the whole row to myself. The crew started their usual drill of service beginning with fresh lime and then the reduced amenity kit. Soon we pushed back, and and were heading towards RWY 27 for departure. Our flight time was scheduled for 1hr 45mins attributing to the fact that there would be congestion at BOM. The meal service began and the food was very tasty I must say, really good. Here are some pictures-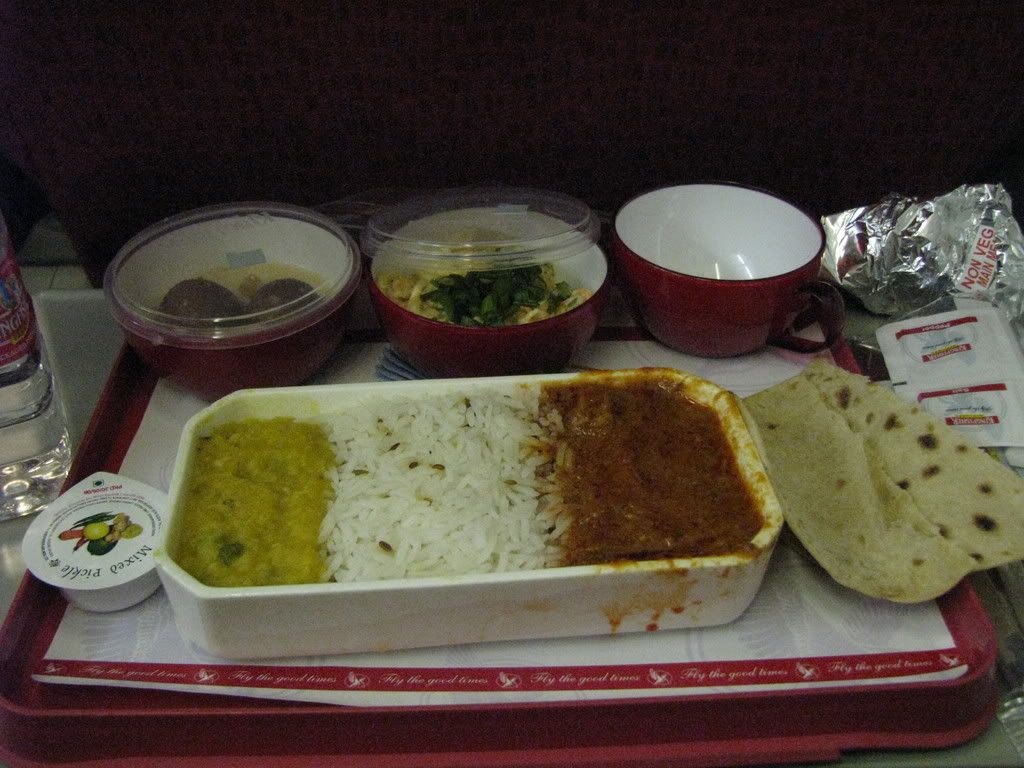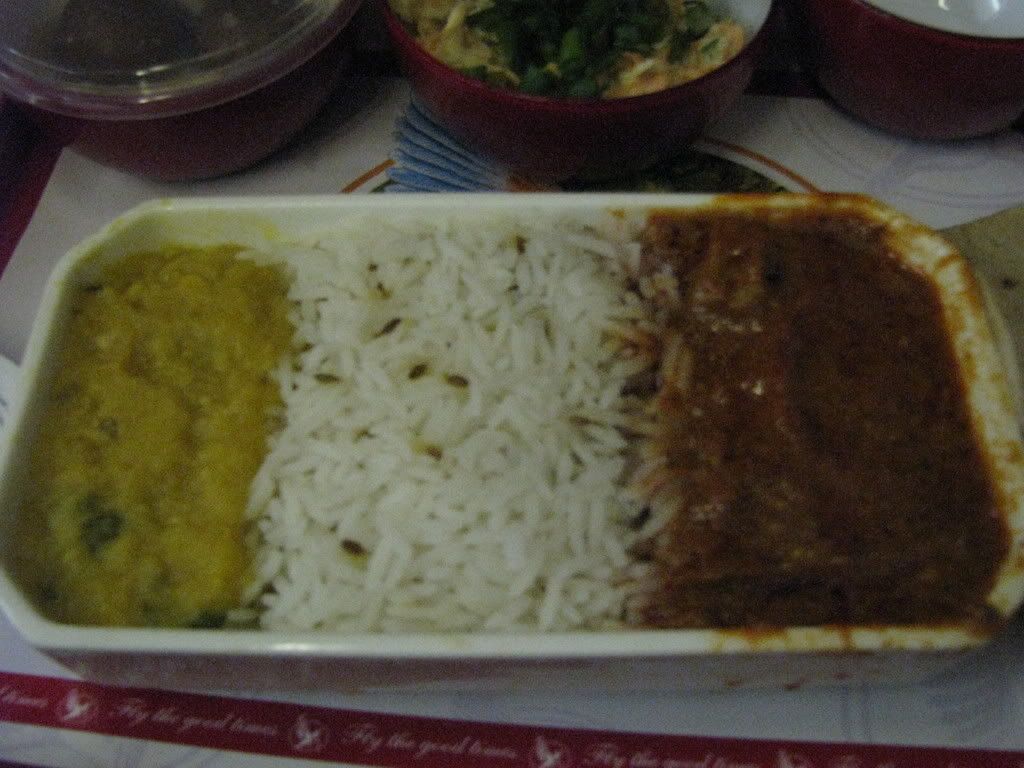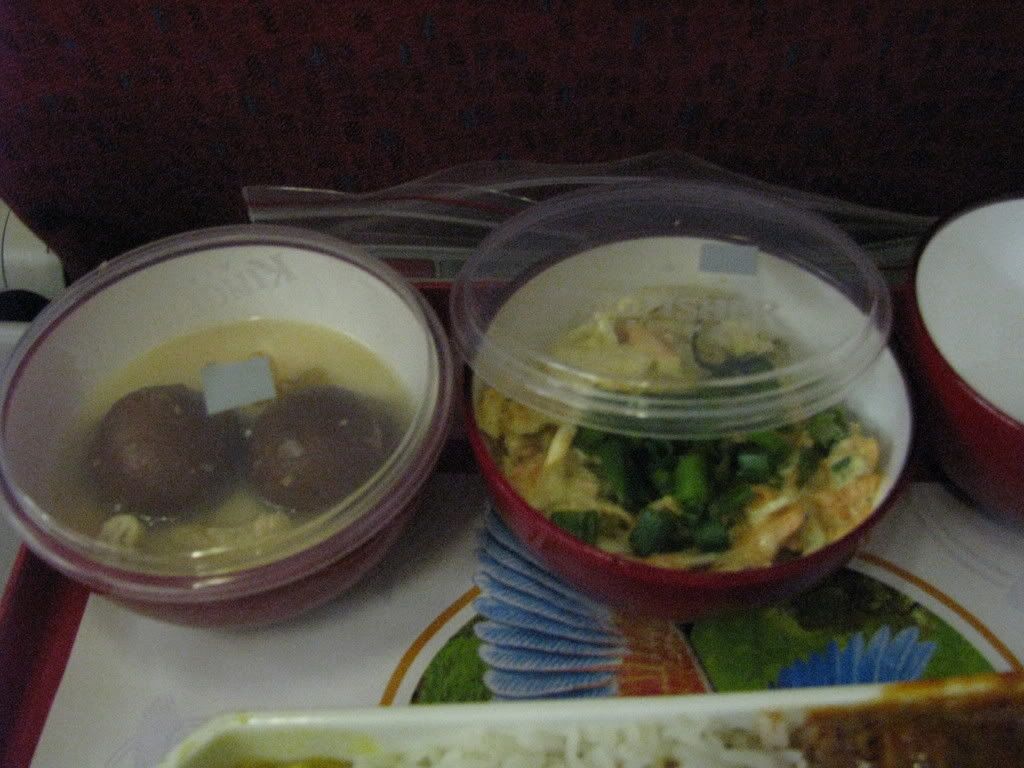 The IFE similar to the first leg kept us busy for a long time. We flew over cities like Solapur, Latur and when we were over Pune ( my hometown and was actually headed there after my arrival in BOM) we were circling over the city as we were well before time. I just felt like taking a parachute and jump off the plane in order to avoid the ordeal of traveling from BOM to PNQ by road at that time. Soon after one huge round of circling we were somewhere near BOM and it was 1015 hrs, the Capt announced we would be circling for another 45mins before we could get our slot for landing and we circled all over BOM.
Arrival times:-
Scheduled: 2305 hrs.
Touchdown: 2303 hrs.
Docking Time: 2311 hrs.
Terminal Used: 1A (Domestic Arrivals)
At 1105 hrs we landed on RWY 27 at BOM. we parked at Bay 93 at BOM which is opposite to the taxiway towards departure, facing towards the international terminal. We deplaned and from there it was a LONG ride to the domestic arrivals which included the circumference ride of RWY 14 passed by the domestic terminal 1B and then towards 1A arrivals. Construction works here as well.
And within minutes Karan parted away, whereas we and Vivek took a taxi, and he dropped me off at a point where I could catch a bus to Pune.
Ratings:-
A/C : 9/10
Crew: 9/10
Food: 9/10
Lounge: N/A
Boarding& ground Formalities: 9/10
Overall: 9/10
Verdict:-
Kingfisher and Jet airways are truly the leaders of the Indian skies. If it were anything around 2007 and before I would say KF was unrivaled but today the case is different KF has degraded slightly, but yet a good option. I would certainly choose KF for the fact I get my QR miles, and in other circumstances they have a variety of flights out of my hometown PNQ than any other airline.
All in all a wonderful trip, and I thank Vivekman2006 and Karan69 for inviting me to the trip as well.
Members' suggestions/queries/criticisms are most welcome.
Regards,
Ojas Purandare