I haven't posted trip reports for a while, but here's one I know at least some A.netters were looking forward to. I had a return to use from an Emirates ticket for FRA-BKK, so I needed to get somehow back to Europe. RJ was the cheapest opinion from BKK to FRA one way, and I would earn full mileage with AAdvantage for the trip.
Booking
Easily done on rj.com, Royal Jordanian uses the same online booking system as MH and until recently Cebu Pacific (switched to Navitaire). I don't know what it is exactly, but certainly doesn't seem like one of the major online booking interfaces such as Amadeus.
Anyway, it displays availability over a chosen period, has seat selection and spits out ticket numbers immediately after payment, so no complaints there.
Re-routing
While checking Expertflyer for availability two days before the flight, I noticed RJ181 said 1-stop next to it. Further investigation revealed it was scheduled as a fuel stop only, as there were no traffic rights for BKK-DOH or DOH-AMM. Our 4h20min connection at AMM was shortened to 3h05min.
18 February 2008
Bangkok Suvanrabhumi (BKK/VTBS) – Doha International (DOH/OTBD)
Royal Jordanian RJ/RJA 181
Airbus A310-304
JY-AGP [Delivered to Kenya Airways as 5Y-BEL 05/1986]
2315-0250+1 – On Time
Economy Class, Seat 4J (Bulkhead)
View Large
View Medium


Photo © Frank C. Duarte Jr.
Check-In
We had arrived from CGK via KUL earlier, and had quite a few hours to spend at Suvarnabhumi. Maybe I'm overreacting to possible delays on Air Asia, but I simply don't feel comfortable connecting from AK to a separate longhaul ticket with anything less than 4 hours.
Economy class lines were long before check-in had even opened, mostly the typical crowd one would expect on RJ. European backpackers mostly. Thanks to my AA status, we were able to check-in at the business class counter which was not signposted due to a faulty monitor… Does BKK ever get its act together? We got our boarding passes quickly and they made no fuss about the slightly overweight bags.
Nothing was said about the rerouting, but there was a sign "RJ181/18FEB reroute BKK-DOH-AMM due to refuel". We were assigned first row of economy without requesting any seat change.
Immigration
Absolutely packed, as always with all the midnight departures to Europe, Middle East and North Asia. We went straight to the "Diplomatic/Official Passport" line as they allow families with small children to use it – waiting time about 2 minutes.
With no lounge access, we went to the restaurants in F concourse. I had a pizza from The Pizza Company, that pretty much saved the AMM layover later…
Boarding
RJ181 was departing from F3, very close to the abovementioned restaurants. Boarding started at around 11pm, and Crown class, status holders and families with infants were boarded first. Greeted by the purser at the door, I was glad to see the aircraft had the refurbished interior.
Seats/Cabin
Refurbished RJ A310-300s have lie-flat Recaro seats in Crown Class (same as LH C) and also Recaro seats in economy. The economy seats were some of the most comfortable I have tried, and legroom at the first row was excellent. The overhead bins were showing their age though, and hadn't been touched during the refurbishment.
View of rows 4-5. Note the ancient IFE controls, the IFE wasn't modified at all.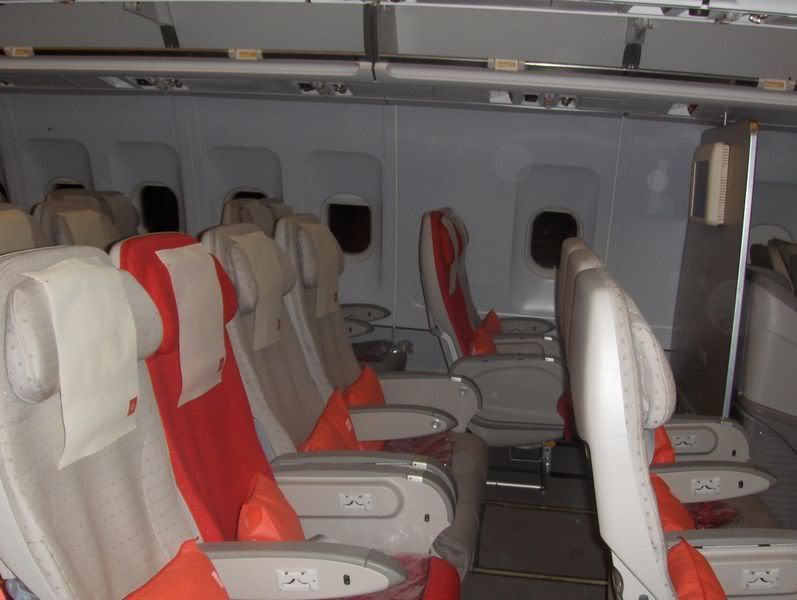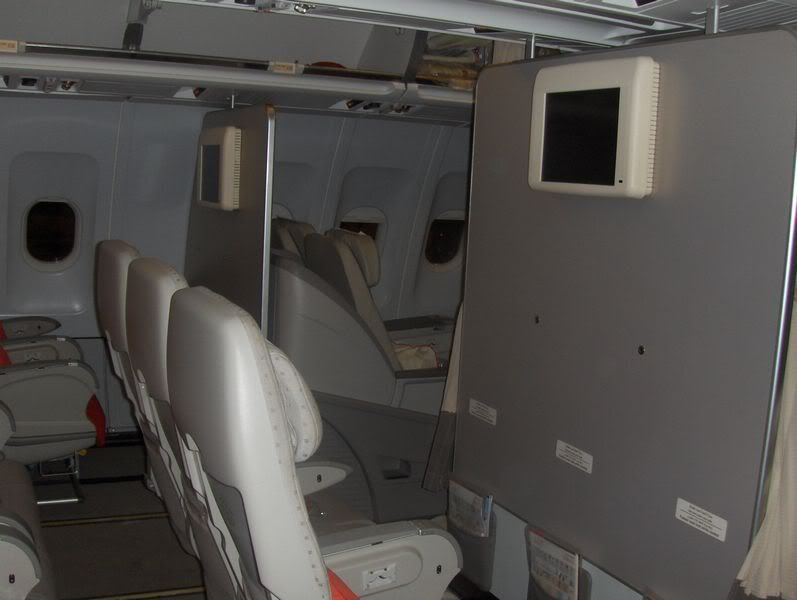 LCD screen on the bulkhead showing our route to Doha indeed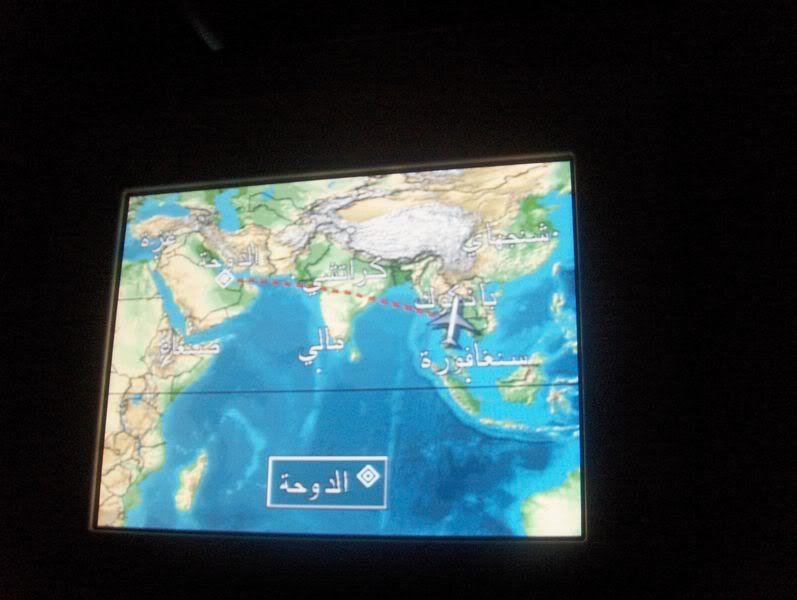 The captain briefly welcomed us onboard, and didn't say a word about the Doha stop, almost as if it was a routine thing. Same thing with the purser's announcement. RJ security personnel were very visible during and after boarding. They were just about the only people sitting in Crown Class, economy was about 60% full despite all classes being zeroed out two days earlier. Flying time of about 7h30min to Doha.
The four center seats remained empty until the purser brought somebody he clearly knew from the back into 5D. He spread out his things across the seats, obviously expecting a good night's sleep. But the Thai flight attendant serving our aisle was determined our baby would sleep there as he's too big for the bassinet these days. "Sir, these seats are now taken, please move your things", and she then told us she had three seats for my wife and our son… Excellent service. The result was I had two seats to myself too…
Food, Service, IFE
We were pushed back on time, and took off without further delays. Dinner was served, along with drinks. There were two choices, but no menus were given out.
Beef with mashed potatoes, green salad, some cake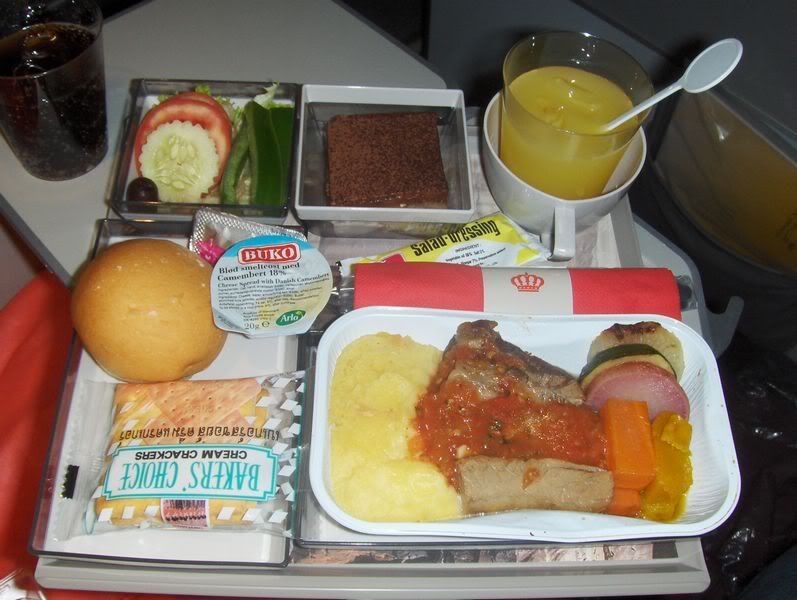 A rather simple and typical el-cheapo economy class meal, the "green salad" is a clear tip-off as far as I'm concerned. Premium airlines such as SQ, EK and TG always put some meat into the appetizer. The beef however was rather good. No drink refills whatsoever, and service could best be described basic and adequate.
With no IFE to speak of and the rather comfortable seats as far as Y goes, I was able to get quite some sleep, and only woke up as we were about to start our descent into Doha. Landing was around 0230 if I remember correctly, and we taxied to a remote stand. The RJ security guys sprung into action for whatever reason, and we were refuelled.
19 February 2008
Doha International (DOH/OTBD) – Amman Queen Alia International (AMM/OJAI)
Royal Jordanian RJ/RJA 181
Airbus A310-304
JY-AGP [Delivered to Kenya Airways as 5Y-BEL 05/1986]
0330-0630 – On Time
Economy Class, Seat 4J (Bulkhead)
View Large
View Medium


Photo © Frank C. Duarte Jr.
About 40 minutes after landing, we were on out way again. Flight time of about 2h40minutes to Amman. Instead of loading an extra meal, there was simply no meal service before landing at DOH, and only a continental breakfast was served on the almost three-hour flight to Amman. Very poor for a flight over 11 hours with the fuel stop. Service remained at the same level as BKK-DOH, practically non-existent at least from the local male crew.
Breakfast
Legroom on the A310-300
We landed at AMM around 6.30am, and by showing our boarding passes, were let into the transit area from arrivals/passport control.
Transit at Amman
The airport is a complete rathole, dirty, disgusting, lacks any facilities. The seating was uncomfortable, restaurants non-existent (Starbucks and some other café whose credit card terminal was broken). I was thankful I had a few slices of that pizza left… If it can be avoided, the toilets should not be visited at all.
Transit area and entrance to a RJ lounge (both of which I hear are very poor)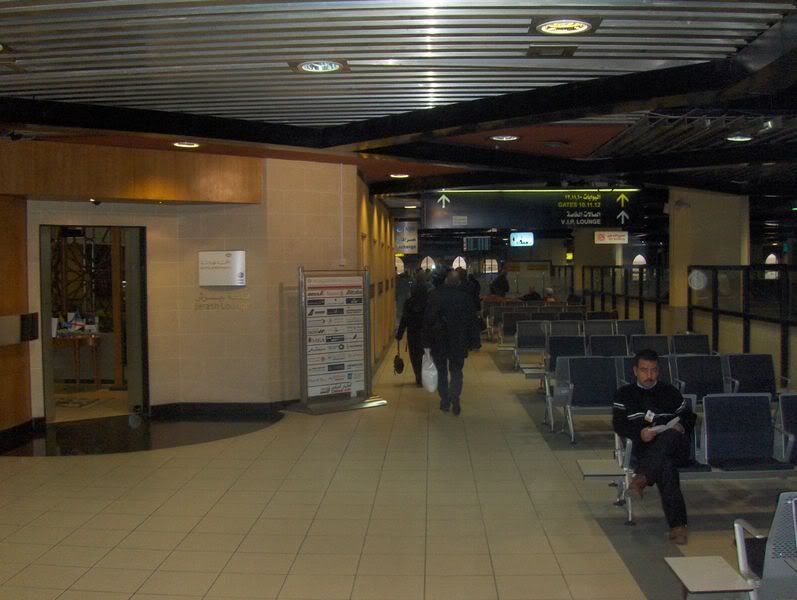 19 February 2008
Amman Queen Alia International (AMM/OJAI) – Frankfurt Main International (FRA/EDDF)
Royal Jordanian RJ/RJA 125
Airbus A320-232
F-OHGV [Delivered to Royal Jordanian 01/2006]
0935-1320 – On Time
Economy Class, Seat 8J
The gate finally opened about an hour before departure, and security screening is conducted at the entrance. Despite large posters claiming the opposite, a bottle of water went through just fine… This flight was scheduled as A321 but was changed to A320 later. All RJ A320s have new interiors while some A321s still have old.
F-OHGV seen through the AMM windows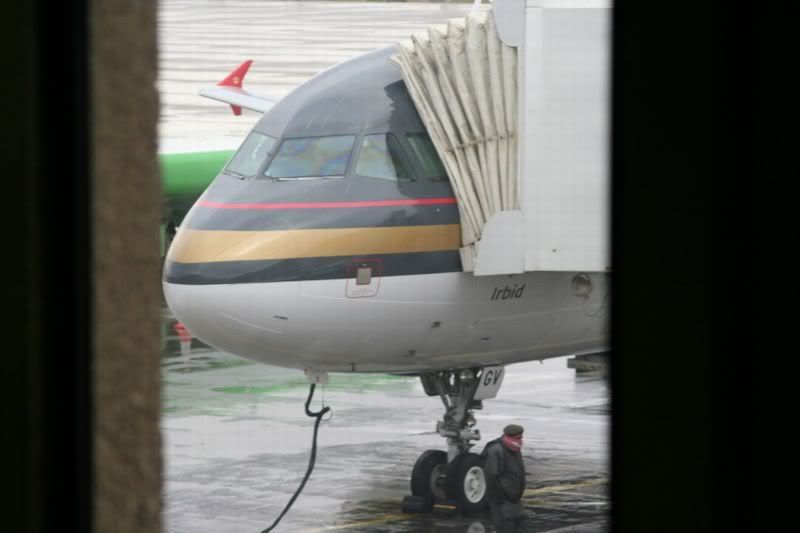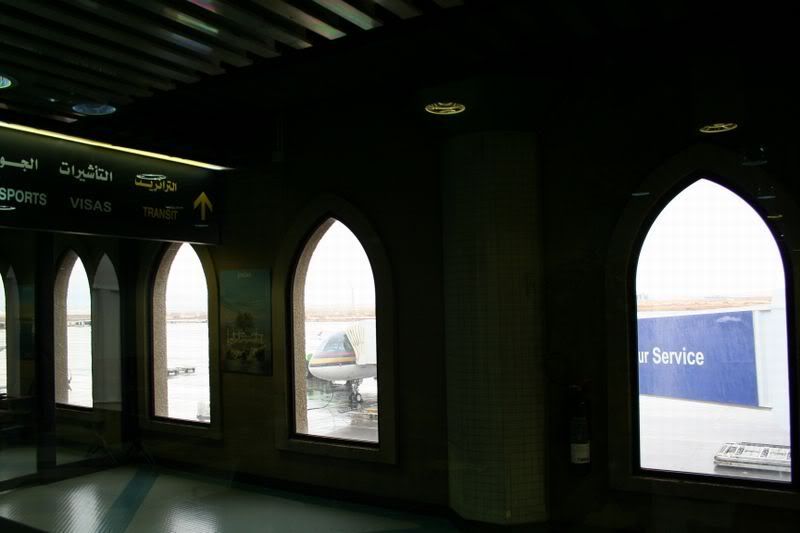 Boarding
With a light load, a general boarding call only was made. Don't think enforcing priority boarding would have made any difference as the load seemed to be about 60-70% despite the downgrade from A321 to A320. Crown Class was practically empty. The new interiors of RJ A320 series look nice, and have Recaro seats in both classes as well as AVOD. Legroom was excellent, perhaps around 34".
Chicago-bound A340-200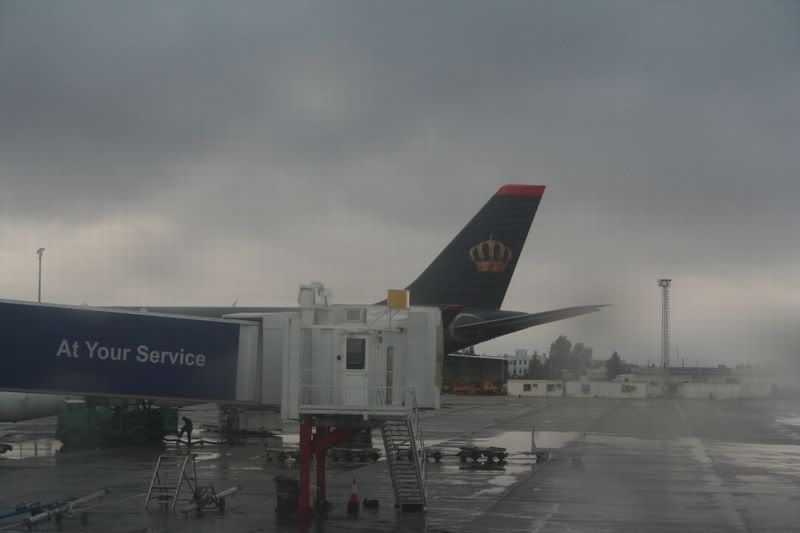 Baghdad-bound Iraqi Airways B737-200
IFE
IFE is AVOD indeed, but not on the same level with ICE or Krisworld. However, there were enough options to keep you entertained for a few hours. The audio in my seat didn't work properly, but as we had three seats to ourselves, I used the audio from the middle seat. Tricky with movies though, as both had to be started at the same time…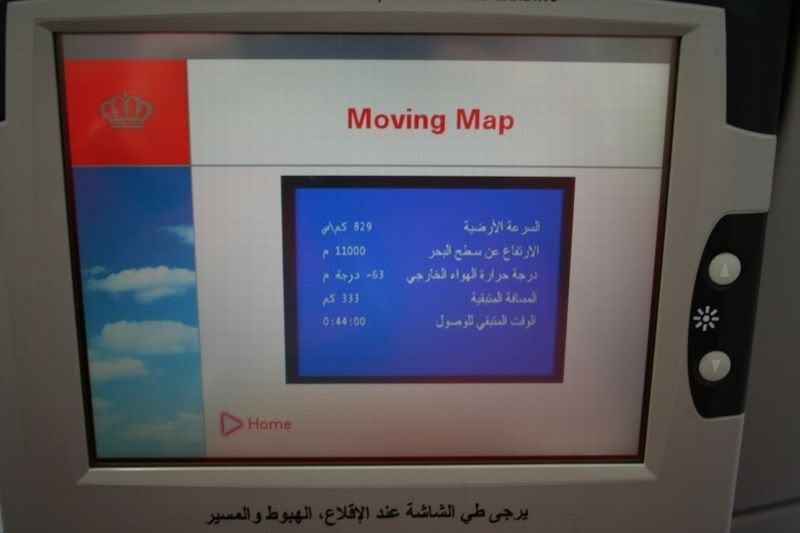 Cabin views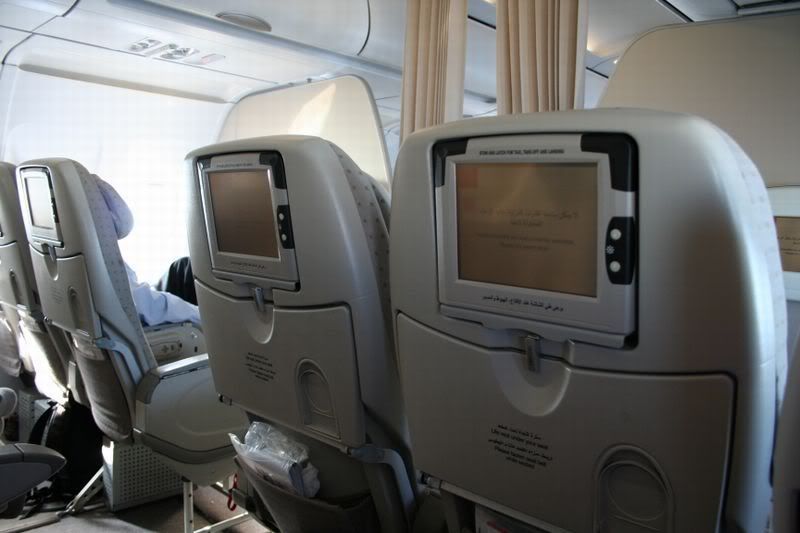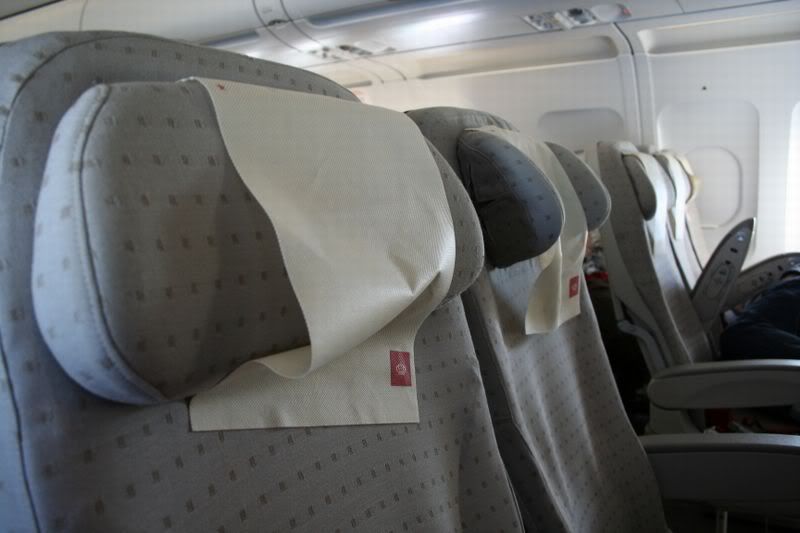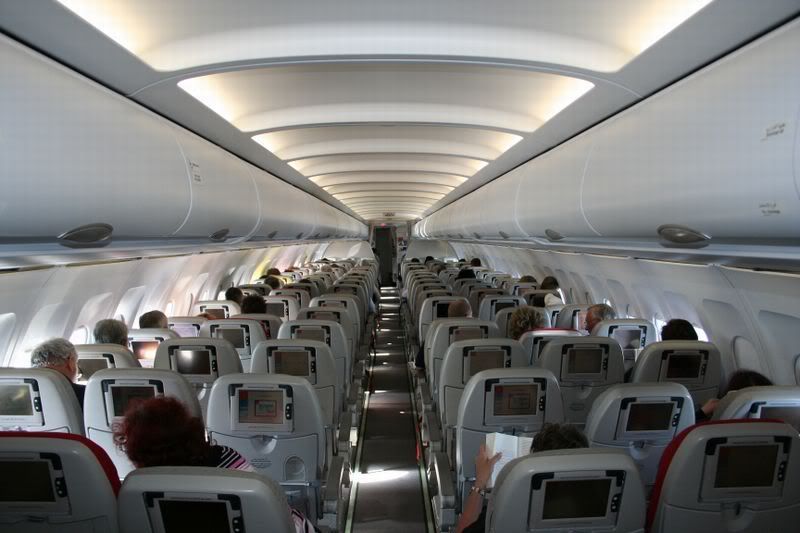 Weird lettering instead of ABC-DEF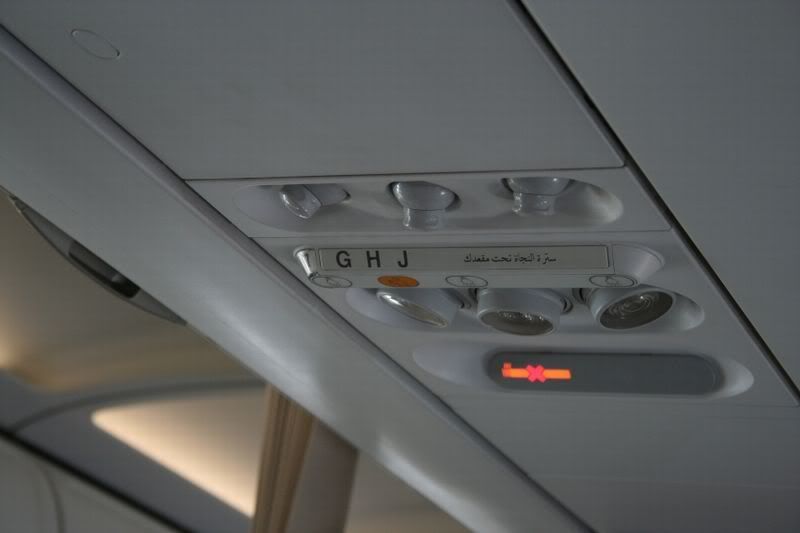 Legroom
IFE boxes take lots of space
Crown Class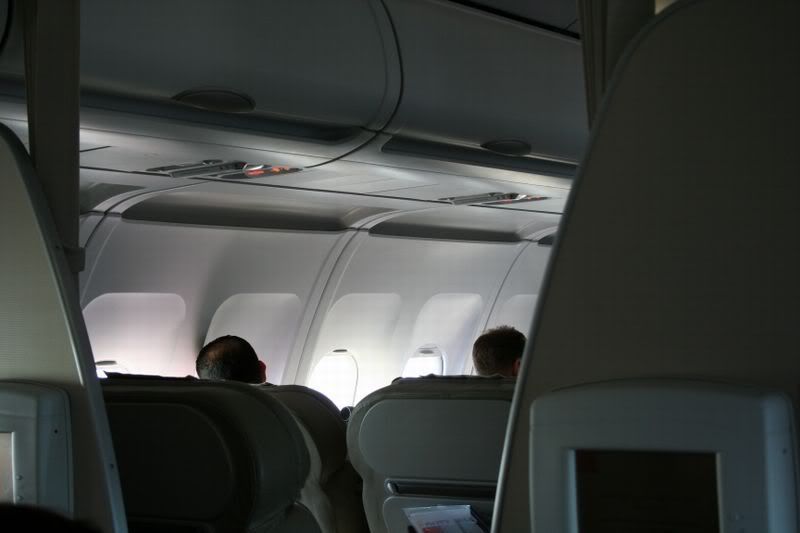 Service/Food
We were pushed back on time, and took off after the Iraqi Airways B737-200. Flight time to FRA was about 4h30min. A tasteless breakfast with no choice was served, and it was rather small as well. Service remained non-existent.
Outside views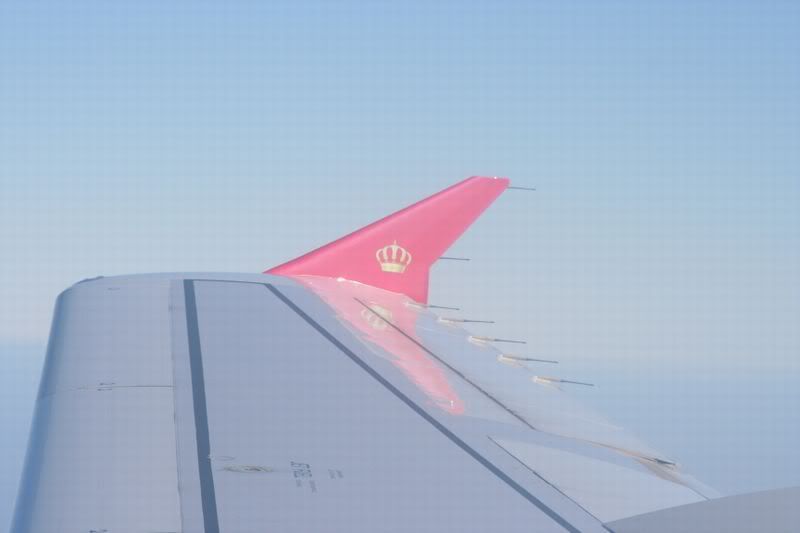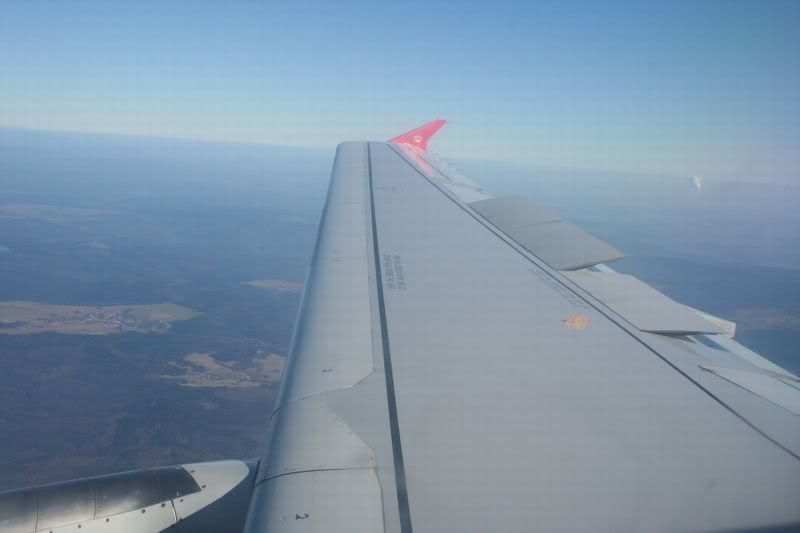 Approaching Frankfurt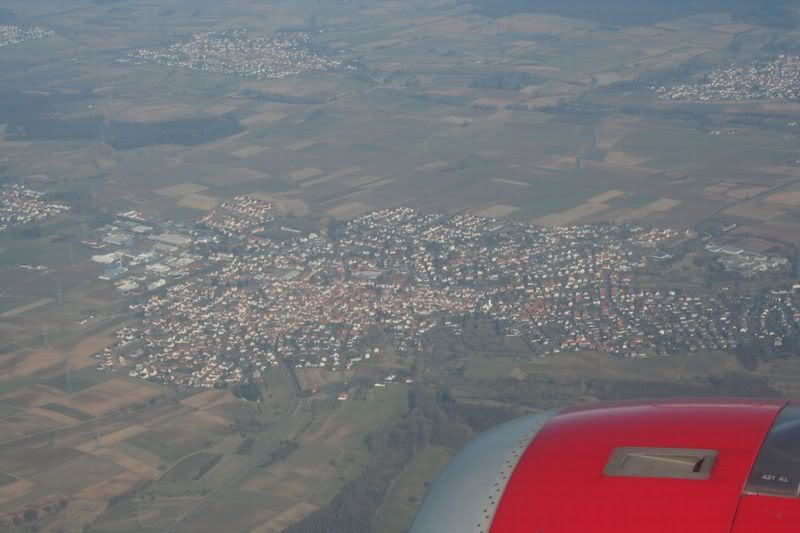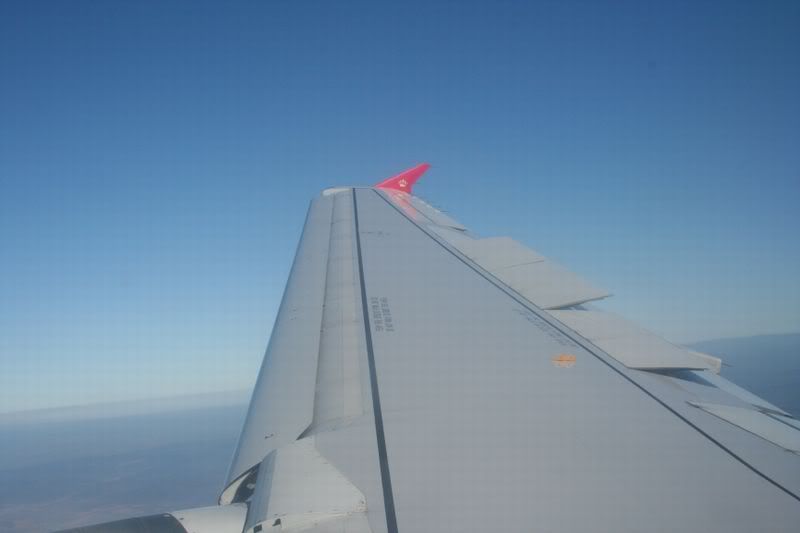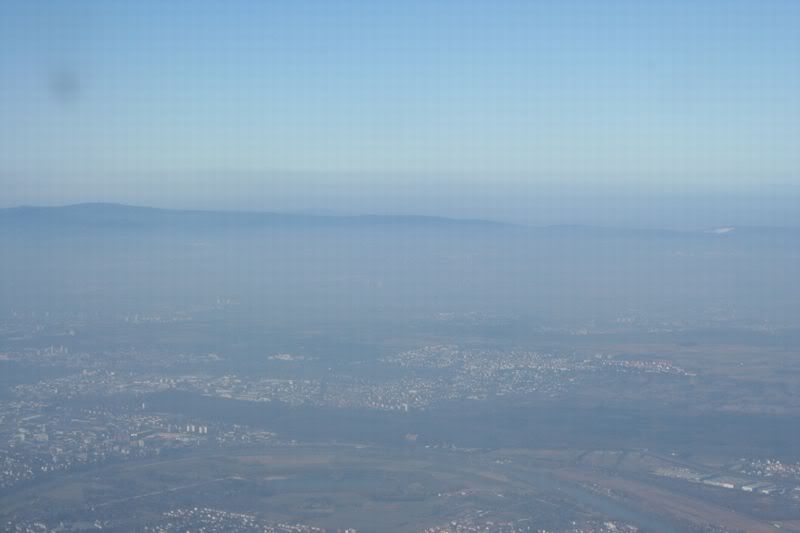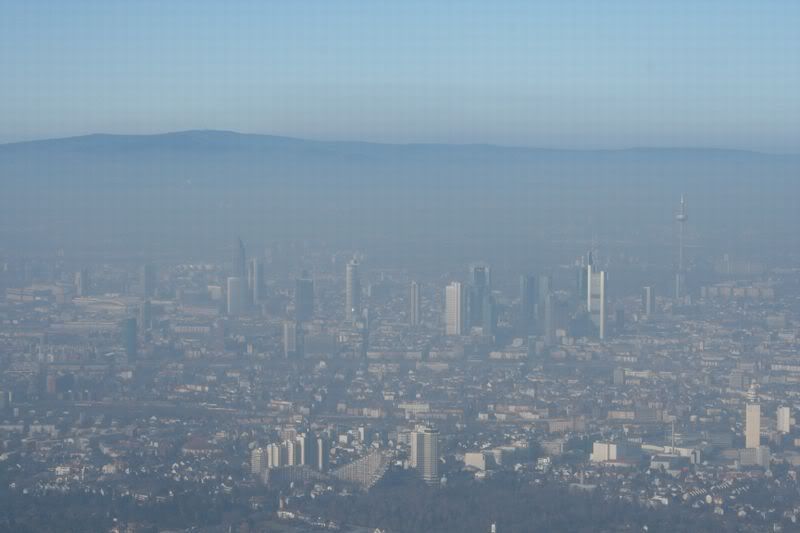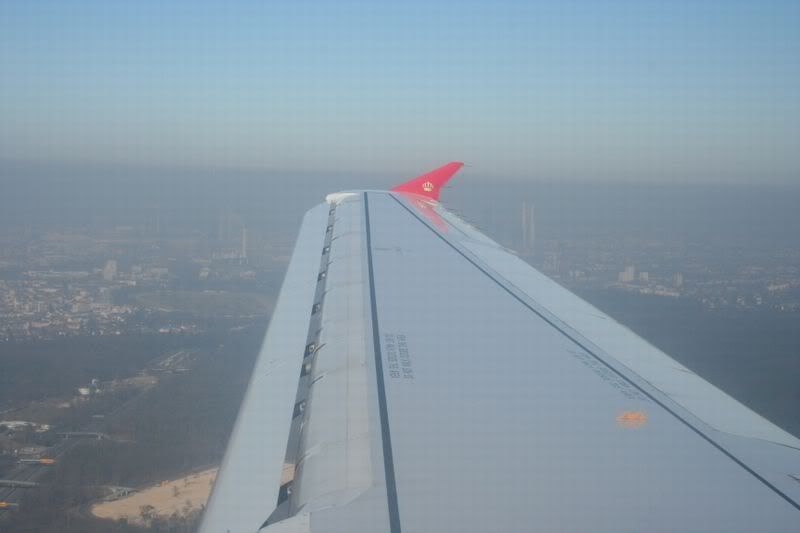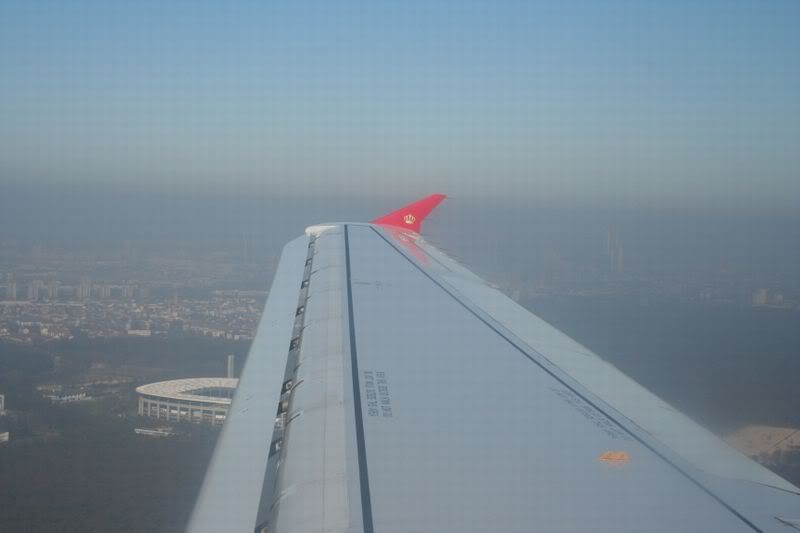 FRA T2
FRA T1
LH A340-300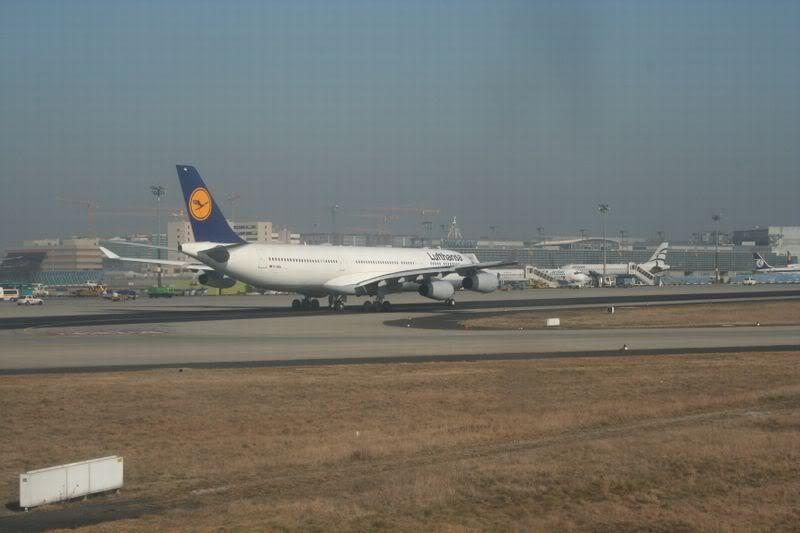 UA 777-200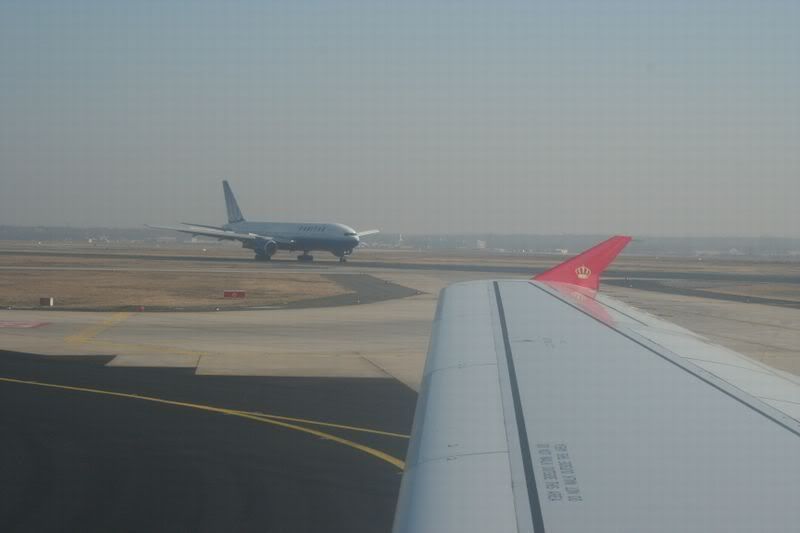 LH A300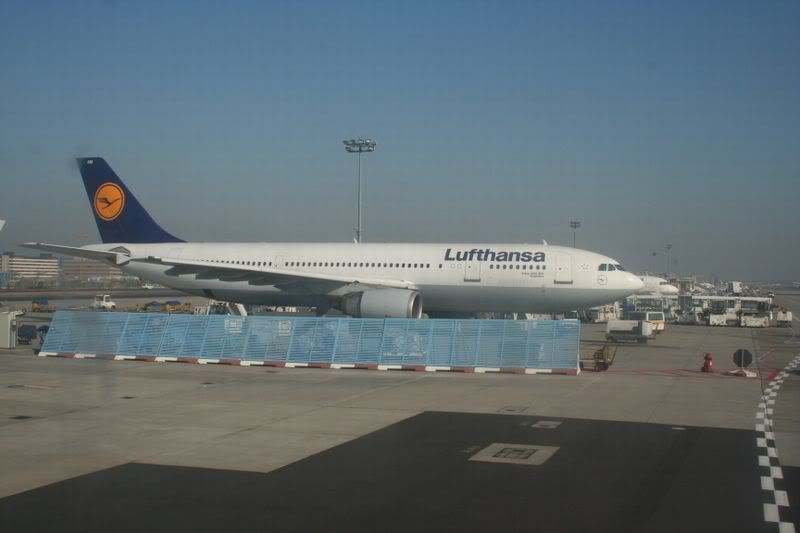 We parked at a remote stand, and were bussed to T2. I took some photos of course…
Crown Class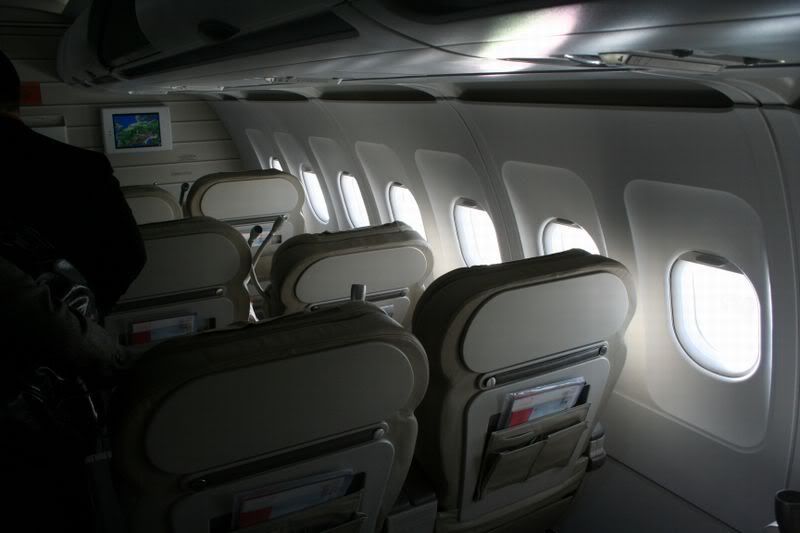 Our aircraft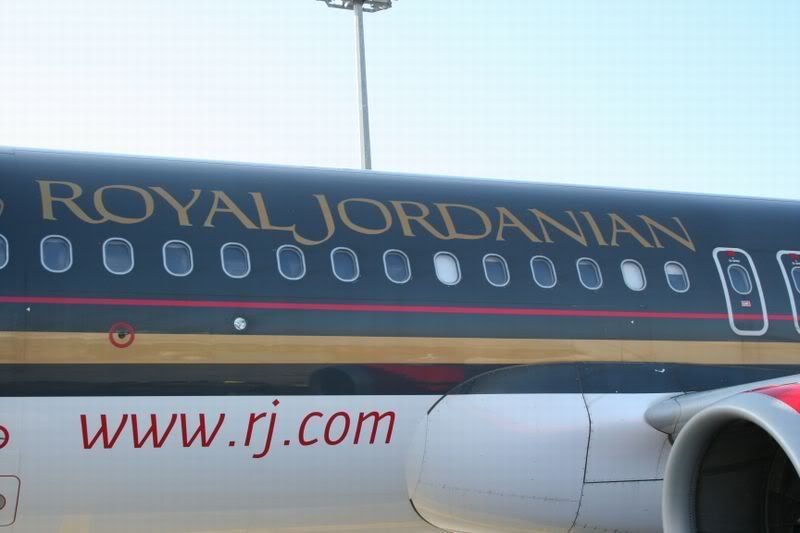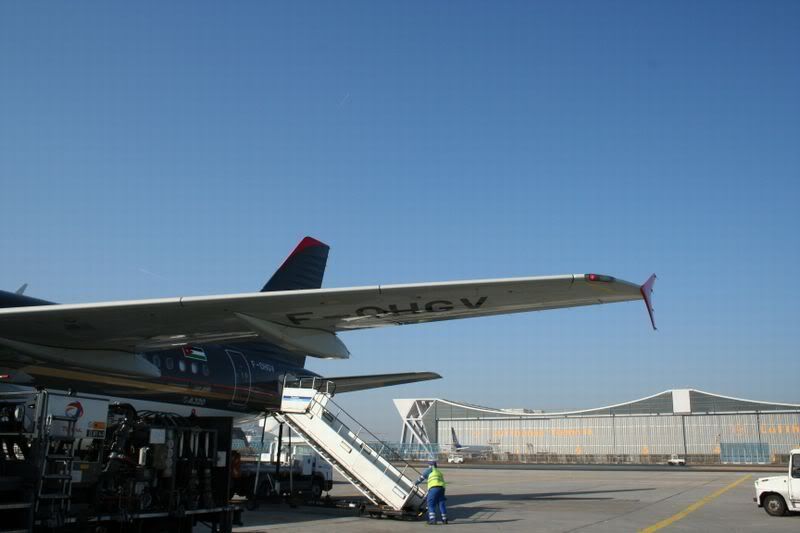 AeBal 717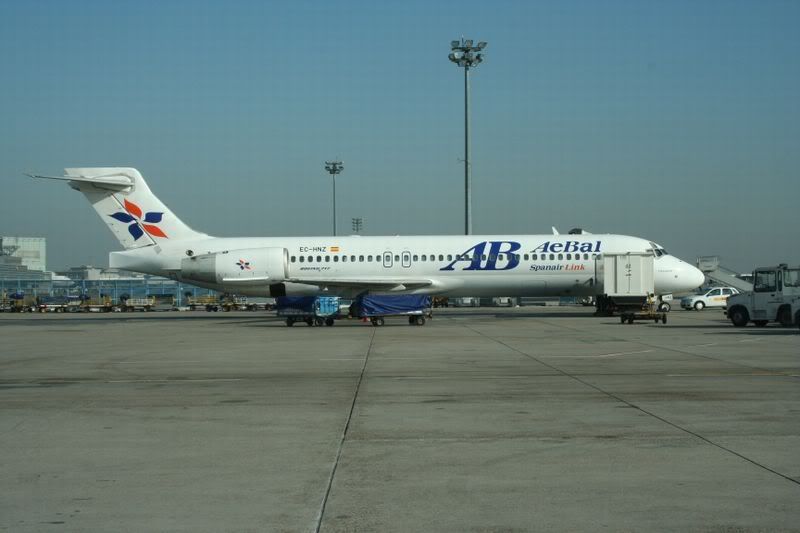 Condor A320 taxiing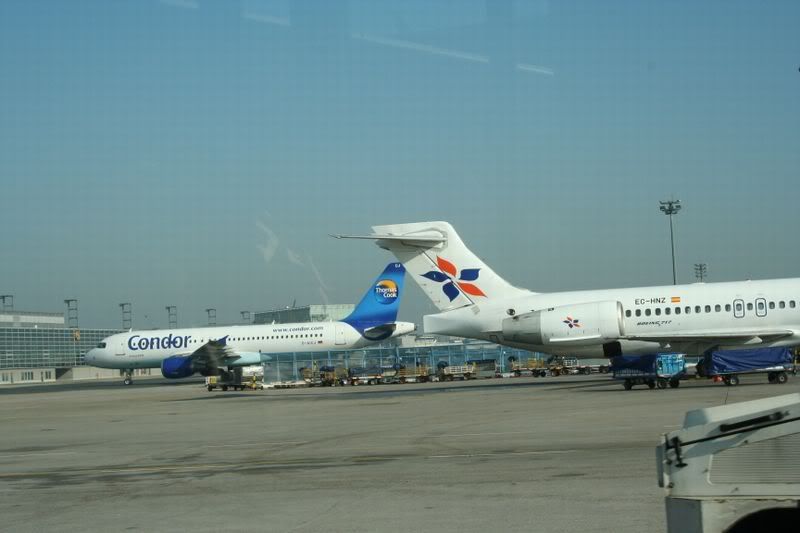 Baggage came relatively quickly unlike last time with EK in FRA T2, but customs was taking their time with various Russian arrivals whose belongings were checked. Without exception, only people with trashy looking bags or boxes were stopped…
We took a taxi to the Marriott Frankfurt where we spent 1 night before continuing to HEL.
More reports coming soon…
Lufthansa747