This trip report covers a flight from JFK to CDG on Airfrance flight #11 codeshare with Delta Air Lines (flight #8587). Scheduled service is on a 747-400 but the particular 747 had gone out of service and a 777-300ER was used as a substitute. Here are some more stats.
aircraft: B747-400/actual B777-328/ER
reg# F-GSQE
dept. time: 1930 hours/ actual 0230 hours
arrival time: 1045 hours/ actual 1545 hours
flight time: 7 hrs and 15 minutes
Dept. city/gate JFK/ terminal 1 gate 5
arrival city CDG
seat/class seat 23A coach/ actual 12E business
I arrrived nearly 3 hours before the flight due to the very bad weather in the NY area. This was the night that JFK had seen 5 + hour delays due to WX. The check in line for coach pax was very long and I felt impatience and frutration settling in quickly as the line seemed to be hardly moving. I noticed that the business elite line also allowed for skyteam elite plus fliers so, that being me I moved over to that line which put me right at the front. I approach the check in desk and give my ID to the CSR. After about a minute or two, the CSR informed me that due to an aircraft subsitution I would be upgraded to business class from my coach seat. The reason was, the 747 has many more seats in coach then the 777 so they had inadvertently sold out coach.
After receiving my business class boarding pass, I headed for security and for the Airfrance lounge. First, getting through security in terminal one was a breeze and I found myself in the spacious Air France lounge within 10 minutes of checkin in. The lounge consists of 3 floors so there is plenty of room to stretch out. At 1800 hours, a meal service was served which consisted of soup, sushi and a few other tasty treats.
Next, the bad weather. Although Air France makes announcements in the lounge regarding departures, they had only said that flight 11 wouldnt be taking off any time soon. So, I sat back down and cranked down a few more vodkas. After 45 minutes past scheduled dept. time I inquired again as to the new dept time and was told no time soon. I decided to walk to the gate and see what was going on and low and behold, they had began boarding. So much for timely announcements.
After taking my comfortable seat which had a massage function, the foward boarding door was closed about 1 hour late and we psuhed back about 20 feet and stopped. We did not move an inch for about 5 hours. So, we got our full meal service not at 34,000 feet but at ground level.
Soon after takin off, I fell asleep in the cozy business class seat only awakening for breakfast which actually became lunch. It consisted of some chocolate bread and fruit. Not that great. The B777-300ER is a very smooth aircraft and if not for the vodka induced sleep, I am sure I would have had a very smooth ride regardless. The lav in business class was very small and was quite surprised by this. The headphones were cheap and were not noise cancelling. They were basically the standard headphones that are handed out in coach. The pillow and blanket were on the small side and again, I was surprised by this. Overall, not a bad flight in business class for the price of a coach ticket. Here are the pics
The Air France lounge
An old Air France picture as seen on the wall of the lounge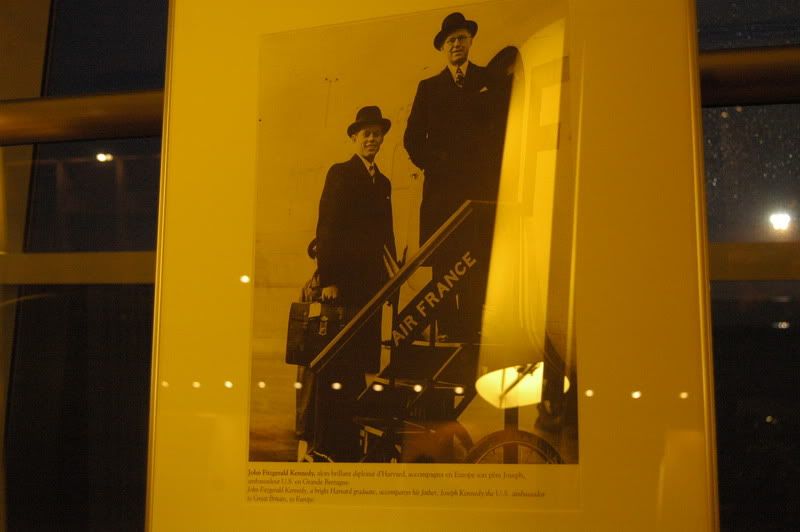 Pictures of my plane to CDG as seen from the lounge. aircraft # F-GSQE
The check in area at gate 5
down the jet bridge to the plane
The 1st class cabin
the business class cabin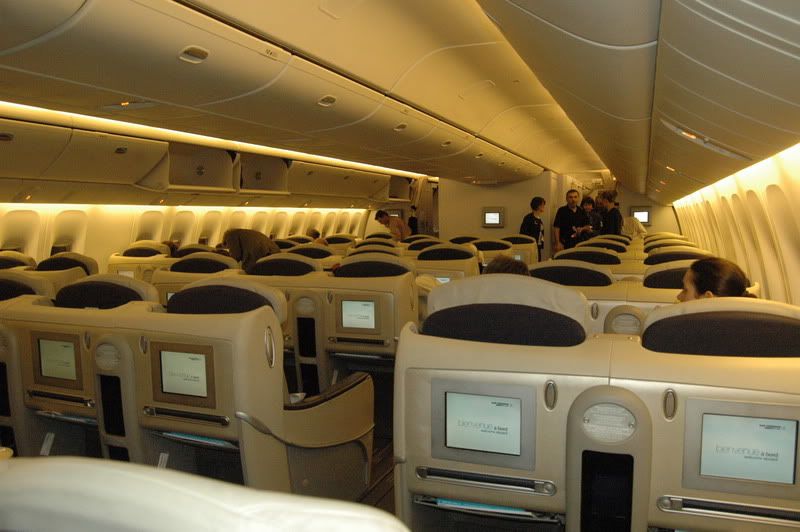 the small lav in business class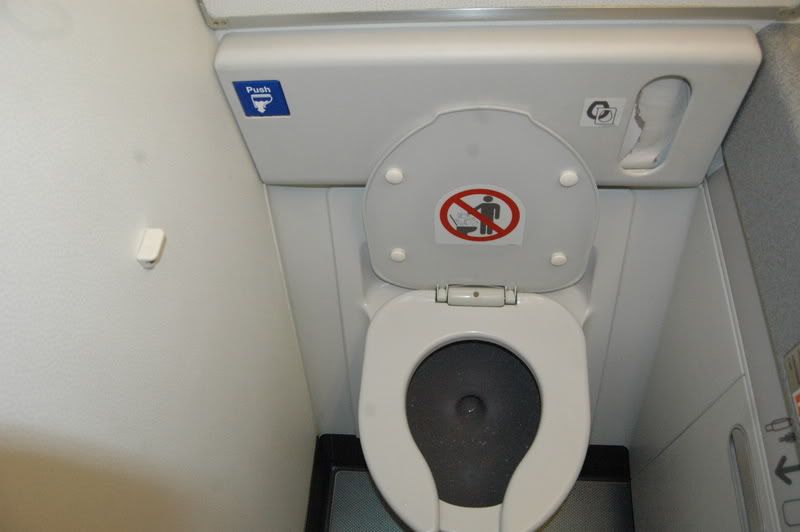 control panel for the biz seat
the biz seat in its fully extended position
par of the main meal service served at ground level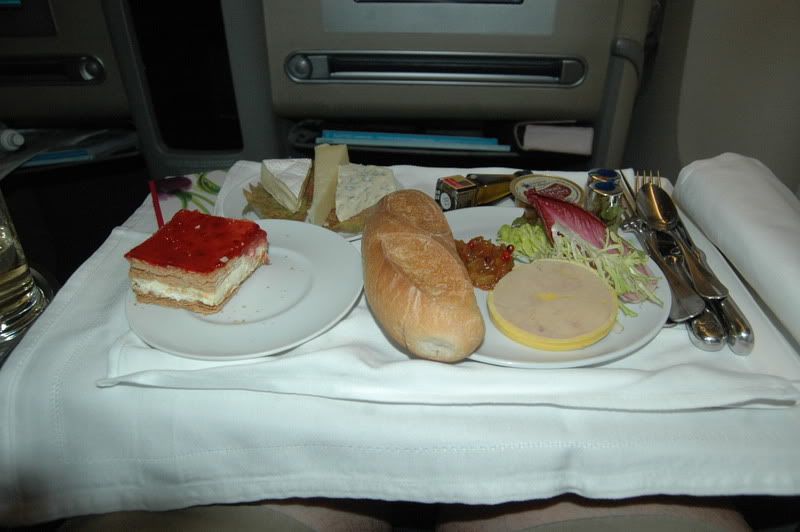 turning onto final approach. My seat overlooked the front portion of the massive wing
the video monitor moments before landing, you can clearly see alt. and speed