On the 18th of this month I flew Southwest Airlines from New Orleans to Seattle, via Las Vegas. I took the 6:20pm departure from MSY. Both flights were basically on time, and as usual with Southwest, the service was very good, with limitless free snacks available to all passengers. In fact the f/a on the first flight proudly proclaimed "This is not US Airways, we still serve snacks for free on Southwest." That brought out a round of laughter. Since I checked in the day prior online, I had boarding group A for both flights, so I easily got to choose the seat of my choice. MSY-LAS was on a 73G which had arrived from PHX, and the flight was 98% full. Approach into LAS was very scenic as you'll see in the pictures below. LAS-SEA was on a 733 which had arrived from ONT, and it was about 65% full. I arrived in SEA at around 11:30pm and made my way to my hotel...Days Inn/Airport...by 12:15am. After checking in quickly I found my room and went to sleep.
Here are the pictures from the flights...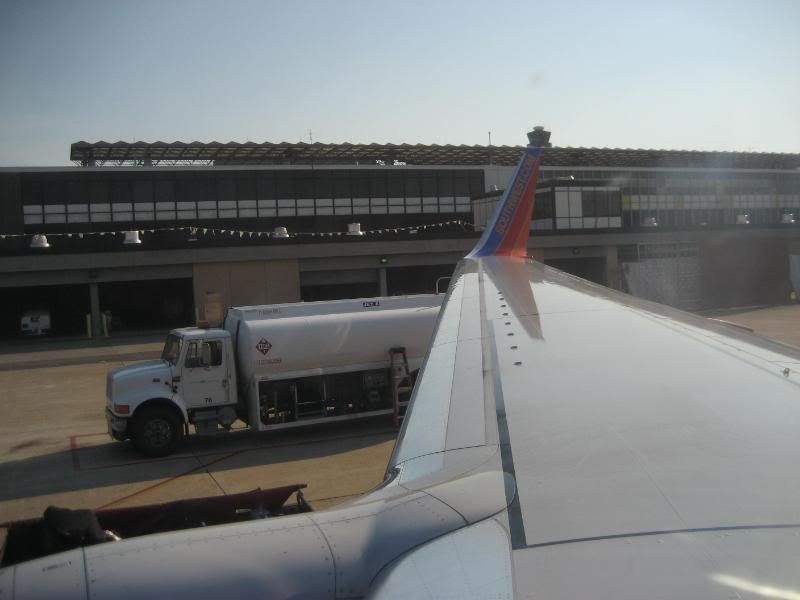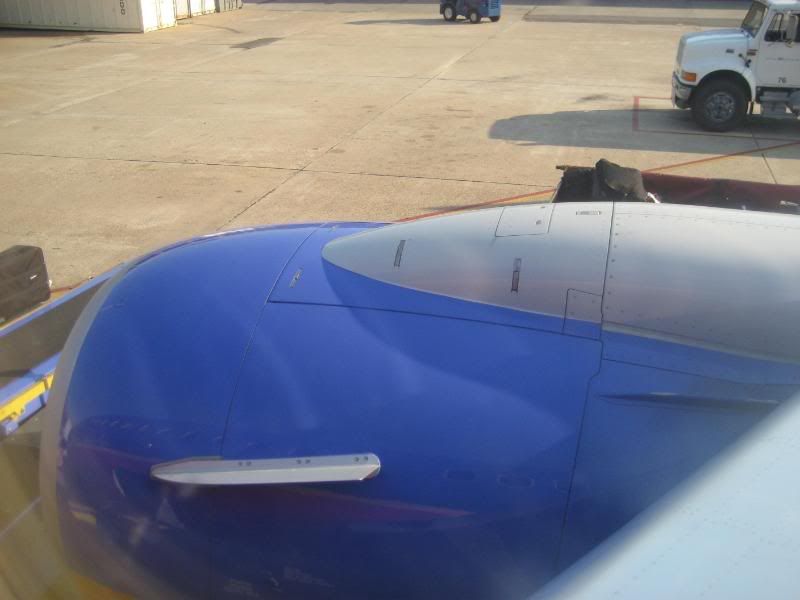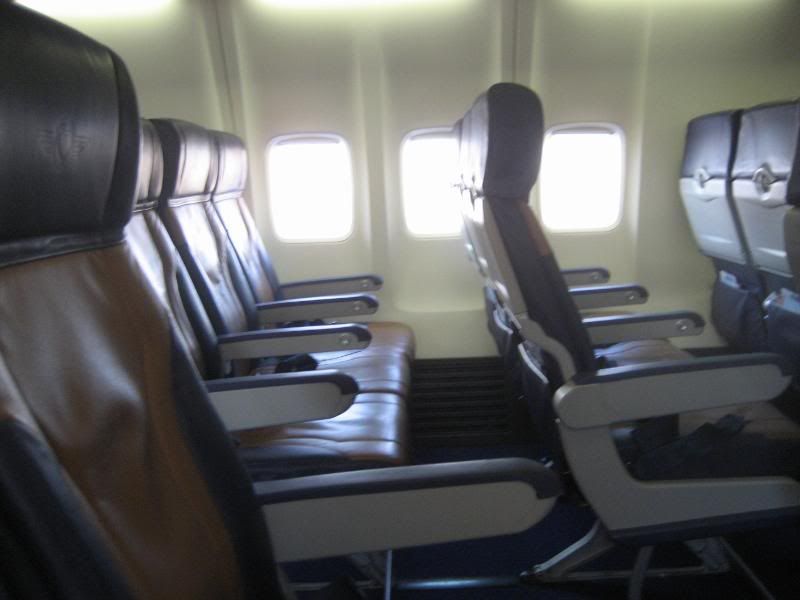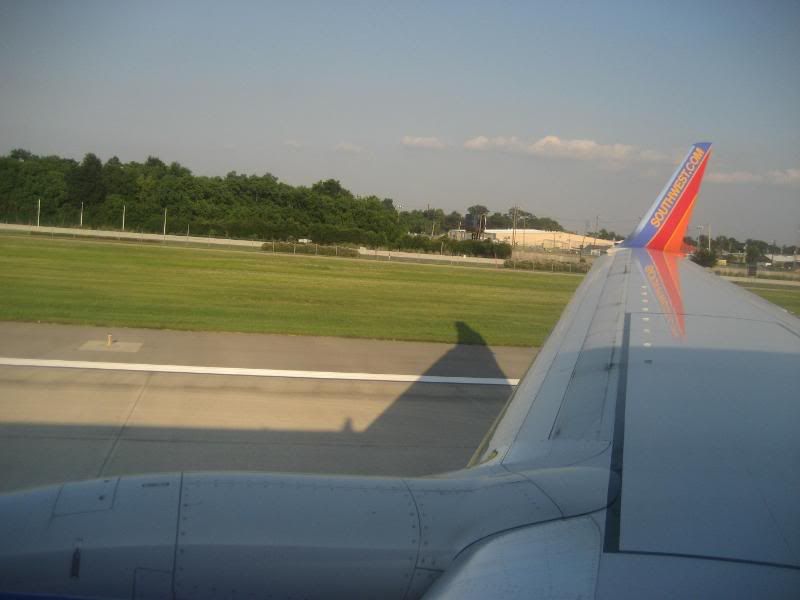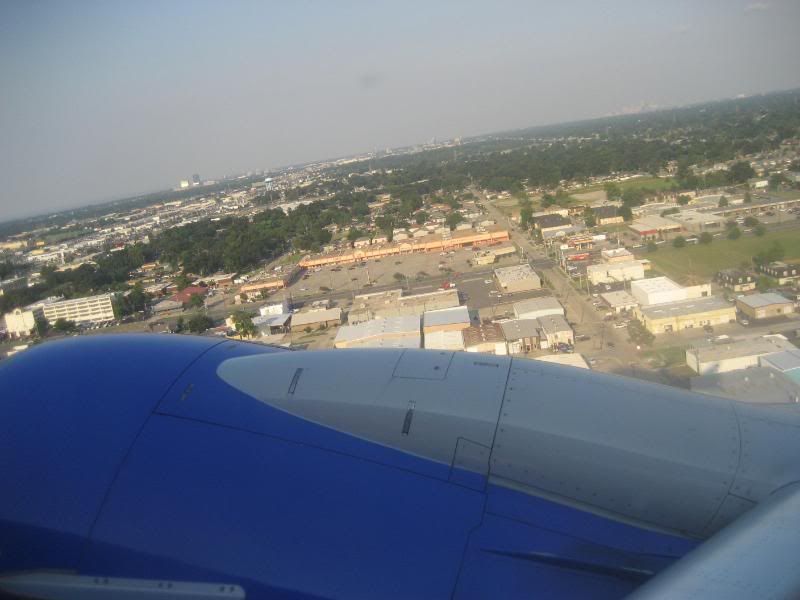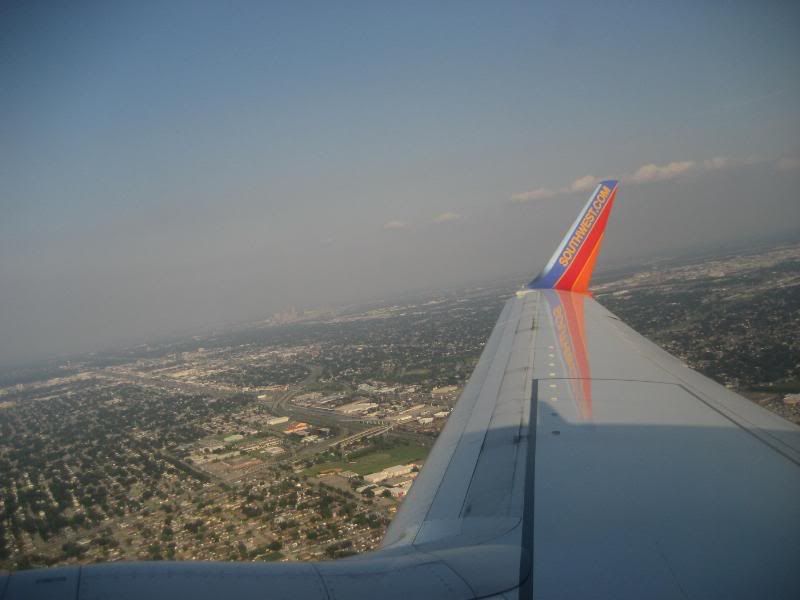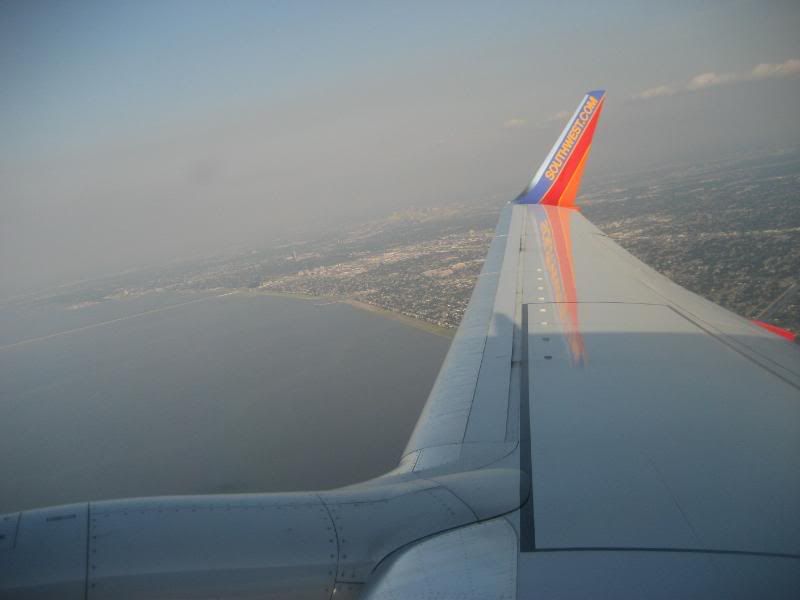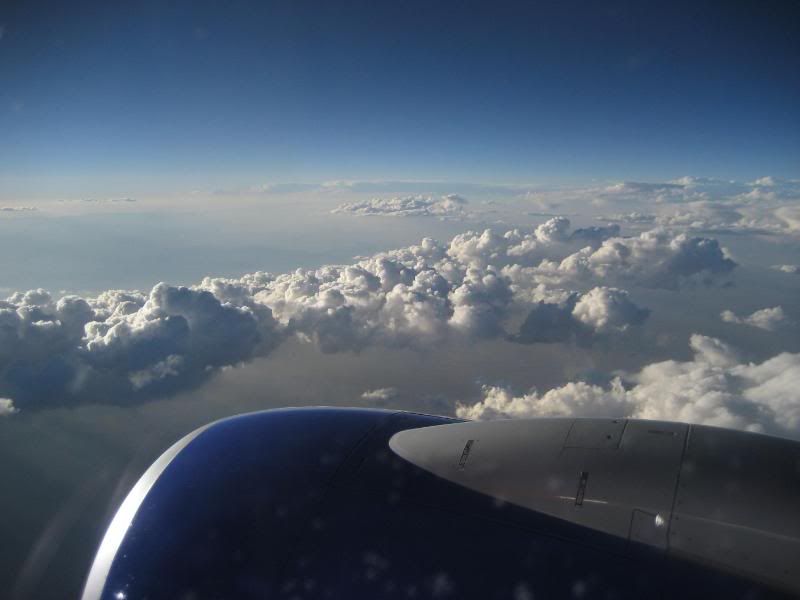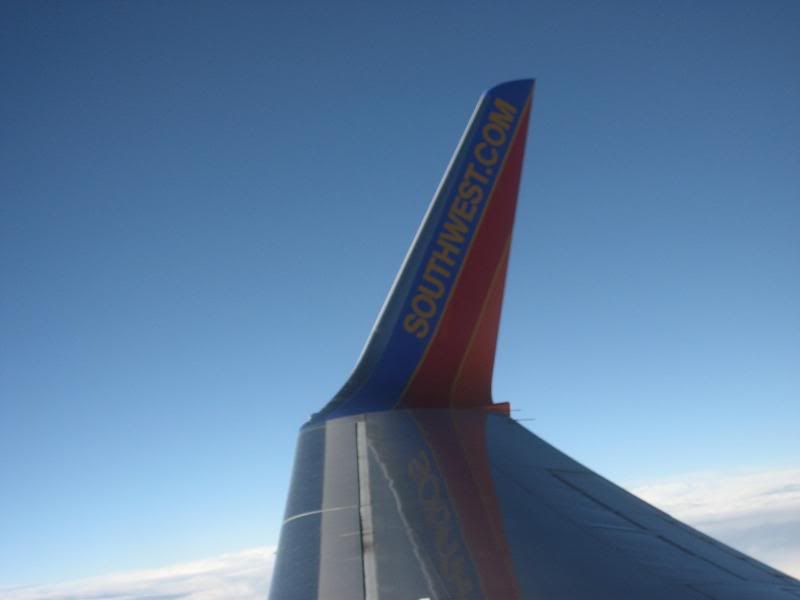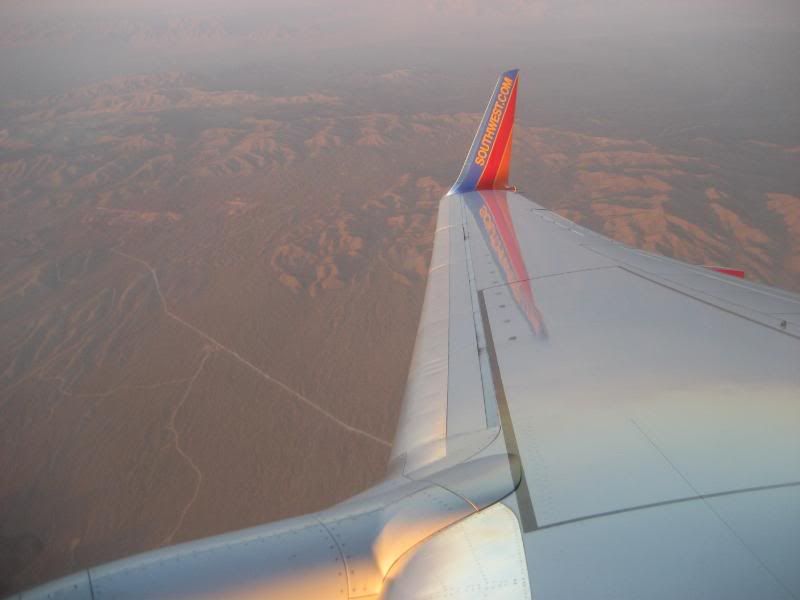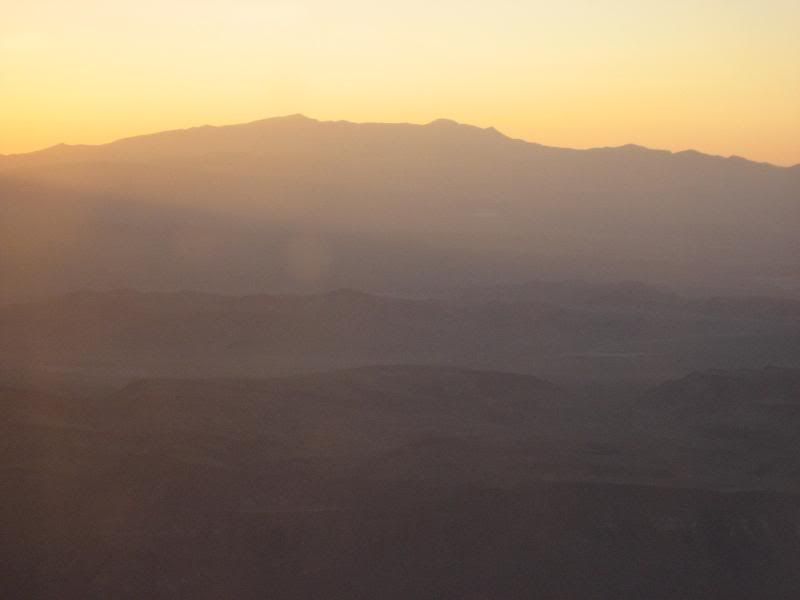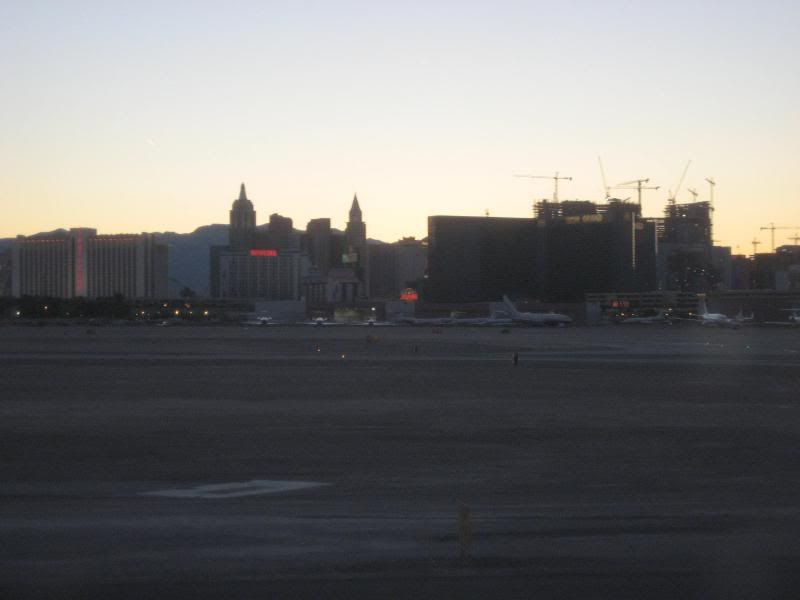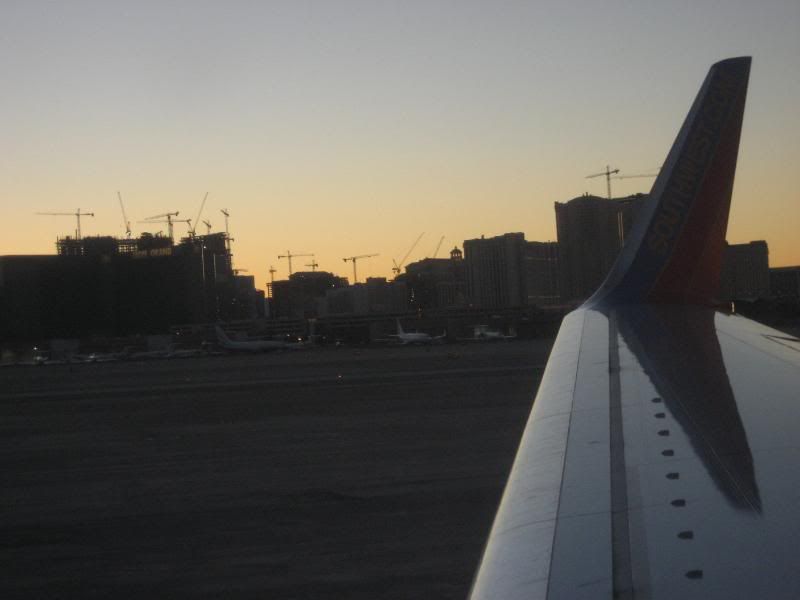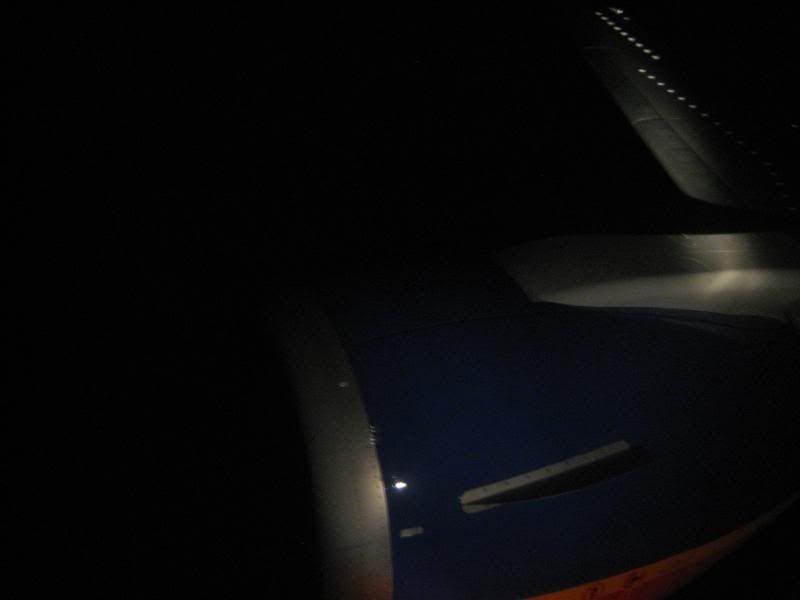 The next morning I had a pretty basic continental breakfast at the hotel before taking the shuttle back to the airport so that I could catch a Gray Line airporter bus to the Amtrak station in downtown Seattle. Since my train didn't leave until 4:45pm I had a lot of time to kill. I ended up taking the 12:00pm bus, which didn't leave until 12:30 since it was totally full and the bus driver had to load dozens of huge bags in the belly of bus all by herself. This took a while, but we were finally off.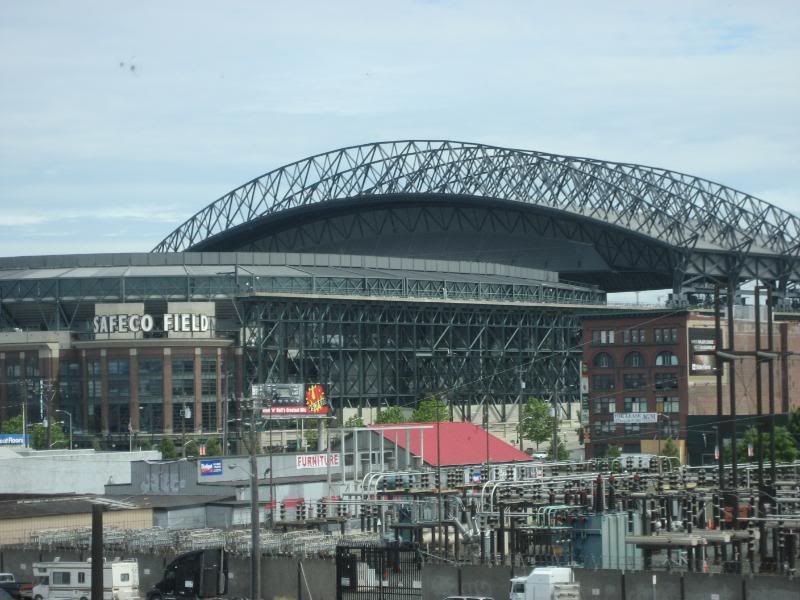 I was dropped off at the Amtrak's King Street station for about 1:15pm. After looking around for a few minutes, I walked over to a nearby cafe and had a pretty basic club sandwich. It was a nice way to kill time, though. Then, I took some pictures around the area, before returning to the station for 2:30pm.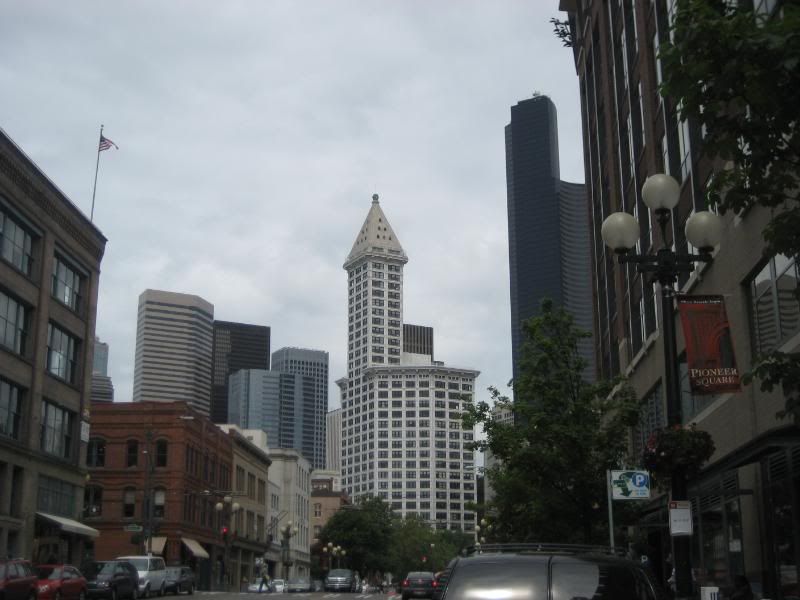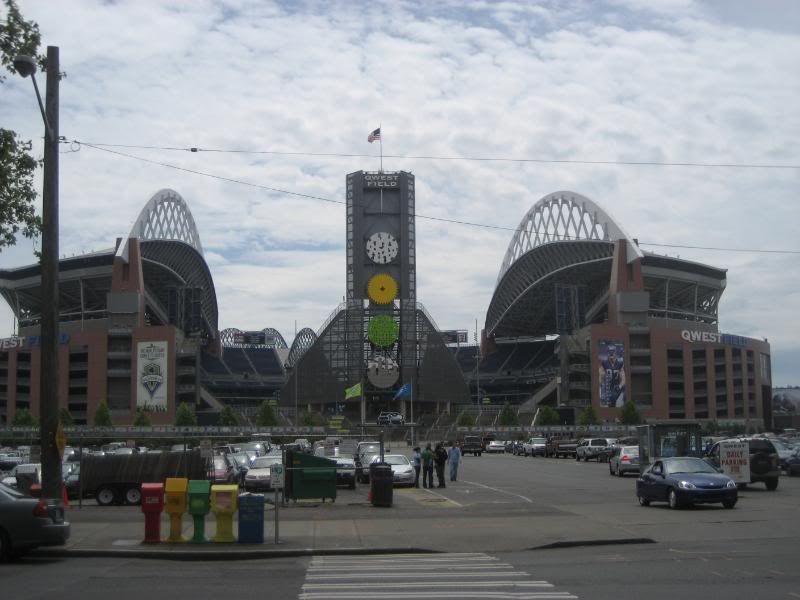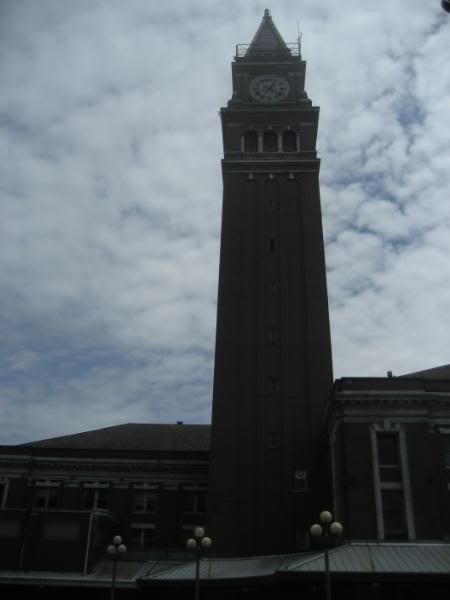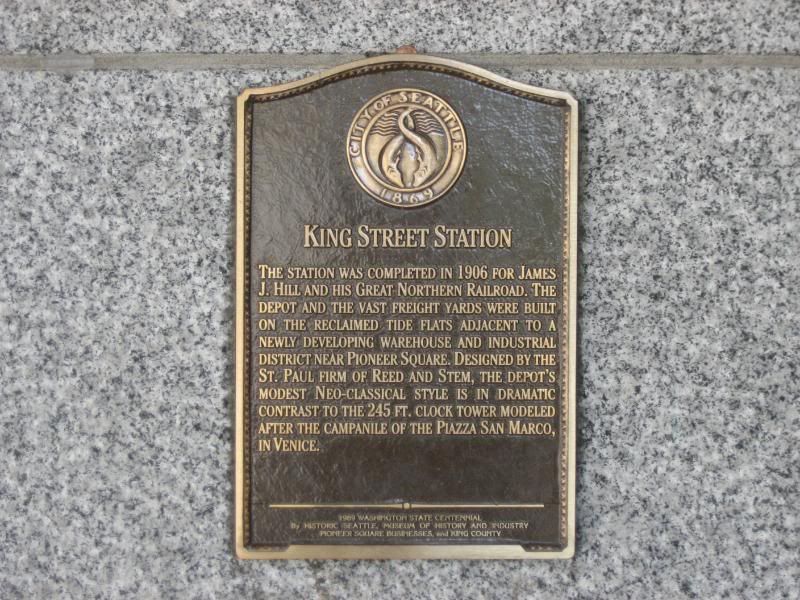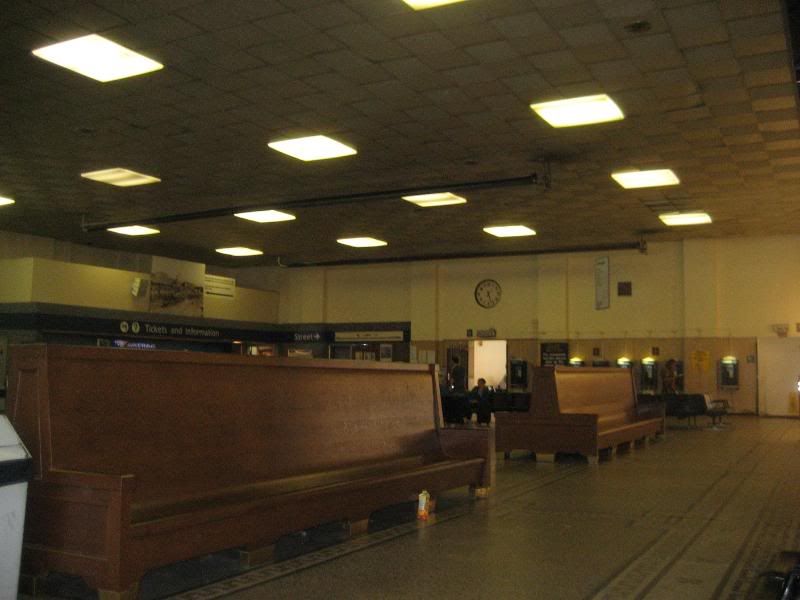 As time moved on I watched as the station grew more and more full. I saw our train, #8 Empire Builder, pull into the terminal at approx. 4:00pm. The consist was as follows:
1 Amtrak Cascades F59 (operated SEA-Spokane) locomotive
2 P42 locomotive
1 Baggage car
1 Transition Sleeper
2 Sleeping cars
1 Dining Car (which doubled as the "lounge" which no one could sit in)
2 Coaches
Boarding began at 4:10pm.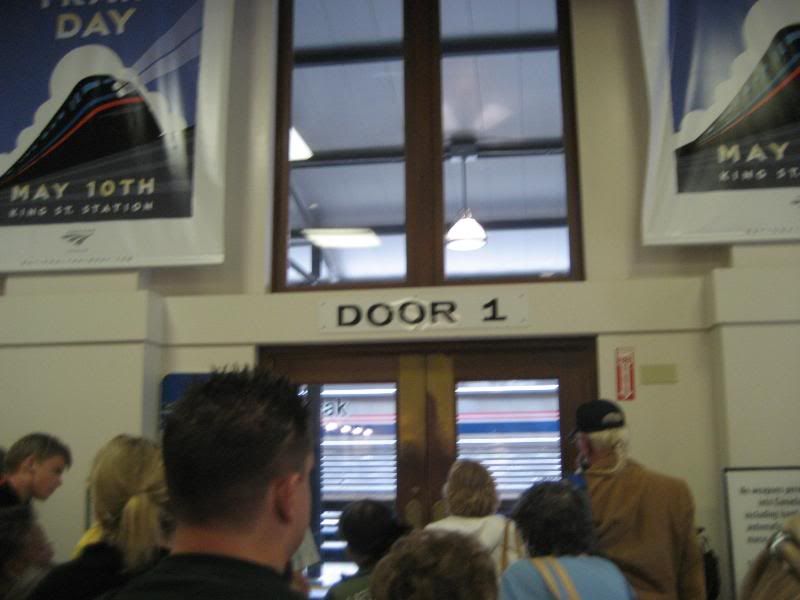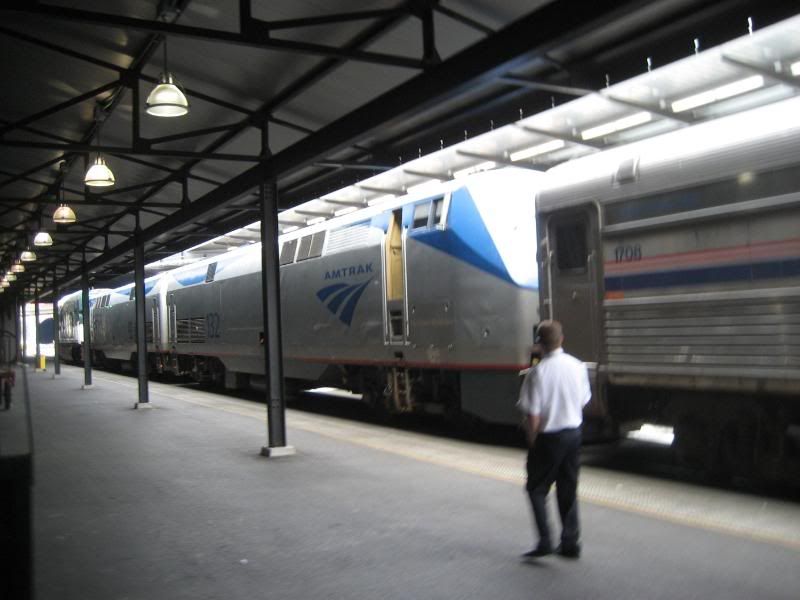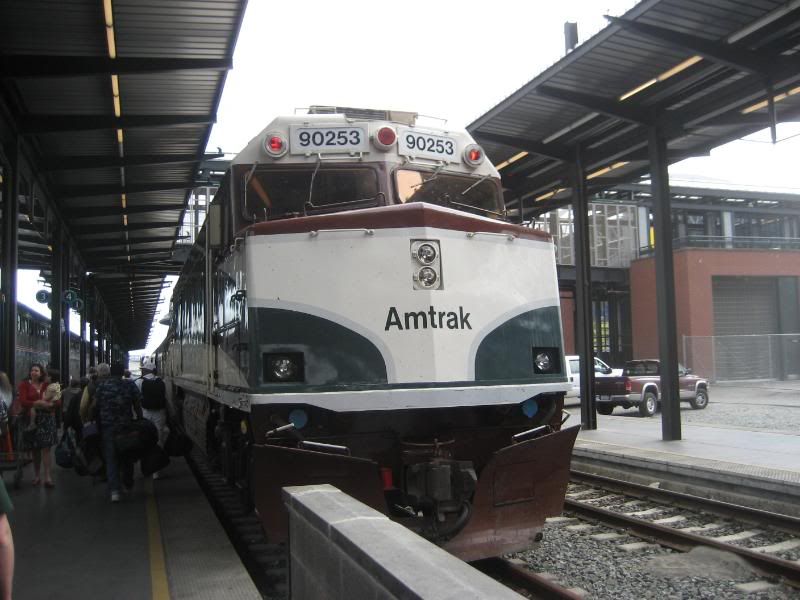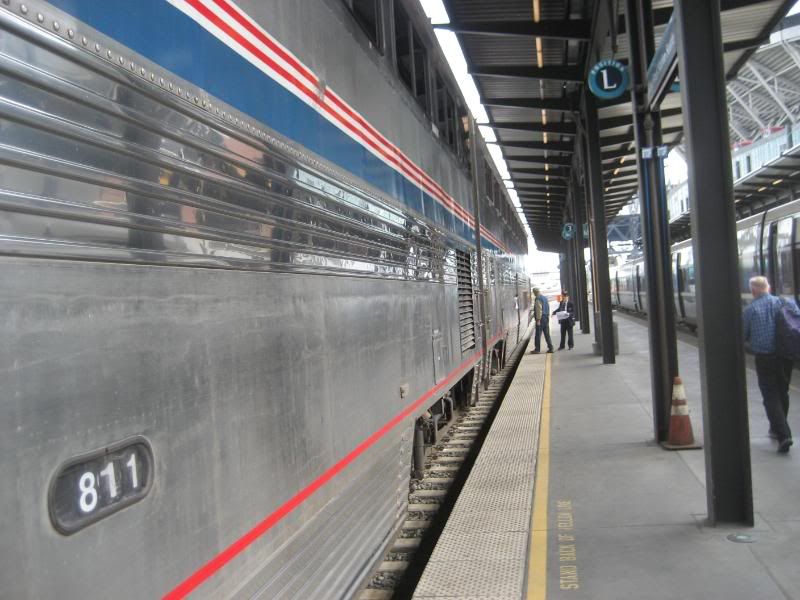 I was directed to the first coach and grabbed that all important window seat. It was a totally full train so I had a seat mate, but it wasn't so bad because he was a really nice guy and we had many a interesting conversation along the way.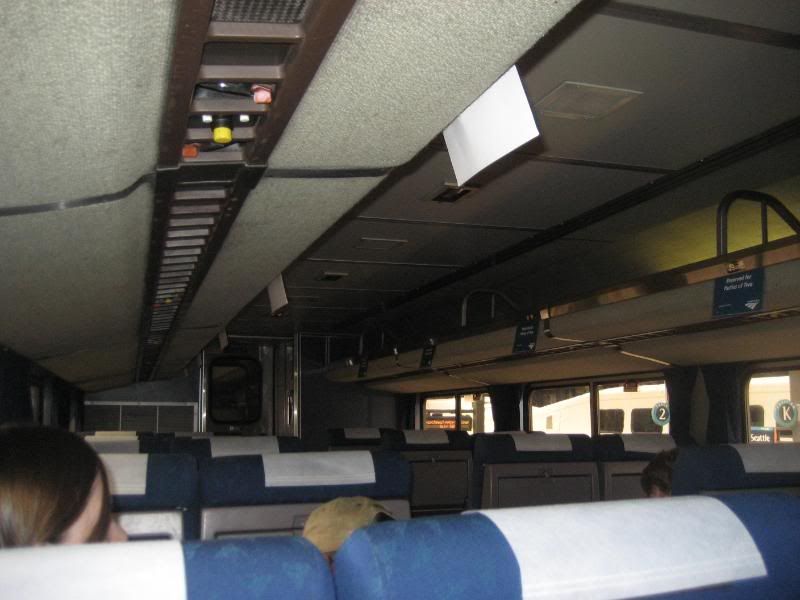 The Empire Builder departed about 10 minutes late. This was my first time on this train and I was really looking forward to the crossing the Cascades, and let me tell you, it did not disappoint. Many high trestles were crossed with scenic mountain views as far as the eye can see. The 8-mile long Cascade Tunnel was pretty interesting....it seemed to go on forever. The lounge portion of the Dining car opened at 6:30pm, but it was take out orders only...no seating...so there was constantly a line of around 20 people which stretched down the aisle of the first coach. It was very, very cramped. You would think Amtrak would have a separate food service car for the 140 coach passengers who were aboard. Some people didn't get any food since they closed the lounge portion at 8:30pm with a dozen or so people still in line. I'm glad I got my food when I did. Anyway, the rest of the evening passed uneventfully, and I awoke to find us approaching the Spokane station just a few minutes behind schedule. My seat mate and I got off here and hit the Chinese cafe in the terminal to stock up on drinks and snacks. Departure from Spokane was on-time after we attached the PDX portion to the back of our train (Sightseer lounge, 2 coaches, and 1 sleeper) and after downing a bottle of water, I tried my best to sleep some. I managed to sleep for a few hours and awoke at about 4:00am just past Sandpoint to see daylight starting to form. At 5:00am I went to the Sightseer Lounge to charge my camera battery (no outlets in coach) and I stayed there until we arrived in Whitefish, where I got off to experience my first breath of Montana air.
Around 100 people boarded in Whitefish as we continued our journey into the grandeur of Glacier National Park. I caught a few pictures of the famous Isaac Walton Inn as we passed through Essex. I have to stay there one day. Glacier Park scenery was breathtaking. Crossing Marias Pass was very scenic. It ended all too soon once we left the East Glacier station. I skipped lunch and decided to join my seat mate for an early 5:00pm dinner in the Dining car. We sat with a couple from WV connecting to the Cardinal. I had a piece of Trout which was delicious. My only criticism of the meal was that the vegetables were sort of on the cold side. Anyway, after the (mostly) nice meal, I tried to find a seat in the lounge but I could not (totally full upstairs and downstairs), so it was back to my seat where I listened to one of my favorite CD'S while traveling...Robbie Robertson's "Storyville"...and looked out the window as the sublime beauty of the desolate countryside rolled past the window. We had a service stop in Minot, ND later that evening so I got out there and caught a few more pictures. About an hour after leaving Minot I called it a night...or tried to. I found the track in ND to be pretty rough...I was jolted around quite a bit...but I still probably managed to squeeze in a few hours sleep. I was awake for our stop in Grand Forks so I stepped off for some fresh air.
I awoke to find us leaving Devil's Lake, MN. Staples, MN was up next, and shortly thereafter, the dreaded announcement was made: all passengers would have to de-train in Minneapolis to be bussed to their final destinations since the tracks were still flooded in Wisconsin. Great, just my luck. They told me boarding in SEA that our train was supposed to the be the first one to make it all the way to CHI via a BNSF detour, but that didn't work out as planned. So, after arriving MSP about 8:30am, the huge crowd of people de-trained. I will say this...Amtrak handled this well. All of the buses were waiting, and there was generally very little confusion. My bus left at 9:30am, made one stop at a McDonald's somewhere in WI, and arrived at CHI Union Station at 5:30pm. We would have made it over :45 earlier but we were caught in a huge traffic jam in Chicago...on a Saturday! Amtrak was nice enough to hold the 5:45pm departure of the Cardinal train tp D.C until all the connecting passengers made it. My connection to train #59 at 8:00pm was, of course, was never in jeopardy. Even though the bus ride was annoying and very uncomfortable, I was glad that I finally got to catch a ride on the Empire Builder. There will be a next time...it's a great train ride%u2026a ride of contrasts.
Here are the pics from my ride on the Empire Builder, starting with the departure from SEA and ending at Chicago Union Station...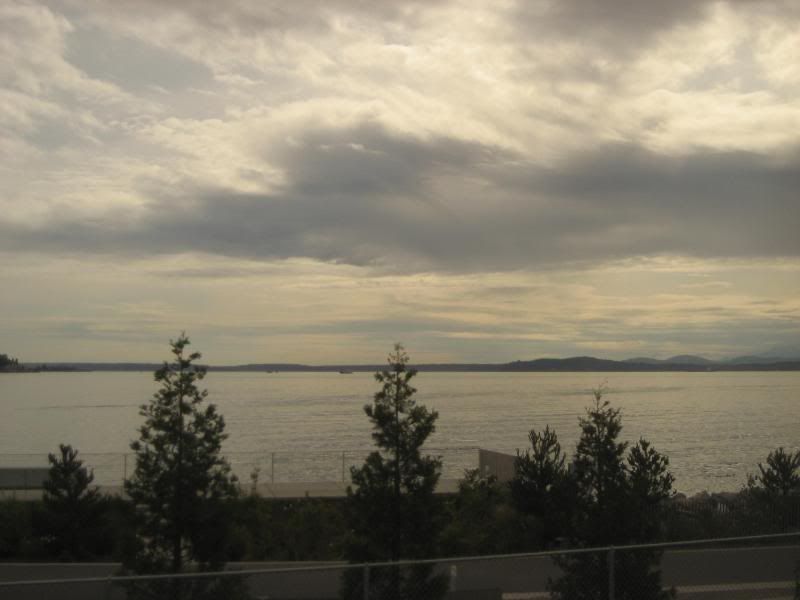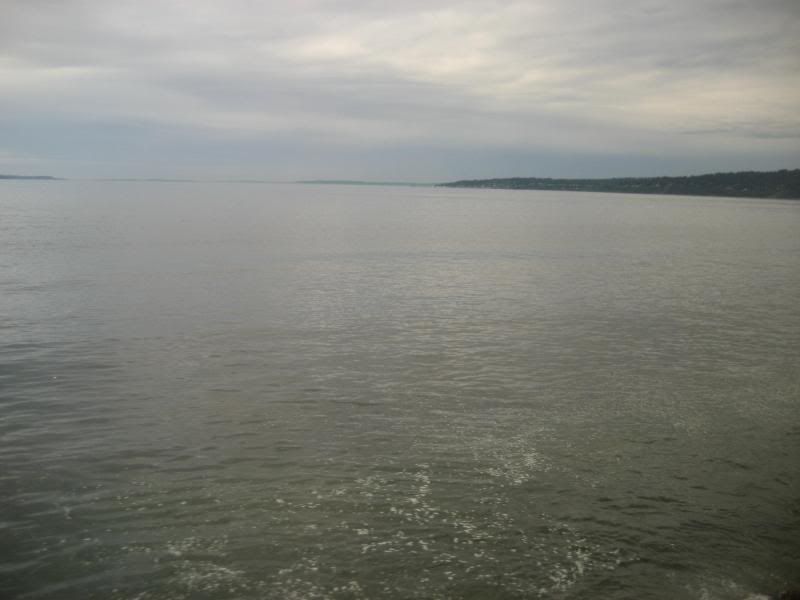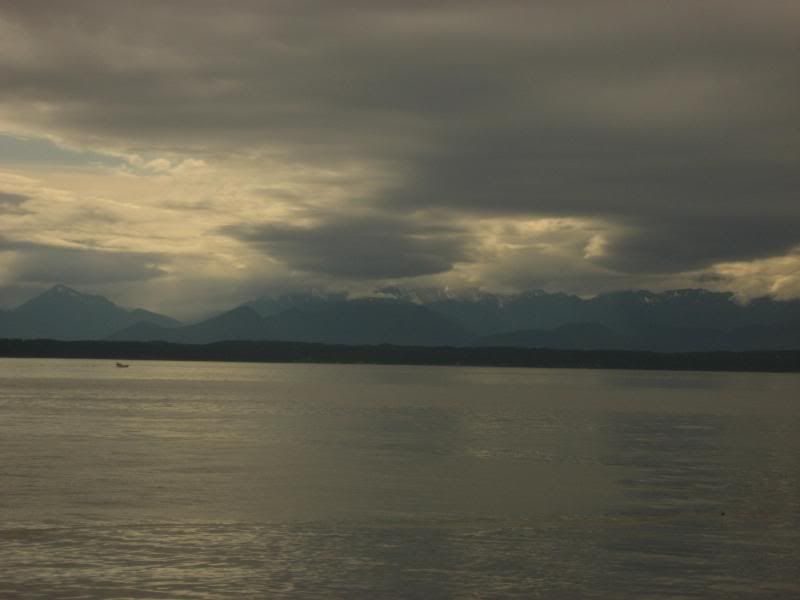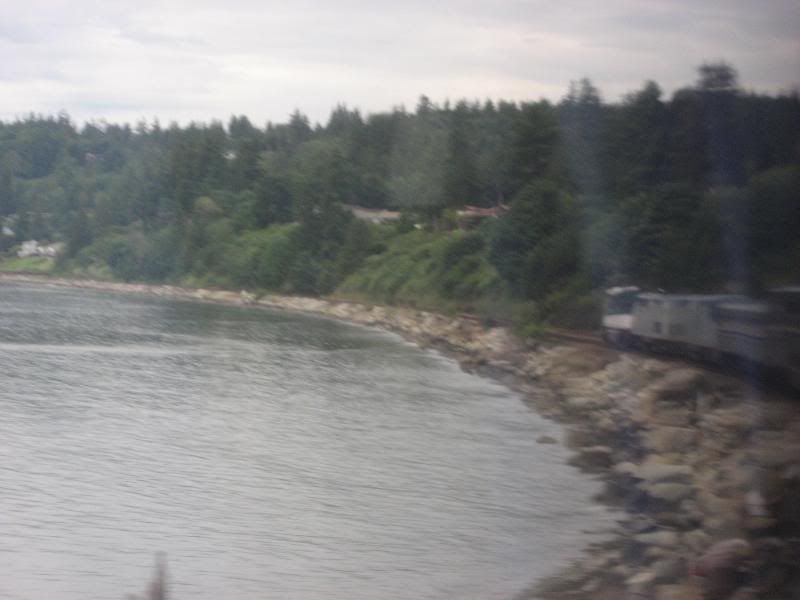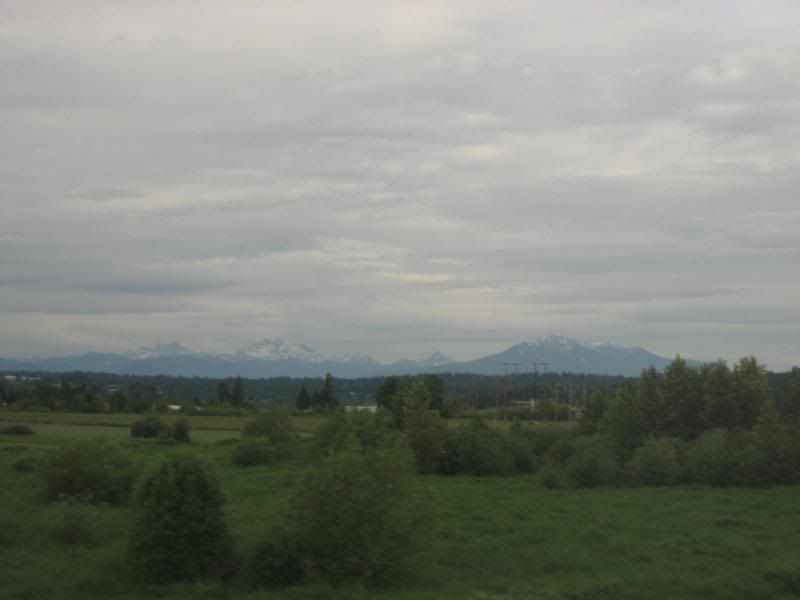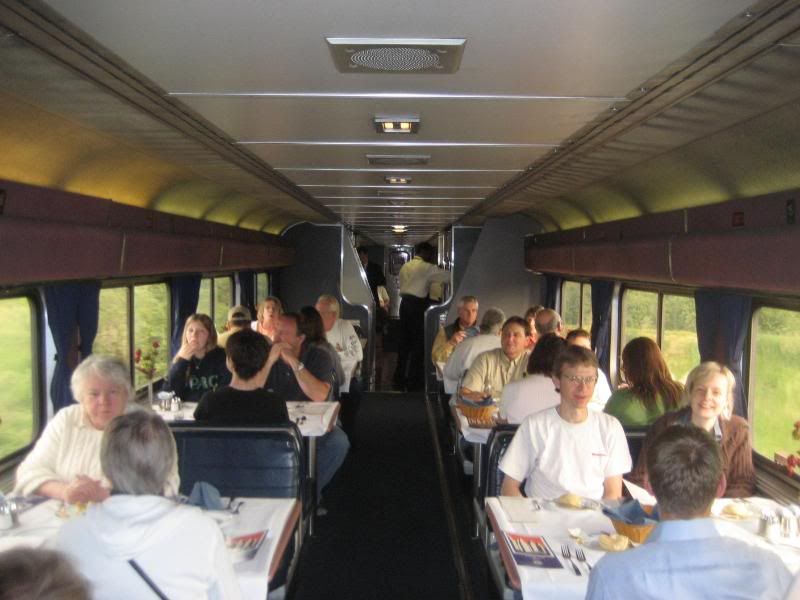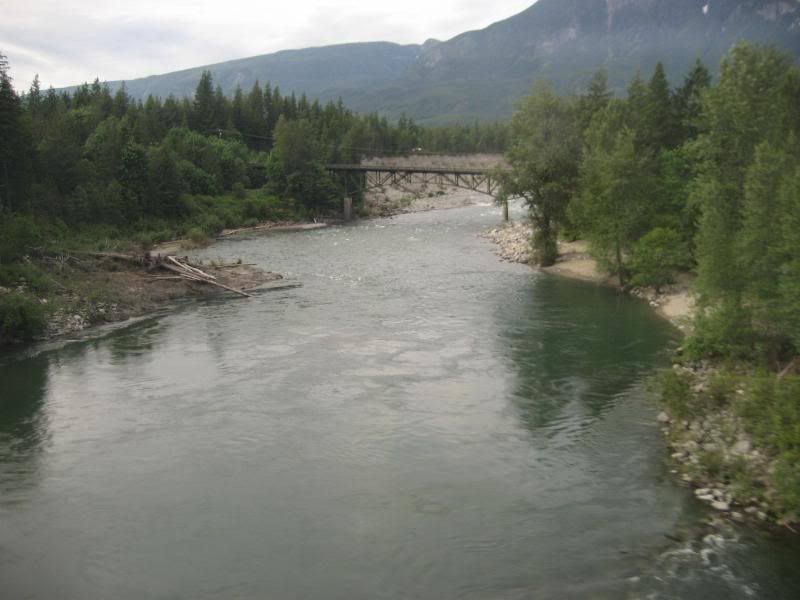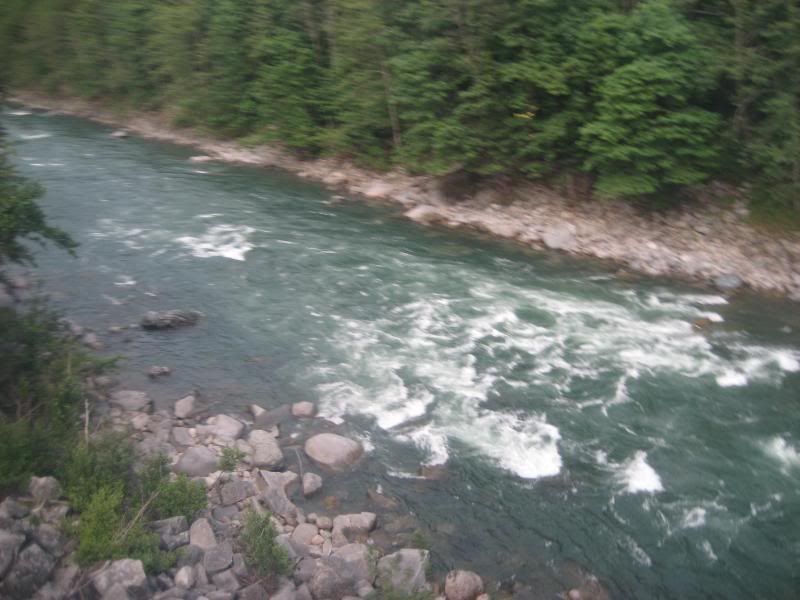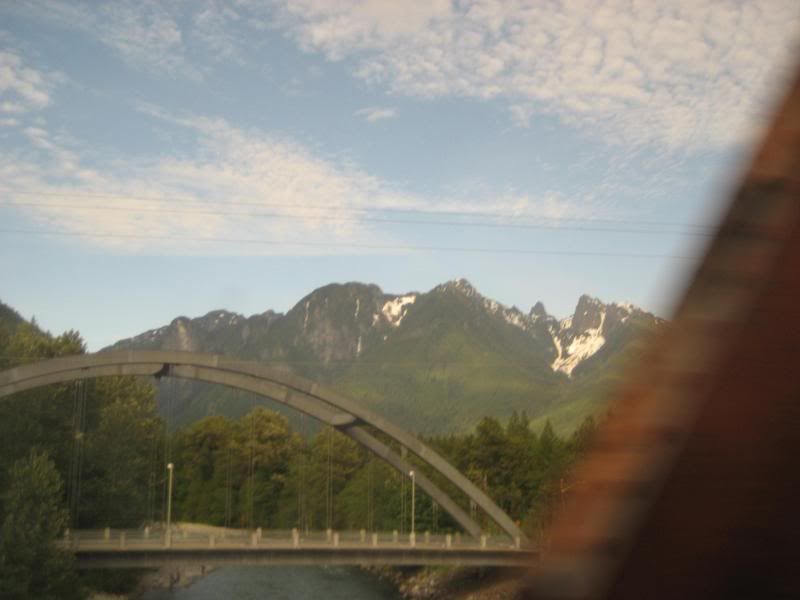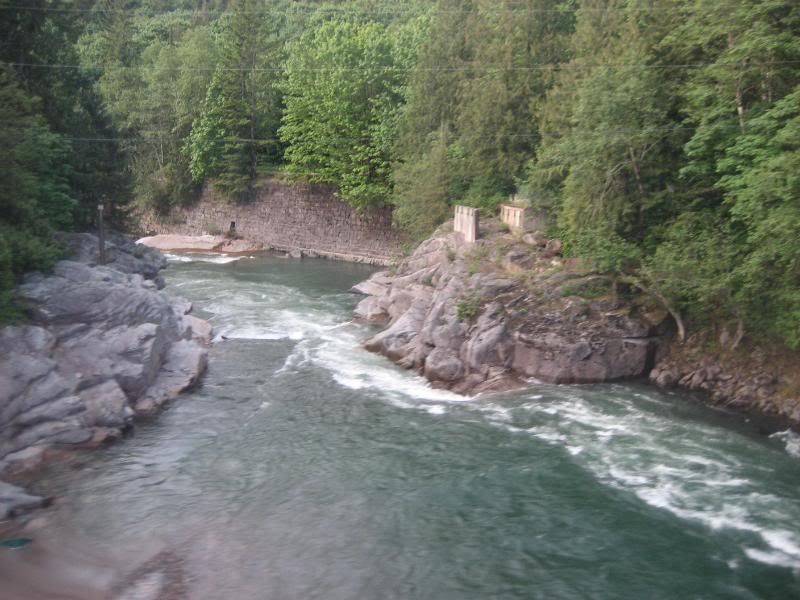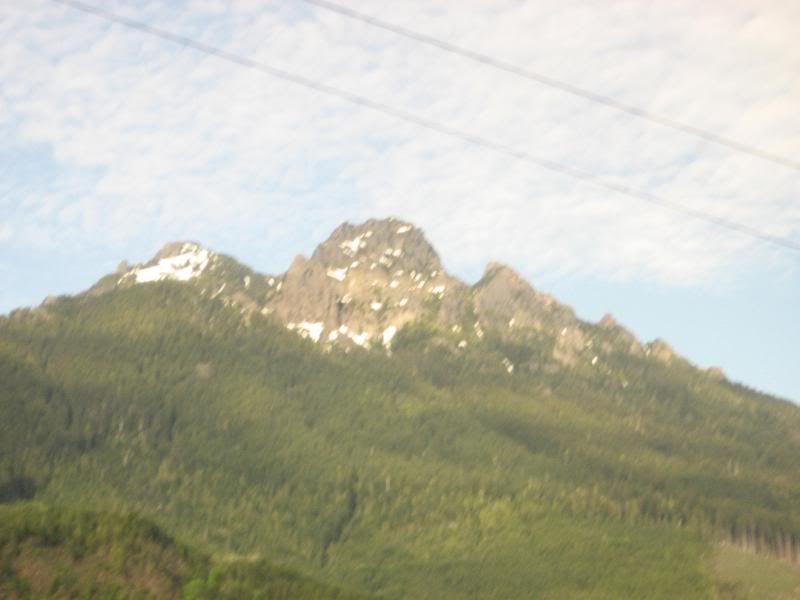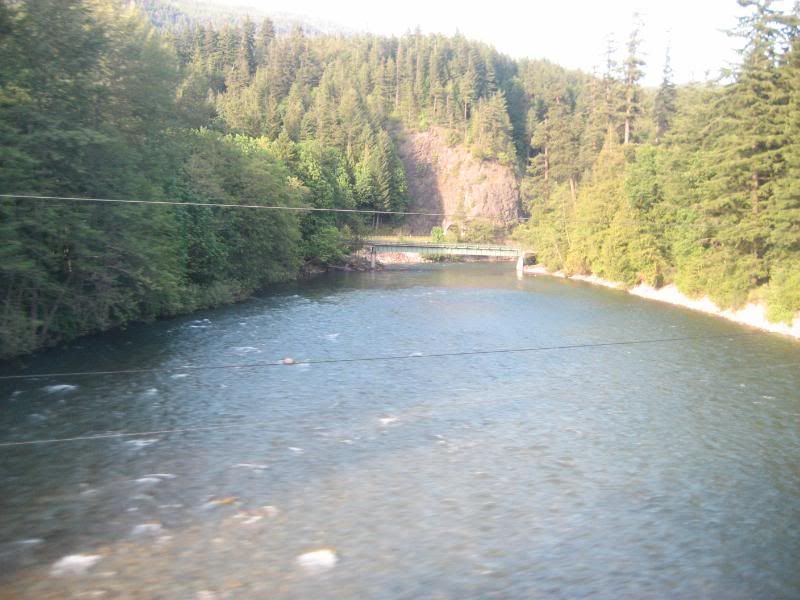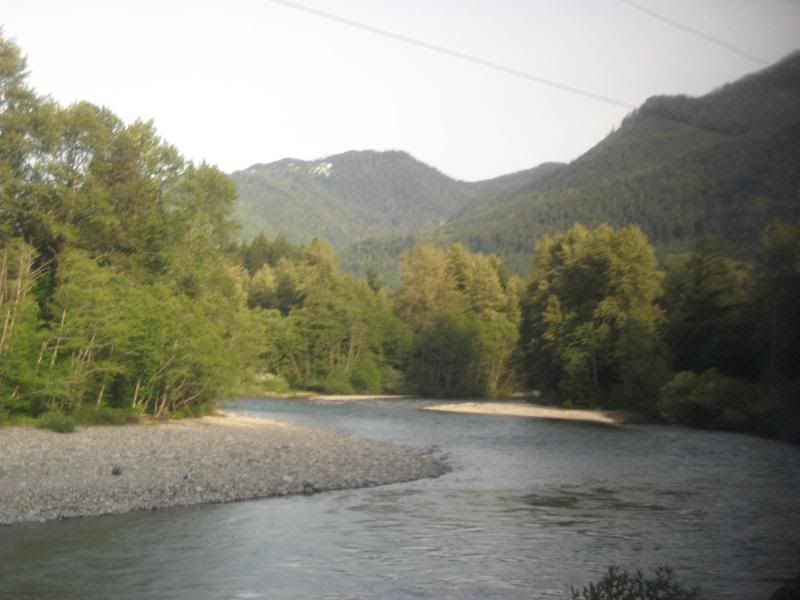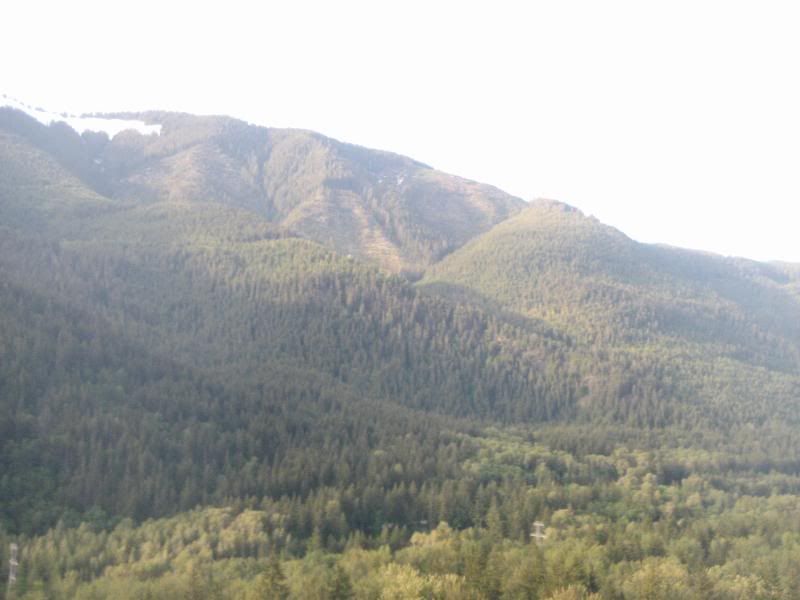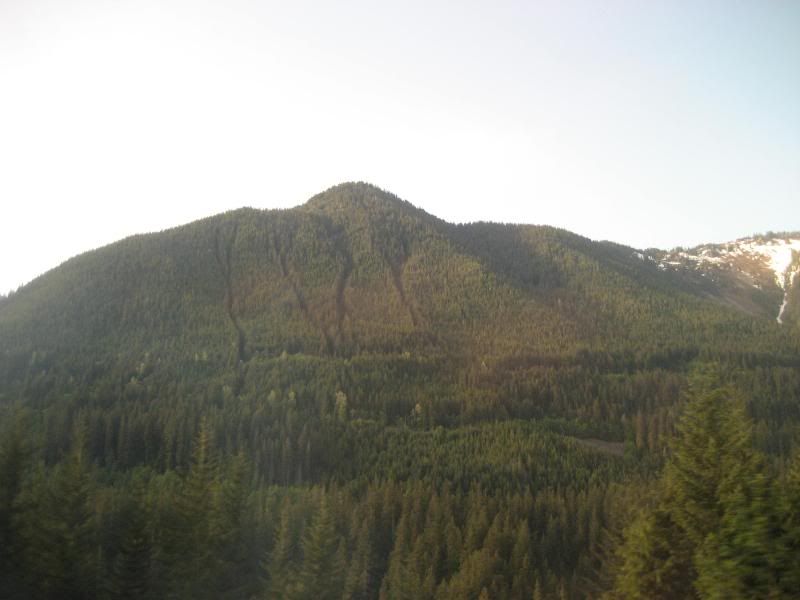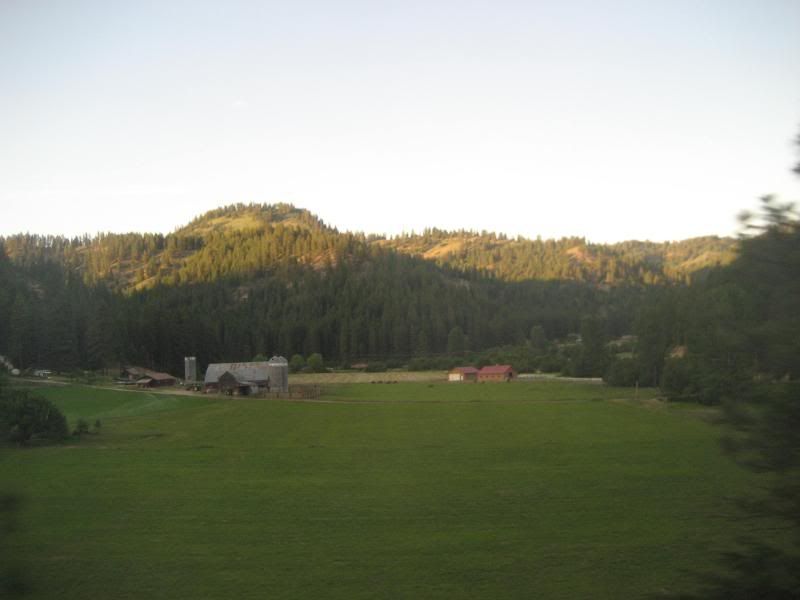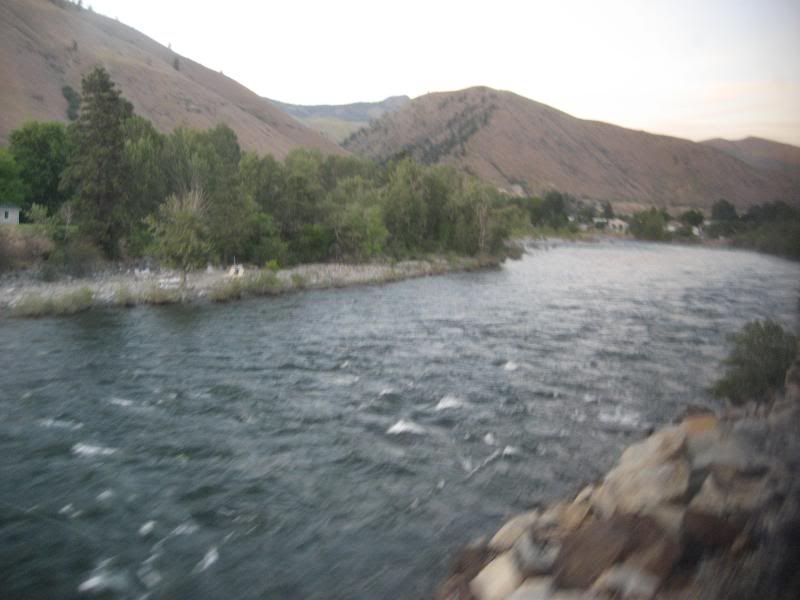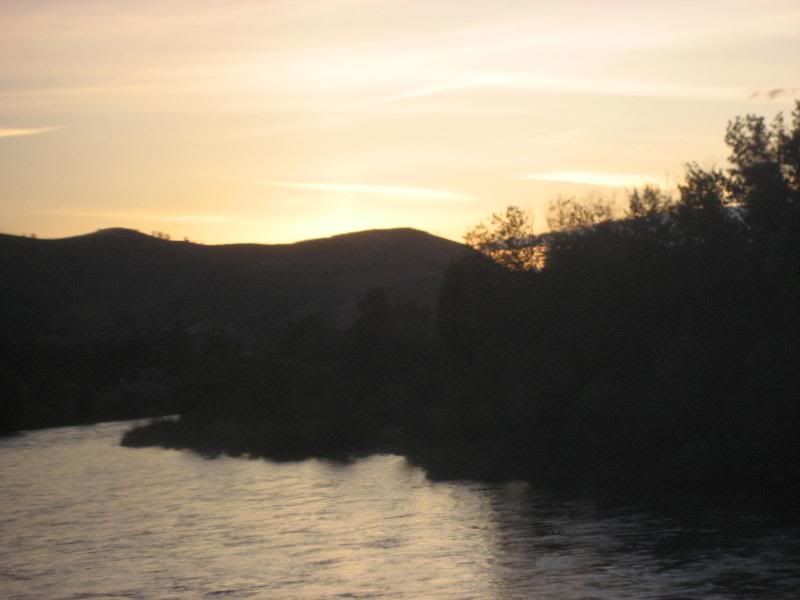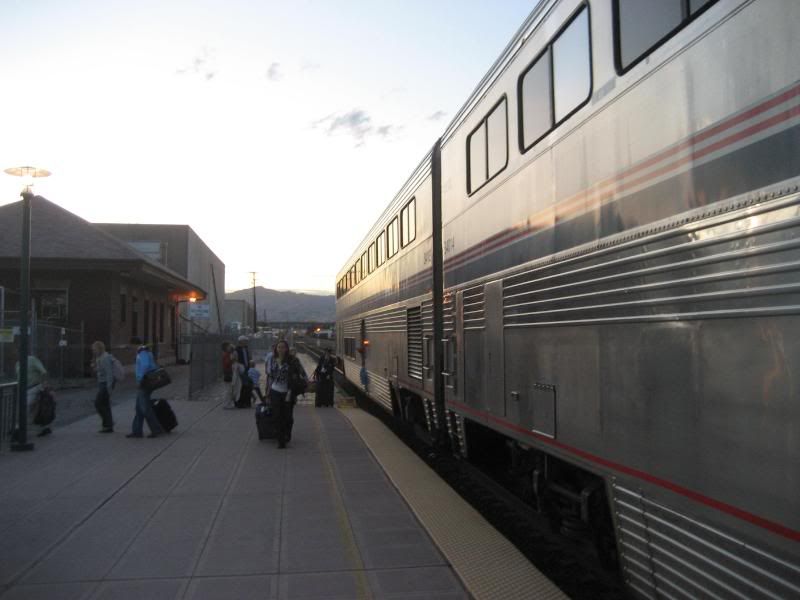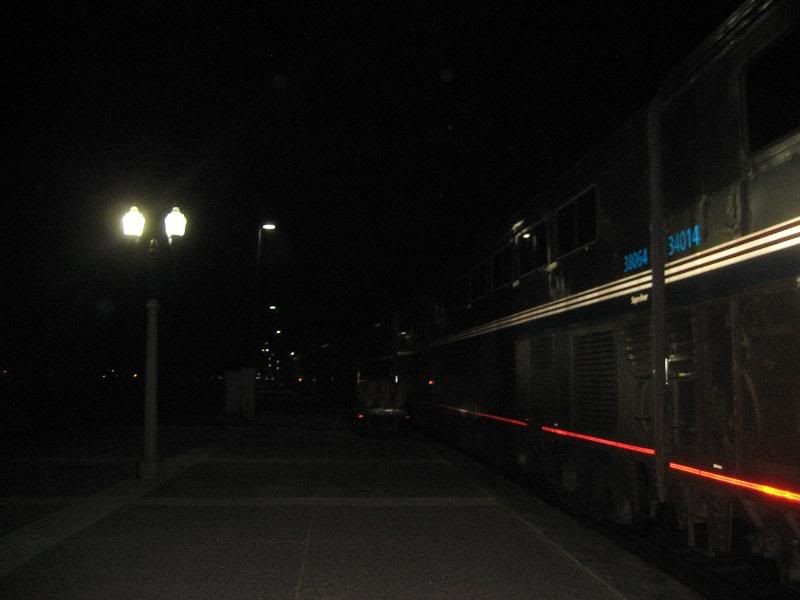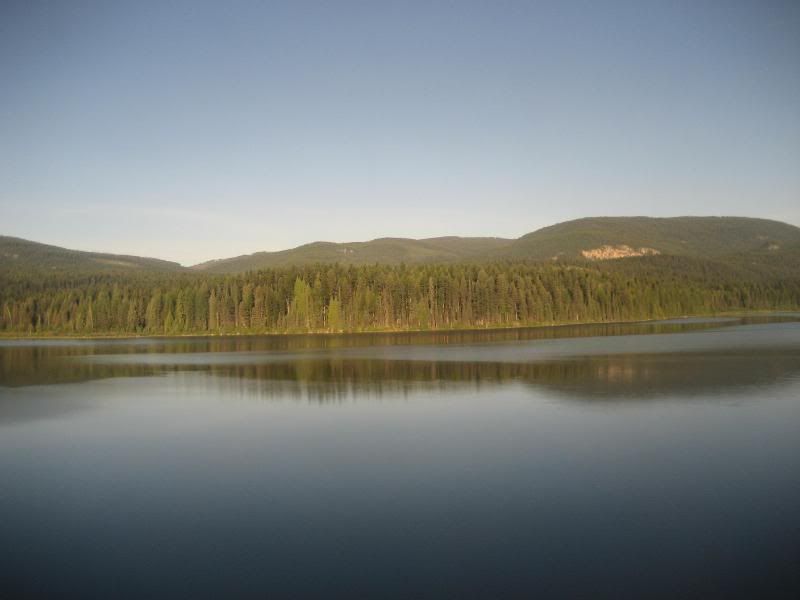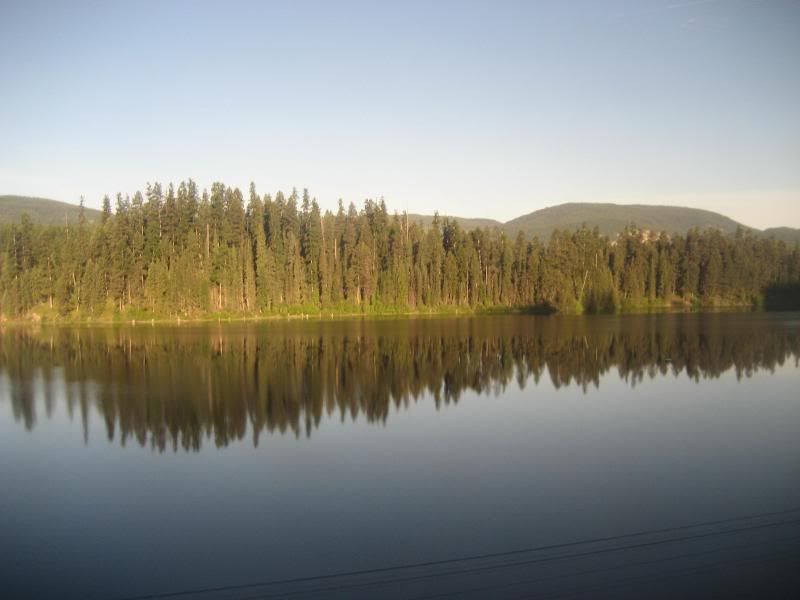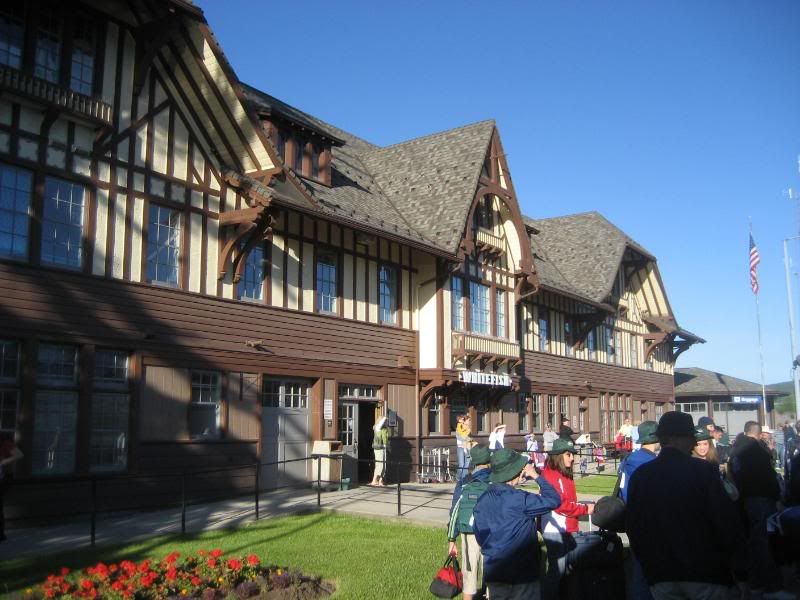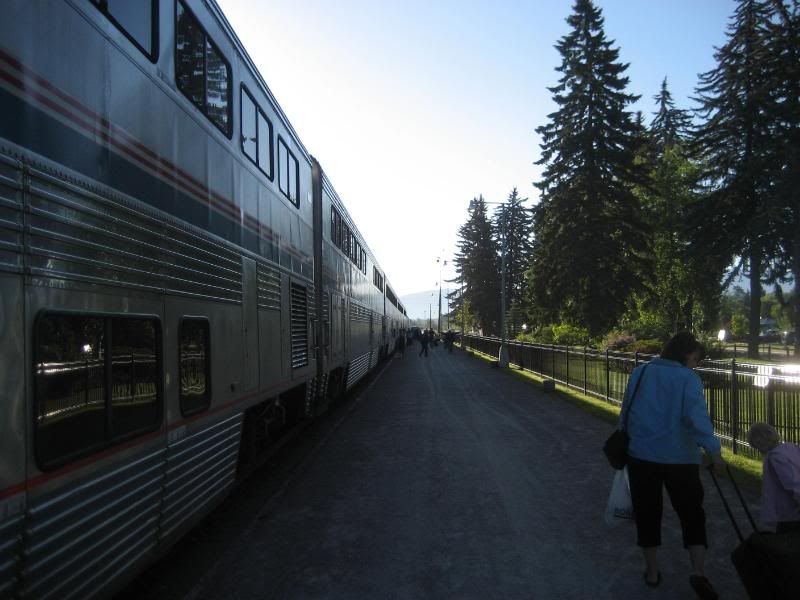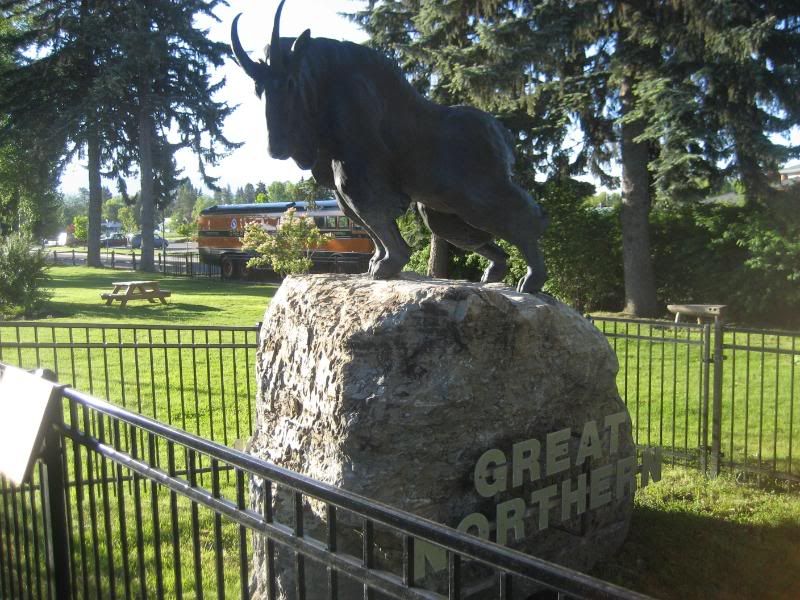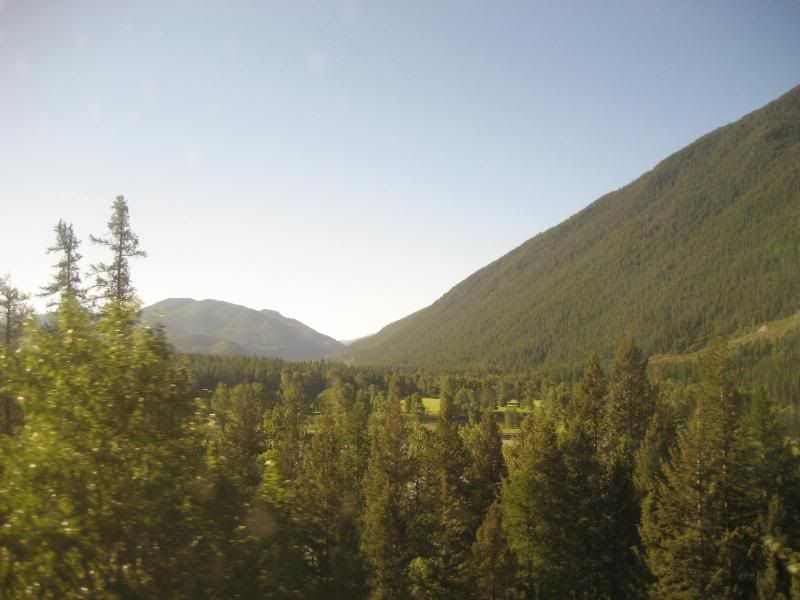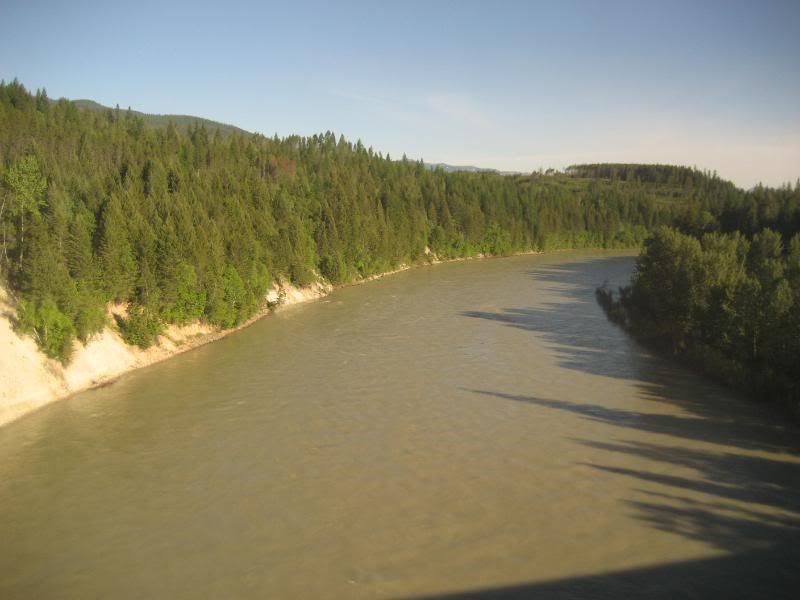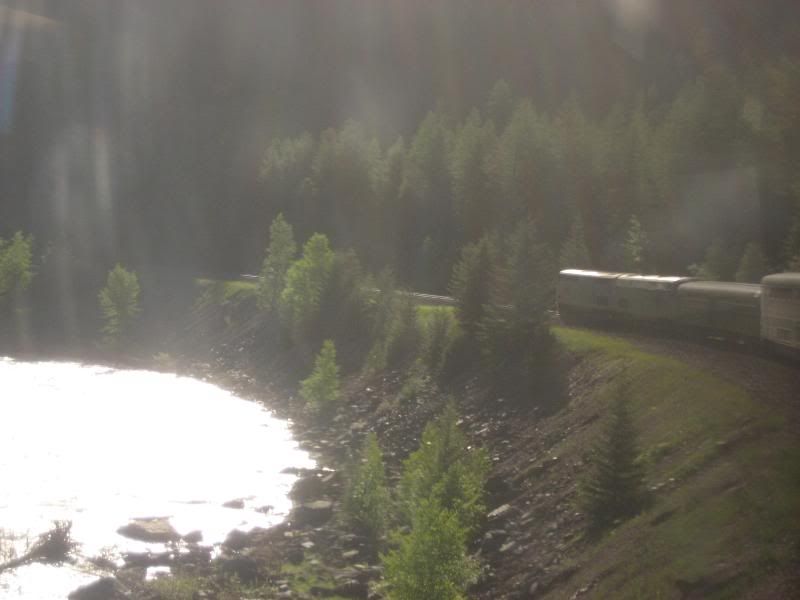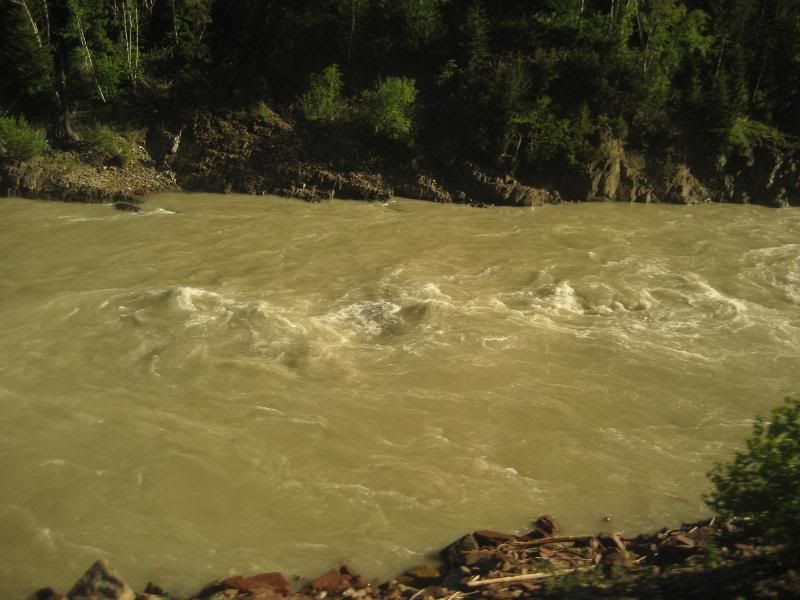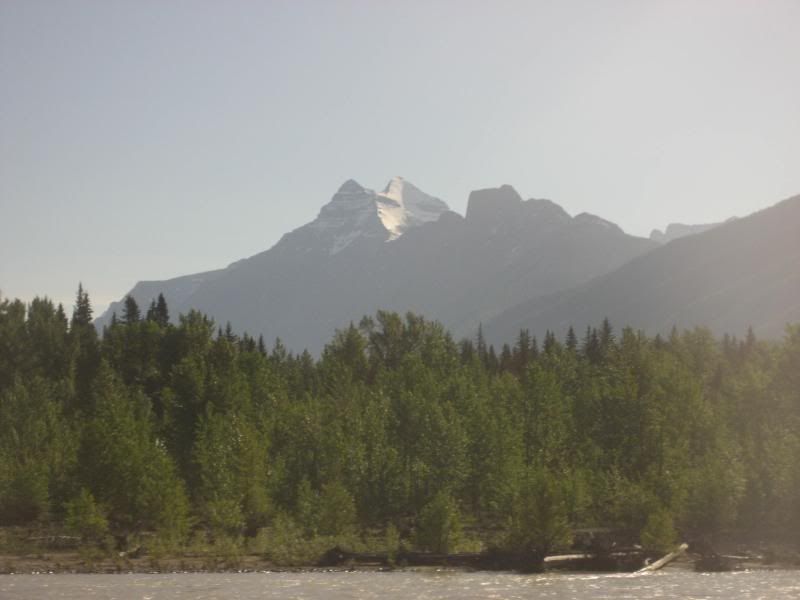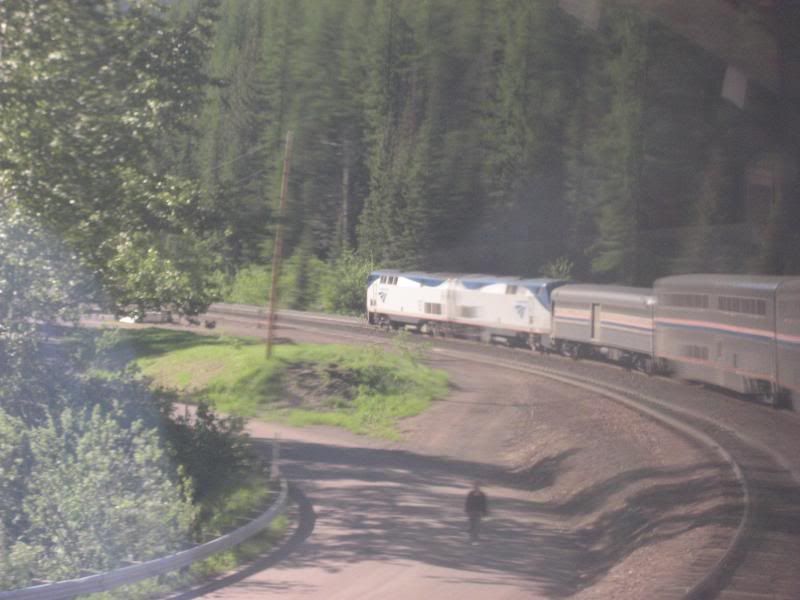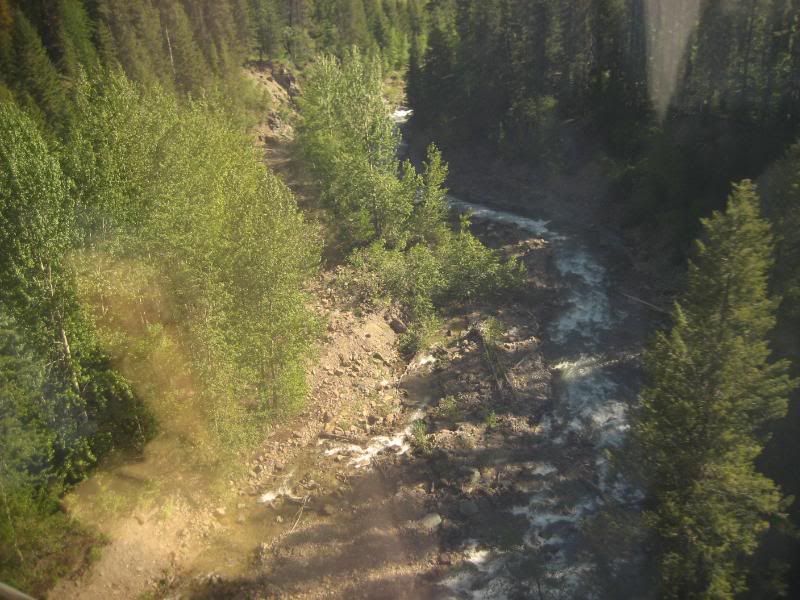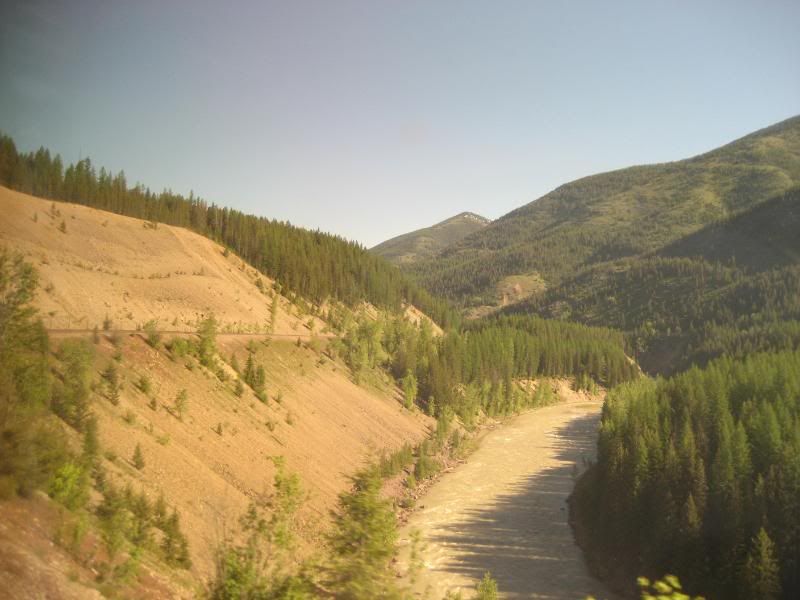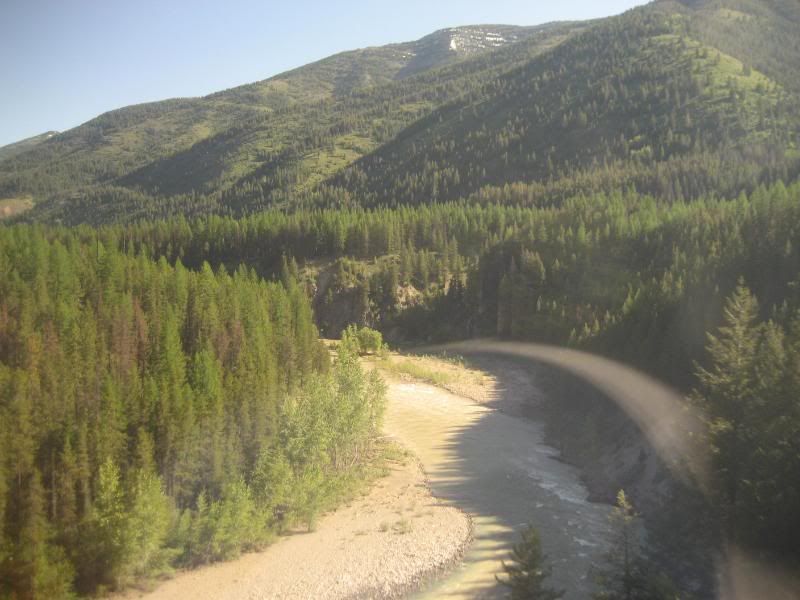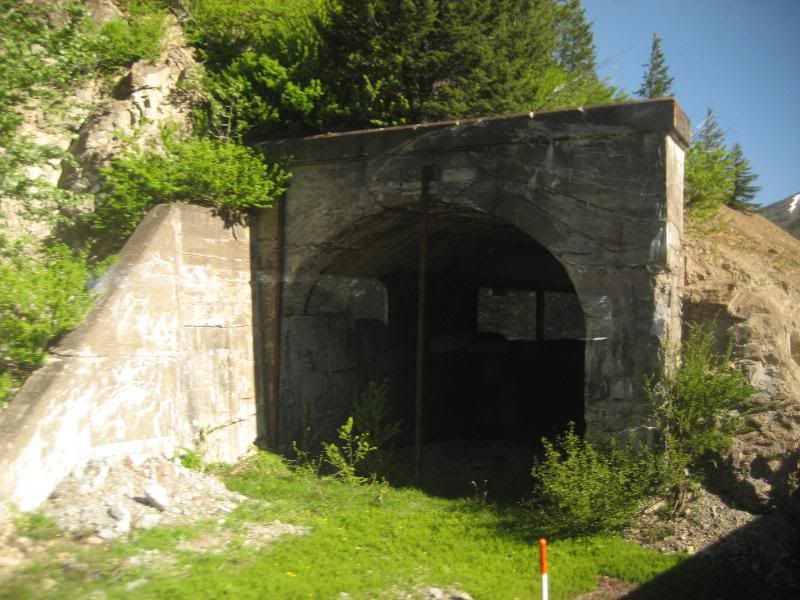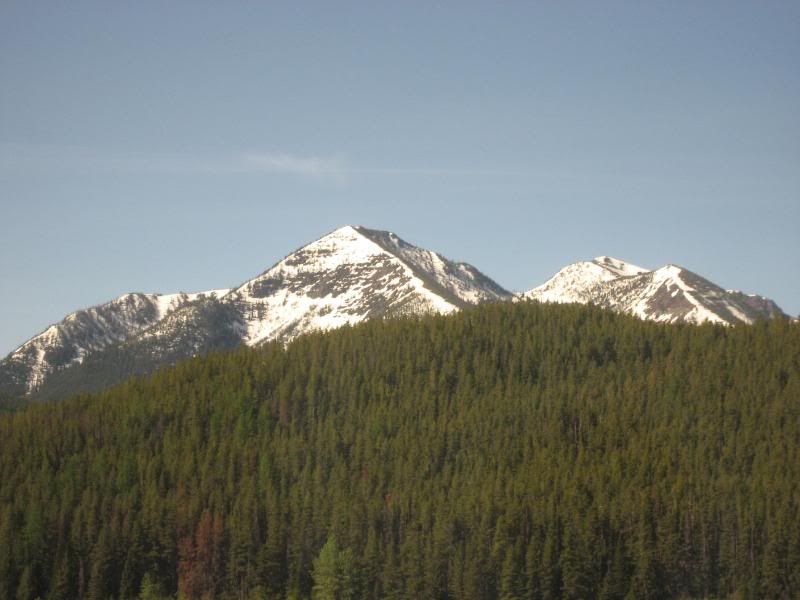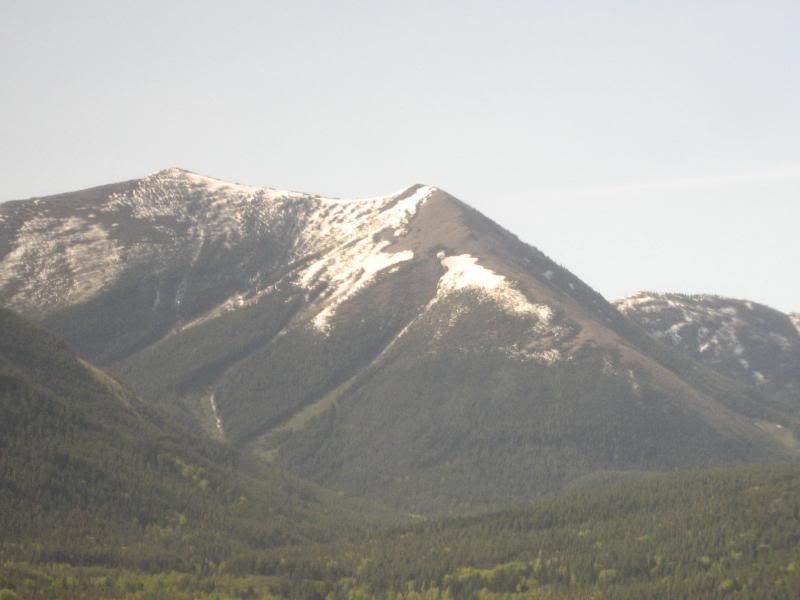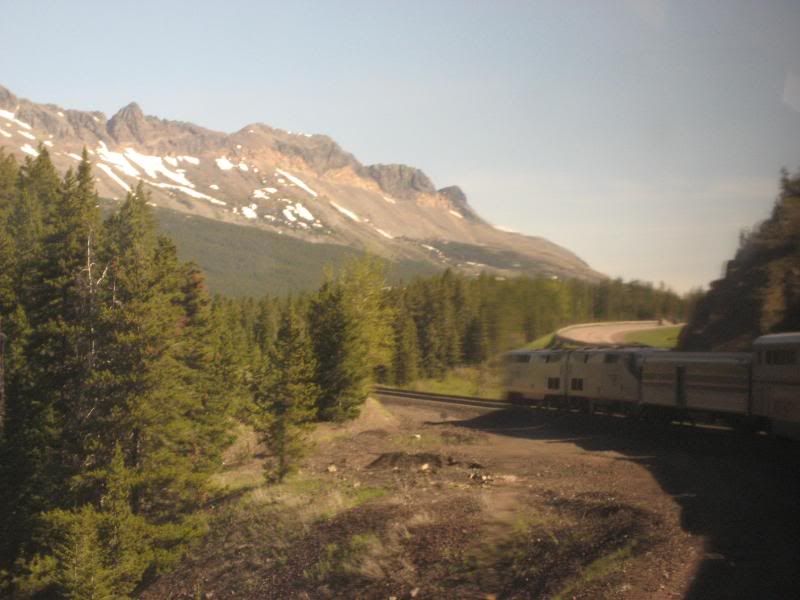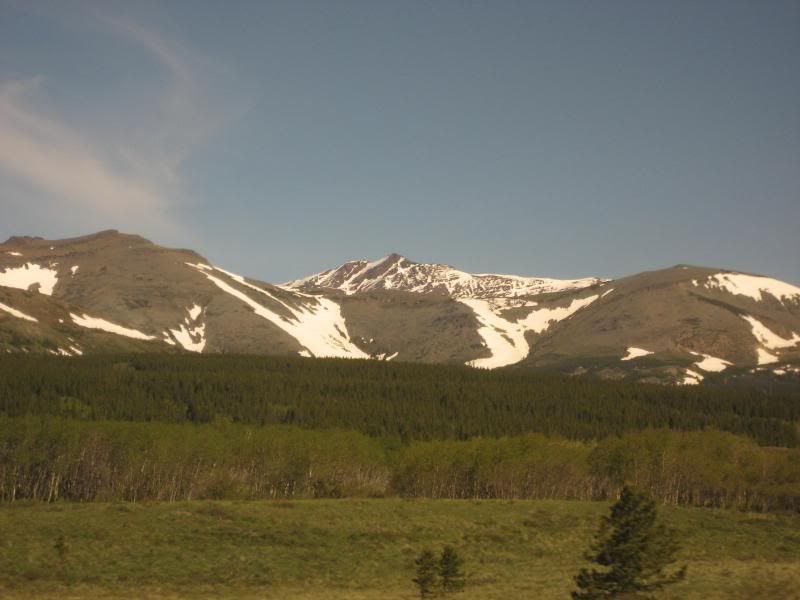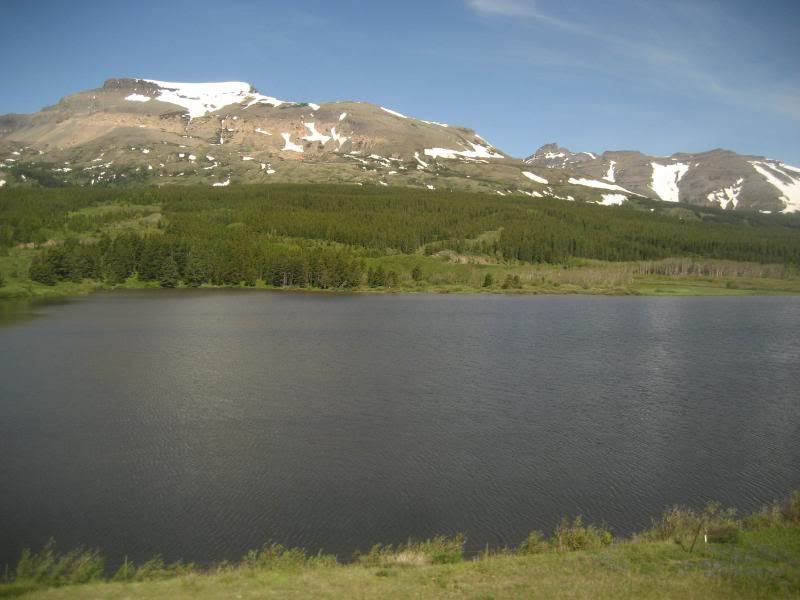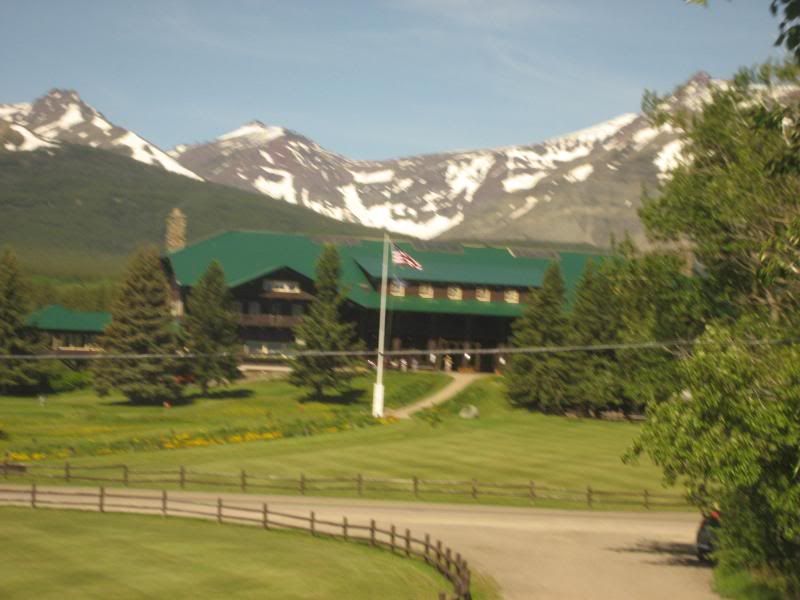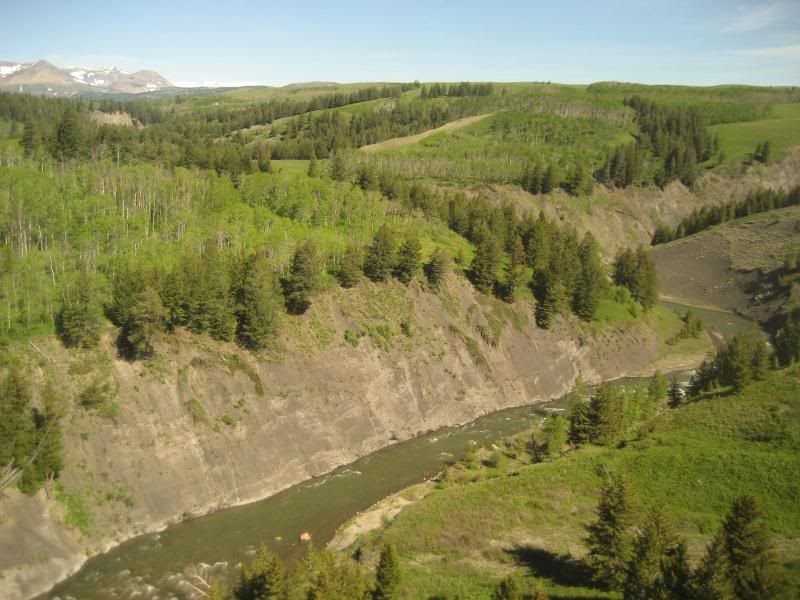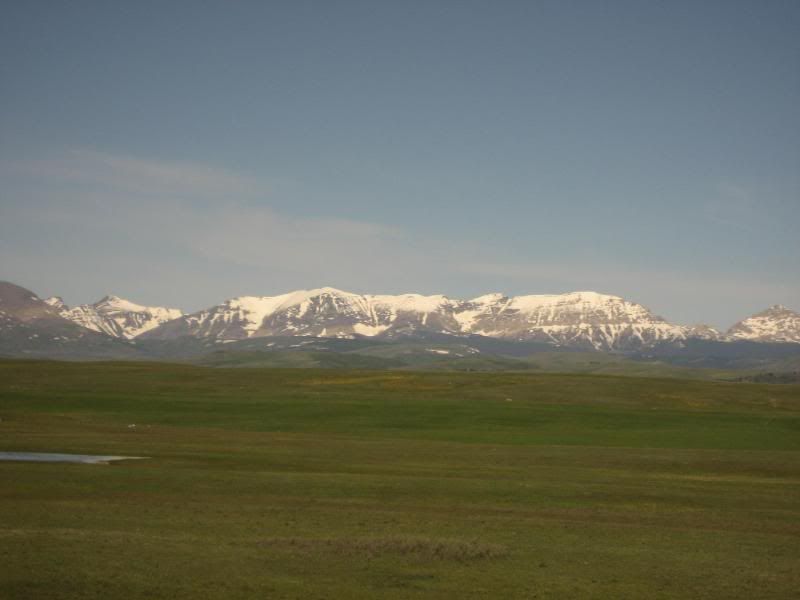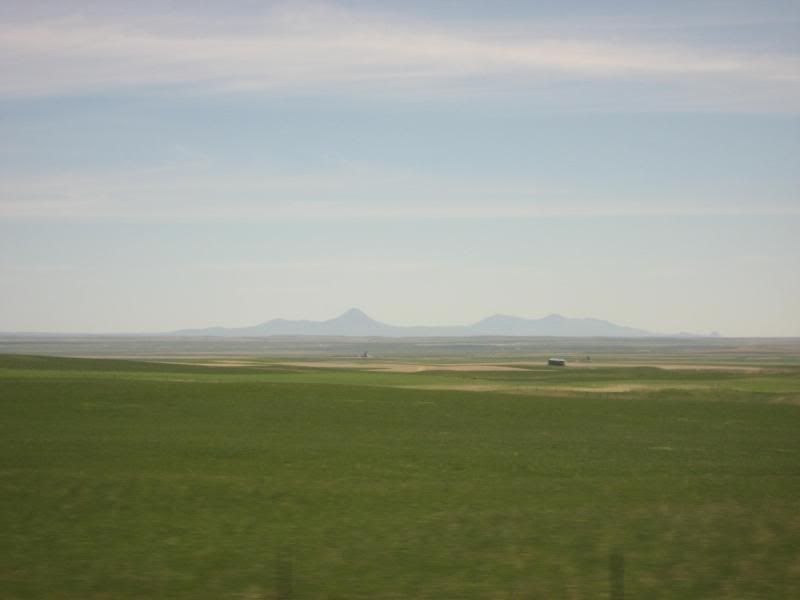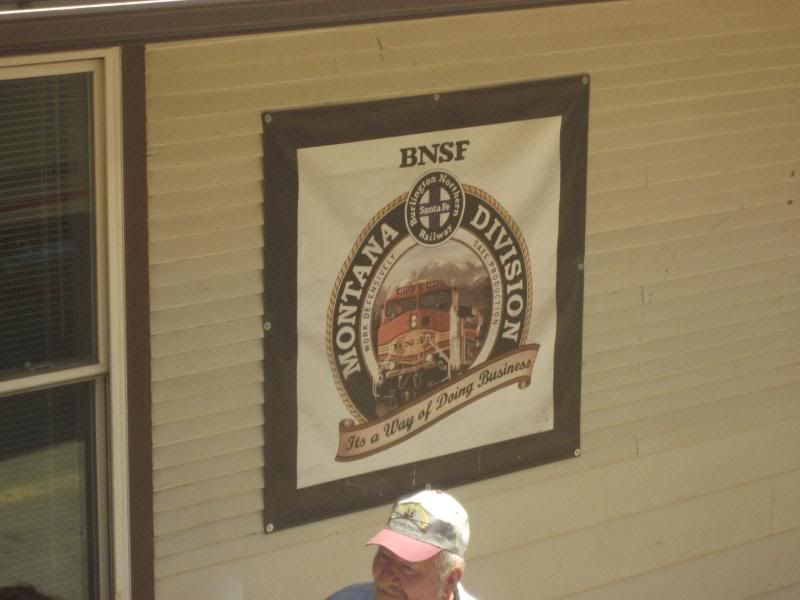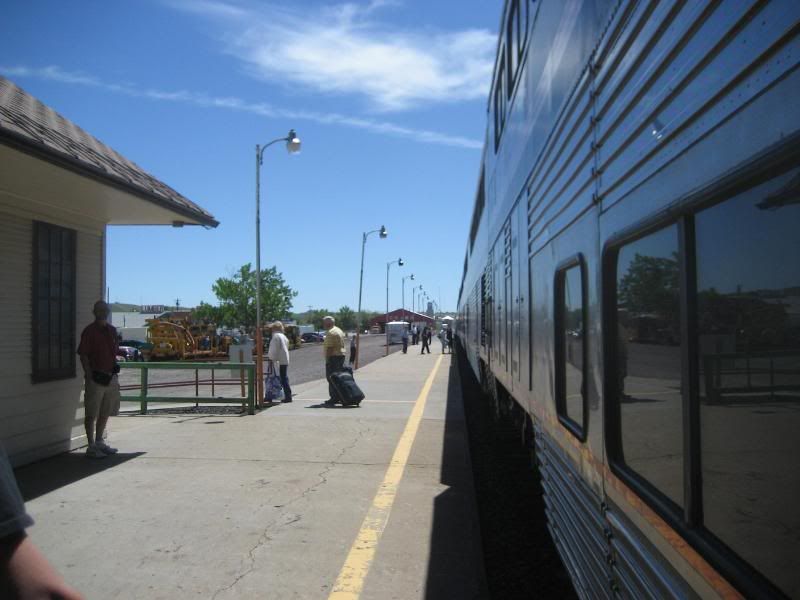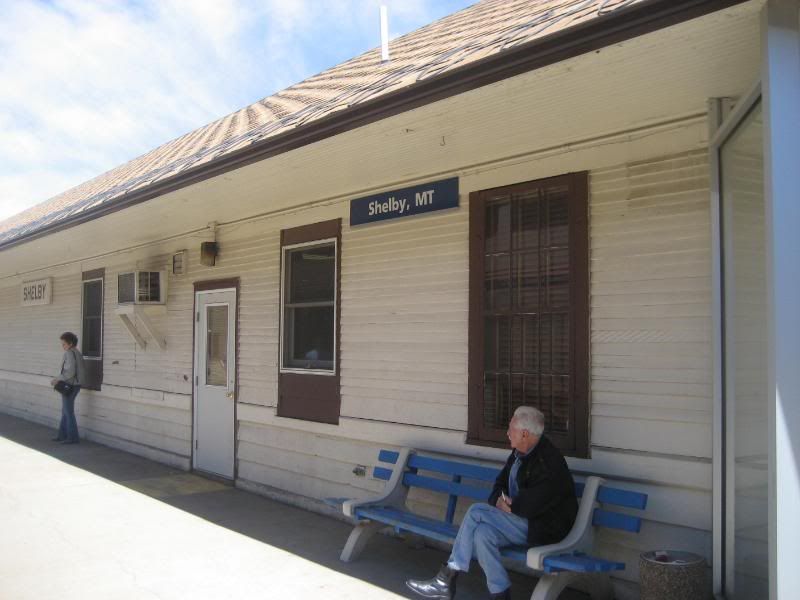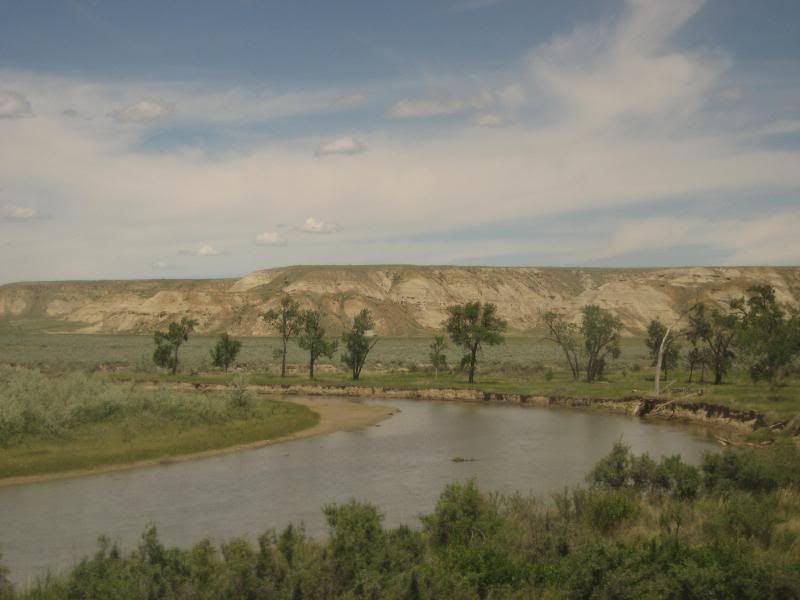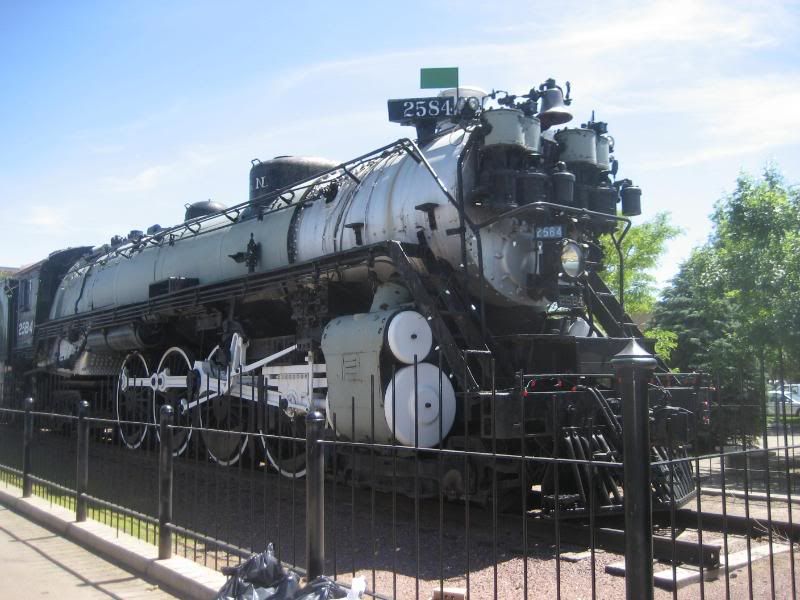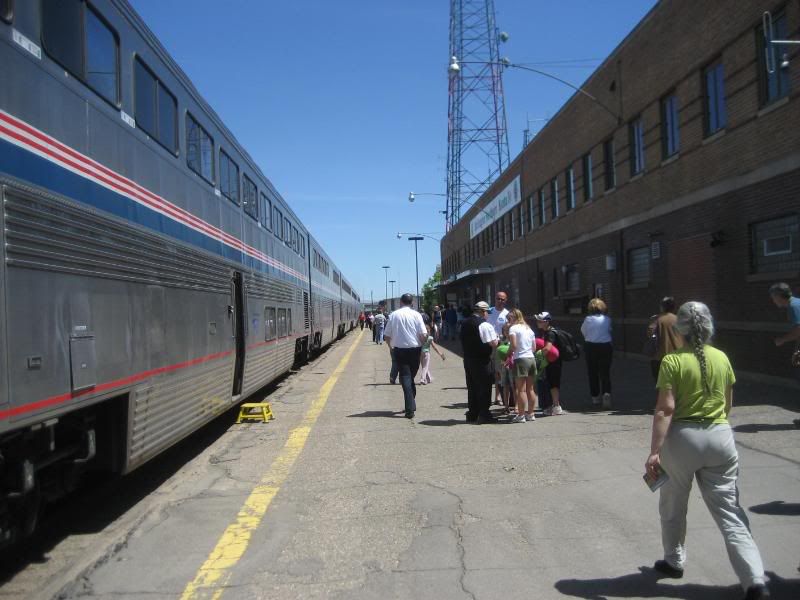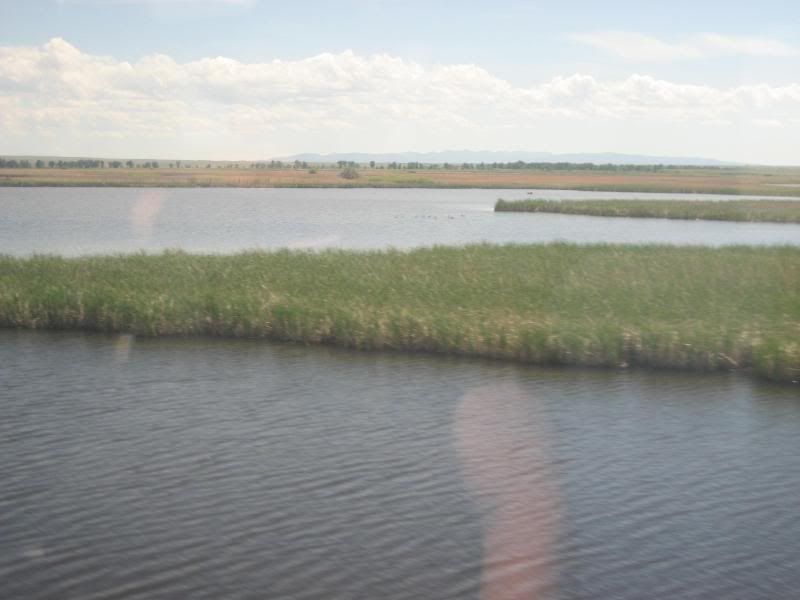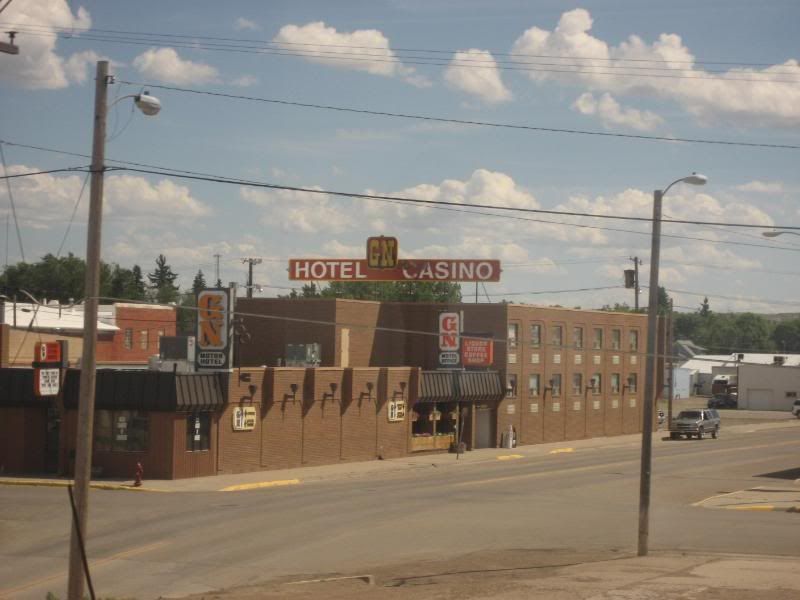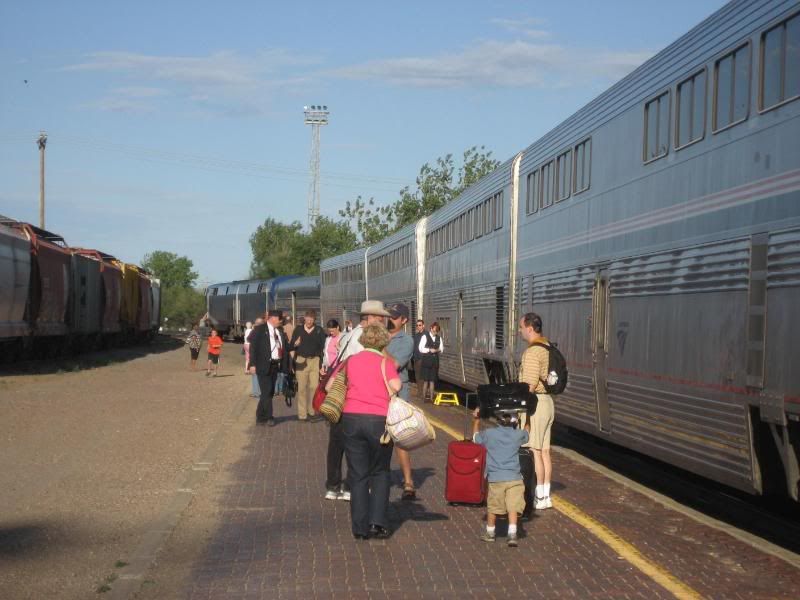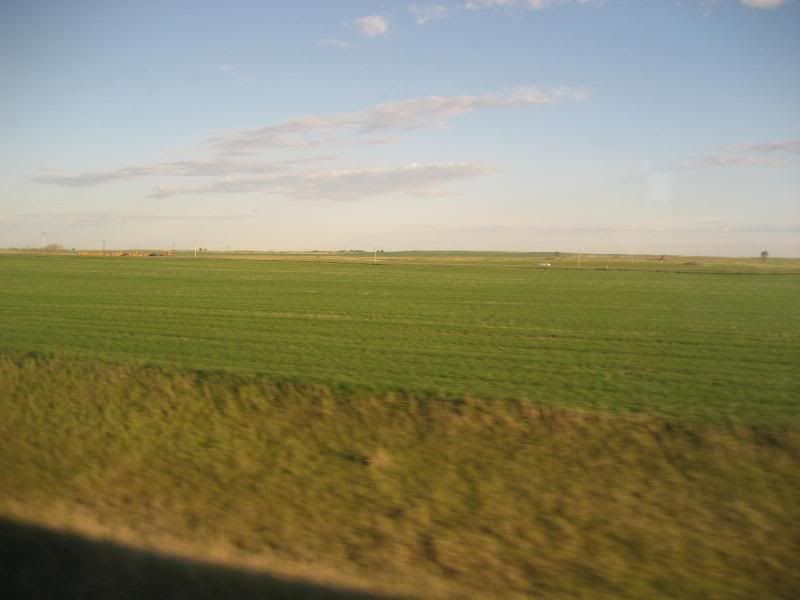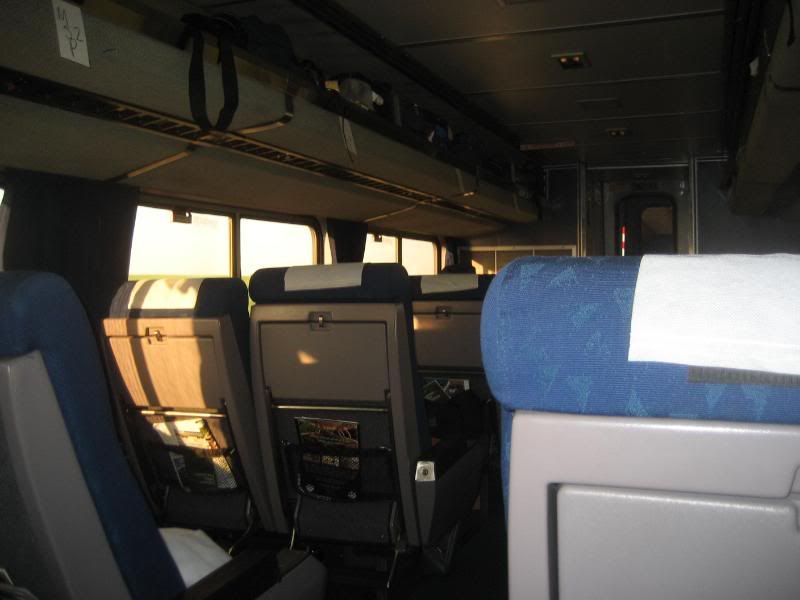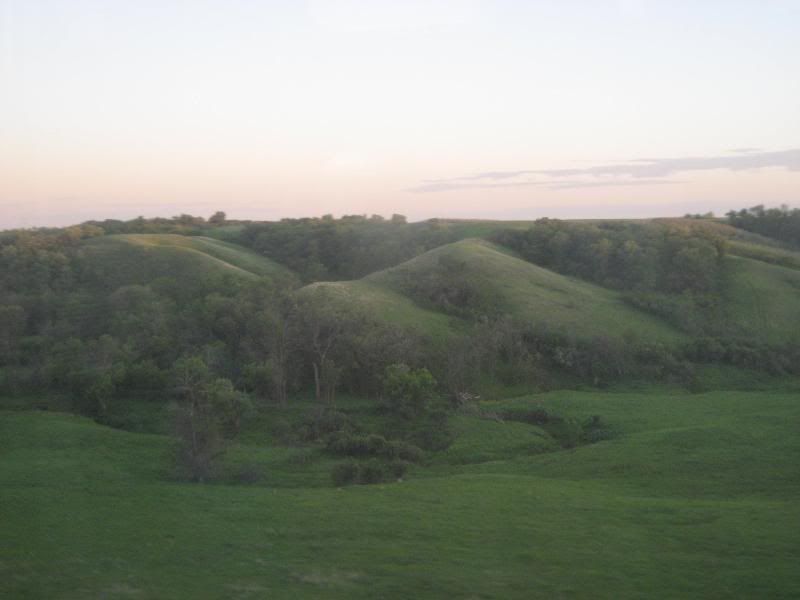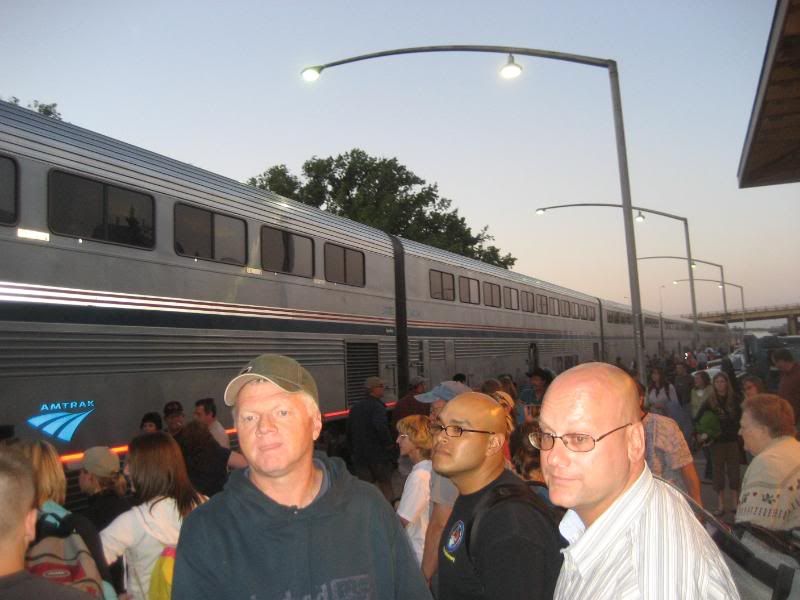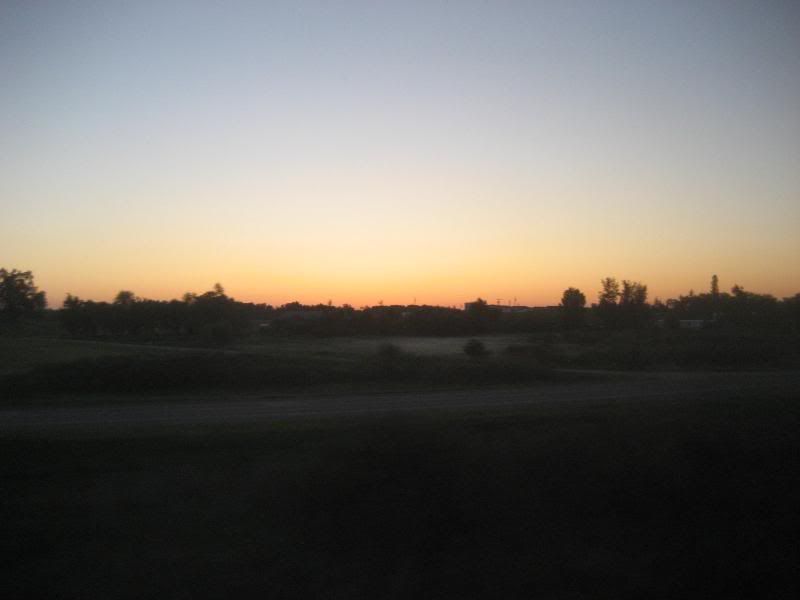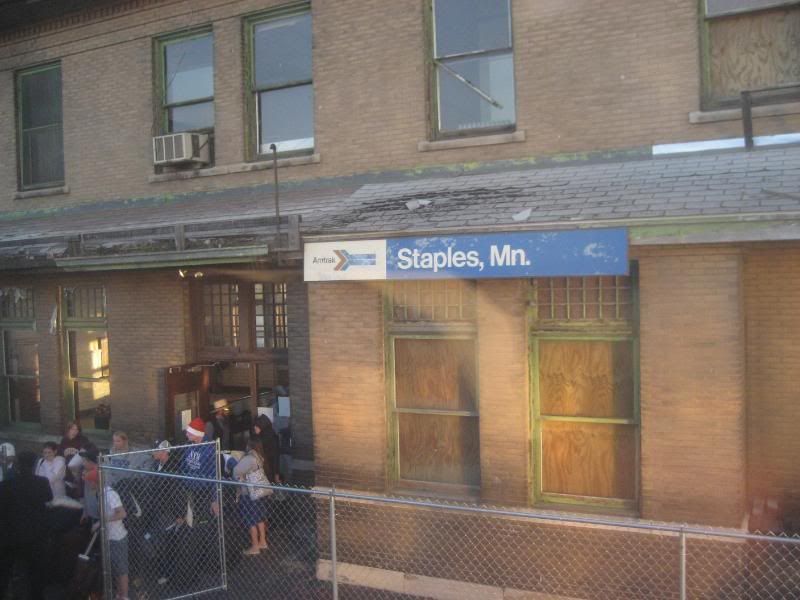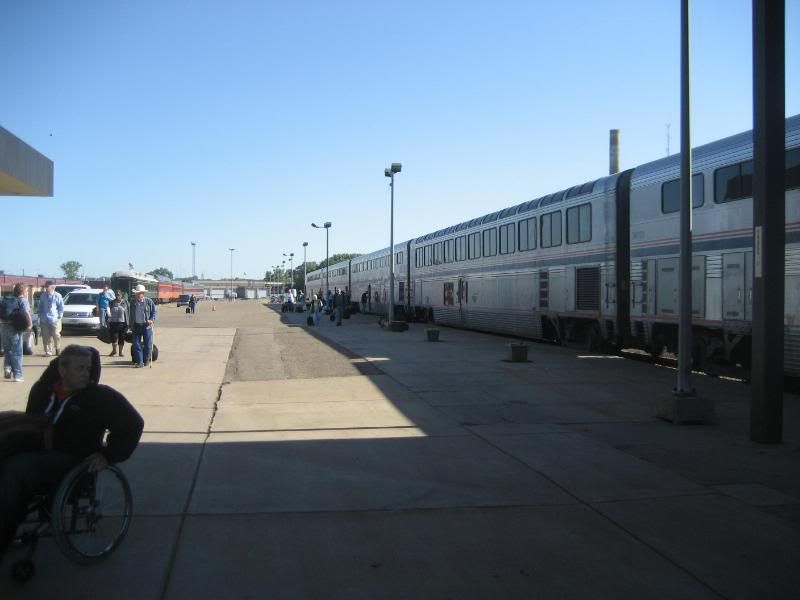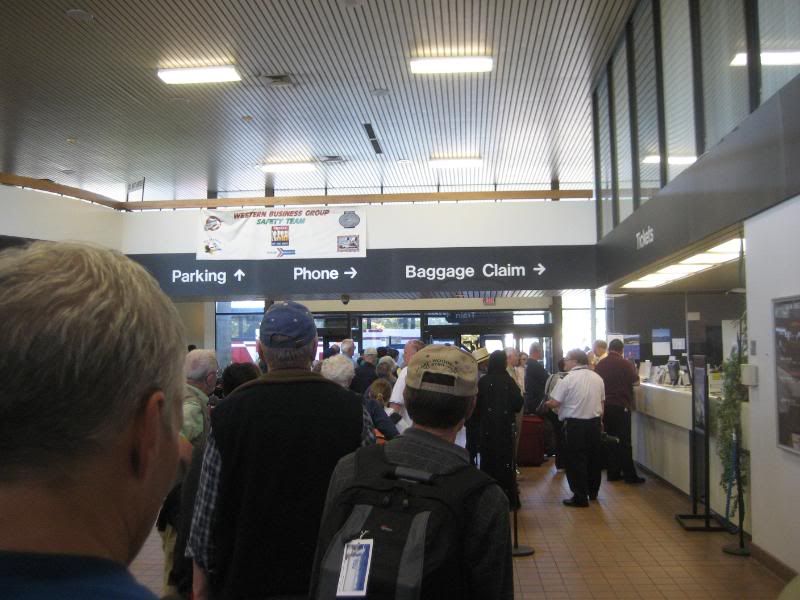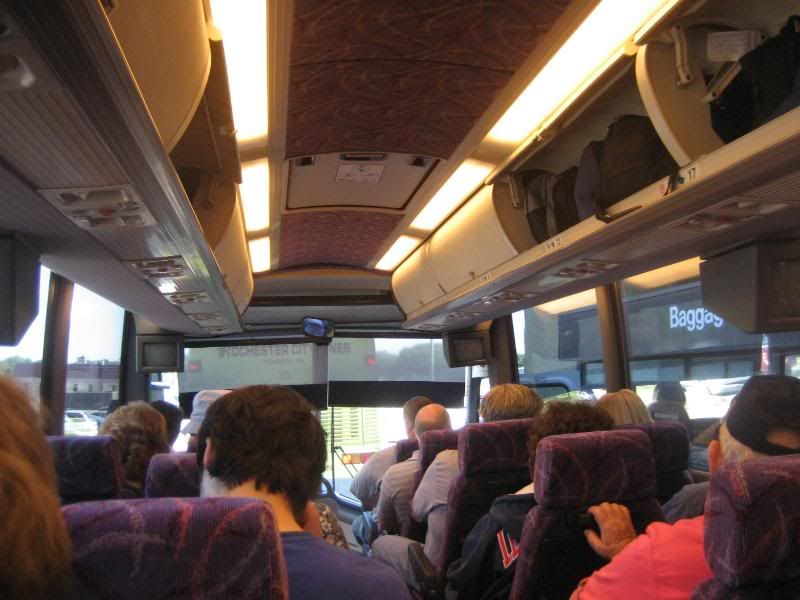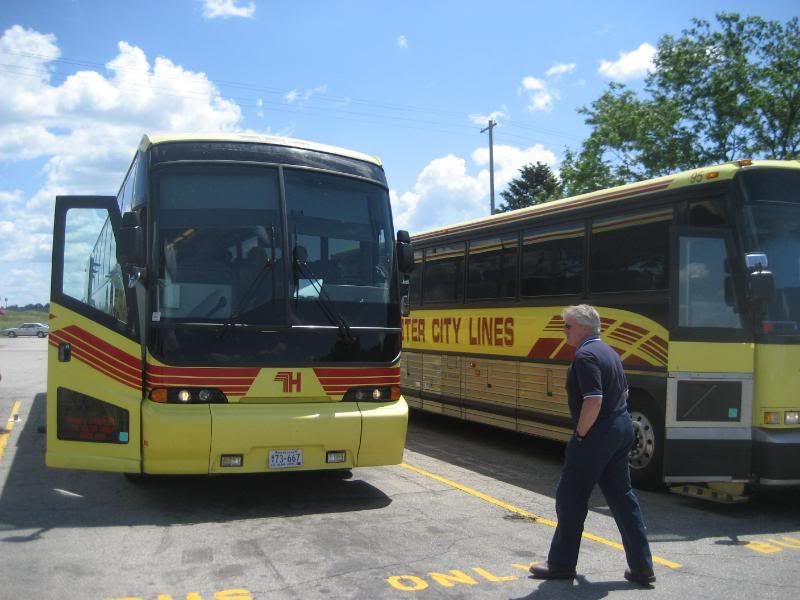 Finally made it to Chicago Union Station...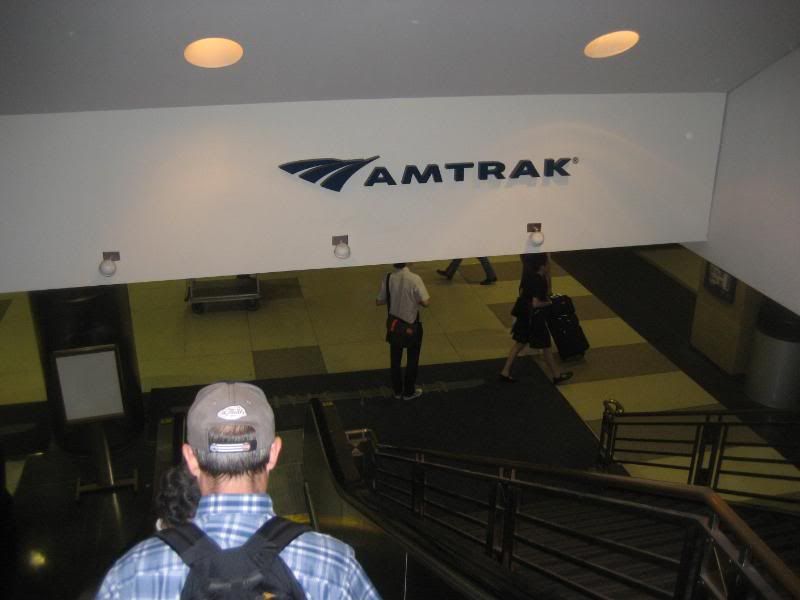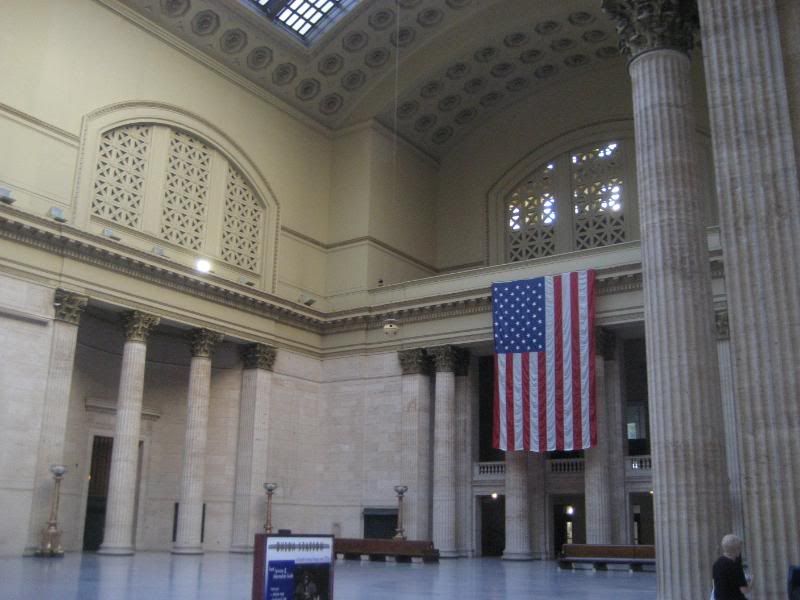 After killing just about an hour and a half in the Metropolitan Lounge, boarding for the City of New Orleans, train #59, started at 7:00pm.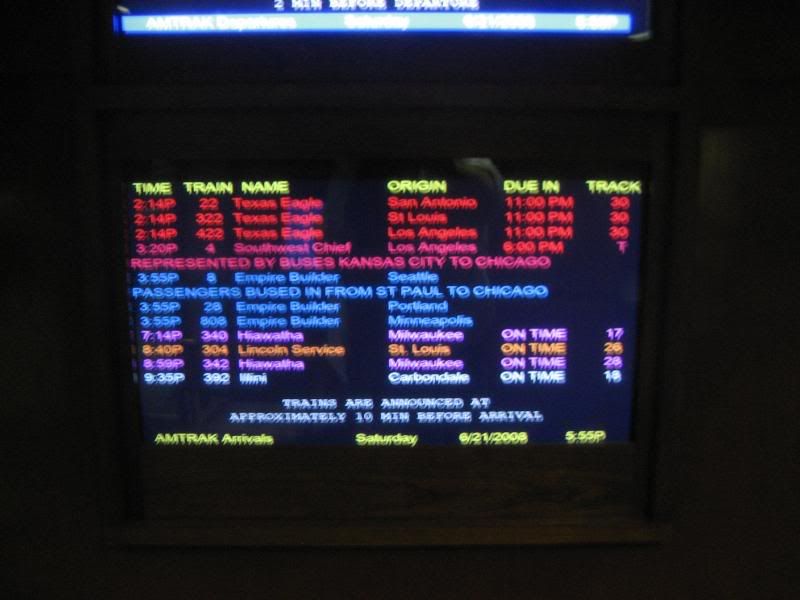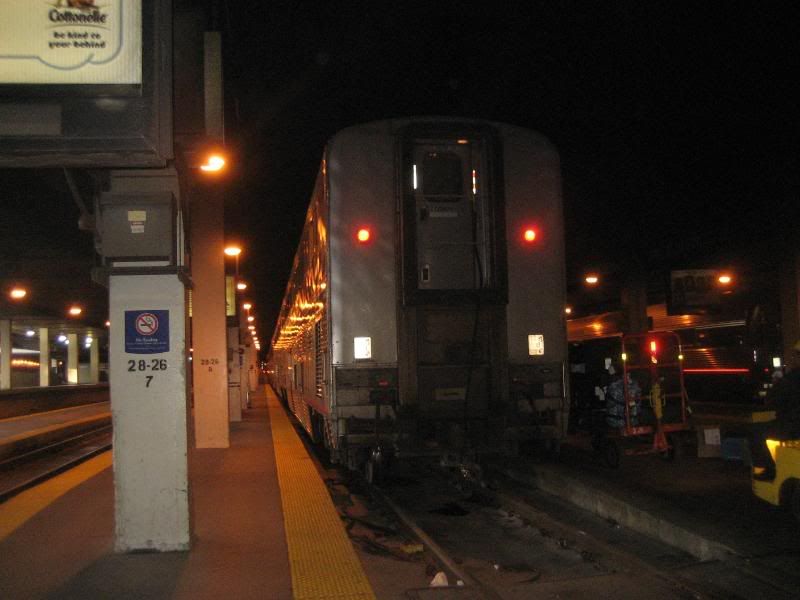 The consist was as follows:
1 P42
1 Transition Sleeper (4 rooms were sold)
1 Sleeping car
1 Cross Country Cafe
3 Coaches
I had a sleeper on this sold out train...room #11 in the 5900 car, on the lower level. All the upper level rooms were sold out. I was dying for a shower so I had one just a few minutes after I boarded and then made my way to the new Cross Country Cafe car for dinner. My first impression of the car was a nice one. The booth seating was comfortable and the car was bright and clean. I had the dinner special which was crawfish etouffee and I was very impressed with the quality of it. No more free salads with the meal but rolls were still included. I had bread pudding for dessert and it was fabulous. So far, so good in terms of my Cross Country Cafe experience. Also, I recognized the dining car attendant from a previous trip and she remembered me as well...we joked around a bit....was nice seeing her again. I finished my meal by 8:15pm and returned to my room....had my bed turned down at 9:30pm since I was dog tired...and slept pretty soundly until 6:00am. At 6:45 I made my way one car back to the CCC for breakfast....had my usual French toast and sausage...and it was excellent as always. We left the temporary MEM "station" (more like a stop in the middle of the woods...the regular MEM station is out of service thanks to a large sinkhole which has formed near the tracks) about :30 late, but made up all of the time throughout the morning. We were on-time into JAN where a big crowd boarded and, as announced by the Conductor, "every coach seat was taken to New Orleans". Not bad at all! Needless to say lunch was very crazy in the CCC....the lack of lounge space was very apparent...only four lounge tables made it impossible for people to find seats, and the line of coach passengers waiting to order food literally stretched from the counter in the CCC all the way back through the end of the fist coach. It was a madhouse. The dining tables were all full, as well. I had red beans and rice (very tasty). Just outside of Amite, LA the emergency brakes were kicked in so I figured we were getting ready to hit a car, which unfortunately is fairly common. Well, we didn't hit a car, but we almost hit some guy on a 4-wheeler riding on the tracks. I have a picture of him. Apparently the train missed him by less than ten inches. What a moron. Even with that ten minute delay, the train departed the next station, Hammond LA, right on time and we actually made it to New Orleans :50 early. Great ride on a great train...and I do like the CCC overall...but there's just not enough lounge space, and the design leads to a VERY cramped aisle in the lounge area.
Here are the pictures from the City of New Orleans train, including a rare shot inside the New Orleans Union Passenger Terminal, and a few shots from the Canal Street Ferry in New Orleans...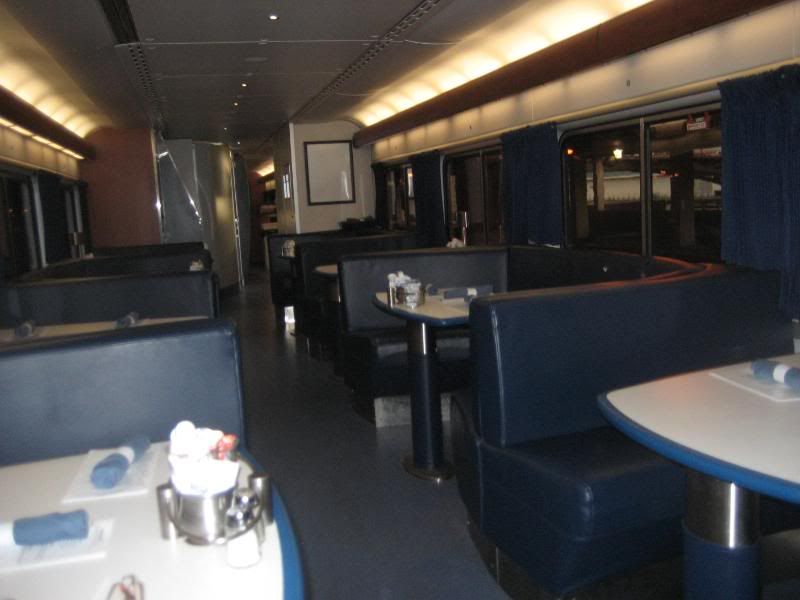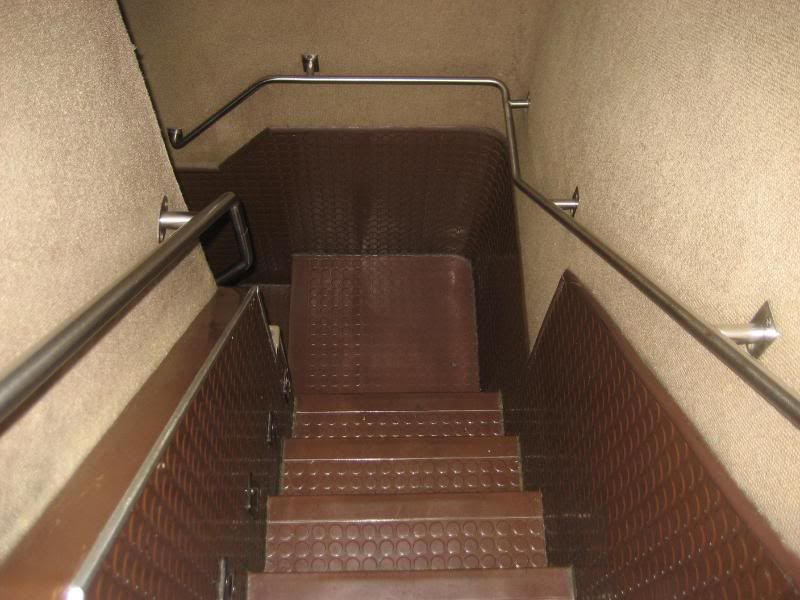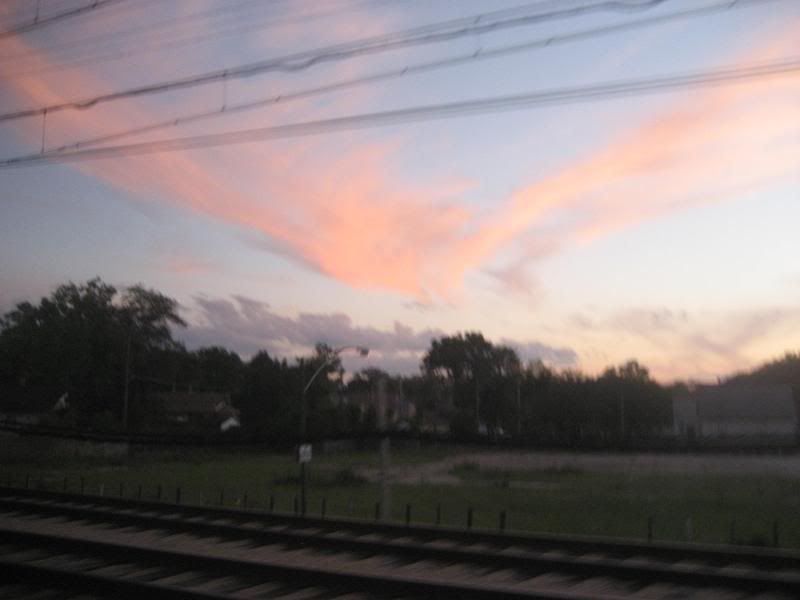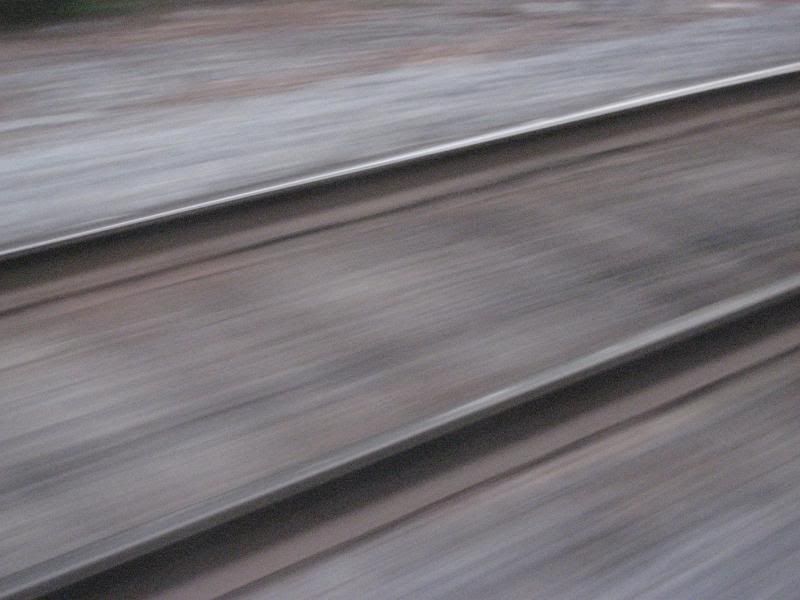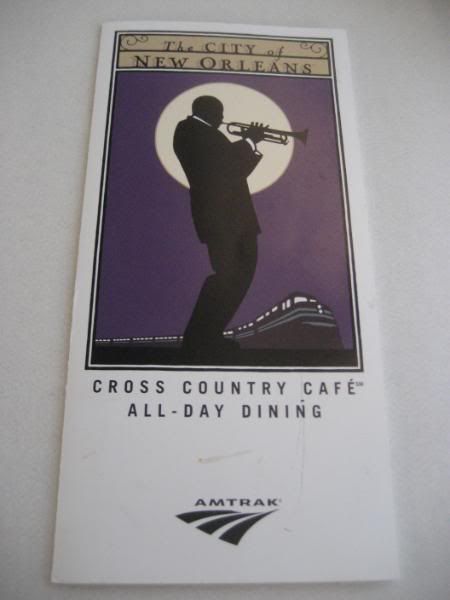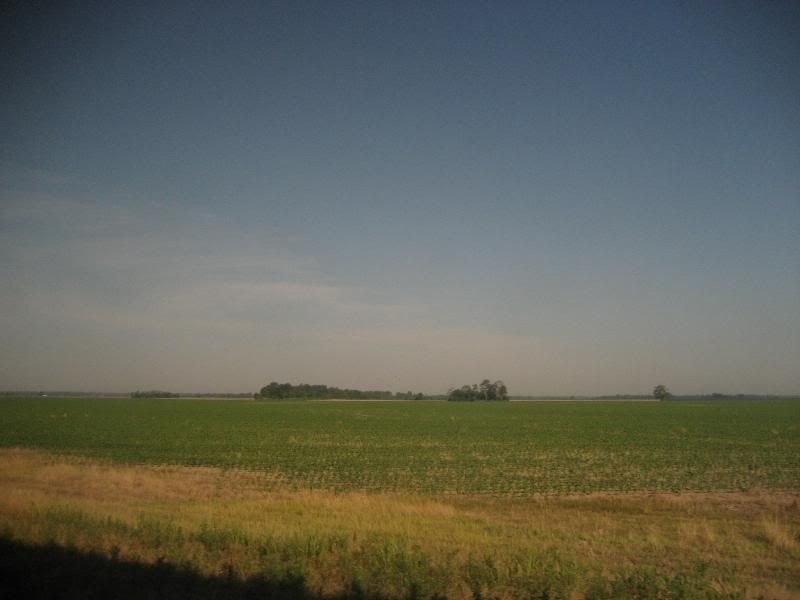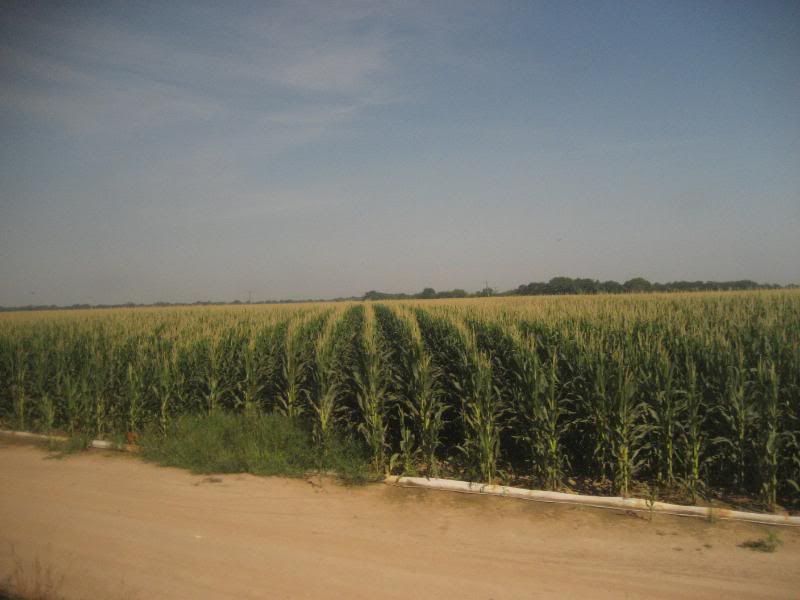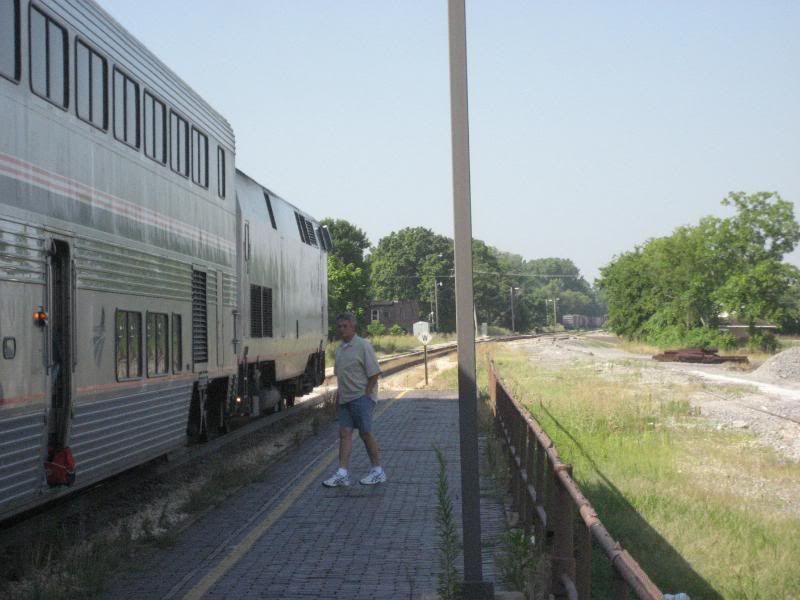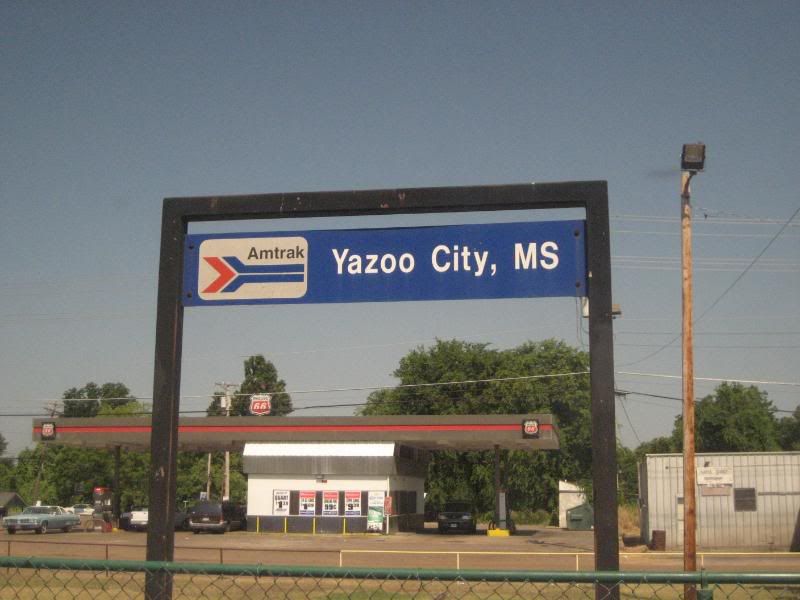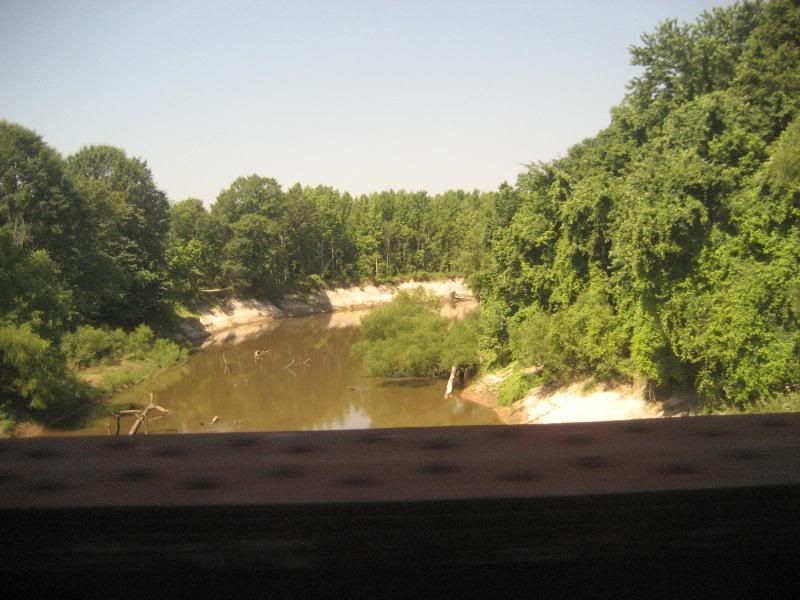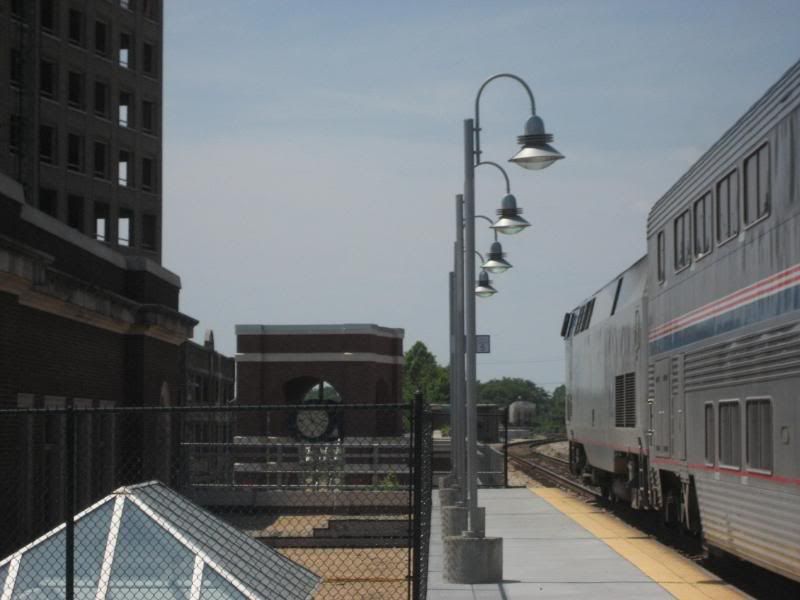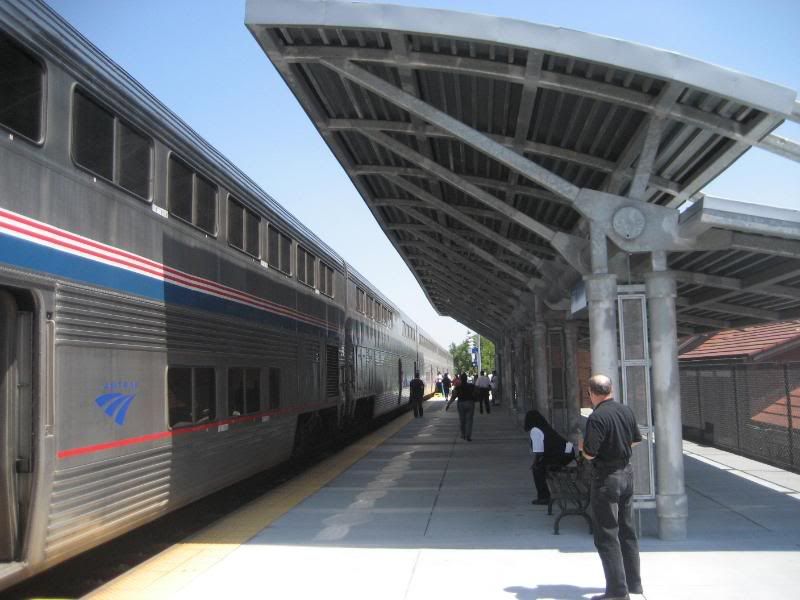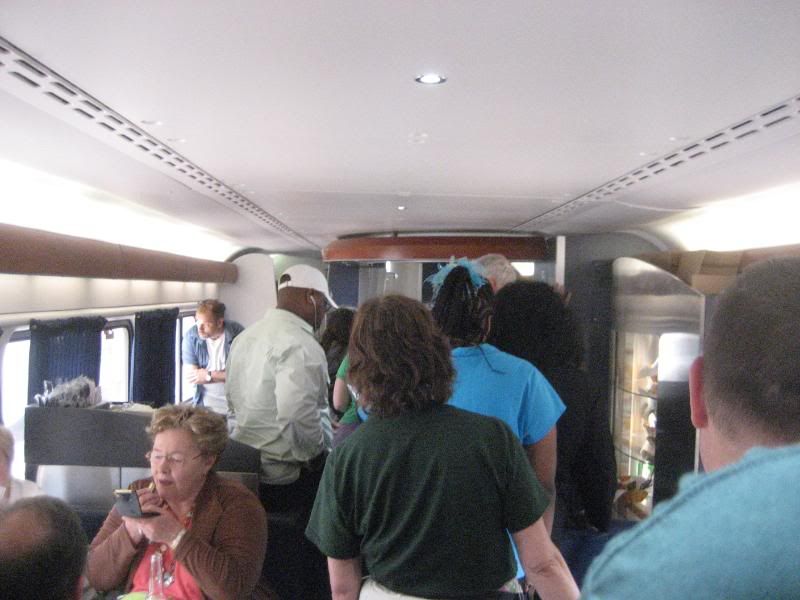 Here's the guy who almost got smoked by the train...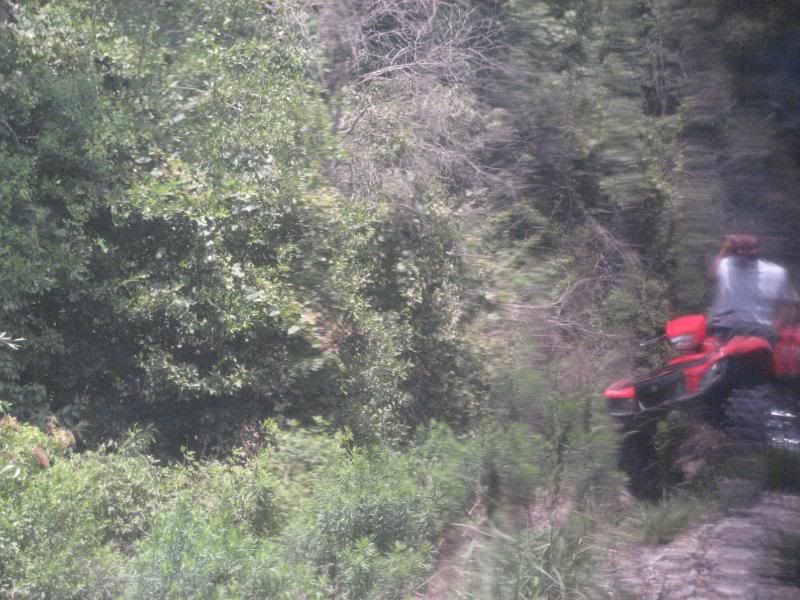 And after the train goes into emergency stop the Conductor has to walk the train to check on the hoses connected to the cars...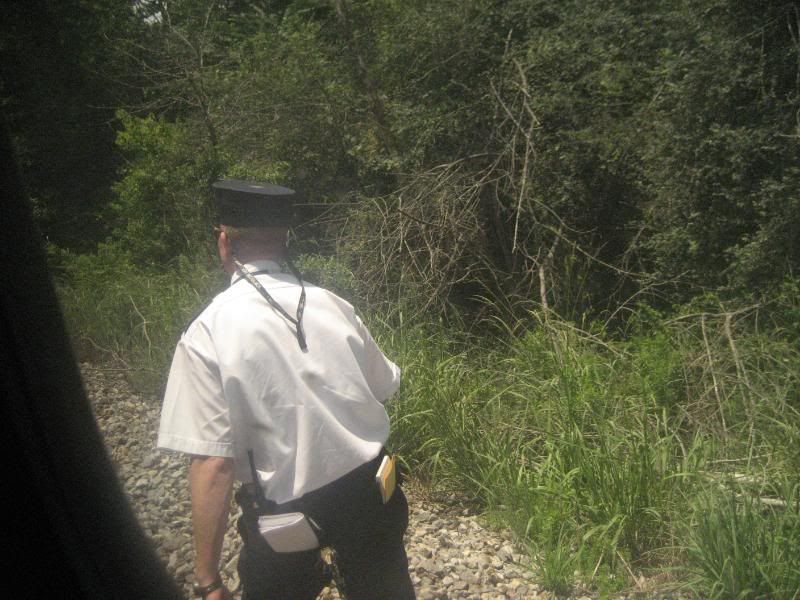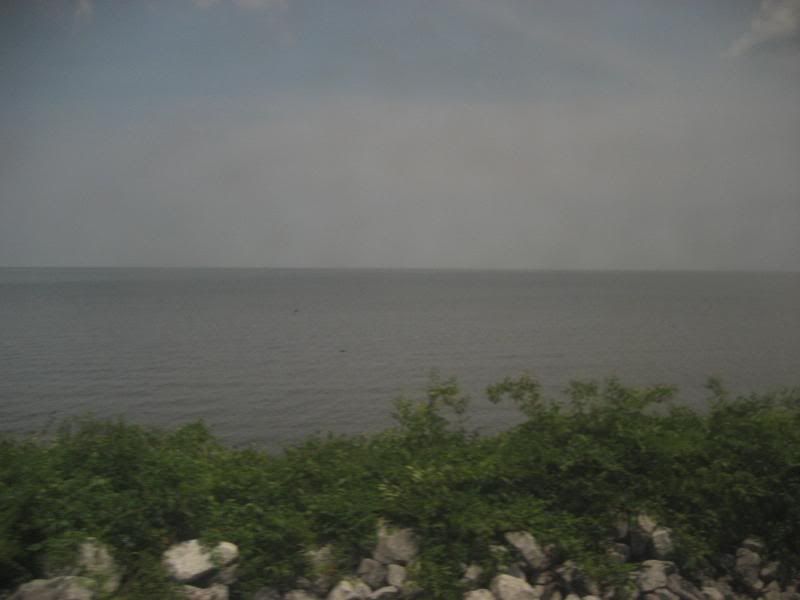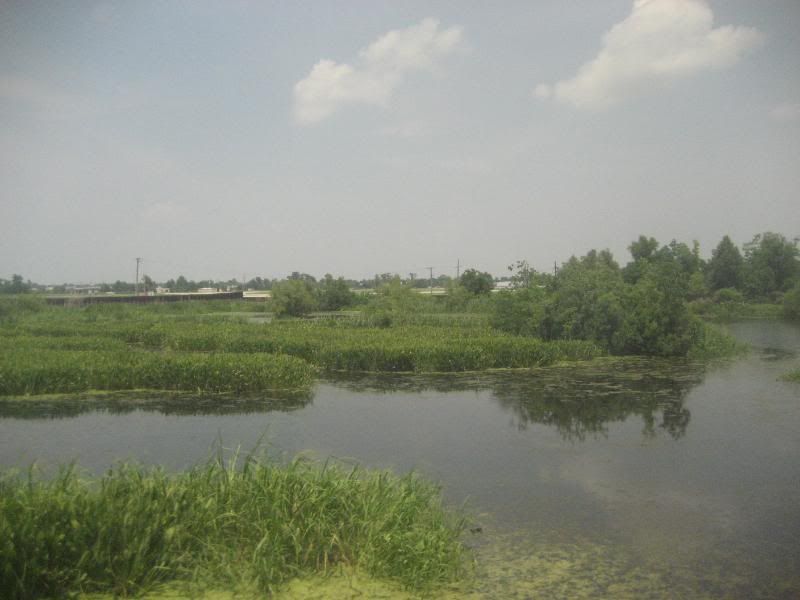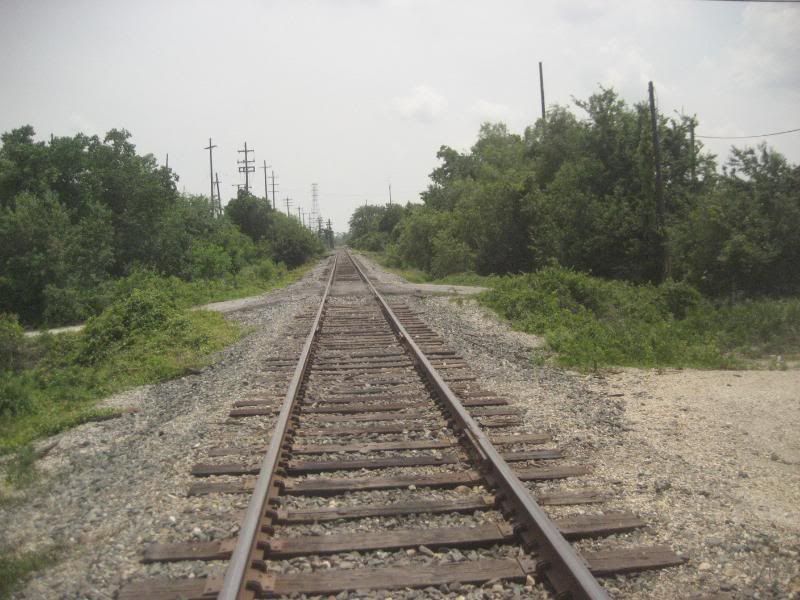 Former warehouse turned art workshop seen as we back into the New Orleans station.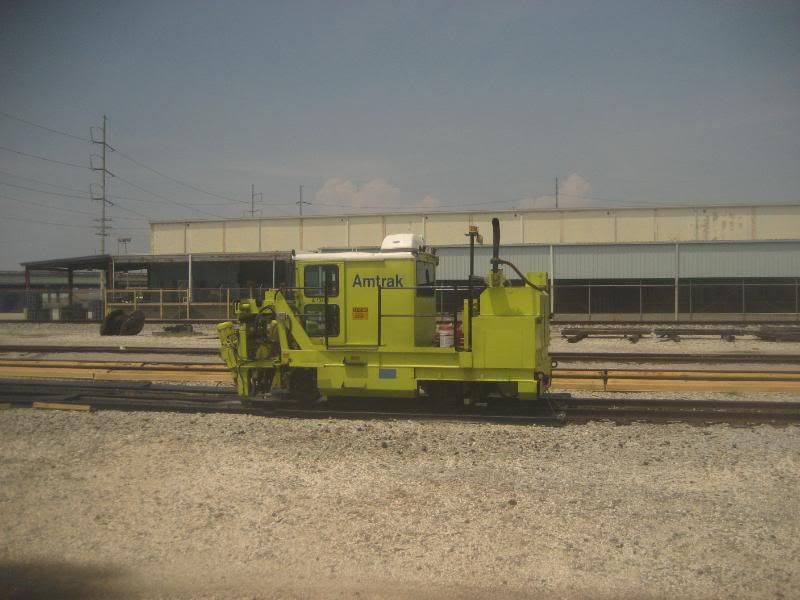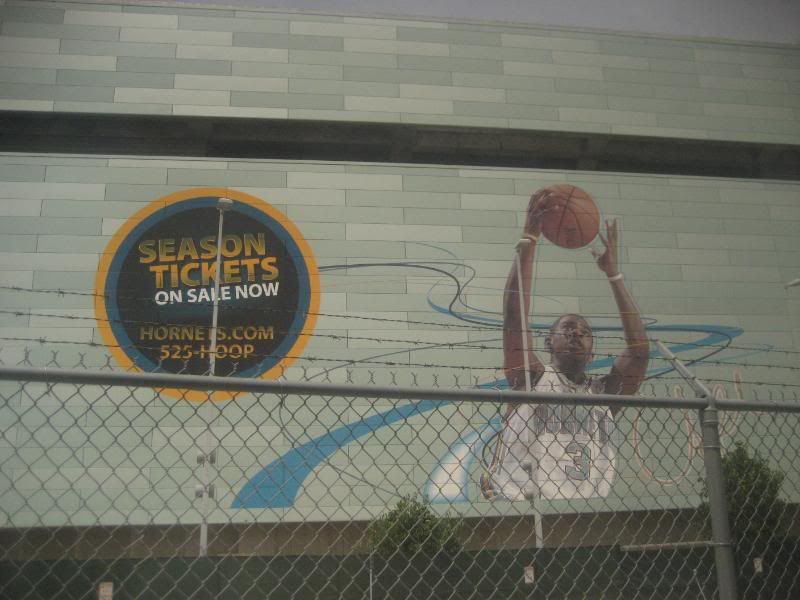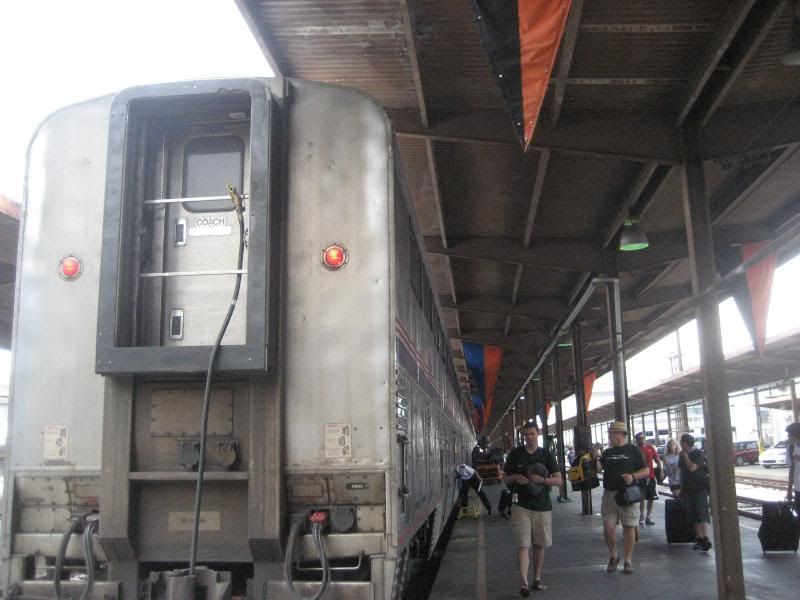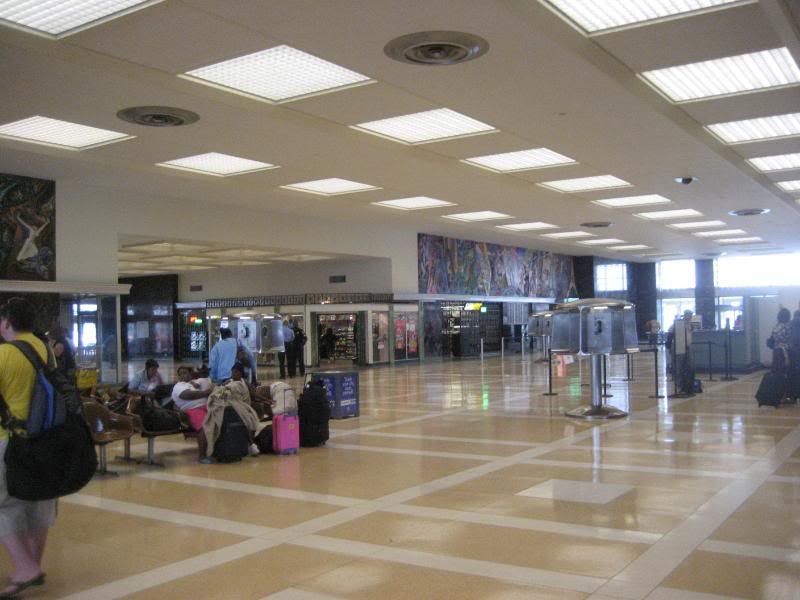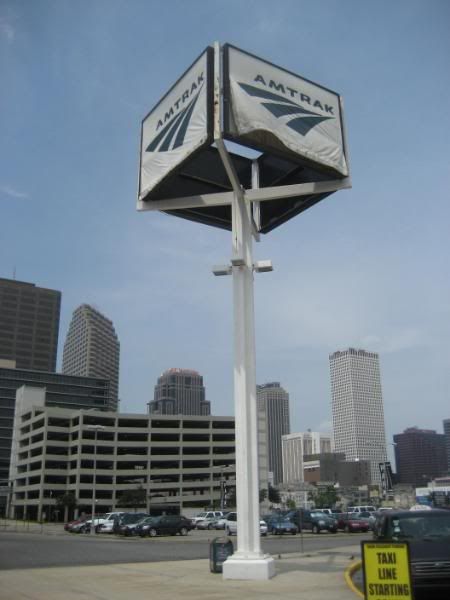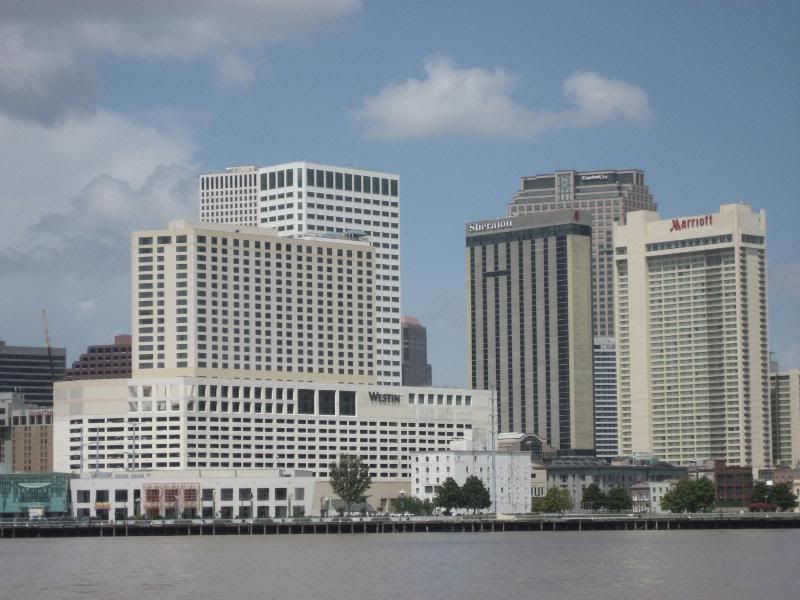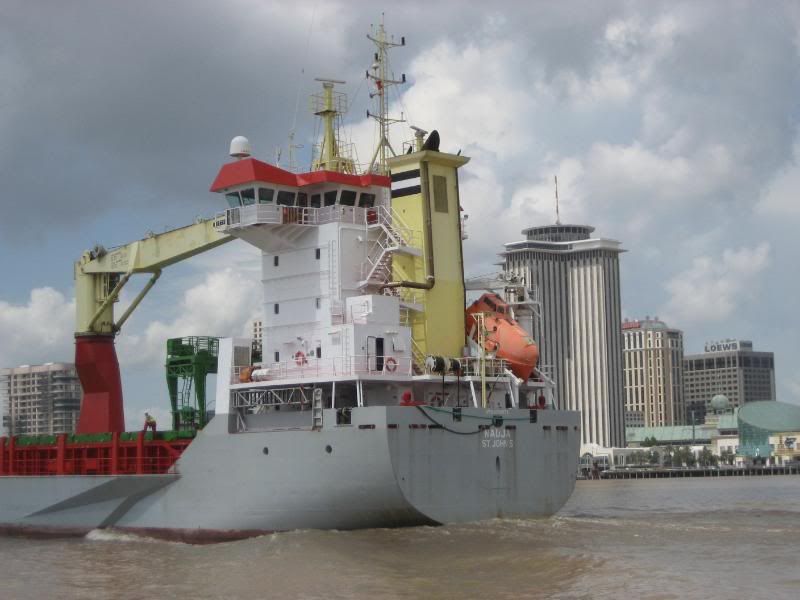 Top