Better late than never… This series of reports will cover my trip from Bangkok to Montreal in April 2007. All flights in First or Business Class.
I was actually scheduled to fly on TG606 in the afternoon, but some not so smart manager at TG decided to pull Royal First from that flight for a couple of months after the retirement of B747-300s. Obviously it didn't go too well with premium passengers, forcing for example most F pax from HKG to Europe to fly business to Bangkok, and a 747 nowadays again operates on TG 606/607.
17 April 2008
Bangkok Suvanrabhumi (BKK/VTBS) – Hong Kong Chek Lap Kok (HKG/VHHH)
Thai Airways International TG/THA 600
Boeing 747-4D7
HS-TGZ "Phimara"
0800-1145 – On Time
Royal First Class, Seat 1K
I took a taxi to Suvarnabhumi from my apartment at around 5.30am, since TG has discontinued limousine service for Royal First passengers. Upon arrival, I headed to the Royal First check-in area, and took a seat while one of the agents went to process the check-in itself. After spending about a minute at fast track immigration, the agent took me down the escalator to the waiting electric cart, ready to drive me to the Royal First lounge.
Boarding pass (old style)
The serene surroundings of the almost empty Royal First lounge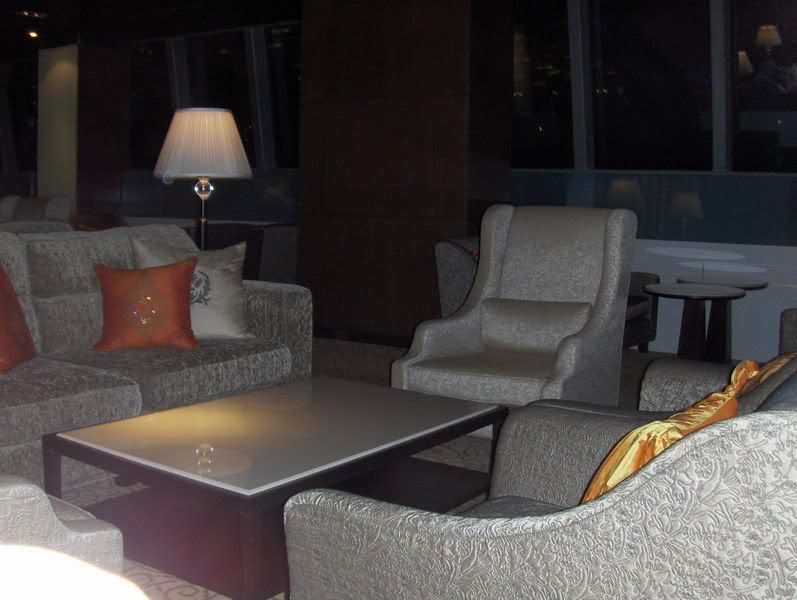 I decided to go for some fruit as well as a club sandwich for breakfast, accompanied by champagne and Perrier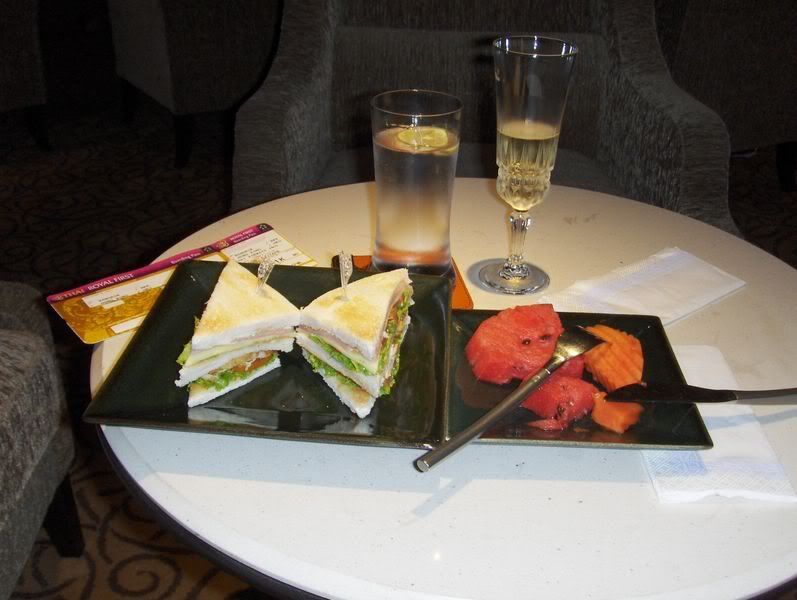 To complete the excellent ground service TG provides to F passengers at Suvarnabhumi, I was escorted to the security checkpoint at concourse C, past the short lines of course. I didn't use the Royal Orchid Spa this time, but it's certainly great as well.
TG600 departing from C3 this time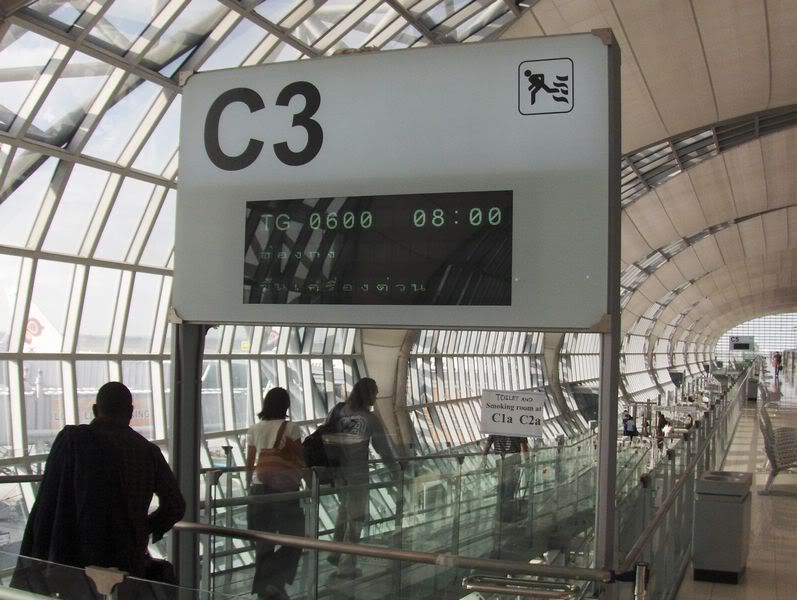 Old style F cabin of HS-TGZ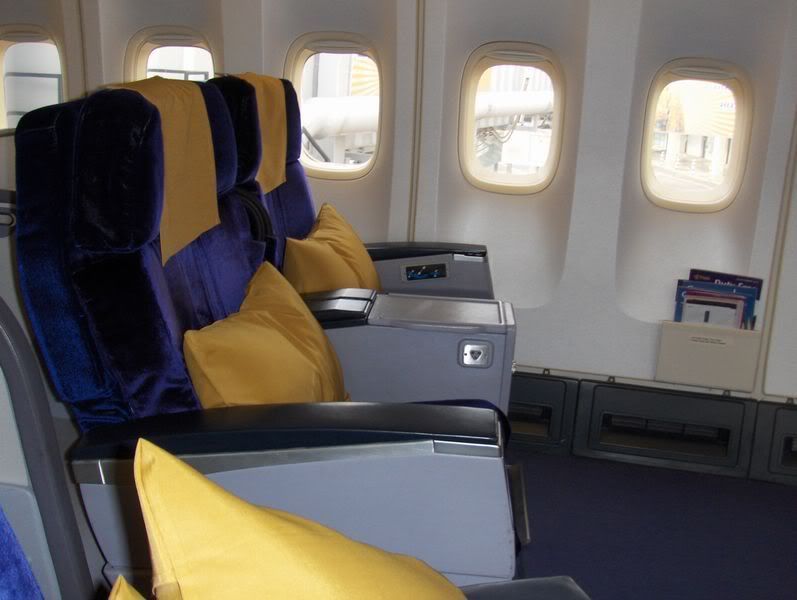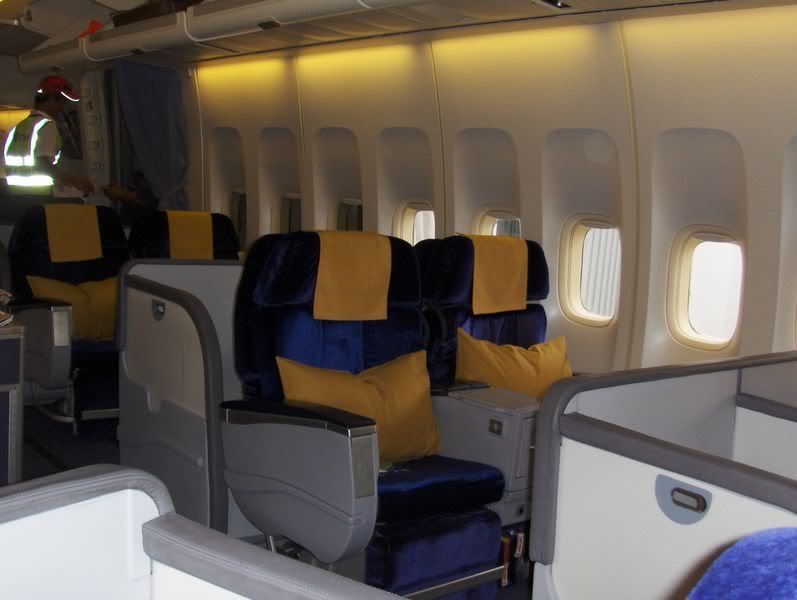 I was immediately asked what I wanted to drink – Dom Perignon 1999 of course! Placed on the armrest with an orchid and refilled a few times. Hot towels provided as well.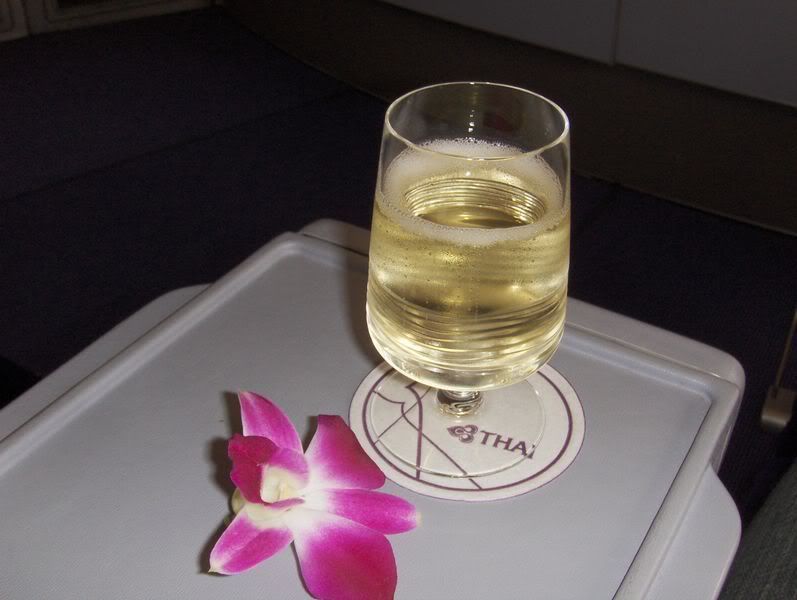 Row 1 is the best on the old configuration, decent legroom. And 1J stayed empty, obviously since the flight had once again been changed from 744 to 747 configuration…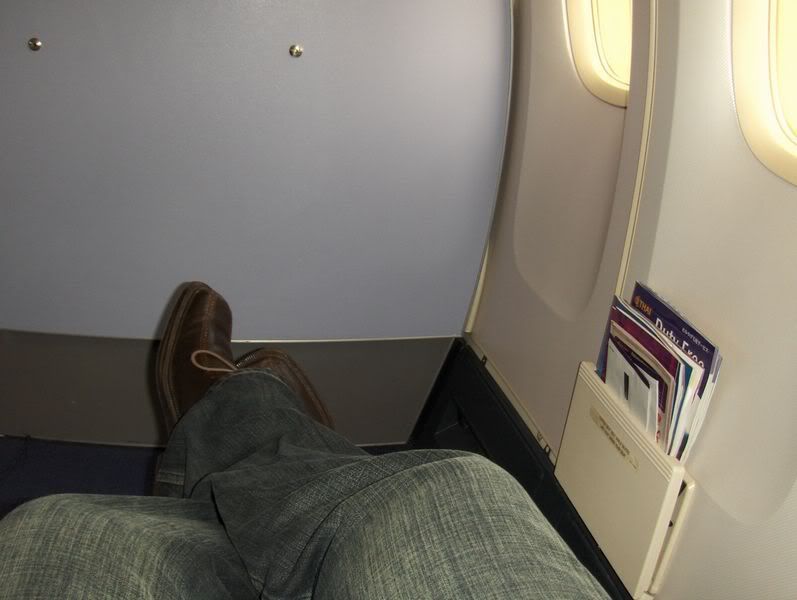 We were pushed back on time, and headed to the nearby 19L for takeoff. Safety demo was played on the ancient projection screen just in front of me.
A 777-200 in old colours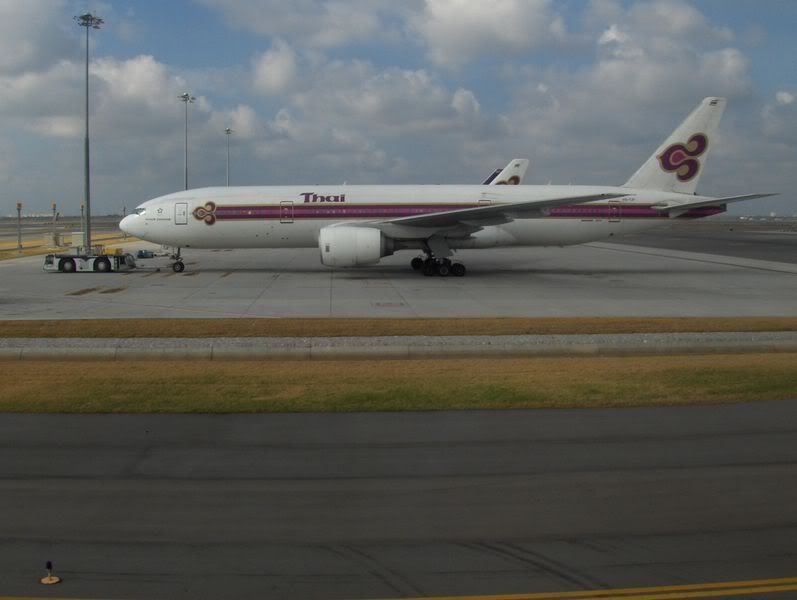 Turning onto 19L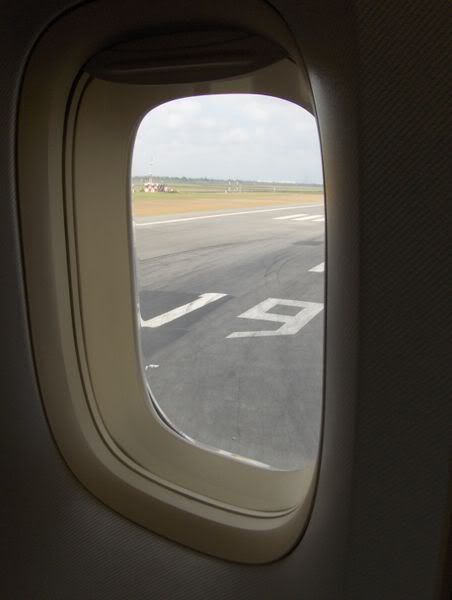 The terminal building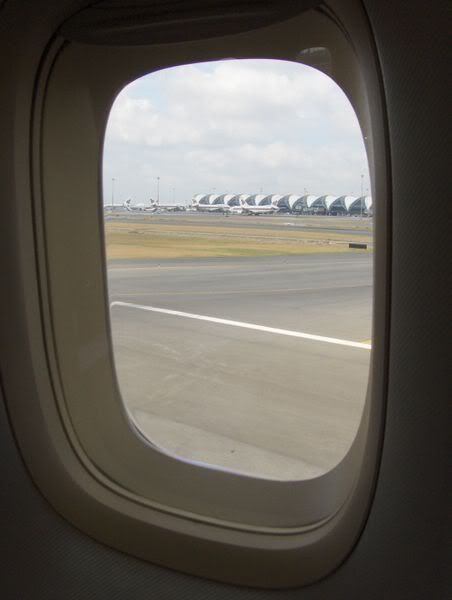 As usual, the takeoff roll was noisy in the nose of the 747 due to the proximity to the nosewheel. We lifted off after a short roll for the 2h30min flight to Hong Kong.
Views after takeoff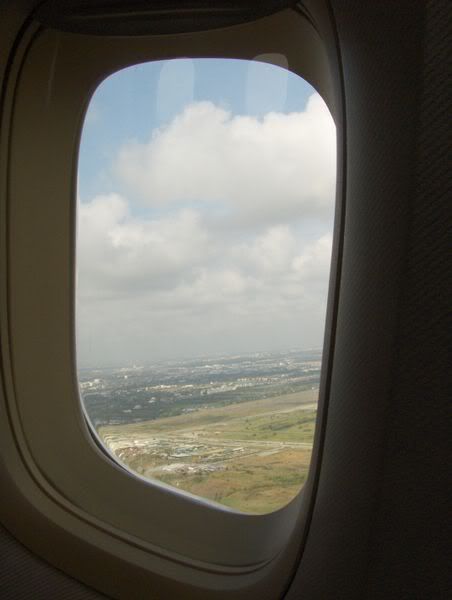 Rather empty F cabin, only 6 seats occupied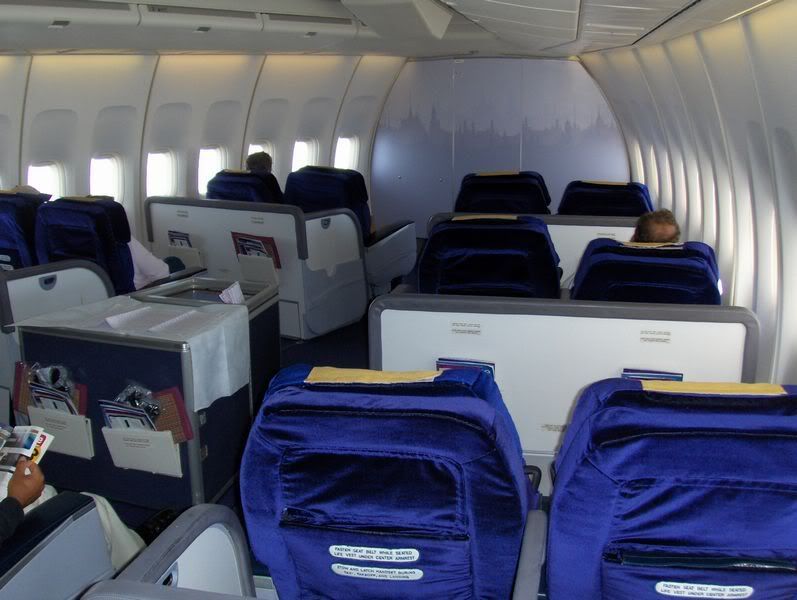 Menus were distributed (and also collected right after the breakfast when I was in the lavatory – so no menu pics in this report…), and tables set up for the meal service.
The hideous tablecloth that has since been replaced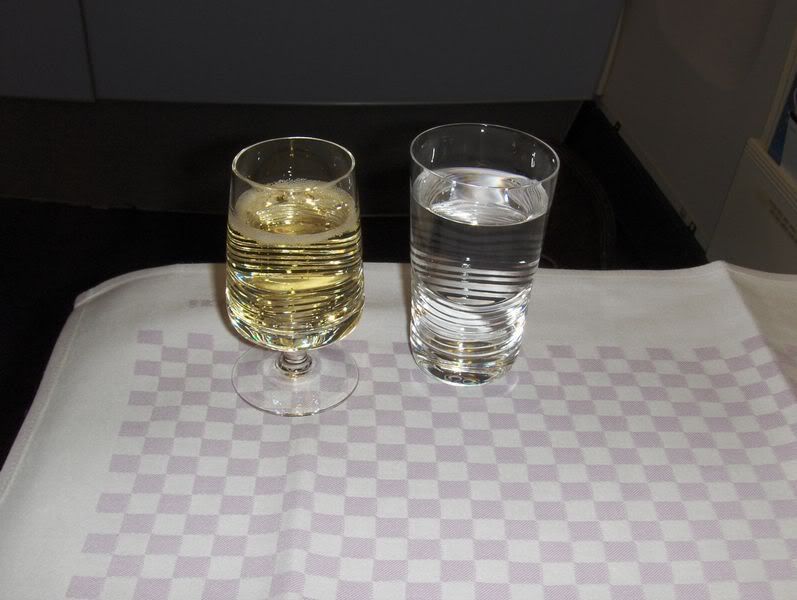 Table setup, thankfully the trays that were used last time are gone. Or does it depend on the crew?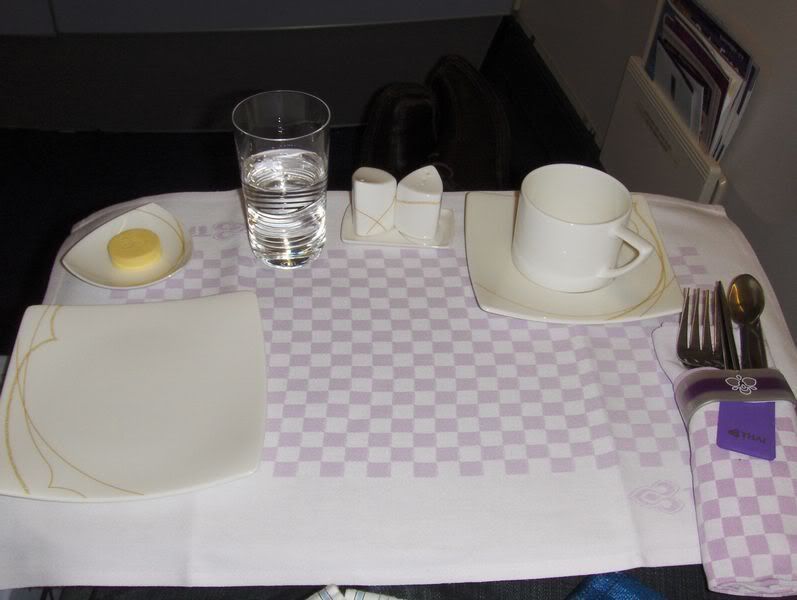 Bakery items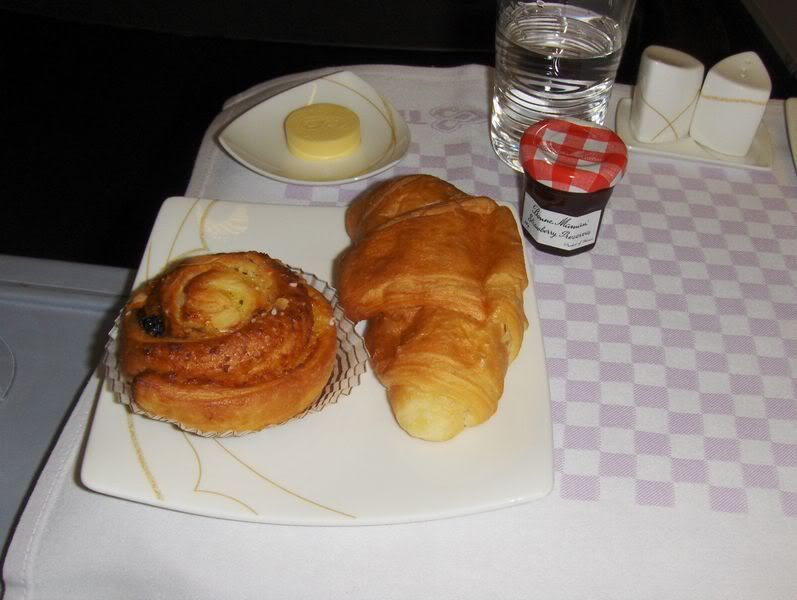 Fresh fruit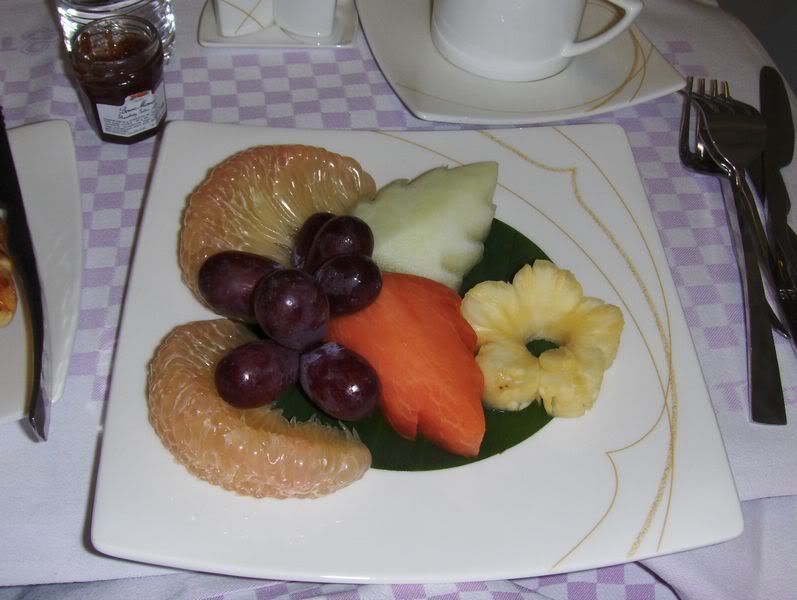 Yoghurt, unacceptable presentation in F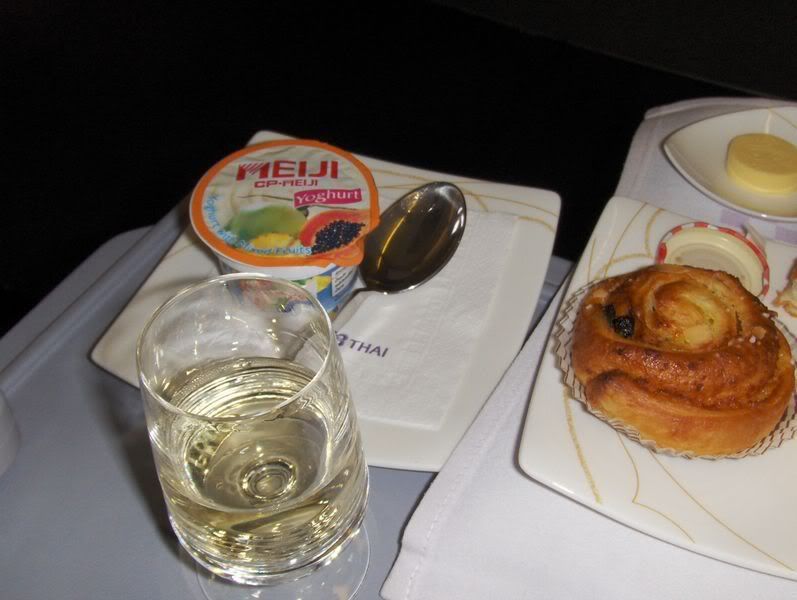 Instead of eating the usual breakfast stuff, I had pre-ordered a lobster thermidor for the flight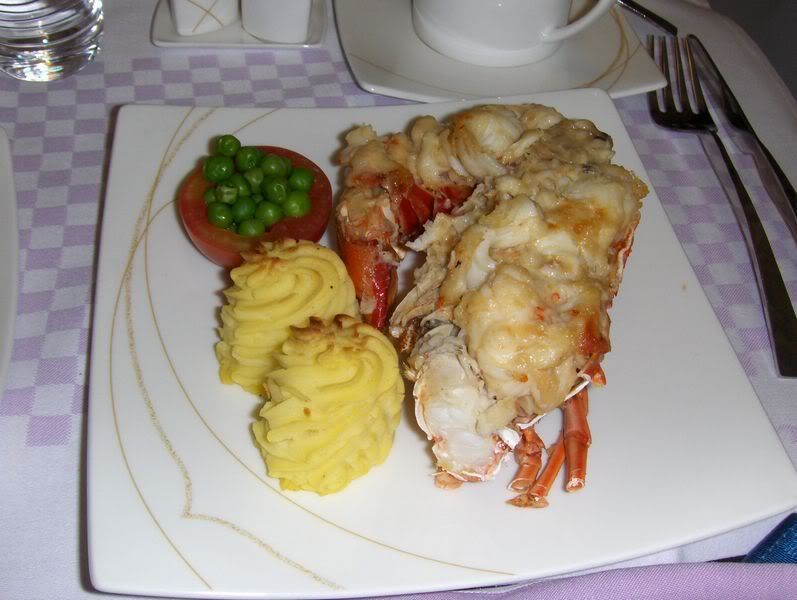 Dessert, enjoyed with coffee and Hennessy Paradis Extra cognac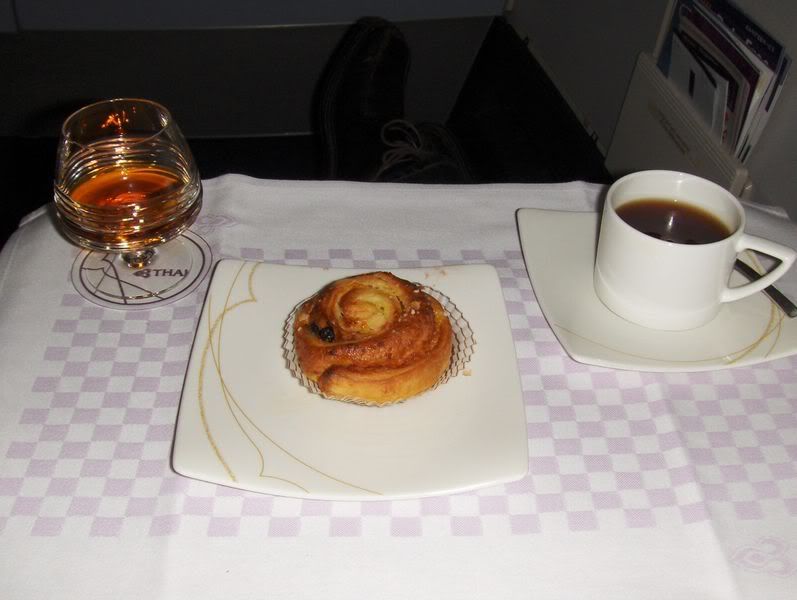 Service was pretty good, and I had countless glasses of Dom Perignon during the meal, and a few after it for good measure. I then dozed off for an hour or so in the rather comfortable but narrow seat. As I woke up, we were already on descent into Chek Lap Kok.
Views during approach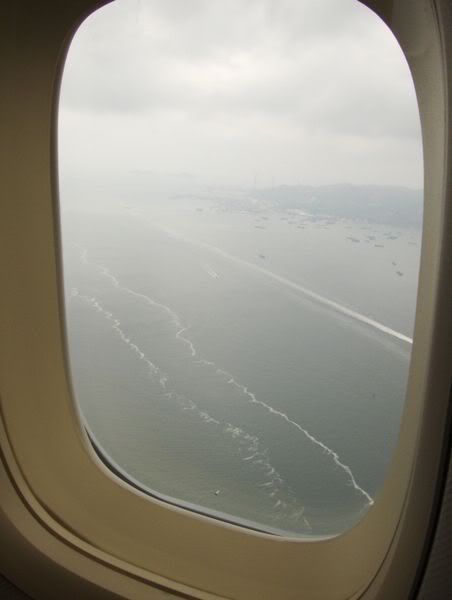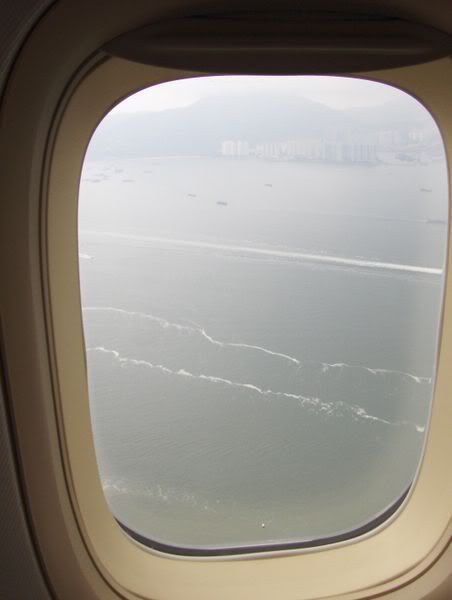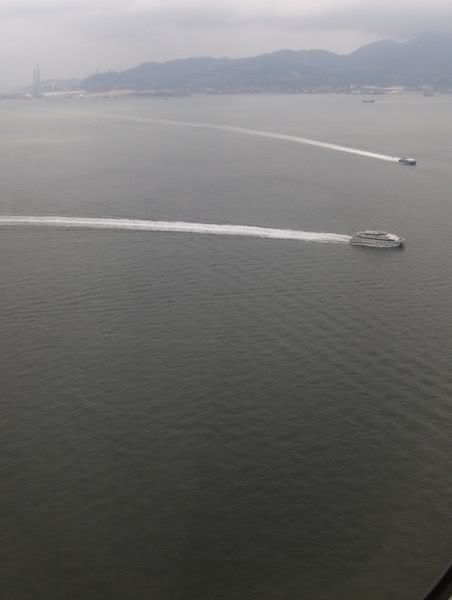 We landed on time, and this time I could also take advantage of the arrival service. All Royal First passengers were taken by electric carts to immigration – a great time-saver compared to walking or taking the train. Immigration was relatively fast, and I took the Airport Express into town for my one night stay.
Cosmo Hotel Hong Kong
Near the Happy Valley racecourse, this 3-star modern hotel is a bit far from action, but otherwise worth the price. I got it on Priceline for about $80 – hotels for my dates were very expensive for some reason. However, standard rooms here have no window at all, so I accepted the upgrade offered at check-in to a larger room with a window, free internet and breakfast. I recall it cost about HKD 200.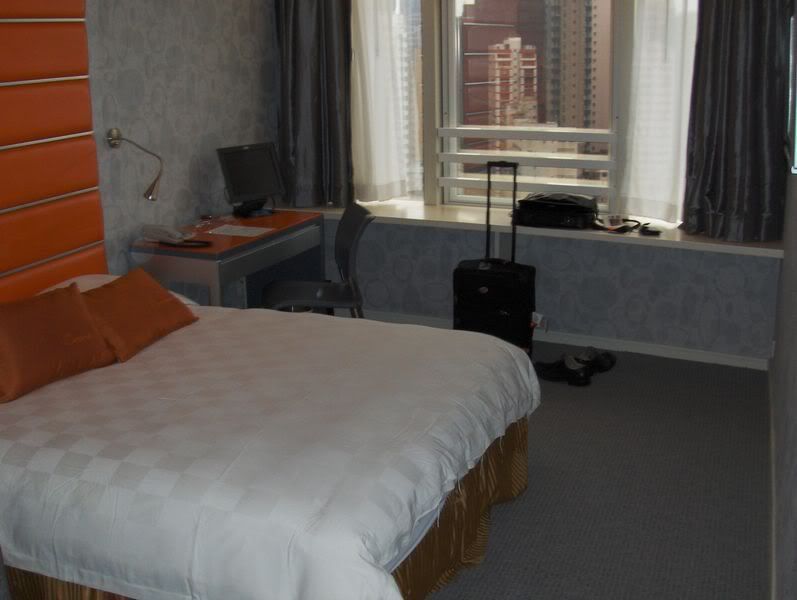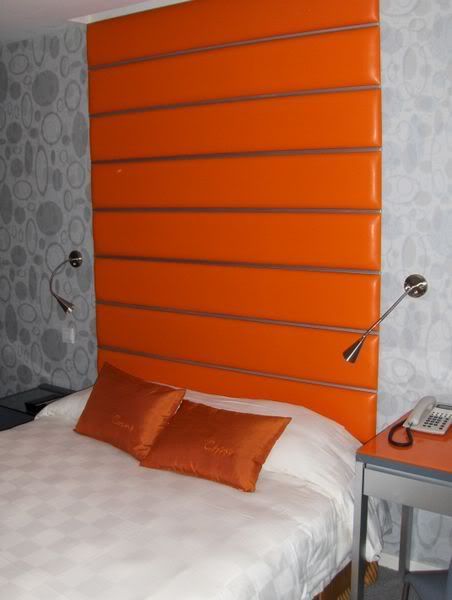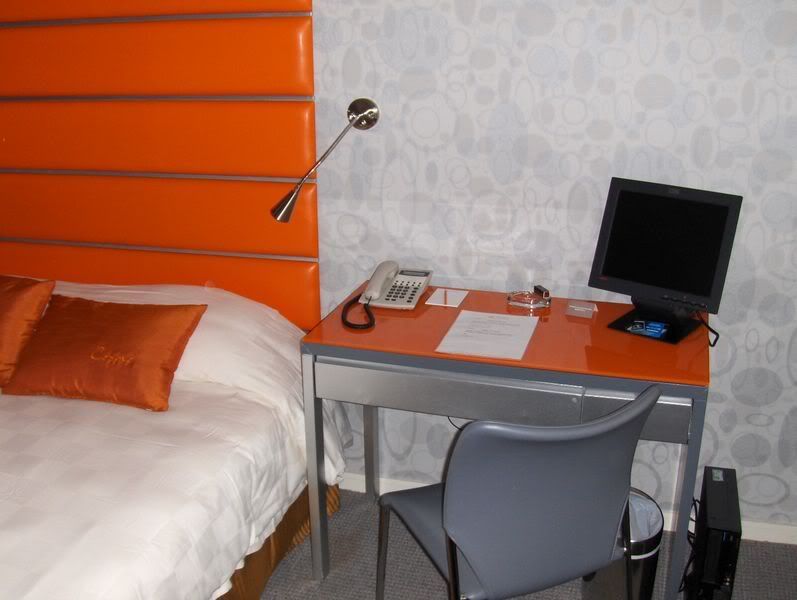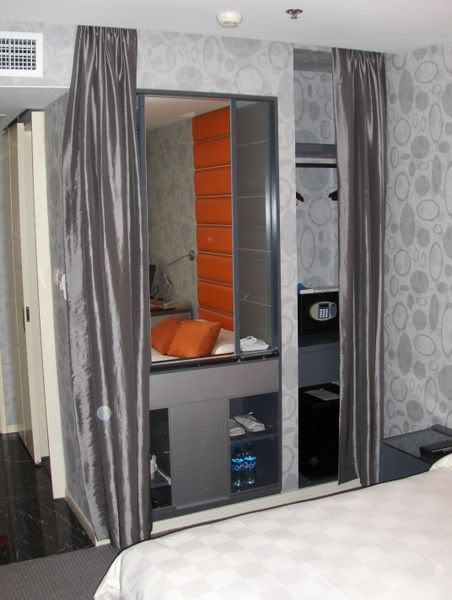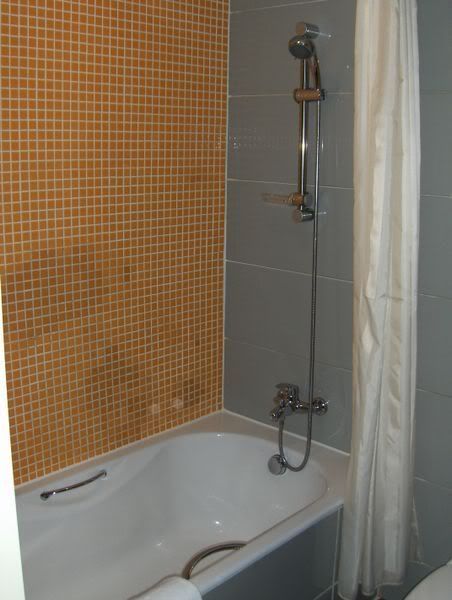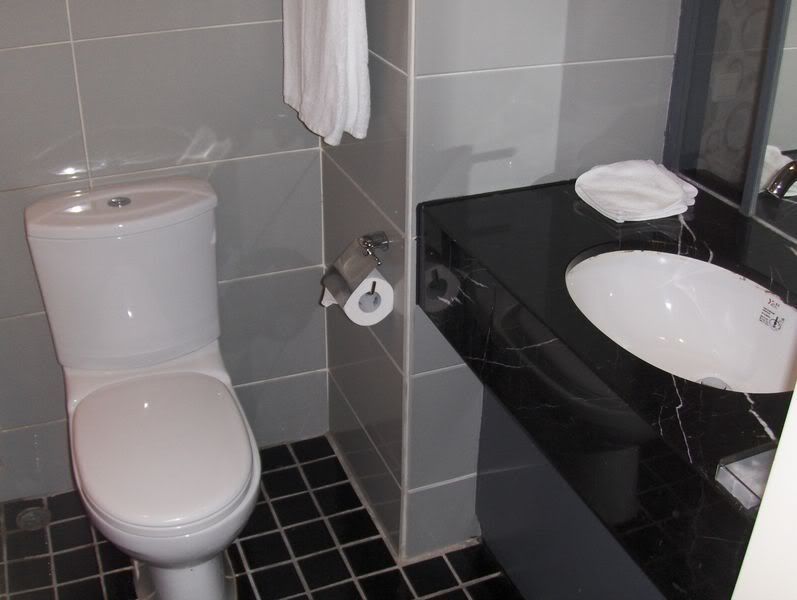 Next part to be posted soon – ANA/Air Japan Club ANA Asia HKG-NRT.
Hope you enjoyed.
Lufthansa747