After our arrival to Cairo on LH...
http://www.airliners.net/aviation-fo...ums/trip_reports/read.main/129527/
We spent a week in a 5 star Hotel in Cairo on a Bed and Open Buffet Breakfast basis .
I originally booked the room on the internet directly from the hotel's website while i was in Canada , not too many hotels in Egypt offer internet booking , unfortunately .
The Hotel was actually nice and not too far from the Nile and Downtown Cairo .
OUR CAIRO HOTEL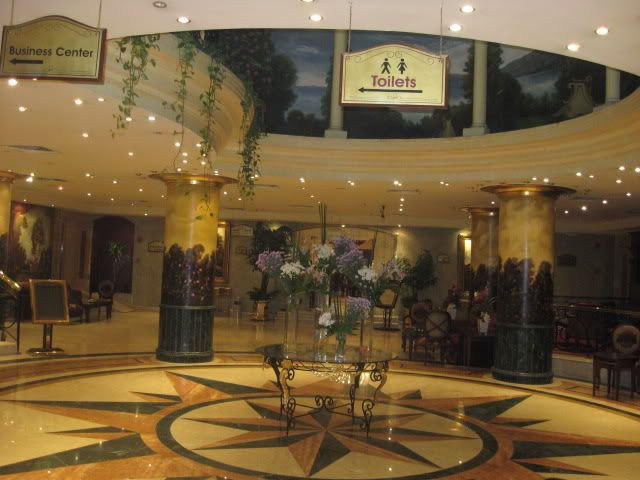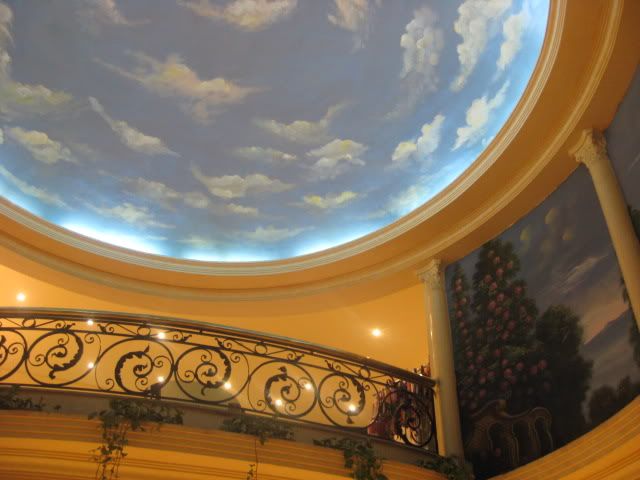 OPEN BUFFET BREAKFAST( BAKERY SECTION)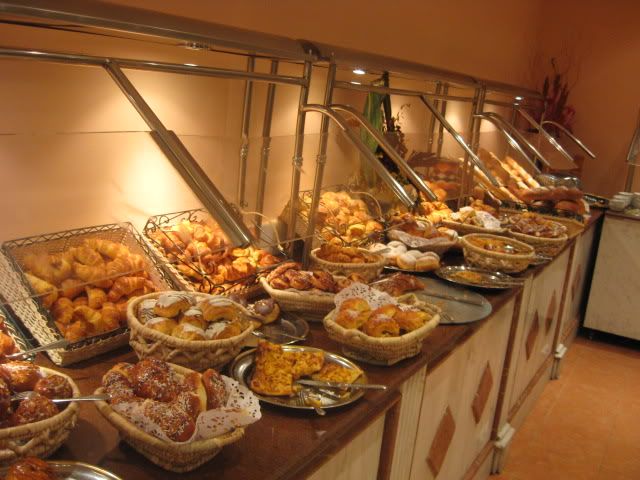 There was a huge selection of baked goods (all kind of breads , danishes , all kind of croissants , feteer , doughnuts ...etc .
OPEN BUFFET BREAKFAST ( SALAD SECTION )
COLD CUTS AND CHEESES SECTION
A SAMPLE OF MY BREAKFAST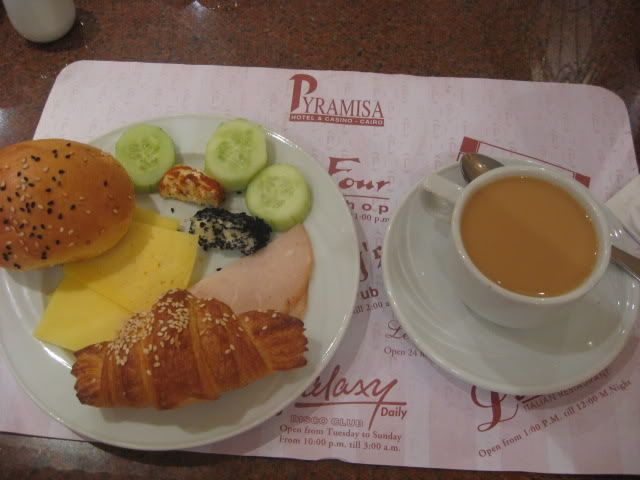 ANOTHER SAMPLE OF MY BREAKFAST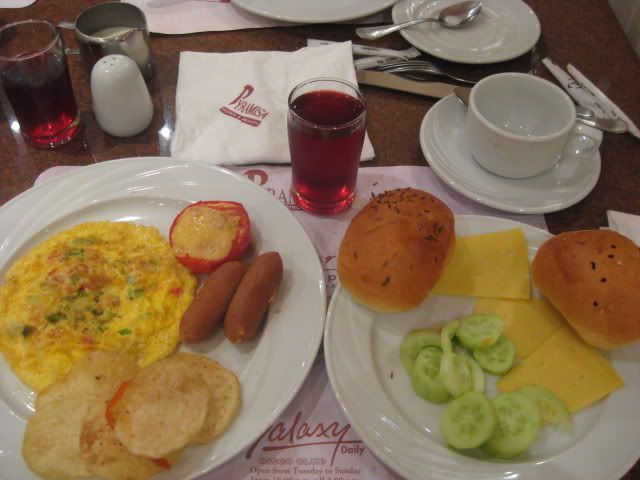 A Kabab and Kofta meal ( a specialty of Egypt ) in downtown Cairo .
KABOB AND KOFTA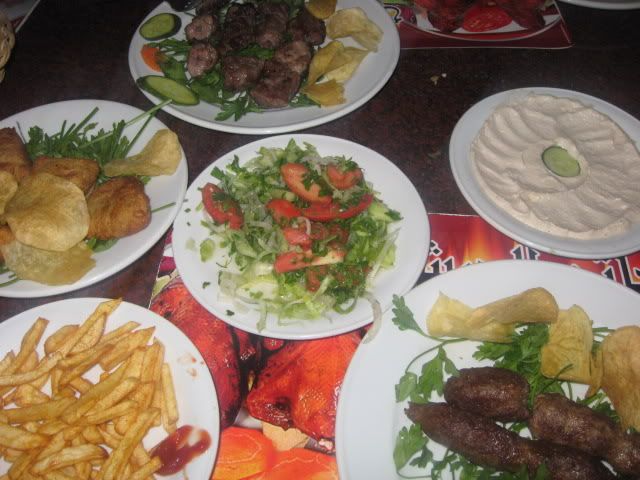 I had to include all this food pictures because food in Egypt is just amazing . Probably you feel hungry right now so let's stop talking about food and let me take you to Cairo Airport to catch my flight to Mersa Matruh (MUH) .
Mersa Matruh is a small Mediterranean city and it lies between Alexandria and the Libyan borders . It is known for its beautiful white sand beaches and Turquoise waters . It is a very popular place for Egyptians but less known to foreigners .
I booked the CAI-MUH-CAI flight on the internet ( Egyptair website ) , the ticket price was ridiculously high ( about 3 times what i paid last year for CAI-HRG-CAI .
The only airline that serves MUH is Egyptair Express on a thrice weekly basis . I was actually eager to try MS Express and to try the Brazilian made Embraer 170 as i have never flown on one before .
We left the hotel at 7 am for the 9:15 flight , i always use the Cairo Airport shuttle service .
Although it is called shuttle , but it is not really a shuttle service . You have to call them in advance to book your private air conditioned Hyundai Mini-Bus . I have used them last year and have used them in all my trips to and from the Airport this year as well .
It was Friday morning ( the weekend in Egypt ) so it only took us 20 minutes from the Hotel ( near the downtown ) to the Airport : a record time by all means if you are familiar with Cairo and its traffic .
A Police officer checked our E.Tickets at the entrance of the Airport and they screened our luggage . then we proceeded to the check-in counters where they didn't even weigh our luggage and in just few minutes we got our boarding passes and proceeded to the gate .
Another handbags screening at the gate . Then Boarding passes were checked by a Police officer who showed his dissatisfaction that we were a little early for our flight
THE BOARD AT THE GATE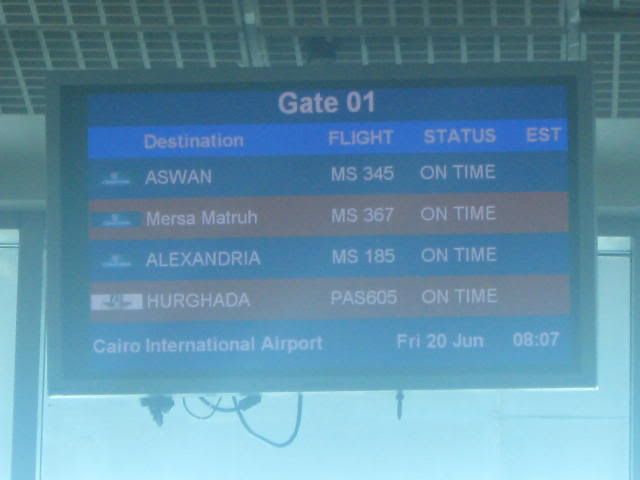 It was a common gate for all Egyptair Express flights , and MS staff were calling by flight numbers . There were 2 flights that morning to Luxor , 1 to Aswan , 1 to Alexandria and an Air Memphis to Abu Simbel along with our Mersa Matruh flight .
WAITING AT THE GATE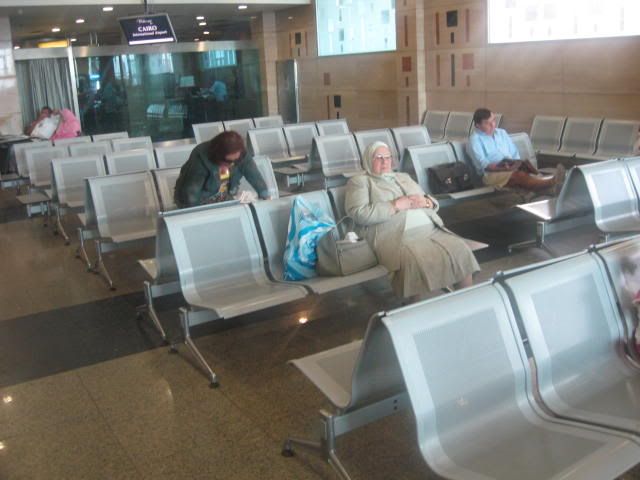 MS EXPRESS TO ASWAN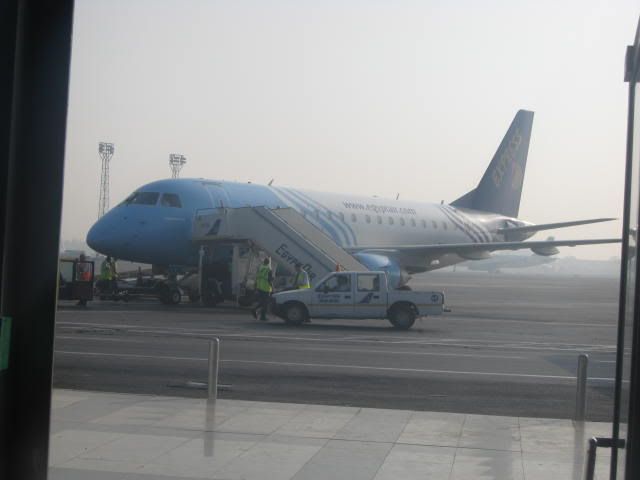 RAM B738 TO CMN AND MS A320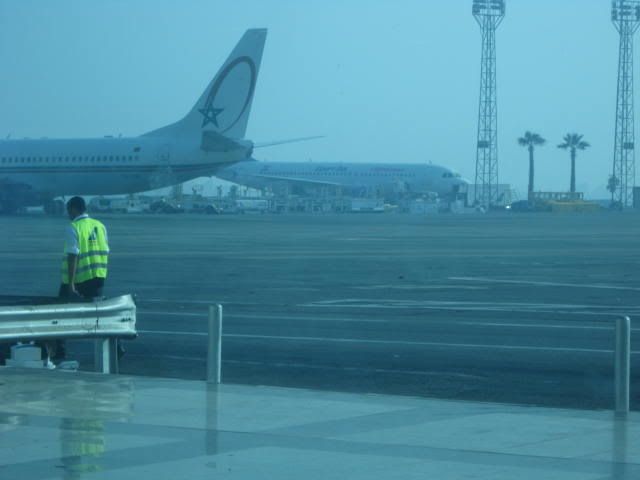 RAM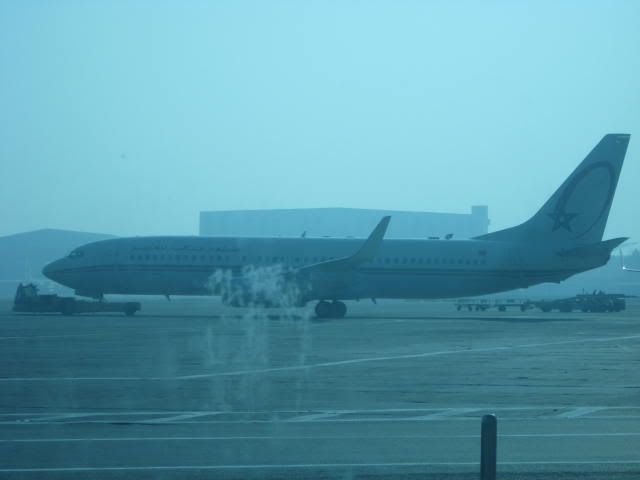 The airport window i was taking this pic through was very dirty as you can see .
MS A330 IN STAR ALLIANCE LIVERY
The A330 in the Star Alliance livery and the A320 in the old MS livery going in different directions symbolizing the pre and the post star Alliance Egyptair .
Boarding started at 8:45 , we were bussed to the Aircraft by a non air-conditioned bus , and it was really hot inside the bus .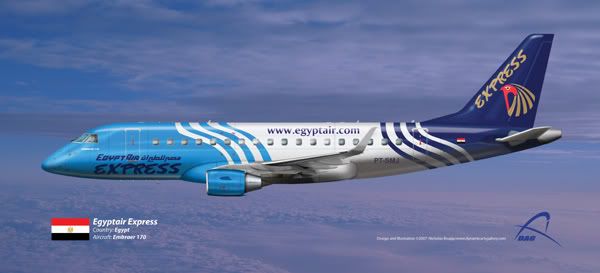 Airline: Egyptair Express
Route: Cairo (CAI) - Mersa matruh (MUH)
Flight: MS367
Aircraft: Embraer-170
Dep: 9:15 am (actual 9:05 am)
Flying time: 1 Hour 10 Minutes
Arr: 10:30 (actual 10:15)
Load Factor: 50%
THE FLIGHT ROUTE
MS AND AF TAILS..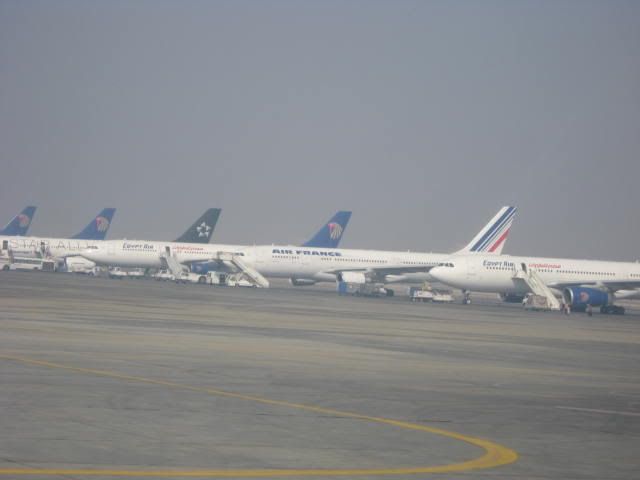 MS A320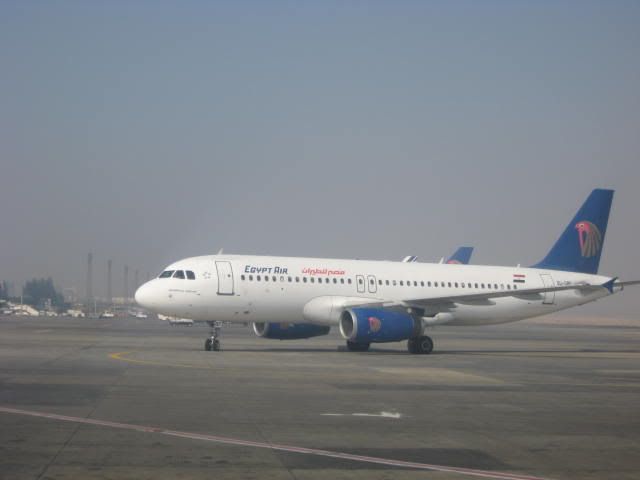 OUR PLANE
BOARDING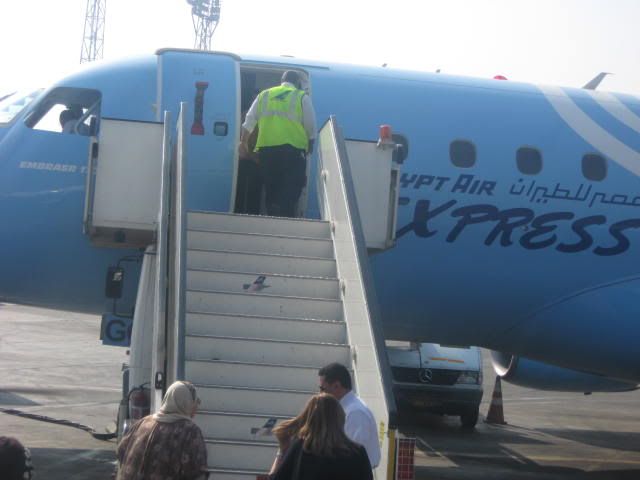 EGYPTAIR EXPRESS TAIL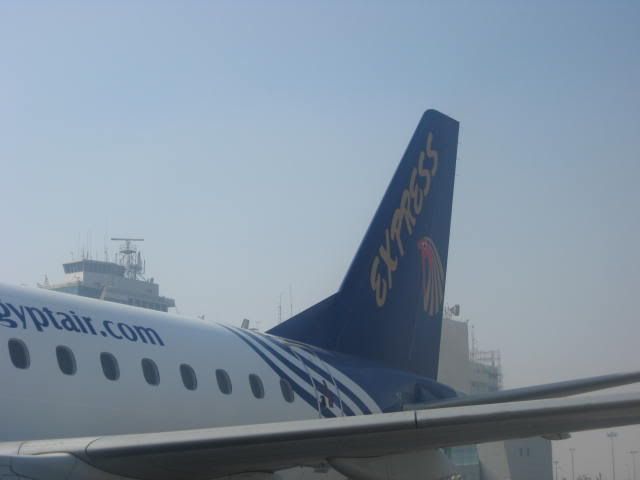 UP CLOSE AND PERSONAL WITH OUR A/C
My first impression when i boarded the plane : It looked clean , fresh and new ( which it is )
Although a small plane , the E-170's inside looks and feels spacious . The only thing that i found inconvenient is the position of the windows in regards to the seat , i found that you have to actually recline the seat to have a good look out of the window . Not sure if anybody else had the same problem .
The windows of the E-170 are quite large , the engines are relatively quiet . But i have to say that the livery of Egyptair Express is horrible .
ALL LEATHER SEATS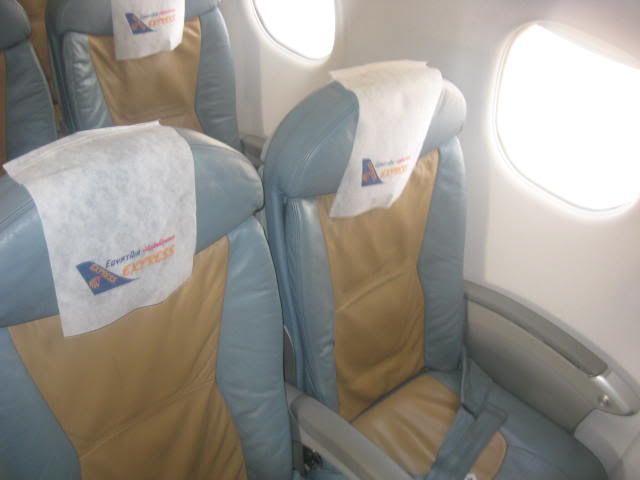 The seats are all leather , and they are actually comfortable with a nice light grey and light brown colors .
THE CABIN DURING BOARDING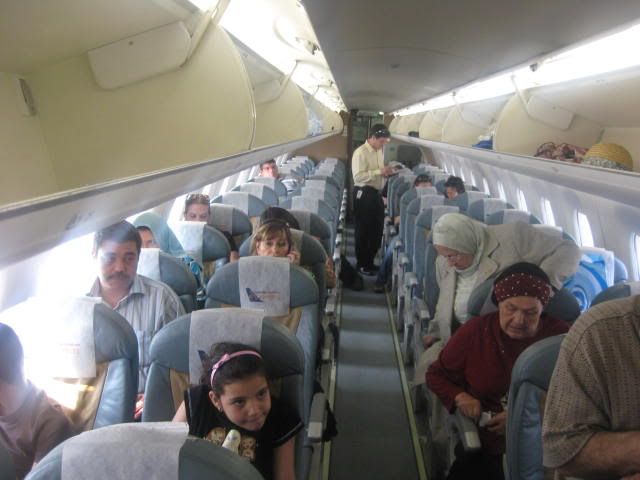 Today's flight has a quite poor load factor , about 50% .
25/ SEAT PITCH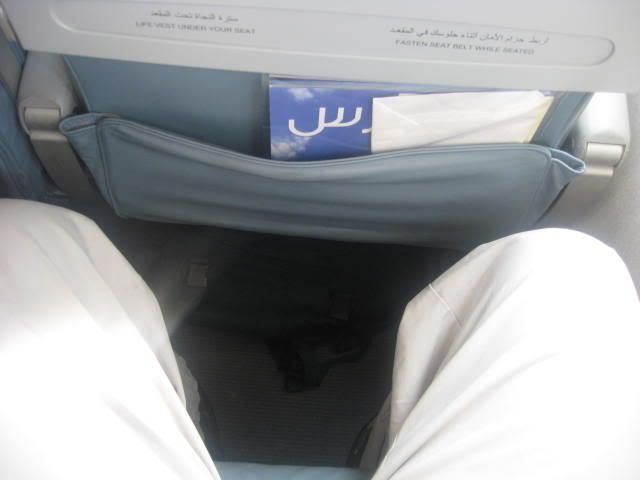 Legroom is actually bery good , and you can remove both hand rests ( the aisle and the seat side ) for even better seat width .
Push back at 9:05 ( 10 minutes early ) , It was announced on the PA that we would be flying at FL240 .
MS EXPRESS TO ASWAN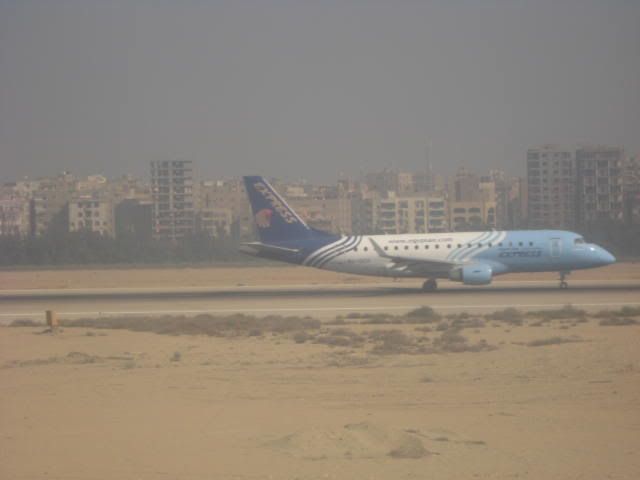 We were behind an MS Express flight to Aswan....
AF TO CDG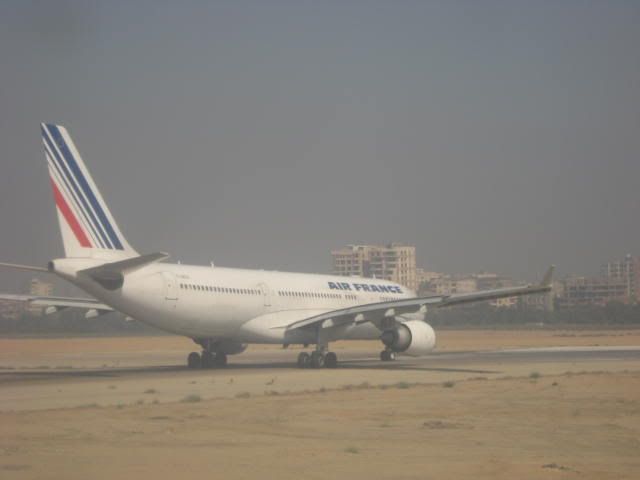 ....And an AF flight to Paris .
AF TO CDG
We took off from Runway 5L23R .
TAKE OFF OVER HAZY CAIRO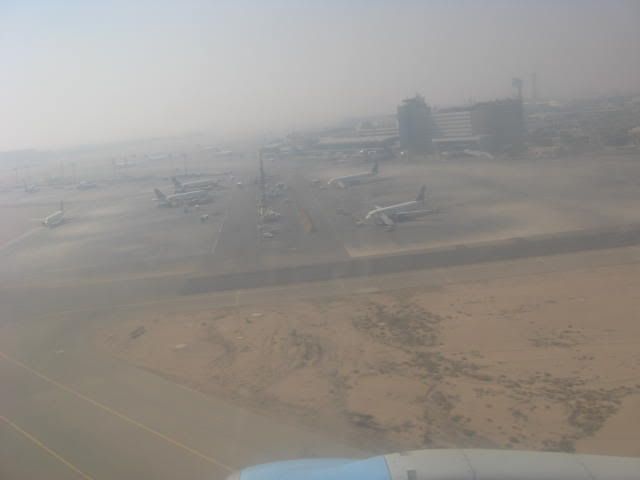 NILE DELTA AND NORTH COAST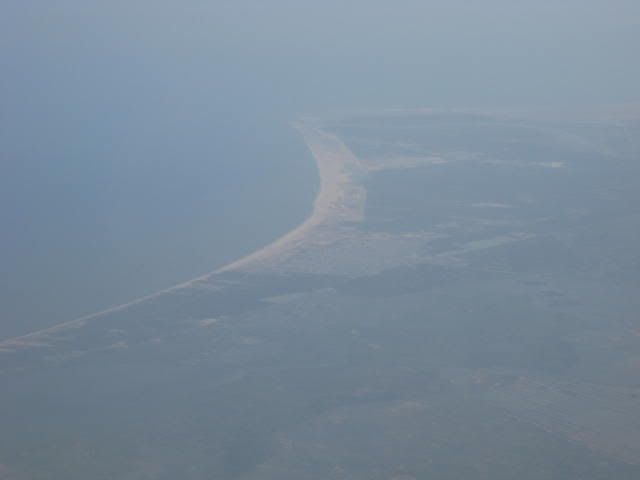 Our route took us North over the Nile Delta .
THE WING AND THE WINGLET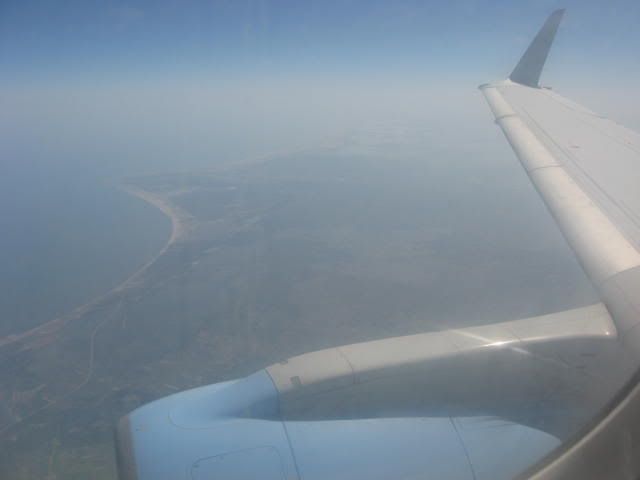 ALEXANDRIA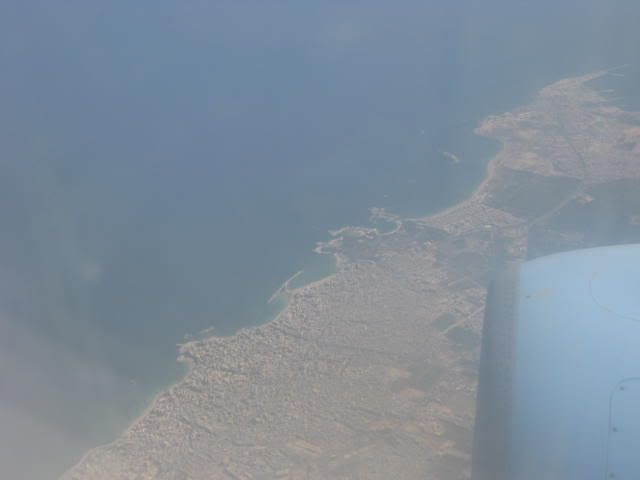 We overflew Alexandria , then we made a sharp left (West) turn and kept flying along the Mediterranean coast en route to MUH .
THE SINGLE WASHROOM ON THIS PLANE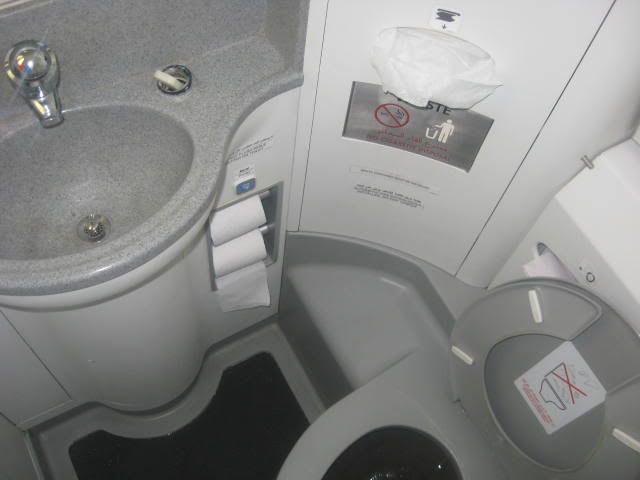 The washroom was actually nice and clean .
I was expecting a snack like last year during my Cairo-Hurghada flight when we got a juice box , a slice of cake and coffee or tea .
But to my surprise , there was only a drink service on that flight , i got a sweet Guava juice .
CABIN OVERVIEW
APPROCAHING MUH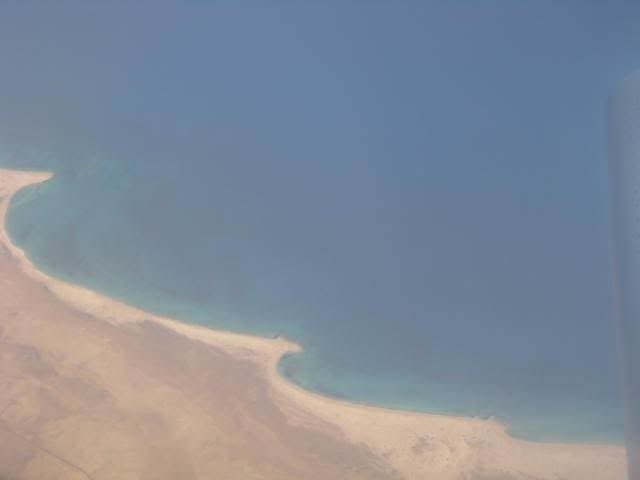 OVER THE DESERT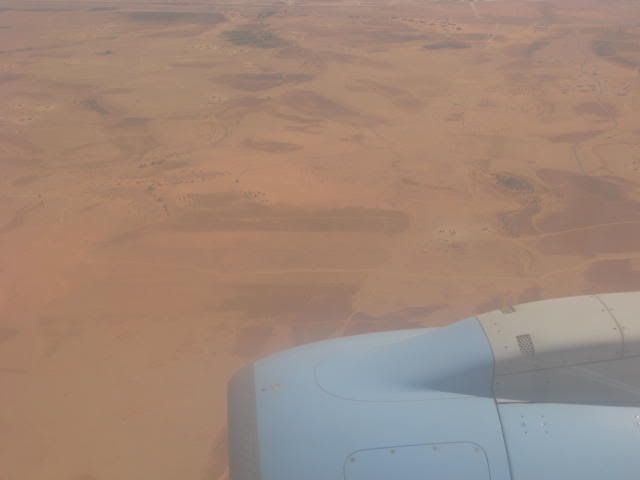 We landed at 10:15 ( 15 minutes early , then we were bussed again to the Airport building . Mersa Matruh Airport is an international Airport that is only served by Egyptair Express 3 times a week .
The airport is very small but spotless clean . It has only 1 departure gate .
10 minutes after arrival , we were outside the Airport .
AERIAL VIEW OF MUH AIRPORT FROM A.NET DATABASE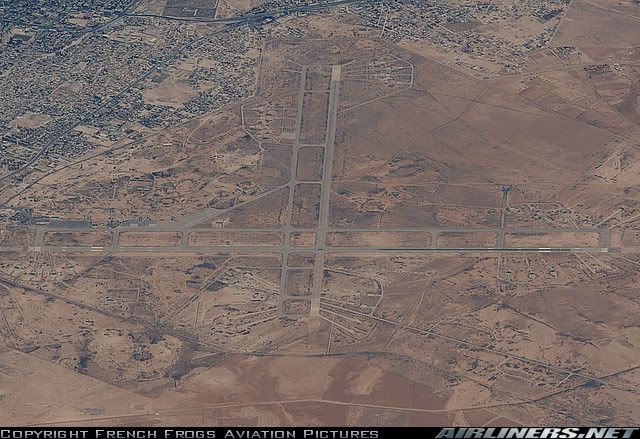 OUR HOTEL'S SHUTTLE BUS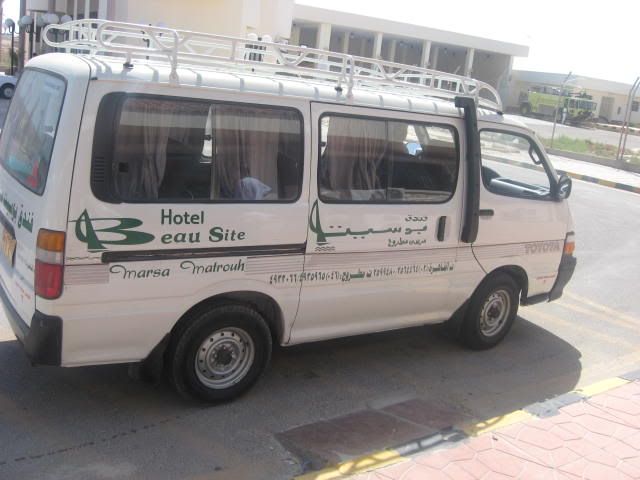 I was surprised actually to see that the hotel sent a shuttle bus to the Airport as nobody told me anything about it when i originally booked the hotel room . But it turned out that the hotel sends this shuttle bus at the Airport and the Train and bus stations at every arrival . Nice service .
MUH AIRPORT
THE BEACH FROM OUR BALCONY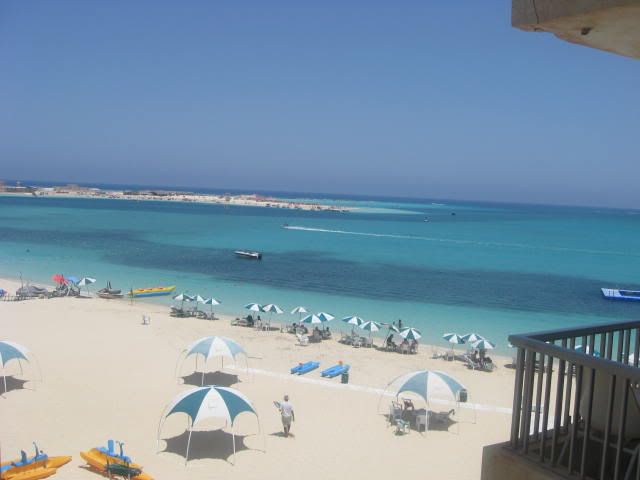 SHATE AL GHARAM (THE LOVE BEACH)
Note the colors of the water....
THE HOTEL'S RESTAURANT
Our accommodation was on a half board basis , Breakfast and Dinner .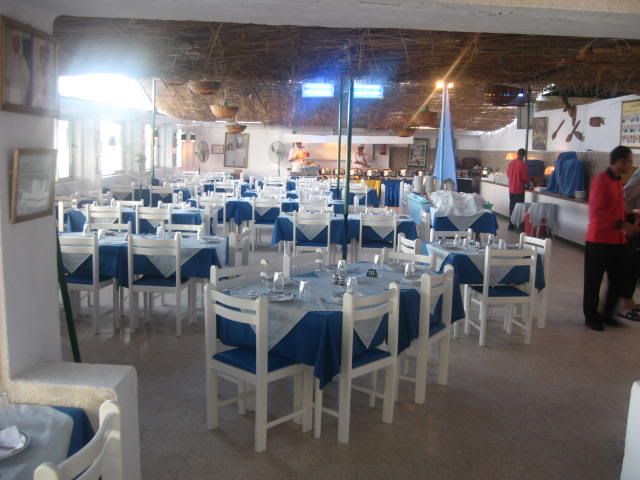 SALAD BAR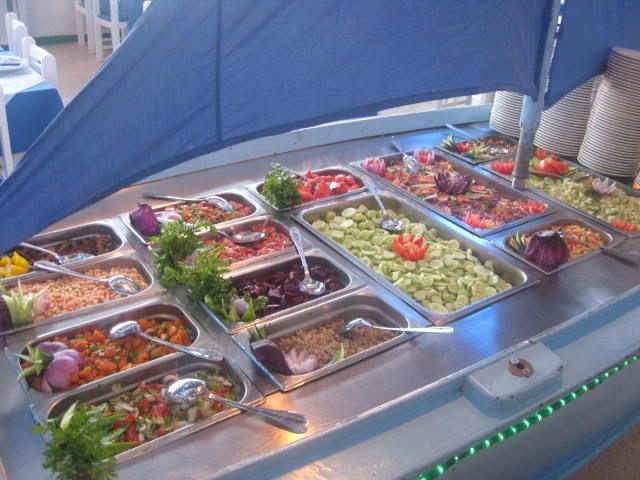 EGYPTIAN BREAKFAST SECTION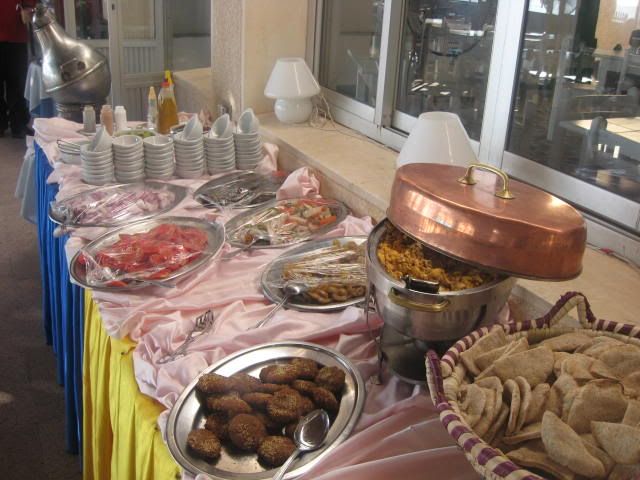 This section offered typical Egyptian Breakfast item like Foul , Falafel , scrambled egg with Egyptian Garlic pastrami (Basterma) , Arugula leaves (Gargueer) , pickles , salad ...etc.
There was another section for freshly made omelette , baked goods , cereals and corn flakes and all kind of drinks .
DINNER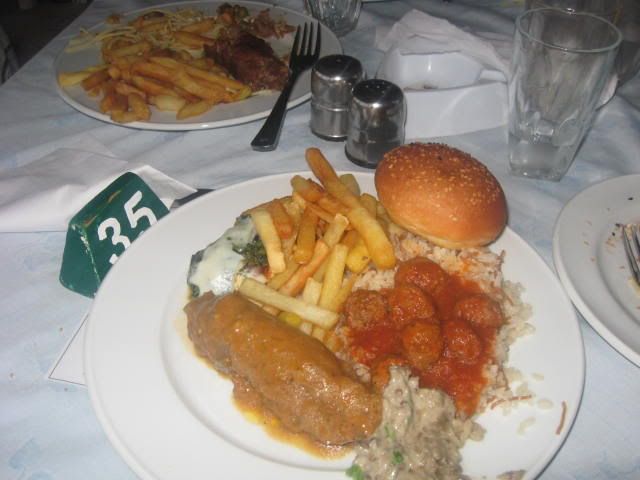 DESSERT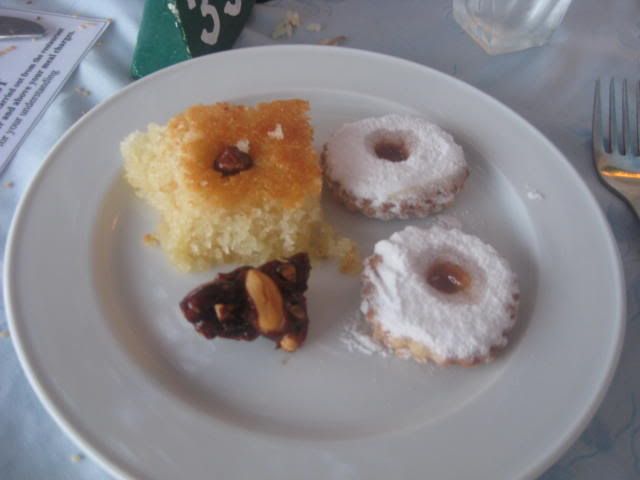 Bassboussa , petits Fours and caramelized peanuts .
CHINESE MERCHANTS
When we went to the local markets , i was amazed to see about 4 Chinese merchants working in 3 different shops , when we spoke to them in English , they said : Me no English . They were speaking relatively good Arabic .
After talking about Food , it is now time to talk about the most important thing : The Beach .
We enjoyed all kinds of Marine entertainment , we took a Pedalo , and in another day we booked a guided tour of Mersa Matruh beaches by boat , it lasted about an hour and was just marvelous . Jet Ski's and Banana Boats were also available .
Then it was the speeding boat's turn:
SPEEDING BOAT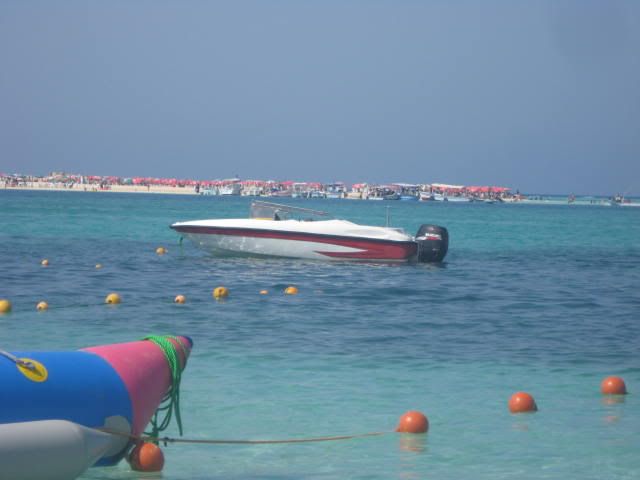 SAN GIOVANNI CLEOPATRA HOTEL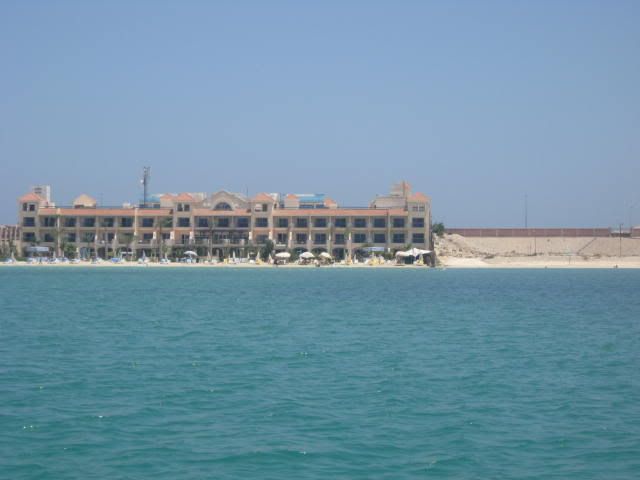 This is the newest hotel in Matruh , we were told that this hotel is better than ours but that our hotel's private beach is actually superior .
THE EGYPTIAN MARINE FORCES TOP GENERAL'S PALACE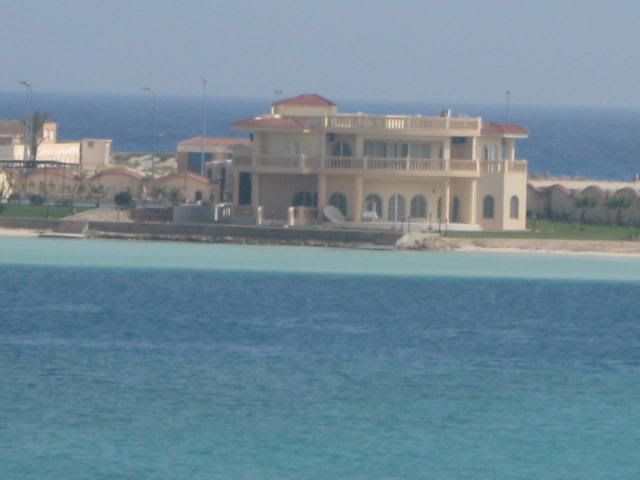 This is actually the Palace of the top General of the Egyptian Marine Forces , it turned out that every top General has either a Palace or a Villa in Matrouh with a private beach
AL AWAM MOSQUE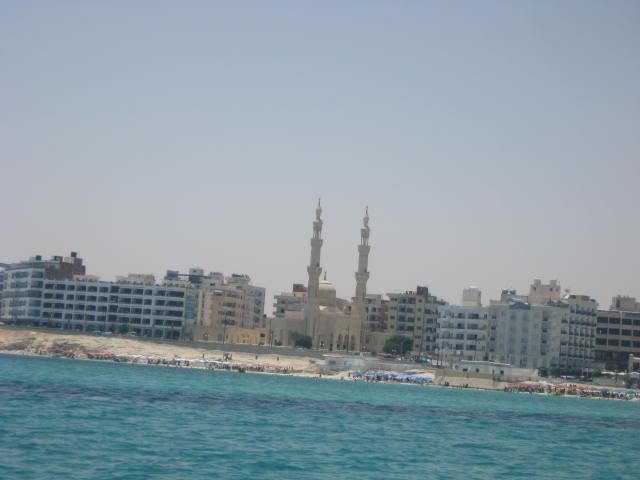 The largest Mosque in Mersa Matruh .
OUR HOTEL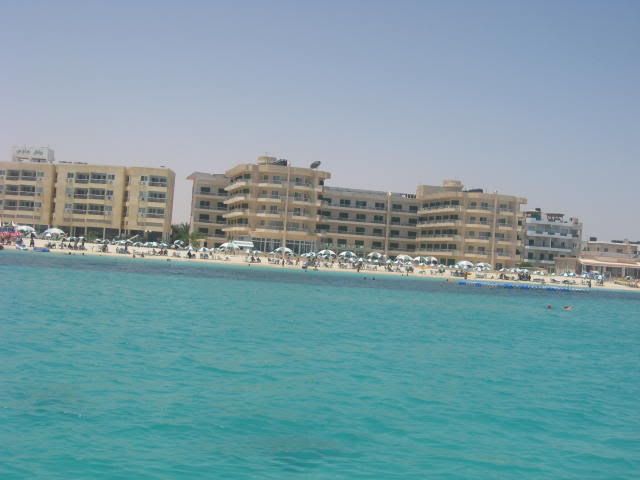 This picture was taken from the speeding boat .
TURQUOISE WATER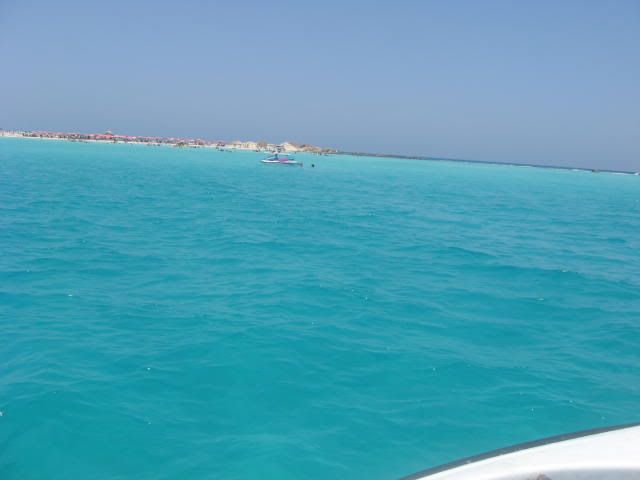 COLORS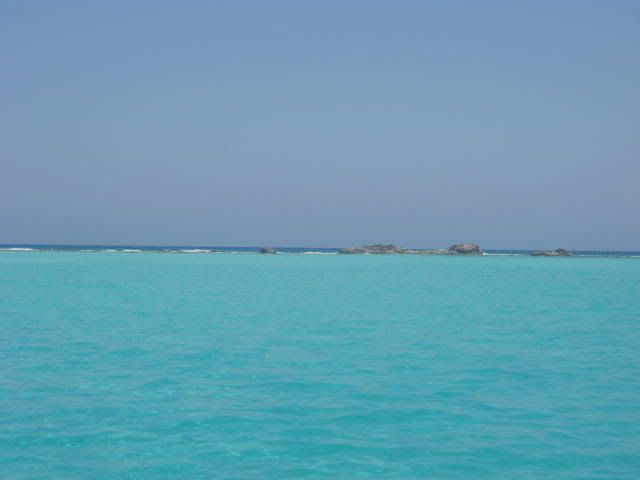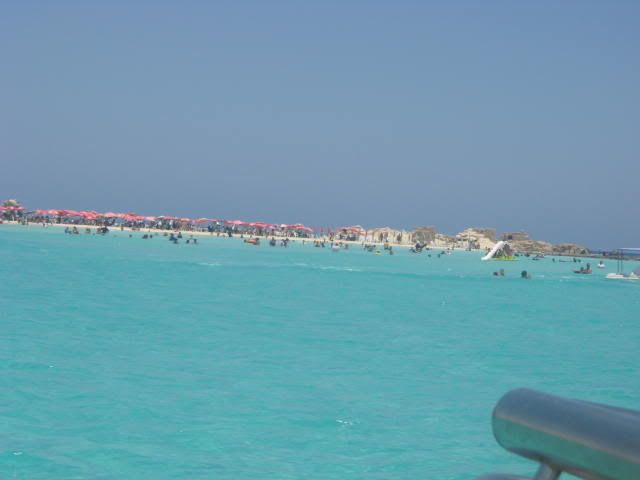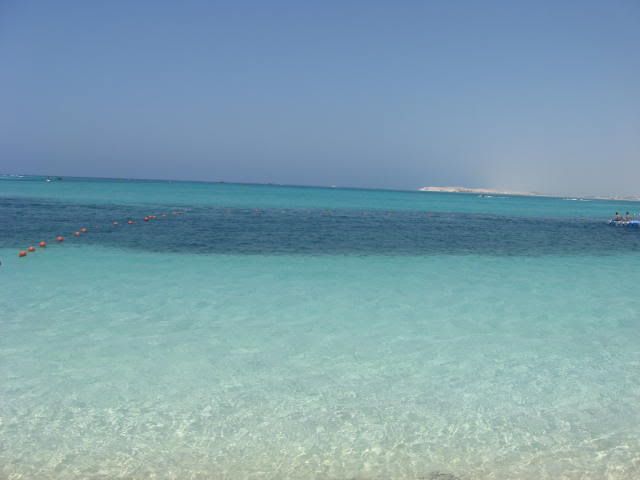 SHRIMP PIZZA AND GUAVA JUICE ON THE BEACH
Mersa Matruh is a nice and quiet coastal city , the absolute advantage of the city is the wonderful white sand beaches and the the absolutely gorgeous turquoise waters . The only problem is the lack of good hotels , especially 4 and 5 stars ones . The city has no 5 stars hotels and only one 4 stars .
After a wonderful week in Mersa Matruh , it was time to head back to Cairo .
Again we took the Hotel shuttle bus to the Airport
We arrived at the Airport at 10 am for the 11 am flight . And for the first time in my history with Egyptair , the check-in agent asked to see the credit card i used when i purchased the tickets online . It didn't annoy me at all . Actually i always thought that this should be the norm . He gave us the boarding passes then we proceeded to the single gate at MUH .
Route: MUH-CAI
Airline: Egyptair Express
Flight: MS368
Aircraft: E-170 (SU-GCW)
Dep: 11:00 am (on time)
Arr: 12:15 pm (actual 12:10)
Flying time: 1 Hour 10 Minutes
Load Factor: 34 passengers (45%)
Boarding started at 10:40 and we were again bussed to the Aircraft .
THE AIRPORT BUS
E-170 SEATS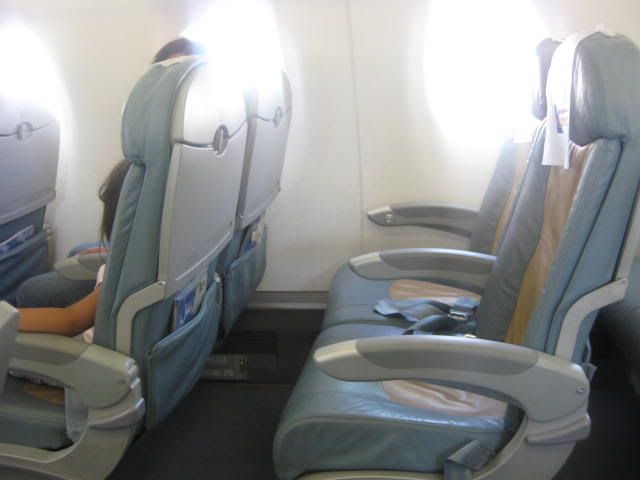 FRONT SECTION
Although the plane is only Y class , but they had this curtain that separated the 2 front rows of the rest of the cabin , probably a premium Economy class . It is interesting as when you book online , the system doesn't mention anything about a premium class .
DURING BOARDING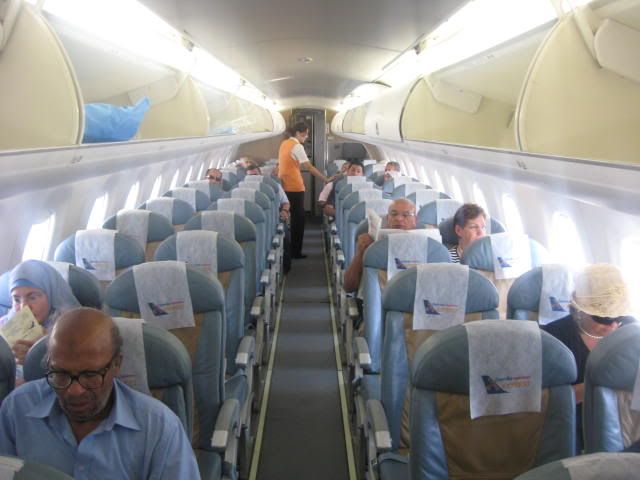 MS UNIFORM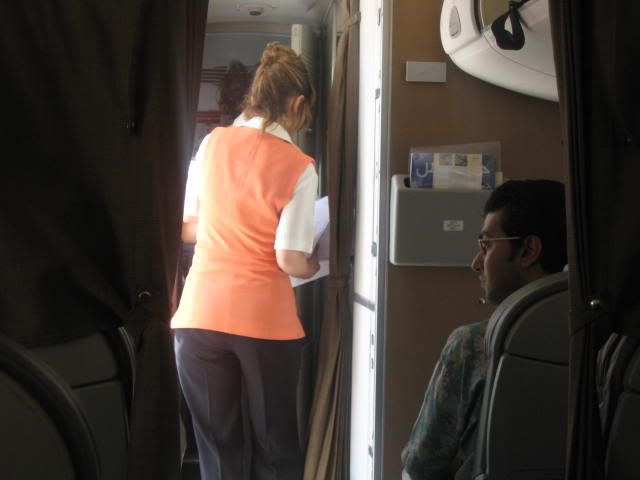 EGYPTAIR EXPRESS F/A'S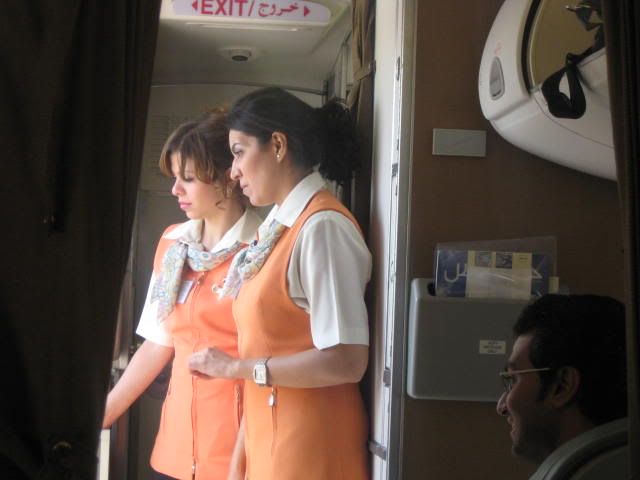 The captain's name on this flight was Jean-paul , not sure if he was Egyptian . It was then announced that we would be flying at 20.000 Feet .
There were 3 flight attendants on this flight , that is 1 attendant for every 10 passengers , amazing .
Pushback at 11 (on time) , the we taxied for 10 minutes and took off at 11:10 .
TAKE OFF
SAFETY CARDS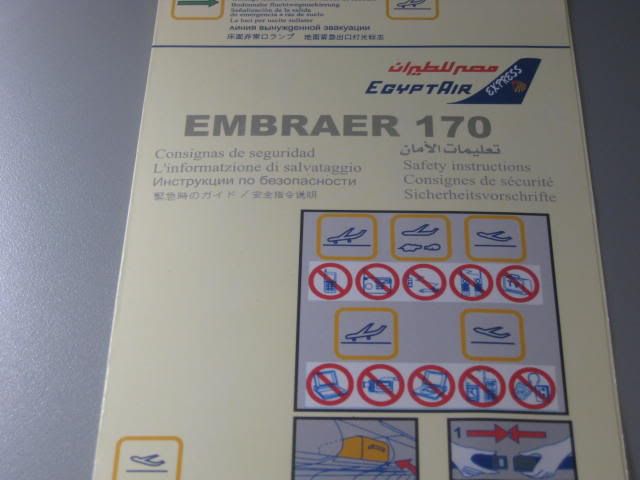 DRINK SERVICE
OVER A CITY ON THE MEDITERRANEAN PROBABLY ALEXANDRIA AGAIN [IMG]
http://i171.photobucket.com/albums/u...03/HURGHADATRIP/IMG_0409.jpg[/IMG]
We landed at 12:10 pm (5 minutes early) but we taxied for 10 minutes to our stand , while taxiing , i saw an Egyptair B777 newly painted in Star Alliance livery , it was SU-GBR .
Overall , my experience with Egyptair Express was positive , flights on time , nice and clean A/C , nice staff .
But the lack of a snack and the extremely exaggerated ticket price were the only 2 negative points .
I hope you enjoyed it , any comments are welcomed
Other trip reports:
YYZ-CAI LH A346-AB6
http://www.airliners.net/aviation-fo...ums/trip_reports/read.main/129527/
Alitalia YYZ-MXP-CAI B767-A321
http://www.airliners.net/aviation-fo...ums/trip_reports/read.main/100190/
Egyptair A330 CAI-HRG
http://www.airliners.net/aviation-fo...ums/trip_reports/read.main/100547/
Egyptair B735 HRG-CAI
http://www.airliners.net/aviation-fo...ums/trip_reports/read.main/101018/
CAI-MXP-YYZ Alitalia A321-B767
http://www.airliners.net/aviation-fo...ums/trip_reports/read.main/101712/