After spending 18 days in Egypt , it was time to go back home...
You can see the Toronto-Cairo trip here :
http://www.airliners.net/aviation-fo...ums/trip_reports/read.main/129527/
And the domestic flight we took in Egypt between Cairo and Mersa Matrouh on Egyptair Express here :
http://www.airliners.net/aviation-fo...ums/trip_reports/read.main/129665/
I originally didn't plan to write a return trip , as the Toronto-Cairo report was quite sufficient with lots of pics and information about Lufthansa service on board .
So on the 1st leg of this trip :CAI-FRA , i only took 3 pics for the food on board and an aerial pic of Frankfurt Airport .
The only reason that made me decide to write a return report was when i was informed that we would be bussed to the Aircraft at FRA , so i prepared my camera and took some nice pics of the Aiport and our Aircraft .
Route: CAI-FRA
Airline: Lufthansa
Flight: LH585
A/C: A300-600
Dep: 5:25AM (on time)
Arr: 8:45 AM (on time)
Flying time: 4 H 20 Minutes
Load Factor : 100% in Y[/b[

The flight was uneventful , they served hot breakfast in about and hour after take off .


Omelette with Potato wedges , chicken and chick peas in tomato sauce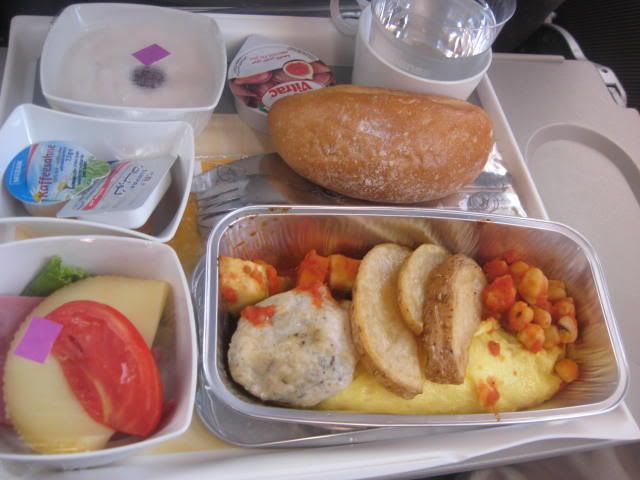 Or Frittatta with mushrooms and potato patty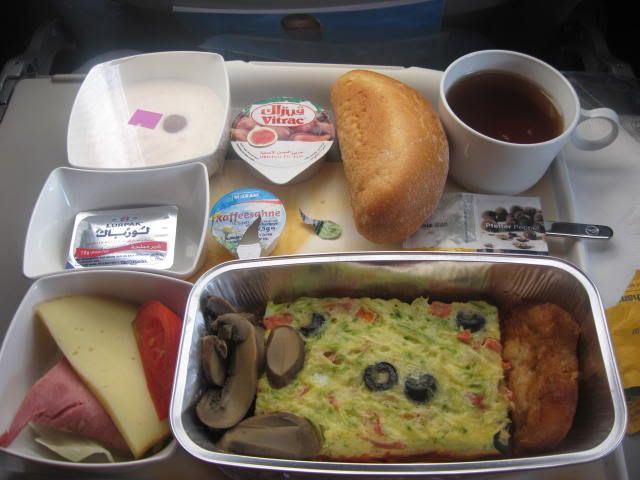 An aerial pic of Frankfurt Airport



We landed on time , and we originally had a 4 hour lay-over in Frankfurt . When i checked the board , i noticed that our flight to YYZ wasn't assigned a gate yet .

After about an hour , our flight got a gate . Then , it was announced that it was delayed by about 4 and a half hours . No reasons were given for the delay at the gate .

We were given some snacks and drinks at the gate



Egyptair B738 arriving from Cairo



After spending a total of about 9 hours at Frankfurt Airport , our flight was ready for boarding . I was very excited to learn that we would be bussed to the Aircraft which happened to be at the far other end of the Airport . We got a nice tour of FRA .






[b]Route: FRA-YYZ
Airline:Lufthansa
Flight: LH470
A/C: A346
Dep: 1:20 PM (actual 5:40 pm)
Arr: 3:50 PM (actual 7:40 pm)
Load factor: 100% in Y
South African A340 at the next gate
Lufthansa tails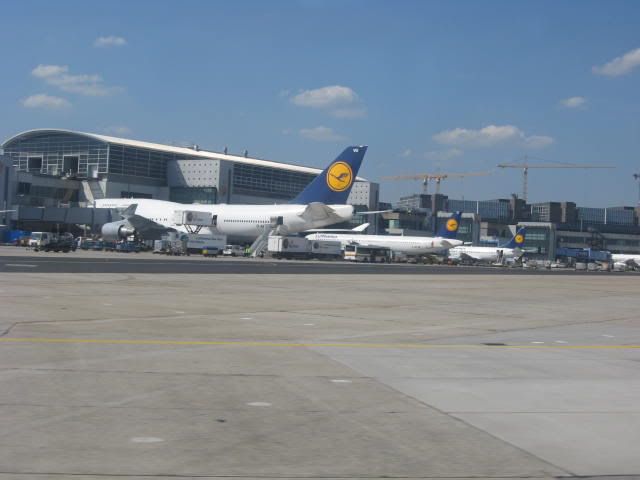 Spanair A320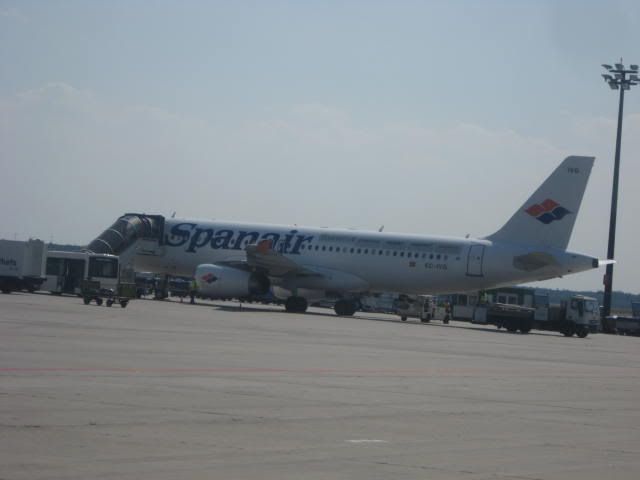 Airport building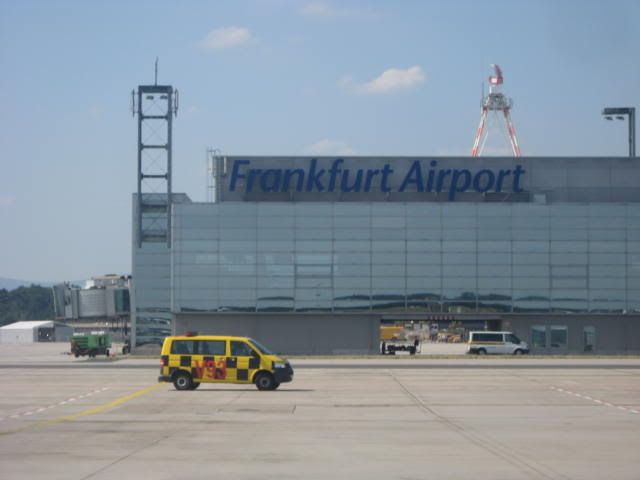 Royal Air Maroc B735 to Casablanca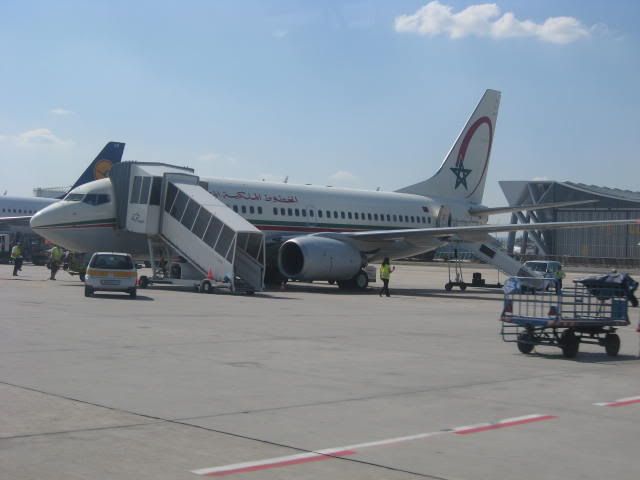 Condor B767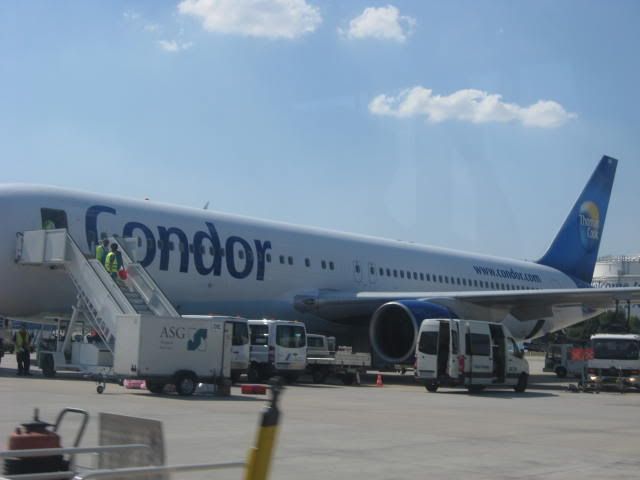 Air Namibia trying to hide behind Atlas Air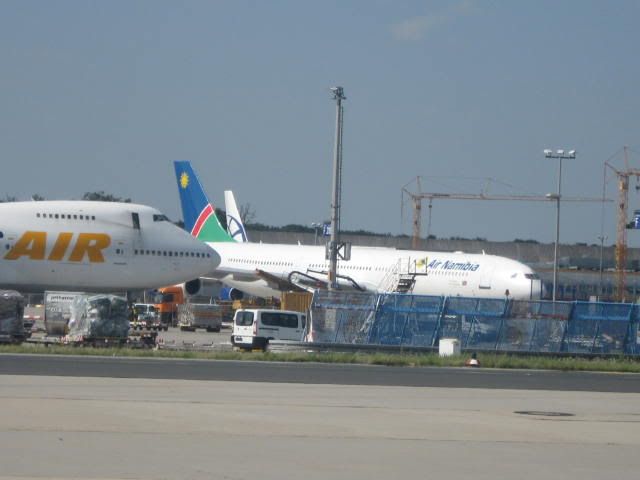 LH Cargo MD-11
LH A321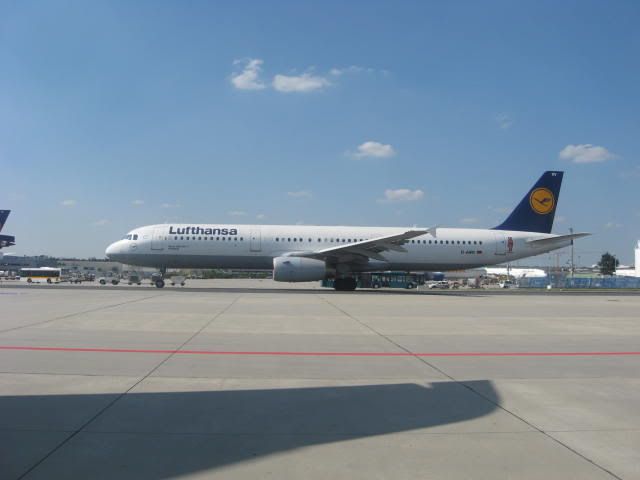 Our A346 to YYZ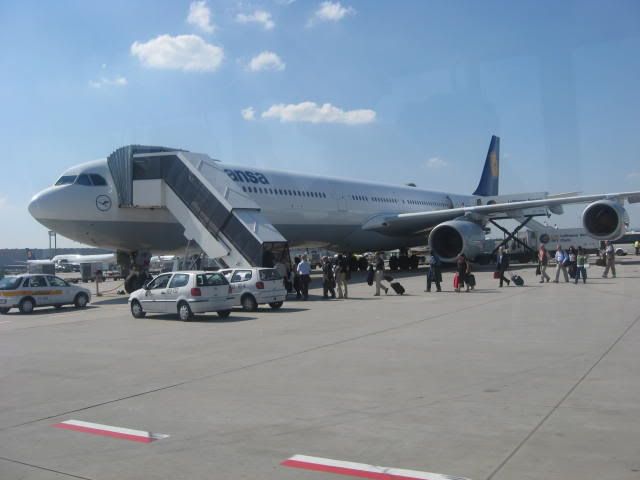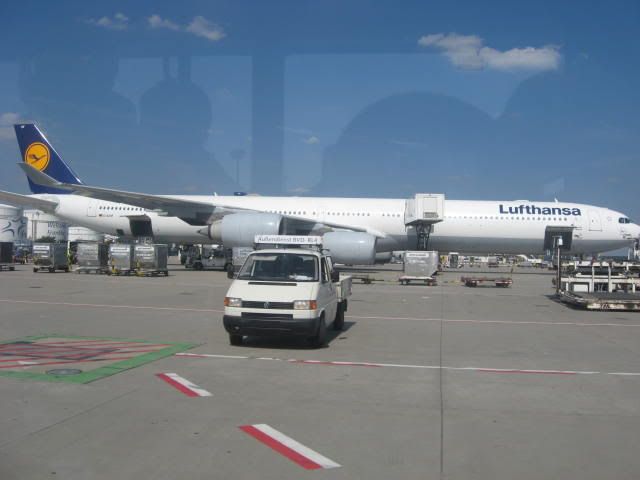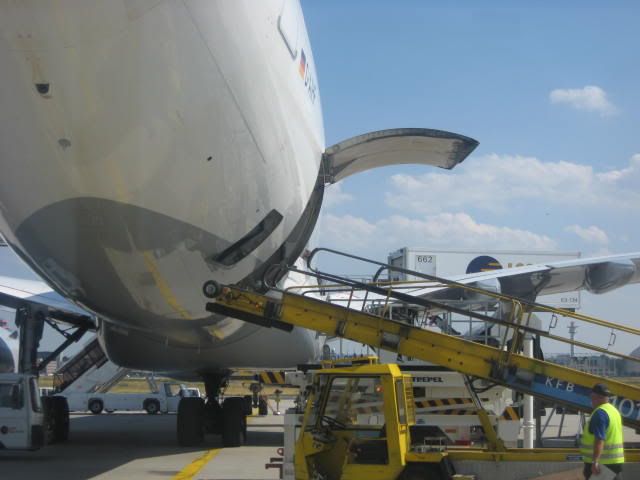 Our A346 tail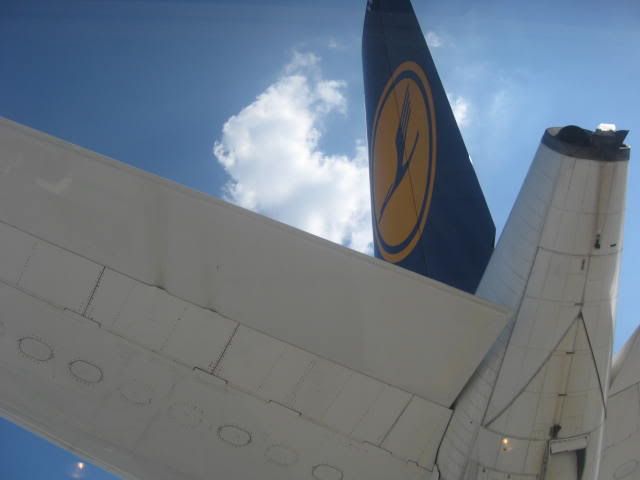 Boarding from the back door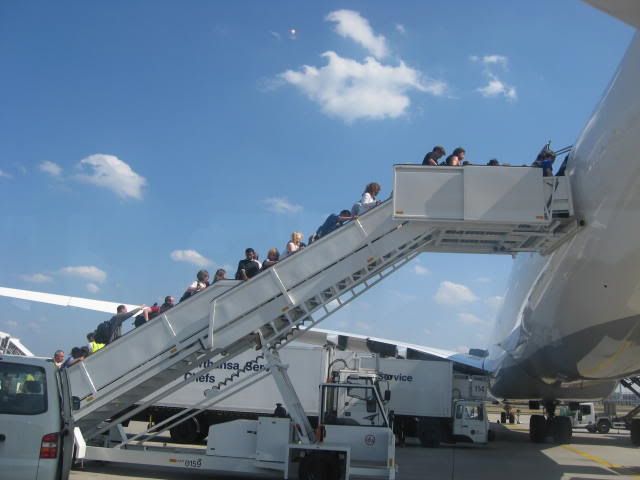 The captain of our flight was actually waiting on the ground for our bus to arrive , he then boarded the bus and talked to us over the PA to apologize personally for the delay and explained the reason for the delay . It turned out that the ground staff at FRA had a strike that affected all of the long-haul flights , he actually told us that we were lucky that we would be flying to Toronto because a lot of flights have been cancelled .
It turned out that he boarded all of the 4 busses that carried the passengers to our flight to say the same thing .
Our Captain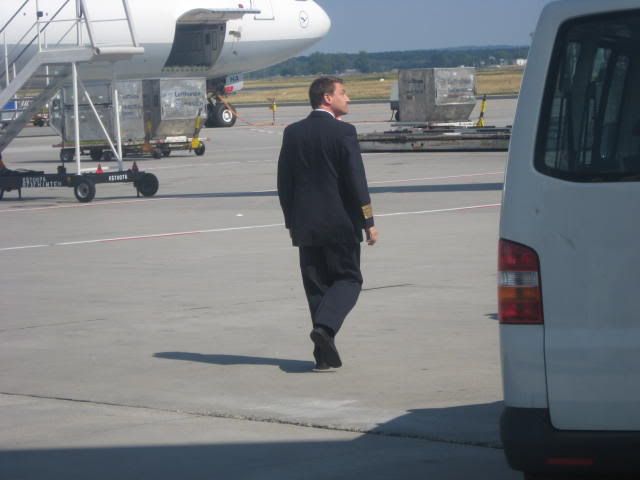 The A346 massive engines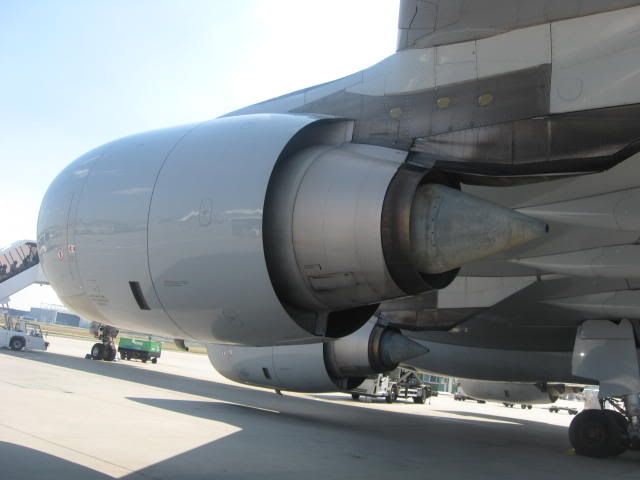 Our A346 Tail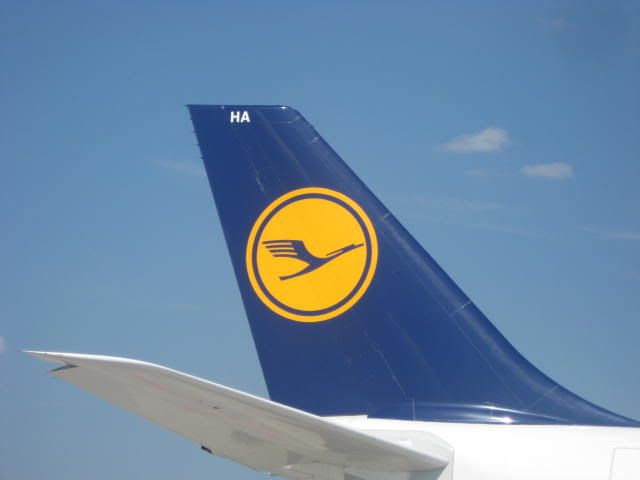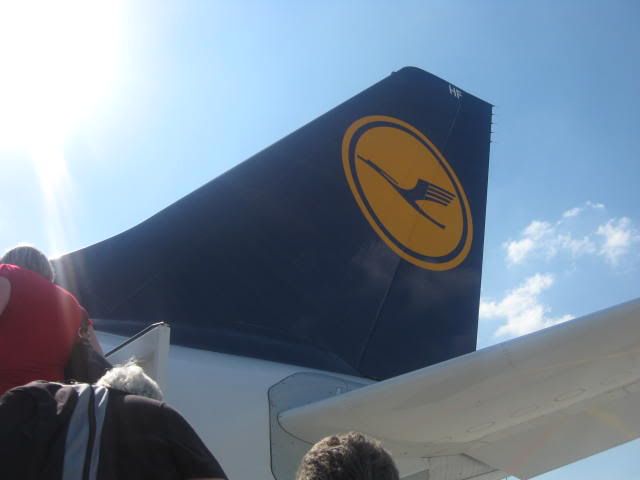 Boarding from the back door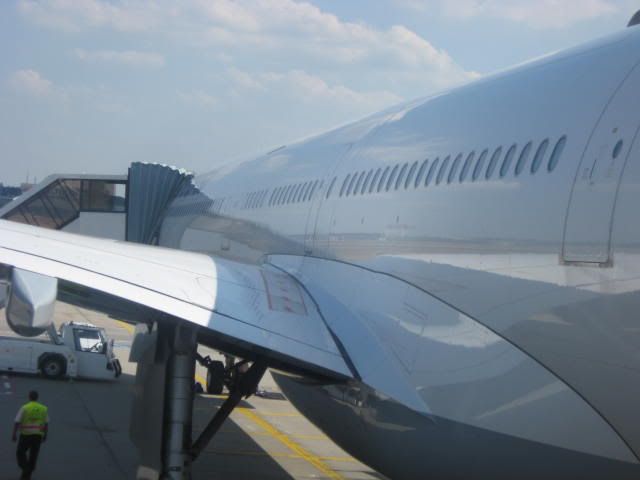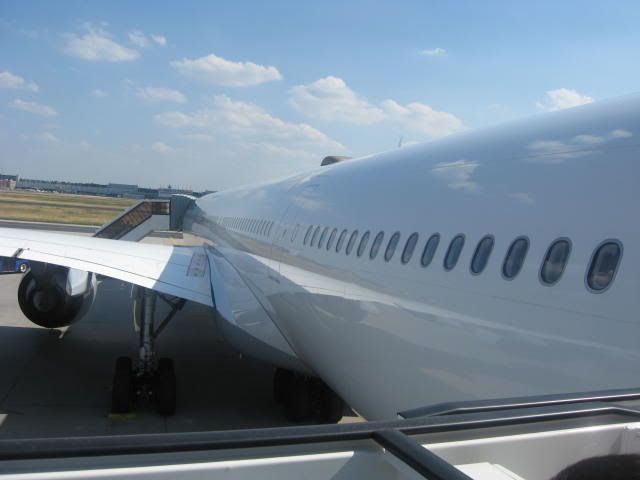 Take off 9 hours late
I watched "Asterix aux jeux Olympiques"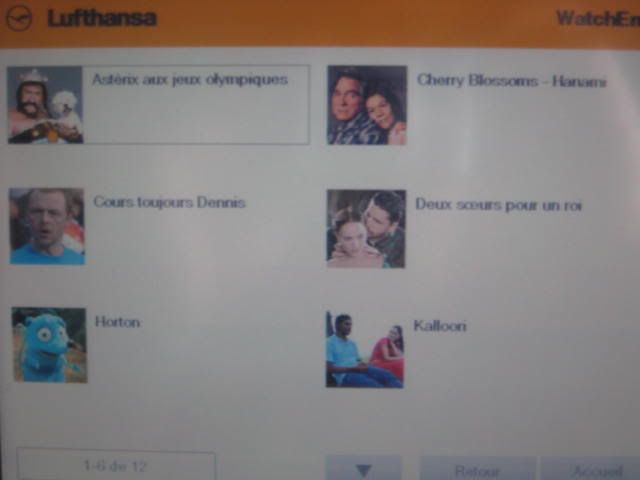 Asterix et Obelix used to be my preferred Bandes Dessinees along with Tin Tin and Lucky Luke .
Overflying the coast of Netherlands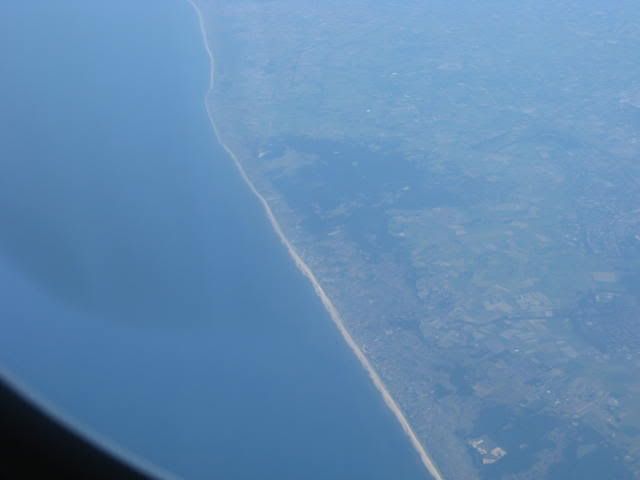 Lunch , either beef or pasta..
I got both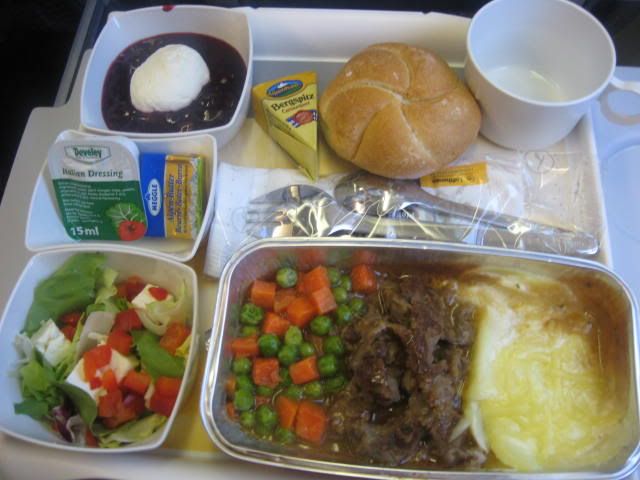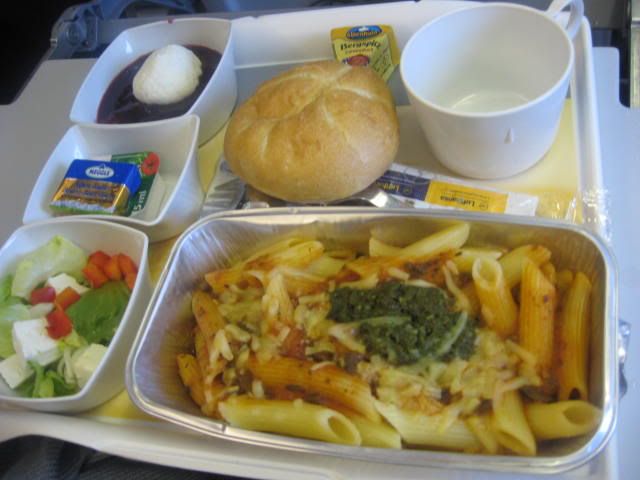 Cabin view , washrooms are downstairs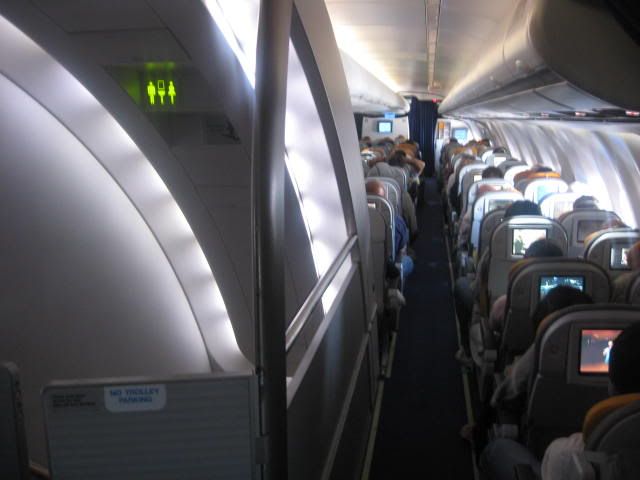 Over Greenland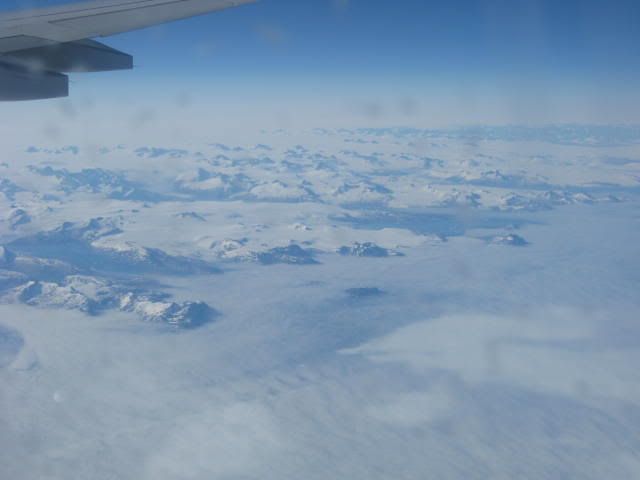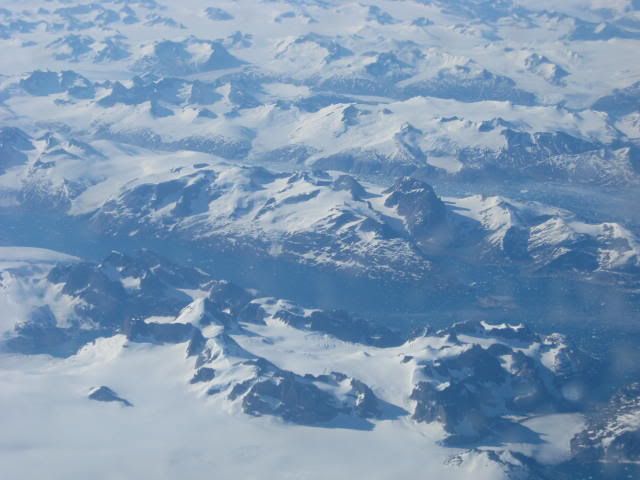 Almost there , by the way , i love those cup holders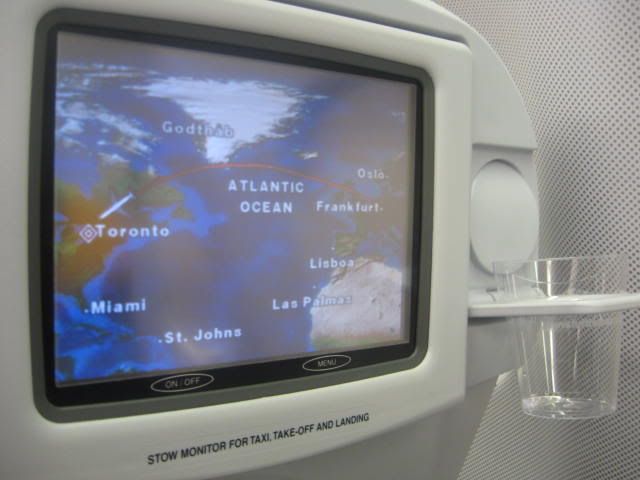 Pre arrival snack , whole wheat bread stuffed with mashed vegetables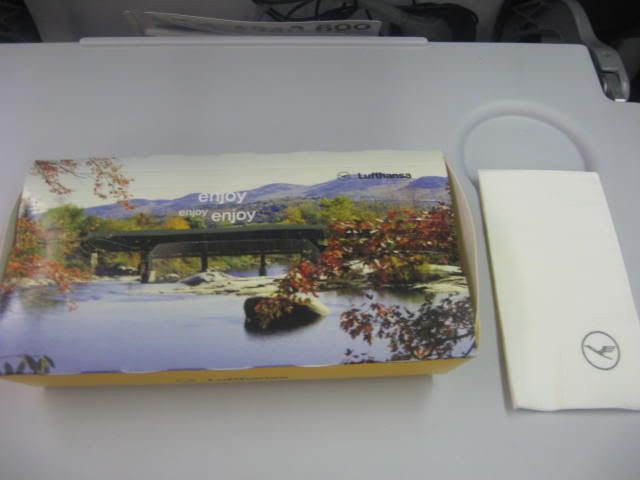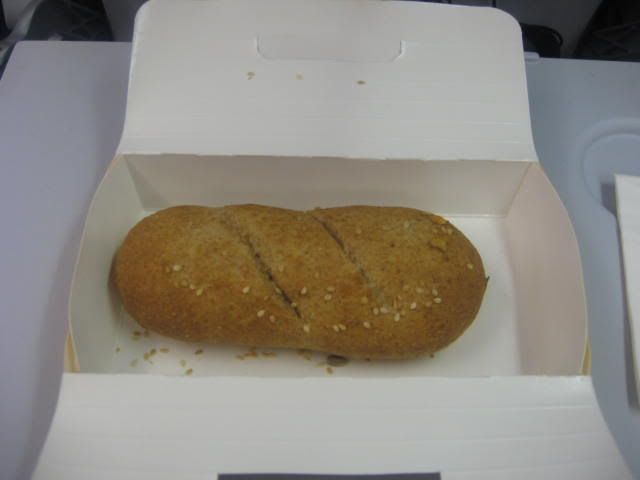 Overflying Toronto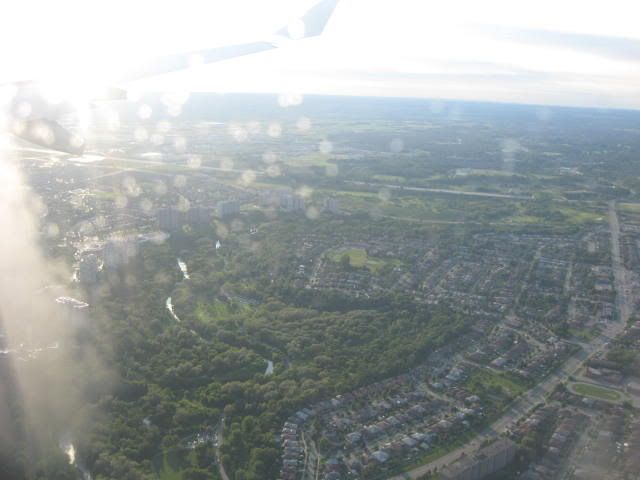 We landed 4 hours late , our plane at the gate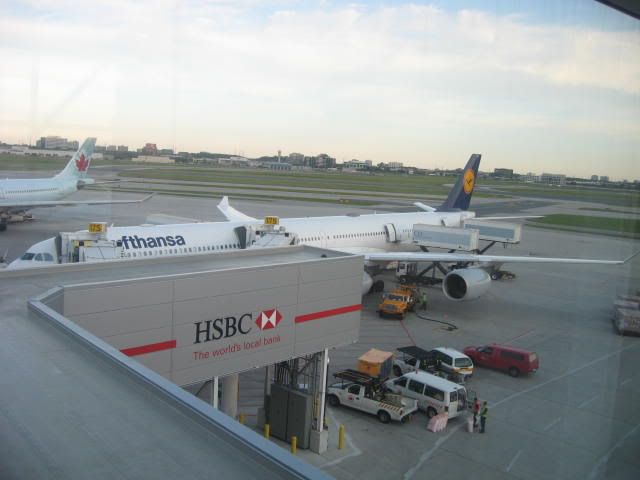 YYZ departure gates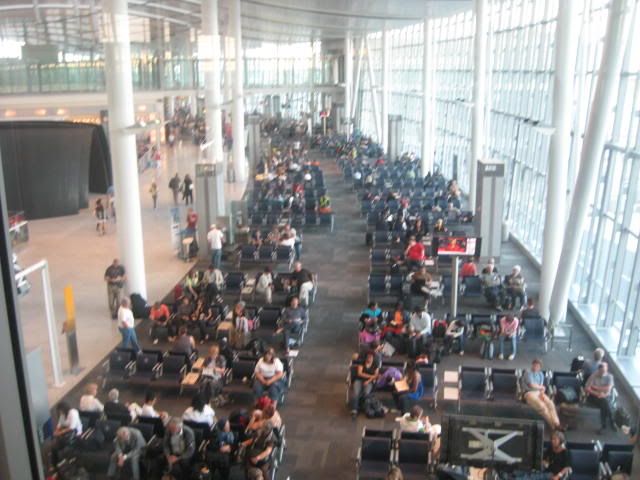 Some weird structure at YYZ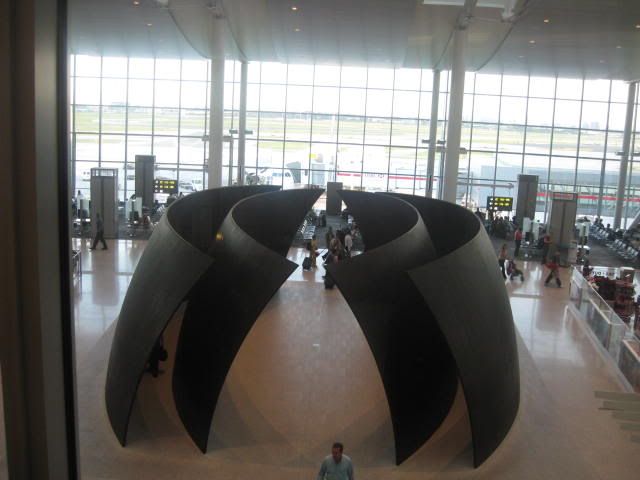 AC B767 and Mexicana A319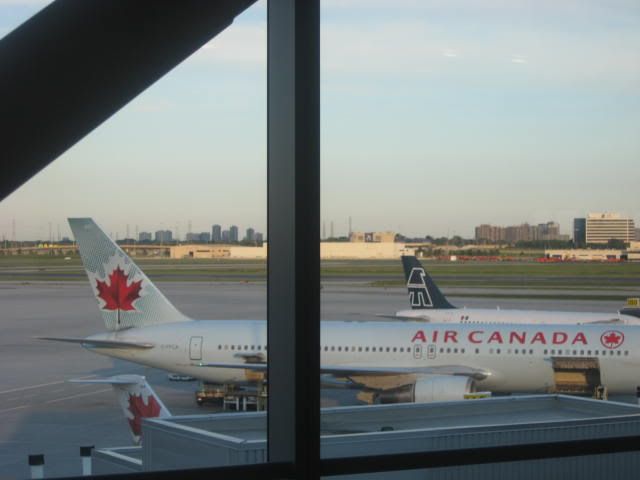 Luggage claim area at YYZ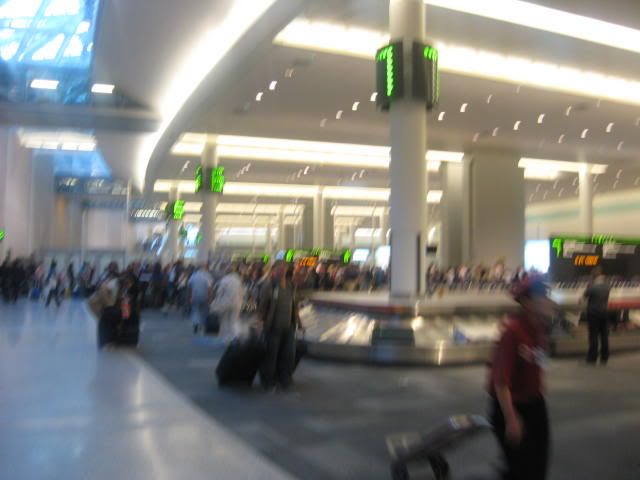 Then we were on our way home after a really nice vacation and flights
My other trip reports :
Egyptair Express E-170 CAI-MUH-CAI
http://www.airliners.net/aviation-fo...ums/trip_reports/read.main/129665/
YYZ-CAI LH A346-AB6
http://www.airliners.net/aviation-fo...ums/trip_reports/read.main/129527/
Alitalia YYZ-MXP-CAI B767-A321
http://www.airliners.net/aviation-fo...ums/trip_reports/read.main/100190/
Egyptair A330 CAI-HRG
http://www.airliners.net/aviation-fo...ums/trip_reports/read.main/100547/
Egyptair B735 HRG-CAI
http://www.airliners.net/aviation-fo...ums/trip_reports/read.main/101018/
CAI-MXP-YYZ Alitalia A321-B767
http://www.airliners.net/aviation-fo...ums/trip_reports/read.main/101712/
[Edited 2008-07-09 09:26:18]
[Edited 2008-07-09 09:30:47]
[Edited 2008-07-09 09:49:15]