This trip was a day-trip to collect my exam results, which I had competed the week before. In order to compete a day trip from Cork to Leeds I needed to take three flights. One each on Aer Arann (RE) bmi (BD) and Aer Lingus (EI). While the outboud flight was direct, the return was via London's Heathrow. Apologies for the quality of the few photos I took, when I arrived at the airport the battery of my camera died. So these photos are taken using my mobile phone.
DATE: 25/JUN/2008
FLIGHT : RE 682
DEPART: 1000

REG: EI-REN
SEAT : 16A

ROUTE: ORK-LBA
A/C : ATR 72-500
View Large
View Medium


Photo © Jid Webb
The day began at 0800 with a quick "splash 'n dash" and into the car for the brief 15 minute journey to Cork Airport. The €200 million new terminal at ORK is now approaching its second year in operation and is by now a familiar friend, with is wide airy public spaces flooded with natural light and the extensive use of natural wood, glass and stone ORK is a pleasure to travel through.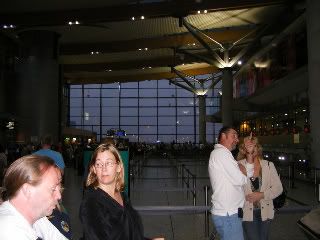 Although I had already checked-in online for all three flights the previous day because EI allows passengers to retrieve their boarding cards from the kiosks, I decided not to print the boarding card for my return flight later that day until I arrived at ORK. Unfortunately the SSK could not print my boarding card so I had to go to the desk. The boarding card was printed without a bother and a big smile. The girl asked "Are you travelling with someone on the way back?" I replied in the negative, "oh its just you've given yourself a middle seat, I can get you a better seat if you like – I have an aisle seat by the exit if you would like?" not one to look a gift horse in the mouth I accepted. Much tapping of the keyboard later the agent and her colleague realised that they could not reassign my seat. They did warn me that I should check with LHR in the evening though, because they might have off loaded me, even though the computer said they did not. I think this was a very nice thing for the staff to do. They could have sent me on my way after the pass was printed, but they went that little bit further. EI might be "low cost" but the attitudes and service ethic of the vast majority of the staff is not.
There were no queues at security and at about 0930 boarding was called from gate 4. Awaiting me was EI-REN the newest aircraft in the RE fleet, the 3rd of 10 ATR 72-500'S ordered by RE. Immediately it was obvious that this aircraft was a significant upgrade from the earlier days. The pearl-blue paint work overlaid with stylised triskels was eye-catching. Inside the "new plane smell" was still detectable in the cabin, which was furnished with comfortable seats, trimmed in matt navy leather. On this flight about 60 of the 72 seats were filled, not bad.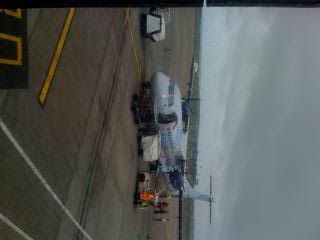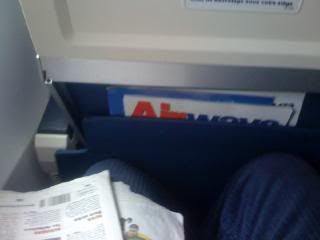 The crew took us through the safety demo, distributed newspapers and completed their final checks. On board RE offer a BOB drinks and snack service. As I had skipped breakfast a packet of "Taytos" and a sprite hit the spot nicely.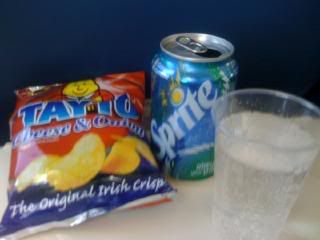 Once airborne the flight time was 1:30 and we arrived in LBA about 10 minutes ahead of schedule. Parking between an Eastern Airways SAAB and a BD regional ERJ-145. Also on the ramp were an assortment of aircraft from LS, along with an ERJ in the basic colours of JetMagic, the former ORK based business airline! On arrival I took the "757" bus service into Leeds. (£3.00 RTN)
DATE: 25/JUN/2008
FLIGHT : BD 419
DEPART: 18:35
REG: G-DBCJ
SEAT : 04C

ROUTE: LBA-LHR
A/C : A319.
View Large
View Medium


Photo © Roger Oldfield
Once again I took the 757 out of Leeds to LBA. The journey took about 35 minutes. On arrival I collected a reprint of my boarding card and went straight though a long security line and to le "Yorkshire Executive Lounge" a very nice facility, which was fairly busy with BD*G's, mainly heading to Scotland, LHR and BRU. Once general boarding had been completed a call was made in the lounge and I took my seat on board G-DBCJ. BD's 319s have very comfortable royal blue leather seating and plenty of pitch up front.
The crew took us though the safety briefing manually and the flight crew informed us flight time would be 45 minutes, which must have stretched in flight. We pushed back 15minutes early but arrived at LHR about 10 minutes early. However by the time we had taxied on stand we were "only" on-time. Never the less, my experience of BD suggests that they can justifiably call themselves "LHR's most punctual UK airline".
Once airbourne I was treated to a Ham and Cheese Sandwich and a tea courtesy of my BD FF status. There were quite a lot of people with BD*G cards on this flight, at least in the first few rows, where BD assigns seats to diamond club members. Now, the sandwich was alright, but I definitely would not be paying for it, which is what the rest of the cabin need to do.
The crew on this flight, 2 males and 2 females, were quite good. There are usually just 3 crew on a 319, but I think one of the crew was freshly minted from the academy. He seemed very nervous indeed, nice chap though. Overall the BD service is polished and refined, it's a pity the network is rather confined. Also the quality of the Aviance ground staff at UK outstations is variable. Some are good, others are bad. The feeling I had was that the staff were not quite as good as those at EI earlier on that day.
Arrival at LHR was to one of the domestic gates. Now here is where it gets interesting. For those who might not know, all flights within the UK and Ireland are considered "domestic" as we are part of a Common Travel Area, like a mini schengen agreement. For reasons best known to the BAA, or at least their representatives in LHR, they have decided that UK domestic connections are impossible to compete airside. However no-one told me this until I tried to access the Domestic/Ireland departure gats, my boarding card did not have an attached photo in the computer, so I had to go landside and back though security. I was lucky I decided to leave for the gate about an hour before departure, because I had to go all the way around! Luckily there were no queues what so ever at T1, which is beginning to get it's "Star Alliance" branding. I was through security in minutes, but the long walk through baggage claim and duty free could have been a disaster if I had left less time.
DATE: 25/JUN/2008
FLIGHT : EI 725
DEPART: 2015
REG: EI-CPG
SEAT : 10C

ROUTE: LHR-ORK
A/C : A321-200
View Large
View Medium


Photo © John Farrington - FlightLineImages
Menzies now handle EI at LHR, but many seem to be ex-EI staff (via swissport). The guys at the flight connection centre checked I was indeed on the flight and offered to change my seat as well. I was assigned 10 C.
Boarding was just beginning as I arrived, so towards the end of the procedure I boarded the 321. Soon I realised that 10C was indeed the "aisle seat at the exit" the guys at ORK had tried to assign me. Nice one! My original seat, 23B would have been fine, although it is a middle seat there is no 23A. Unlike the 321s at LX there are no overhead bins at L2, R2, L3, R3. Not a big deal though. A friendly female cabin crew was at L2 and as usual with EI crews, she was happy to chat with passengers. It turned that this was her 4th flight of the day to LHR. Unusually, this flight was crewed by DUB based crew, apparently there are a few shortages at ORK. Strangely just before the door closed a full ORK based crew took seats on the aircraft too. I assume they operated into LHR earlier in the day.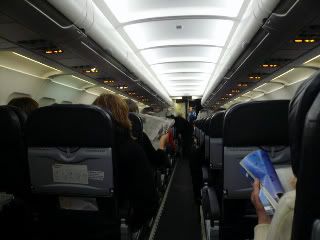 The F/O and Captain had fine Cork accent on them, so I assume they were Cork based, flight time was to be just one hour. Once we were on our way the crew came round with the "Sky Café" service. As usual, I selected the chicken and stuffing sandwich and a cup of tea at a cost of €7.50. Unlike at many other airlines the items were not just thrown at me. The crew took the trouble to retrieve my tray table and place everything on the table, asked me, more than once, if I was alright for everything, mile, sugar, etc. The used items were collected quickly and smiles were the order of the day.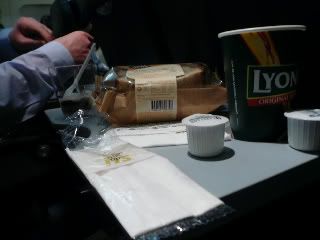 Arrival at ORK was early, and a very smooth landing it was too. I was through immigration in minutes and into the car on the way home.
I would just like to say a big thank you to the crews and others who made the day run smoothly, after these three flights I was absolutely wrecked. Having to work 4 flights in one day, a night in an unfamiliar hotel room and doing it all again the next day is no easy job, to provide outstand service while doing it is all the more admirable. Go raibh mile maith agaibh go leir.
So, how would I rate the three airlines?
RE – The crews are ok, the BOB is ok, time keeping is good and the new ATR's are a vast improvement. I reckon a good 8/10 overall. But they can be hit or miss and there is no FFP.
BD – Great crews, comfortable aircraft, free food, on-time, very generous FFP. Ground crews need a bit of work, and the food would not be worth paying for. Other than that faultless. 8/10.
EI – Outstanding crews both in the air and on the ground, good on board service and a good selection of tasty, tempting and pretty healthy food. On-time, clean aircraft which are well maintained and very comfortable. This fight is very representative of my 15 EI flights in the past two years. Only the very weak Gold Circle FFP robs EI of full marks. 9/10.
I hope you have enjoyed this attempt at a TR. Any feedback is, of course, welcomed.
Brian.
[Edited 2008-07-11 10:26:32]