Malev
MA0623
DUB-BUD
Boeing 737-7Q8 - HA-LOA - "LOAladár"
Seat: Economy 5C, upgraded to Business 1D
Departure time: 07:55
Arrival time: 11:45
View Large
View Medium


Photo © Szabo Gabor
I decided to go back to Sydney to visit my family and friends the long way - and the first leg was using Malev via Budapest. I'd never flown Malev before, however I've always heard good things from people who have flown them. The airline has won awards such as "Best Airline in Eastern Europe", and that coupled with the fact that they're a member of oneworld meant they were on my list of airlines to fly.
Myself and Pawsleykat (he was flying to PIK) arrived at the airport around 6am, and I immediately joined the long Malev Business Class queue. The line moved slowly and as it turned out, Economy passengers were also using the line and the agent was processing them without any complaints
After a good 10-15 minutes in line, it was my turn. I told the agent that I was going to Sydney (the reaction was wide eyed astonishment) and if it was possible could she check me through to Sydney. Silence. Lots of typing. I waited. She turned to the agent next to her and asked what something meant on the screen. The response was, "That means he's eligible for upgrade".
Naturally, I thought it was done and dusted - apparently the flight was overbooked. After much more typing and a reference to her notes, I was handed an Economy Boarding Pass for 5C, with my bags only checked to Budapest. I figured it wasn't my day and wasn't bothered.
Proceeded through security and up to the B-Pier gates at Dublin. It wasn't long before the aircraft was towed up to the gate.
Malev overnight the aircraft in Dublin, hence the reason for it being towed to the gate. While waiting at the gate, there was an announcement I half missed, and I kept an ear out for it as it had a list of names. When I heard it again, my name was in there - so off I went to the desk. Happily, I was informed that I was being upgraded to Business Class and was given a new boarding pass.
We boarded the aircraft on time and I settled into 1D - next to an enormous man taking up a lot of the arm rest next to me. Row 1 is 2 x 2 (the rest of Business Class is 3 x 2) which meant there was a lot of aisle next to me.
Leg room was pretty good, as you can see here.
Across the aisle was the coat storage. Also in here were goodies such as toilet paper rolls, blankets (green!), pillows and all sorts of things.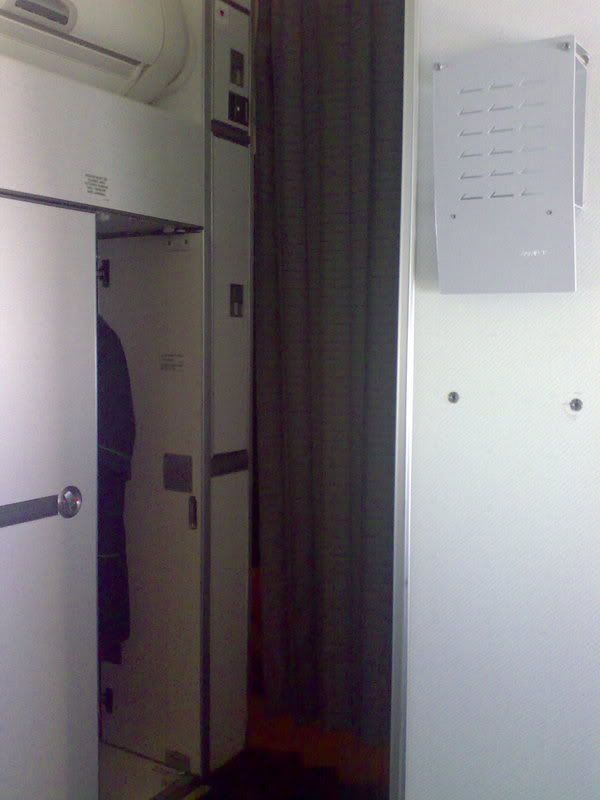 Pre-takeoff drinks consisted of an orange juice, and the seats are lacking in that there is no little drinks table. It's either get out the entire tray or hold it. I held onto mine. We were informed of a 40 minute delay on the aircraft due to the recent ATC system problems in Dublin. While delayed, we were offered newspapers and magazines (Irish and Hungarian). In the end we only waited 30 minutes and quickly taxiied out and took off.
Once in flight, we were offered hot towels, and the moving map was switched on. This stayed the same throughout the flight, apart from one portion of oneworld videos - with no sound. We were not issued headsets. The bulkheads also have oneworld ads on them - it seems Malev is a fervent supporter of the alliance!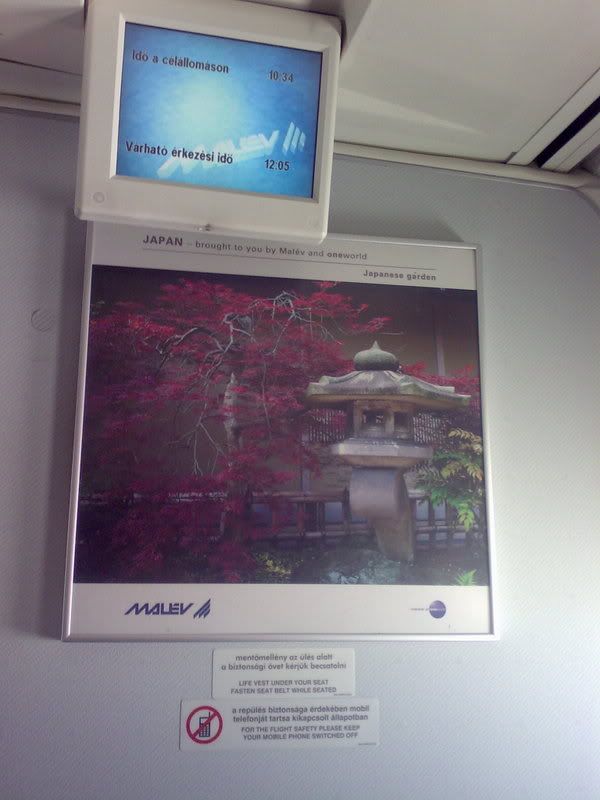 The seats were navy blue "leather" (or whatever they're using to simulate it these days) and were some of the most comfortable seats I've sat on in a while. Really! I was sitting there (sober too!) marvelling at how comfortable my seat was. Here's a sneaky pic across the aisle.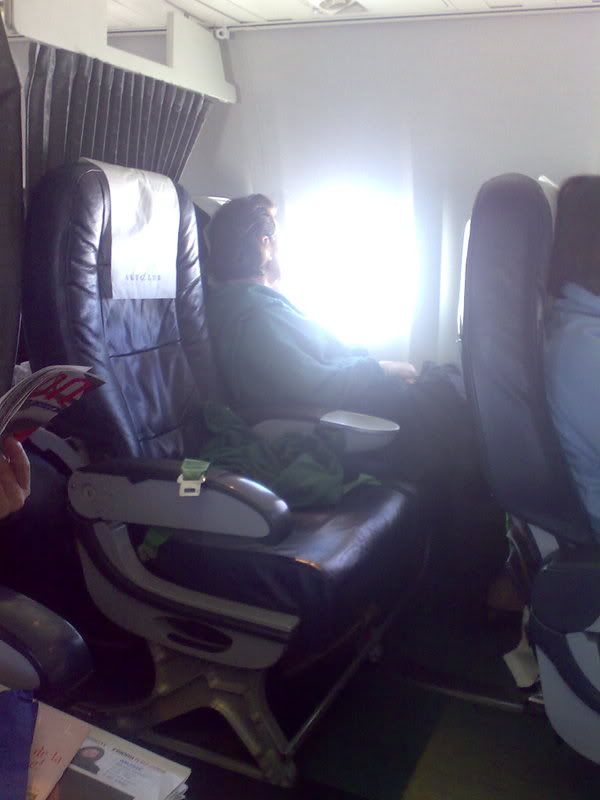 Business Class was full (9 people, 2 rows), however at least two others were upgraded judging by their conversation. The aircraft was 100% full apart from one seat.
Breakfast was served next.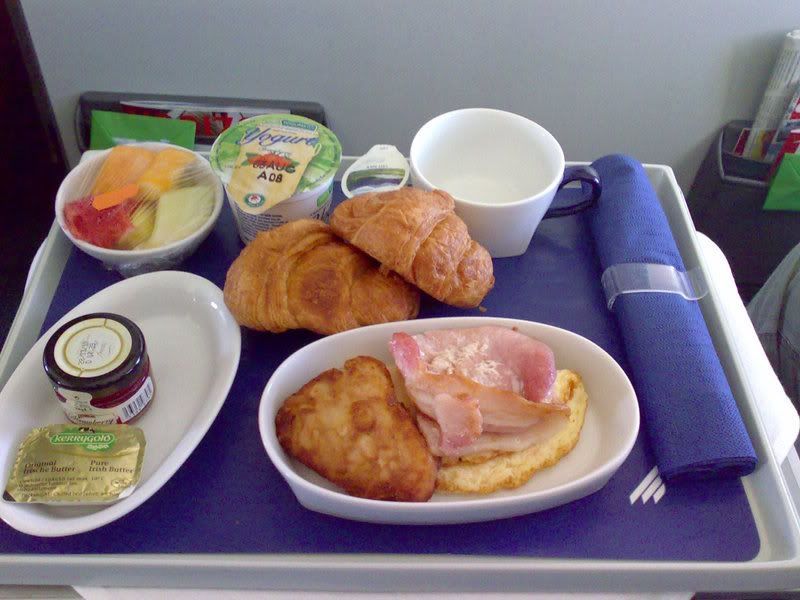 Fatty bacon, an "egg omelette", hash browns, two croissants ("Take as many as you like" was the refrain from the bread basket), strawberry yoghurt, strawberry jam, and a fruit salad. Coffee was also served. The breakfast was adequate and nice, however the €9 Aer Lingus breakfast leaves it for dead for both taste, quality and presentation.
I shut my eyes for a while after breakfast and woke to find this on my lap (and note - green seat belts - matches the blankets!) -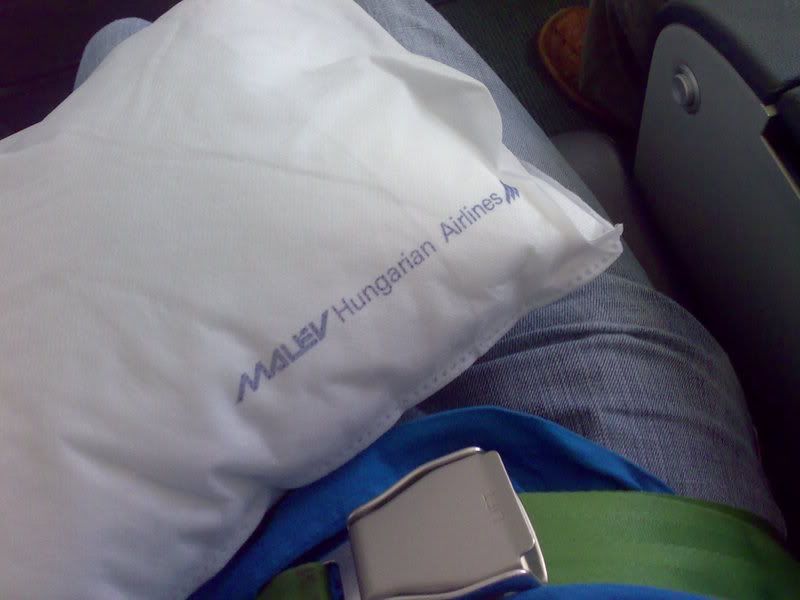 The Purser took care of us the whole flight and was nothing short of miraculous. She anticipated what people wanted, got it promptly and was just astonishing. For example, she put that pillow on my lap and didn't wake me - it was there for when I needed it. Another girl was asleep during breakfast service and when she woke, she was immedately offered food (and this was much later). One person asked for a blanket as it was cold, and she asked all the J passengers individually if they wanted a blanket (about 4 accepted). Lots of little things like this - as well as coffee and tea top ups as soon as people were empty, actually pressing the button and pushing seats back up before landing to help people - it was superb to watch. They also wouldn't let Economy passengers through the curtain to use the Business toilets
The flight was nice enough, and I hit the loo before landing.
We landed only 10 minutes late, and as we were waiting to deplane, I asked the Purser if I could take her picture and she said, "Why not!"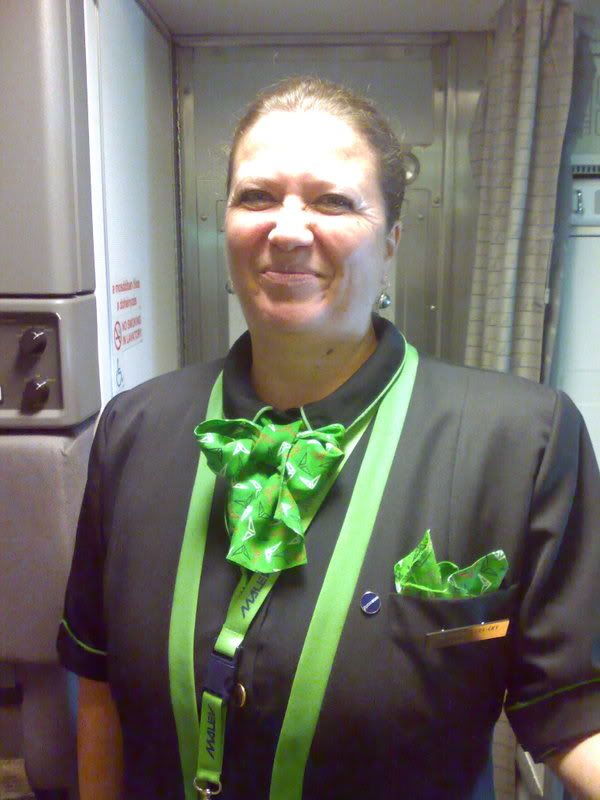 She was totally awesome! Unfortunately I couldn't work out her name from her nametag, so I can't send through a compliment!
To sum up, Malev are a worthy addition to the oneworld alliance. The food is on par with what I've experienced in intra-European J on Finnair, the seat much more comfortable and the service a notch above. It remains to be seen how Malev will develop, but they're certainly adequate at the moment. That said, I wouldn't pay for Malev J class - the fares are rather high for what you actually get.
I hope you've enjoyed the report - please let me know what you thought! If you have any questions, let me know and I'll do my best to answer them. Cheers!