Despite a 2 week rest due at the end of August / early September, MissBA319131 & I decided we would need a few days in the sun mid way through the year, since it was just a few days we decided to hit our 'usual spot'.
25.06.08 BA2708 737-52A G-GFFF 2A
2nd Flight on this aircraft & 75th 737 Flight (9 --500 flights)
SCH DEP 22:25 SCH ARR 01:40
ACT DEP 22:23 ACT ARR 01:25
View Large
View Medium


Photo © Paul Markman
View Large
View Medium


Photo © Mikael Persson
View Large
View Medium


Photo © Frank C. Duarte Jr.
We dropped of the car at the North Terminal parking area around about 8pm, a short walk to the terminal building was fine though the lifts to the check-in area were pretty slow.
Used the self service check-in machine as usual, had a quick look at the seat map to see how things were looking, on to the fast drop bag area....
There were 3 people in line and 3 bag check agents free, at times I think I'm the only one paying attention to my surroundings -- had a quick word or possible shout at the chap at the front of the queue to get him moving so we could all dispose of our unwanted bags.
No queues for the passport/ticket and security check, you think you are ready to hit the shops then discover BAA have installed one of those blasted shoe x-rays machines. It's like having secondary screening, surely the standard x-ray machine is capable of checking my Diesel trainers and Nicole's flip flops are safe!
Once through we grabbed some Euro's, the exchange rate is not good these days! and headed to the Galleries/Terraces.
I had planned to nip into Dixon's and buy a new laptop however it was closed, as were most of the shops. Whilst there were not that many departures remaining, I do feel the shops should stay open to cover these later flights.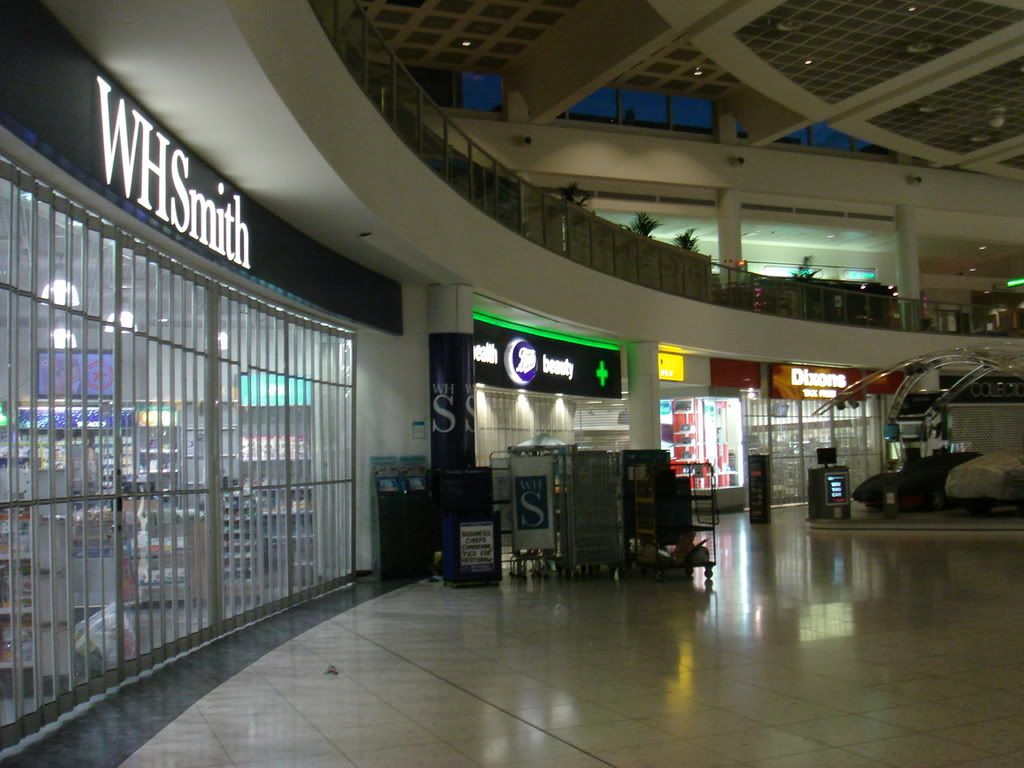 Here are a couple of shots of the lounge.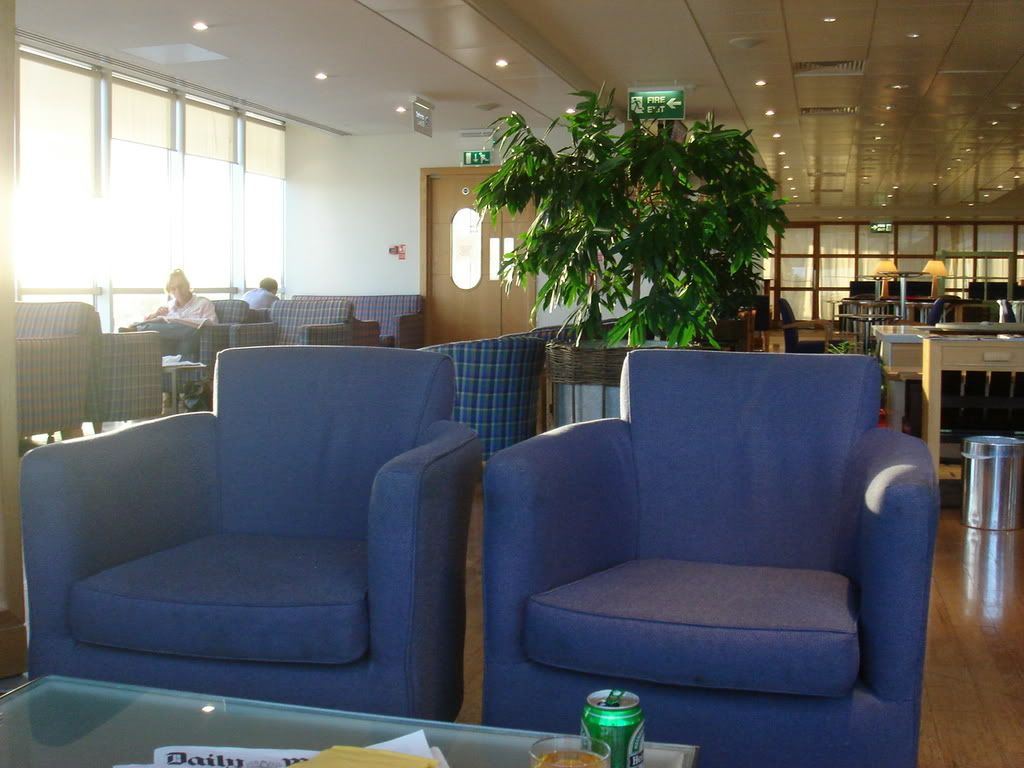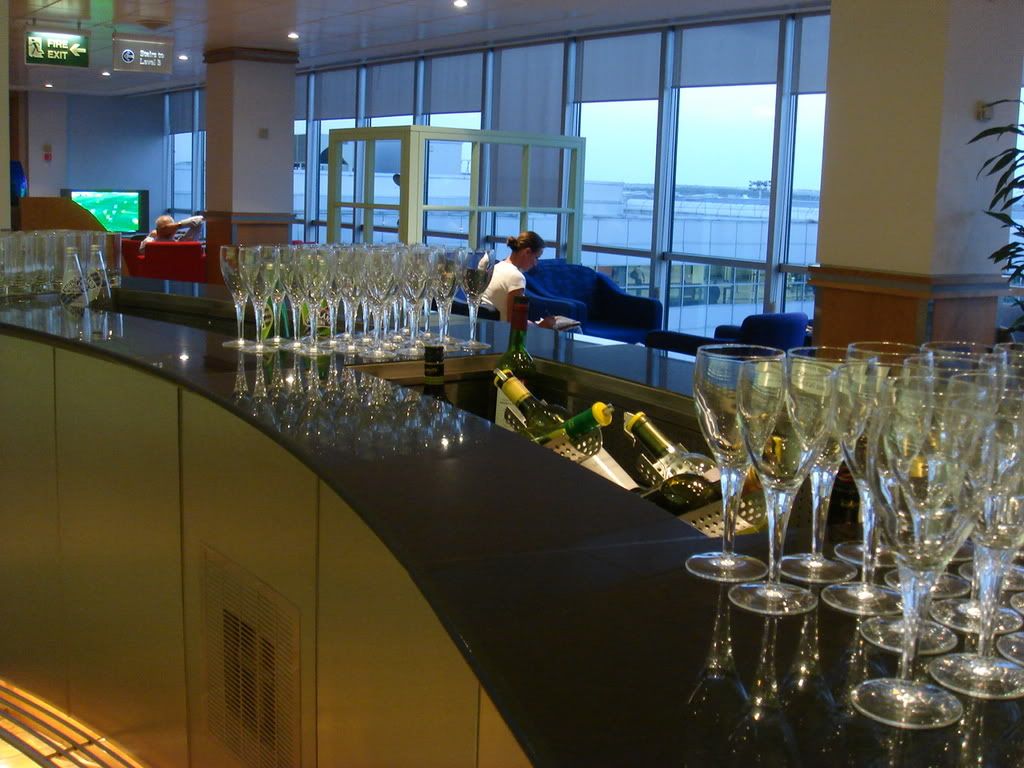 Last few lights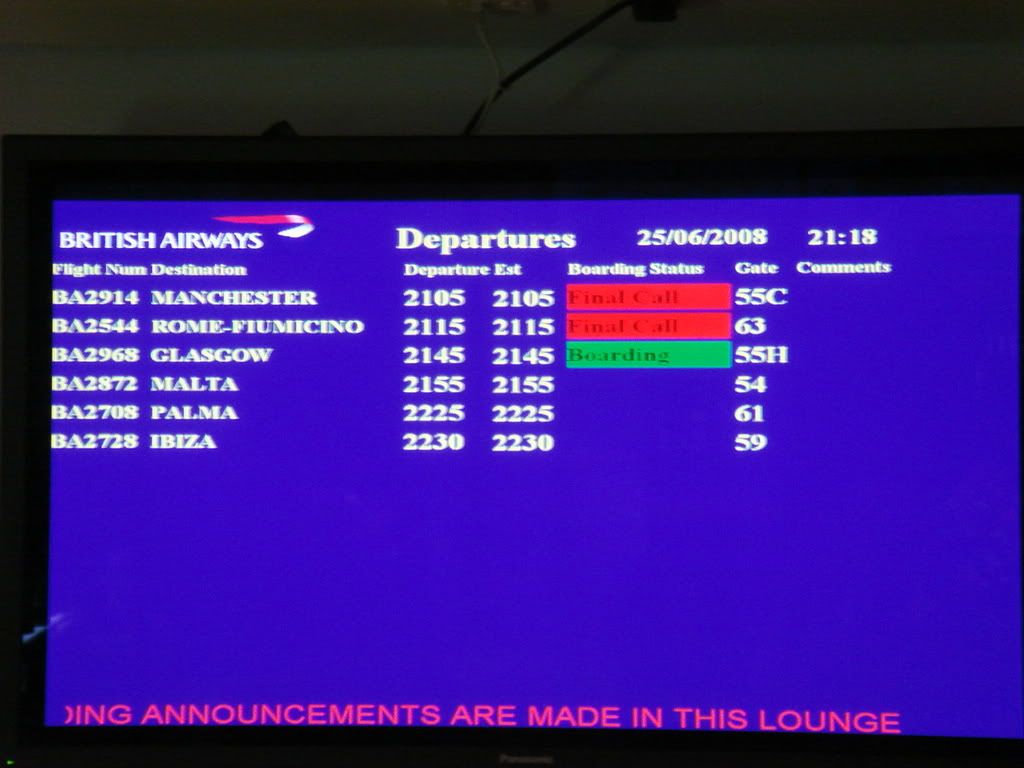 OK, where is gate 61??
I'm not sure what time boarding started, but it was almost complete by the time we reached the gate.
Heading down the jetty
Arrival at the aircraft door, I was met by male & female crew members, both seemed chirpy enough given the late hour.
View from the window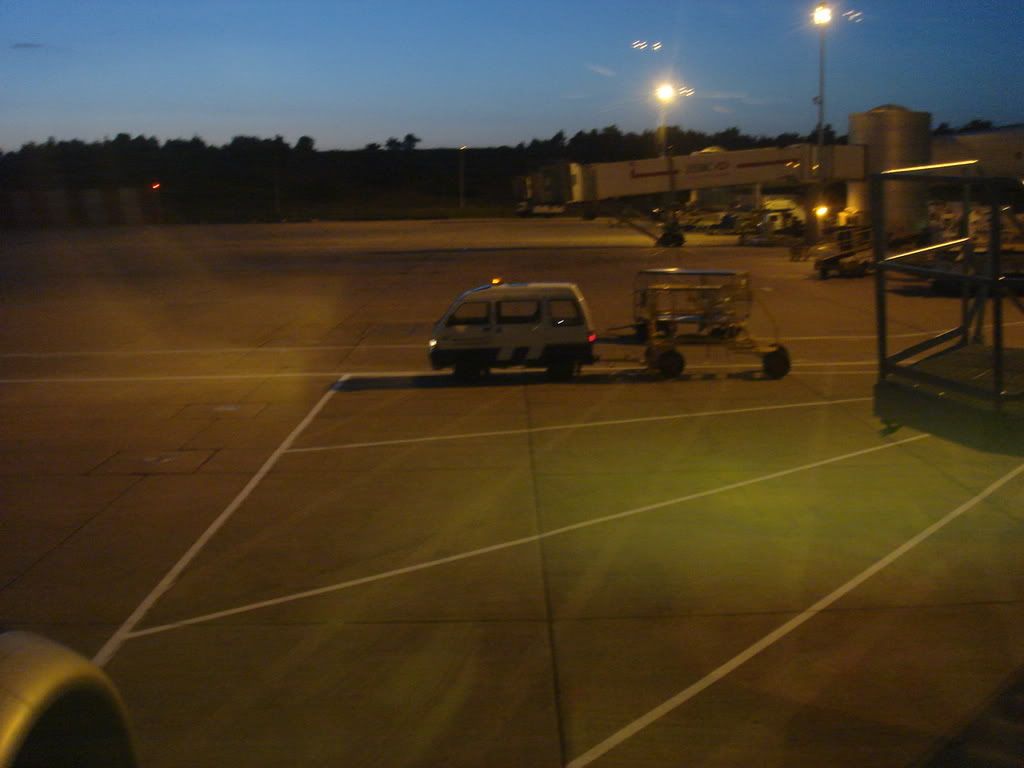 Despite the age, this bird seemed to be in pretty good condition.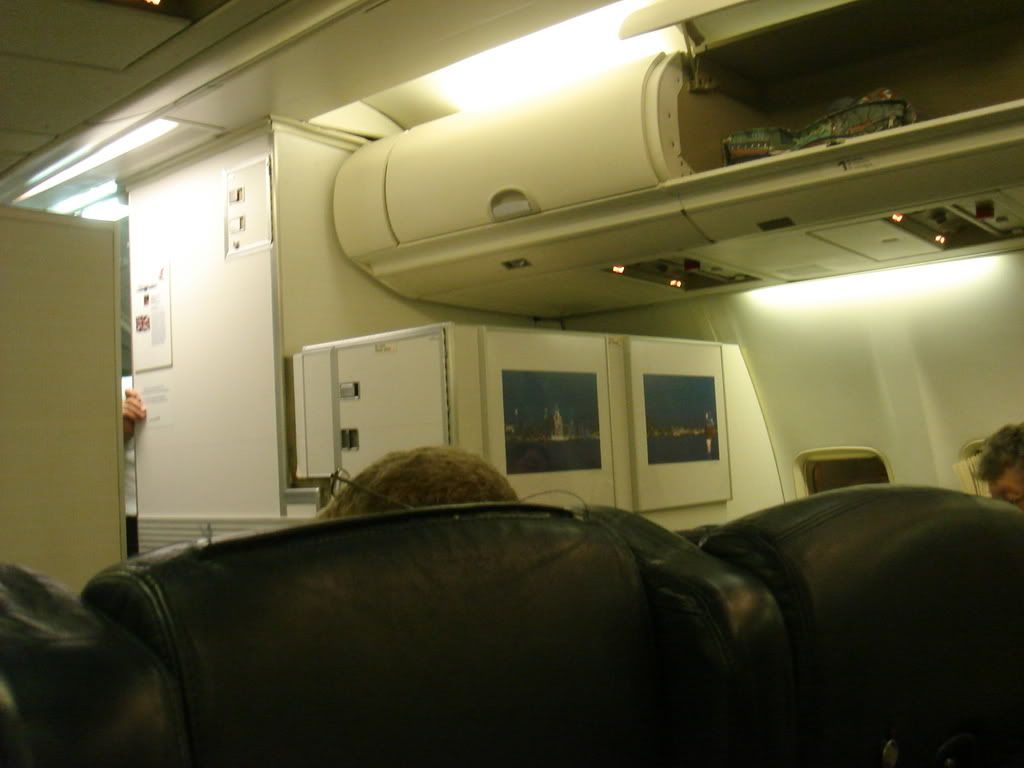 The captain came over the PA and said the usual hello however it was very faint, I'm not really sure what he said to be honest.
Push occurred just ahead schedule, doors having closed at 22:13,
we cut in early to the active runway and took off to the west, wheels up at 22:34.
Our Club cabin had 5 rows tonight, with 14 or the 25 seats occupied, not too shabby, economy was just over half full by the looks of it.
The crew started the meal service pretty quickly, drinks followed soon after the meals were handed out. Food was good as expected, just right for this time on night.
Nicoles fish meal
Trays were removed quickly once meals were complete, always a plus point!
Being a night flight, not really much to see or do
The aircraft landed some 15 minutes early
Parking next to a Jet 2 757, this seemed to be operating a Monarch flight to Manchester.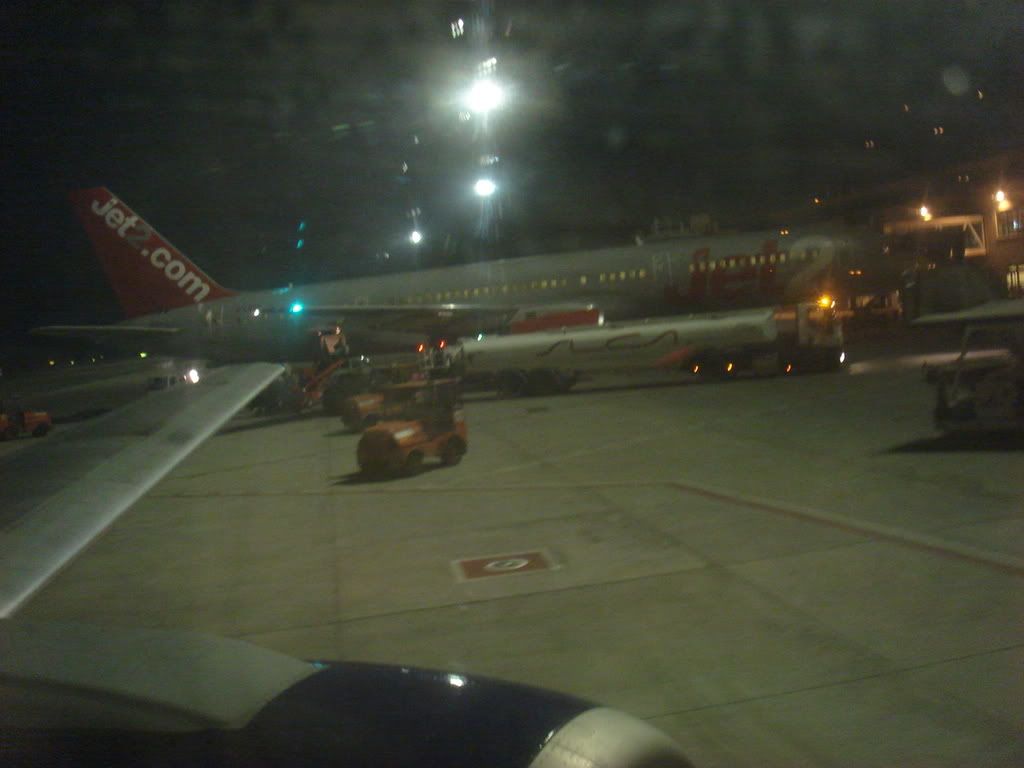 Our jetway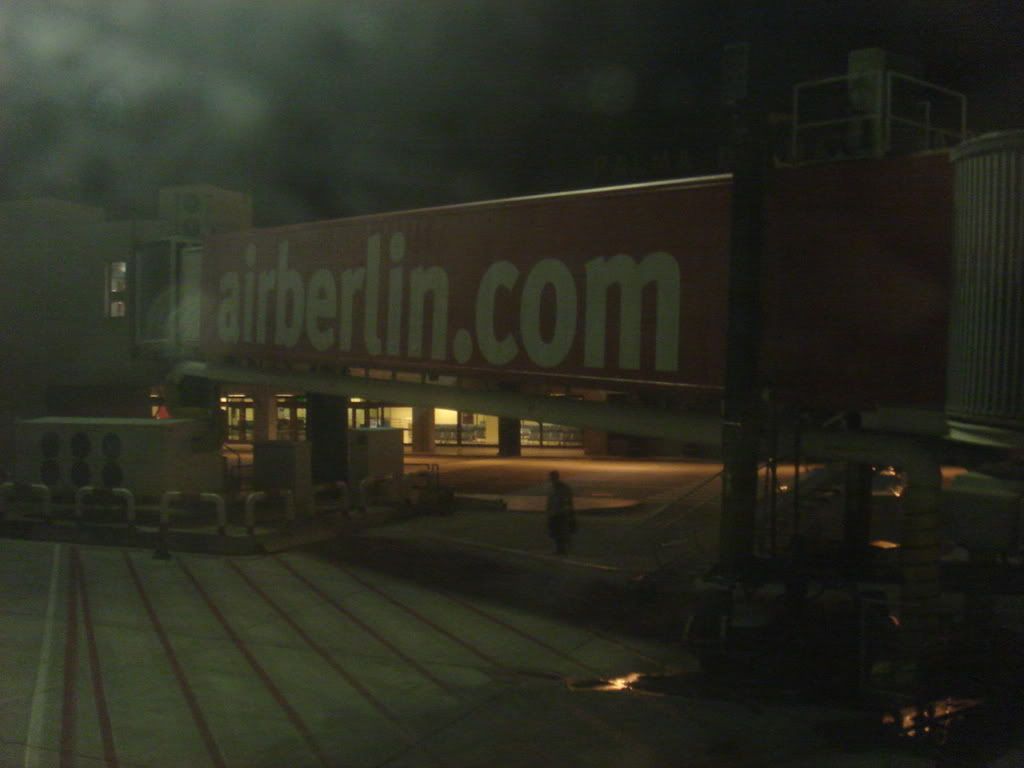 Passport control was a quick glance.
Baggage claim was it bit of a walk, the bag's arriving after less than 10 minutes, not bad considering the time of night.
One of the good things about this arrival time -- no queue for a taxi!
Here are a few pictures of our stay & hotel
Beach get's busy on a sunday
One for Philip
View from our lunch hang out
01.07.08 BA2703 737-528 G-GFFI 2A
2nd Flight on this aircraft & 76th 737 Flight
SCH DEP 05:40 SCH ARR 07:00
ACT DEP 05:46 ACT ARR 06:59
View Large
View Medium


Photo © David Unsworth - WorldAirImages
View Large
View Medium


Photo © Bernhard Bauske
The though of getting up at 03:15 for this flight was not good, but in reality it was not quite as painful as I though, check out from the hotel was easy as always and the taxi was already waiting, all good.
The terminal was pretty deserted this morning, ours was the first flight of the day.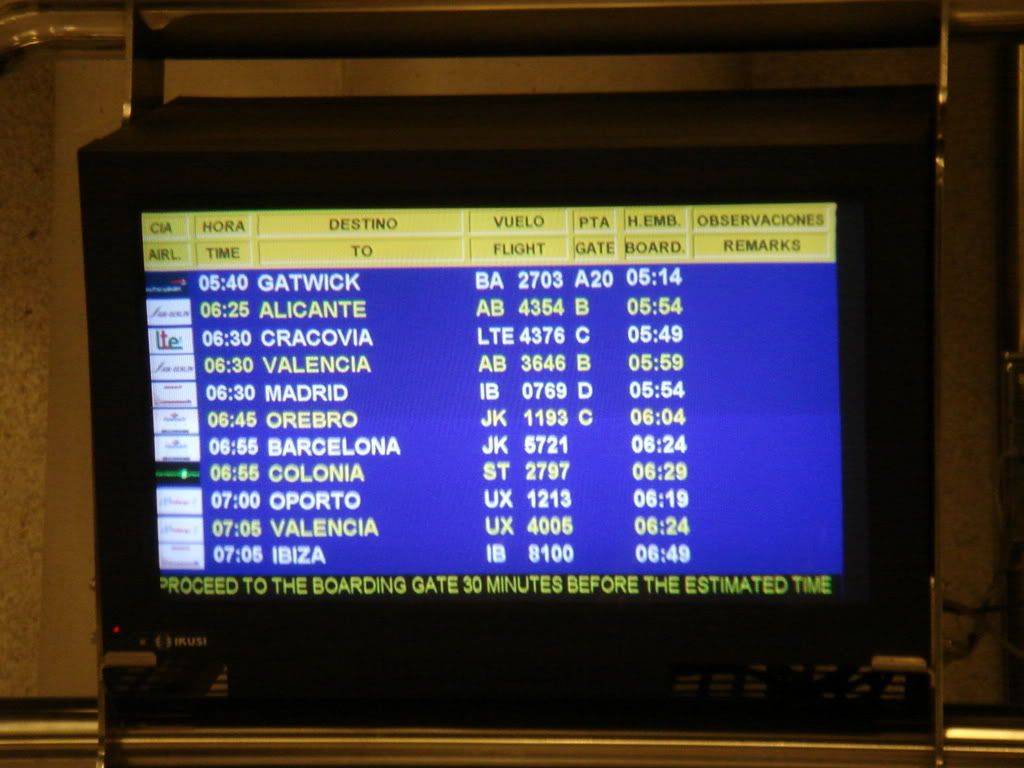 A small queue for check-in, 2 agents employed by Iberia, no priority for Club passengers though our bags were tagged with Priority tags which is something BA are not that good at doing.
Security was a breeze, we both beeped but just had a cursory inspection, nothing like the groping that goes in AMS!
There is little to do at this time of a day and spotting is pretty much out of the question, thankfully there was a snack bar close to our gate so we grabbed a drink to help pass the time.
Hmm, where's the maintenance crew?
Our plane
Boarding stared at 9 minutes past 5.
Greeted at the front door by a male crew member, seemed a pleasant enough chap.
11 in Club this morning, total on board being 71.
Hot towels were offered during the final preparations for departure, quite refreshing after an early start.
Push took place 5 minutes ahead of schedule,followed by a long taxi out to our departure runway, 24R.
A bad shot, guess the plane!
Wheels up at 05:46.
We took a left turn after departure, headed north for a bit then took another left to overfly the north part of the island, it all looked so peaceful, can't wait to return, love this island.
Breakfast was served quite quickly and cleared in a sharp fashion too, don't remember that much about it but it was tasty enough and hit the spot despite the early hour.
En-route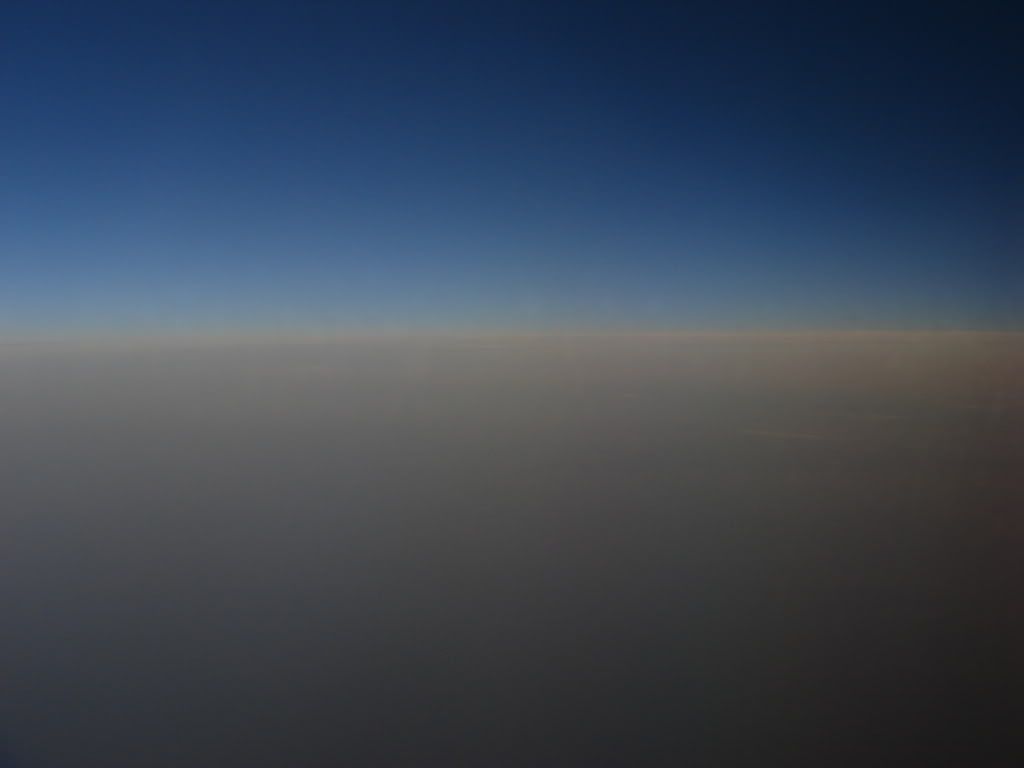 Weather looked pretty decent over the UK as we came in over the coast, just small patches of clouds.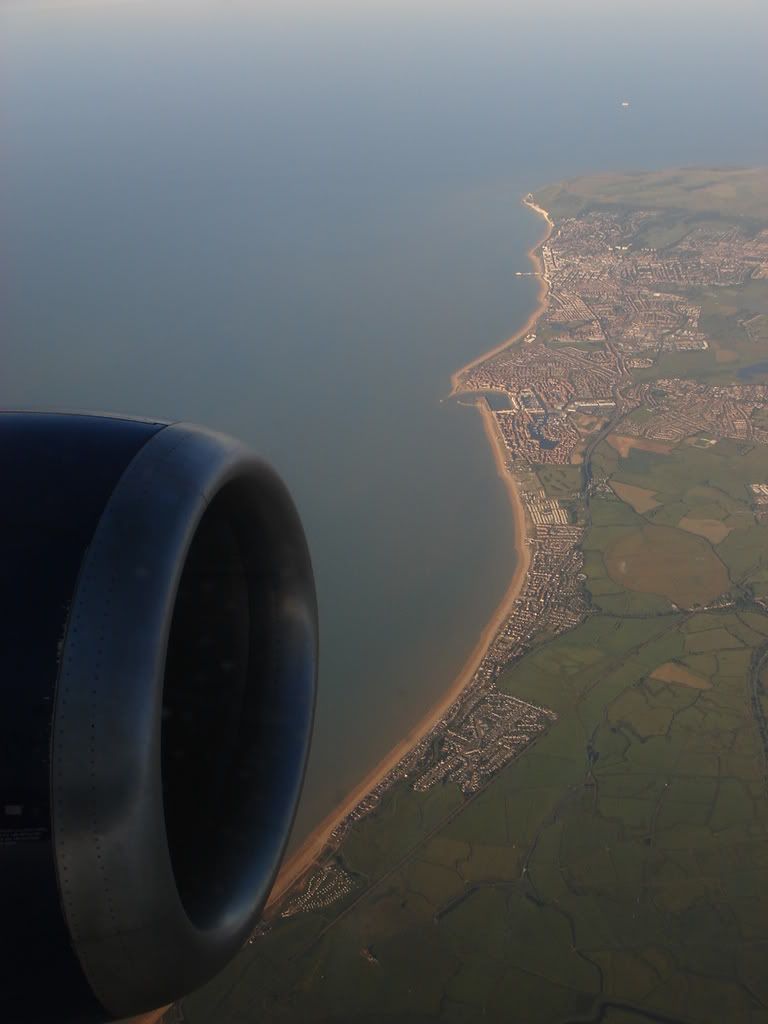 Clouds got heavier further inland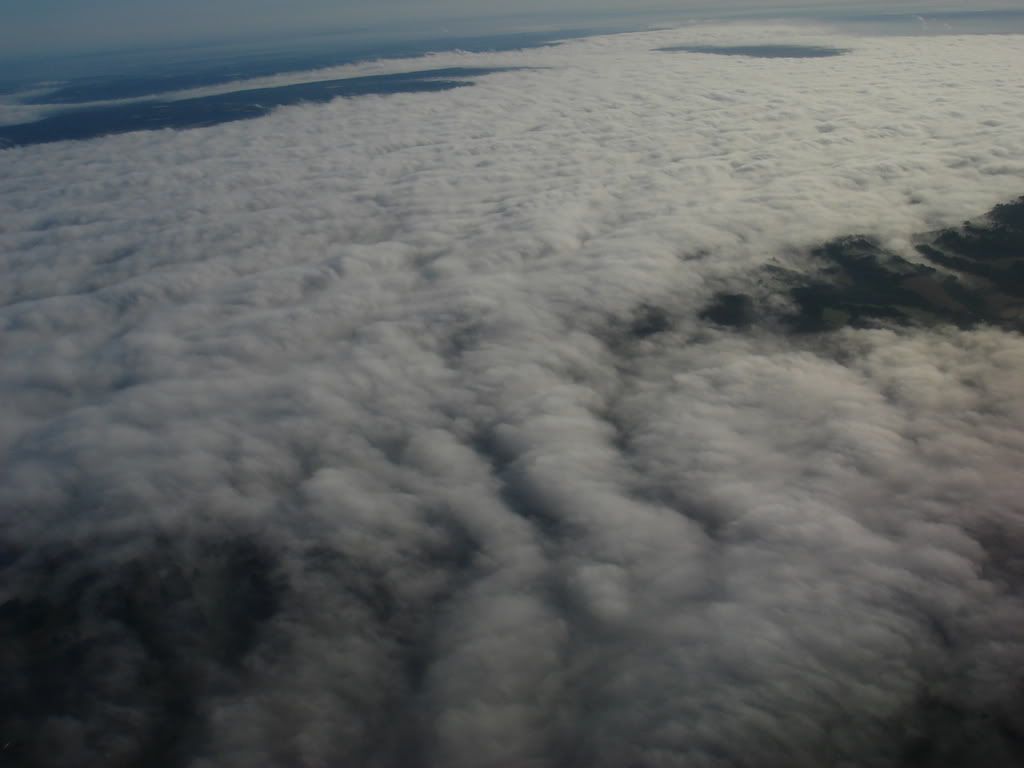 I noted another 735 off in the distance
Final approach over the M23, wheels down 1 minute early.
The taxi to North Terminal took us past numerous resting charter birds.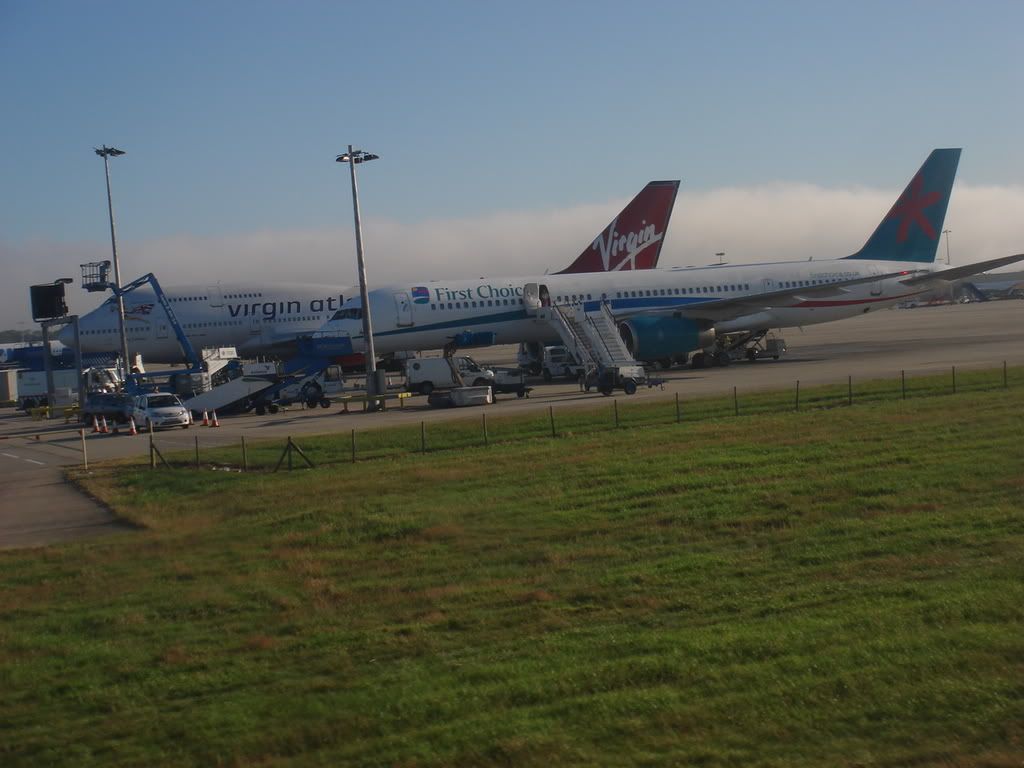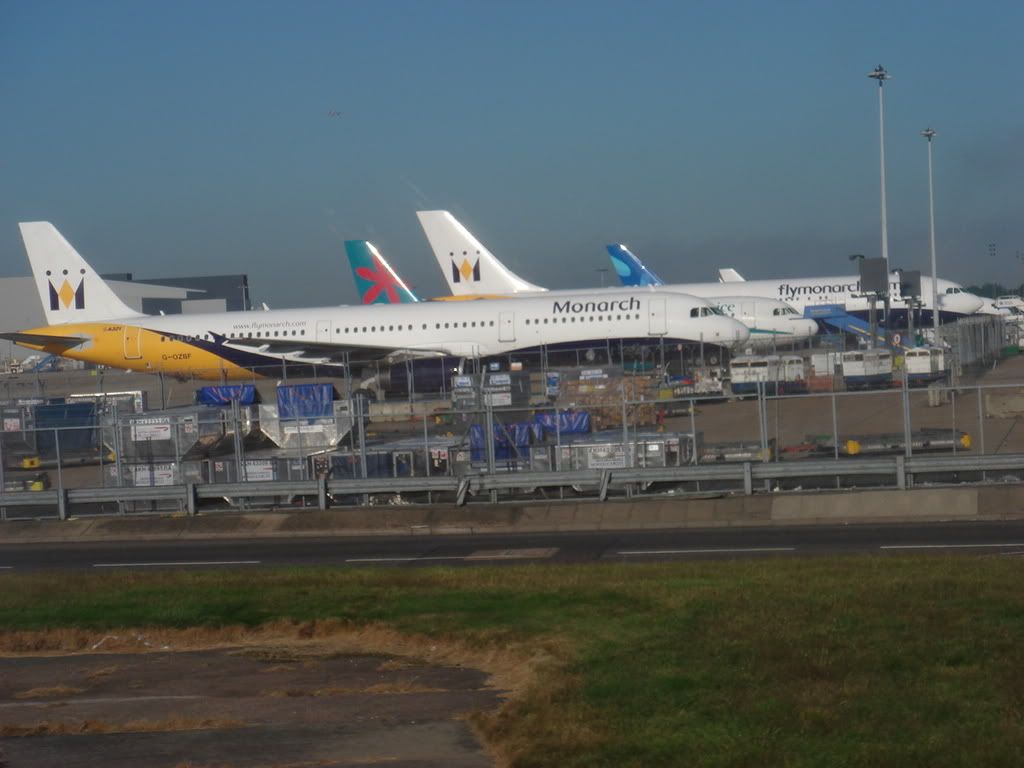 A remote stand today, normally fine with me, but being a bit tired it was disappointing to get bussed. I must say that the bus drop off point at the terminal is discrace, dirty, bulbs out etc etc -- not a welcoming sight at all!
Passport control & baggage claim were reasonably quick thought the M25 was a car park as expected.
Hope you enjoyed our trip.
Regards
Mark
Future confirmed flights:-
VS LHR-DXB - 346 (J)
EK DXB-JFK - 388 (Y)
LX JFK-ZRH - 332 (F)
LX ZRH-LHR - 321 (C)
BE LGW-IOM - D84 (Y)
BCI IOM-JER - D38 (Y)
BE JER-LGW - 190 (Y)
BA LHR-JFK - 744 (J)
CO EWR-HNL - 764 (J)
HA HNL-ITO - 717 (Y)
HA ITO-HNL - 717 (Y)
HA HNL-OGG - 717 (Y)
HA OGG-HNL - 717(Y)
AA HNL-LAX - 752 (F)
BA LAX-LHR - 744 (J)
BE LTN-IOM - D84 (Y)
BE IOM-LTN - D84 (Y)