Hi all. This is my first TR so sorry for any mistakes, poor grammar & the poor picture quality.
Date: Tuesday 01.07.2008
Flight: GX305
Aircraft: 737-800, TF-JXF
Scheduled: 0900/ 1235
Actual: 0910/ 1250
Gate: A19
Seat: 5F
History:
11.12.2002 Delivered to BWIA International as 9Y-GND
16.03.2007 Delivered to Jetx as TF-JXF.
My 5th flight on the 737-800, 1st on this aircraft.
We left the house at around 0450 & arrived at DUB at approx. 0510. With check-in not due to open for another hour I took a little walk to see what aircraft could be seen. The viewing facilities at DUB are poor to say the least. Nothing unusual on the ground. Runway 16 was in use this morning, saw a DHL A300 & TNT 737 arrive & a Star Air 767 depart.
Check-in opened at 0610 at desks 1002 & 1003 in Area 10. A Skyeurope flight (NE151) to BTS was open to the left at desk 1001. Just over 20 minutes later we were on our way through security. No problems here at all, got through it all in less than 5 minutes & even the security officer was in a friendly mood this morning. Headed straight to the gate, very boring down there. If 16 wasnt the active runway there wouldnt have been much to see at all. For anyone not familiar with DUB these gates are situated between Pier A & Pier D & are used for aircraft parked on remote stands. Other flights departing from here included a First Choice Airways to PMI (A17) & a AF flight to LCY (A18).
Some pics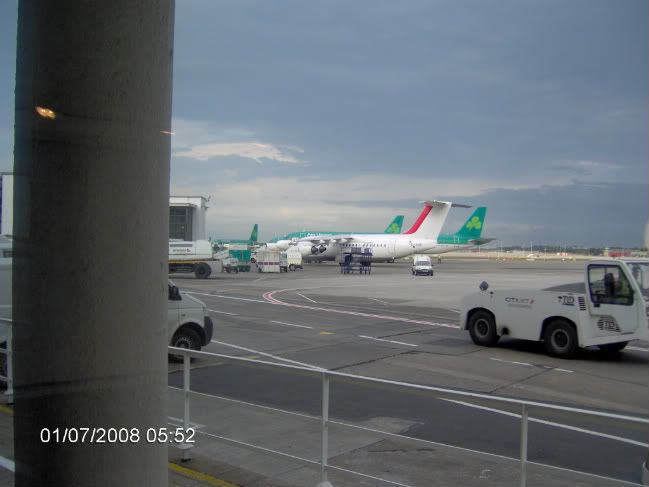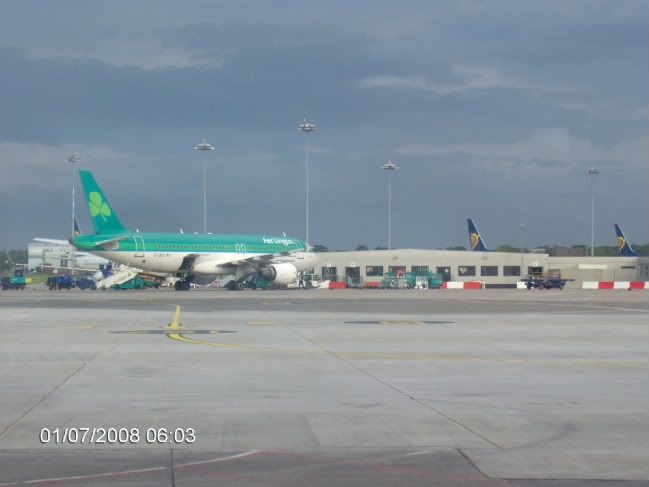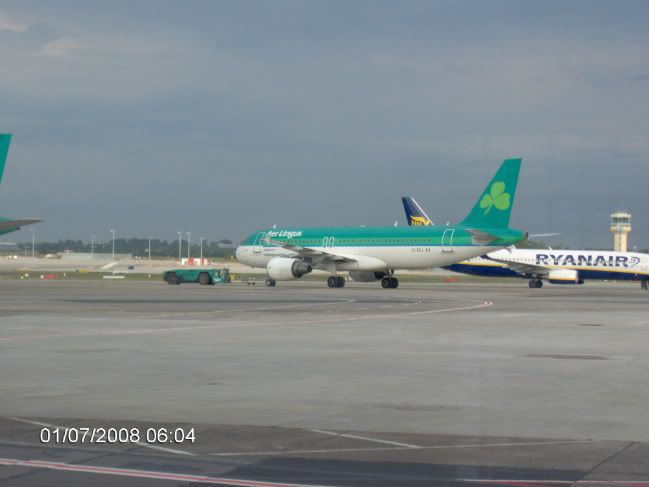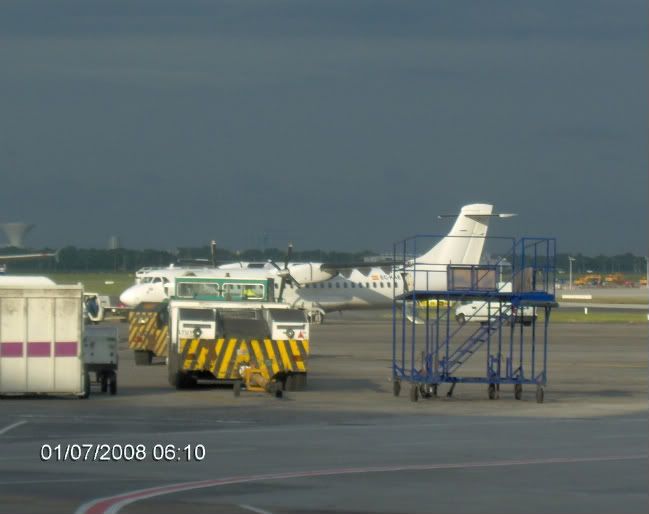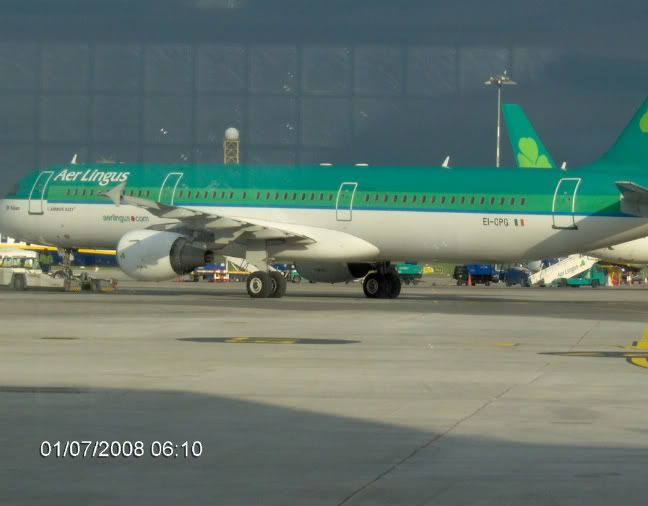 obucket">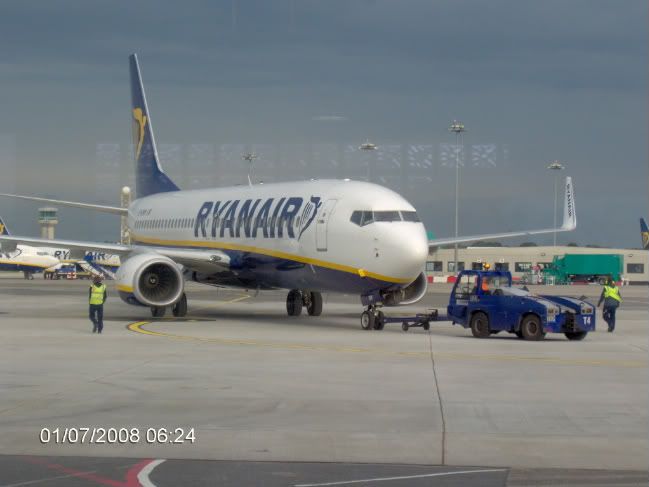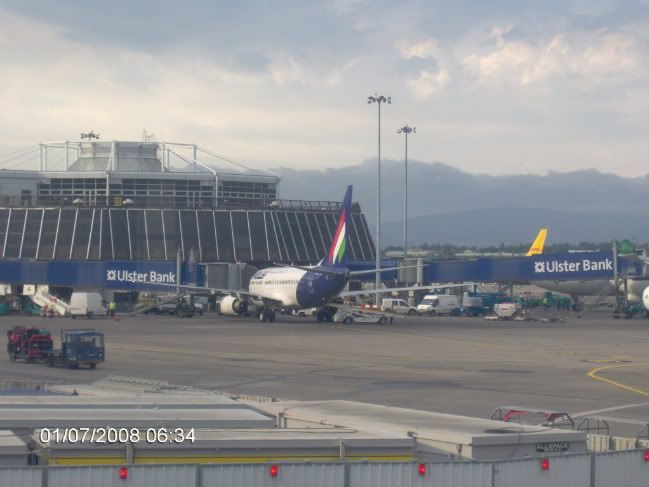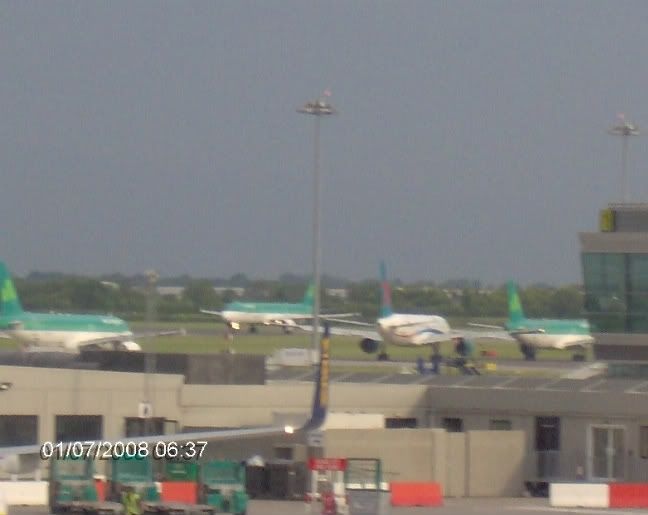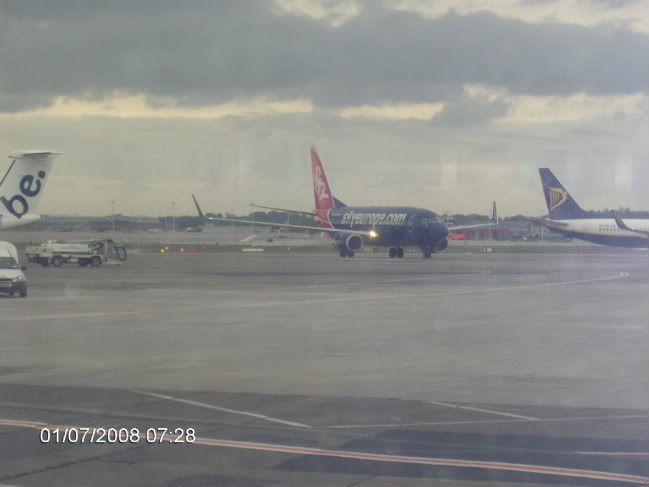 Boarding started on time at 0830. A nice apron tour on the bus to get to the aircraft which was parked facing the construction of the new Pier E & directly beside the old derelict Pier C.
Boarding: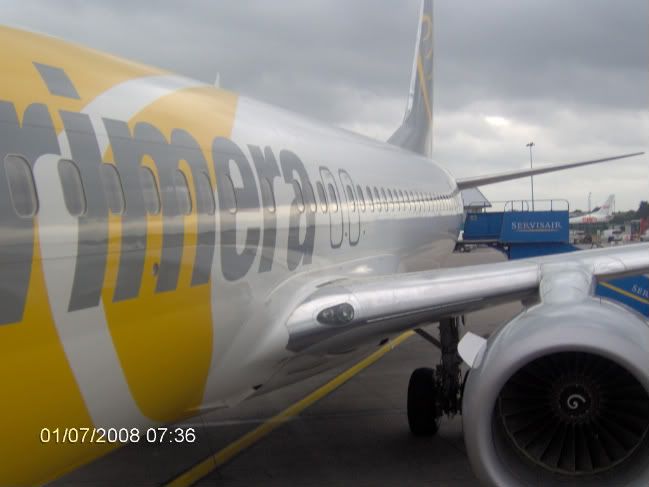 Greeted at the door by a very young male F/A & a quite attractive young female. I wouldnt be surprised if it was the young mans first day in the job. There was also an older female working this flight. During the boarding process she was at the rear of the aircraft greeting pax. over the PA & also telling everyone to leave their seatbelts unbuckled as refuelling was still taking place.
The aircrafts interior consisted of grey leather seats with Budget Travel headrests. Legroom was perfect. The aircraft wasnt exactly spotless but im sure it could have been alot worse. At 0905 boarding was complete, the captain then came on the PA welcoming everyone onboard & the safety demonstration was then done on the drop down screens. A few minutes later we were pushing-back all the way out of this parking area. Taxiing took us to the opposite side of the airport. Aicraft on the ground included DHL & FEDEX A300s, CO & DL (new colours) 757s at Pier B, BA 735 & 146 at Pier A & a US 757, AA & AC 767s at Pier D. Once the arriving DL 764 from ATL had vacated the runway we were off at 0930. Unfortunatly views of the city were poor due to the low clouds.
Shortly after take-off headsets for the IFE were on sale for E5. The film on this flight was The Simpsons Movie. Two audio channels were also available which played jazz & classical music.Once we had levelled off the crew came around firstly serving food & beverages. After this had finished the Primera skyshop was open for business. I bought a model of the aircraft for E8.
The routing took us straight across the Irish sea, down the coast of Wales & crossing the south of England. When flying south along the west of France, the coast & Atlantic Ocean could clearly be seen. Just north of the Gironde Estuary we turned left heading east towards Toulouse. TLS could be clearly seen below. As we crossed the Pyrenees the captain came back over the PA basically just telling the passengers how much flying time was left & what conditions were in PMI. The movie also finished around this time & the airshow came on for a while.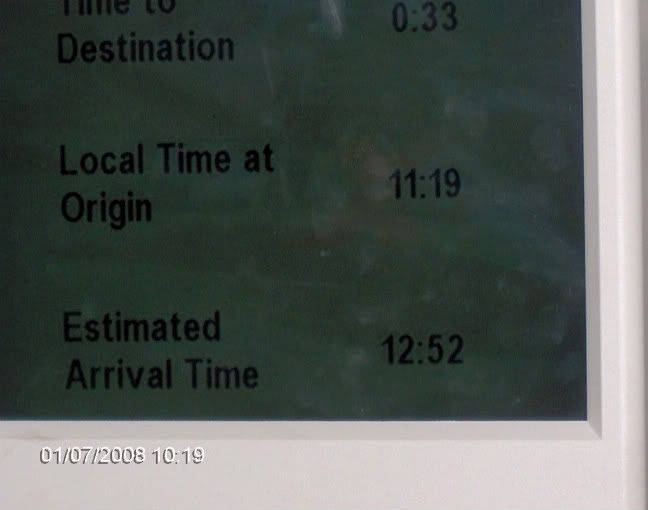 Heading out to sea we flew north of BCN, arriving aircraft could be seen directly below.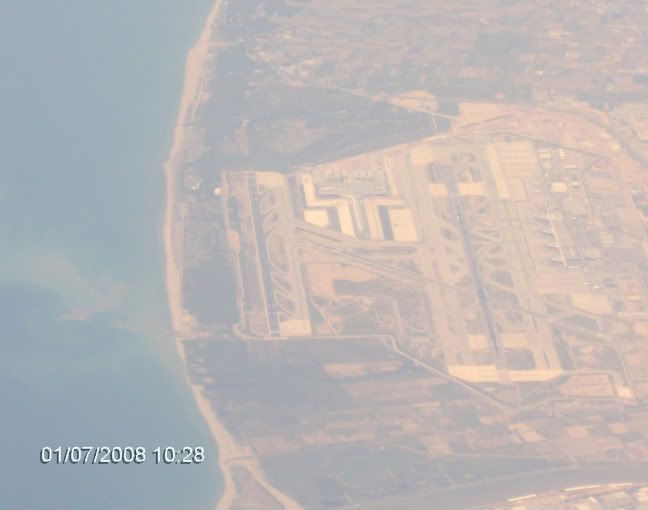 Arriving from the northwest, fantastic views of the mountain range to the west of the island were available.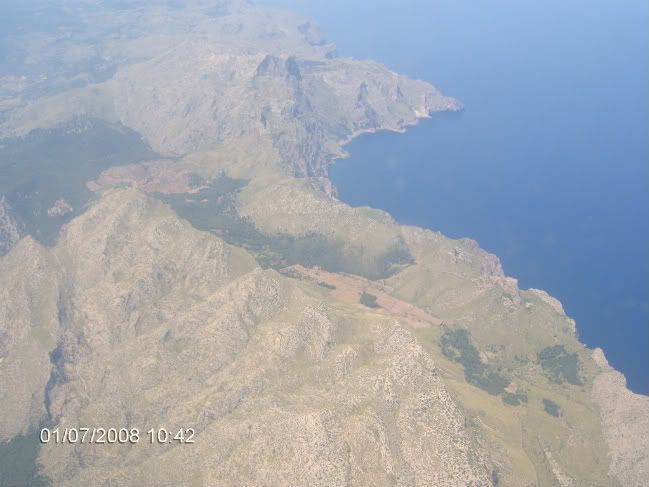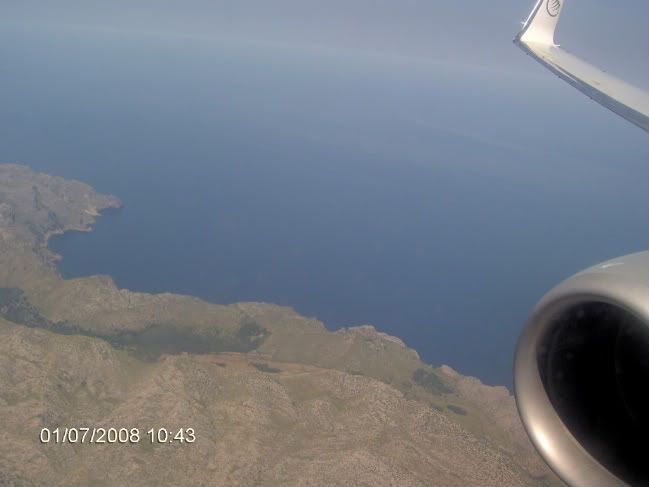 Shortly after 1250 (local time) we touched down on 24L.As expected, lots of cheering & clapping. Taxi around to Terminal A on the western side of the airport. Judging by the aircraft on the ground, Tuesday is British day in PMI. Short delay while waiting for an aircraft still at our gate.
Some pics at PMI: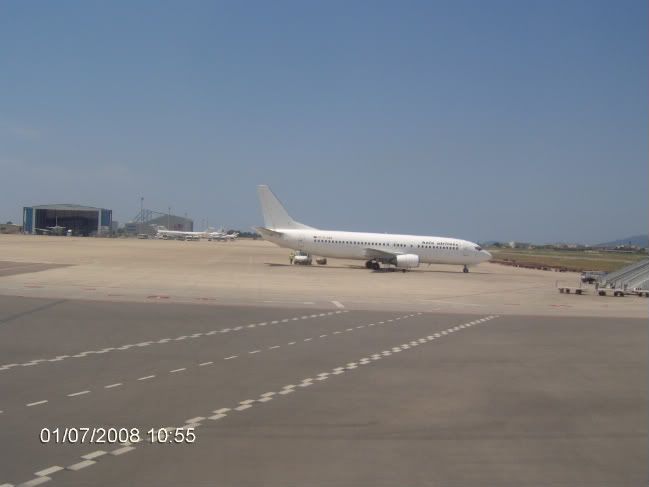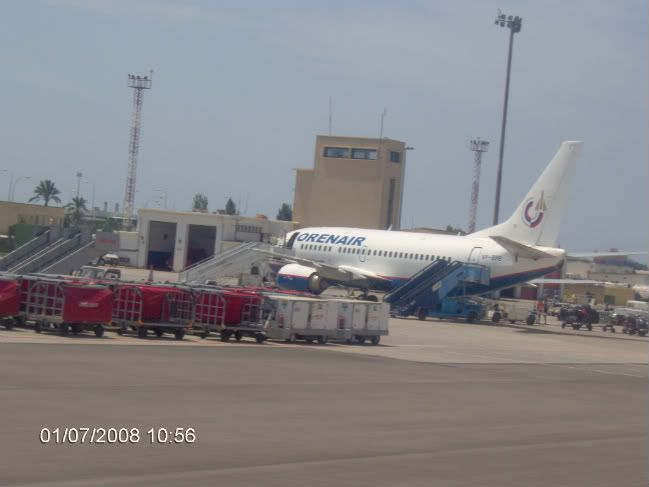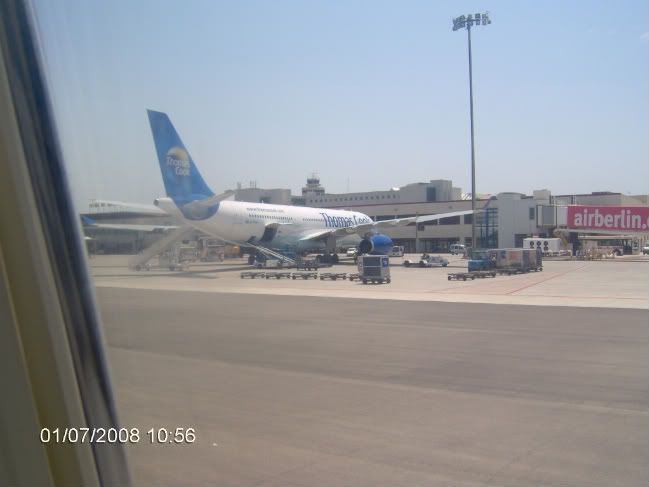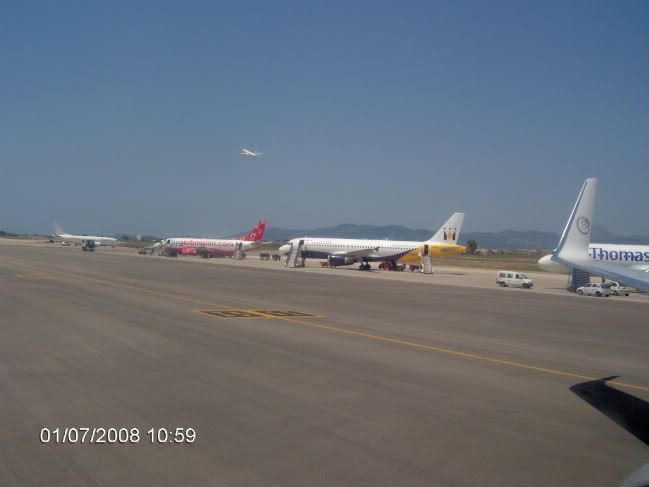 Untill next week, bye-bye 'JXF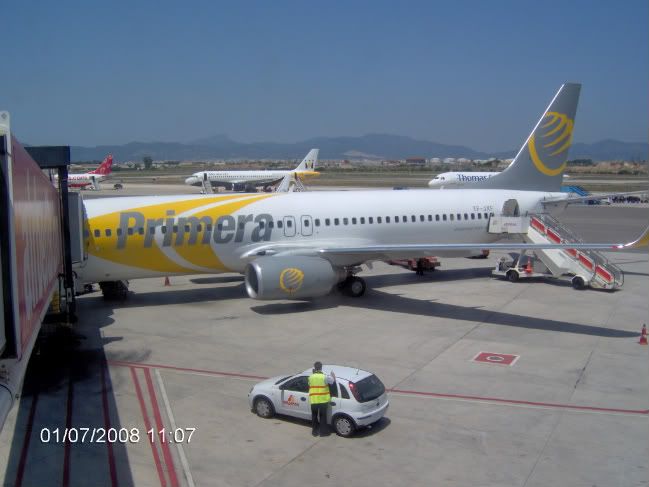 On the Saturday I took a trip out to PMI for some spotting but I didnt organize it very well at all, only pic I managed was this one of the GA apron.
After a very enjoyable week on the wonderful island of Mallorca it was time to go home
Date: Tuesday 08.07.2008
Flight: GX306
Scheduled: 1335/ 1510
Actual: 1345/ 1520
Gate: A27
Seat: 19F
My 6th flight on the 737-800, 2nd on this aircraft.
We were picked up at our apartments on time at 1100, arriving at PMI at approx. 1140. Check-in was already open, small queue at the desks. By 1150 we had all checked-in so up the escalators we went. Quite a large snaking queue of people at security but it moved pretty fast. No problem at security again, got through in about 10 minutes. Security staff were not exactly friendly but they wernt rude either. The screens said my flight was departing from the A gates, no specific gate given. While the rest of my group went for something to eat I took a few pics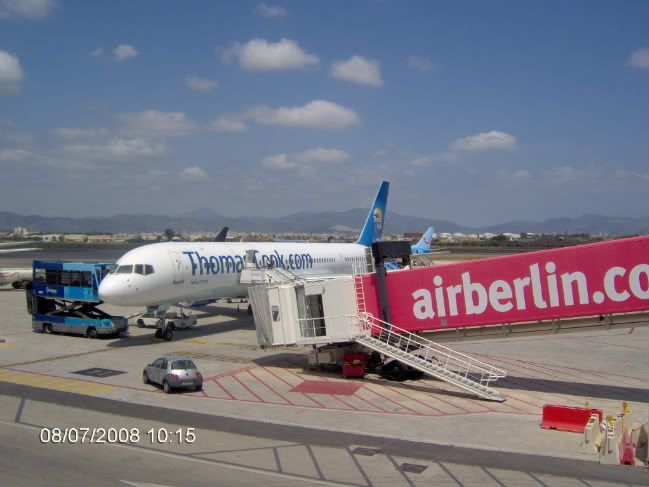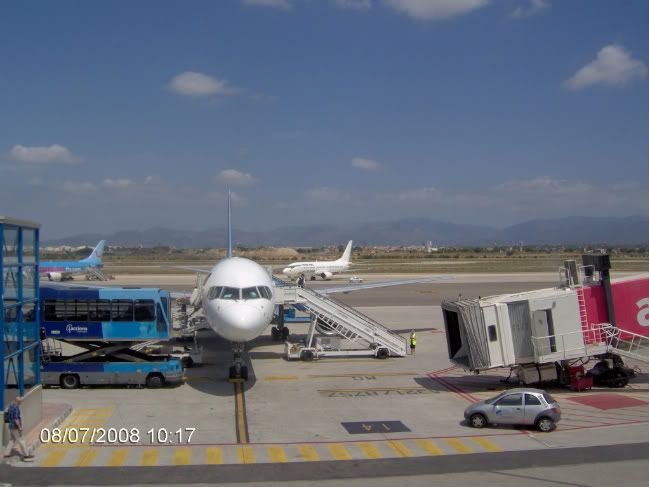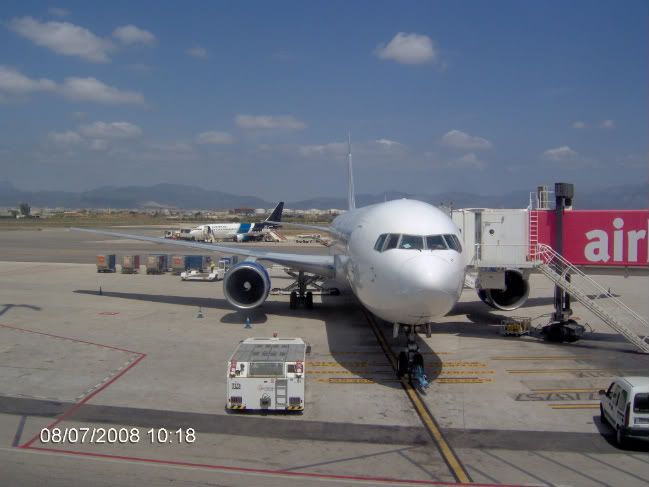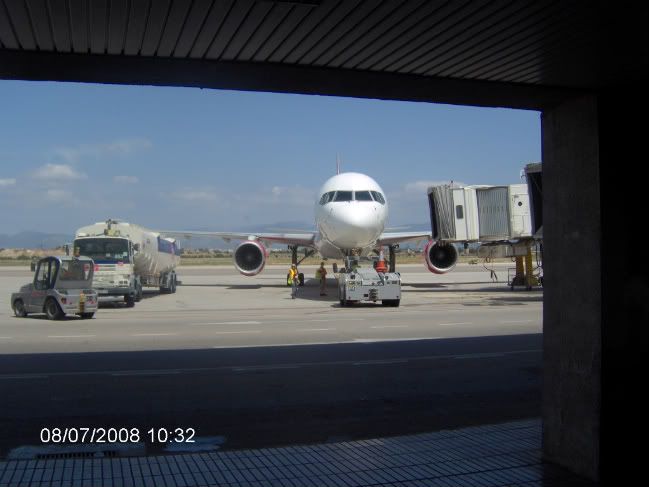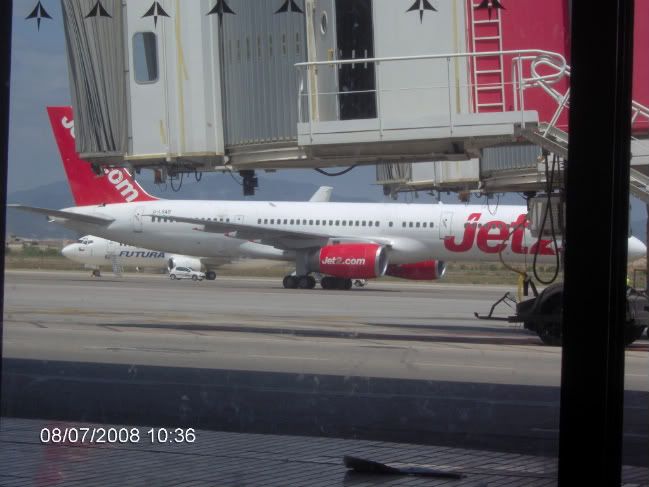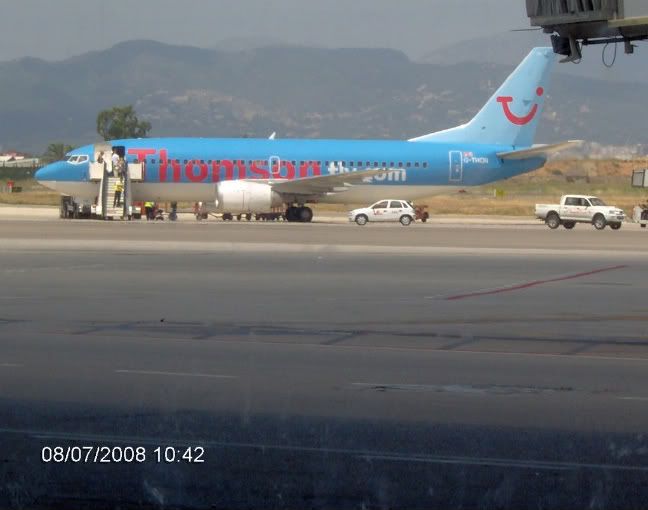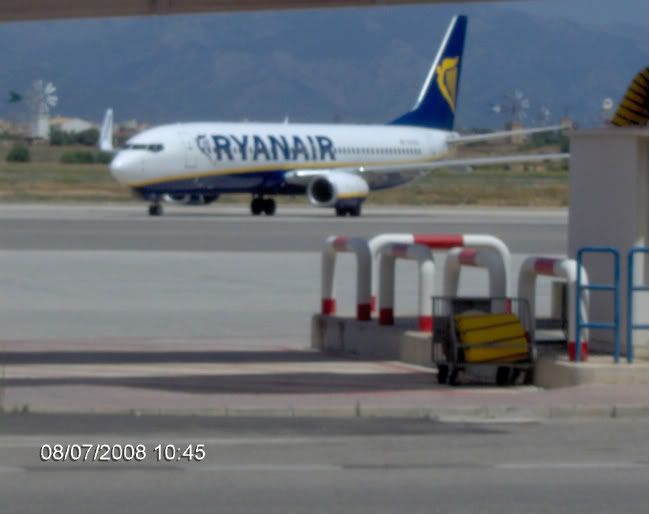 Gate A27 was giving for my flight. Gates A21 to A28 in PMI are down a level from the main departure area. Other flights departing from here included a European Aviation flight to BOH (A25) & a First Choice Airways flight to EXE (A28). Boarding time was announced as 1254. Everyone was ready at this time but no bus available. A few minutes later the bus arrived, a short journey to the aircraft which was parked on a remote stand to the north of Terminal A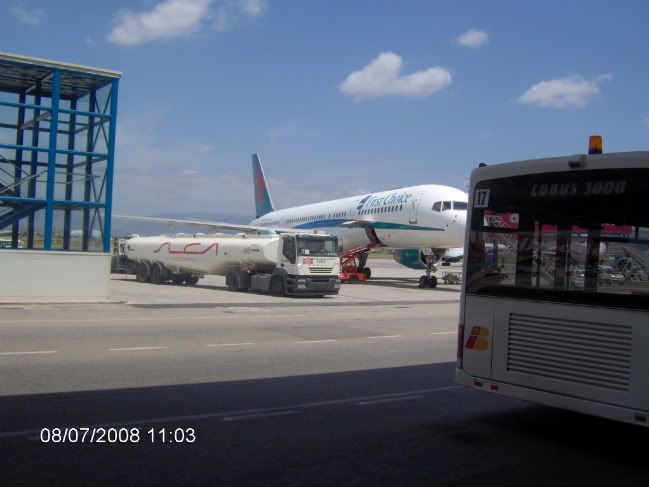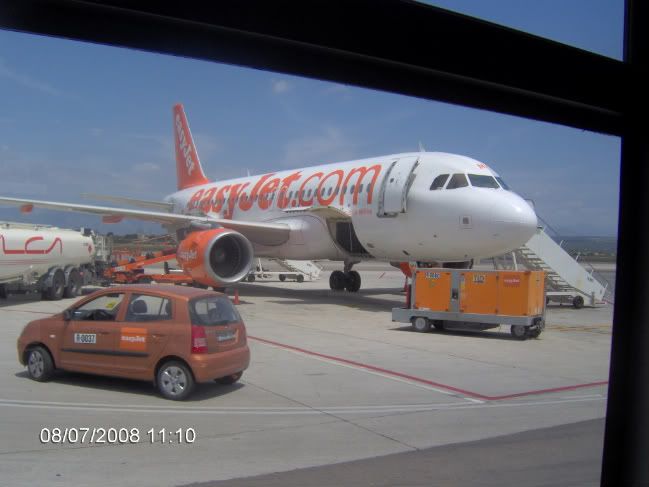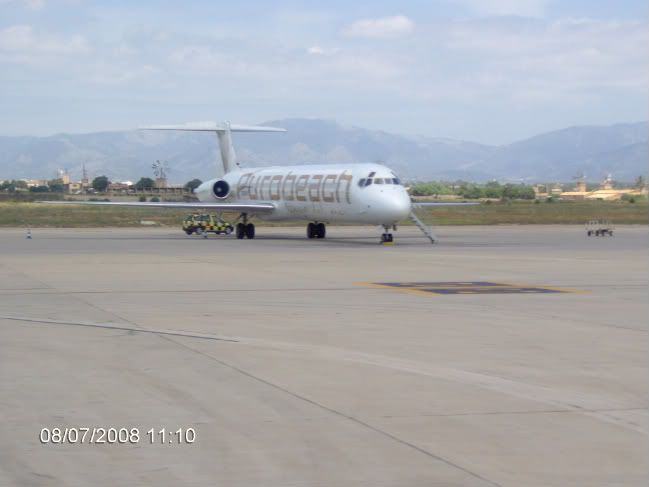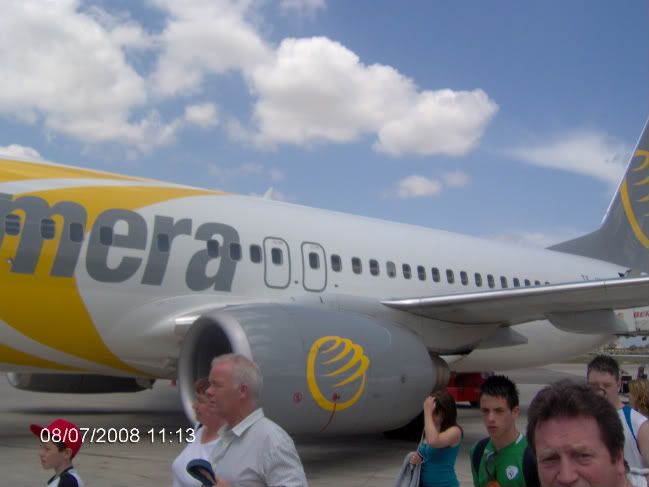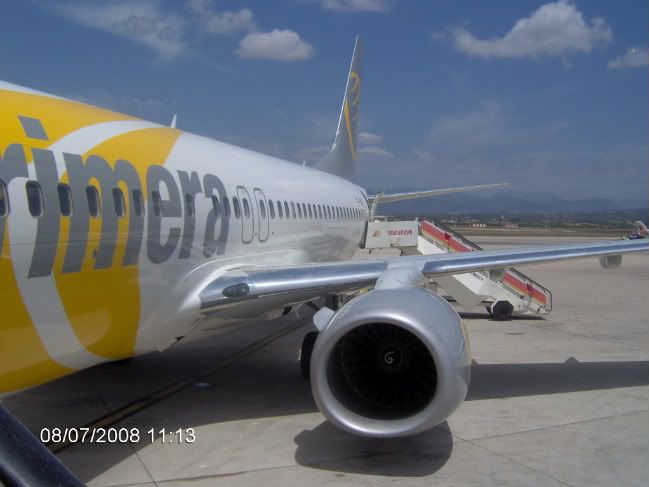 This AB was the last arrival on 06L before ATC changed runways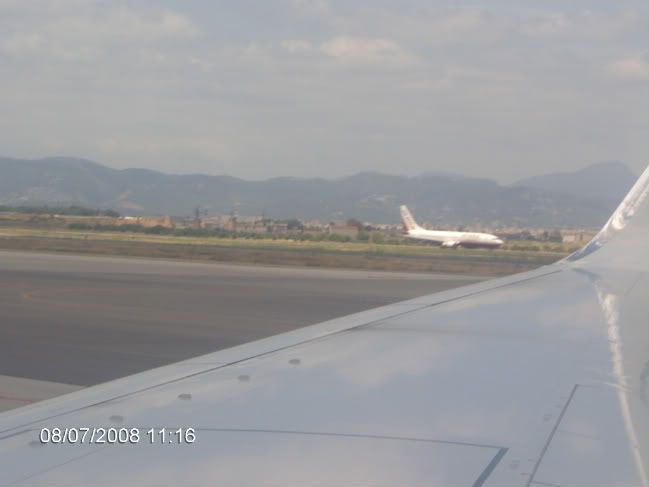 At 1335, everyone was onboard.Four female F/A's working this flight, two attractive & young, the other two slightly older. Safety demonstration once again done on the drop down screens. Captain came on the PA & welcomed all on-board, cant be sure if it was the same captain as last week. Push-back commenced at 1345, short taxi to 24R behind a Thomas Cook A320. Wheels up just after 1350. Some excellent views to be had before flying above the clouds. Looking back I could see PMI & the city of Palma, the resorts of Palmanova (were I stayed last year) Magaluf, Santa Ponsa( my home for the week) & Paguera.
Once again headsets were available for E5, same in flight movie so I didnt bother watching it again. I had a quick look through Budget Travel's inflight magazine called Sunbound. I read the article on Mallorca (titled "Magical Majorca") in detail,even though ive only been there twice I agree with the title. Other articles in the magazine included tips on how to handle the heat, books for the beach, information on some of Budget Travels holiday destinations & a guide to some theme & water parks.
Having not had much to eat or drink before leaving I bought a pack of maltesers for E1.50 & a bottle of mineral water for E2 once the inflight service had started. With at least an hour an a half's flying time left I looked at what was available from the Primera skyshop. A large selection of female fragrances & beauty products, male fragrances, sunglasses & watches, jewelery, gadgets & electrical items, childrens gifts, primera branded products, spirits (non-EU flights only) & confectionary were available to buy.
Before reaching the coast of mainland Spain, the captain gave a short description of the routing which was pretty much the same as the way over but flying south of BCN. With a seat over the wing & plenty of cloud cover there wasnt much to see.
Cabin shot.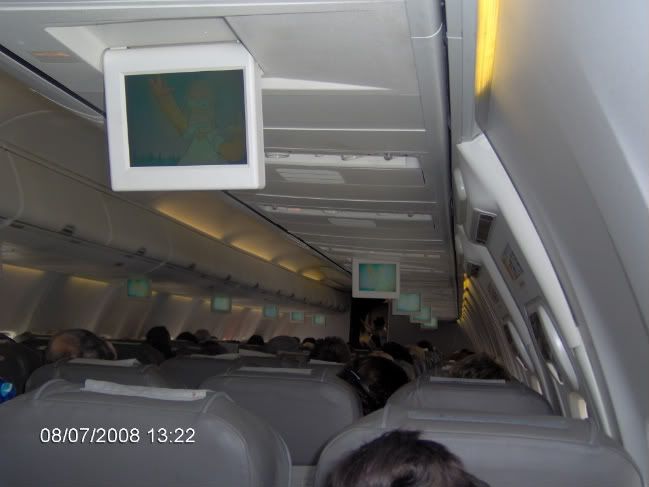 After the movie had finished I was hoping the airshow would be on for a while but no joy. While still over Wales the captain once again came over the PA & told us we had already begun descending & we would be arriving in DUB in around 20 mins. At 1520 we were home, the cheering & clapping from the pax. was even louder than when arriving in PMI last week. Does this mean those people were happy to be home?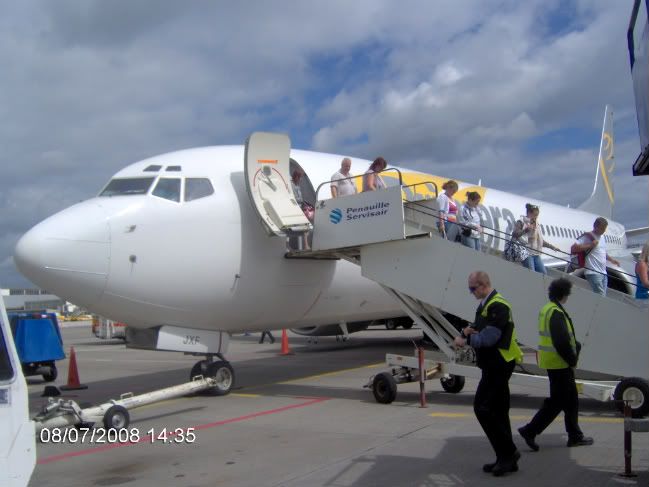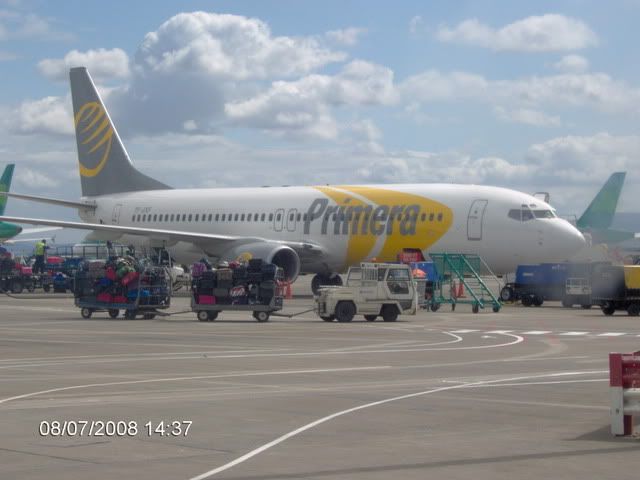 Tuesday afternoons are not exactly busy in DUB, parked up at Pier D.As usual as soon the aircraft stops the whole of the cabin is up out of their seats. Announcement from one of the F/A's, deboarding from the front stairs only. A few minutes later & another announcement apologizing for the delay, some problem with the airstairs. My first imprsssions of Pier D are that its quite boring, no advertisements or anything (well none that I can remember) & what they were doing with the toilets there is anyones guess.I think they tried to make it look like the most modern airport toilets in the world are here in DUB. I wasnt the only one unhappy with the handdryers there.
Conclusions:
No problems at all with Jetx. Flight attends did there job perfectly & was nice to get some interaction from the flight deck unlike my flights with FH last year.
Both DUB & PMI were a breeze to fly through but I suppose it wasnt exactly a busy time at either airport. Im lucky I wasnt arriving home a day later or I might of had a long delay due to the radar malfunction in DUB.
Just like last year I had an excellent holiday with Budget Travel. Some brilliant excursions were available including the Pirates Adventure show in Magaluf & Marineland in Costa D'en Blaines. Both are great fun for people of all ages.The only thing I regreted not doing was the tour of the western part of the island. I did this last year & you really do get to see theres more to Mallorca than just the tourist industry. Id have no hesitation booking another trip with Budget Travel.
Thanks for taking time to read my trip report, comments & questions welcome.
Mark.