Welcome to my next Trip Report installment, which will whisk you all across the continental United States, courtesy of American Airlines.
My other Trip Reports can be found here:
http://www.airliners.net/aviation-fo...ums/trip_reports/read.main/126805/
VivaAerobus AUS-CUN
http://www.airliners.net/aviation-fo...ums/trip_reports/read.main/106448/
Flagship Detroit DC-3
http://www.airliners.net/aviation-fo...ums/trip_reports/read.main/102590/
SXM
http://www.airliners.net/aviation-forums/trip_reports/read.main/99470/
CUN
Background
The premise of this trip was to visit a friend/future roommate in New Jersey, but I thought it'd also be a good time to see just how much of a plane freak I could be. I found the AUS-ORD-PHL; JFK-LAX-DFW-AUS round trip for about $450, and decided it'd be worth the little bit extra (an "ordinary" round trip was about $380 into either PHL or EWR) to experience my first trans-con flight. Suffice to say, I was extremely excited, and counted down the days. Eventually, my day of departure came.
July 8th, 2008
I woke up about 7:15 for my 9:45 am flight to ORD. As I usually do, I checked the previous night to ensure all the flights made it in reasonably on time, just to ensure I wouldn't have any crew rest delays or anything of the sort. I was a bit ancy, since I only had an hour in ORD, and any sort of delay might put that connection in jeopardy. I checked the flight status on AA.com again when I woke up, and saw what every traveler fears; my flight to ORD had been canceled, inexplicably. So naturally, I was a bit panicked, but I called AA.com, and much to my surprise, they had already taken care of me, and booked me through DFW, leaving AUS 15 minutes later, and arriving into PHL 15 minutes later. Sweet! As a matter of fact, I received an automated call about 5 minutes after I got off the phone with them informing me of my schedule change. Bonus points for AA, thus far. There would be many bonus points given out on this trip. Obviously, the first thing I was worried about was seating assignments, as they were now under airport control (less than 3 hours to scheduled departure). I really didn't want to spend 3 hours in a middle seat. I could handle it on the AUS-DFW flight (in fact, I had almost prepared myself for that inevitability). My only hope lay in the machine upgrades, or the exit rows. I arrived at the airport at about 8:20 for my flight, and quickly got checked in for my flight using the machines. There was a bit of a line for agents to tag your bags, but it went by pretty fast, much faster than the check-in line. I still had no seating assignments, but I bypassed wait at security by using my airport SIDA badge, which got me to the front of the line. After the hassle at the TSA checkpoint (nothing out of the ordinary, but it's all a hassle nowadays), I proceeded to gate 17, where my flight to DFW had not yet arrived. An agent, was, however, able to give me a boarding pass for my DFW-PHL flight, and much to my excitement, it was an exit row. Not only an exit row, but a window! My life was saved. No matter what happened on the AUS-DFW flight, I was happy that I had a window on the long leg. I think my AA polo shirt that I wear whenever I fly them might have helped with that. It also doesn't hurt that I know some of the AA AUS gate agents from my experience on the DC-3 (see above TR). I tried to get on standby for the earlier flight to DFW (a 737-800), but it was jam packed and there was not a chance. I went back over to gate 17, and stood in line while the agent helped a couple of people who had had a series of unfortunate events. I gave her my name she told me she'd get me a boarding pass in a little while. I meandered around the airport, bought some breakfast tacos from Maudie's (yum!), and eventually headed back over to the gate, where she handed me my boarding pass. Row 21! Sweet, another exit row! Seat A! A Window! Freakin' awesome!
Suffice to say, I was very thankful to get this lucky, as I was speaking to somebody in front of me in line who'd been stuck in AUS for 2 days. Fortunately, the gate agent got him booked on Continental. More bonus points for AA, both for my seating assignments and helping him get out of Austin!
Eventually, my plane pulled up, and we boarded shortly after, albeit about 40 minutes late.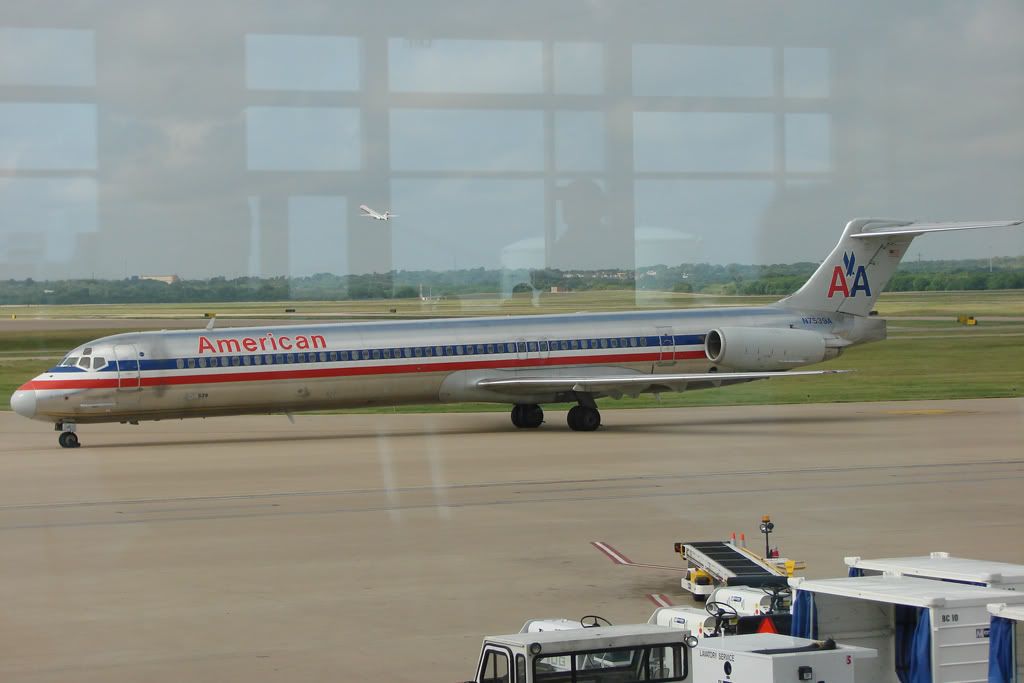 N7539A, my ride to DFW
AA 1119
AUS-DFW
MD-82
N7539A

Scheduled Departure: 1000
Out: 1043
Departure Gate: 17
Seat: 21A
Departure Runway: 17R
Off: 1056
Cruising Altitude: FL 220
Cruising Airspeed: Mach .700
Route: AUS2.LZZ DCT JUMBO.JEN8
Arrival Runway: 18R
On: 1135
Arrival Gate: A19
Scheduled Arrival:1100
In: 1143
I boarded in group 4, and after a quick chat with the pilots, whom I asked to fill out my flight data sheet (which they did, in fact, all of them did, graciously), I made my way back to seat 21A.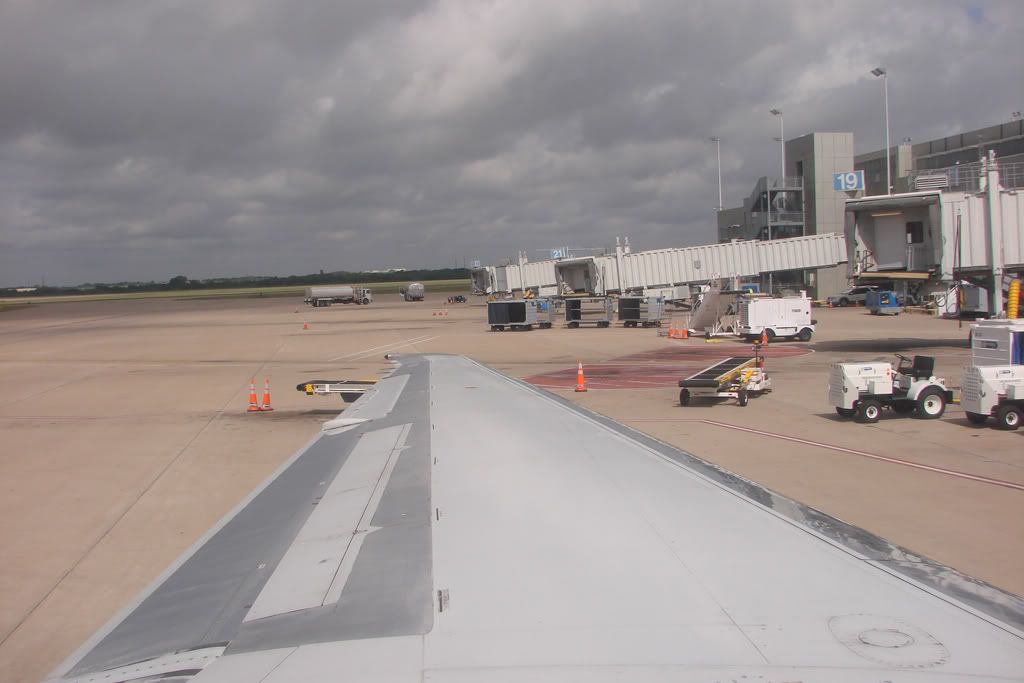 View from 21A
Initially 21B was empty, but was quickly occupied by an Army guy who was heading off for his 3rd tour in Iraq, although one of them was in Desert Storm. I thanked him for his service, and wished him a safe tour, and safe return. We chatted for a while, and we eventually pushed back, 43 minutes behind schedule. My connection to PHL was scheduled to depart at 12:15, so as long as there weren't any other hiccups, I should be fine. We taxied to 17R, and away we went.
Takeoff from AUS
We turned west, and then northwest to join the departure. We climbed up to FL220, and got a quick beverage service (always appreciated, nowadays, especially on a 35 minute flight).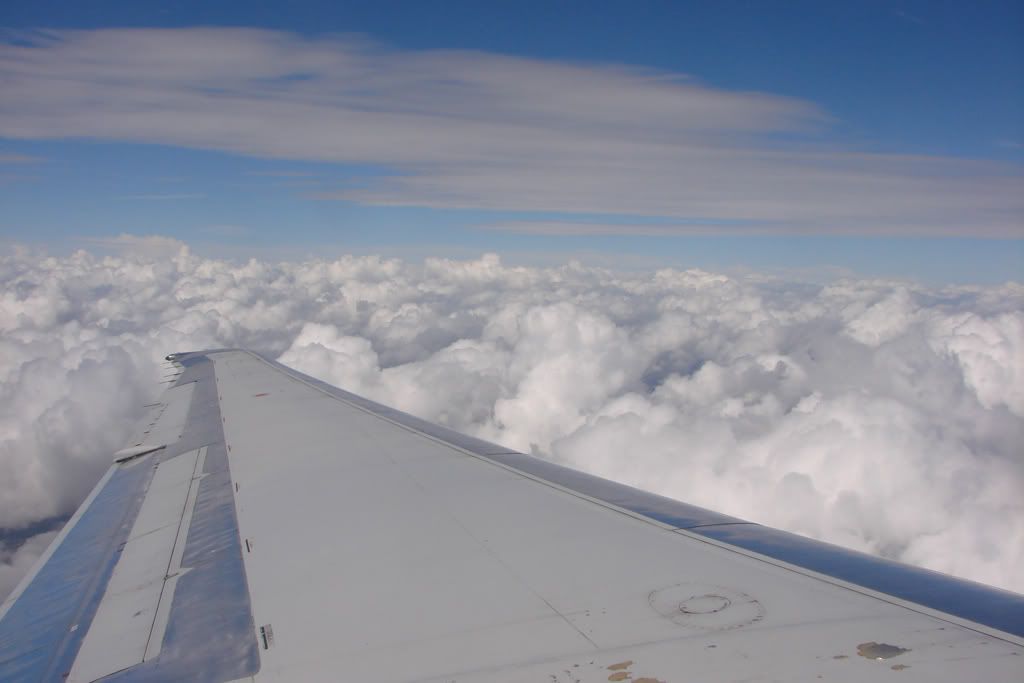 Climbing out of AUS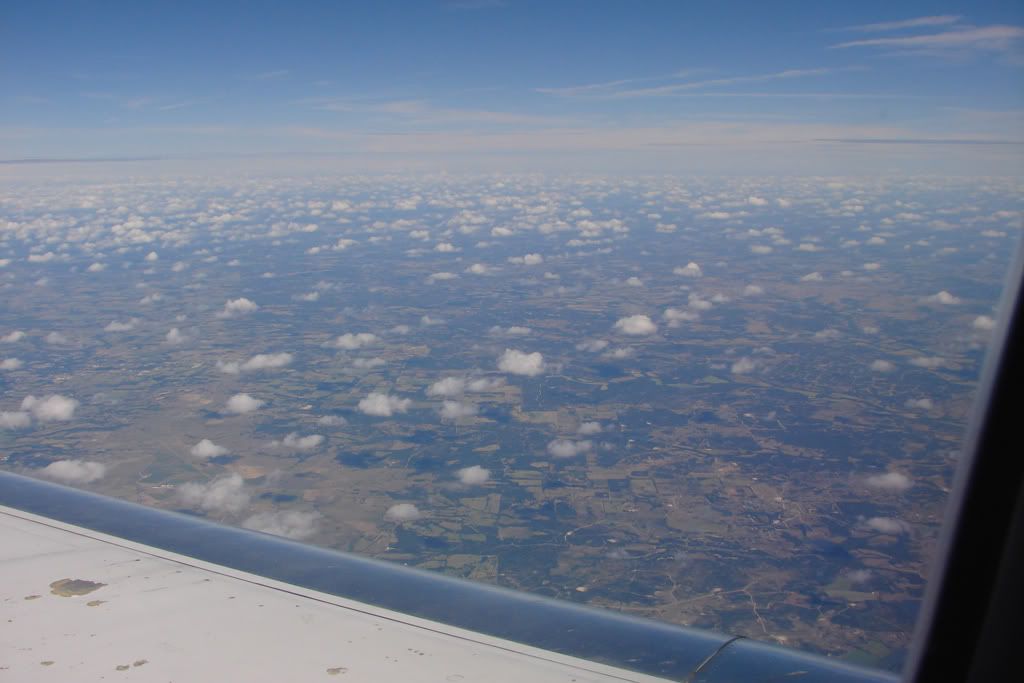 Cruising over Central Texas at FL220
Before too long, we began our descent into DFW. We followed the JEN8 arrival, which I know like the back of my hand. We approached DFW from the SW, turned north over the DELMO intersection, flew the downwind, made a right base, and turned to final for 18R.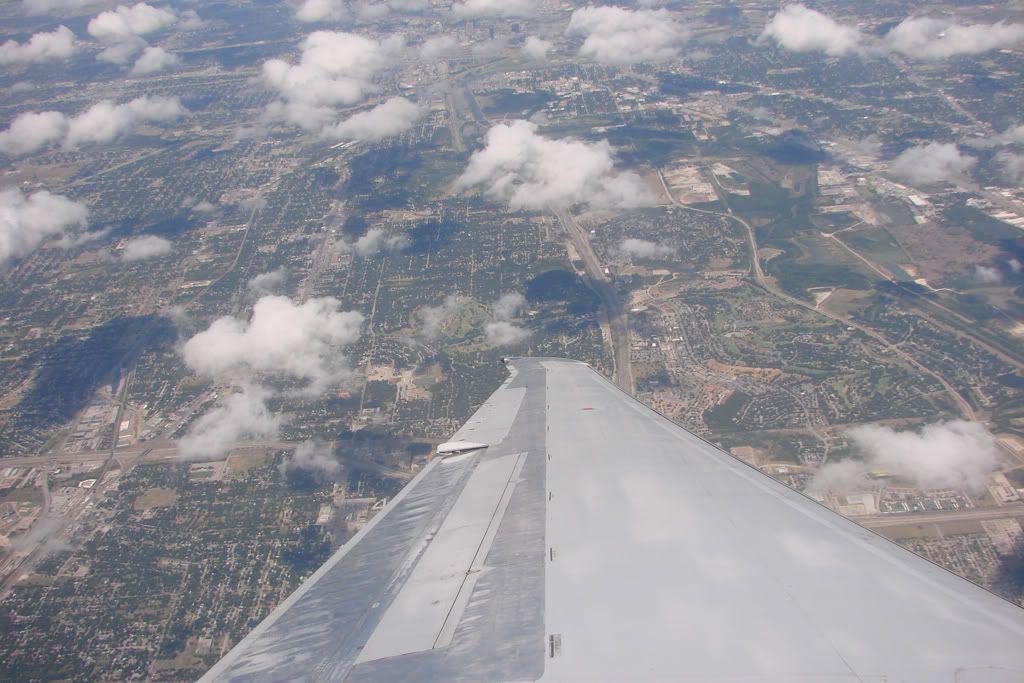 Turning north over DELMO, passing downtown Fort Worth.
Landing at DFW on 18R
After landing, we taxied across 18L after a short wait for departing aircraft, and across the Bravo bridge to gate A19. My flight to PHL would be 4 gates down at A23.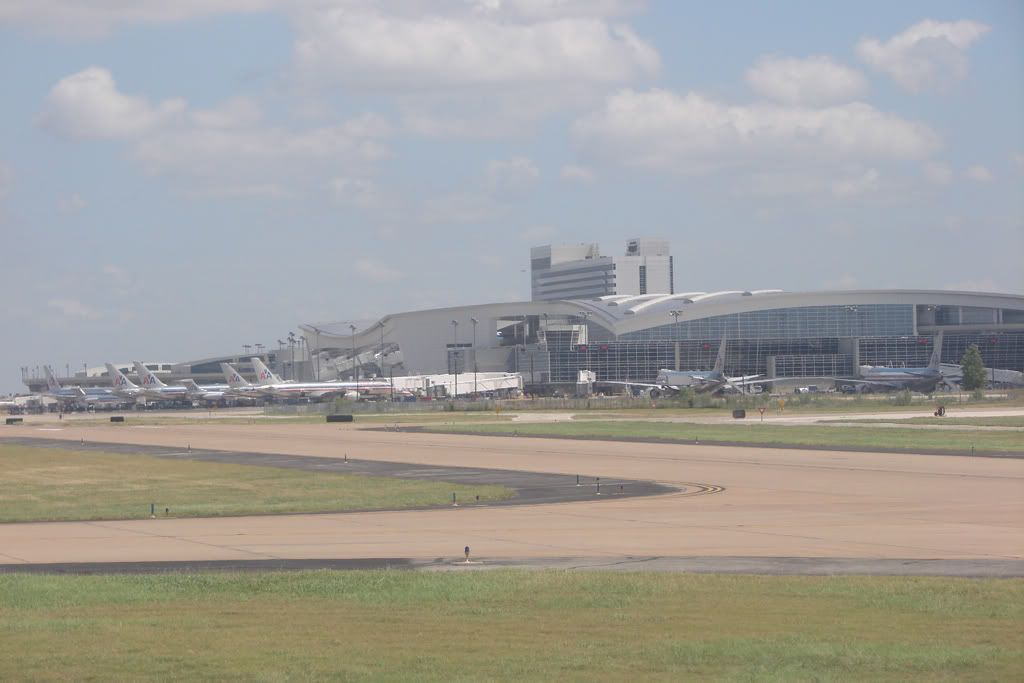 Terminal D Lots of Silverbirds!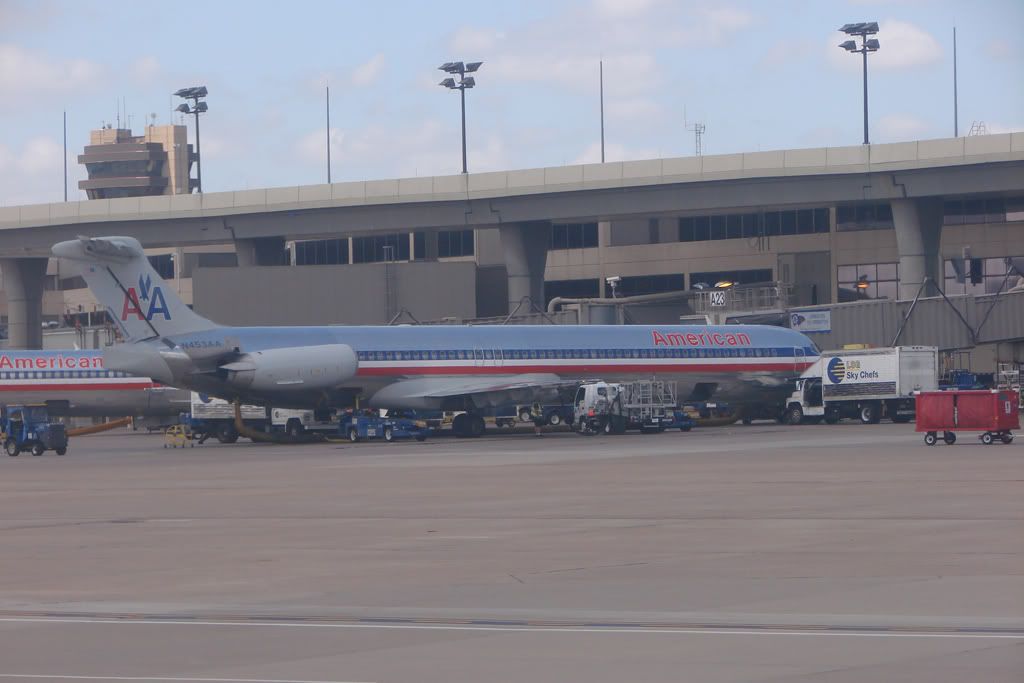 My plane to PHL, N453AA
As soon as I walked to the gate, they began boarding. After a quick pit stop, I made my way on board, to have a short chat with the pilots. I found my seat, and shortly afterward, we pushed back, 4 minutes early.
AA 446
DFW-PHL
MD-82
N453AA

Scheduled Departure: 1215
Out: 1211
Departure Gate: A23
Seat: 21F
Departure Runway: 17R
Off: 1220
Cruising Altitude: FL 310/330
Cruising Airspeed: Mach .750
Route: SOLDO2 J52 ATL J14 SPA J14 CREWE J51 FAK DPNT4
Arrival Runway: 27R
On: 1638
Arrival Gate: A9
Scheduled Arrival: 1640
In: 1644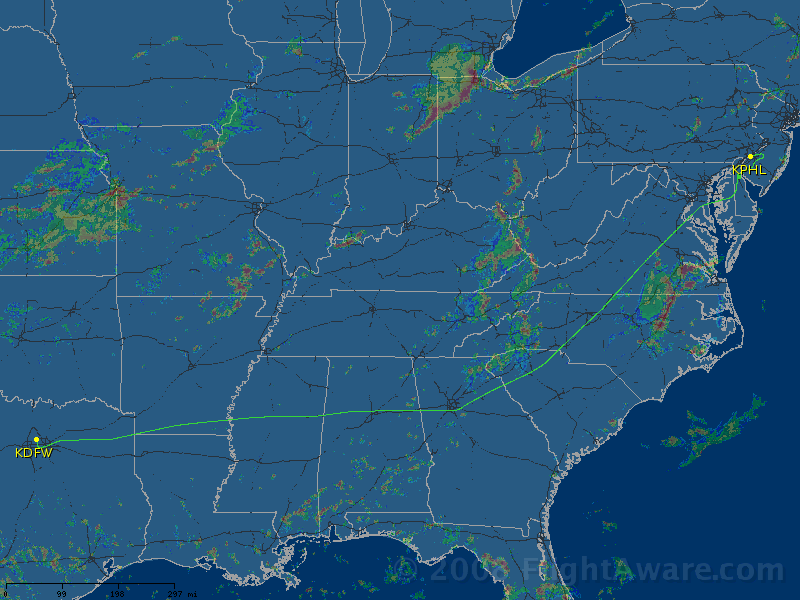 AA446, according to FlightAware
After a short push and taxi, off we went for the southerly route to PHL, over ATL and then north.
Takeoff from DFW on 17R
After takeoff, we followed the SOLDO2 departure east. Much of this flight is a blur to me as I had a very lengthy (like the whole flight) chat with my seatmate in 21E. Real nice guy! I did buy some Lays Stax and a turkey croissant sandwich, which was perfectly satisfactory, but nothing extraordinary. We passed some marvelous weather over either North Carolina or Virginia.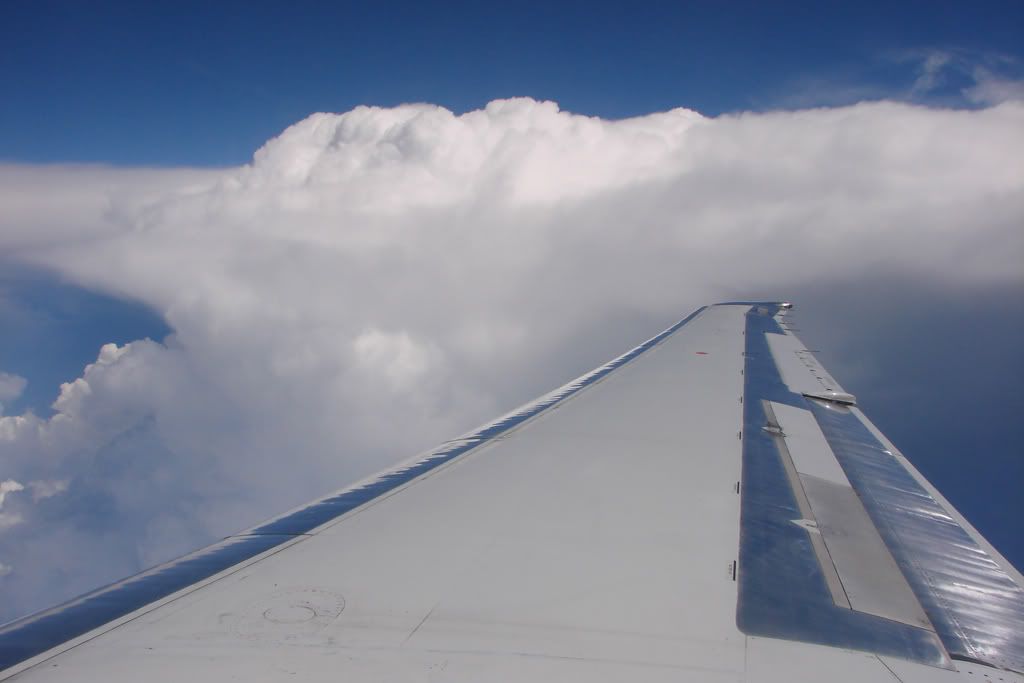 Awesome CB. Thinking about trying to upload this one into the database.
We held for 15 minutes or so at the TERRI intersection for flow control, before continuing our approach to PHL, which took us over southern NJ, and then back around from the east.
Landing at PHL on 27R
After a nice landing on 27R, we had a quick taxi to the gate. I saw some Europe bound heavies along the way, but only the one shot.
US Airways A330-300
As soon as I walked the marathon to baggage claim (it's like over a road/railroad, how do the bags get such a long distance. I'm a ramper and I can't even answer that), my bag was the first one that popped out, and off I went for a week's vacation in NJ, Philly, NYC.
July 14th
After an exciting, fun, and relaxing 6 days in Jersey, among other places, it was time to head back to NYC to head back home. My day began VERY early, at 4 am, for my 9 am flight to LAX from JFK. I caught the 5:19 NJ Transit express train to New York Penn, where I connected to the 6:36 LIRR (Long Island Railroad) train to Jamaica, for my transfer to the AirTrain. All of this went surprisingly without incident, and I made it to a dreary/rainy JFK about 7:20. A quick and painless check-in at the private counters for F/J travelers. Nice touch! I like the frosted glass windows, followed by a short wait at security, and I was through at about 7:35 for my 9 am flight. I had an hour to kill before boarding, so I decided to grab a quick bite to eat.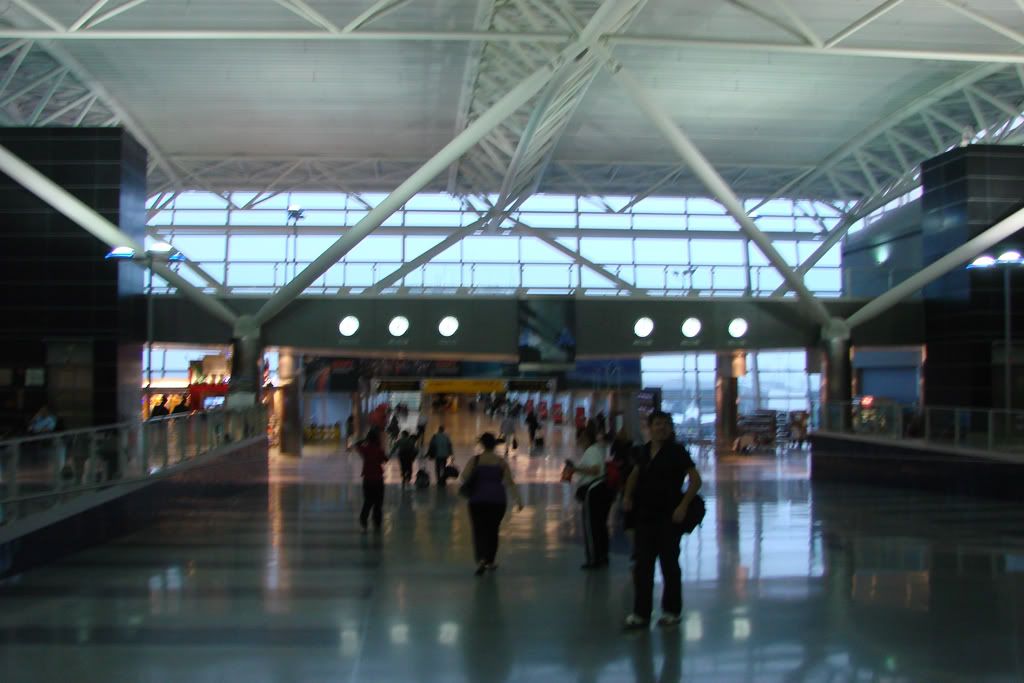 Immediately after security. Sorry for the darkness.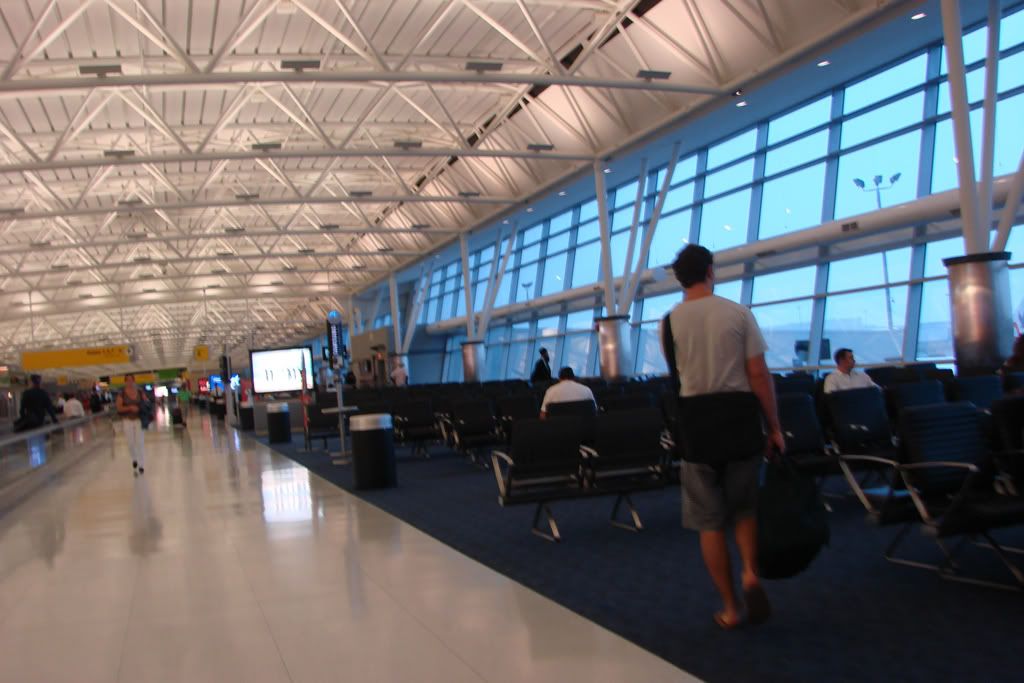 My boarding area, gate 8, off to the right.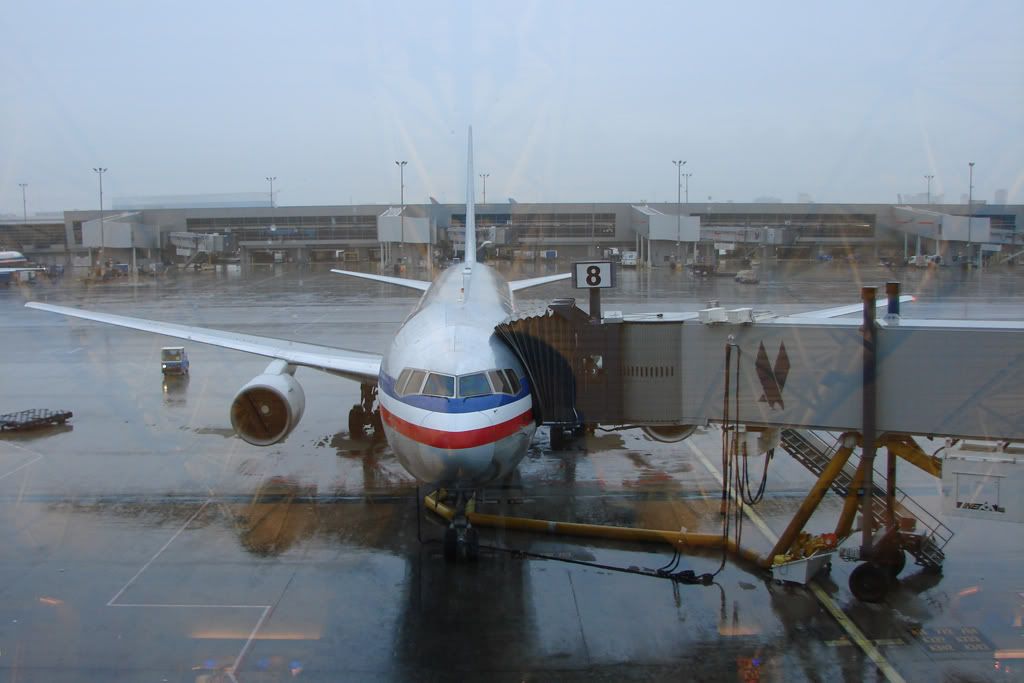 N335AA awaiting AA1 to LAX
After a tasty omelette at a restaurant right across from gate 10, which was a 767-300 to Santo Domingo, my time to board came soon enough. While at the restaurant, I noticed a large amount of Hasidic Jews going to LHR. Wonder why.
AA 1
JFK-LAX
767-223
N335AA

Scheduled Departure: 0900
Out: 0855
Departure Gate: 8
Seat: 8J
Departure Runway: 31L
Off: 0926
Cruising Altitude: FL 380
Cruising Airspeed: 465 TAS
Route: KJFK RBV J230 AIR J80 EMPTY J80 MCI J24 SLN J102 LAA J102 ALS J44 RSK J64 PGS RIIVR4 KLAX
Arrival Runway: 25L
On: 1140
Arrival Gate: 42B
Scheduled Arrival: 1155
In: 1205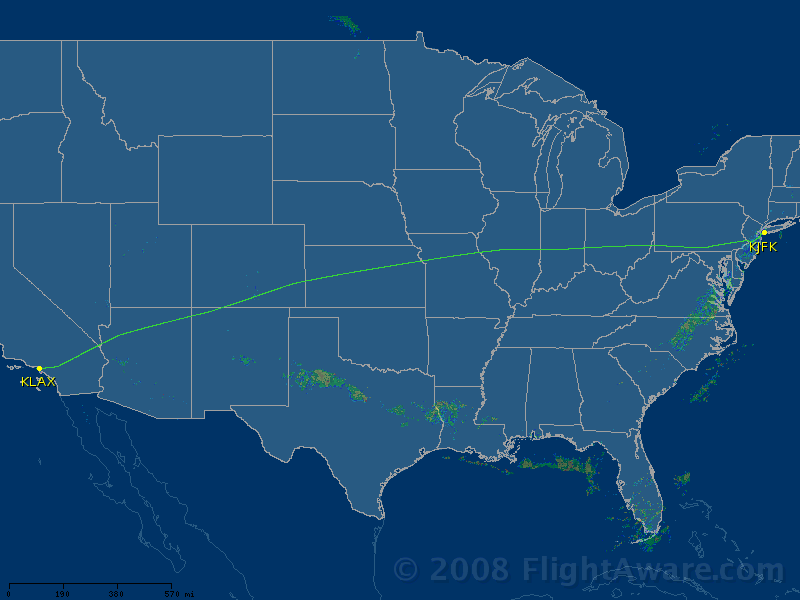 AA 1, according to FlightAware
After a fairly lengthy chat with some really, really nice LA based pilots, who were extremely interested in my love of aviation. Almost as interested as I was in the flight, and that's saying something! More bonus points for AA! They were more than happy to fill out my flight log, and after a while, I made my way back to 8J.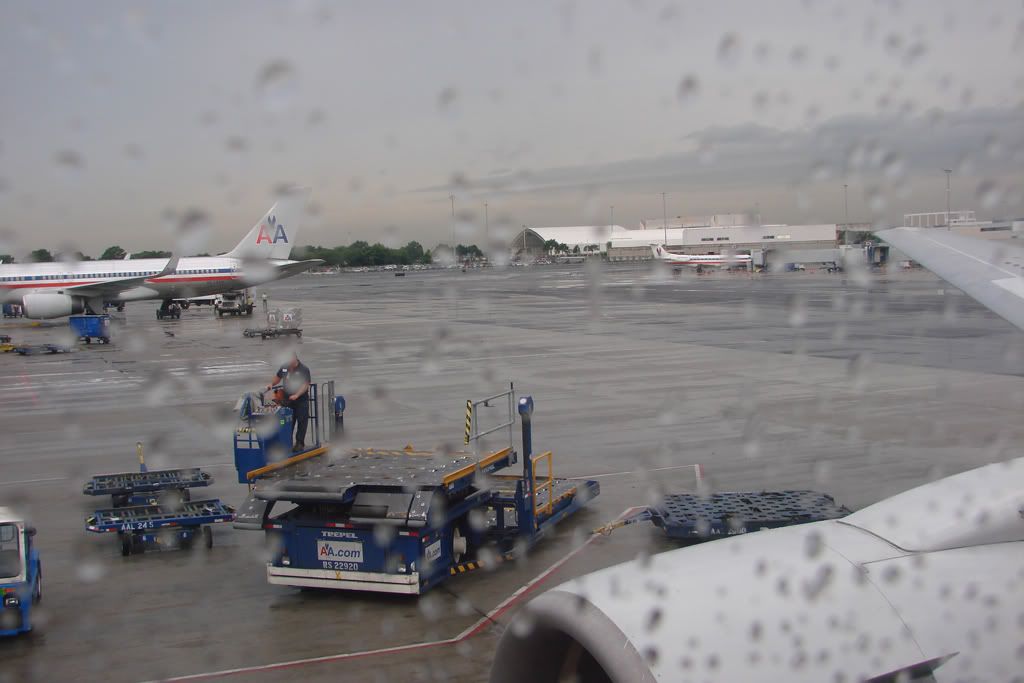 View from 8J. Rainy in NYC
My first impressions of the seat (which I forgot to take a picture of) were that it was comfortable, and familiar. Probably because it was the J-class seat I flew on from DFW-ZRH in 2001 on the 777.
I was tremendously excited to be flying my trans-con, finally! And on AA 1, no less. Pretty sweet, if you ask me! We pushed back a little early, and taxied over to 31L, where we were about 9th in line for takeoff. We waited for about 25 minutes, and I took a few pictures.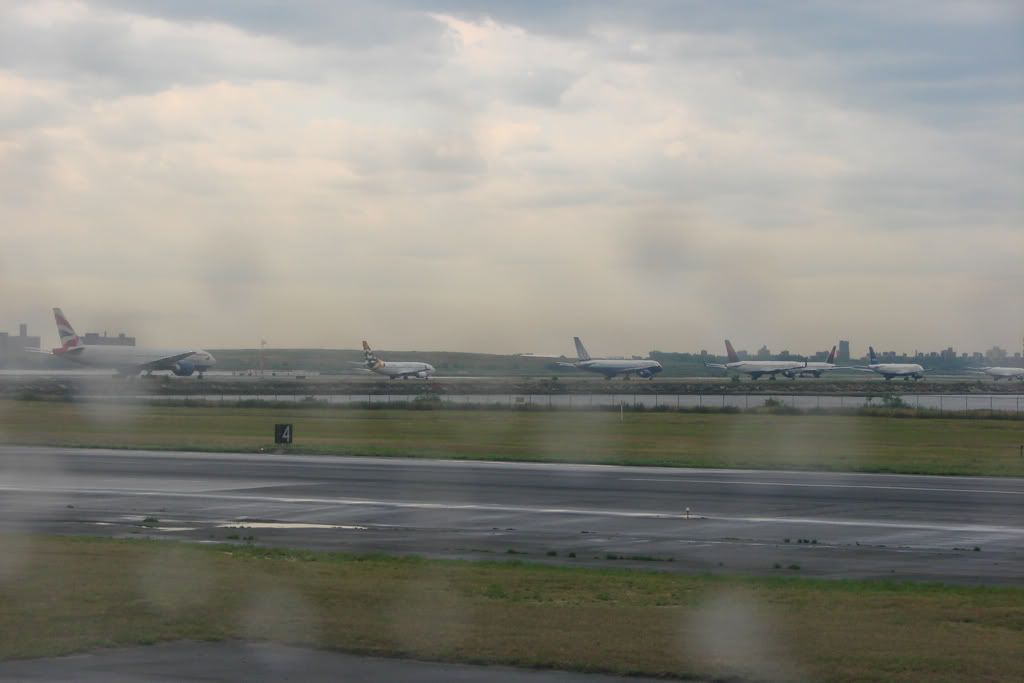 The line for 4L departures. Note the BA 772, operating the daylight flight to LHR. Shortly after I took that picture, the AA 772 operating that route also appeared.
Number 2 for takeoff
Takeoff from JFK
After a powerful takeoff on 31L, we banked left and joined the departure.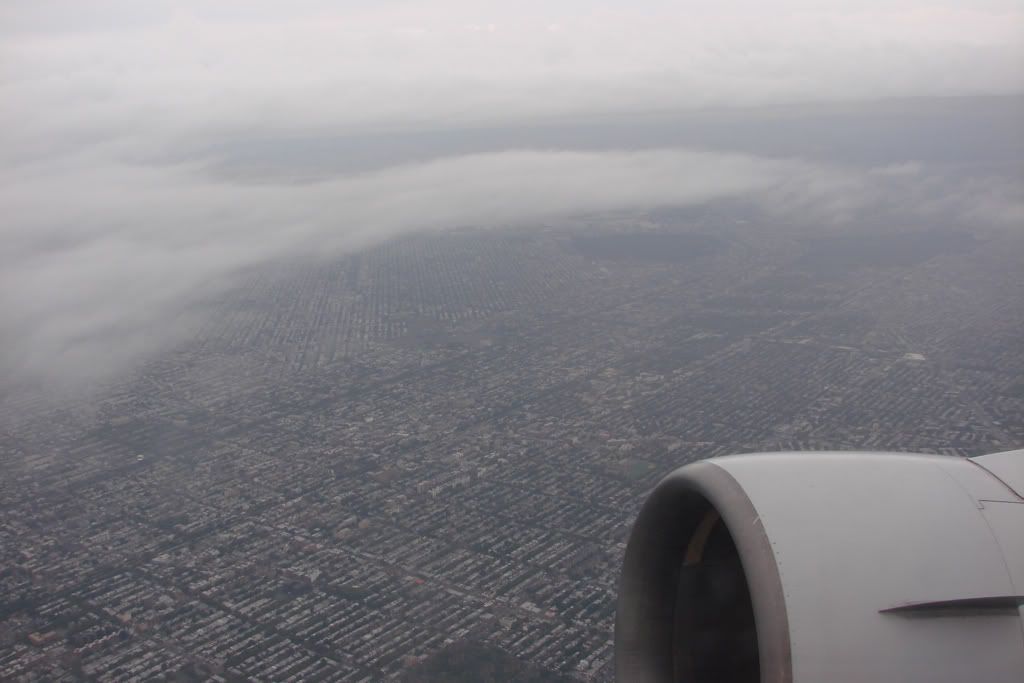 Brooklyn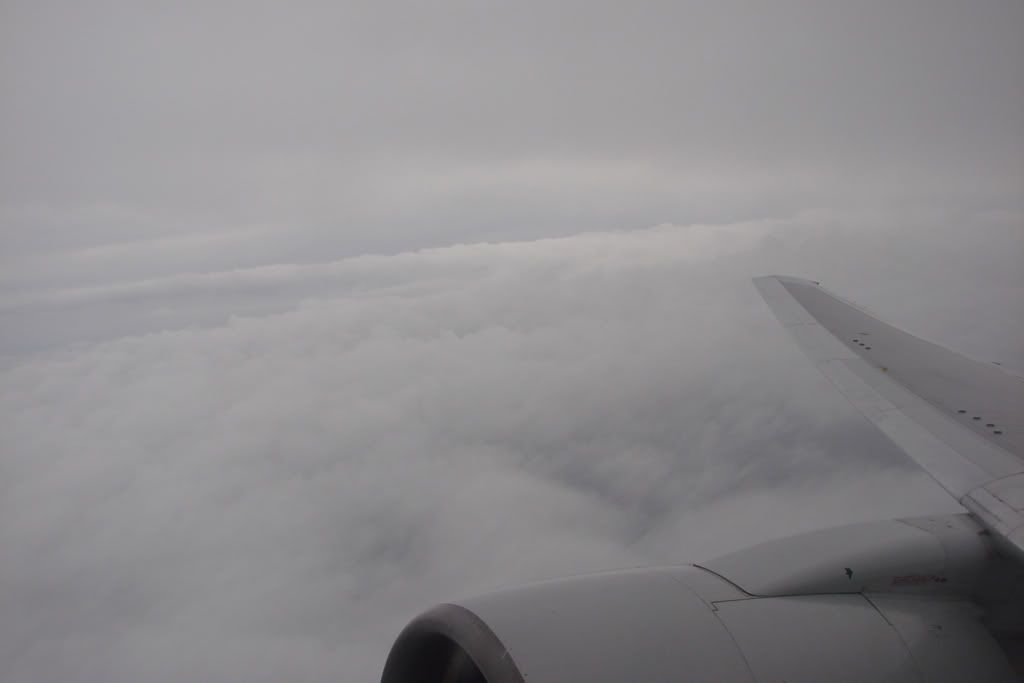 Climbing through the clouds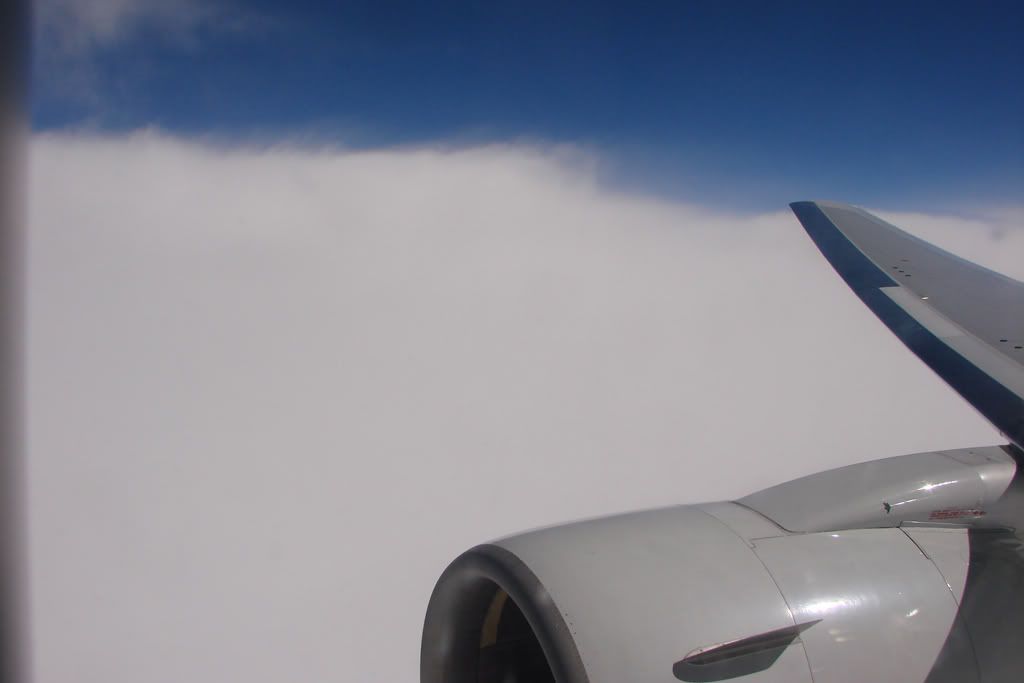 Finally, some blue sky!
We continued climbing through some relatively choppy air before emerging into blue skies. The flight attendants got up, and distributed the portable media players, complete with Bose QC3 noise canceling headphones.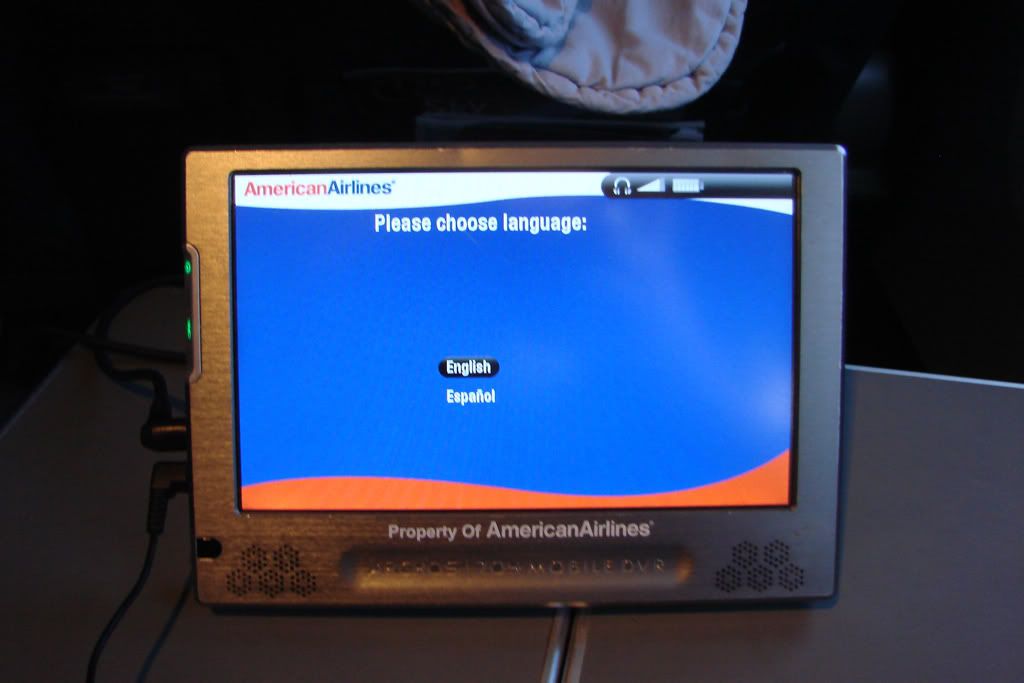 I settled in to watch I Am Legend, which was very average. Every so often, I took a picture.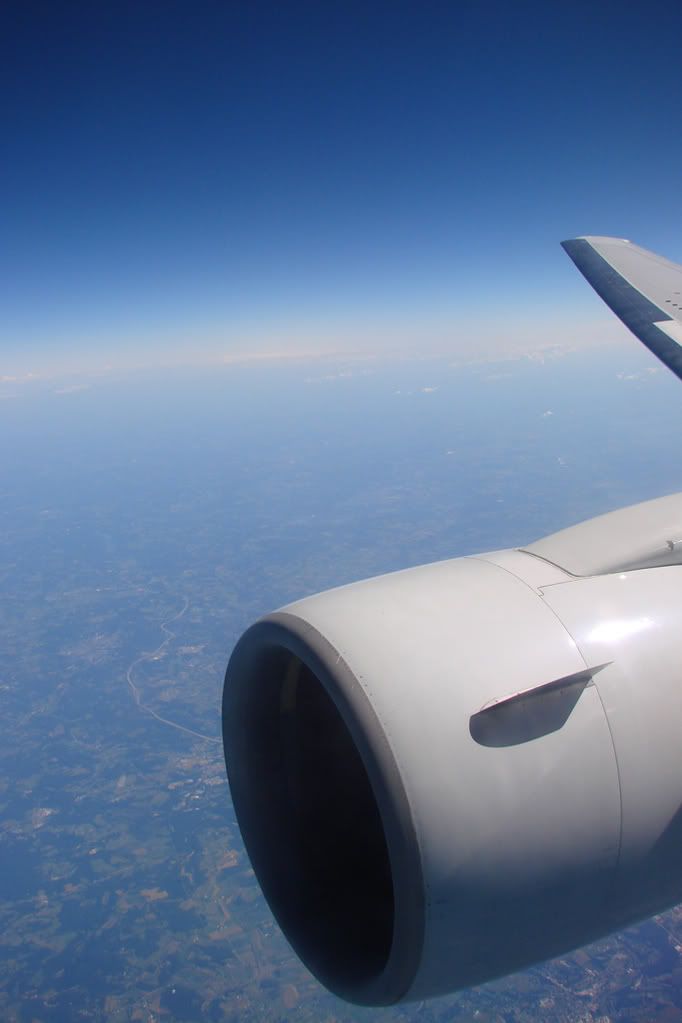 Over PA or OH
Shortly thereafter, the FAs, both of which were extremely nice, began distributing the menus for today's flight.
Front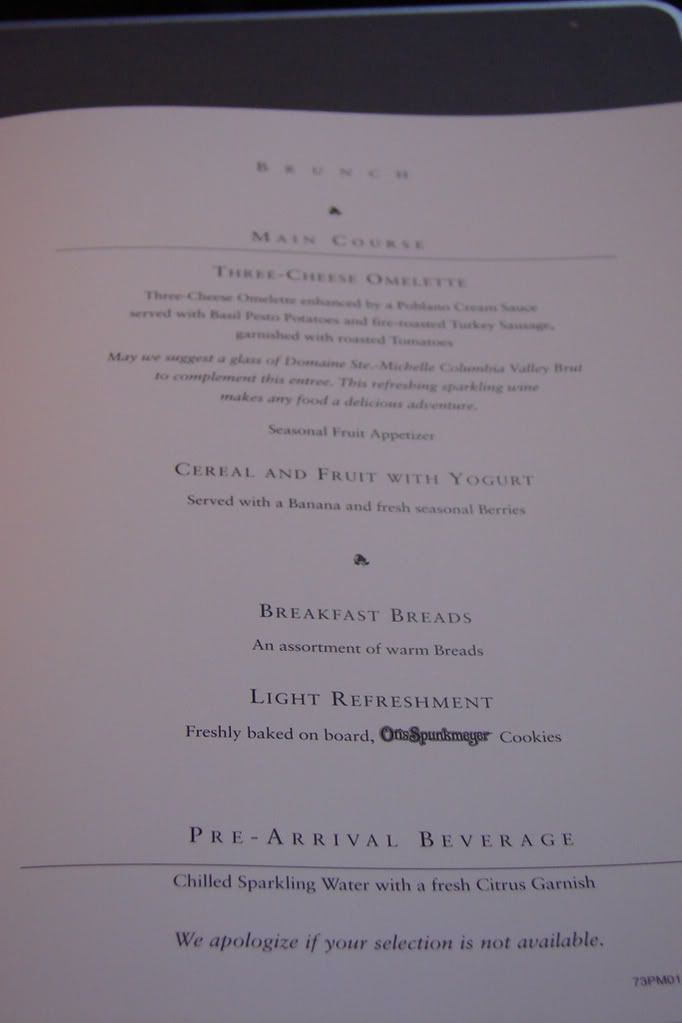 Inside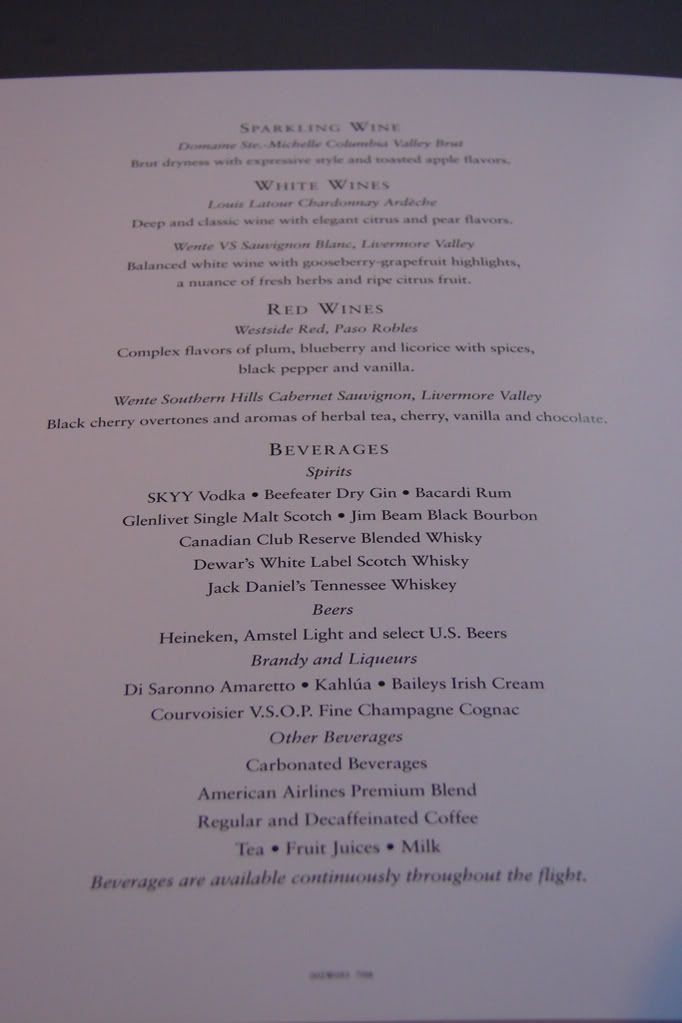 Back
I chose the omelette, which was OUTSTANDING! It may not look like much, but it was absolutely delicious. The potatoes were awesome, too!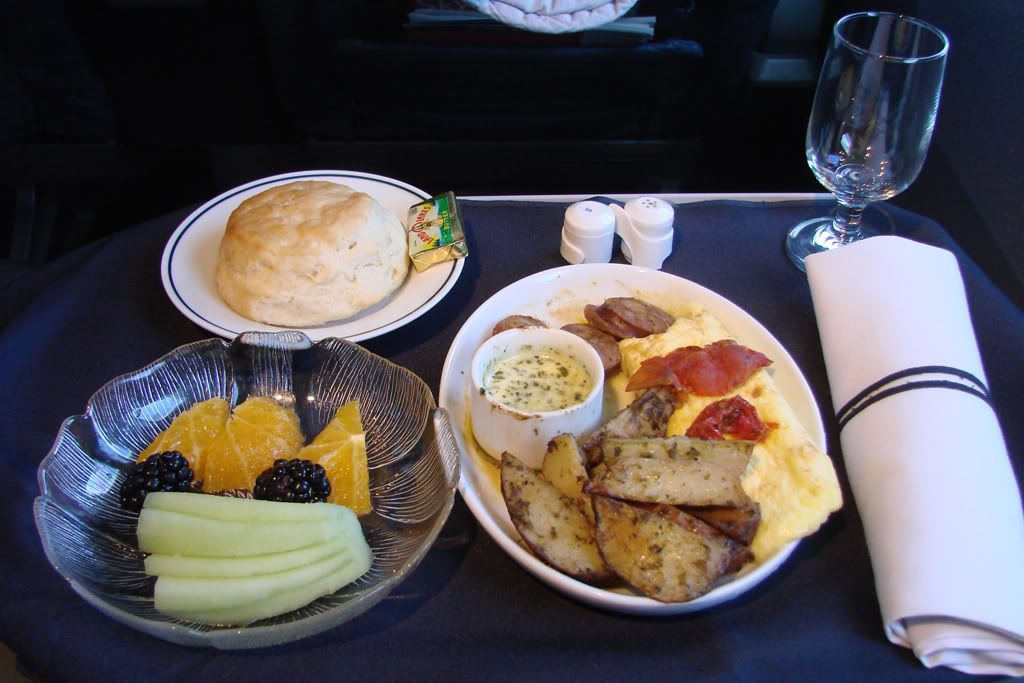 MMMMM!!!! Breakfast!
I finished watching my movie as the flight progressed.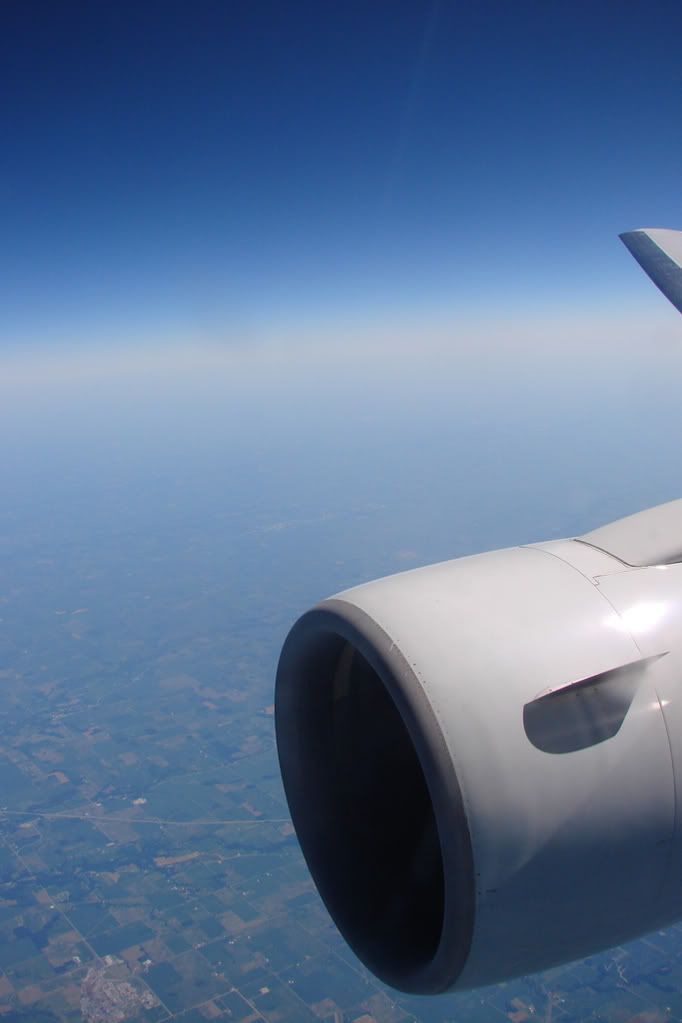 Somewhere over the heartland
It was about 2/3 of the way through the flight I decided to stretch my legs. I went up to the galley, and had a very lengthy (20 minutes or so) chat with the flight attendants. And once again, AA shows me what, for some reason they only show a few others. I'm 100% convinced, regardless of what others may say, that AA has the best flight attendants in the industry. Patrick, the purser, and Melanie were just absolutely fantastic! We had a lengthy chat about my route, the industry, my career goals, what they did before flying, and many other things including celebrities flying the trans-cons between JFK-LAX. Actor Kevin Spacey was sitting in F on my flight! What awesome people! And so professional, too! Absolutely massive bonus points from me (I know they don't mean anything, but who cares!).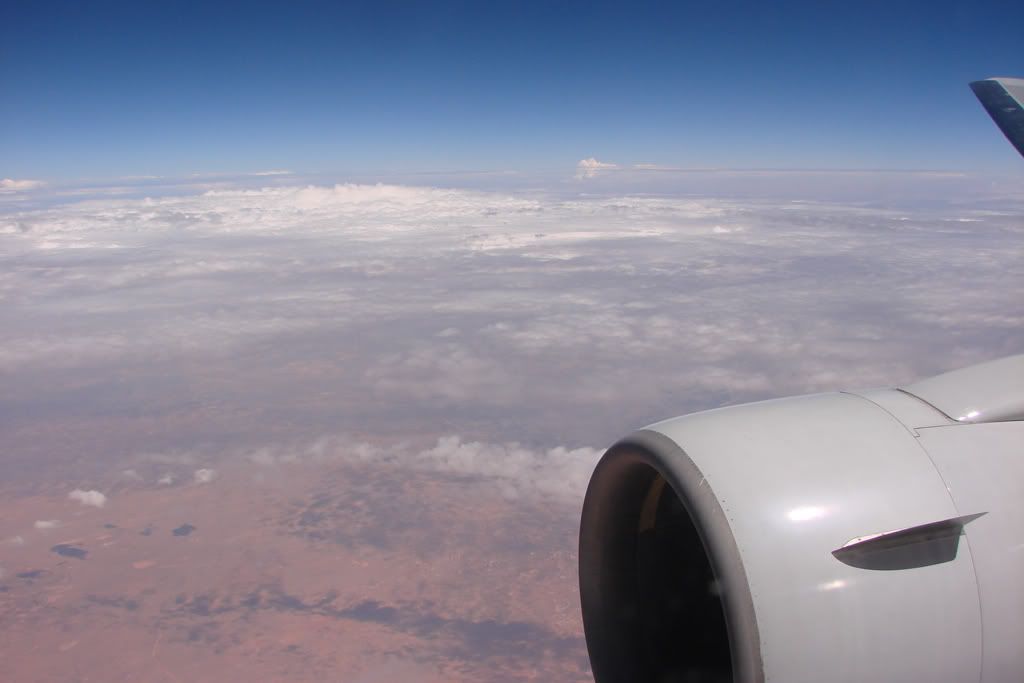 Cruising over the desert
After what seemed like a really short time, we began our descent into LAX.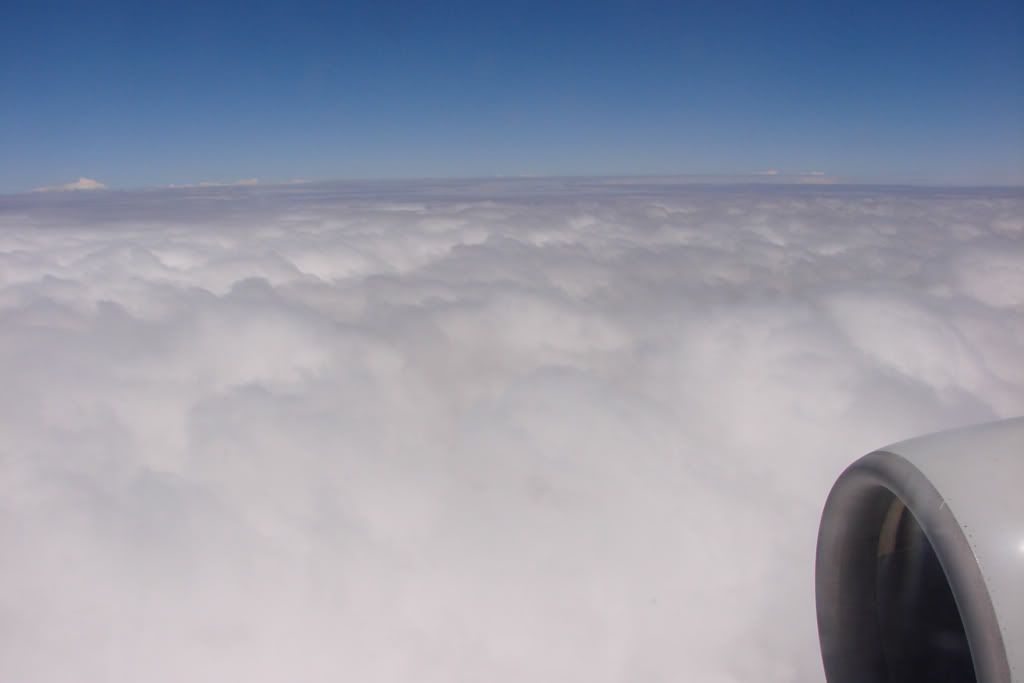 Descending through the clouds
It was then that Patrick decided it would be nice to announce to the whole plane that I was completing my first trans-con flight.
I was probably redder than a tomato. He also told everybody how I was flying back home to Austin: through LAX and DFW. Great, so now everybody thought this guy was psycho. At least they didn't know who I was (not that the AA shirt I was wearing helped my anonymity at all), right? Well, then he came over to me in my seat and started bowing to me, and announcing to the entire J-cabin that it was me. Oh man. I was really embarrassed, but completely grateful of the gesture. It's the little things this airline does for me, the people like Patrick and Melanie, that make me feel so much at home. Thank you, American!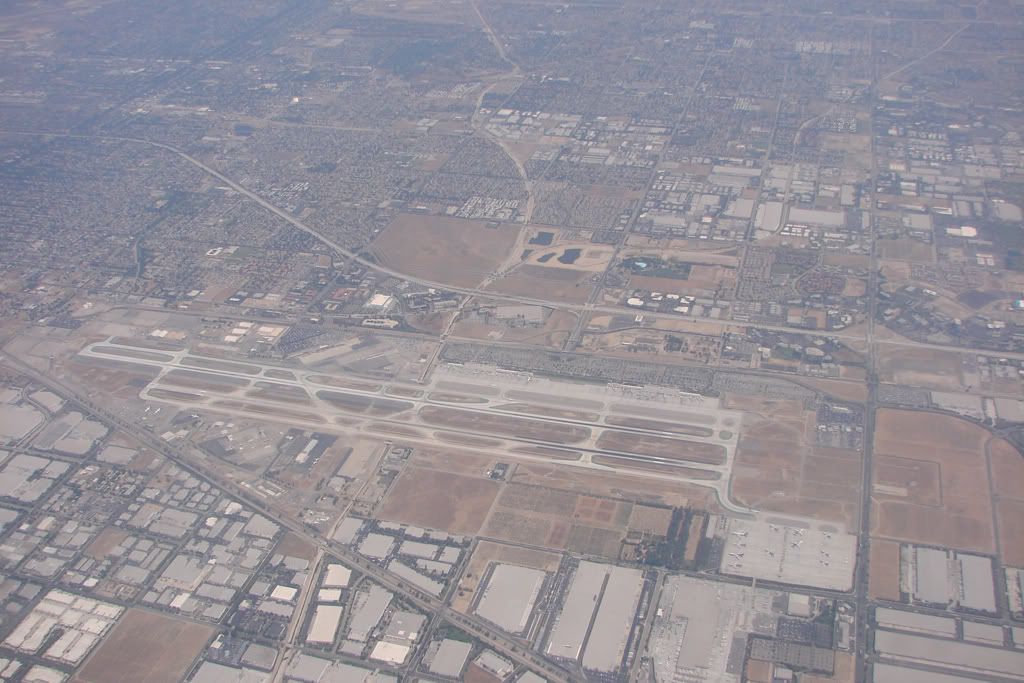 ONT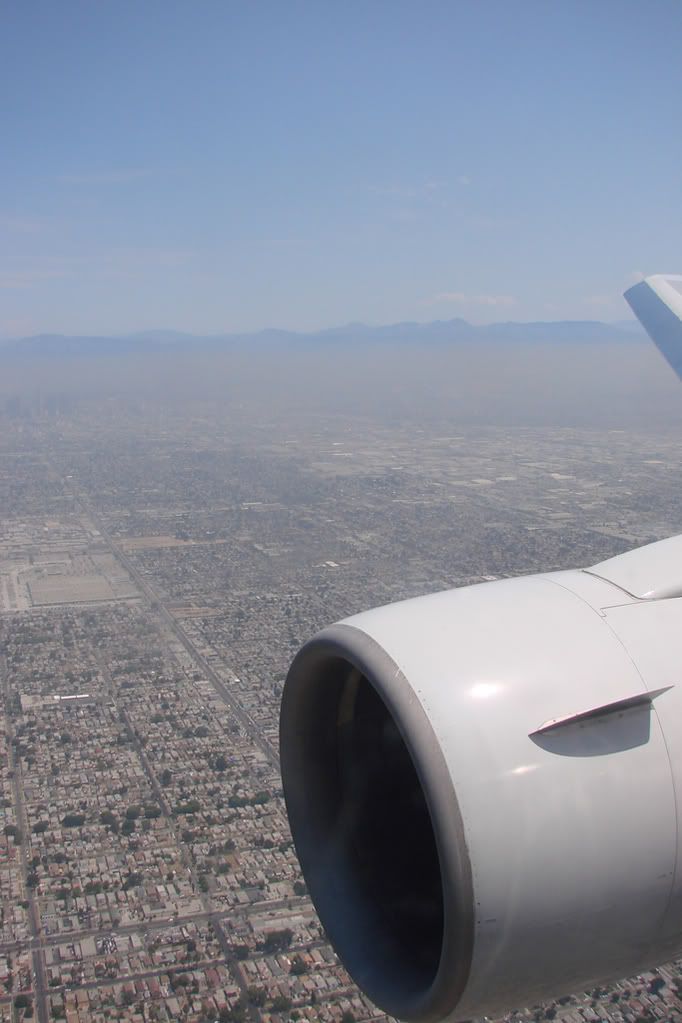 Los Angeles urban sprawl
An excellent landing by the first officer completed an already memorable flight.
Landing at LAX on 25L
Our gate was occupied when we landed, about 15 minutes ahead of schedule, so we taxied over by the AA maintenance ramp, where I saw an absolutely glistening AA 767-300.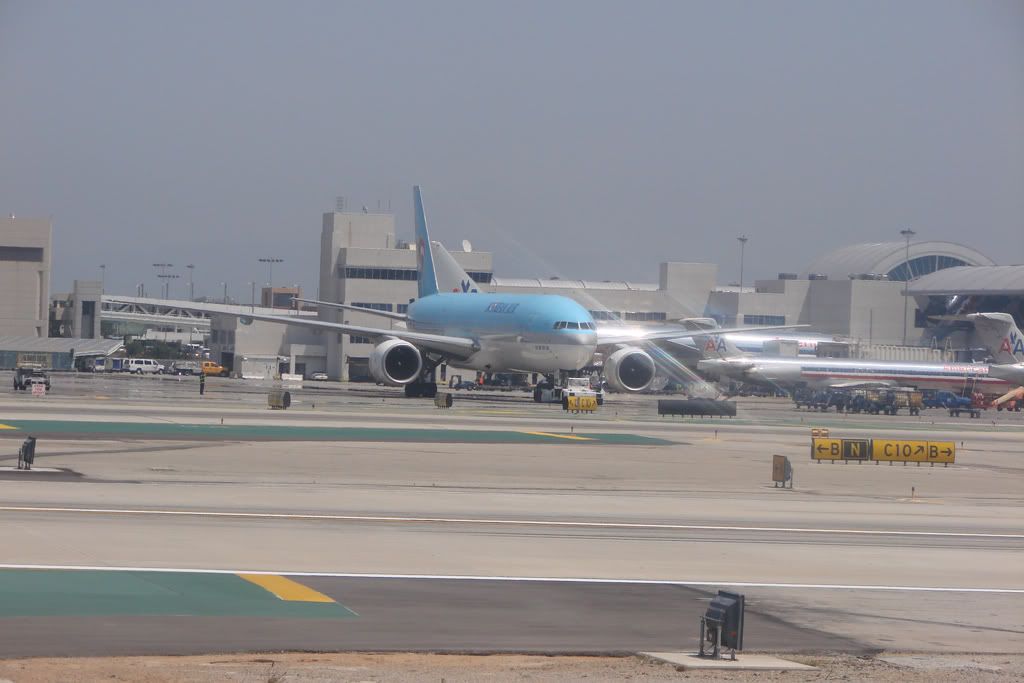 KE 777 to ICN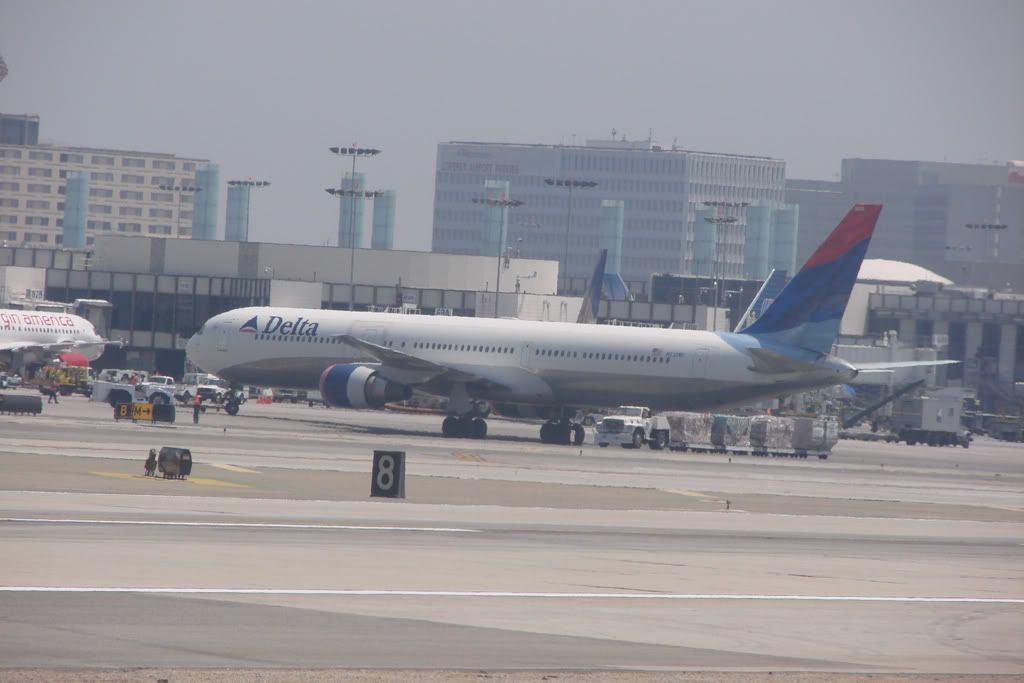 DL 763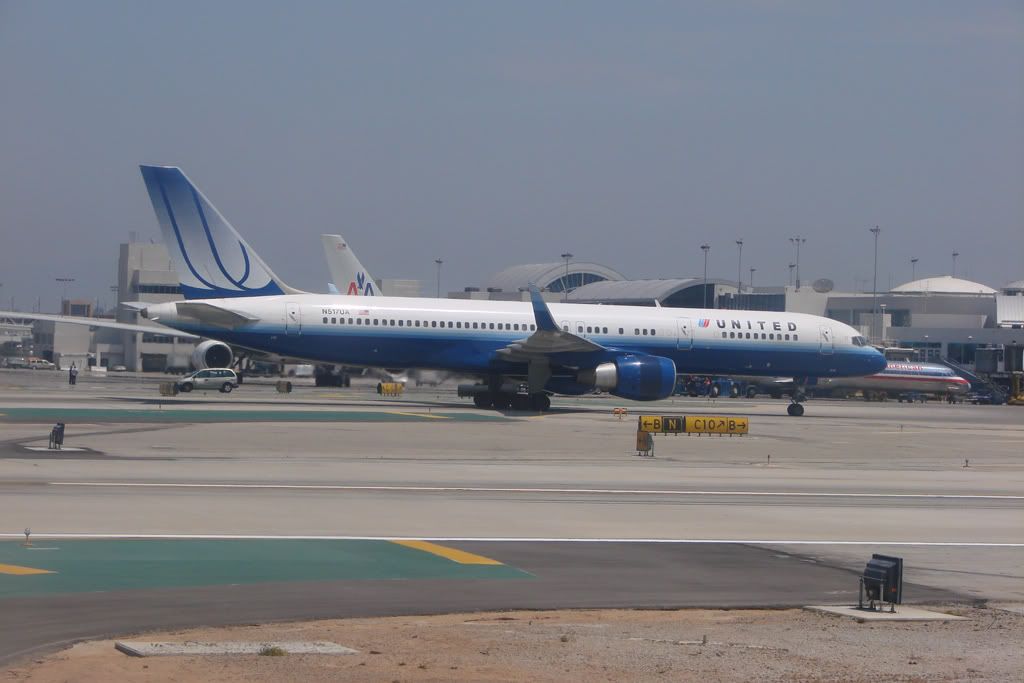 United 752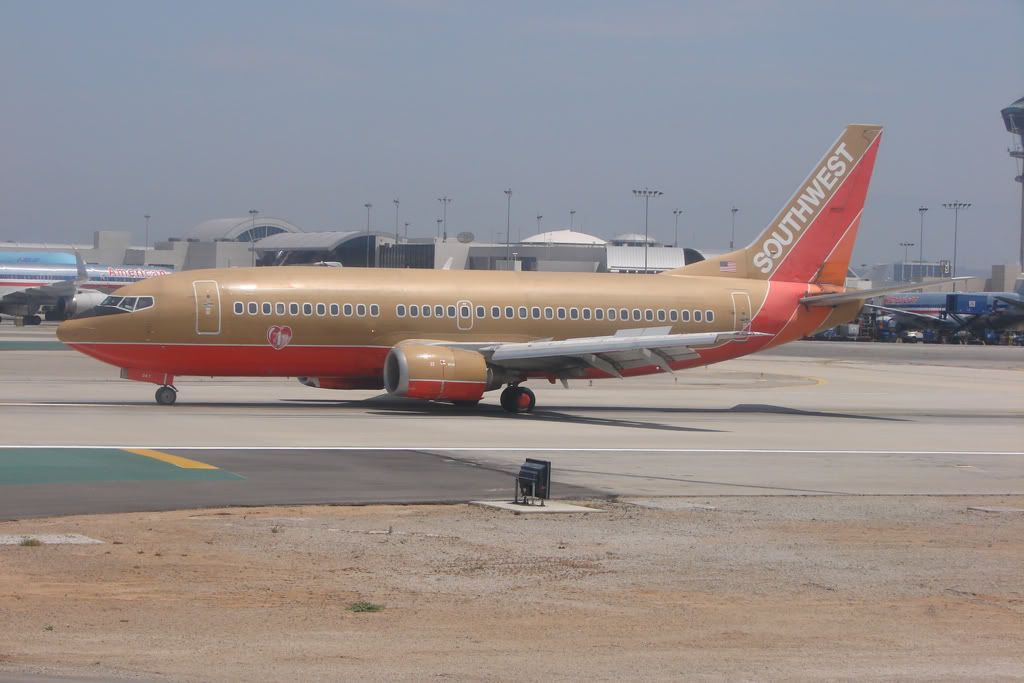 WN 737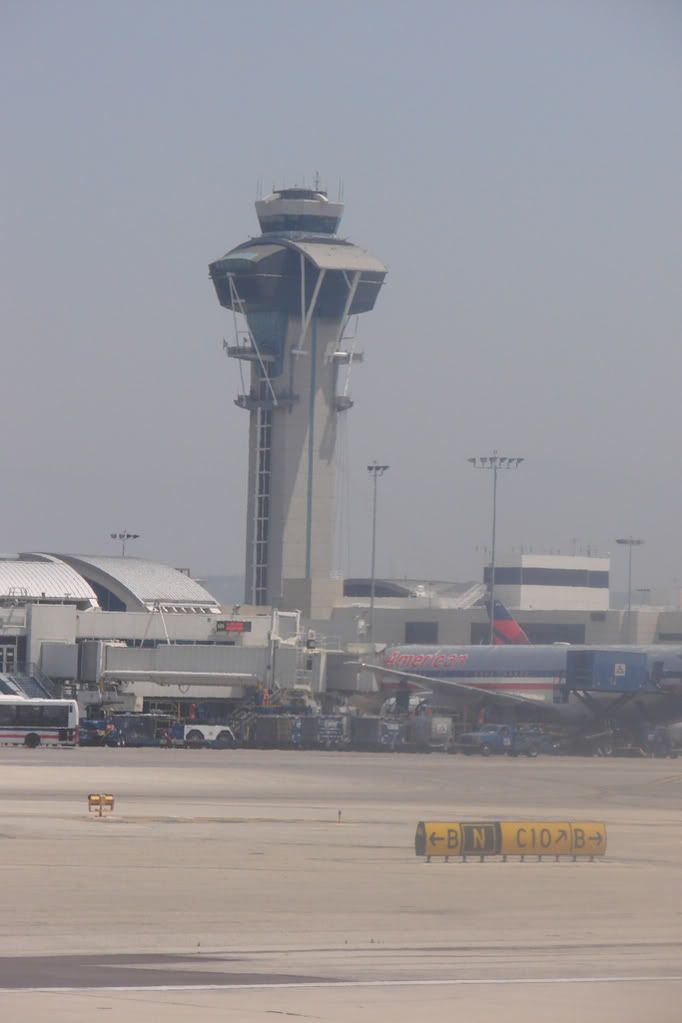 LAX tower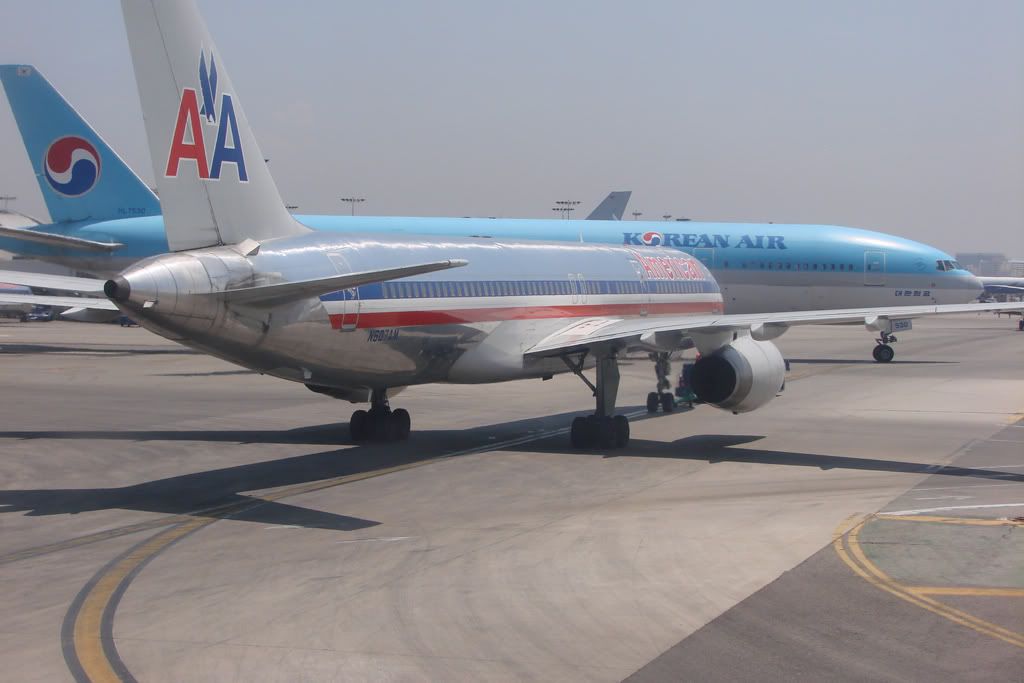 AA 752 and KE 777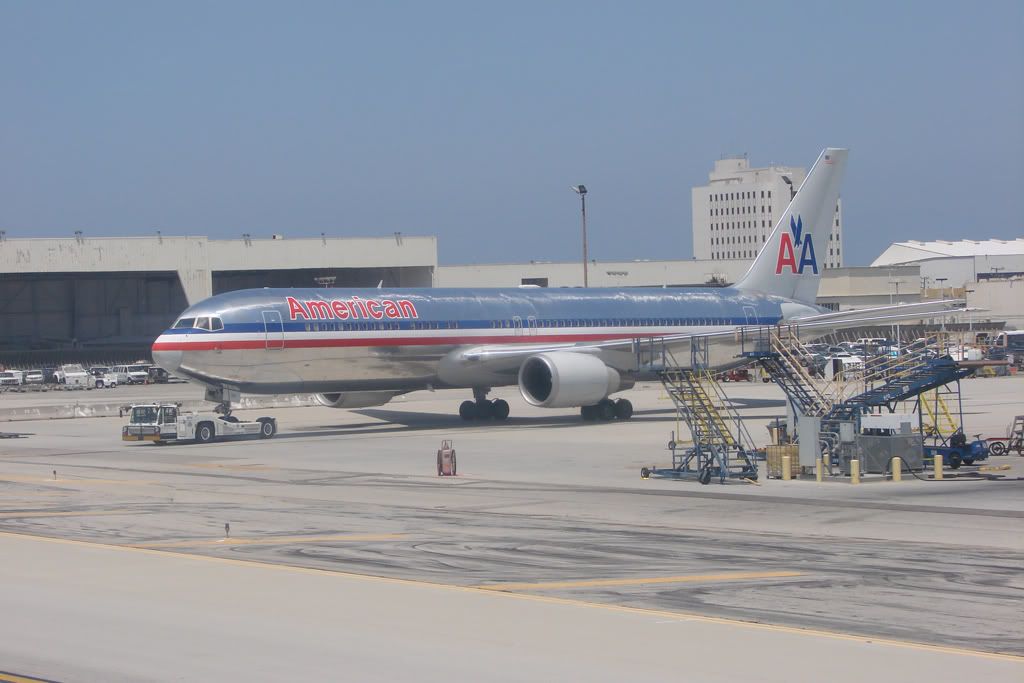 Striking AA 763
We eventually taxied over to the ramp, shut down the engines, and were towed into gate 42B, where my first trans-con ended. I'd give it 100% if I could, but we did arrive into the gate 10 minutes late, so I guess 99.8% is in order!
After the flight, the F/O gave me a 757/767 checklist!
I had about an hour and a half in LAX, so I killed some time by taking pictures, and checking the internet.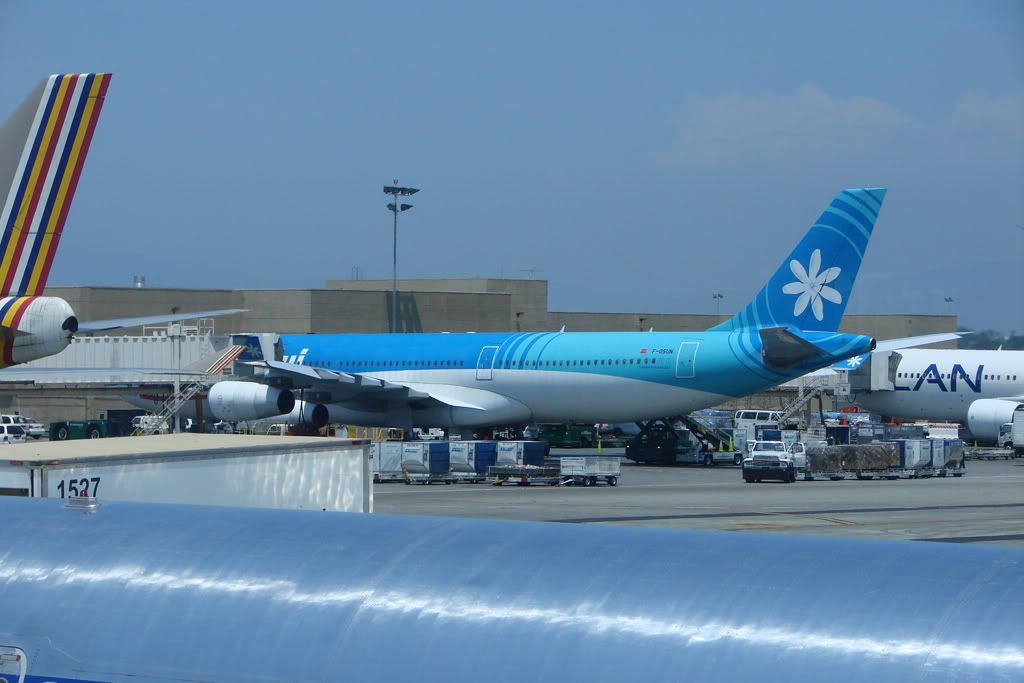 TN 343 to PPT
After a delay waiting for an inbound crew from DFW, we finally boarded, about 30 minutes late. I only had a 45 minute connection in DFW, so it was going to be close.
I had a quick chat with the pilots, who obliged in filling out my data sheet. While I was up there, a Federal Air Marshall came up and introduced himself. I tried to excuse myself when I heard who he was, since I knew that wasn't for my ears, but he was blocking the doorway. He must have just assumed I worked for the airline since I had my shirt on. Eventually I made my way back to 5J, where I was excited to try out the new J-seat, which I've heard many opinions on.
AA 763 to MIA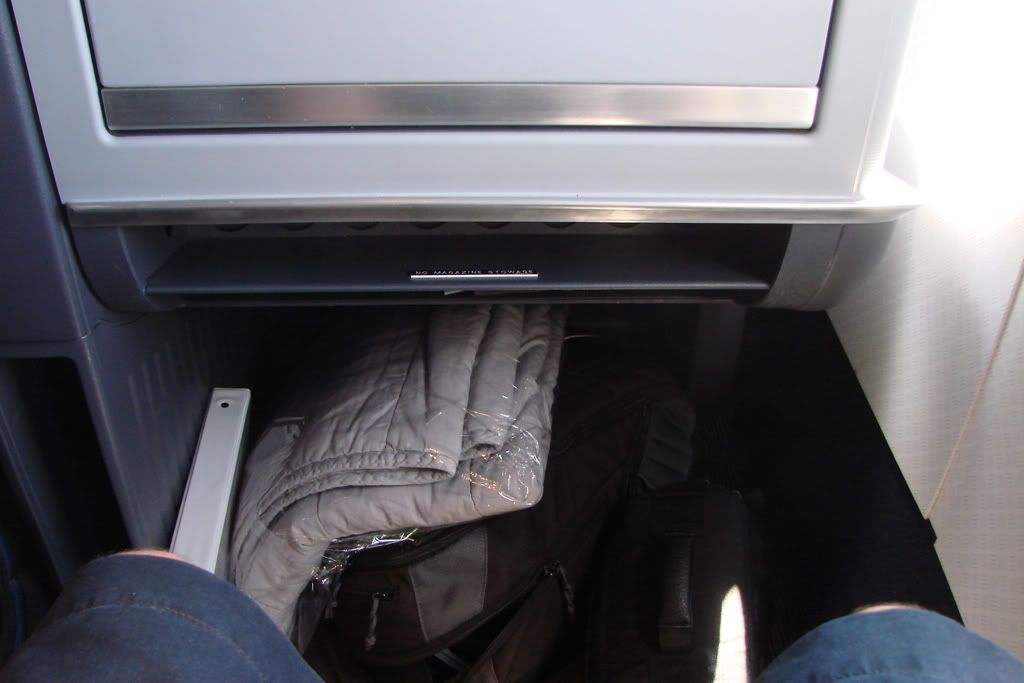 Seat 5J legroom
Tragically, yet again, Cameron, in all his excitement, forgot to take a good picture of the seat. I was very, very pleasantly surprised at how comfortable it was. Eventually the door was closed, and we were on our way.
AA 2448
LAX-DFW
767-323
N394AN

Scheduled Departure: 1325
Out: 1352
Departure Gate: 47B
Seat: 5J
Departure Runway: 25R
Off: 1406
Cruising Altitude: FL 390
Cruising Airspeed: 450 TAS
Route: KLAX TRM J169 TFD J4 INK JEN8 KDFW
Arrival Runway: 18R
On: 1845
Arrival Gate: D23
Scheduled Arrival: 1840
In: 1853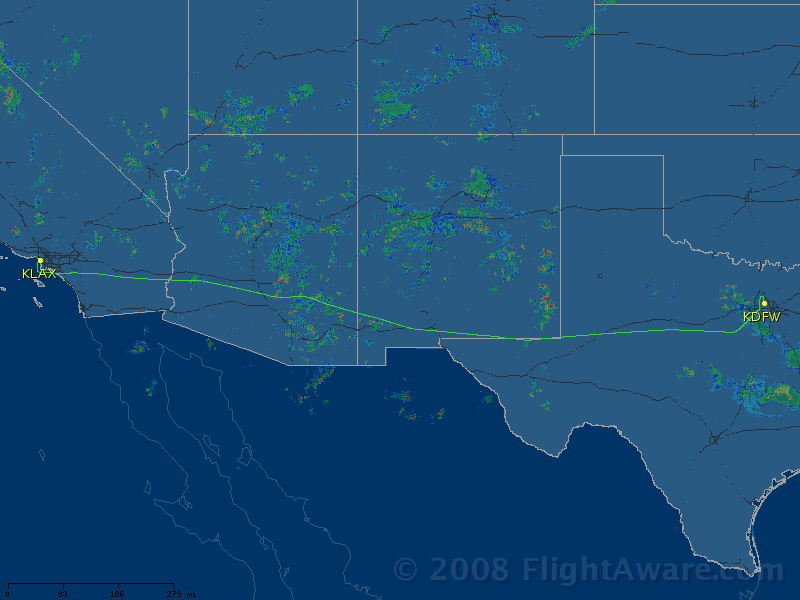 AA2448, according to FlightAware
We pushed back and quickly headed to runway 25R, where I snuck a video in.
Takeoff from LAX
We climbed out over the Pacific, before turning south, then back east.
Over the Pacific, with Catalina Island off in the distance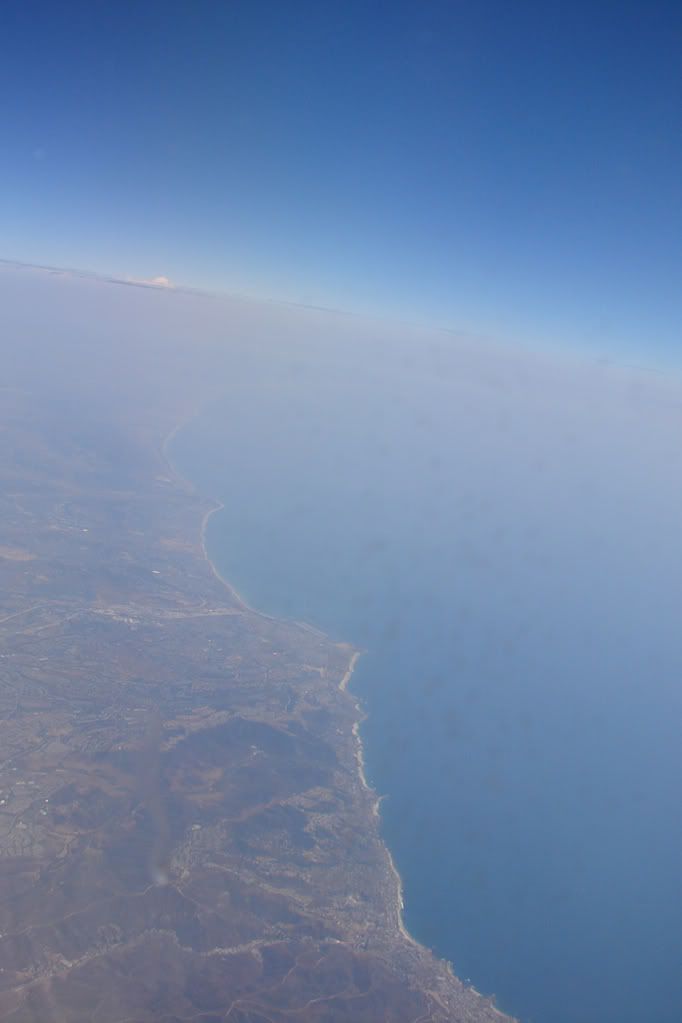 Feet dry, again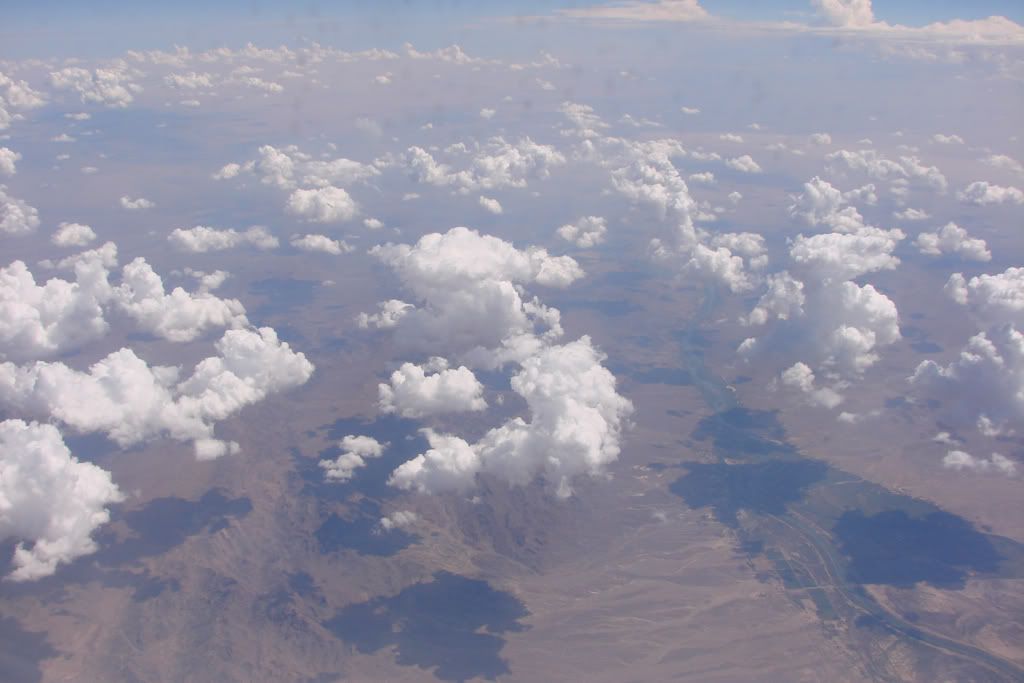 Cruising over the Arizona or New Mexico desert.
About mid-way through the flight both the FAM and I got up to use the lavatory, and we had a little chat while standing in line. He asked me what I did for AA, and I told him, "nothing, actually." I explained my interest in commercial aviation. He was a really nice guy, and after the flight he gave me a FAM pin, which I've already misplaced. Grr... Other than that, the flight was exceedingly uneventful, save for some more nice cloud formations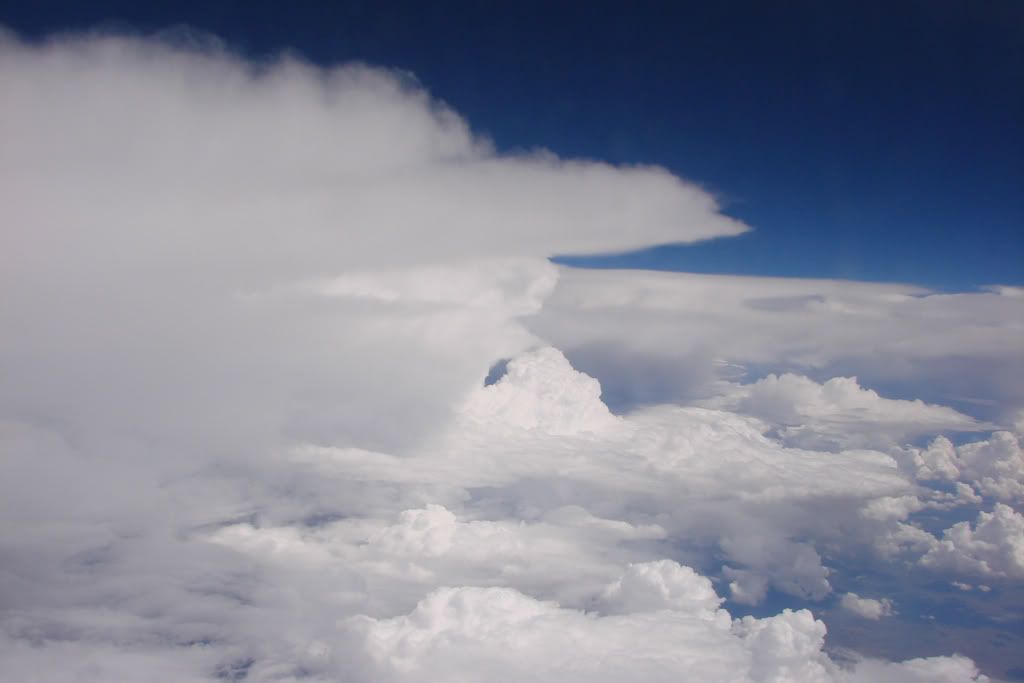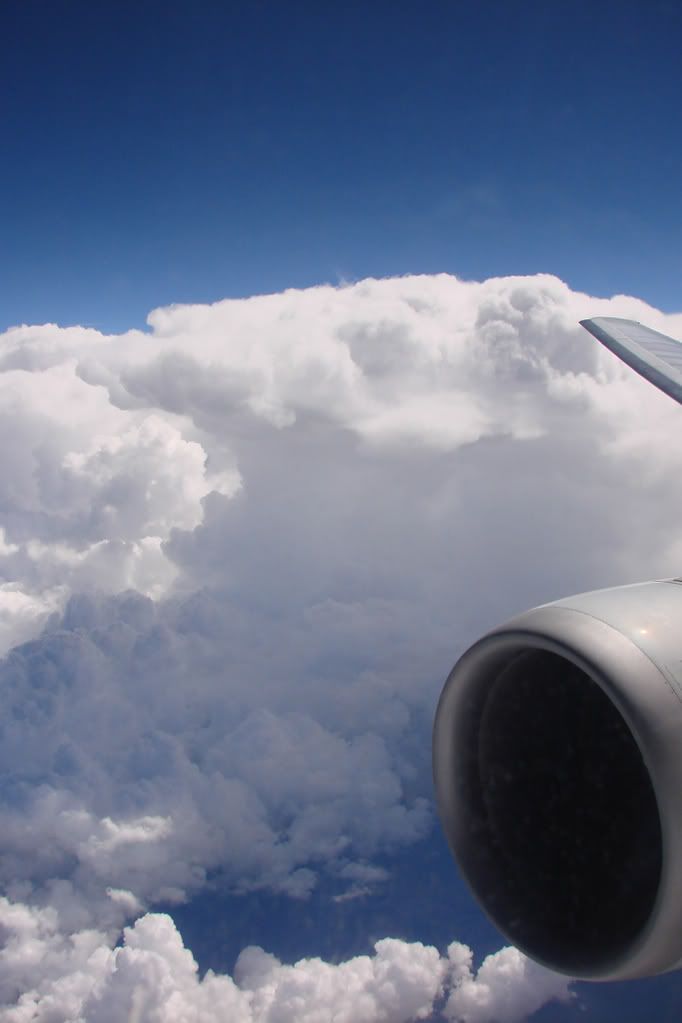 More CBs
We eventually got our "snack," which consisted of a delicious turkey wrap and pasta salad, as well as the ever-crisp grapes, brie, and water crackers.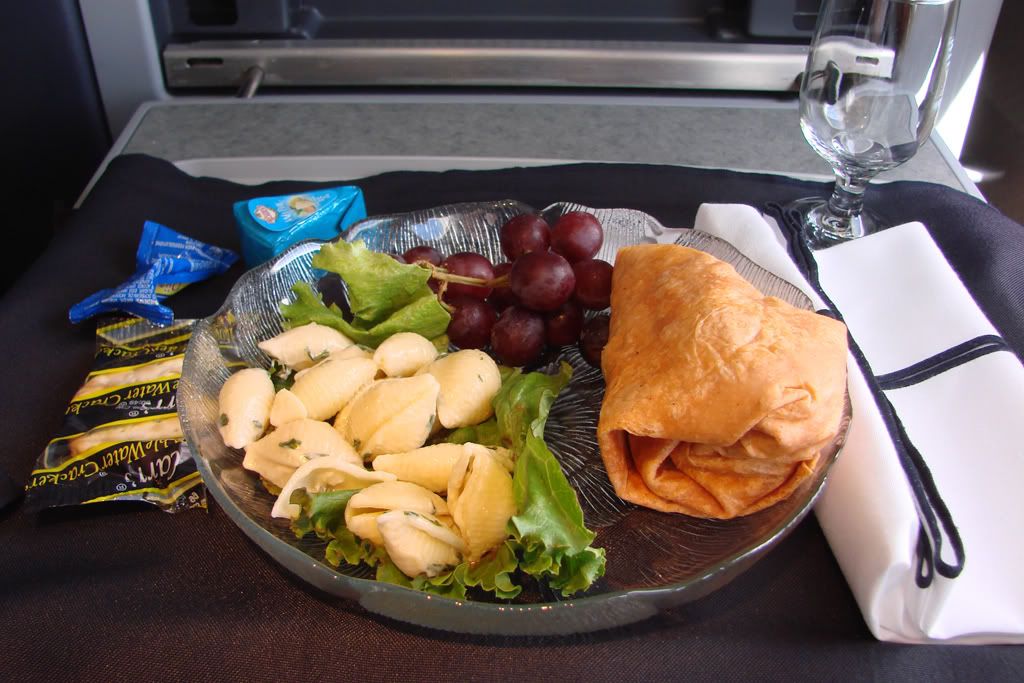 Mmm, turkey wrap!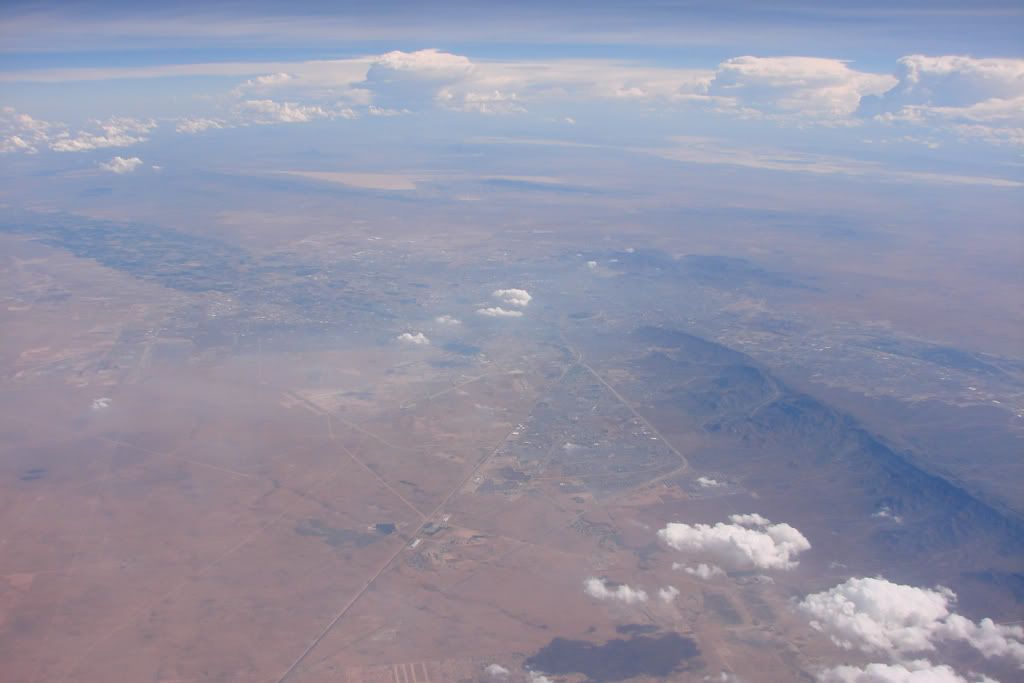 El Paso, barely.
Over MAF, we were approached from the SW by an AA Super 80, undoubtedly headed toward DFW, as well. I was surprised how close he got, but he was at least 2000 feet below us.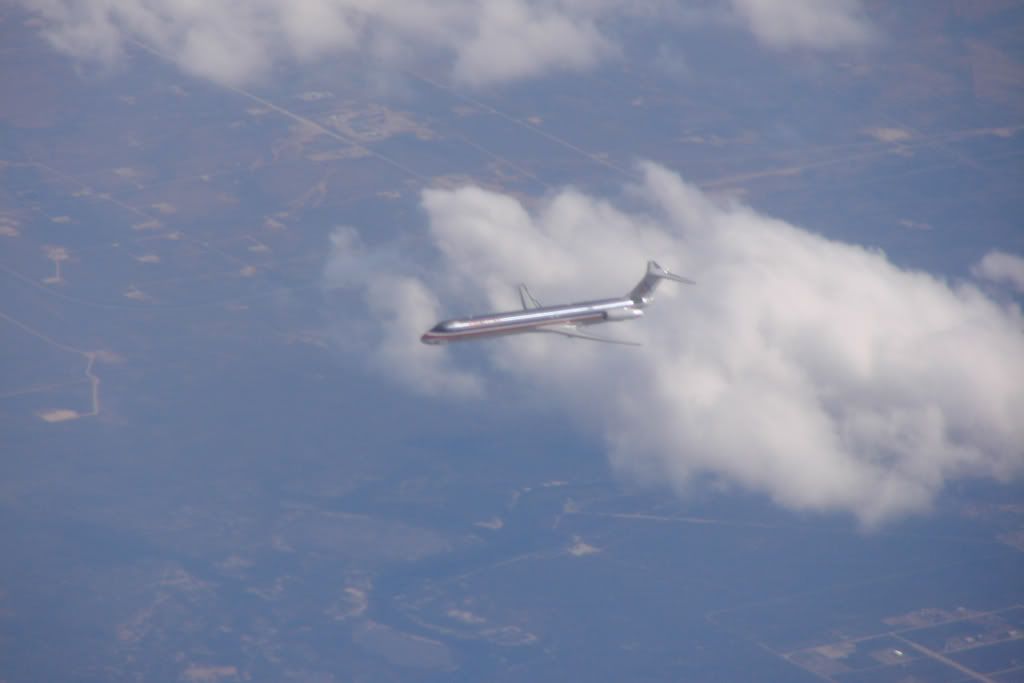 Company S80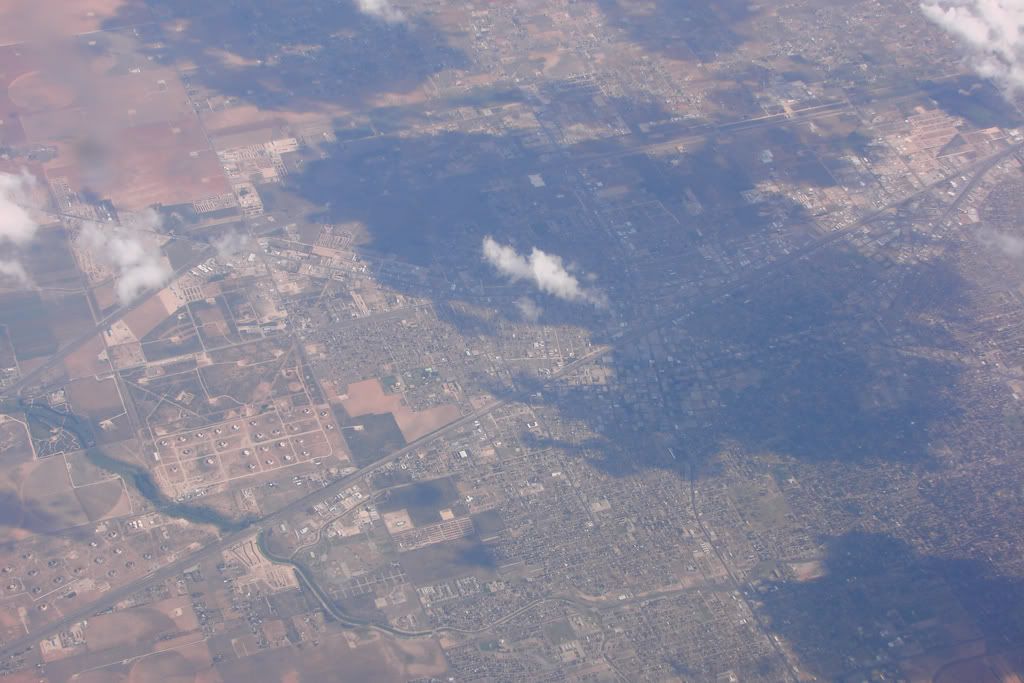 Midland, TX
Not too long after that, we began our slow descent into DFW.
Descending through the clouds, just southwest of DFW.
We followed the same Glen Rose (JEN) 8 arrival, and turned north for the downwind before reversing direction for 18R.
o
Landing at DFW
After a landing about 10 minutes after scheduled arrival time, we made a short taxi to D23. Fortunately, my connection to AUS was at D17.
AA 738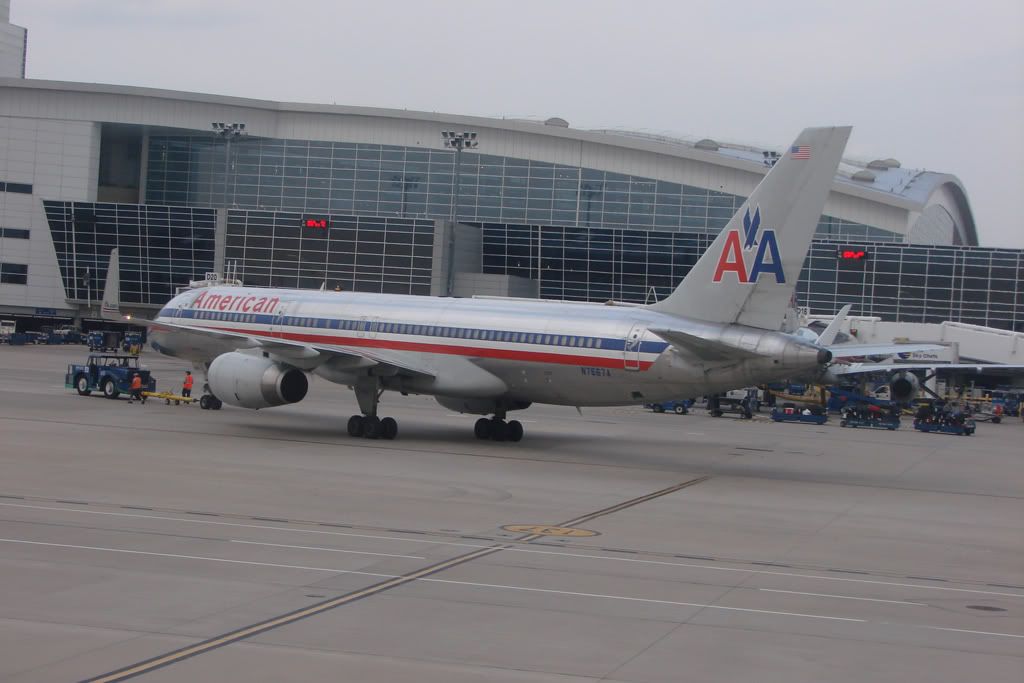 AA 752
D23
After deplaning, I made my way over to D17, where my flight to AUS began boarding shortly after.
I had a very short chat with the pilots about our abnormal route today to avoid W/X, and then made my way back to 5F.
AA 470
DFW-AUS
MD-82
N7536A

Scheduled Departure: 1935
Out: 1931
Departure Gate: D17
Seat: 5F
Departure Runway: 18L
Off: 1943
Cruising Altitude: FL 220
Cruising Airspeed: 310 TAS
Route: KDFW PODDE3.ABI LLO.KALLA1 KAUS
Arrival Runway: 17R
On: 2024
Arrival Gate: 13
Scheduled Arrival: 2025
In: 2034
AA470, according to FlightAware
We made a quick taxi to 18L, and away we went into the Texas evening.
Takeoff at DFW on 18L
We made a westerly turn, heading out toward Abilene, before turning south. We did receive a beverage service, accompanied with some of the AA Premium Snack Mix (which I think is delicious!). Near Llano, we made a SE turn to join the KALLA1 arrival into AUS.
Descending into AUS
Landing at AUS
We taxied to the gate, where we held very briefly to wait for our gate to clear out. The fasten seatbelt sign was turned off, and I realized my unbelievable day was over. Not a moment too soon, either! I was exhausted, but it was a day I'll never forget!
American, even though these hard times, continues to show unbelievable professionalism and dedication. I feel the least I could do for them is to continue to fly them wherever I go. Thank you American, for another awesome experience!
I hope you all enjoyed. Stay tuned for a short TR in early August, for my next trip, a one-way trip MSP-ORD-DFW-AUS (with a 777).
Comments and questions always welcome!
Cheers,
Cameron