Hello everybody i'm back again with the second part of my summer trip to Morocco. If you would like to read the first part:
http://www.airliners.net/aviation-fo...ums/trip_reports/read.main/130192/
Before i start with the report i would like to show you some of my best photos taken during the stay in Morocco. Enjoy!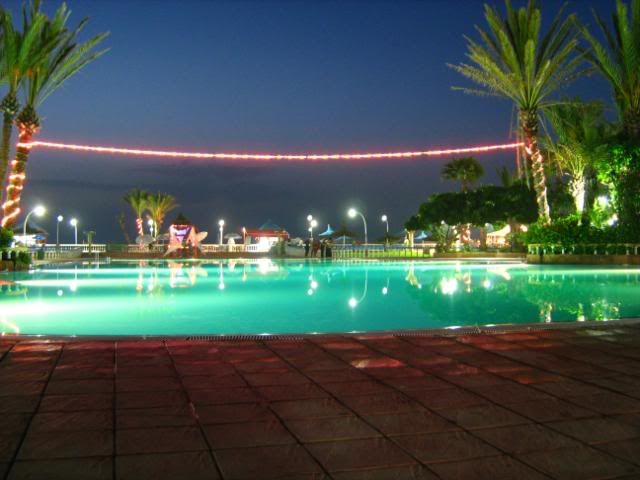 My family owns an apartment in the beach resort Palm Beach that is located 50 km north of Casablanca. This is the pool in Palm Beach.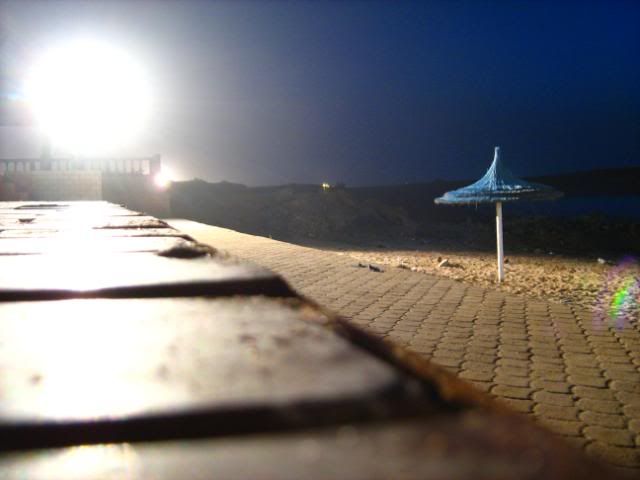 The Beach
The main street.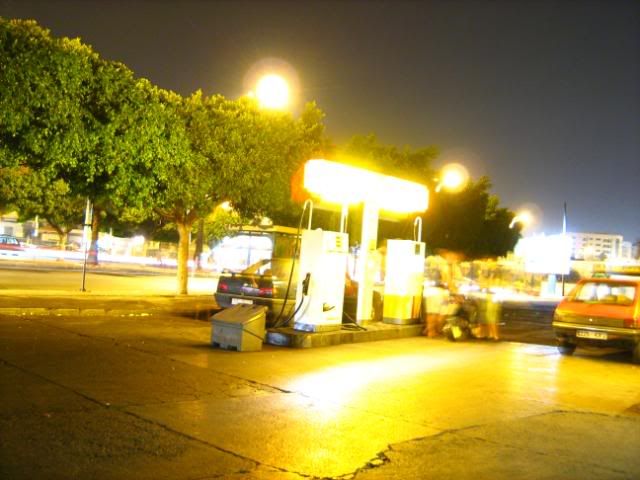 One of our two gas stations in Casablanca.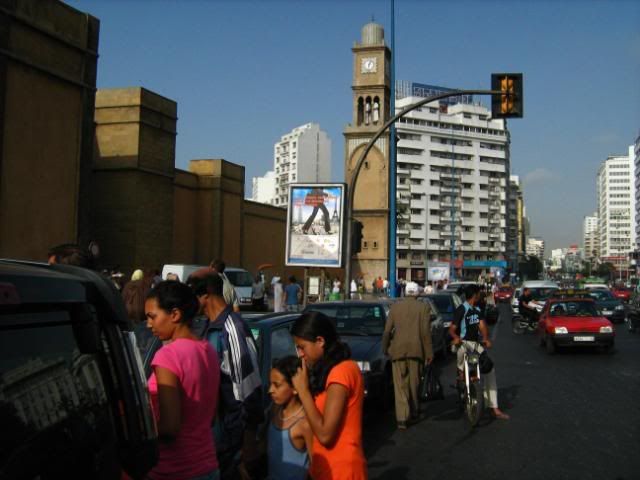 The entrance to the Bab Marrakech Bazaar.
Inside the Bazaar.
Now let's get started with the report shall we.
Pre flight
It's the 12th of July 2008, the day of my journey back home to Sweden. My flight was departing in the early morning so i had to wake up around 3.30 in the night. i did not get any proper sleep during the night, i only got two hours of resting. I prepared did some last preparations before the journey before we took off to the airport around 4.30.
My uncle drove me to the airport, the drive took around 30 minutes. At 5.00 we arrived at Casablanca Mohamed V International Airport. Since my uncle was very tired he dropped me off at the old terminal 1, i told him that my flight was departing from T2 but he wasn't in the mood of driving around the airport, he didn't even want to get out of his car. I told him that i had checked in online so the whole baggage drop procedure would be done pretty quick.
As i entered T1 i had to walk through a metal detector and by baggage had to be scanned, a strange thing though was that the security officers didn't mind letting me pass despite that i had metal objects on me.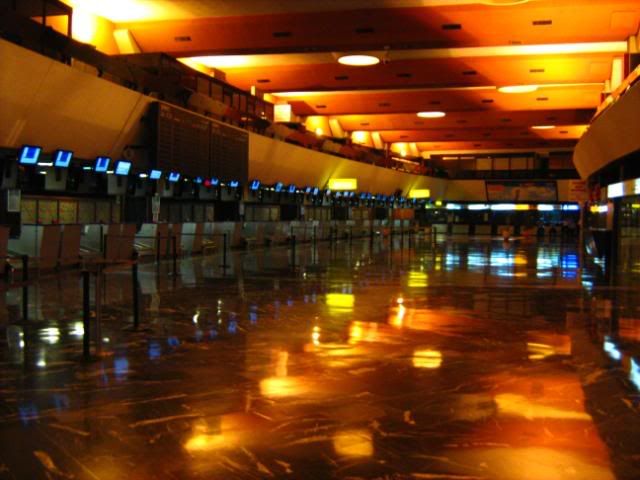 A view of the old Terminal 1, i believe that it has been showed in one other TR.
I was a but surprised to see that AT had acquired self-service check-in machines.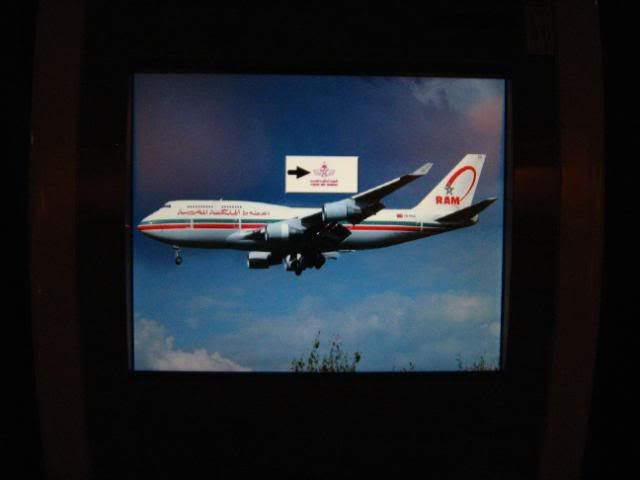 Guess where that pic could might come from?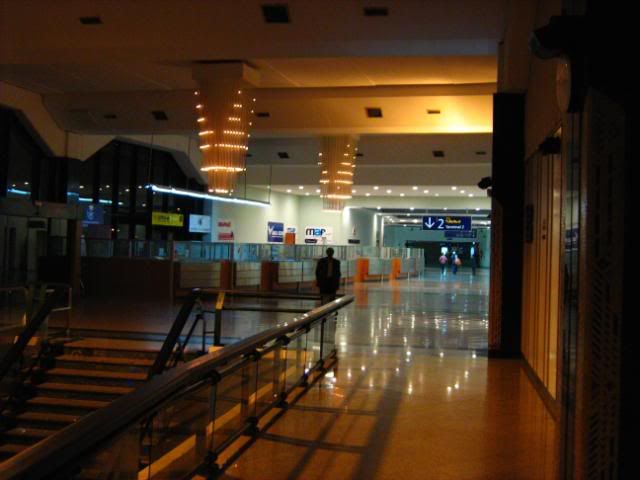 Between T1 and T2, where old meets new.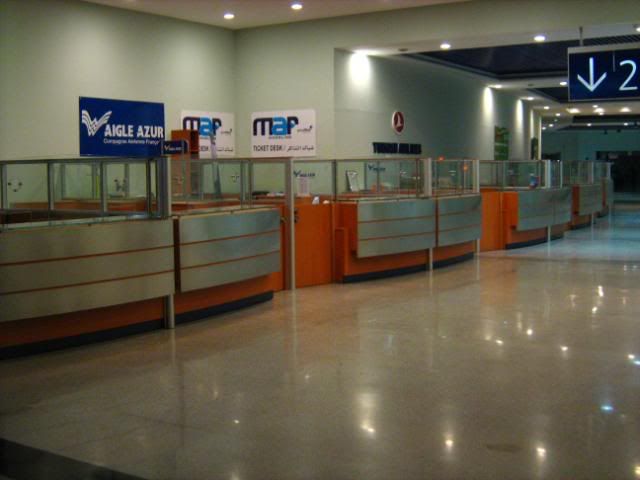 The new ticket desks at T2.
The transit area at T2. As i entered the transit area the first impression wasn't exactly "wow", but it was nice. It felt much more fresh and airy compared to T1. I also noticed that they had activated the AC, i think it was a bit stupid to activate it at this time of day when it still is cold outside.
As i walked to the check-in counters i noticed that the departure time was changed to 7.55 instead of 6.55. There were also people forming a line at the Y counter, i decided to stand there until i moved to the empty e-services counter, when the agent came at 5.55 she first went to the e-services counter so i was the first person to check in.
Flight three
Flight nr: AF1697 CMN-CDG
Departure: 7.55
Arrival:12.00
Duration: 3h 00m
Aircraft and reg: Airbus A319-111 F-GRHO
Seat: 14A Economy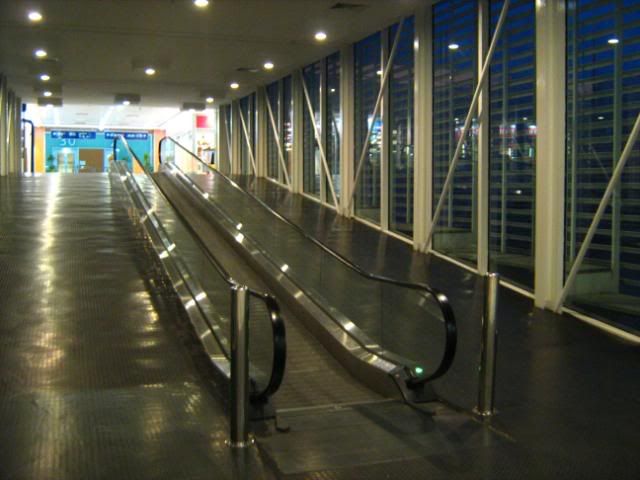 After clearing emigrations and security i headed towards the hold area in T2. On my way there i found out that the transit and hold area were in two separate buildings.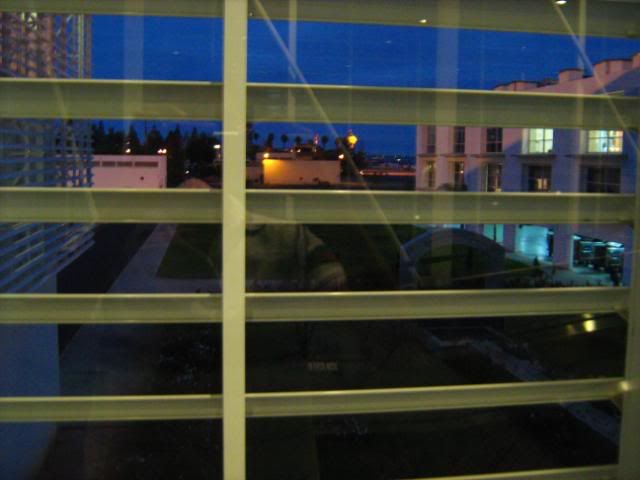 Between the two buildings.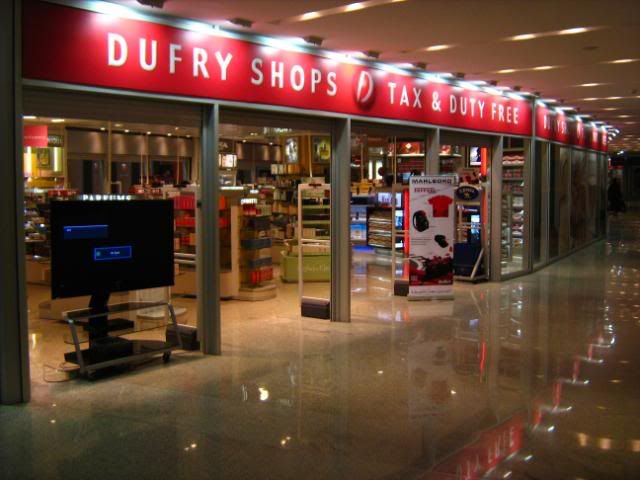 The first thins i saw were a bunch of duty free shops, so i decided to do some window shopping.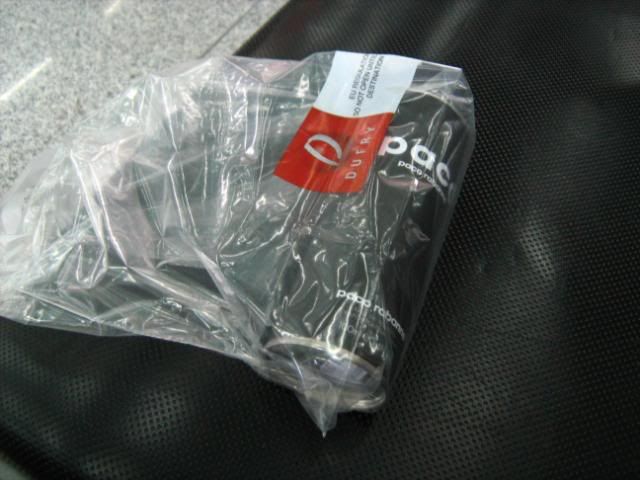 After looking around for a while i ended up buying a Paco Rabanne perfume for the very reasonable price of 19€.
A view of the hold area. There was a big fight between a group of Africans and the airport police, it can actually be seen in the back of the pic.
I decided to get myself a nice espresso before i headed over to my gate.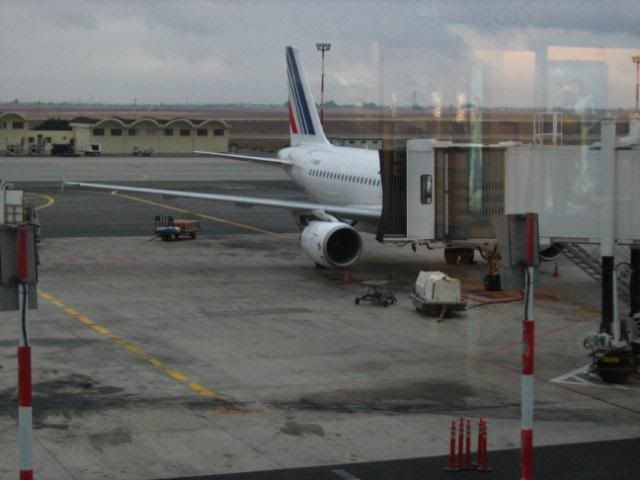 This A319 had spent the night at CMN and it was soon time for it to take me to Paris.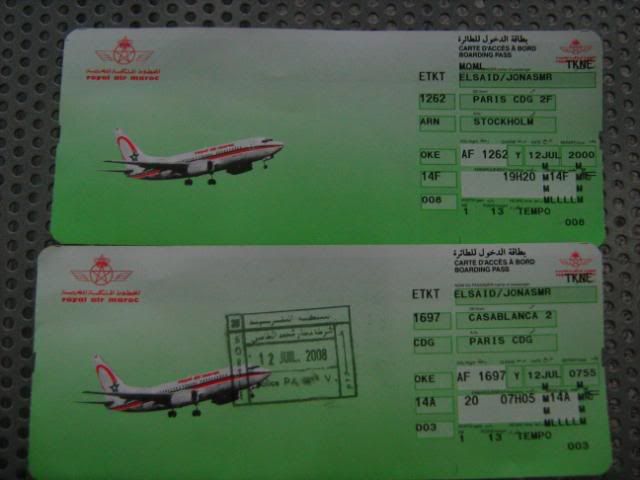 My AT branded boarding passes for my two flights today (i later changed one of them to an AF branded boarding pass in CDG).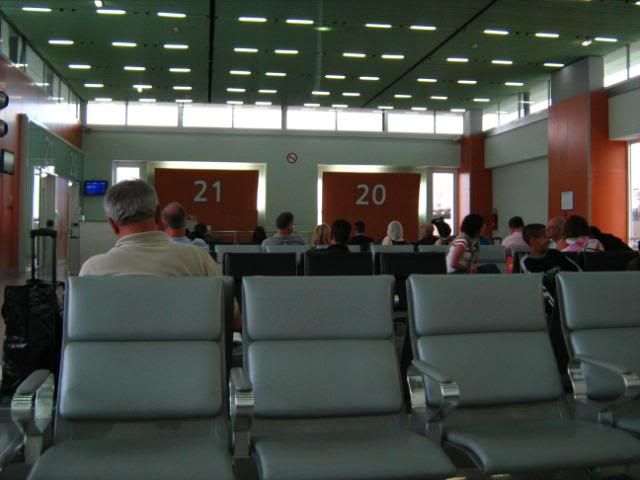 Waiting in a lounge would have been much nicer but i'm not stupid enough to pay 2000€ for a flight in C.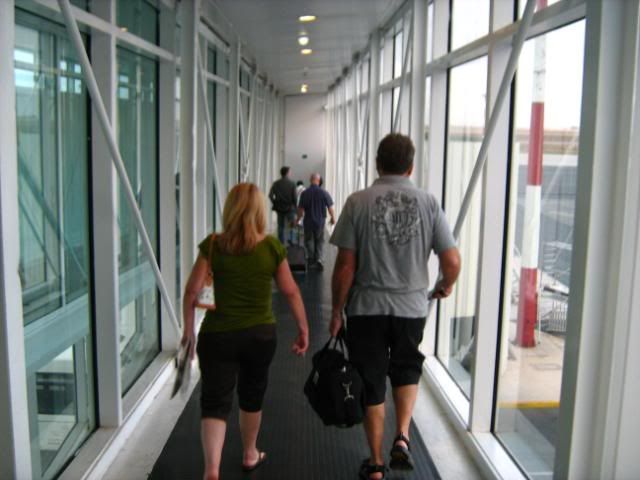 Soon it was time for boarding. I really like the new glass jetways at T2.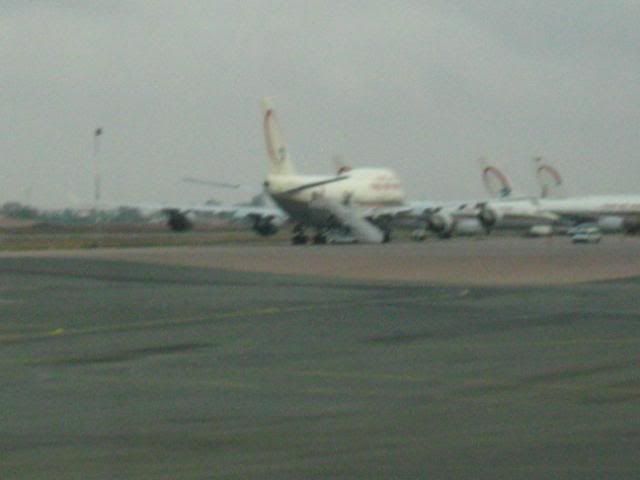 Guess what what a/c and reg that is.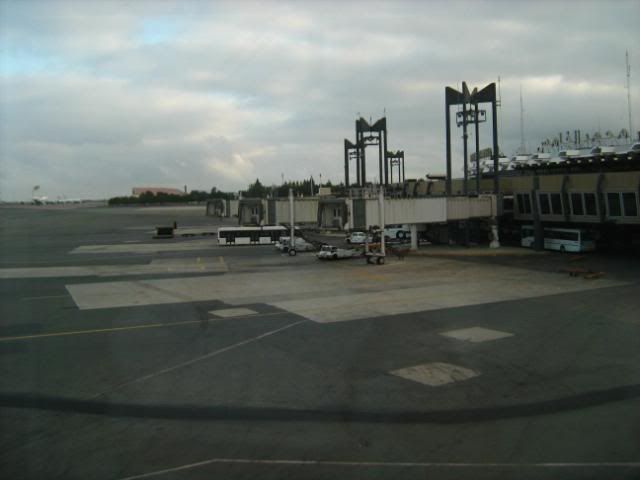 View of the old T1 building.
Boarding. The F/A in the left side of the door was really going to make this flight a pain in the a*s. When she saw me taking pictures she asked me "Is this your first time flying?" That question really insulted me, i decided not to say that i was an aviation enthusiast so i replied "No". She also asked me if i spoke arabic which i do, i replied "Yes, but i now prefer to speak english". I then walked to my seat 12A.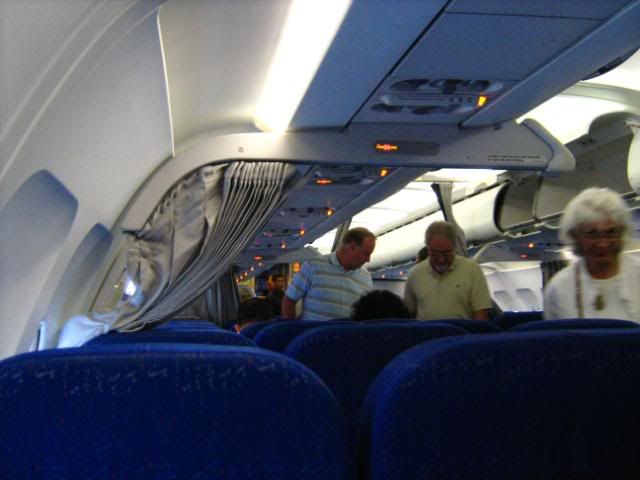 View of the cabin while boarding. My seat was located 2 rows behind Tempo Challenge.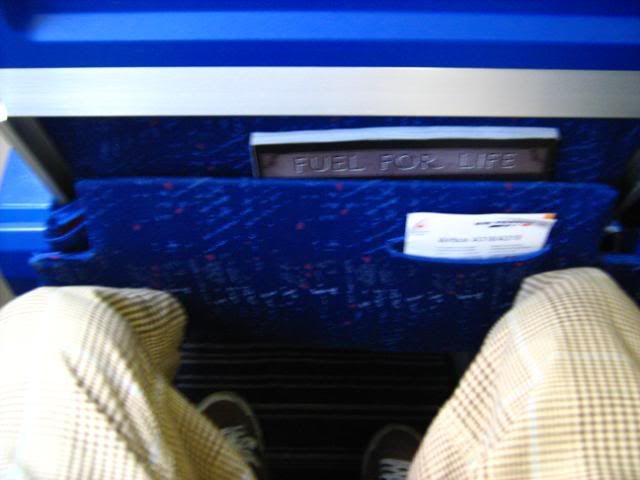 The legroom on the A319 was the same as on the A318.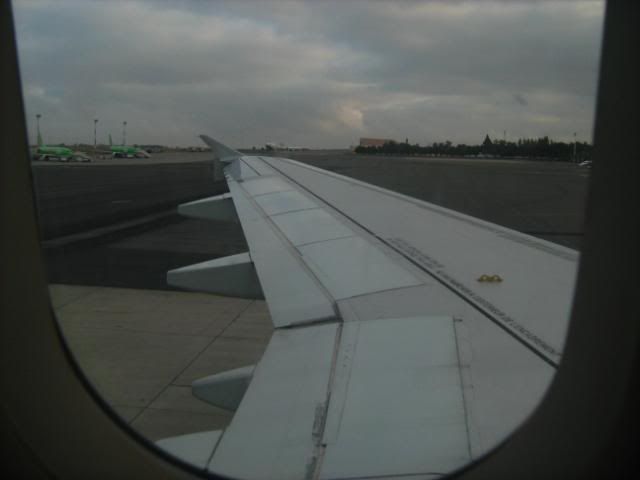 View of the rather empty tarmac.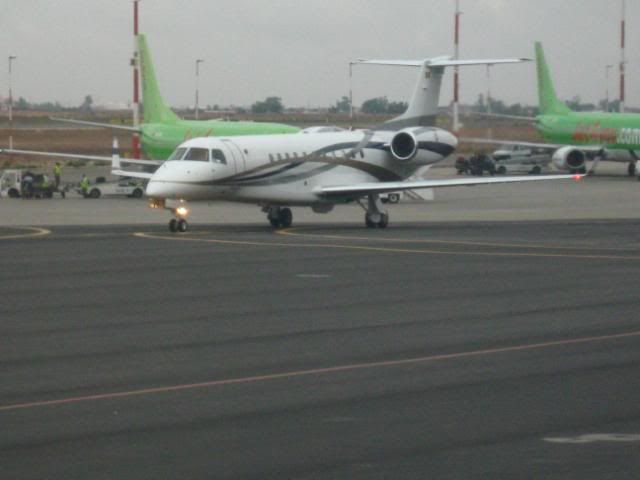 A private ERJ taxied by, i wonder who the owner might be, Net Jets maybe?
Jetway separation.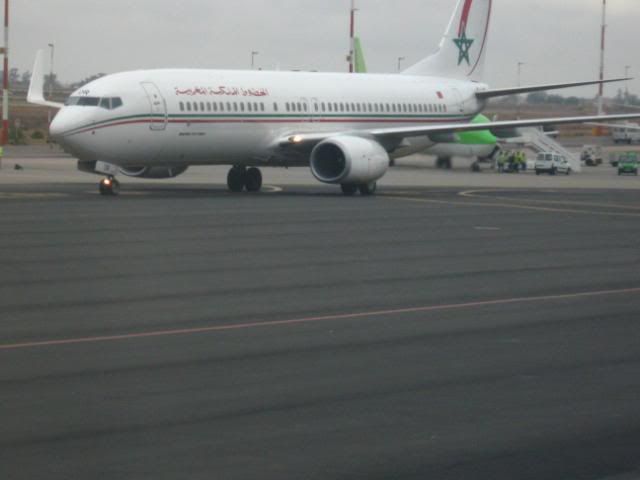 A Royal Air Maroc B737-8B6 with the new livery.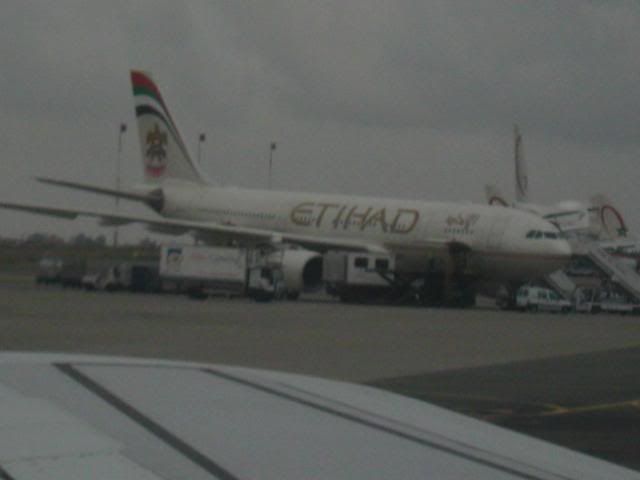 An EY A330-200 just arrived from AUH.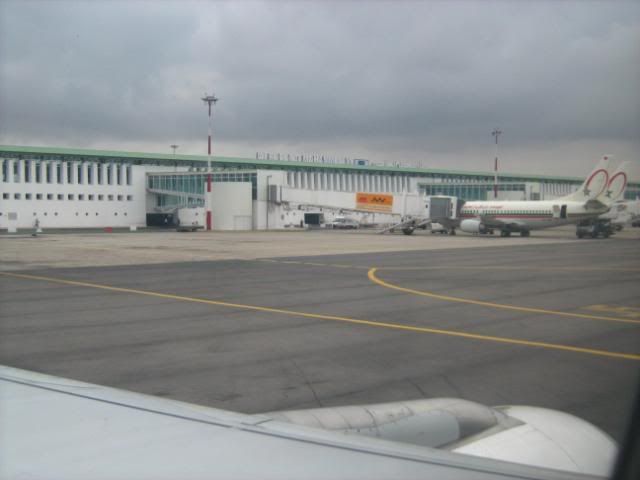 A last view of T2.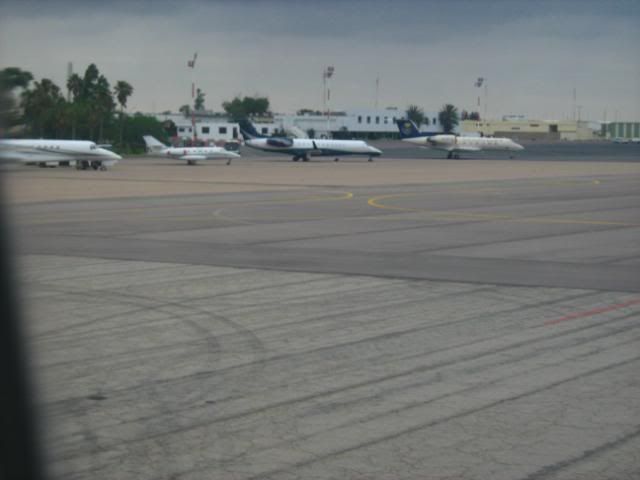 A selection of small business jets, note the Learjet wearing SV livery.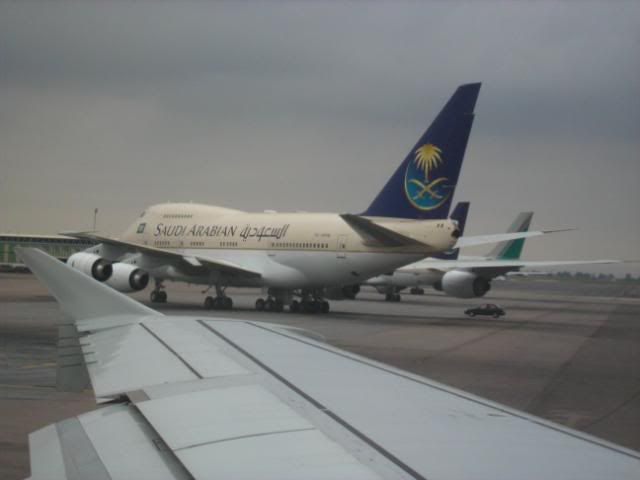 We taxied by a SV B747SP and B752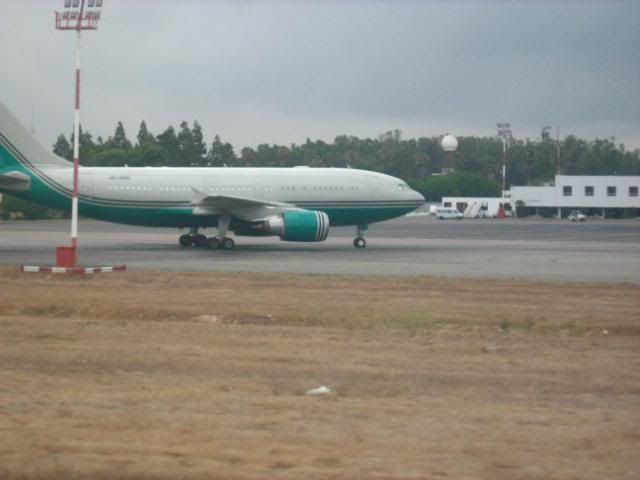 A private A310.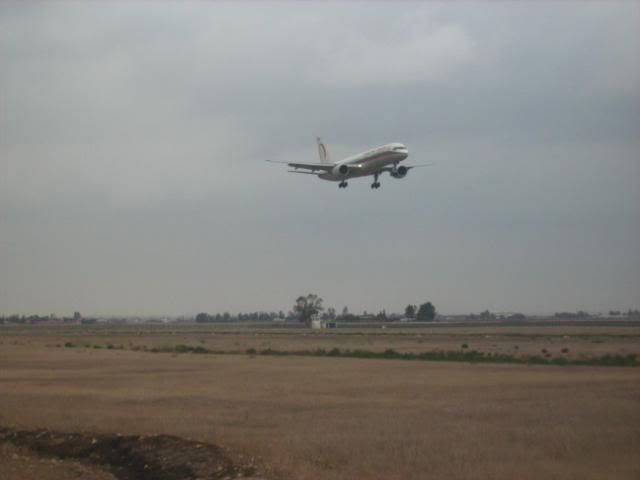 This AT B752 landed before before we could take off.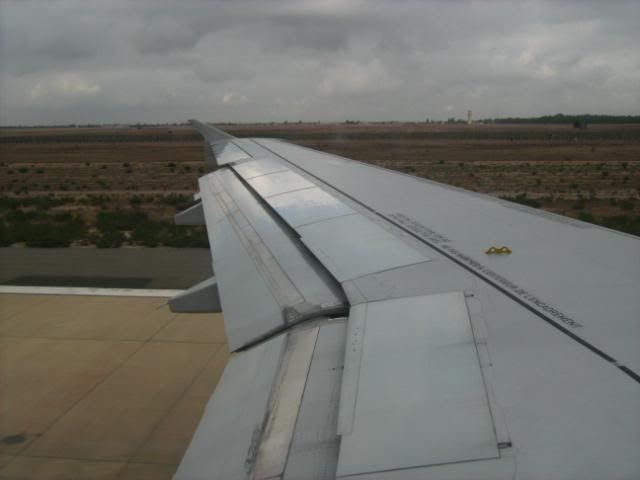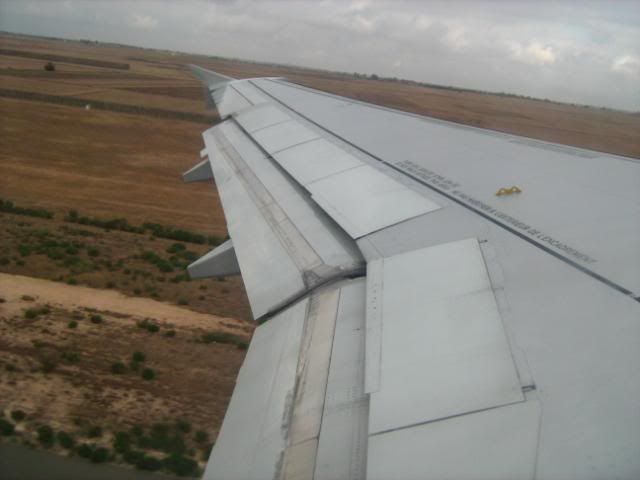 The take off.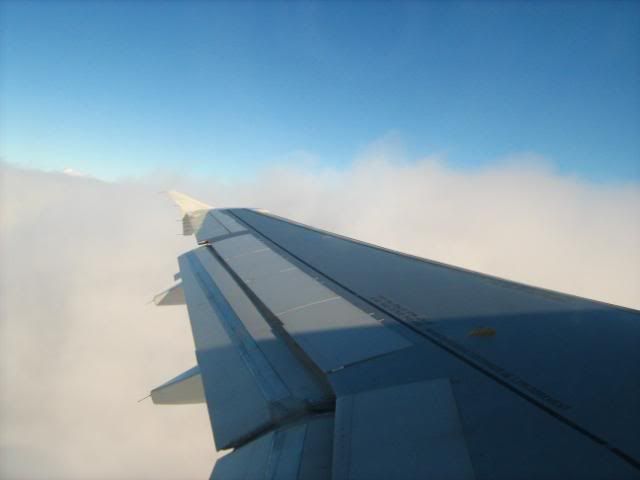 Breaking trough a thick layer of clouds.
Climbing to cruising altitude.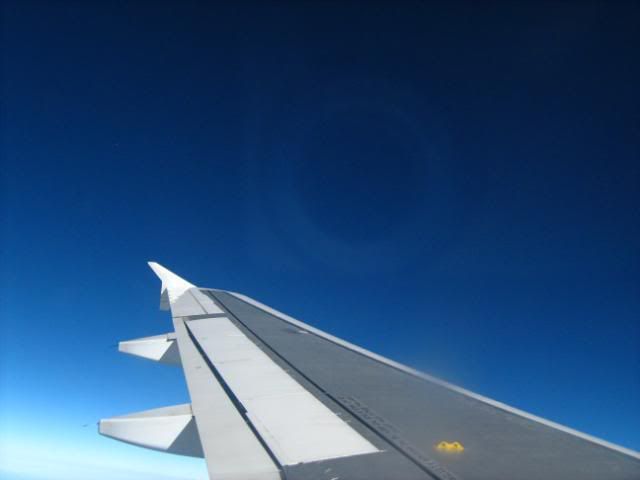 We made a hard bank to the right before heading north towards Spain.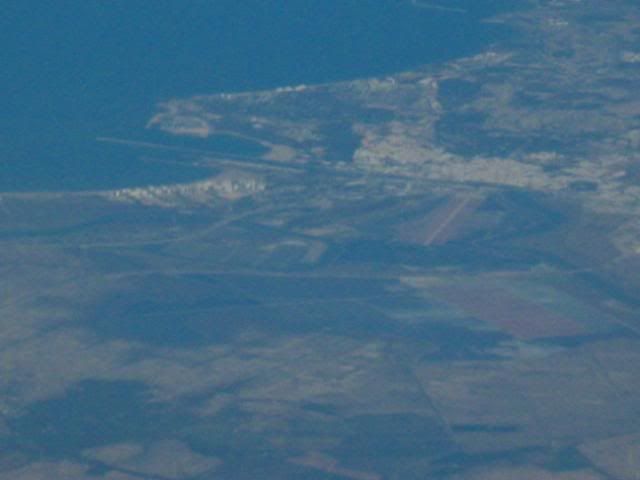 During the breakfast service the captain told us that we had the famous Gibraltar airport to the left, i quickly grabbed my camera and snapped a few shots. At this time i recognised the captains voice, i had actually flown with him one year earlier on the back then newest A320 in the fleet, F-GKXN on a flight from CDG to ARN. I also remember that i visited him in the cockpit.
After around 30m into the flight breakfast was served.
Breakfast Menu
Breakfast energiser consisting orange, apple, carrot and mango juice
---
Cold cuts of turkey Mortadella and Gouda Cheese
---
Yoghurt
---
Strawberry jam and butter
---
Breadroll and croissant
---
Tea or coffee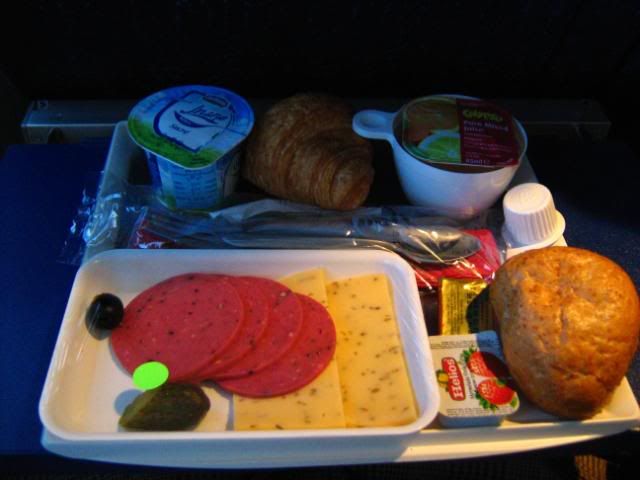 The breakfast was rather decent, not the best one I've had. Still i decided to finish it because it was going to be a long layover in Paris and i did not want to waste my money on some overpriced airport food.
When the F/As did the coffee/tea rounds the evil F/A almost refused to serve me coffee. I also noticed that the was smiling and acting friendly to all the other pax except for me. When she came to me she first gave me a mean look then she asked "Why don't you speak arabic?". I lied to her and said "Because i'm not very good at it".
After the breakfast and the unpleasant F/A experience i decided to go for a mandatory visit to the lav.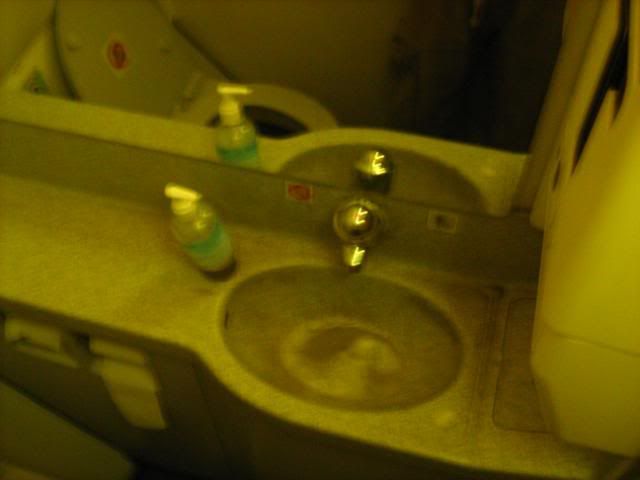 There wasn't much here too, I've even seen more amenities in the lav on a DY B733. Unlike LH, AF only have one lav in the back of their A319s.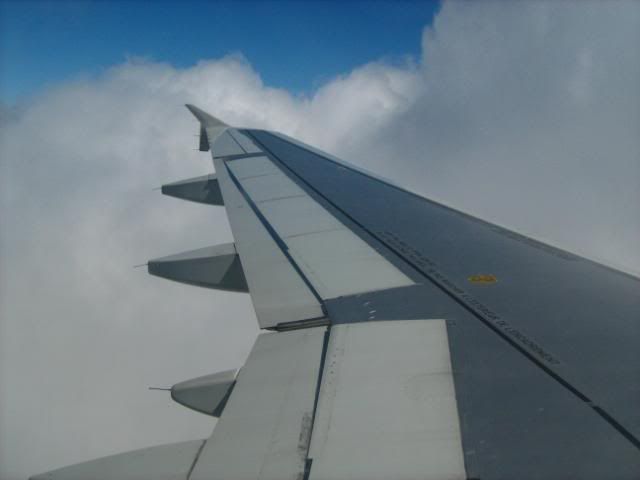 When i got back to my seat we had already started our descent into CDG.
Some pics taken during descent, approach and landing.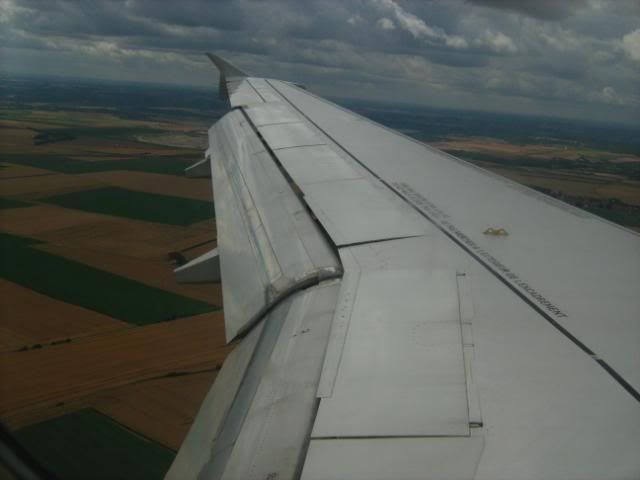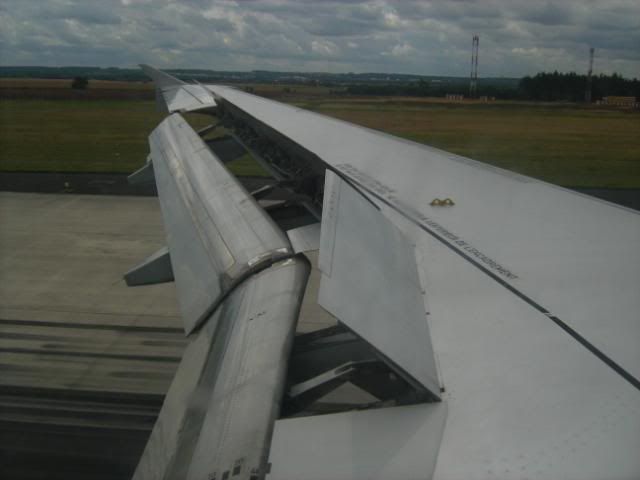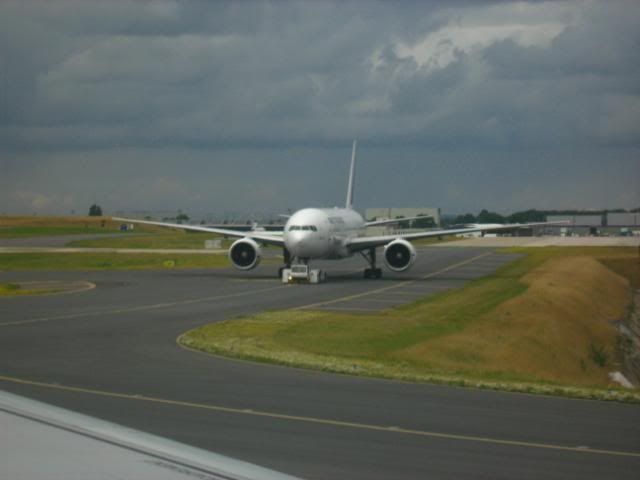 CDG really is a Triple Seven Heaven, T7s everywhere.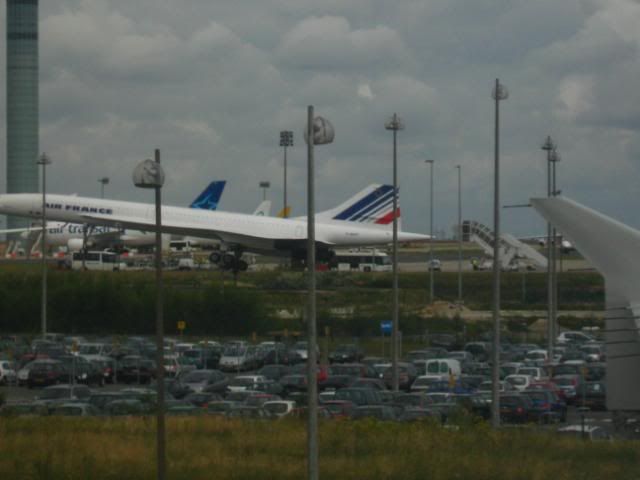 The Concorde.
I assume this is AF's headquarters.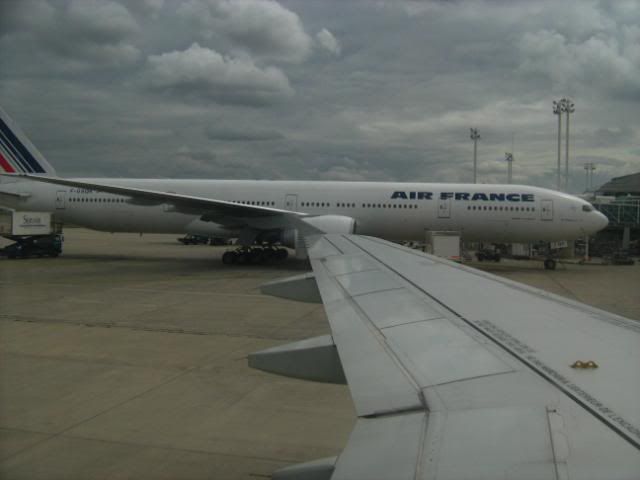 We parked next to a company B77W.
During de-boarding i wanted to visit the cockpit to meet the captain, but the evil F/A stopped me. So that will always remain a mystery.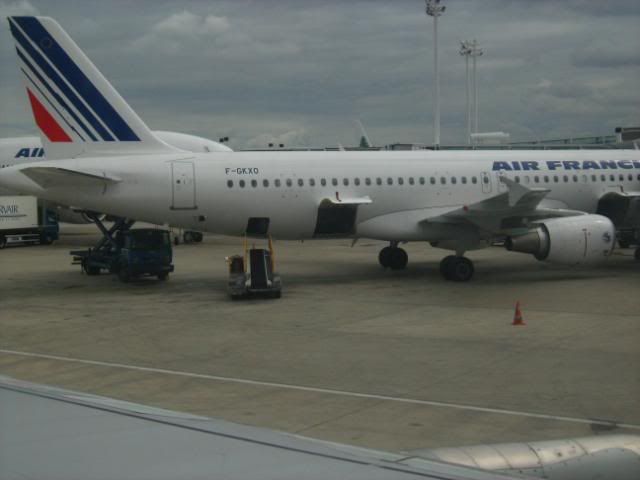 The now newest A320 in the AF fleet F-GKXO, there are currently no pics of it in the a.net database.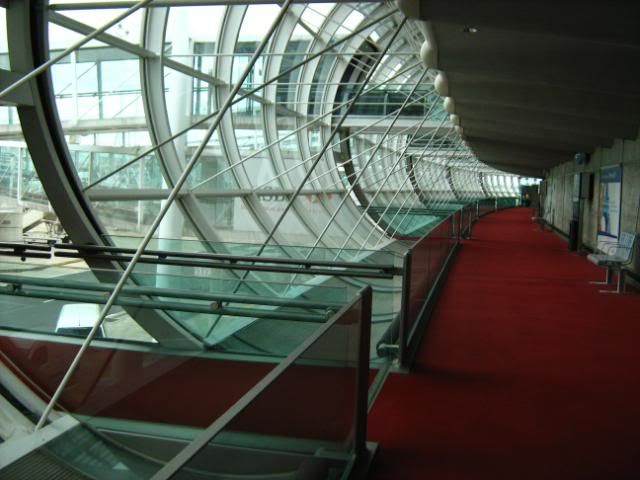 On my way to the immigrations.
There was a big group of Canadians ahead of me when i realised that i was in the wrong line, so i went to the line for EU citizens.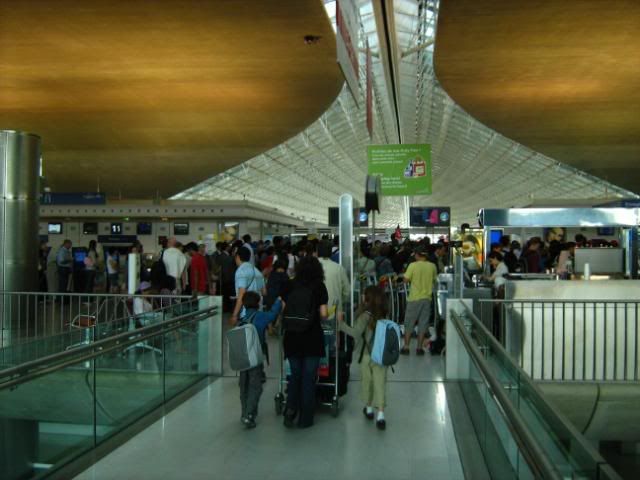 After clearing immigrations i went to the transit area. CDG was really a big mess today and i wasn't in mood of spending my 8 hour layover in this mess, so i went downstairs to the tourist information center. I asked the agent if i could make it to Paris and back in less that 7 hours, she said that it was possible and the best way to getting directly to cental paris was by bus. The agent told me where the Air France coaches were located, i also recived a map.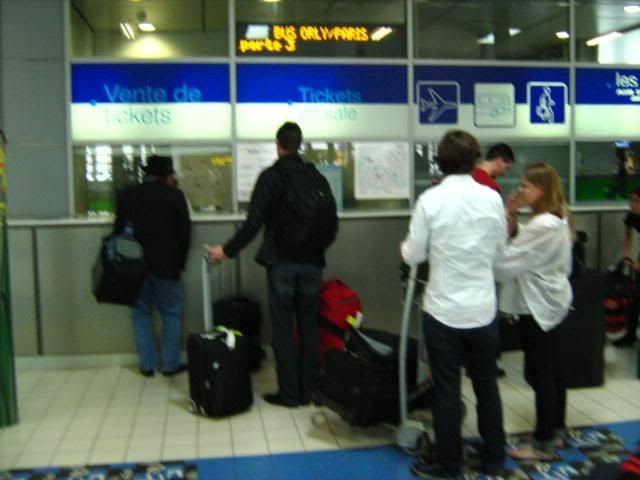 I bought a return ticket to central Paris for the very unreasonable price of 22€. When i walked out to the bus i realised that i had forgotten my map so i rushed back to the ticket sales counter and grabbed it, fortunetly i made it back on time to catch the bus.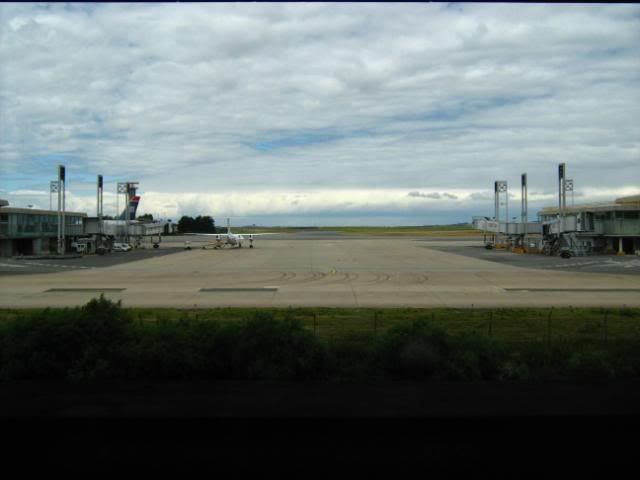 We passed by the very sad looking terminal 1. On the way to Paris we passed by many of those infamous sad looking suburbs. I was also very surprised to see big neon advertising signs for Korean Air and Air China on the house roofs.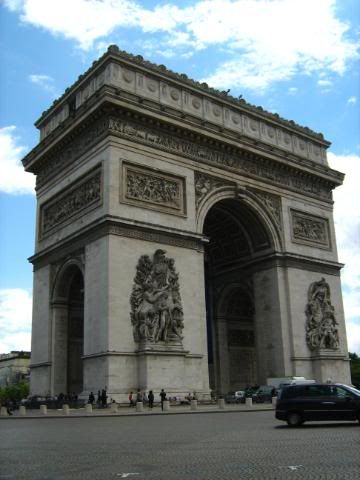 After a 45 minute bus trip i was finally in Paris for the very first time in my life. The first impression of the Triumph Bow was that was much smaller than what i had earlier thought. Everywhere i looked i could see tourists walking around with big cameras and wearing t-shirts with the writing "Michigan" on. I could also see young couples making out on pakrbenches and wherever i walked i could hear people laughing like drunken mainiacs. So as you can see i didn't feel very comfortable here.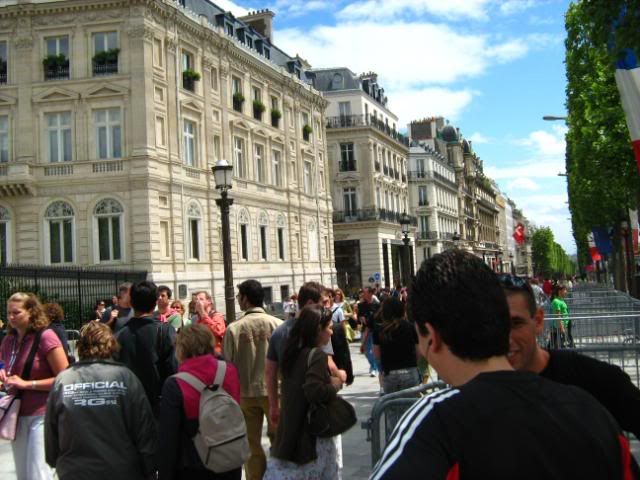 I decided to walk away from the Triumph Bow to Champs Elysées.
But i quickly returned because it was so full of tourists and i was also afraid that my bag with ticket, passport and contact lens accesories could might get stolen. When i got back i made an attempt to go to the Eifeltower, but i soon returned because i didn't want to risk missing my flight to Stockholm.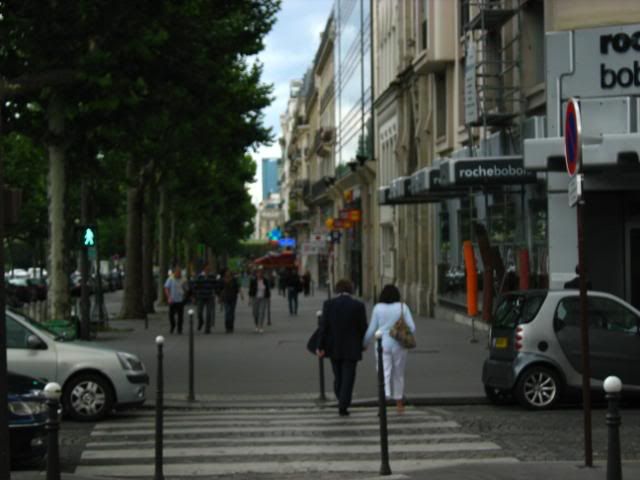 Instead i decided to walk on Avenue Charles De Gaulle towards the business district La Defense, the way there was a bit longer than to the Eifeltower but it was much easier.
At this time i started to get really hungry so i started looking for a McDonalds or a Subway, after hearing some bad things about McDo in Paris i decided to go on empty stomach.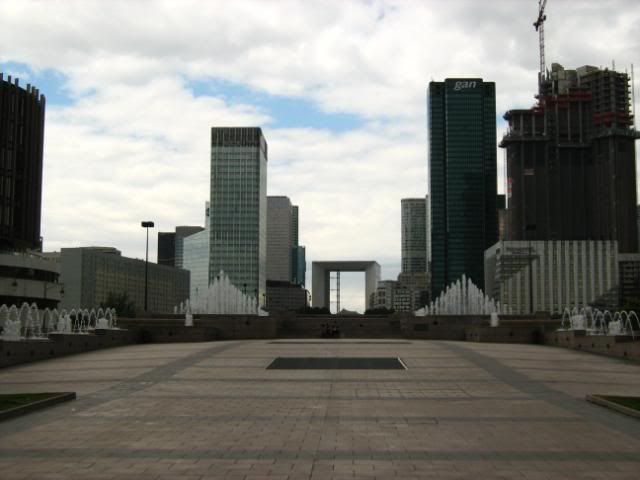 After roughly an hour of walking i arrived at the fountains near La Defense, i did not want to go any further mainly because i was tired but also because i didn't want to miss my flight. So i sat down and rested for a couple of minutes before i began walking the long way back to the Triumph Bow
On my way back i decided to walk on the smaller streets instead.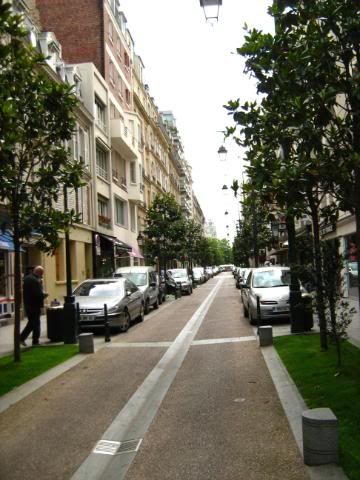 Pics taken on my walk back.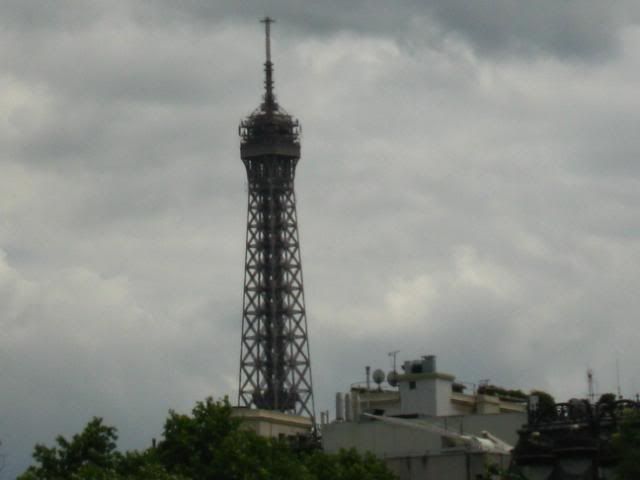 This was pretty much the only thing i could see of the Eifeltower.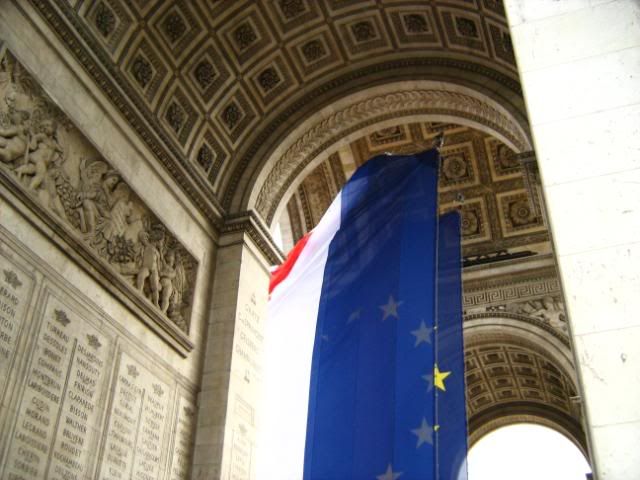 This was the last pic i took of the Triumph Bow before it was time to get on the bus back to the airport. I slept for most of the 45m long trip back to CDG.
When i arrived i was starving so i went to the food court to buy myself a baguette. I chose a salmon and cheese baguette, when i was going to pay for it the machine didn't accept my card. I tried several times but it just didn't work so i simply just had to give back my baguette. I walked away from there feeling hungry and incredibly embarassed.
Before passing security i went to the restroom to wash my face from all the dirt i got from Paris. After passing the security i exchanged 20SEK to 1.91€. For the money i bought a small pack of Lays potato chips.
Flight four
Flight nr: AF 1262 CDG-ARN
Departure: 20.00
Arrival: 22.30
Duration: 2h 30m
Aircraft and reg: Airbus A320-211 F-GFKN
Seat: 14F Economy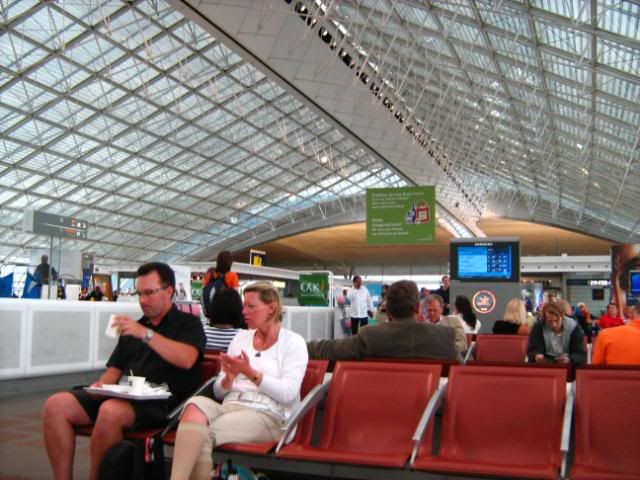 After having that pack of chips my hunger was temporarily gone. During the last 30 minutes before the boarding was called i read in the in-flight magazine, after that i did some window shopping before heading back to gate.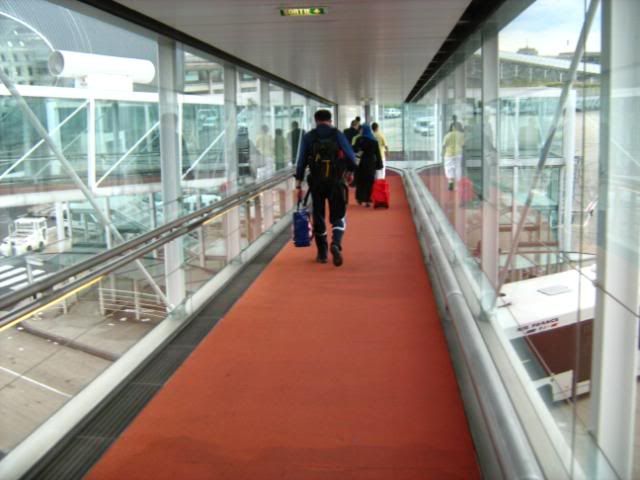 Boarding was called at 19.20, when i walked down the jetway i couldn't see the aircraft.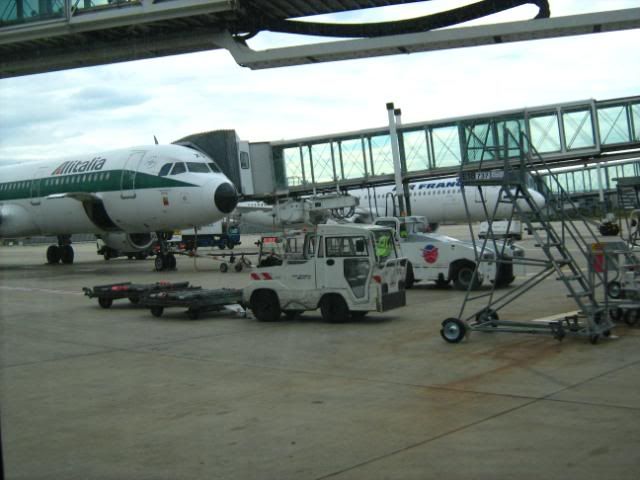 I soon found out that our A320 was parked at a remote parking stand, so instead of boarding an A320 we boarded a Cobus 3000.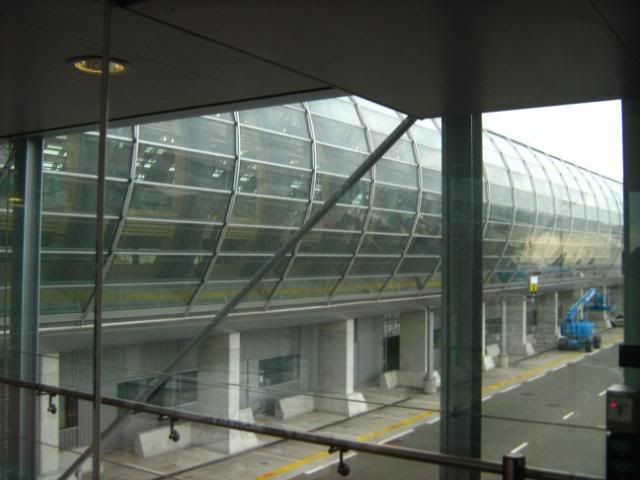 After a 20m bus ride we arrived at the new Terminal 2E. The terminal looked really nice and fresh.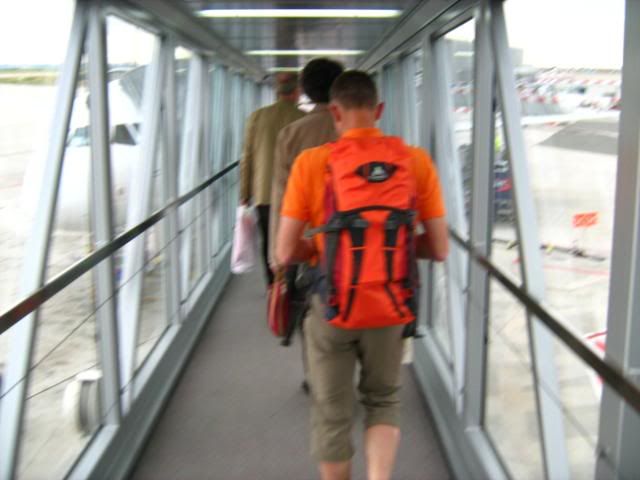 Walking down to the plane.
Boarding.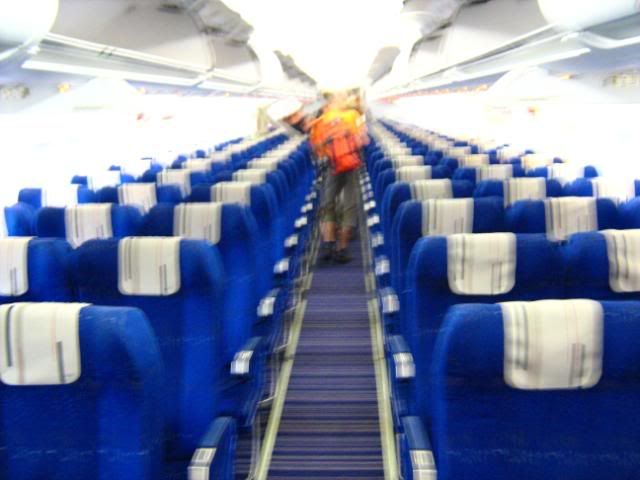 I noticed that our A320 was one of the older versions, the seats were old but the ceiling and overhead bins looked quite new.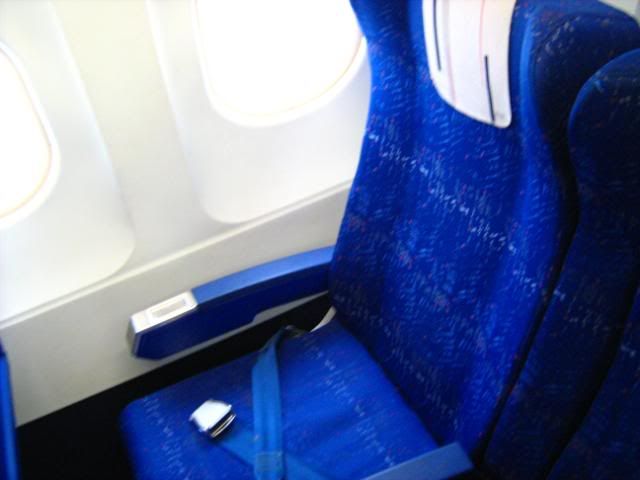 The old seats are a bit more comfortable than the new ones.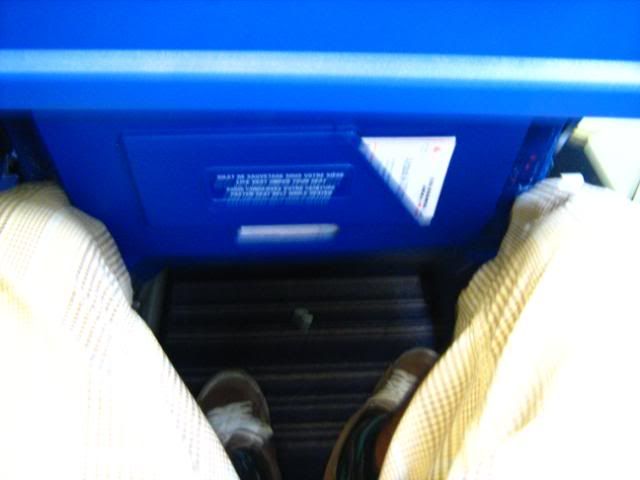 The legroom on this flight was excellent.
We departed on time, to my big surprise we taxied to the runway on the other side of the airport.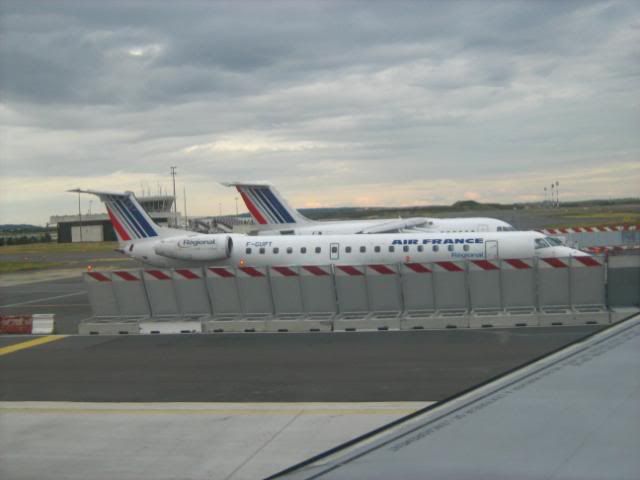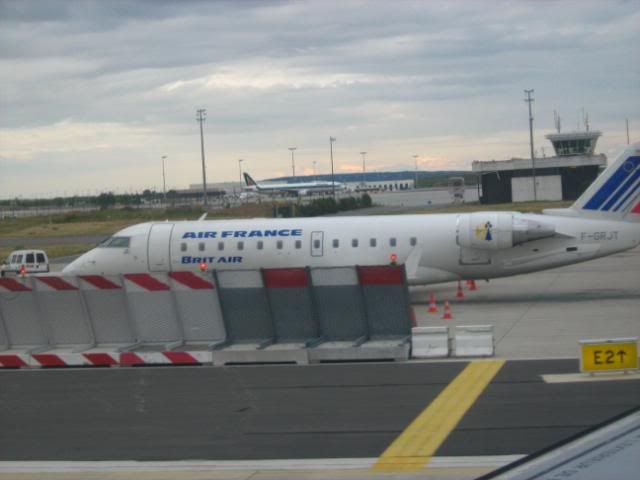 We taxied by a number of regional jets.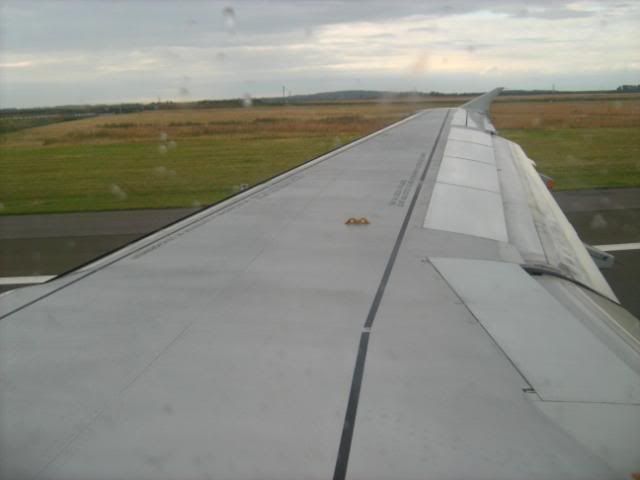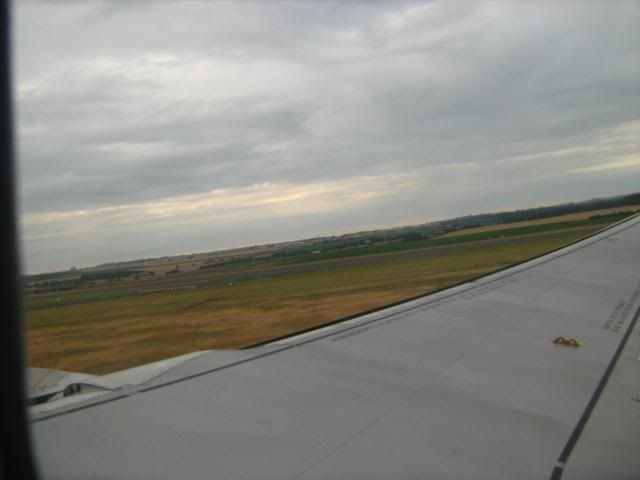 Take off.
We made a hard bank to the left, this made it possible to get a decent view of the airport.
Between two layers of clouds.
Finally some blue skies.
Since i had ordered a Muslim meal for this flight i feared that it would end up getting a crappy low cal meal.
Dinner Menu
Starter: Tabbouleh (Lebanese couscous salad)
---
Main Course: Prawns and salmon paté with fried squash, cauliflower, red and yellow carrots and zucchini
---
Dessert and Cheese: Cherry pie and Président Camembert Brie
---
Bread and Butter
---
Tea and Coffee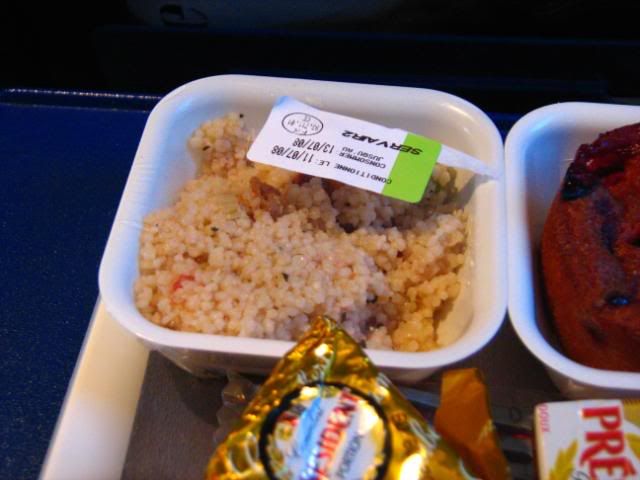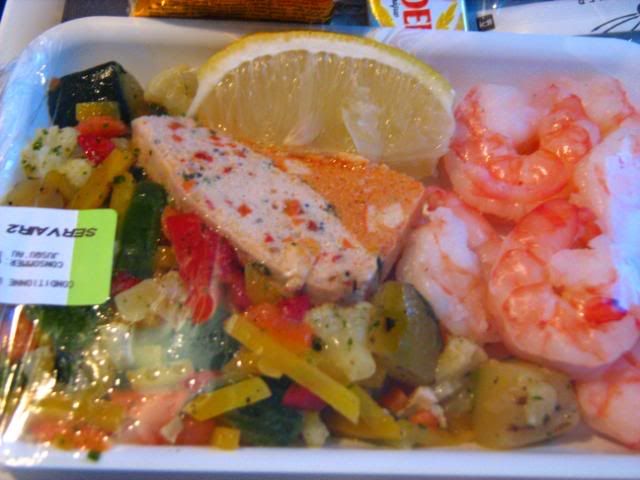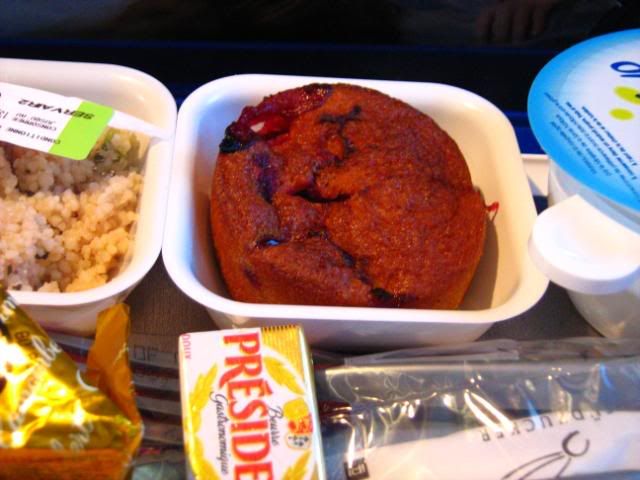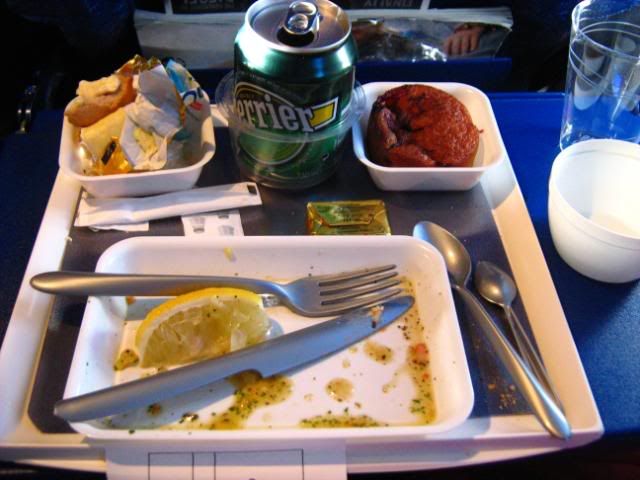 The meal was wonderful, maybe the best meal I've ever had onboard an airplane, it looked much tastier than the food the others got (Fried salmon and lentils). I finished every single bit of the meal (i waited with the dessert until the coffee came)
After the meal i went to the lav.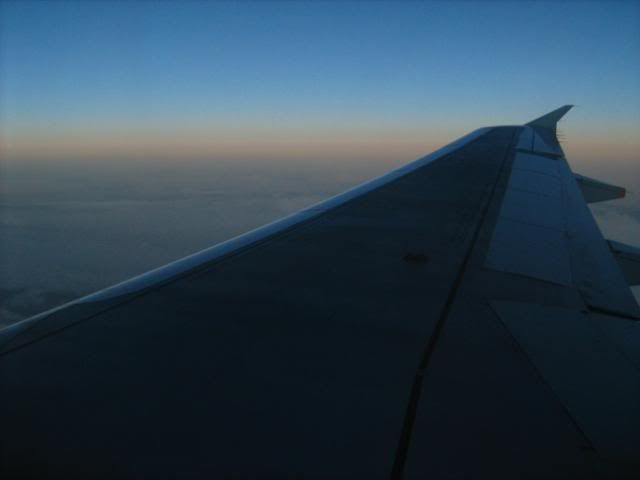 The lav on this plane was blue and very old.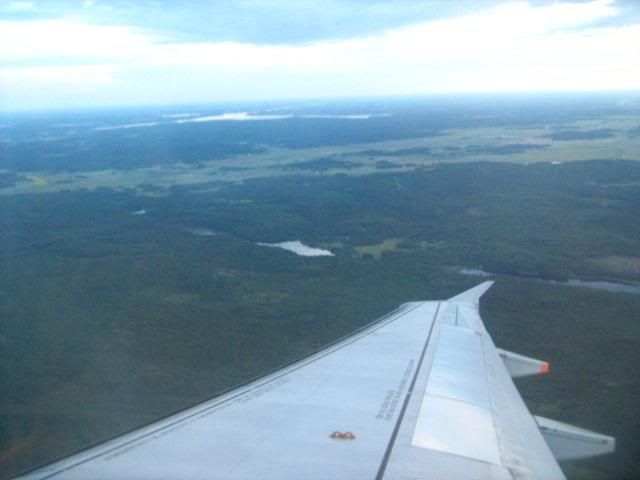 As the sun started to set we began our descent to ARN.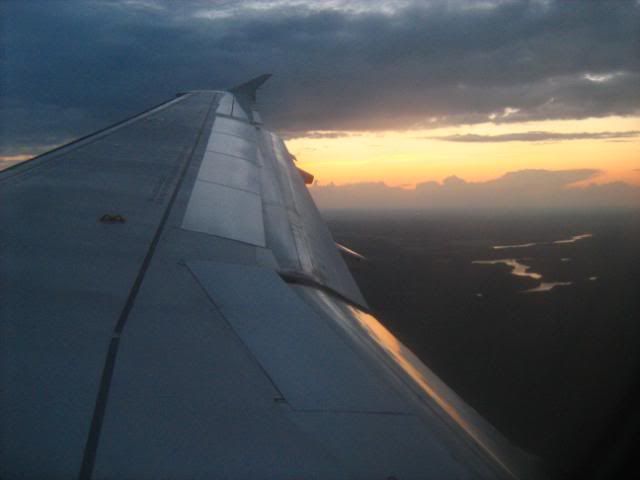 Making a final turn before landing.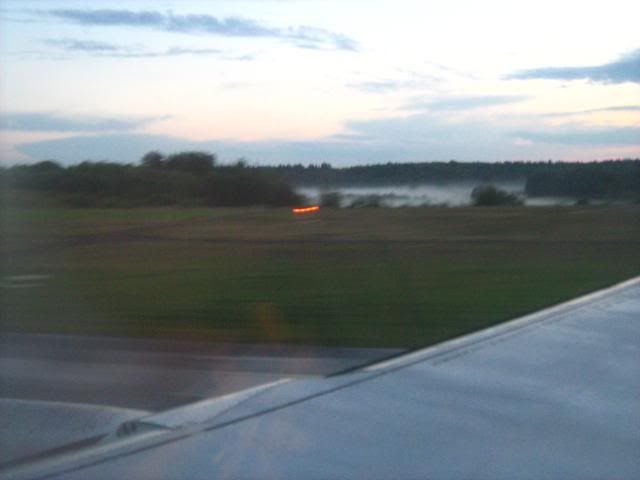 The pilot made a smooth touchdown at ARN, the landing scenery was almost magical. It felt really nice to be back in Sweden after 25 long days in Morocco.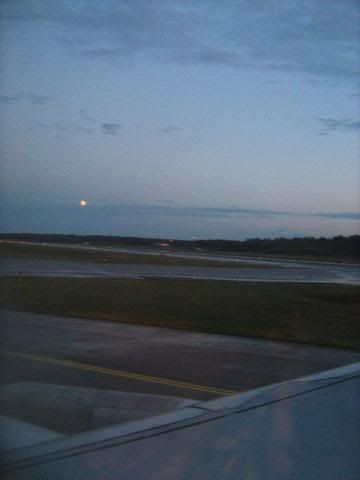 Turning off the runway.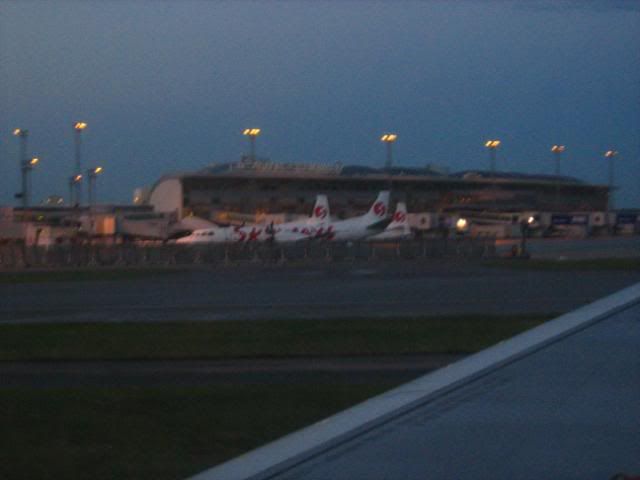 Taxing to our gate at Terminal 5.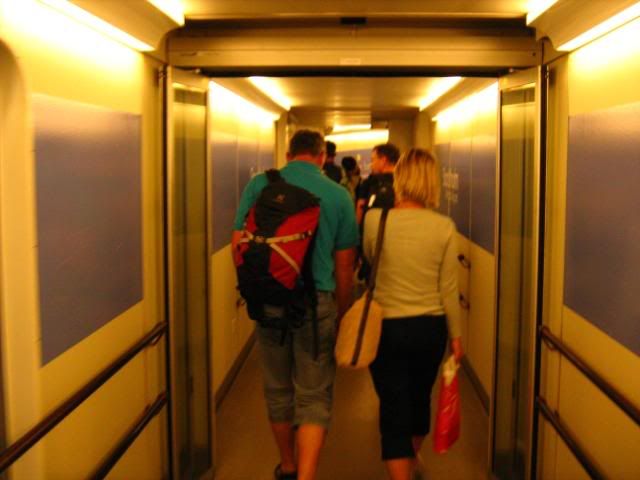 I really like the jetways at ARN.
Walking to the baggage claim. As i got to the baggage claim it took a while before something that looked like a crushed red bag appeared on the belt. I feared that AF would have lost my baggage as they always do, but this time it had arrived unsafely to its final destination.
As i walked out to the Arrivals hall my mom wasn't there so i had to call her and say that i had arrived. It took her who hours to get to ARN and i was home in VST at around 5.30 in the morning. When i got home i passed out on my bed and slept the entire day.
That will mark the end of this journey, thank you for reading and feel free to give comments.
Next trip: A weekend to Prague on OK
Stay tuned until then, Bye.