Last year, investment group Leadgate purchased 75% of Pluna, the small, profitless Uruguayan flag carrier, with plans to completely transformate it, producing profits as early as this year (the fuel price has somewhat delayed their plans)
Key in their plans is the creation of a regional hub at Montevideo, from where it is possible to access several destinations in Argentina without the trouble of changing airports (AEP to EZE) in Buenos Aires.
A very important part in their transformation was the purchase of 7 CRJ900 NextGens (plus 8 options) with which to replace the old 737 fleet, mostly composed by the –200 variant.
At the moment five CRJs have been delivered. The sole 767, CX-PUG, will be retained for the intercontinental flight to Madrid.
A radically new corporate scheme, designed by Australian Ken Cato, was implemented as well.
New regional destinations, like Cordoba, Rosario, Bariloche (Argentina), Curitiba and Rio de Janeiro (Brazil), have been added, helping with the creation of a real regional hub at MVD.
The airline website, flypluna.com has taken a new protagonism, offering online check in and very attractive offers to different Pluna destinations.
When time to travel overseas arrived, I decided to book my international flight out of EZE instead of MVD, just to try the "new" Pluna and their brand new CRJs. That was the reason I booked MVD-AEP-MVD with them, all through flypluna.com, a very easy and straightforward process. Soon I received an email confirming my purchase, and with my flight details.
FLIGHT 1, MVD-AEP
PU153
08:20 hrs.
CRJ 900 CX-CRB
I left my home very early, as I don't directly live in Montevideo. The weather was foggy, thing that slowed my trip down to MVD a little, and will continue to give problems the whole morning. I elected not to make my check in online, as the system is quite new, and I still don't trust it completely.
When I arrived at the airport, I found out that it was effectively closed because of meteorology, read, fog. However, the lady at check in told me not to worry, she doubted the fog would last until 8:20 hrs.
The check in line was very fast, in fact, there were very few passengers on it. After check in, I paid the Airport Tax (16 USS for Shuttle flights to AEP) and went airside.
At those early hours, Immigration was fast, and Security relaxed. Once inside I encountered the quite upset crowds of the very early morning TA flight to LIM, GOL to POA, and Pluna´s first flight to AEP (I was in the second), all stranded because of the fog and waiting for good news.
MVD´s gates area is quite small, and with those 4 flights (including mine) the place was quite full. A totally new, and very necessary, terminal is being constructed, aperture planned for this summer (for people in the southern hemisphere) / winter (people in the north hemisphere.
Suddenly, a flurry of activity took place at both the TACA and Gol counters, while both airlines called their respective flights for boarding. Obviously, the airport was now opened, the fog had cleared enough to ensure safe operations.
No word from the Pluna desk, though. I realized that AEP was surely also plagued with fog, which was delaying our flights even further, but most passengers were quite upset at watching everyone leaving except ourselves.
Fifteen minutes later, Pluna started calling for their first flight to Buenos Aires. We were finally leaving. A few minutes later, our flight was also called.
Pluna calls first all passengers on rows 23-15, something that contributes to a faster boarding procedure. As I was seating on row 4, I was one of the last passengers to board. Boarding was done with the traditional bussing system (MVD´s current terminal has only one finger, the new one will have 4), which always provides good views of the aircraft, but also makes the row boarding system useless.
With the bus, we approached two Pluna CRJs, CX-CRD (painted purple) will be flying the first flight (I'll see the aircraft again in AEP), and CX-CRB, the second CRJ received (painted green) would be performing our flight.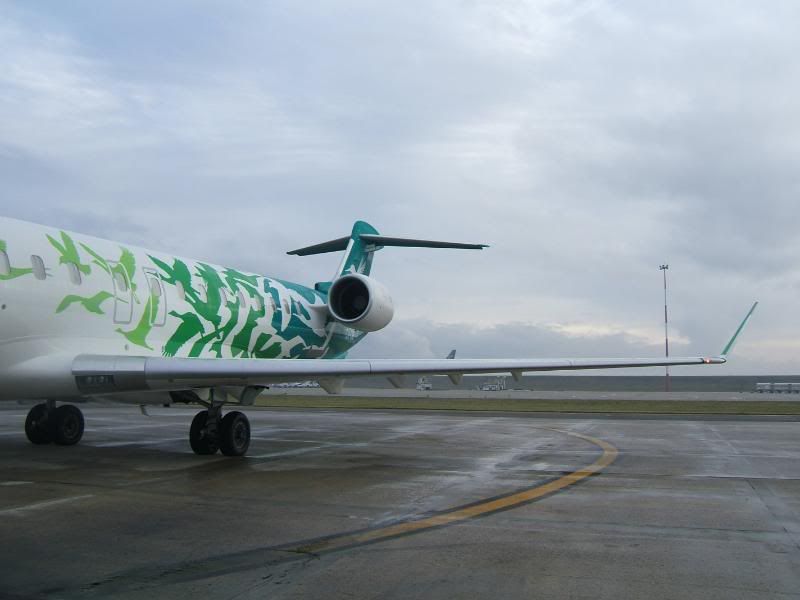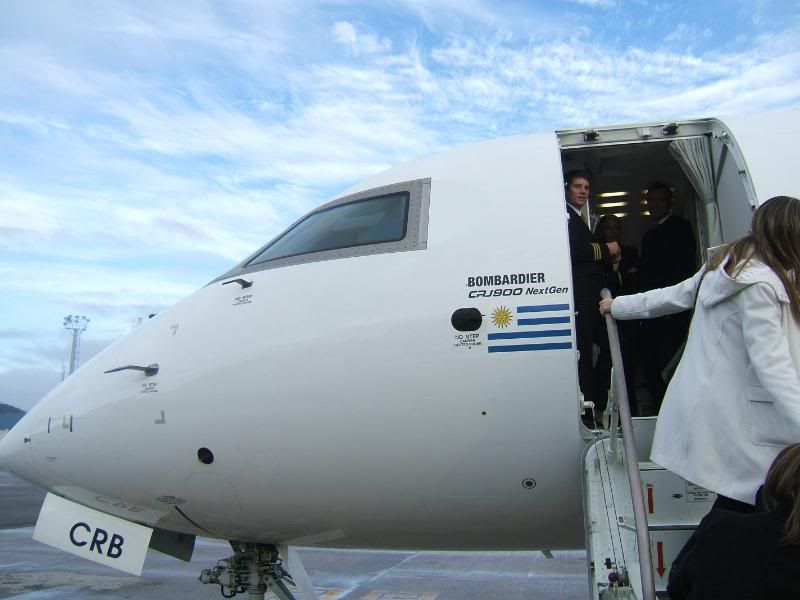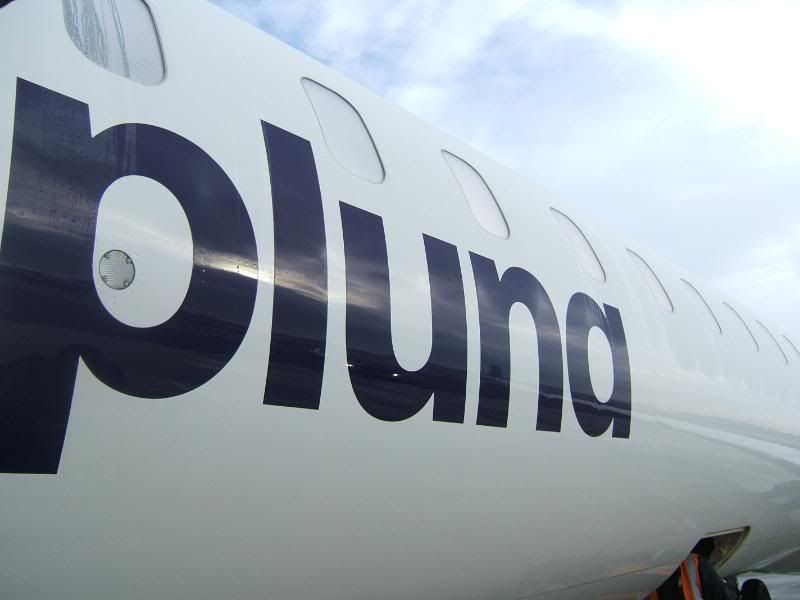 As you can see, bussing offers plenty of picture opportunities. This was going to be my first CRJ900 flight, in fact, my first RJ flight at all, so I was quite excited.
My first impression when I boarded was how small it looked compared to the traditional 737. And how super modern everything looked, specially when compared to the old 737-200 (the NextGen interior is amazing) The smart gray leather seats combined with the LED lighting made the interior look space age.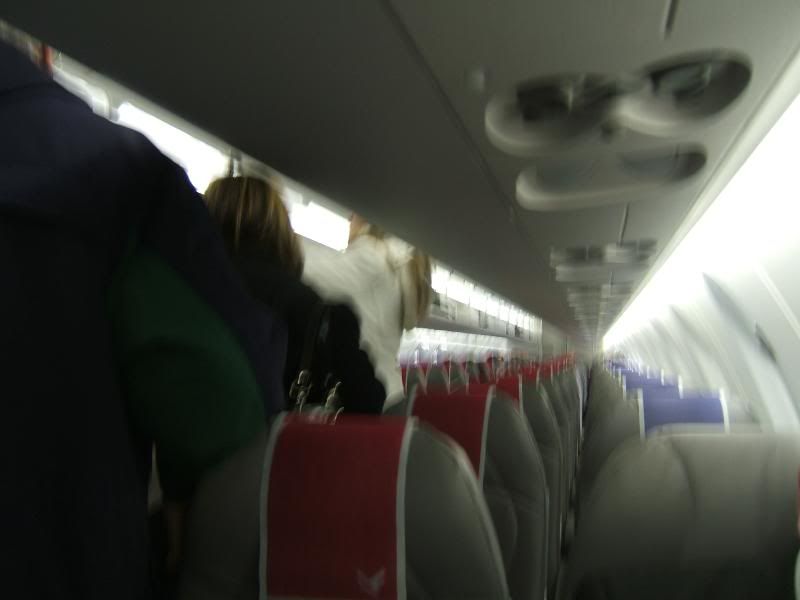 Sorry for the blurry picture. Once on my seat, I realized it was quite comfortable and it had good legroom.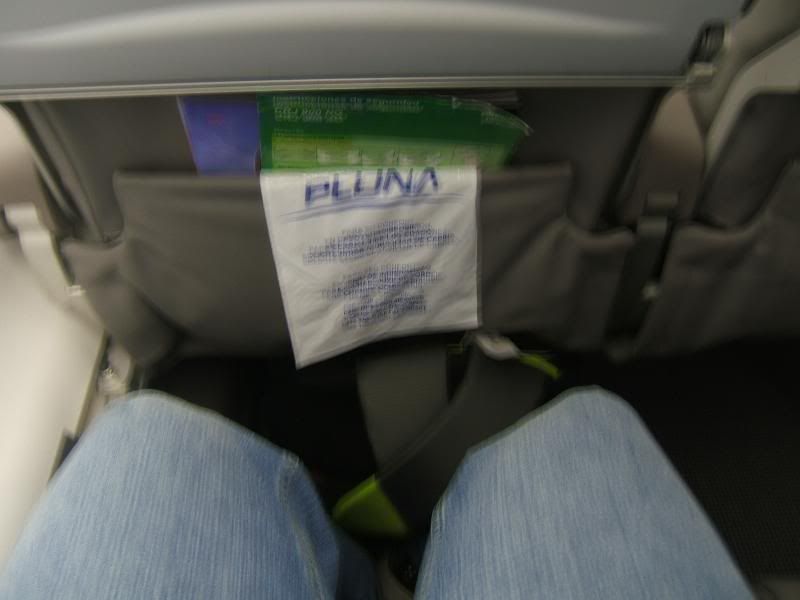 The windows were huge, pity they are so separated. However, all rows except 14 (right before the emergency exit) have a window. If you someday fly with a Pluna CRJ, remember to avoid row 14.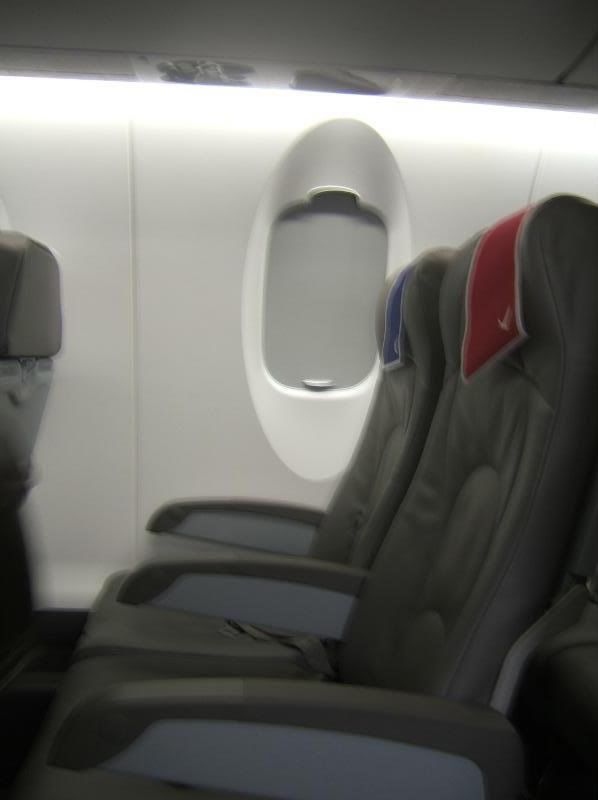 I also found very interesting the LED illumination used.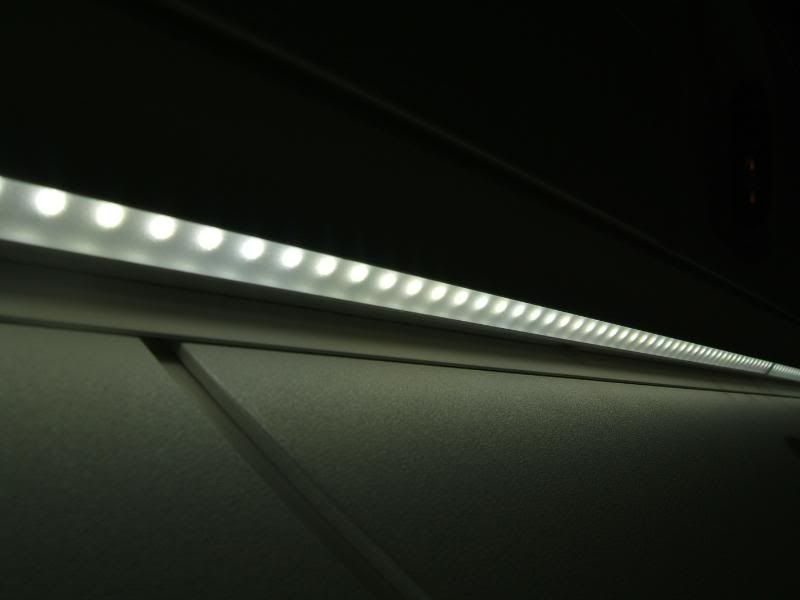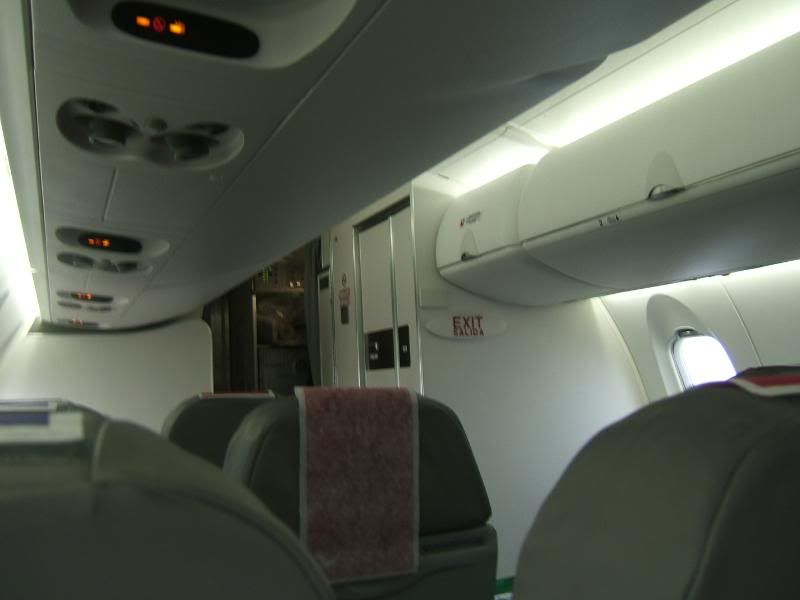 After all passengers were seated, the safety briefing was performed. Due to the short duration of the flight (just 30 minutes), the presentation was quite short, skipping notably the oxygen mask and life vest parts. It was done manually; surprisingly Pluna´s CRJs aren't equipped with any IFE in which an automized safety briefing could be presented.
The captain on this flight was Canadian, providing training on the CRJ for the Uruguayan pilots. Thus, all PA announcements to the crew were in English. The whole crew, and Canadian captain, seemed to be in a good mood, for example when the lead FA communicated to the captain "Cabin secured", the captain responded something and the FA laughing repeated, in Spanish, "Cabina asegurada"
Soon we took off, 30 minutes late. The videos of this flight are very nice; but I specially recommend watching the videos of the second one later on the report. Those are, in my opinion, truly superb. The truly fun part of this particular video starts at minute number one.