This TR will be the first out of several involving my journey to, around, and from Africa. The reason for the somewhat unusual routing is due to the fact that this is an award ticket using DL miles. Also, please note that I am not sitting in the same seat as my boarding pass states as I switched around with my family. This TR includes the following flights:
NW491 TPA-DTW (Boeing 757-200)
AF373 DTW-CDG (Airbus A330-200)
Check-in at TPA took a good 15 minutes once we were at the counter. The NW agent was having trouble accessing AF's system so that she could check our bags to CDG. Once that was sorted out, we made our way to gate A8.
An F9 A320 pushing back for DEN. I really hope things improve for them as they are a great airline.
Our B757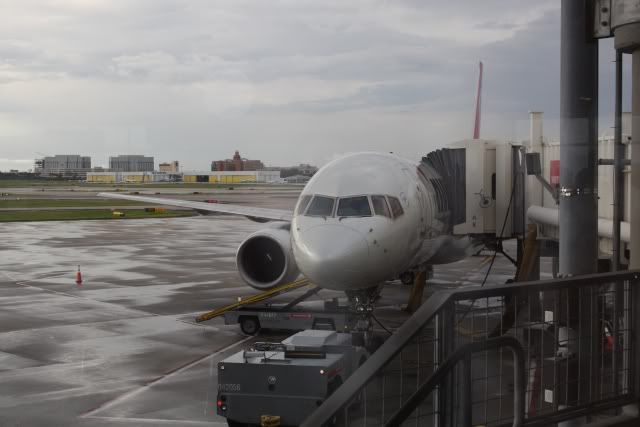 Date: July 13th 2008
Flight: NW491
Departure: TPA
Arrival: DTW
Scheduled Departure: 09:42
Actual Departure: 09:38
Aircraft: Boeing 757-200
Estimated Load Factor: 100% in both F and Y
We boarded on time at about 09:05 and we were greeted by an unsmiling cabin crew member. Oh well, it's only a 2 ½ hour flight.
Boarding pass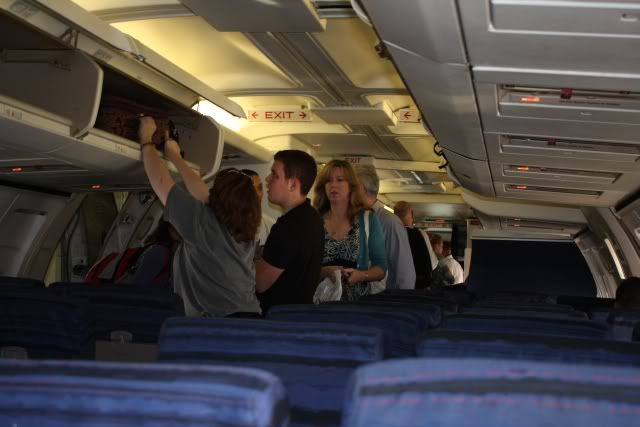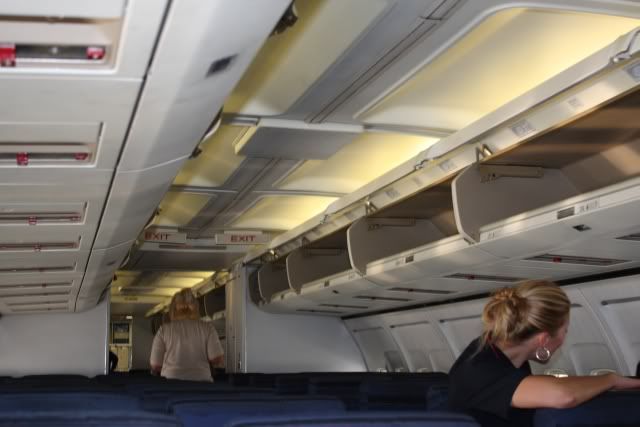 We pushed back a few minutes early and the captain welcomed us on board giving us some information about our flight today.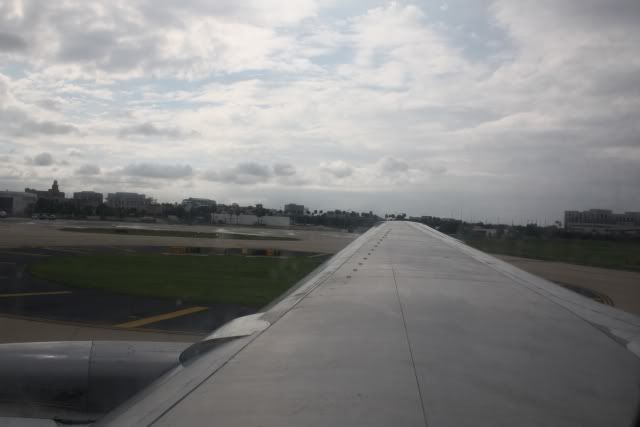 Rotate!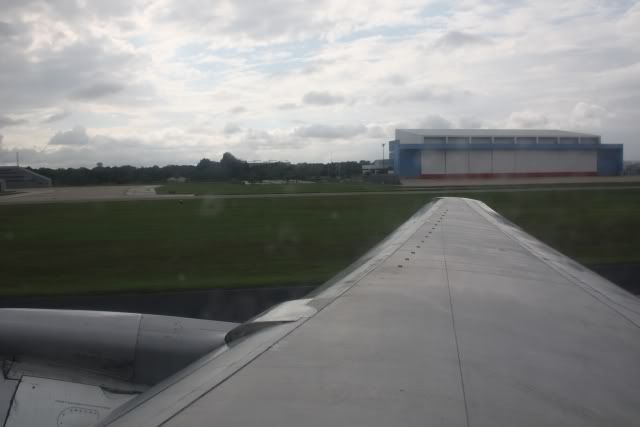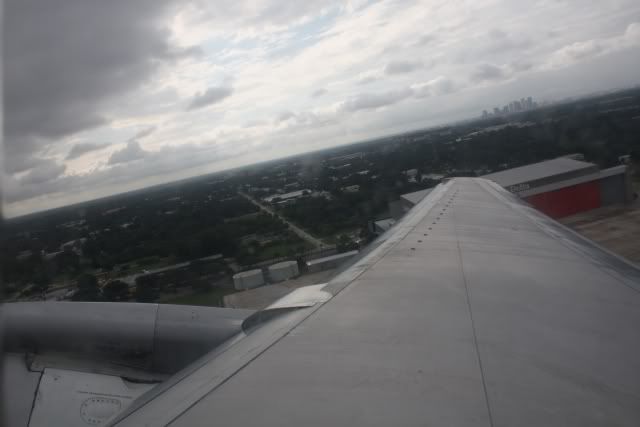 The climb was a little bumpy as there were quite a lot of clouds.
Meal service consisted of a drink. Impressive, I know. They had other snacks that you can buy but I wasn't all that hungry. Once they completed the drink service, they disappeared for the rest of the flight until they came back and picked up our trash. The attitude of this crew just made me look forward to my AF flight more. Definitely not the happiest bunch.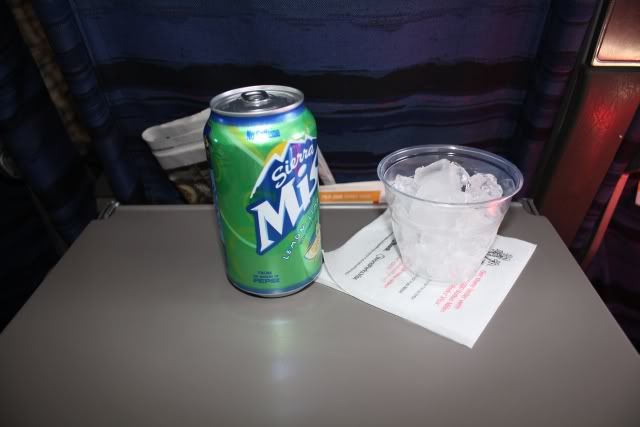 The rest of the flight was smooth and uneventful.
The pilot came over the P/A informing us of our descent into DTW and mentioned that winds were at about 18 knots. I was hoping for a nice crosswind landing!
Landing video
Ground scene at DTW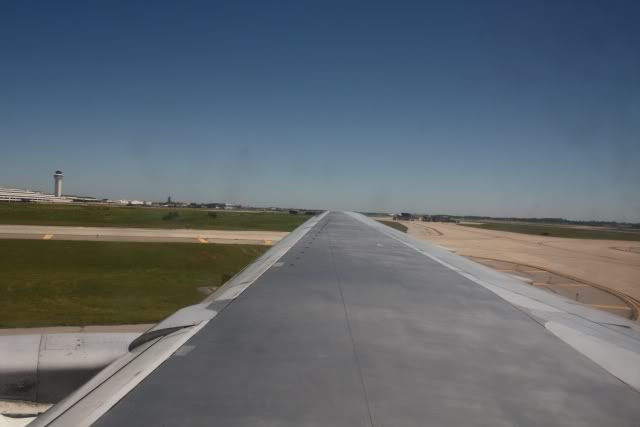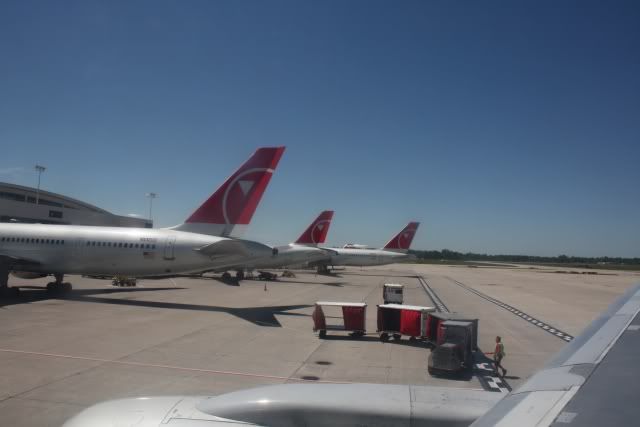 7 Hour Transit in DTW
Unfortunately, there are only 3 and sometimes 4 flights a day from TPA to DTW depending on the day of the week. If we took the later flight, we would have about a 50 minute connection in DTW, which is possible to make. However, this trip was too big to take any risks. Plus, the NW flight was booked separately so we would not be insured if we missed our AF flight. Oh well, plenty of time to take pictures!
As we were flying in Affaires on AF, we made our way to the NW lounge. As we did not receive our AF boarding pass in TPA, we asked the friendly NW agents if they could print it for us. They replied by telling us that they cannot do it and we have to go to the AF ticket counter to get it.
Huh, I thought SkyTeam carriers had access to each other's system. Oh well just a minor inconvenience as we were already in the secure area. More on this later though.
I left my family to go explore the DTW terminal, which is very nice.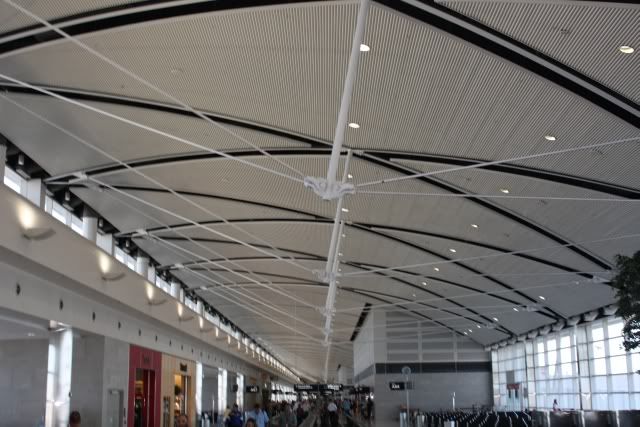 NW A330-300 to some European destination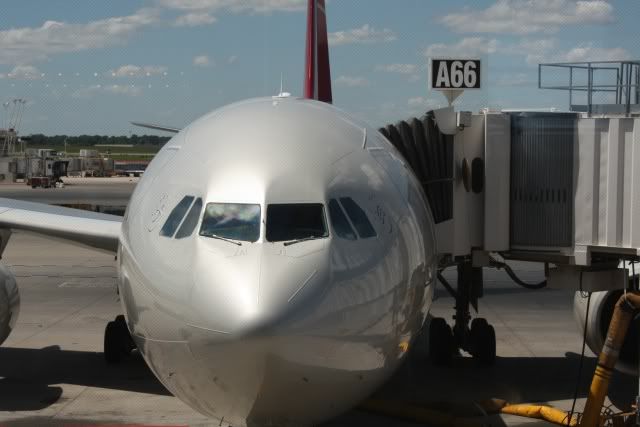 A flight to NRT was being boarded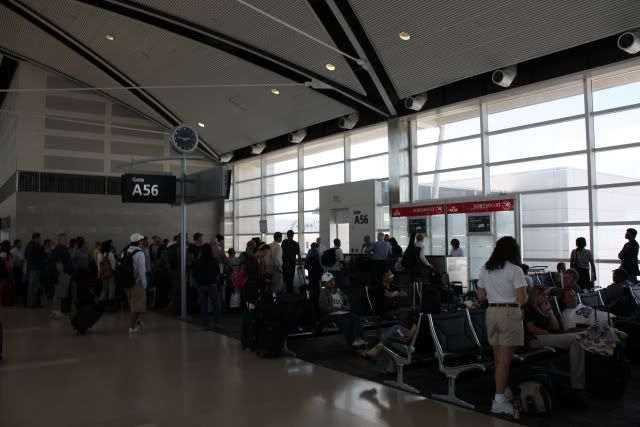 The tram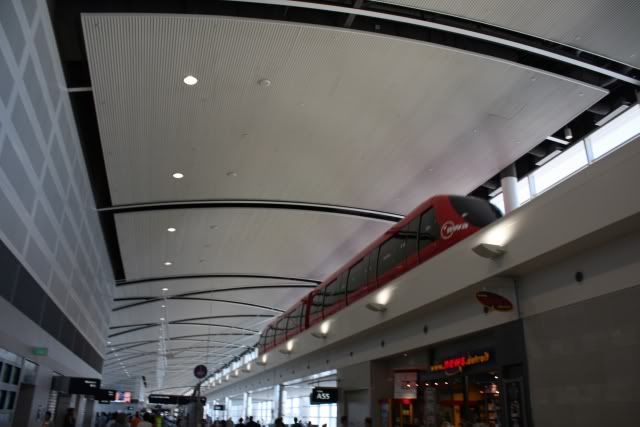 An LH A333 to MUC or FRA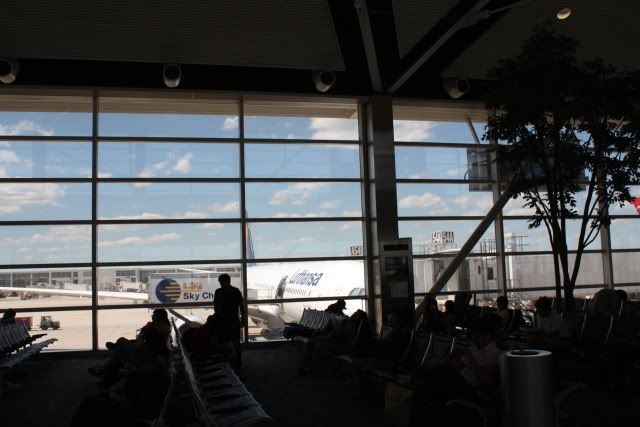 Everyone was taking pictures of this 744 from this angle so I thought it would be a cool picture.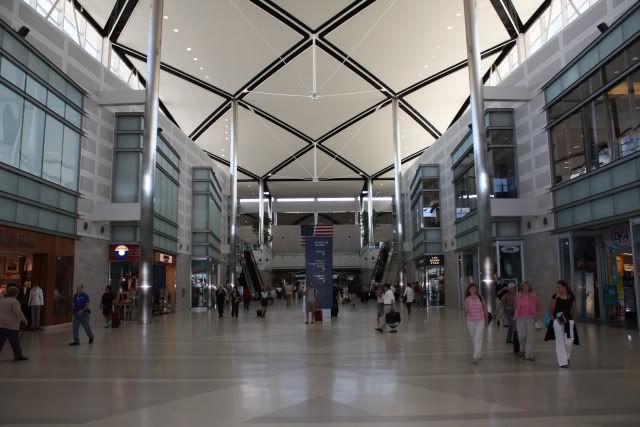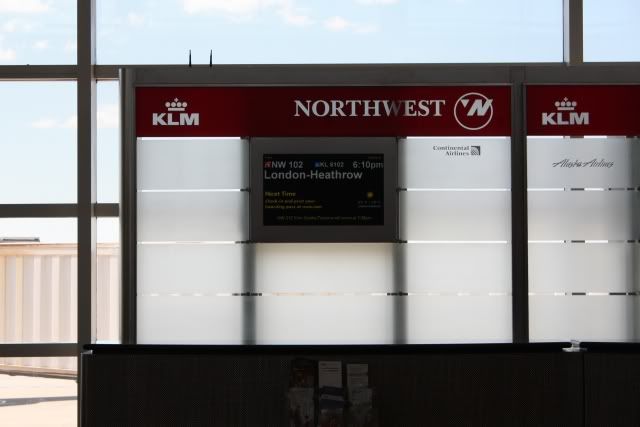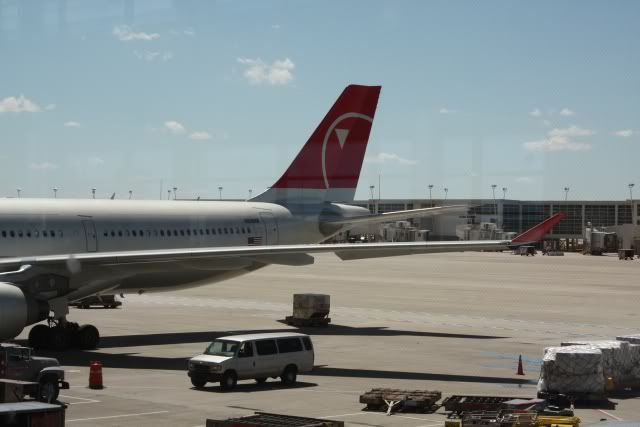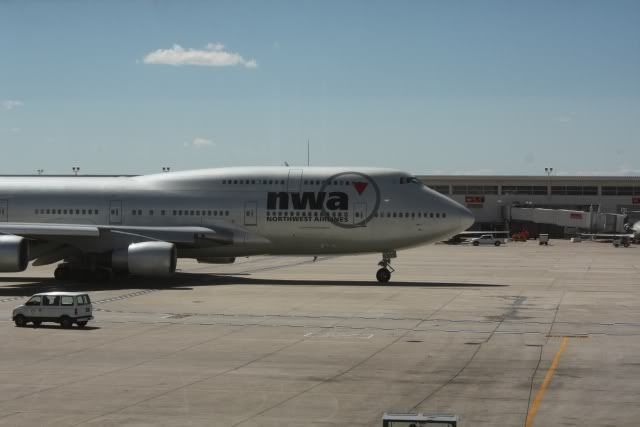 After I got bored of walking the full length of the DTW terminal and riding the tram at least 6 times each, I figured I would return to the lounge to ask what time the AF ticket counters opened. Their reply was:
"You don't need to go down there, we can print your boarding pass right here. We just need your passports"
I was happy to hear this but either the previous NW agents lied because it's a pain to print AF boarding passes or they didn't know they could do it.
After more sitting around and doing nothing, we made our way to the gate.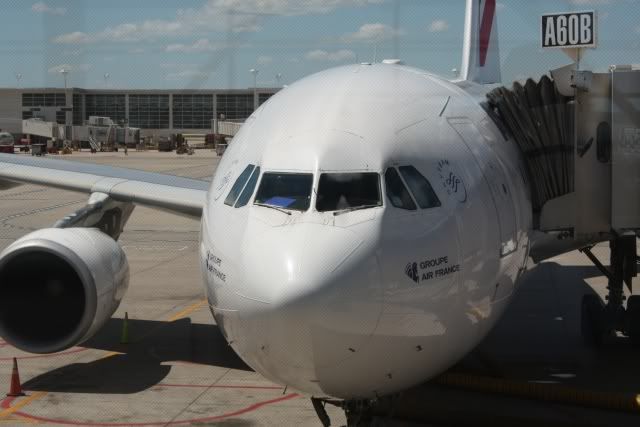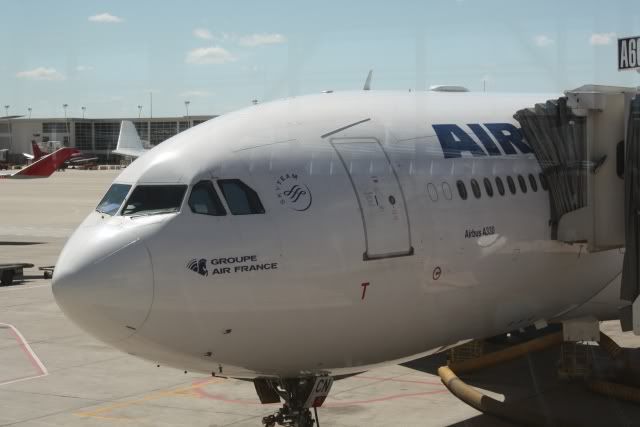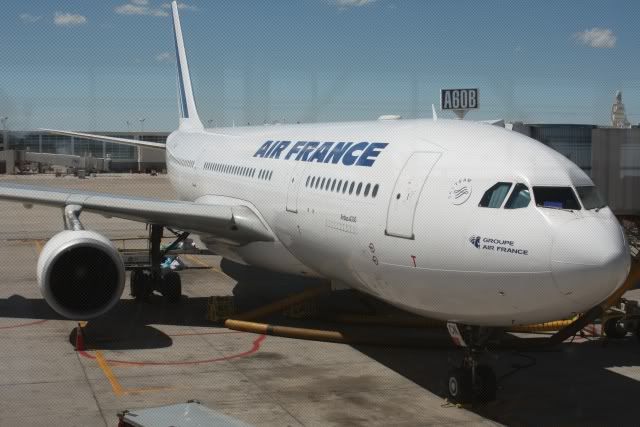 AF information board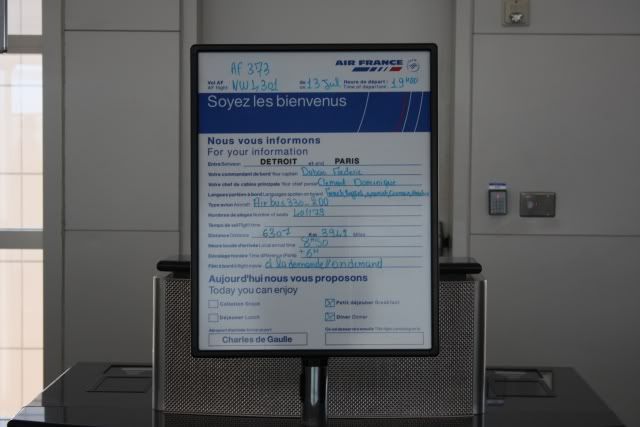 As I'm curious as to how flights perform in terms of loads and yields, I decided to ask the gate agent how full the flight was today.
He replied by saying: "May I ask why you want to know?"
My reply: "I'm just curious"
Apparently that answer was acceptable and he went on to explain the exact amount of people in both J and Y.
To assure him that I wasn't a 15 year old terrorist, I explained to him that I'm just interested in airplanes and such.
This changed his state of mind and he went on about the details of our flight including the aircraft, etc.
Date: July 13th 2008
Flight: AF373
Departure: DTW
Arrival: CDG
Scheduled Departure: 19:00
Actual Departure: 19:00
Aircraft: Airbus A330-200
Estimated Load Factor: 75% in J; 90% in Y
Boarding pass. Uh oh, SSSS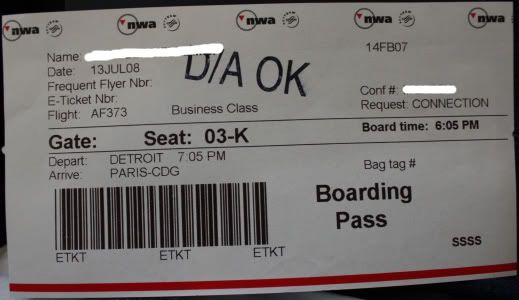 We were welcomed on board by a couple of friendly cabin crew members and escorted to our seats. It seemed like most, if not all, the business class was full of Americans.
The forward view camera was turned on as we were boarding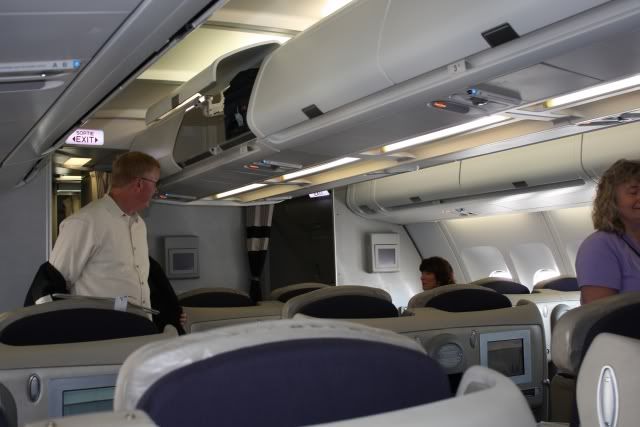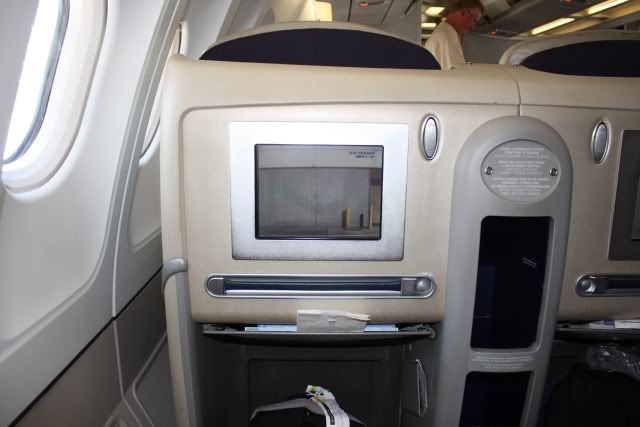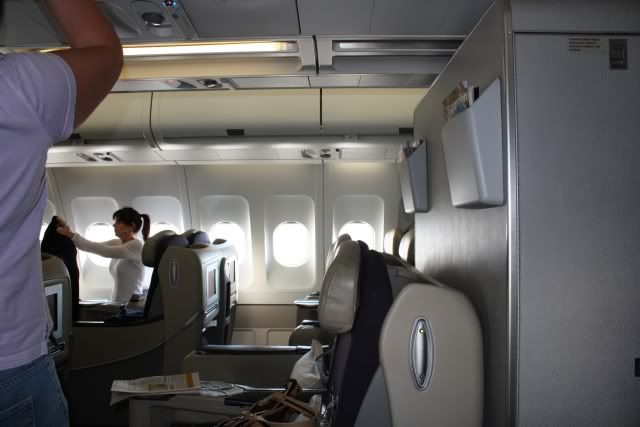 Right before pushback, the flight attendants offered pre-departure drinks. The choices consisted of orange juice, water, and champagne I believe. The safety demo was then played on the IFE and we began a slow taxi to the runway.
The rotation was very aggressive and I found the A332 to climb much better than any of the A340's, which isn't surprising I guess.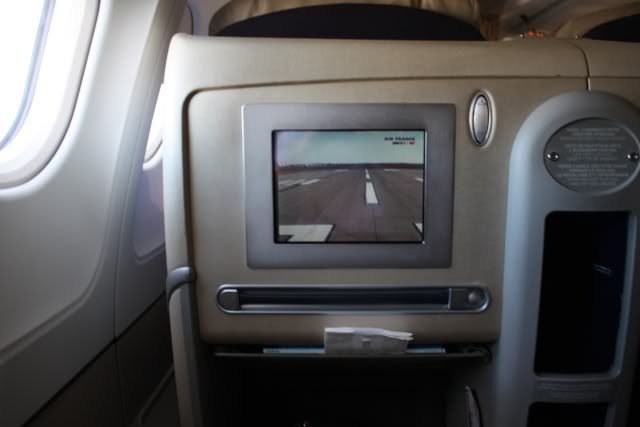 The camera changed to a down-facing view after the gear came up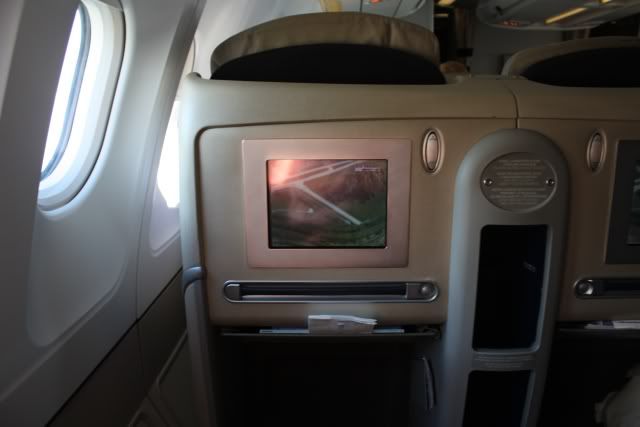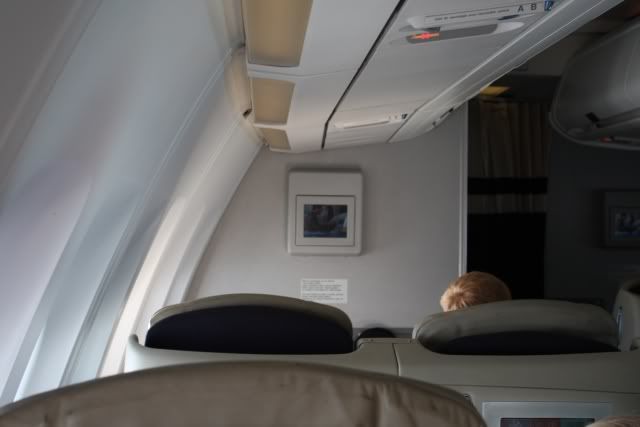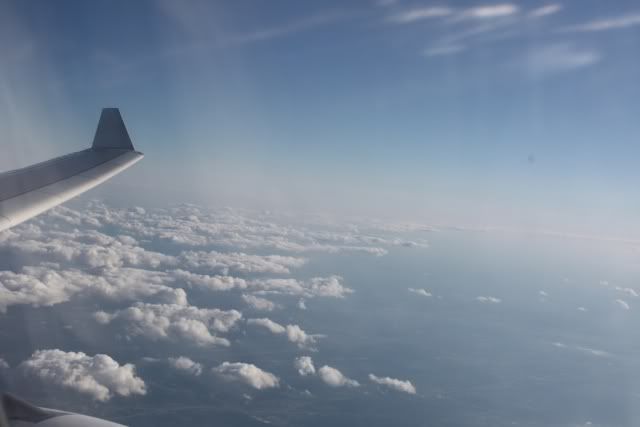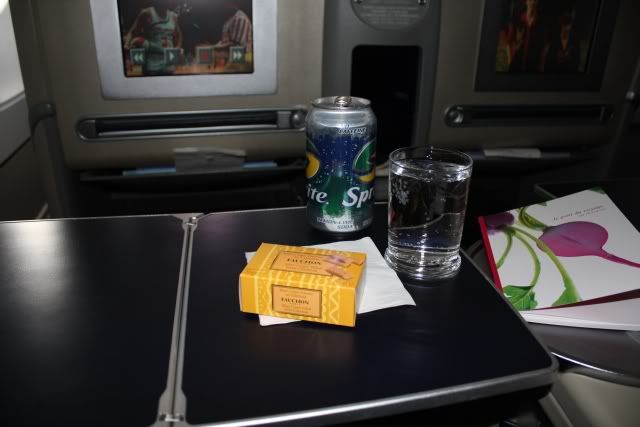 AF's IFE, while being AVOD, could definitely be improved. There are about 7 on demand movies and the music choices are not all that great. It's also not the most user-friendly and the system takes a while to react after pressing a button. Also, the moving map display didn't work at all, which was disappointing as I really enjoy seeing where we are.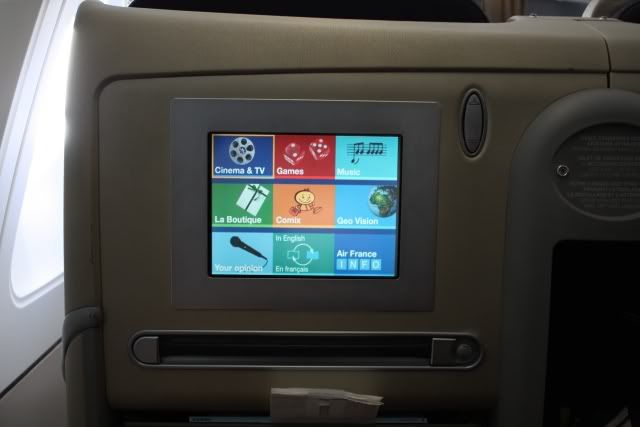 The meal service consisted of an appetizer and the main course. The meals were brought out on a cart similar to economy class, which was interesting. Is this a common practice in most business classes on other carriers?
Unfortunately, I forgot to take the menu so I don't remember exactly what everything was but I do know the first course had shrimp in it and the main course was duck. The service was excellent on this flight and all of the crewmembers were very friendly.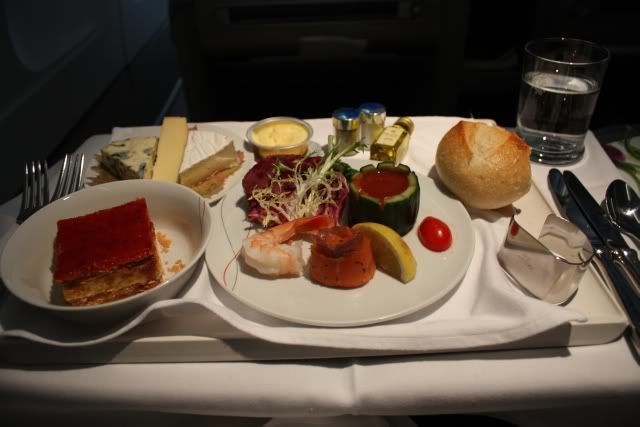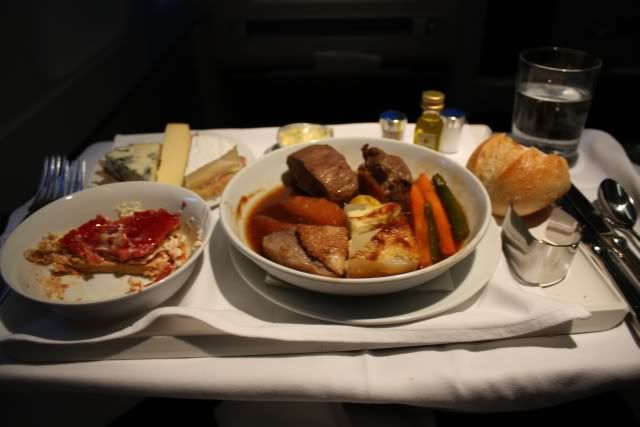 Sunset. It's always amazing seeing this from 35,000 ft high.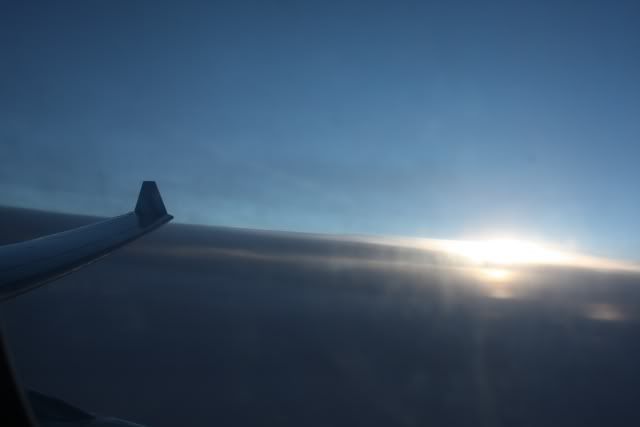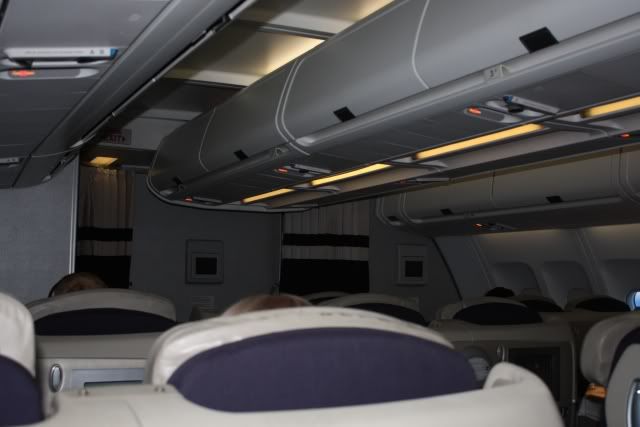 The seat is an angled lie-flat seat. It's great if your sleeping on your side, however, is very uncomfortable sleeping on your back. If you sleep on your back, it's best not to recline it fully.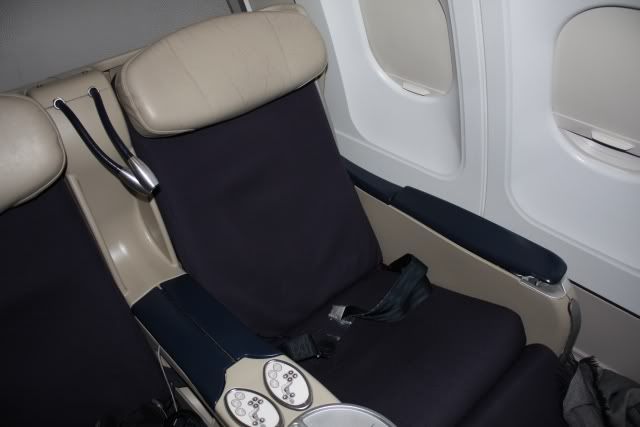 I slept for the rest of the flight until I was awoken by a flight attendant asking if I would like some breakfast. There are no choices for this meal and I was handed this tray.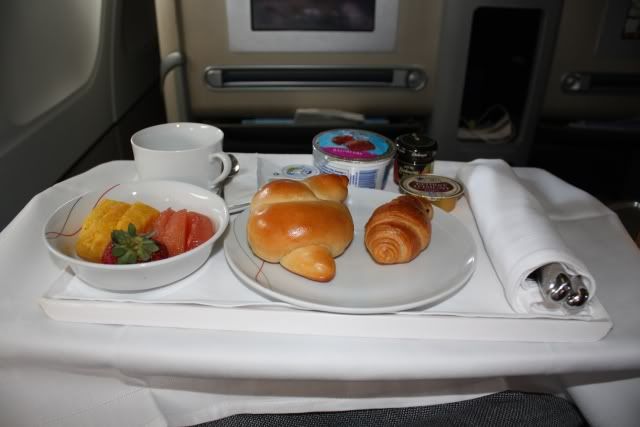 Shortly after I finished eating, the captain announced our descent into CDG. We did several turns before lining up with the runway.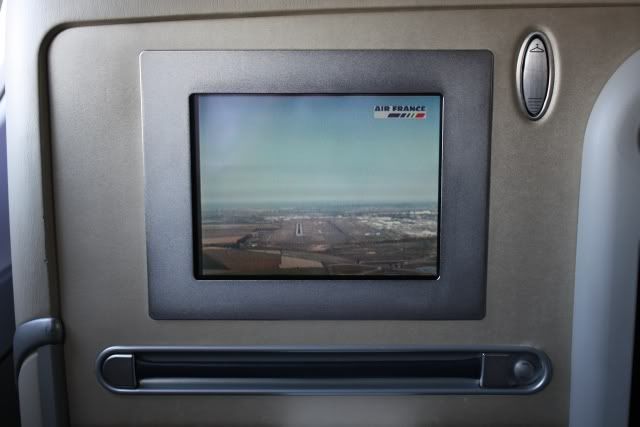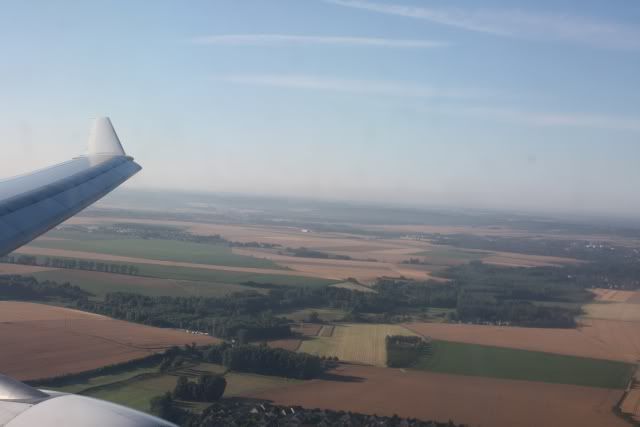 The landing was very nice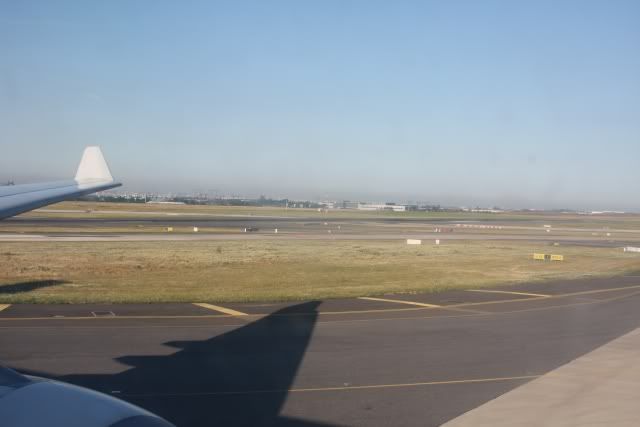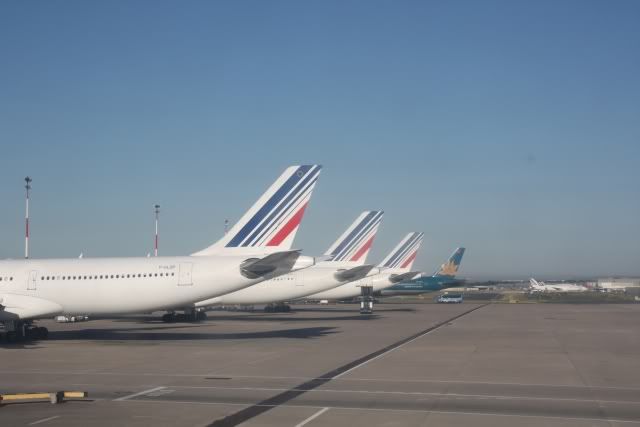 Looks like we lucked out this time at CDG and got a jetway.
Immigration was fast and our bags took forever to come out.
Conclusion
AF proved once again that they are a carrier that offers very good service and a good product. Sure they're no MH, 9W, or EK in terms of cabin service and overall product from my experiences. However, it's good enough to compete with other TATL carriers and superior to almost all U.S. carriers, which I guess is enough for them. Obviously, it seems to be working because they're practically printing money.
Hope you enjoyed the read! Comments are appreciated.