This was a long planned trip that has had at least two false starts. Finally, it was time to really go. Even the pesky Botswana visa finally arrived in time. As I made it to JFK from PHL (JFK should easily win the most inaccessable airport in the US award), I was excited - this was really happening. Soon enough it was back to reality as I made my way to Terminal 4 - the SA check in area was a big mess. All systems were down and the staff looked thoroughly confused with supervisors looking even more flummoxed. There were a bunch of DKR bound passengers who seem to have come in with everthing they own (including their neighbour's kitchen sink), all wrapped in saran wrap (it seems to be the latest fad among Africa bound passengers).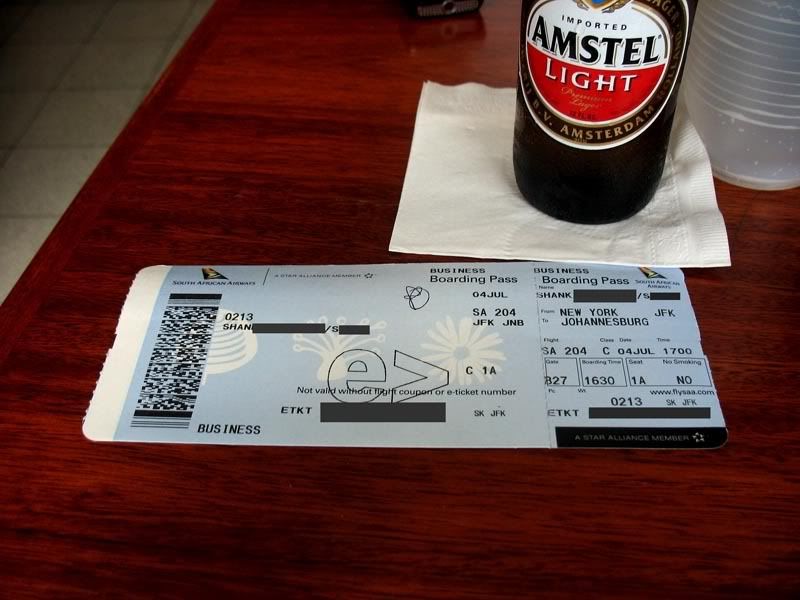 Eventually they figured out a way to get things going and I had my boarding pass.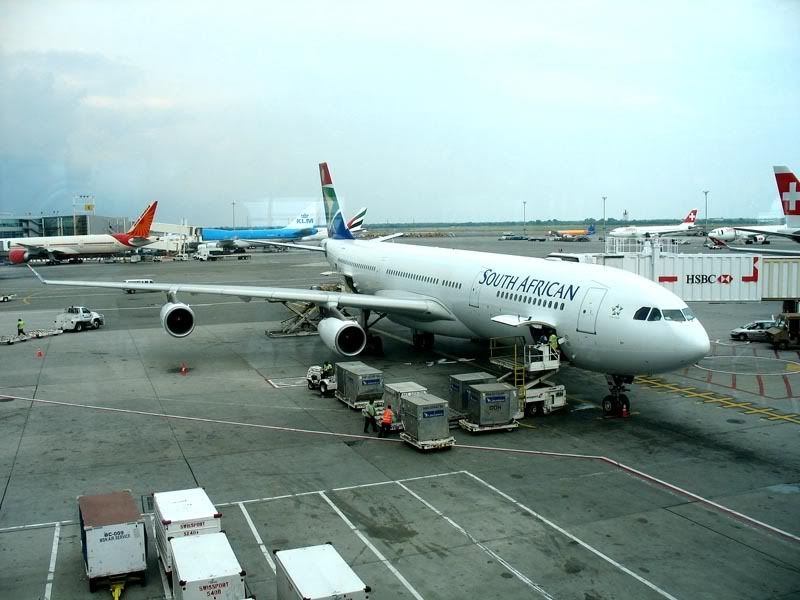 As I walked to the gate I saw ZS-SXE (A340-300e) bring prepped for the long haul.
You can spot the AI 77L in the background.
Eventually boarding commenced for the 5:20 PM departure and we pushed back more or less on time. This is rush hour at JFK and it we would be taking the scenic route to 13R. We crawl past the other AI 77L.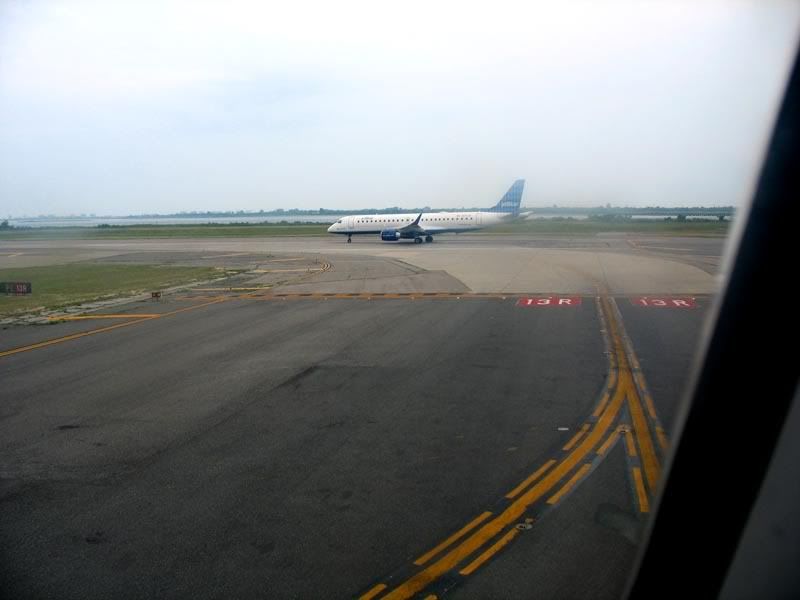 After what seemed like days we finally make it to 13R - you can see the Jetblue Embraer just starting its roll.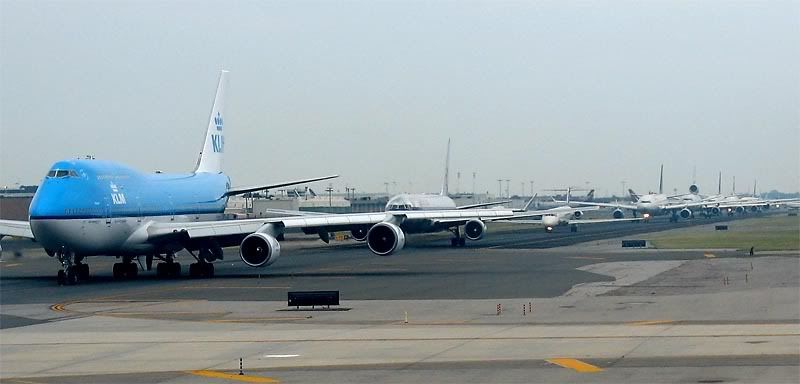 The line up behind us for 13R - included world beaters such as Air Berlin, Air Tahiti Nui and Aerosvit.
Finally we were airborne about an hour after we pushed back and the crew began the dinner service. SA wines were on the menu and were surprisingly good.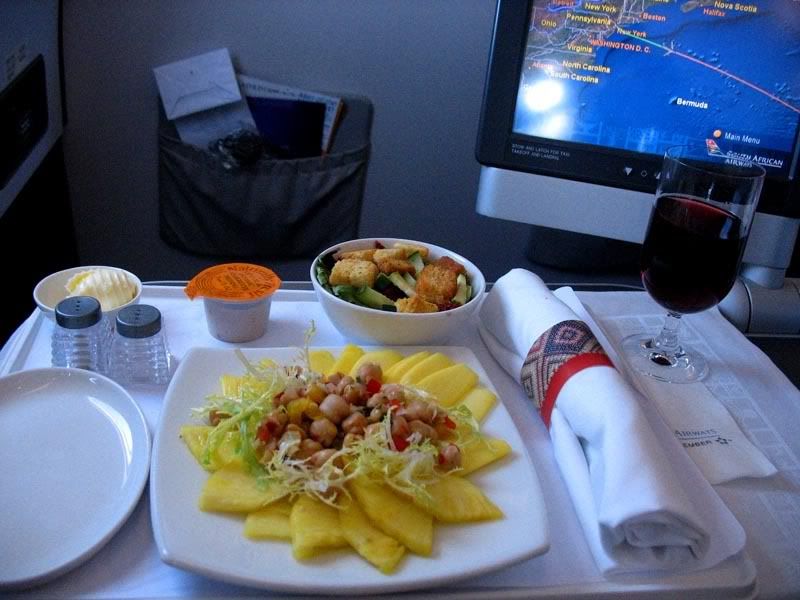 The AVML appetizer!
After an efficient dinner service - it was time to relax a bit. The AVML catering out of JFK was good though not exceptional in any way, and service on this leg was professional (the service on the return was only adequate). The SA business class seat is among the best, the flat bed being a true lie flat - but the multiple segments of the seat that make up the bed do not all line up quite the way one would like - and I feel I slept better on the narrower and (alteast on paper) inferior BA club seat. In any case, you really can get too comfortable because by the time your body goes to sleep - it is time to begin the descent to DKR. We pulled into a corner of the DKR airport apron at a local time of 5:00 AM and a New York time of 2:00 AM for what is essentially a fuel stop.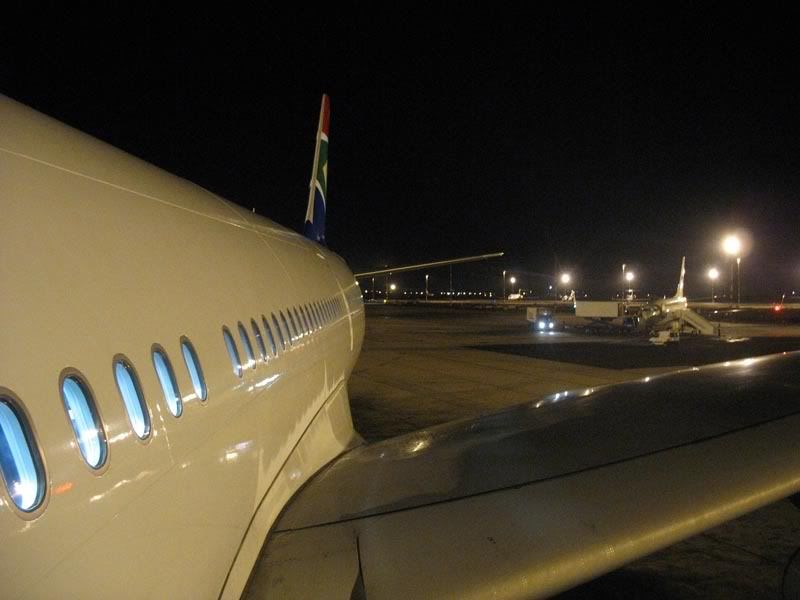 Looking out at DKR via the door 2L.
There is a cabin and flight crew change and the flight deck was abuzz with activity. The stop is billed as a one hour fuel stop - however, passengers are off-loaded and on this particular day there seemed to be a bunch of DKR bound passengers.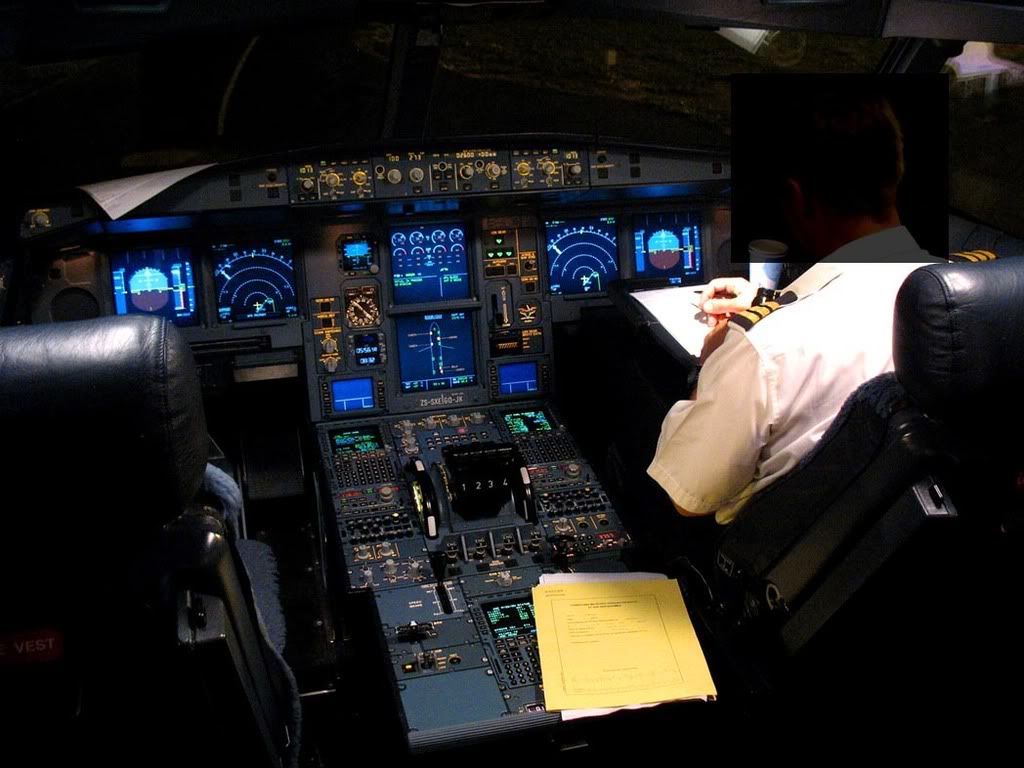 I used this time to talk to the flight crew who were a very friendly bunch. SAA 340s have a sleeper bunk right behind the cockpit for the relief pilot - and it looked pretty comfy.
There was a mix up with catering and 2 hours later we were still in Dakar. We had a full business class cabin and only 22 meals. We were short 14 and frantic gesturing takes place and a call to catering. Food trays are counted and recounted. Then we have the entrees and not enough desserts - so another call to catering.
Well, by now quite bright and its going to be hot and muggy day in Dakar.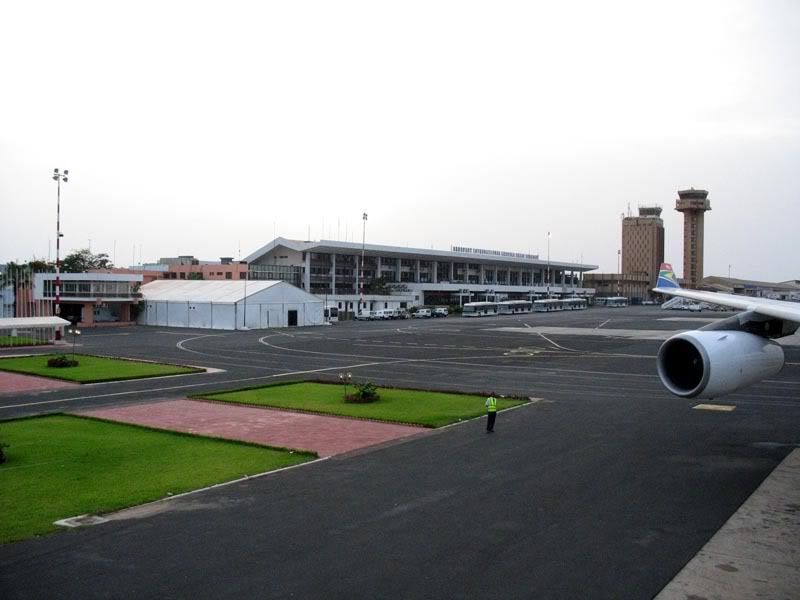 Another view of the Léopold Sédar Senghor International Airport at Dakar - said to be a strong contender for the Worst Airport in the World title. The touts and hustlers there are supposedly among the best in the business. I suppose that's the reason SA does not allow passengers to disembark (a real pity though in my opinion).
We finally get our meal situation all sorted out and we head north on runway 36. A view of Dakar as we pick up altitude in a leisurely manner - this is after all a 343.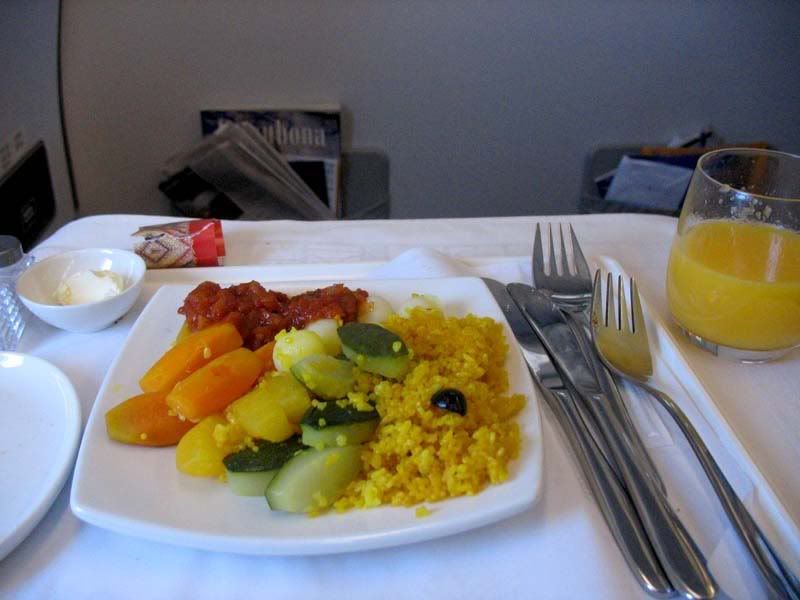 In a little while its time for lunch, the food was well - ok I guess, and by then I was quite famished and I finished the meal in short order.
We make landfall over Africa for a second time - this time south of Luanda over Angola.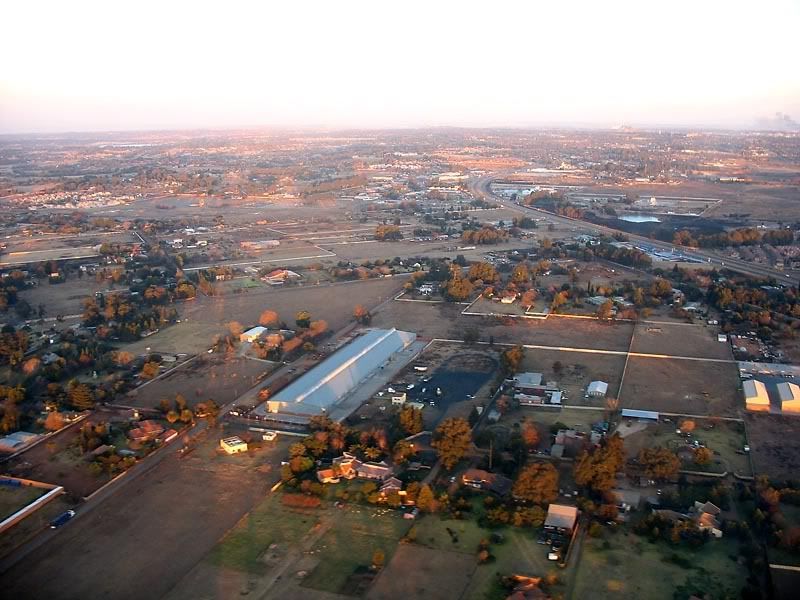 We have made up some time and a little before 5 PM over Gabarone, Botswana we start our descent to JNB. The setting winter sun casts a golden glow as we line up for arrival on 21L.
A few minutes past 5:30 and about 18 hours after we left JFK, we touch down on 21L and taxi past a slew of european carriers to the gate.