This TR will contain the second leg of my journey to, around, and from Africa. This TR will include the following flight:
AF994 CDG-JNB (Boeing 777-300ER)
After spending the night in Paris following our flight from DTW, we arrived at Terminal 2E about two hours before the flight. Since we had printed our boarding passes online the day before, we went to the Affaires e-services bag drop desk.
The bag drop was not as efficient as I envisioned it. The agent was nice, and she mentioned some kind of trouble with the baggage system. It took us about fifteen minutes to check four bags. Since one of them was quite heavy, we were required to carry the bag to a blue cage in the middle of the terminal. I don't know the reason behind this odd process, but if someone that knows CDG well could shed some light, that would be great.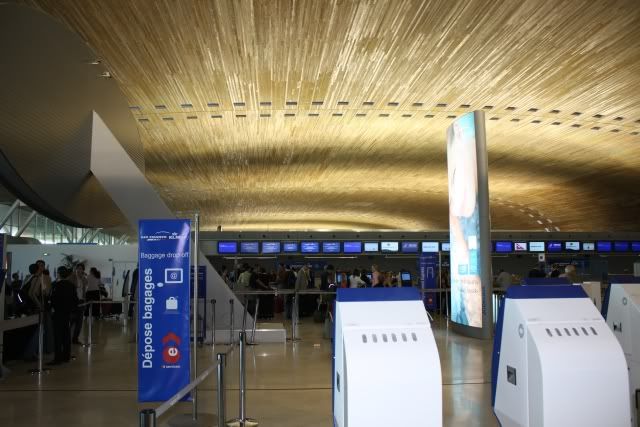 Clearing passport control and security was also very slow. There was only one booth open for passport control. For security, it we got stuck behind some people who were surprised to find out they couldn't take their juice box pass the security checkpoint. Therefore, they decided to take their time drinking their unfinished juice while we all waited behind them.
During this time, I reflected on my last CDG experience. This involved sprinting the whole way from 2E to 2C and getting stuck in lines similar to these in an attempt to catch an AF flight to JFK. I was just thankful we weren't in any rush today!
This terminal is a masterpiece of design, no doubt about that.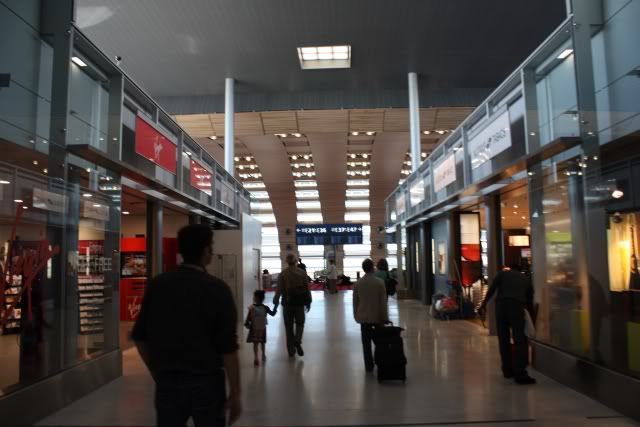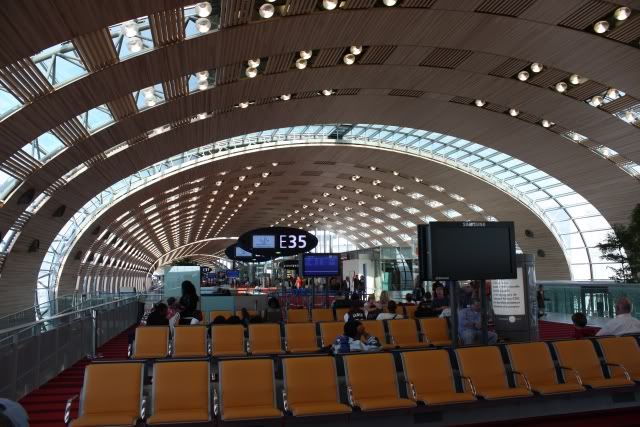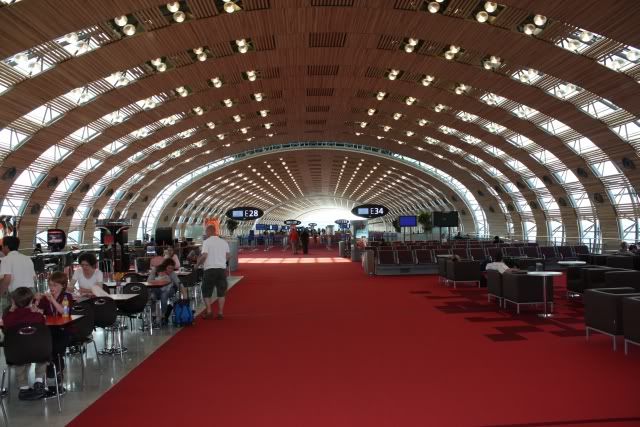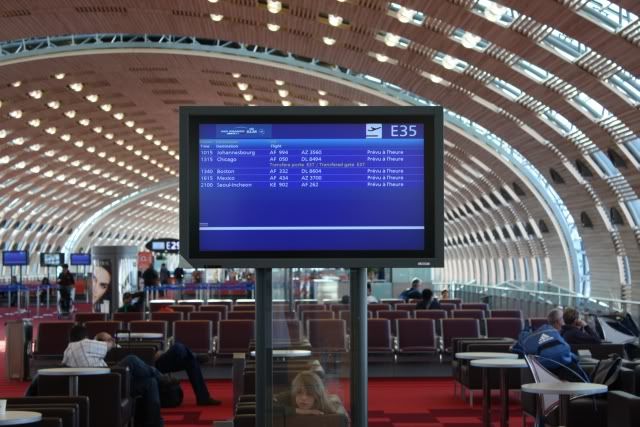 The lounge is downstairs. They did a good job with the space they had, but it was a disappointment compared to how nice the rest of the terminal is.
We returned to the gate at 09:15 and boarding started shortly after.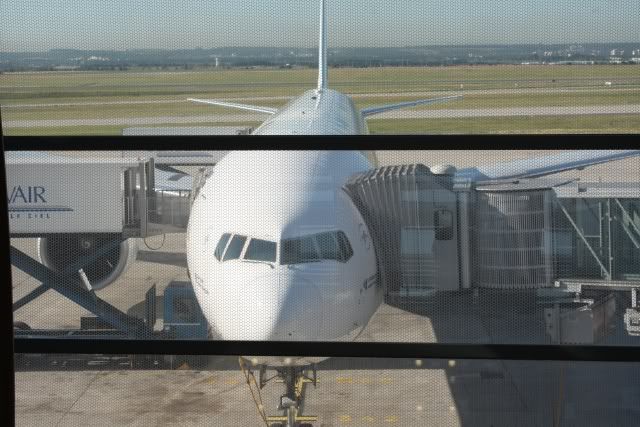 AF GIDS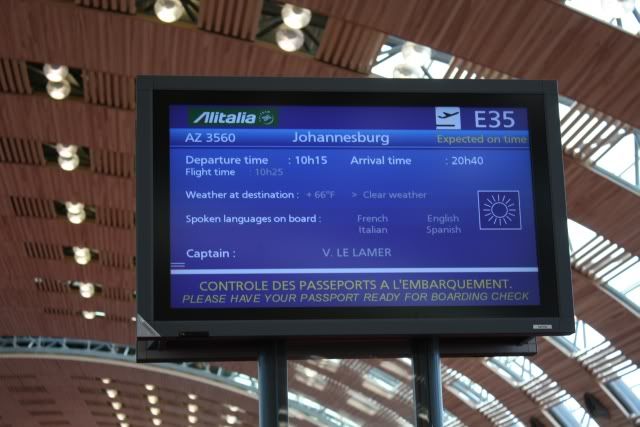 Date: July 15th 2008
Flight: AF994
Departure: CDG
Arrival: JNB
Scheduled Departure: 10:15
Actual Departure: 10:32
Aircraft: Boeing 777-300ER
Estimated Load Factor: 100% in F; 100% in J; and 97% in Y
We were welcomed aboard by some very friendly cabin crew members once again. I could really feel a difference between this 77W and the A332 I flew yesterday. The cabin feels much more open and wide on the 77W.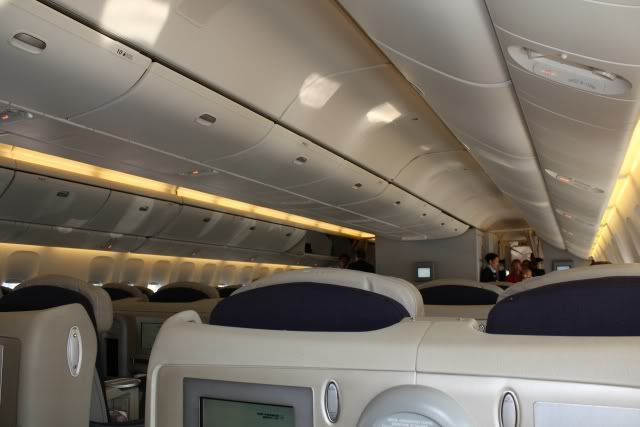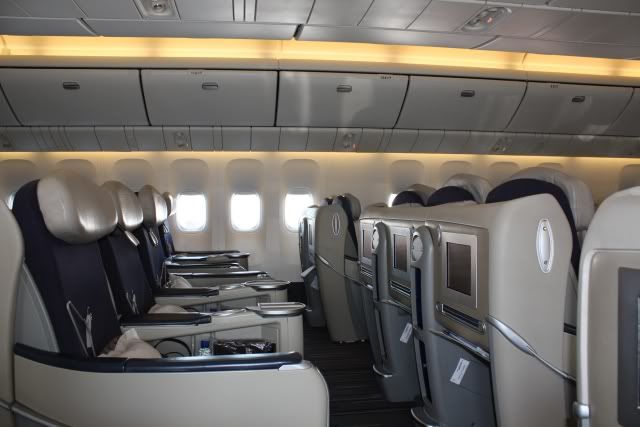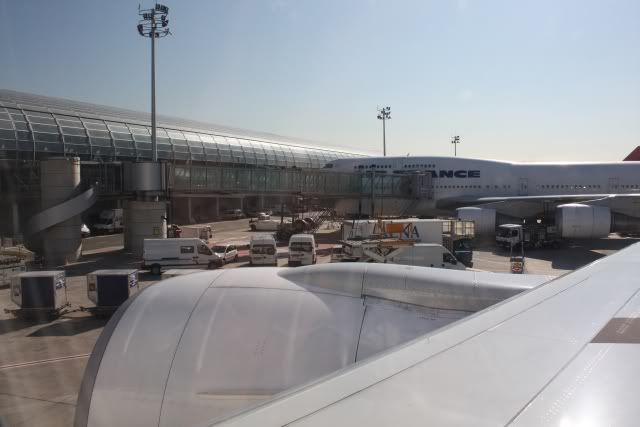 As the departure time neared, the lead flight attendant came over the P/A and introduced herself and thanked us for flying AF. Then, she told us that there would be a delay of fifteen minutes as we were waiting on several passengers. I've never left CDG on time and I would've been shocked if we left ontime so I wasn't bothered at all.
About fifty more passengers joined us and it looked like they were holding AC issued boarding passes.
We were given pre-departure drinks as we pushed back, and the safety demo was played.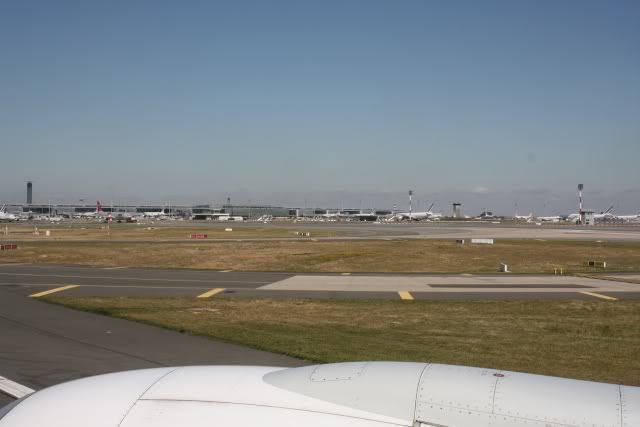 Takeoff was very powerful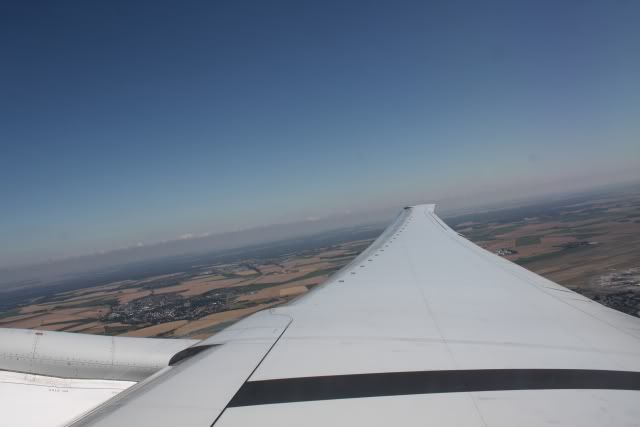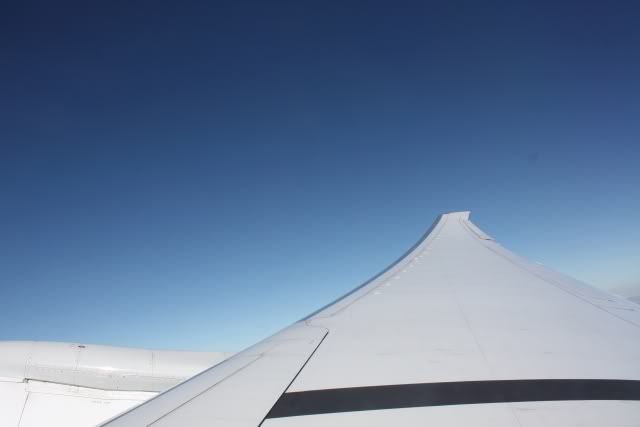 They showed these satellite images of random cities in Europe. First it was Paris and then Brussels and I forget the rest.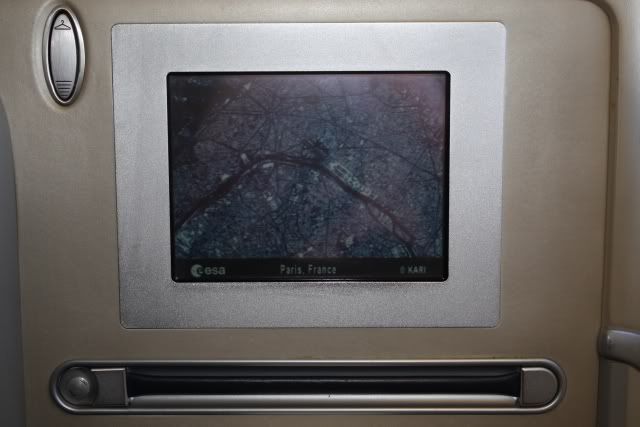 This was actually kinda difficult. It asks questions like "How many cows can an AF 747 Cargo fit?"
This has to be one of the bigger J class cabins out there. There are two more rows behind the F cabin.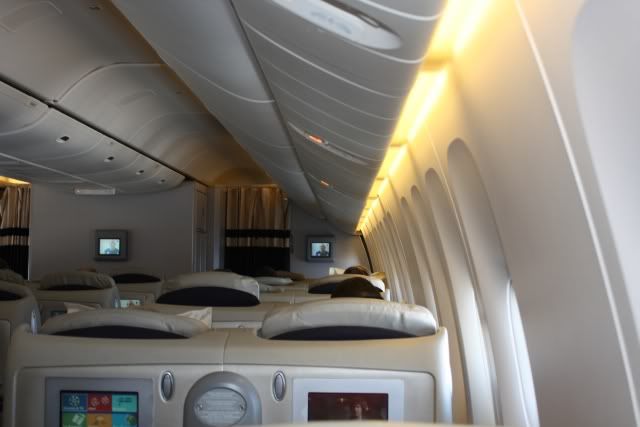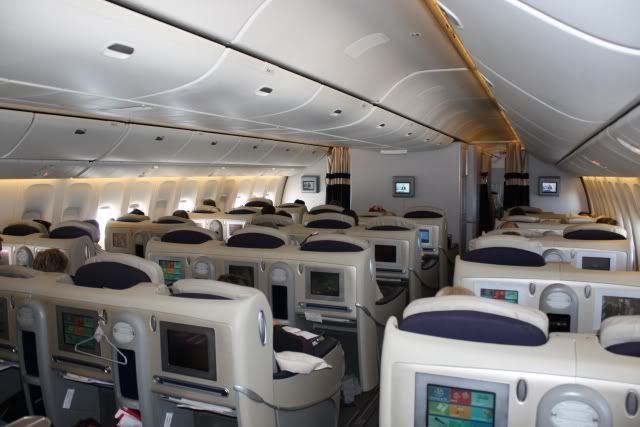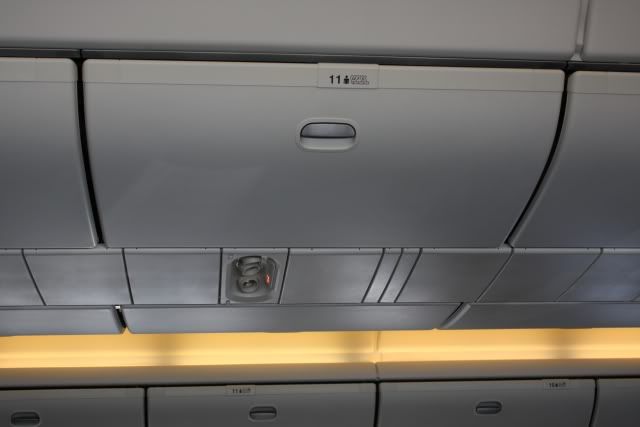 We continued to climb.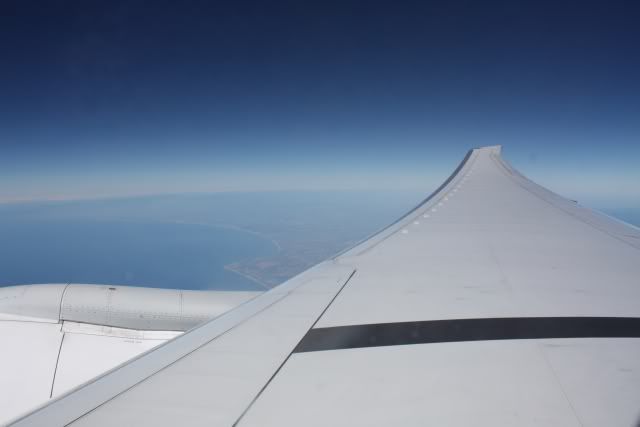 About an hour after takeoff, the meal service began with an appetizer. I forget what the choices were but I decided to skip the appetizer as I would not have eaten it and I didn't want to waste any food. However, the flight attendant offered some bread instead.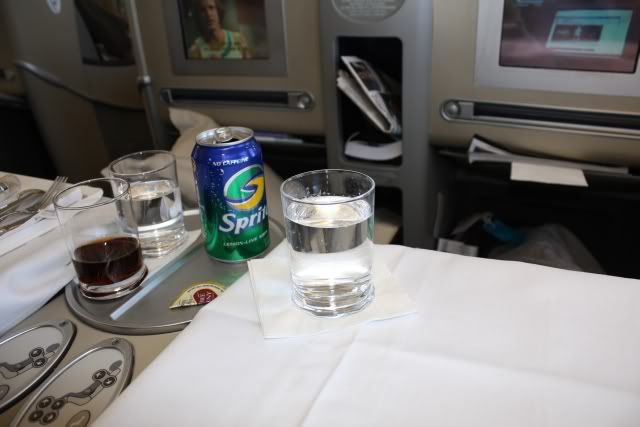 For the main course, I got filet mignon. It was overcooked and very dry.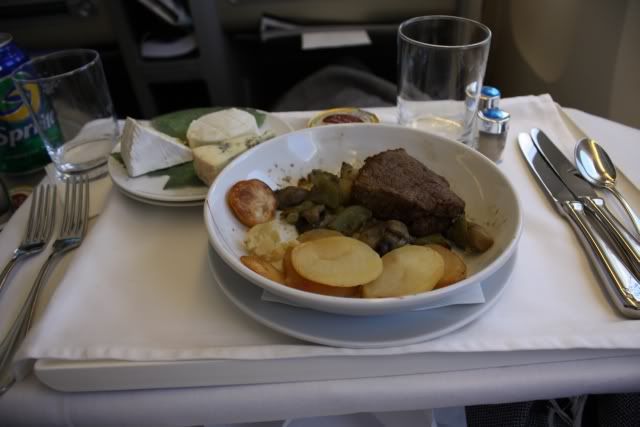 After eating, I decided to walk back to the Tempo cabin as I wanted to see what AF's new 3-4-3 configuration was like. The seats themselves looked comfortable; however, the aisles and armrests seemed very narrow. I believe TAAG Angola and KLM have the exact same seats and configuration on their 777's but I can't think of any other carrier besides them.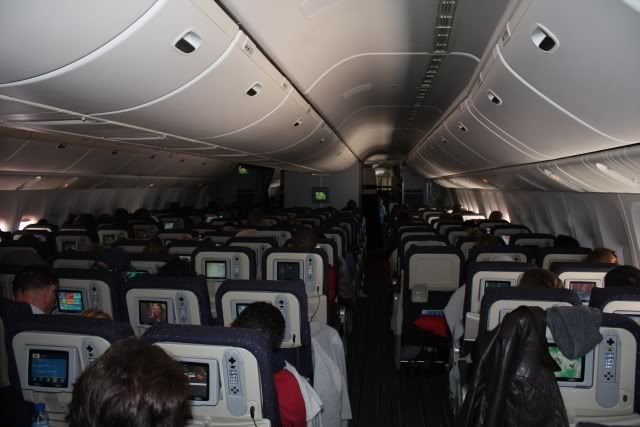 Haze over the Sahara
Affaires seat in full recline. I believe that newer 77W's have a different and better version of this seat.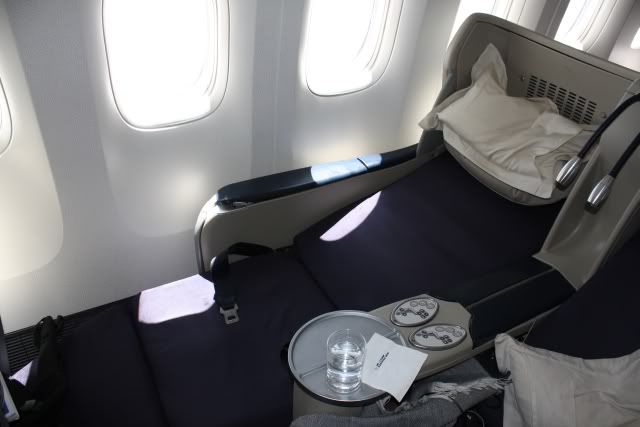 There were several instances of turbulence during the flight, none of them being too bad. I did manage to catch the cabin crew announcing over the P/A for passengers to fasten their seatbelts.
I'm running out of things to take pictures of lol.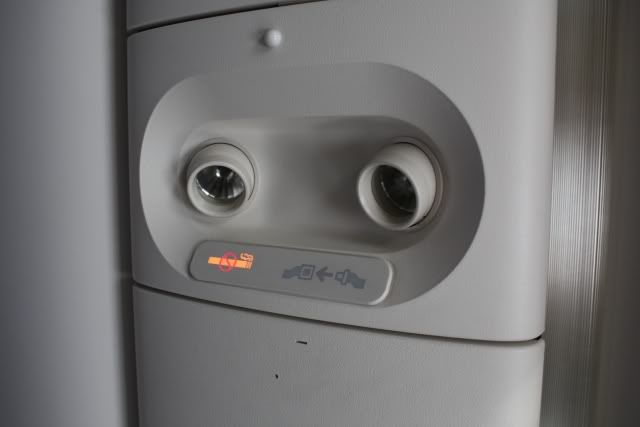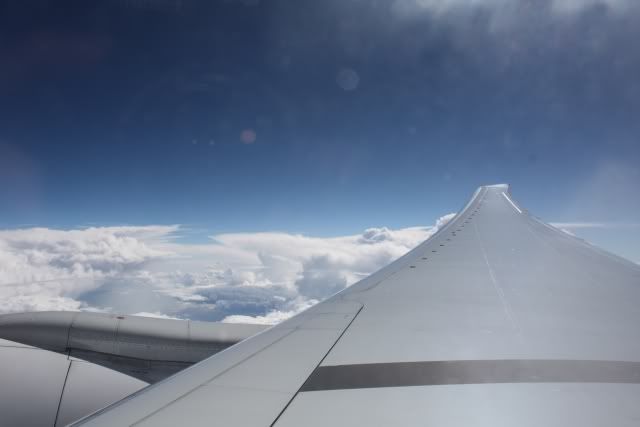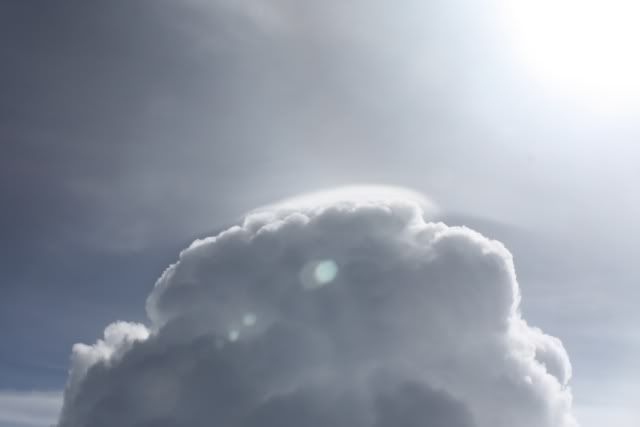 *
The overall service one this flight was mediocre. However, there was one flight attendent who was very good and feel the need to recognize him. His name was Steve IIRC, and was without a doubt one of the best cabin crew members I've seen. He was always smiled, checked up on the passengers throughout the flight, and he just put an extreme amount of care and effort into his job. If it wasn't for him, I would be complaining about the cabin crew much more.
I'm not sure of the borders, but I think we were over Angola.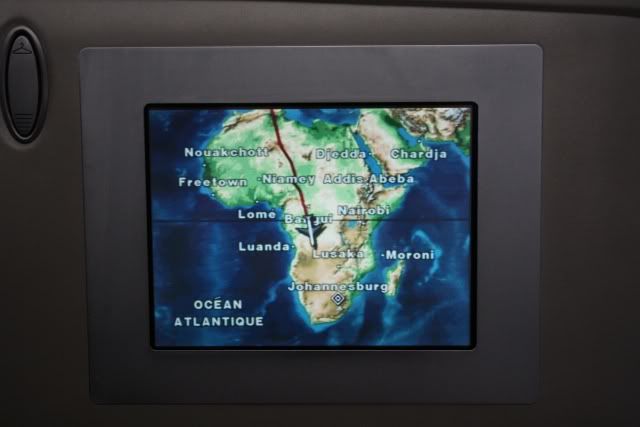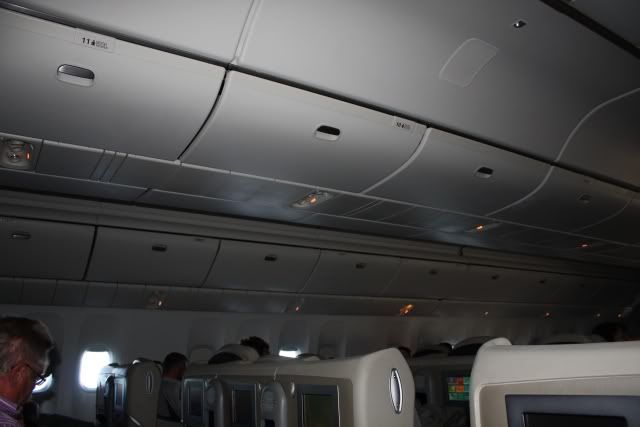 Sunset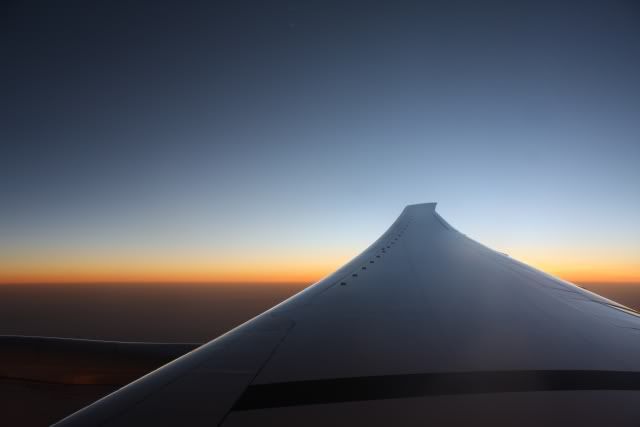 About two hours before arrival, the second meal service began. I got the lamb which, again, was not of the best quality.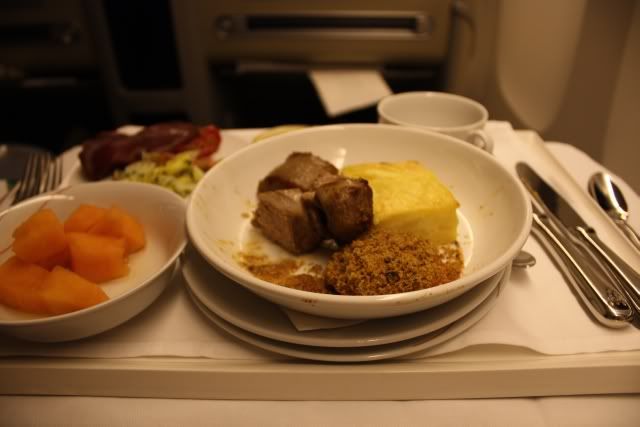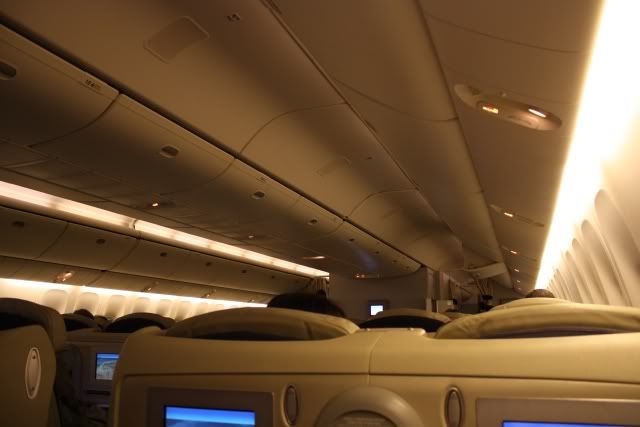 The captain announced our descent into JNB, which was fast. I noticed that the slats and flaps were deployed very early. I assume this has to do with JNB's elevation.
On short final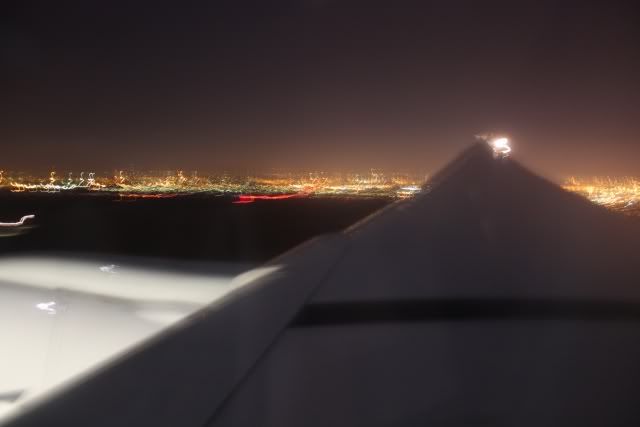 Arrival announcement
It was a very long walk to immigration, and clearing it was easy enough. They had three booths open for our flight.
After collecting our luggage, we made our way to the Intercontinental Airport Sun Hotel to get some rest before our Air Botswana flight to MUB the next day.
Hope you enjoyed!