This Trip Report is the third that includes my journey to, around, and from Africa. This Trip Report includes the following flight:
BP212 JNB-MUB (Maun, Botswana) (BAe 146-100)
I must start out by mentioning the surprise I experienced when I found out I was travelling with Air Botswana. Since it was booked by a tour company, we were not given a choice of the airlines we take for the regional flights. As soon as I saw the words "Air Botswana", I immediately went to my computer to look up information about this carrier. Apparently, they experienced an accident where a BP pilot stole an ATR and committed suicide by crashing it into two other BP ATR's on the tarmac. This happened in 1999 and completely crippled their operations.
Well I could only hope for the best.
We arrived at JNB about 2 hours before our flight. Check-in was simple and fast, however, the agent was less than friendly.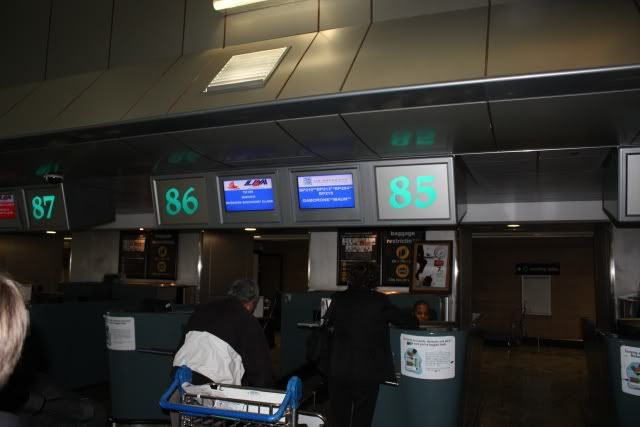 Passport control and security was easy enough also. A security agent allowed a family to take a water bottle through. Is there a liquid ban in South Africa?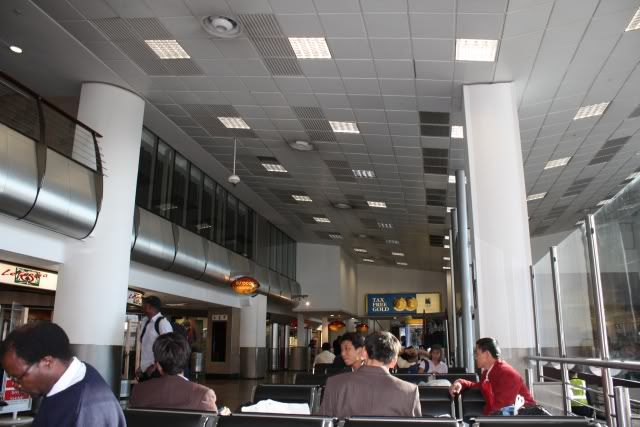 I walked around the terminal and felt it necessary to take this picture of a UM 732 to HRE. You can't see this everywhere.
All flights departing from a remote stand board from an area downstairs. It's actually quite a nice waiting area with a high ceiling and one or two shops.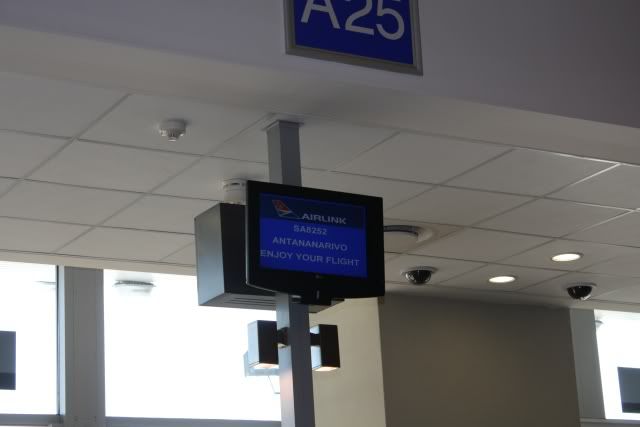 Date: July 16th 2008
Flight: BP212
Departure: JNB
Arrival: MUB (Maun, Botswana)
Scheduled Departure: 10:15
Actual Departure: 10:30
Aircraft: BAe 146
Estimated Load Factor: 100%
Boardin pass
Apparently they don't really do announcements at JNB. There were a few final boarding calls for SA flights but that's it. I did hear 'Love in This Club" by Usher over the P/A system though. At about 09:45, the departure board said our flight was boarding, however, there was no agent at the gate to board us. We all waited in line for about ten minutes until a BP agent showed up and began boarding.
We all got on the bus where we sat for about 25 minutes without going anywhere. The driver got out (is it legal to leave pax alone in a bus?) and started talking to another bus driver. This flight was full of Americans and Europeans. Eventually, the driver returned and drove us to the aircraft.
Views from the bus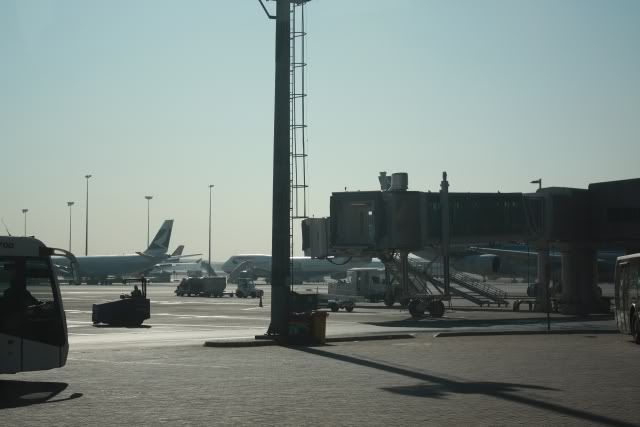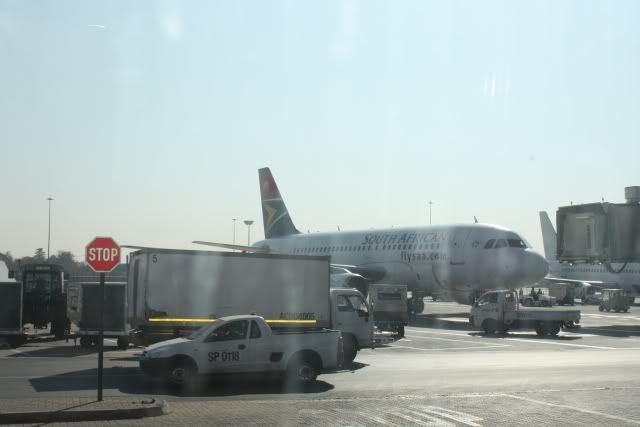 After I took this picture, someone yelled "NO PHOTOGRAPHY OF THE AIRCRAFT!". Oh well too late. I just looked away and pretended like I didn't do it haha.
We were welcomed on board by an unsmiling flight attendant. It was then when I noticed how nice the interior was. I believed they refurbished their cabins not to long ago.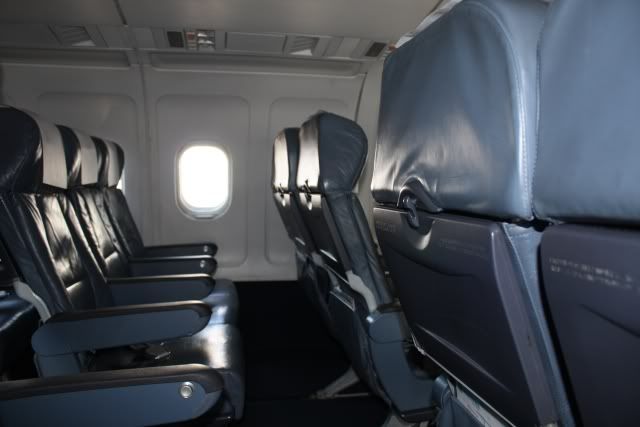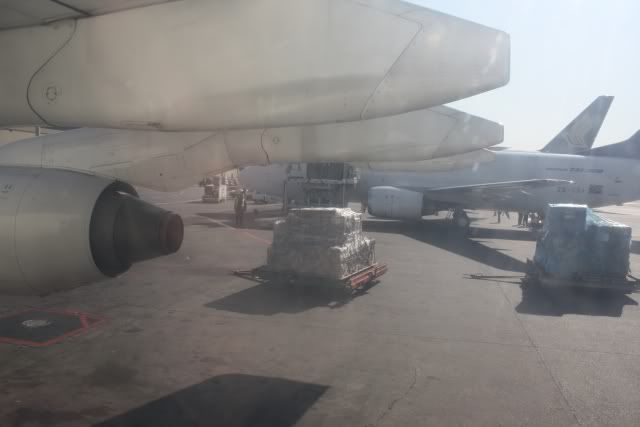 The departure time came and went when about 20 or so people boarded the aircraft. It was a group from the UK that was building a school in Botswana. They were connecting from a VS flight, which was actually ontime. Their connection was just ridiculously short.
I also noticed that BP actually has their own in-flight magazine. No apology for the delay but we began pushing back at about 10:30.
The takeoff roll seemed extremely long.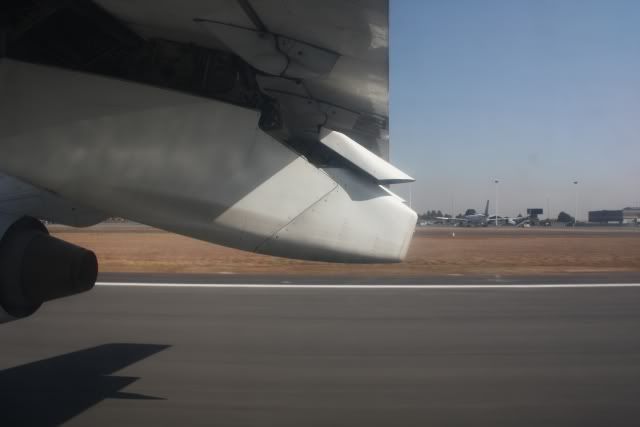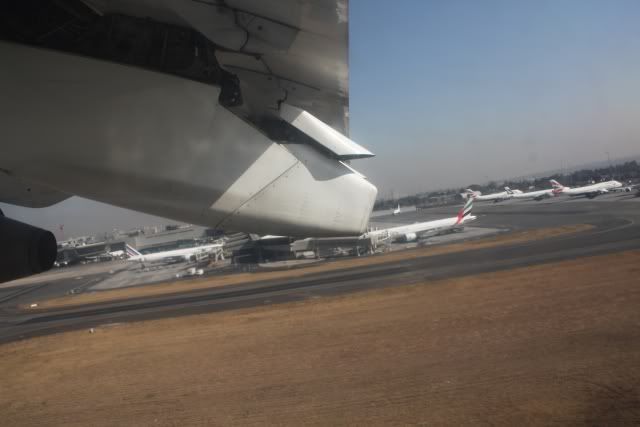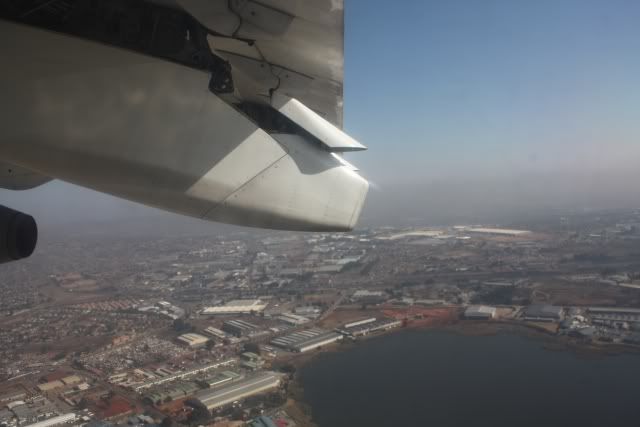 There were drinks and a small biscuit offered during this flight. The flight attendants were not too friendly and didn't smile at all. For the rest of the flight, I just looked out the window and listened to my iPod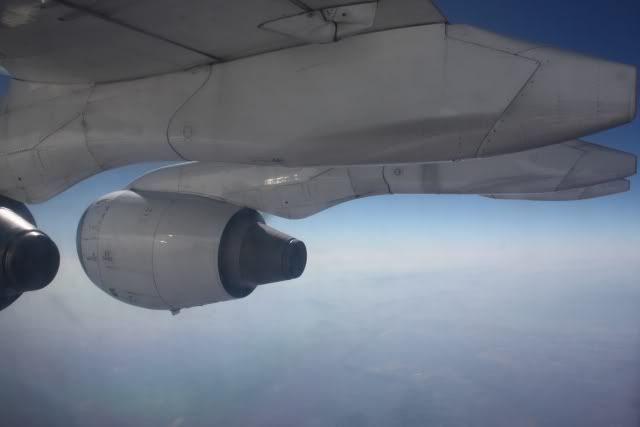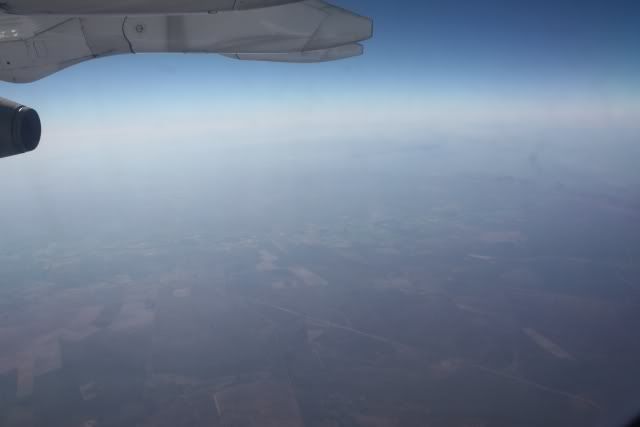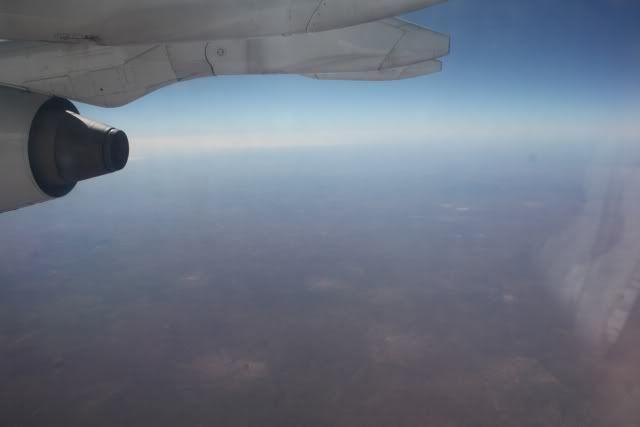 There was no acknowledgement of our descent into MUB until I heard a broken up P/A announcement from the captain asking the flight attendants to be seated for arrival. That's the first time I heard the pilots speak the whole flight.
The initial approach was very bumpy and it felt as though the rudder was moving from side to side violently. However, it smoothed out on final
Landing video. Interesting landing technique as the pilot pulls up right before we touch down.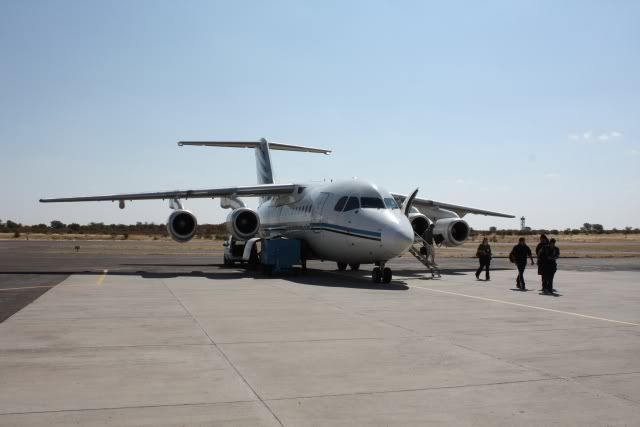 Air Botswana really left me with no significant opinion. I was thankful we arrived close to ontime after listening to people at our lodge talk about their experience with BP. They mentioned that their flight disappeared from the departure board and was over four hours late.
I hope you enjoyed this report as I don't think there are too many involving Air Botswana.
Look out for the following Trip Reports:
South African Airways (LVI-JNB-CPT)
Delta Airlines (JNB-DKR-ATL-TPA)