Feedback always appreciated.
Trip Report: 049
Flight Category: J-ILR (See Report End)
Date: 05 Jun-08
SDT/SAT/Delay: 2355/1025+1/10:30 hrs
Flight:
Air Canada AC 92
, 5332 miles
Routing: YYZ-SCL
Aircraft: 763
Seat: Business "Executive First", 8A
I > Background:
I had been on a tough away assignment in Boston for 3 months and earned a well deserved break by the time the engagement was over and June had rolled in. Instead of going back to Caracas directly, I decided to visit a few random places I had not been to in a while. Since I had not visited Chile in 2 years, Santiago won out. The idea was to spend some time with my friends and then go to Puntas Arenas to visit another friend who works there. I have been wanting to try AC's new J product as the experience I had with their 2006 flight from ICN to YYZ was everything but spectacular … (
Read report here
)
A quick search on A.Net tells me that this is the second report on AC's J class, and the first on a Canada – Latin America route.
II > Pre-Flight:
a) Before Airport:
Air Canada is the "flag" carrier of Canada. A Star Alliance member, Air Canada has just finished a fundamental shift in its business model which their Board hopes will reap dividends in the future. From a lethargic government organization, Air Canada is now poised to exploit Canada's continued economic rise and grow to a truly important airline. Its route network spans across the globe – though, there are notable exceptions. It only has a surprisingly vibrant Latin network, and has plans to build on it in the future.
Ticketing was done on Air Canada's website (www.aircanada.com). While not the benchmark for an airline website, it seamlessly allowed me to book/change/view/print my itineraries several times over. It even has an option to see seat availability … but would choke anytime I needed to make an actual seat selection. Calling the rather rude Florida based agents however took care of that.
b) At Airport:
YYZ is a "dead zone" past 2230 and I thought I was the only person in the entire terminal. It is eerily empty with the T1 FID confirming only 4 flights – LHR, GRU, TLV, and my SCL-EZE flights.
Check-in itself was extremely smooth and pleasant and I soon had my bags tagged priority, boarding pass issued, and on my way out of Canada. Security was a breeze and I made it to the AC Maple Leaf lounge with enough time to check email and have a drink. The lounge itself is spacious and has all modern amenities such as free internet terminals, showers, and food and beverage options. It was spacious – but at this hour, anything would look spacious. My only issue with the lounge is that it looks super IKEA generic – it really could have been anywhere in the world.
Anyways, boarding was called at 2300 and I made myself to the gate – there was an interesting mix of passengers – Canadian tourists, expat Latins, and the Argentine volleyball team? They were super amusing and took pictures of all the most random things. Business class passengers were asked to board first, and I entered the immaculate 763 and was immediately struck by the blue mood lighting. It looked really pleasant. One of the crew members greeted me and took me to my seat … 8A is hands-down the best seat in the house for its privacy … though do be warned of the noise from the Y cabin, especially the basinet seats.
Upon reaching my seat, I was impressed by the water bottles and amenity kits that were already there. Additionally, we were treated to a welcome drink of champagne or orange juice, 3 newspapers, and headsets. One thing that caught my eye … leftover alcohol stirrers in the seat which indicated that the seat had not been cleaned well. Not good.
J load was less than 20% … making me think that the flight did not make money.
Airport - External:
(YYZ – T1)
Check-in:
Airport - Internal:
(Look how empty it is)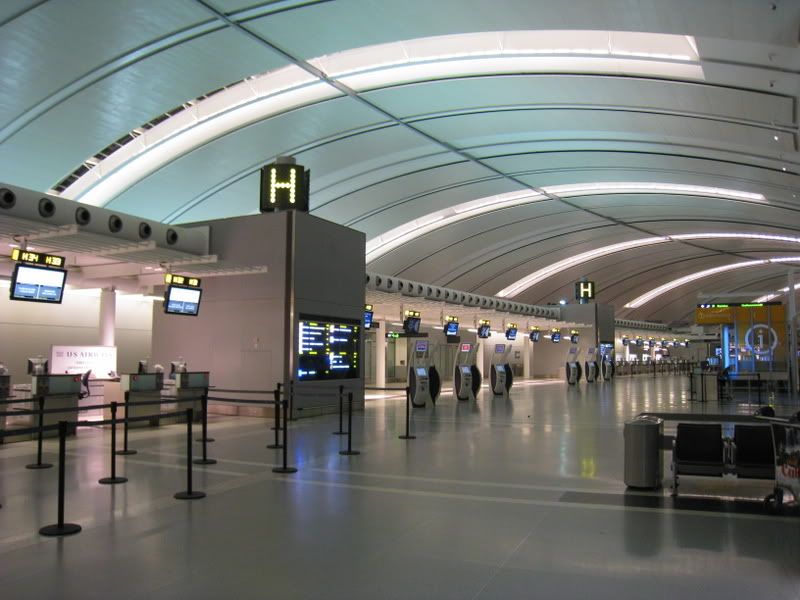 (FID)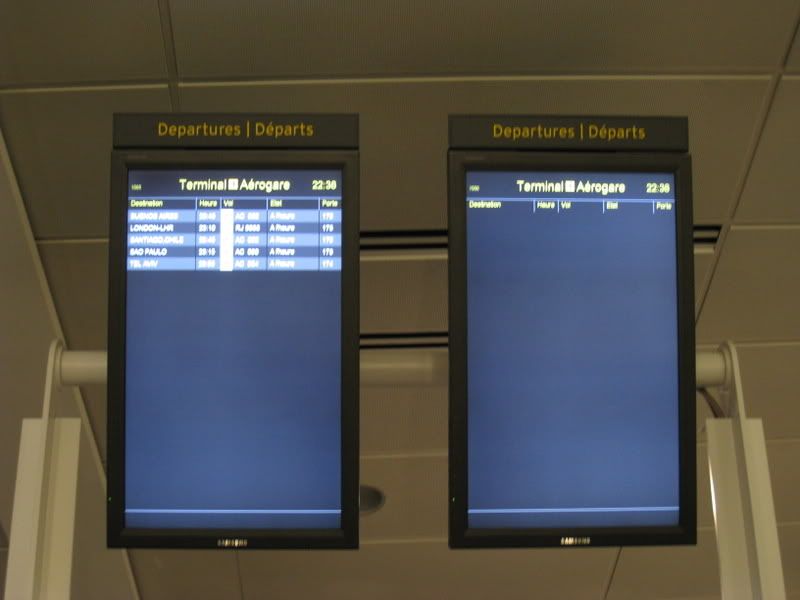 (Pre security)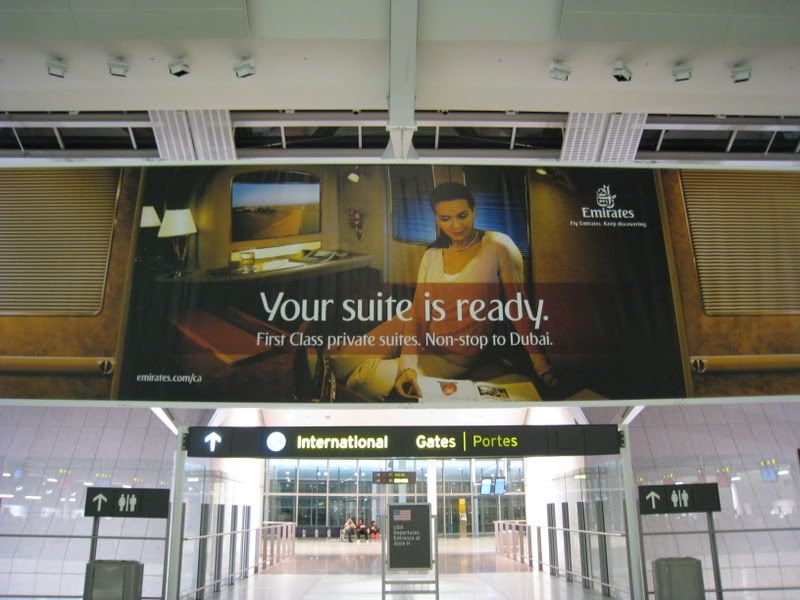 Scenes of the tarmac:
NONE
Lounge
Boarding:
(Boarding area)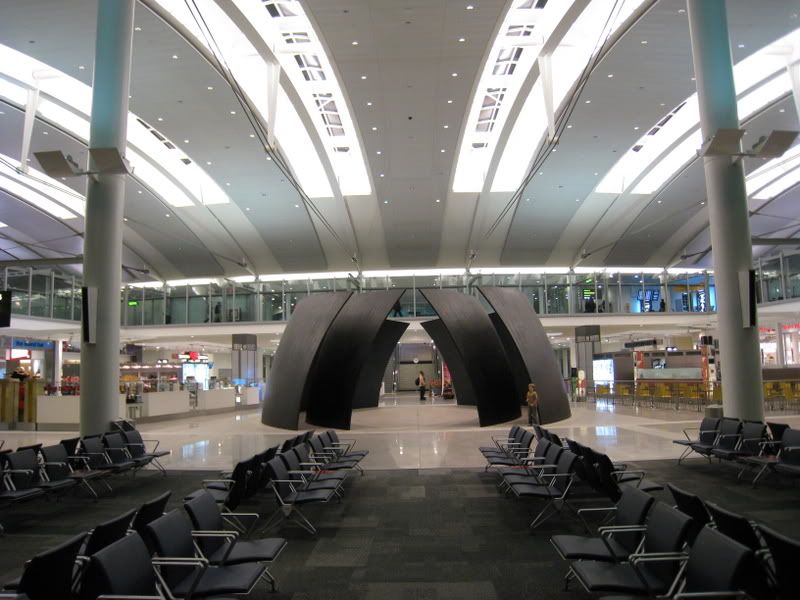 (Serene boarding)
III> In-Flight:
a) Service Schedule + Impressions:
Very impressive. Service starts as soon as you get on board with a hot towel service … and a welcome drink … and newspapers being distributed. Immediately after take off, there is a beverage and dinner service. An hour prior to landing, there is a cold towel service and a breakfast.
b) Aircraft + Seats:
Air Canada's "XM'd" 763 looked truly immaculate, and I was impressed how an upgrade could completely transform an aircraft to look brand new. I mean, check out my old TR on AC's 763 …
(
Read report here
). The interior is spotless and well-maintained and the blue hue was extremely pleasant to the eye. The bathrooms were well stocked throughout the flight and was clean even after the 10+ hour flight at SCL.
AC's J class configuration for their 763 include the herringbone 1-1-1 staggered layout. The seats are 180 degrees lie flat, have a 70" pitch, with 20.4" width. While the seat was comfortable, the lack of storage was annoying. Also, the magazine rack was cramped and the overall seat material was not the best in the market.
As mentioned, I was not a big fan of the seat material. However, it is extremely comfortable, and I did appreciate all the pre-set postures. Additionally, seat is extremely comfortable in lie flat situation and I was able to snooze off for over 6+ hours. You do have to get use to the some uncomfortable folds, but you do that pretty easily I think.
What is super weird about the staggered layout is when the aircraft taxis and makes turns, you can really feel the entire fuselage turning as you face side-ways. Does this make sense? It also feels weird facing side-ways when taking off and landing. While looking at the bins, you kinda feel the whole aircraft moving and taking off … all very earthy . Unlike some other reviewers of the herring-bone configuration, I personally did not think that you had to really tilt too much to look out of the window.
Oh, and I did like how the blue lights for the seat controls auto-turned on and off based on what position you were in.
Aircraft:
(AC 763 @ SCL. Photo Courtesy: F. Muro)
Views from Aircraft:
(Entering Chilean airspace)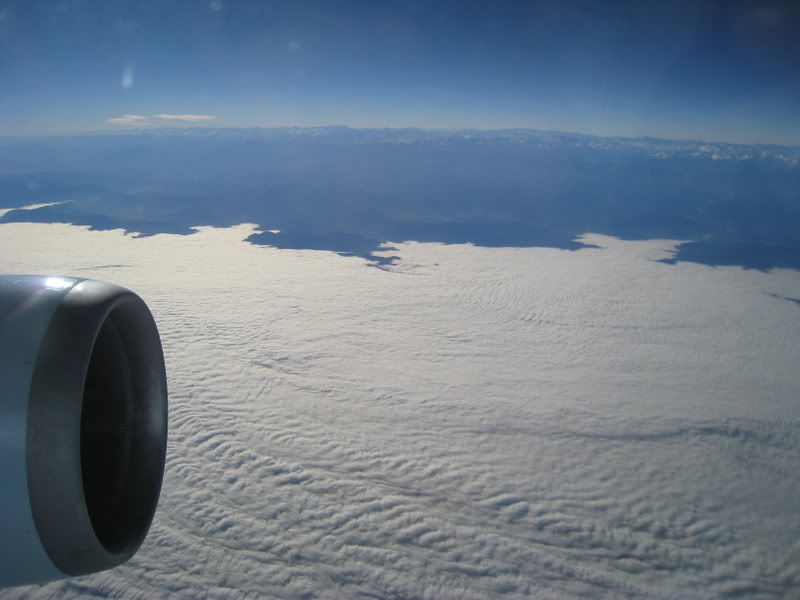 (Beautiful water body 15minutes from SCL)
Seat Leg-Room:
Seat Recline + Angle View: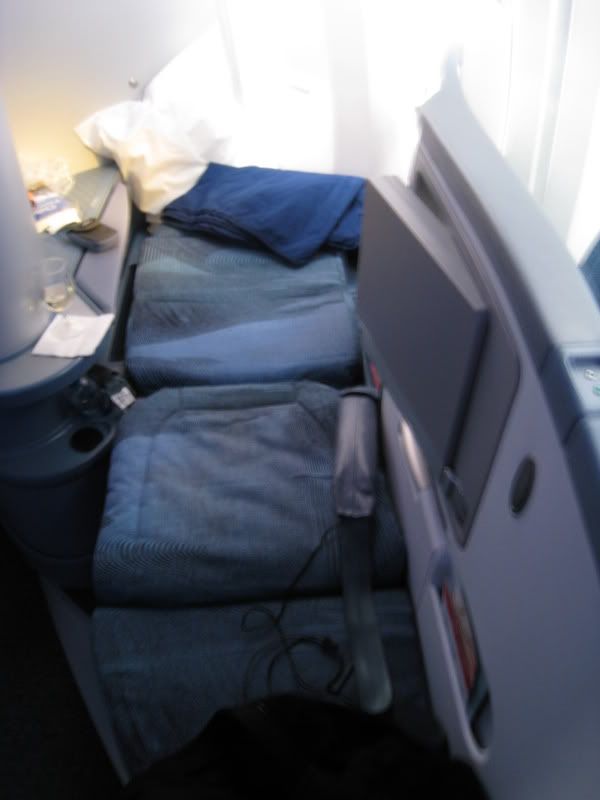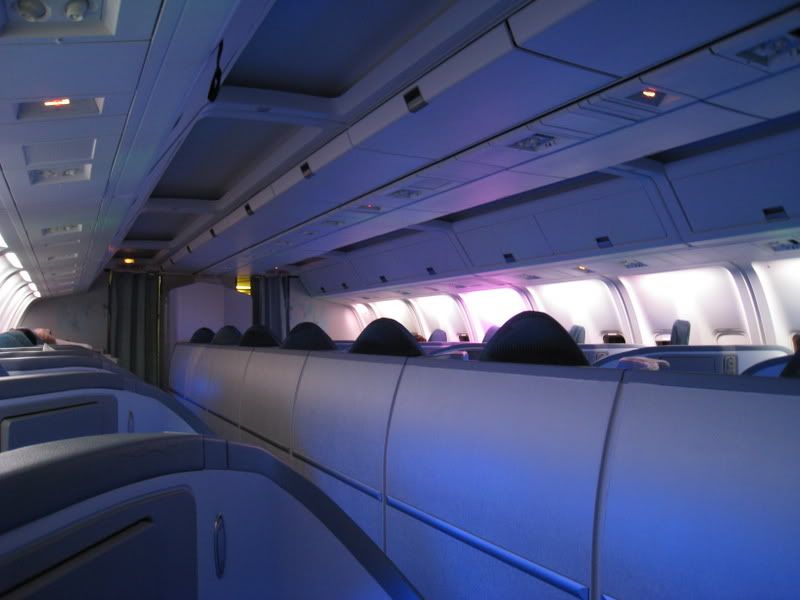 Cabin:
(Photo Courtesy: E. Fortin)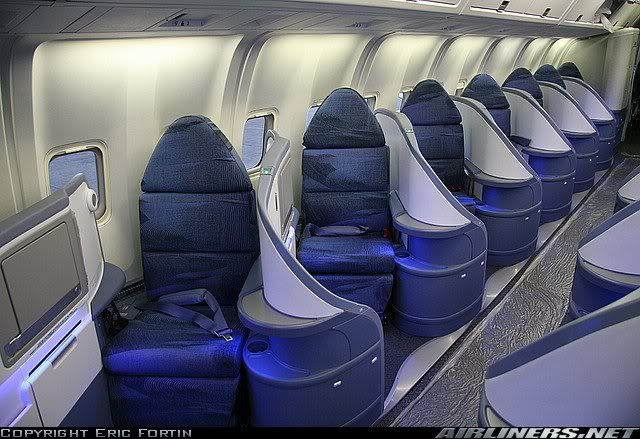 (Notice the soothing blue mood lighting)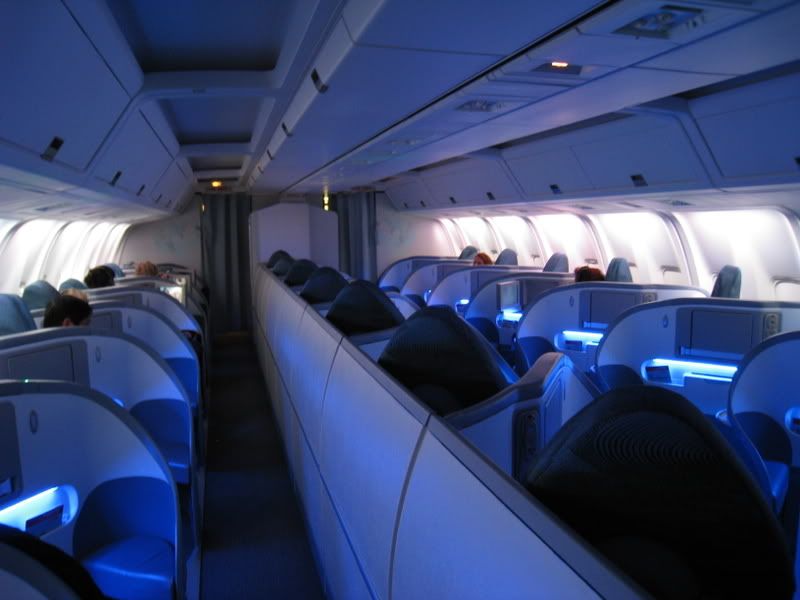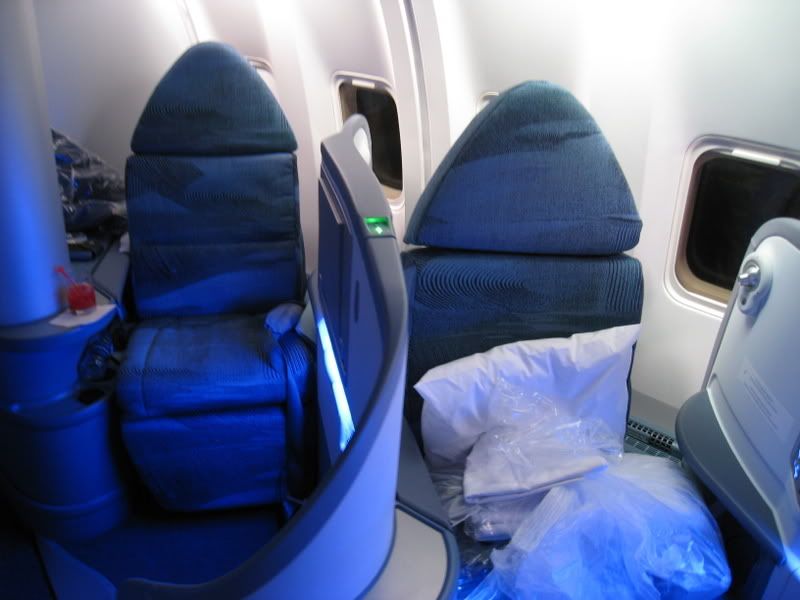 (Nasty – what I found upon boarding)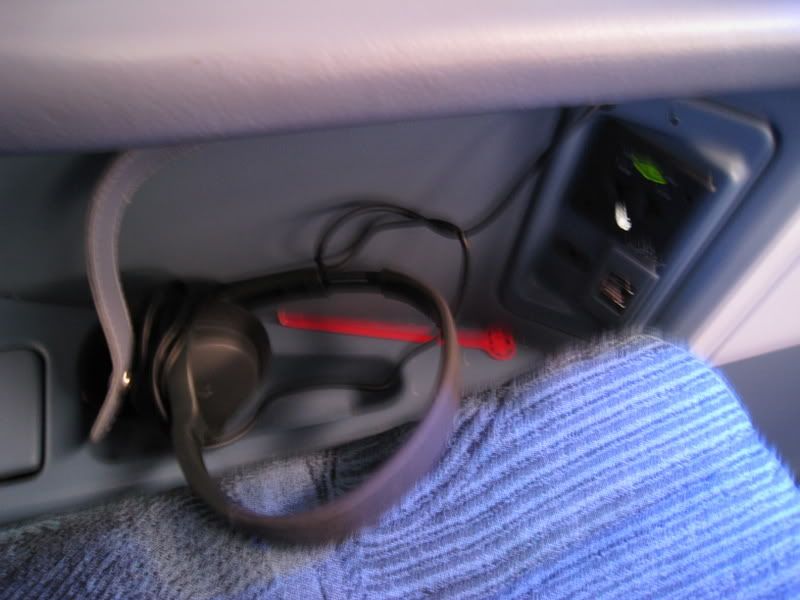 c) Meal + Beverage:
My last Air Canada J flight (ICN-YYZ) had relatively poor catering (
Read report here
)
) and had scored a 7.0 on the scale. However, this flight was very different. Service consisted of pre-beverage drinks (champagne + orange juice), menus distributed on ground, order taken just post take-off, a dinner service, and a pre-arrival breakfast service.
For dinner, one could get an "express meal" option and go to bed, or have a more relaxed dinner. Since I was hungry, I chose the later option. Selections for the main course include grilled beef tenderloin/sole-shrimp-scallop combination over rice/whole wheat penne pasta. Orders were taken soon after take-off, and was followed thereafter by a drink service. While the awesome cabin crew was well meaning, she produced one of the worst Bloody Mary's I have had in recent memory … just way watered down and I don't think she used tomato juice
. C'est la vie! After the attendant set my table (I struggled to get the table going), the service began with a pretty good smoked salmon in vodka with red onion etc. I found it a tad tacky (and rushed) that the post dinner cheese and dessert were placed with the appetizer – though the dessert of Breton vanilla biscuit with raspberry pureé was excellent indeed. My main course turned out to be really good as well – though, the quality of the saffron sauce was dubious.
I don't know if water and other runs were made after the dinner service as I pretty much crashed and fell asleep somewhere over Florida, and only woke up to the gentle touch of my flight attendant. She brought me a hot towel and asked if I was ready for breakfast. Oh boy was I! There were two options (weirdly, less than Air India's 3 options in Y class), and I chose the rather good scrambled eggs ranchero. Not bad at all.
During the flight, one had access to a decent selection of beverages – including champagne (no choice), red wine (3), white wine (3), port (1), and a rather limited collection of spirits. Of course, being part of the Commonwealth, the tea selection would have made Queen VII happy.
(Menu Options)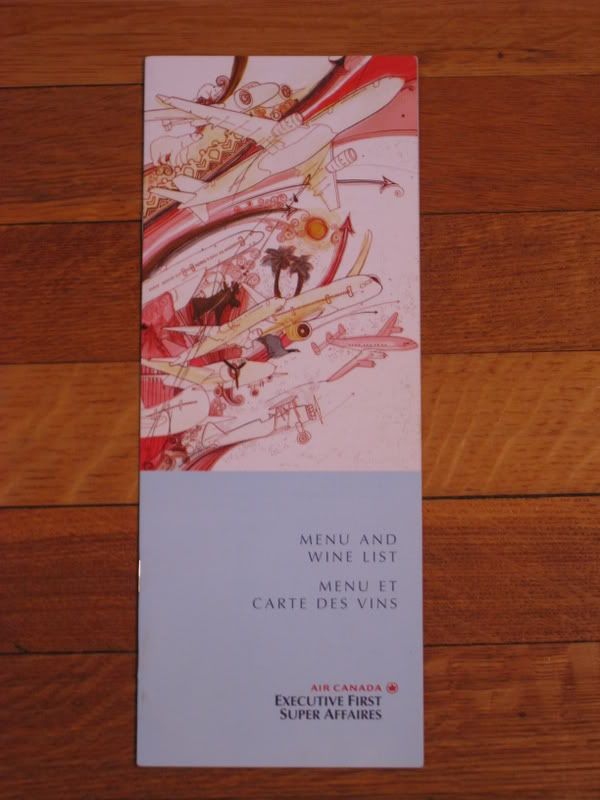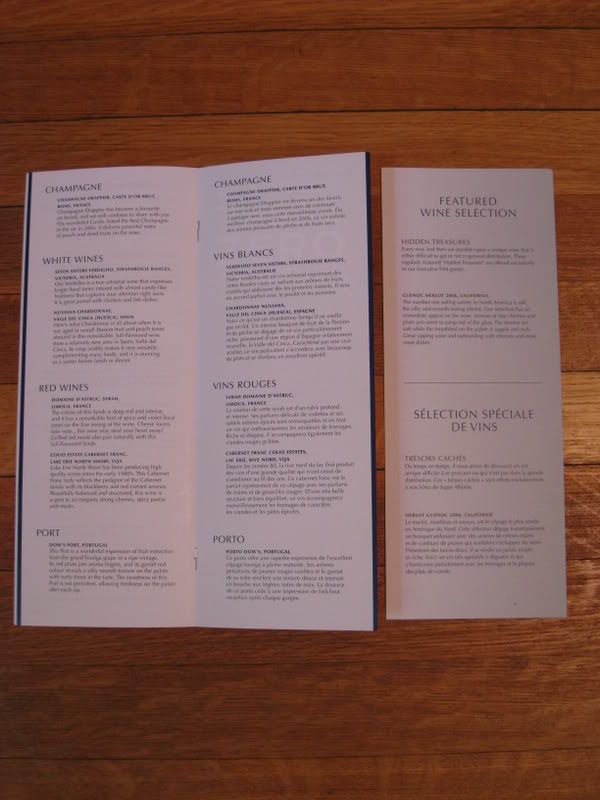 (Post take off drinks; the space to keep the drink was narrow and cramped)
(Dinner – weird how dessert is served with appetizer)
(Breakfast)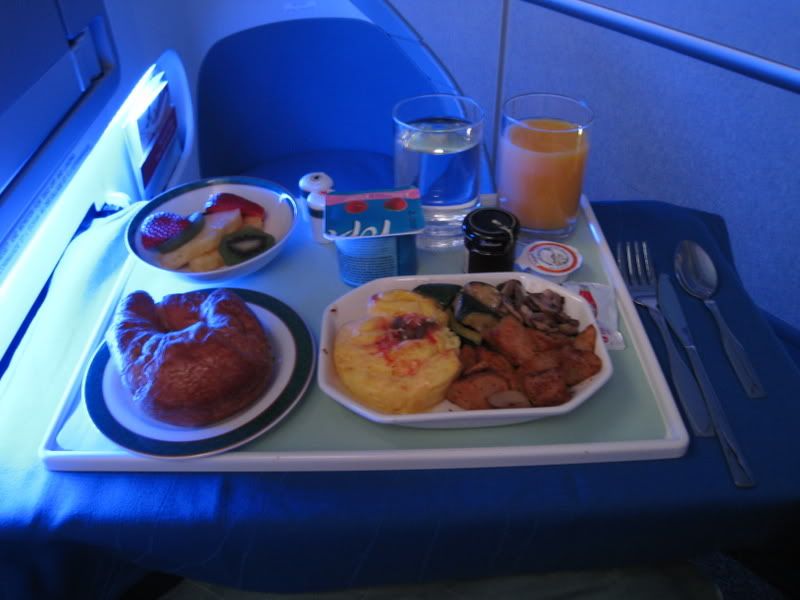 d) Inflight Entertainment:
First of all, all airlines need to go to Air India to see what kind of headphones are needed. AI's Y class headphones were better than the crap given onboard AC. Thankfully, the actual system was pretty good … and featured a decent collection of movies, games, television shows, etc. I did find it hilarious that only the movies and TV worked and smiled when the crew came on the PA to say, "please only chose movies or television; everything else will result in the IFE freezing." I had seen most of the movies, so ended up watching some lame Italian movie about a road trip to Morocco with more clichés than the worst Hollywood movie. Added to this, a good in-flight magazine and you really have no reason to complain about the standard of service.
(Poor headphones)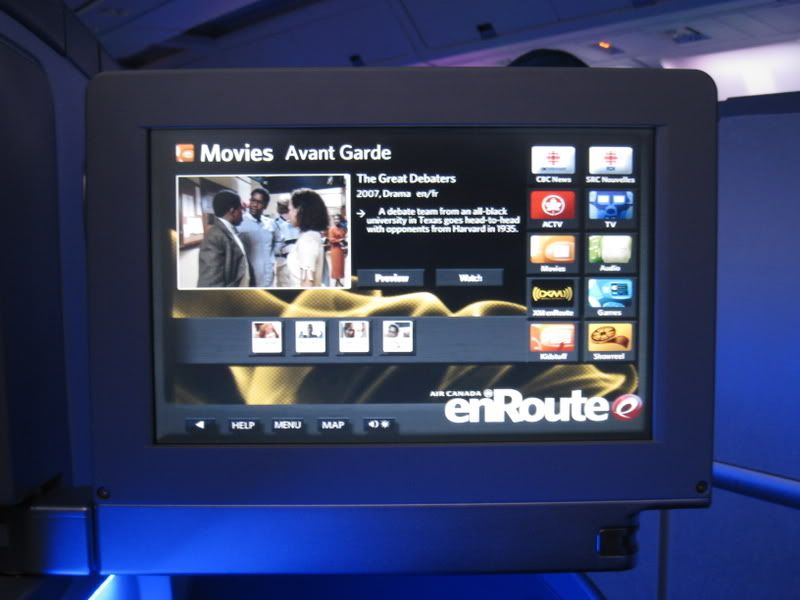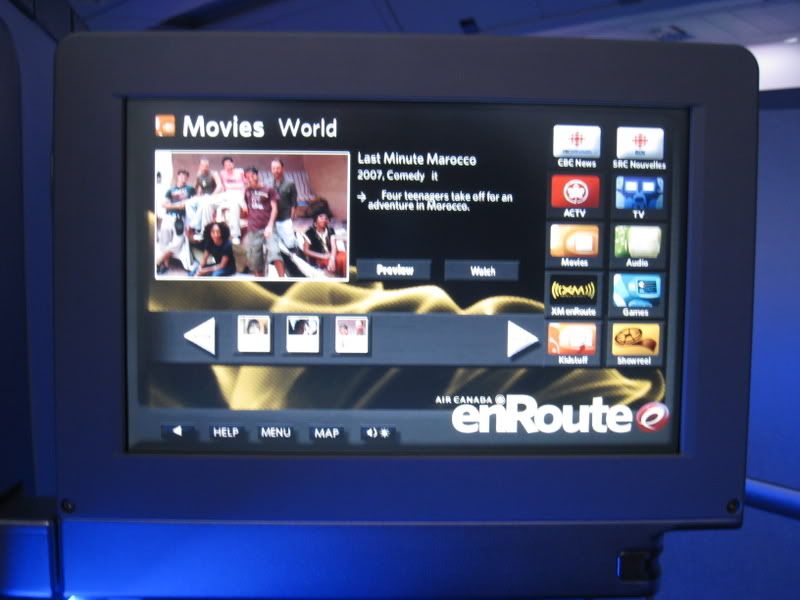 (Find product placement in premium cabin a tad tacky)
(Bad Italian movie)
("In-flight magazines", Boarding Passes – from the return flight, etc.)
e) Crew:
I have had a mixed bag of luck with AC crew in the past. My J crew on the ICN-YYZ flight in the end of 2006 (
Read report here
) had the most lame crew and had scored a 5.0 on my scale; a few months earlier, on a Y segment between YYZ and YVR (
Read report here
), the crew led by a fantastic Mr. Meghji had scored a 9.0 on my scale.
Thankfully, the crew on this flight was more of the later. First off, the purser came and introduced himself after take-off and asked how the flight was prior to arrival. Great touches, but it seemed disingenuous and a little staged. However, the flight attendant "assigned" to me, Ms. DeXXX M was absolutely fantastic! She clearly enjoyed her job, had panache, and came and asked me several times if things were OK and if I needed anything else. More importantly, she knew of AC's history and where it was headed – two things that are very crucial towards making an attendant good. I was impressed with her commitment and her overall positive attitude. Now only if she could make her energy rub off on the bitter colleagues I had on my ICN-YYZ flight!
IV> Post-Flight:
Arrival @ SCL is a breeze, and I spent very little time at immigration and customs. Bags arrived rather promptly and within 30 minutes, I was en-route to my friend's house.
(Parked next to an IB 343)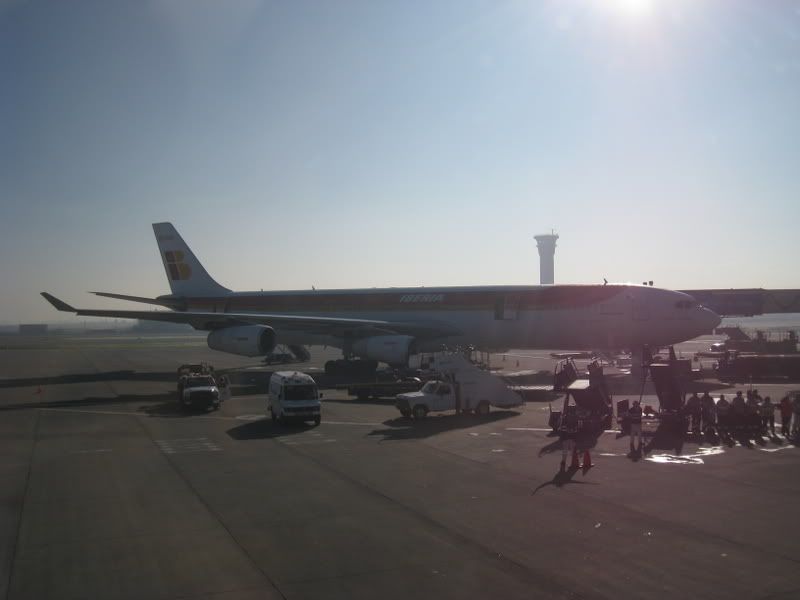 (Baggage Claim @ SCL)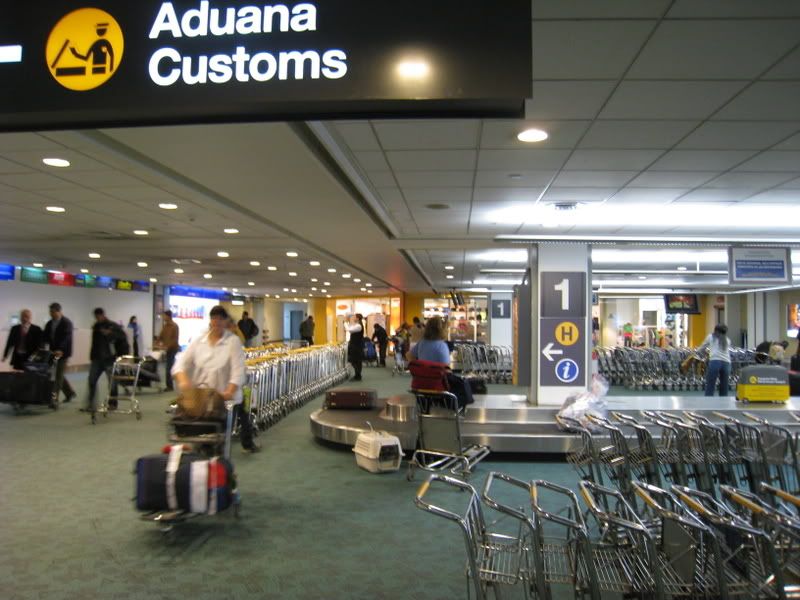 V> Impressions + Scores:
My experience on AC 092 was VASTLY superior than the past experiences I have had in prior ultra long haul intercontinental flights with them. The new J class seats are an absolute delight, and the entire cabin is soothing and inviting. Everything from the airport experience (lounges particularly) to meals to IFE to crew has been upgraded and the hard-work is clearly evident in all areas. I was particularly impressed by the crew (especially one) who were such a different breed than the trans-Pacific crew on AC. The challenge for AC is now to elevate its service from a good airline to a great airline. For this to happen, small things need to be fixed. As excellent as the service is, it is the attention to detail that separates the "women from the girls." The poor cleaning @ YYZ, meal service presentation rushes, beverage service not being at par, a disingenuous purser, poor headphones, and IFE that does not really work all throughout are small things that take away from an overall excellent product.
Air Canada has come a long way. Now it is the duty of AC management to truly take the airline to the next level and reflect the ambitions of a progressive forward looking country. I have absolutely no reservations in recommending AC based on this flight, and given a choice, I would probably pick them over the competition (at least in Latin America) again.
1.0 > RESERVATION: 8.0
2.0 > CHECK-IN: 9.0
0.5 > LOUNGE: 8.0
0.5 > BOARDING: 8.0
2.0 > SEAT: 9.0
0.5 > AIRCRAFT OVERALL AMBIENCE: 10.0
1.0 > IFE: 7.5
2.0 > CREW: 9.0
2.0 > FOOD: 8.0
0.5 > BEVERAGES: 7.0
0.5 > A.KITS + OTHER FREEBIES: 8.0
0.5 > DISEMBARKATION: 9.0
1.0 > ON-TIME RECORD: 10.0
WEIGHTED OVERALL IMPRESSION (WOI): 8.61 – NEW BEST FOR PREMIUM CABIN
(Pre-flight WOI of all reviews: 6.44)
* Weighted Overall Impression (WOI) aligns scores with what matters most. Weights are indicated alongside each category.
(Scores are based on comparison with other airlines in THAT class of service – No comparison of Y vs. F for example)
VI> Other Trip Reports:
PREMIUM:
8.61: Air Canada (49): YYZ-SCL: 06/2008
8.11:
Aeroflot (33): MOW-DEL: 09/2007
8.04:
Korean Air (40): NRT-ICN: 10/2007
8.02:
Delta Airlines (24): JFK-CDG: 08/2007
7.82:
Singapore Airlines (06): EWR-SIN: 09/2006
6.93:
Delta Airlines (18): SEA-JFK: 11/2006
6.81:
Air Canada (17): ICN-YYZ: 10/2006
6.70:
KLM (32): EBB-AMS: 08/2007
6.25:
Korean Air (45): NAN-ICN: 10/2007
5.75:
Singapore Airlines (16): CCU-SIN: 10/2006
5.64:
NorthWest (46): ICN-NRT-SEA: 10/2007
4.42:
Air France: CDG-JNB (25): 08/2007
ECONOMY: Long + Medium:
9.26:
Air India (48): JFK-DEL: 02/2008
7.38:
Avianca (01): BOG-LIM: 07/2006
6.26:
Jet Blue (21): CUN-JFK: 02/2007
6.06:
Air Canada (04): YYZ-YVR: 09/2006
5.89:
USA 3000 (19): PUJ-BDL: 01/2007
5.79:
Air New Zealand (42): RAR-NAN: 10/2007
5.46:
TAP Air Portugal (23): OSL-LIS: 05/2007
ECONOMY: Short
8.56:
Paramount Airways (38): BLR-MAA: 09/2007
8.24:
Kingfisher (14): IXA-GAU: 10/2006
7.87:
Indian (34): BOM-MAA: 09/2007
7.72:
Alliance Air (13): CCU-IXA: 10/2006
7.57:
Indian Airlines (10): DEL-CCU: 09/2006
7.23:
West Jet (03): YYC-YVR: 09/2006
7.15:
JetLite (37): BOM-GOI: 09/2007
6.70:
Spice Jet (09): CCU-DEL: 09/2006
6.63:
Air Fiji (44): NAN-SUV: 10/2007
6.58:
Air Tran (02): EWR-MDW: 08/2006
6.44:
CO Micronesia (39): ROR-YAP: 10/2007
6.41:
Pacific Sun (43): NAN-SUV: 10/2007
6.37:
Skybus (47): SWF-CMH: 02/2008
6.33:
Kenya Airways (29): NBO-BJM: 08/2007
6.31:
Indigo (15): GAU-CCU: 10/2006
6.22:
Air Link Swazi (28): MTS-JNB: 08/2007
6.22:
Air India (36): HYD-BOM: 09/2007
6.13:
Adam Air (07): SIN-CGK: 09/2006
6.13:
Air Rarotonga (41): RAR-AIT: 10/2007
6.00:
Transairways (27): INH-MPM: 08/2007
5.95:
Air Canada (05): ALB-YYZ: 09/2006
5.85:
SAS Norge (22): OSL-AES: 05/2007
5.81:
LAM Mozambique (26): JNB-MPM: 08/2007
5.69:
Air Deccan (12): IXZ-CCU: 10/2006
5.67:
Rwanda Air Exp (30): KGL-NBO: 08/2007
5.07:
Go Air (35): MAA-HYD: 09/2007
4.96:
Valuair (08): CGK-SIN: 09/2006
4.74:
Fly 540 (31): MYD-LAU: 08/2007
4.33:
Viva Aerobus (20): ELP-MTY: 02/2007
4.11:
Air Sahara (11): CCU-BOM: 09/2006
(Note on Codes: Y – Economy, J – Business, F – First :: I/D – International/Domestic :: SR/MR/LR – Short/Medium/Long Haul)
VII> Other Pictures:
(Pretty decent amenity kit – I am impressed when airlines continue reinventing – this is a kit different from the ones on board the preceeding year)
[Edited 2008-07-25 09:07:52]