Chinese Domestic; MU, CA, ZH
Over the past few months, I've had a bit of domestic travel to do for work over here in China. In this trip report are flights (nine sectors) on China Eastern (MU), Air China (CA) and Shenzhen Airlines (ZH).
Shanghai (SHA) – Guilin (KWL)
March 2008
MU 5279 (China Eastern)
Scheduled: 1045-1315
Actual: 1055-1310
MD-90 B-2265
I was pleasantly surprised when I first saw the MD90 scheduled for this route as it's normally an Airbus, and it's been a while since I flew on a MD90 (Scandinavian Airlines from Copenhagen to London in 2005). Shanghai Airport was a busy as normal, with a range of domestic airlines present. Recently, the airport has started operating international flights again (it was the international airport until around 2000, then they were all transferred to Pudong Airport), and now you can fly to Tokyo Haneda and Seoul Gimpo (both also primarily domestic airports).
Shanghai Airport: Xiamen Airlines B737
Shanghai Airlines B767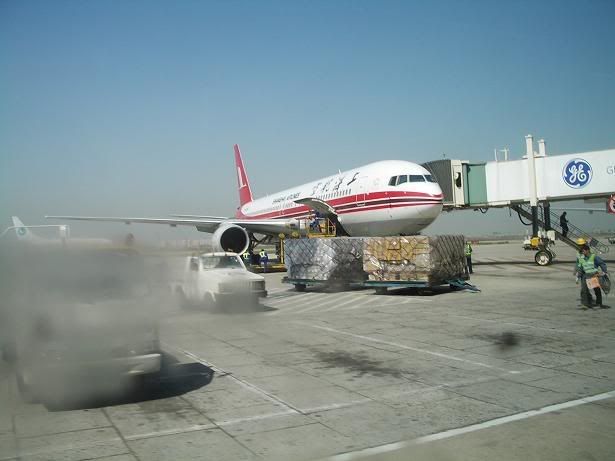 We were bussed out to our waiting MD-90, were we joined the long queue of tourists boarding.
My flight to Guilin, China Eastern MD90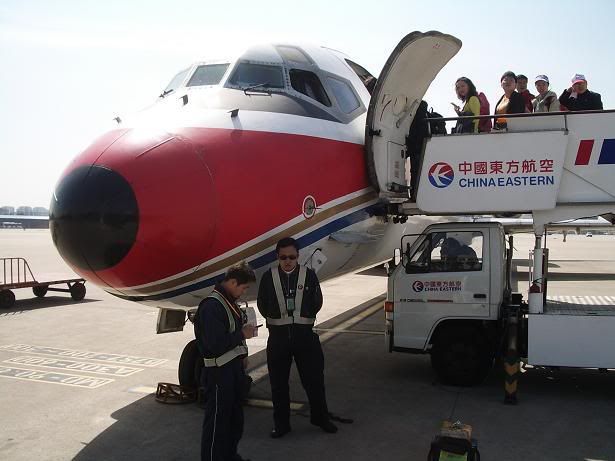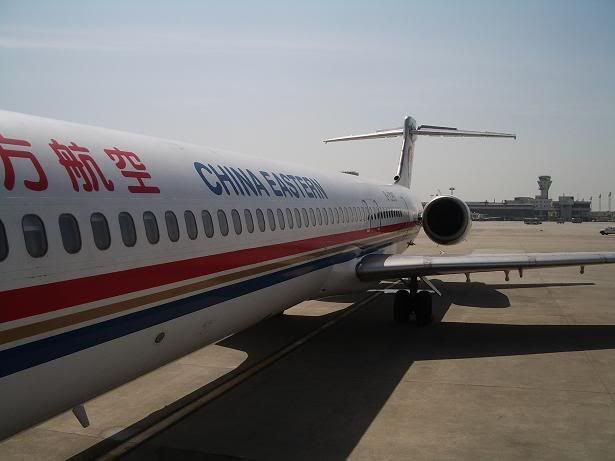 A small meal was served, but I slept though it – too much partying the night before! Guilin was dull and overcast, and despite the terminal being almost deserted, we were not allocated an airbridge, but hat to wait to be bussed to the terminal. We missed the first bus, so had to wait underneath the wing (which was quite cool) for the second.
Waiting for the second bus on a wet tarmac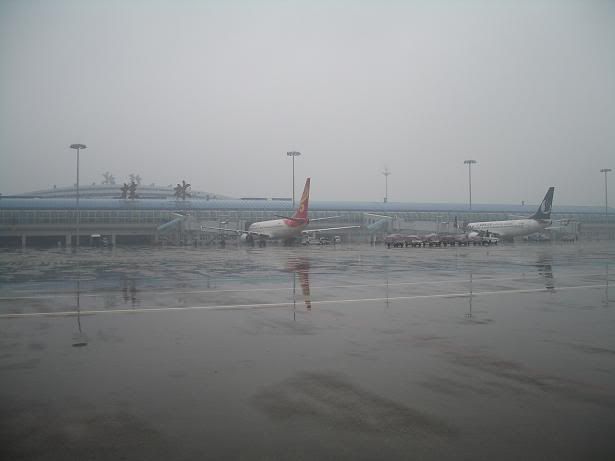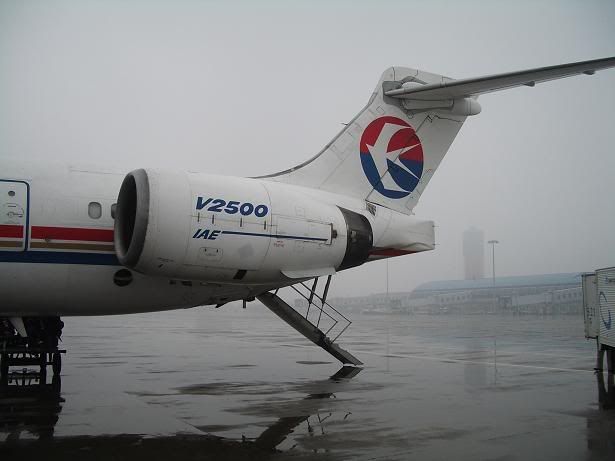 In Chengdu, near where the earthquake was, I saw this poster. I forgot what it was advertising, but you might be able to spot something a bit controversial…and I'm not talking about the basketballer on the wing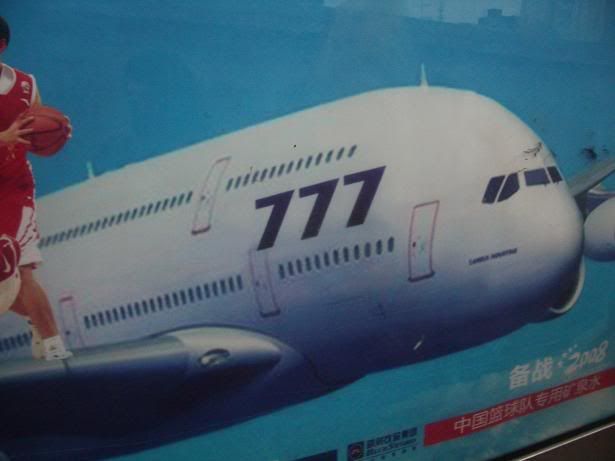 In mid April, I found myself in Hong Kong with a few days to spare, so I went out to Lantau Island, which is near the airport, to visit the big Buddha statue (Ngong Ping 360). The weather wasn't great (quite smoggy), but there were some good views of the airport from the cable car. I also went to the newly opened viewing gallery after meeting a British guy on the cable car that said it had just opened and offered good views. The views were pretty good, but it's not too viewer friendly, mainly as you have to pay, there is no shade, no facilities, no shop and you aren't allowed to eat or drink up there 
The sad looking ex-fleet of Oasis Hong Kong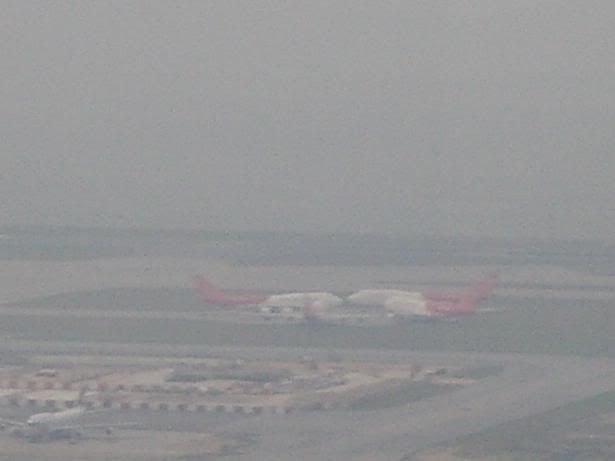 SQ, NH, CX and Eva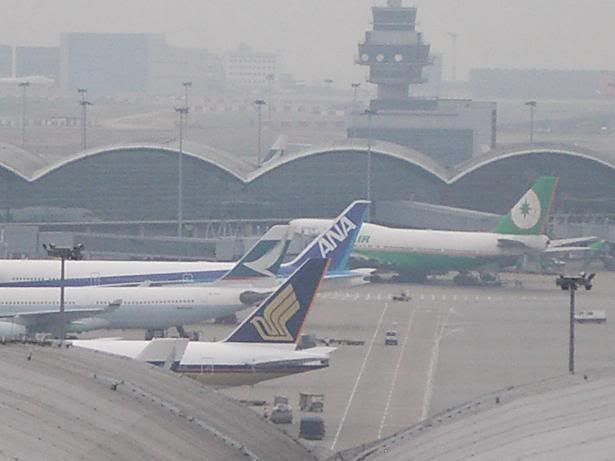 MU, LH, LY, CX and QR
Air Canada B77W taking off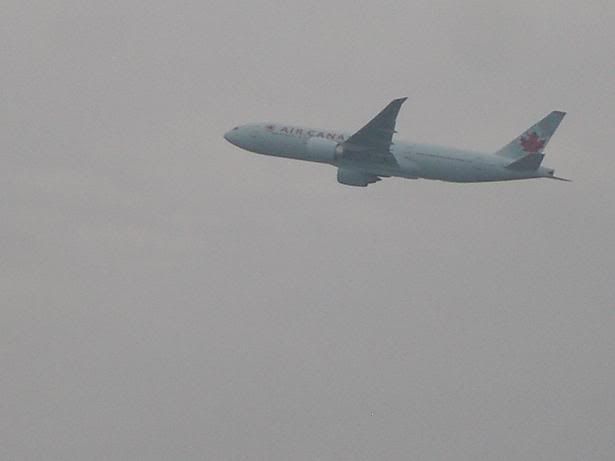 Eva Air heading for Taipei – how much longer will we see hundreds of widebody flights a week between HK and Taiwan?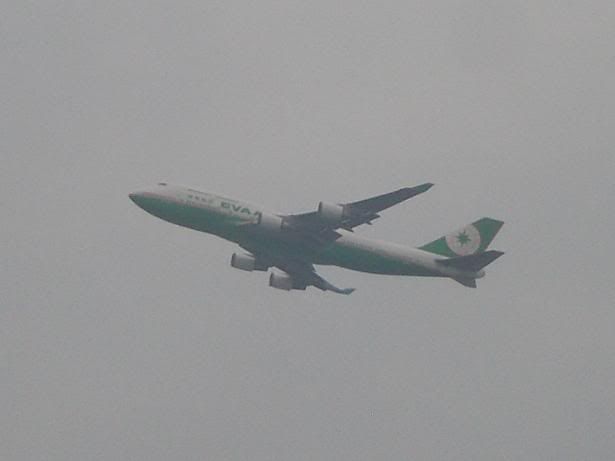 Star Alliance livery on Thai A330
Taxis waiting. Green cabs go to HK Island, and Red to Kowloon (or the other way round, can't remember)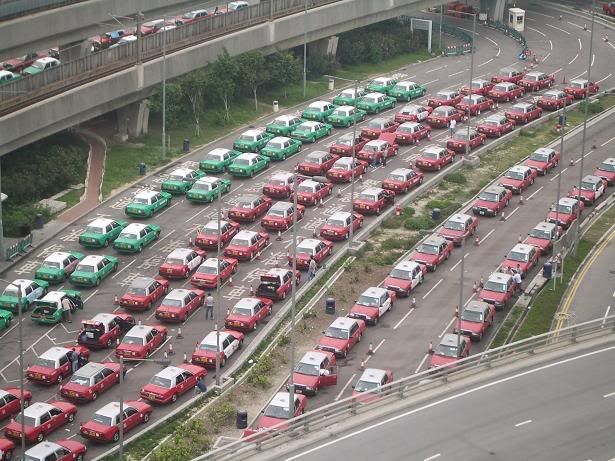 BA 744 arriving from Heathrow, first of BAs three daily flights
The viewing gallery from the top of Terminal 2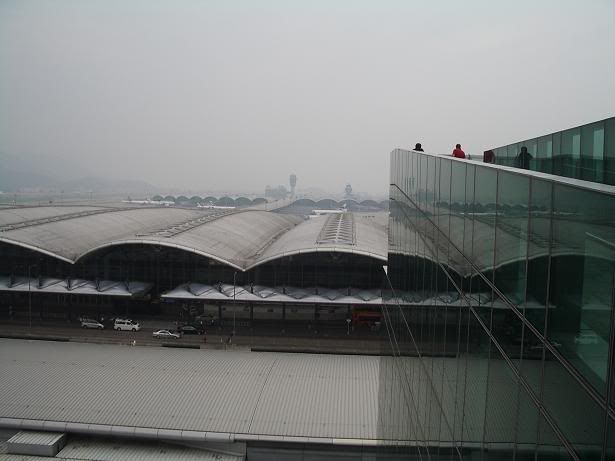 The interior of Terminal 2
After a month of not flying (it's been ages since a month has passed without a flight ), it was time to fly again, three sectors over three days. I was going down to Macau for a day from Beijing, but thought I'd stop somewhere I hadn't been before, so i booked a flight on China Eastern to Shenzhen with a stop in Nanchang, capital of Jiangxi Province.
A beautiful Hainan Airlines A330 in Beijing
Beijing (PEK) – Nanchang (KHN)
May 2008
MU 5188 (China Eastern)
Scheduled: 1710-1930
Actual: 1720-1905
A320 B-6262
This flight was packed to the gills, but I managed to get a coveted exit seat for the two hour hop down south. A snack was served that was completely forgettable.
My flight to Nanchang at the gate
Lovely weather for flying
Nanchang airport is small, and the taxis into town don't run on meters (i.e. you have to bargain hard), so I was a little stressed by the time I got to my hotel. I was staying at the Gloria Plaza which looked nice – the room was very nice, but the room service wasn't so much of a service as an example of how to spend hours tracking invisible orders, and shouting on the phone. Food was not, unfortunately, involved.
Ba Yi Square in central Nanchang
The next day was my continuation flight down to Shenzhen on the border of Hong Kong.
Nanchang (KHN) – Shenzhen (SZX)
May 2008
MU 5235 (China Eastern)
Scheduled: 1400-1530
Actual: 1402-1507
A320 B-6262
After a complete bun fight outside the hotel with my taxi driver and another competing taxi diver, which culminated in our car driving at close to 100mph on the wrong side of the road, we got to the airport. After all the time I've spent travelling around China, I've never come across such bad hotel service, crap driving and nasty taxi mafias – DON'T GO TO NANCHANG.
I checked in ok, but unfortunately it was the same aircraft as the one I flew down from Beijing on yesterday.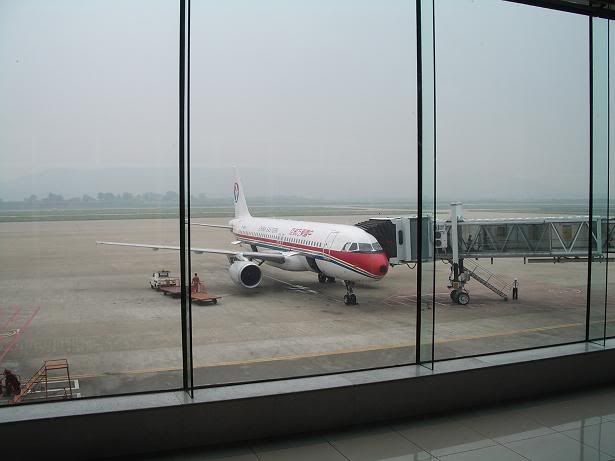 A strange sandwich type thing was served, along with a beer and tea.
On finals into Shenzhen
We landed way ahead of schedule, and after a quick stop at the enormous McDonalds in the arrivals area, I was on a bus to Zhuhai.
At the gate in SZX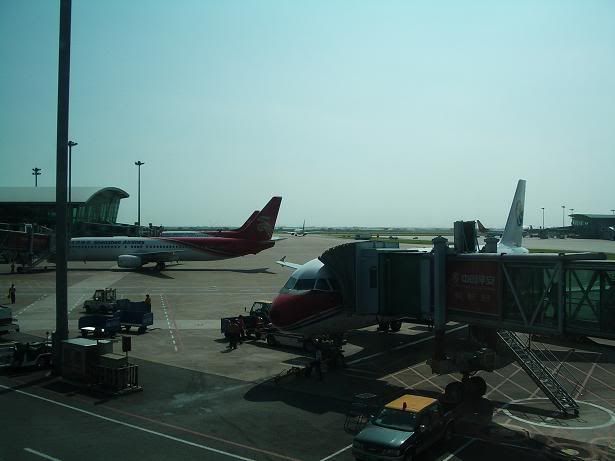 St.Xavier's Chapel in Colane in southern Macau
The Macau tower and the Lisboa Hotel and Casino (the tall building on the left)
I spent the night visiting a friend in Zhuhai, just across the border from Macau, and then flew back the next day from Zhuhai Airport. I've read that the local government is thinking about shutting down ZUH as there isn't as much traffic as originally thought. Having now visited the airport, I can see why. ZUH is probably the nicest airport in China, but rather pointless. It takes an hour to get there from central Zhuhai, around the same as getting to Shenzhen airport which offers ten times the number of flights. There are eighteen airbridges there, but also currently only eighteen daily flights, so an entire wing is empty, save for a couple of props (sorry, I'm unable to identify them – can anyone help?)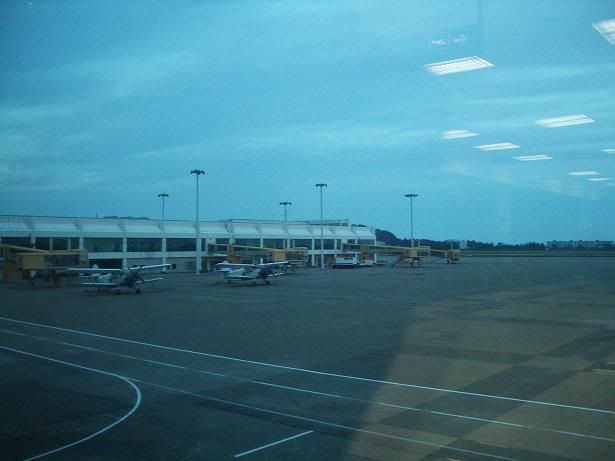 Anyway, as a result of it' chronic under patronages, it is a very peaceful airport. There is a good restaurant, and some shops that you might actually want to buy stuff from (normally Chinese airport have lots of shops selling stuff at ridiculous prices, but which you wouldn't want to buy anyway). I think Shenzhen and Zhuhai should have got it together, and built an airport midway between the two cities, and linked them with a high-speed railink – it would have been so much more efficient.
Zhuhai (ZUH) – Beijing (PEK)
May 2008
CA 1324 (Air China)
Scheduled: 2020-2320
Actual: 2030-2322
B738 B-5202 (Special Olympic Livery)
After waltzing though the deserted airport, the flight boarded on time, but pushed back late – consequently, we took of ten minutes late. I was delighted to see that the flight was one of the four Olympic B738 (two in this livery, and two in the 'Fu Wa' livery (Beijing mascots)). I also noted on this flight that Air China has recently renumbered the economy seats, so they now start at row 11, and the right side window is L. Not sure why they do this – it's quite confusing. I walked right past my seat thinking row 13 would be near the wing, not three rows in – I looked like such an amateur!
Air China B738 at Zhuhai
A snack (not a full meal) was served, then the lights were dimmed until just before arrival in Beijing. This was my first time in the new Terminal 3, and I was quite impressed.
Once again, I found myself booked on the Shanghai to Guilin flight, but the MD-90 had changed to an A320.
Shanghai (SHA) – Guilin (KWL)
May 2008
MU 5279 (China Eastern)
Scheduled: 0950-1210
Actual: 1000-1151
A320 B-6003
Other than the aircraft and time change, this flight was pretty similar as before. Lunh was served (bread and tomatoes) along with a choice of drinks. Guilin this time was super sunny, and we were allocated an airbridge.
Sorry, no pics from this flight.
From Guilin I took the train down to Guangzhou, and after a day or two there it was onto my next flight down to Kunming.
Guangzhou (CAN) – Kunming (KMG)
May 2008
ZH 9633 (Shenzhen Airlines)
Scheduled: 1405-1615
Actual: 1524-1738
A320 B-6312
I left my hotel in Guangzhou just as the heavens opened. Within minutes, the streets had become rivers. By the time I reached the bus station for the airport coach, it had slackened slightly, but then picked up again. The aircon unit (I think) was leaking, so half the seats were inoperable as they were as wet as it was outside. The ride to Guangzhou Baiyun Airport took only half an hour, much faster than the last few times I've gone.
I arrived an hour and a half before the flight, and went to find the Shenzhen Airlines check in, which turned out to be the first one I came across. There were no queues, but the staff were totally disinterested. I got a window seat though. The monitors said there was a delay already, but the staff said there wasn't – except that there was. Before going airside, I went to find a China Eastern ticket counter to book my next flight in a few weeks time (the ticket was on special offer, and had to be booked in Guangzhou).
Security was pretty quick, and before long I was hanging around, watching the delay lengthen every few minutes. This would be my first flight aboard Shenzhen Airlines. I try and stick to Air China (for Lufthansa miles) or China Eastern (I don't like them, but also get miles) for my domestic flying, but as neither was available for this routing, I thought I'd try something new. I was hoping for one of their new 737-900s, but ended up with an A320 instead.
A view of some Air China B738 (including the sister ship of B-5202 Olympic Livery, that I flew from Zhuhai to Beijing) and three JALs headed for Tokyo Narita, Osaka Kansai and Nagoya Chubu respectively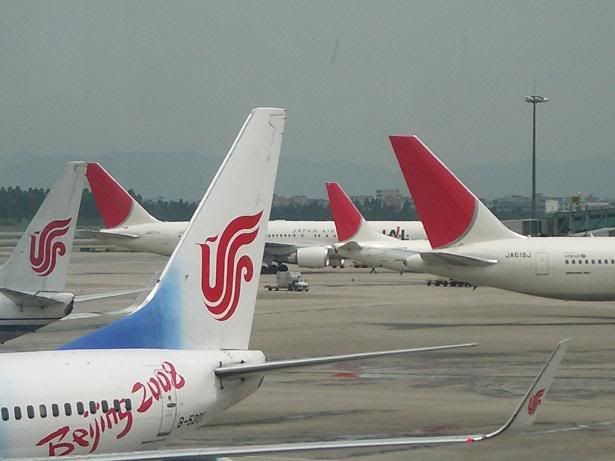 A Batavia Air A319
NH's Panda Plane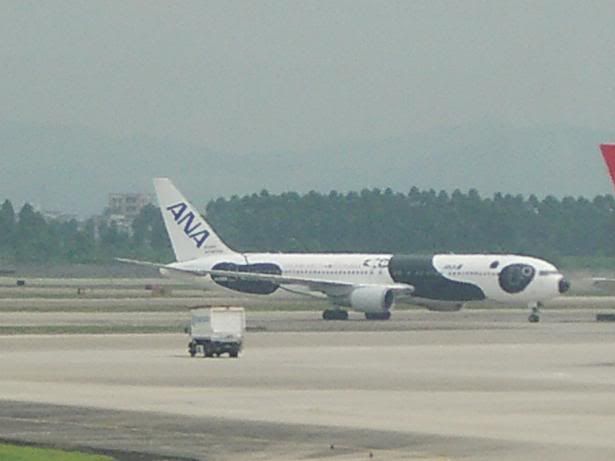 After an hours delay, boarding started. The front end of the plane was pretty packed, but the rear, where I was, was pretty empty, and I had an entire row (6 seats) to myself. The seats were new, and comfortable. After a long taxi after an MAS A330 to Kuala Lumpur, we took off an hour and twenty minutes late – not such a good start.
After take off, we flew south, and before long we were over the sea, which was a bit of a strange routing, given that a direct route wouldn't have gone anywhere near the coast. A cold lunch box was handed around (sorry no pics) which was pretty tasty, and a lots of drinks.
Shenzhen Airlines cabin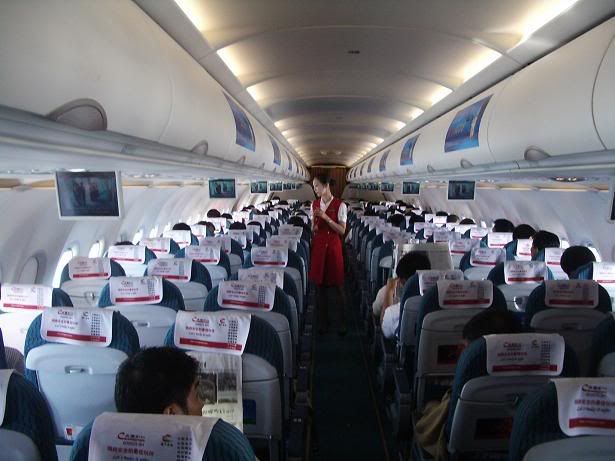 Views of Yunnan
Once we were back over dry land, the scenery got pretty spectacular. We didn't make any time up and landed even further behind schedule that our original delay would have made us.
We parked at one of the international gates, and next to us was a Thai A300-600 in the old colour scheme.
I was getting a bit nervous as I needed to catch a bus onto Dali, the last of which left at 1830. Thankfully Kunming airport is close to the city centre I was on a bus by 1810 – not bad!
After spending a week in Yunnan Province during which I went all the way to the Burmese border and back, and then a further week in Hong Kong, it was time to head inland, initially to see a friend in Lanzhou, then go to Qinghai to go to Qinghai Lake, the largest lake in China, high on the Tibetan plateau. This was also an attempt to tick off a further two provinces, meaning I've been to every province bar one (Guizhou).
The end of route 323 (?). The fence the other side of the statue is Burma (Myanmar). You could actually have forced your way though the gaps of the fence further along – hardly the best security ever. The characters say "the meeting point of heaven and earth". I think.
Guangzhou (CAN) – Xi'an (XIY) - Lanzhou (LHW)
June 2008
MU 2306 (China Eastern)
Scheduled: 1335-1610, 1655-1755
Actual: 1349-1547, 1652-1738
A320 B-2211
This time when I headed to Guangzhou airport, it wasn't pouring with rain, but looked as though it might. At check in, I asked for a window exit seat as it'd be a long flight, and I wanted the extra space. The guy at the desk saw my foreign passport and said I could have an exit seat as I didn't speak Chinese. This confused me a bit as I was speaking in Chinese, and it'd never been a problem anywhere else. I argued it wasn't a problem anywhere else, but he still refused. I showed him my FF card, and old boarding passes, then said I wanted to see a supervisor. He then very reluctantly gave me the seat I wanted – not sure what his problem was, but he certainly wasn't a happy bunny.
B-2211
The flight boarded on time, but we took off a few minutes late. A standard China Eastern lunch was served which was greasy but quite filling. I had a few beers as I watched the scenery change from lush and green to dry, yellow and dusty. Despite the late departure, we landed 23 minutes early.
Xi'an Airport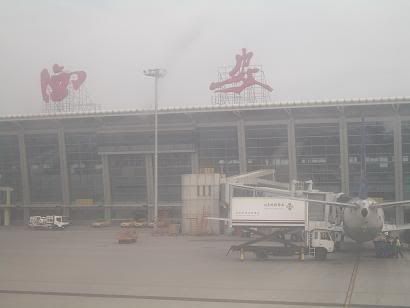 Hainan Airlines Dornie 328 JET (lovely plane)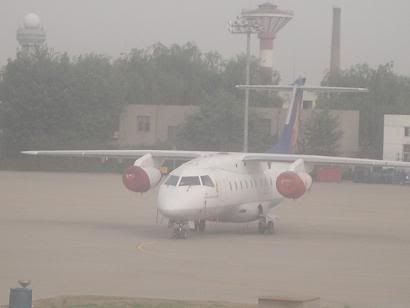 The transfer system this time was quite different from the last time I flew Xi'an in February on Air China from Beijing to Guilin. This time we were all herded into a special waiting room where there was one crappy shop. After 40 minutes stuck in there, we were told to reboard. I think only a few people deplaned in Xi'an, and most were headed on to Lanzhou. On this sector a small snack was served along with a drink, and before I knew it, we were descending into Lanzhou.
A drink and sandwich offered from Xi'an to Lanzhou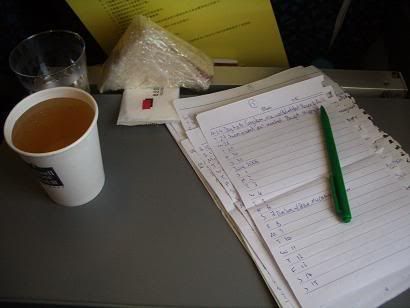 A pair of China Eastern BAe146s at LHW
Empty gates
Another A380 used without permission for advertising. They didn't call it a 777 this time though.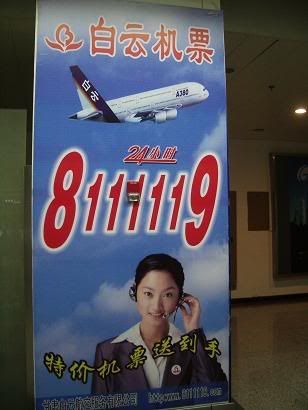 A few years ago I stopped in Lanzhou enroute from Urumqi to Kunming and the small airport was packed, but today we were only aircraft on the tarmac. After a short wait for the luggage, I was on the airport bus heading into town.
I spent a few days in Lanzhou seeing my friend. The city was much nicer than I'd been led to believe. It used to be the most polluted city on earth, but when I was there, the sun was shining, and sky was blue, and it was very pleasant. There were beer tents and beach volleyball along the banks of the Yellow River which made everything just that little bit better 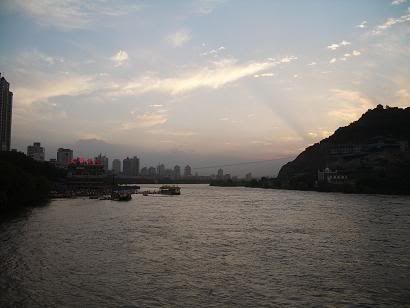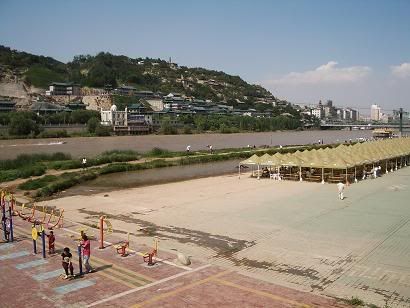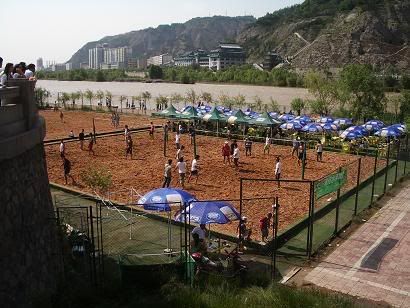 From Lanzhou, I took the train over to Xining, the capital of Qinghai Province, one of the poorest and most desolate places in China. Up to a quarter or the provinces' residents are prisoners, exiled to the Chinese version of Siberia. Despite this rather sad portrayal, I thought the city and province was quite nice. Qinghai Lake was absolutely stunning, and well worth the effort of getting there.
Tibetan Temple
Yaks in the grasslands
Qinghai Lake
A long way to anywhere
Tibetans and a yurt camp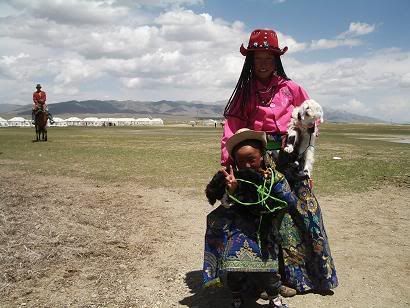 Sand Dunes near the lake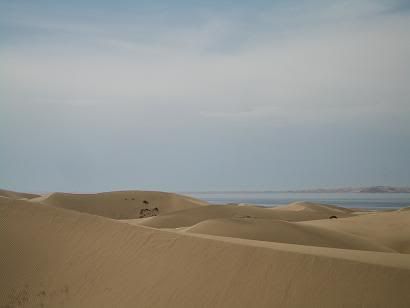 Xining (XNN) – Beijing (PEK)
June 2008
CA 1208 (Air China)
Scheduled: 1210-1435
Actual: 1209-1419
A319 B-6014
Xining Airport wasn't the busiest airport I'd ever seen when I arrived to check in for my flight to Beijing. There was only one desk open for check-in, but the queue wasn't big, so it wasn't a problem. After getting away with a few extra kilos (not as much as on the previous flight), I went though security, and into the empty departure lounge. The only commercial aircraft on the tarmac was my A319 to Beijing, which had arrived early from the capital. There was also a private jet and an old turboprop on the tarmac, neither of which looked like they'd been moved in a while.
Air China A319
We left on time, and we soon en route to Beijing. The flight only takes two hours, but the train take 24.
Xining Airport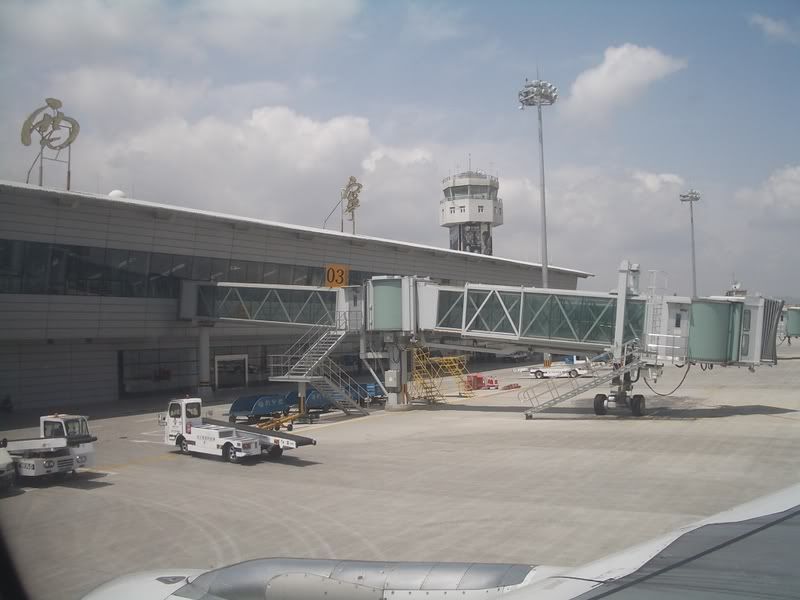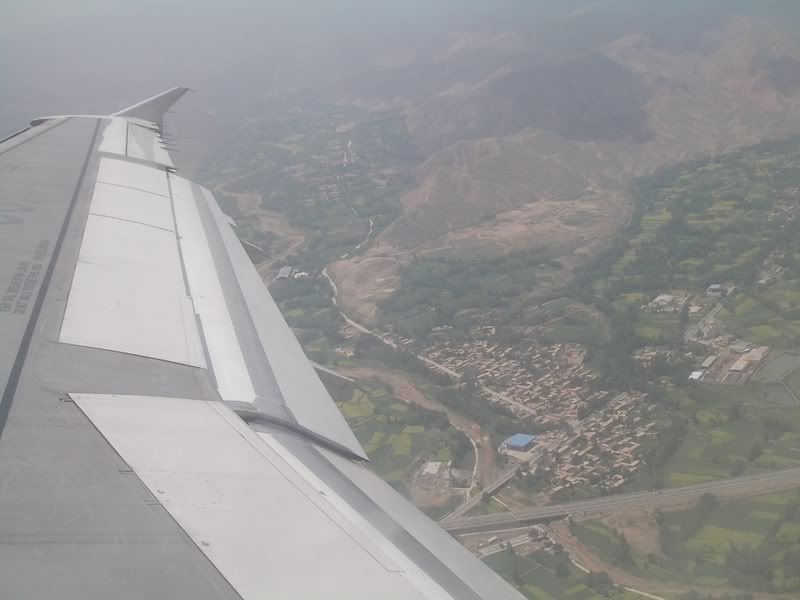 Filling but greasy meal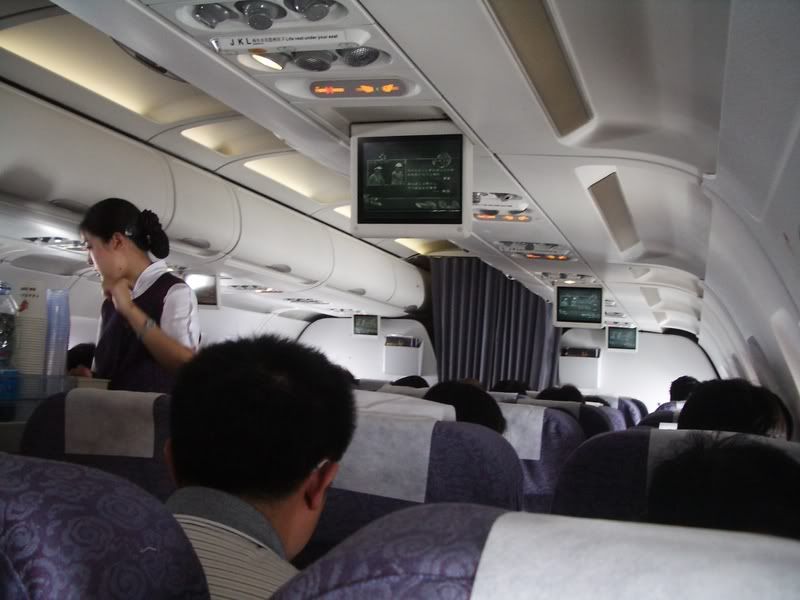 There was some pretty severed turbulence during the meal service, so the FAs had to strap themselves in. We landed early into the smoggiest Beijing I'd ever seen. It was horrible – crap visibility. We also endured the longest taxi I've ever had – nearly 30 minutes, and we were moving constantly, no sitting about. Beijing is a huge airport.
Landing in a very smoggy Beijing
The Olympic Flame Plane
An A380 ready gate – at the domestic terminal
Terminal 3
International Arrivals Board, with Air China's new service to Pyongyang.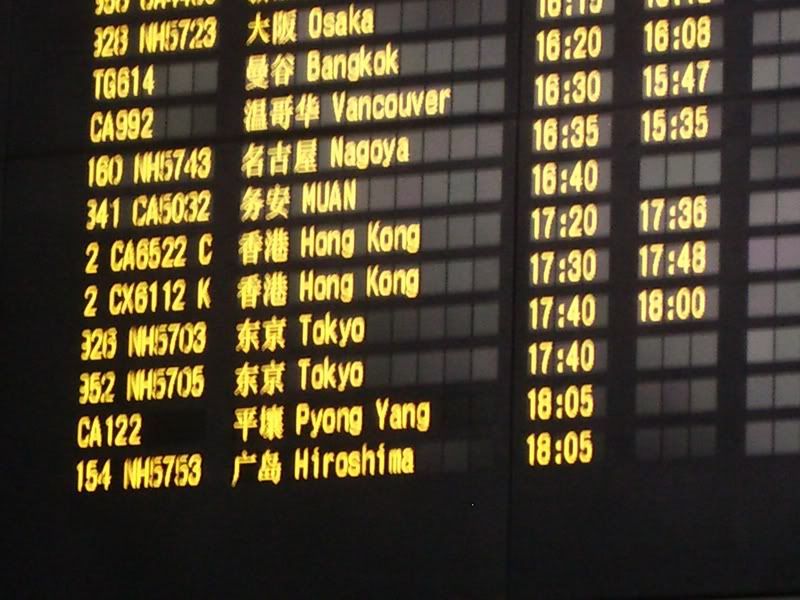 As a result of the long taxi, and a slow luggage belt, it was over an hour before I got out of the airport, and so I hit the Beijing roads just at the beginning of rush hour which was particularly annoying as I was in a hurry to get to the British Embassy for the pub quiz . I did finally make it, but our team lost .
Once again, I found myself booked on MU 5279 from Shanghai Hongqiao to Guilin (3rd time in 5 months) – I must say, I'm getting a bit bored of this flight, but hey, what're you going to do?
Shanghai (SHA) – Guilin (KWL)
July 2008
MU 5279 (China Eastern)
Scheduled: 0950-1210
Actual: 1001-1150
A320 B-2400
No pictures on this leg either, sorry. Shanghai was particularly sunny this morning. I'd only gone to bed at 5 that morning, so I was a bit cranky. The flight was full, and I was stuck next to some very active French pensioners. The extra legroom in the exit row, and the lack of sleep meant that the flight went quickly however as I slept the entire way. Guilin airport was as usual, no other flights, and bags out pretty promptly.
Well, I hope you enjoyed my last flew months of domestic Chinese flights. I;m in Hong Kong again now, about to head back to London to escape the Olympic madness. I'm flying on SQ on the A380 and B77W. Expect the report soonish…