Hong Kong to London on Singapore Airlines (744/380/77W)
Part 1, HKG-SIN-LHR
This trip signified a number of firsts for me: first time on an airline's flagship route (i.e. flight 1), first time on an A380, and first time on a B777-300 ER. I've flown on number airline's low numbered routes (e.g. BA 5, MH 2, GF 3, QR 2), and even had a boarding pass for QR 1, but never actually made it onto the famous flight 1, so this trip finally ticked that box. A few years ago I did quite a few SQ flights, taking in the entire fleet of the time (A310, B744, A343, B772, B772ER, B773), and quite a few destinations (LHR, LAX, PEK, AKL, NRT, PEN, CHC, BWN, KUL, DXB), so this trip will also make me a bit more current on their fleet (i.e. adding the A380 and B773ER), as well as adding a new destination, HKG. It had, however, been over five years since last stepping onto an SIA flight, so I was really looking forward to the experience, not to mention going home for the first time in nearly six months.
I was in two minds over whether to go on the direct Air New Zealand flight to Heathrow in Premium Economy, like I did in January, but Singapore Airlines worked out being cheaper and giving nearly as many air miles as ANZ, and I got to go on the A380, so a downgrade to economy from premium economy I thought was worth it - just. I booked my flights on the SIA website which was lucky as that is the only way for economy passengers to prebook seats. I went with one at the rear of economy on the B744, upstairs at the front of economy on the first A380, and at the back of the upper deck on the second A380, then finally a window near the middle on the B77W.
SIA only introduced the A380 on this flight on the 16th July, so I was one of the first to use the A380 on this lunchtime London service. Also, the A380 service on the London routes will be suspended from 31st July to 9th August due to the Olympics, so I made the flight just days before a 2 week hiatus. One more thing, Emirates will start A380 service on 1st August, so I flew the A380 while there was still only one operator worldwide. Ok, so that's all the babble about the A380, onto the flights.
Hong Kong (HKG) – Singapore (SIN)
July 2008
Scheduled: 0800-1140 (3h40m)
Actual: 0801-1059 (2h28m)
SQ 1
B747-400 9V-SMU (delivered 13th October 1993), 1000th B747 built
This was the second B744 delivered to Singapore Airlines
Hong Kong was experiencing some very clear weather the day before I left, so I went up the Peak and got some photos of sunset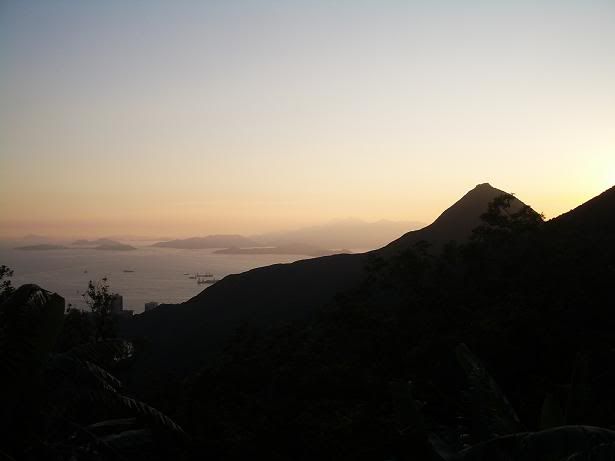 The Olympic Clock – getting close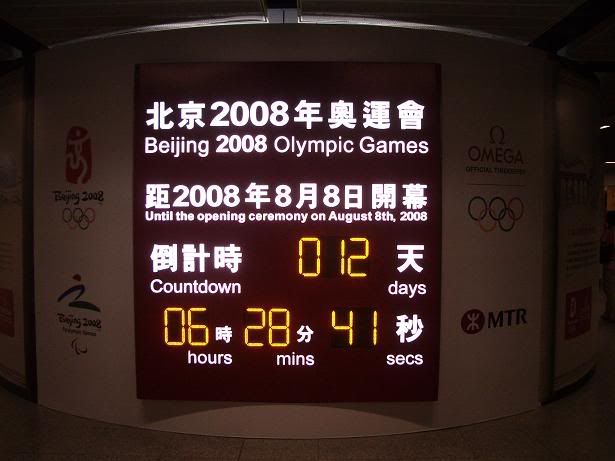 I left my hotel on Nathan Road nice and early, and got the 0450 bus to HKIA. I'd only found out the day before that the airport had just won Gold again in the Skytrax Awards, with Singapore Changi coming second, so today I'd be visiting the two best airports on earth, whilst flying on the worlds best airline (SIA got gold in 2007, 2008 airlines not released yet).
I was a bit annoyed at having to lug my bag around, as I was hoping to have been able to check it in the previous day at the station in Central. However, when I got over there I discovered that you can only check in bags early if you plan to travel on the airport express (and pay for it there and then – not cheap at HKD$100 (the bus I got cost HKD$23!)), and getting the train from Kowloon would have been very inconvenient anyway, so I was stuck with my bag.
The bus got me to the airport around 0550, plenty of time for my 0800 flight. There was no queue to check in, and as I'd OLCI the day before, all I had to do was drop my bags and pick up my boarding passes. Interestingly, SIA boarding passes are now quite a bit bigger than other airlines, with the ripped off bit they give to you (the stub) being about a 1/3 of the boarding pass instead of around a 1/4).
From the internet the previous day, I knew the flight would be full (there were only three empty seats, and they were middle seats), so I was glad that I'd reserved my seats when I first booked where most seats were unreserved. I went to 7/11 on the arrivals level and had a salad and kiwi juice for breakfast whilst watching the arrivals stream though. SQ 1 from San Francisco had arrived very early at 0520 (scheduled for 0630), so I knew that the flight would be on time.
Cathay Pacific
SQ 1 from San Francisco to Singapore – beautiful on the outside
…with Cathay Pacific catering
After my rather strange breakfast, I went back up to departures, and though the deserted security and immigration posts. Similarly to the last time I flew though HKIA early in the morning on Air New Zealand, most of the shops were closed, so I just hung out by the gate using the free wi-fi. I saw QF 30 taxi in from London, which only a few days earlier had been diverted to Manila following the fuselage blow-out incident after taking off from HKG. QF 29 was on stand next to it but one, enroute to Heathrow.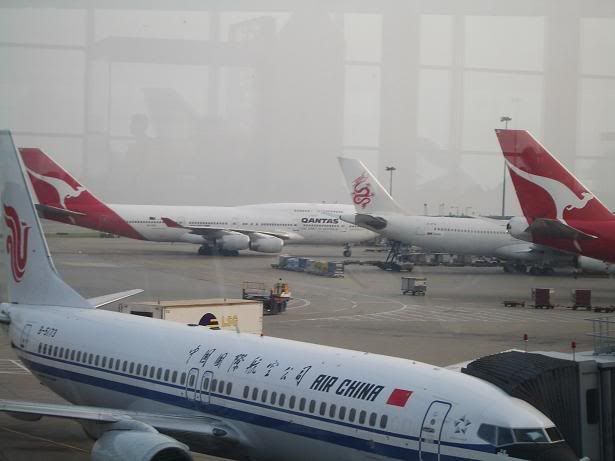 Next to the gates were these comfy looking chaise-longues. One guy, however, out his bag on the seat, then slept on the floor – bizarre
Boarding
Boarding started around 0720, and after the passport check which took a while, I was onboard. Initially I though the interior looked ok. The spacebeds looked good, as did economy. It was only when I sat down, however, that I realised quite how antiquated the seats were. I'm not particularly tall, but I could see way over the other seats so the headrest wasn't much good.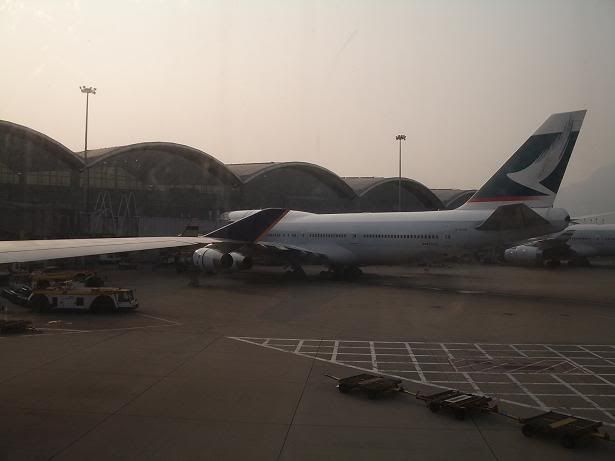 The PTVs must date back a good few years as they were tiny, and the colours were quite distorted, especially when the person in front reclines, so as to be almost unwatchable. The carpet was moving around, and the plastic strips on the floor were just lying around. Overall, I was not impressed with the economy interior. On the plus side, the toilets were ok, and there seemed like there was enough space for carry-ons.
NZ 39 to London – I'd see this flight again in 18 hours
I actually took this flight in premium economy in January, see my report…
http://www.airliners.net/aviation-fo...chid=120731&s=gabrielchew#ID120731
Once boarding was over, we taxied to the active (which only took a minute or two), and we were on our way. The cabin crew came around with special meals first which took them around 20 minutes from start to finish, before they came around with the normal meals (choice of Chinese, Western or Indian; Cantonese style "lor mai fun", omelette with tomato, mushrooms and potatoes, or Aloo bonda and marrow curry). I'd preordered a seafood meal, which was delicious. There was a variety of seafood on a skewer, along with some more normal breakfast stuff like a muffin and a roll. It was the first time I'd ordered a special meal, and I think I got a bit lucky, as I've seen some in the past which looked a bit rubbish.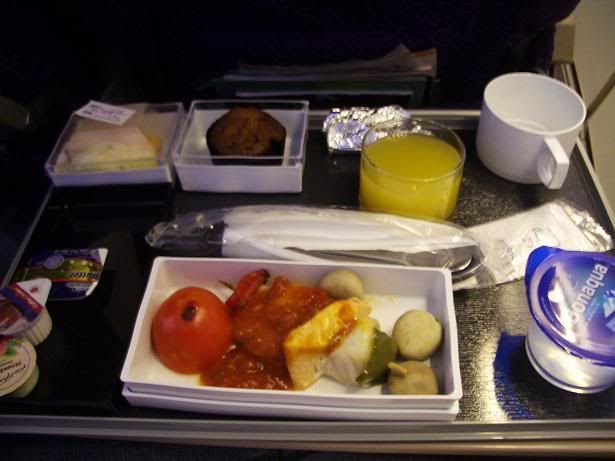 A large percentage of the passengers seemed to be Indians that had been onboard since San Francisco, long with smaller numbers of Chinese and Americans.
It took the crew ages to collect the empty meal trays, so most people were stuck in the seats for the majority of the flight. I tried to watch 21, but after the person in front reclined, I couldn't actually focus on the screen without giving myself a headache, so I gave up and just watched the Malaysian and Vietnamese coastlines edge slowly past.
The B744s amazing wingtip
The ancient cabin
Our routing over Vietnam and Malaysia
Connecting gates – assuming they only out relevant flights up, there were people flying from Hong Kong to Manila via Singapore – that's a strange routing!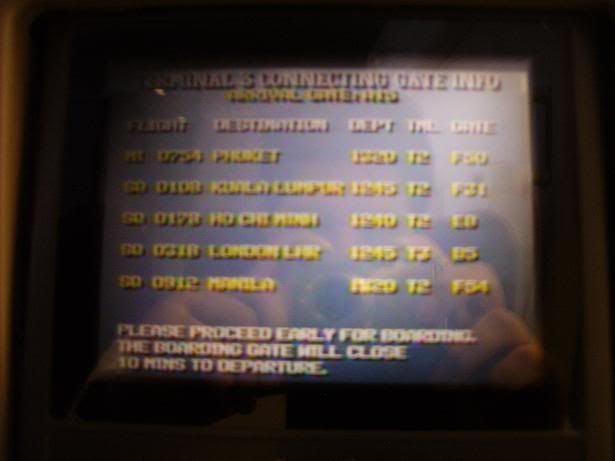 Malaysia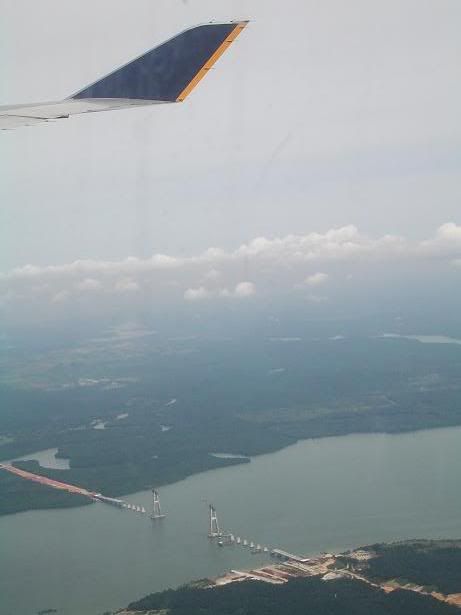 The space at the rear of the planes between the wall and seats – this is not an official storage area
We started out descent a good our ahead of our scheduled landing, and we touched down just over forty minutes early. Changi Airport seemed particularly deserted today, with only a handful or other aircraft on the tarmac.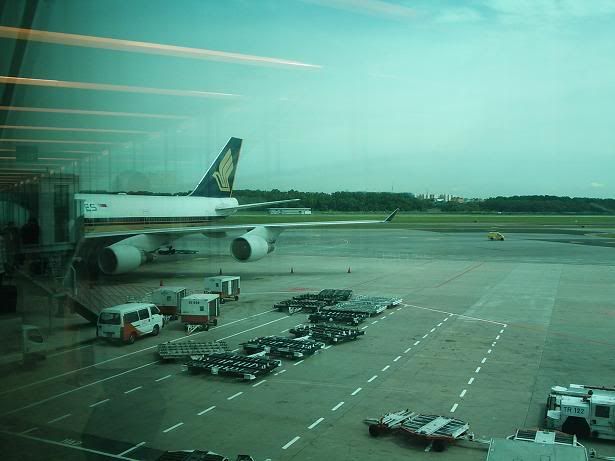 It'd been five years since I was last in Singapore, but I remembered the airport being a bit busier – maybe lunchtime is the quietest time of the day. We docked at the far end of terminal 3, and the LHR flight left from the other end, so I sauntered down past all the shops to the next gate. There were plenty of free internet terminals, and the terminal was bright and airy. The 'garden' was a smokers garden, so far less nice that the cactus and sunflower gardens in T1 and T2.
Bright and airy T3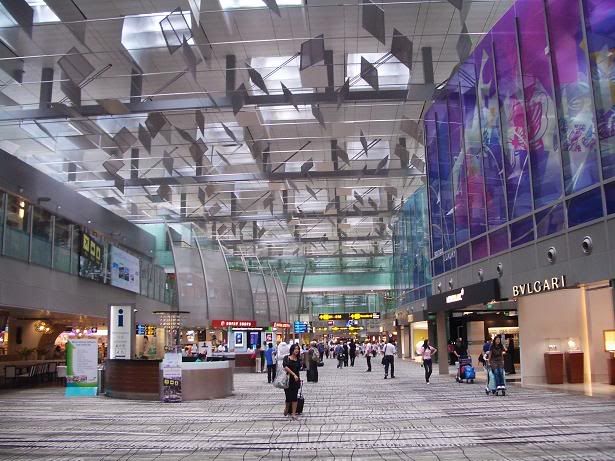 A company B772
The beast aka A380. I really do not think that this plane is pretty
From internet check in, I knew that the flight wasn't going to be too busy, with the upper deck approximately 70% full. The gate area was very quiet, and when they announced general boarding, I was the first on.
Singapore (SIN) – London (LHR)
July 2008
Scheduled: 1245-1910 (13h25m)
Actual: 1310-1848 (12h38m)
SQ 318
A380-800 9V-SKE (delivered 27th June 2008), 10th A380 built, 5th in passenger service
This aircraft was the newest in the SQ fleet, having been in operation just over a month when I flew on it.
There was a choice of three airbridges, one for suites, one for lower deck economy passengers, and one for upper deck passengers (business class and economy class passengers together). There were only five or six people in the business cabin when I walked though, so I managed a quick photo of the empty rear past of the cabin, as well as the upper deck economy section.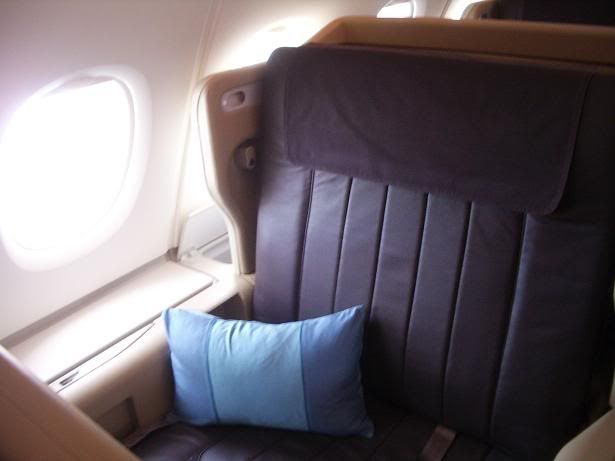 The seat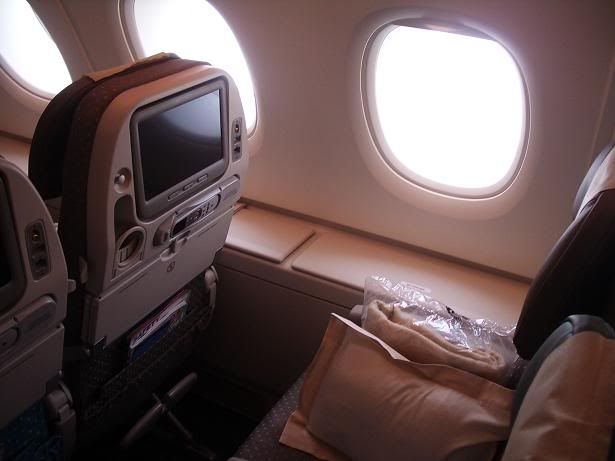 Before more passengers boarded, a green SIA girl came and said hi, and helped me put my bags in the overhead. I commented that the flight was meant to be quite empty today, and she said that it was the emptiest A380 she'd ever seen.
Our gate and the Crown Plaza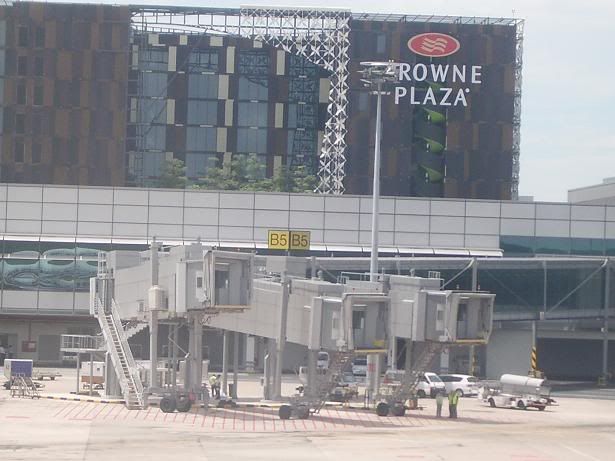 Changi Airport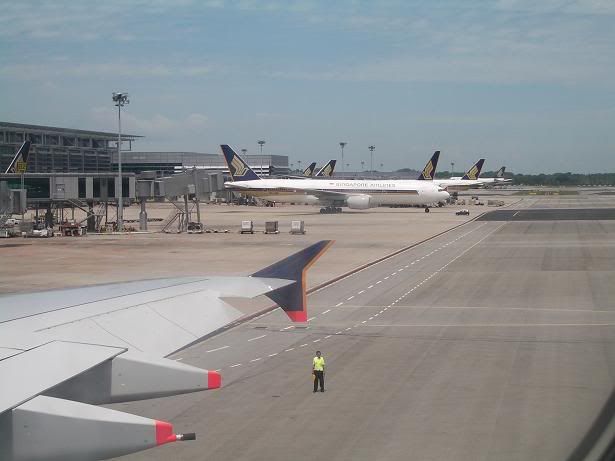 Krisworld – a long way to go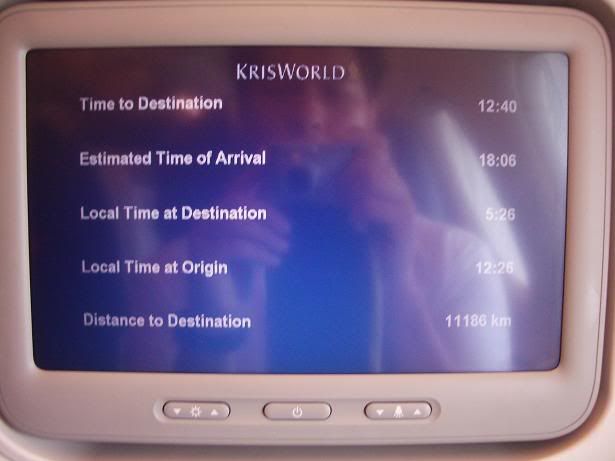 I settled into my seat, which felt a lot harder than on the Boeing 744. On the other hand, the PTV was enormous, and everything generally felt a lot nicer and cleaner. There was a pillow and blanket on every seat, and the window seats on the upper deck have a handy locker just beneath the window.
The cabin gradually filled up so that all the aisle and window seats were taken, but most of the centre seats were empty. When I did OLCI, I noticed that the rear lower deck cabin was almost empty (max ten seats reserved out of nearly 100 seats), so I decided that after takeoff, I'd go downstairs and see if there was more space to spread out. I saw initially seated next to an old Italian (?) guy that kept talking about how high we were off the ground etc. Nice guy, but rather annoying.
Despite the low load factor, we pushed back late, and took off just under half an hour behind schedule. Flight time was estimated at 12 hour 40 minutes, so we were due to make up all of the delay.
Airbus obviously wanted the A380 to follow in the footsteps of the A340 and have a spectacularly long take off roll – ours was 55 seconds, 20 seconds more than the B744 I'd just been on.
Just after takeoff
Our routing from Singapore to London
Once we were in the air, the cabin crew came around with hotel towels, menus and headsets. Went down to the lower deck where most of the rows had been staked out already by other passengers planning on sleeping horizontally all the way to London. There was, however, still one row of three left halfway down the cabin which I grabbed.
3 people spread over 10 seats
I moved all my stuff down from the upper deck, and settled into my three-chair suite. Once I was settled, I had a chance to finally take in my surroundings. The A380 certainly is big. The upper deck is effectively an A340, and the lower deck a spacious B747. Windows are unlike any other aircraft I've been on – they are so much bigger, and as a result, there are far fewer of them – around one per row as apposed to around one and a half or two on other planes.
The lower deck economy cabin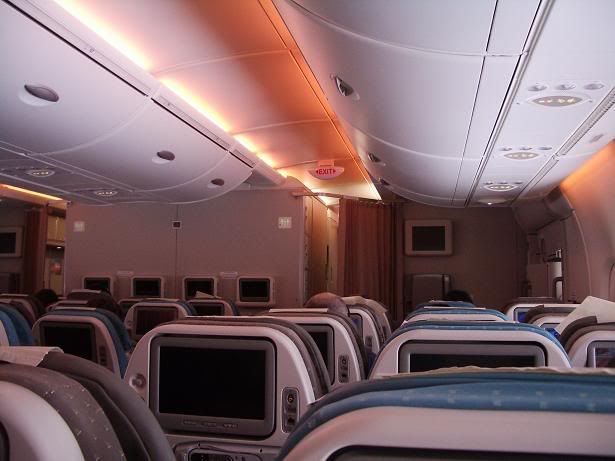 The seats as I said earlier weren't very soft, but I imagine with time, they'll soften up. Each seat had a nice big widescreen monitor, along with an inbuilt reading light, cup holder, coat peg, an a USB port and some more electrical stuff. On the reverse side of the control was a QWERTY keyboard to you can type and stuff without having a laptop. The table folded in half, which was handy, and there was also a mirror in the bottom half of the table.
PTV, controls etc
The kids in front playing with the Word program
Lunch was brought around after two drinks services. I had a Singapore Sling.
The choice was beef steak, wok fried chicken or salmon masala along with a turkey and pasta salad, cheese and crackers, and a chocolate ice-cream. I went with the salmon masala, which was very good.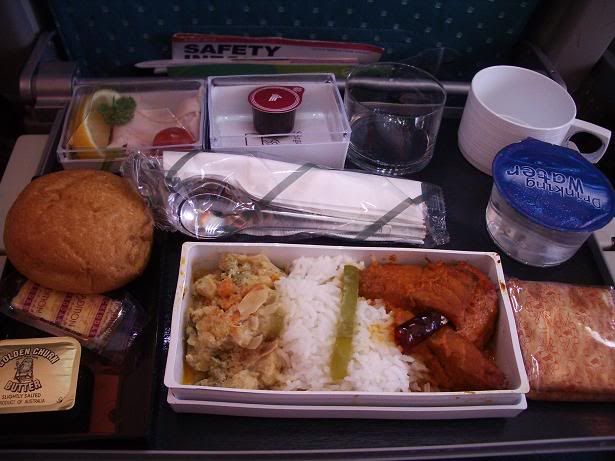 Watching the world pass by during lunch near the Andaman Islands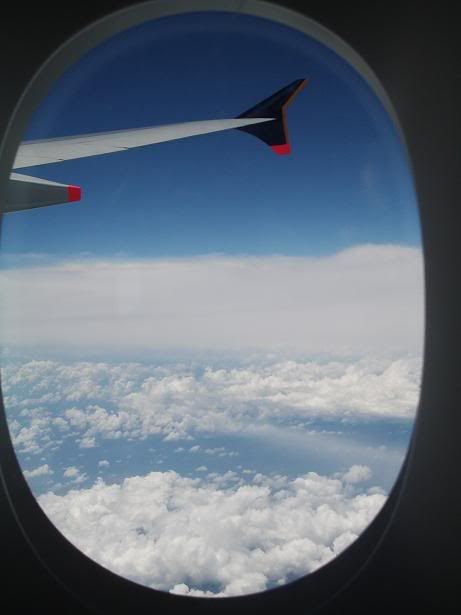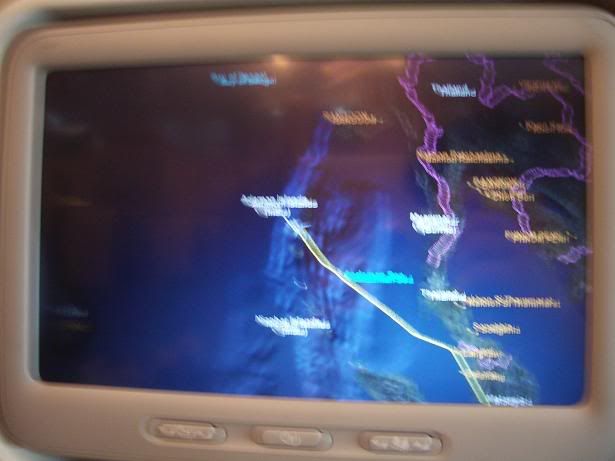 Like on the last flight, the trays used filled the entire table, and so they weren't cluttered at all which makes a nice change from most airline meals.
Tiger beer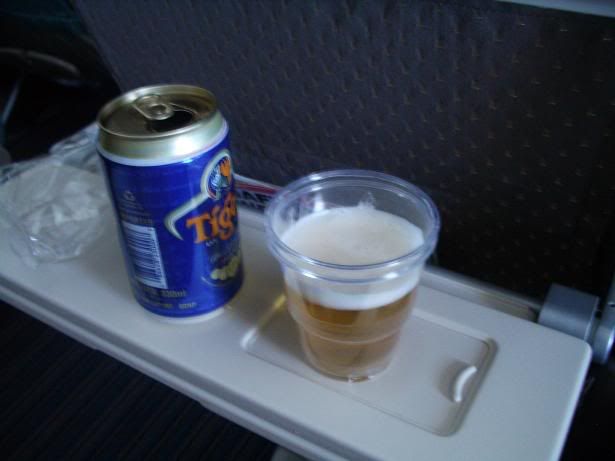 After lunch, most all the window shades were lowered, which at the time suited me, as it was to bright to see the PTV properly. I watched Run, Fatboy, Run, which was very funny, then tried to get some sleep. The armrests go right back, which was great a you can actually lie down across the seats. Unfortunately the belts aren't long enough to enable yourself to lie down and strap in very comfortably. The belts on the B744 were much bigger.
Watching Run, Fatboy, Run. Note the time left to LHR in the top right hand corner of the info box
After an hour or twos kip, I explored KrisWorld, which is excellent, and very easy to navigate. There was so on offer, really something for everyone. I spent a few hours watching Friends, Malcom in the Middle, Grey's Anatomy and My name is Earl.
Entering Afghan airspace
Afghanistan – it looks beautiful
The cabin dark
The cabin light – note one of the moodlights isn't on properly
Turkmenistan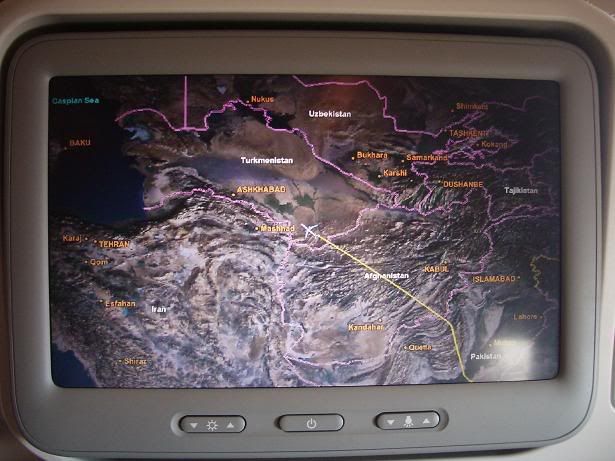 Seven hours into the flight, the lights started to come on. The crew came around with hot towels. Then they started serving the second meal. I though it was rather strange timing, seeing as well still had a good five or so hours to go. They possibly should have just served a sandwich or something, but a full meal was still appreciated. The choice was between spaghetti carbonara or phad thai. I went with the phad thai which was nice and spicy, and very filling.
Phad Thai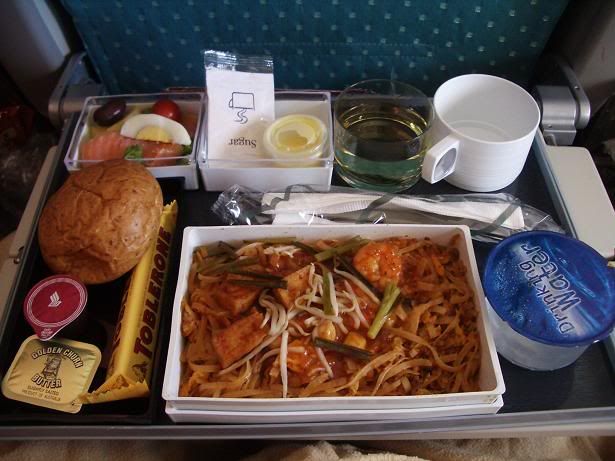 After dinner tea – note the mirror on the tray table
Somewhere else over Central Asia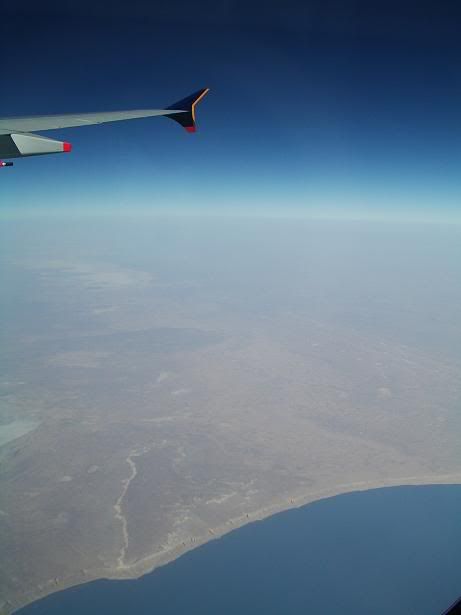 An hour or so before landing, the staff came around with the snack basket that had been set up in the galley for snackers (sandwiches, crisps, apples, chocolate bars etc), along with water and juice. The crew came round with a tray of juice and water every half hour or so which was good.
The stairs
Door Lower 5R and it's surroundings
Door Lower 5R – there was a sort of magnifying glass on the window which helps looking down – I supposed it's used at airports, but helps aerial sightseeing too!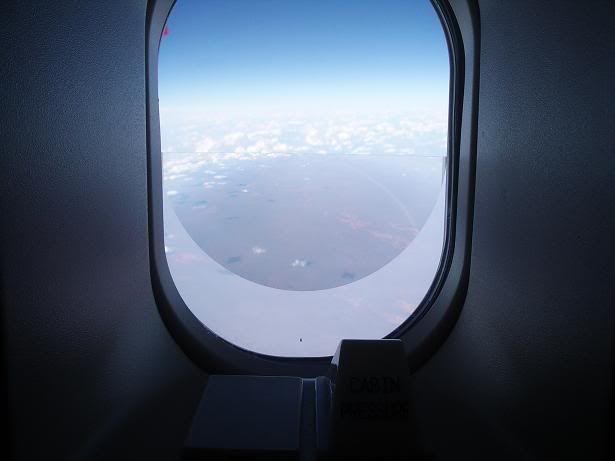 Economy cabin
Europe at last – entering Ukraine
Nearly at 40,000 feet, and with a good tail wind
Flying over Europe
Leaving the coast of the Netherlands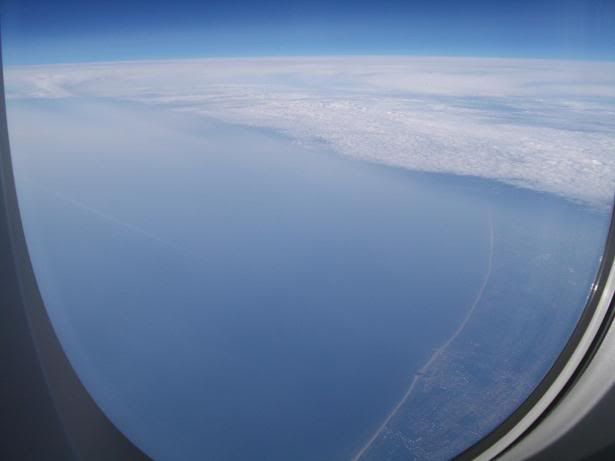 The UK coastline – nearly home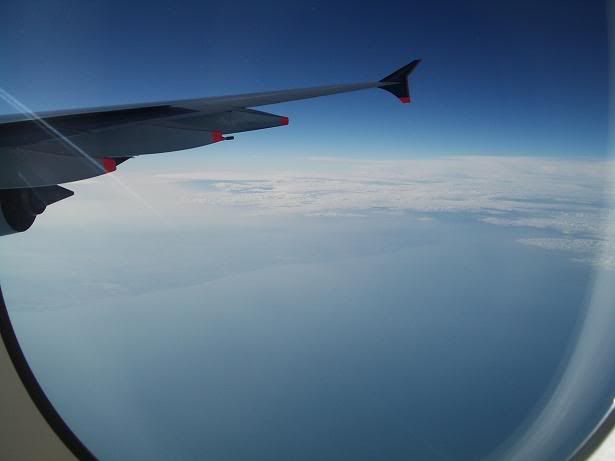 A dead fly caught in the window – not great for a month old plane
The safety card – there sure are lot of inflatables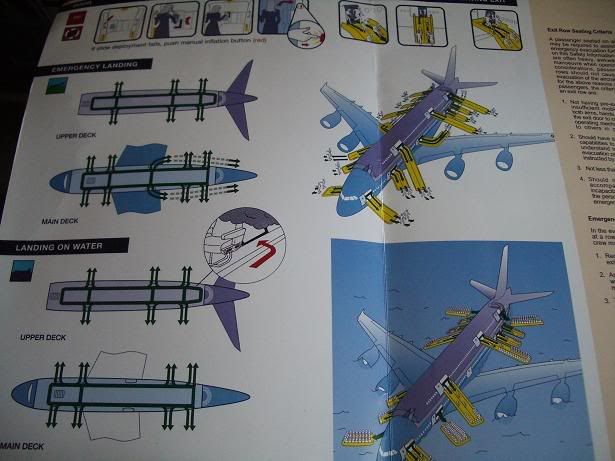 Preparing the cabin for landing – the windows aren't as big as they seem in this picture
For the first time in ages, we didn't enter a holding pattern.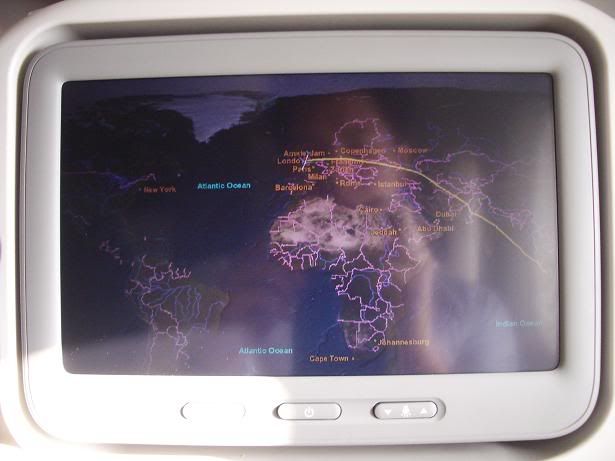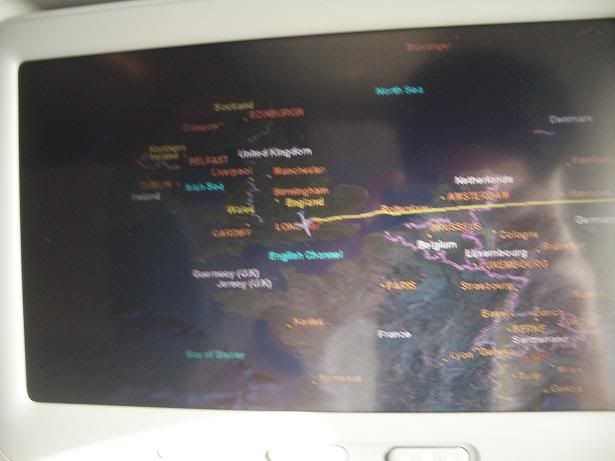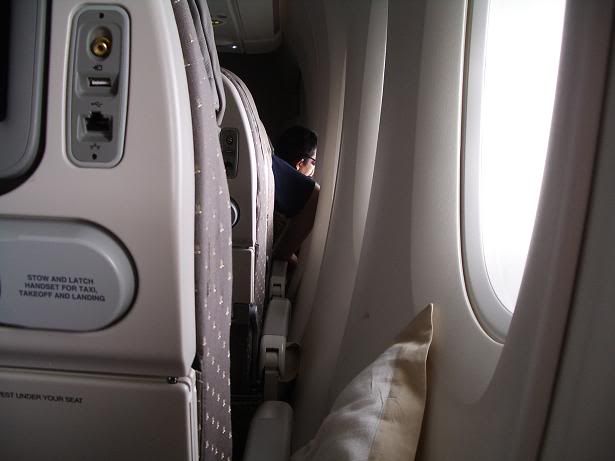 England's green and pleasant lands
Legoland Windsor I think
Over the M25
We did, however, fly over to the north of London, then approach over Windsor as apposed to flying in from the east which would have been slightly more direct. We landed 20minutes ahead of schedule, as nearly exactly when the moving map said we would, quite a feat for a 12+ hour flight into LHR.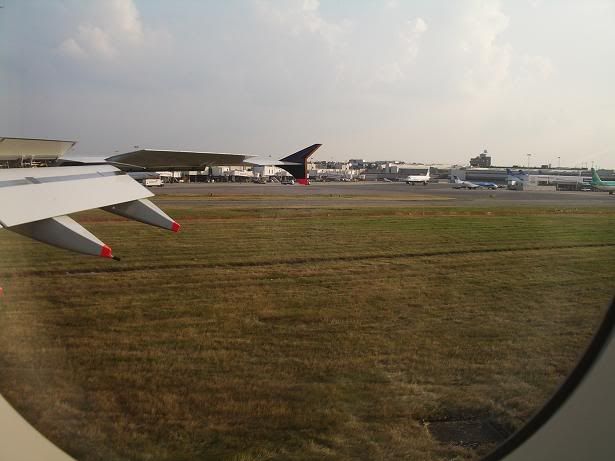 The same ANZ B744 I saw 18 hours previously in HKG
Star Alliance (UA, SA, NZ, TP) at Heathrow terminal 1
Air Algerie A330 at T2
I managed to have a quick look at the suites and had a photo taken inside one – they were nice, but slightly smaller than I thought they'd be. I wouldn't say no though to a free upgrade on my return flight!
Next to a Cathay Pacific A340
The monster on stand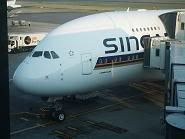 ANA B773 in Star Alliance livery just pushing back for Tokyo Narita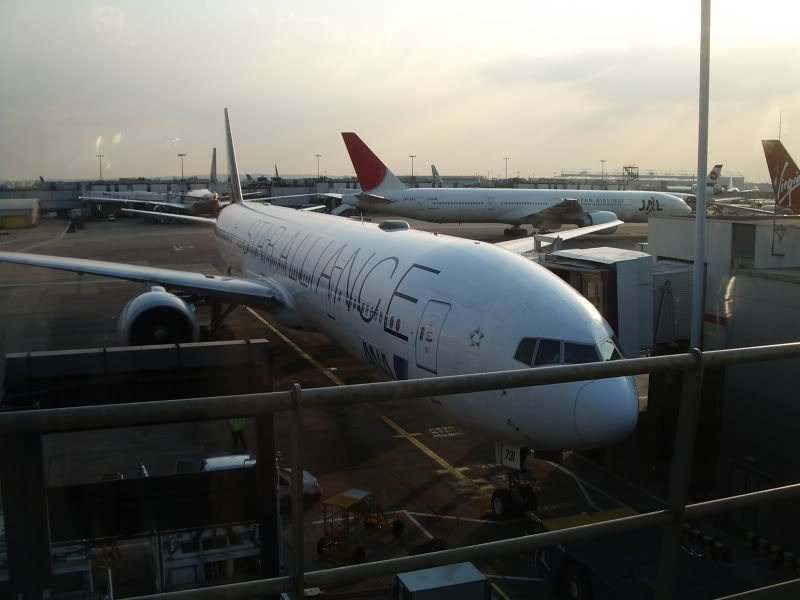 The walk from the gate to immigration and baggage claim was quite a way (a good fifteen minutes), but I still had to wait a further fifteen minutes for my bags to appear – lucky the flight wasn't full or else everyone might have been waiting a lot longer.
Overall, the flights were pretty good. The B744 was old and crummy, but the A380 (a shape of things to come) more than made up for this. I would actually go out of my way to avoid another SQ744 flight. I'd also go out of my way to get onto another A380 flight. Service on both flights was exemplary, as was the food and IFE on offer. I think SQ could improve their service to make it even better: give each passenger a free bottle of water upon boarding – this would mean they didn't have to do so many water runs. They should also have an onboard camera pointing forward and downwards so you can see the approch. Other than that, their A380 product is pretty stellar. The A380 itself is an amazing plane. It really does feel quite space agey, especially when you look at it from the front, and the size of the windows. The size of the wing is amazing. From the back of the lower deck, it looks like you are under the wing because of the wing flex, which is quite cool. The rear stairs are pretty awesome as well. One annoyance, the toilet flush is really loud – it could be heard five rows away, with the door shut, and headphones on. The toilets themselves are nice – there are lots of lights on the mirrors like in dressing rooms – quite cool! Despite the plane only being a month or so old, there was a dodgy mood light (not the end of the world, but still…), and my PTV went a bit unresponsive towards the end – it froze for a few minutes before coming back to life – lucky I had another 2 monitors to watch.
On one trip past the galley, I stopped off to ask if they had any special A380 giveaways, and they gave me some playing cards and postcards.
Welcome to the UK!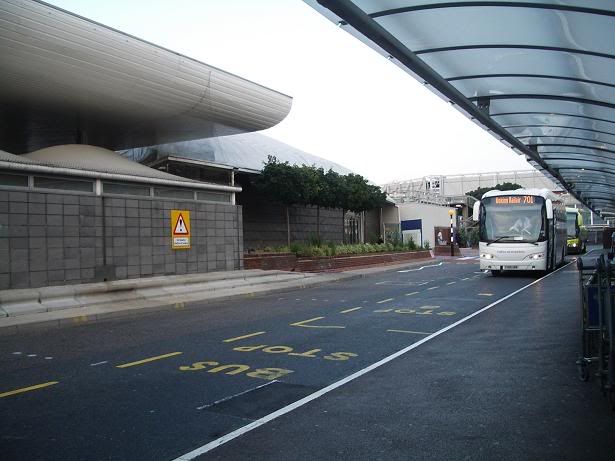 The second half of my report which includes the A380 back to Singapore then the B777-300ER from Singapore up to Hong Kong will be posted in early September.