I've wanted to fly on Cape Air ever since I read about their success in serving seasonal markets developed by PBA. Last year, Cape Air set up a new division in Indiana, and when a friend invited me to a party in IND, I decided to fly MSP-IND via EVV, so I could log them.
The cheapest fare I could find for an open jaw MSP-EVV, returning IND-MSP, was $453, so I decided to use a 25,000 mile World Perks Saver award.
29 Feb 2008 NW 1470 MSP-MEM DC-9-50 N781NC Seat 5F
A moderate snow storm hit the Twin Cities overnight on 28 / 29 February. I was worried about de icing delays, because I had just a 25 minute conection in MEM, but luckily my DC-9 had either spent the night in a hangar, or was de iced before it was towed to the gate, because it had no ice and snow on it. Other aircraft around mine were not so lucky - they were thoroughly covered with snow.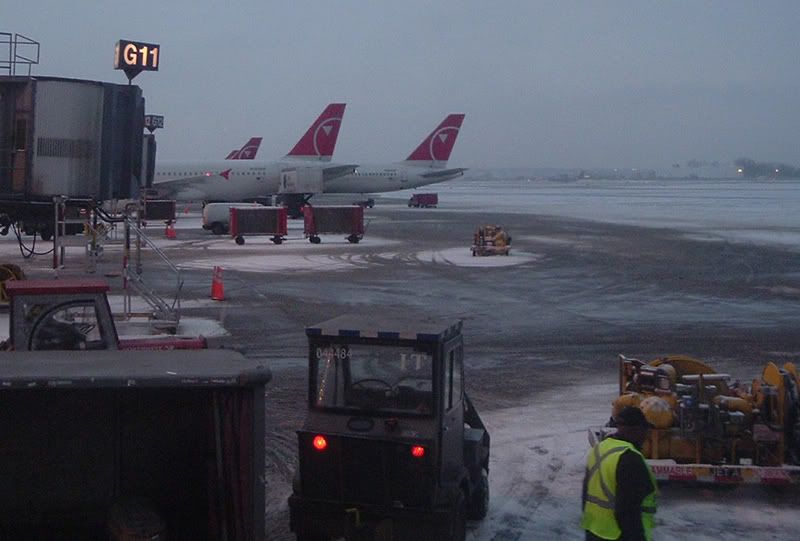 Waiting for pushback at MSP
The door was closed a few minutes ahead of the scheduled 7:11 AM, and because we did not have to wait in line to be de iced, we were able to taxi directly from gate G10 to Runway 30L.
We only had to wait for an NW A320 and an SY 737, before it was our turn to take off.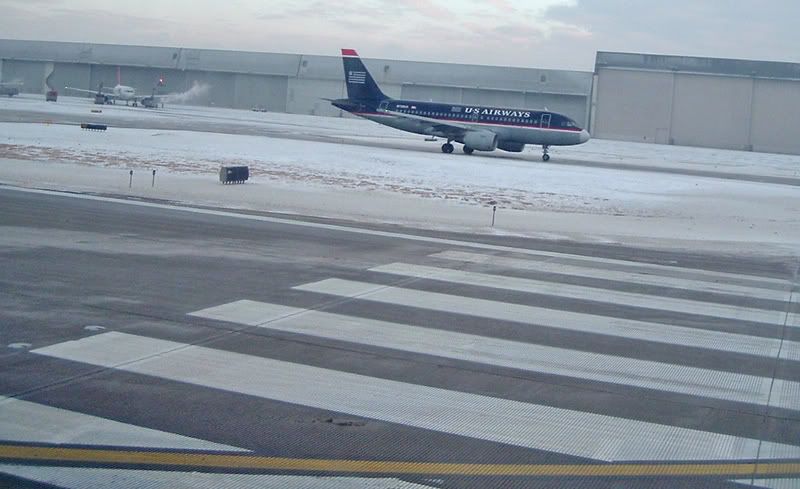 Cleared for Takeoff!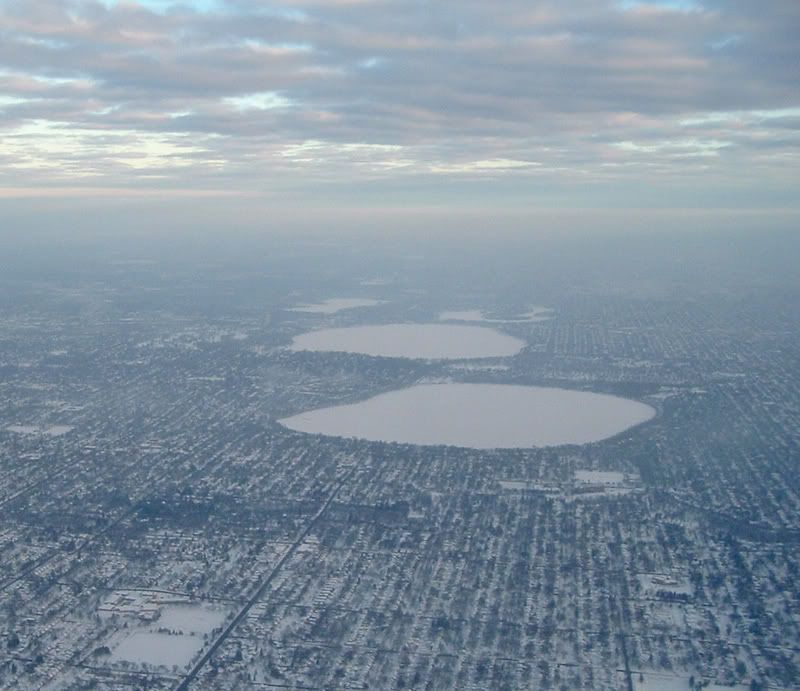 The weather was starting to clear when we took off, so I was able to have a nice view of Lake Nokomis near the airport, Lakes Calhoun and Harriet in southwest Minneapolis, and Lake Minnetonka on the far west side of town, before we entered high clouds. The clouds broke up about 150 miles southeast of the Twin Cities, and it stayed clear until we were over Missouri - far enough south that I could see where snow covered fields gave way to brown. There was light rain in Memphis, but the clouds were high enough that we dropped below them well north of downtown.
On approach, just east of downtown Memphis
After landing on 18R, we had only a brief taxi to gate B38. We were at the gate an amazing 20 minutes early, thanks to our fast departure from MSP.

At the gate in MEM.
My inbound flight was so early that I was able to stop at Interstate Barbecue for a beef sandwich, to take on the flight to EVV.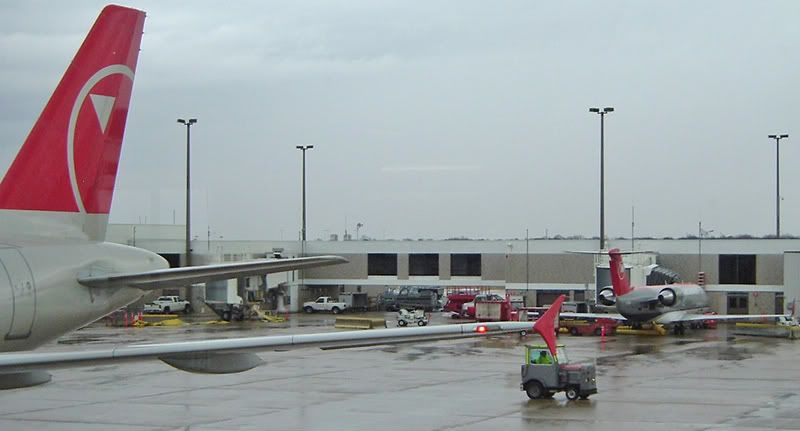 My CRJ to EVV, at gate C9
29 Feb 2008 NW / Pinnacle 5749 MEM-EVV Canadair RJ200 N8783E Seat 3A
A corollary to Murphy's Law is that "your connecting flight's punctuality is inversely correlated to the punctuality of your inbound flight". Sure enough, now that my inbound flight had arrived early enough that I didn't need to worry about my connection, my flight to EVV was delayed so "a broken seat" could be repaired.
Fortunately, repairs went quickly enough that we were pushed back at 10:00 AM, just 15 minutes late.
On the way to 18C. I love the design of MEM's terminal!

The day sort is well under way at FedEx
Our delay meant that we were leaving after most of MEM's 9:30 AM bank had taken off, so we only had to wait for one or two other aircraft to depart, before it was our turn. After takeoff, we were in the clouds quickly, and it stayed cloudy most of the way to EVV - probably a blessing, given how hard it is for me to see out the windows of a CRJ 200! The seat next to me was empty, also a blessing given how miserable a full CRJ can be, so I was able to spread my lunch across two tray tables. When the flight attendant came by with beverages, she gave me an extra large paper towel. She was obviously familiar with how messy Interstate Barbecue sandwiches can be!
Almost as soon as my delicious lunch was finished, we were beginning our descent. It was cloudy enough in EVV that I wasn't able to see the ground until we were on our downwind leg for Runway 22. We pulled into the gate just a couple of minutes later than the scheduled 10:50 AM.


Deplaning at EVV.
I could have flown on to IND on the 29th, but I decided to spend a day in EVV, partly because there were two National Historic Sites near EVV that I wanted to visit, and also because I wanted to make allowances for possible weather related delays.
After a fun day in southwest Indiana (see the bottom of this trip report for what I did), I turned in my rental car, and headed on to IND.

EVV's dramatic terminal, completed in 1989.
Cape Air is handled by Delta at EVV. DL's personnel could not have been friendlier when they checked me in. Because the Cessna 402 does not have any under seat or overhead storage, I had to check my bag, but I was allowed to keep a few small articles in my hands. I was somewhat disappointed to be given a generic DL boarding pass and bag tag.
After checking in, I spent some time enjoying the exhibits inside the terminal about the airport's history. EVV was built in 1929, and was used for aircraft manufacture during World War II; 6,000 P-47s were built there. It was a stop on Eastern's STL-DCA / ATL routes, and Chicago & Southern / Delta's MDW-MEM route. Lake Central also served EVV. The current terminal opened in 1989. Designed for the Piedmont 727-200s and 737s, and USAir DC-9s, that served EVV at the time, it is sadly too large for the Canadair and Embraer RJs that serve it today, and all of its second level jetways have been removed.
Displays about EVV's history.
A nice display of old aircraft models, even though very few of these aircraft flew into EVV.
Rocking chairs overlooking the runway at EVV. What a great place to wait for your flight!
1 March 2008 Cape Air 1575 EVV-IND Cessna 402 N121PB Copilot's Seat
About to board!
Cape Air normally flies their Cessna 402s with just one pilot, so one lucky passenger is allowed to sit in the co pilot's seat. When my flight was called, I made sure I was first in line so I could be assured of getting the seat, but I checked with the pilot before I sat down, to make sure he was OK with my joining him. When I sat down, the pilot pulled a switch to make all of the controls on the copilot's side of the aircraft inoperative. Unfortunately, Cape Air does not have spare headsets, so I was not able to listen in on ATC conversation.
The doors were closed right on time, at 12:30 PM, and we had only a brief taxi to Runway 22.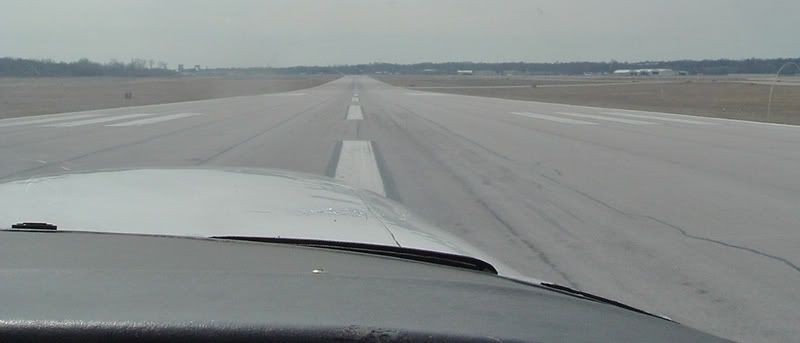 Cleared for takeoff!
We were cleared for takeoff as soon as we reached the runway. We only used up 1/3 of the runway before we rotated, but our climb was much more gradual than on larger aircraft.

After we crossed the perimeter fence, we made a gentle 180 degree right turn, passing a mile or so north of the airport. We reached our cruising altitude of 5,000 feet, well below the cloud deck, about ten minutes into the flight. In fromt of my seat was a full instrument panel, enabling me to easily determine our heading, speed, altitude, and attitude, any time I wanted.
The best view in the house!
About two thirds of the way to IND, we passed a few miles west of Bloomington, where I lived for two years while earning my MBA from Indiana University.
Bloomington, Indiana - GO HOOSIERS!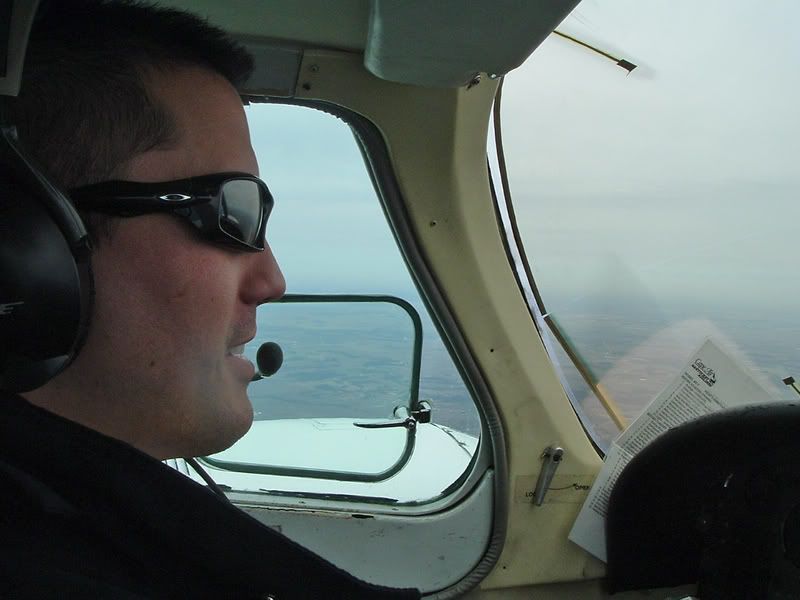 Unfortunately, I wasn't able to talk to the pilot, due to engine noise.
Our approach into IND was simply amazing. We were kept east of the airport for ATC separation, before we made a tight turn for Runway 22L.
On final approach.
After we landed, we made a long taxi back to the terminal. We parked at the base of the C Concourse, then after I deplaned I walked across the ramp to Cape Air's ex-Chicago Express hold room.
My pilot, on the ground at IND.
Unfortunately, I wasn't able to claim my checked bag at the airplane, so I had to go to baggage claim to get it. After claiming it, I went back upstairs to La Salsa, where I had a delicious three pepper fajita burrito, while watching the action on the ramp outside.
After a fun night with friends in IND, it was time to return to MSP. I could have taken a nonstop, but I decided to route IND-CVG-MSP, just to add IND-CVG to my personal route map.
2 March 2008 DL / Chautauqua 6299 IND-CVG Embraer 135 N837RP Seat 7A
N837RP arrives at Gate B1.
One of my friends and his wife were working as airport volunteers, but they were able to slip away from their duties to visit with me before my flight left. This was almost certainly my last trip through the current IND terminal. The first flight I can remember was on an AA 707, DTW-IND-DFW, in 1974, so my friends and I spent much of our time reminiscing about past trips through the terminal.

One last look back at the IND terminal.
The door was closed a minute or two before the scheduled 3:00 PM. DL*6299 is scheduled for 46 minutes between IND and CVG, but because the two cities are less than 100 miles apart, most of that time is spent on the ground rather than in the air. After pushback, we made the very long taxi to 22L, and were cleared for takeoff as soon as a landing WN 737 had cleared the runway. After rotation, we followed Indiana 67 southwest for a while, before turning southeast for CVG. After only a few minutes' flight over the rolling hills of southeast Indiana, we began our descent. With downtown CVG on the horizon, we crossed the Ohio River and safely passed over the infamous "ridge of death" on the Kentucky side of the river, which is the site of an AA 727 crash in 1965 that claimed 58 lives, and a TWA Convair 880 crash two years later that killed 70.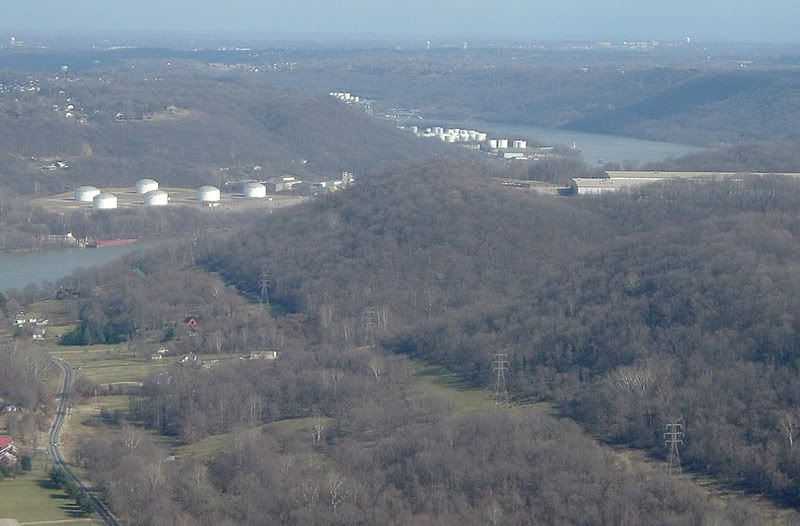 CVG's "Ridge of Death"
Our landing was on Runway 18R. After landing, we had a very long taxi to gate A18, where we arrived on time.

We're almost stopped at our gate.
My NW* flight for MSP would leave just a few steps away, from gate A13, but I had almost 3 1/2 hours to kill, so I headed for the B Concourse food court. Just as I always get an Interstate Barbecue sandwich when I'm in MEM, whenever I'm at CVG I stop at Gold Star Chili. I had Gold Star's famous chili on spaghetti noodles, which was just as delicious as usual.
2 March 2008 NW / Mesaba 3348 CVG-MSP Canadair RJ 200 N8948B Seat 5D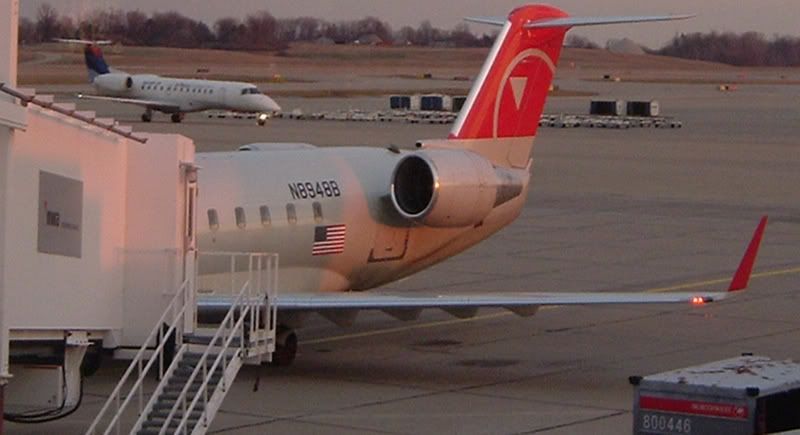 Waiting to board at CVG
Departure for this flight was right on time, at 7:08 PM, and we had only a brief taxi to Runway 27. The last rays of the sun were setting as we rotated. I was easily able to tell where we were when we crossed the Ohio River from the lights below, but once we were across the river, I did not even attempt to endure "CRJ Neck" to try to look out the window, until we reached Lake Michigan. Due to bad weather enroute, we flew up the west shore of Lake Michigan until well north of Milwaukee, instead of taking the normal route over Madison. The storms had not reached MKE yet, so I was easily able to tell where we were by the lights of the city below. Despite the circtuitous route, we pulled into gate C17 right on time.
The flight on Cape Air was one of the most enjoyable flights I've ever taken, mainly because it might be the only opportunity I'll ever have to sit in the co pilot's seat of a scheduled airline flight, and also because it passed over my old home, Bloomington, Indiana. My other four flights were memorable only because they went so smoothly, especially the critical MSP - MEM flight that arrived early enough that I was able to walk, not run, through MEM. I also really enjoyed my meals at Interstate in MEM and Gold Star in CVG, which are among my favorite airport restaurants now that El Charro has sadly closed at TUS.
[Edited 2008-07-30 10:29:42]
[Edited 2008-07-30 10:31:23]
[Edited 2008-07-30 10:33:44]
[Edited 2008-07-30 10:35:58]
[Edited 2008-07-30 10:37:34]