This SA Linhas Aereas">TR will include my return journey from Africa to Tampa. The following flight segments wil be included in this SA Linhas Aereas">TR:
Singita Airstrip – JNB (Federal Air)
JNB – ATL (Delta Airlines)
ATL – TPA (Delta Airlines)
We arrived at Singita airstrip for our shared charter flight to JNB at about 1:15PM. We saw our Beechcraft 1900D sitting in the small parking area.
Airline: Federal Air (Charter)
Flight: FDR????
Aircraft: Beechcraft 1900D
Dep Airport: Singita Airstrip
Arrival Airport: JNB
The pilot asked us our names and then crossed them off from the manifest.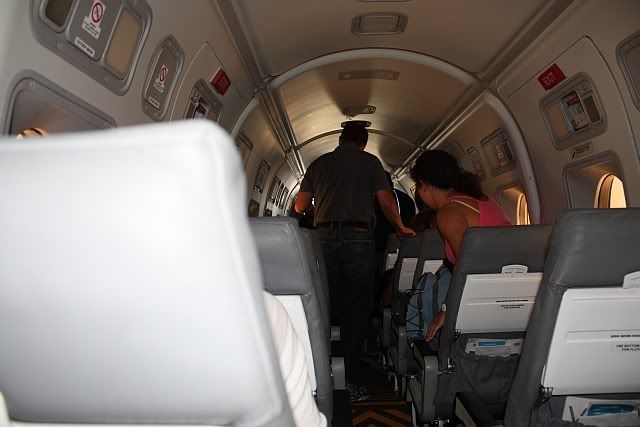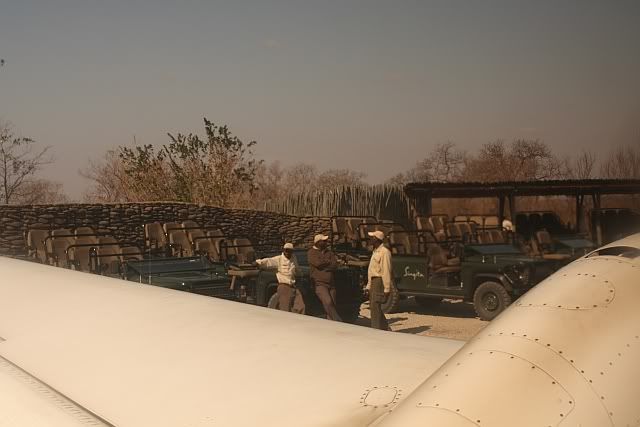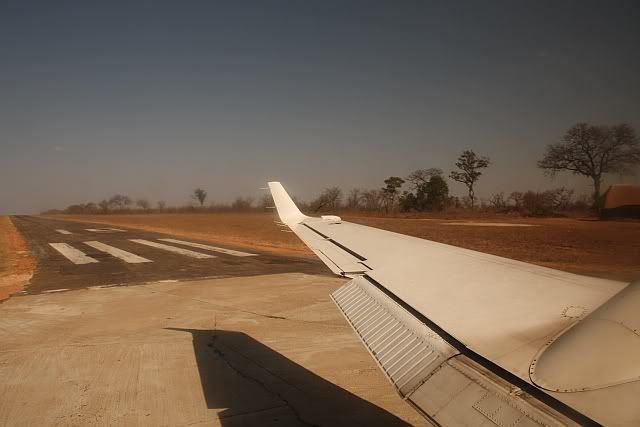 Takeoff was very powerful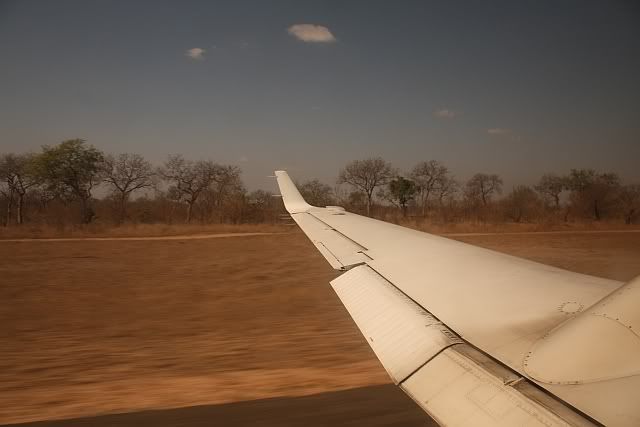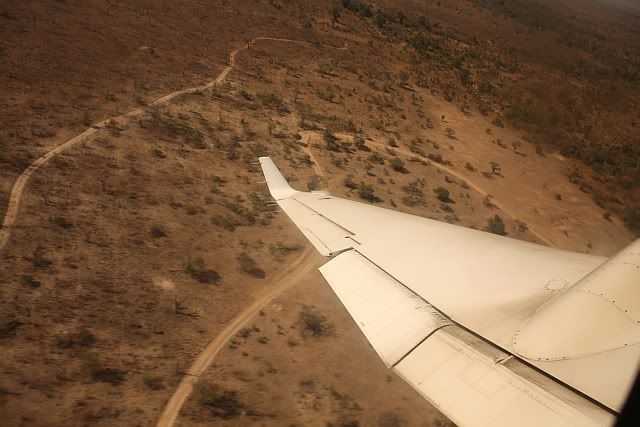 Almost immediately after takeoff, we began a rapid descent and landed at another airstrip to let 2 more passengers on. The flight onward to JNB was smooth. Does anyone know where this smoke is coming from?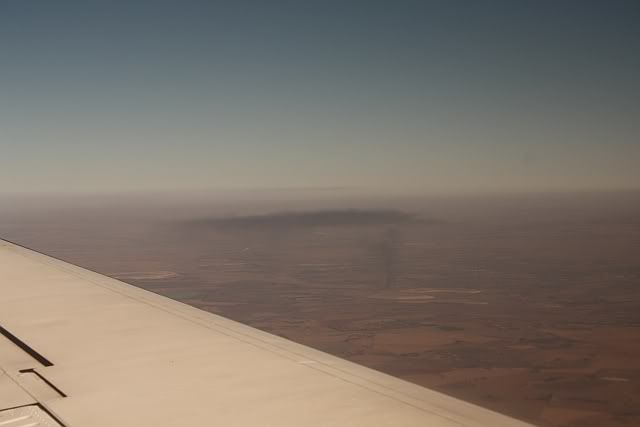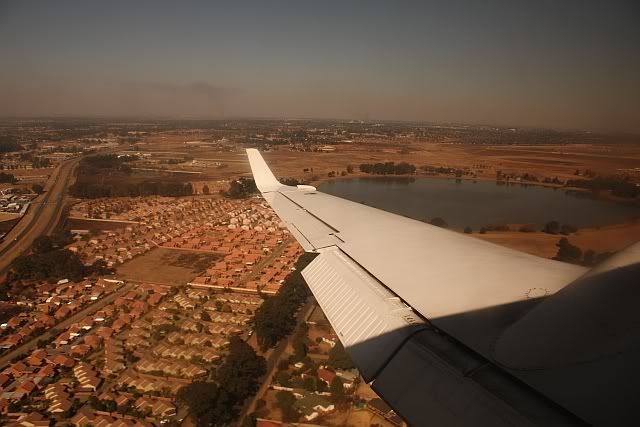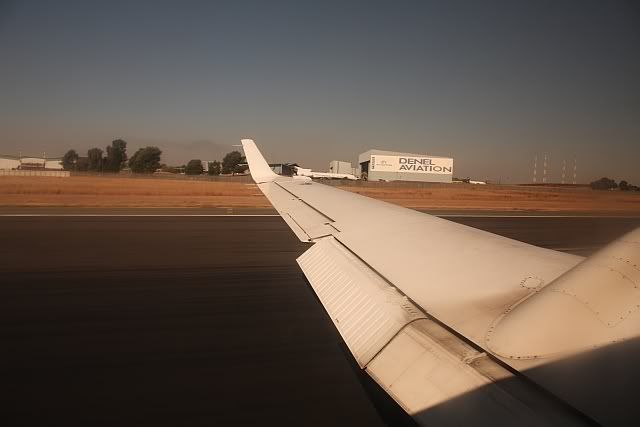 We taxied to the Federal Air hangers, which are located in between the two runways at JNB. They have a nice outdoor lounge where you can wait for your flight.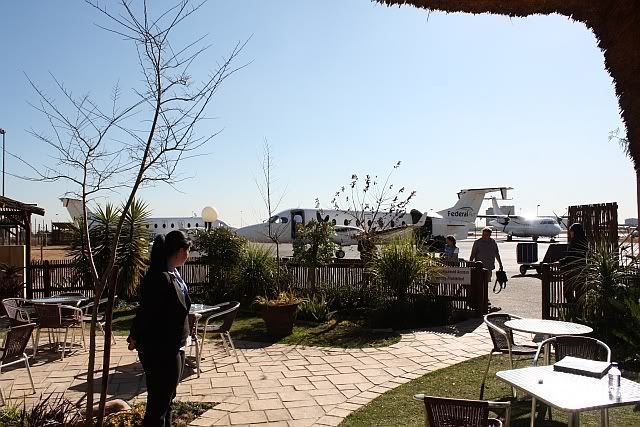 We were met by a representative from our tour company, who drove us to the main terminal. At JNB, you are required to go up and elevator in order to get to the check-in area. This isn't the most efficient process, especially since you have all of your luggage with you.
Check-in was very slow. First, a security agent intensely checks all of your e-tickets and passports, and asks several security questions. Then she puts a stamp on everyones' passports. At the actual check-in desk, we handed the agent our passports, who then spent a good fifteen minutes typing on her computer. She then handed us tags for our carry-on luggage, which we were required to put on our carry-on bags. After this, she finally handed us our boarding passes and we were set.
I was surprised that we were handed a separate DKR-ATL boarding pass as well; even though we weren't deplaning in DKR.
I heard from someone that SA)">DL used to require passengers with e-tickets to get paper tickets issued if they were departing from JNB.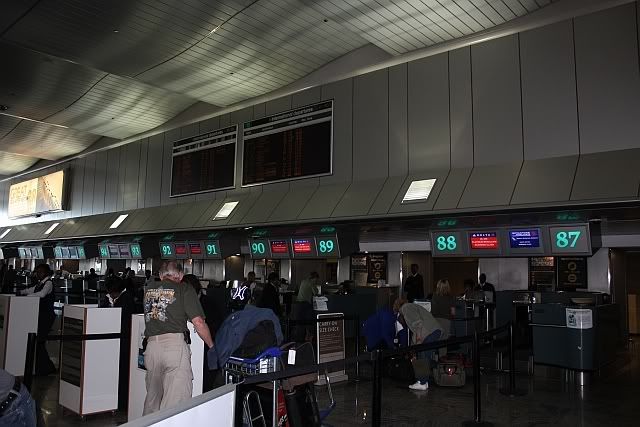 As I turned around, I couldn't help but noticed that the TAAG Angola ticket office was open. I figured this would be the perfect opportunity to get a timetable for this mysterious airline.
As I approached the counter, the TAAG representative seemed to be having a nice conversation with a friend of hers over the phone. She was also enjoying herself while reading a fashion magazine. She eventually decided to acknowledge my presence and asked if she could help me.
I asked if they had a timetable to which she replied: "We don't have them here. Go to the TAAG office upstairs and you can get one there"
After getting lost twice and wondering through narrow hallways, we finally found the other TAAG office. When we asked the lady in there if we could have a timetable, she replied by saying that the downstairs office has them.
When we explained that the downstairs office had sent us here, she phoned the downstairs office and scolded them for sending us up here and told them to give us a timetable.
So we went back downstairs and I was handed a piece of computer paper with the JNB-LAD schedule only. When I asked for a system-wide timetable, they said that the don't have that.
I really didn't think that getting a timetable would be this difficult. I guess this is my mini TAAG experience lol.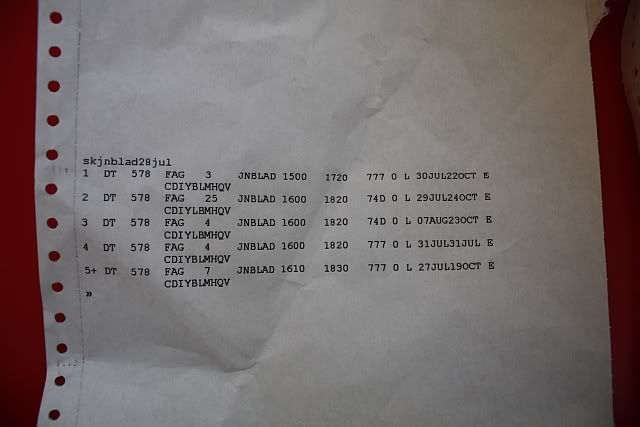 Passport control was surprisingly fast and we then made our way to the AF lounge.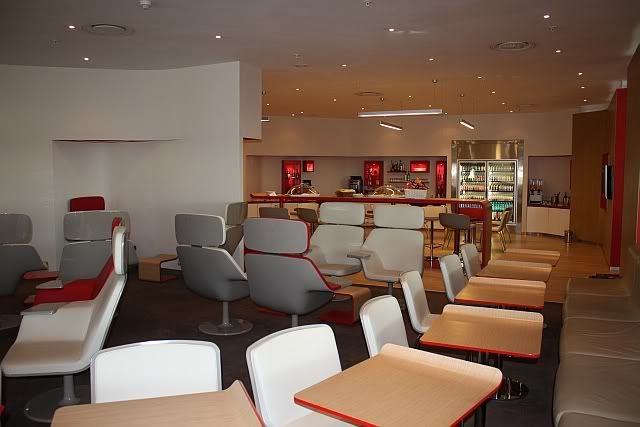 I decided that I would walk around the airport and do some spotting. Plus, I wanted to see the TAAG 747.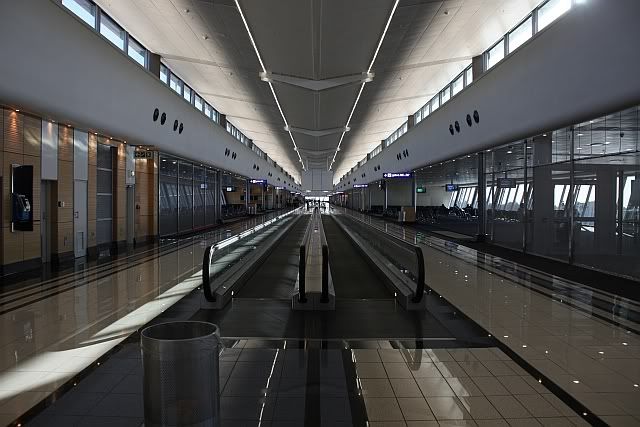 The DT 747 leaving late for LAD.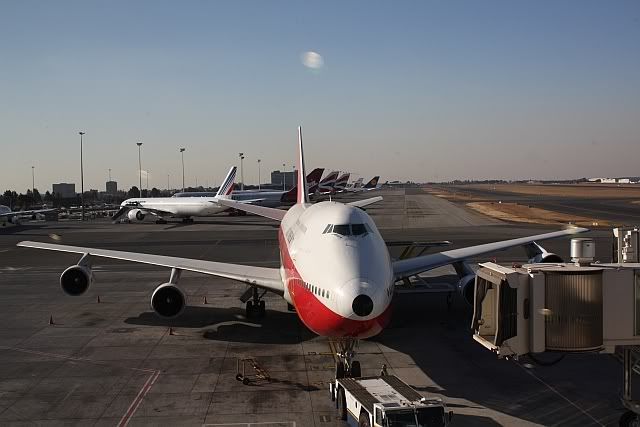 An SA A319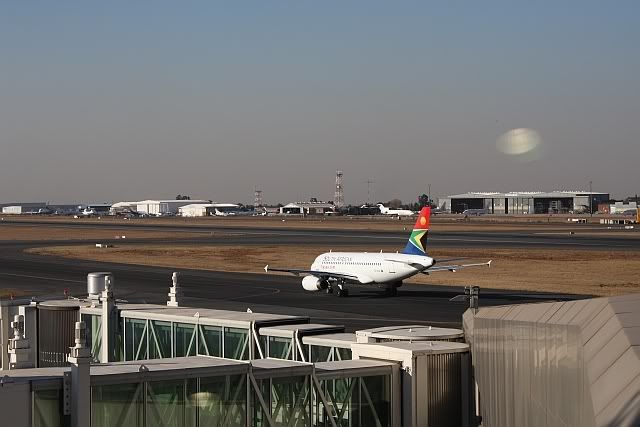 SA A340-600
Our SA)">DL 767-400 arrived late from DKR.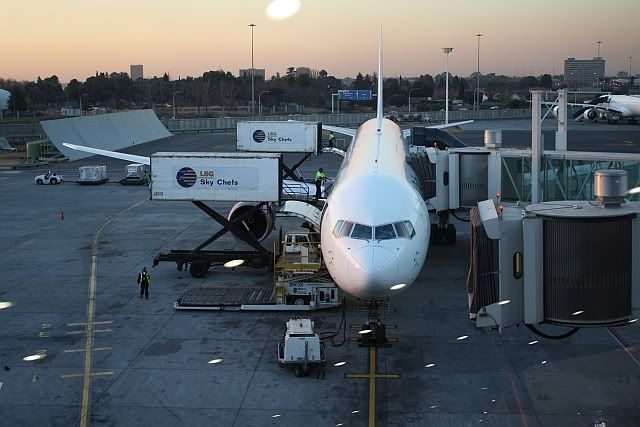 Boarding was scheduled for 17:45. At that time, the cabin crew had yet to board so I figured the flight was going to leave late.
At about 18:10, we began boarding.
Airline: Delta Airlines
Flight: DL35
Aircraft: Boeing 767-400ER
Departure Airport: JNB
Arrival Airport: ATL via DKR
SDT: 18:45
ADT: 18:53
Estimated Load Factor: 98%
**I switched seats with my family several times during flight, hence the different viewpoints**
Boarding Process
After the gate agent scans your boarding pass, you are required to walk down a ramp in order to get to the jetway. On the ramp, there are two security agents who check your passports and ask more security questions. At the bottom of the ramp, there is a room where another security check takes place. The agents open your carry-on bags and search through them.
As I entered the aircraft, I was greeted with a "Hey".
My initial impression was that it was much less impressive than the AF 77W I recently flew on. A 2-2-2 layout is also tight. I don't understand why SA)">DL just didn't install flat seats when they refitted their 764's.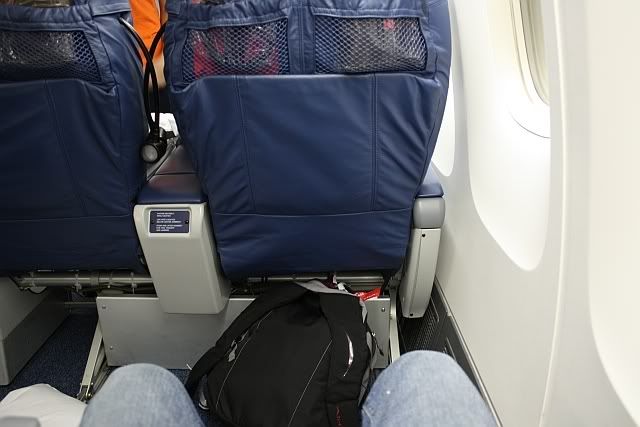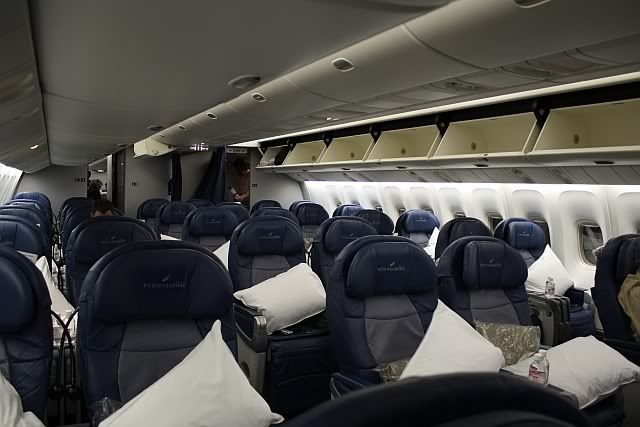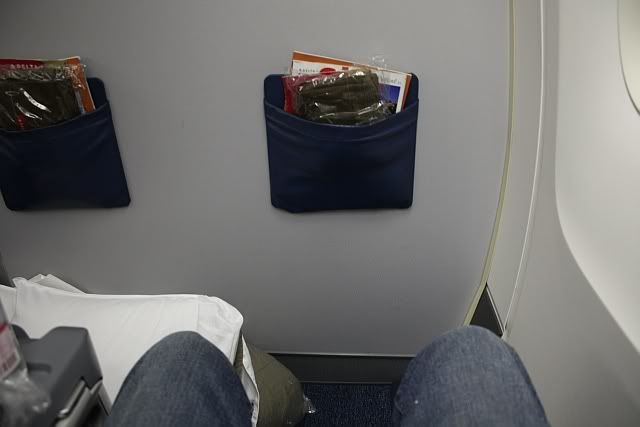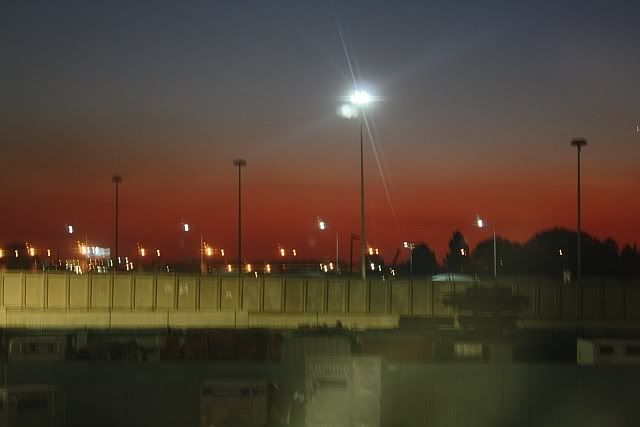 We were offered pre-departure drinks. These were in plastic glasses, which I found interesting.
We began pushback seven minutes late. Because there are no overhead screens in the business cabin, the audio of the safety video is played while the cabin crew point out the exits. My attempts to view the safety video were put to an end after the flight attendant closed my PTV.
The captain welcomed us on board during the taxi.
The takeoff roll seemed very long, however, the climb was steep.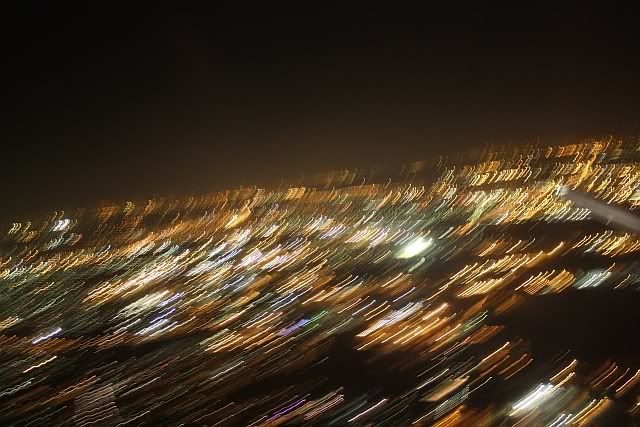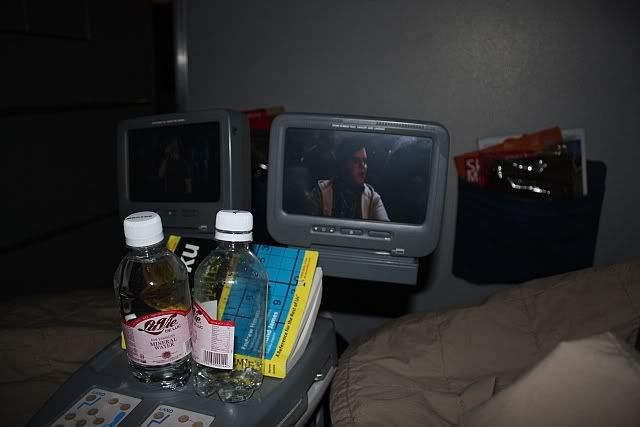 About an hour after departure, the cabin crew began the meal service. The cabin lights were not turned on for this for some reason.
I was impressed so far with the food.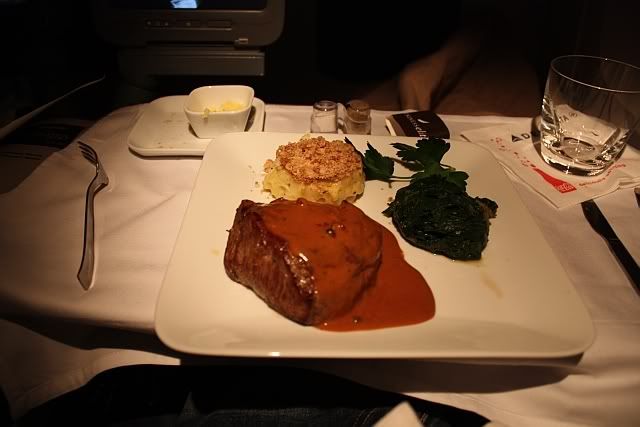 I then slept for about four hours. I woke up and waited for the next meal service. It never came. I later learned that you were required to go the galley and ask a flight attendant for a sandwich if you wanted to eat. Not very business class-like if you ask me.
Descent into DKR was fast and the landing was very hard at the very beginning of the runway. I noticed a flight attendant got up and closed an overhead bin when we slowed down. I guess it popped open because of the hard landing.
We were then instructed to stay in our seats and not block the aisles during our wait in DKR if we were continuing on to ATL. Several passengers were transferring to the SA)">DL JFK flight.
I'm sorry, but why would someone connect to another SA)">DL flight in DKR when you can just flight on South African direct from JNB to JFK. SA has a better product so unless they're more expensive, I don't know why anyone would want to go through the hassle of transiting through DKR when they don't have to.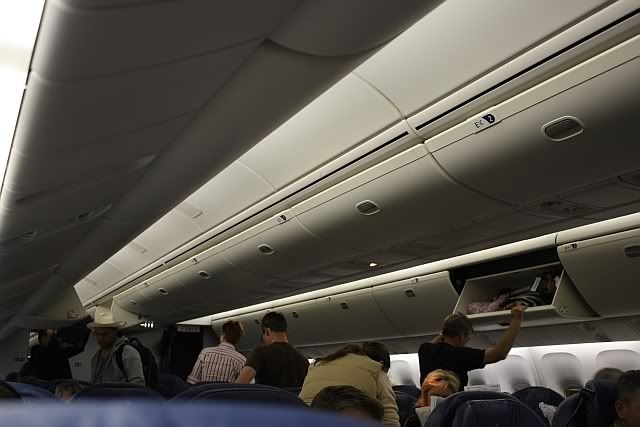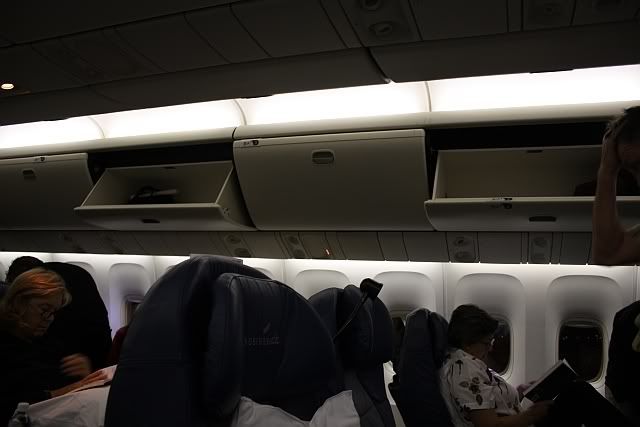 A group of security agents came on board the aircraft. We were required to stand up and identify our carry on luggage. Then, they ripped off the seat cushions to check for anything being smuggled I guess.
A cleaning crew also came on board, but they didn't do much. We weren't given new blankets, pillows, or amenity kits.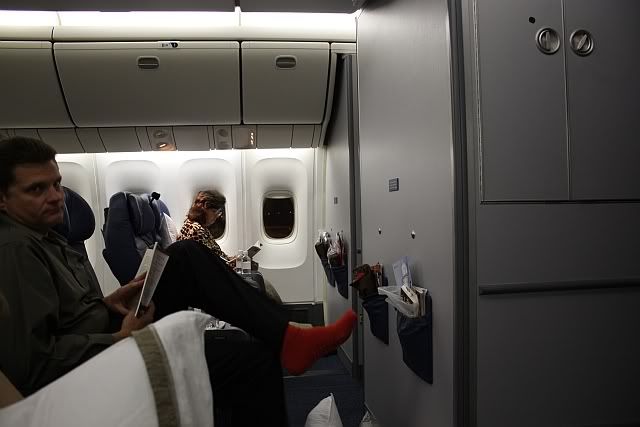 The new captain welcomed us on board and said that we were waiting on 20 passengers to connect from the SA)">DL flight from CPT.
I dozed off for about fifteen minutes because I was so tired.
We eventually pushed back and began our taxi to the runway. The flight attendants laughed their way through the safety demo after they did the "Smoking in NOT allowed" finger wag.
I noticed that a truck followed our aircraft to the runway and shined a spot light on the main gear. I assume this is to watch for stow aways.
Takeoff was powerful, and the runway was very bumpy.
The first meal service consisted of a cold sandwich. It was not very good at all.
I slept for about three hours before waking up to see the sunrise.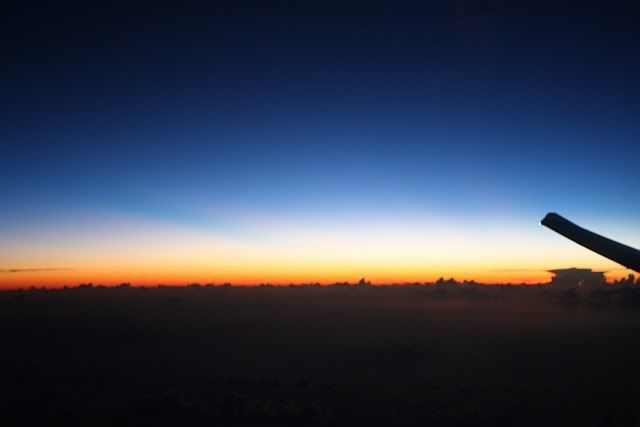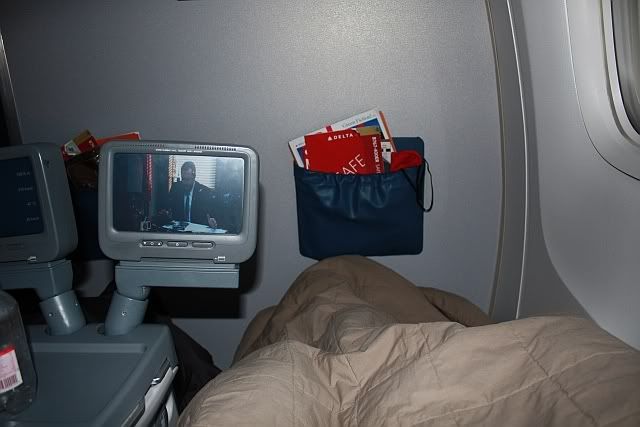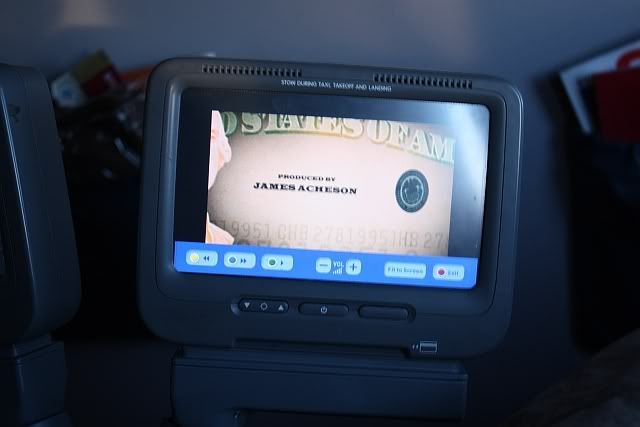 About 2 hours before arrival, a breakfast service began. The options consisted of an omelet, cereal, and something else I can't remember.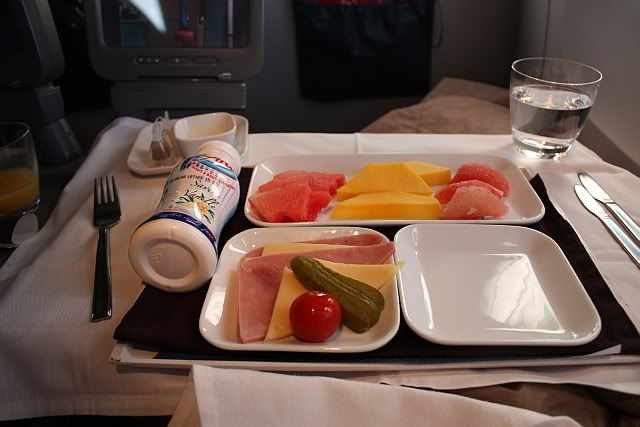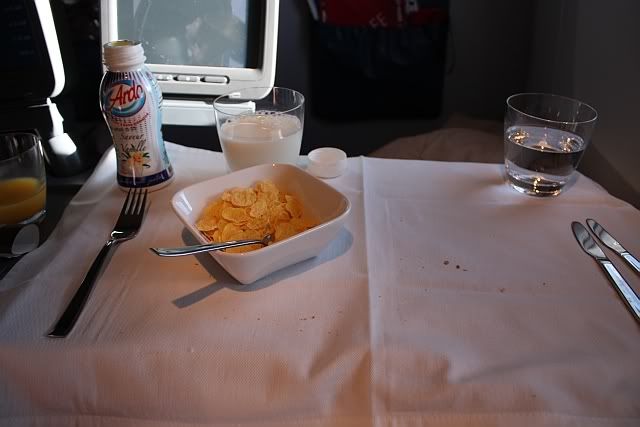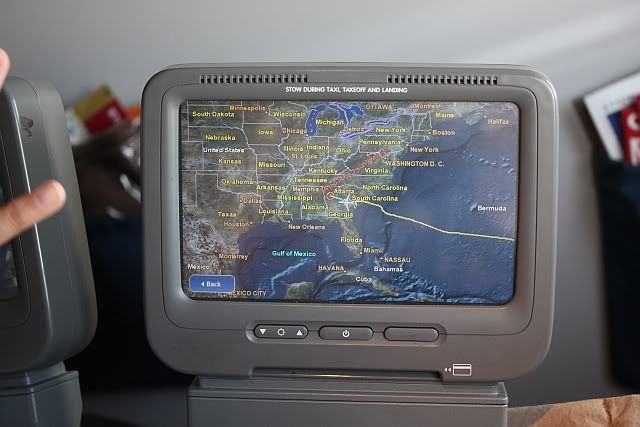 The pilot announced our descent about 30 minutes before arrival.
Landing video. Includes the arrival announcement + flight attendant telling passengers to sit down.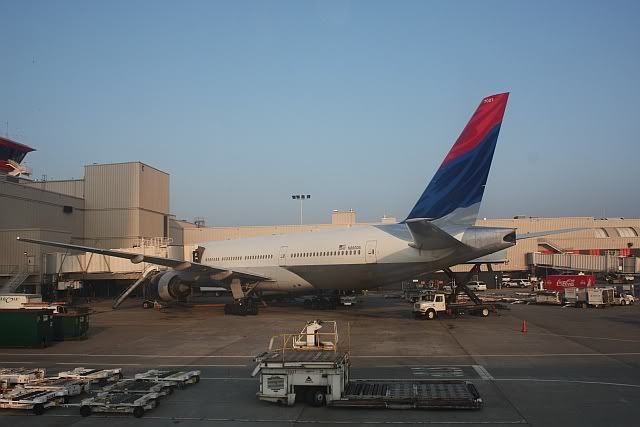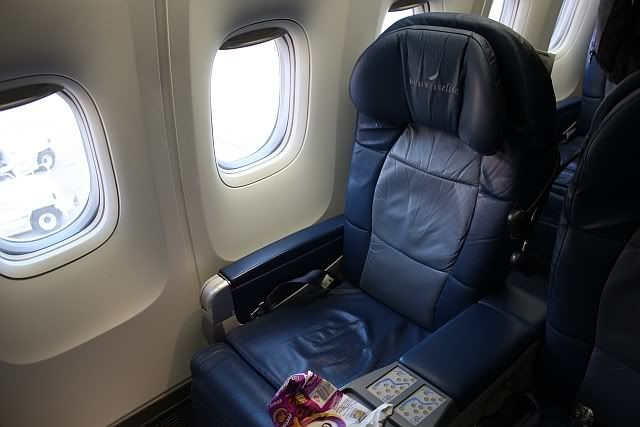 Passport control was fast and our bags came our very quickly too. Since we had four hours in ATL before our flight to TPA, we thought we would ask if we could get an earlier flight. Unfortunately, they were all overbooked.
Conclusions about DL35
I must say that I was expecting more from SA)">DL. I keep hearing about how much SA)">DL is changing for better, etc. However, I was slightly disappointed. The cabin crew were friendly, but seemed to enjoy talking among themselves in the galley more than doing their job. Having only 1 hot meal on an eight hour flight is inexcusable IMHO. I got more food in economy on Jet Airways from DEL-BRU and BRU-JFK and I did on either SA)">DL leg in business. If I ever find myself travelling to South Africa again, I will be very open to trying South African's IAD-JNB flight.
My family was exhausted, so we decided to go the crown room club in concourse A.
I got bored, so I decided to walk back to concourse E and see the KE 747. At this hour, councourse E was deserted. As I began to walk back to concourse A, I saw a lady with a stroller sprinting towards a gate. I decided to follow her and see if she made the flight.
When I caught up, she was just about to miss the SA)">DL flight to ICN. She got lucky though and they let her on 3 minutes before departure. The gate agent was not happy about this for some reason told her fellow gate agents "This is ridiculous! I can't believe passengers are showing up 3 minutes before departure. Why the hell weren't they here on time"
Shortly after this lady boarded, two more people showed up to be told that the flight was closed. Naturally they were very upset; however, they lucked out in my opinion because they probably got to go on the later KE flight. I'm sure the KE experience is probably much better than SA)">DL.
Then I went and sat at the gate until boarding was called at 12:15 exactly.
SA)">DL boarding announcement video. Includes the gate agent making the announcement herself and the pre-recorded announcement in English and Spanish. Sorry about the poor quality as the pre-recorded announcements weren't very loud.
Airline: Delta Airlines
Flight: DL809
Departure Airport: ATL
Arrival Airport: TPA
SDT: 12:45
ADT: 12:45
Aircraft: Boeing 757-200
Estimated Load Factor: 98%
As I boarded, I was disappointed to not see the new AVOD on this aircraft. This 757 was old and the interior was just plain crappy.
We were offered pre-departure drinks and they were in real glasses this time.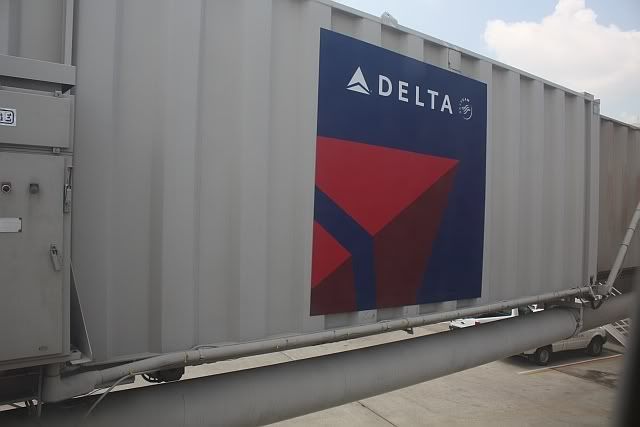 Pushback was on time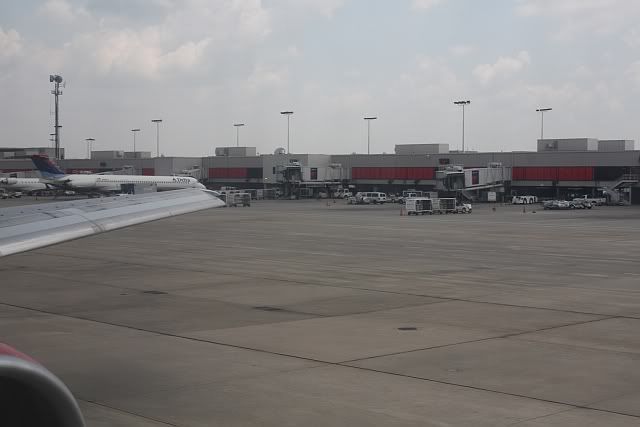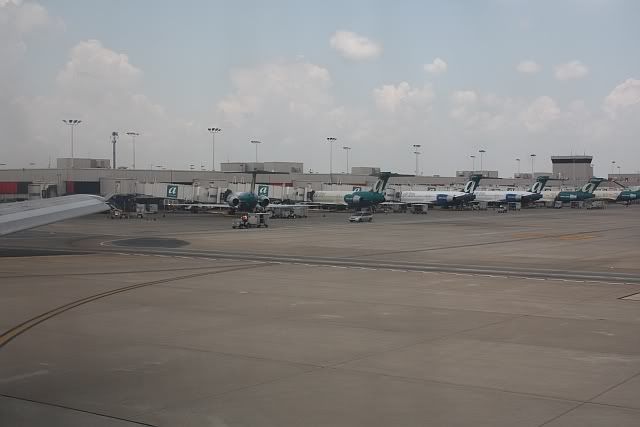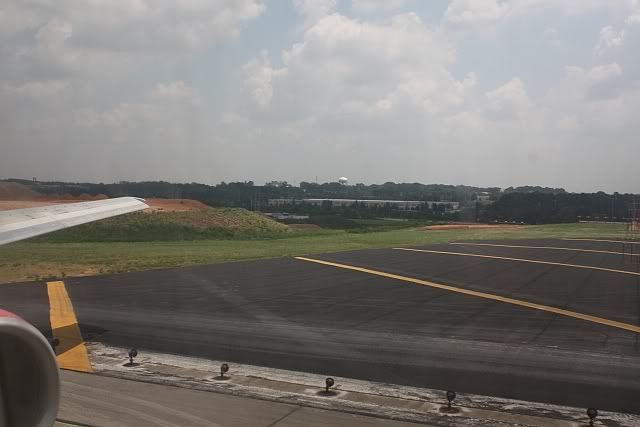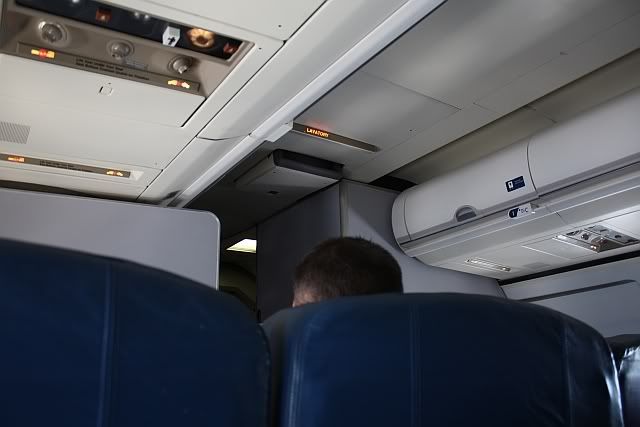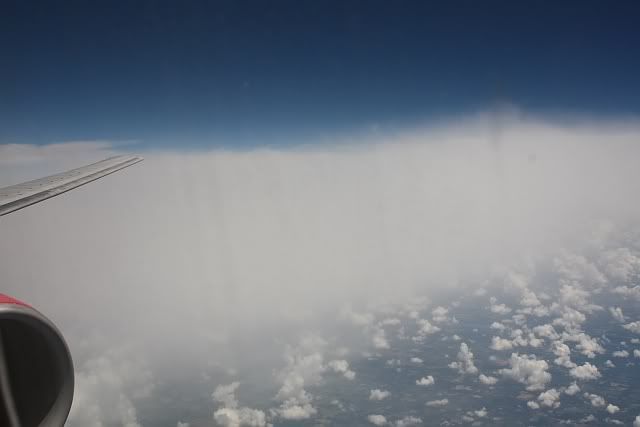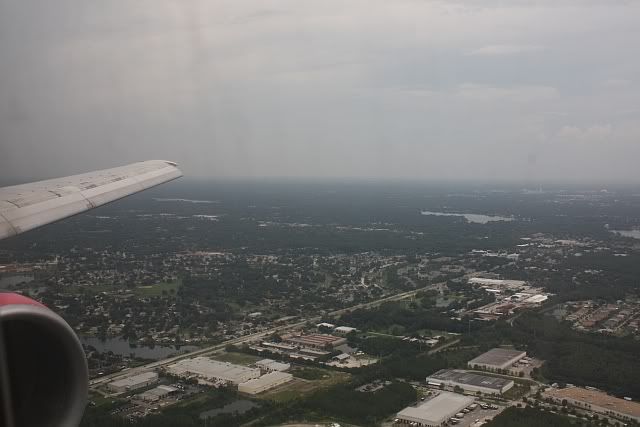 Hope you enjoyed!
Upcoming SA Linhas Aereas">TR:
South African (LVI-CPT-JNB)