Background...
10 years ago I lived in Michigan and earned "Gold" status on Northwest Airlines. I moved to Pennsylvania where US Airways dominates the market. For the past eight years, I've either had "Gold" or "Chairman" status and so most all my travel and experience over the past decade has been on US Airways.
I recently moved to Kansas City where most all airlines are represented equally... and US Airways isn't as convenient. I've also noticed a continuing decline in service as US Airways has gone through bankruptcy (twice) and the merger with America West. Because of this, I decided to branch out to explore other options. Northwest offered me a status match with "Gold" status, so I took it. I've been flying more and more on Northwest and have been pleasantly surprised with my experience with them. I've also utilized the SkyTeam alliance with Delta and Continental which I have found to be more open and flexible than the Star Alliance with US Airways and United.
About a month ago I had a trip to Manchester, New Hampshire for business on Northwest airlines. The return trip was scheduled on a CRJ900. Here's the details of the trip.
Booking the Flight
I always book my flights online because I like to know all my options... time, connections (to optimize miles), aircraft, seat availability, etc. Traditionally, I have stayed away from flights that included regional jet service because my experience with US Airways has been that none of their regional jets offer first class (they joke that "every seat is on a regional jet is first class"). Further, I am not a fan of the regional jets because of the smaller seats, lack of overhead storage, and the windows are at shoulder height so you can't look out the window very easily. Reluctantly, I selected the return flight on a CRJ900 only because it had the best schedule available.
Checking-In
I checked in the night before my flight at the hotel business center. I like Northwest's boarding passes because they are a single sheet that lists the itinerary, departure times and gates, set assignments, etc. The gate agent simply scans the bar code and you keep the paper. Nothing to tear, fold, or multiple papers to manage. To my surprise, it said that I had been upgraded to first class. I checked again and saw that I was on a scheduled to be on a regional jet and so I thought maybe there was an error or an aircraft change.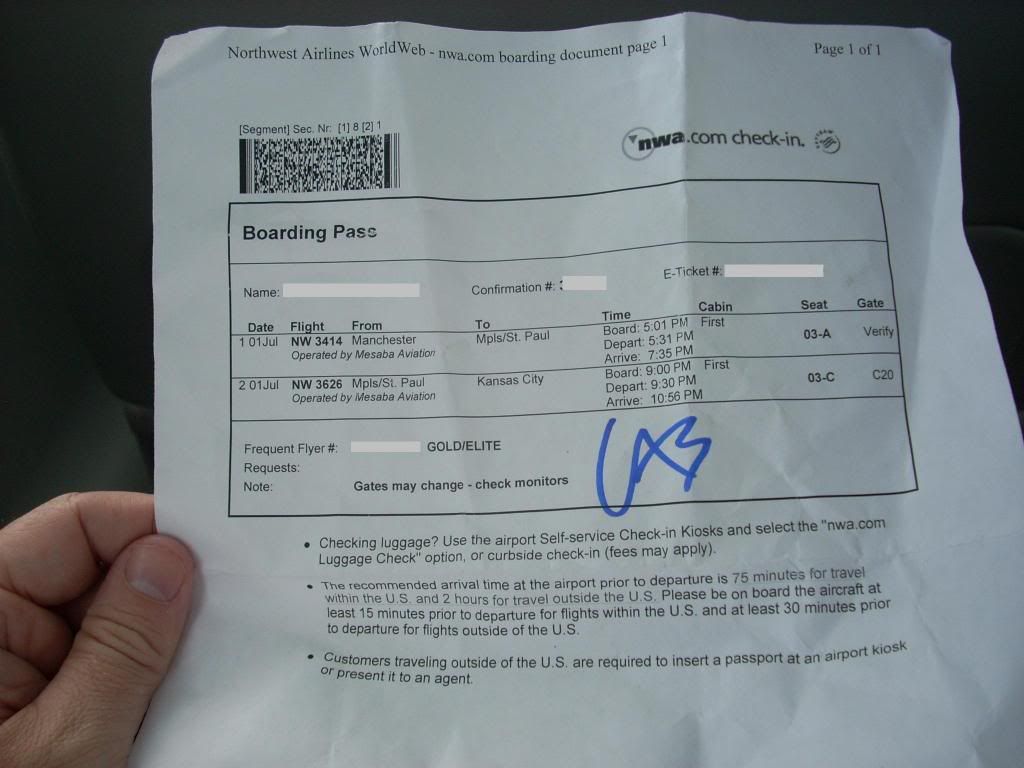 Security
I arrived at the airport about an hour early in anticipation of a long security line. There is a security line at the right end of the terminal that services Northwest and fortunately there were only a few people in the queue. Unfortunately there was a five-year-old that was having a meltdown. Apparently her father forgot to pack her beloved stuffed animal and she screaming at him and refusing to cooperate with any requests of her father. He had to physically pick her up to remove her shoes to go through the X-Ray. I presented my boarding pass to the security guard and quietly asked if the girl was on my flight. To my relief she wasn't! You could tell by the look on the faces of the others in the security line, they were asking themselves the same question!
At the Gate
I made my way to the gate and saw the plane waiting... and it was a regional jet. I asked the gate agent if there was first class on the plane, and she replied "yes". As the flight was to leave around the dinner hour and the flight was over two hours, I decided to tempt fate and ask if there was a meal being served on the flight. She replied that dinner was being served in First Class. It was like I was in another dimension... First Class on a regional jet, dinner being served, and the flight was on time!!!
The CRJ900 Cabin
We boarded about a half hour before the flight was to leave. First Class boarded first and then the rest were boarded by groups. The flight was about 70% full so the process went smoothly. This was my first time on a CRJ900 so I was anxious to see what it looked like. Here are a few shots of the cabin and first class.
Interior Shot (From Airliner.net library). Note that the bins on the right of the First Class cabin are much smaller than those on the left. I noticed that no one used these as they were much too small and the sliding door made in inconvenient to access
http://www.airliners.net/open.file/1318249/M
First class seat
First Class restroom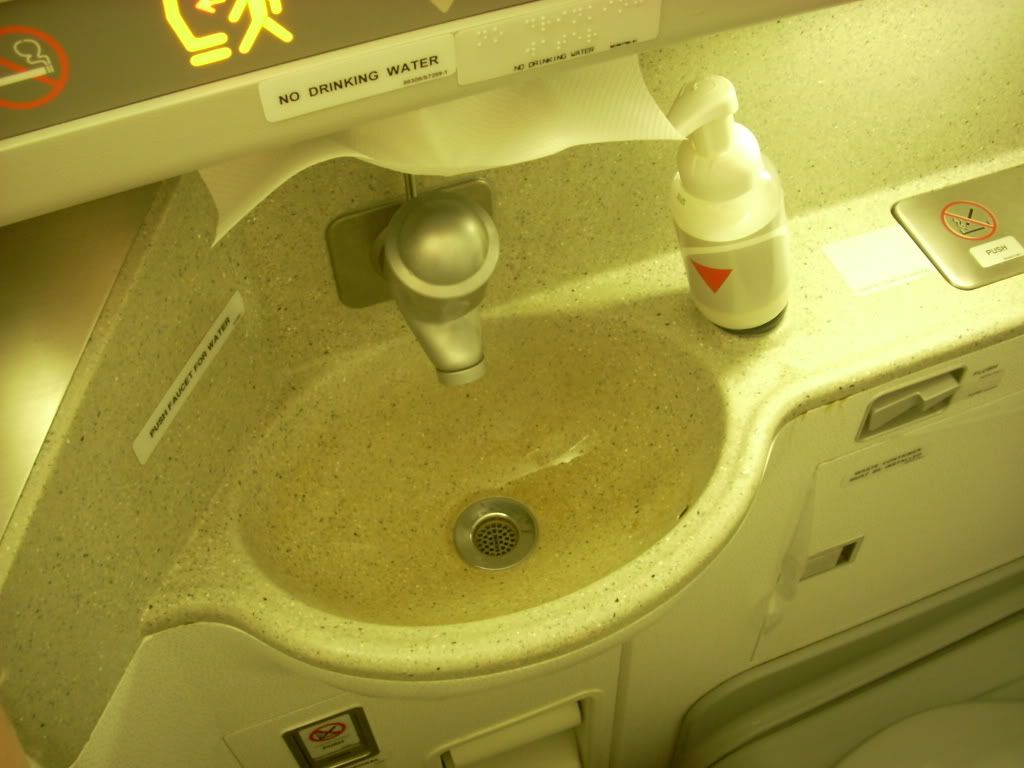 First Class Cabin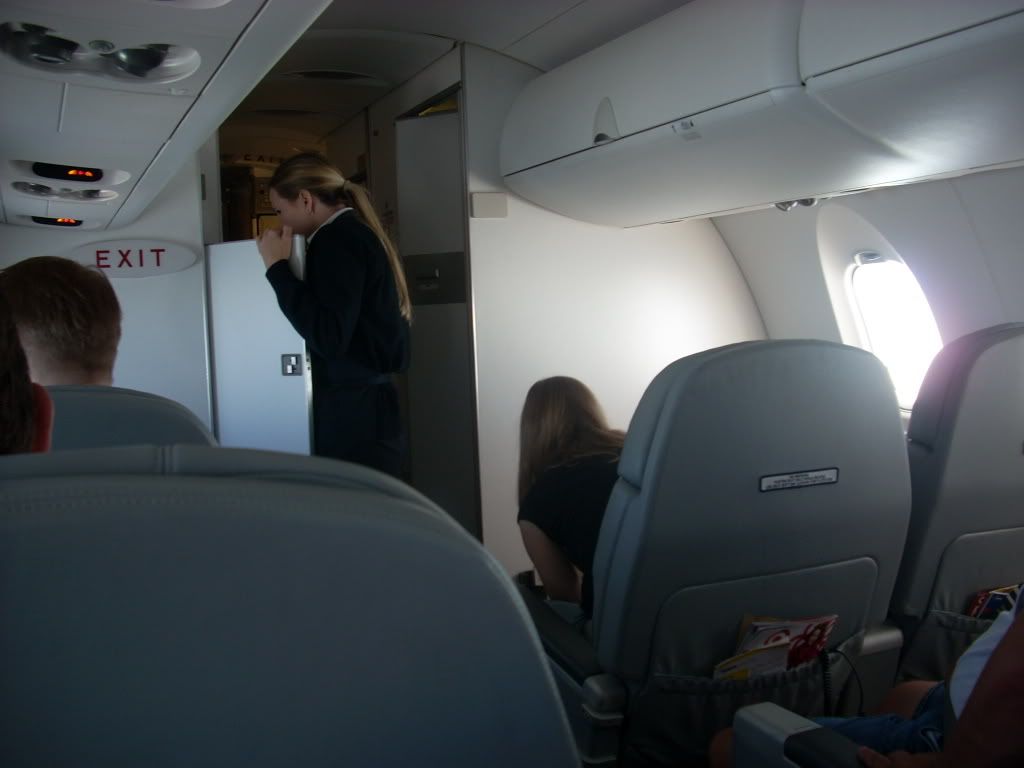 Fellow Passenger (Notice the headline in the article he is reading..."Packed Cabins Ramp Up Flier's Stress Levels". I didn't notice this until I was writing this report!)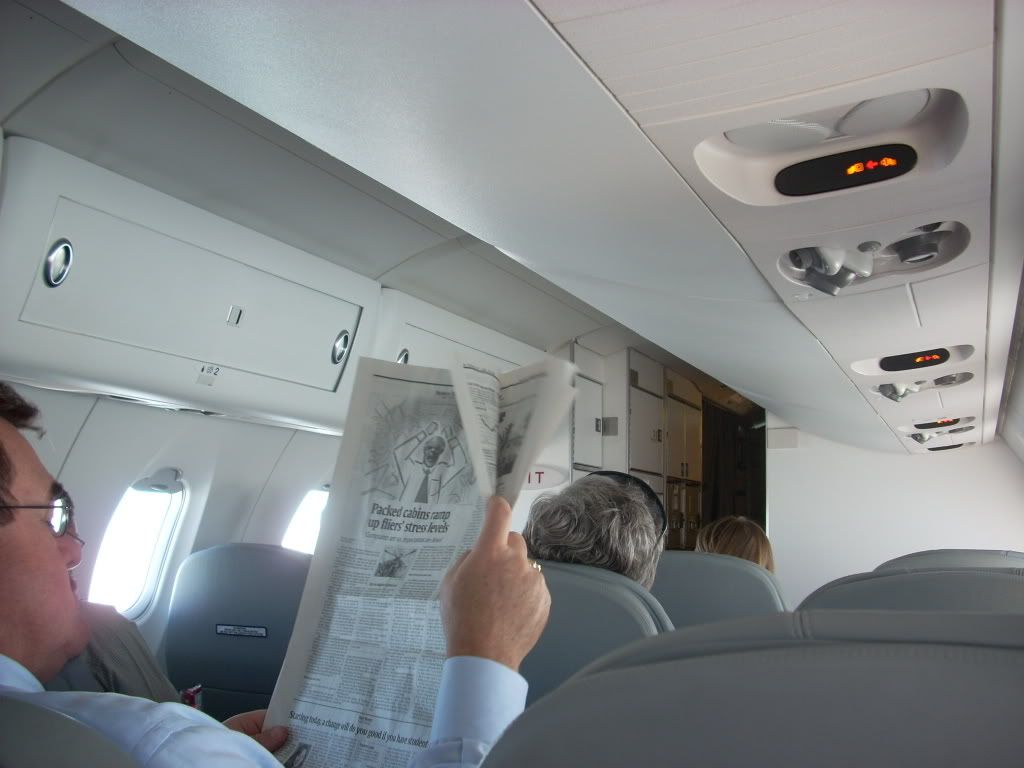 Small storage bin in the seat armrest. I'm not sure what one would be stored here....?
Inflight Service
The service in First Class on the CRJ900 was consistent with a larger plane. A few minutes after takeoff, the flight attendant came around the cabin, asking our choice of dinner. Chicken or mushroom ravioli? I decided to live on the edge and had the ravioli. Here is what was served...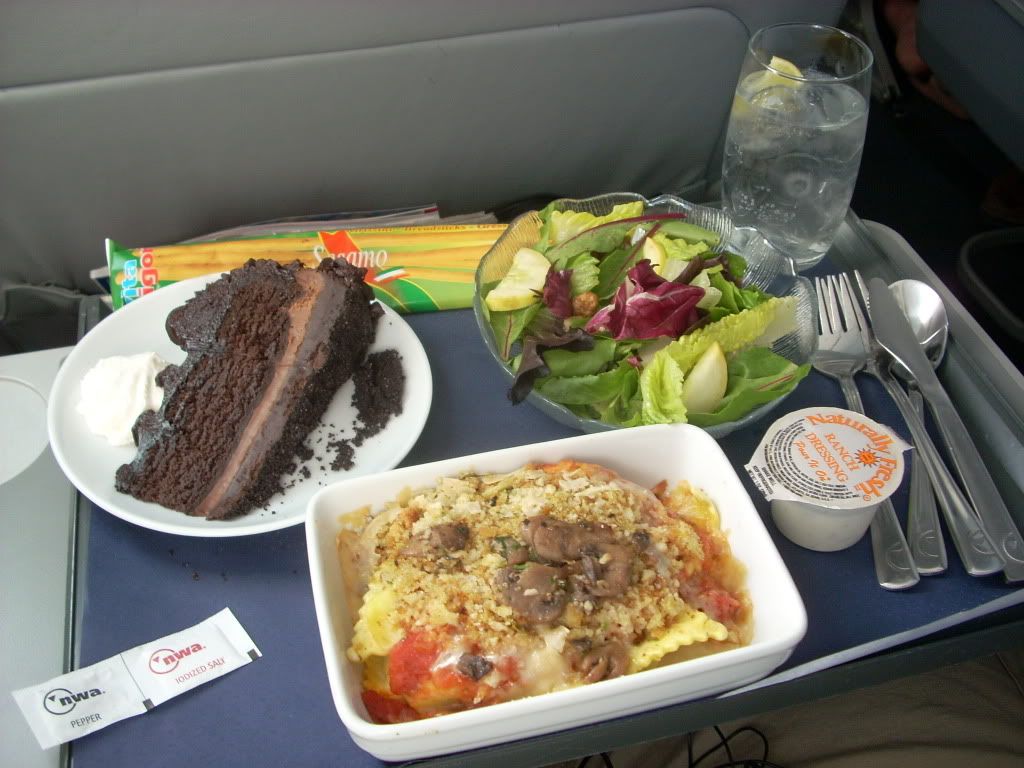 On a scale from 1 to 10, I would give the meal a 7. It was served hot, good variety and portions, the ravioli was a bit dry, but the chocolate mouse cake made up for it.... At this point I'm not going to complain. After all I wasn't expecting First Class in the first place!
The rest of the flight was uneventful. I sat back and watched some TV programs I had recorded on my video device.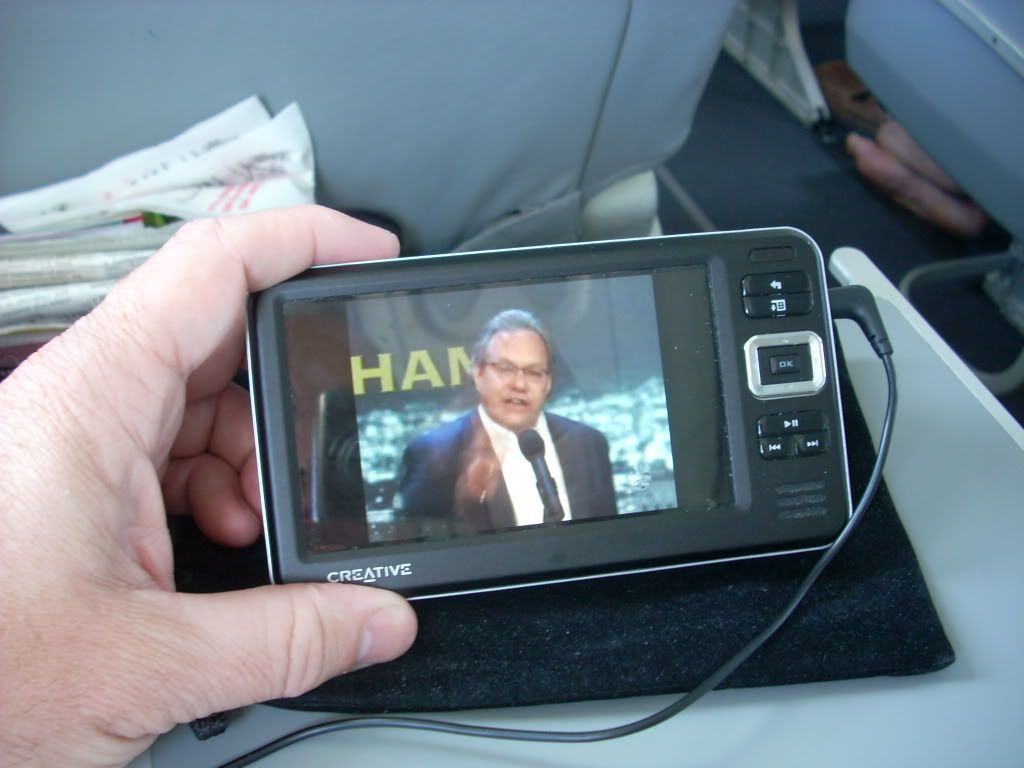 Our flight path took us over the Finger Lake region of upstate New York
We also passed over Niagara Falls. At 32,000 feet, it is still impressive
We landed on time in Minneapolis and I continued on to my connecting flight to Kansas City
Inside the C Concourse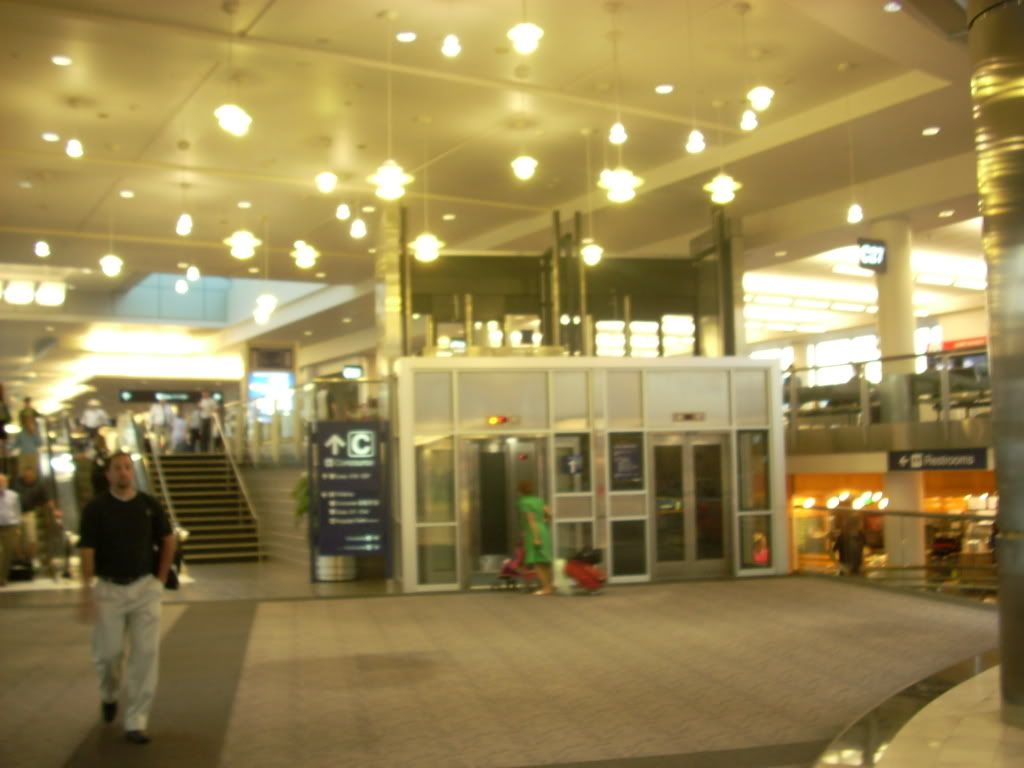 Traveling on the transit train. (By the way, if you have ever been on this train, notice that the announcer has a British accent. I think it would be more appropriate for the announcer to have a Minnesota accent... don't ya know!)
Waiting for my connection
Countdown to departure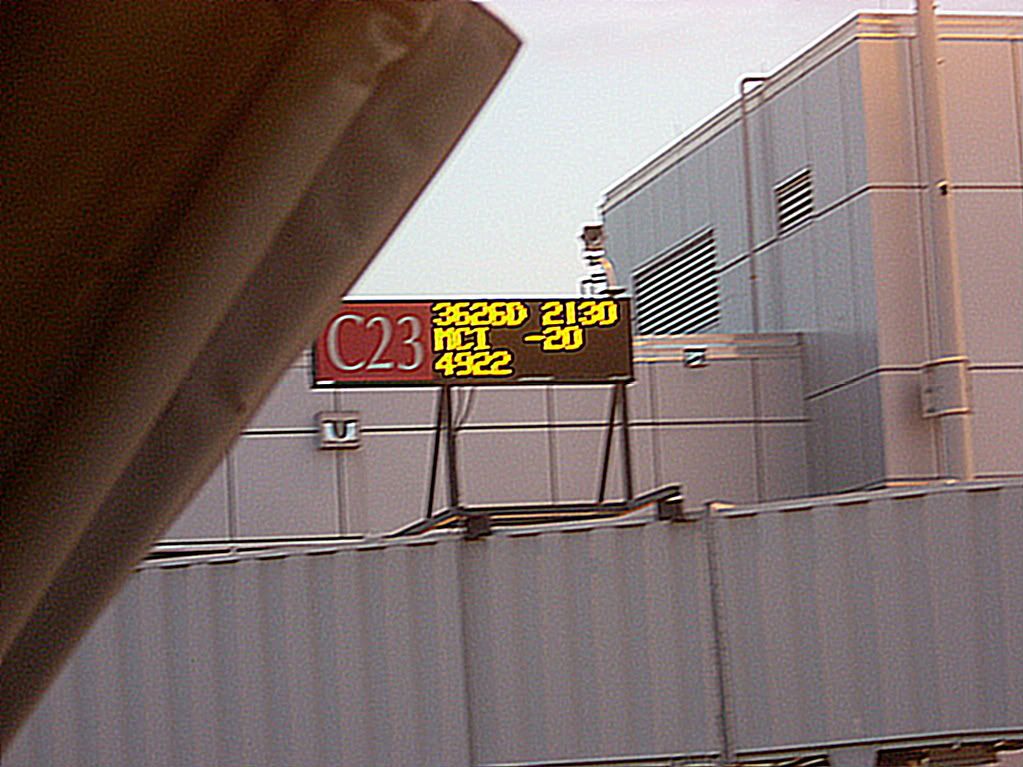 Final words
Overall, it was a very enjoyable trip. The unexpected surprise of First Class on a regional jet was a big part of it. I would give this trip a 9.5 out of 10 (if only the ravioli weren't so dry
!) I will definitely look for more flights on Northwest CRJ900 jets.
Also, I can't help but compare my experience on this flight on Northwest to my past few years experience on US Airways. It seems like Northwest has invested more in their product--especially for their frequent fliers--and is more customer focused including the boarding pass, the boarding process, and inflight serice. I also want to say that US Airways flight attendants and customer service people do an excellent job with the resources they have. From a passenger perspective It seems like US Airways management sets their policy and manages by the bottom line, regardless of the impact to customers. I believe that If airlines will manage by the customer, the bottom line will take care of itself. My opinion...
Here's some of my other trip reports
Orlando on US Airways in First Class
Get Me Out Of Here! - PIT To MCO (with Pics!)
(by
Jakeflyer
Feb 10 2007 in Trip Reports)
Hong Kong on Singapore Airlines in Business Class
SQ SFO/HKG Raffles Class 747 Upper Deck - Pics
(by
Jakeflyer
Oct 30 2006 in Trip Reports)
Kaohsiung, Taiwan on China Airlines in Business Class
HKG-KHH On China Airlines—Pics
(by
Jakeflyer
Oct 16 2006 in Trip Reports)
Lisbon, Portugal on TAP in Business Class
TAP Portugal In Top Executive - EWR-LIS-OPO – Pics
(by
Jakeflyer
Sep 24 2006 in Trip Reports)