Feedback always appreciated.
Trip Report: 051
Flight Category: Y-ISR (See Report End)
Date: 09 Jun-08
SDT/SAT/Delay: 1345/1635/02:50 hrs
Flight:
Sky Airline H2 173
, 886 miles
Routing: IQQ-ANF-SCL
Aircraft: 732
Seat: Economy, 9A
I > Background:
I had been on a tough away assignment for 3 months and earned a well deserved break by the time the engagement was over and June had rolled in. Instead of going back to Caracas directly, I decided to visit a few random places I had not been to in a while. Since I had not visited Chile in 2 years, Santiago won out. The idea was to spend some time with my friends and then go to Puntas Arenas to visit another friend who works there. However, events in Santiago had transpired against such a trip and I ended up in the city of Iquique (IQQ) in northern Chile.
A quick search on A.Net tells me that this is the first report on H2.
II > Pre-Flight:
a) Before Airport:
Founded in 2000, Sky Airline is Chile's 2nd largest operator and flies 13 732's from its SCL hub to numerous destinations in Chile and to Arequipa in Peru. Like Aerolineas del Sur and LAN, their flights are duplicative and have the same unimaginative routings emanating from the SCL hub … though Chilean A.Netters tell me that there is no demand between regions … all demand is funneled through Santiago.
So, ticketing was interesting in itself. After landing from the Aerolineas del Sur flight (
Read report here
), I proceeded to the Sky Airline desk and was assisted meticulously by an agent trying to find me a return flight to SCL. She was super friendly and was very understanding of my concern and my experience thus far. Anyways, she was able to book me a flight the following day on Sky Airline … however, again, some moronic rules took effect. She could only issue me a full Y walkup fare. To get a cheaper fare, I had to go to the city office and get it issued. Uugh. Ok, whatever. So I took the shuttle to the city, and then the next day went to the city office for the ticket to be issued. Of course, the agent at the city office was not pleased that her colleague had "revealed this business secret" and went to make a big deal of selling me a discounted ticket. Uugh. After a 67 minute wait, I finally was issued a ticket … which they could not actually issue because of the time left to the flight. Apparently, they documented the booked PNR that I had paid, but an e-ticket could not be issued. Since time was running out, I took them on their word and made my way to another shuttle bus taking me back to the airport.
b) At Airport:
The shuttle takes 45 minutes to 1 hour to get to IQQ which is literally located in the middle of nowhere alongside the national highway. The airport itself followed the Chilean Airport Design School "CADS" … with the design similarities between IQQ and ANF absolutely eerie.
Check-in turned out to be this big drama as they agent kept on insisting that my itinerary was not ticketed and I had to pay the Y fare. It did not click in her head to check the PNR notes despite reminding her of it several times. Finally, a call back to the city office confirmed the same and she had to be walked through the entire process of issuing a boarding pass. After 30 minutes of trying, she gave up and said that she would just issue me a hand written card and take care of the ticketing later. Given all the drama of the morning thus far (and because I was hungry), I accepted her seat assignment and went to the super awesome café with courteous service to have a huge sandwich and really bad café (seriously, Chile needs better coffee)!
Security was a breeze and I made it to the gate with enough time. The flight is a multi-stop that originates in Arica (ARI) and stops in Iquique (IQQ), Antofagasta (ANF) en-route to Santiago (SCL). Boarding was called soon, and upon entering the cabin, I noticed how different this 732 was from the 3I (Aerolineas del Sur) one. It looked much more cramped and the lack of J ensured it looked more like a 732 from an U.K. charter operator in the 1980s. Y load was around 70%, with more passengers disembarking at ANF than joining us at ANF.
Airport - External:
(Road from Iquique to IQQ)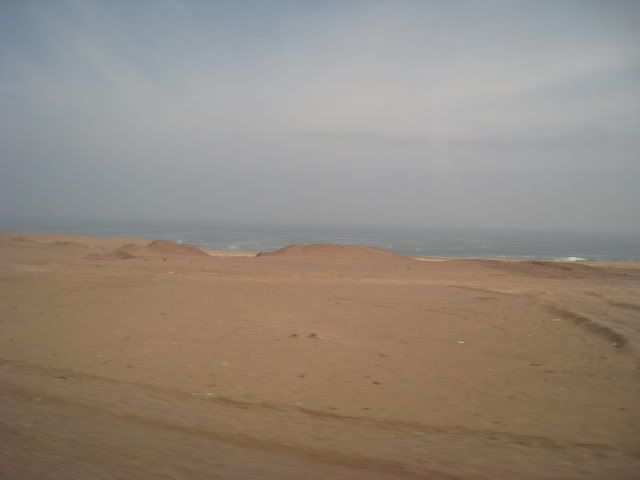 (Iquique Airport)
(Overlooking the highway)
Check-in: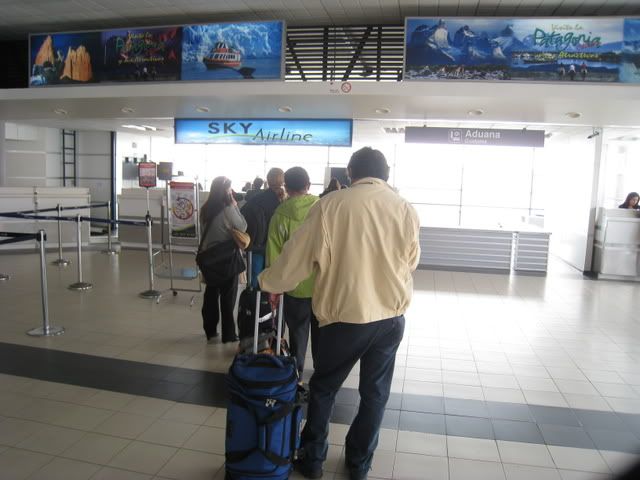 Airport - Internal:
(Pre-Security)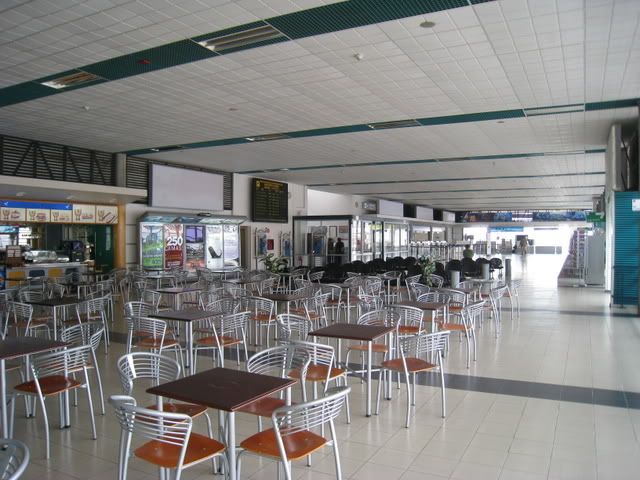 (FID: Notice the abundance of routings …)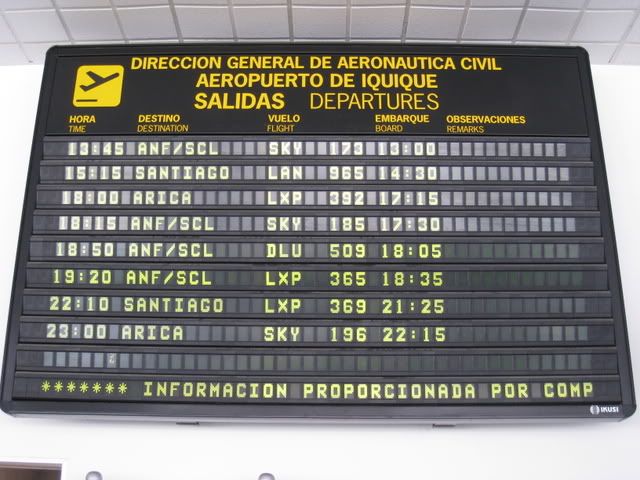 (Yummy burger and bad café)
Scenes of the tarmac:
NONE
Lounge
NONE
Boarding:
(Boarding area)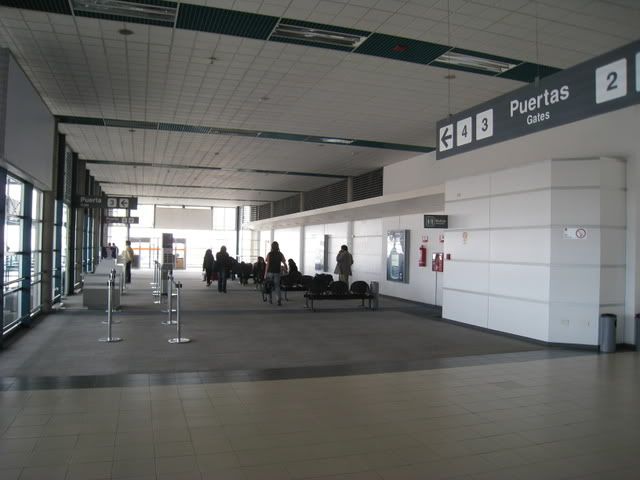 (Boarding called)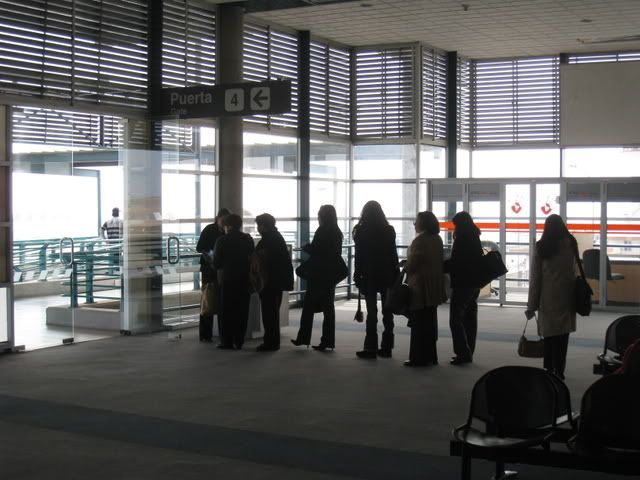 III> In-Flight:
a) Service Schedule + Impressions:
Sweets at take-off for ANF. During the ANF-SCL leg, hot meal service.
b) Aircraft + Seats:
Unlike 3I, H2 732's are not well maintained. Many of the seats were broken and mine did not have functioning seat pads … or, they were super worn out ensuring that my butt felt up the metal for most of the flight. Very uncomfortable indeed. Moreover, the actual seats were uncomfortable with remarkably tight pitch and no recline.
Aircraft:
Views from Aircraft:
(LAN arriving – hmmm – I wonder from where)
(LAN parked next to us)
(Beautiful Andes)
General Seat Views + Seat Legroom
(Kinda hurts …)
Seat Recline + Angle View: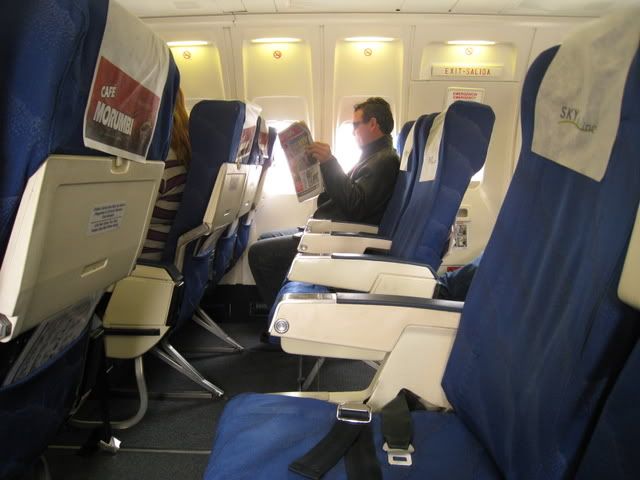 Cabin:
c) Meal + Beverage:
At IQQ, sweets were distributed on the ground. After the ANF stop, a hot meal service ensured with the choices being pasta or ham. I chose the rather disgusting ham and it was just not good. Unlike Air Comet Chile, there was no alcohol and the bread sucked. Having said all of that, I did appreciate being given a meal on such a short flight.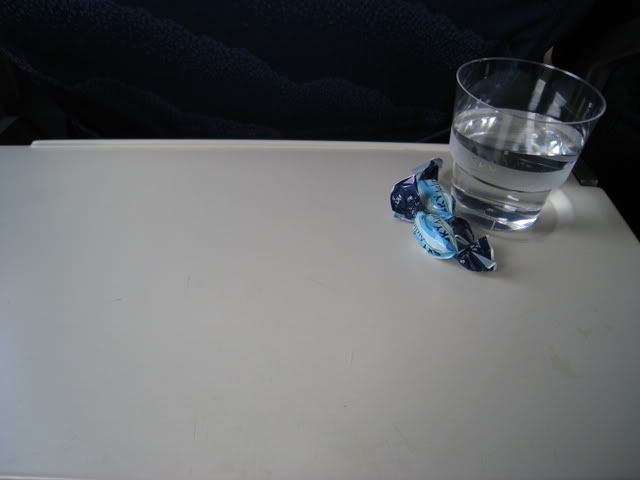 (Kinda disgusting … especially the gravy)
d) Inflight Entertainment:
None. The Sky Airline is kinda blah … and I felt sorry for those who did not speak Spanish.
("In-flight magazines", Boarding Passes, etc.)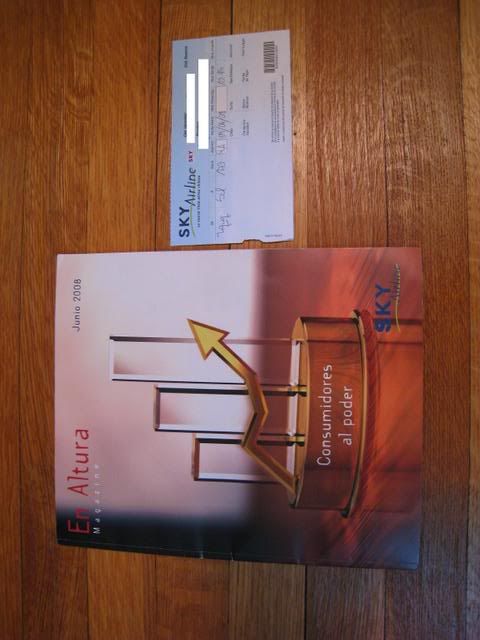 e) Crew:
Ok, the crew were hot. But besides that, there was really nothing much to say about them. I mean, they did not smile much during the flight and just basically showed up to do the safety demonstration and distribute meals in a very grumpy fashion. In fact, only one of the crew was actually working … the two others were busy chatting and reading their magazines.
IV> Post-Flight:
Arrival @ SCL was a breeze, and I was soon on my way to my hotel (San Cristobal Towers) through some bad Las Condes traffic.
(Lax security @ SCL. This is the gate that separates arriving and departing passengers – and then goes on to the airbridge – as you can see wide open)
V> Impressions + Scores:
I must try to fly LAN on a Chilean domestic flight to come up with some kind of overall impression about domestic flying in Chile. Sky Airline was as poor as Aerolineas del Sur. Sky had better ground handling than Aerolineas; the food was MUCH MUCH better on Aerolineas; the crew and inflight product/cabin were poor on both. Probably why Sky Airline is marginally better than Aerolineas is because it got me where I needed to go without lies and in a timely fashion. As a side note, in a culture of e-ticketing, why is the concept of e-ticketing so difficult in Chile. If given a choice, I would prefer Sky Airline over Aerolineas … however, not by much.
1.0 > RESERVATION: 3.0
2.0 > CHECK-IN: 5.0
0.5 > LOUNGE: N/A
0.5 > BOARDING: 8.0
2.0 > SEAT: 2.0
0.5 > AIRCRAFT OVERALL AMBIENCE: 7.0
1.0 > IFE: 4.0
2.0 > CREW: 4.0
2.0 > FOOD: 6.0
0.5 > BEVERAGES: 6.0
0.5 > A.KITS + OTHER FREEBIES: 5.0
0.5 > DISEMBARKATION: 9.0
1.0 > ON-TIME RECORD: 9.0
WEIGHTED OVERALL IMPRESSION (WOI): 5.00
(Pre-flight WOI of all reviews: 6.45)
* Weighted Overall Impression (WOI) aligns scores with what matters most. Weights are indicated alongside each category.
(Scores are based on comparison with other airlines in THAT class of service – No comparison of Y vs. F for example)
VI> Other Trip Reports:
PREMIUM:
8.61:
Air Canada (49): YYZ-SCL: 06/2008
8.11:
Aeroflot (33): MOW-DEL: 09/2007
8.04:
Korean Air (40): NRT-ICN: 10/2007
8.02:
Delta Airlines (24): JFK-CDG: 08/2007
7.82:
Singapore Airlines (06): EWR-SIN: 09/2006
6.93:
Delta Airlines (18): SEA-JFK: 11/2006
6.81:
Air Canada (17): ICN-YYZ: 10/2006
6.70:
KLM (32): EBB-AMS: 08/2007
6.25:
Korean Air (45): NAN-ICN: 10/2007
5.75:
Singapore Airlines (16): CCU-SIN: 10/2006
5.64:
NorthWest (46): ICN-NRT-SEA: 10/2007
4.42:
Air France: CDG-JNB (25): 08/2007
ECONOMY: Long + Medium:
9.26:
Air India (48): JFK-DEL: 02/2008
7.38:
Avianca (01): BOG-LIM: 07/2006
6.26:
Jet Blue (21): CUN-JFK: 02/2007
6.06:
Air Canada (04): YYZ-YVR: 09/2006
5.89:
USA 3000 (19): PUJ-BDL: 01/2007
5.79:
Air New Zealand (42): RAR-NAN: 10/2007
5.46:
TAP Air Portugal (23): OSL-LIS: 05/2007
ECONOMY: Short
8.56:
Paramount Airways (38): BLR-MAA: 09/2007
8.24:
Kingfisher (14): IXA-GAU: 10/2006
7.87:
Indian (34): BOM-MAA: 09/2007
7.72:
Alliance Air (13): CCU-IXA: 10/2006
7.57:
Indian Airlines (10): DEL-CCU: 09/2006
7.23:
West Jet (03): YYC-YVR: 09/2006
7.15:
JetLite (37): BOM-GOI: 09/2007
6.70:
Spice Jet (09): CCU-DEL: 09/2006
6.63:
Air Fiji (44): NAN-SUV: 10/2007
6.58:
Air Tran (02): EWR-MDW: 08/2006
6.44:
CO Micronesia (39): ROR-YAP: 10/2007
6.41:
Pacific Sun (43): NAN-SUV: 10/2007
6.37:
Skybus (47): SWF-CMH: 02/2008
6.33:
Kenya Airways (29): NBO-BJM: 08/2007
6.31:
Indigo (15): GAU-CCU: 10/2006
6.22:
Air Link Swazi (28): MTS-JNB: 08/2007
6.22:
Air India (36): HYD-BOM: 09/2007
6.13:
Adam Air (07): SIN-CGK: 09/2006
6.13:
Air Rarotonga (41): RAR-AIT: 10/2007
6.00:
Transairways (27): INH-MPM: 08/2007
5.95:
Air Canada (05): ALB-YYZ: 09/2006
5.85:
SAS Norge (22): OSL-AES: 05/2007
5.81:
LAM Mozambique (26): JNB-MPM: 08/2007
5.69:
Air Deccan (12): IXZ-CCU: 10/2006
5.67:
Rwanda Air Exp (30): KGL-NBO: 08/2007
5.00: Sky Airlines (51): IQQ-SCL: 06/2008
5.07:
Go Air (35): MAA-HYD: 09/2007
4.96:
Valuair (08): CGK-SIN: 09/2006
4.78:
Air Comet Chile (50): SCL-IQQ: 06/2008
4.74:
Fly 540 (31): MYD-LAU: 08/2007
4.33:
Viva Aerobus (20): ELP-MTY: 02/2007
4.11:
Air Sahara (11): CCU-BOM: 09/2006
(Note on Codes: Y – Economy, J – Business, F – First :: I/D – International/Domestic :: SR/MR/LR – Short/Medium/Long Haul)
VII> Other Pictures:
NONE