Feedback always appreciated.
Trip Report: 052
Flight Category: J-IMR (See Report End)
Date: 10 Jun-08
SDT/SAT/Delay: 1155/1630/03:35 hrs
Flight:
Swiss LX 97
, 1626 miles
Routing: SCL-GRU
Aircraft: 343
Seat: Business, 4K
I > Background:
I had been on a tough away assignment for 3 months and earned a well deserved break by the time the engagement was over and June had rolled in. Instead of going back to Caracas directly, I decided to visit a few random places I had not been to in a while. After a trip to Chile, I decided to visit some friends in one of my favorite cities … Barcelona. I had a few choices from Santiago, but decided to fly via GRU and have a café with my best friend Gustavo.
A quick search on A.Net tells me that this is the first report on Swiss J class on the 5th freedom SCL-GRU flight.
II > Pre-Flight:
a) Before Airport:
Just in case there are people who read A.Net and do not know about Swiss International Airlines. It is the main carrier out of Switzerland and serves the world from its Zurich hub. It was formed in 2001 after the bankruptcy of Swissair and is now a subsidiary of Lufthansa. Out of its efficient Zurich hub, Swiss flies around the globe including a daily service to Santiago via Sao Paulo.
Ticketing for the flight was done on the extremely well designed and easy to use Swiss website at
www.swiss.com.
While you are able to view your booking later and do modifications, I was not pleased that seat selections cannot be done online. However, I was able to do the same calling their number in Santiago.
b) At Airport:
Unlike my previous visit to SCL which turned out to be full of drama, this was a relatively quiet visit with a smooth check-in at the specially designated J class counter. What I found interesting is that there was a separate counter for F class which could be used by Star Gold Members. Now, why allow Star Golds? Besides, are not most J class passengers Star Gold anyways? Anyways, I digress. So in a matter of minutes, I had my boarding pass and lounge invitation (what a waste of paper) and was en-route through a quick security and immigration to the boarding gates.
Since I had around 30 minutes to spare, I walked all the way to the end of the terminal to the American Airlines Admirals Club which is used by LX. It is a small rather dingy lounge (with a surly German speaking manager), but had basic food and beverages and computer terminals with internet access. After a quick email check and some café, final boarding for the Swiss flight was called and I made my way to the gate.
By the time I arrived, most of the flight had boarded and I made my way to my seat 4K. Upon entering the cabin, I felt very much part of the clean IKEA look that you find at Scandinavian airports … faux wood and overall extremely minimalist. I was soon greeted by the lead flight attendant who took my jacket away and offered me a choice of drink … and I chose champagne.
A gentleman from Holland came by and sat in seat 4A … apparently, he was a Y ticketed passenger and wanted to take pictures of the Andes, and the view was better from the J cabin. The crew politely asked him to leave. After several requests, he got very agitated and started hurling abuses at the Swiss crew and saying how "this would never happen at KLM" and that the Swiss crew was "German Nazis"! At this point, I had enough and went to the crew standing around him and said that if he was not off-loaded, I was calling my ministry contacts in Chile to have him put behind bars. Jaja. Of course, the entire thing was a lie. The man muttered something in Dutch and went back to the Y cabin. The crew and I shared a joke about it later … but seriously, some people!
J class load was a dismal 10%. F class load was 0%, and Y was 40%.
Airport - External:
(Santiago Airport)
Check-in:
Airport - Internal:
(Pre-Security)
(RG Ad … wonder how long the Varig name will survive)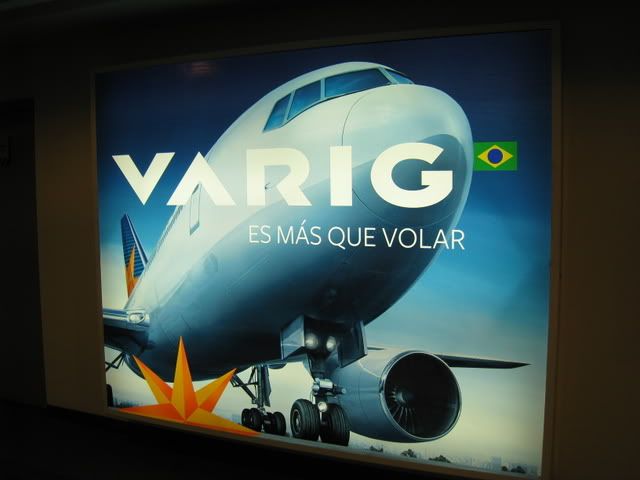 (Post-Security)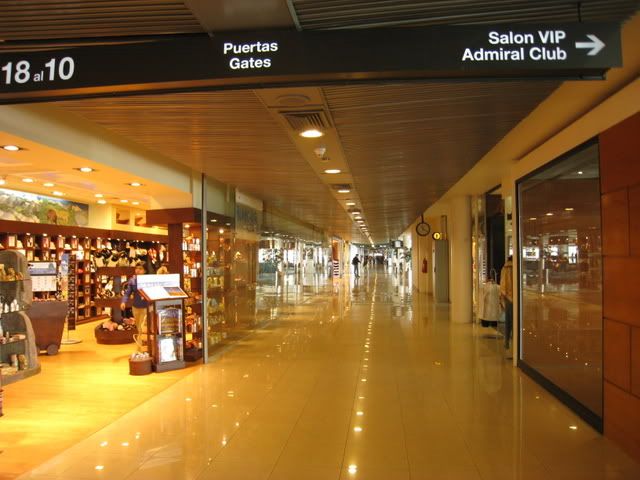 Scenes of the tarmac:
NONE
Lounge
(Invitation)
(AA Admirals Club)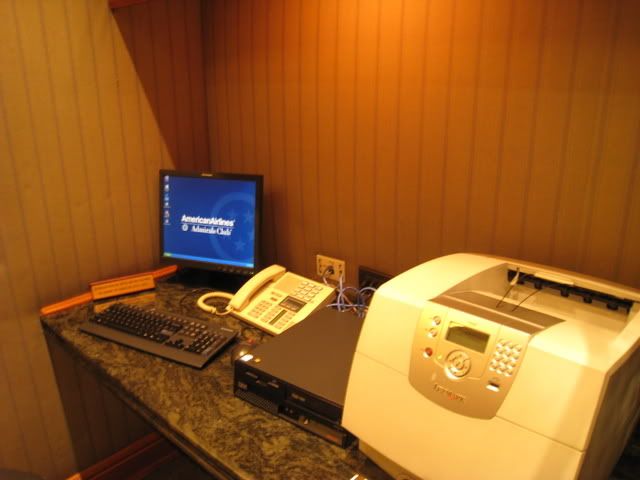 Boarding:
(Boarding called)
III> In-Flight:
a) Service Schedule + Impressions:
Drink service while on ground along with newspaper trolley. Cold towels after an extremely slow 343 take-off was followed immediately with lunch. Duty free sales post lunch. Cold towels again at landing.
b) Aircraft + Seats:
I am not usually a fan of euro-white liveries, but I find the Swiss 343 to be extremely graceful looking. Part of it is because the 343 is a very elegant aircraft probably. Inside, the 343 was kept spotless by LX … though, some amenities in the bathroom would have been good … especially with the lack of any kit being distributed. However, I
HATE
the J class seats offered by LX. While they are comfortable to sit on, the bizarre recline position made sleeping very uncomfortable. The many folds and breaks on the seat ensures that I toss and turn and fail to capture some real sleep. Seriously, the weird fold points makes the body cringe at several points because the "bed" has several uneven fold points. One more thing I hated about the seat was the weird cut-out for the audio-video controls which was uncomfortable as you put your hands on the arm-rest. The only saving grace was that unlike some angular flat arrangements (example: AF), I found the overall room to be much more satisfactory. I could be in several recline modes without having the need to cramp and position my leg in some awkward manner.
Aircraft:
(Beautiful 343 in LX livery – taken upon arrival @ GRU)
Views from Aircraft:
(LAN 763 next to us @ SCL)
(CM 738 for the long trek to PTY)
(Slow liftoff)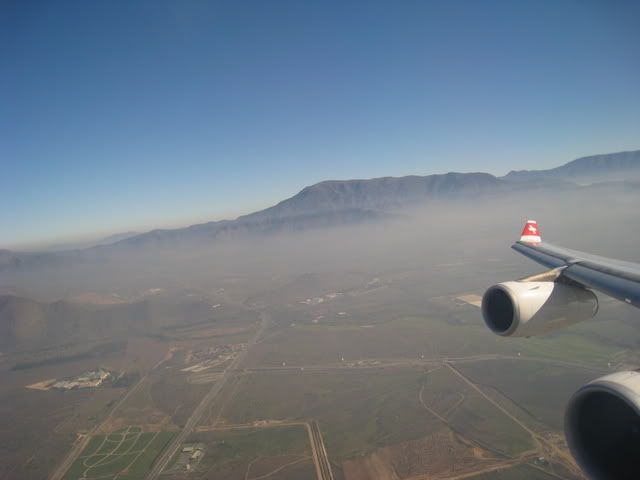 (Beautiful Andes + Beautiful and inefficient 343)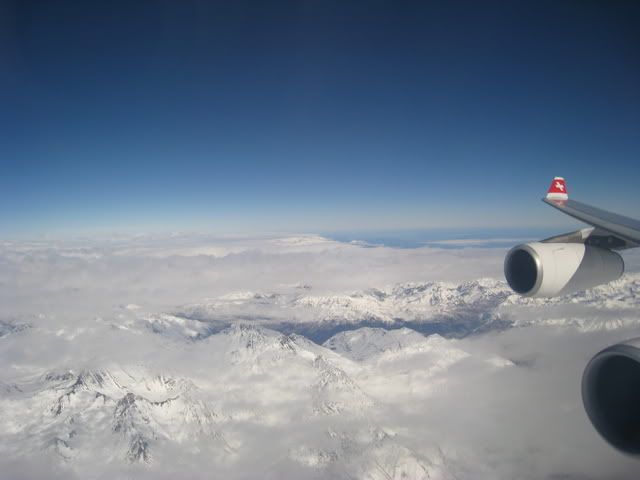 General Seat Views + Seat Legroom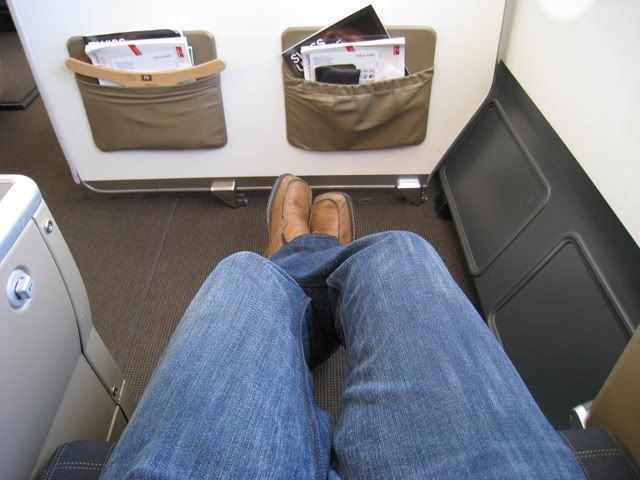 (The cutout for controls make it very uncomfortable)
Seat Recline + Angle View: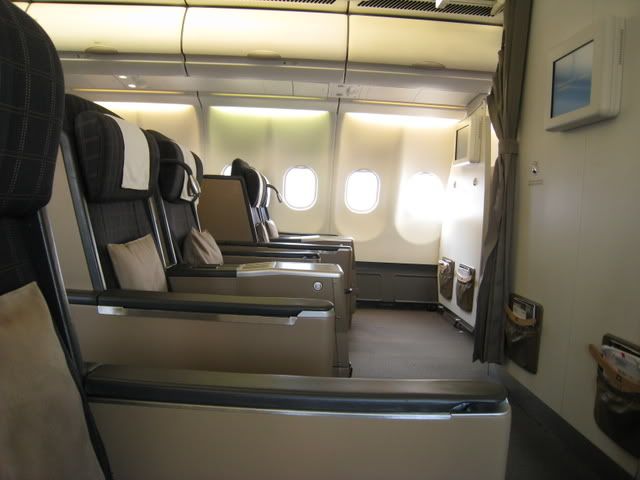 Cabin:
(The more private mini-cabin in J)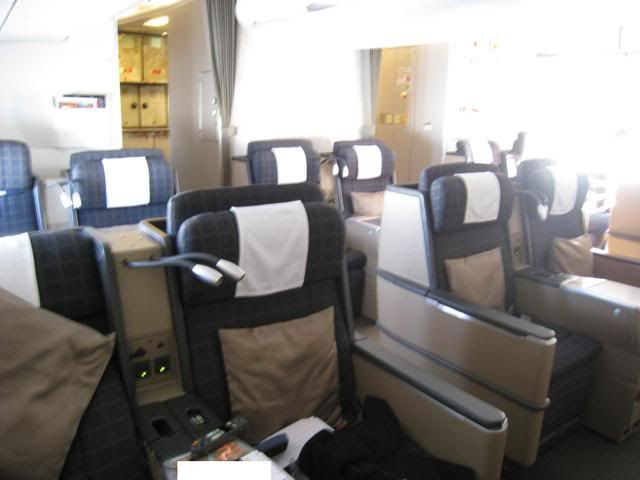 (Bathroom without amenities)
c) Meal + Beverage:
On the ground, the choice of drinks were orange juice, water, and "champagne" (Brut Mosaïque). Lunch included a choice of beef or pasta and I chose the later. While not the best pasta I have ever had, it was decent and did the purpose of filling me up quickly. I wonder if the catering gets better as the flight progresses as the J class meal ex-SCL was nothing to write home about. Beverage selection was pretty average during the flight as well – you could see the limited choices from the picture of the menu.
(Menu)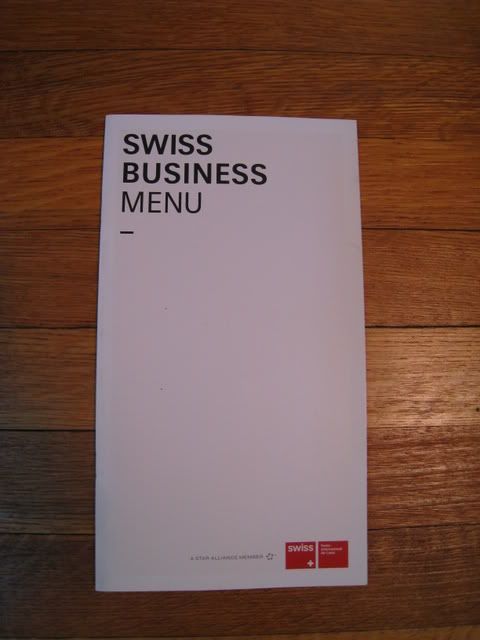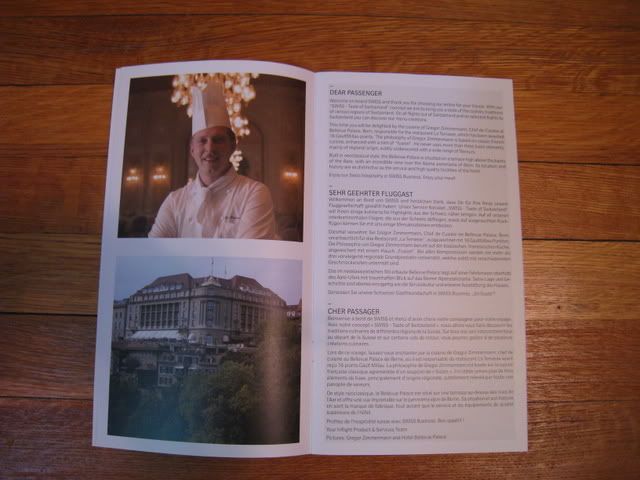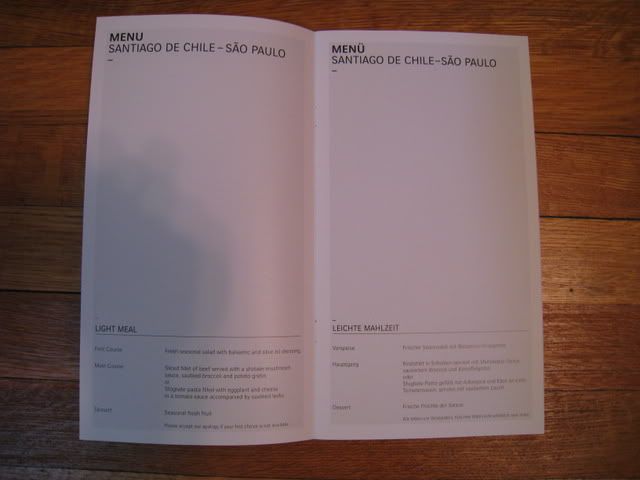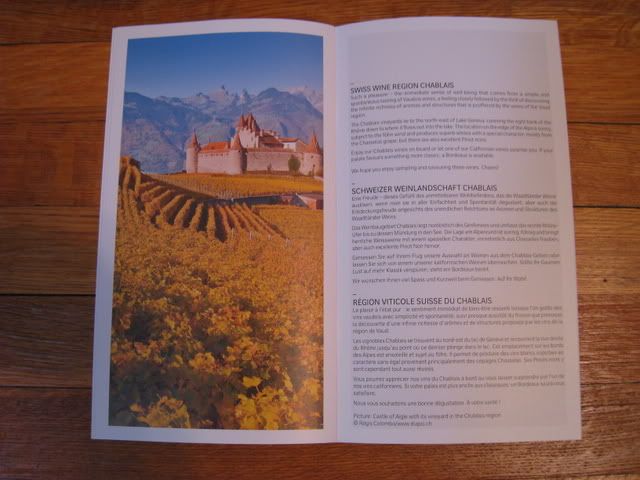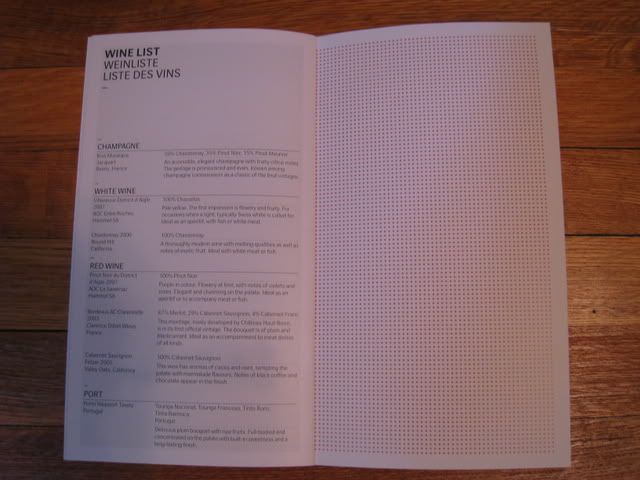 (Champagne to kick if off while on ground)
(Lunch)
(Tea)
(Chocolate – a very LX touch)
d) Inflight Entertainment:
Probably one of my biggest grievances with Swiss was the awfully antiquated IFE. Ok, it was not as bad as Air France with its old-school non AVOD, but it was pretty poor in terms of choices (extremely limited and poor selection of movies – some movies that you wanted to see were limited to certain flights only), headphones (God, seriously, they should look at Y headphones of some airlines), and screen. Thankfully, Swiss comes with a decent in-flight magazine and a very cool Business class magazine.
(Poor IFE screen and setup)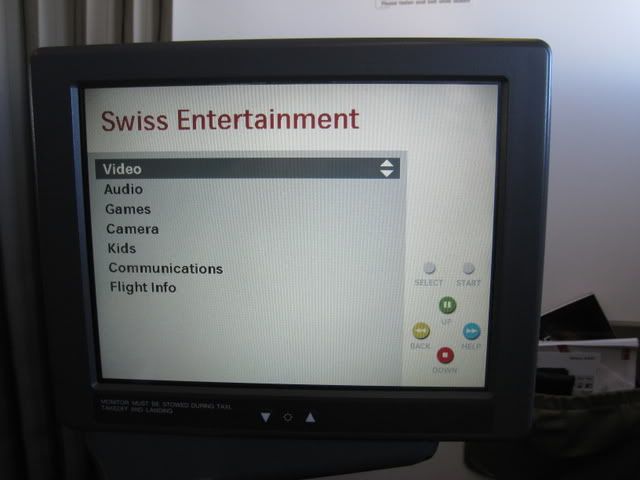 (Moving map with our route)
(Options and weak headphones)
(Nose camera)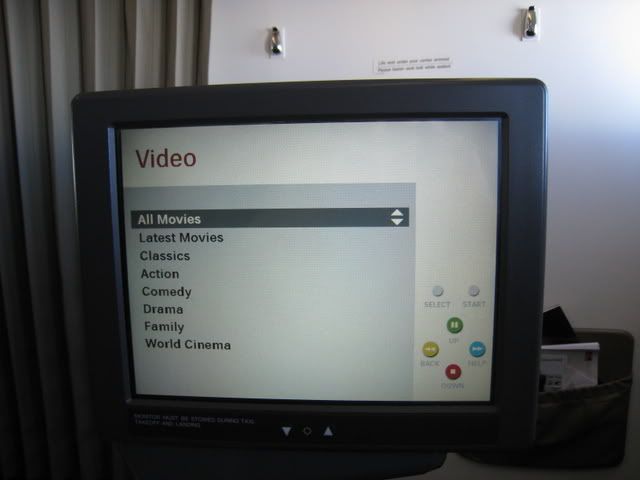 ("In-flight magazines", Boarding Passes, etc.)
e) Crew:
Probably the single biggest redeeming point for this particular Swiss flight was its crew members. While the entire crew was above satisfactory, I had the pleasure of a wonderful purser who clearly enjoyed her job and was well versed in the history of Swiss and the airline industry. She would come and check on me several times (though, given loads, she was probably bored) and chatted with me about her career with Swissair and Swiss. She provided some interesting and bizarre insights – interesting included that the loads for both F and J ex-GRU was 100%. Interesting included how she felt Lufthansa considers Swiss poorly and has failed to properly invest in the company, and that is a feeling many in LX feel. Bizarre included that LX had initially apparently installed touch-screen IFE's (when I was whining about the poor IFE), but they were taken out of service as it was found that these touch screen IFE's had caused the M11 crash out of JFK (to GVA).
IV> Post-Flight:
As much as I love Sao Paulo and the chance to see Gustavo, GRU leaves much to be desired. Immigration took over an hour thanks to being in line after the SAA flight ex-JNB. Having said that, the immigration woman was charming and I was happy to be in the middle of chaotic Sao Paulo after the sterility of Santiago.
(Video telling us of landing procedures @ GRU. I thought it was very useful.)
(I love this view from GRU where all the aircraft are stored like a junkyard)
(Diversity of carriers)
(GRU – Varig Log)
(Ocean Air and others)
(GRU Terminal)
(Arrivals @ GRU)
(Arrival board)
V> Impressions + Scores:
Unfortunately, Swiss J class is not what it used to be. It's seats are antiquated (though, being updated in 2009), and the IFE program needs a much thorough overhaul. Additionally, catering was weak as well and the lack of amenities (either distributed or in the lavs) was noteworthy. Particularly interesting as amenity kits were distributed when I did this routing earlier in the year. What Swiss does well is running a safe and reliable schedule that gets you from point A to B, sometimes via a super efficient hub @ ZRH. Since most European carriers basically are good at this (except awful AF @ CDG), what makes Swiss unique and one of the better carriers in Europe is an extremely warm cabin crew who go beyond their call to make you feel good. Swiss sort of reminds me of KLM. Both airlines with average J products, owned by larger airlines, who crew outperforms against odds. While Swiss is definitely not a world benchmark airline anymore, it still is probably one of the best carriers out of Europe. Definitely would fly them again … especially if the choice involved choosing over another Euro zone carrier.
1.0 > RESERVATION: 8.0
2.0 > CHECK-IN: 7.0
0.5 > LOUNGE: 7.0
0.5 > BOARDING: 8.0
2.0 > SEAT: 5.5
0.5 > AIRCRAFT OVERALL AMBIENCE: 7.5
1.0 > IFE: 6.0
2.0 > CREW: 8.5
2.0 > FOOD: 6.5
0.5 > BEVERAGES: 7.5
0.5 > A.KITS + OTHER FREEBIES: 5.0
0.5 > DISEMBARKATION: 9.0
1.0 > ON-TIME RECORD: 9.0
WEIGHTED OVERALL IMPRESSION (WOI): 7.14
(Pre-flight WOI of all reviews: 6.42)
* Weighted Overall Impression (WOI) aligns scores with what matters most. Weights are indicated alongside each category.
(Scores are based on comparison with other airlines in THAT class of service – No comparison of Y vs. F for example)
VI> Other Trip Reports:
PREMIUM:
8.61:
Air Canada (49): YYZ-SCL: 06/2008
8.11:
Aeroflot (33): MOW-DEL: 09/2007
8.04:
Korean Air (40): NRT-ICN: 10/2007
8.02:
Delta Airlines (24): JFK-CDG: 08/2007
7.82:
Singapore Airlines (06): EWR-SIN: 09/2006
7.14: Swiss (52): SCL-GRU: 06/2008
6.93:
Delta Airlines (18): SEA-JFK: 11/2006
6.81:
Air Canada (17): ICN-YYZ: 10/2006
6.70:
KLM (32): EBB-AMS: 08/2007
6.25:
Korean Air (45): NAN-ICN: 10/2007
5.75:
Singapore Airlines (16): CCU-SIN: 10/2006
5.64:
NorthWest (46): ICN-NRT-SEA: 10/2007
4.42:
Air France: CDG-JNB (25): 08/2007
ECONOMY: Long + Medium:
9.26:
Air India (48): JFK-DEL: 02/2008
7.38:
Avianca (01): BOG-LIM: 07/2006
6.26:
Jet Blue (21): CUN-JFK: 02/2007
6.06:
Air Canada (04): YYZ-YVR: 09/2006
5.89:
USA 3000 (19): PUJ-BDL: 01/2007
5.79:
Air New Zealand (42): RAR-NAN: 10/2007
5.46:
TAP Air Portugal (23): OSL-LIS: 05/2007
ECONOMY: Short
8.56:
Paramount Airways (38): BLR-MAA: 09/2007
8.24:
Kingfisher (14): IXA-GAU: 10/2006
7.87:
Indian (34): BOM-MAA: 09/2007
7.72:
Alliance Air (13): CCU-IXA: 10/2006
7.57:
Indian Airlines (10): DEL-CCU: 09/2006
7.23:
West Jet (03): YYC-YVR: 09/2006
7.15:
JetLite (37): BOM-GOI: 09/2007
6.70:
Spice Jet (09): CCU-DEL: 09/2006
6.63:
Air Fiji (44): NAN-SUV: 10/2007
6.58:
Air Tran (02): EWR-MDW: 08/2006
6.44:
CO Micronesia (39): ROR-YAP: 10/2007
6.41:
Pacific Sun (43): NAN-SUV: 10/2007
6.37:
Skybus (47): SWF-CMH: 02/2008
6.33:
Kenya Airways (29): NBO-BJM: 08/2007
6.31:
Indigo (15): GAU-CCU: 10/2006
6.22:
Air Link Swazi (28): MTS-JNB: 08/2007
6.22:
Air India (36): HYD-BOM: 09/2007
6.13:
Adam Air (07): SIN-CGK: 09/2006
6.13:
Air Rarotonga (41): RAR-AIT: 10/2007
6.00:
Transairways (27): INH-MPM: 08/2007
5.95:
Air Canada (05): ALB-YYZ: 09/2006
5.85:
SAS Norge (22): OSL-AES: 05/2007
5.81:
LAM Mozambique (26): JNB-MPM: 08/2007
5.69:
Air Deccan (12): IXZ-CCU: 10/2006
5.67:
Rwanda Air Exp (30): KGL-NBO: 08/2007
5.07:
Go Air (35): MAA-HYD: 09/2007
5.00:
Sky Airline (51): IQQ-SCL: 06/2008
4.96:
Valuair (08): CGK-SIN: 09/2006
4.78:
Air Comet Chile (50): SCL-IQQ: 06/2008
4.74:
Fly 540 (31): MYD-LAU: 08/2007
4.33:
Viva Aerobus (20): ELP-MTY: 02/2007
4.11:
Air Sahara (11): CCU-BOM: 09/2006
(Note on Codes: Y – Economy, J – Business, F – First :: I/D – International/Domestic :: SR/MR/LR – Short/Medium/Long Haul)
VII> Other Pictures:
As it has become customary, and by popular demand, here is a collection of pictures from my trip to Chile. Santiago is an OK town … to see the real Chile, go outside it. Most of the pictures are from my favorite town in Chile … beautifully intoxicating Valparaiso.
(Santiago)
(Santiago from my hotel room @ San Cristobal Towers – a little too pretentious for my taste)
(Sights of Santiago)
(VIVA PROTESTS!)
(Beautiful Valpo)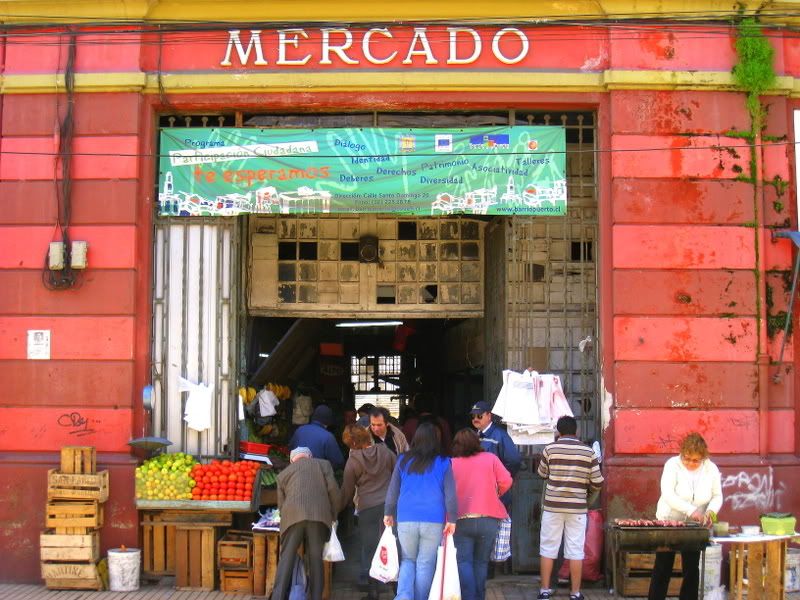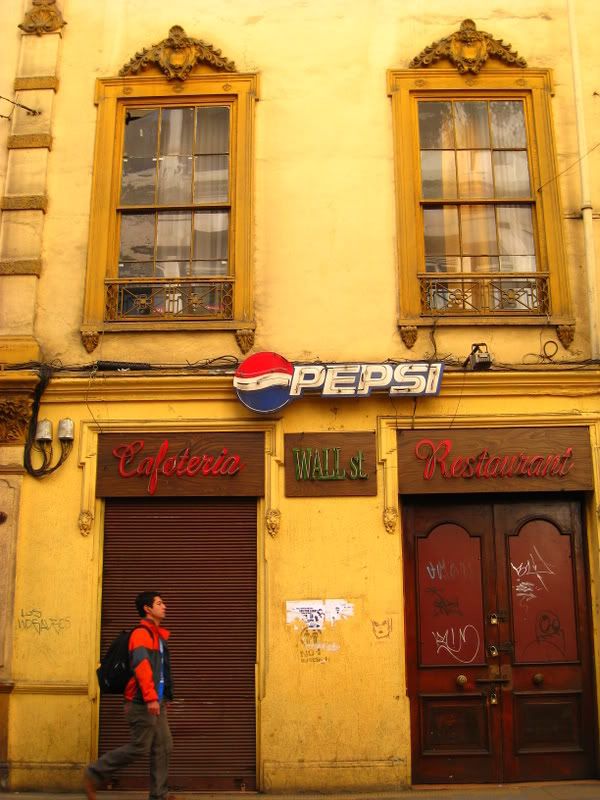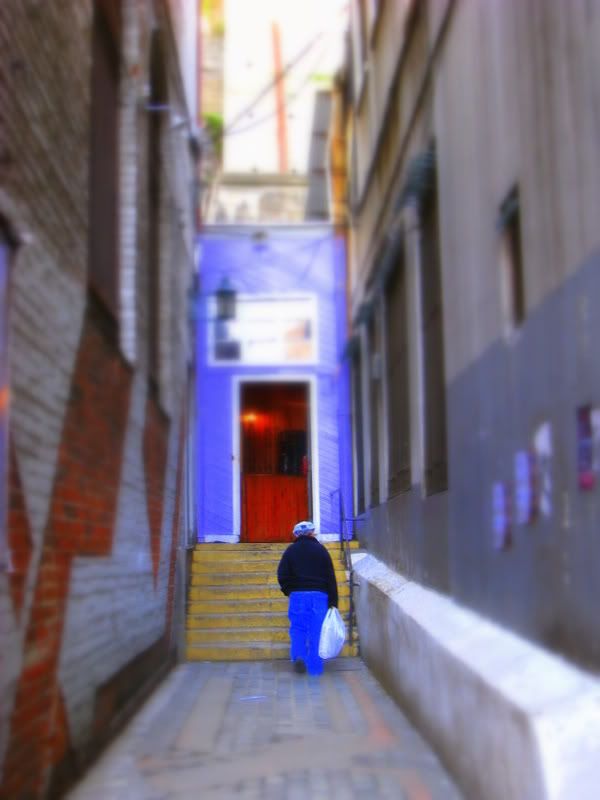 (Forget tourist restaurants … go to the Mercado Municipal and have lunch at one of the many local eatiers … my Chilean friends and I went here … and had this man come and sing … one of my local friends has a great voice and joined in a great rendition of the song "Valparaiso")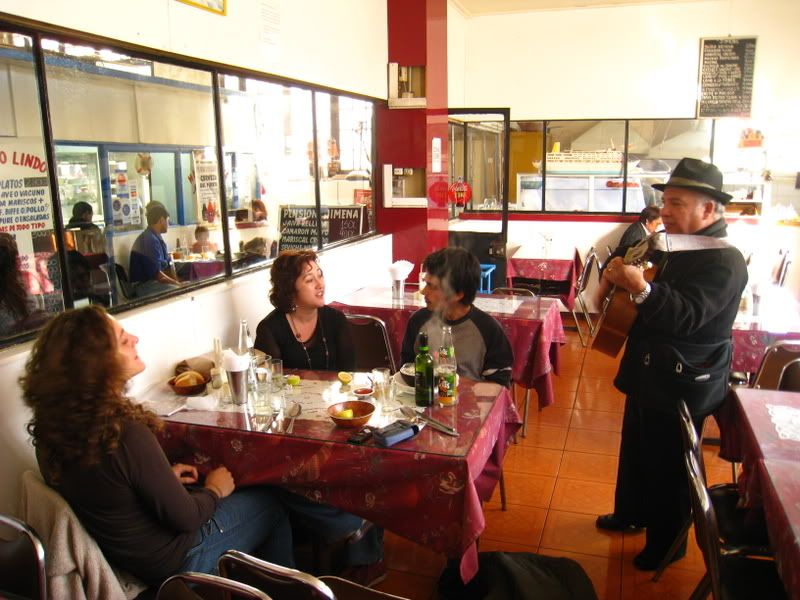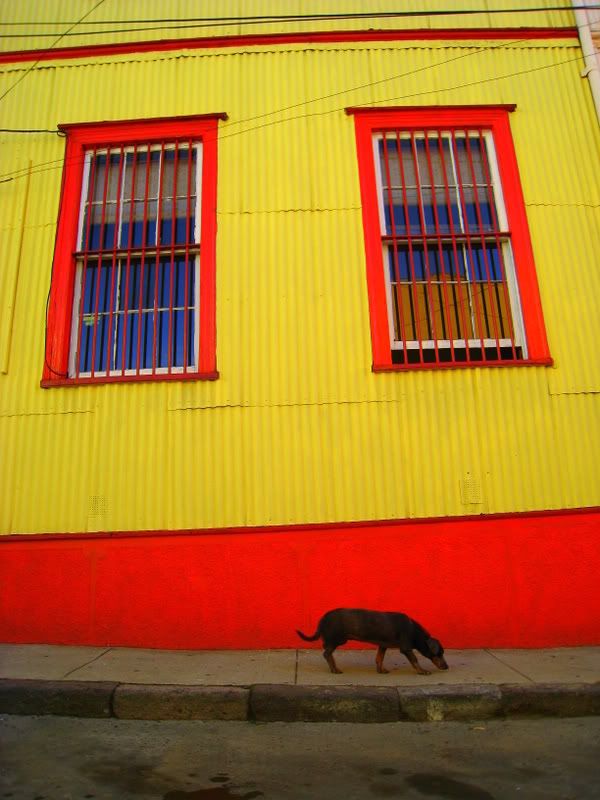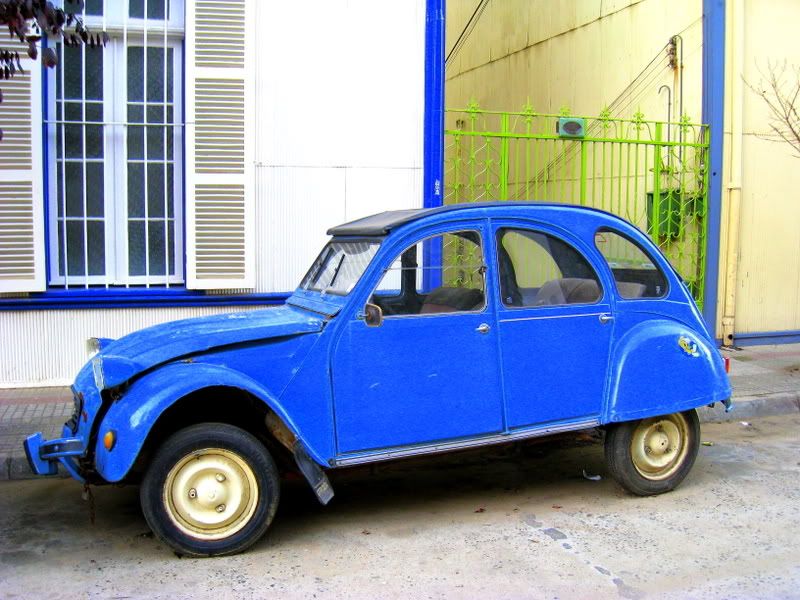 (Iquique town center)