Royal Jordanian
RJ183 - 10 August 2008
BKK-AMM - JY-AGN - Airbus A310-300
Seat: Business 1A
Departure time: 00:30
Arrival time: 05:00
View Large
View Medium


Photo © Olivier Corneloup
I arrived in Bangkok from Sydney on British Airways. The report about that flight is located here -
http://www.airliners.net/aviation-fo...ums/trip_reports/read.main/132072/
At Bangkok, I went to the oneworld transfer desk and waited in line for ages before being served. I was immediately directed to the person responsible for RJ - who had had no queue the entire time!
Anyway, I was issued with two boarding passes (BKK-AMM and AMM-BUD) along with an invitation to the Thai Airways lounge.
The guys from the last night had bought cigarettes, so we popped into one of the smoking rooms in the airport for a fag. The smoking rooms should be called choking rooms as the air quality is pretty bad. Anyway, we all got chatting to some German guy who was on his way home from Australia.
I said goodbye to the guys after they took my number, and toddled off to my departure gate after a quick peek at the shopping. No-one was waiting, meaning everyone had boarded, so I got on and sat down in 1A. Row 1 is the choice of those in the know on the RJ A310, as there is loads more legroom due to no seat being in front of you.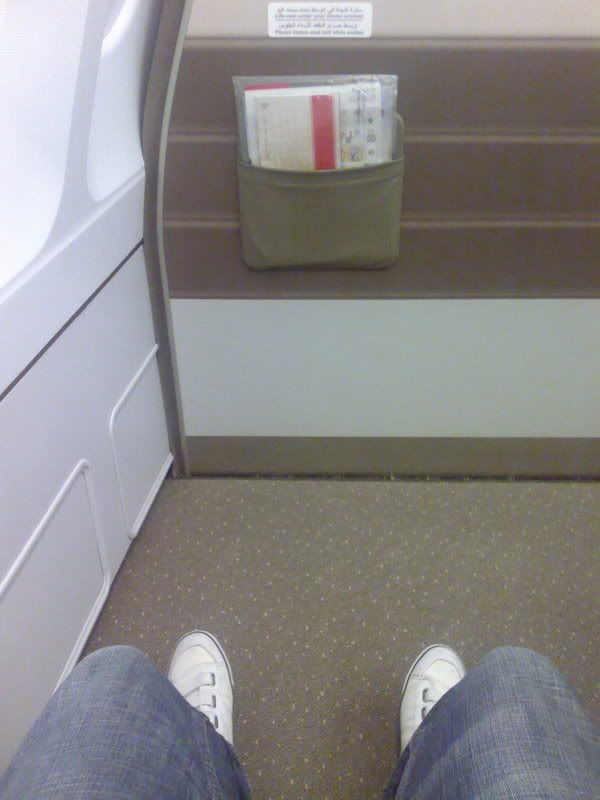 Looking across at the rest of the row...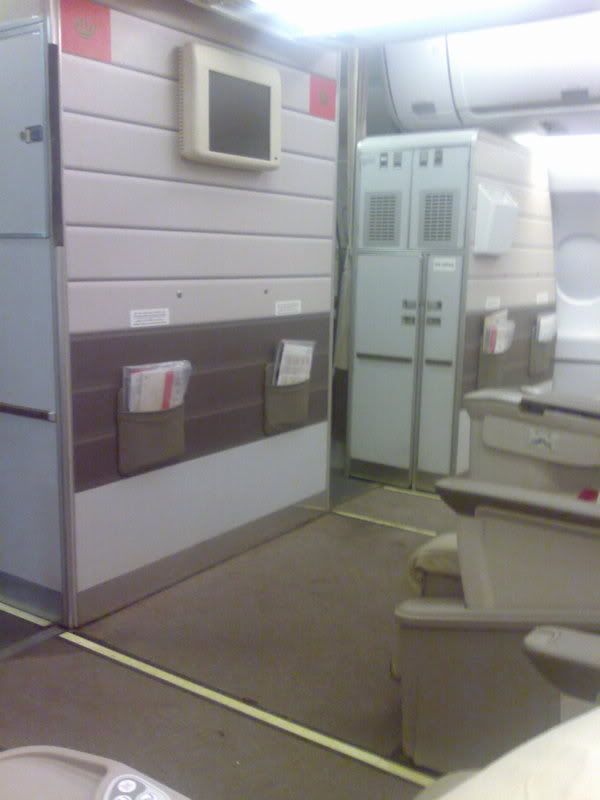 The load was light in Crown Class, probably about half full. The lead Flight Attendant came around with newspapers (I took a Jordan Times), as well as the pre-take off juice. I asked if I could take her picture (for the uniform) and I was told that it was not permitted. She was Jordanian, so she probably just didn't want her picture taken. We had the safety demonstration in Arabic and English, and we pushed back and were in the air on time.
The seat belt sign stayed on throughout service as there was a bit of turbulence about.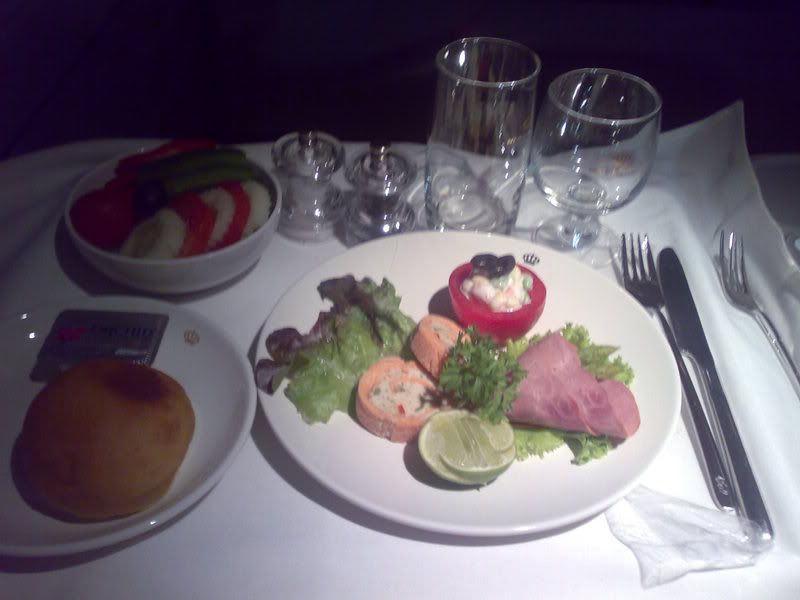 A lovely vegetable salad at the top. The flight attendant came around with two bowls - and I chose thousand island dressing which she dolloped on with a spoon. The rest of the starter was gloriously tasting, I have to say. Full marks as always for RJs food!
Next, we had the main course.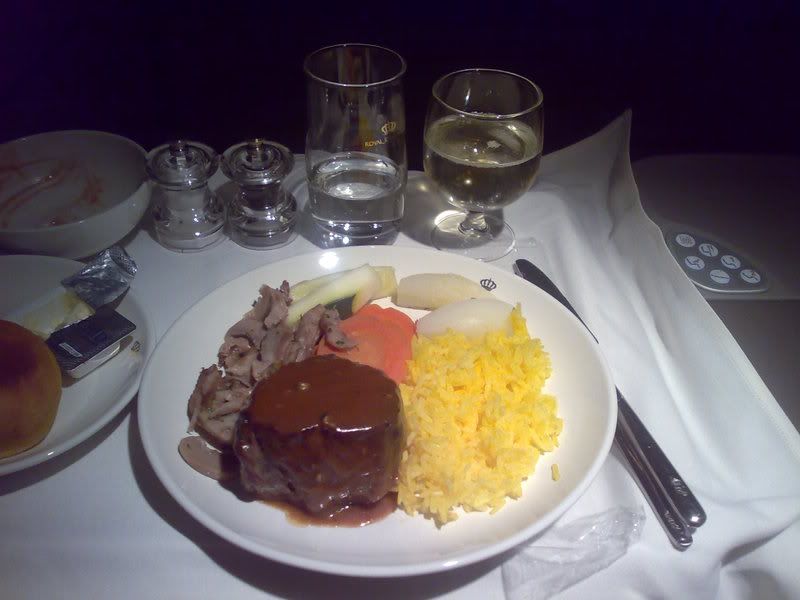 Gorgeous beef without an ounce of fat on it, mushrooms, vegetables, carrots and rice. The champagne was Moet.
By this time I was fading fast, so I hit the loo and put my seat into the angled flat sleeping position. The pillow issued was fat and didn't sag under the weight of my head, so I was quite pleased, and the blanket was comfortable. I do believe I actually slept, because I missed the handing out of the portable PTV units.
I awoke much later and peeped out the window to an astonishing view. We were flying right down the Persian Gulf at 34,000 feet and visibility was amazing! I spotted Bahrain, and then later took this mobile phone camera shot of some of Saudi Arabia.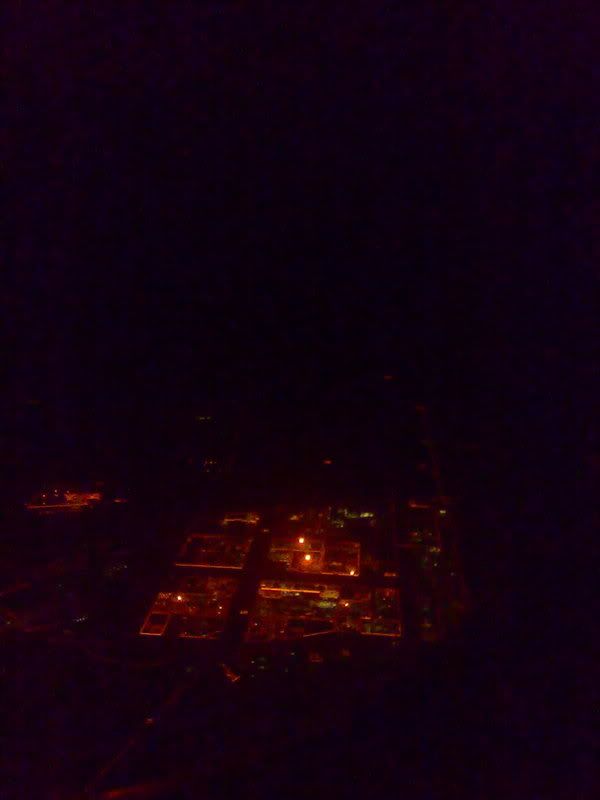 I asked for some water, received it, and then lay back for a little while as I knew breakfast would be served shortly. I wasn't wrong -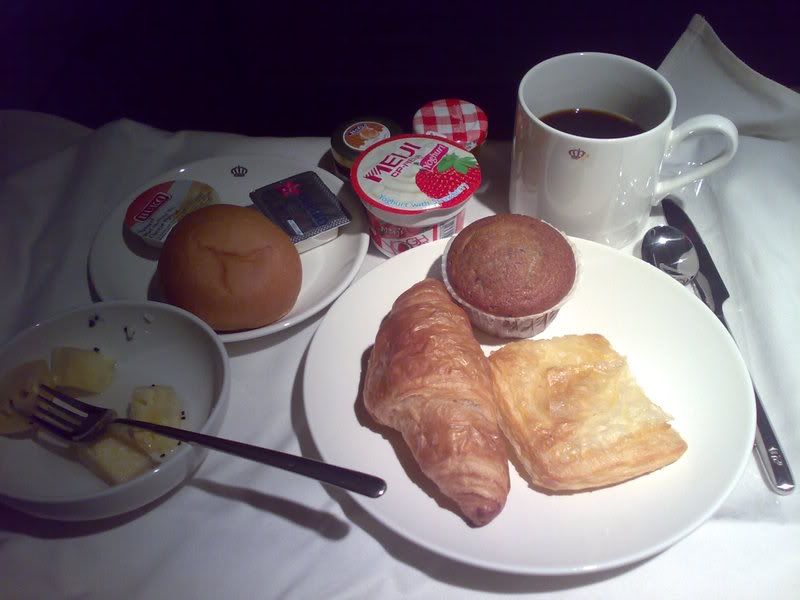 I didn't eat much of it as I was pretty stuffed from all the food I had thrown down only 6 hours earlier.
I visited the toilet and some of the blue loo stuff was all over the floor, and I was in socks and not particularly pleased about that! Everything was collected and the passengers were issued their Crown Class present. We began our descent to land in Amman, and landed on time early in the morning.
I'm presently ensconded in the RJ lounge waiting for my next flight as I write these words. The RJ flight was excellent as usual, though I thought the cabin crew could have been friendlier. It was the first time I'd encountered RJ crew who were not super friendly. Don't get me wrong, they weren't surly or anything, they seemed to just be phoning it in rather than any enthusiasm.
Anyway, I hope you enjoyed the report - short and sweet as it was