BCN-MAD-ZRH-MUC: Air Europa Shuttle Meets Swiss Quality
Intro
Air Europa's 737-800, Swiss' A320 and Swiss European's Avro RJ100 are in the focus of this report - completing the coverage about my latest trip to Spain. All those who want to read about the background of this trip or have missed part one (Spanair MD-87 & Vueling A320) simply need to click here:
MUC-MAD-BCN: Star MD-87 & The Pain Of Vueling
Sunday, 13 July 2008
Barcelona (BCN) - Madrid (MAD)
Air Europa, UX2153
09:15-10:30 (09:24-10:40)
Flying time: 00:54 (hrs)

Boeing 737-883
EC-IXO (s/n 634), first delivered to SAS in 08/2000 as SE-DTN
Seat 30F
Former appearances as LN-RPO and EI-CXP:
Quick Check-in
In less than three minutes after entering the terminal it was clear the two Air Europa check-in kiosks were out of order, so I had no choice but to line up in queue. However, waiting time was minimal and a friendly female agent welcomed me at the counter. She willingly accepted my request for the second last row and handed the boarding pass to me.
I passed security, bought something for breakfast and went to my (bus) gate. Boarding was started about 40 minutes prior to departure. Even though the bus was already well filled, it didn't move. Again and again passengers showed up and tried to enter - in the end we were packed as sardines when the driver finally hit the road. And it wasn't just cramped - several pax had apparently eaten garlic on the day before. What a disgusting bus ride...
Some minutes later the bus stopped next to
EC-IXO
, a former SAS plane, plastered with large Vodafone markings: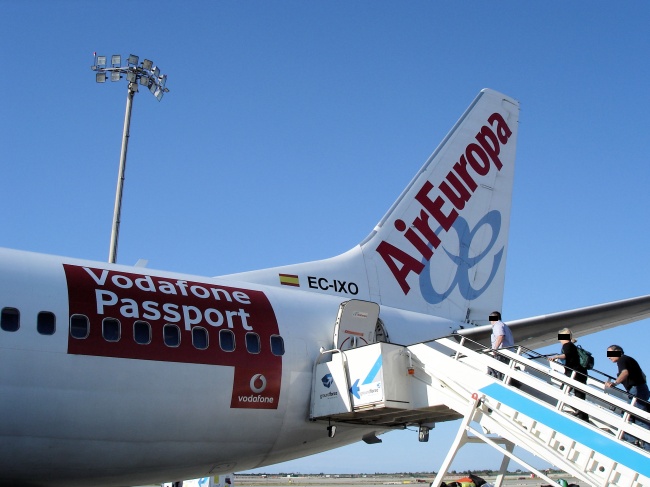 Cabin Comfort
After being welcomed by a friendly FA I sat down in row 30. The cabin is equipped with slate blue leather seats which are quite comfortable.
Although the seats don't belong to the latest generation of slimline models...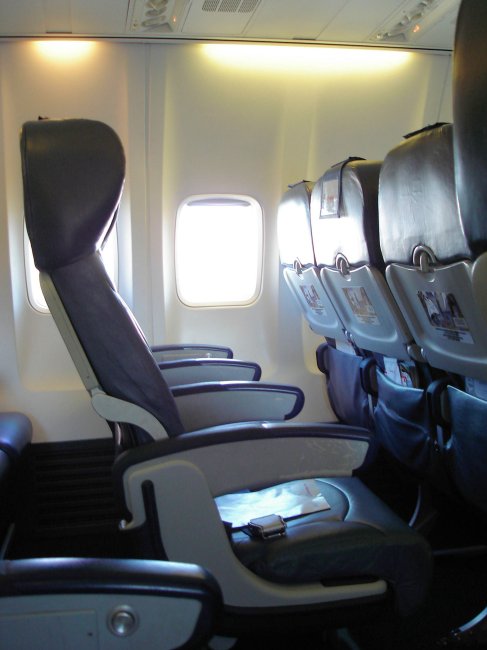 ...pitch is sufficient. While the cabin appeared to be clean in general, my seatback was a bit dirty. The same goes for the windows - which made it more difficult to take pictures.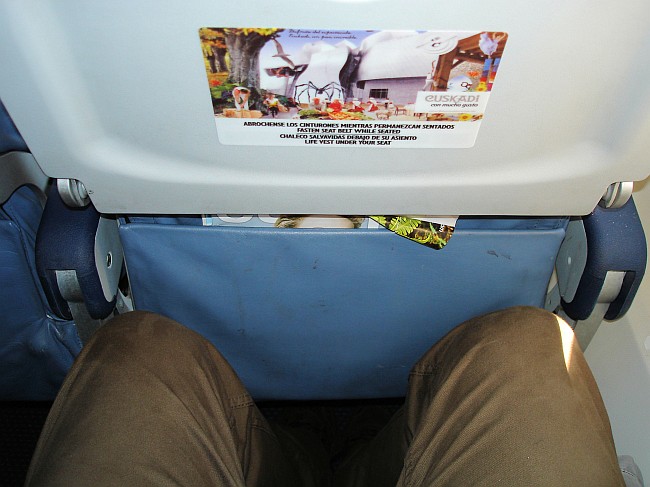 Just as I assumed boarding would be completed, another bus load of passengers entered the cabin. In the end the load factor was in the 75 percent range, but the two seats next to me remained empty. EC-IXO was not equipped with foldout screens - but it's an ex-SAS plane, so I don't know about the factory new models in the UX fleet.
Departure
We left the gate a bit late and finally entered runway 25L for a powerful takeoff.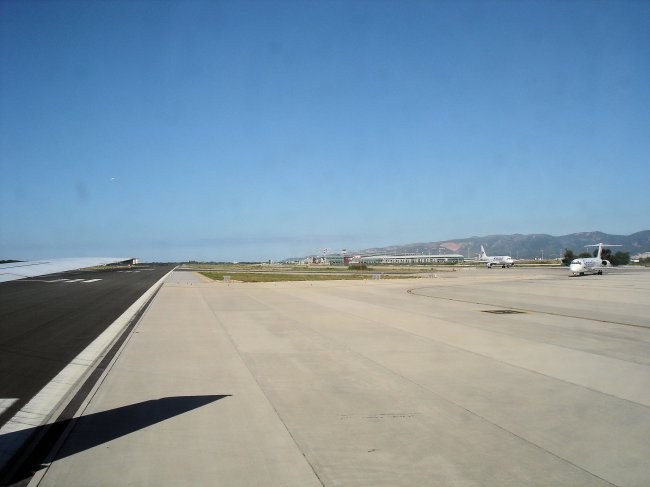 BCN's ATC tower...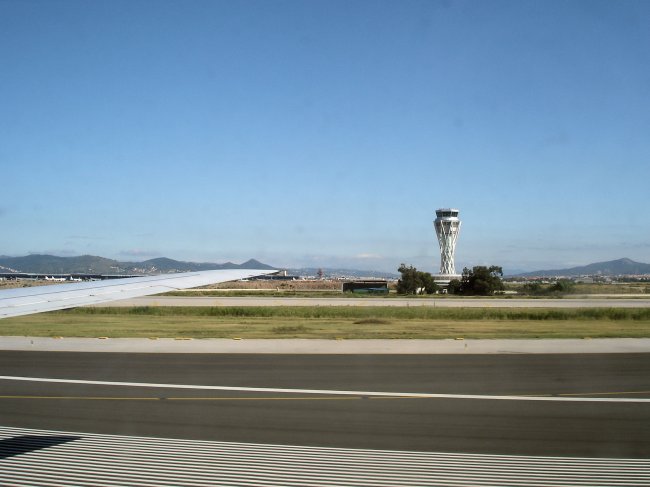 ...and the new terminal: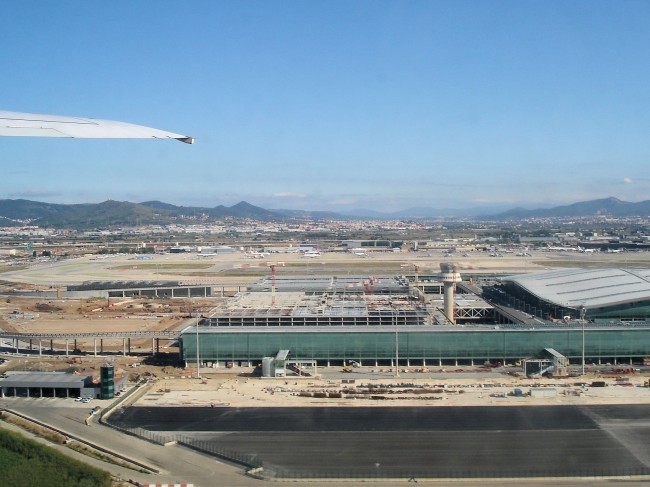 We climbed out over the Mediterranean Sea and then turned right.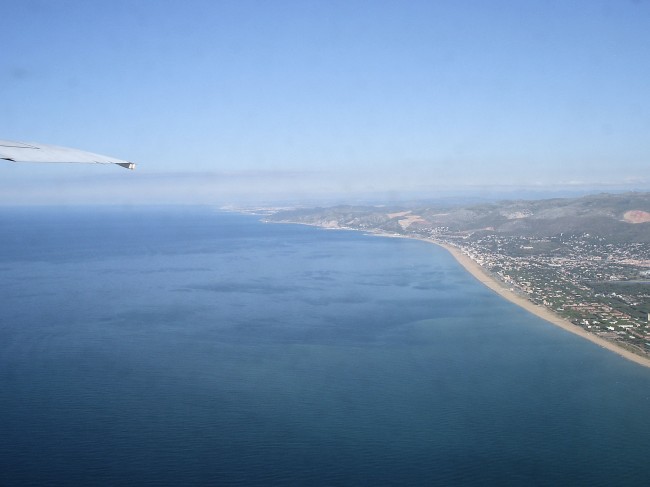 Just like numerous carriers in these days, Air Europa offers snacks and drinks for sale, at mostly reasonable prices. However, shortly after having had breakfast, I didn't order anything. The remaining flight was uneventful, time for landing: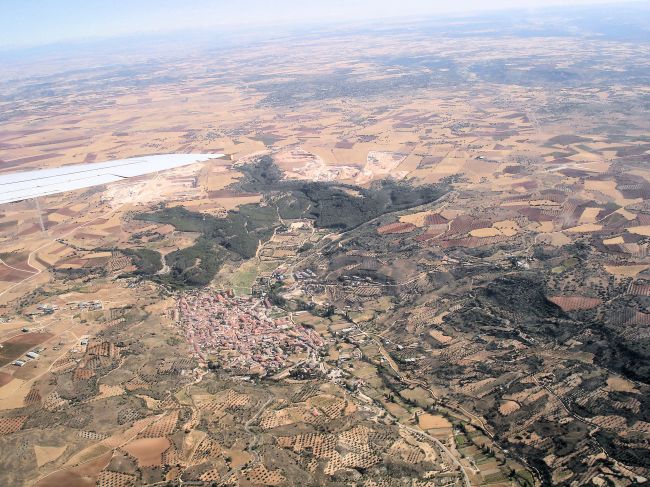 Ten minutes behind schedule we stopped at the gate at Terminal 2. Now I had some 4,5 hours left before leaving again on Swiss - I decided to stay in this area for spotting for about two more hours.
Sunday, 13 July 2008
Madrid (MAD) - Zurich (ZRH)
Swiss, LX2027
15:20-17:30 (15:22-17:25)
Flying time: 01:42 (hrs)

Airbus A320-214
HB-IJP "Nollen 733m" (MSN 681), first delivered to Swissair in 05/1997
Seat 35F
Former appearance in Swissair colors:
View Large
View Medium


Photo © Andre Osterloh
Check-in Confusion
More than 2,5 hours prior to departure I left the gate area and went to the check-in area in Terminal 1. The hall was packed with travellers and I tried to get my boarding passes as soon as possible. First of all, I went straight to the Lufthansa check-in kiosks. I had a LH booking code which had also enabled me to check in online for the MUC-MAD flight operated by Spanair. However, this time the computer rejected my code - and then a friendly agent explained to me it wouldn't be possible to check in for Swiss flights at Madrid using LH booking codes.
So I proceeded to the Swiss check-in counters (as shown on the departures screen). There were two queues in front of the two counters and people were apparently being checked in. One screen showed a Norwegian logo (but a Norwegian flight had just departed), the other one showed the airport company's logo. However, a sign on the wall just behind the counters showed several Swiss flight numbers. And the two agents' uniforms contained red and white parts, so I assumed they would work for Swiss or at least Swissport and would check in for Swiss. However, after waiting for 10 minutes and finally presenting my ID, one of the agents behind the counters said something like
"no Swiss"
and other stuff - it took me a while to realize it was
"Jet2"
and
"Leeds"
. But there weren't any Jet2 signs anywhere, for whatever reason. Another agent then told me the Swiss check-in (at these counters) wouldn't open until two hours before departure. Wow, another 30 minutes to wait in a cramped and sticky area without enough seats...
In the end they started some 15 minutes earlier. The agent checked my ID and nodded when I asked her for window seats in the back of the planes on both flights. One minute later I got my boarding passes and spotted a seat in row 7 on the first one, and another low number on the second. I thought the agent had understood my request? I told her my preference for back rows again and finally got what I wanted...
I used the remaining time for spotting (35 new regs at MAD on that day) and finally walked to the gate - at the very end of Terminal 1. The windows in the gate area were dirty all over, so it was hard to take a somehow acceptable picture of
HB-IJP
: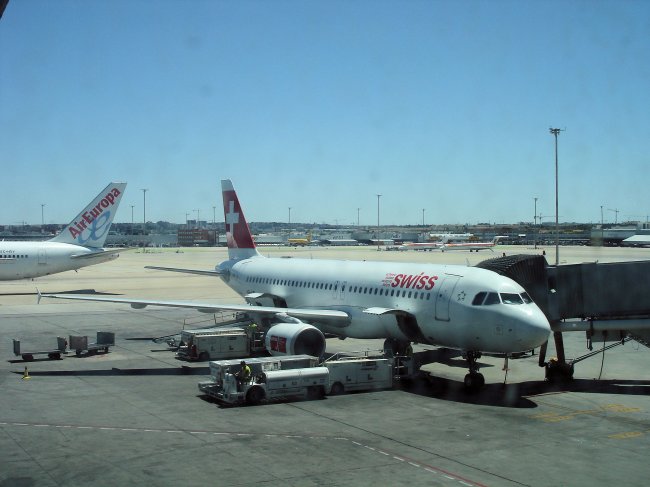 Cabin Comfort
After boarding started, a friendly female FA welcomed me at the door, one middle-aged male FA was a bit reserved. The cabin, equipped with dark slimline leather seats, was in perfect shape and spotlessly clean.
Since the gate had been crowded it was no surprise that the plane was apparently completely full (at least in Eco). Even the middle seat next to me was occupied this time. But the seats were comfortable and pitch was absolutely sufficient: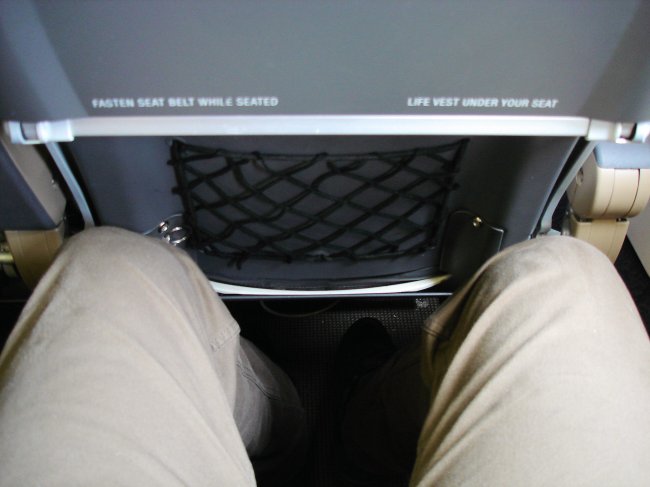 The cabin was also equipped with foldout video screens which showed the flight path most of the time, as well as some TV features.
Shaky Departure
We left the gate almost on time and taxied all across the airport to runway 36R, passing Air Comet A340-312 EC-KHU (ex-Air France).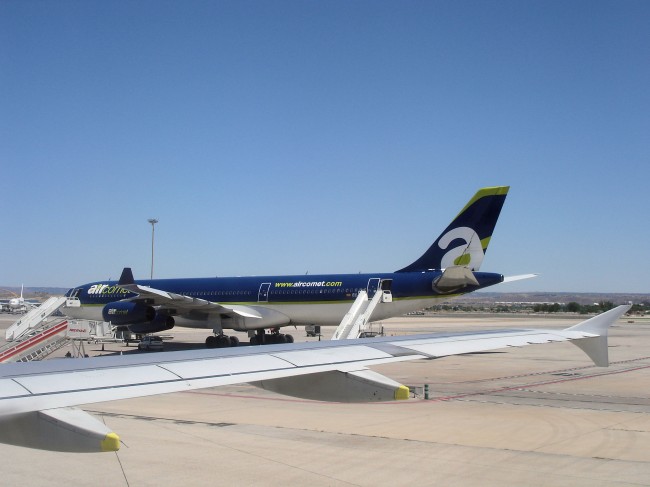 HB-IJP lifted off after a rather long takeoff roll and was immediately hit by turbulence - which some people in front of me seemed to be a bit surprised about.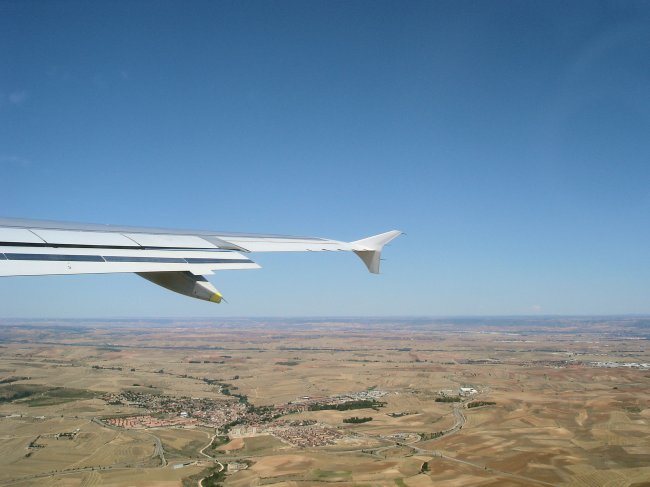 Snack & Drinks
Shortly after takeoff FAs began the preparations to serve snacks and drinks. A smell of baked goods was passing through the cabin and some minutes later we got a pastry made of ciabatta-like bread, filled with a mix of (non fatty) cream cheese and spinach - it tasted very good.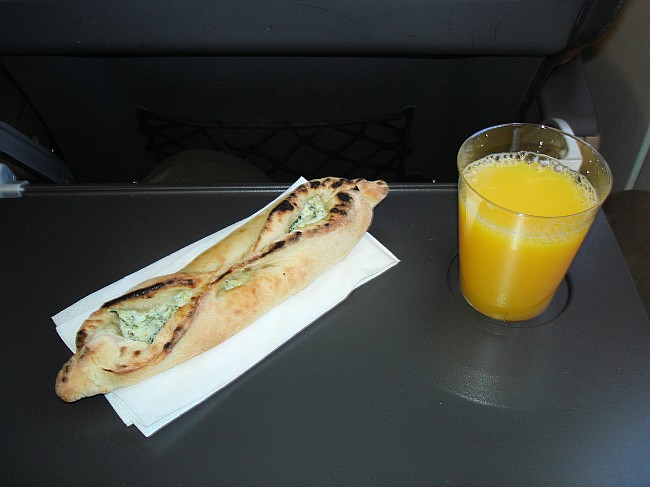 I ordered an orange juice and the friendly FA immediately asked me whether I also wanted a hot drink, coffee or tea. Later in the flight they also offered the famous Swiss chocolate bars.
Greetings from the Cockpit
After we had already entered Swiss airspace...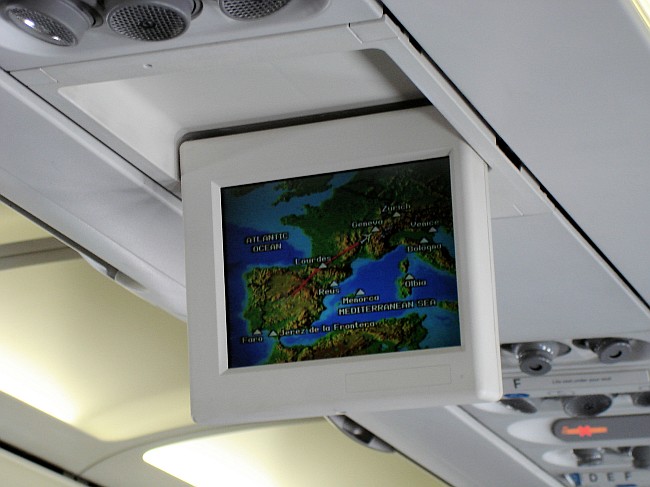 ...one of the pilots introduced himself (
"I am your pilot"
) on the speaker with a nice Swiss-German accent and informed us about some flight details and the remaining flying time. After his German speech he also addressed the passengers in English and French. Some 10 minutes later were already on approach...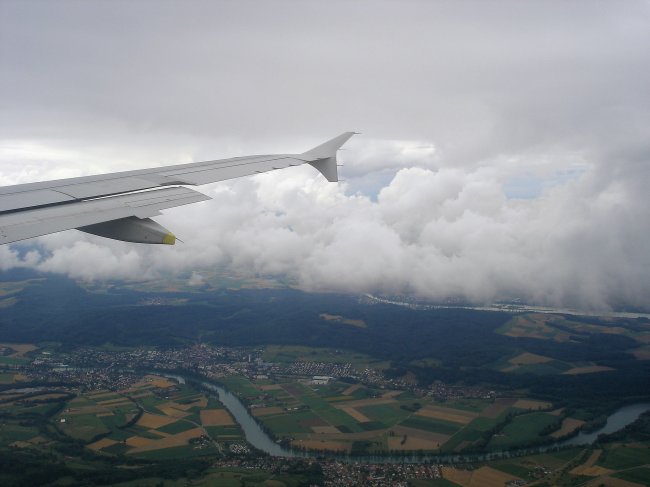 ...and touched down on runway 14. Belair 757 in Air Berlin colors: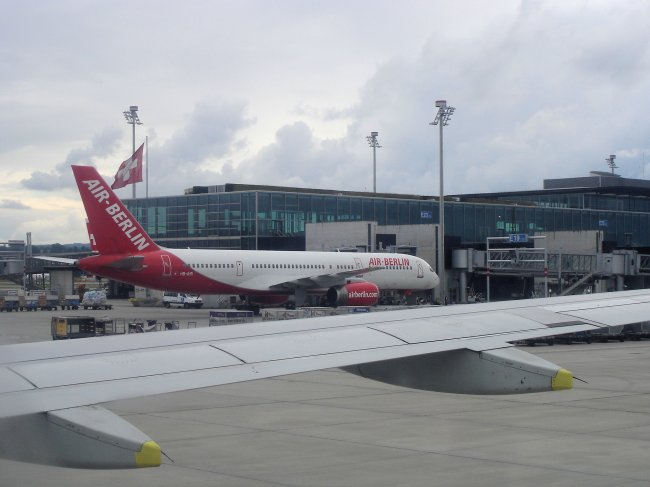 Sunday, 13 July 2008
Zurich (ZRH) - Munich (MUC)
Swiss European, LX1110
19:05-20:00 (19:00-19:54)
Flying time: 00:42 (hrs)

Avro RJ100
HB-IYZ "Tour d'Ai 2331m" (MSN 3338), first delivered to Crossair in 11/1998
Seat 19A
Former appearance in Crossair colors:
View Large
View Medium


Photo © Stefan Sjogren - Stockholm Arlanda Photography
Easy Transfer
Transferring at ZRH was very convenient - it took me only some 20 minutes to go to my gate. I took a seat and got a total of 16 new registrations during the relatively short period of time. Finally
HB-IYZ
turned in - good to see we wouldn't have to take a bus to the aircraft.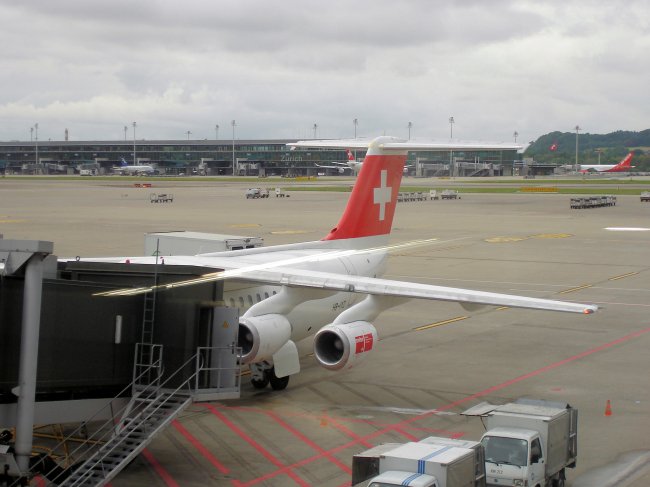 Cabin Comfort
Again friendly FAs welcomed me at the door. Just like on the A320, the cabin was equipped with dark slimline leather seats - and what's most important: Swiss European has installed a spacious 2-3 configuration, in contrast to the 3-3 layout on LH CityLine and Eurowings.
MyAviation.net photo:


Photo © Konstantin von Wedelstaedt
Seat pitch is absolutely sufficient. Additionally, there's plenty of shoulder space - and the left foot can be placed to the left of the seat frame.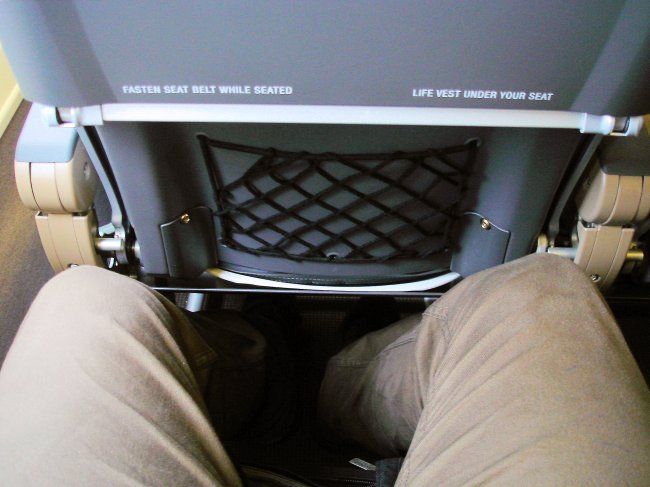 Even though a lady sat down on the aisle seat next to me, I didn't feel cramped. Overall seating comfort was better than on the A320. However, the air in the cabin wasn't the freshest...
Turbulence
HB-IYZ left the gate early at 19:00...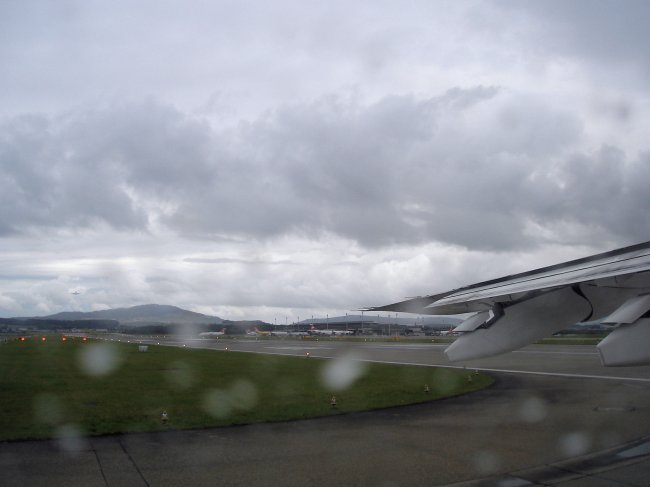 ...and took off powerfully only seven minutes later from runway 28. Left turn...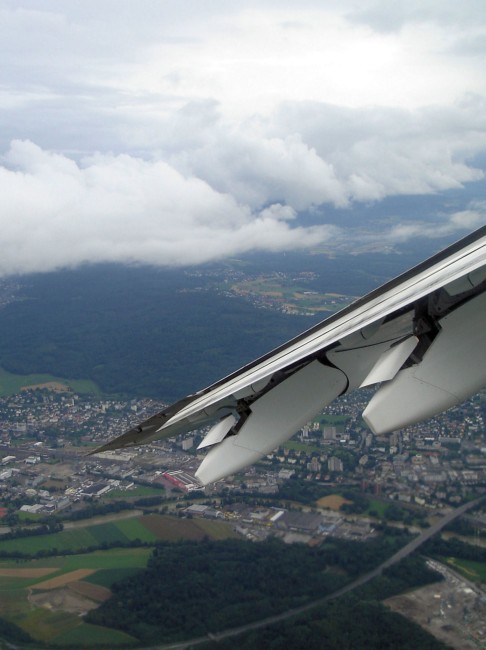 ...over Zurich's city center: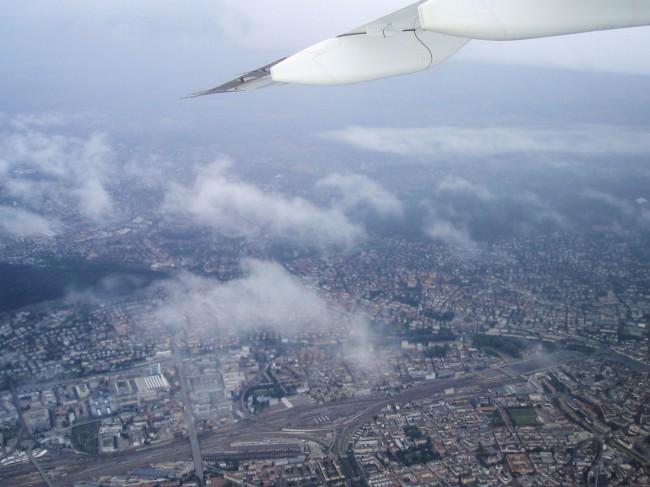 The flight has been shaky from the very beginning, but it was still possible to serve drinks. It's nice to get drinks on such a short hop, but the FAs' job is not an easy one. I ordered an orange juice while the lady next to me ordered water and a cup of coffee. Right after we had received the stuff, more intensive turbulences hit the plane and I quickly drank the juice. In contrast, the lady didn't show any intention to finish her coffee...so I was already preparing for a nasty spillage.
Luckily, it didn't happen in the end.
Some minutes later the FAs offered the Swiss chocolate bars - really a nice touch one could get used to. After approaching through a layer of thick clouds...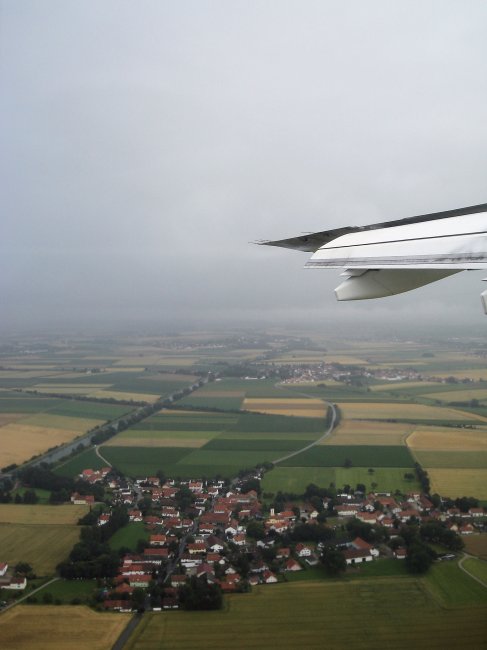 ...HB-IYZ touched down on MUC's runway 26L only 42 minutes after takeoff. We taxied around the southern end of Terminal 2 and stopped right in front of the building - but unlike at ZRH we had to walk through the rain to a bus. And the bus drove all the way up to the northern end of the Terminal building. At least I could get some more registrations during that journey...
Conclusion
Flying
Air Europa
was easy and convenient, check-in was fast, ground staff and FAs were friendly, seating comfort was sufficient. I wouldn't hesitate to try UX on longer routes, too. However, the website needs to be improved. The booking process can be confusing for non-Spanish speakers (I had switched to another travel agency's website for booking).
Flying
Swiss
was a pleasure - friendly FAs, good catering, clean cabins, comfortable seats. ZRH is a convenient airport for transfers - and definitely spotter-friendly. However, there's room for improvement in terms of check-in, at least at MAD. Anyway, I will definitely fly Swiss again, probably when the new A330-300s enter into service.
Best Regards,
PlaneHunter