Hello folks!
I've been on A.net for a while. I used to write loads of trip reports on another travel web-site, but this is my first attempt at writing one for airliners.net.
With the recent introduction of 'Open Skies' between the US and the EU, I decided it was time to take some non-rev trips. This report will cover two sectors – London Heathrow to Houston George Bush Intercontinental, and Newark Liberty International back to London Heathrow.
London Heathrow to Houston George Bush Intercontinental. (LHR-IAH)
Flight Number: CO33
Cabin: BusinessFirst
Seats: 1K/1L
STD: 0830 / ATD: 0821
STA: 1305 / ATA: 1255
Aircraft: Boeing 767-224ER
Registration: N69154
I had worked the night before, finishing at 11pm, so I figured I'd be able to get some decent sleep on this flight, as it's scheduled to take 10 hours and 35 minutes. My wife and I used CO's online check-in the day before, and received seats in Y class, 21D and 21F. I knew the load was light though, so I wasn't concerned about not getting J class.
We woke-up at 5am, and were in a cab to the airport by 6am, arriving at Heathrow Terminal 4 by 6.15am. After being asked to use the
Elite Access
line, we checked-in our two bags and proceeded airside. As we both had Priority Pass cards, we popped in to the KLM Hollideck, opposite gate 11. It's not the nicest of lounges, but does provide a quiet place for a couple of non-revs to rest in, whilst waiting to board an early departure.
Boarding was called at 0750hrs, so we had another quick coffee, then walked back to gate 21, where we were the last people to board, at 8.05am! The gate agent gave us new boarding passes for seats 1K and 1L on this 767-operated service. Hurrah!
We were warmly welcomed onboard by the ISM and a crew member at the aircraft door. As soon as we took our seats in the front row of the airplane, the crew descended upon us, offering pre-departure beverages, CO's new
Escents Aromatherapy
amenity kit, menu's and newspapers.
I seem to have mislaid the menu, but the photographs should hopefully do justice! Push-back commenced early at 0821hrs, and we managed to just push ahead of the Delta 767-300ER on gate 20, heading to JFK at 0830. We had a quick taxi out to runway 09R and after a very short take-off roll, we were airborne at 0840. Our route today took us due west along the M4 corridor, over Wales, across the southern tip of Ireland, across the North Atlantic, making land-fall over St John's, heading across to Windsor, Ontario; before making a left turn and heading south over Michigan, down to Texas and straight in to Houston Intercontinental.
The meal service started about 30 minutes after departure, with the aircraft en-route to an initial cruise altitude of 30,000 feet. I chose the beef/veal Chefs Selection. My wife had the pasta.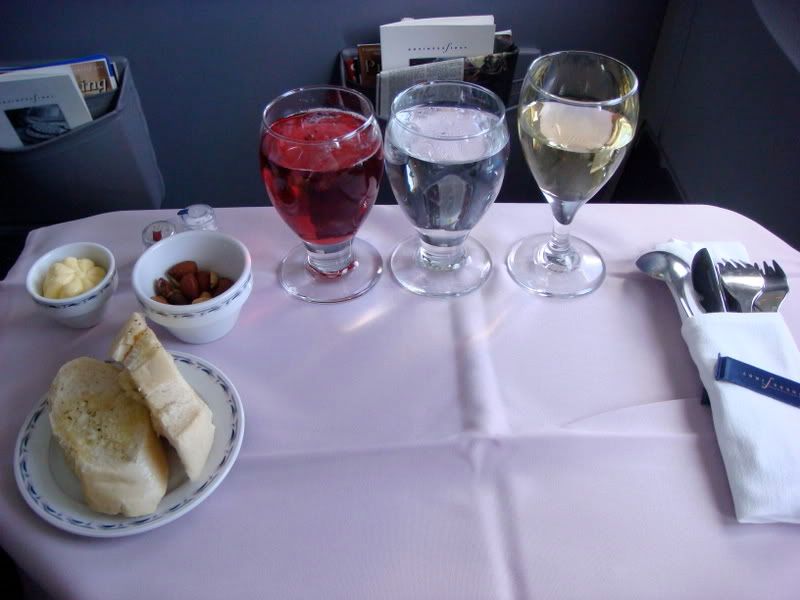 Cran-apple Cocktail, water, Chardonnay, garlic bread, warm mixed nuts.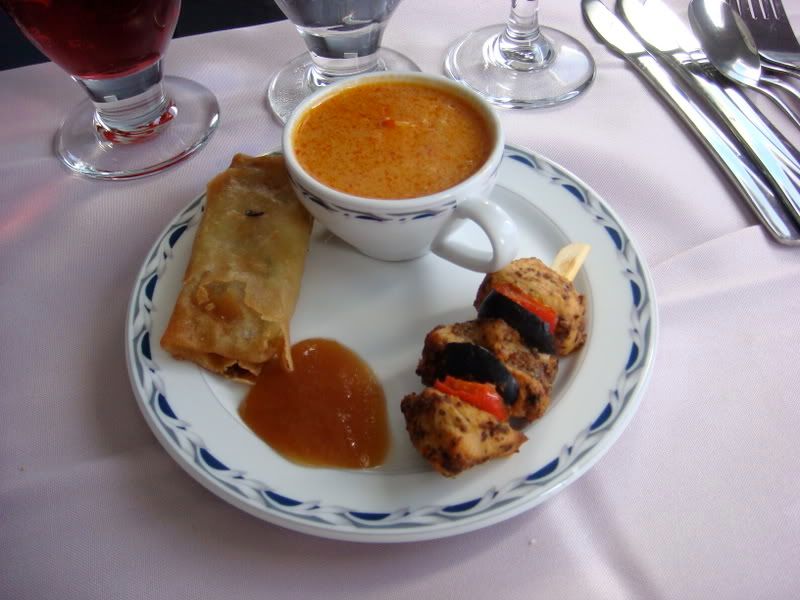 A demitasse of sweet chili soup with marinated shrimp, accompanied by a chicken breast, bell pepper and olive skewer and a vegetable spring roll with Asian-style sauce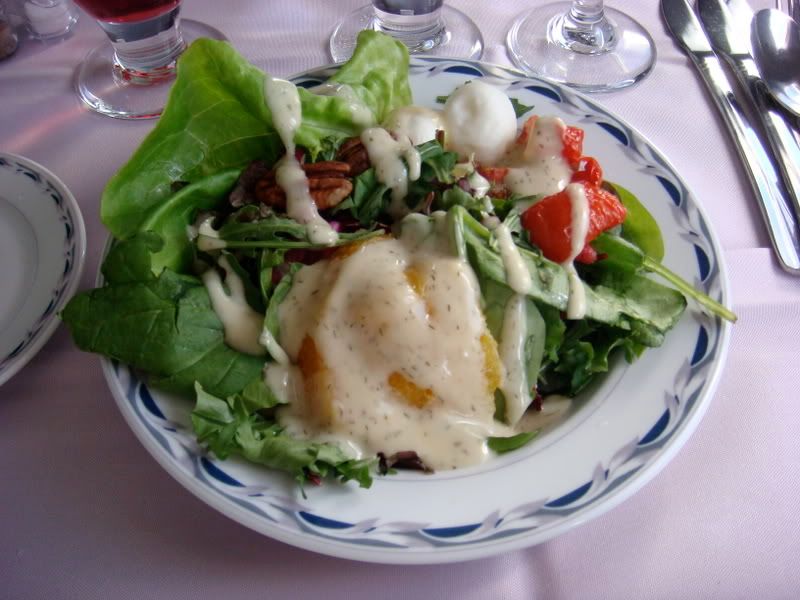 Mesclun salad mix tossed with sun-dried tomatoes, walnuts, orange segments and mozzarella cheese, with a creamy dill dressing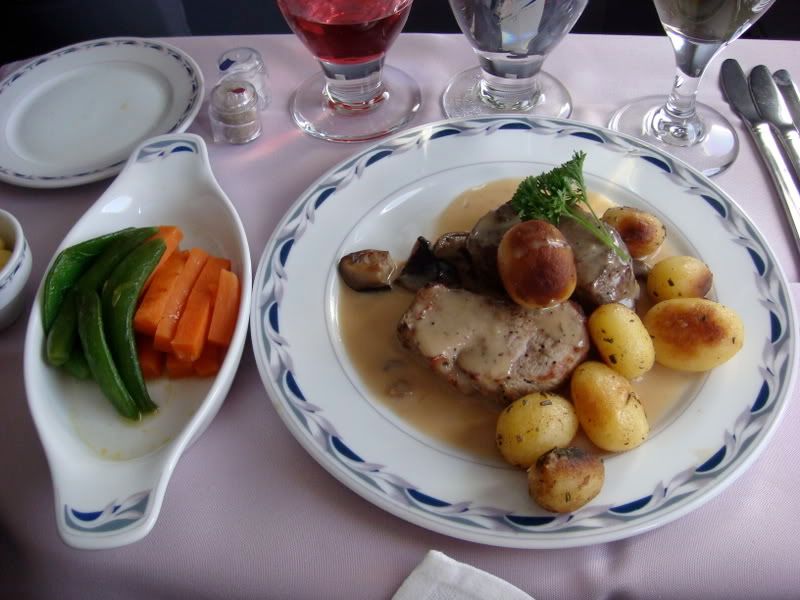 "The Chefs Selection" - Seared tenderloin fillets of veal and beef with porcini mushroom sauce, sautéed shiitake mushrooms and rosemary potatoes. A side dish of buttered carrot batons and sugar snap peas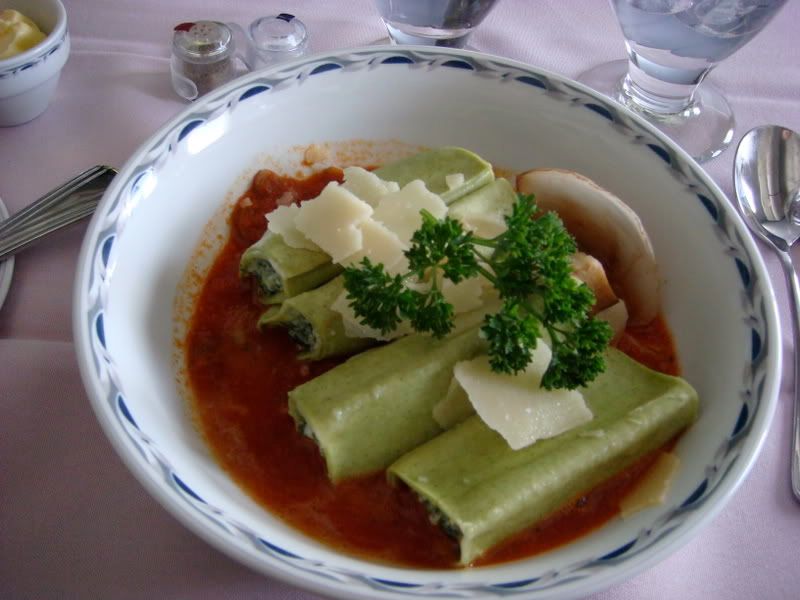 My wife's pasta dish - Cannelloni filled with ricotta cheese, artichoke hearts and spinach, accented by spring onions sautéed in balsamic vinegar and Murgese sauce, a fresh mushroom tomato sauce, accompanied by freshly grated Parmesan cheese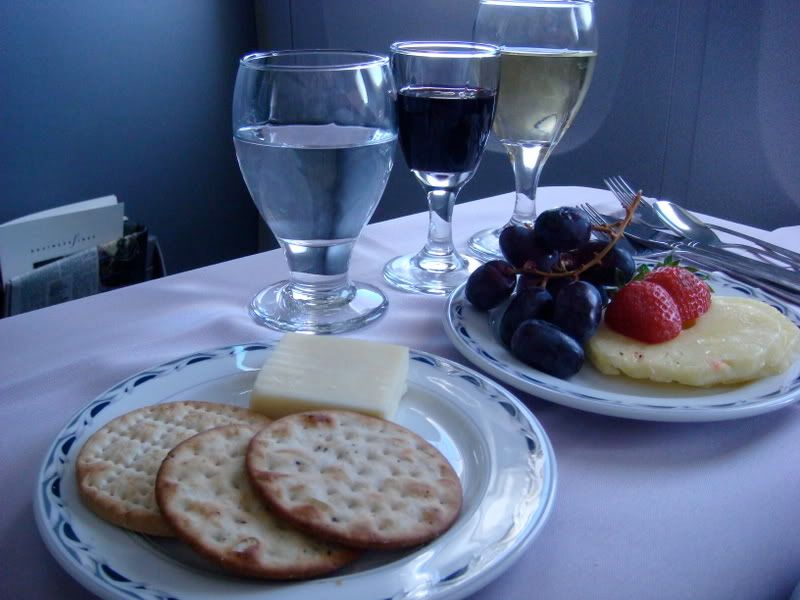 Fresh seasonal fruit, assorted gourmet crackers and rolls, served with Port wine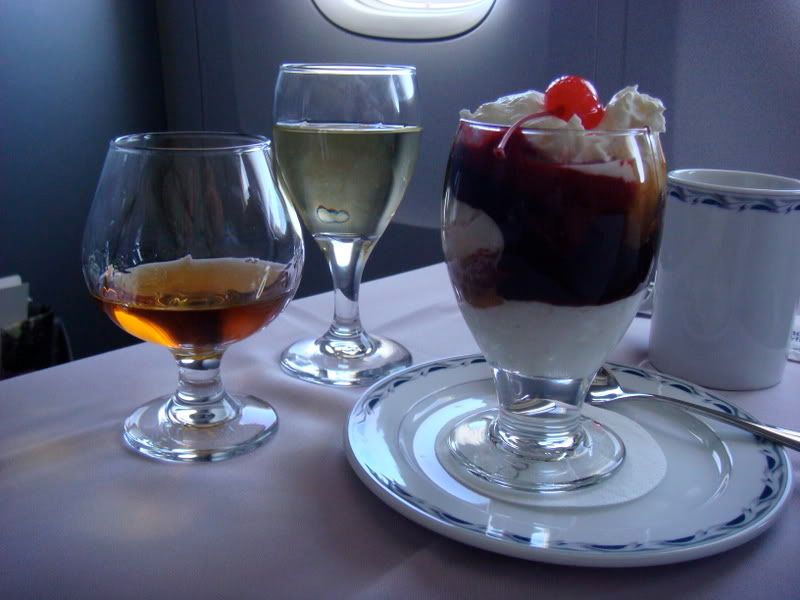 Vanilla Ice Cream Sundae, with hot fudge sauce, caramel sauce, whipped cream and a maraschino cherry on the top. Coffee, Chablis and a glass of Grand Marnier.
I was used to the meal service in BA Club World, having non-revved on BA for the last four years, so I was quite surprised at the amount of food they provide on Continental. Whilst the food is plentiful and the quality is top-notch, the design on the plates looks a little old-fashioned these days, what with swirls of pink and grey. I do like the food being individually plated in the galley and not served in casserole dishes, a la BA and AA in thier respective J-class products.
After the huge meal, we still had around 8 hours to go, so my wife and I settled back in our seats to watch some movies, read, listen to our iPods and generally kill time for the remainder of the flight.
Somewhere over Canada, I noticed the engines spool-up a little and we climbed up to 40,000 feet. Unfortunately, we could only manage a ground speed of less than 500mph, which makes for a long flight!
493mph at 40,000ft seems pretty slow...
We watched some movies, slept a while, chatted, slept, used the bathroom and did all the normal stuff that bored people do every day on long flights across the Atlantic!
Finally, 1 hour before departure, it was time for more food – aka – the pre-arrival snack.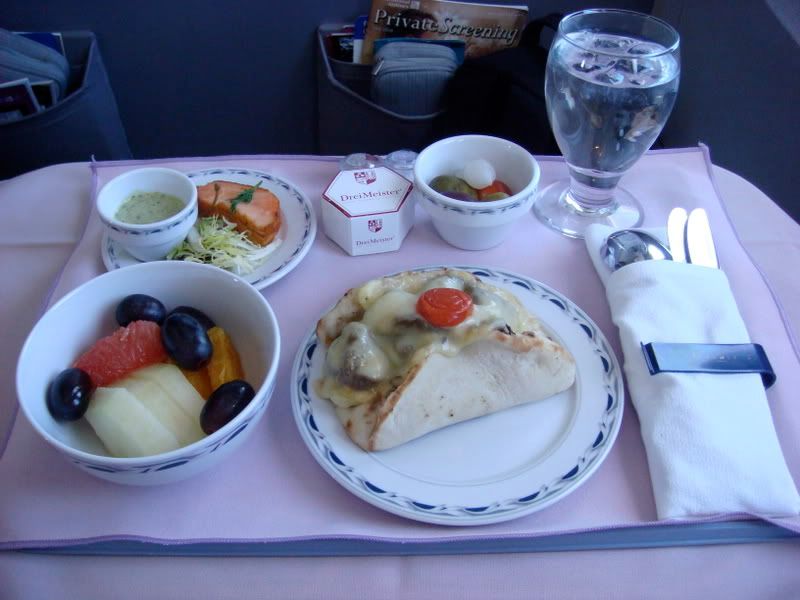 Hot-smoked salmon, with a creamy dill dipping sauce. A hot open sandwich, with beef tenderloin tips, sauteed onions, provolone cheese and a cherry tomato. Side garnish of a pickle, a baby onion, olive and cherry tomato. A selection of fresh fruit and chocolate.
The snack was really delicious – the dill dipping sauce perfectly complimented the hot-smoked salmon, and the hot sandwich was absolutely spot-on!
The crew left the 2nd meal service a bit late though – about 5 minutes after it was served, the nose of the airplane dropped and the flight deck announced that due to favourable winds, we would be landing in 40 minutes time.
We ate-up, then got ourselves ready for arrival into Houston. Touchdown was early, at 1243 local time, and we were on the gate (E4) at 1255 local, 10 minutes ahead of schedule.
For a first trip on CO, the service was spot-on. The seat, whilst not a flat-bed on the 767-200ER, is good enough for a daylight service. The width, at 21 inches, makes for a very comfortable seat, compared to BA Club World and AA Business Class. All-in-all, a great first CO non-rev experience!
Newark Liberty Airport to London Heathrow Airport. (EWR-LHR)
Flight Number: CO18
Cabin: BusinessFirst
Seats: 5K/5L (Moved to 1K/1L)
STD: 0900 / ATD: 0858
STA: 2115 / ATA: 2113
Aircraft: Boeing 767-224ER
Registration: N69154
This was to be our second ride on N69154, after a fun 6 day trip to Manhattan, staying at the gorgeous Waldorf=Astoria. We had checked-in the night before, via CO's online check-in, and stayed at the Marriott Newark Liberty the night before, due to the early departure time of CO18.
Upon arrival at Terminal C, we checked one of our carry-on bags in, due to the purchase of some liquids whilst in New York. The agent advised us to pass through the employee security line, which was much appreciated, due to the huge lines at the main security check-points. After running the TSA gauntlet, we made our way to gate C120, ready for boarding at 0820hrs. The gate agent was a bit moody, even more so when he spotted us chatting with the cabin crew. Still, he gave us 5K/5L up front, which was greatly appreciated. Two seats in the back row of BusinessFirst.
Upon boarding, the crew asked us if we'd like to move to 1K/1L, and so it was that we managed to sit in the same seats on the same airplane for the second time!
Push-back was bang-on time, and I noticed that we were parked next to ship 20, CO's newest 777-224ER. She was due to operate the Beijing service later that morning.
We pushed back 2 minutes early, and taxied out to the departure runway.
A view from seat 1L en-route to the active, with a company 757-200 about to land
We were airborne at 0910, and commenced a sharp right turn, to head across Manhattan.
Newark Liberty Airport, as we climbed through 5000 feet. The southern tip of Manhattan Island can be seen in the top-left of the picture.
Another shot of Liberty Airport, from a different angle. Notice the Verrazano suspension bridge in the distance.
Climbing over lady Liberty
JFK from 9000 feet
Brunch service commenced soon after take off. We were used to these seats and the service routine, so we pulled-out our tray-tables, ready for the crew to serve us an 'Early Lunch'. Very early, at half-past nine in the morning! Today, I chose the Brunch Entrée, whilst my wife chose the Halibut.
The start of lunch - Warm roasted nuts with your preferred cocktail or beverage
A demitasse of wild mushroom soup accompanied by cheese and spinach filled pastry and mini crab cake with savory rémoulade sauce
Mesclun salad mix and romaine lettuce with baby pear and pecans
Your choice of champagne vinaigrette or blue cheese dressing
brunch entree
Swiss cheese omelette with potato gratin, grilled smoked pork loin, turkey sausage, sautéed button mushrooms, French toast, syrup and warm croissants with butter and strawberry preserves
My wifes' Herb-crusted Halibut
With shellfish sauce, julienne squash, roasted carrots and parsnips and sautéed baby spinach
FRUIT AND CHEESE cart
Select American and imported cheeses, fresh seasonal fruit, assorted gourmet crackers and bread, served with Port wine
(I passed on the cheese and crackers)
Edy's Classic Grand vanilla ice cream with choice of toppings
Fresh Brew® gourmet roasted regular and decaffeinated coffee made exclusively for Continental Airlines
A selection of teas with your choice of milk or lemon
After our huge brunch, we settled down to get some sleep before arrival back home in London. You know you're tired when you don't even bother with the IFE, and simply put your iPod and noise-cancelling headset on and just 'veg' out for the rest of the trip!
Our route today took us over Manhattan, up to Boston, onward to Halifax, St Johns, then straight across the Atlantic, making landfall over south Wales, before heading down the M4, across to East London, before doing a 180-turn and heading down the Thames, before arrival on 27L.
Nearly home….
50 minutes before arrival into LHR, the second meal service was presented –
Pre-arrival Refreshment
Fresh seasonal fruit
smoked chicken piadina
Grilled Italian flatbread with sliced smoked chicken, grilled red and green bell peppers, onions, Mozzarella cheese and smoky provolone cheese sauce accompanied by a pickle, kalamata olive and cherry tomato
Chocolate
Fresh Brew® gourmet roasted regular and decaffeinated coffee made exclusively for Continental Airlines
A selection of teas with your choice of milk or lemon
The food in CO's BusinessFirst product is really decent. Massive portions, good presentation and the best thing is the really positive crew attitude at CO, which is like a breath of fresh air!
We touched down early on runway 27L at 2050hrs, but then had to hold for an Air Malta A320 to clear our stand, which was gate 21, as is often used for CO's night-stopping aircraft.
Finally, we arrived on chocks at 2113hrs, 2 minutes early. Good work CO!
After using IRIS to clear immigration, we picked-up our bag within 5 minutes and we were on the tube by 2130hrs. Not bad eh? 17 minutes from on-blocks to on-the-tube! We were back home in our apartment by 2200hrs. A right result!
Thanks for reading folks, I'll happily answer any questions!