Hello fellow A.nutters!
I'm finally back on the TR forum after nearly a month, this time i will be reporting my trip to the beautiful city of Prague this summer.
Purposes of the trip
Since a couple of years back me and my friend have wanted to go on a trip together, many times we have planned trips but nothing had really happened, i guess that the most reasons to that is because the times of the year weren't very suitable for him. This time we decided to go somewhere during the summer and because of this i shortened my stay in Morocco to three weeks instead of two months. Since i'm a very cheap person that hates to spend money on stuffs we decided to just go on a weekend trip to pretty much everywhere as long as the price was right. After looking around on several websites i found a reasonably priced three night stay+flight to Prague on Airtours.com, so we decided to book the trip the following day.
Pre flight
It was the 22th of July 2008, the day when i was finally going to Prague. Me and my friend had decided to meet at his home, so i went over to his place at around lunch time. We had lunch together and discussed the trip. After that we watched an episode of Curb Your Enthusiasm with Larry David, there simply is nothing that can beat that! After that we took our bikes and headed down to the train station where we took a train and then a bus to ARN. Since i had checked in online the day before we only had to check in his bag and pick up our boarding passes, after that we went trough security which was a breeze.
After security we went to an overpriced cafe, i decided to take the cheapest thing they got which was an espresso. A sandwich and a glass of wine there costed just as much as a day pass to the Menzies lounge!
My boarding pass for this segment.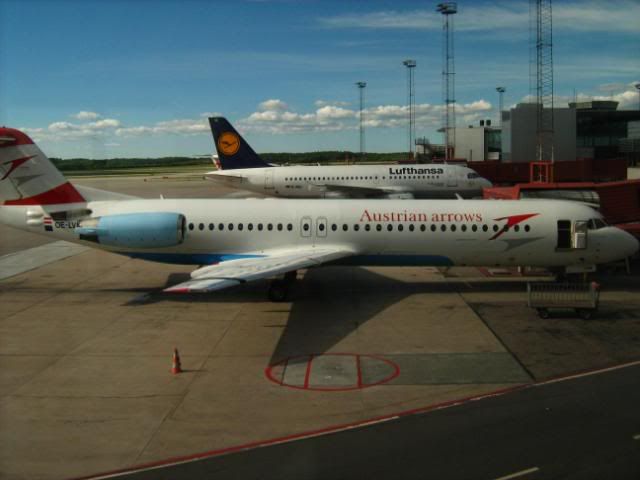 An OS F100 headed for VIE. At the moment i took this photo fellow a.nutter airbuseric was either chilling or being tortured by the poor quality of the Menzies lounge.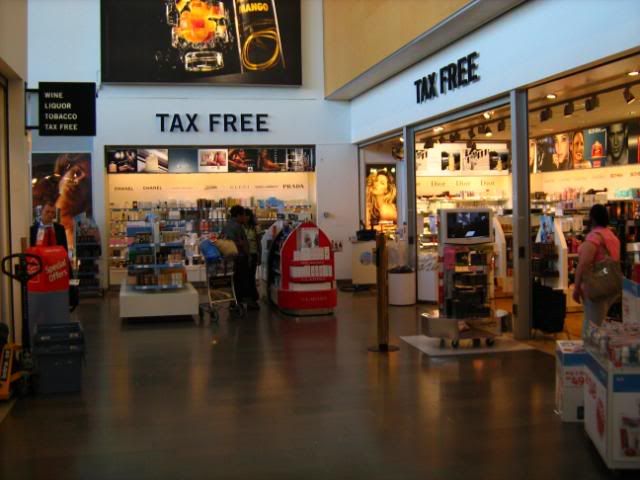 With still one hour to go before boarding we went around looking in the duty free shops.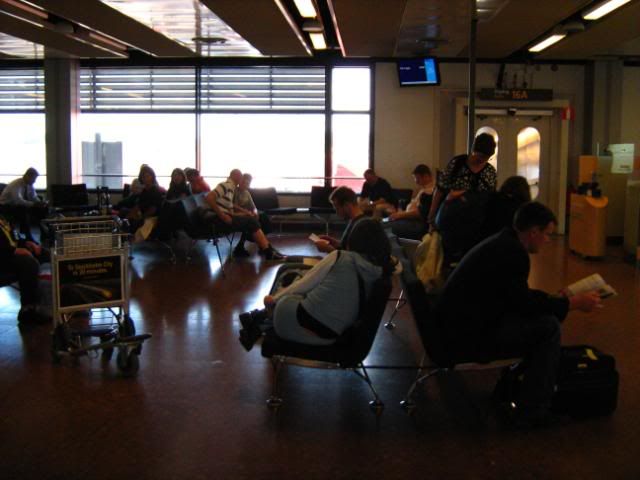 After that it was time for boarding.
Flight One
Flight: OK491 ARN-PRG
Date: 22th July 2008
Departure/boarding: 17.25/16.55
Arrival: 19.30
Seat: 5A Economy
Aircraft and reg: Boeing 737-55S OK-CGH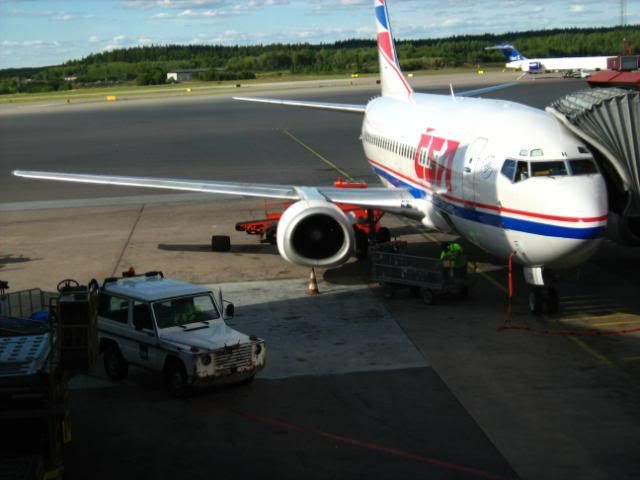 The plane that will be taking me to PRG today.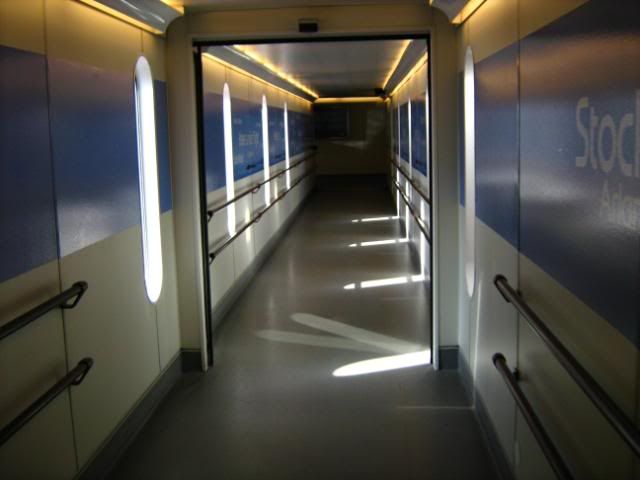 Walking down the jetway.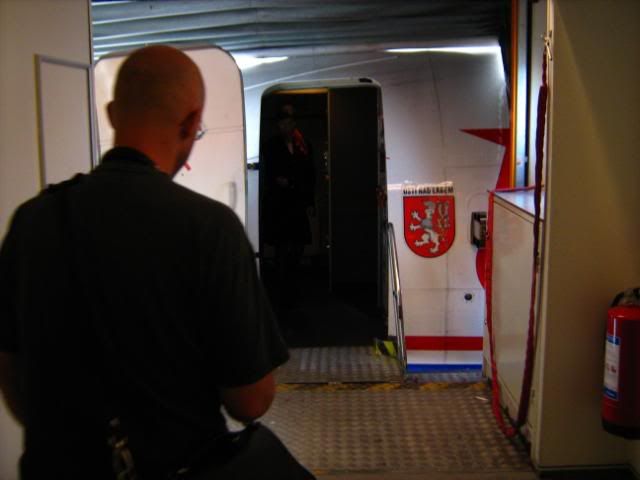 Entering the Aircraft.
When i entered the aircraft i didn't like what i saw. The plane looked and felt old and worn out. The crew where rather decent, i didn't like their cold eastern European reception, they just didn't seem as nice and friendly as on other airlines such as LH and SK. I had also read on their website about all the awards they had won and how good they claim they were. They also said that a hot meal will be served, i also saw on airlinemeals.net they they served full hot meals on flights between ARN and PRG, so my expectations were pretty high.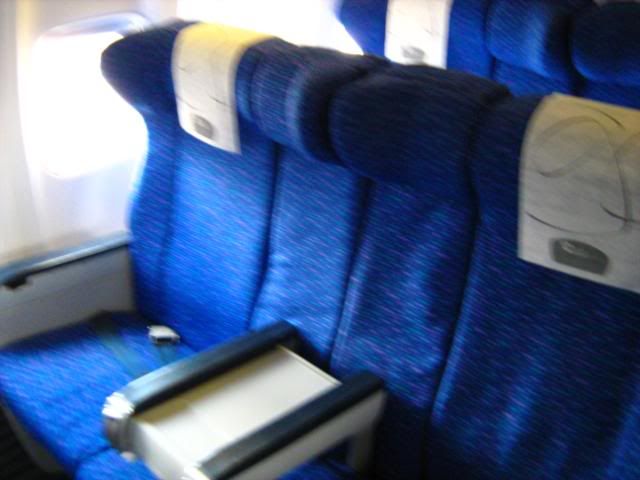 2-2 seating in business class.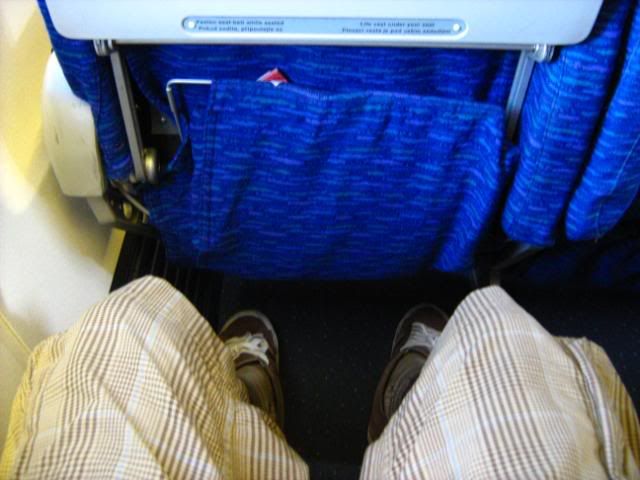 The legroom on the other hand was just amazing I've never experienced this much legroom on a flight before, as ridiculous as it may sound.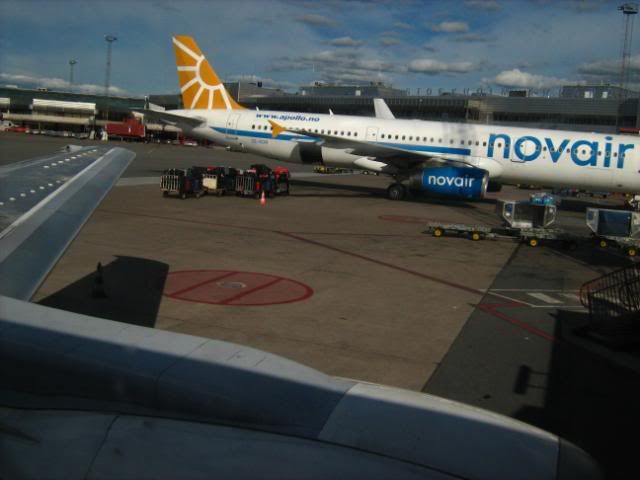 I have never really liked the windows on the 737, i hope that any future models will might have the same windows as on the T7, but i guess that's pretty unlikely. At this moment Airbuseric had just made himself comfy in the KLM 734.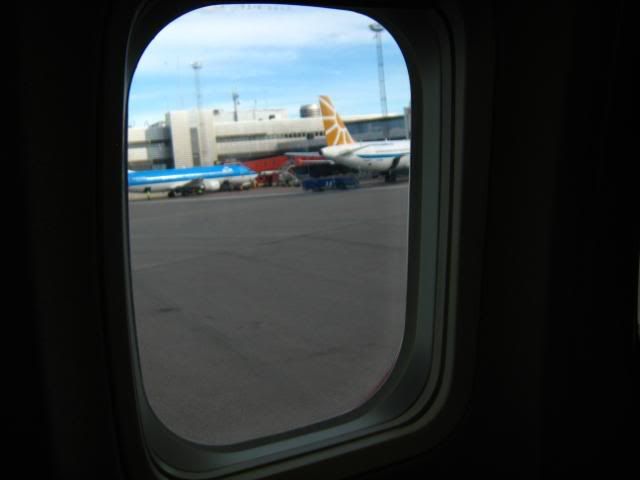 We departed 20 minutes ahead of schedule due to the light load.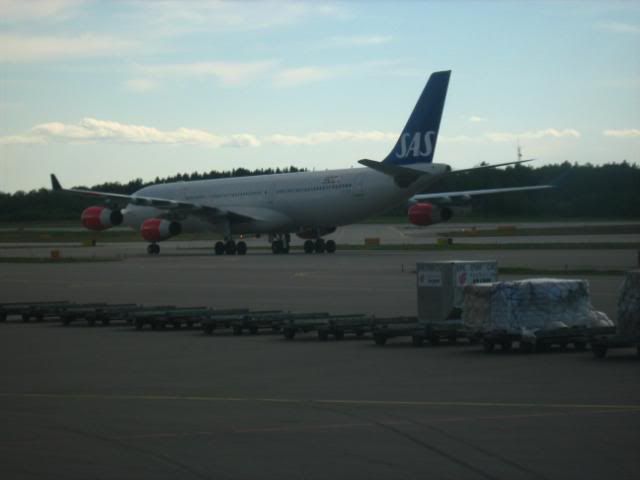 We taxied by CA's 763 and SK's A343 that had just arrived prom PEK.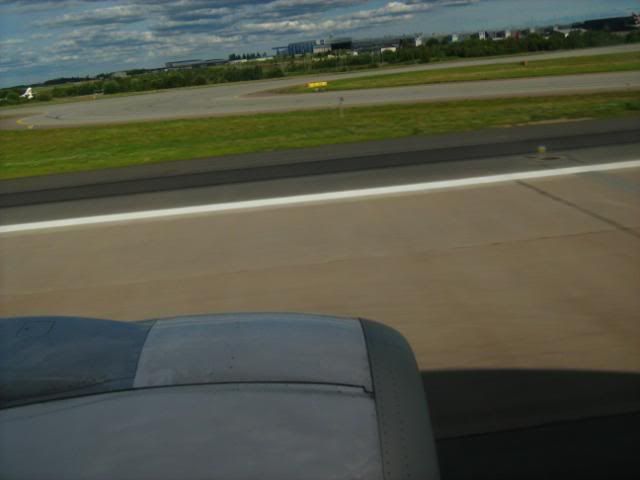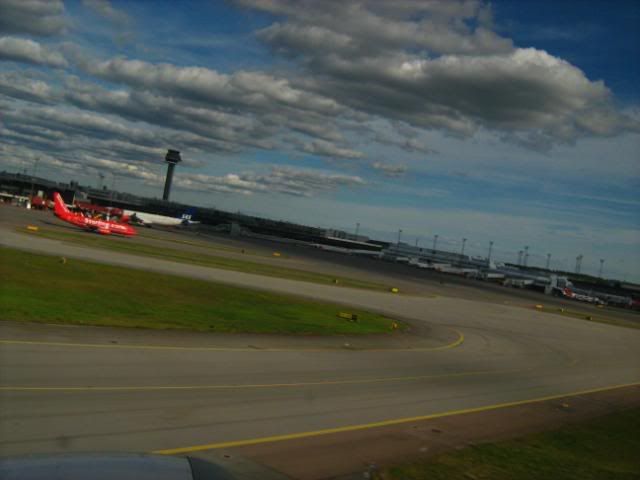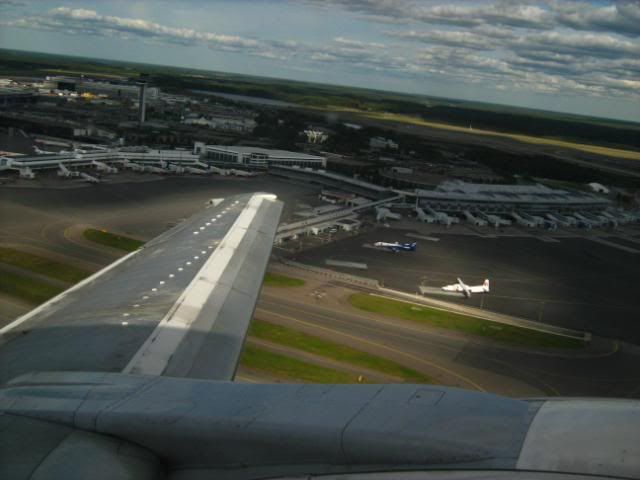 The takeoff today was very light and powerful.
The Stockholm Archipelago.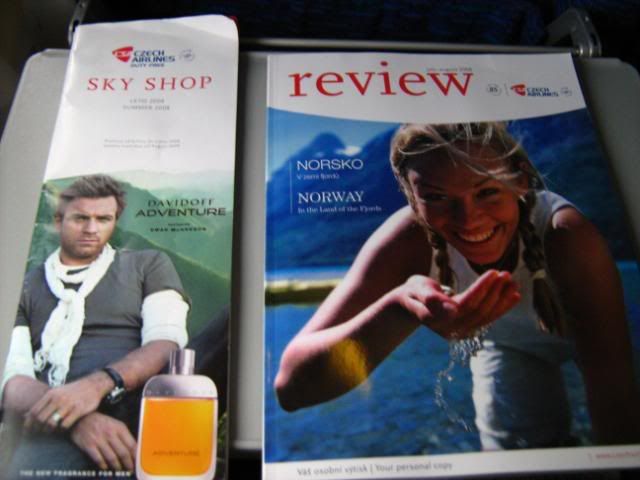 The so called "inflight entertainment" offered on this flight.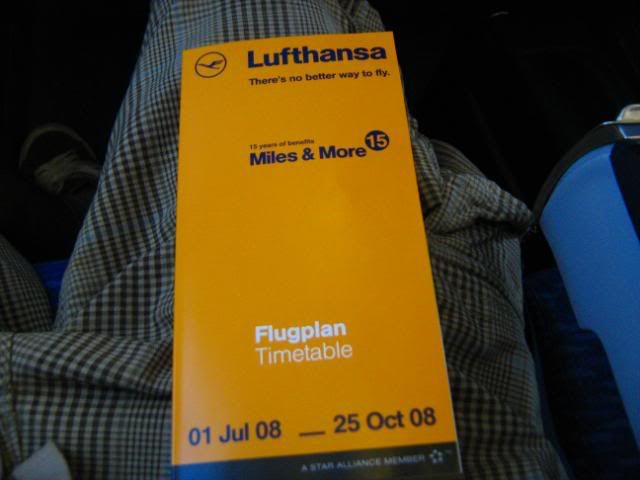 I decided to read this instead.
I could hear that the F/As were preparing the meals and as i turned to look back i could see them using the ovens, so a hot meal was pretty obvious to me in this case. A couple of minutes later the meal service started and this is what we got.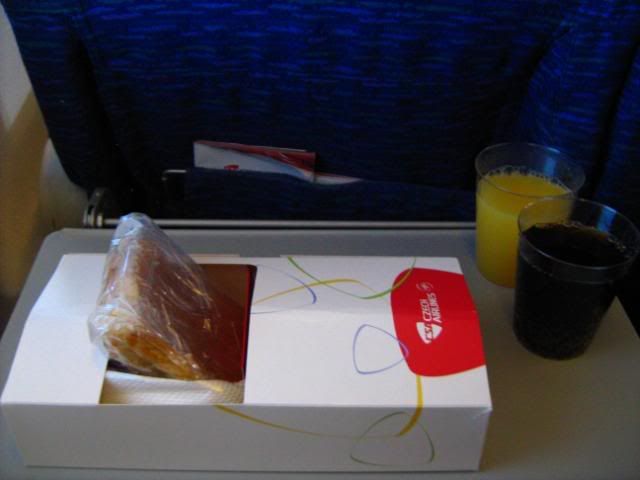 A snack box!? I was a bit disappointed,maybe because I've got so spoiled from flying so much with AF during the last couple of years.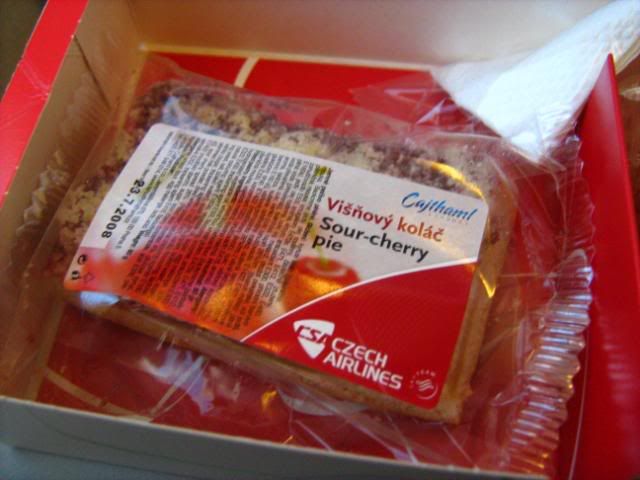 The snack box consisted of a tomato and mozzarella pasty and a sour cherry pie. The pasty wasn't nice at all, it didn't even taste like tomato and mozzarella, and just look how many chemicals that it was stuffed with. The cherry pie did also consist of 90% chemicals but it did at least taste like cherry pie, in fact it was quite tasty. My friend didn't like his pasty and he didn't even dear trying the pie so i got his pie too. The drinks provided weren't good at al, the coke was warm and had no bubbles in it and the OJ tasted like water.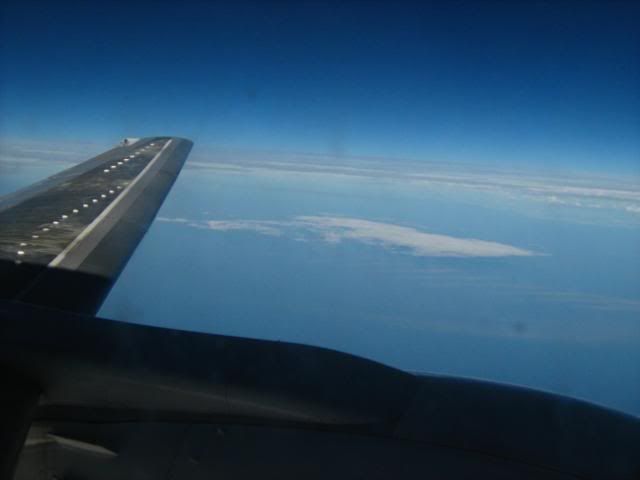 I spend the most of the rest of the flight looking out the window.
But as you all know i also had to make my "mandatory" visit to the lav. I was quite surprised to see the number amenities in this lav. I didn't have time looking that close at them before a f/a knocked on the door.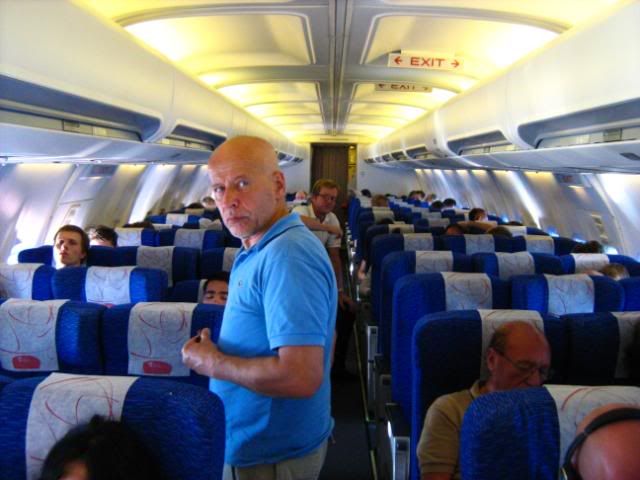 A view of the cabin. That guy didn't seem too happy about that.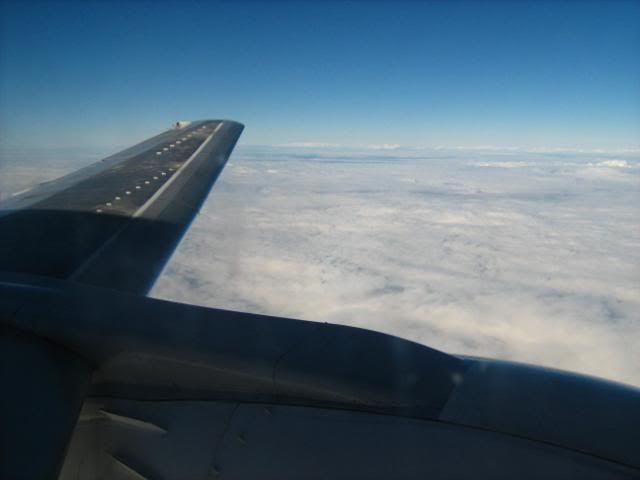 As i got back to my seat we started our decent.
Some pics from the decent and landing.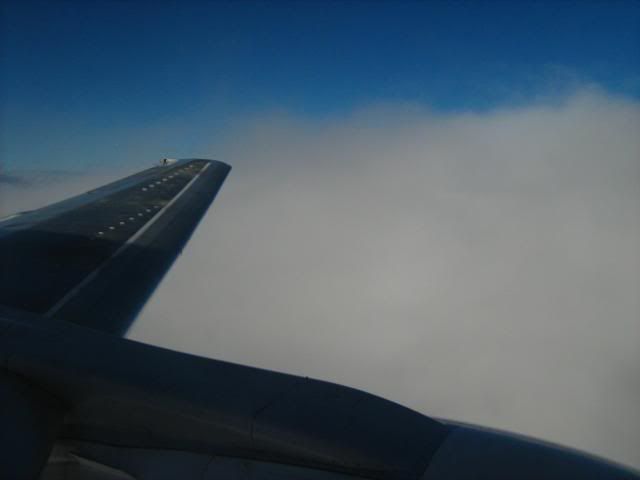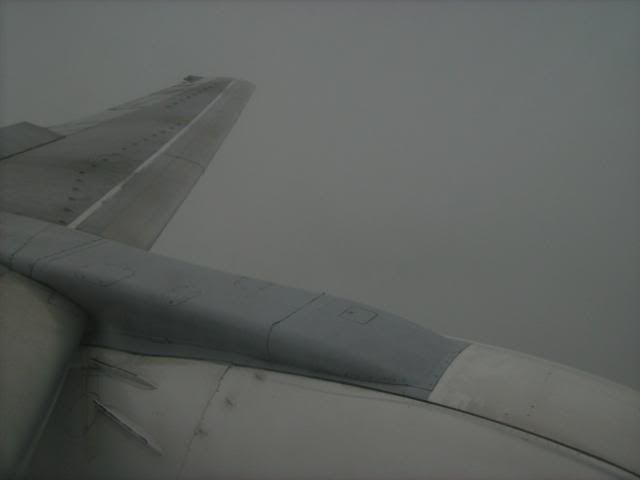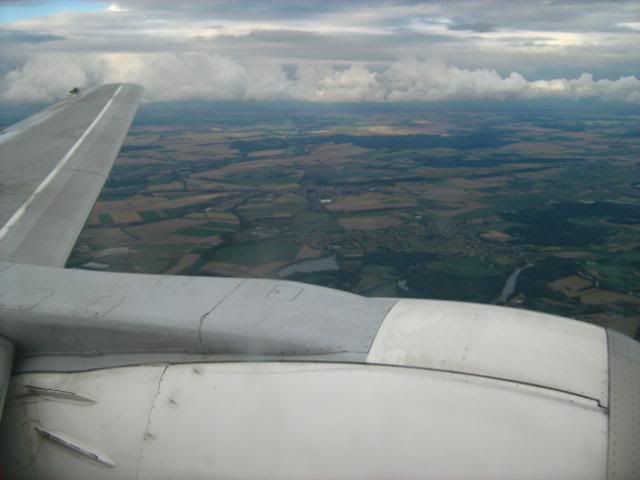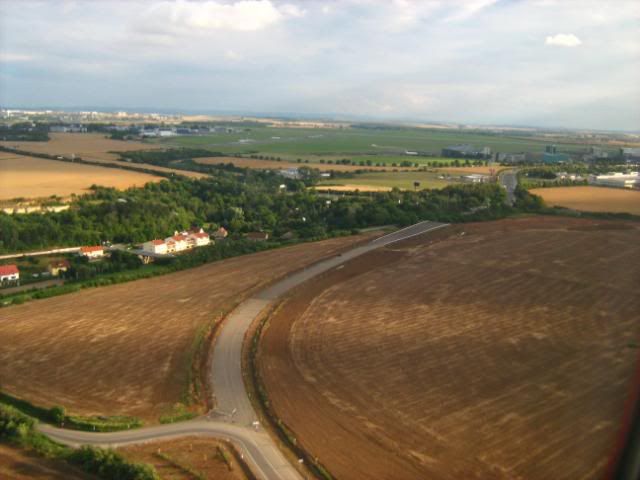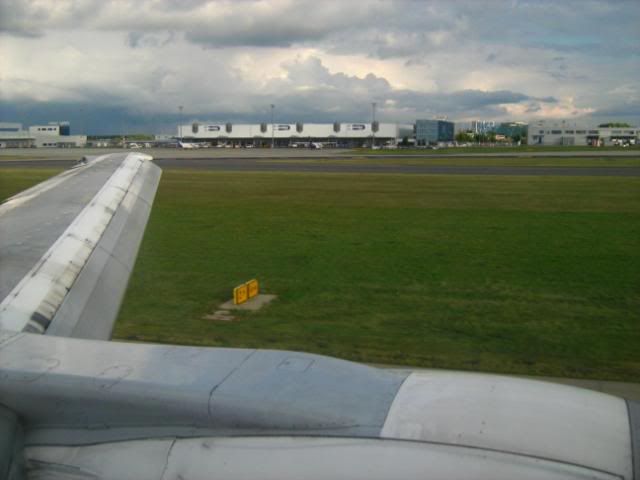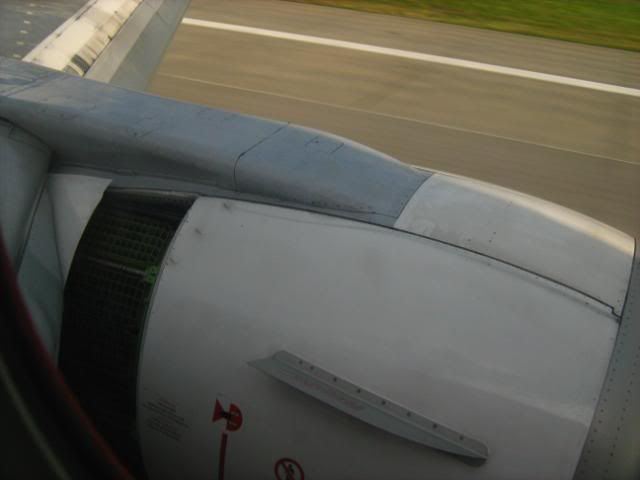 The landing was very hard and bumpy and it seemed that the pilot had a hard time holding the plane straight during our final approach, oh well it was just fun for me.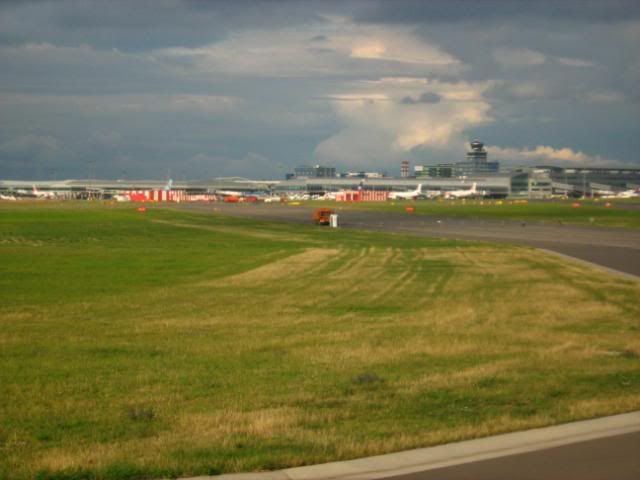 The Prague Ruyne airport looked pretty nice to me.
We parked next to a Skyeurope 73G.
The airport's terminal 2 looked very nice and fresh.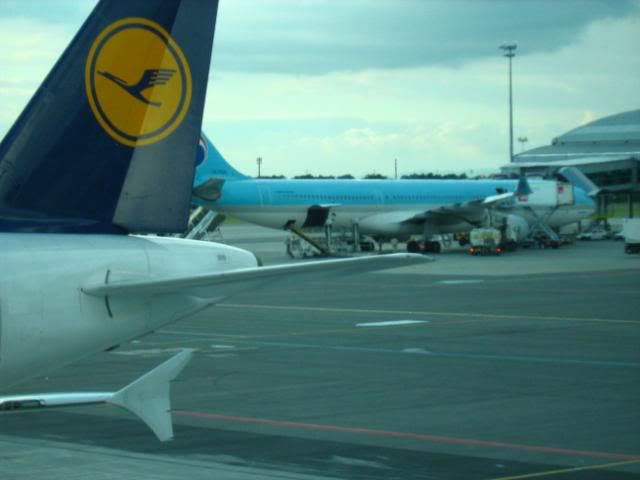 Not in my wildest dreams did i know that KE flew to PRG, i guess that explains why our flight was a KE codeshare flight. I also didn't know that they used the A333 on longer routes. Are those planes international or regional configurated?
A nice DC-3 parked between the terminals.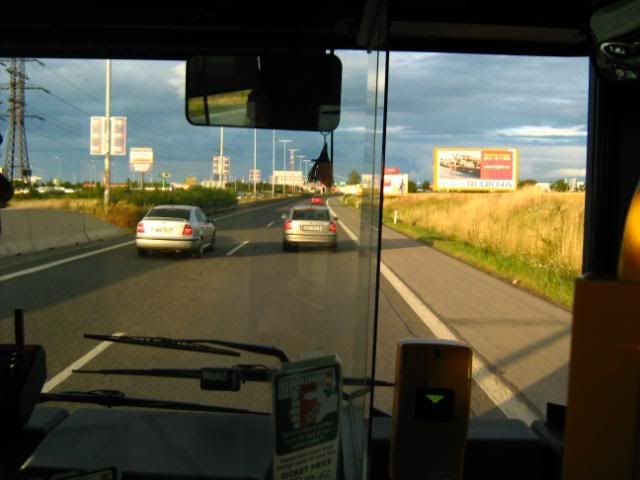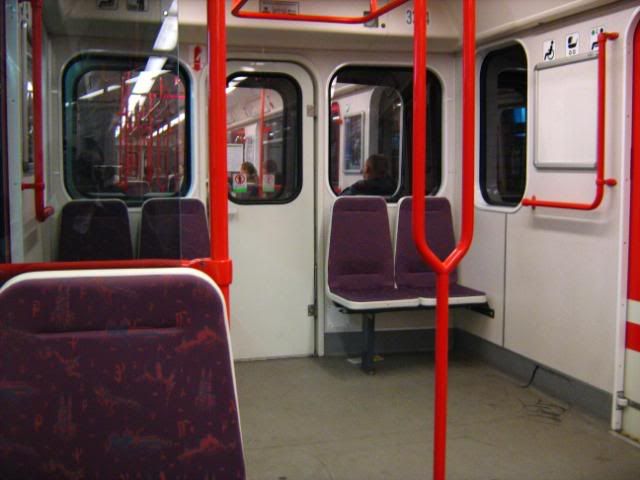 We took the bus to a very sad looking suburb and from there we took the subway to a place called Invalidovna where our hotel was located.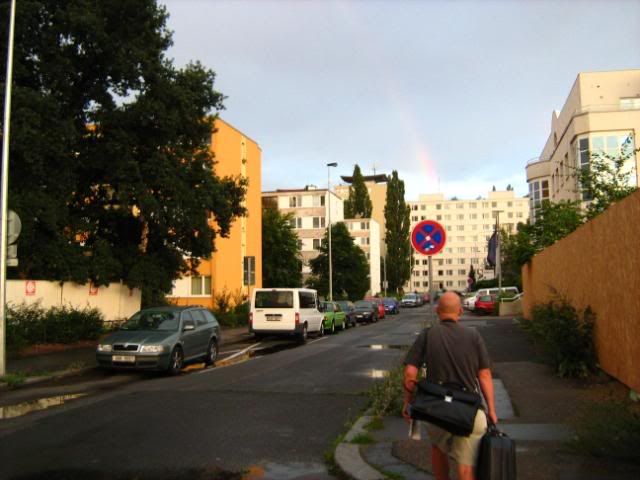 When we got out from the subway station we got quite chocked, none of us knew that our hotel was located in a Sovjet looking neighbourhood. Luckily it turned out that we took the wrong way. 30 minutes later we arrived at our hotel Olympik Tristar.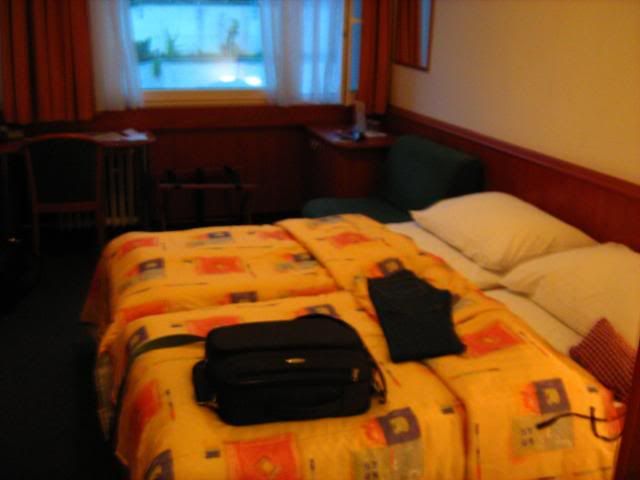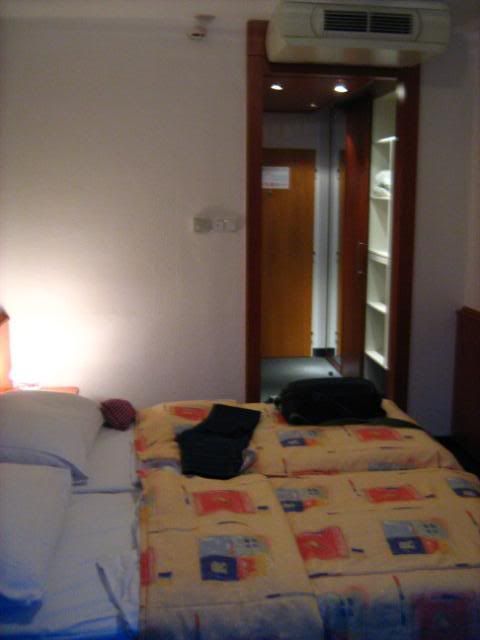 Our twin bed room. The hotelroom was nice, but i got quite disappointed by the lack of those tiny shampoo bottles and mintchocolate on the pillows.
The following days we went sightseeing, those are some pics i took in Prague.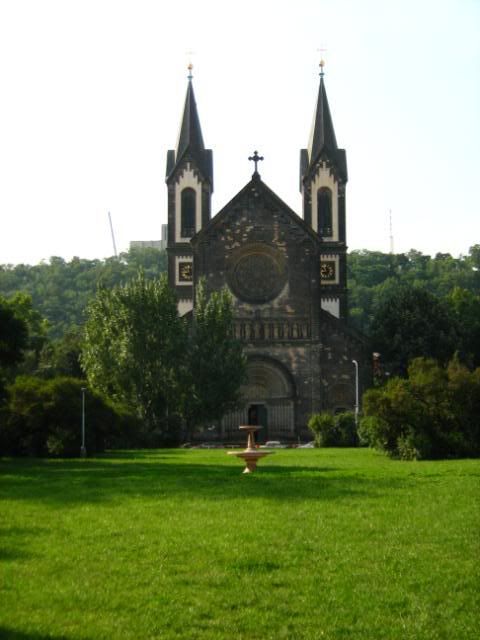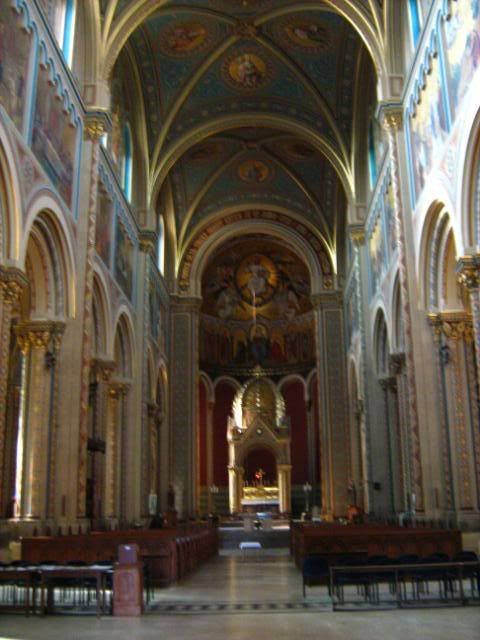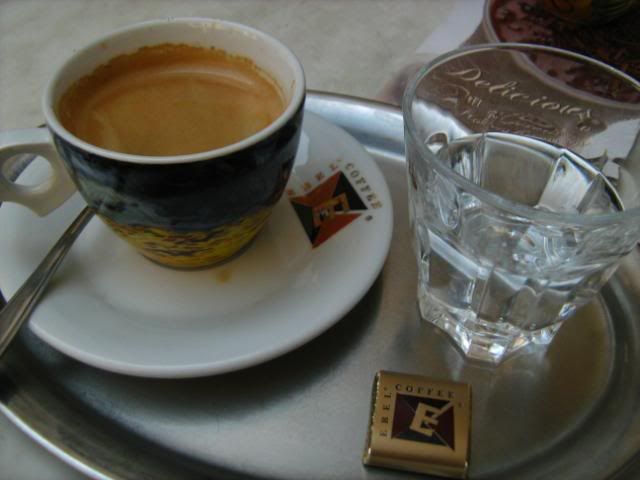 They really had some great coffee here.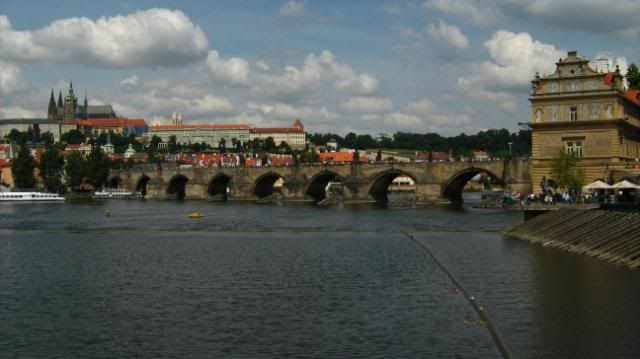 The famous Charles Bridge.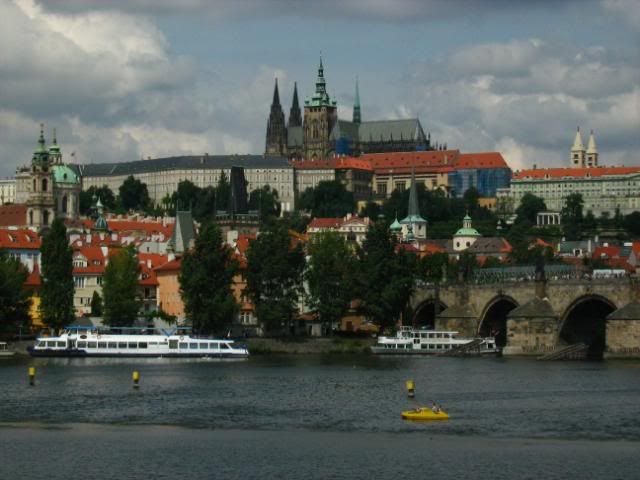 The Castle.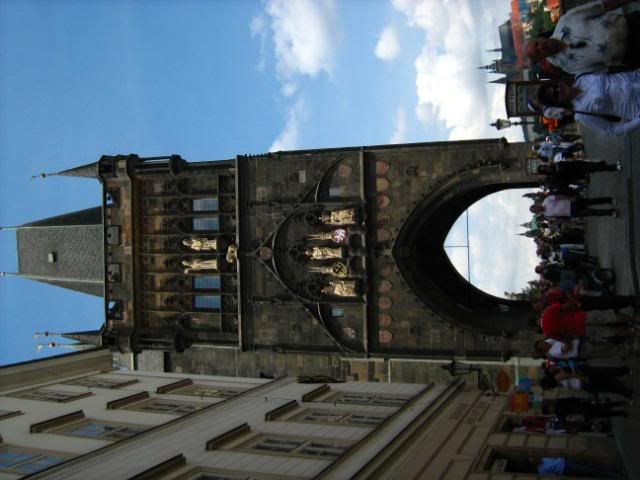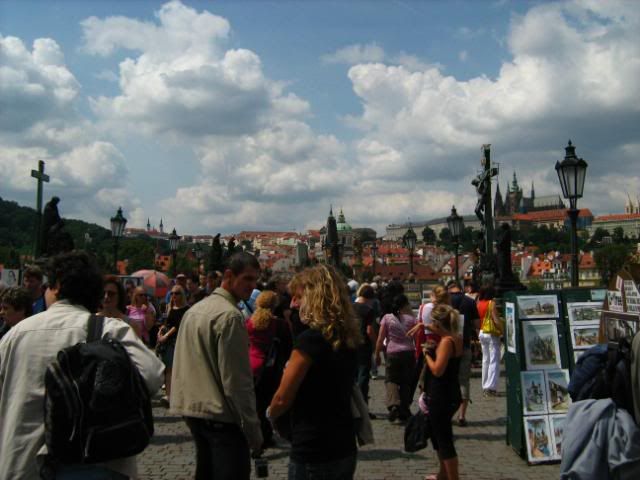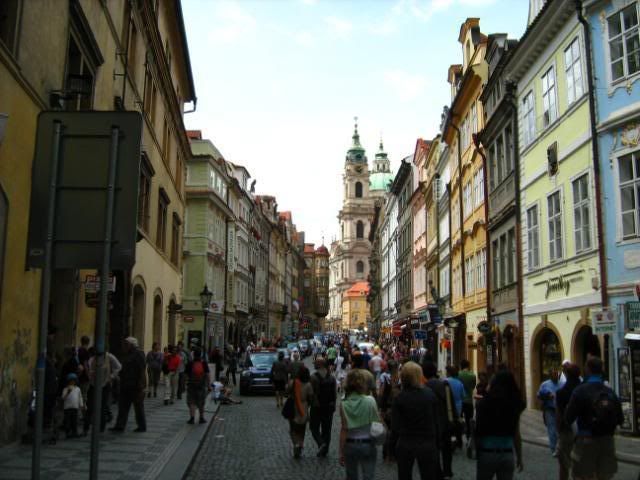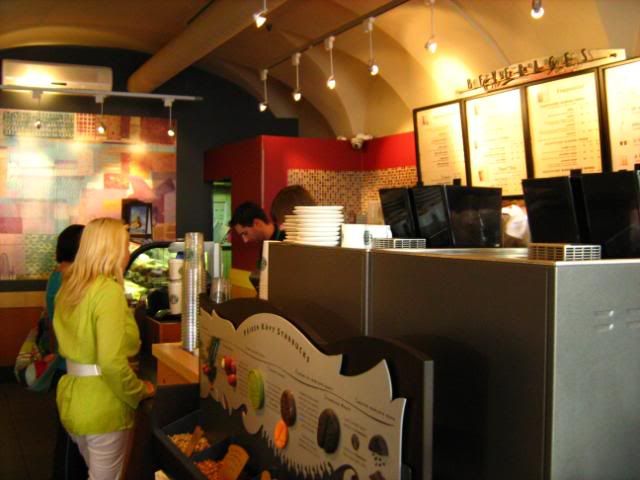 My very first visit to Starbucks.
I went for a Mocca Frappuchino.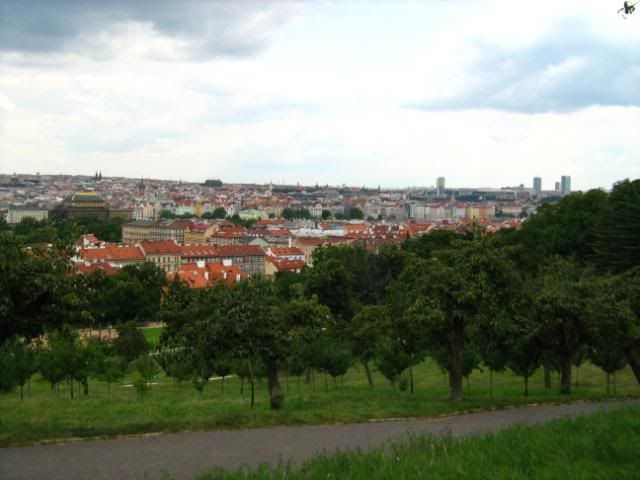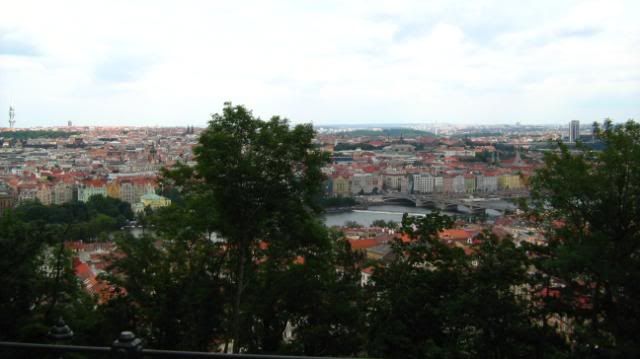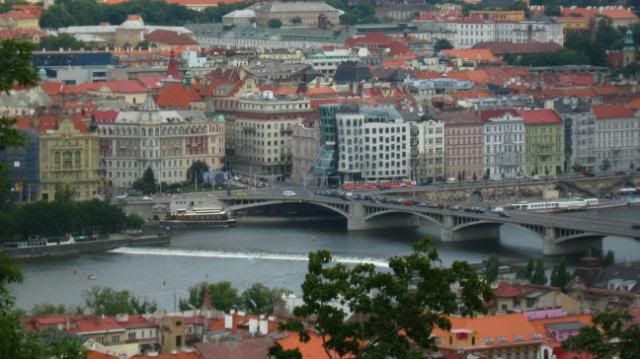 My first look at the Dancing House designed by Frank Gehry.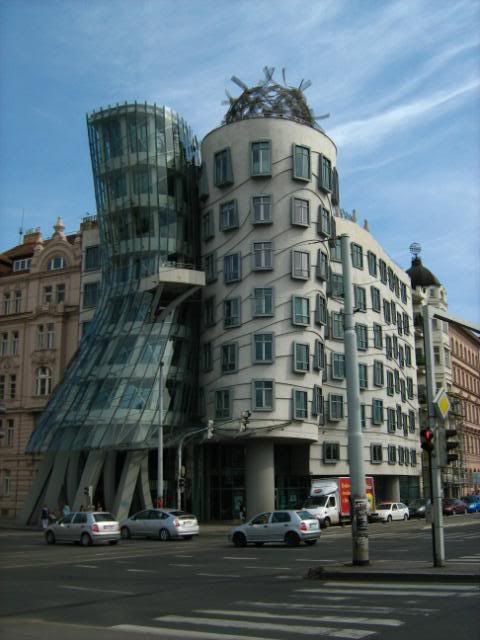 The Dancing House, this was the main purpose of this trip.
What house is this?
In Prague you can get a three course lunch for a very cheap price.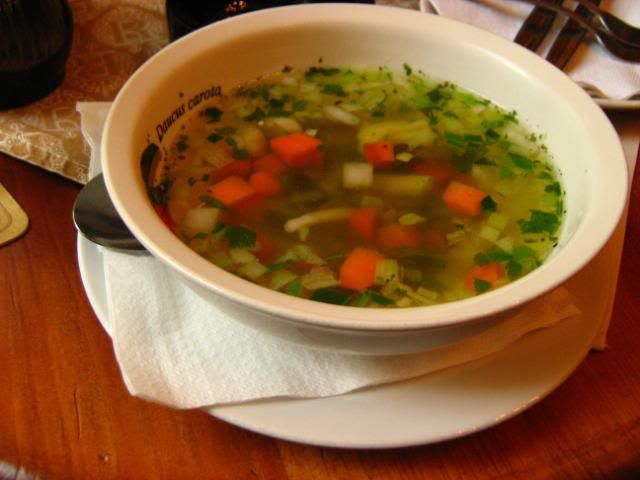 Vegetable soup to start with.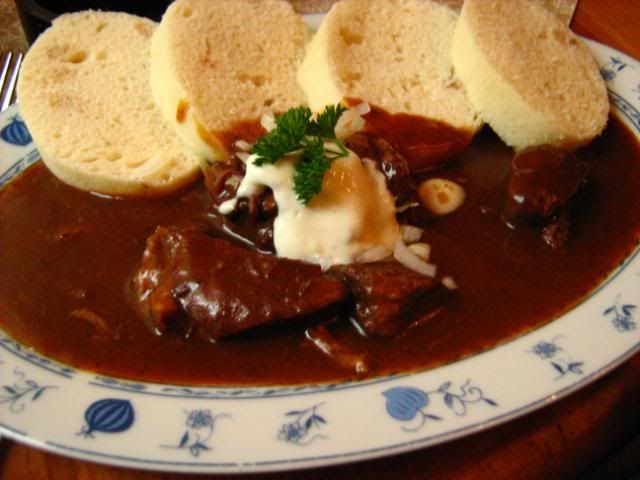 Beef Goulash as entree.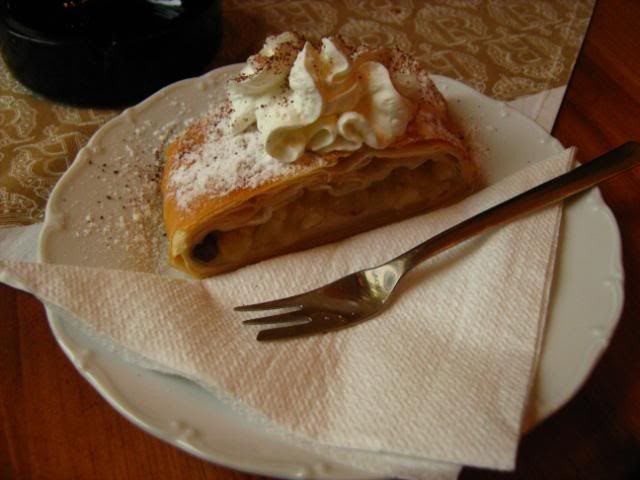 Appel Strudel as dessert.
Pre flight
Today was the 25th of July 2008, our last day in Prague. Since we both had gotten enough of Prague we only had some lunch before going to the airport.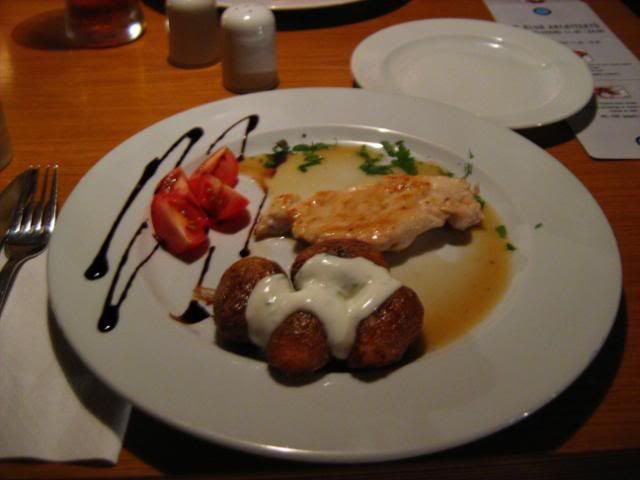 Chicken fillet with roasted potatoes and sourcream sauce.
Appel Strudel again, this time with a Café Au Lait.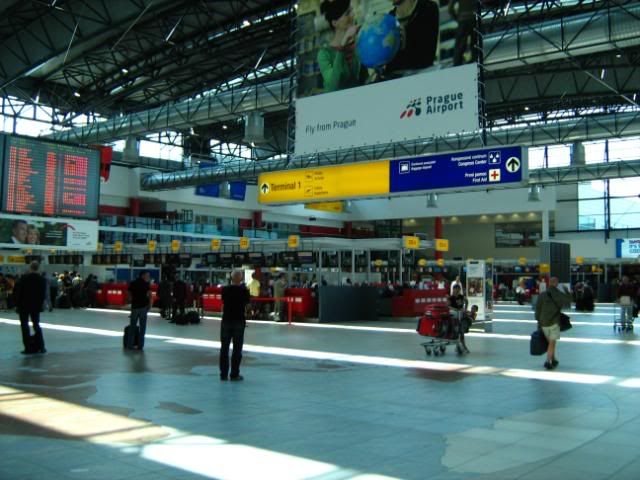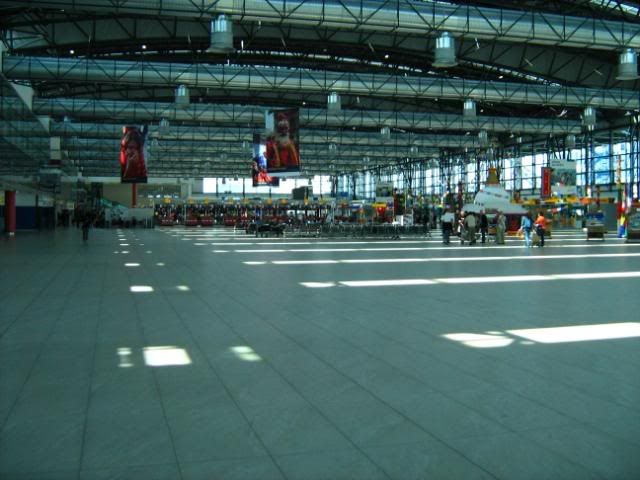 The transit area in PRG T2 looked really nice and airy.
We checked in at the Business Class counters this time, i had already checked us in online so we only had to pick up our boarding passes this time.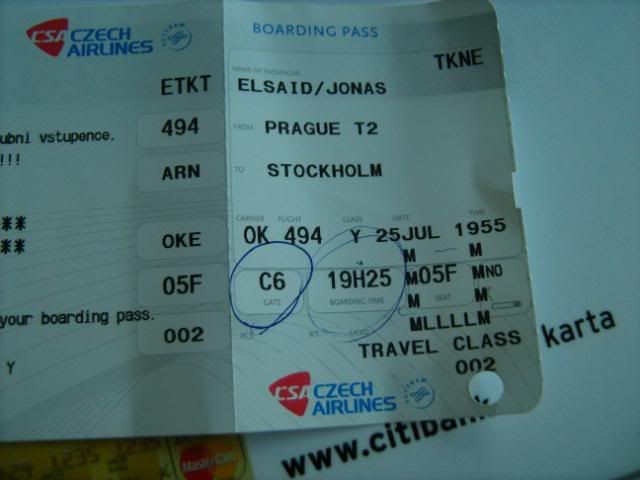 My boarding pass for this sector.
Security wasn't a breeze this time, my bag got stuck in the x-ray machine and i almost dropped my pants infront of everybody. After that mt friend had a beer and i had a bag of cashews while looking at the airplanes.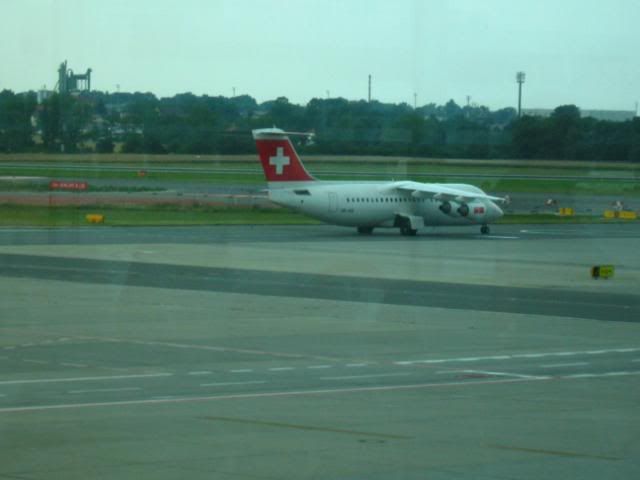 LX's Avro heading to ZRH.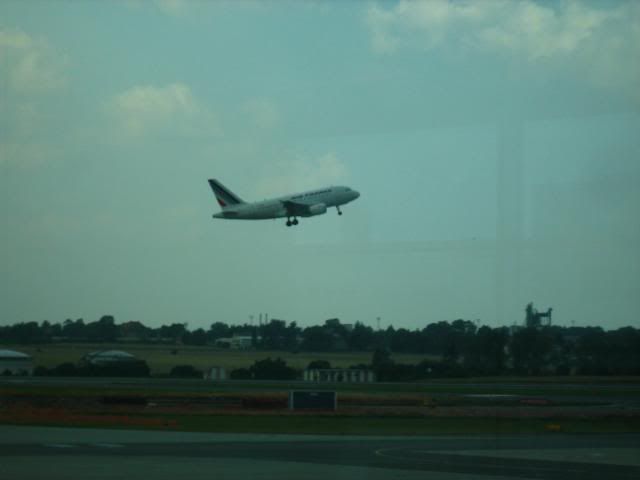 AF's Babybus bound for CDG.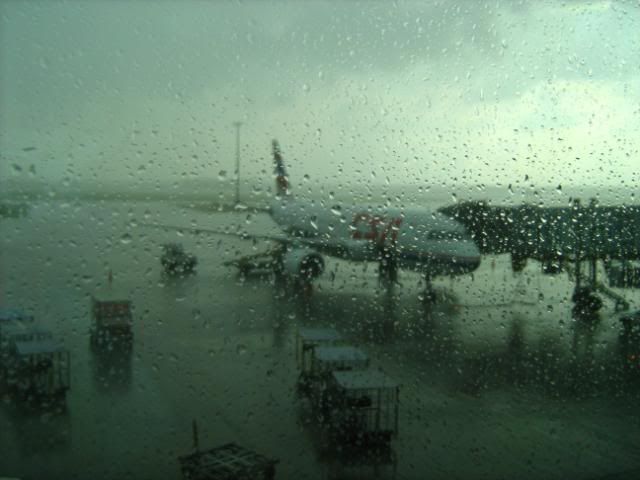 Shortly afterwards a thunderstorm pulled in over the airport and all departing flights were delayed, luckily our flight wasn't affected.
Flight Two
Flight: OK494
Date: 25th July 2008
Departure/boarding: 19.55/19.25
Arrival: 21.55
Seat: 5F Economy
Aircraft and reg: Boeing 737-55S OK-XGD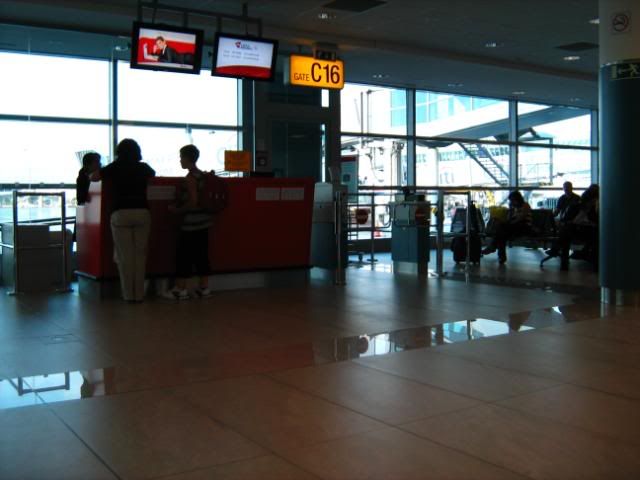 Our gate. This time our gate was a bus gate, we had to wait for more that 15 minutes for the busdriver to let us in, the short ride lasted for only a minute or two.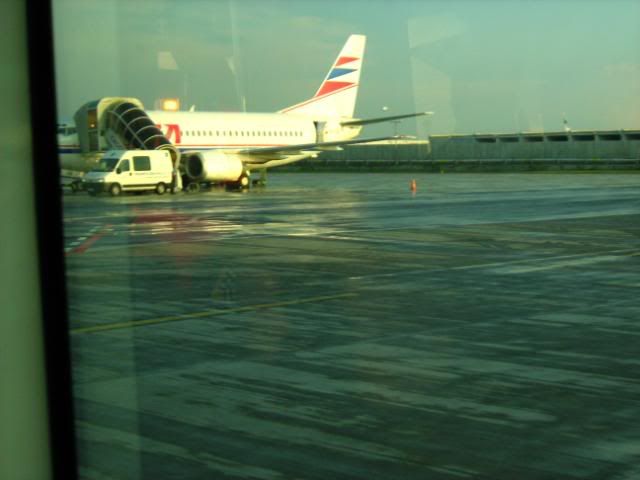 Our aircraft for today's flight back home to Stockholm.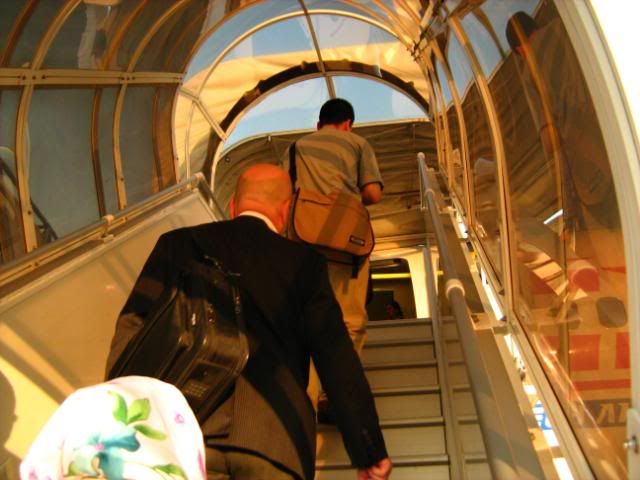 Walking up the airstairs.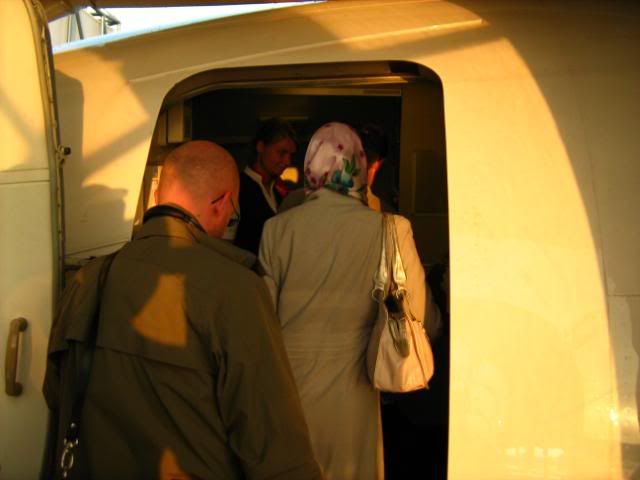 Entering the aircraft.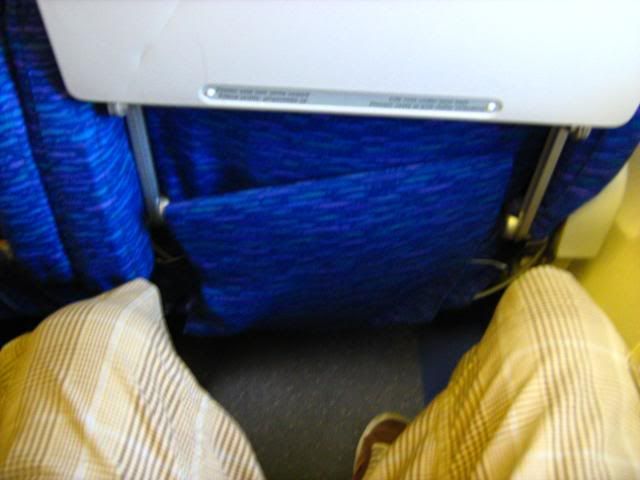 Despite being in row 5 again the legroom wasn't as good as on the last flight.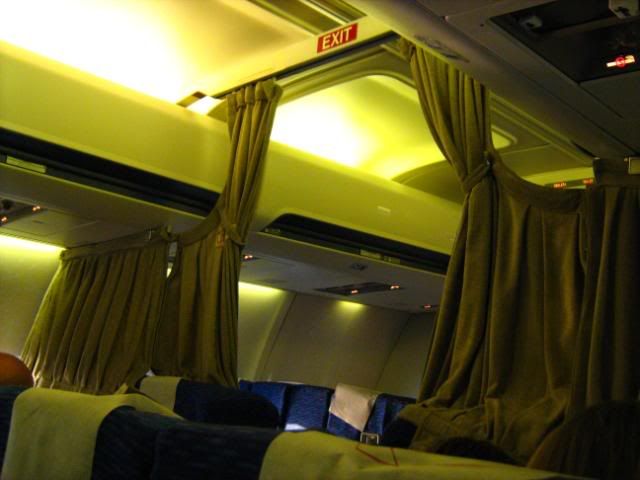 There was only one passenger in Business Class today.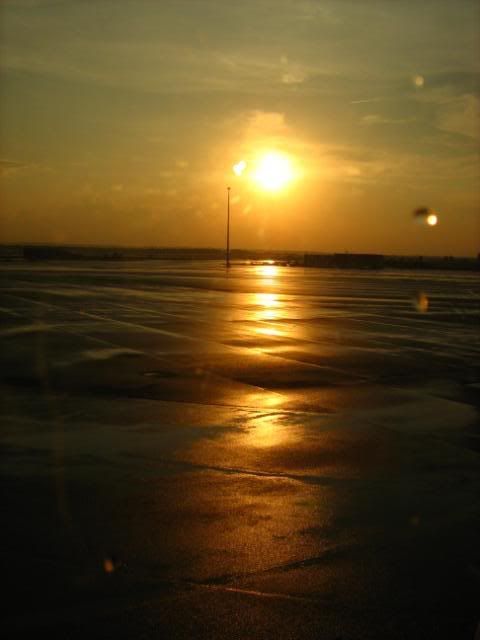 Sunset on an empty apron.
Some pics of the takeoff.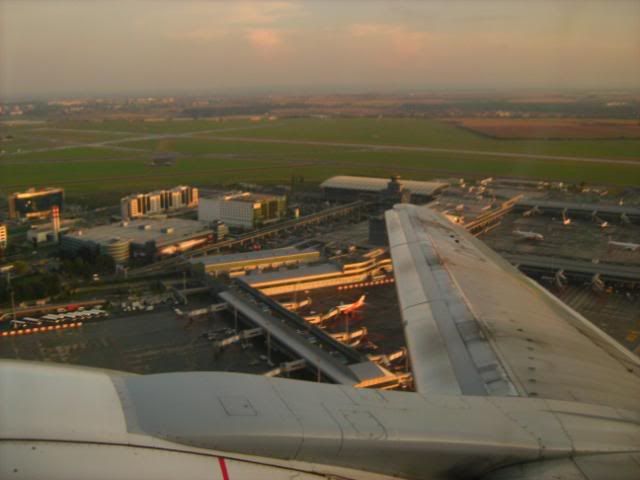 The takeoff was a but heavier than on the last flight and not as powerful.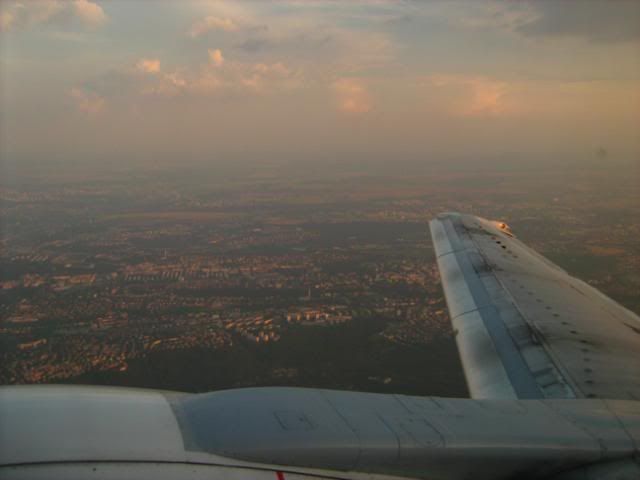 A last look at Prague before going trough a thick layer of clouds.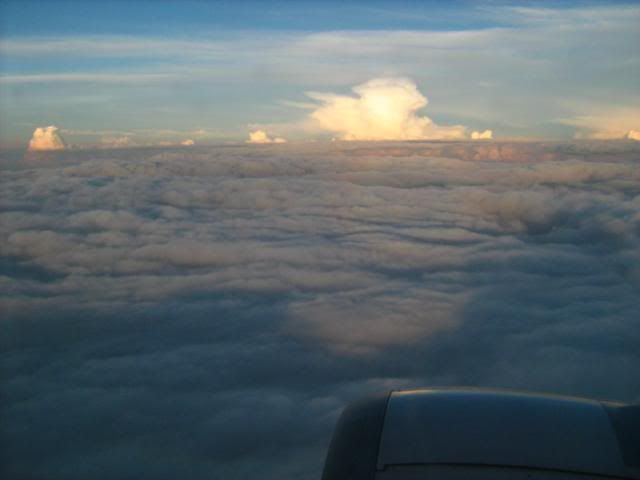 Finally above the clouds.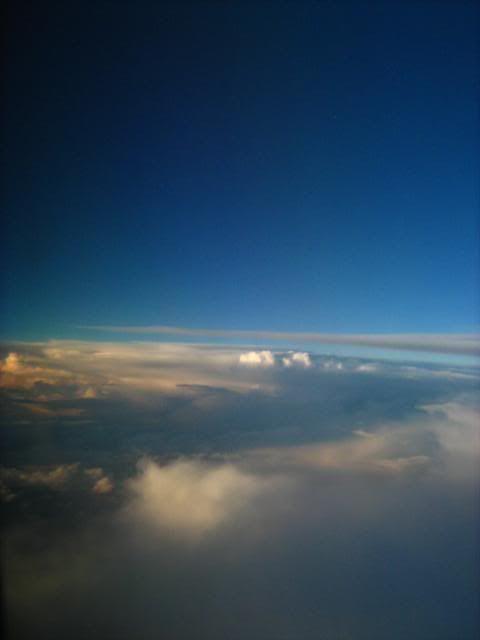 I really love watching a sunset from an airplane but for some reason i always end up on the wrong side of the plane.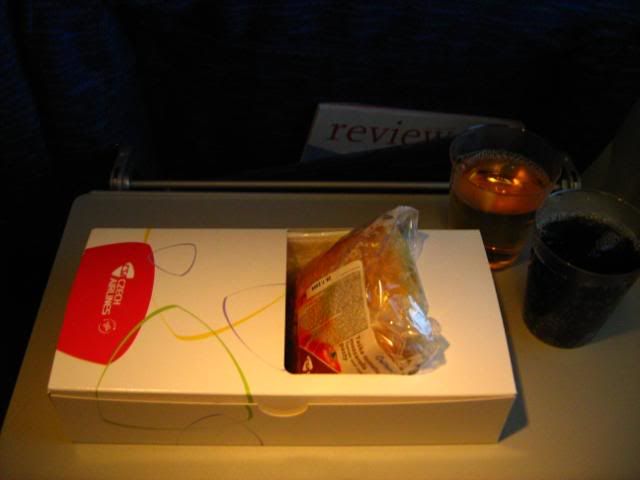 After 30 into the flight the F/As began the snack box service.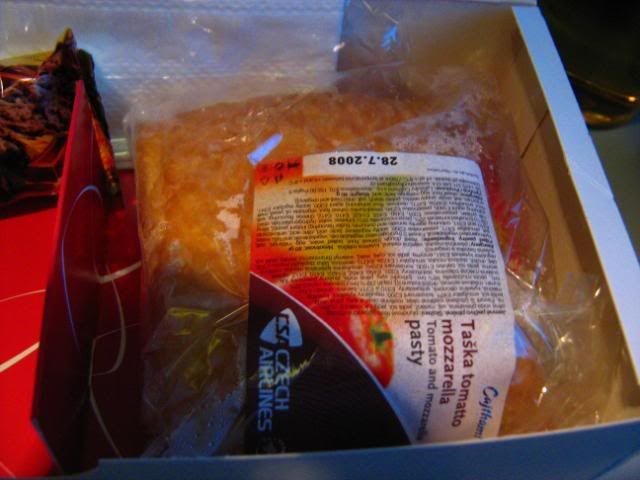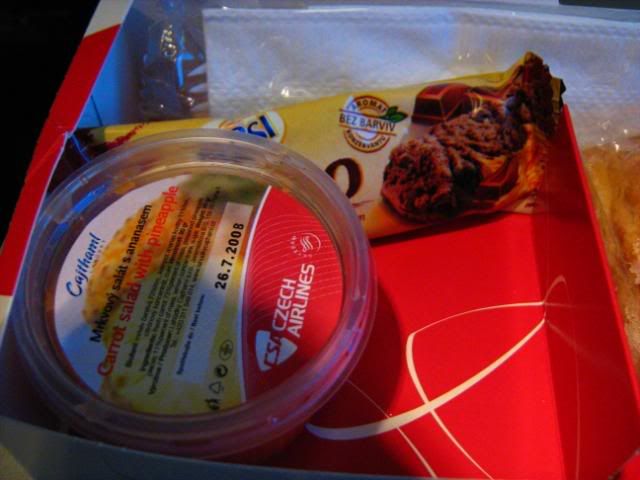 The snackbox consisted of the same pasty but this time with a carrot and pinapple salad and a chocolate chip cookie bar.
The food tasted rather decent this time, the carrot salad was waaay too sweet, it didn't even taste like carrot and the cookie bar was moist and chewy. My friend didn't want his snack box at all so i ate everything in it except for the carrot salad which he wanted back.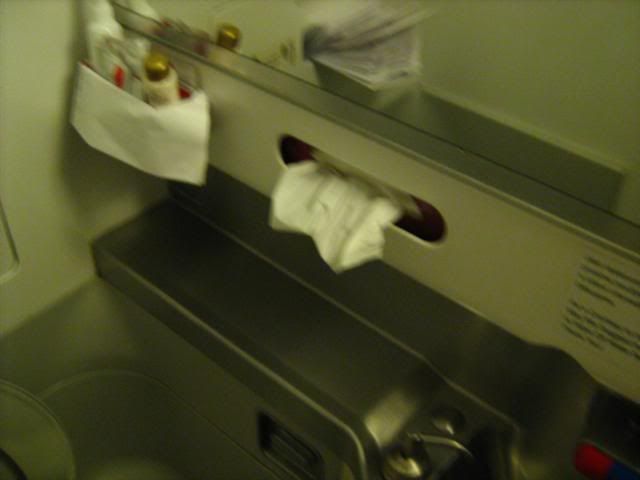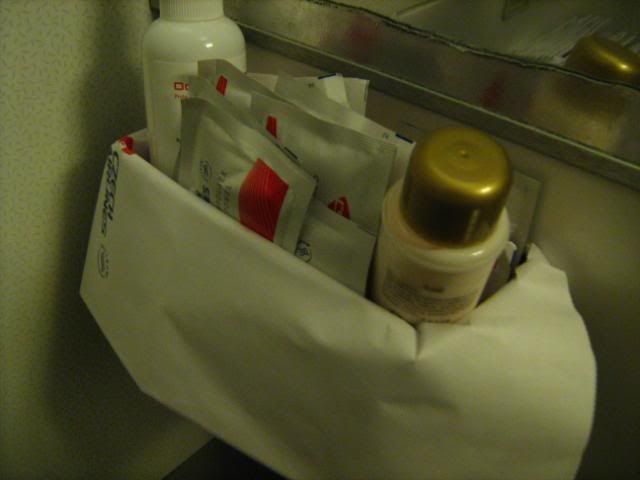 After the snack i went back to the Y class lavatory and i got surprised again by the number of amenities available in an Y class lav. I took some refreshing wipes and two soaps.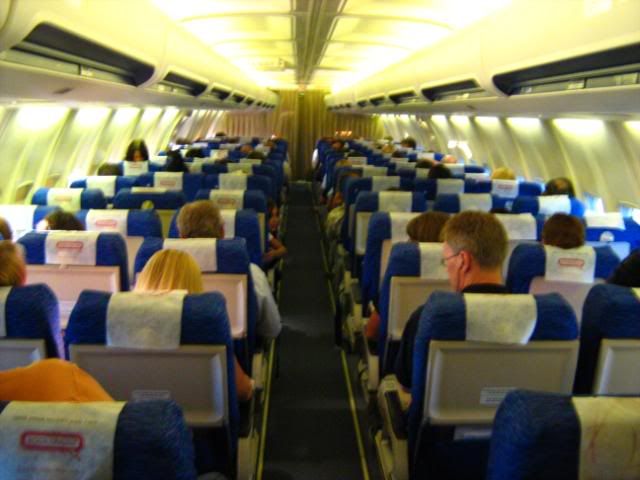 A cabin view from the back this time.
As i got back to my seat we started our descent to ARN. Here are some pics from descent and landing.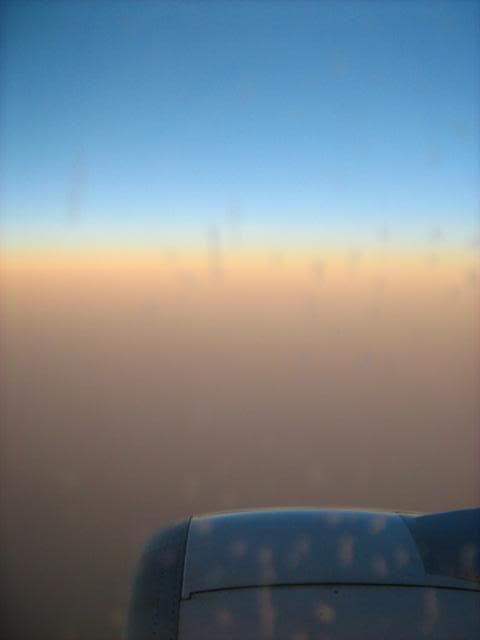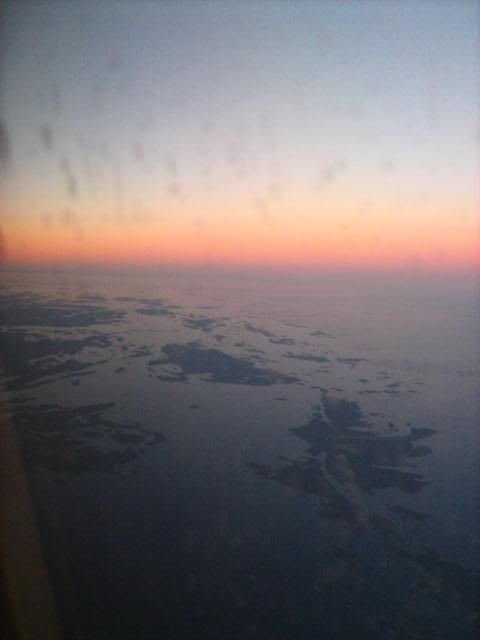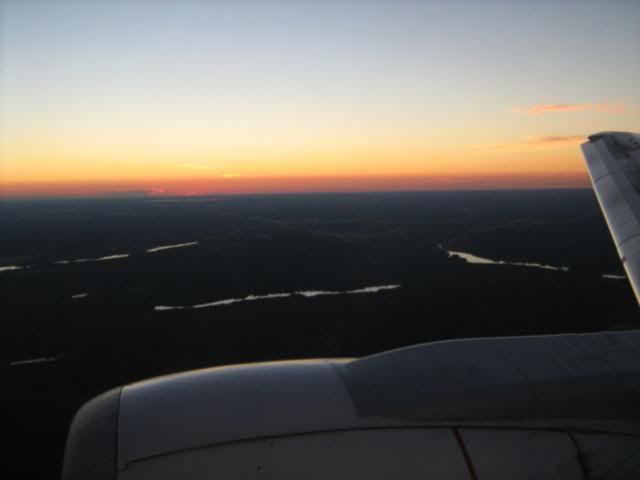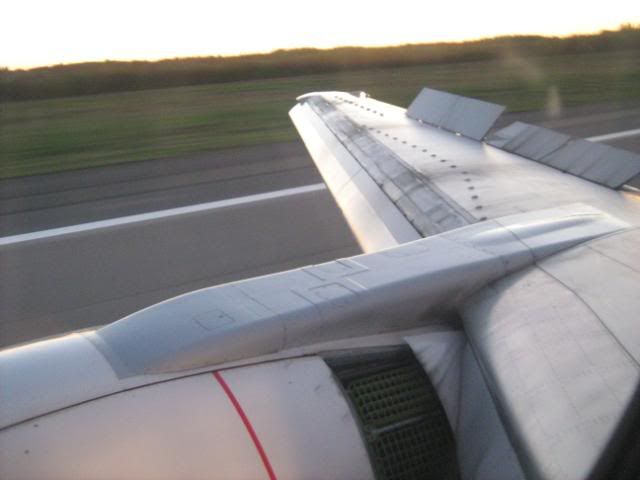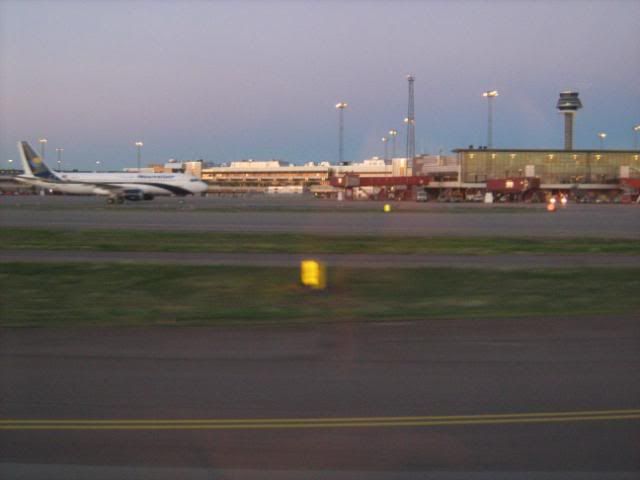 The landing was hard this time too and the pilot made a hard break in so that we didn't have to taxi around the whole airport, my friend was very thankfull for that.
We disembarked and headed straight to the baggage reclaim where my friend's bag had arrived safely. We then took the airport coach back home to VST, when we got home i passed out on my friends couch and slept all night.
Thanks for reading and feel free to come with any comments.
//Jonas