Feedback always appreciated.
Trip Report: 053
Flight Category: J-ILR (See Report End)
Date: 10 Jun-08
SDT/SAT/Delay: 1835/0840+1/10:05 hrs (Delayed: 00:55 hrs)
Flight:
TAP Air Portugal TP 192
, 5067 miles
Routing: GRU-OPO
Aircraft: 332
Seat: Business "Top Executive", 2J
I > Background:
I had been on a tough away assignment for 3 months and earned a well deserved break by the time the engagement was over and June had rolled in. Instead of going back to Caracas directly, I decided to visit a few random places I had not been to in a while. After a trip to Chile, I decided to visit some friends in one of my favorite cities … Barcelona. After a pit stop in Sao Paulo to have a café with my friend Gustavo, it was off to redeem some award points for a TAP routed GRU-OPO-BCN … much more calming than a GRU-LIS-BCN routing.
A quick search on A.Net tells me that this is the first report on TAP's "new" J class, and the first involving an intercontinental routing to OPO.
II > Pre-Flight:
a) Before Airport:
TAP Air Portugal is the "flag" carrier of Portugal. An often overlooked member of the Star Alliance, TAP provides extensive European connections from their antiquated Lisbon hub, and also has extensive services to almost all their ex-colonies and the U.S. Besides Lisbon, they also link Oporto with reduced frequency and/or seasonal service to several cities including GRU and EWR. Of all the airlines that have "milked" Varig's demise, TAP probably ranks first by utilizing every market opportunity and serving a plethora of cities in Brazil. As my Brasilian friend Gustavo pointed out, "uugh…it is like a new wave of colonization" …
Since this was an award ticket, it was done through Lufthansa and their Chile office. In the past, I have tried to understand TAP's website at
www.flytap.com,
and have failed miserably. I tried to book seats online (failed), and later called their office in Newark only to be told by a rather unhappy matron that they "cannot touch non-TAP" bookings. Strange, because I was able to chose the seat to one of their Brasilian workers at GRU a few months later. C'est la vie.
b) At Airport:
I have to admit something. I love Sao Paulo. While not a particularly attractive city, I am just mesmerized by the sheer energy of the city. Few places in the world can match the absolute chaotic energy of the place (HK, Bombay, Istanbul, Tel Aviv, Beirut, Cairo, NY come to mind). It is almost like being part of one big rave that lifts your spirit because the only constant is rapid change. GRU exemplifies all these virtues. It is not a modern or pleasant airport … and in some weird way, I like it like that. It is chaotic and unruly … but at the same time, it has a "joie de vivre" where anything can happen. It is exactly what the doctor ordered after the sterility of Santiago and the IKEA like design of SCL.
TAP has several flights leaving and each set of counters were marked by the flight destination (very old school). There as a separate counter for J passengers (and Star Gold) … but by the time I went to check-in (with Gustavo paranoid that I'd miss my flight), there was literally no one else. Weird. The check-in woman issued me my boarding pass and was super paranoid that I'd miss my flight and directed me to pay for the airport tax and "run to board". Ok, I had no idea what all the fuss was about. Quick goodbye's later, I went to the immigration line and began to understand what the big deal was. It was like I had teleported to Delhi airport in the mad midnight bank of flights. The line at immigration and security was HUGE and it took every patience (and over an hour to get through). Now, my Brasilian friends can correct me on this, I could have sworn that there used to be a special line for premium passengers right off the immigration line for everyone else. Perhaps I am wrong here?
After the long lines, I needed a nice café, and made my way to the Varig lounge on the 2nd floor. Now, this lounge is nothing special … but it embodies so much of why I just love Sao Paulo. The attendant (who recognized me and my Liechtenstein passport) was all excited to see me … got up from his chair for a warm handshake, ask me about life, and how long the Varig brand would last. I did not have the stomach to tell him what I thought. It was like I was being welcomed back to my home or something. Ok, a quick café and some phone calls later, I was off to the "final boarding call" … only after I picked up as many random Varig branded trinkets.
Boarding was a serious mess. I am usually OK with the ILBST, but this flight was nothing like I have ever seen before. I was convinced that the riot police had to come at some point. On a separate occasion, I had noticed that TP's EWR-LIS flight had chaotic boarding … but this was the absolute cake. By the time I made it to the cabin, the flight was over 30 minutes delayed … it would be an hour delay by the time wheels were off the ground. Entering a packed J class, I got no greeting from the crew, and no assistance with my bags. A lot of the J clientele seemed to be VFR's and many were being "upgraded" from Y. Interestingly, EVERY upgraded passenger to the J section were Portuguese, white, and old.
Both J and Y load were 100%. I am sure some ticketed passengers did not make it.
Airport - External:
(Sao Paulo Airport)
Check-in:
Airport - Internal:
(Pre-Security)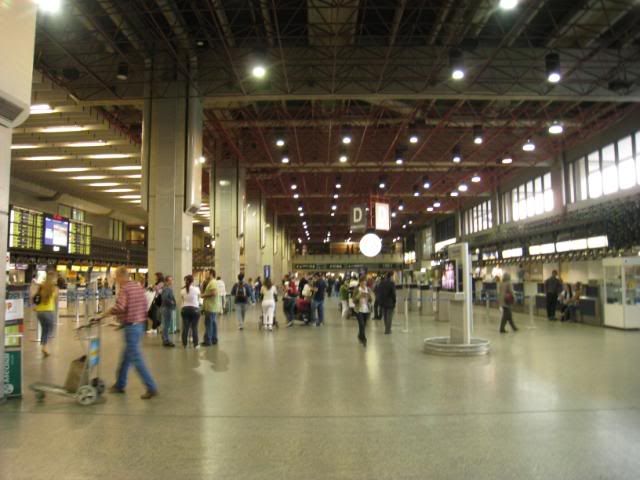 (FIDS)
(Post-Security)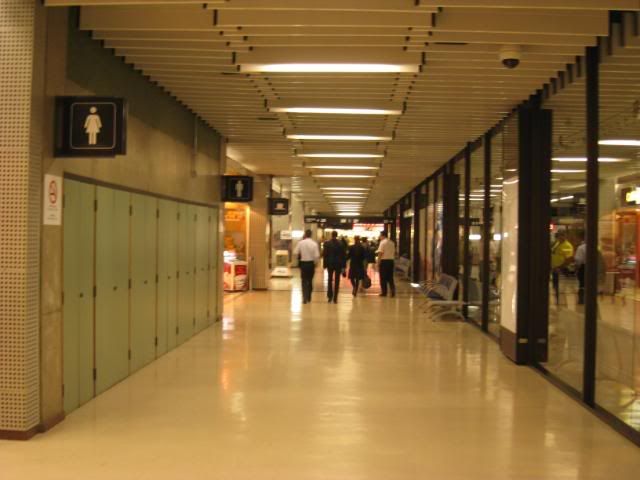 Scenes of the tarmac:
NONE
Lounge
(RG Lounge)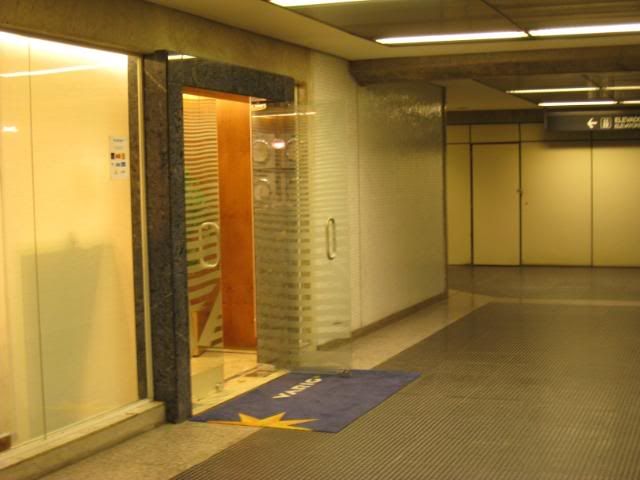 (Excellent café – the Brasilians seem to have perfected this!)
Boarding:
(Boarding area)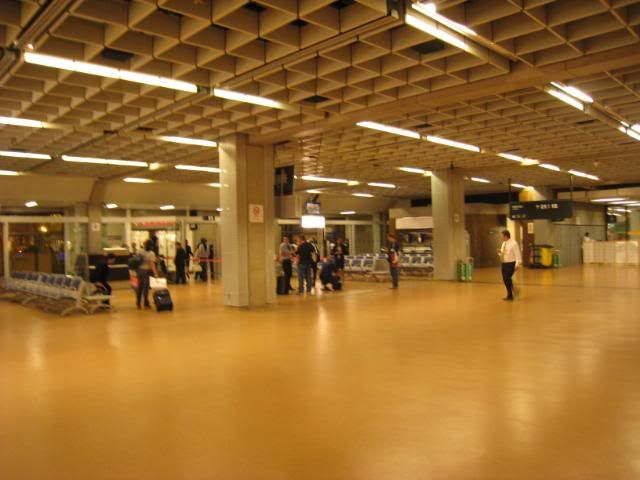 (Boarding called)
(Chaos and lines)
III> In-Flight:
a) Service Schedule + Impressions:
Port wine served while on ground along with newspapers and magazines. TAP shows its strong Lussophone roots as NOT A SINGLE daily is in English. Post take-off, a skimpy luke warm hot towel, and dinner. Prior to landing, TAP gift distributed (CD) and a quick breakfast service. No towel (cold or hot) service after waking up. Weird for trans-continental J. Attendants had NO cabin walk-thru during the entire flight.
b) Aircraft + Seats:
TAP uses a 2-2-2 J layout in their 332. These are the same Recaro (?) seats utilized by Air France J. The seats were fine in a vertical position, but felt claustrophobic (a la AF-J) when reclined. Legroom became abysmal and the weird points of the seat made it uncomfortable and gave a continuous sense of "slipping off". Also, what is up with the super complicated tray table which I struggled to open! J bathroom had NO amenities!
Aircraft:
(TAP's 332)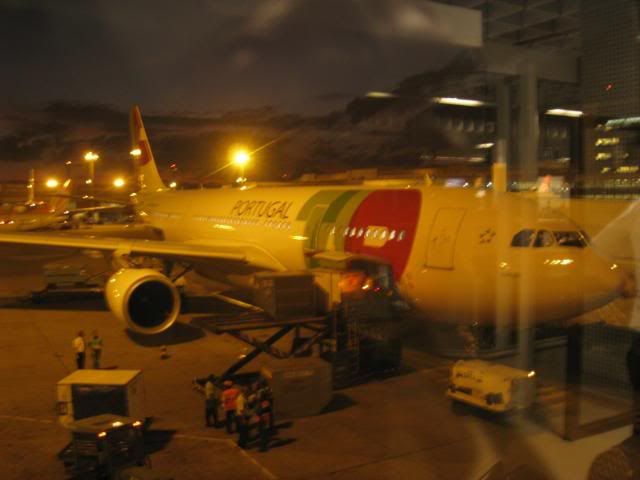 Views from Aircraft:
NONE
General Seat Views + Seat Legroom
Seat Recline + Angle View: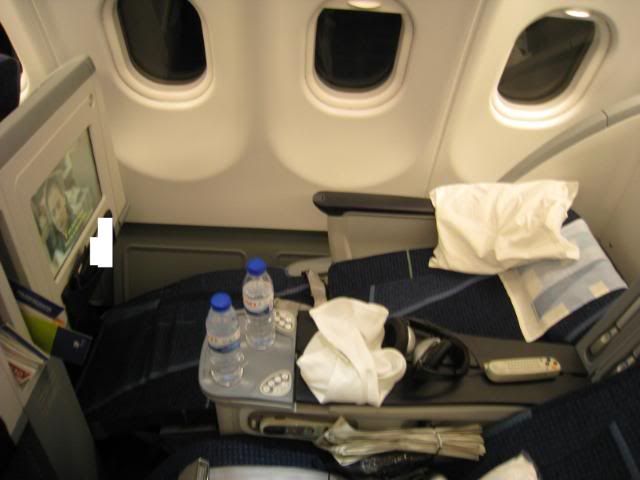 Cabin:
(Bathroom without amenities)
c) Meal + Beverage:
Let me get the good thing out of the way. I liked their wine menu and was delighted to sample the heavily Portuguese influenced listings.
Upon embarkation, port wine was served … with no water or juice being offered as substitues. Weird.
Dinner was served soon after take-off. TAP has a LONG way to go before truly understanding customer service. The entire meal was conducted without a smile by 2 FA's. They did both aisles of this widebody (despite their being an abundance of other FA's.) This meant that several people were skipped during dinner service (including me when the dessert service rolled in), it took a record shattering 29 minutes between my appetizer and main course, and 3 attempts to have Bailey's served with my dessert. Not good. Moreover, the 2 FA's forgot things … like giving me cutlery, and then bringing me linens. Topping it off, the lines were dirty and just nasty! The service lacked any aura of finesse and this can be summed by the way the food was presented … without having the tacky plastic wrap removed from each plate. Who would have thought this was J class??! Oh, and what's up with not a single drinks run during dinner. One last thing … the FA was shocked when I wanted to see a tea menu after dinner. They had no tea on board.
The food itself was average, and the breakfast served prior to arrival was also average at best.
(Menu)
(Pre-take off port)
(Dinner)
(Nasty dessert)
(Breakfast)
(Dirty table clothes)
d) In-flight Entertainment:
While TP has the right hardware (clear big screens, great responsive touch-screen buttons, keyboard, etc.), it lacks the software for the flight to go smoothly. There are only 10 movies shown and none of it is in English. No, English subtitles either. Thankfully, I speak Portuguese and ended up watching the Isabel Abreu hit "Dot.Com". Head-sets were of pretty decent quality. Additionally, the in-flight magazine was actually a pleasant read.
(There are many attractive Portuguese women. Why did TP select these 2? It was so annoying having to sit and see their face for 10+ hours)
(Moving map with our route)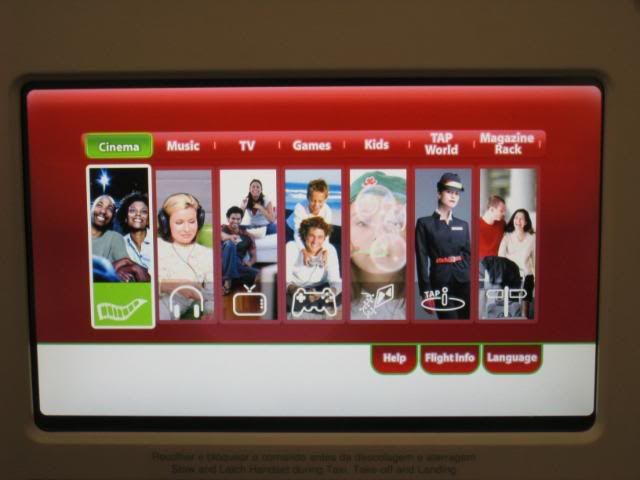 (Quality headphone)
(IFE had issues several times)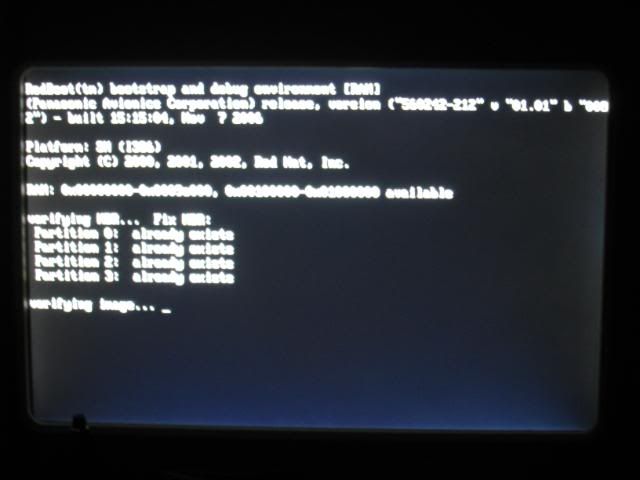 ("In-flight magazines", Boarding Passes, etc.)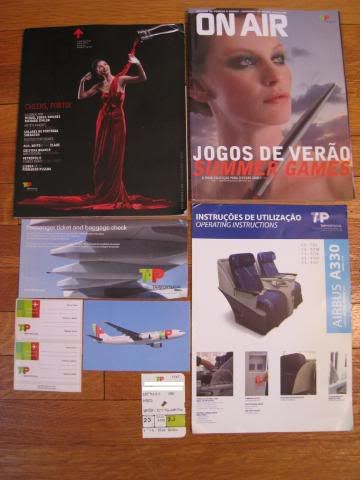 e) Crew:
Quite possibly one of the laziest group of crew members I have encountered in a while in J. They made no attempt to make passengers feel welcome. This started with the absence during boarding, and continued throughout the flight. I mean, they were only visible during the meal service and nothing else. I did not see a single of them smile … which is so bizarre because most Portuguese I know have such a great sense of joie de vivre. Oh, and then there was this "jefe" (old man, team leader) who did NOTHING during the flight. He literally had a room behind the cockpit with a leather seat (across from the bathroom) and everytime I passed by he was seated in a nice padded leader seat reading a newspaper. Does anyone know what this guy's role is? It is not like anything I have ever seen before.
Looking back, the indifferent service was just what I had received in last year in Y between OSL and LIS … reviewed here:
TAP Portugal TP 507: 29/MAY/07: OSL-LIS: Y Cabin
(by
Abrelosojos
Jun 30 2007 in Trip Reports)
IV> Post-Flight:
Porto is a charming little airport reminiscent architecturally of CDG … without the chaos. It has actually become one of my preferred connection points in Europe with its tranquillity and helpful staff. I was out of the door clearing immigration and picking up my bags in 20 minutes. Later on, I got to experience a great little TAP lounge with some wonderfully attentive personnel and a great ticketing agent. Why are these staffers not the ones serving on board?!
(Video telling us of landing procedures @ GRU. I thought it was very useful.)
(I love this view from GRU where all the aircraft are stored like a junkyard)
(Landing @ Porto – beautiful city – beautiful coastline)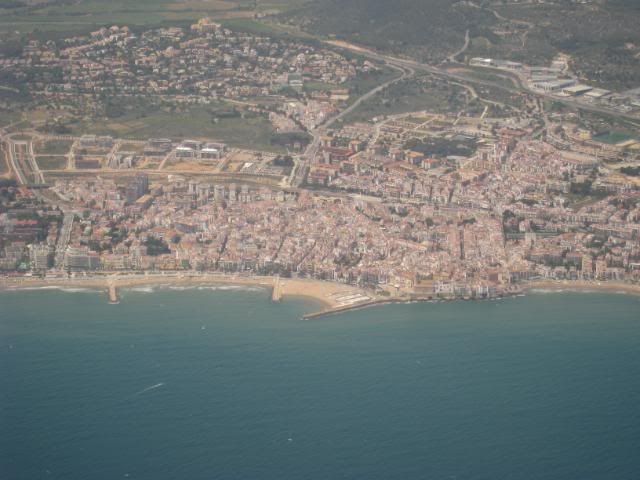 (Arrivals)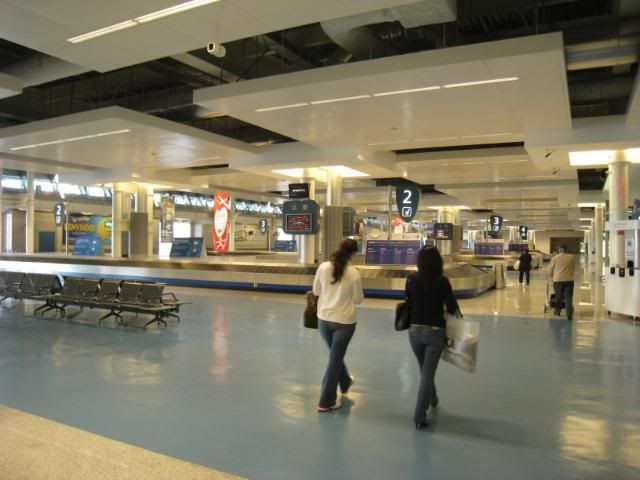 (FID – outside security)
V> Impressions + Scores:
I wish I could say positive things about TAP's J class product. While I could live with the cramped angle-lie seat, its overall service just lacked any sense of class and finesse. Service was sloppy throughout and on board you are made to feel like a burden more than a guest. The crew was detached, the movie selection poor, and the food service lacked grace. If given a choice, I would avoid TAP. One does pay J class to get such aloof service.
1.0 > RESERVATION: 7.0
2.0 > CHECK-IN: 9.0
0.5 > LOUNGE: 7.0
0.5 > BOARDING: 2.0
2.0 > SEAT: 6.0
0.5 > AIRCRAFT OVERALL AMBIENCE: 6.0
1.0 > IFE: 6.0
2.0 > CREW: 2.0
2.0 > FOOD: 6.0
0.5 > BEVERAGES: 7.0
0.5 > A.KITS + OTHER FREEBIES: 8.0
0.5 > DISEMBARKATION: 9.0
1.0 > ON-TIME RECORD: 7.0
WEIGHTED OVERALL IMPRESSION (WOI): 6.11
(Pre-flight WOI of all reviews: 6.44)
* Weighted Overall Impression (WOI) aligns scores with what matters most. Weights are indicated alongside each category.
(Scores are based on comparison with other airlines in THAT class of service – No comparison of Y vs. F for example)
VI> Other Trip Reports:
PREMIUM:
8.61:
Air Canada (49): YYZ-SCL: 06/2008
8.11:
Aeroflot (33): MOW-DEL: 09/2007
8.04:
Korean Air (40): NRT-ICN: 10/2007
8.02:
Delta Airlines (24): JFK-CDG: 08/2007
7.82:
Singapore Airlines (06): EWR-SIN: 09/2006
7.14:
Swiss (52): SCL-GRU: 06/2008
6.93:
Delta Airlines (18): SEA-JFK: 11/2006
6.81:
Air Canada (17): ICN-YYZ: 10/2006
6.70:
KLM (32): EBB-AMS: 08/2007
6.25:
Korean Air (45): NAN-ICN: 10/2007
6.11: TAP (53): GRU-OPO: 06/2008
5.75:
Singapore Airlines (16): CCU-SIN: 10/2006
5.64:
NorthWest (46): ICN-NRT-SEA: 10/2007
4.42:
Air France: CDG-JNB (25): 08/2007
ECONOMY: Long + Medium:
9.26:
Air India (48): JFK-DEL: 02/2008
7.38:
Avianca (01): BOG-LIM: 07/2006
6.26:
Jet Blue (21): CUN-JFK: 02/2007
6.06:
Air Canada (04): YYZ-YVR: 09/2006
5.89:
USA 3000 (19): PUJ-BDL: 01/2007
5.79:
Air New Zealand (42): RAR-NAN: 10/2007
5.46:
TAP Air Portugal (23): OSL-LIS: 05/2007
ECONOMY: Short
8.56:
Paramount Airways (38): BLR-MAA: 09/2007
8.24:
Kingfisher (14): IXA-GAU: 10/2006
7.87:
Indian (34): BOM-MAA: 09/2007
7.72:
Alliance Air (13): CCU-IXA: 10/2006
7.57:
Indian Airlines (10): DEL-CCU: 09/2006
7.23:
West Jet (03): YYC-YVR: 09/2006
7.15:
JetLite (37): BOM-GOI: 09/2007
6.70:
Spice Jet (09): CCU-DEL: 09/2006
6.63:
Air Fiji (44): NAN-SUV: 10/2007
6.58:
Air Tran (02): EWR-MDW: 08/2006
6.44:
CO Micronesia (39): ROR-YAP: 10/2007
6.41:
Pacific Sun (43): NAN-SUV: 10/2007
6.37:
Skybus (47): SWF-CMH: 02/2008
6.33:
Kenya Airways (29): NBO-BJM: 08/2007
6.31:
Indigo (15): GAU-CCU: 10/2006
6.22:
Air Link Swazi (28): MTS-JNB: 08/2007
6.22:
Air India (36): HYD-BOM: 09/2007
6.13:
Adam Air (07): SIN-CGK: 09/2006
6.13:
Air Rarotonga (41): RAR-AIT: 10/2007
6.00:
Transairways (27): INH-MPM: 08/2007
5.95:
Air Canada (05): ALB-YYZ: 09/2006
5.85:
SAS Norge (22): OSL-AES: 05/2007
5.81:
LAM Mozambique (26): JNB-MPM: 08/2007
5.69:
Air Deccan (12): IXZ-CCU: 10/2006
5.67:
Rwanda Air Exp (30): KGL-NBO: 08/2007
5.07:
Go Air (35): MAA-HYD: 09/2007
5.00:
Sky Airline (51): IQQ-SCL: 06/2008
4.96:
Valuair (08): CGK-SIN: 09/2006
4.78:
Air Comet Chile (50): SCL-IQQ: 06/2008
4.74:
Fly 540 (31): MYD-LAU: 08/2007
4.33:
Viva Aerobus (20): ELP-MTY: 02/2007
4.11:
Air Sahara (11): CCU-BOM: 09/2006
(Note on Codes: Y – Economy, J – Business, F – First :: I/D – International/Domestic :: SR/MR/LR – Short/Medium/Long Haul)
VII> Other Pictures:
Some other pictures.
(Amenity kit)
(One thing I did appreciate – and what very few airlines do anymore – a parting gift – a TAP CD)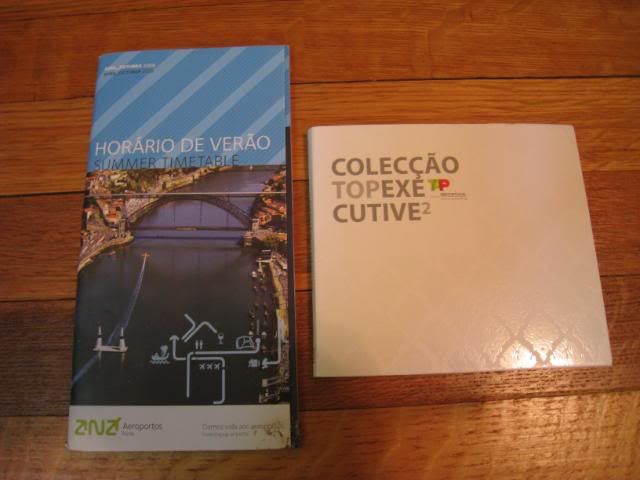 (Awesome Porto airport – depature side)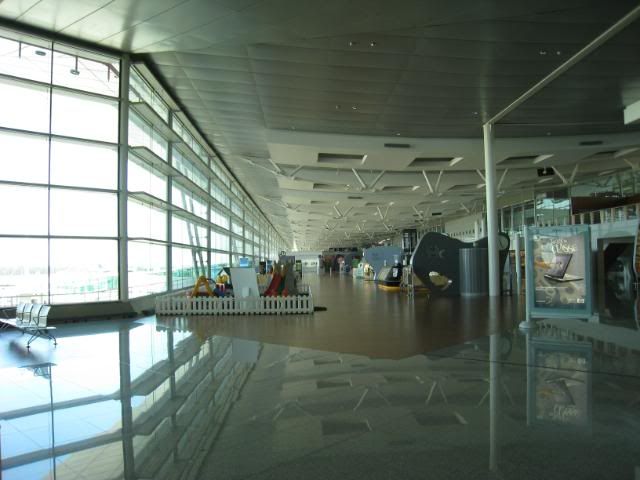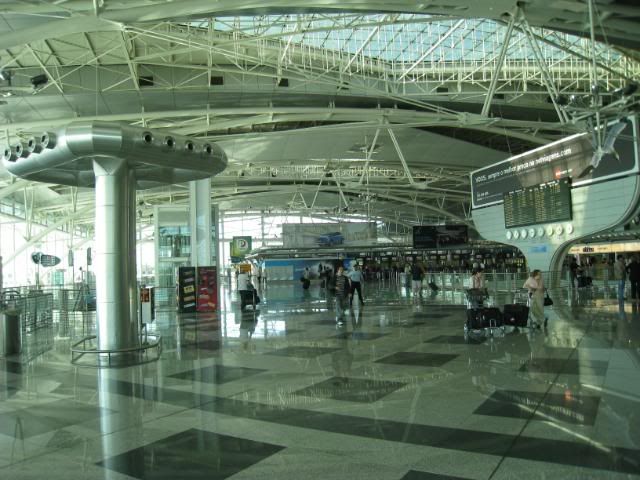 (TP lounge, OPO)
(My Portugalia flight to BCN – great flight; great crew)