Royal Jordanian
RJ129 - 10 August 2008
AMM-BUD
Embraer 195 - JY-EMF
Seat: Business 2A
Departure time: 11:30
Arrival time: 14:25
View Large
View Medium


Photo © Savvas Petoussis
I arrived in Amman in the pre-dawn hours from Bangkok with Royal Jordanian, and the trip is detailed in this report
http://www.airliners.net/aviation-fo...ums/trip_reports/read.main/132073/
.
Once on the ground, I proceeded to the Royal Jordanian lounge and was told to go to the other lounge on the other side of the airport. I walked through Duty Free in Queen Alia International Airport, which wasn't anything too exciting, and sat myself in the lounge. The wireless Internet was fast and the lounge was very busy for such an early hour. It was generally full right through to my flight time.
Eventually I proceeded to Gate 1 and we boarded our bus to our aeroplane. On board, I got this photo of an RJ A340-200 waiting to fly.
We drove off and I got this angle of the same aircraft.
E-Jets waiting for their next flight...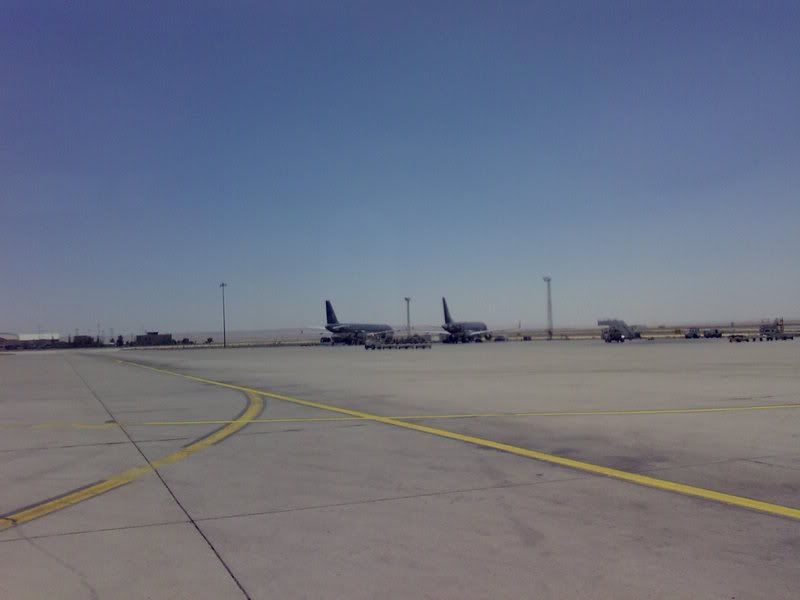 Soon enough we approached JY-EMF, our aircraft for the day, complete with ground staff member sitting in the nacelle.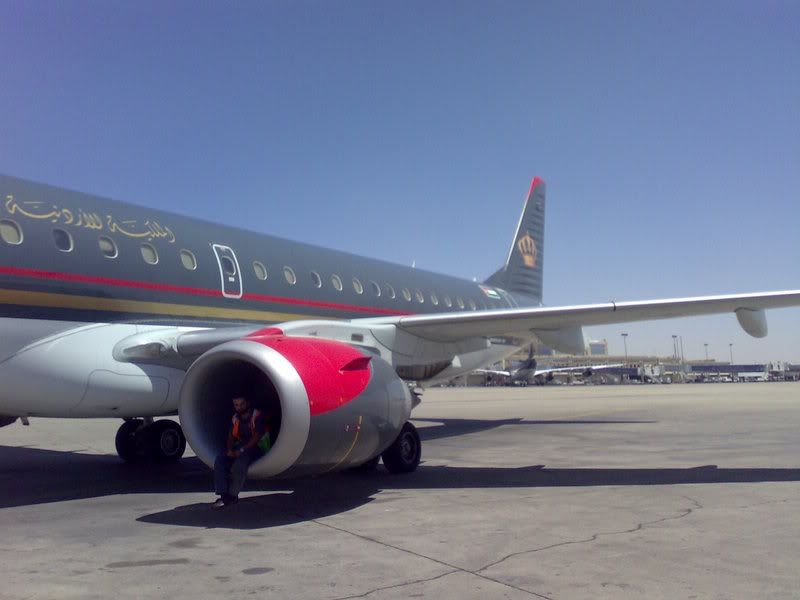 Once on board, I was greeted by our flight attendants, and was very quickly offered a pre-take off juice. They're always very nice and make a nice change from the usual pre-take off champagne.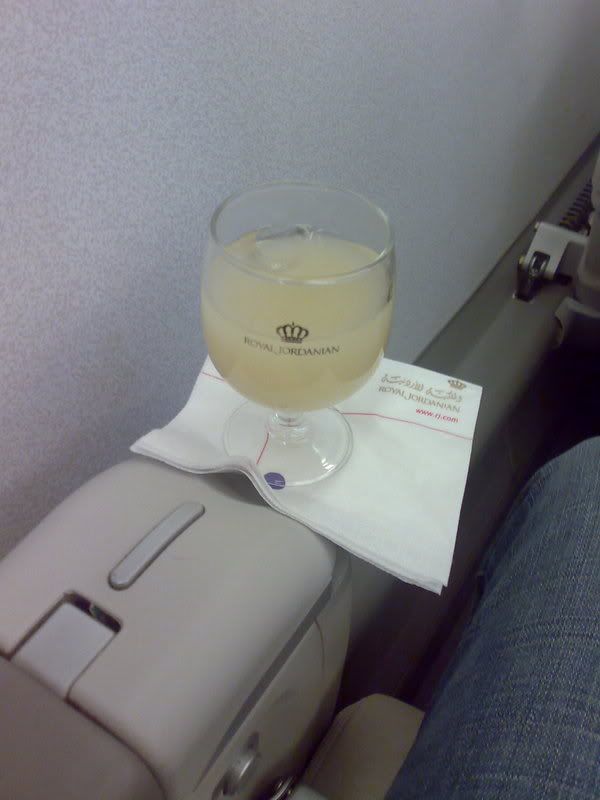 Crown Class was quite full on this flight, with perhaps three seats free. We had the safety demonstration, and then taxiied to the runway. This is what Queen Alia International Airport looks like from the outside.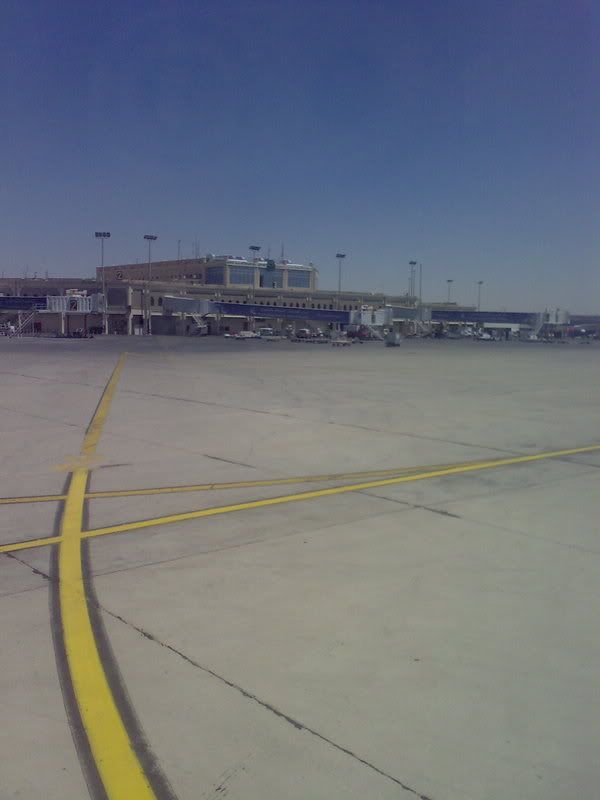 Along the way we passed some Iraqi Airways aircraft - a Boeing 727-200 and a Boeing 707-300. They look like they're in perfect shape and ready to fly out. I imagine it would cost a bundle to put them back into service. There were also assorted Tristars and other aircraft sitting around as you can see.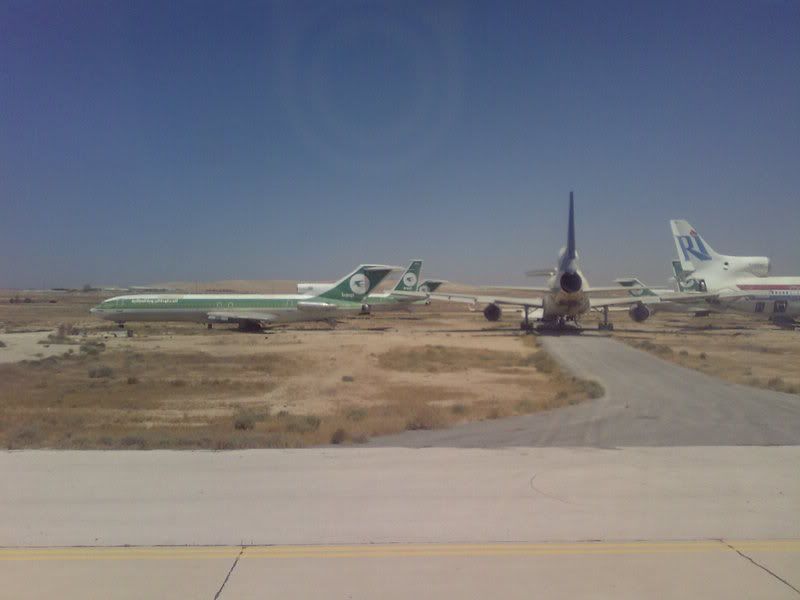 We took off fairly swiftly, and we were blessed with awesome weather. The view from the aircraft was amazing as we flew over the Dead Sea, and across Israel.
Menus were handed out next.
... and shortly after we were served our lunch.
Above is the Poached Salmon, Duck Breast, Mozzeaella Terrine, along with salad and breads. Dessert, salad and cheese is also present for later on during the courses. As usual the food was sublime.
Next came the main course...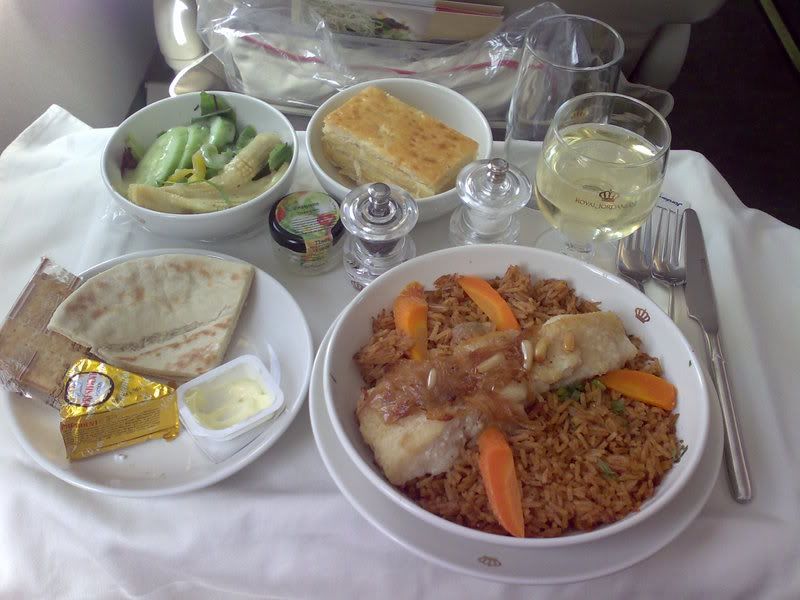 This was the Grilled Hammour Sayadeya. I'd never had it before, and it was well worth the try. It was amazingly delicious! Also, more bread has been served. The French white wine accompanied it perfectly and I was replete with foody goodness!
As I'd been sitting in the lounge for six hours on the back of a 9 hour flight from Bangkok and a 9 hour flight from Sydney, I dozed for the rest of the flight. We arrived in Budapest on time.
Once we deplaned, we were asked to show passports in the jetway, which was a total first. After that, there was no transfer available and I was told I'd have to pass through Passport control into departures in order to get my boarding pass for the next flight. I wasn't too happy, as I'd had the same experience when I was on the sector in the other direction, but what can you do?
Malev
MA622 - 10 August 2008
BUD-DUB
Boeing 737-800 - HA-LOH
Seat: Business 1F
Departure time: 18:55
Arrival time: 21:00
I arrived in Departures and went out for a little air for a while. It was lovely to be outside after 30 hours travelling, and I enjoyed it. There is some kind of small aviation viewing park next to the Terminal, but I didn't go down as I was exhausted, quite frankly! That's something I want to do next time as there are some cool Russian airliners there.
The flight to Dublin wasn't on the board as available to check-in as it was still 4 hours to departure, so I went to the London check-in and told the agent I was in transit and could she check me in now so I could get to the lounge. She had no problem with it, and after much typing synched up the baggage (which had been checked through from Sydney) and handed me my boarding pass. Score! I was so pleased about that - go Malev!
Straight back through Passport control and into the lounge, where I sat about in various states of coma reading a book until it was time to board.
We boarded on time, and horror of horrors, the 737-800 has shitty Economy-esque Business Class seats. 3 x 3 - total contrast to the 737-700 which has proper J class seats in a 3 x 2 arrangement. I wasn't at all happy with that, the seat was not at all like my outbound sector.
Anyway, I had no-one next to me (but row 1 has no armrests you can move up - so it's a bad spot all round), and J was maybe 5 out of 12 seats full. Pre-take off orange juice, followed by the aircraft buttoning up, safety demonstration in Hungarian and English on the drop down screens, followed by us leaping into the air.
A white cloth was laid on the table, followed by pre-dinner nuts and a drink.
Dinner service commenced soon after.
The starter on the left is salmon and some other thing with capers - it was lovely. Chicken, pasta and carrots was the main in a lovely sauce. Gorgeous bread, a decadent chocolate mousse dessert, and cheeses and grapes to finish. I love blue cheese and this didn't disappoint!
We flew on and arrived in Dublin on time.
Cabin service on both sectors was excellent, and once again the "poor cousins" of oneworld show their excellent in this way. The food service is also well up to oneworld standards. I'd really like to fly the RJ A320s with the IFE one day, as the portable hand out screens are just not the same.
Anyway, thoroughly enjoyed my flights - though I have vowed to fly direct with QF or BA or CX or JL next time rather than doing so many sectors. It's quite tiring! Hope you enjoyed the report, and all the other ones from this trip! Thanks for reading, and feel free to comment - I'll answer any questions