Hello All,
Welcome back to my next trip report, a "short" one way trip from MSP to AUS via ORD and DFW.
Here are my others:
http://www.airliners.net/aviation-fo...ums/trip_reports/read.main/130404/
AA Transcon
http://www.airliners.net/aviation-fo...ums/trip_reports/read.main/126805/
VivaAerobus AUS-CUN
http://www.airliners.net/aviation-fo...ums/trip_reports/read.main/106448/
Flagship Detroit DC-3
http://www.airliners.net/aviation-fo...ums/trip_reports/read.main/102590/
SXM
http://www.airliners.net/aviation-forums/trip_reports/read.main/99470/
CUN

Background
I drove up to Minnesota with a friend, as he was headed back up there for school, and since I never get to see him, we decided a leisurely drive up to MN, and a subsequent trip to his grandparents' lake house in west central Minnesota would suffice. Right off the bat, here's one picture from the lake, a stunning sunset!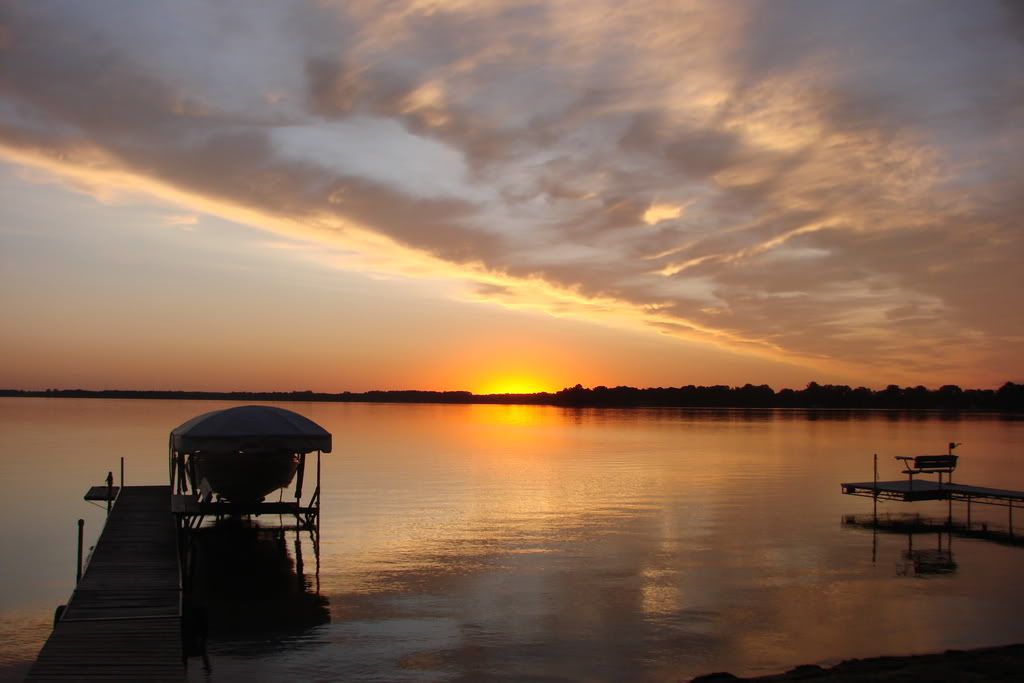 Alas, after a fun-filled week, it was time to head back home, as my school starts up on the 25th. I had booked, as I normally do, a trip with more stops than necessary, just to include a larger plane than I'd otherwise get to fly. The culprit this time: AA's flagship, the Triple Seven, operating as AA47, a positioning flight between ORD and DFW.
August 15th
I arrived at the airport about 12:30 for my 4:40 flight, hoping that by checking in early enough, I'd either be able to score a machine upgrade for my 777, or at the very least move from my seat in the back, 33J, to a better seat, hopefully one of the J seats. Alas, I struck out on both attempts, so I was pretty bummed. Other than that, check-in went smoothly, and I arrived at gate E16 right about 1. The first thing I did was see if the MSP gate agent could change my seating assignment for my ORD-DFW flight. Strike 3. Then I went over to gate E12 where a 2:00 departure to ORD had not yet arrived. I decided I'd rather spend 4 hours in ORD than 3 hours in MSP and 1 in ORD, so I asked if standby space was available. Not surprisingly, it was, and they gave me 7A, a bulkhead. I also noticed that this row boards with Group 1, which made me happy. Shortly thereafter, N7540A, an MD-82, arrived from ORD. About 25 minutes later, AA 2337 was set to go to ORD.
AA 2337
MSP-ORD
MD-82
N7540A

Scheduled Departure: 1400
Out: 1400
Departure Gate: E12
Seat: 7A
Departure Runway: 17
Off: 1412
Cruising Altitude: FL 290
Cruising Airspeed: Mach .760
Route: COULT2 DLL MSN JVL JVL4
Arrival Runway: 10
On: 1508
Arrival Gate: H11A
Scheduled Arrival:1520
In: 1515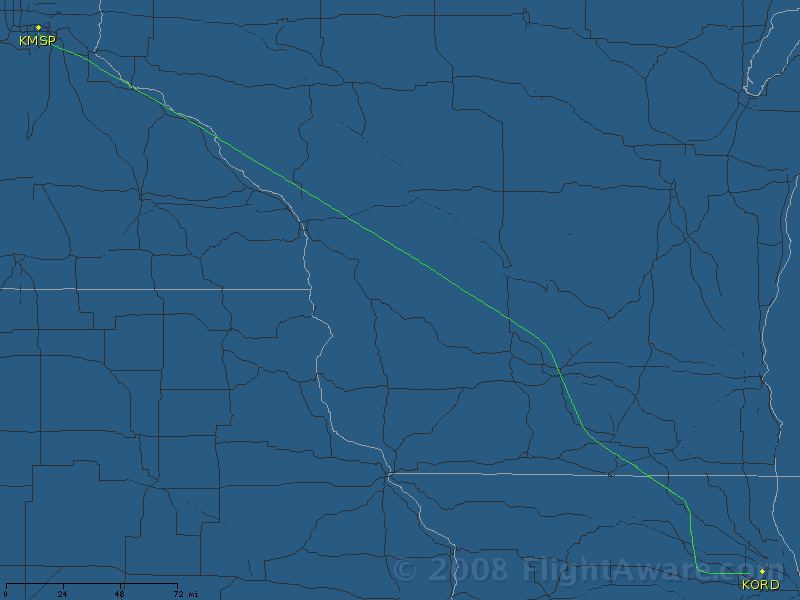 AA2337, according to FlightAware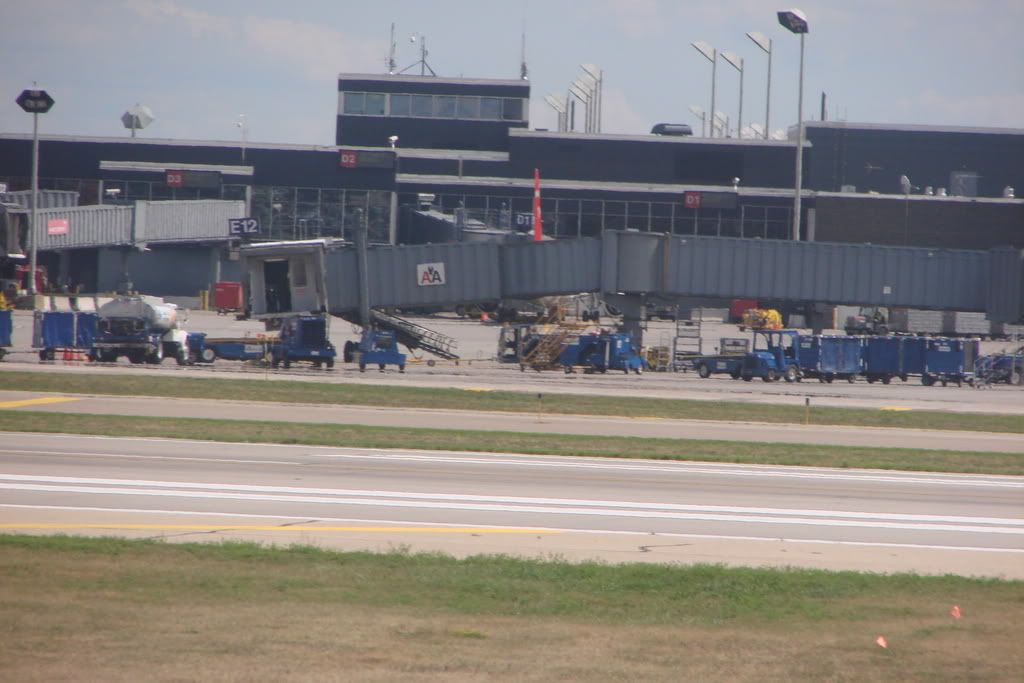 Gate E12 from the taxiway.
This flight was fairly routine, but I did get to takeoff on the "new" runway at MSP, 17. Alas, I had the A window, so no views of the MoA (Mall of America) for me.
http://www.youtube.com/watch?v=J_P9_wkJzt0
Takeoff from MSP (for some reason the embed isn't working on this one)
After takeoff, we climbed to FL290, and we got a quick, but full beverage service.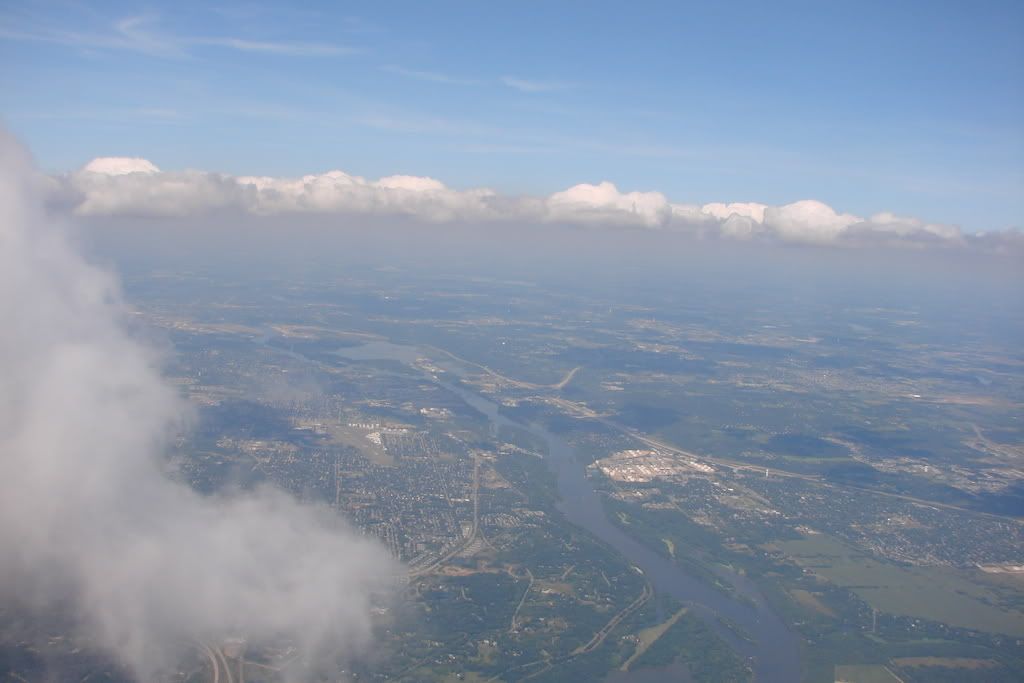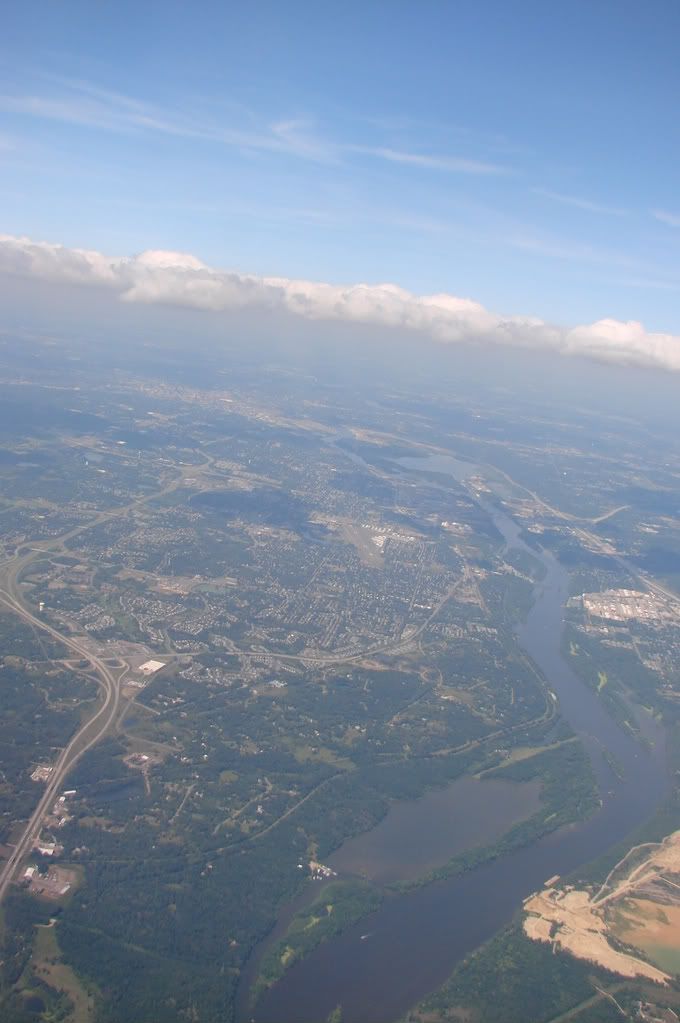 Climbing out
Our route today took us over Madison, WI.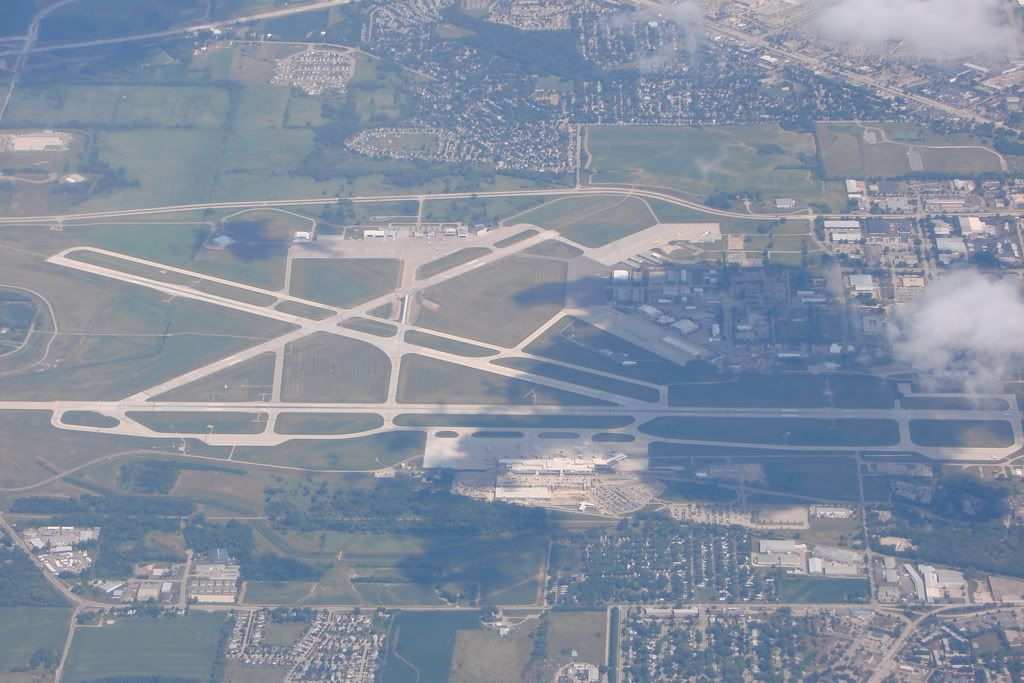 MSN, I believe
We began our descent, and a bit later we were into the sprawling Suburban Chicago. A turn to the south, followed by a turn due east lined us up with 10.
Landing at ORD
After landing, and a short taxi, we pulled into gate H11A, 5 minutes ahead of schedule.
I deplaned, and started to make my way over to concourse L, hoping I may have some luck with a new seat there. I had a lot of time to kill, and needed something to do, anyway. As I walked through the cut-over between H & K, I meandered right passed the Admiral's Club. I started thinking, $50 for a day pass, and I've got a lot of time to kill...seemed like a good idea to me. And if there's one thing I've learned, the ladies at any Admiral's Club can work magic, so I also had some hope of finding a new seat there, too. I bought the day pass, and went up to the 3rd floor to the club. I asked the agents up there if there were any seats, and still to no avail. My hopes were beginning to dwindle. I hung out at the club, and took a LOT of pictures. I'll post a few of them here.
AA MD-82 N7540A (my ride from MSP in all her glory!
)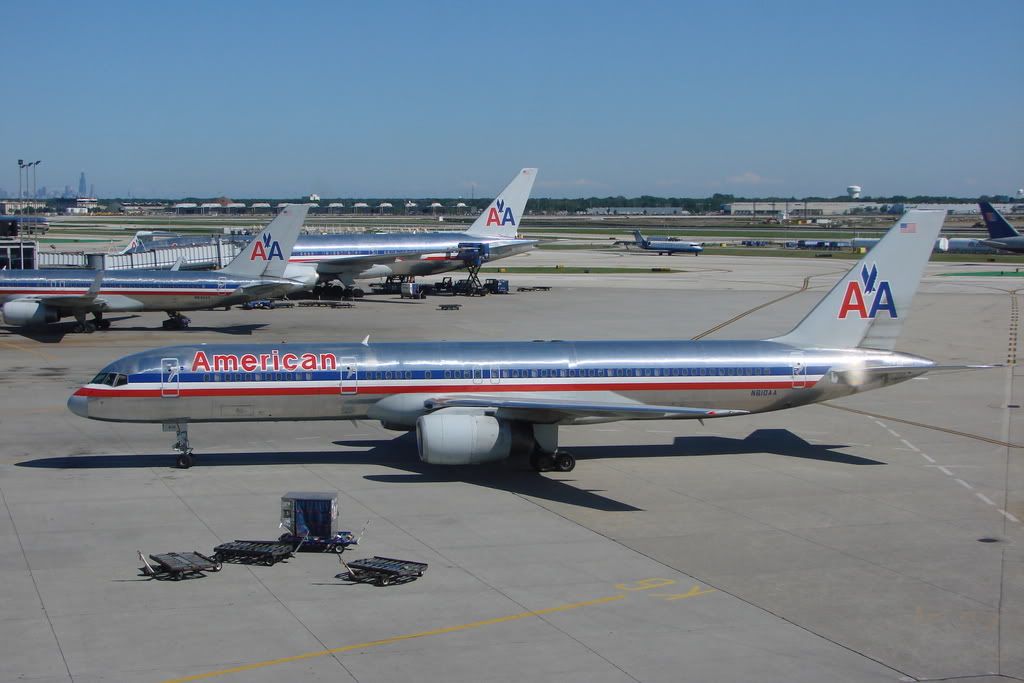 AA 752 N610AA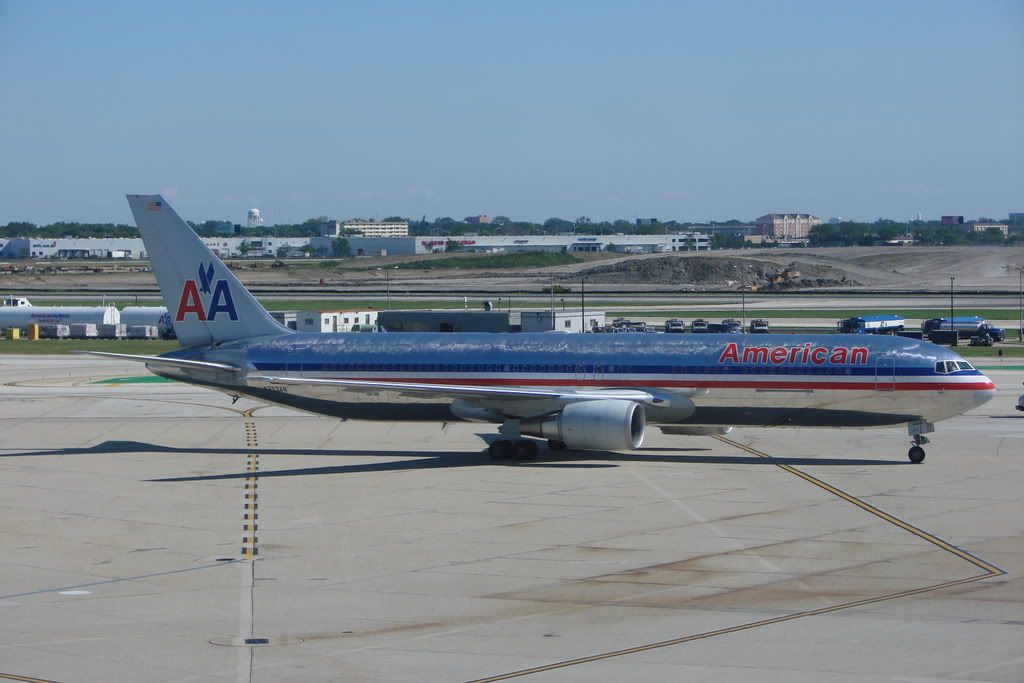 AA 763 N393AN (I flew on 394AN a month ago LAX-DFW)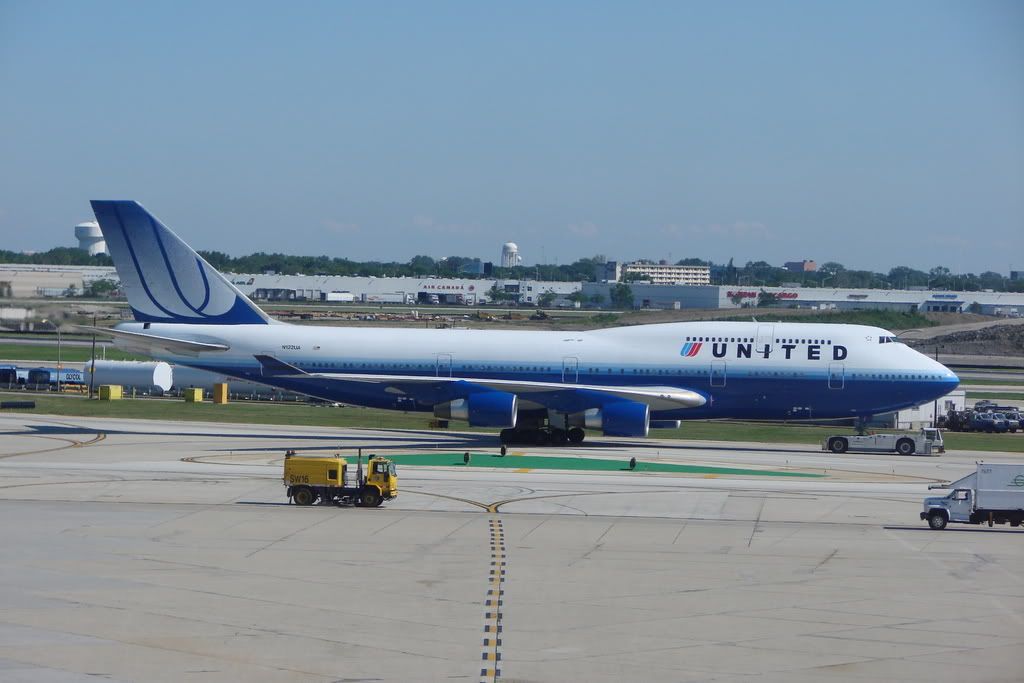 UA 744 N122UA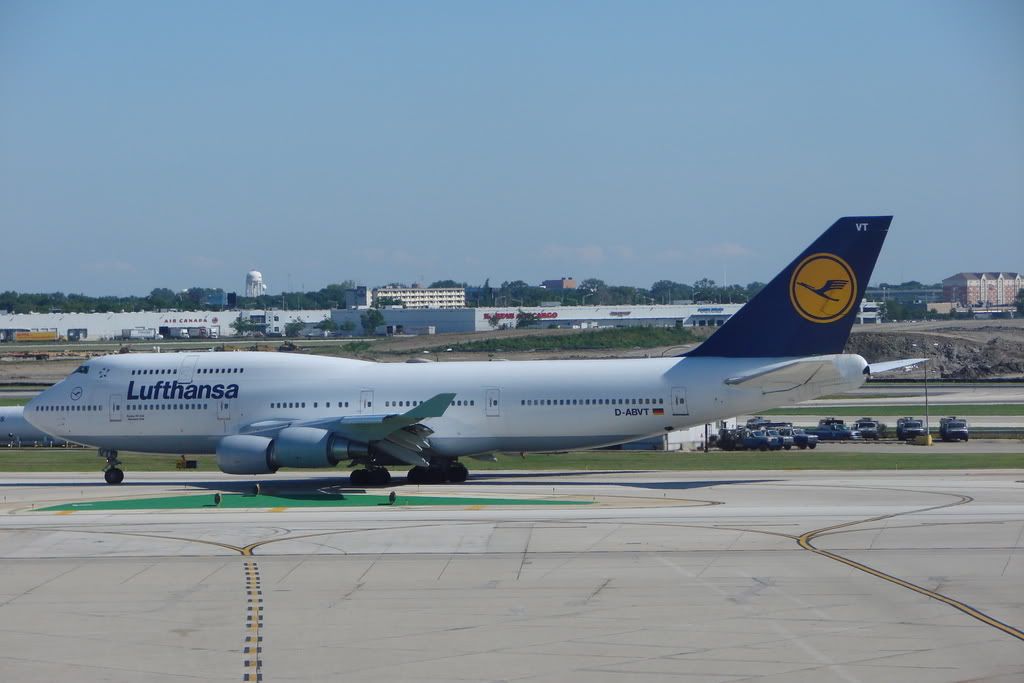 LH 744 D-ABVT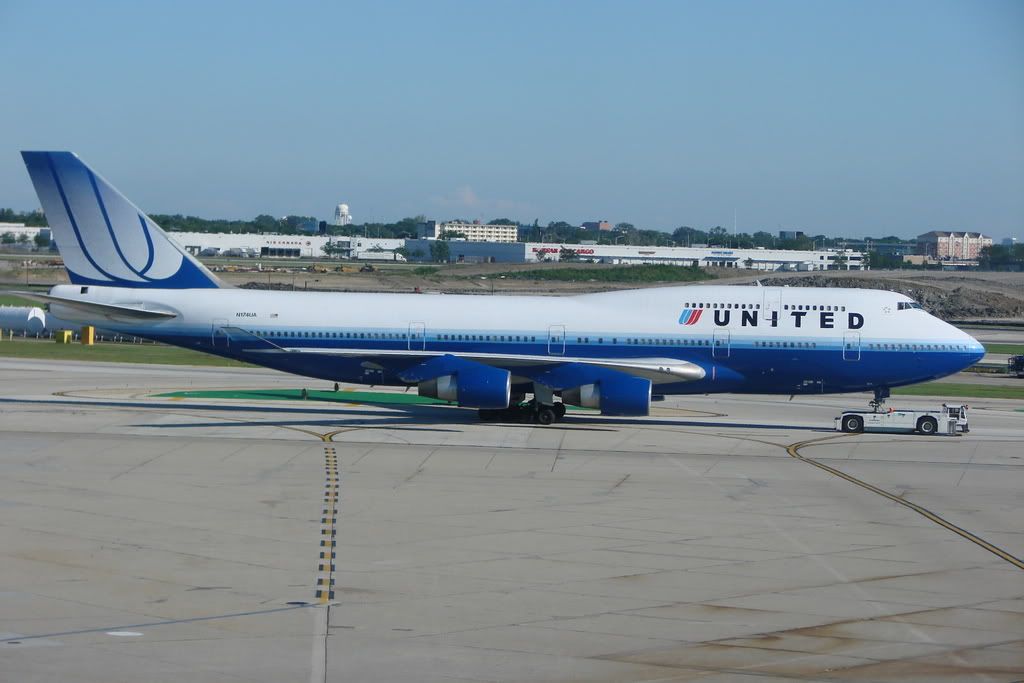 UA 744 N174UA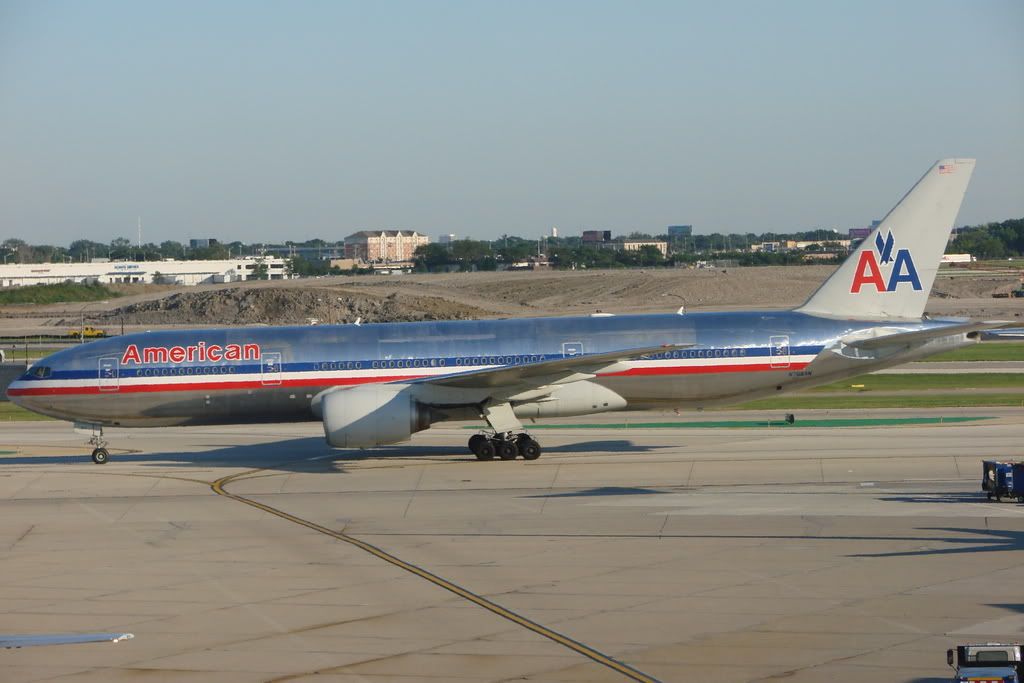 AA 772 N766AN (my ride to DFW)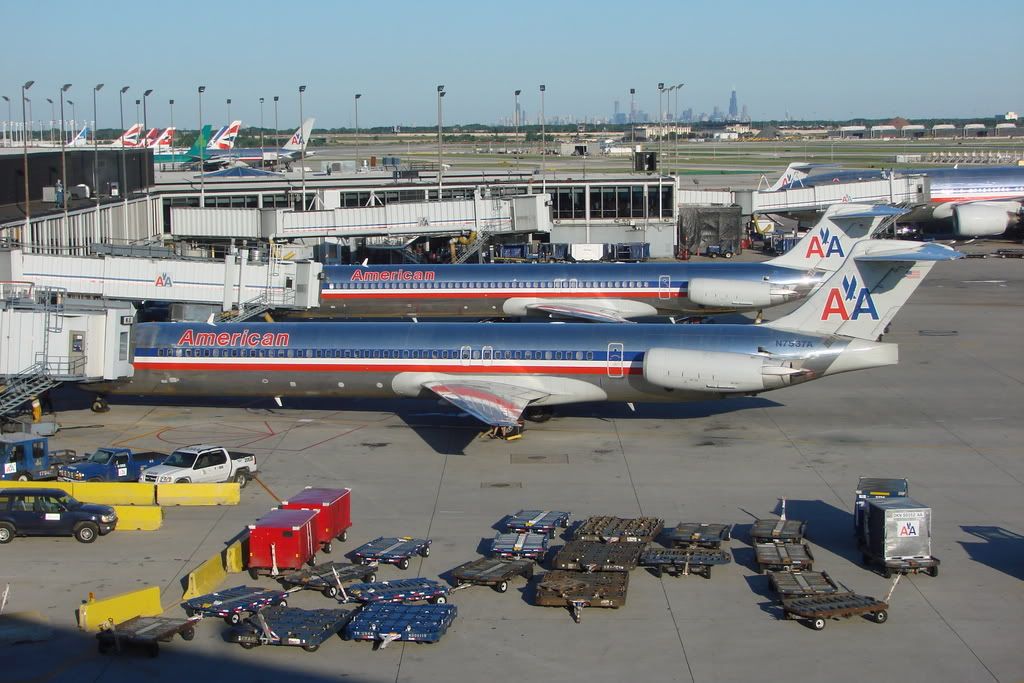 AA MD-82 N7537A
ORD H/K Ramp overview
Around 5, I was chatting with Drew (FXRamper) on AIM, and he logged into SABRE and told me that a bunch of J seats were opening up, presumably as ExPlat and Plat upgrades cleared, so I went back to one of the AAdmiral Club's AAgents
and nabbed 13J, a window! Boarding pass in hand, I made my way to L8 around 6:30, for my 7:15 departure.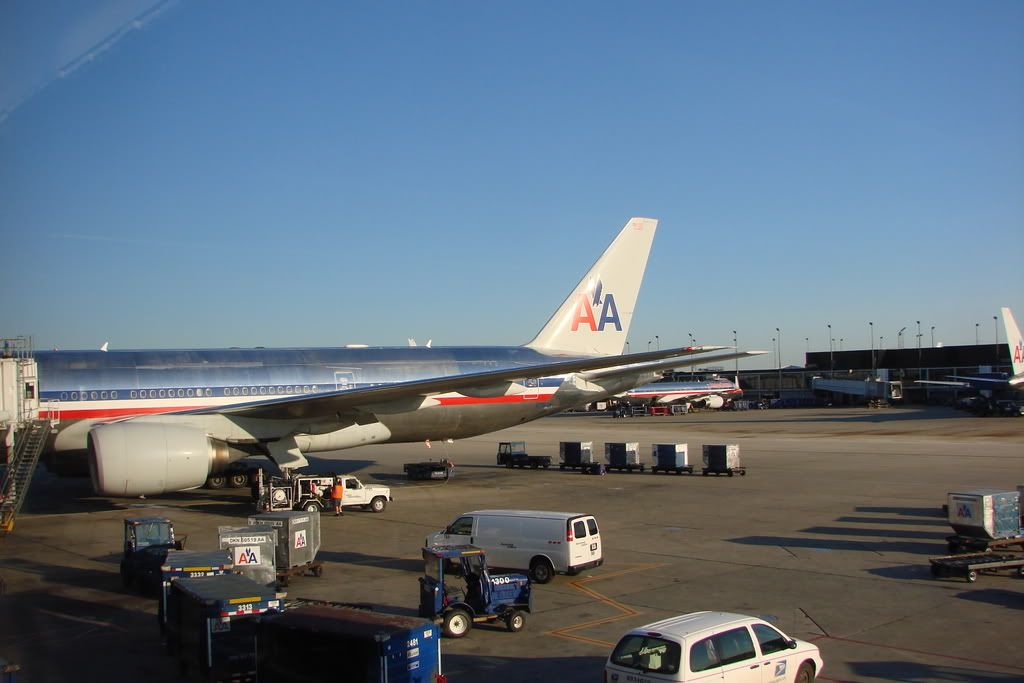 N766AN from L8 lounge
After my first experience with these seats last month, I must say, they're that much better on the Triple. I think it's a great product that competes well with other US carriers that offer a Business/First hybrid product. It's a very comfortable seat, and I must say I don't slide down AT ALL! The clear drawback being it really is damn near impossible to get out if you're in the window and your seatmate is so much as reclined. Everything just seems so much bigger, including the seat, but especially the wing!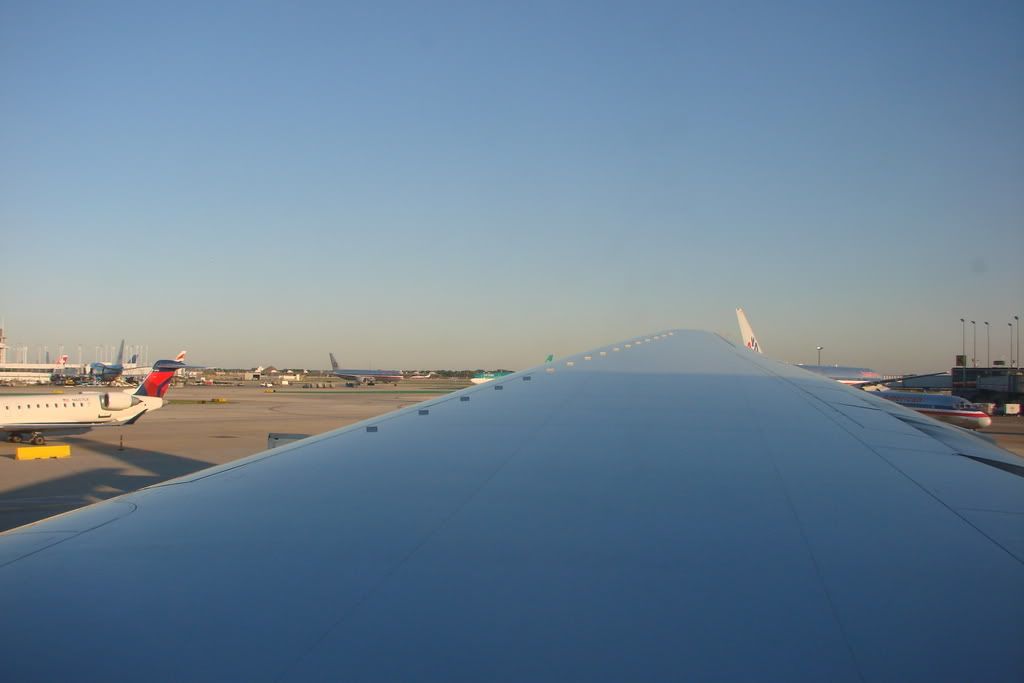 Wow. I'd forgotten how big it was.
We closed up and pushed back right on time.
AA 47
ORD-DFW
777-223
N766AN

Scheduled Departure: 1915
Out: 1915
Departure Gate: L8
Seat: 13J
Departure Runway: 9R
Off: 1937
Cruising Altitude: FL 400
Cruising Airspeed: Mach .83
Route: ORD RBS STL FSM DFW
Arrival Runway: 35C
On: 2129
Arrival Gate: D30
Scheduled Arrival: 2130
In: 2138
AA47, according to FlightAware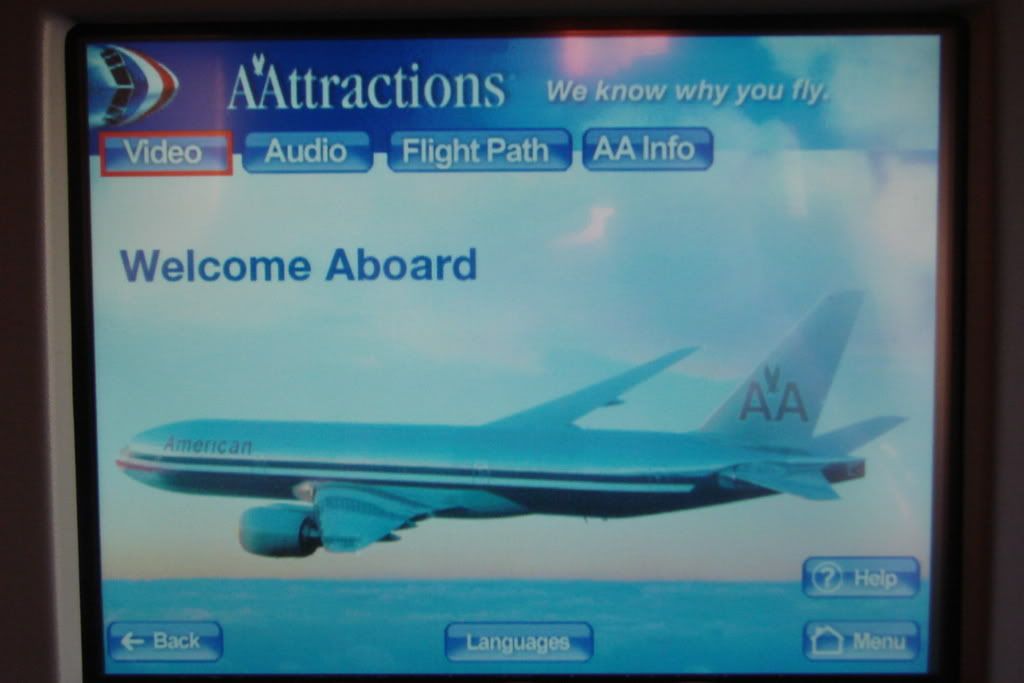 Welcome Aboard!
After push back, we made a very roundabout taxi to 9R, around the south side, but eventually we taxied into position. I was chatting with my seatmate, who was a nice guy (3 Million Miler), but he was an Aggie.
We talked a lot about AA and the state of the industry. He's the guy talking right before we began our takeoff roll in the video.
Takeoff from ORD
We made an immediate southerly turn right after takeoff, visible in the video, and climbed to our cruising altitude of FL 400. Although drinks and BOB were the only things offered, I was too engrossed in the seat to really care. Service was great and professional, as always, however! I settled in to experiment with the new AAVOD
, which I hadn't yet experienced on any airline. It was pretty well done, I think, but a few oversights (like only displaying screenshots, and not movie titles, in the main movies pages), and a relatively small, though perfectly adequate selection of titles set AA's AVOD a step behind some of the others, it would appear (though as I mentioned, this was my first experience with AVOD, period). I had a fantastic view of the sunset.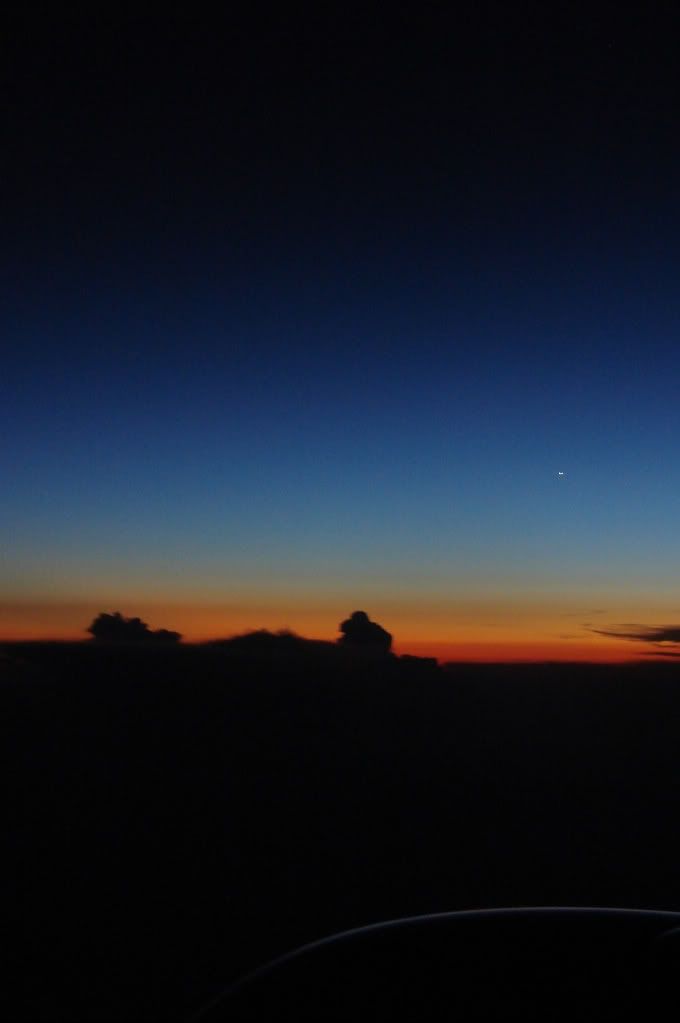 Chronological Sunset (I really like that last one)
After too short a time (probably because I was playing around with my seat a lot), we began our descent into DFW. We came in from the northeast, turned back to the west, and eventually north to line up for 35C.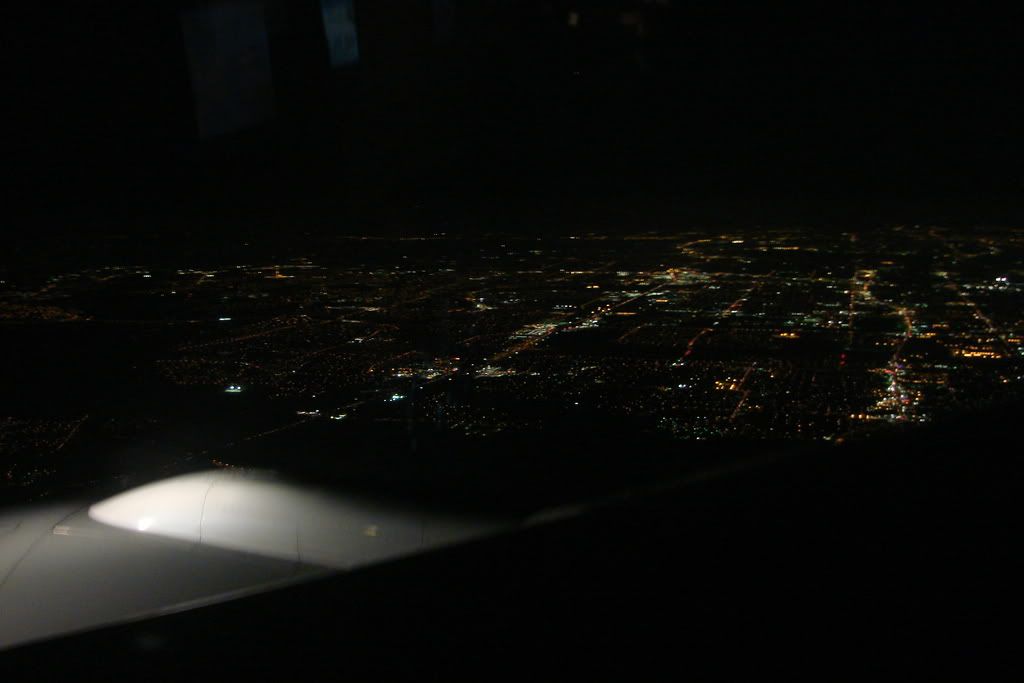 Metroplex at Night (with a big Trent 892 in front of it!
)
I tried to take a video of the landing, and will post it on here, but it's certainly not up to par with my others. It's just a bit too dark, I think. Oh well.
Landing at DFW
We taxied over to the west side via the Zulu bridge, and parked at gate D30. I went up to have a chat with the pilots, and got a pretty good shot of the cockpit, I think.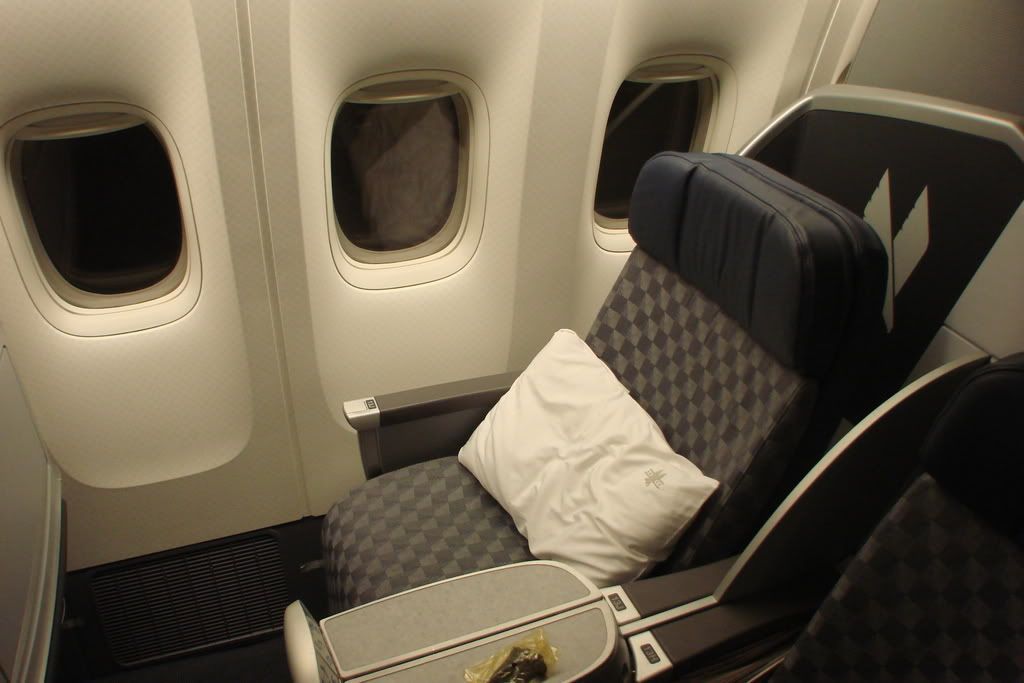 J Seat.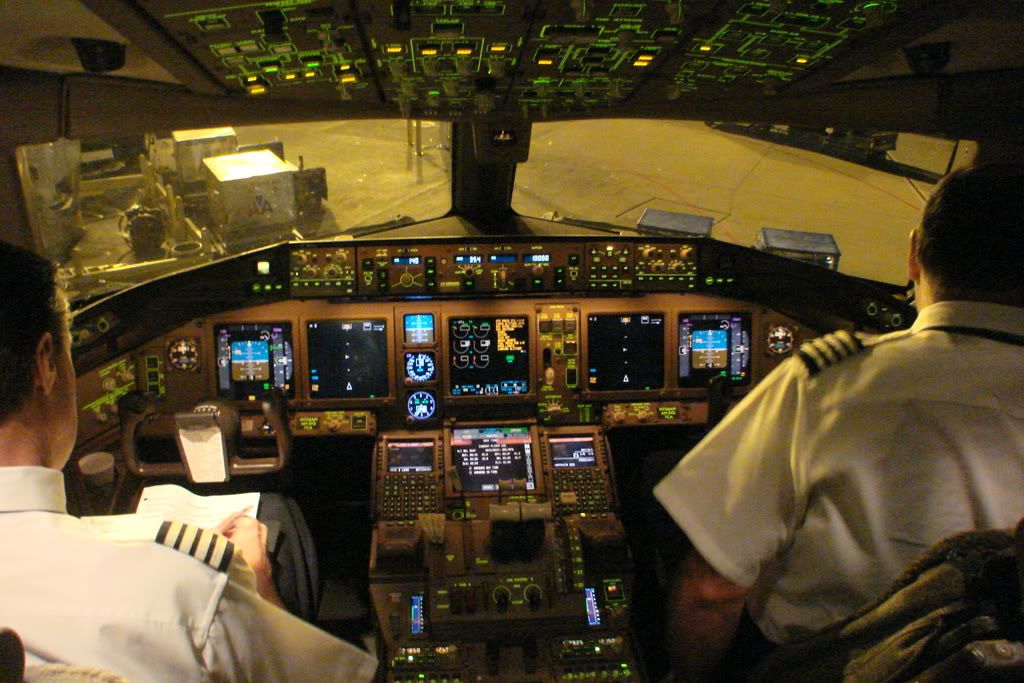 Cockpit
F Seat from front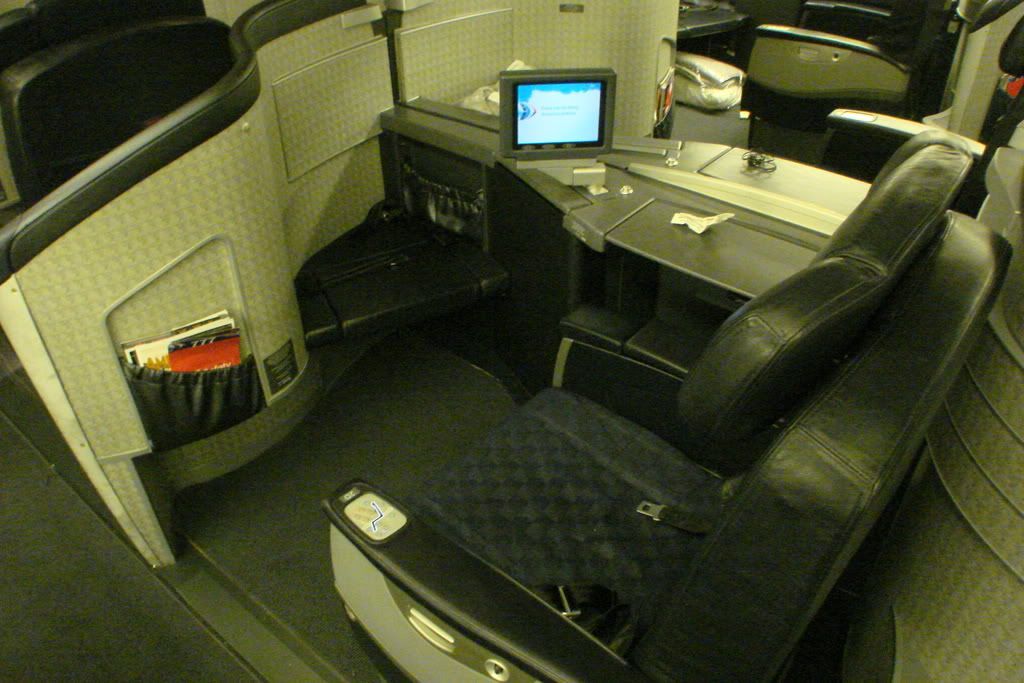 F Seat from back
I do love those Flagship Suites, they're awesome!
I deplaned, all teary eyed (ok, not really, I get to fly another one in a month and a half), and made my way to D34, after a quick stop at Mickie D's.
I found out my flight was about 30 minutes late leaving DEN, and that turned into 40 minutes late for departure back to AUS.
I asked the gate agent if she had any better seats, and she gladly gave me 7F, another bulkhead. I asked her if she had any upgrades "for a guy in an AA polo."
She started typing, and I got my hopes up, but she told me I'd have to do battle with all the ExPlats. Sadly, that was a battle I wouldn't win, especially to AUS, on the last flight of the day. Alas, the bulkhead was fine, and the middle seat stayed open. I was mad, because 6B wasn't taken, though!
AA 1274
DFW-AUS
MD-83
N9406W

Scheduled Departure: 2300
Out: 2341
Departure Gate: D34
Seat: 7F
Departure Runway: 36R
Off: 2352
Cruising Altitude: FL 220
Cruising Airspeed: 378 TAS/ 395 GS
Route: old trusty JASPA2.WINDU BLEWE1
Arrival Runway: 17R
On: 0028
Arrival Gate: 17
Scheduled Arrival: 2350
In: 0037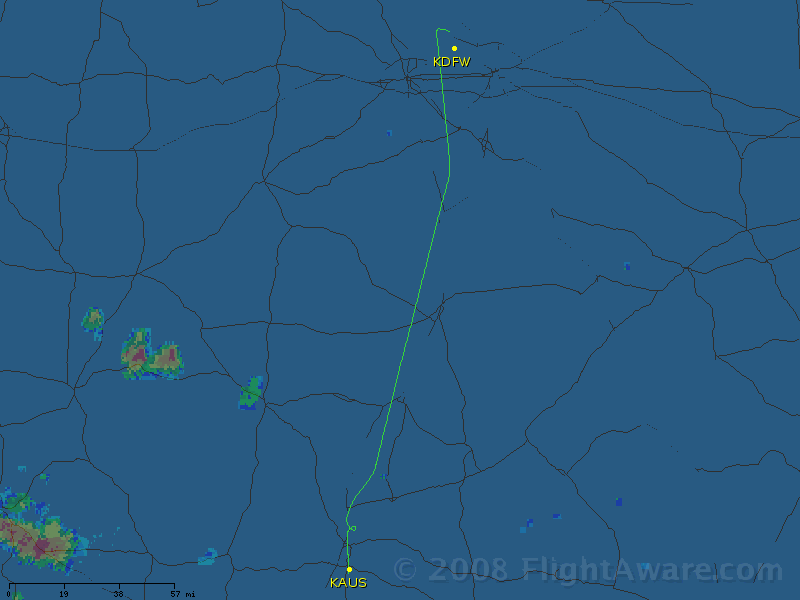 AA1274, according to FlightAware
We took off to the north, and turned back south. I'm always impressed with the flight attendants' ability to serve drinks to 130 people on such a short flight. I let this LAX based crew know after the flight that there are some people out there who appreciate what they do. The only eventful part of the flight was on final when we had to do a 360 degree turn. I was curious, but luckily the captain wrote on my data sheet it was because a WN pilot had slowed too early on final. I almost shit myself at the notion of a WN pilot doing anything too slow.
Nevertheless, the second time around, we made a routine landing, and a quick taxi to the gate. After a little bit of blindness/panic on my part, I saw my bag on the belt, and my trip was over.
AA again performs wonderfully in my book. I know what to expect, I know what not to expect, and they're always polite, courteous, and professional, and very rarely late, at least in my experiences.
Comments/Questions always welcome!
Hope you enjoyed!
Cheers,
Cameron