This was my second time flying NK, and the only reason why I did this trip was because of a $9 each way fare. When I flew with them last March (SJU-FLL-MCO-ATL) they automatically enrolled me in their "$9 Fare Club". Honestly, I forgot I was even a member. Perhaps the weekly emails from NK should have given it away. Anyway, after they sent me the password to login to my account, I quickly booked a round-trip ATL-FLL-ATL for a grand total of $37 including all taxes and fees. It would just be a day trip on one of my day's off. I avoided the $10 advanced seat selection charge and figured if I would check in early enough in ATL, I could get a window seat. So, I arrived at the ATL terminal for 7:00am this morning, and found no one in line. I was checked in by a somewhat pleasant but not really talkative agent and was assigned seat 7A on both flights. So far, so good.
The security checkpoint line was pretty long but I was through in about 20 minutes. I then took the train to the E gates to kill some time....that's pretty much a tradition of mine whenever I have time to kill in ATL...the E gates are just awesome. I was down there until 9:00am and then I walked to NK's gate D-9 (well, it's a shared gate between FL and NK) to await the 9:35am boarding call for flight NK 877 to FLL.
Here are some pictures from ATL while waiting to board the flight...
Delta 772ER. This baby will depart for PVG later in the morning.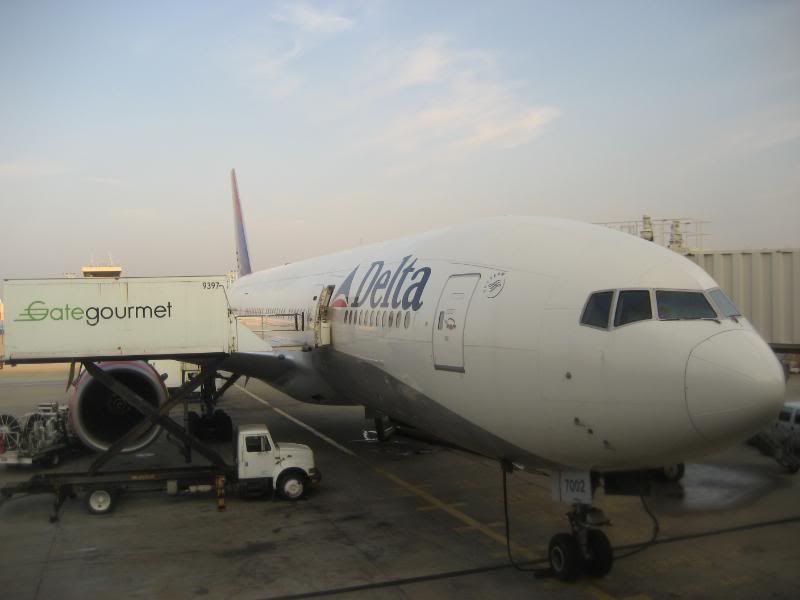 Delta 763ER.
Delta 764ER just pulled in from somewhere exotic.
Didn't come out as nice as I wanted it to but whatever. That China Airlines B744F landed just minutes earlier and she put on one heck of a show. Gotta love the 747.
CO B735 w/ winglets.
And finally....my ride to FLL.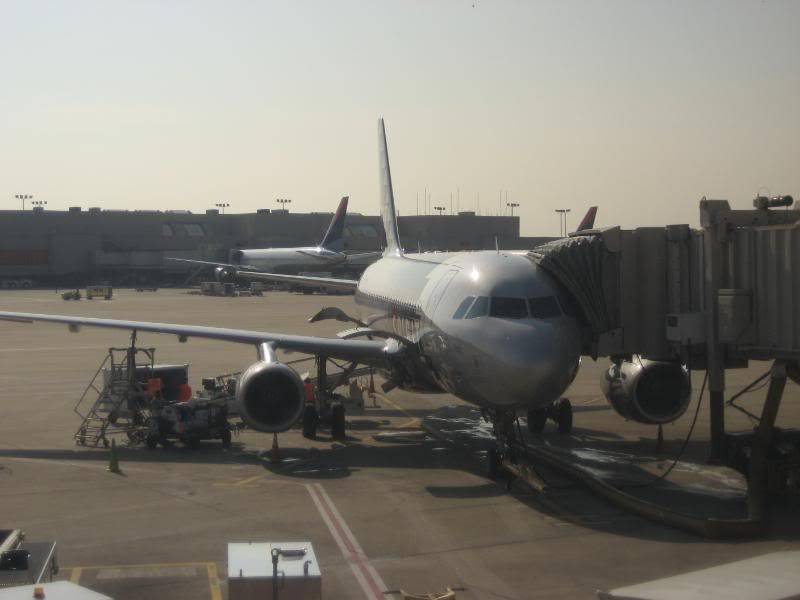 Spirit Airlines
NK 877
ATL-FLL
Airbus A319
Dep: 1005 (1005)
Arr: 1200 (1205)
Load: 100%
This was a completely full flight. Boarding was fairly organized with zone numbers called. I was in Zone 5, one of the last to board, since my seat was towards the front of the airplane.
I took my seat and snapped a quick window view...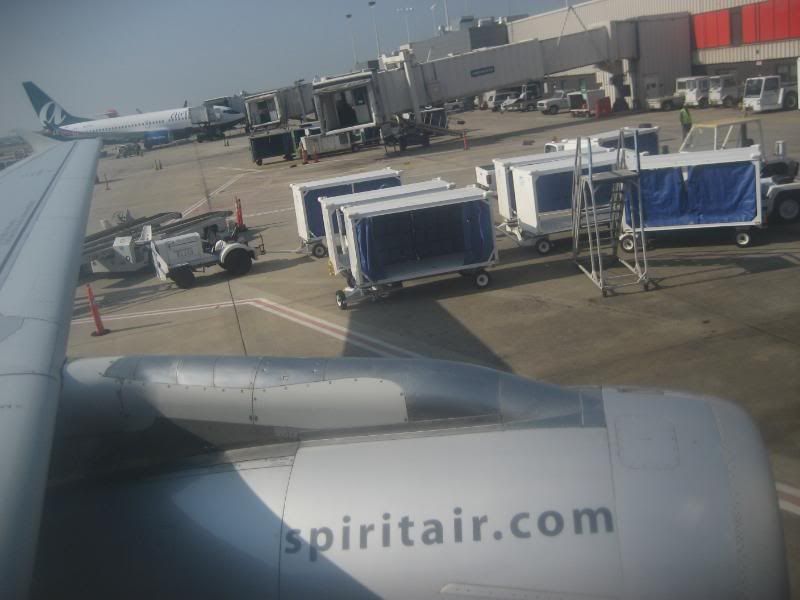 The seat itself was fairly comfortable with average pitch...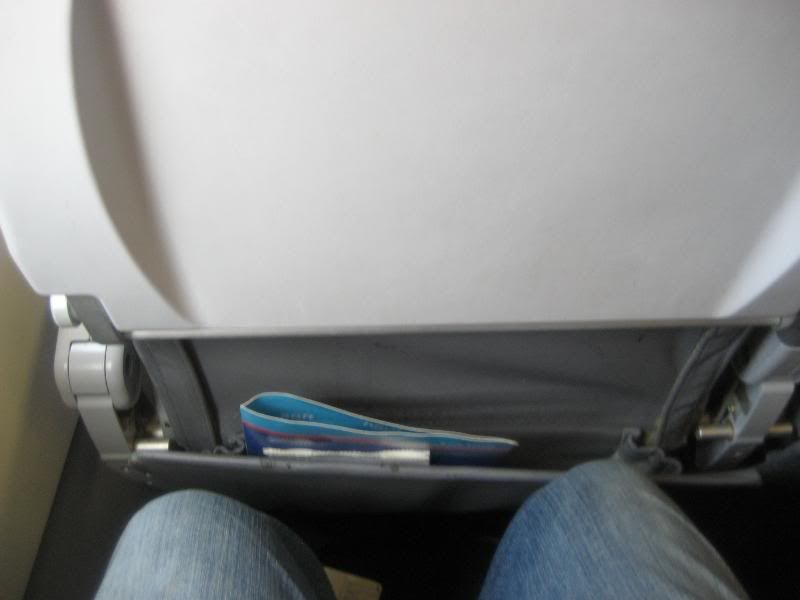 ...but what's not show was the seat back, which was filthy...lots of dirt and pen markings all over my row. And what was even dirtier was the menu in the seat back...hard to tell from this picture, but it was nasty...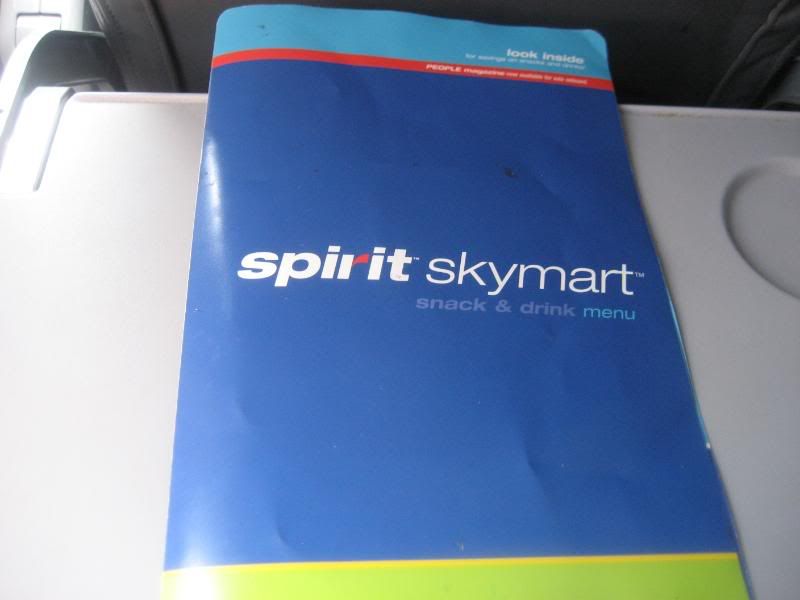 We pushed right on time at 1005 and endured a long taxi to the runway. After waiting for over a half hour, we were airborne at approx. 1040. Here are some views from our taxi, the highlight of which was our passing of KE's inbound 744 from ICN: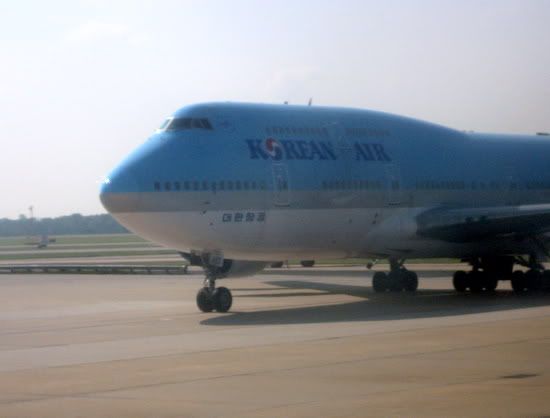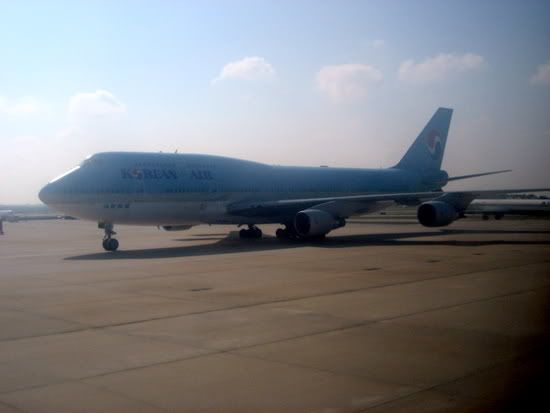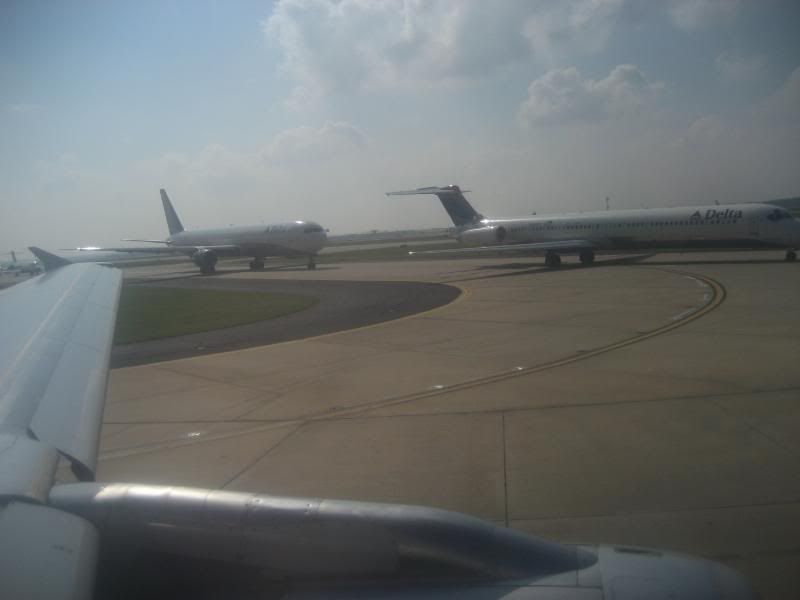 And we're off into the wild blue yonder...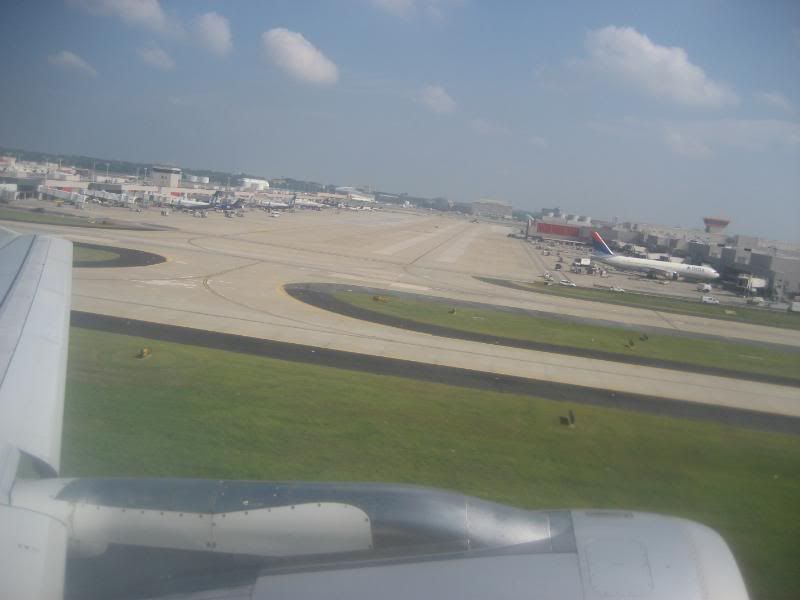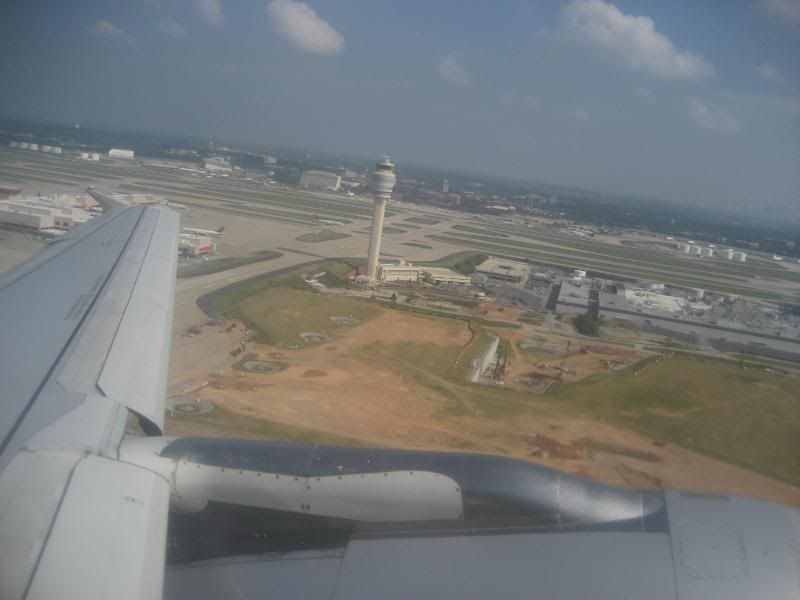 Flight time was announced at 1h30m wheels up to wheels down, and due to disturbed weather thanks to Tropical Storm Fay, it was announced that it may get a little bumpy. Cruise itself wasn't bumpy at all, but the approach into FLL was a roller coaster ride. Anyway, in flight service consisted of BOB drinks, snacks, and magazines. I found the service to be very slow and inefficient. Only one person in the first 7 rows ordered something, and the F/A was having a hard time getting the credit card reader to work properly. One interesting note: the person behind me was overcharged by the F/A and he was pretty upset that she couldn't supply him with a receipt. Apparently, the machine was still giving her issues. The rest of the flight passed quickly.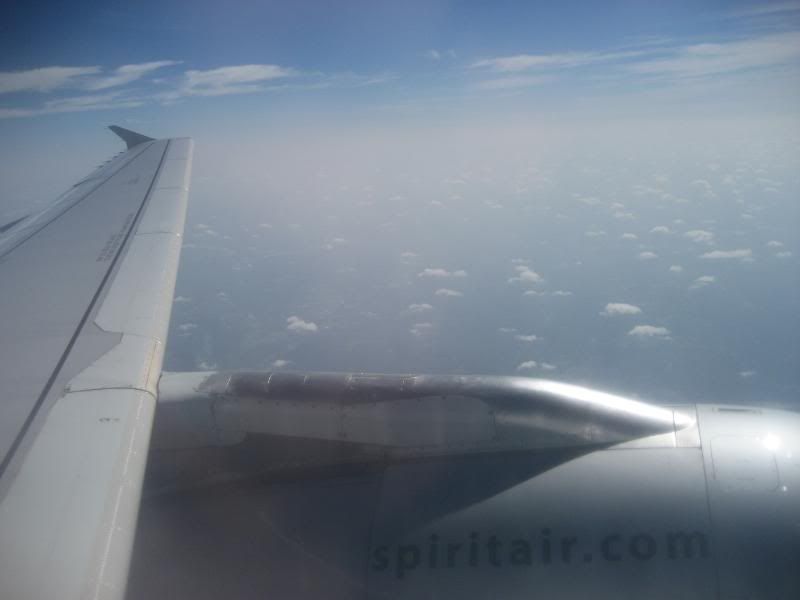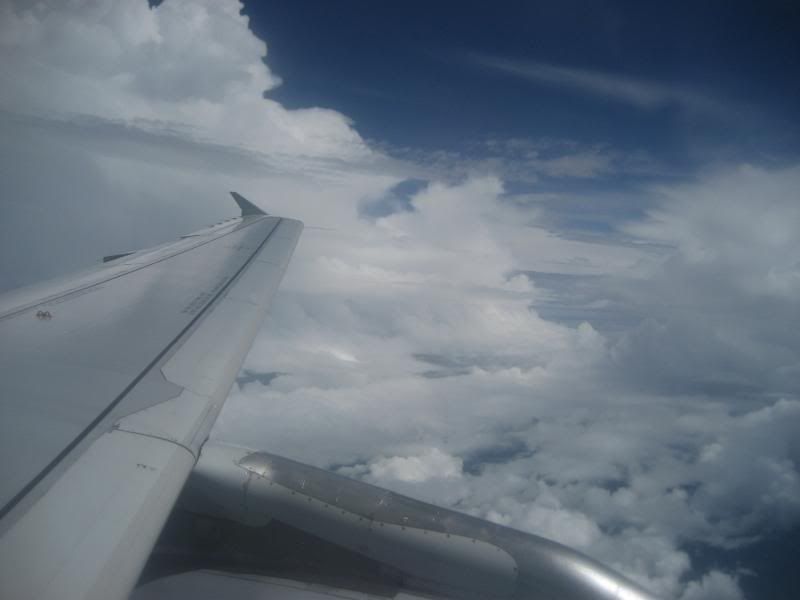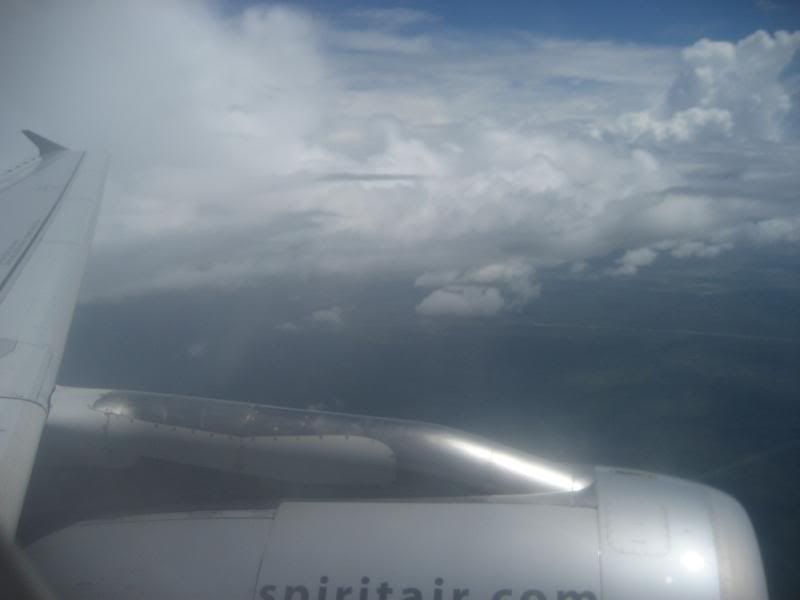 Our approach into FLL took us over the Everglades from the East, out over the Atlantic, and then making our turn back to the field. We flew through a few storm cells on approach and it rocked us. Here are some approach pictures and a video of the landing...
The end of the Everglades.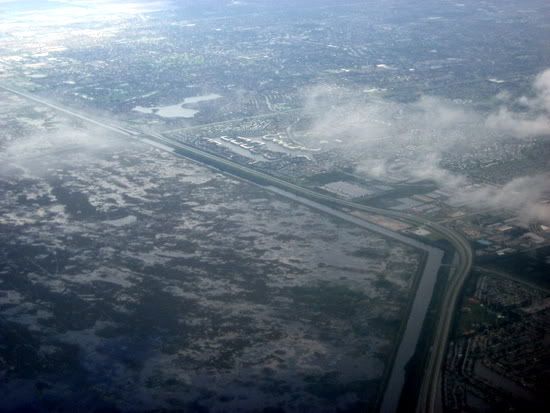 On our downwind leg, getting ready to head out over the blue Atlantic waters.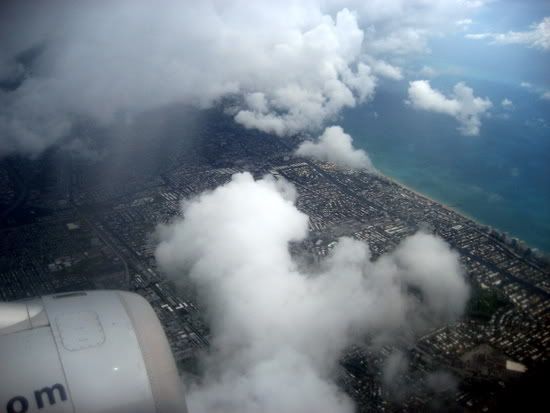 I would not mind being down there right now.
Just finished our turn from base to final.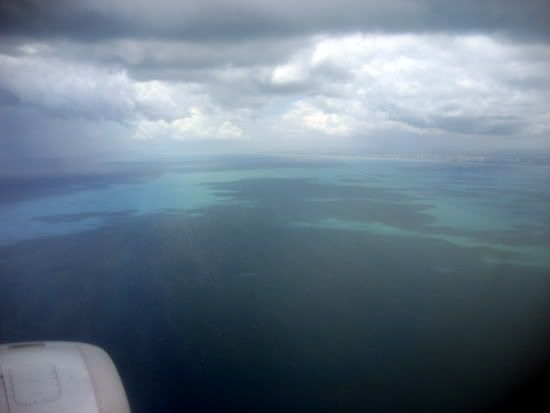 And the landing itself. Touchdown was smooth.
Approaching the NK ramp.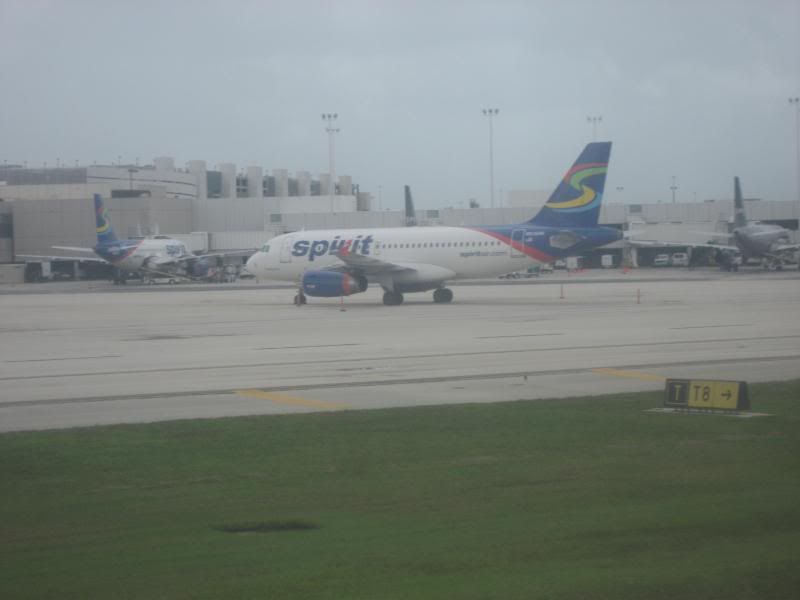 Chocks in, brakes on, engines off, passengers off.
I exited the airplane at about 12:15pm. I would have about three and a half hours to kill before my flight back to ATL. Initially I had thoughts of exploring some other areas of the airport, but the weather got very bad very quickly, so I hunkered down in the building I was in, listened to my iPod, had some lunch, and took pictures. I did not see one NK departure even close to empty, and the terminal itself was mostly busy the whole time.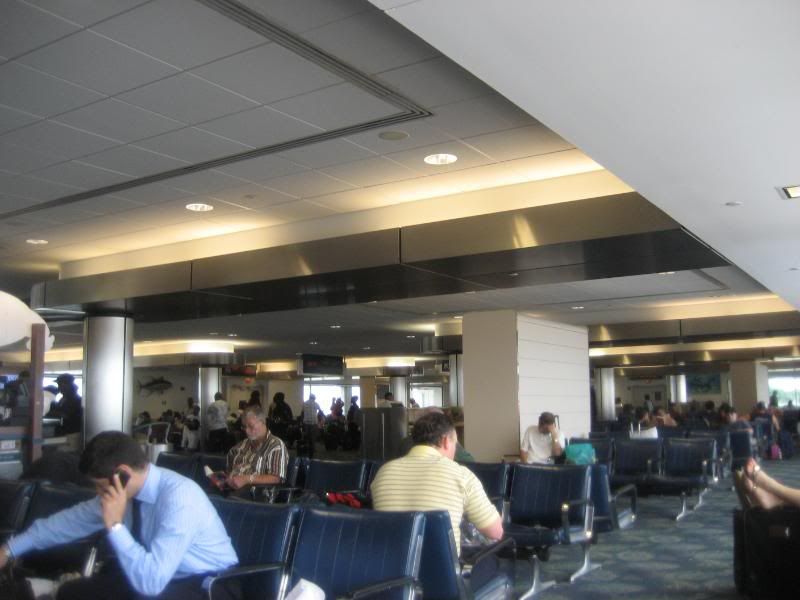 Better view of the new NK colors.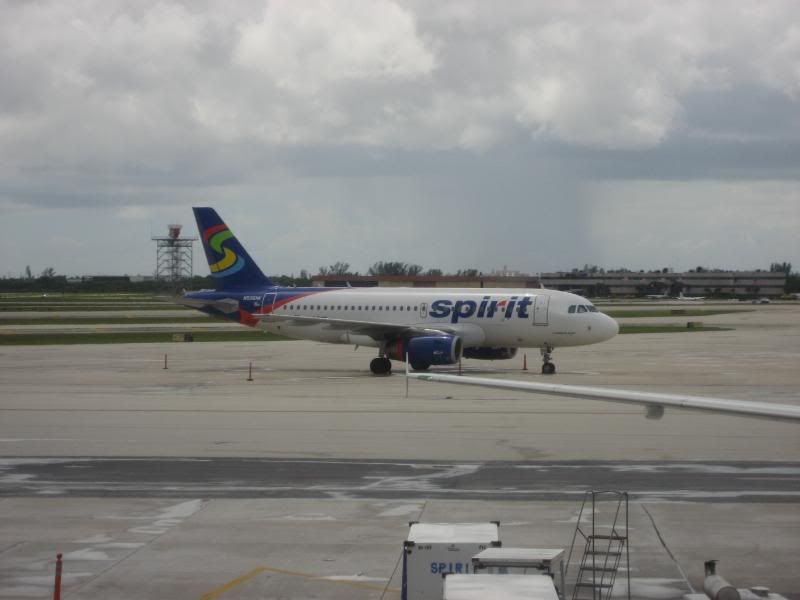 This beauty won't be seen in FLL for much longer.
Gorgeous Avianca 757.
Pretty soon it was 3:45pm; in other words, time to head back to ATL. Boarding was delayed by about ten minutes waiting on the F/A's to arrive. But to NK's credit, the full A319 was boarded in only 15 minutes, and push back was right on time at 4:05pm.
Spirit Airlines
NK 460
FLL-ATL
Airbus A319
Dep: 1605 (1605)
Arr: 1800 (1800)
Load: 100%
Our plane at the gate.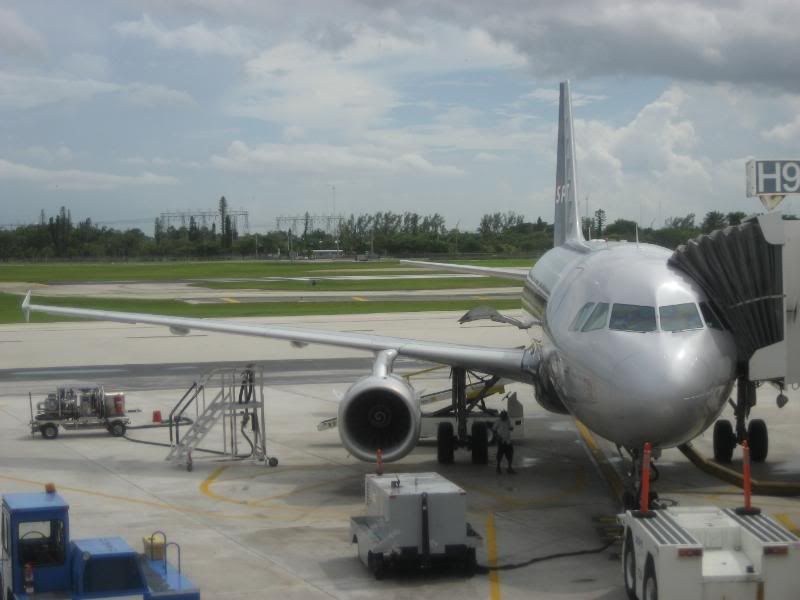 This plane was much cleaner on the inside, and unlike the last one, this one was not missing safety cards and the Spirit magazine in my row. As I said, push was on time, and we made our slow taxi to the runway. Our route of flight would take us over the Everlades then over Lake Okochobee, up Florida's West coast, and into the ATL area. One hour and twenty minutes wheels up to wheels down. Once we got to cruise the service started, but it was slow, they did not get to everyone. No one was asked in my whole row if they wanted to purchase anything. The lone F/A in the front part of cabin made about 5 or 6 sales from what I could see in the first few rows, and then, she seemingly disappeared for about fifteen minutes. By that time we had started initial approach. I'm not sure what NK could do to speed up the process. Perhaps it's not normally this way, I don't know. In any case, sure, I could have gone for a Coke, but it was a short flight so it wasn't a big deal. Our final approach into ATL had us paralleling a FedEx DC-10, and before I knew it, we were on the ground, after another typically smooth A319 landing. Here are the pictures from this one. Note that I included the DC10 pics even though they aren't all that clear. I edited them the best I could.
Number one for takeoff from FLL.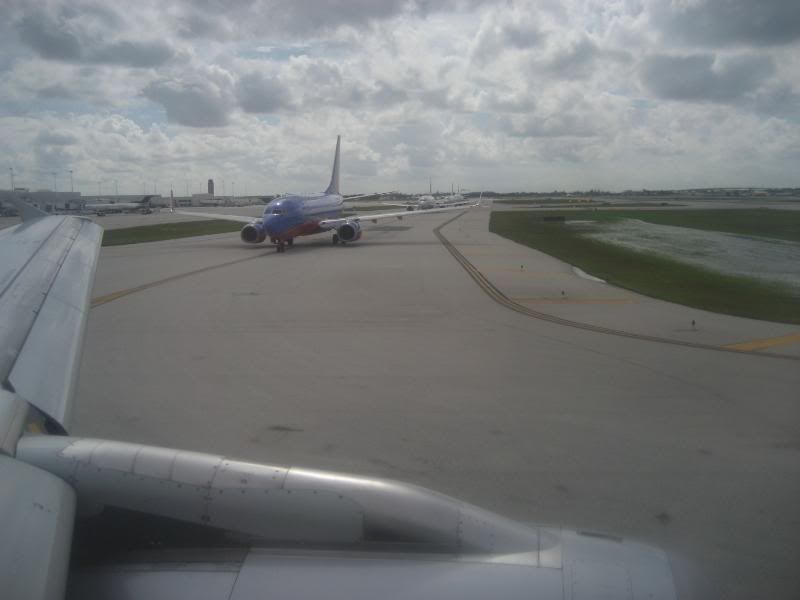 Airborne.
Alligator Alley.
At cruise.
There's the DC10. We eventually got down to his level.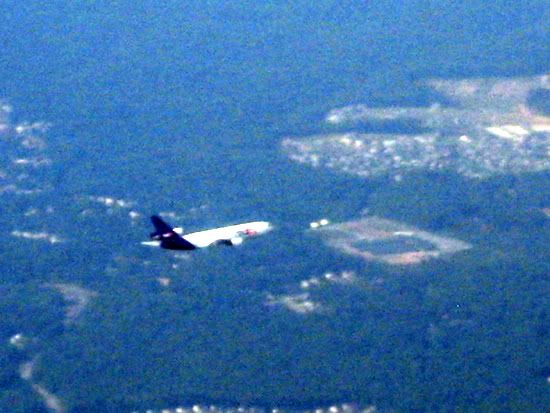 Wheels down!
Short final.
Last shot of the day...LH getting ready to use up most of the runway on its way to FRA.
Overall, it was a nice trip. I mean who can complain about anything when paying what I paid?! Honestly though, I doubt I would choose NK over pretty much anyone if I had a choice. The service was inconsistent in flight, and in the terminals, I found the customer service to be mediocre at best. With NK being an ULCC, most people should know what to expect going in. To those who don't know, it could be a rude awakening. This is basic, point A to point B air transportation here. And there's nothing inherently wrong with that. I would just like to see NK do a better job in keeping its airplanes clean and perhaps tweak the BOB product so people don't get left out in the cold. Otherwise, it was a decent experience, and it sure was a nice way to spend a day off from work.
Thanks for reading.
My next report will be after my September 10th trip ATL-DEN-DRO round-trip on Frontier.